Best UK Stock Brokers – Top 10 Online Stock Brokers in 2021
The concept of stock trading is very simple. In stock trading, a trader or investor purchases shares of a company and sells the shares as per convenience. By owning a stock, you own a piece of that particular company. To start stock trading, you need to find a brokerage service that can serve your trading goals and style. Especially if you are a beginner, it is crucial to choose your broker carefully.
So, explore the online sources to look for the best UK stock brokers based on fees, tradable shares, regulation, dealing charges, and user-friendliness before choosing one.
Best Online Stock Broker: #1 eToro
Best Stock Brokers UK – Top 5 Stock Brokers UK List
Below you will find a list of the best stock brokers in the UK.
1. eToro – Best of the Best Stock Brokers
2. Plus500 – Top UK Stock Broker Offering a Wide Range of CFDs
3. IG – Top UK Stock Broker with Modest Fees
4. Robinhood – The Most Resourceful 0% Commission Broker
5. Markets.com – One of the Best Educational Online Broker
10 Best UK Stock Brokers: Rated & Reviewed

Based on the factors mentioned above, the best UK stock brokers at present include –
1. eToro – Top UK Social Trading Stock Broker with 0% Commission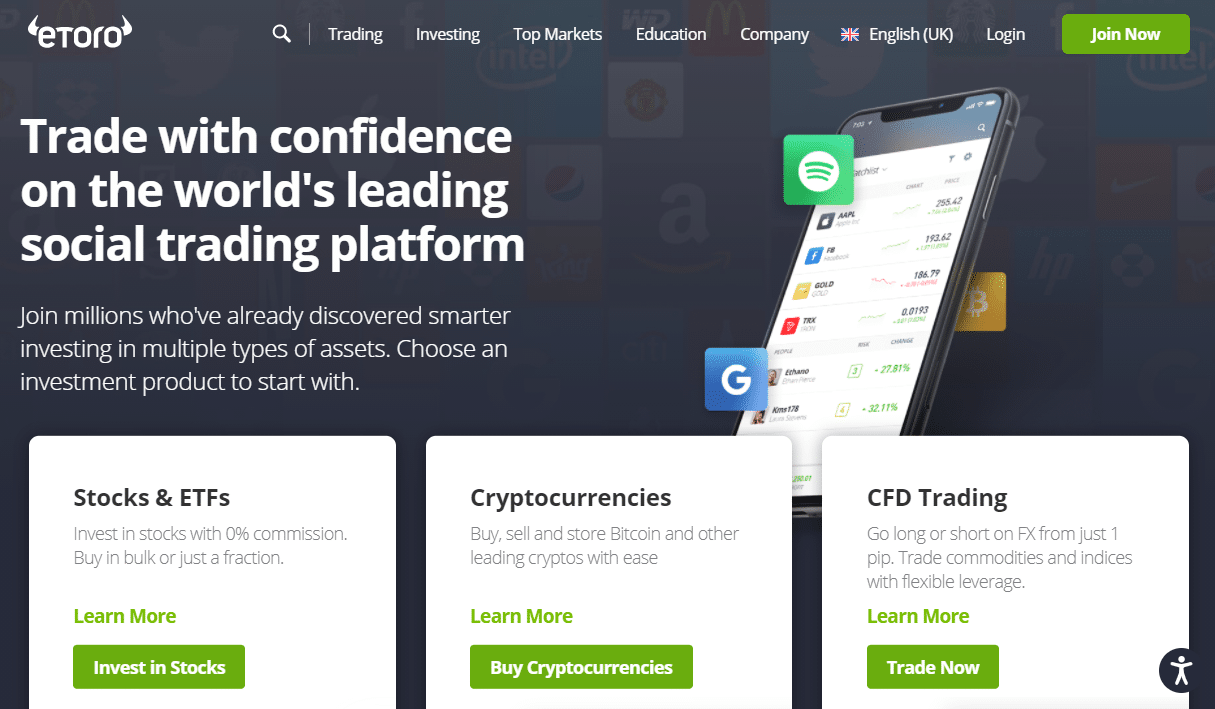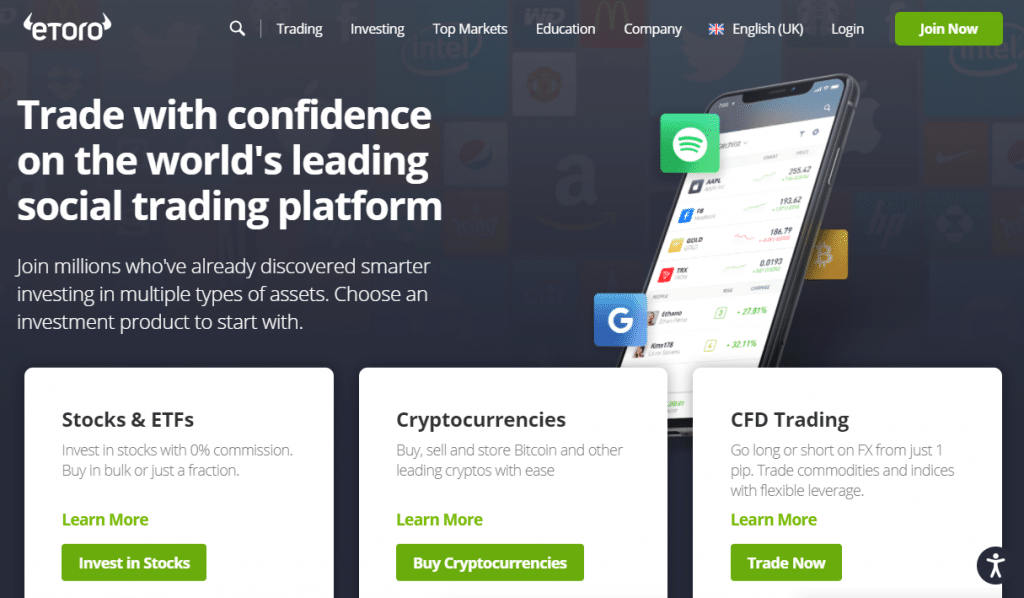 Established in 2007, eToro is a pioneer in social and copy trading. It means that the broker provides its users with the opportunity to copy the trades of advanced traders. Today, over 13 million users from 140 countries worldwide are on the platform. Licensed under CySEC, eToro is also regulated by FCA and ASIC. The broker offers stocks, forex, and commodities
eToro offered its visual FX trading platform in 2007 that makes trading less complicated by providing graphic representations for different assets. In 2009, the broker introduced its intuitive WebTrader trading platform with advanced tools for both novices and professionals. Its social platform with the CopyTrader feature was launched in 2011 which earned the platform its global recognition. The next year, the broker offered mobile apps for its WebTrader and OpenBook platforms.
Apart from being a currencies and commodities services provider, eToro became a stockbroker in 2013, with its wide collection of stocks. It allows traders to have a diversified portfolio while they invest in the universal stock market. From 2016 to 2018, eToro introduced CopyFunds, added cryptocurrencies to assets, and started its US cryptocurrency trading platform.
| | |
| --- | --- |
| Commission | 0% |
| Deposit Fee | Free |
| Withdrawal Fee | $5 |
| Inactivity fees | $10 a month after one year of inactivity |
| | |
| --- | --- |
| Pros | Cons |
| eToro's CopyTrader enables traders to copy and trade following up to 100 traders' strategies simultaneously along with the option of placing stop-loss orders. | High non-trading fees like inactivity fee and withdrawal fee |
| The broker offers a low minimum deposit on its trading accounts which is very convenient for new traders with low funds. | Only crypto trades available to US customers |
| Stock and ETF trading is free on eToro, while the broker also offers CFD and forex trading at low fees. | |
| Clients are provided with free access to TipRanks expert stock analysis and they can also access price targets for free. | |
67% of all retail investor accounts lose money when trading CFDs with this provider.
2. Plus500 – Top UK Stock Broker Offering a Wide Range of CFDs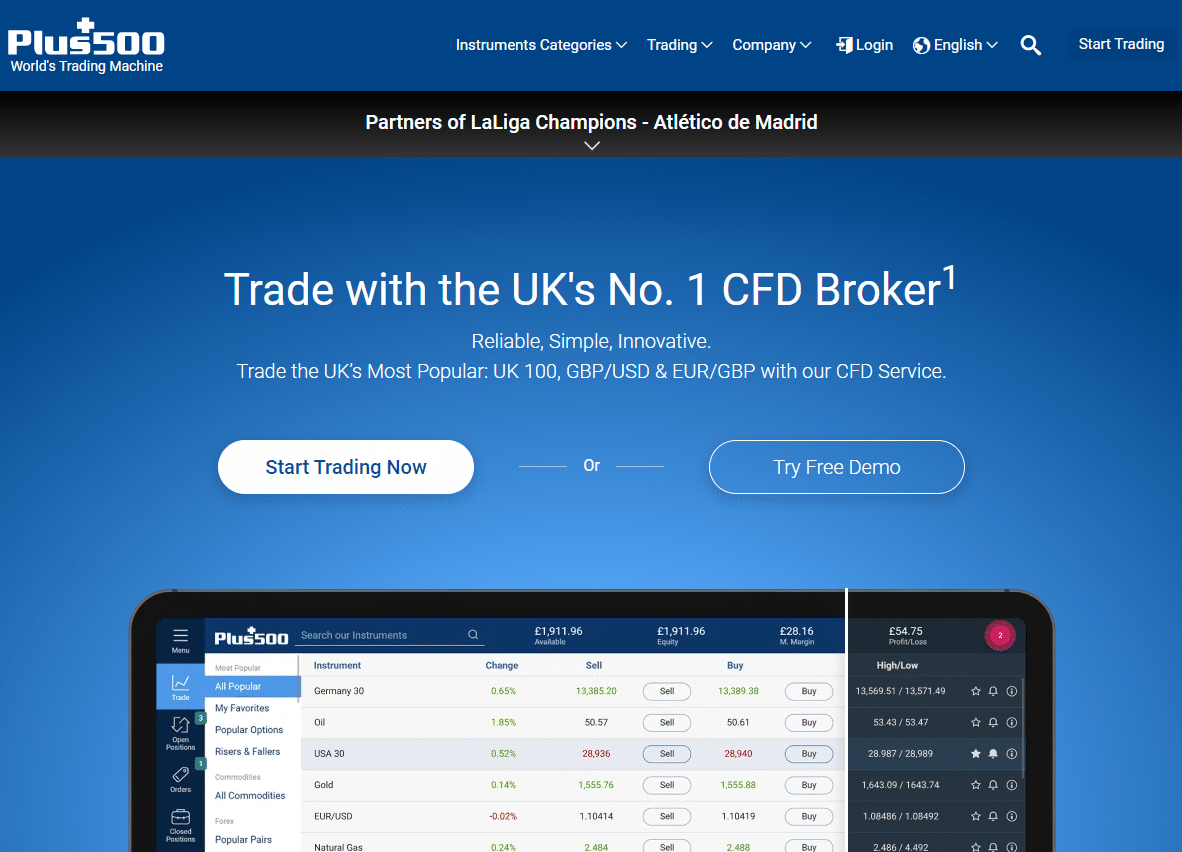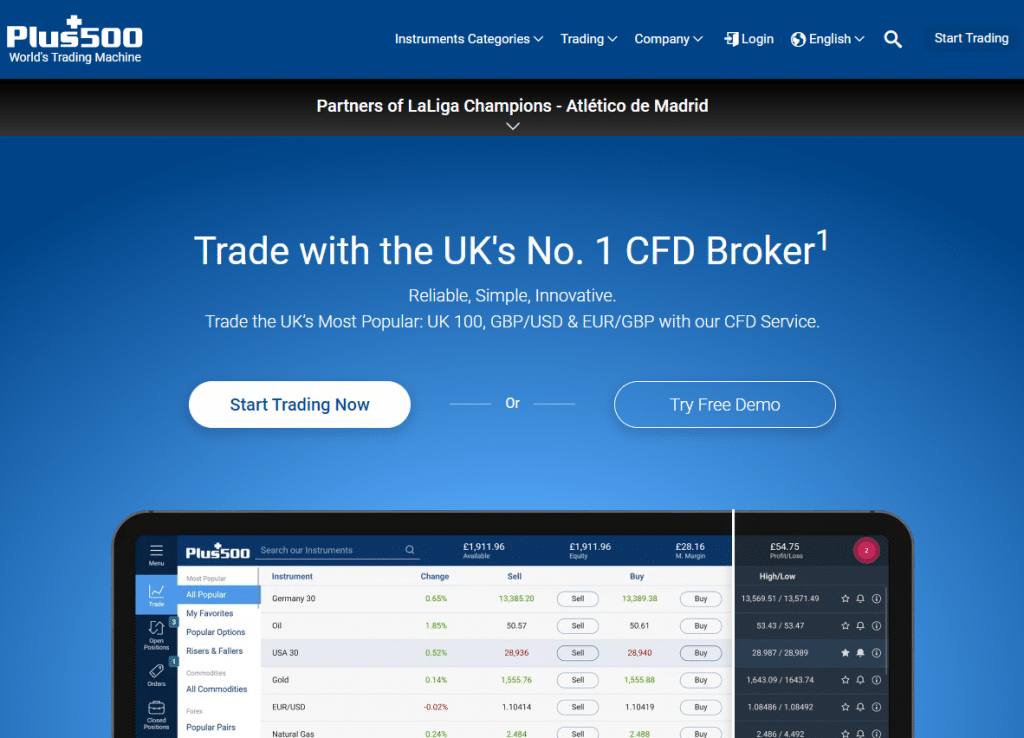 Plus500 is a leading global stock and CFD broker listed on London Stock Exchange. Established in Israel in 2008, the broker allows CFD trading for over 2000 instruments, including numerous stocks and shares. It is authorized and licensed under top-tier financial bodies like ASIC and FCA. The listing on a stock exchange and strict regulations make it a safe place for trading.
The broker does not charge a commission and also offers very low spreads. So, it is a great option for traders who want to trade at a low cost. Traders from more than 50 countries trade different instruments on the platform, including forex, commodity, index, and cryptocurrency apart from stocks and shares. Thanks to the leverage trading it offers, you can open significantly large positions by investing a small amount.
Traders can trade CFDs on about 1800 global shares on this platform. These include almost all companies in the FTSE 350, and also most of the companies on NYSE and NASDAQ, such as Amazon, Riyal Mail, Netflix, Tesco, and more. The broker offers intuitive and easy-to-use mobile trading apps. Customer support is offered 24/7 to users.
| | |
| --- | --- |
| Commission | 0% |
| Deposit Fee | Free |
| Withdrawal Fee | $5 |
| Inactivity fees | $10 a month after one year of inactivity |
| | |
| --- | --- |
| Pros | Cons |
|  Traders do not need to pay any sign-up fee to use the trading platform on Plus500. The broker also covers trading expenses within the spread, leaving no commission. |  Custom technical studies not supported |
|  Plus500 offers traders access to 1800 shares from 23 markets across the world. |  No news feed or fundamental data |
|  Traders are provided with the opportunity to apply leverage to trades at low overnight interest rates. | |
|  The broker is trustworthy because of strict regulations under top-tier authorities. | |
|  Plus500 offers high-quality analysis tools to make trading easier like charting with 107 built-in indicators and an economic calendar. | |
67% of all retail investor accounts lose money when trading CFDs with this provider.
3. IG – Top UK Stock Broker with Modest Fees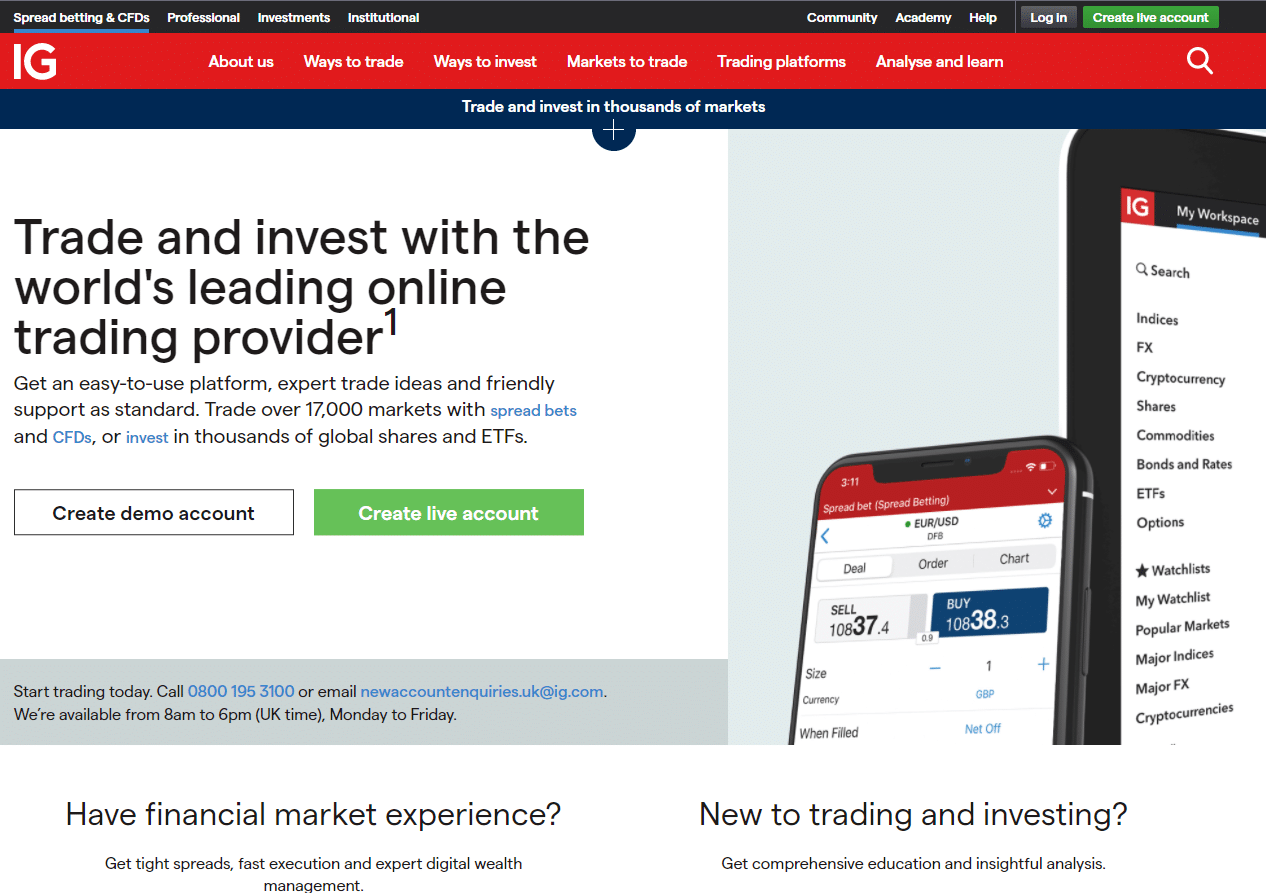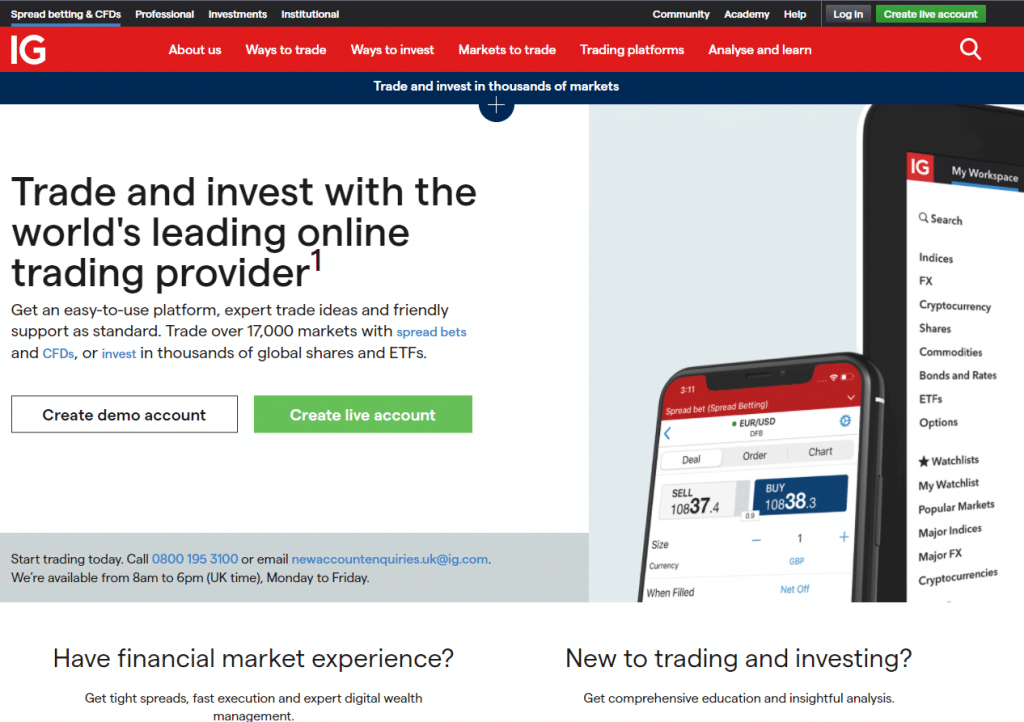 IG is leading UK stock brokers that offer a wide collection of assets, including stocks and shares, and CFDs on commodities, indices, cryptocurrencies, and more. Established in 1974, it is one of the brokers that are active for a long time. A provider of spread betting, IG started offering stock trading to retail traders in 2014.
The broker is regulated by strict authoritative bodies like FCA and BaFin. It is considered safe by most traders because of the strict regulation it follows, as well as the fact that it is listed on the London Stock Exchange. IG is also popular because of the competitive fees it offers. The more often you trade, the fewer fees you have to pay.
Apart from its conventional stocks and share trading services, IG also provides traders with opportunities for short-selling and leverage trading. The trading platform is designed well and customizable. You can find several education tools on the platform regarding funding, withdrawals, and trading.
| | |
| --- | --- |
| Pros | Cons |
|  IG offers a high-quality web trading platform with convenient deposit and withdrawal methods and useful educational tools |  High minimum deposit |
|  The broker is regulated in several countries and regions including the US, the UK, Singapore, Switzerland, Australia, New Zealand, and South Africa. |  Minimum $15 commission for US stocks |
|  IG offers a transparent fee structure that is easy to find on its website so that traders can find fees for various asset classes easily. | |
|  The broker keeps the money of the traders safe by holding the funds in segregated accounts at regulated banks and the money is not used for any business activity of the company. | |
67% of all retail investor accounts lose money when trading CFDs with this provider.
4. Robinhood – The Most Resourceful 0% Commission Broker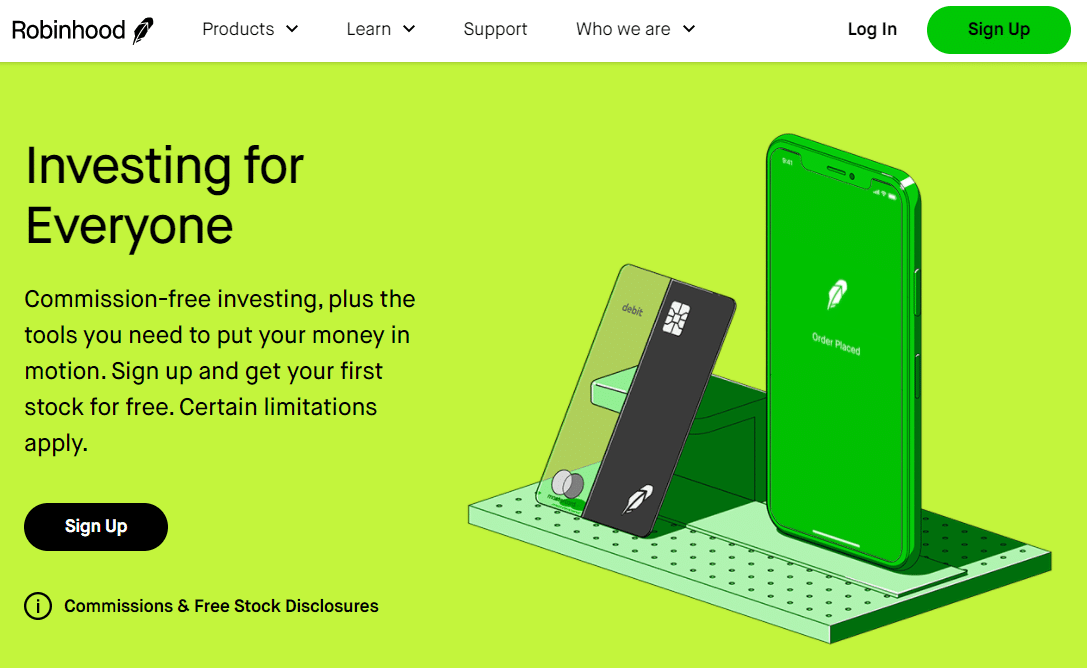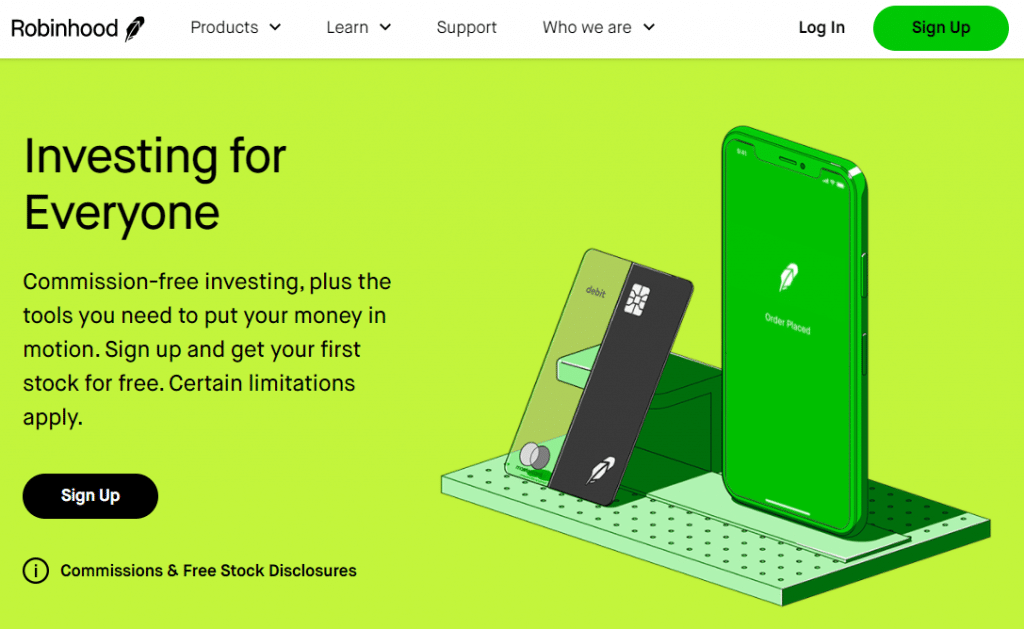 Best suited for professionals, Robinhood is an industry favorite trading platform available for investors based in various countries including the U.K. Whether you are looking for faultless trading experience for practicing trading strategies or make budget investments into growth stocks, this broker is perfect for you.
Robinhood was developed for all kinds of active traders who are into purchasing and trading investments through a commission-free broker. Since its early days in the market, Robinhood has stood for ease of use, versatile offering, with top-tier regulatory compliance in place. Clients can access both web and mobile trading platforms to invest in highly profitable stocks.
In the past year, Robinhood has received some criticism during the GameStop market incident for untimely outages. Clients have complained that the broker implemented trade restrictions while the market was extremely volatile. They have postponed their U.K. launch according to some sources, so it is advisable to check before trading with Robinhood.
| | |
| --- | --- |
| Pros | Cons |
|  As a commission-free broker, Robinhood offers a £0 fee for trading various financial instruments. |  No mutual funds or bonds are part of the offerings at Robinhood. |
|  Robinhood offers its clients to trade not only stocks, but also options, and ETFs. |  Customer support provided is average and limited. |
|  Millennial stock traders who mostly prefer mobile trading platforms find Robinhood's user interface welcoming and easy to get used to. |  The company has been subjected to various lawsuits and complaints over the years. |
|  Day traders as well as margin traders, all are presented the same opportunity and advantages using the Robinhood app. | |
|  No minimum amount deposit is required to open a simple brokerage account but the Robinhood gold account comes at a minimum of $2000 (or £1410) due to regulatory concerns. | |
67% of all retail investor accounts lose money when trading CFDs with this provider.
5. Markets.com – One of the Best Educational Online Broker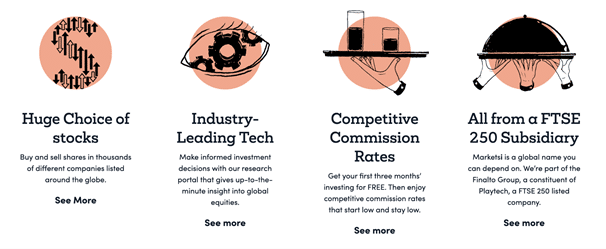 Markets.com is known as a CFD and forex broker by millions of its global clients but what makes it special is its stocks offering with a negligible base fee of 0.1% for users living in the U.K. It was founded in 1999 as a subsidiary of its parent company which is listed on the London Stock Exchange. This broker is regulated by some of the most renowned financial regulatory authorities such as CySEC, FCA, etc. Markets.com offers its services under two similar brands. One is the Markets platform which is for share-dealing investments and the other is Marketsx which is a CFD trading platform.
Markets.com is a proper balance between simple functionalities and improved capabilities. It offers some world-class research tools, better spreads, and the choice between proprietary and a third-party trading platform.
| | |
| --- | --- |
| Pros | Cons |
|  Markets.com is known for more than 100 easy-to-use technical indicators that guide users in making accurate decisions regarding their investments. |  Some traders dislike the fact that this broker offers a limited product portfolio. |
|  There are no withdrawal fees implemented on this broker platform but a minimum deposit of approximately £250 is required to begin trading stocks. |   Many important features such as 2-step authentication are missing. |
|  Tradable assets on Markets.com are not restricted to stocks and shares only. The list also includes various forex pairs, commodities, energies, futures, etc. |  Crypto trading is not available directly but through CFDs which is disheartening for quite a lot of traders. |
|  As a commission-free broker, Markets.com does not charge clients commissions or unnecessary fees, but most of its income comes from spreads. | |
|  Experienced traders are usually the ones utilizing Markets.com's best-in-class brokerage platform. | |
|  With its definitive research tools and Investment strategy builder tool, inexperienced traders can also make the most out of Markets.com's trading platform. | |
67% of all retail investor accounts lose money when trading CFDs with this provider.
6. FXCM – Most Versatile Online Stock Brokers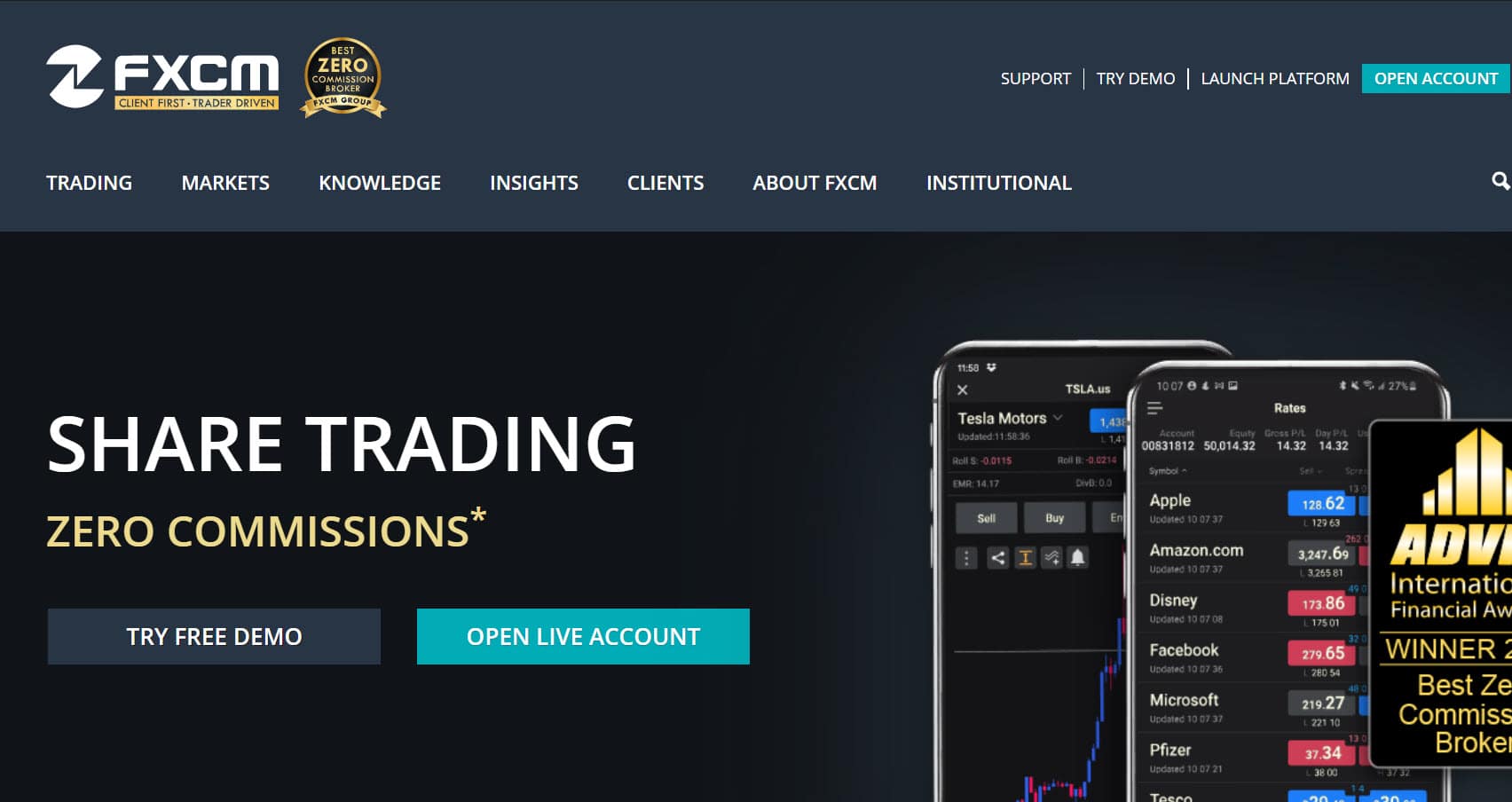 FXCM or Forex Capital Market is a well-established stock and share CFD broker. Founded back in 1999, it now operates as one of the most intuitive and popularly used platforms in the stock trading space.  Primarily a CFD broker, FXCM offers several financial assets via CFDs such as shares and stocks. It also offers access to Indices CFDs, Commodity CFDs, and cryptocurrencies.
FXCM provides competitive fees with no commissions charged for tight spreads on CFDs. It so has a very low minimum deposit requirement of just £50 ($70.90). The withdrawal fee is just $5. Traders should note that FXCM charges an inactivity fee of $50 per year after 12 months of account inactivity. Other trading costs such as overnight funding rates vary on the account type selected.
FXCM provides their traders with two platforms- MetaTrader 4 and NinjaTrader, which is their proprietary platform. Both these platforms have a user-friendly interface and extensive functionality that provides their users with access to several trading analysis and risk tools for advanced traders.  Additionally, the broker also provides a great degree of educational resources focused on insights and research.
FXCM provides separate accounts for spread betting, CFD trading, and active traders. Traders choosing the active trader account will get access to spreads plus commission pricing or spreads plus mark-up pricing. The broker is regulated by the Financial Conduct Authority (FCA)  of the United Kingdom. It is authorised to offer Spread Betting, CFD, and Forex Trading accounts across both its trading platforms.
| | |
| --- | --- |
| Pros | Cons |
|  FXCM offers both MT4 and Ninja Traders to its users, providing a great amount of flexibility. |  FXCM does not accept PayPal as a payment option. |
|  The broker charges no commissions and offers tight spreads. | |
|  It has a long-established brand name and is regulated by a reputed international regulatory body. | |
67% of all retail investor accounts lose money when trading CFDs with this provider.
7. Degiro – Lowest fee Stock Broker for the U.K. Traders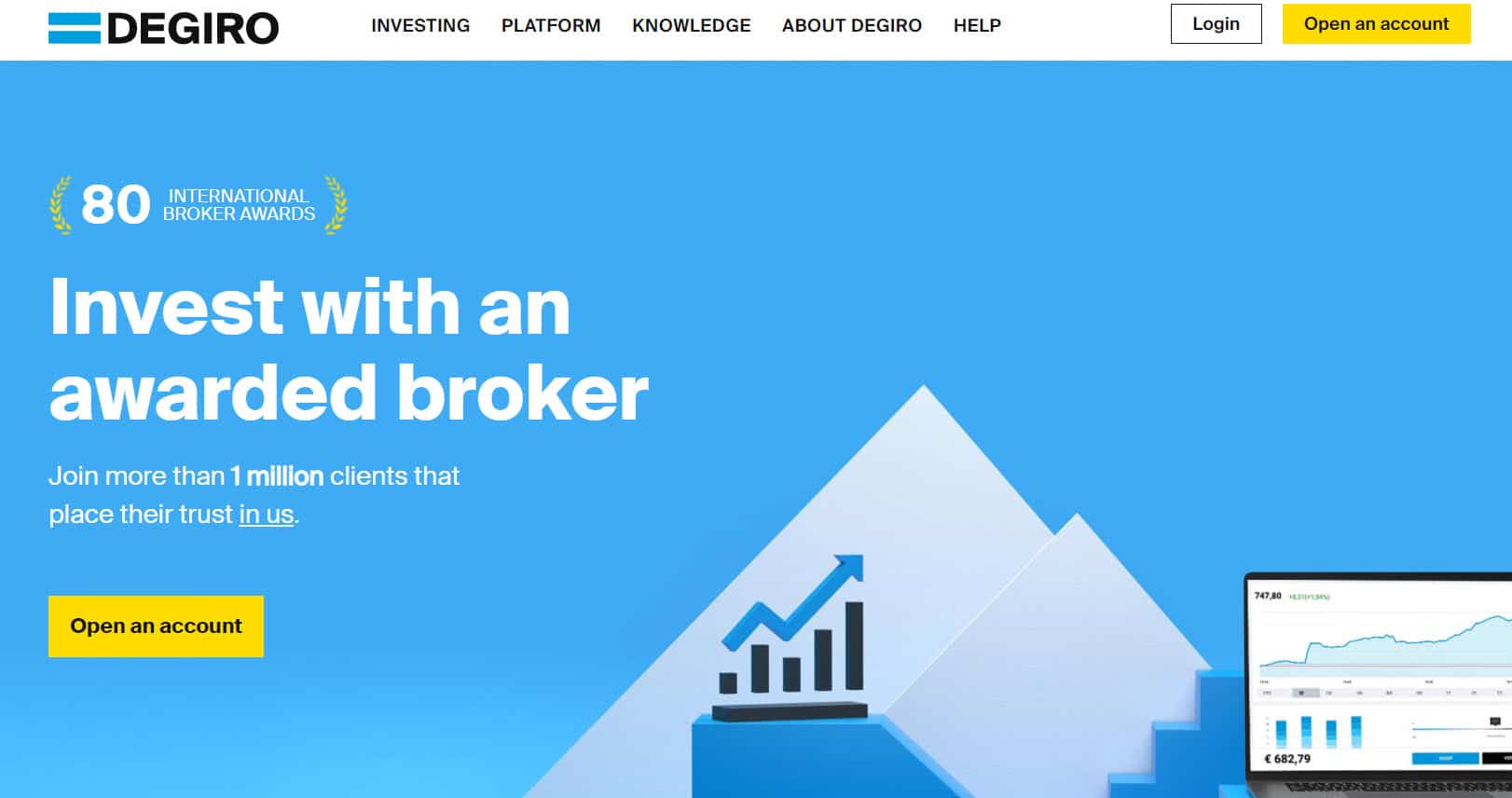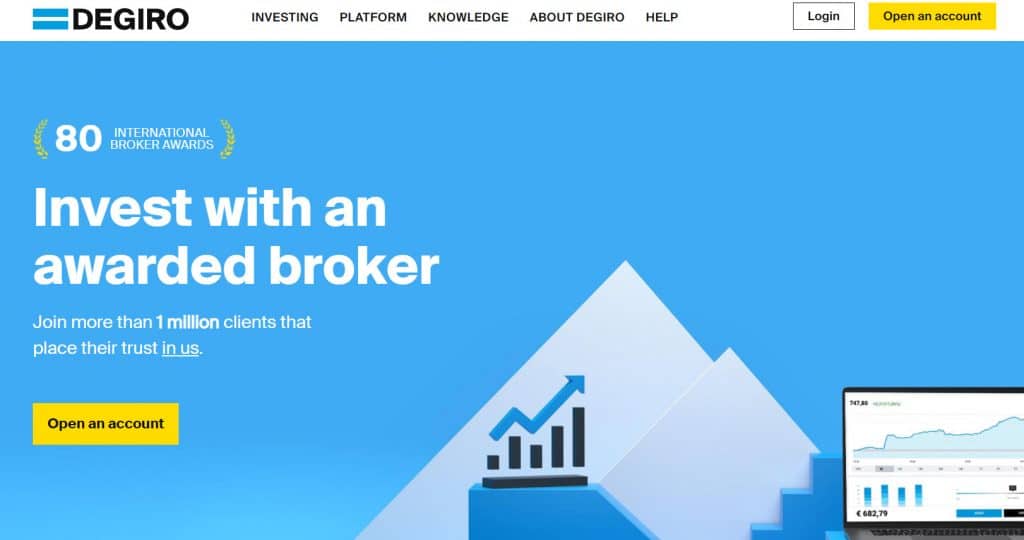 Degiro is a stock trading platform that focuses on letting its traders diversify by providing them access to companies from several countries.  The broker offers access to thousands of equities from some of the world's biggest and well-known stock exchanges. This includes exchanges in countries like the UK, US, and Japan, as well as some less liquid exchanges.
Degiro allows traders to buy stocks in the traditional way allowing them to receive dividends when they are paid. The broker's offering consists of a very low fee structure for stock trading.  It is only £1.75 +0.014% when buying UK shares and €0.50 + $0.004 per share for US stocks. Degiro also allows traders to buy and sell 200 ETFs for free, with certain conditions applied.
Degiro offers both a mobile and a desktop app, both of which offer great navigability. Both the apps are synchronized perfectly so that one can switch back and forth seamlessly between the two. Both the platforms provide features such as five-level order books and free real-time streaming prices on certain European stocks.
Degiro is regulated by the Netherlands Authority for the Financial Markets (AFM). The broker also comes under the supervision of De Nederlandsche Bank (DNB).  Degiro is also regulated by the Financial Conduct Authority (FCA).  It currently only offers a general trading account which takes about one to two working days to get set up.
| | |
| --- | --- |
| Pros | Cons |
|  Degiro offers a newly designed website which makes it very easy for newer investors to access the market. |  Compared to other online brokers. Degiro's account setup takes a long time. |
|  Apart from ETFs, the broker offers bonds and funds as well. |  Degiro does not accept e-wallets or debit/credit cards. |
|  The broker offers access to multiple international markets at a very low fee. | |
67% of all retail investor accounts lose money when trading CFDs with this provider.
8. TD Ameritrade – One of the Largest Stock Brokers.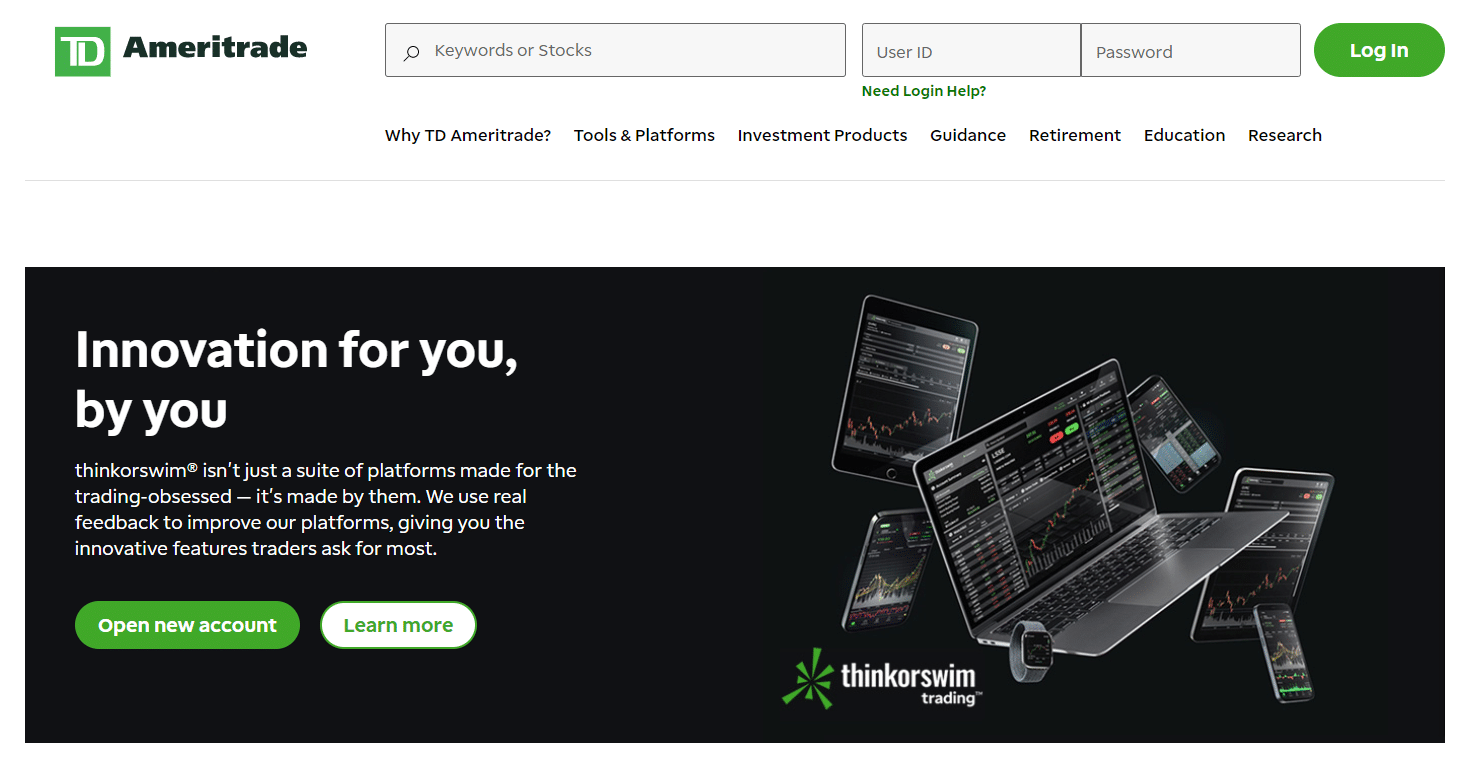 TD Ameritrade is one of the largest U.S. stockbrokers operating in the online space.  The broker offers multiple platforms for traders of different experience levels. The tools, charting and data for trading are provided by its Thinkorswim platform. Coupled with an extensive offering of educational resources to encourage new traders, TD Ameritrade stock brokerage services are one of the best in this space.
TD Ameritrade offers two platforms- TD Ameritrade web and the Thinkorswim platform. The web version of Thinkorswim provides access to all the available trading instruments. The broker also offers native mobile apps for iOS and Android that makes trading easier on the go. Traders can use any of these platforms to trade forex, futures, mutual funds, bonds as well as long and short stocks.
The broker offers 6 account types to choose from; includes Standard Account, Retirement Account, Education Account, Specialty Accounts, Managed Portfolios, and Margin Trading. The broker does not charge any fees for deposits. Clients in the US can use checks, wire transfers, and domestic ACH to deposit funds. The Domestic ACH option is not available for clients from China, Taiwan, Hong Kong, Malaysia, Thailand, and Singapore.
Founded in 1975, TD Ameritrade is regulated by the Commodity Futures Trading Commission (CFTC) and Securities and Exchange Commission (SEC) in the United States and the Financial Industry Regulatory Authority (FINRA). The broker also provides a wealth of educational resources, which include over 200 educational videos, webinars, and educational sessions.
| | |
| --- | --- |
| Pros | Cons |
|  TD Ameritrade provides stock, ETF, and options trading without charging any commissions. |  The broker does not provide any fractional shares. |
|  There is no minimum deposit amount for trading accounts. |  The Thinkofswim trading platform can get a bit intimidating for novice traders due to a large number of technical tools available. |
|  TD Ameritrade provides a responsive customer support staff that can be reached via many options. | |
67% of all retail investor accounts lose money when trading CFDs with this provider.
9. Interactive Brokers – Competitive Broker with a plethora of Investment Choices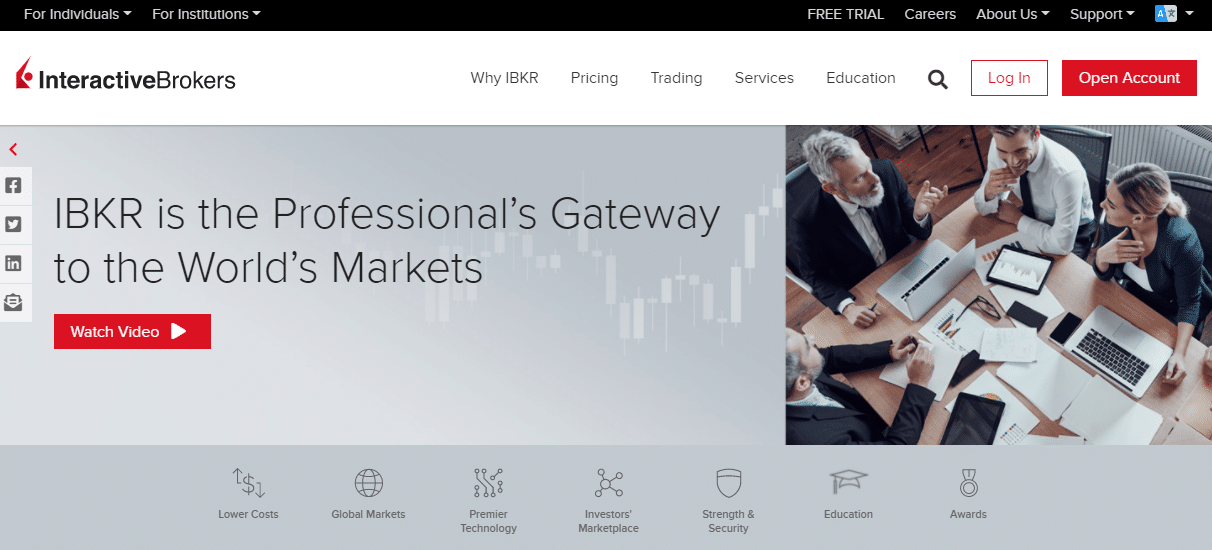 Interactive brokers is a well-known stockbroker that lets traders access US-listed exchanges as well as those in international markets. The broker offers two commission-free trading plans for investors: IBKR Pro and IBKR Lite. Both these trading plans offer access to over 135 stock exchanges spread across more than 30 countries. It provides unlimited access to commission-free trades on stocks and ETFs if one chooses IBKR Lite.
The broker offers several investment choices including mutual funds, metals, futures, hedge funds, bonds, ETFs, options, and foreign exchange trading in addition to stock trading. Traders can also access more than 4300 mutual funds without paying any transaction fee.  Active professional traders may find Interactive Brokers' automated investment platform.
One of the things that make Interactive Brokers stand out is fractional shares. Traders can purchase portions of a company instead of a whole share. The service is available for both IBKR Pro and IBKR Lite clients. The broker provides access to stocks in foreign stock exchanges as well as from NYSE, NASDAQ, AMEX, ARCA, or BATs.
Interactive Brokers is regulated by several regulatory bodies around the world including Commodity Futures Trading Commission (CFTC), the Financial Industry Regulatory Authority (FINRA), and the National Futures Association (NFA).
| | |
| --- | --- |
| Pros | Cons |
|  The broker offers an extremely smart order router that stays on top of changes in market conditions. This achieves attain price improvement, maximizes any possible rebate, and achieves optimal execution. |  The broker does not pay interest in cash unless the trader has a substantial balance. It charges fees for data and maintenance for small or inactive IBKR Pro accounts. |
|  Interactive Brokers offer direct access to global exchanges as well as passive income via fixed-income products. | |
67% of all retail investor accounts lose money when trading CFDs with this provider.
10. Firstrade – One of the Oldest and Online Stock Brokers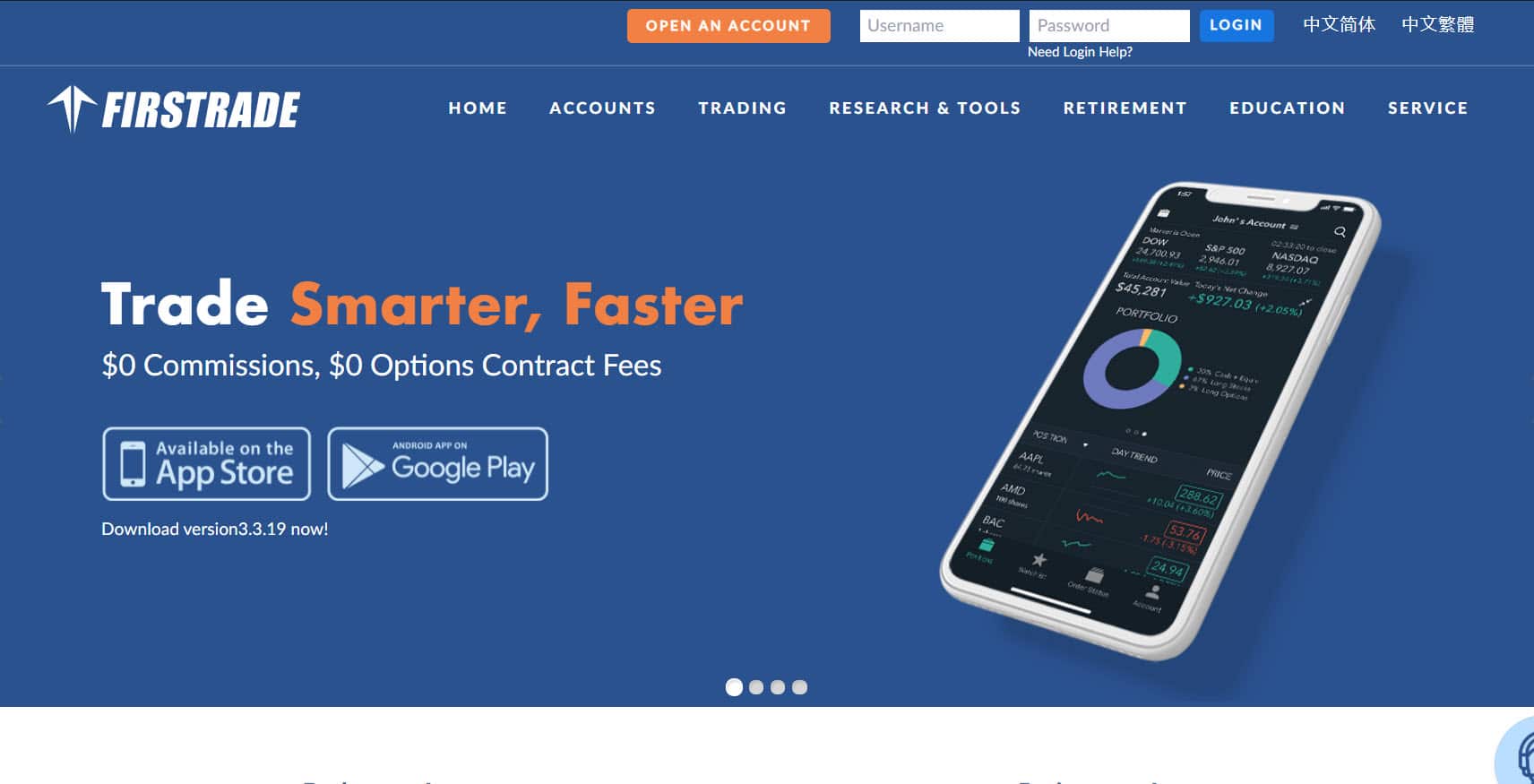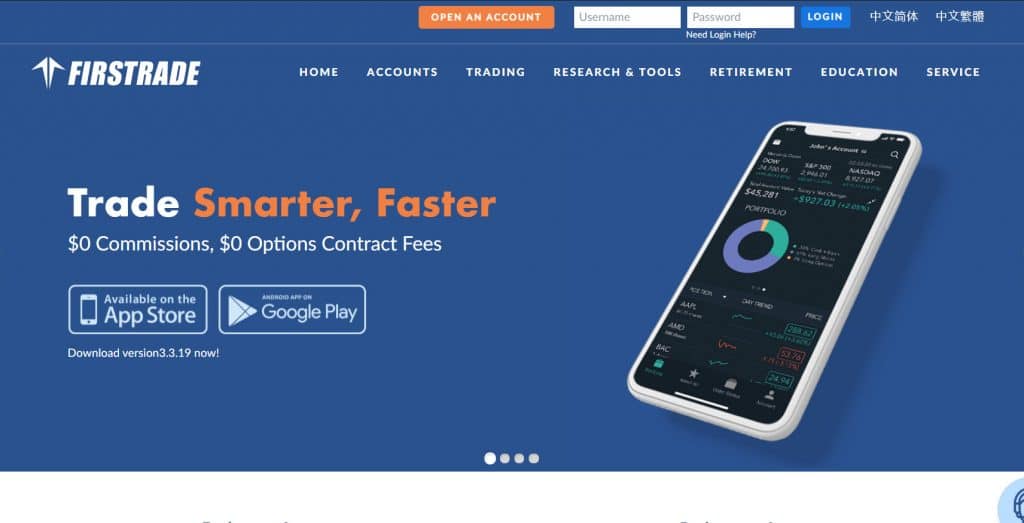 Founded in 1985, Firstrade offers funds, options, and stocks targeted mainly at small retail traders. It provides a simple and streamlined platform that also extends to its mobile app. It charges no commissions on ETFs, stocks, mutual funds, and even options which make trading a pleasurable experience for frequent traders.  The broker also offers margin trading at rates far cheaper than its competitors.
Firstrade's web-based trading and account management pages are easily navigable. The platform offers a high degree of customizability, allowing traders to add or remove modules or drag them across the screen.  Charts are provided by Trading View directly to the platform. The mobile app is also very intuitive and easy to use and provides almost all the features provided by the actual platform.
As a US discount broker, Firstrade is a member of the Securities Investor Protection Corporation (SIPC) and Financial Industry Regulatory Authority (FINRA). It is also regulated by the Securities and Exchange Commission (SEC), making it a broker regulated by top-tier regulators.
| | |
| --- | --- |
| Pros | Cons |
|  Firstrade provides stock and options trades without any fees. There are also several no-transaction-fee ETFs and mutual funds available. |  Besides rudimentary charting and order entry functions, the broker provides very limited functionality. |
|  The advanced Navigator platform provides a simple way to create orders directly from the screening tools for mutual funds, stocks, and ETFs. |  Many experienced traders will be disappointed as the broker does not offer trading in futures or cryptocurrencies. |
|  The trading platform provides a streamlined trading experience that barely differs when switching from mobile and web-based platforms. |  There are no facilities to create basket and staging orders or trade directly from charts. |
|  The broker provides support in various languages including English and both traditional and simplified Chinese. | |
67% of all retail investor accounts lose money when trading CFDs with this provider.
How to Choose Good Online Stock Brokers?
To choose a good broker, it is important to conduct some research online. You may also follow the advice of experienced traders and investors, but do not forget to check on your own. Regulation always comes first. You must always go for a broker that is licensed and authorized by one or many top-tier financial bodies.
Here are some other factors that you must consider finding a good stockbroker –
Background and Goodwill
First, you need to check the background of the broker and obtain as much information you can about it. See when it was founded and its overall performance throughout the years. You may check the online feedback of customers to know about the broker. It is also important to check the mobile app ratings on the app store or Google store if the broker offers apps to make investments. Another way of checking the performance of the broker is by viewing their number of active clients. On any stable platform, there will be a large number of traders.
Trading Platform
It is very important to check what trading platforms a broker offers before choosing it. A trading platform must have an easy user interface, advanced features, and trading tools to make trading less complicated. This is where you will place your buy or sell orders. If the platform is not simple and useful for stock trading, it can cause a lot of trouble for you.
Range of Stocks Offered
If you are into stock trading, then you must look for a broker that offers diversified trading and investing options. Even if you are planning to only trade in stocks, it is always better to look for a broker that provides various assets like currencies, commodities, futures, and options. It helps you to have a diversified portfolio. These days, major brokers offer various trading assets for the traders' convenience.
Charges and Hidden Charges
Brokers charge fees and commissions for trading services they offer. These may include account opening charges, annual maintenance charges, fees for executing trades, withdrawal charges, conversion charges, and inactivity fees. You should check in advance how much money you would have to spend to place a trade with a broker. Moreover, it is very important to see if there are any hidden charges. A broker must mention all charges specifically. You may contact customer support before signing in with any broker to ask for hidden charges and also go through the pricing and charges section.
Customer Services
If you are a novice in trading and do not have an advisor to seek help, you will need to contact the customer support team of your broker more than you think. You may face some technical issues while using the trading platform, or some problems may occur while depositing funds or withdrawing profits. So, the customer service must be responsive and helpful. Before you choose a broker, try contacting customer support to see if the service is great or poor.
Top Tips For Trading with Stock Brokers

If you are new to the whole online stock trading concept in the U.K. then it could be quite confusing in the beginning. But once a person gets accustomed to how stockbrokers work and select the one that suits their preference and ability, then it is not a big deal.
Following is a step-by-step guide describing the art of trading with online stock brokers.
Tip 1: Choose Favourable Stocks after Research
Once an investor has figured out everything worth knowing about their broker and opened a trading account, the natural course of action would be picking worthwhile stocks which possess growth potential. One cannot just decide on which stocks are worth investing in by eyeing the market conditions. It requires proper research (both fundamental and technical) that is usually provided by a good-quality broker. News and analysis often help all traders come to a careful decision as to which stocks could result in a profit.
Tip 2: Develop a Trading Strategy Beforehand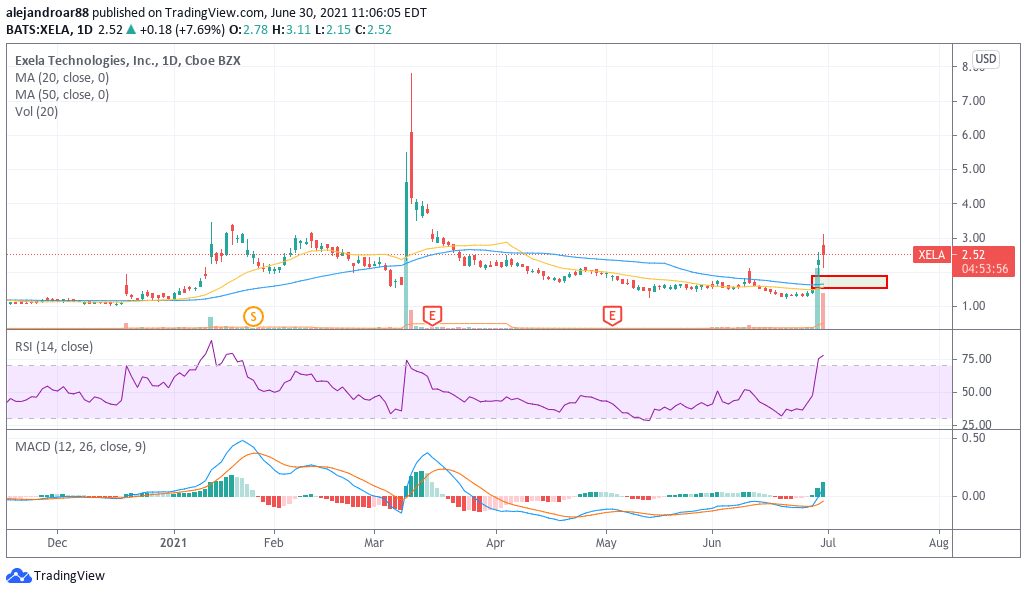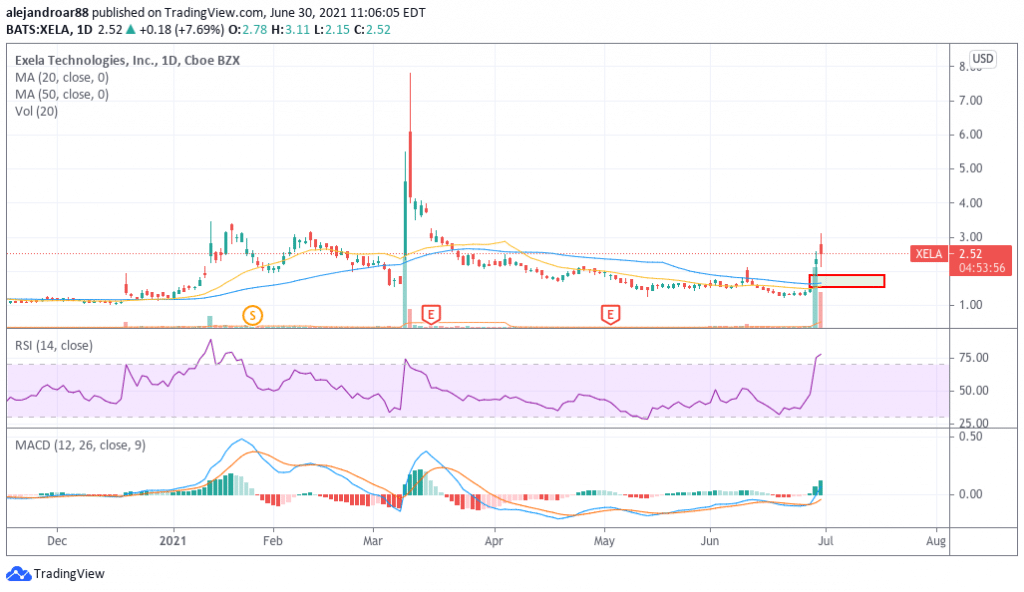 Trading is not as simple as picking some stocks, opening a trade, making a profit, and repeat. It requires experience, a fool-proof trading strategy, and making the right decision at the right moment. Before anyone jumps into stock trading using an online broker, it is critical to create a unique trading strategy and then follow it properly to limit losses and increase the chances of making a profit (no matter how small). There are different types of educational content available for people who wish to implement a trading strategy to determine entry and exit positions while trading.
Tip 3: Determine Position and Direction of Your Trade
Trading is all about calling the shots with the proper orders put in place without losing a window of opportunity. Once a trader has a trading account loaded with a sufficient amount of funds, a proper trading strategy with risk management, and a couple of favourable stocks as their target, they can choose whether to go long and "buy" the stock or go short by choosing to "sell" the stocks based on the direction of the trade. During this step, if the trading plan follows the trade's direction then you can predict the asset's price action also.
Tip 4: Evaluate the Results and Continue Careful Trading 
Once people make a successful trade, the feeling of joy can engulf their minds and obfuscate their judgement in the next trade. To avoid this happening to you, one should never fail to re-evaluate their previous decisions. Careful analysis of past performance could ensure a better outcome for future trades. Experienced traders always keep a track of their previous trades to help them learn from their mistakes and hone their skills in the best way possible. The best stock UK brokers have a feature that records traders' trading plan and their previous performance automatically.
eToro – Best UK Stock Broker to Start Trading
FAQs
How to choose the best stock brokers in the U.K.?
Are U.K. stockbrokers regulated?
Which brokers offer the lowest fee to clients in the U.K.?
How to buy stocks online legally?