Invest In Compound – How To Invest In Compound For Beginners
COMP tokens offer something a little different, such as interest and the ability to lend. If you have decided to invest in Compound but are unsure of where to start – stay right where you are.
In this guide, we divulge how to invest in Compound in under five minutes. This covers the long and short of how to find a reliable Compound broker, supported deposit methods, and every important aspect in between.
#1 Broker to Invest in Compound – eToro
How To Invest in Compound – Choose a Broker
See below the best brokers to consider when you invest in Compound in the US.
eToro – Overall Best Place to Invest in Compound in the US
Coinbase – Great Way to Invest in Compound for Beginners
Binance – Best Place to Invest in Compound for Asset Diversity
Kraken – Reputable Exchange for Investing in Compound
You will also find thorough reviews of each of the above brokers after the following quick-fire walkthrough.
How to Invest in Compound – A Quick Guide For 2021
If you are in a hurry to get the ball rolling, you will find a quick guide on how to sign up with a brokerage to invest in Compound. Follow these 4 simple steps to invest in COMP tokens in under five minutes!
Step 1: Open an Account with eToro – eToro is a trusted online broker with licensing from several regulatory bodies. As such, this is a great candidate for investing in cryptocurrencies like Compound. Look for 'Join Now' on the main page and click it to open the sign-up form. Next, enter details such as your full name, contact information, and a chosen username and password.
Step 2: Upload Your ID – Regulatory bodies the SEC (US), the FCA (UK), CySEC (Cyprus), and ASIC (Australia) watch over operations at eToro – so the broker fully complies with all laws surrounding anti-money laundering. This means it will require you to upload two documents – one should be a photo ID and the other a utility bill or bank statement showing your address.
Step 3: Deposit Funds – The minimum first deposit is $50 for eToro clients based in the US and there is a selection of payment types supported. You can add funds to invest in Compound using online banking, wire transfer, or a debit card.
Step 4: Invest in Compound – Type 'COMP' into the search box on the main dashboard and press 'Trade' when you find it. Next, you will need to enter the number of tokens you want to purchase. You can invest in Compound from just $25 at eToro, which is great for beginners that wish to start off slowly.
Compound
3 Providers that match your filters
What we like
Trade real cryptos and crypto CFDs

Licensed broker with deposit insurance

Integrated wallet
Features
Payment methods
CFDs are complex instruments and carry a high risk of losing money quickly through leverage. 75% of retail investor accounts lose money when trading CFDs from this provider.
What we like
Amount of withdrawal fee: $0

Large amount of cryptocurrencies for CFD trading

Minimum deposit: $20
Features
Payment methods
CFDs are complex instruments that have a high risk of losing money quickly due to leverage. 72.6% of retail investor accounts lose money trading CFDs with this provider.
What we like
Careful selection of cryptocurrencies

Regulated by CBI and MiFID in Europe

No commissions and low spreads
Features
Payment methods
CFDs are complex instruments and carry a high risk of possible rapid loss of capital due to their leverage. 71% of retail investor accounts lose capital when trading CFDs with this provider. You should consider whether you understand how CFDs work and whether you can afford to take high risk in losing your capital.
Cryptoassets are highly volatile unregulated investment products. Proceed at your own risk.You should be able to invest in Compound within minutes at eToro, provided the documentation needed to complete the KYC process is clear enough to be validated automatically. Head over to your portfolio, found on the left-hand side of the main page, and you will find the COMP tokens you purchased.
Where to Buy Compound – Full Broker Reviews
We scoured the best cryptocurrency platforms offering Compound in the US. You will see our findings in the form of comprehensive reviews next.
Key metrics we study include; the range of deposit types, fee framework, regulatory standing, safety features, how beginner-friendly the website is, mobile app availability, and whether the option of fractional Compound investments is on the table.
1. eToro – Overall Best Place to Invest in Compound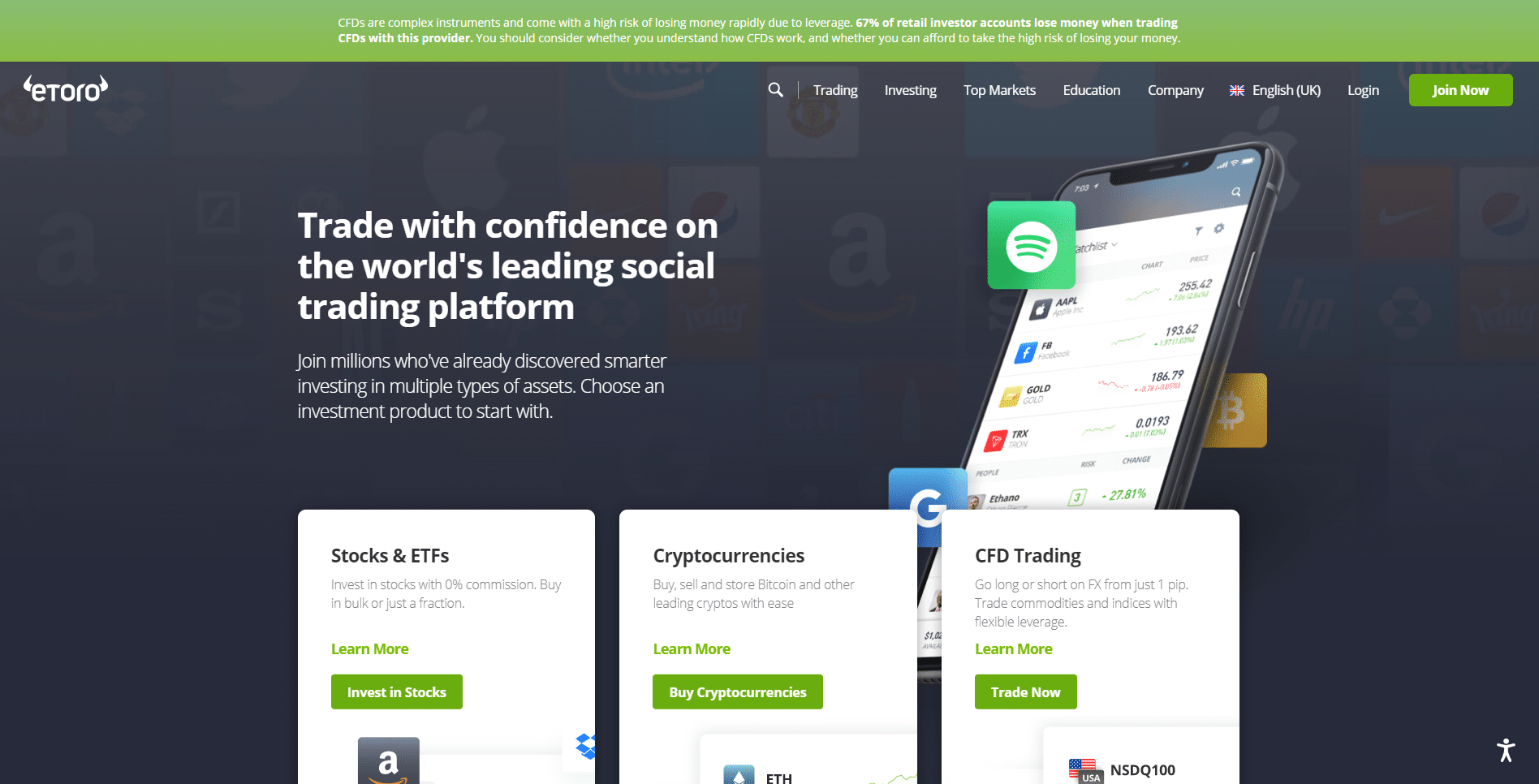 eToro is a great all-rounder to invest in Compound in the US. For one, you have the peace of mind that comes with signing up with a platform that adheres to high standards. This is thanks to the regulation and approval of the SEC, the FCA, CySEC, and ASIC. The broker is also a FINRA member. Beginners will appreciate the simple-to-use interface with uncomplicated filters and menus. US clients will not have to pay a fee to make a deposit and can choose between various payment types to invest in Compound. This includes wire transfer and the much faster option of debit cards or online banking.
This brokerage lists COMP tokens as well as 29 alternatives, including offerings such as Litecoin, Ethereum, Bitcoin Cash, Bitcoin, Cardano, and EOS. eToro facilitates fractional purchases so you can invest in Compound and any other digital currency from $25 and above. This is a good way for beginners to lessen the risk involved with the super-sharp price fluctuations often seen in this marketplace. We checked out the fee structure and found you will only be charged the gap between the buy and sell price – the spread. This starts from 0.75% which is tight.

This broker is different from the other platforms we reviewed. This is because it offers a social trading environment to invest in Compound, whereby you can see a live news feed, and even 'Like' and reply to people's posts. Whilst you shouldn't take someone's opinion as fact, it is useful to see what the wider sentiment is on various assets. To enhance your experience further, you can join the eToro Club. You will be automatically added to a specific tier depending on the amount of equity in your account (from $5,000). This can include premium technical tools, a dedicated account manager, and weekly market analysis.
If you would like to grow your digital asset holdings without any research – allocate funds to a successful investor that favors cryptocurrencies. This is called Copy Trading and is a popular feature offered by eToro. Let's hypothesize that you invest $2,000 in JoeTrader123 and they risk 5% of their balance on COMP tokens – you will see $100 worth appear in your portfolio automatically. If they sell, you will too. If you are unsure whether this type of hands-off investing is for you, try it using the free demo profile given to you. This comes with $100k in virtual equity to play with and you can switch back to your real account when you like.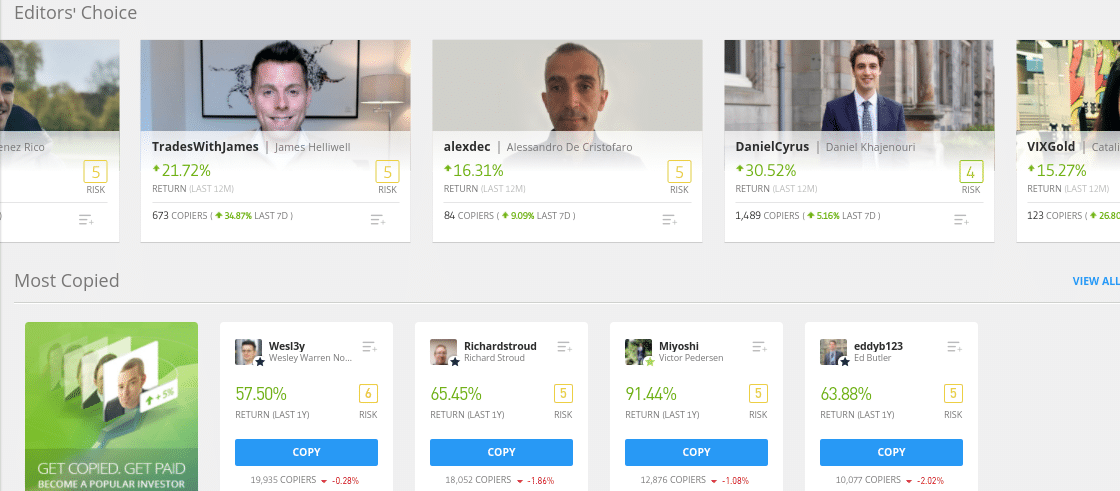 To sign up with eToro and invest in Compound, you will need to tell the platform a little about who you are as well as finishing the KYC process. This is quick and easy here and the only things you need to upload are a photo ID and a letter showing your full name and address – like a bank statement. You will not need to concern yourself with the daunting job of securing your COMP tokens in a wallet – as you can simply buy, store, and then sell your investment without leaving the platform. The minimum deposit here is just $50 and you can also invest via the free mobile app.
Pros
Invest in cryptocurrencies on a spread-only basis
Minimum investment per trade from just $25
Supports debit cards, online banking, and local bank transfers
Regulated by the SEC, FCA, CySEC, and ASIC
Minimum deposit of $50 and no transaction fees for US citizens
Used by over 20 million people
Perfect for beginners
Social and copy trading tools
Cons
Perhaps too basic for technical traders
No support for MT4 or MT5
Cryptoassets are highly volatile unregulated investment products. Proceed at your own risk.
2. Coinbase – Best Way to Invest in Compound for Beginners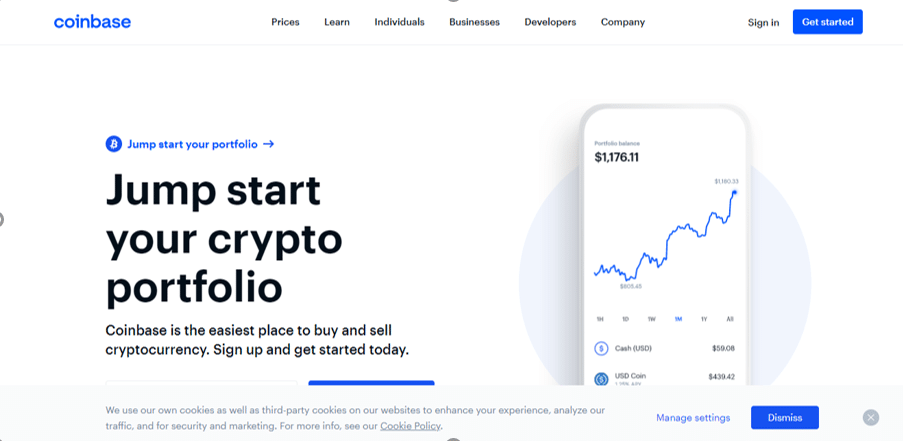 Coinbase has been on the scene for some time and offers a beginner-friendly experience for people wanting to invest in Compound in the US. This is because the platform itself is free from the complicated jargon seen at other crypto exchanges, and also includes a learning center with market updates, tips, and beginners guides. You will also find a free mobile app to access COMP tokens. The key issue with Coinbase is that the exchange charges high fees. For instance, the standard commission fee to enter and exit the cryptocurrency markets is 1.49%. This isn't competitive compared with eToro, with its spread-only structure.
If you plan on investing in Compound with a US debit or credit card via Instant Buy, you will be charged 3.99%. In other words, from every $1,000, Coinbase takes $39.90. A wire transfer will set you back $10 and an ACH transfer is free of charge. All the platforms we review today comply with a range of AML laws. So although no previous experience is necessary to invest, Coinbase will also require you to verify your ID to use its service. Additionally, this exchange allows users to use supported digital currencies to make a deposit. Other crypto-assets include Tezos, Ethereum, Dogecoin, Terra, and more.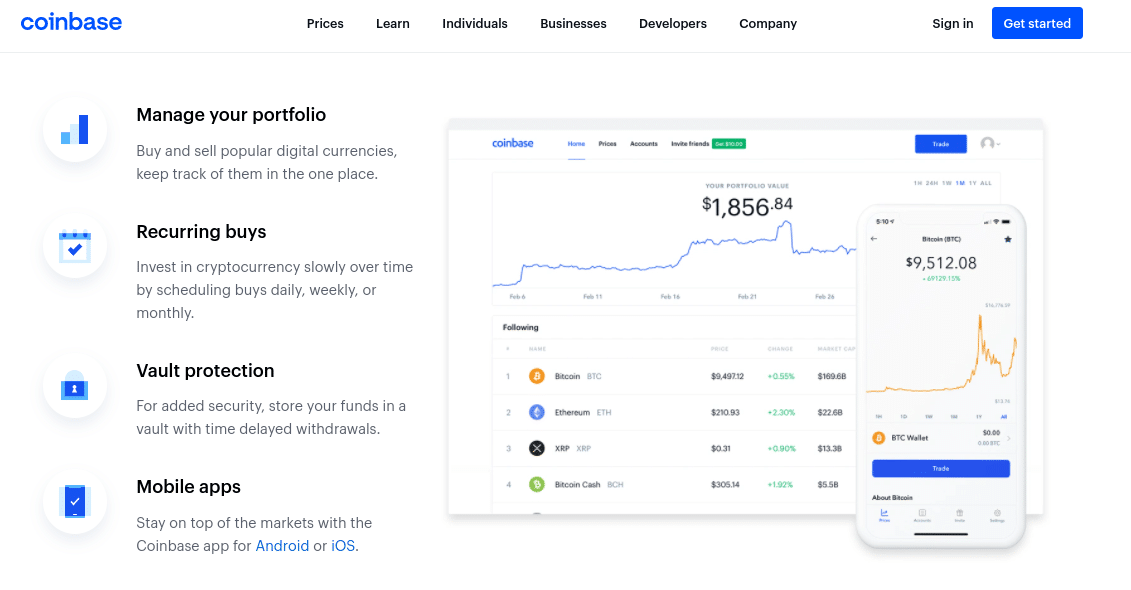 A key advantage of Coinbase is that you won't need to download a crypto wallet. There is a range of security procedures followed by this exchange. Two-factor authentication is essential and 98% of your digital assets will be stored offline in cold storage. In a sector vulnerable to hacking, these are basic requirements that you should look for at a crypto exchange such as this. Beginners looking to invest in Compound might also like the Recurring Buys feature that lends itself well to taking a slow approach. Set a daily, weekly, or monthly schedule with small amounts and this will build your COMP tokens automatically.
Pros
One of the most popular cryptocurrency exchanges
More than 68 million users
Supports instant debit card purchases
Dozens of digital currencies to choose from
Institutional-grade security practices
Cons
Debit card deposits are expensive at 3.99%
You will pay a standard trading commission of 1.49%
at eToro, #1 Broker in the US
Cryptoassets are highly volatile unregulated investment products. Proceed at your own risk.
3. Binance – Best Place to Invest in Compound for Asset Diversity

Binance boasts some of the largest trading volumes in the cryptocurrency space and serves millions of investors. Residents of America can now use Binance US, which lists 50 cryptocurrencies you can invest in with ease. If you are looking to invest in Compound but also want asset diversity, this platform might be worth your consideration. We found other well-known offerings, such as Ethereum, Bitcoin, Litecoin, Tron, Stellar, and many others.
When signing up with Binance US, you will be asked to complete the ID validation process. This is a way of reducing the risk involved and lessening the chances of the exchange falling victim to financial crime. There is a free mobile app available if you want the ability to invest in Compound on the move. If you desire the speed and convenience offered by using debit or credit cards to buy COMP tokens, you will pay just 0.5% per transaction, which is competitive.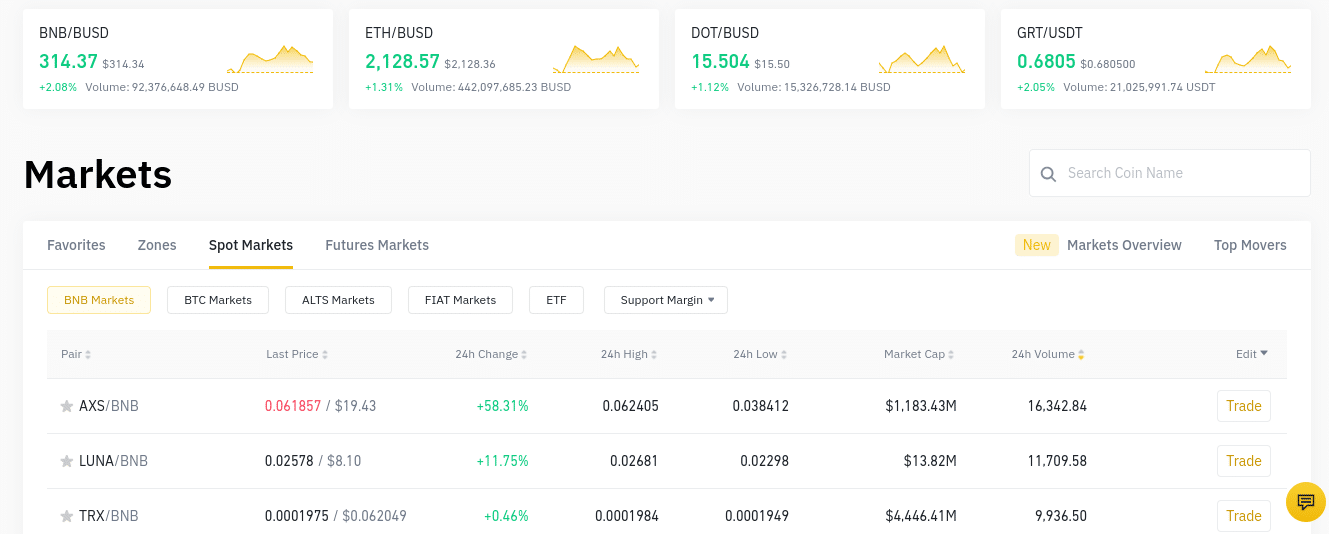 The commission stipulated to invest in COMP tokens on Binance US is 0.10% per order. If you invest in Compound as well as Binance Coin, you will be able to opt into a feature that allows you to pay your fees using BNB tokens. This enables you to save up to 25%. However, if you choose to use your debit or credit card to invest in Compound – the fee is fixed at 0.50%. The minimum investment is just $10, which should be achievable for most beginners. You may also engage in dollar-cost averaging by utilizing the Reoccurring Investments feature.
Pros
Facilitates billions of dollars in daily trading volume
Supports hundreds of digital asset pairs
Near-instant deposits via debit/credit card
Trading commission starts at just 0.1% per slide
Offers crypto savings accounts
Ideal for both beginners and experienced traders alike
Cons
Not all supported cryptocurrencies can be purchased with a debit/credit card
No e-wallet deposits or withdrawals
at eToro, #1 Broker in the US
Cryptoassets are highly volatile unregulated investment products. Proceed at your own risk.
4. Kraken – Reputable Exchange for Investing in Compound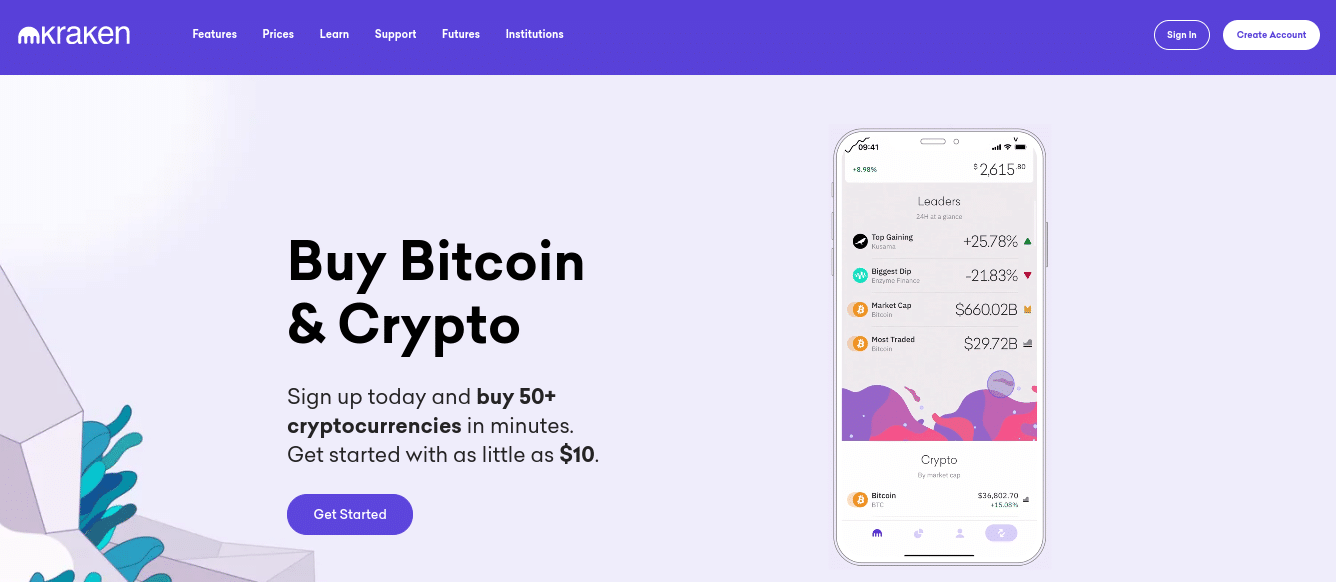 Kraken is highly regarded and widely known across the US and beyond. There are more than 72 cryptocurrencies to invest in and the site is super-easy to use. You can invest in Compound here by completing the ID validation process and adding some funds to your new account using FedWire. The latter takes between 0-5 days to clear, in some cases, depending on the bank. Note that for security reasons, your first cash deposit will induce a 72-hour withdrawal hold.
US clients can also invest in Compound using ACH or online banking. You can get started with a stipulated minimum of just $10 at Kraken, which makes it a beginner-friendly platform for accessing such a speculative marketplace. When it comes to the fees involved with investing here, high-volume traders handling more than $10 million in a 30-day period are rewarded with the lowest rate of 0.10%.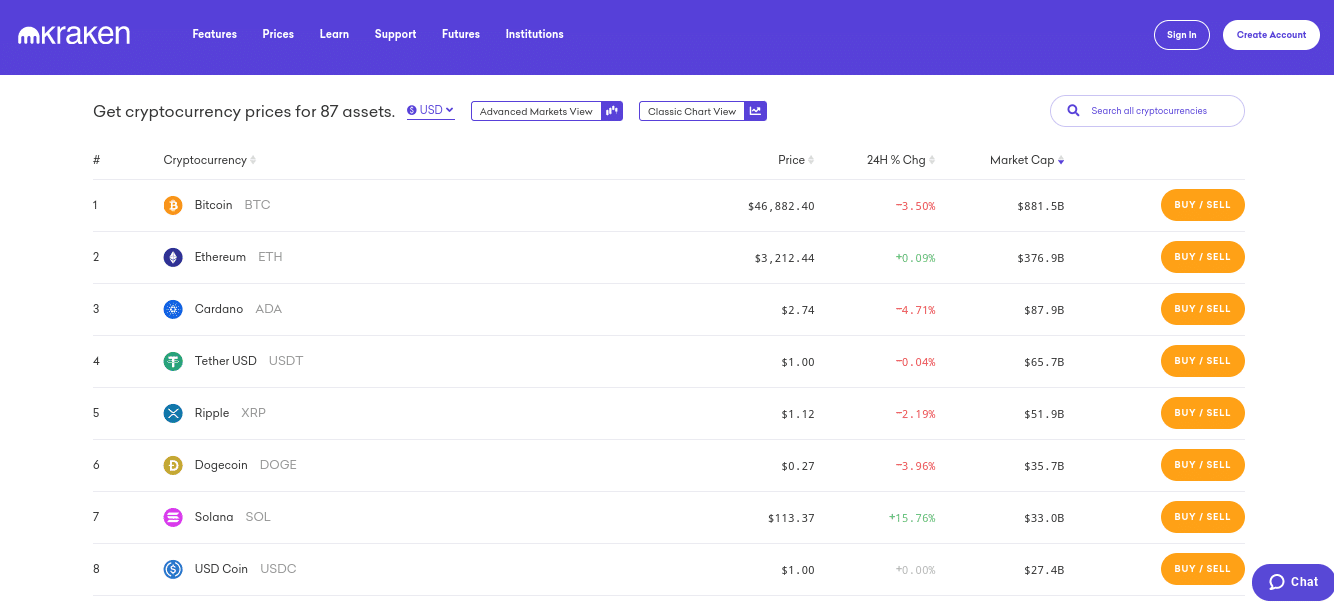 If you think you will trade less than $50,000 within 30-days, you will be liable for a 0.26% commission per slide. As such, this might not be the best option for beginners who want to take a slow approach to investing. Crucially, Kraken advises all assets will need transferring to a wallet for safety. Notably, though, this is also something the exchange offers to US clients.
Pros
Popular cryptocurrency exchange and broker
Great selection of cryptocurrencies
Supports both crypto-cross and fiat-to-crypto pairs
Accepts debit/credit cards and bank transfers
Offers complex crypto instruments for experienced traders
Cons
Not all US states are supported
Fees are somewhat pricey
at eToro, #1 Broker in the US
Cryptoassets are highly volatile unregulated investment products. Proceed at your own risk.
How to Invest in Compound – Detailed & Explained in Full
Signing up with eToro to invest in Compound couldn't be easier. We have chosen to use this particular broker for our detailed walkthrough because the SEC regulates the platform, you can make investments starting as low as $25 and, as a US client, you will not be charged anything to make a deposit – even when using a debit or credit card!
Step 1: Open an Account to Invest in Compound
To invest in Compound for as little as $25, you will need to go to the eToro website and look for the button that says 'Join Now'.
Once clicked, a box like the one below will appear on your screen.
You can sign up for free by entering simple details such as your first and last name, email, and cell phone number.
You can also fill in a username and password of your choosing.
Check the boxes as instructed to accept and acknowledge the terms and conditions and privacy policy set out by the broker.
Finally, enter information such as your date of birth, social security number, and nationality.
Hit 'Create Account' when you have finished.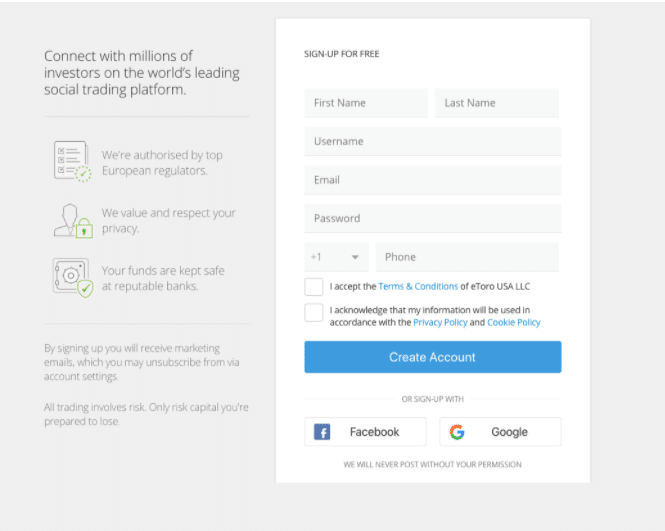 You will also be asked to answer some non-evasive questions about your understanding of risk before you invest in Compound in the US. This is all part of eToro's role as a responsible investment platform. The broker will also validate the cell number you have given by sending you a unique PIN which you must enter when prompted.
Cryptoassets are highly volatile unregulated investment products. Proceed at your own risk.
Step 2: Upload ID
eToro will allow you to use your account to invest in Compound prior to uploading ID. However, it's inevitable that this must be completed before you make a withdrawal or add more than $2,250 to use as equity.
The process takes mere minutes so there's nothing to worry about:
All you have to do is upload a copy of your chosen national or state ID. For instance, this can be a passport or driver's licnese.
So that eToro can validate your home address, you may use a residency permit or credit card/bank statement.
There are other options, for instance, you could also confirm your address with a utility bill. Either way, in most cases, eToro will be able to verify your documents in under 60 seconds.
Step 3: Add Funds to Your Account
Next, you can add some money to your account to enable you to invest in Compound.
Choose between a debit card, online banking, or wire transfer.
The best option here is a debit card – which is processed instantly.
Enter your bank details as required, and then an amount to deposit – this must be $50 or over.
Step 4: Search for Compound
You are another step closer to investing in Compound. The most convenient way to find any asset at eToro is by entering its name into the search bar – as seen below.

As you can see, a list of related markets (even if only by name) will appear – so make sure you select the correct one. To begin the process of investing in Compound, click 'Trade'.
Step 5: Invest in Compound
The end-to-end process to invest in Compound is a stress-free affair at eToro. Start by entering the size of your investment in the box labeled 'Amount'. Here, we are looking to making an investment in COMP tokens by allocating $50, which equates to around 0.12 units at the time of writing.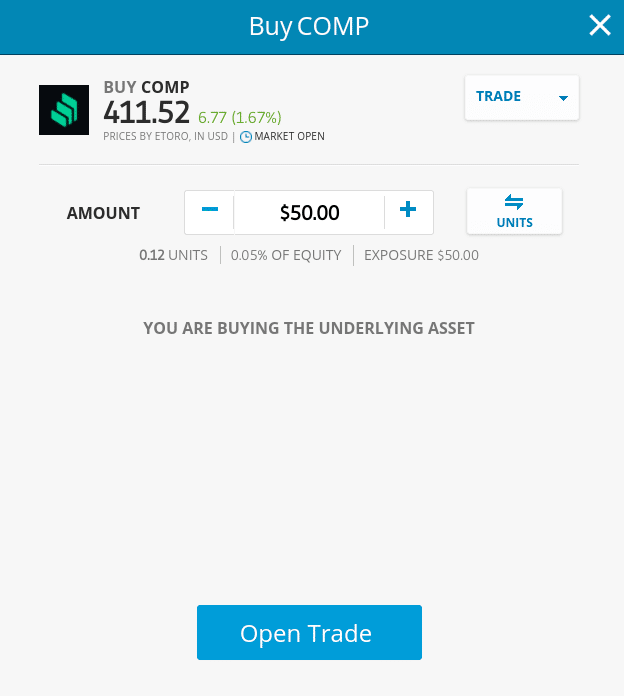 When you are happy with the amount, you can confirm your Compound investment by clicking 'Open Trade'. eToro will add the tokens you've just purchased to your account portfolio – which you can easily access via the left-hand side of the main platform.
How to Sell Compound
At some point in the future, you will want to cash out your Compound investment – ideally at a profit. The goal is to make gains from a rise in value, meaning you get back more than you initially paid. Anything can happen in this industry. As such, if COMP were to skyrocket, you would want to sell your tokens in the most convenient way possible.
In terms of how to sell Compound, you will see a simple example below that assumes you bought the tokens at eToro:
Let's say you invest in Compound and 4 months later the tokens have doubled in value.
As such, you decide you want to sell your COMP tokens back to eToro to make a profit.
To do this, go to the eToro platform and click 'Portfolio' from the menu on the left-hand side.
In your eToro portfolio, you will see a list of assets you have invested in.
Click 'Sell' beside Compound and confirm all.
eToro will add the funds from the sale of your COMP tokens to your available account balance.
At this stage, you can have the money sent to the account you used to make a deposit. This is done by clicking 'Withdraw Funds' from the left-hand side menu. Many people decide to re-invest the proceeds instead. In this case, you can search for the relevant market as explained in the step-by-step sign-up guide and place an order to invest in something else.
Ways to Invest in Compound
By now, you should have a much clearer picture of how to invest in this popular digital token. However, there are many different ways to invest in Compound – all of which should be considered before you part with any money.
See these options below for clarification.
Invest in Compound via Cryptocurrency Exchange
Exchanges differ from online brokers – because to invest in Compound you usually have to make a deposit and then buy and store your digital asset in a separate and secure wallet. You will also find that most platforms in this category require crypto rather than US dollar deposits. This can be problematic for beginners who are unlikely to have some cryptocurrencies already.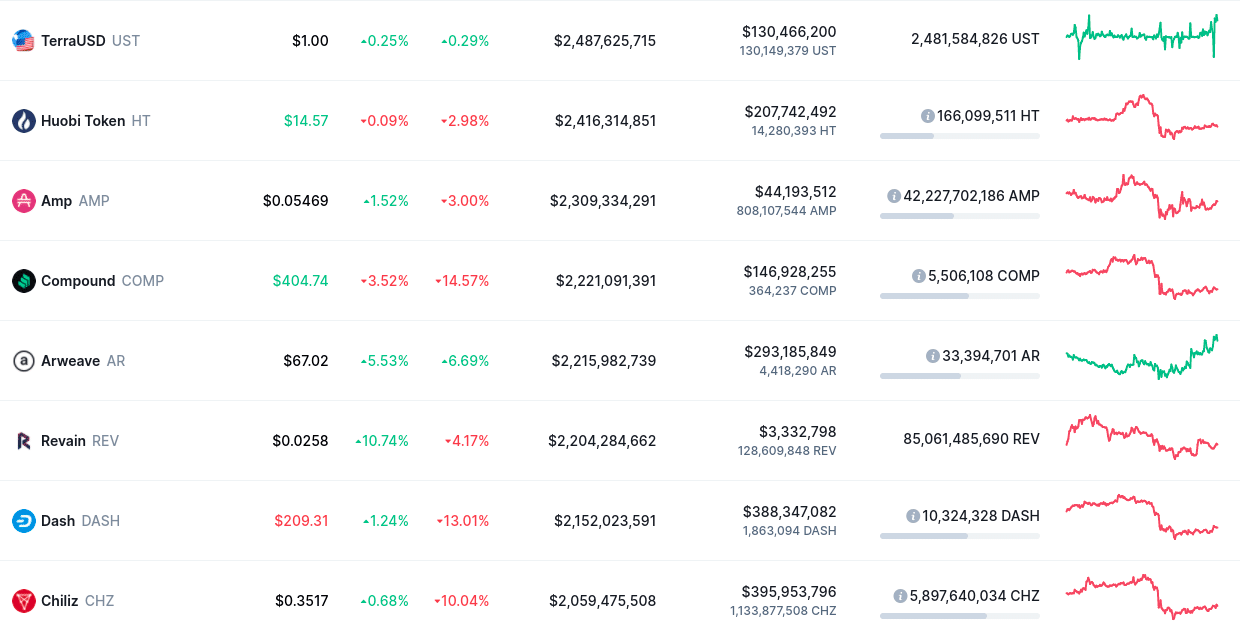 Another point to note about crypto exchanges is that they are rarely operating under the watchful eyes of regulatory organizations such as the SEC or the FCA. As such, it's a gamble whether the platform will turn out to offer a low or high standard of service for investors. Where money is involved, it's usually better not to take that risk when looking for a trustworthy place to invest in Compound.
Invest in Compound via an Online Broker
Online brokers also come in different shapes and sizes – so do investigate any platform before joining up and making a deposit.
A great option for beginners learning how to invest in Compound is eToro.
The SEC, ASIC, the FCA, and CySEC regulate this broker – and you can store your COMP investment in safety in your portfolio.
Because of its regulatory approval – eToro is able to facilitate payment options such as wire transfers, debit cards, and online banking – all in USD.
USD deposits are free of charge and you can invest from just $25 in Compound with a simple buy order.
If you choose to invest in Compound at eToro, you only have to deal with the broker itself. This is in contrast to cryptocurrency exchanges – where you will need to trade with other market participants. Furthermore, when using eToro, you can cash out in a few clicks via your account, as the platform will store your digital assets for you with no fee attached.
Should I Invest in Compound?
Investing in digital currencies is not for the faint-hearted. A sudden change in the market sentiment toward such assets can cause huge price spikes in either direction, which in turn can lead to devastating losses.
As such, when you are contemplating whether you should invest in Compound, it's important to perform plenty of research on your market of choice. Furthermore, be mindful that whatever you allocate to your investment could be lost in a heartbeat – so consider low amounts.
You will find some important considerations below to help you along.
Compound Offers an Open Lending Platform
One of the reasons people look to invest in Compound is that the underlying platform offers users an open lending space.
This means that unlike with the traditional banking systems we've always known – people can borrow funds without having to be put through the process of a background check.
In this instance, cryptocurrencies are leveraged as an asset on the protocol.
It would simply not be possible for a bank to accept digital currency as a guarantee for a loan.
Decentralized finance like this could pave the way for DeFi projects such as COMP to grow at a rapid rate.
As such, this predicted growth – thanks to a niche in the market, could be a good reason to invest in Compound.
With that said, it's crucial that you learn about this asset class before risking your money. The top-rated online broker eToro will allow you to buy crypto from just $25, which at this time enables you to invest in just 6% of one COMP! This is perfect for beginners investing in Compound who may not want to risk hundreds of dollars on a full Compound token.
Invest in Compound and Earn Interest
Another element that makes people want to invest in Compound is the fact users are able to earn interest on cryptocurrency holdings. This means if you are looking to adopt a buy and hold strategy to investing, you can make some passive income.
Let's imagine you later decide to buy and hold some Bitcoin and plan to never cash out.
There are many people HODLing Bitcoin – investors who want to hold on forever are known as Whales.
Via Compound – you are able to earn interest without liquidating those BTC tokens.
Wrapped Bitcoin (or WBTC) is an ERC-20 token that depicts the value of Bitcoin
This is an exciting feature and puts it well ahead of many of the DeFi offerings out there.
Of course, this is just an example. Even if you never plan on buying any Bitcoin specifically, the ability to earn interest spans 16 different markets. This makes Compound – as a project, an attractive investment for many in this industry. To give you another example, the yearly interest rate on all ETH deposits currently stands at 5.25%.
What are the Risks of Investing in Compound?
Understanding the risks involved before you invest in Compound is essential. Like with any investment, there is always the danger you might lose money.
See below some of the potential risks to be aware of when you invest in Compound:
There has been speculation surrounding how decentralized COMP tokens actually are – due to the way Compound is distributed.
Almost half of all Compound tokens are held by the founder, the creators of the protocol, and shareholders.
Submitting a change in governance will only get to a stage where it can be voted upon if 1% of the aforementioned holders agree to it.
This doesn't really illustrate the kind of protocol that flourishes from decentralization.
Furthermore, Compound and the wider cryptocurrency market, in general, could face further uncertainty.
Aside from the above points, you must remember that buying and selling cryptocurrencies is mainly based on speculation, and the markets can be extremely volatile. With this in mind, you should never allocate more than you can afford to lose – no matter how good it seems or how much hype surrounds it.
You can also add other digital currencies to your portfolio – or an altogether different asset class such as stocks. Either will lessen your exposure to a single market. Another tried and tested strategy is to only invest in Compound in small amounts. eToro makes this easy with a minimum stake of $25 on COMP tokens.
How Much Does it Cost to Invest in Compound?
Part of mastering how to invest in Compound in the US is having a clear vision of what you might have to pay the provider for executing your transactions.
Take a look at some of the fees charged by many platforms currently listing Compound:
A service charge, widely called a commission fee, is one of the first to look out for, as this will be taken every time you place a buy and sell order.
eToro is a spread-only broker, which means you only pay the difference between the bid and ask price of the asset – this starts from just 0.75%.
In contrast, Coinbase charges commissions of 1.49% per order, as well as a spread that may be as wide as 2% depending on conditions.
Many crypto platforms also charge deposit fees when you fund your account and invest in Compound:
A transaction or deposit fee is usually charged on specific payment types, so you might find that this is different for debit cards compared with online banking.
As a US client, eToro will charge 0% to add funds to your account using debit cards, wire transfers, or online banking.
Coinbase, on the other hand, stipulates 3.99% for debit card transactions.
Knowing what fees you will be liable for when signing up with a platform will help you better manage your money. In other words, try to be realistic about how much to invest in Compound and take the aforementioned charges into account.
How to Invest in Compound – Conclusion
This guide has talked about the inner workings of how to invest in Compound, as well as the most important components of choosing a broker and how to sign up. Investors are better suited to a regulated environment, whereby there is no trepidation over the securing of a wallet or whether the crypto provider is legitimate.
As we have mentioned throughout this beginner's guide, it is pivotal that you conduct your own research before going ahead. With that said, our researchers found that eToro offers the fasted and most convenient experience for anyone looking to invest in Compound.
The platform is easy to use and finding and investing in Compound is simple and stress-free. A major advantage is that the broker is regulated by the SEC and you can invest in COMP from only $25. Plus, US clients are not charged any fees when using a debit/credit card or bank transfer – which makes eToro one of the cheapest brokers to invest in Compound!
FAQs
How to invest in Compound?
Best place to invest in Compound?
How can I safely buy Compound?
How do I cash out Compound?