Best Online Trading Platforms: Top 10 Rated & Reviewed
The trading world has grown along with the internet. New platforms have emerged that allow anyone to trade wherever and whenever they would like. There's money flowing constantly through the internet thanks to these locations to trade.
With plenty of online stock trading platforms available, how can you be sure you're using the one that best fits your needs? You've got goals and we've got the breakdown you've been searching for to cut through all the advertisements, posts, and opinions to give you what you need to make the decision that's right for you. We've narrowed the list to the top trading platforms you should consider in 2021.
Best Trading Platform – eToro.com
What is a Trading Platform?
When you hear the phrase "trading platform" you may picture yourself, set in the days of bartering, where you (the farmer) are at the local community market providing the storekeeper with wheat in exchange for a new pair of shoes from his shop. The storefront center for exchanging goods has not only come a long way but has evolved into much more, as well as moved to the realm of the virtual world for online trading. So, now in this virtual world, how do you make exchanges without having the physical place of meeting? This is where the trading platform finds its place.
At its core functionality, a trading platform is designed as the vessel for allowing you (the trader) to interact safely with the investor, and eventually make financial gains. There are different types of platforms, lending themselves to various styles of trading. There are platforms for individual traders, and others for commercial stock trading.
Trading Platforms – The Best Are Necessary
A trading platform is necessary because it enables a variety of people to trade safely and effectively. Trading platforms can be used to manage various positions that exist within a market.
Trading platforms are also necessary because they allow traders of various standings to be able to be on the same playing field. There are many tools and helpers available for anyone to use at any time. It's not just limited to those who are the best at what they do.
Trading platforms can also be used to assist in specific markets, so they become in demand for that subgroup of marketing. They can shift and change along with the world of trading as it moves through time.
Best Trading Platforms – Make Your Decision Fast
Standing in the hair care aisle, you realize your favorite shampoo is no longer available. Maybe you think to yourself, "no big deal, I'll just grab a similar one and go" only to find that fif1`teen or maybe even thirty minutes later you're still reading bottles, Googling reviews, or even calling a friend for support…hoping for a true review from someone you trust. Let's be honest, we've all been there. There is no shortage of shampoo options, and we're just talking shampoo! You've grown up with it, have experience, know what you like and what helps you reach your "hair goals."
Let's take that scenario and get financially in the middle of something that might start as a hobby, but that you may secretly hope to be life changing. Or, even better, you've done your research, talked to friends with experience, know a few investors, and feel like you're ready to take the trading plunge. The last step is selecting your platform.
Trading Platforms Features and Fees
The trading platforms that exist on the market have many features and fees that come attached to them. Look at these will be a critical part of finding one that works for you.
When seeking your perfect platform match, studying the ratings and reviews will give you an idea of overall investment offerings, platform tools, mobile trading availability, research, education, and general ease of use. More specifically, you'll want to dive into the following to find the best trading platform for you:
Bundled Features
It's not uncommon to find features bundled, which gives some platforms high marks when it comes to ease of use. Bundles may include charting tools, shared premium research, real-time quotes, and an active newsfeed to keep you in the loop.
Bundled features can come in handy for a trader by:
Providing easy access to an abundance of items to use
Simplifying many processes that would have otherwise been complicated
Look for bundled features in the platforms that you look through. These will provide you with many items at once that will be able to assist you and make you more comfortable on your trading platform journey.
Investment Options
Choosing a platform with the most options may seem like the best choice for you, and it very well might be. However, if you're new to the trading space, more is not always better as things can get more complicated very quickly. Investment options that may differ from platform to platform as offerings include Crypto, AI, Forex, and futures trading. For options that are more readily available across platforms, look for stock trading, options trading, fractional shares, bonds, and mutual funds.
When you are just starting, it is best to stick with a few things at a time. Focus on what you are doing and look for that item as you scour through the trading platforms that exist. The more complicated your trading is, the harder it will be. A newbie should keep it simple for their own sake, and the future of their money in the case that something goes wrong.
Accessibility Features
Accessibility is key to being comfortable with the platform, especially if you're just getting started. Features to investigate when looking into your trading platform options include compatibility with even your computer operating systems. Be sure you choose the option that works with your Windows or Mac. Almost all include web-based trading as a method, and some include paper (or portfolio) options. If you're on the go and want to be able to take a quick look at your investments, you'll want a platform that offers a mobile app, which may or may not work on your smartwatch.
Provided support and resources can feel like literal lifelines, which are not equally included amongst trading platforms. You will know your needs, which vary between brand new traders and the most experienced. While some platforms offer education, live chat, phone, and email support, others are more sink or swim when it comes to being there for troubleshooting and tool explanations.
Fees
Like the previous features mentioned, fees also fluctuate between trading platforms. Some of the more common fees to investigate before settling on your platform are minimum deposit requirements, stock share fees (flat and per share), broker-assisted trade, mutual funds, and options trading fees. A good option for beginning traders may be virtual trading (paper), which in its most basic form, entails a portfolio and fake money, allowing you to get your feet wet without so much pressure.
Knowledge is Power: Top Trading Platforms for You to Consider
Overall, there is a lot to know about the trading platforms. Features and fees tend to shift and change between services. You will always need to keep your eye out for them as you go about the process of trading on the internet.
Now that we've discussed those items, it's time to dive into the best trading platforms by our book. Every single one of these has strengths and disadvantages that set it apart from its competitors. Keep on reading to find one that's right for you and the trades that you intend to make.
2021 List of Top Trading Platforms
Interactive Brokers
Robinhood
AmeriTrade
Fidelity
IG
Charles Schwab
VantageFX
Tastyworks
Ally
Best Online Trading Platforms – Top 10 Reviewed
Below, we will go further into detail on each of these trading platforms. All of them are great in unique ways, and all have issues that every single trader should be aware of before they go with one for their money.
The list below is the top ten that we recommend using for and trading that you might need to do. We will go further in-depth on this as we go along. Assisting you in figuring out how to take that first step into the universe of trading.
1 – eToro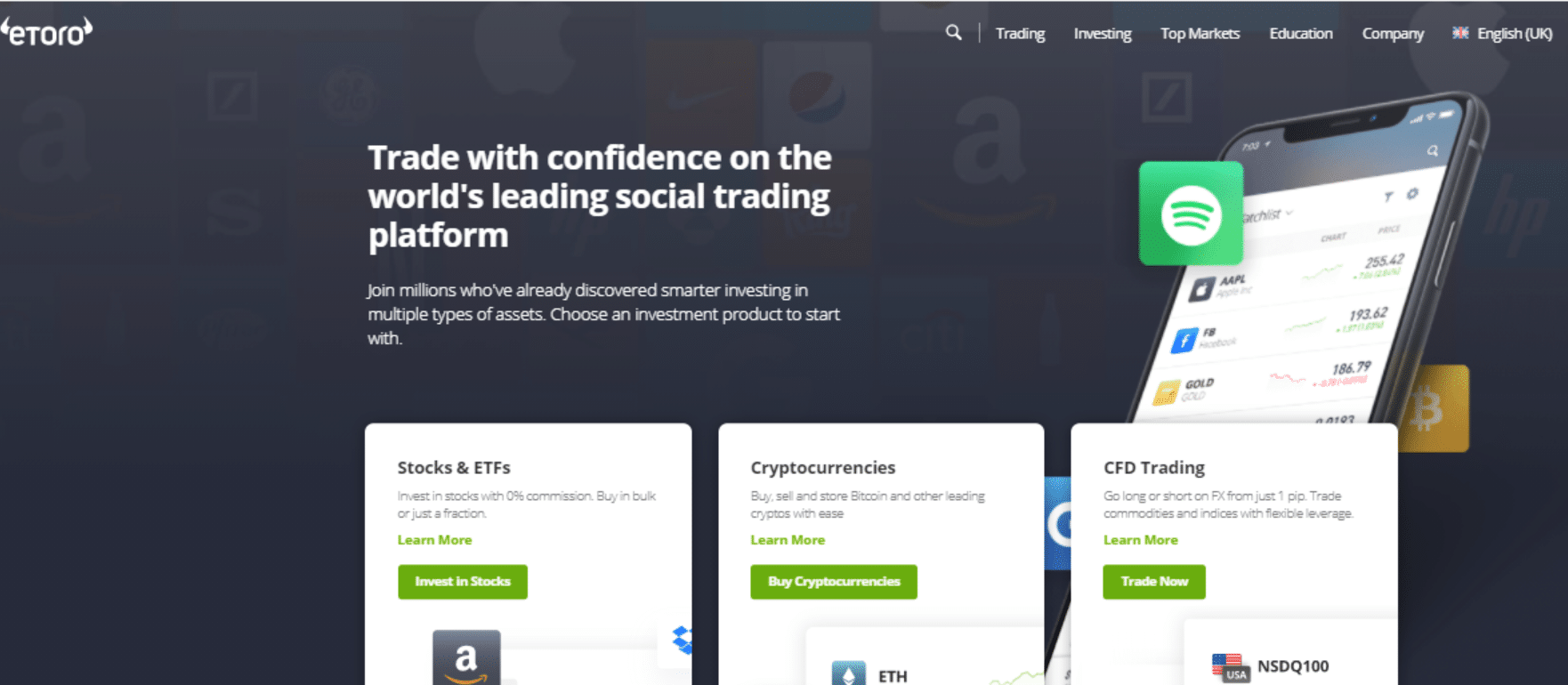 67% of all retail investor accounts lose money when trading CFDs with this provider.
With over 20 million traders, eToro leads the way in cryptocurrency trading, Bitcoin included. Traders like you, located in over 140 countries, can get started for about $50, which is a low-risk investment amount to take crypto for a spin and see if this route is made for you.
This platform strives to have an intuitive feel, with transparent pricing and cutting-edge portfolio management. Like Robinhood, the innovation and tool integration of this platform helps set it apart and appeals to the more digitally savvy traders. One of the tools, CopyTrader, makes it easy for clients to copy and mimic the trades of experienced investors with a single click and a fee of a couple of hundred bucks.
Keep on reading to learn more about some of the specific good things and bad things about eToro. We will help you become fully informed on this trading platform and others like it.
Major Benefits of Using eToro
eToro is one of the most popular ways to trade on the market, as stated above. There are a ton of great things about it that should be made known to anyone with this company on their list as a potential for a trading platform of their own.
The best things about eToro are that:
You can deposit funds with pretty much anything
You can get stocks without commission charges
It's friendly for anyone to use, no matter where they are
There are many stocks and ETF's to choose from, located both nationally and internationally
eToro is at the top for a good reason. These benefits are not common on many other trading platforms that you can locate online. Using this one is great for beginners and advanced traders alike, so all can learn together in this big process.
Major Disadvantages of Using eToro
There is only one major disadvantage that comes with eToro. Since it's so simple, it can prevent many advanced traders from getting what they want. They can't perform a specific technical analysis on a site such as eToro.
While that may drive away from the advanced group of eCommerce savvy folks, there is a whole world of young people who are eager to be involved with trading. This site will continue to thrive in this environment for years to come, or until something just like it comes along and decides to open it up for advanced traders, too.
2 – InteractiveBroker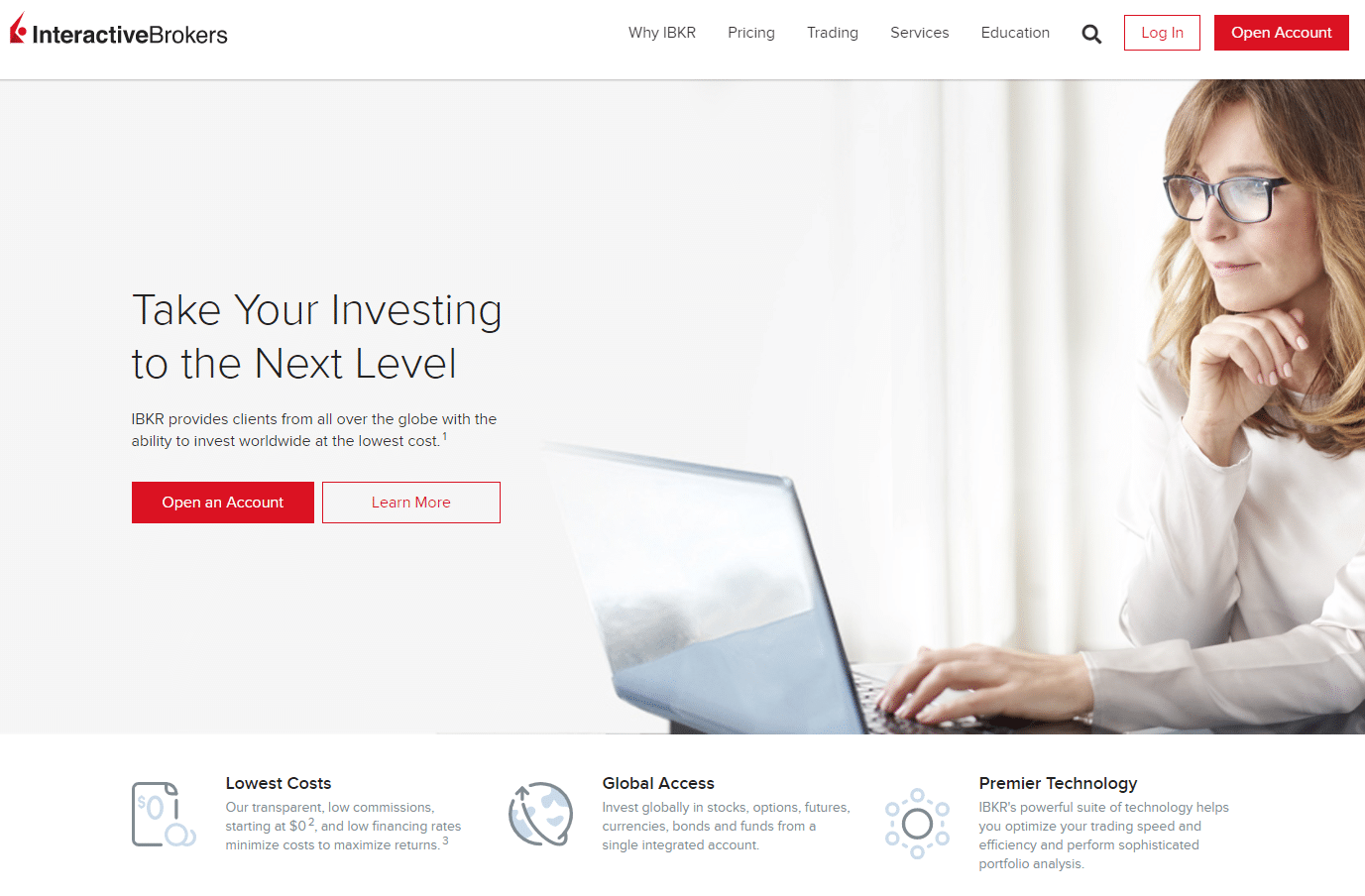 67% of all retail investor accounts lose money when trading CFDs with this provider.
For traders who are not new to the scene and looking to be a part of the leading platform into the world's markets, InteractiveBroker (IBKR) is the gateway into global trading. Their platform is available as a mobile app, web-based, or for computer use. This platform is sophisticated and provides deep analysis and real-time trade updates. The newly designed Impact Dashboard is a place for customers like you to align your values and your portfolio.
Like AmeriTrade, InteractiveBroker provides educational resources, for even the experienced trader to continue learning. There is 45+ courses available for learning more from their structured, rigid curriculum. Quizzes and benchmarks are even provided to check your savviness. These are great educational tools, but more formal and can be a little intimidating to the new trader.
Pricing is worth noting here, as clients must use the Lite version for no commission equity trades. And customers using the Lite version will not have access to the smart order router, a device that continuously looks for price improvement. Keep on reading to further understand the good and not-so-good aspects of InteractiveBroker.
Major Benefits of Using InteractiveBroker
The great things about this platform simply cannot be ignored. These are items that you should consider before you make use of this platform for all your trading needs.
Some of the best parts of InteractiveBroker include:
Its vast variety of markets that exist across the world
The fact that it doesn't have a minimum deposit requirement for users
The large number of stocks, ETFs, and index funds that it possesses
The quality features that it has go way beyond the abilities of many other trading platforms
InteractiveBroker is suitable for any investor that wants to rapidly expand their horizons. Here, they can learn and invest at the same time while having access to a massive amount of stock and other items to invest in.
Disadvantages of Using InteractiveBroker
Of course, there are some disadvantages to using InteractiveBroker. It won't be a perfect fit for everyone, and those thinking about choosing this trading platform should consider these before following through.
The biggest issues with InteractiveBroker are because:
The system is not for everyone as it may be nearly impossible for new users to get the hang of
The fees that it charges can be very confusing
It charges a few more fees than the average trading platform
These issues do not take away from the fact that InteractiveBroker is a quality platform that can provide many services to traders around the country. Consider these before going in on this one but know that you will get a quality service either way.
3 – Robinhood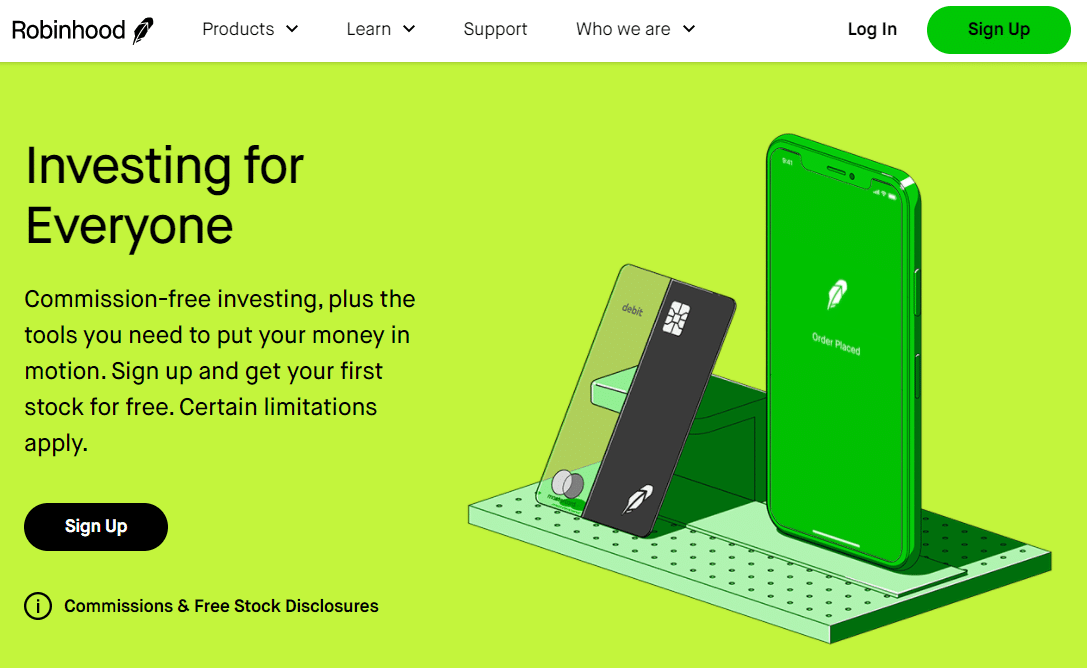 67% of all retail investor accounts lose money when trading CFDs with this provider.
For the younger generation of traders new to the scene, Robinhood has the look and feel to target millennials. A pop-up welcomes you as a first-time guest to their site, offering free stock. There's no money required to get started, making it appealing to new traders who aren't ready to dive all in. Not only that, but instant access to deposited cash is available to clients.
Cryptocurrency, usually made to meet minimum requirements to trade, works a little differently and feels a little less threatening on this platform. Here, cryptocurrency trades may be placed in small quantities, allowing you (the trader) a way to test the waters.
The platform boasts its learning resources, along with four principal values. The aim is to make the process straightforward and transparent for all involved. For new traders, this is not a negative, but for experienced or those wanting more, the simplicity of Robinhood may be too simplified. Some users seem to outgrow this trading platform and move on to more complex firms. Let's jump into discussing some more of the negatives and positives associated with Robinhood.
Major Benefits of Using Robinhood
Robinhood possesses many good things that go along with its rise in popularity. These can serve to draw in new and old users alike and are critical to look at as you make your choice.
Robinhood boasts benefits such as:
Ease of use, from beginners to the most advanced traders in the world
It is heavily regulated in the United States, so you don't need to worry about fraud or losing money as the playing field is relatively even
There is not a minimum deposit requirement
It has many stocks to choose from
Robinhood is one of the easiest platforms to use. As mentioned above, it is rising to popularity in the younger generation as they start to dive into the world of stocks and trading. These benefits result from years of tweaking intended for this specific group of people.
Major Disadvantages of Using Robinhood
As great as it may seem, there are still some downsides to Robinhood. Even the most popular trading platform on the market still has some items that could use polishing. We'll touch on these so that you're familiar with them before you settle on a trading platform.
The two biggest problems with Robinhood are:
The limited number of international stocks that are available, as most that exist on Robinhood are in the United States
You cannot deposit cash through a debit, credit, or e-wallet method
This can serve as an issue for those who want to invest internationally or push cash in a digital format. A potential trader should consider these in line with their own goals to see what the correct choice is for them.
4 – AmeriTrade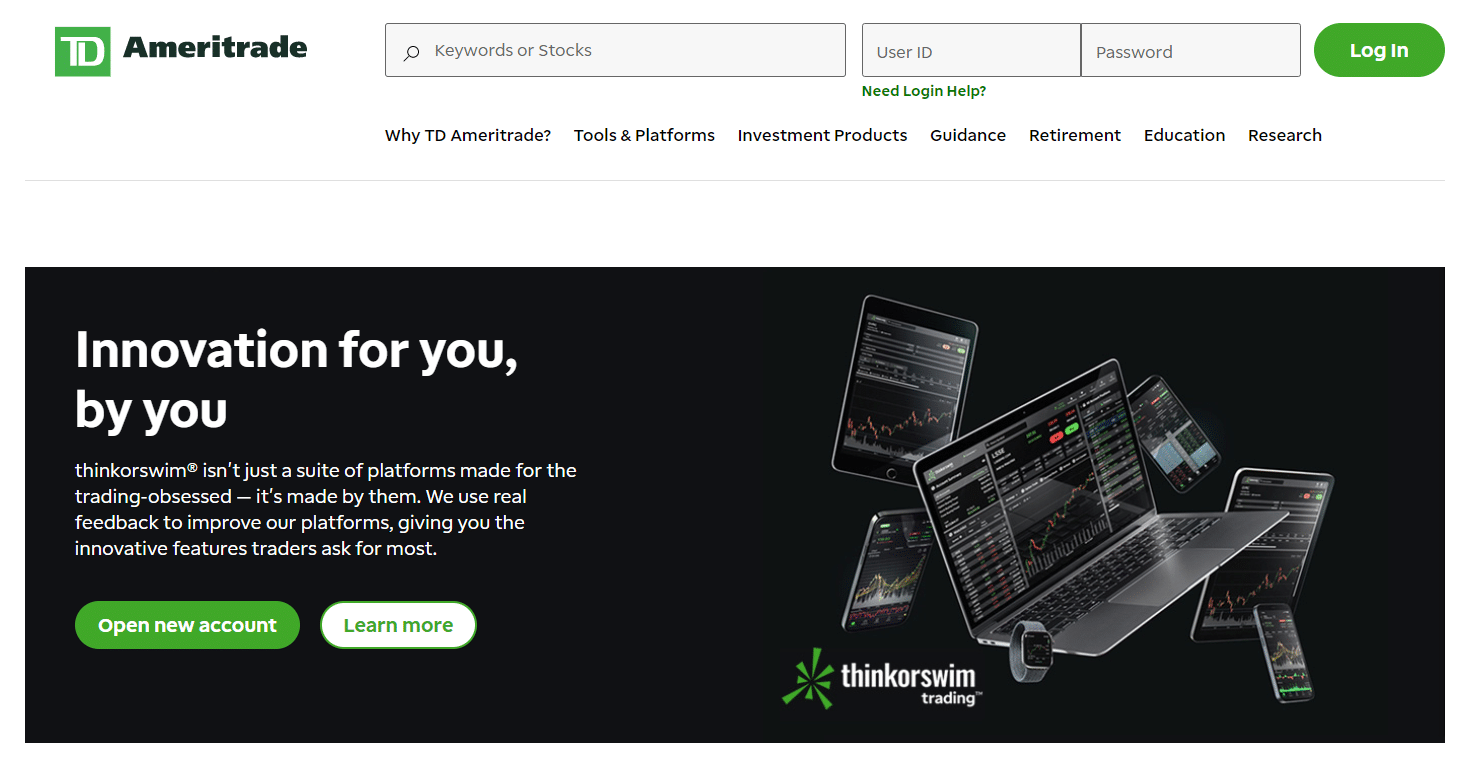 67% of all retail investor accounts lose money when trading CFDs with this provider.
AmeriTrade prides itself on creating smarter investors, and we believe (like the title says) knowledge is power. Their site reminds traders that "Knowledge is your most valuable asset" and they truly seem committed to this principle. This company is innovative, offering cutting-edge technology tools to help you dig deeper into your investment funds, and make informed decisions. Their continued drive to learn and empower continues to grow their platform. Education includes online tools and resources, as well as in-person learning in more than 280 offices, which is unique to the platform
One of the largest online brokers in the market, AmeriTrade does an excellent job of catering to you, as a beginning trader or investor. The company appeals to new users, running effective marketing through social media campaigns. Chances are, you've heard of AmeriTrade, even if you aren't into trading or investing yet. Read more to further understand some of the good and poor traits of this unique platform.
Major Benefits of Using AmeriTrade
To recap, AmeriTrade has many benefits that make it useful for traders. The reasons an investor should pick this item range from financial to personal reasons. Some of the best qualities that make AmeriTrade stand out as a competitor include:
No minimum amount of money a user is required to use at first
It is an established broker firm
It charges no commission on stocks or ETFs
It can be accessed online or on an app
It has been around since 1975, giving it some standing in terms of experience
Easy investment tools that encourage traders to use frequently
AmeriTrade is a successful platform that allows traders to expand their horizons. It has a ton of different stocks and funds that will allow users to take their pick from whatever they would like.
Major Disadvantages of Using AmeriTrade
There are also some disadvantages to using AmeriTrade, though these are much smaller than the positives. Traders should know that:
AmeriTrade works best for traders who know what they are doing
This site doesn't accept deposits using a credit card or an online wallet
Multiple sources must be uses to make the site as effective as it should be
These are two small things, but they can have an impact on you based on your experience level and mode of payment. Make sure you consider these items before choosing AmeriTrade as your platform.
5 – Fidelity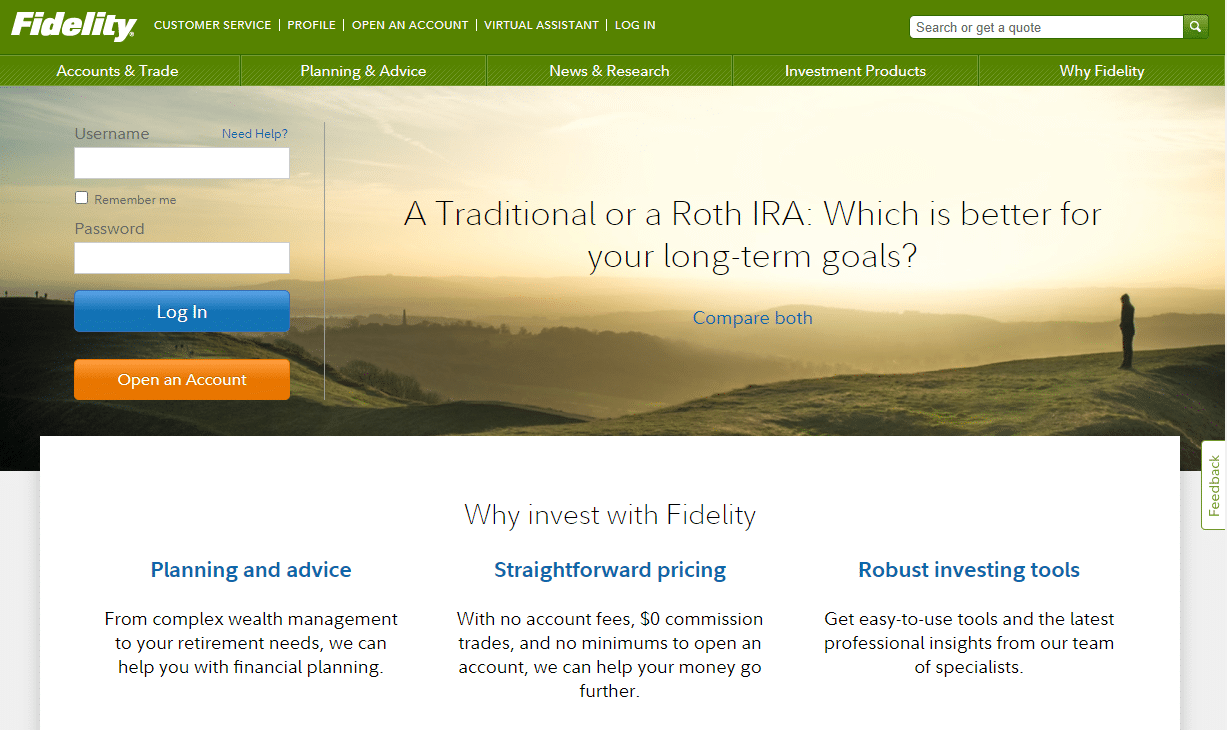 67% of all retail investor accounts lose money when trading CFDs with this provider.
Fidelity has an appeal that feels more traditional and welcoming, like an old friend. This trading platform has been around and promotes financial awareness, including retirement scores, lending itself to a different generation than the previous two. For a trading account, or a rollover, traditional or Roth IRA you'll find Fidelity has earned stars, most recently as a Forbes Winner of 2021.
Fidelity maximizes cash for clients, pushing any uninvested funds into a money market fund where it can draw interest. This is the kind of activity that tends to appeal to less active investors who may be happy putting money in and letting it sit, patiently waiting on a return.
To ensure clients have the right tools to make smart financial choices in trading, Fidelity constantly publishes research on the market. Choosing where to invest or move money is easier when you understand the trends and any new risks or influences impacting fluctuations in the market.
One of the largest benefits of Fidelity is the online coaching classes that are part of the provided education offered to all Fidelity clients. These classes are small groups and are centered around discussions based on the market and tools to be successful within it. Below, we will discuss some more great things that come with Fidelity, and a few of the not-so-great.
Major Benefits of Using Fidelity
As we discussed above, Fidelity is a great overall platform that provides clients with the ability to succeed in whatever they're doing. It provides learning resources, and ways to access the market when making a decision that will impact your funds.
The biggest benefits of Fidelity include:
Its coverage of many markets in many countries
Its research materials
Its excellent reputation
Its regulation, which is heavy and keep all consumers and customers safe from harm that might come from an electronic source
Its advanced tools for those that know what they are doing
Major Disadvantages of Using Fidelity
Fidelity also has a few items going against it, though these are not of the utmost importance to many people. Still, any user should be aware of them before going with this trading platform.
Some of the negatives associated with using Fidelity include:
The slowness of opening an account with this platform, as it takes longer than many other trading or eCommerce sites
The lack of ability to deposit or make withdrawals with a credit card
The second one is the biggest issue. Many people across the nation and world use credit cards to make deposits and withdrawals from their trading accounts. Fidelity's prevention of this is strategic and good, but also will end up driving away some types of people who prefer to use the credit card as their main method of transaction.
6 – IG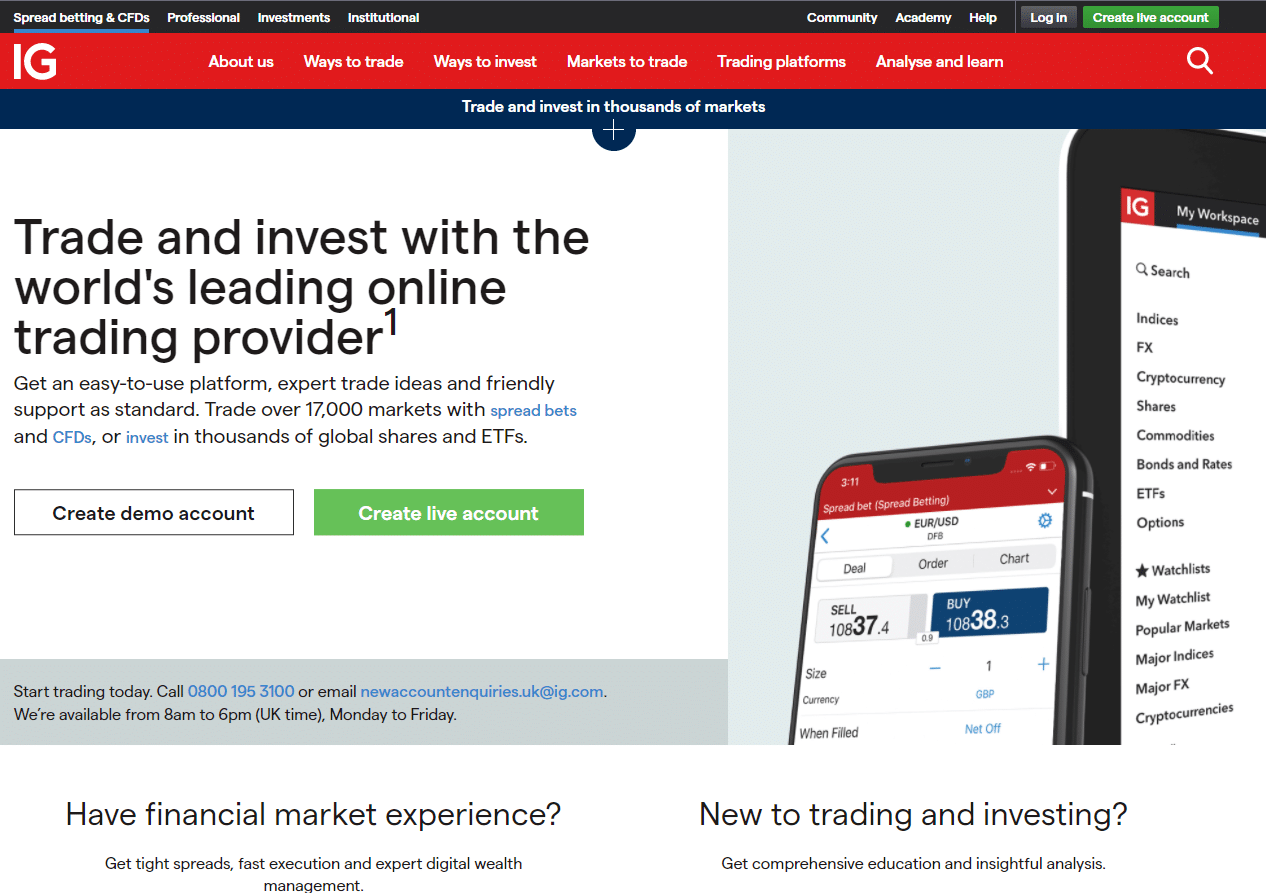 67% of all retail investor accounts lose money when trading CFDs with this provider.
For trading ease on your web, tablet, or mobile app, IG specializes in Forex (foreign exchange trading). This brings a heightened level of financial risk to the table, so if you're new this may not be the platform for you. However, if you're looking into FX as an option, then IG is a leading platform and our recommendation to get started. Not sure if it's right for you, IG offers a practice demo to help you decide.
Founded in 1974, IG is a favorite among advanced traders. Taking deposits from common sources such as bank transfer, debit card, and even PayPal, without charging any fees is only half the victory. Withdrawing funds via bank transfer or debit card is just as easy.
Trading is available on multiple, standard platforms such as on the web, your computer, tablet, or mobile device. This makes connecting easy.
US foreign exchange traders are limited in comparison to other countries with IG. If there is a downfall for an advanced user, this is likely it. Below, we will dive further into the negatives and positives that are associated with this program.
Major Benefits of Using IG
IG is a great method of trading for foreign exchange, as discussed above. This is one of its biggest and most obvious advantages over other trading platforms. Others are:
The wide array of currency pairs that are offered
The ability to trade on both the website and the app
Its long existence, which proves success in the trading world
The ability to easily but money in your account with a bank or debit card
Overall, IG is a simple platform to use. It's incredibly popular, even though it does possess a few distinct disadvantages.
Major Disadvantages of Using IG
For IG, there are two cons that take away from the excellence of the service otherwise. These include:
The deposit minimum, which is $250 per trader
For US traders, there aren't any traditional stocks available for them to use
If you are doing an international trade, IG is fantastic. If you're working more locally, another trading platform would likely be better for you.
7 – Charles Schwab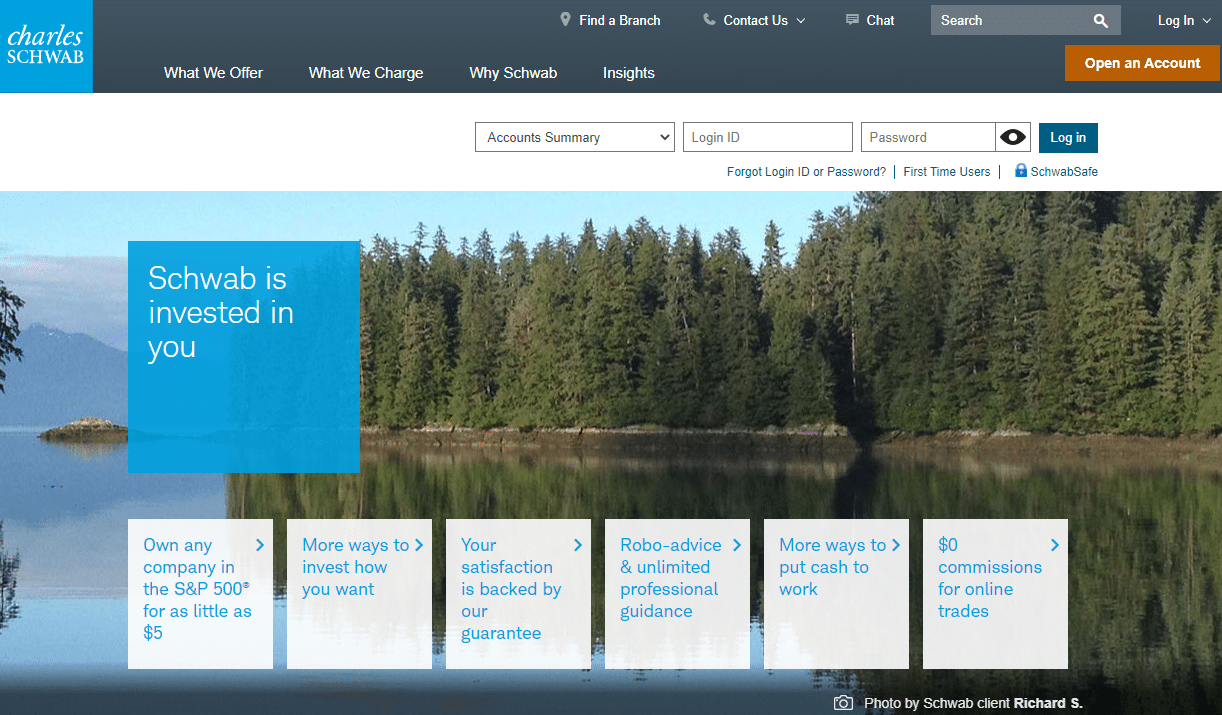 67% of all retail investor accounts lose money when trading CFDs with this provider.
This trading platform has been around for years and in addition to the comfort that alone provides, Charles Schwab goes a step further than most competitors by offering a 100% satisfaction guarantee. For new and veteran traders alike, this extra gesture truly makes a difference in financial peace of mind.
The options with Charles Schwab are great, and the platform has grown so much that the website navigation has layers to get to all the offerings. This can be an amazing asset or cumbersome, depending on your usage needs and level of experience. To help matters, the customer service at Schwab is top-notch, with less than 22-second holds for phone call wait time, and the ability to chat with an actual human, not a robot.
If you're in the market to boost or plan for retirement, take part in a diverse set of investment opportunities, trade, or even utilize trustworthy banking offerings, this platform might be the right one for you. To help you further with your decision, we'll discuss some more of the good and the bad that comes from this trading platform.
Major Benefits of Using Charles Schwab
Charles Schwab is an overall great platform for US users. Some of the greatest traits that are included with this platform include:
It's status in the US trading world
It's variety of platforms available for traders to select
The lack of a minimum deposit for a new trader
There are also other items that make Charles Schwab a quality trading platform for users of all kinds. There are many opportunities for all traders.
Major Disadvantages of Using Charles Schwab
Charles Schwab does not have many disadvantages, but the main problems that it has have to do with fees.
To open a mutual fund, it costs around $49.95 per investment. There are also some high trading fees that come with some options, so a trader needs to be aware of that.
The customer service and quality that comes with this platform cannot be beat. For a top US trading service, select this one. The disadvantages do not outweigh the benefits.
8 – VantageFX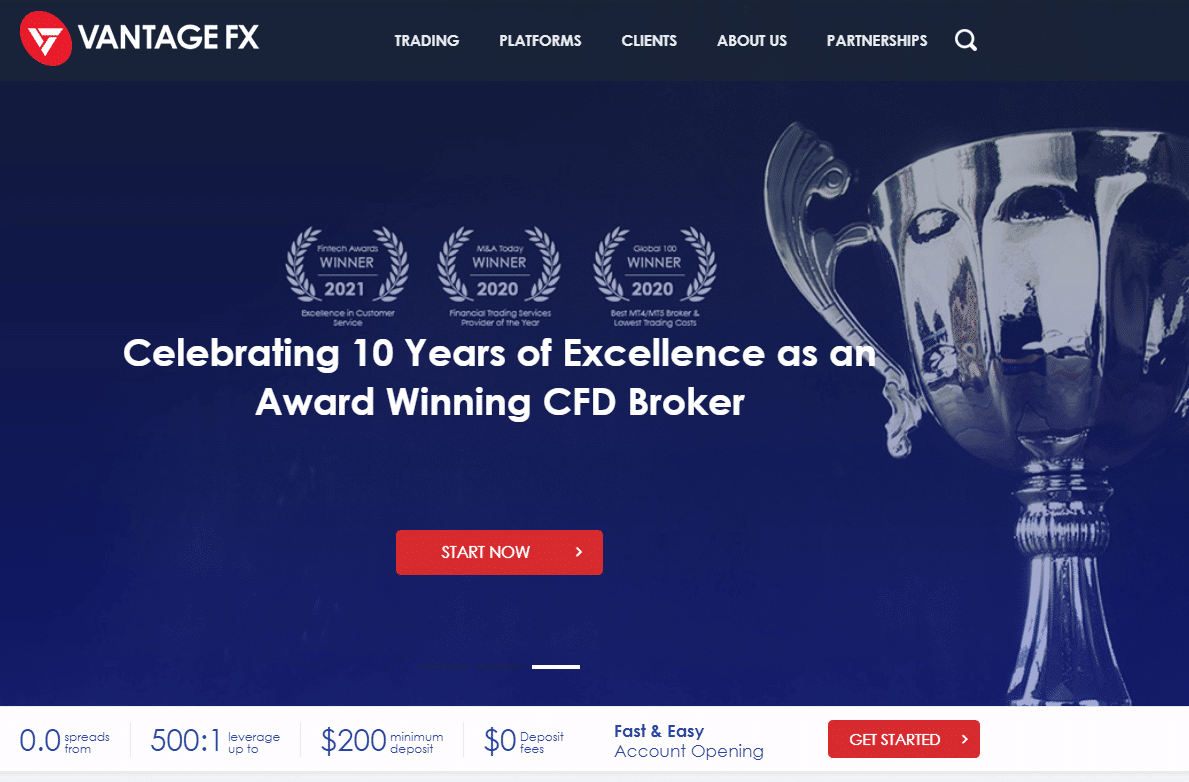 67% of all retail investor accounts lose money when trading CFDs with this provider.
VantageFX, founded in 2009, is another option for your Forex trading. Relatively new to the game, this platform was conceived in 2009 and has been growing stronger each quarter since. The company is award-winning in the ECN Forex broker category. They are committed to customer service and center their focus around MT4 and MT5 powerful trading platforms.
The firm is an average risk. Research is provided by third-party contributors to help clients make their investment decisions. Educating traders is done by the sharing of videos, rather than articles or print materials posted to their website. While one generation may see materials as lacking because of this, the millennial generation seems to proffer video instruction. We will next dive into some other distinct advantages and disadvantages that surface from the use of VantageFX.
Major Benefits of Using VantageFX
The biggest pro of VantageFX is that it uses commission-free CFD trading. However, there are also a few smaller items that make it stand out as well. These are:
The ability to social trade
The support of other items such as MetaTrader
Its regulation around the world, keeping customers safe
The minimal fees that it has
VantageFX is a quality platform. Their positive traits make it a great choice for traders everywhere, despite the minor flaws that it may have.
Major Disadvantages of Using VantageFX
The disadvantage of this platform is how it distributes in the forex world. The spread is much higher than average, which can lead to risks that traders may not want to take.
Of course, there are always risks with money. You can decide if this platform is right for you, and if the risks that it provides are ones that you are willing and able to take on.
9 – Tastyworks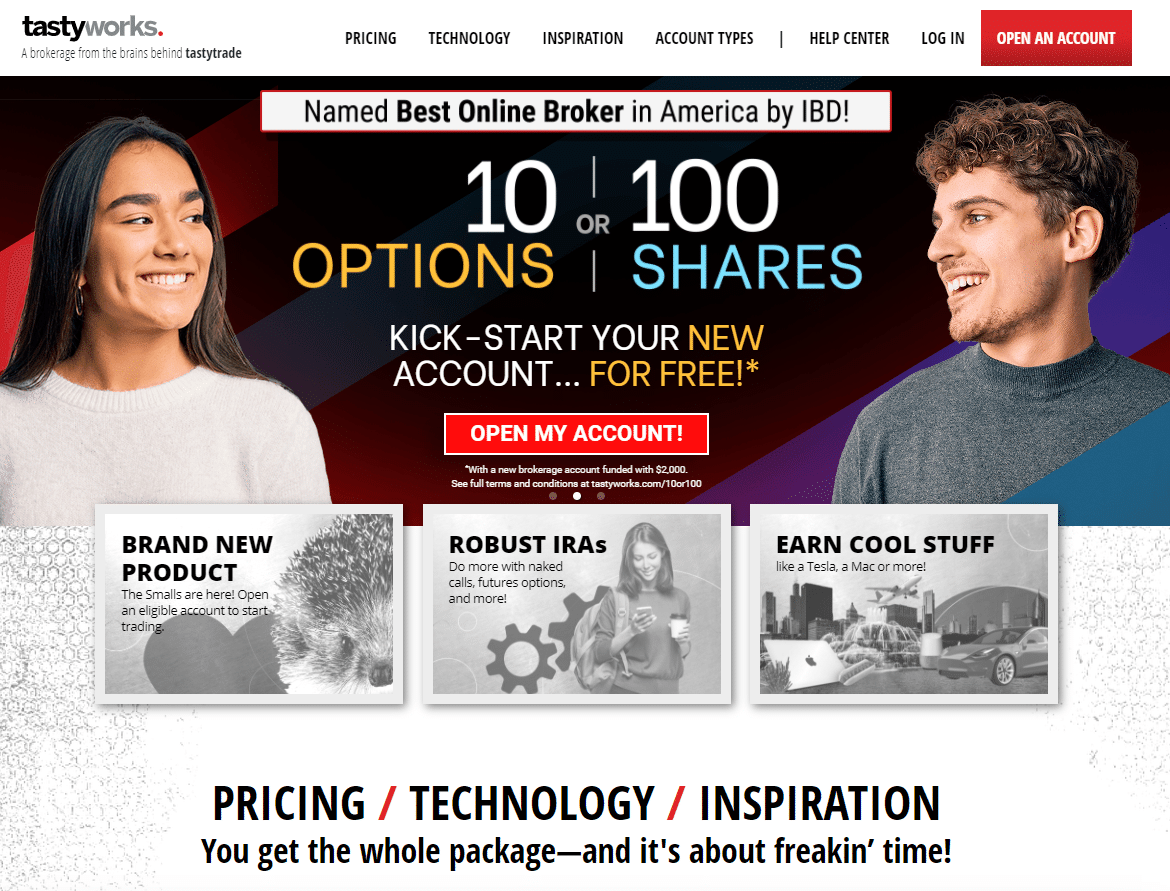 67% of all retail investor accounts lose money when trading CFDs with this provider.
"No BS, just know-how," says a lot about this trading platform, and is how they market the company to you. With straightforward tools and wording, there's not a lot of extra to cut through with Tastyworks. making it easier to understand for those just starting. Additionally, the resource this group offers that sets them apart from the rest is the in-platform video feed. This unique tool gives you (the trader) insight into watching real traders trade, making financial decisions and investments right in the market, every minute of the day.
This trading platform also offers six account types: individual (margin or cash), joint, retirement, corporate, trust, and international. When it comes to trading, this platform was designed specifically for frequent options traders, those who are active in their financial movements.
With all the options, this is not likely the choice for new traders. This firm needs you to have working knowledge before jumping in. But, if you're experienced and take an involved, active approach, this could very well be the trading platform for you. Next, we will talk about some of the other good and bad that come with this platform.
Major Benefits of Using Tastyworks
Tastyworks serves as a quality trading platform for all types of traders, though newbies might have a harder time. The pros are:
The quality research items that the platform provides
The high-class educational courses that they set up
The low fees that traders face when they want to make a trade
Tastyworks is awesome for anyone who wants to gain more knowledge and experience in the trading world. It provides plenty of options.
Major Disadvantages of Using Tastyworks
The two major cons of Tastyworks lie in the number of items that they have available.
There just isn't a lot of products for traders to choose from.
Along with that, there are also limited choices for deposits and withdrawals. Tastyworks is neat but limited.
It is still a quality platform that is worth checking out for anyone wanting to trade. It doesn't hurt to give it a look.
10 – Ally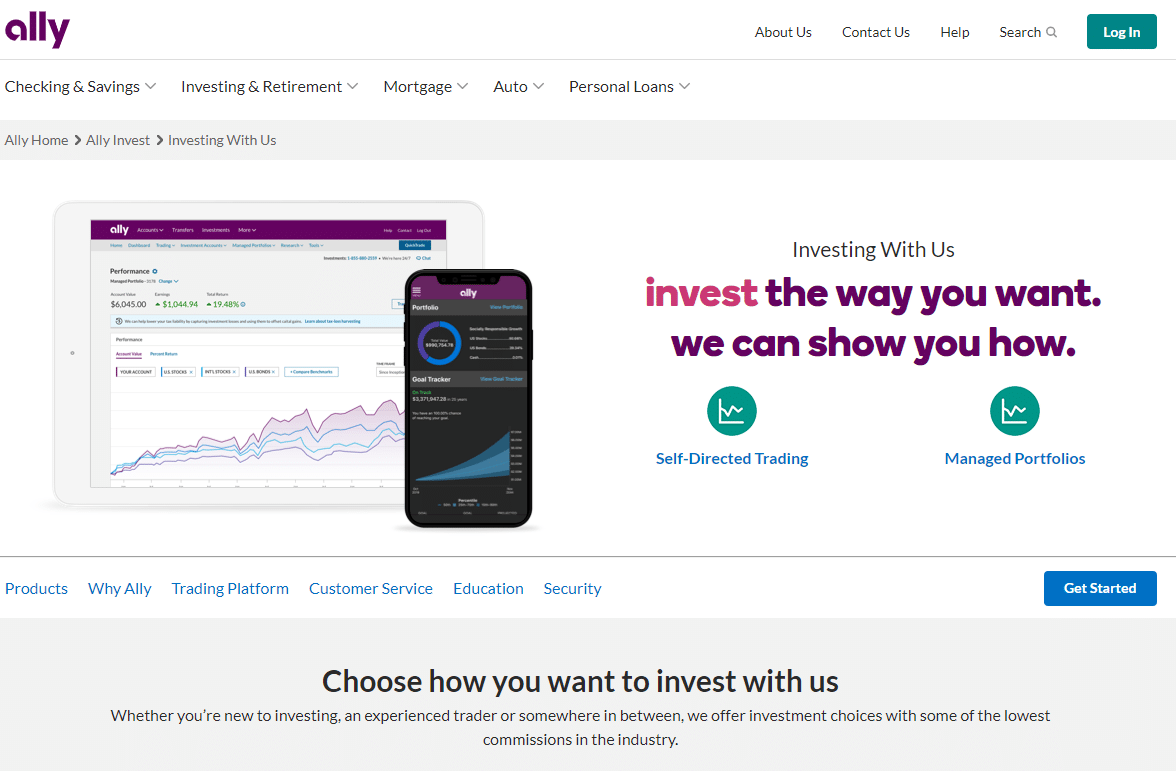 67% of all retail investor accounts lose money when trading CFDs with this provider.
Ally is a financial institution that has it all. More than just a trading platform, Ally offers banking, home loan, and investment opportunities. Within those investment opportunities, the platform has managed portfolios, self-directed trading, and Forex. For stocks, bonds, mutual funds, margin accounts, and securities, you will find this platform to have ease of access with a clean site to direct you into making your first trade.
Because of the setup and ties to the financial institution that this platform has, Ally is perfect for the US trader looking for a bank that also offers investment. Ally customers will benefit most from taking advantage of this firm, which is how Ally draws some of its clientele in. Ally Invest is easy to use and access and integrates seamlessly with the banking arm of the company. This full suite sets Ally apart from the other platforms.
As with some of the other platforms, Ally offers education and research materials. They are adequate, but not the selling point. Additionally, pricing and fees are comparable.
Customer service for this firm is, however, a definite strength, with 24/7 phone connection to a live broker, online chat support for current clients AND prospective ones, and a Help Center on the website. Noted is the support to potential traders, allowing you to get an idea of what support will be like, should you decide to trade with Ally. We will go further into some other benefits and disadvantages that come with Ally.
Major Benefits of Using Ally
Like the others, Ally has some traits that make it wonderful to traders of all kinds. Some of these items include:
Its usage of quick trading capabilities
Its supply of real-time data
Its massive supply of tools and personnel that can assist a trader no matter their level of experience
The lack of an account minimum that users must reach before being able to use the services
Ally boasts many benefits that make it usable to a wide group of people. There are some disadvantages, but they are not so extreme that they make Ally worthless against the competition.
Major Disadvantages of Using Ally
The cons of this company are also vital to consider. For Ally, there are not too many. The major two include:
A lack of various branches
No mutual funds that do not have a transaction fee added
These are not too bad, considering what some other trading platforms have attached to them. All is a solid choice for your trade.
Picking the Best Option for Yourself
There are a lot of great options to go with for anyone looking to trade. All these companies have outstanding reputations and will support you on your trading journey. How is one supposed to pick from all these excellent options?
There are a few items that you can consider when choosing what is right for you. These should be looked at carefully before settling on a trading company to handle a large chunk of your money. We will discuss further what these items give to us, and what they take away.
Getting Started with the Top Trading Platform of Your Choosing
With the resources above and linked details, you are hopefully able to narrow down which platform(s) might work best for your trading needs. The next step is getting set up with a firm and creating an account.
The process for creating your secure account is very similar, no matter the firm you have chosen to trade within. Opening an account will require user info and a secure password setting before verifying the account. Verification will include confirming your identity. Because online trading includes access to your finances, it is important for you to be diligent in setting your passwords and added security questions.
Connection to funding will be necessary to get started, even if your first trade is guaranteed to be free. Depending on the trading platform, money can be connected to your account via bank transfer, debit, or credit card, and even sometimes PayPal.
Once you've gone through the initial setup and verifications, you'll start your research, looking for the investment you want to take a chance on. Each of the trading platforms listed in this article offers ample research and education to help you make the most informed decisions.
When you're comfortable and ready, it's time for the exciting thrill of placing that first trade. You may feel a rush of emotions as you start this journey, and some nerves are normal. Just remember to start small if this is your first time and learn from each experience. It's one thing to read all the expert opinions and journals, and yet another to take the first leap into the trading pool. Most importantly, try to enjoy the journey. If you feel yourself becoming overwhelmed, take a break. Check out some resources, utilize the videos and tutorials, watch the experts in real-time trades…all of it will make more sense once you give it a try.
Start Trading now using eToro.com, the World's leading Trading Platform!