Invest in NDIS Australia – Investing in NDIS Beginner's Guide 2021
There are several ways to become a real estate investor – whether you opt for purchasing the physical buildings or you invest in financial assets, such as real estate stocks or exchange-traded funds. Unlike other citizens, Australians have a unique and lucrative way of investing their funds while benefitting the whole community: investing in NDIS.
Next, we will discuss what NDIS is and how you can become an investor, along with any considerations you may want to keep in mind in terms of returns, fees, and other aspects.
#1 Broker to Invest in Australia – eToro
How to Invest in NDIS – Step by Step Guide 2021
If you want to invest in NDIS, you need to follow a few simple steps. Check out this quick step-by-step process:
Step 1: Choose Location – The most important step is to do your due diligence. You need to make sure that your chosen location has a higher demand than supply – this makes sure that you will find tenants to let your property, so you can earn the income. Not all areas have enough NDIS approved participants, while other areas may be supersaturated in NDIS properties.

Step 2: Find the Right Service Provider

–

Next, contact a local service provider or search for an online service provider which is registered with the relevant authorities. They may have different terms and conditions, deposit requirements, and different housing available, so it's important to pick the right one for your needs.

Step 3: Contact the Service Provider

–

Finally, once you found the service provider, make sure you contact them via one of the methods available to discuss your possibilities. Based on your capital available and preferences, the service provider can recommend different plans, explain the fee structure, and other costs you need to consider before investing in NDIS property.
What Is NDIS?
Managed by the National Disability Insurance Agency (NDIA), the National Disability Insurance Scheme (NDIS) is an initiative put forward by the Australian government with the objective of helping people with disabilities.
The initiative was created as more than 7,000 young people with disabilities were living in aged care homes. Recognising the need to help people under 65 to become independent, NDIS was created, aiming to relocate young people with disabilities living in aged care settings.
The current estimation is that about 4.3 millions Australian citizens have a disability. The NDIS is expected to provide about $22 billion to approximately 500,000 eligible citizens who have permanent disabilities.
What Is SDA?
For an NDIS property investor, SDA is an important component of this scheme. The NDIS initiative has a broader scope – not only providing housing, but also access to health care, education, support services, and many more. SDA or the Specialist Disability Accommodation is available to a small portion of the NDIS eligible participants and refers to specialist housing for people with significant impairment and disabilities.
The SDA funding is provided as an incentive to develop high-quality housing for eligible NDIS participants. Specifically, SDA funding is a reward for the homes being built – not for the people who are eligible to live in these houses.
As an NDIS property investor, you can gain returns by helping people in need access specialist dwellings. More specifically, you invest in approved SDA housing and earn returns from your investment for around 20% per year, while the NDIS covers the cost of living and maintenance for the housing. Dwellings eligible for this include apartments, houses, villas or duplexes, group homes, and others.
Thus, to invest in NDIS property, you will purchase or build the house and lease it to eligible participants. To do this, you need to opt for a registered service provider which can guide you through all the steps. You can find a service provider locally or you can check out our list of top three service providers below.
NDIS Investing vs Real Estate Investing
NDIS investing refers to investing your funds in highly specialised dwellings. Once the building is complete and you find eligible tenants, you have a government-backed stream of income – and the return rate is very high compared to other investments – ranging from 10% to 20% per year.
On the other hand, regular real estate investing can take many forms. You can similarly buy and rent regular properties, but these are not only capital-intensive but also time-intensive, as you will have to provide maintenance and other services. Also, your return (i.e., rent) will never reach 10%-20% per year of your initial capital (i.e., the cost of building the house).
Another option to invest in real estate is to opt for registering with an online broker and investing in the stock market. There are numerous stocks in this industry or real estate funds that can help you build your investment portfolio. Our recommended online broker in Australia, eToro, provides a wide range of real estate assets and all real stocks and ETFs come with a $0 commission fee.
67% of retail investor accounts lose money when trading CFDs with this provider.
Where to Invest in NDIS – Choose a Service Provider
There are numerous registered providers in Australia. Based on your desired area for investment, you should choose the one that suits your needs and preferences. Below, we have picked the best ones in Australia and discussed their pros and cons to help you decide which one is right for you.
1. NDIS Property Australia – Best Overall to Invest in NDIS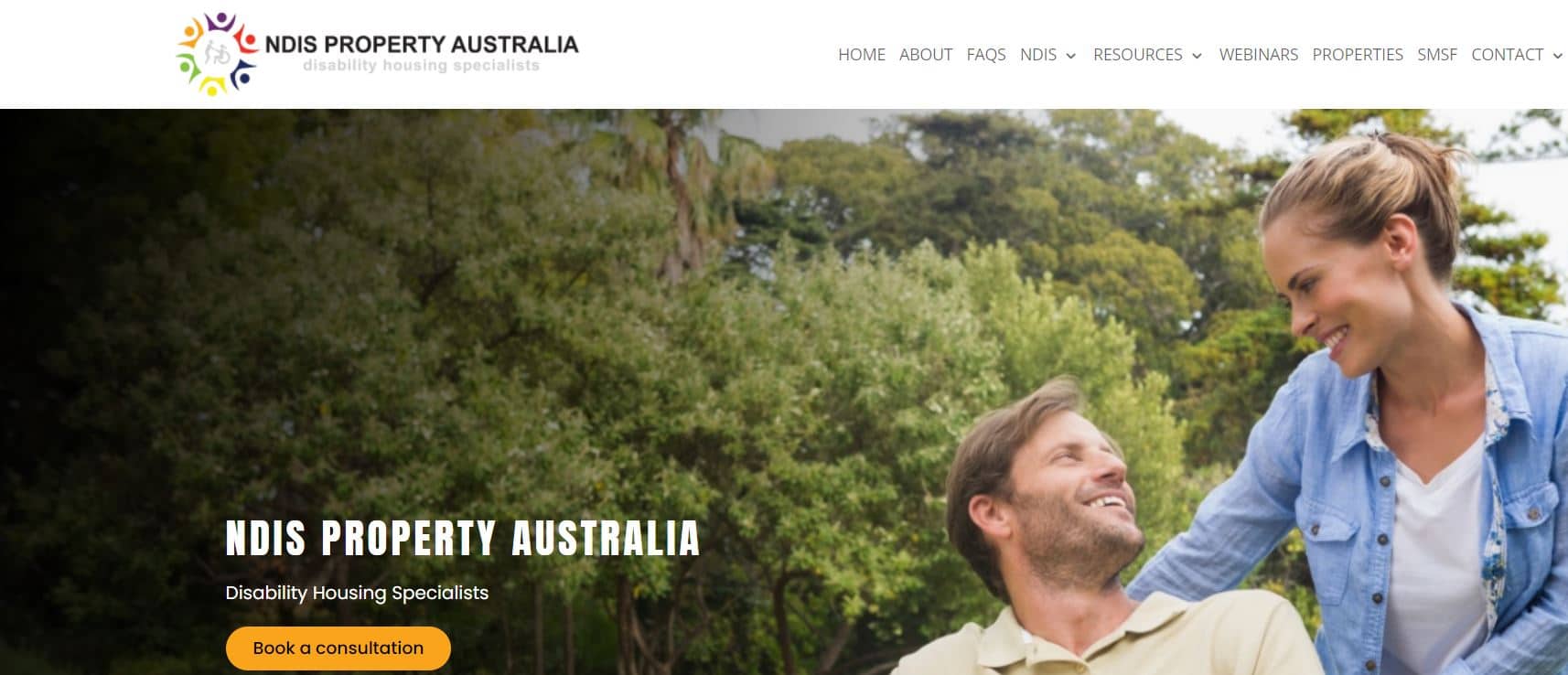 If you are looking for an all-in-one organisation, NDIS Property Australia is perhaps the right choice for your needs. The company works with NDIS participants, investors, and NDIS service providers, creating a robust network that will help everyone meet their objectives.
First, NDIS Property Australia works with different builders in Australia to create SDA (Specialist Disability Accommodation). These new properties are fit-for-purpose and well-designed. The company works as a liaison between constructors and investors to ensure that they stay within your budget; also, the company shows you different areas that provide great opportunities and you can also access professional advice if you want help to choose the best area.
Next, the company can introduce you to SDA providers, who will be able to provide third-party consultation regarding what participants require or need in your chosen location. Finally, you can choose between 3- or 4-bedroom homes, 4-bedroom dual living homes, 5-bedroom or even 6-bedroom duplex homes. This means that the specialised team will be able to help you pick the right home not only to match the local demand but also your budget.
Finally, NDIS Property Australia boasts 20% or higher gross investment returns, allowing you to grow your investment portfolio while knowing that your investment massively improved the lives of disabled Australians.
Each estate may have different requirements. Some builders need large deposits of $5,000 or more, along with a pre-approval letter. To find out the specific requirements for your chosen estate, you need to contact NDIS Property Australia.
Pros
20% or more gross investment yield
All-in-one solution from finding the location to making the transaction
Large network of builders, SDA providers, and SDA-approved participants to speed up the process
Different houses available for purchase
Cons
Requirements for eligibility can be quite tough
67% of retail investor accounts lose money when trading CFDs with this provider.
2. PropertyInvestmentCo – Best NDIS Property Investment Company to Find a Loan

If you want to invest in NDIS but you do not have all the capital on hand, Property Investment Company provides you with all the services you need – ranging from picking the right type of loan to managing your property after finding tenants.
The company can walk you through SMSF lending or other types of borrowing. This is via its specialist mortgage broker that will help you find the best offer for your needs. Next, Property Investment Company is available throughout Australia – so they will be able to find specialists in the state in which you buy.
Finally, the company can also source a property manager on your behalf. They will be experienced in the area you choose, handling everything from tenants to property management.
Property Investment Company has a flexible approach. All of these services are available to you, but you can also decide which ones you want help with and which ones you will handle yourself. These adjacent services are also fee-free, as the company earns its revenues from developers, not investors.
Pros
The team can help you borrow the funds you need
Full support services from the beginning until the end
Services available anywhere in Australia
Monitors and facilitates the whole process on your behalf
You can pick what services to outsource
Cons
Property choice may be relatively smaller compared to other alternatives
67% of retail investor accounts lose money when trading CFDs with this provider.
3. SDA Management Australia – Best NDIS & SDA Registered Specialist for Enrolment Services

SDA Management Australia works as both a regular, fully registered real estate agency and an NDIS and SDA registered entity in Queensland and New South Wales. For individuals seeking NDIS investing opportunities, this company smoothens the entire property ownership process, making it akin to regular property investment.
As NDIS registered, SDA Management Australia is fully regulated and ensures ongoing compliance with all the state requirements. The company is ideal if you already have a property that you wish to enrol in the SDA program, doing all the paperwork required on your behalf.
Also, the company handles all the payments on the owners' behalf, facilitates selling if necessary, and manages all the annual reporting, compliance, and inspections required by the law to continue NDIS enrollment. Also, SDA Management Australia guarantees all the maintenance, modifications, or repairs to the property as necessary which are handled only by qualified people.
Thus, if you already have the funds and the accommodation – or you have a builder or planning to find a builder, SDA Management Australia handles everything from the design stages to repairs and maintenance after the building is finished. These services are available for a maintenance fee that depends on your property and the breadth of services required.
Pros
Fully regulated and compliant with current regulations
Helps property owners convert their dwelling into an SDA-compliant home
Takes care of all the paperwork, maintenance, and repairs of the property
Can coordinate with builders to ensure the success of the construction according to current legislation
Cons
Only registered in Queensland and New South Wales
67% of retail investor accounts lose money when trading CFDs with this provider.
What Types of Homes Are Eligible?
Homes enrolled in this scheme must adhere to certain criteria. First, you need to obtain certifications regarding the SDA design standards – the design must be fully accessible, durable, and provide high physical support.
Once the building is finished, it can be enrolled with the NDIA – but only after the certificate of occupancy is issued. Also, the providers must be registered and follow the building codes and current legislation which may differ according to your local government authority.
How Much Return Should You Expect?
The return or the income you earn is not dependent on the type of housing you invest in. Rather, the returns are tied to the participants themselves. In other words, if you do not have an eligible participant ready to move into the house, you don't receive any payments. This is why it's important to ensure that your desired area has enough NDIS approved tenants – otherwise you won't receive the funding.
Some intermediaries advertise gross returns between 10% to 20% per annum – which is several times higher compared to regular real estate investing or stock market investments. Out of this, investors (the landlords) must also cover property management fees and other costs and taxes associated with their property.
In general, a standard tenancy agreement may last for a couple of years and can be rolled over for free at the end of this period. The investor does have the option to end the contract after this period and sell the property, or to rent the property on a non-NDIS basis (like regular property). However, since the income is higher in the case of NDIS investing, there are strong incentives to keep leasing the property to the NDIS.
How Can You Find Participants?
NDIS property functions similar to regular property – eligible participants in the market are expected to find NDIS property providers, which is known as the market-based approach. In other words, the NDIA does not connect you with eligible participants – rather, they are expected to find the right accommodations and apply for vacancies.
There is also a provider finder available for interested parties, and each participant is expected to choose the dwelling that best meets their needs. The NDIA may sometimes provide a support coordinator who is a specialist that will help the participants look for and assess different housing opportunities on the market.
Pros and Cons of NDIS Property Investing
Although the NDIS can provide very high returns to investors, there are both pros and cons associated with it – just like any other investment. These are outlined below:
Pros
There are high returns when the accommodation is fully let
Socially-responsible investment helping people in need
The funding is backed by the government, ensuring a very secure income stream, unlike other investments
Cons
There is the possibility of not finding eligible tenants, case in which you don't receive the funds
This investment is quite capital-intensive
It may take a significant time until you receive your income from the building stage to finding tenants
Is NDIS Property a Good Investment?
NDIS investing is more rewarding than regular real estate investing. The main benefits are discussed below.
Higher Returns
The government provides strong incentives to investors seeking to acquire properties. In general, the returns per year can reach around 20%, depending on the type of your accommodation and how many tenants you have. The payments are higher if your home can contain several tenants, and the payments decrease to above 10% if your home can house only 1 or 2 tenants at a time.
Government-Backed Income
When investing in the stock market, nothing is for sure. Stock market volatility means that your returns can be negative for long periods at a time; also, the choice of assets heavily impacts your expected returns.
When opting for NDIS investing, the payments are government-backed as long as your NDIS property has tenants. These contracts are usually closed for years, although many eligible tenants prefer staying indefinitely.
Investing in NDIS – What Are the Risks?
Just like any other investment, NDIS comes with risks. Although not subject to stock market fluctuations, there are several aspects you need to keep in mind as NDIS properties may not be suitable for everyone.
Resource-Intensive
Investing in NDIS property is not as quick as buying a 0% commission stock on eToro – a transaction that occurs immediately and you can monitor your income at all times. First, you need to find a reputable builder specialised in NDIS housing – an incorrect design of your home means that you won't be able to enrol in the program, so it won't be eligible.
Modifications at a later date can be expensive, too, apart from taking more time.  Also, while online brokers like eToro allow you to start trading with as little as $50, NDIS property will require hundreds of thousands of dollars – depending on the size of the home, land, and others. Borrowing is also more difficult in the case of NDIS compared to the regular estate because of the extra requirements.
Looking for the best trading platforms in Australia? Look no further! Our team has compiled a list of the top trading platforms to help you make the most of your investments. Whether you're looking for a platform that offers excellent customer support or one that provides a wide range of investment options, we've got you covered. So what are you waiting for? Start browsing our list today!
Demand and Supply Forces
As briefly mentioned above, not all areas have enough SDA eligible tenants – or, maybe, there are already too many SDA-approved dwellings in your chosen area. This means that your home won't be occupied and, in this case, you won't receive your payments.
Also, the house you build should cater to specific needs. In this case, it's best to contact a reputable provider which can let you know more about the tenants in the area, their problems and needs, and what design elements you should consider to make your home more appealing.
How to Invest in NDIS
All in all, you can invest in NDIS using an all-in-one service provider like the ones we have suggested above. Alternatively, you can opt for a DIY solution, although you need to make sure you find the right location, builder, and that you know how to enrol your property in the program, so interested parties can find it.
Step 1: Choose Location
Location is the first step to ensure that your home will be occupied. You will only receive returns if you have tenants, so you should check the demand in your chosen area before building or buying an NDIS-approved property.
Step 2: Find a Service Provider
Whether you plan to build the house from scratch or you want to buy an already finished building, you need to engage with reputable intermediaries. Builders and other service providers must be regulated and licensed to provide you with useful counselling and advice.
Step 3: Contact the Service Provider
Finally, once you decide on the right company for your needs, all you need to do is contact them. Many of them work with clients throughout Australia, so the easiest contact method is to visit their website to find their phone number or the address of a nearby office.
Conclusion
All in all, NDIS investing is an extremely rewarding option. You will get very high returns compared to alternative investments and, most importantly, you will be assisting a young disabled person to get the accommodation they need. However, NDIS investing is not as straightforward as buying stocks or other assets via online brokers – there are numerous other parties, paperwork, and intensive capital required to make it work.
Looking for the best ETFs to invest in right now? Look no further! Our experts have put together a list of the top ETFs for every type of investor. So whether you're looking for growth or income, we've got you covered. Start investing today!
#1 Broker to Invest in Australia – eToro
FAQs
Why are returns higher for NDIS investing compared to other investments?
Can any property be enrolled in the NDIS?
How long does it take to build an NDIS-approved house?
What happens if the tenant moves out?
How to choose the location for NDIS houses?