How to Buy Shares in Australia – Buy Shares Right Now
Buying shares is one of the simplest forms of investing that will enable you to build steady wealth over time. Maybe you're already thinking about how you can begin to buy shares now and build wealth. You should be able to do so perfectly by the end of this guide.
We created this guide to help any person buy stocks in Australia successfully using an online broker like eToro. You will soon realize that it is easier than you thought and will help you to understand how to buy shares online in Australia. Sounds exciting? Before we can go far, you need to select an online stock broker that will meet your investment needs. This is not supposed to be complex, but again you don't want to make a bad decision and regret it later. So we have listed for you the best brokers to buy shares from in 2021.
Best Broker to Buy Shares in Australia Now: eToro
How to Buy Shares Online in Australia – Step-by-Step Guide

Step 1: Open an Account with eToro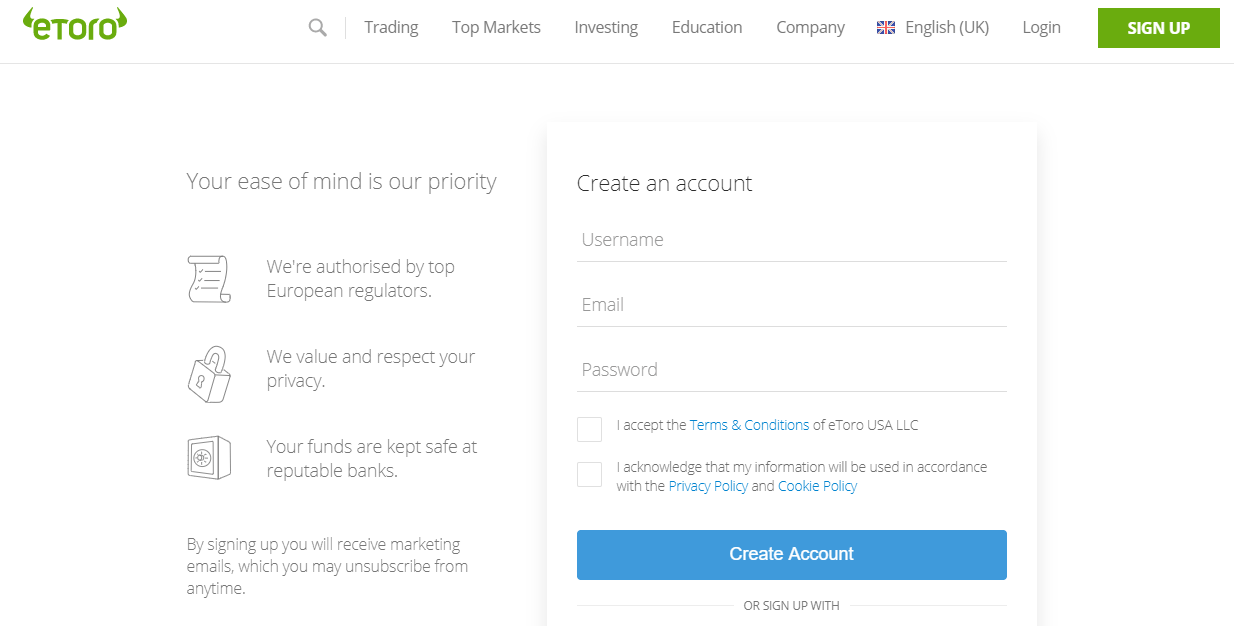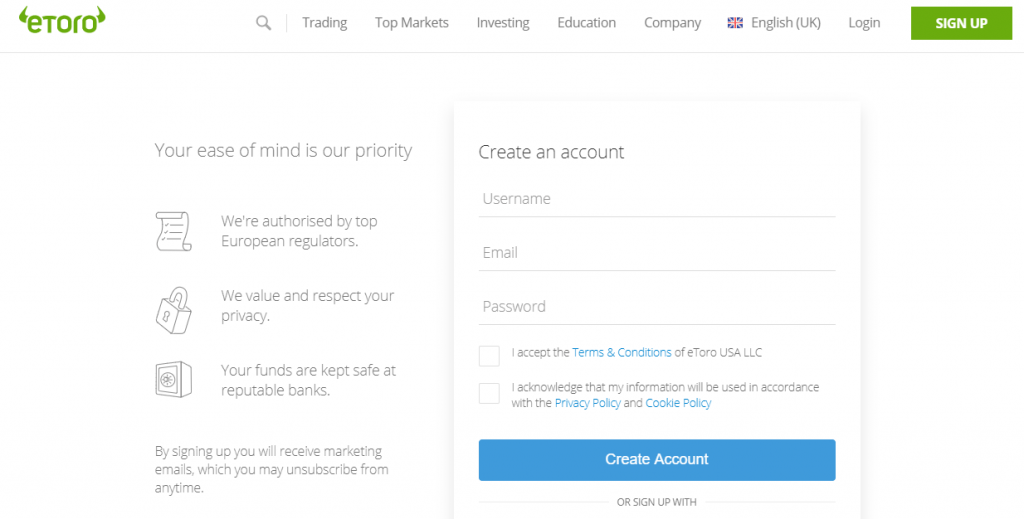 You will need to register for an account with an online broker before buying shares. eToro as our preferred online broker. The registration procedures for almost all brokers are the same. To start, you will have to go to the eToro website, open the registration form, and key in your details. You will be required to submit the following during registration:
Your full name
Date of birth
Contact details
Home address
National insurance number.
Step 2: Upload ID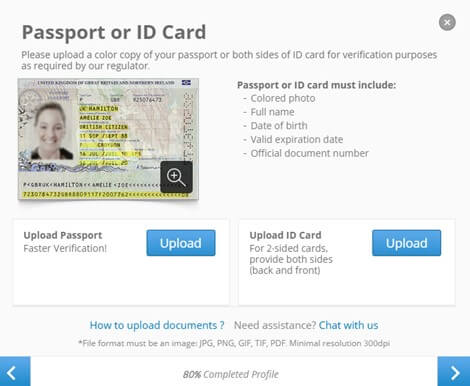 Once your registration is successful, you will get an email with your login credentials to access the platform. To verify your details, upload your ID and POA (Proof of Address). It is a standard KYC (Know Your Customer) procedure that every broker must conduct while setting up a trading account for their clients. You can deposit up to $2,000 before uploading your ID as long as the rest of your profile is complete. To deposit a bigger amount, you need to comply with the verification procedures as defined by the regulator. eToro is regulated by the Australian Securities and Investment Commission.
Step 3: Deposit Funds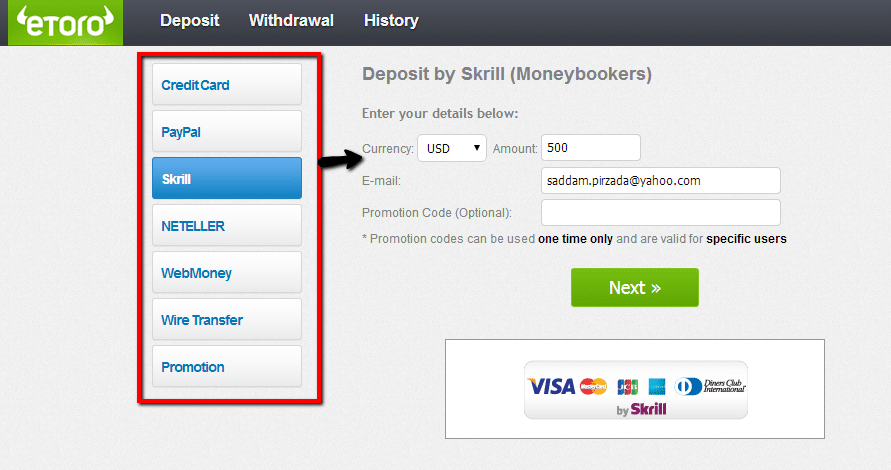 You can deposit funds into your account, ready for trading, once fully approved and details verified. Debit/credit cards, bank transfers, and e-wallets like PayPal, Neteller, and Skrill are all accepted as payment methods. While eToro allows you to start with even small amounts, deposit at least $1,000 if you want to make good gains. The minimum acceptable deposit at eToro is $200.
Step 4: Buy Shares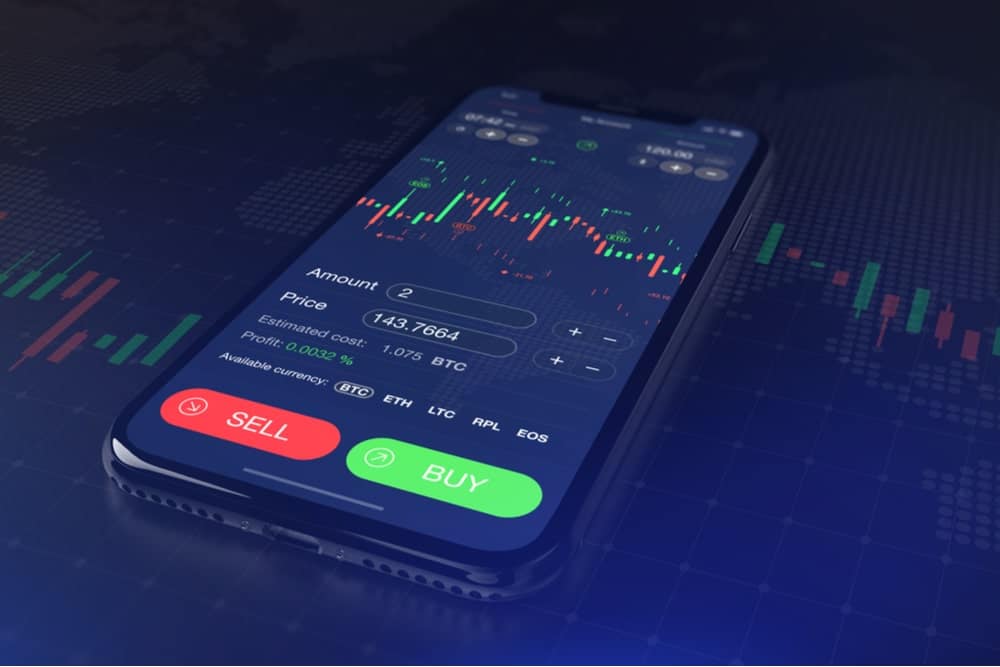 You're now ready to buy your first share now that your account is verified and funded. Search for the stock that you want to buy in the search panel, select it and from the list of results then click "Trade."
An order window will appear as shown below. Here you will key in the amount of money you want to invest in the market. In our case, we want to buy Tesla stocks worth $100. Click "Buy" and be sure to confirm that you're buying the underlying asset as opposed to a CFD. eToro will indicate this on the pop-up order window as shown in the picture below. At this stage, everything is set, we simply need to click "Open Trade" and we will have successfully purchased our shares.
What are Stocks and Shares?
Raising huge capital can be a challenging task for many businesses. When companies want to do so, they divide their total capital requirement into individual units called shares, which usually are exchangeable for cash. A share is a form of ownership of a company. It can also be referred to as a stock or company security. Anyone who buys a share will end up owning a part of the company that issues that stock. In the financial world, this is also referred to as equity ownership in a firm. What makes shares unique is that since they represent the actual value of a company. You will see them fluctuate up and down on the eToro platform as the business gains and loses value across the years.
When the company is making money, the value of your share rises, but when losses are being incurred, the share value could drop down to almost zero. When that happens, your investment falls by the same proportion too.
How to Select an Australian Broker to Buy Shares

Since you now know how to buy shares, we also need to teach you how to select a reliable online stock broker that will give you the right environment to achieve your investment goals. There are countless methods that investors use to select reliable brokers according to their goals and preferences. The most vital factors that almost all share-market investors in Australia consider are:
Australian Securities and Investment Commission (ASIC) – Regulation
Regulation is the most important factor that you need to look at when selecting a broker. Proper regulation guarantees the safety of your money so that you can only worry about getting the right stock to trade. Ensure the broker you are considering is regulated under the Australian Securities and Investment Commission. eToro is fully licensed by ASIC. Such brokers have gone through rigorous vetting and are under constant watch to ensure they comply with laws that have been created to protect you.
For example:
ASIC audits the financial books of all brokers that it regulates on a quarterly basis.
ASIC also requires that client funds must be held segregated bank accounts to avoid mixing company money and client money.
This means your broker cannot use your funds to settle company obligations, and that if they ever went bankrupt, your money would still be safe.
Online Security and Account Protection
Check if the broker's website offers two-factor authentication. This is a security feature that adds an extra layer of protection to your password. In most cases, when this function is activated, you will be required to answer some questions before accessing your account. You want to make sure that your account and personal information is kept away from the wrong hands.
What to Consider before you Buy Shares in a Company
Now that you are ready to buy stocks in Australia, you need to know how to pick the right company stock to buy out of the countless shares that eToro platform enables you to access. Here are seven key factors that will help you make a solid decision:
Revenue Streams
The value of a company, and consequently that of its share, is a direct revenue factor. Investing in any company without sufficient knowledge of how they make their money is not wise. You need to learn about:
The industry,
What products or services they offer,
In what countries they operate,
Their main products or services and
How they are selling it as well as
Their reputation in their specific field of business.
Think of this as a first date with someone. You would only go on a date with someone once you know a little bit of who they are; otherwise, you will be inviting trouble.
Finding this information is not rocket science. Visit the company website and read about them. Use your search engine to find out what other websites are saying about them. Continue researching until you can answer all questions about this company. You may pick a friend and educate them about what you have studied, and if you answer all their questions, you're good to go.
Dividends
If you want to buy shares on eToro and make money without paying too much attention to short-term price movement, look for dividends. Companies share their profits with investors inform of bonuses after declaring their profits. You will get paid regardless of the prevailing price of the stock. The board of directors hold a meeting and decide how much dividends to pay out after computing their annual profits. Most companies issue them at half-yearly or quarterly. Just like interest rates paid on your saving accounts, the dividends investment strategy is popular because it offers a sense of security during uncertain economic periods.
Investors who prefer using this strategy when buying shares on eToro should analyze the dividends ratio of different companies before picking the right stock to invest in. Dividend yield is a ratio in finance that indicates the portion of a stock's price that the company pays out annually in form of dividends.
For example:
Company X has a share price of $50
And pays out a dividend of $5 per year
The dividend yield will be 10%.
As a yield-oriented investor, you will want to buy shares that are likely to earn you high dividend returns. It is, however, significant to do more research into the circumstances leading to such high yields when you want to buy stocks through the eToro platform. Some companies could be doing so to attract more investors and raise quick capital to handle their underlying issues. You want to make sure that high yields are driven by profitability and growth, and that the company can sustain such a trend in the future.
Company Strength
A SWOT analysis might be necessary when looking to buy shares in Australia through eToro. Start by researching the general industry before narrowing it down to the specific firm whose stocks you want to buy. General industry screening can help you identify significant opportunities or risk factors for your proper decision-making. Narrow down to your company of choice and dig deep into individual strengths and weaknesses. Consider evaluating how well a company is competing against other players in the market. Unmasking these critical factors can help you determine whether the stock you want to buy has a future or not. Smart investors buy shares for businesses that have a unique edge.
One of the most important factors to check during this stage is the company's cashflow statement. It is a financial statement that summarizes and tracks the cash and cash equivalents that enter and leave the business within a certain period. This helps you understand how money is spent and managed and the current financial position of the business, which in turn affects how effectively it operates. You definitely want to know how much money the company is making and spending, how well debts are managed, and the speed at which new cash is created and brought into the company. Investors who lack a finance background could use the help of a friend in interpreting the cash flow statement of a firm. A company with uncontrolled expenditure is in danger of future cash flow problems, and you should not dare put your money in their shares.
Net Margins
The net margin of a company, also referred to as the profit net margin, is a simple measure of how profit is generated from revenues. This unit is expressed as a percentage since it measures the ratio of profits to the revenues. The net margins will tell you effective that company is in making profits out of their sales. Businesses with low net margins must drive numbers in sales to get significant income, while those with high net margins can make a lot of profit from just a few sales. Promising companies have net margins that beat the industry average and even those of competitors.
All this might be time-consuming and a little tiring, but you will be smiling when your hard work starts to pay off. Remember, you have a broad category of industries to look into. Don't just focus on one sector; try to learn about different industries, and as you continue doing that, you will land on a good stock that will end up making you a fortune. You may also buy stocks in Australia with small amounts just to get a better grip of this and to see that you're on the right track. That's why we prefer eToro because it gives you a chance to make affordable mistakes while you learn to buy stocks.
Debt to Equity Ratio
All businesses have a level of debt. This includes big companies like Facebook, Apple, and even Amazon. Debt is one of the methods of financing and can be used by investors to determine the financial well-being of a business. Be careful about investing in firms that have a high level of debt relative to their equities. They are most likely to be struggling, and this could be indicative of a dark future ahead. You may be wondering where to get this value.
In most cases, debt to equity ratio is not highlighted, but the company's balance sheet gives you all the data that you need to derive it. It is derived by dividing all the liabilities on the balance sheet with the total shareholder equity. A good ratio should be below 0.3. Some industries such as construction are allowed to have a higher ratio since they are capital intensive. To avoid making a wrong decision, find out the industry average acceptable level of debt to equity ratio, then look for a company with a lower figure.
Buying Price
After doing all the analysis and coming up with a list of companies that look promising, you want to look at the buying price of their shares. It's common to hear people say that you should buy low and sell high, but what exactly is low or high? What is the correct price to buy stocks? Everyone has a different answer to this. It is, however, agreeable that your buying price should be lower than the future price.
There are many methods of figuring out the future price of a stock, but it's impossible to be sure about the exact price. We simply try and make an educated guess using past, present, and future data about a company. As a beginner, you don't have to focus on many aspects trying to figure out the future value of a company. You may work with the intrinsic value to price a security. The intrinsic value and market price are two different methods used to assess the value of a business. Intrinsic value helps you analyze the ability of a business to generate cash and remain with a surplus after all the bills, and current debt expenditures have been met. Buy a stock on eToro if the intrinsic value is higher than the market value of that share.
How to Make Money from Stocks and Shares
There are three main ways to make money when you buy stocks and shares:
Method 1. Capital Gains
If you buy a stock through eToro at ten dollars, and the value of the company increases, the capital invested will also rise in value. This additional amount on your initial investment due to a bullish trend is called a capital gain. In this case, your ten dollars could have gained an extra five dollars, which brings your total ownership to fifteen dollars. Remember, we said earlier that shares are exchangeable for money. You might decide to sell your part of the company equity to a new investor at the prevailing new price of fifteen dollars and go home with a profit of five dollars for every share sold. That is a whopping fifty percent increase in your money.
Method 2. Dividends
Companies usually announce their profits annually. Investors get a percentage of the total profit made in the form of dividends divided during this period. Dividend payment can be once or twice a year, depending on the policies. It is essential to know that not all companies pay dividends to investors. The ones that pay consider it a thoughtful way of rewarding their valued investors.
Method 3. Compound Growth
Compound growth is an investment strategy derived from the concept of compound interest. Instead of cashing your dividend or capital gains, you can keep re-investing them.
Let's assume you invest $10,000 and earn 5% annually
If you reinvested the 5% earning for 10 years, you will have $22,196
After 20 years, your investment will have grown to $ 49,296
Compound growth requires patience but pays of immensely. Remember you don't have to invest a lot of money at once. You can set monthly goals of a minimum amount that you will be setting aside for the stock market.
Quick Tips When Buying Stocks

Tip No. 1. Diversify your portfolio
Diversification helps spread your risks across different assets. It's simply the opposite of having all your eggs in one basket. eToro makes it easy for you to do so since you can buy shares from different companies from one platform. Instead of putting all your money in one or two companies, a well-diversified portfolio will have more than a dozen stocks. Assuming there is $10,000 to invest in the share market, an intelligent investor will buy 100 different stocks at $100 each.
A good diversification strategy should bar you from investing in many companies in the same industry. You should be able to pick stocks across different niches that are not related to each other in any way. This reduces your risk exposure and minimizes the chances of making losses from all the stocks you bought.
Tip No. 2. Start with Low Stakes
Since eToro allows you to start with small stakes, you do not need to invest bulk chunks of money at once when you're still learning. Always start slow and grow as your skills increase. Most brokers require you to have a high minimum investment amount before you can buy stocks in Australia. This does not mean that you should inject the whole amount on a single trade, but the temptation is there to do so. With only $50, you can start buying shares on eToro and build your confidence gradually without having to rob a bank.
Tip No. 3. Learn how to Research
By now, you have probably realized that your profitability in the stocks market is not luck but purely dependent on your ability to carry out a proper analysis of the market. The more knowledge you acquire, the closer you get to being a guru in this field. We not talking about complex chart readings and financial analysis. You just need to make sure you are up to date with any new developments and critical factors that may have an effect on your investment.
For example
Suppose you have invested $5,000 in National Australian Bank
If National Australian Bank announces that there will be 200 job cuts, what effect do you think this will have on the value of your stocks?
This is negative news and will have a negative impact
Masses will start selling off their shares, and in turn, the stock prices will go down.
Now that you have this info, you should have sold off your shares as soon as the negative news was announced to be able to protect your investment.
As a side-tip, you may want to subscribe to eToro free news updates. Other news alert services such as Yahoo! Finance website and Bloomberg allow you to create a portfolio, and then you can receive relevant breaking news when they arise.
Tip No. 4. Consider Copying a Portfolio
If by now you still feel that buying shares is not for you, there is one sure-fire fix that will convince you to jump on the train. eToro allows you to copy trades from portfolios with a successful history of buying and selling shares. This is easy and stress-free since you don't need to do anything once you start mirroring trades from an experienced investor to your platform. There are a lot of investors who buy stocks now in Australia using this method. It's a prevalent method among new investors.
This method is not just a ride in the park, it comes with some risks too. First, you are fully depending on the analysis of someone else, which might not always be right. Second, some brokers don't have an efficient copy trading system that is able to pick trades from the master account on time and copy them to yours fast enough. eToro is the leading broker in this technology so you would rather use their platform rather than try out other brokers and lose out due to something that could have been avoided.
Where To Buy Shares In Australia – Top 5 Brokers

Being clueless about where to buy shares in Australia is not a new thing among beginners. It takes a lot of research to find the right broker for buying shares. You need to find a broker that is well regulated by the top-tier financial authorities of Australia and offers excellent support for both beginners and seasoned investors.
Additionally, regulation guarantees the safety of your money – allowing you to only worry about investing and growing your return.
We have compiled a list of five top brokers that you can use to buy stocks in Australia.
1. eToro – Best all-round Australian broker for buying shares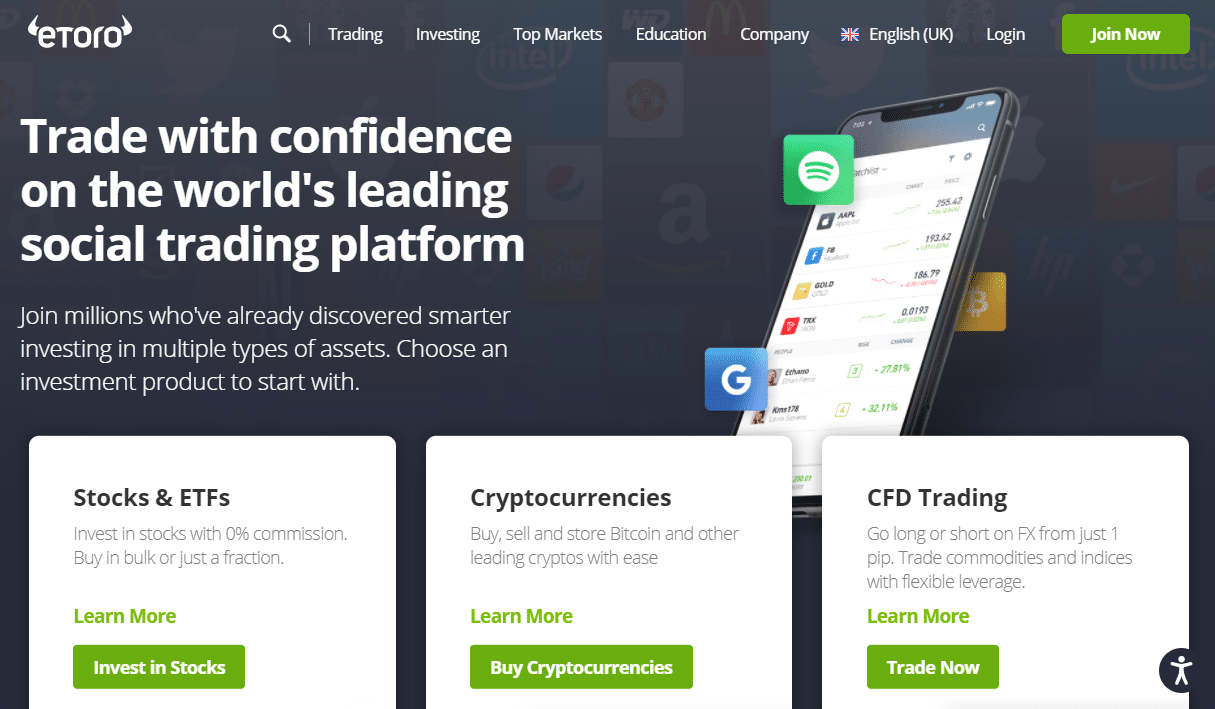 eToro is our share dealing platform of choice because you get to access any share that you want to buy at 0% broker fees. eToro will cover your stamp duty so that your cost of trading can be as low as possible when you buy shares in Australia. It is among the most reputable and competent brokers that you can trust. What sets them apart from competitors is their state-of-the-art technology of social trading. Social trading allows you to copy successful portfolios automatically and start making money from the stock market as you keep working on your skills. You can hold discussions through the community page and get to hear what other traders think about a particular stock. This makes eToro the best platform for beginner investors to learn and trade.
Traders on eToro can choose from more than 800 stocks, and have access to 17 exchanges. You are able to buy shares from multiple stock exchanges including Nasdaq, London stock exchange, New York Stock Exchange, and even Amsterdam at 0% commission. When buying shares on eToro, you're investing in the underlying asset. This is a good option for beginners as investing in CFDs is too risky.
| | |
| --- | --- |
| Pros | Cons |
| ASIC regulated | A commission of 0.5% on each deposit |
| 0% Commission on buying shares | High cost of trading CFDs |
| Social Trading linked to Community Page | Only one account base currency |
| Access over 800 stocks | |
| Good customer support | |
67% of all retail investor accounts lose money when trading CFDs with this provider.
2. Interactive Brokers (IB) – Best customized trading platform
IB Group was first set up in the US more than 40 years ago and opened its first office in Australia in the year 1997. It offers stock trading, futures, options trading, fixed income, and forex. One of the first things you'll notice when interacting with this broker is its state-of-the-art share trading platform and the impressive range of trading tools it offers. It offers some of the lowest brokerage fees in the market which makes it attractive to a wide range of investors. However, new traders may struggle to use their trading platform.
IB holds multiple licenses including ASIC. Withdrawals and deposits are easy through debit/credit cards, bank transfers, and even through e-wallets such as PayPal and Skrill.
| | |
| --- | --- |
| Pros | Cons |
| Good for professional traders | Monthly Inactivity Fee |
| Low brokerage fees | Not suitable for beginners |
| Access Australian and International Shares | |
| Easy to track the market through notifications and live updates. | |
67% of all retail investor accounts lose money when trading CFDs with this provider.
3. ThinkMarkets – Best Australian Broker offering extensive educational material
Think the market is popular for extensive educational material that is useful for both newbies and seasoned traders. Think Markets launched share trading in 2020, after years of providing quality CFDs trading platforms to Australia and the rest of the world. The sign-up procedure is fast and easy. In case you're stuck, there is full-time support, 24/5 to help you resolve any issues that you may face.
Unlike eToro and IB, this broker only offers Australian-listed shares and exchange-traded funds (ETFs) on the ASX and Chi-X through the share trading account. This means you will not be able to trade any international shares.
| | |
| --- | --- |
| Pros | Cons |
| No inactivity fees. | Share trading not available on the desktop platform |
| Low transaction fees | No live streaming. You must keep refreshing to get updated prices |
| Good customer support | Only gives access to Australian shares |
| Quick sign-up | |
| Offers great educational material | |
67% of all retail investor accounts lose money when trading CFDs with this provider.
4. CMC Markets – One of the longest running stock brokers
CMC Markets is one of the oldest online trading services provider, with a history of more than 30 years. You have an option to trade both local and international shares, indices, commodities and bonds when you hold an account with this broker.
Expect fast execution speeds, low brokerage fees, a wide range of research tools and value for money when using this broker to buy shares in Australia. The available markets on CMC Markets share trading platform include; ASX, NASDAQ, NYSE, London Stock Exchange, AMEX, Euronext, Hong Kong Stock Exchange, and more.
| | |
| --- | --- |
| Pros | Cons |
| Low brokerage fees. | High phone brokerage fee |
| Wide range of trading options. | High spreads on CFDs |
| Execute trades in under one second. | |
| User-friendly platform. | |
| Access international shares. | |
67% of all retail investor accounts lose money when trading CFDs with this provider.
5. IG Share Trading – Best web trading platform
Having opened doors in the year 1974, IG trader is one of the oldest stockbrokers in Australia. It offers a great trading platform for both newbies and professional traders, although it can seem complicated for some new traders. IG has an extended hour program that allows you to trade pre and post-market hours on select US stocks like Facebook and Amazon. If you can be able to hit at least three trades a month, your cost of a transaction goes down and your subscription fee is waived. With this broker, you can access over 13,000 stocks from Australia, UK, the US, Germany, and Ireland.
| | |
| --- | --- |
| Pros | Cons |
| Long-standing reputation | High transaction fees |
| Great educational tools | Minimum deposit of $250 |
| Easy account opening procedures. | Complicated platform |
| First-class web trading platform | |
67% of all retail investor accounts lose money when trading CFDs with this provider.
Types of Shares to Buy Now in Australia
There are thousands of companies listed for the public to trade in the different stock exchanges across the world. eToro gives you access to most of these companies, including those that are publicly listed on other exchanges like:
The London Stock Exchange
New York Stock Exchange
Hong Kong Stock Exchange
Tokyo Stock Exchange
NASDAQ (US), and even on the
Alternative Investment Market (UK).
In Australia alone, you have over 800 publicly listed companies to choose from when you want to buy stocks on eToro. Some of the highest dividend-yielding stocks in Australia include:
Stock Code Stock Name Sector
NAB National Australia Bank Financials
SUN Suncorp Group Limited Financials
AGL AGL Energy Ltd Utilities
TLS Teistra Corp Limited Communication Services
FMG Fortescue Metals Group Ltd Materials
Pros & Cons of Buying Stocks and Shares
Pros

Capital Gain – You are likely to make a fortune from the stock market if you make wise investment decisions.
Hello, Dividends – If you selected your stocks properly, you will not only make capital gains but also regular dividends. This is like killing two birds with one stone.
Lots of choices – eToro will give you any flavor you're looking for from the stock market. You have a choice to buy stocks from small companies, medium-sized firms, and big multinationals. Diversification is easy in this case, meaning your money is secure and less exposed to risks.
Easy to Buy and sell – Some people might argue that investing in real estate is much better than buying shares. Well, everyone is allowed to have a different perspective of things. However, it goes without saying that buying and selling shares is easier than most of all the other transactions that you make in your life.
Cons
Risk of losing it all – You could lose part or your entire investment if your stock performs poorly.
Goodbye Dividends – It is not cast on the stone that a stock will pay dividends. Dividends can go up and down, and in some cases, they can even be phased out. So just because there is a stock that pays you dividends doesn't mean this is a reliable investment strategy.
Emotional ups and downs – The stock market can get very volatile at times, rising and falling within seconds. This might throw you into an emotional roller coaster especially if you can't get your eyes off your investment.
Stock Brokers Fees Compared
Fees vary when buying shares depending on the broker you choose to buy with. We've compiled a table with this information below.
| | | | | |
| --- | --- | --- | --- | --- |
| Australian Stock Broker | Stockbroking Fees | Minimum Deposit | Margin | ASIC Regulation |
| eToro – our recommended broker | 0% | $200 | 20% | Yes |
| Interactive Brokers (IB | Starting from $1 | $100 | 20% | Yes |
| Think Markets | $0- $10 | $500 | 20% | Yes |
| CMC Trading | $29.95 | $0 | 20% | Yes |
| IG Share Trading | $1 – $10 | $250 | 20% | Yes |
How To Buy Shares In Australia In 4 Easy Steps (Recap)
Buying stocks & shares in Australia is easy when you have the right information. We've prepared a quick 4 step guide for those of you who want to find out now before diving deeper into our guide.
Step 1 – Open a trading account: Go to eToro.com, our recommended broker to buy shares in Australia. Enter your details and click "Join Now".
Step 2 – Verify your ID: You'll receive a confirmation email, proceed with the confirmation link and upload your ID to verify your address and name.
Step 3 – Make a deposit: Using your debit/credit card or bank wire, deposit from $250 into your account.
Step 4 – Buy stocks & shares: You can now browse through eToro's catalog of stocks and decide which ones you want to purchase. When you're ready, just click "Buy". It's as easy as that!
Full Round-up

You should be able to successfully start your investment journey and buy shares now on eToro with the information in this guide. Remember these tips if you want to buy stocks now in Australia as a beginner.
Your choice of an online broker matters; we recommend eToro
Exhaustive research will shorten your learning curve and improve your skills
Start with small stakes and increase the size of your trades as you gain confidence through doing the right thing over and over
Pick a moderate risk strategy that
There is no end to learning; keep doing it
Once you are a professional, keep trading. Buy stocks, sell at a profit, rinse, repeat.
Buy Shares From Australia's Best Broker: eToro
FAQs
Can you invest in companies outside Australia?
Will I be charged a fee when I buy stocks?
Is the stock market open every day?
What methods can I use to deposit and withdraw my funds?