10 Best Metaverse Crypto Coin Projects to Invest in / Buy
Please note that we are not authorised to provide any investment advice. The content on this page is for information purposes only.
The metaverse is a virtual world that continues to defy all odds. The opportunities for immersive experiences, commerce, and improved productivity have got everyone excited about this technology. Looking to grab a piece of the pie? This review considers the best metaverse crypto coin projects to buy this season.
Our best metaverse crypto coin to buy is IBAT – the native token for Battle Infinity. The asset, currently available on presale, is proving to be one of the hottest commodities on the market.
Batte Infinity was launched as a fantasy sports game. The Indian-based platform combines blockchain technology with non-fungible tokens (NFTs) and the metaverse, allowing participants to enjoy access to its virtual world and enjoy fantasy games.
Central to Battle Infinity's offering is the IBAT Premier League – a fantasy sports game where participants enter a metaverse and form teams with NFTs representing each player. Each team can compete across the season. Like most fantasy sports games, the team that earns the most points wins the league. Other unique products embedded into the Battle Infinity ecosystem include the IBAT Battle Swap – a decentralised exchange; the Battle Market – a simple NFT marketplace; Battle Games; and the Battle Arena.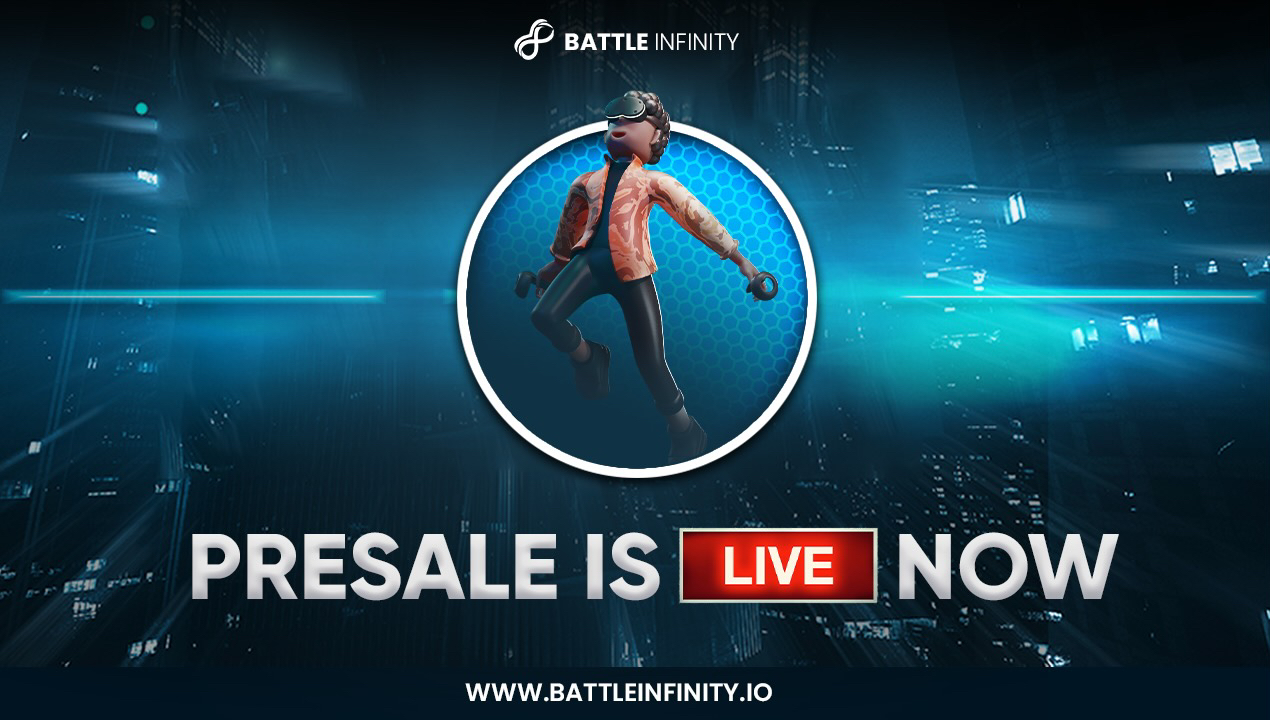 With fantasy sports expected to hit $49 billion in industry valuation in the coming years, Battle Infinity has a massive opportunity to corner the market. Investors who buy IBAT tokens could benefit massively.
IBAT has already been vetted by crypto compliance platform CoinSniper, and its smart contract was audited by Solid Proof. So there are no chances of a rug pull here. With the presale on, IBAT is a very solid investment opportunity.
IBAT is available on presale for $0.0015 per token. To buy IBAT, visit the official site to connect a MetaMask/Trust Wallet to the smart contract. Investors can buy IBAT with Binance Coin (BNB). There's a purchase minimum of 0.1 BNB and a maximum of 500 BNB.
Although it is not a metaverse crypto coin, LBLOCK is another highly attractive asset. The asset, which launched in January 2022, has already garnered over 50,000 investors and is doing impressive numbers.
LBLOCK is the native token for Lucky Block – a global crypto games platform. The service launched in 2021, providing access to an ecosystem of games to investors who buy Lucky Block coins regardless of where they are in the world.
Today, LBLOCK trades at $0.0001063. The asset has been up by 3.77% in the past 24 hours.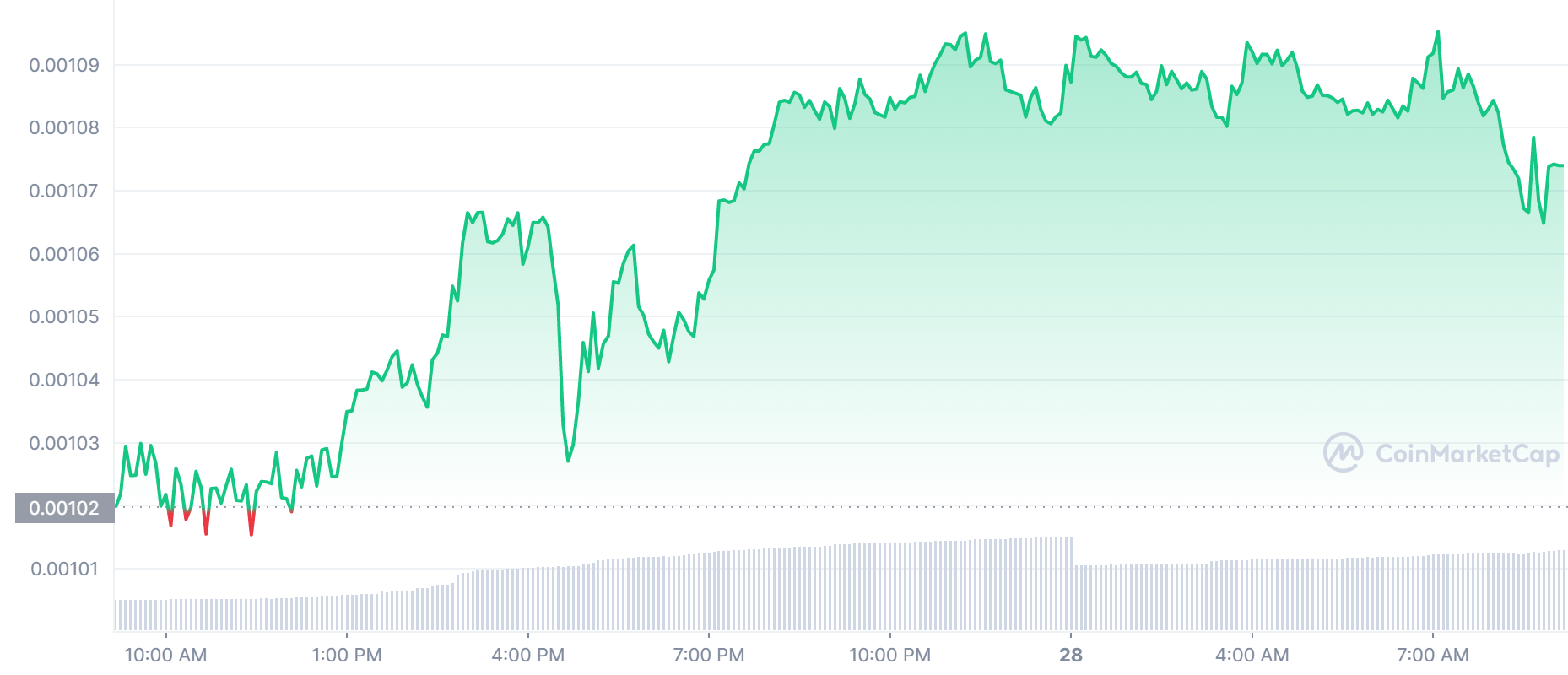 While gaming is its primary draw, Lucky Block is also popular among investors for its prize draws and NFT draws. These draws run weekly, with the main prize draw paying out $50,000 in LBLOCK to winners. The first of these draws were held in June, with participants enjoying over $2 million in rewards. We expect Lucky Block to organise even more, increasing investor interest.
The main prize draws are open to anyone willing to purchase $5 worth of tickets, although investors with $500 worth of LBLOCK can enjoy free tickets. As for the NFT giveaways, eligibility is based on the ownership of Lucky Block's Platinum Rollers Club NFTs.
At the same time, Lucky Block's ecosystem and the LBLOCK token have seen impressive growth. Currently, the ecosystem developers are working on getting LBLOCK's V2 version listed on centralised exchanges. After a successful listing on the LBank Exchange, Lucky Block is now working on listing LBLOCK on MEXC. This is expected to lead to more centralized exchange listings down the line.
V2 token is NOW LIVE on @LBank_Exchange! 🔥

Go and buy it now, all you need to do is:

➡️ Go to https://t.co/6rFZ8bsZZC 🖥️
➡️ Search for LBLOCK 🔎
➡️ Click 'Buy' and that's it, you're a proud owner of V2 $LBLOCK! ✅

Let's go #ToTheMoon! #crypto #cryptocurrency #CEX pic.twitter.com/hCG1yORdpc

— Lucky Block (@luckyblockcoin) July 27, 2022
There's also a current website rebrand going on for Lucky Block. The platform's developers are looking to enhance their user experience and are expected to complete the rebranding process by the end of July. Once that is done, they've confirmed the upcoming launch of a raffle platform.
With growing activity levels and an increasing investor base, LBLOCK looks like a solid investment right now.
3. Axie Infinity (AXS)
Axie Infinity is one of the most popular crypto gaming platforms in the market now. The platform thrives on its impressive play-to-earn (P2E) gaming model and its ability to build a sustainable economy in its universe.
In Axie Infinity, players raise digital pets known as Axies. These are NFTs, and each player can breed and battle their Axie against the Axies of other players. Winners collect the Axies they defeat and earn ASX tokens for their activities.
AXS currently trades at $16.36. The asset's price has increased by 7.86% in the past 24 hours.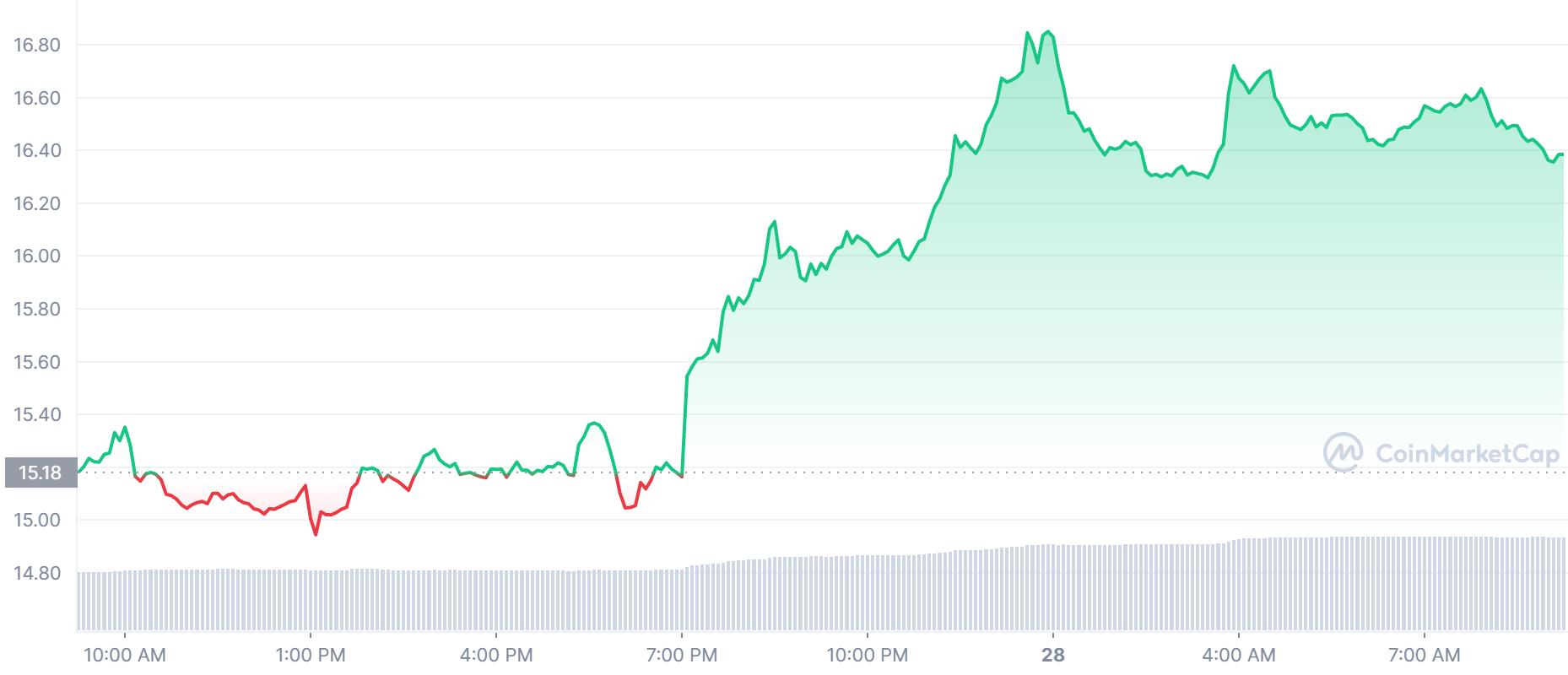 We believe investors should buy Axie Infinity because of its position in the market. The platform remains a major player in the gaming and metaverse space, and it should see gains soon as the market looks to consolidate higher – as evidenced by its recent price gains.
4. Decentraland (MANA)
Decentraland began as a blockchain game and grew into an entertainment and engagement powerhouse. Here, participants enter a virtual world where they can buy land – represented as NFTs – and develop them. Users can build structures or just sell their land, pocketing profits either way.
MANA, Decentraland's native token, is one of the best metaverse crypto coin projects right now. It trades at $0.93 – a jump of 6.46% in the past 24 hours.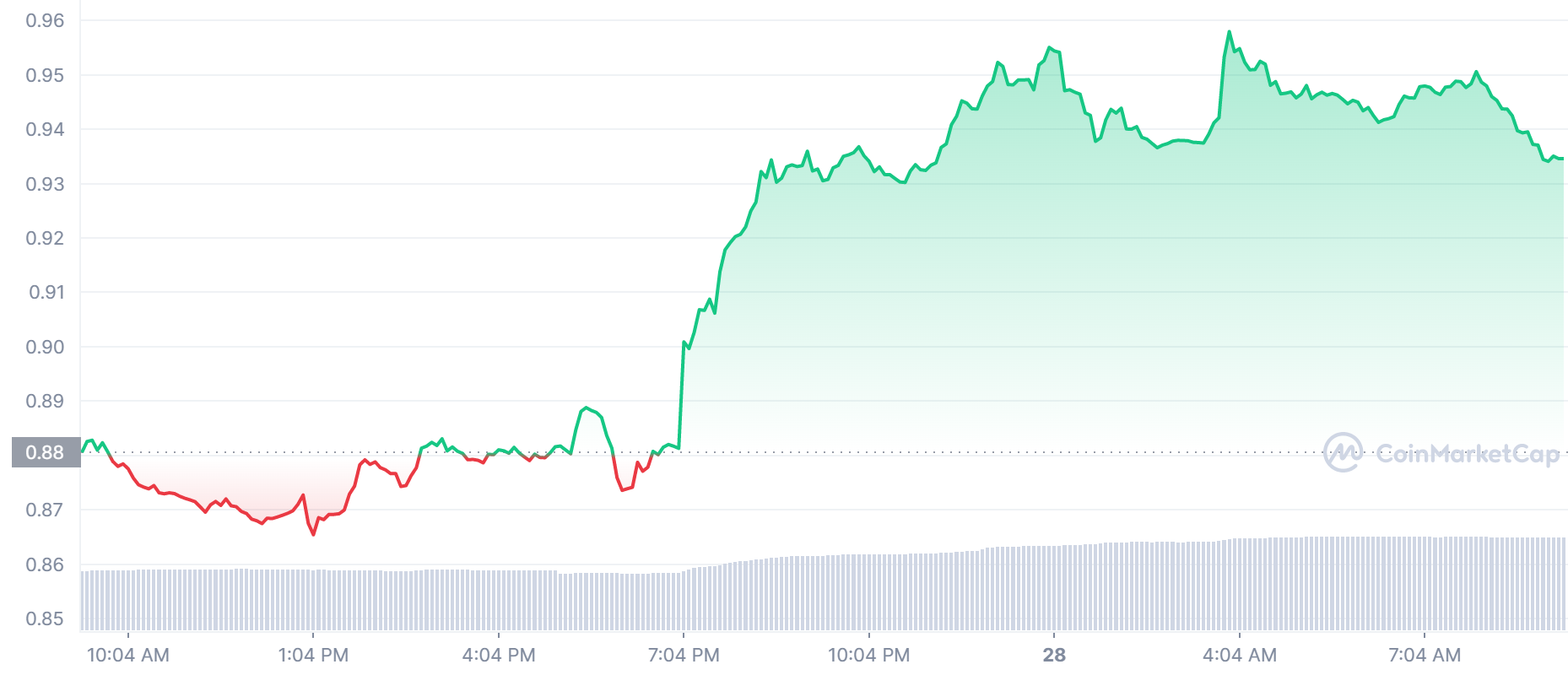 Besides its primary metaverse offering, we believe that investors can buy Decentraland as the platform continues to garner more partnerships to increase engagement. Decentraland is already home to several top brands – including JPMorgan, Atari, and Samsung. Last month, it partnered with Yahoo! to launch several events and NFT activities geared toward Yahoo's customers in Hong Kong.
5. The Sandbox (SAND)
The Sandbox and Decentraland are alike in many ways. Both platforms allow participants to enter into a virtual world and own property. The difference is that while Decentraland focuses on land development, The Sandbox is more of an entertainment and shared experience platform.
The Sandbox's SAND token is one of the most popular in the market right now. It currently trades at a gain of 6.19% in the past 24 hours, with a price peg of $1.29.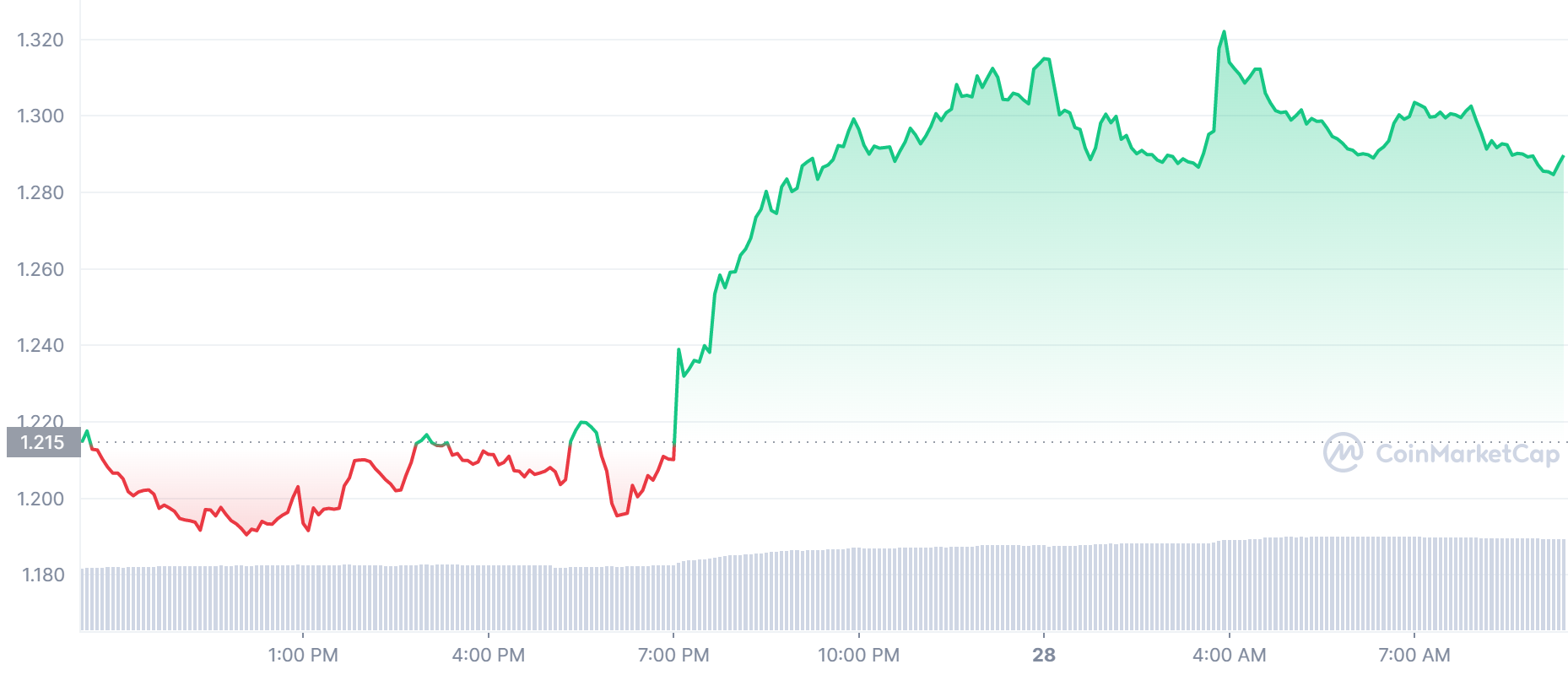 Investors can buy Sandbox to enjoy gains down the line. The platform has done well to confirm partnerships with companies like Atari, PricewaterhouseCoopers, and Adidas, which own land plots in The Sandbox.
And with its developer Animoca brands recently raising $75 million in funding, we expect to see some new and exciting features in this metaverse soon.
6. ApeCoin (APE)
When ApeCoin launched earlier this year, it sparked a massive frenzy among investors. While that frenzy appears to have cooled, this asset remains a viable commodity in the market.
ApeCoin is the native token for the APE ecosystem – a set of NFT collections, including the wildly popular Bored Ape Yacht Club (BAYC) and mutant Ape Yacht Club (MAYC). The upcoming Otherside metaverse is also expected to be a huge draw for the brand.
This entire ecosystem seems to be tied together by APE – an asset that currently trades at $6.62, up by 13.01% in the past 24 hours.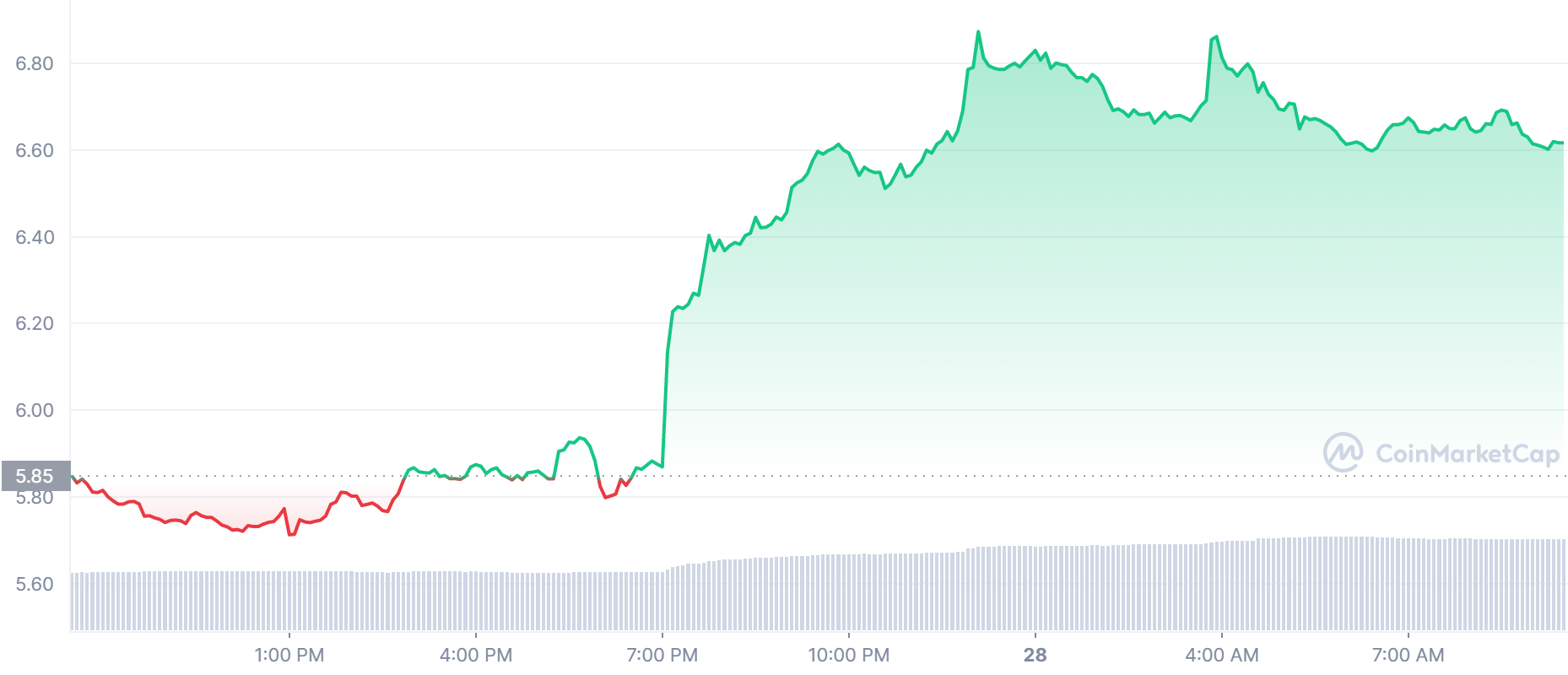 Presently, there's a lot of excitement surrounding APE. Just a week ago, the asset's developers unveiled the beta of the Otherside metaverse, earning impressive reviews from early participants. We expect to see a lot of investors buy ApeCoin once the metaverse launches in its full mode.
Today's @OthersideMeta First Trip was truly a wild experience! Jumping through the swamp portal legit gave me chills and it was insane to see 4500 voyagers running around a large, immersive space. pic.twitter.com/Nl5luxaZl3

— illuminary.eth (@illuminaryETH) July 16, 2022
7. Floki Inu (FLOKI)
FLOKI, one of the earliest and most valuable meme coins, is an interesting option among the best metaverse crypto coin projects. The asset controls the Floki Inu ecosystem – a vibrant community of holders and project developers looking to break into the metaverse.
FLOKI currently trades at $0.00001087. The asset has been up by 6.60% in the past 24 hours.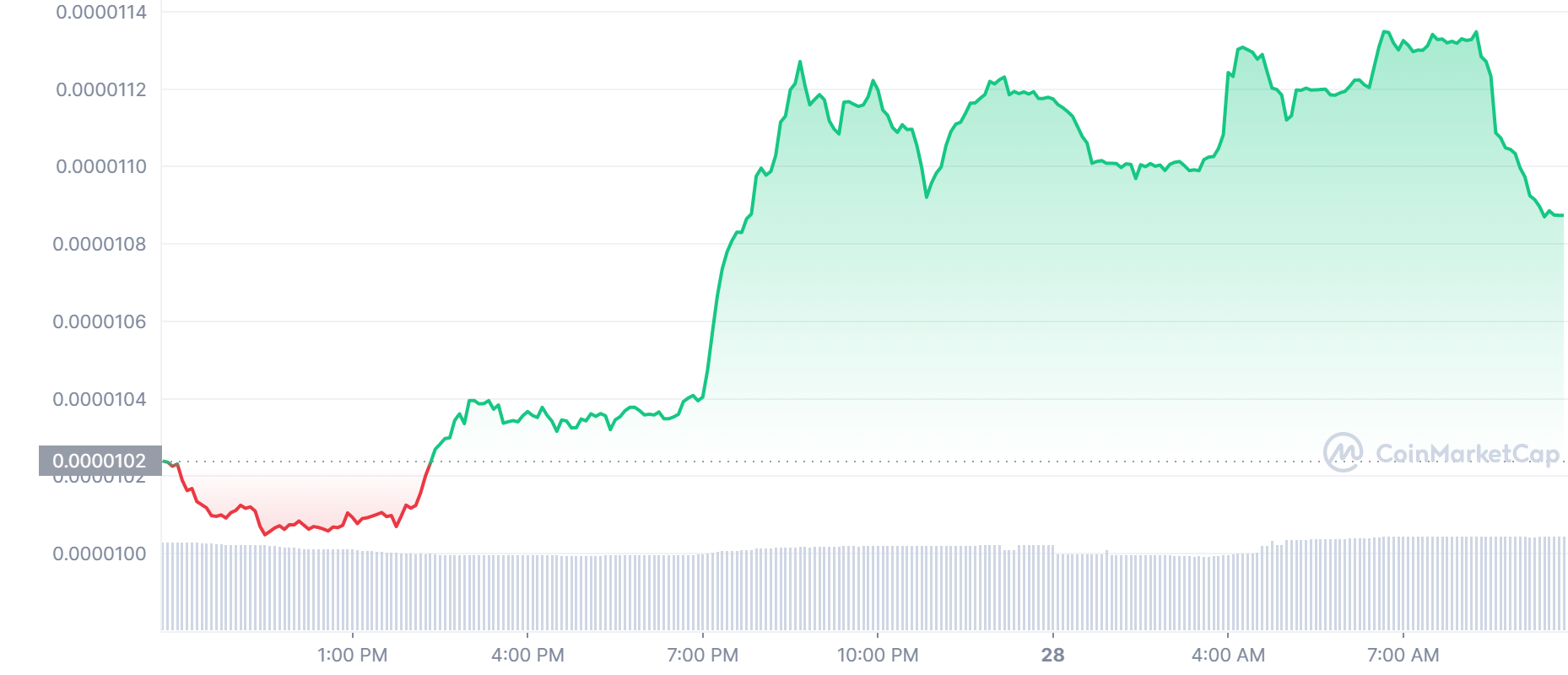 Floki's metaverse play is Valhalla. The metaverse launched on testnet in March, and FLOKI investors expect its launch date. Investors can buy Floki Inu in anticipation of a price jump while anticipating the metaverse.
8. Enjin Coin (ENJ)
ENJ is an asset with a fast-growing profile. The coin powers Enjin – a software that looks to enable individuals and companies to build and manage virtual goods. Although Enjin set out to be an all-inclusive NFT suite, it has also built a metaverse where users can explore.
The ENJ token currently trades at $0.5843. The asset has been up by 6.52% in the past 24 hours.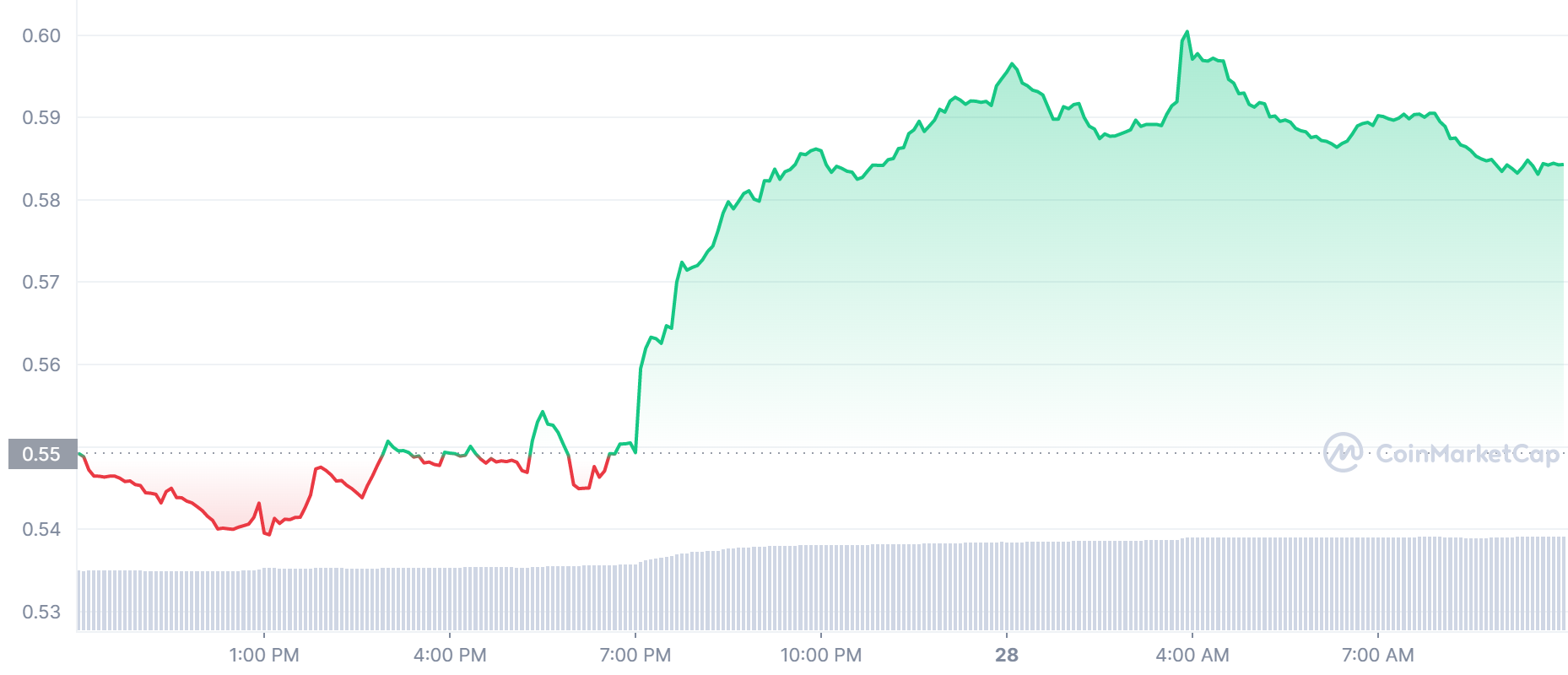 While Enjin's metaverse foray hasn't been quite as prominent, the platform continues to make progress with its NFT offering. Earlier this week, Enjin partnered with game developer Square Enix to launch collectibles inspired by Final Fantasy VII – the popular game. Investors can buy Enjin as the platform continues to make inroads into the NFT space. We also believe its metaverse platform can catch up soon.
9. Gala (GALA)
Although it isn't quite among the most popular coins, GALA is a solid metaverse offering. It powers Gala – a blockchain game launched in 2019 that combines NFTs and the metaverse to provide players with the opportunity to trade digital assets while also engaging in fun activities.
GALA provides several benefits to holders – including governance, incentives for node operators on the network, and in-game rewards for players. The asset currently trades at $0.050 – a jump of 6.24% in the past 24 hours.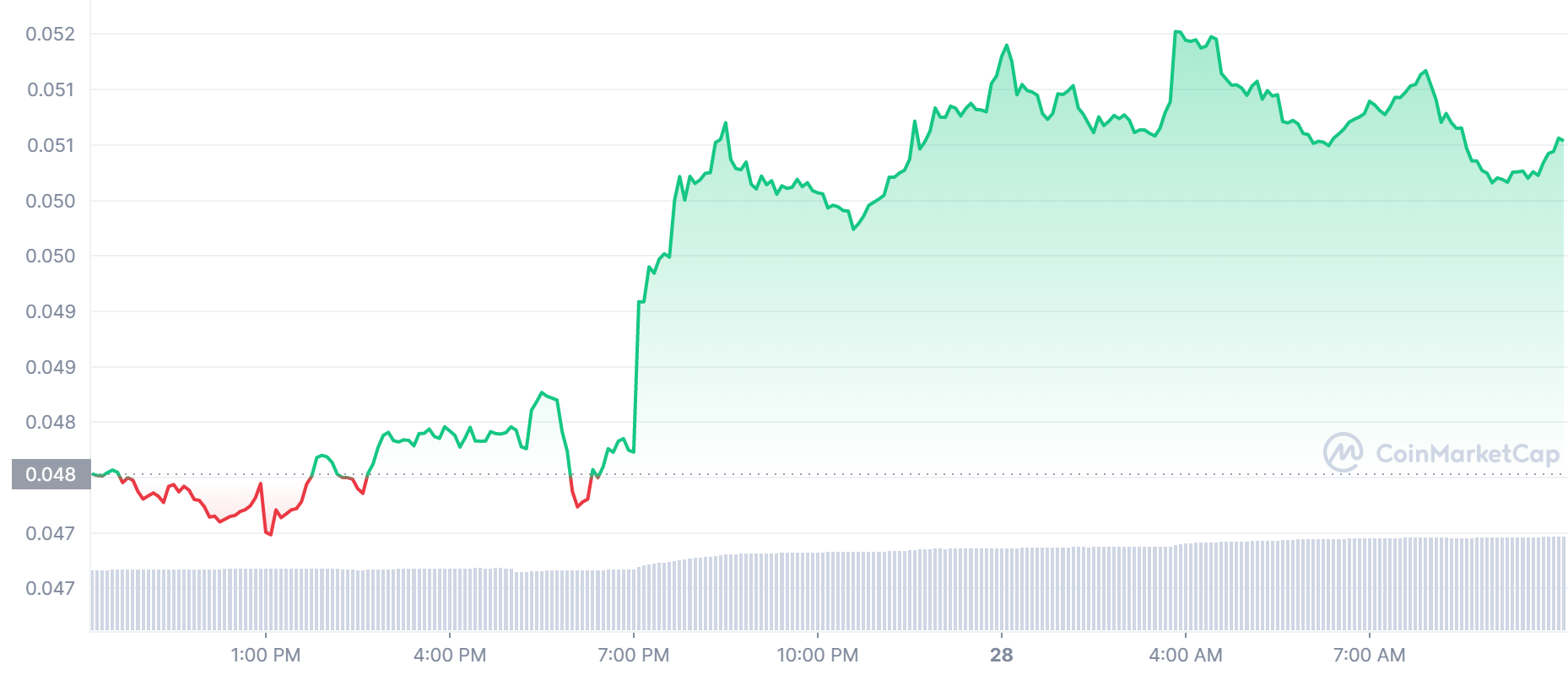 Like several other blockchain gaming tokens, we believe that investors can buy Gala for maximum gains when the market commences a bull run. Gaming remains a top attraction for most players, and GALA should be able to deliver gains once the Gala ecosystem reaches its full potential.
10. Virtua (TVK)
Virtua is the native token for Terra Virtua Kolect – an NFT project that launched in 2017. The platform allows people and companies to launch and trade their tokens and collectibles in an enabling environment.
Terra Virtua Kolect's metaverse offering is known as Terra Prime. It is an immersive metaverse that allows participants to build their custom avatars and enjoy immersive experiences in a unique virtual environment.
TVK, this platform's native token, currently trades at $0.051. The asset has been trading down 5% in the past 24 hours.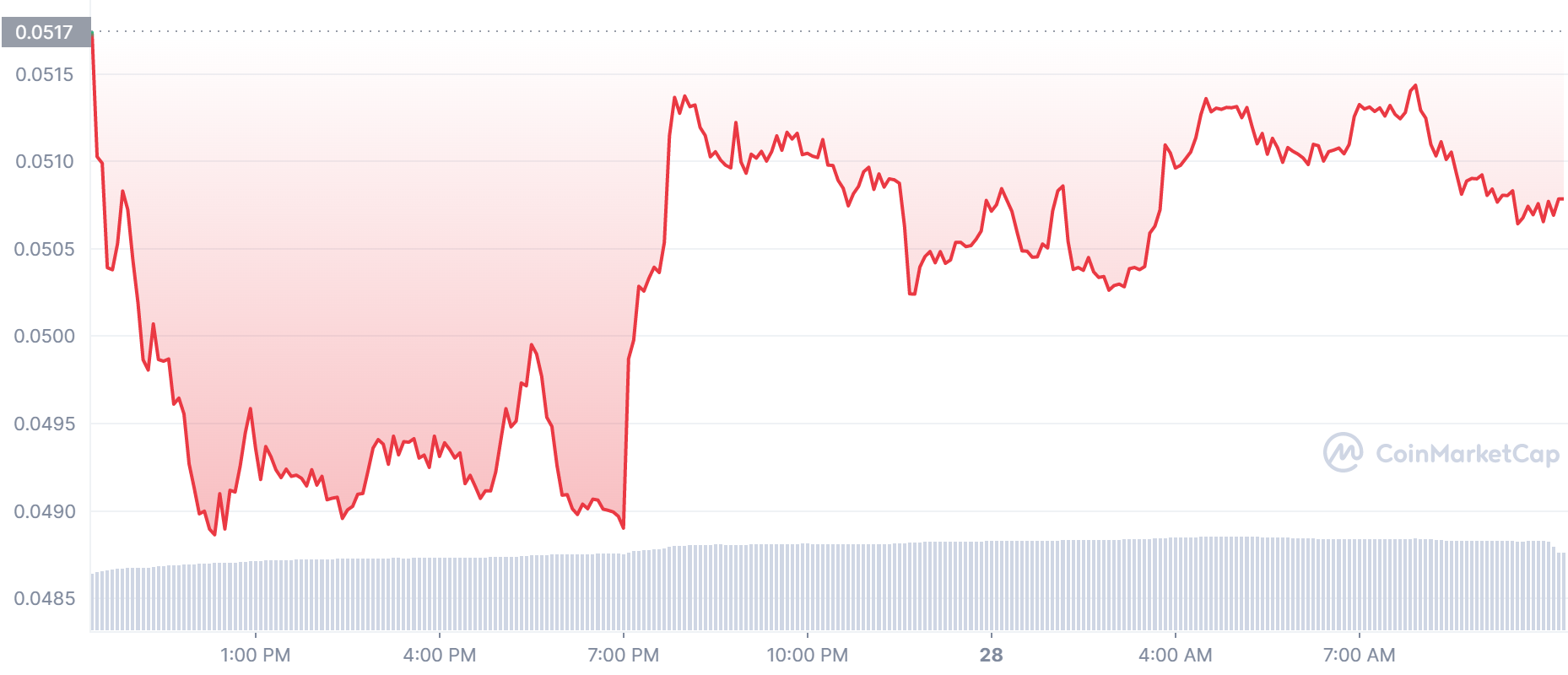 Despite the drop, TVK appears to be a solid investment for metaverse enthusiasts. Investors can buy Virtua as the Terra Virtua Kolect continues to build its NFT collection and bank on the jump in NFT investment.
Conclusion – 10 Best Metaverse Crypto Coin Projects to Invest in/Buy
The metaverse is an impressive new frontier that has everyone in the tech space and beyond excited. From Big Tech companies looking to control the space to entertainment firms hoping to engage more people, there's no doubt that the metaverse will be the next big thing. Several companies have incorporated virtual metaverses into their operations, making it possible for their users to explore and possibly earn.
Despite the numerous options available, we believe that Battle Infinity's IBAT token is the ideal metaverse crypto coin for interested investors right now. Battle Infinity looks to tap into the popularity of fantasy sports, and it has the perfect opportunity for massive adoption in its home country, India, and beyond. The IBAT token is currently available on presale, and investors can purchase it by clicking this link.