How To Buy Chainlink South Africa – All You Need To Know
Are you thinking of how to buy Chainlink in South Africa? Don't worry; the process is straightforward. All it takes is to choose a reliable broker's website online and register within a few minutes. Once you've completed the simple steps, you can buy the quantity of LINK you need, and that's it.
Luckily, there are reliable and efficient online brokerage sites where you can buy Chainlink without hassles. Using top brokerages and exchanges such as eToro, Coinbase and Binance are the safest and cost-effective platforms to buy Chainlink in South Africa.
Buy Chainlink at eToro – South Africa's #1 Platform

This article gives you the right guide on how to buy Chainlink in South Africa at the lowest charges. Also, you will get an insight on the price performance of Chainlink, why, and how to buy Chainlink on eToro.
How to Buy Chainlink – Quick 4-Step Guide
It's very easy to buy Chainlink in South Africa. Use the following quick 4-steps to buy the crypto within a few minutes through any brokerage like eToro:
Step 1: Open an Account with eToro – eToro is a trusted platform for buying Chainlink in South Africa. Head to the official website to open an account. Then complete the online form using your information.
Step 2: Upload Your ID – Account verification is vital. Upload any of your government-issued ID and recent bank statement to verify your account.
Step 3: Deposit Funds – Through any supported payment options by the broker, fund your account with Rands.
Step 4: Buy Chainlink – Search for Chainlink in the search box and click on TRADE to enable you to buy Chainlink. Complete your purchase by entering the amount of LINK you want to buy.
Chainlink
7 Providers that match your filters
What we like
Trade real cryptos and crypto CFDs

Licensed broker with deposit insurance

Integrated wallet
Features
Payment methods
CFDs are complex instruments and carry a high risk of losing money quickly through leverage. 75% of retail investor accounts lose money when trading CFDs from this provider.
What we like
Careful selection of cryptocurrencies

Regulated by CBI and MiFID in Europe

No commissions and low spreads
Features
Payment methods
CFDs are complex instruments and carry a high risk of possible rapid loss of capital due to their leverage. 71% of retail investor accounts lose capital when trading CFDs with this provider. You should consider whether you understand how CFDs work and whether you can afford to take high risk in losing your capital.
What we like
Viele handelbare Assets

Hervorragende Trading Plattform

Europäische Lizenz
Features
Payment methods
CFD sind komplexe Instrumente und gehen wegen der Hebelwirkung mit dem hohen Risiko einher, schnell Geld zu verlieren. 76,4% der Kleinanlegerkonten verlieren Geld beim CFD-Handel mit diesem Anbieter.
Where to Buy Chainlink South Africa
Chainklink's performance in the crypto industry is top-notch. This is why crypto investors are diving into it without reservation. When you're considering where to buy Chainkink in South Africa, ensure you'll use a reputable and safe platform for that.
Chainlink is listed on several brokerages and exchanges, and one can easily be confused about the one to use. But remember that using the right and safe platform gives you some benefits when buying Chainlink.
Not only will you be sure of the security of your funds, but you will also buy the digital asset at a lower price.
Moreover, some of the top sites have some special features that will assist their users in crypto trading. For example, here are some of the top brokerages to use when buying Chainlnik in South Africa.
#1 eToro – The Overall Best Platform to Buy Chainlink in South Africa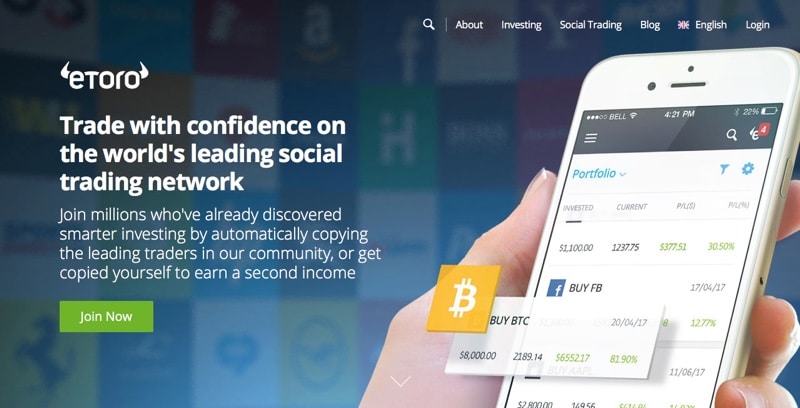 The best platform to use for buying Chainlink in South Africa is eToro. The broker gives you a safe environment for trading and investing in Chainlink. From its time of establishment, eToro has proved itself in the financial industry.
The broker has over 18 different top cryptocurrencies trading on its platform. It also engages in CFDs trading for its investors in several countries globally, including South Africa.
eToro's performance in CFDs trading makes the platform popular as the best for crypto speculations. Besides cryptocurrencies, eToro offers its customers a wide variety of assets like commodities, indices, currencies, and stocks.
There is no history of hacking and fraud on the platform. Also, it operates under strict regulations from the FCA, CySEC (in Cyrus), and ASIC (Australia). This prompts eToro to maintain compliance with AML through its compulsory KYC documentations.
Furthermore, eToro allows funds deposit using South Africa Rands. The payment methods on the platform include debit/credit cards, direct bank wire, and e-wallets. The broker will then convert your Rands to any of the acceptable fiats for crypto trading.
The most preferred fiat on the platform is USD. Therefore, you can conveniently buy as low as $25 (about R350) worth of Chainlink using the broker. This is the minimum buying limit for eToro.
Using eToro is the best option for a beginner to learn more about cryptocurrency. The eToro operates like a social trading platform through its CopyPortfolio and CryptoPortfolio features. Newbies can quickly learn and copy the trading pattern of any advanced investor.
EToro stands as the best cost-effective platform for buying Chainlink in South Africa when it comes to fees. This is because the broker uses a spread approach for calculating its fees and is only applicable during buying.
The spread is the measure of the difference between the buying and selling price of a digital asset. eToro has a spread of 3.9% for buying Chainlink.
Also, the fee of 0.5% applies for fund deposits irrespective of the transfer method you use. Moreover, the broker doesn't ask for commission on trading.
eToro's Transaction Fees
| | |
| --- | --- |
| Transaction | Fees |
| Commission on trading | 0% |
| Deposit | 0.5% |
| Withdrawal (minimum) | $5 |
| Crypto conversion | 0.1% |
| Send/Receive (Wallet) | 0% |
Below are the pros and cons of using eToro.
Pros
A reputable platform for safety and low-cost crypto transactions
Highly secured platform with strict regulation from three financial agencies.
Best platform for crypto speculations.
Supports Chainlink trading as CFDs.
Spreads are applicable for buying only.
Boasts of 18 different top digital assets.
Special social platform with unique features like CopyPortfolio and CryptoPortfolio.
Cons
High Chainlink buying spread fees of 3.9%
Coinbase – The Best User-Friendly Platform To Buy Chainlink In South Africa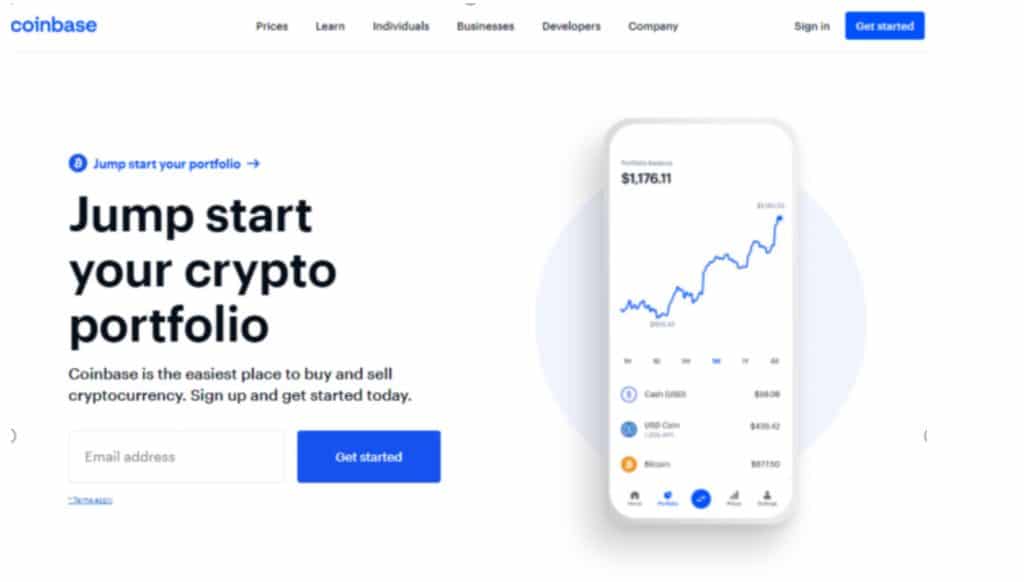 For any beginner in the crypto industry trying to buy Chainlink, Coinbase is a great platform for you. Coinbase is reputable for being the best user-friendly interface to navigate and perform crypto transactions seamlessly.
We can say it contributes to over 35 million users on the site. Moreover, the platform is reliable and secured.
From its time of time from 2012, Coinbase is continuously providing its customers the best services. The exchange is under the regulation of the SEC. Some features like address whitelisting, two-factor authentication, email notifications, and others add security for users.
Using Coinbase allows you to personally schedule your Chainlink trades as you desire. You can choose the monthly, weekly, or daily options for your transactions.
But you must first have an account with Coinbase before you can buy Chainlink using the exchange. So, visit the official website and sign up for an online account using your details.
After verifying your account, make a fund deposit using any of the supported payment methods. Some of the options for funds deposits are debit/credit card transfers like Visa and Mastercard and bank wire. There, you are good to buy your Chainlink tokens.
Coinbase has a fee of 3.99% for debit cards deposits though the charge for bank wire is cheaper. Also, the trading commission on the platform is 1.49%. The broker allows you to withdraw Chainlink to a private wallet after purchasing.
Coinbase's Transaction Fees
| | |
| --- | --- |
| Transaction | Fees |
| Commission on trading | 1.49% |
| Debit card transfer | 3.99% |
| Bank Deposit | 0% |
| Withdrawal (minimum) | R7.50 |
| Crypto conversion | 0.5% to 2% |
| Purchases | 0% to 0.5% |
Below are some of the pros and cons when using Coinbase.
Pros
Best a user-friendly platform, especially for beginners.
Licensed by FCA.
Trusted platform with more than 35 million customers.
Easy withdrawal of funds to private wallets.
Great security features like 2FA, address whitelisting, and others.
Cons
A high fee of 3.99% for deposits through debit cards.
Binance – The Overall Largest Platform in Trading Volumes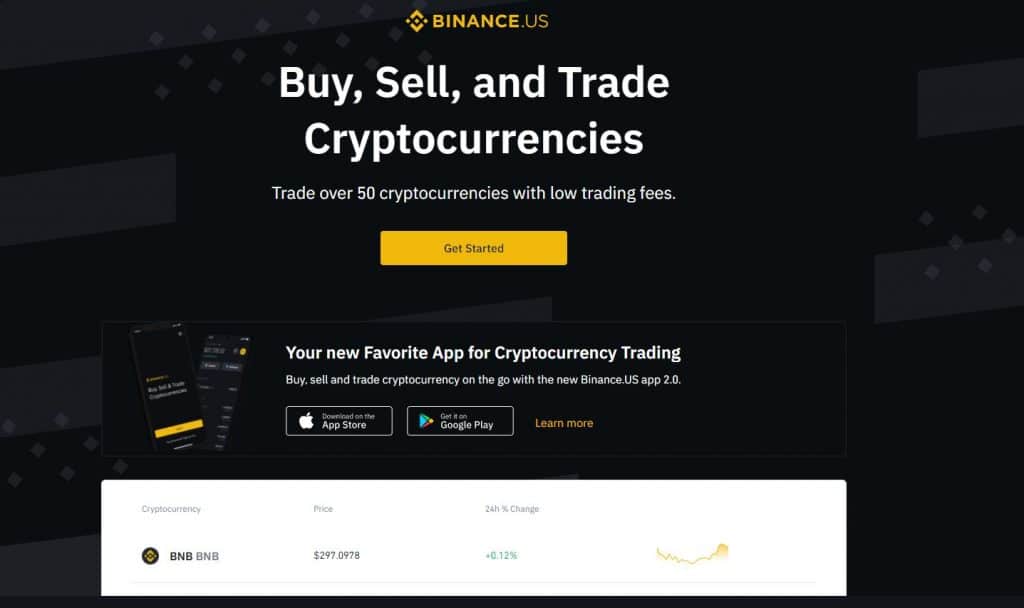 Binance is one of the prominent platforms that offers reliable and quick crypto transaction experiences. The platform is easy to navigate, and within a few minutes, you can buy Chainlink in South Africa.
The platform is highly trusted and secured. It has a great operating system that ensures maximum security to its users. Some features such as the Secure Assets Funds for Users (SAFU), multi-tier and multi-cluster system architecture are unique handy tools.
As the world's largest platform in trading volumes and liquid, Binance supports hundreds of cryptocurrencies.
Through the platform, you can access several crypto pairs for Chainlink, such as BTC/LINK, ETH/LINK, XRP/LINT, etc. Also, from Binance, you can buy and transfer Chainlink to another person anywhere, thereby transferring value globally.
To buy Chainlink from Binance, open an online account at the Binance website using your detail and proceed to deposit your funds. The platform allows deposits through bank transfers and credit/debit cards. The exchange has a fee of 3% for card deposits.
Additionally, using Binance gives you access to the digital wallet for your cryptocurrencies on the platform. So if you have no private wallet, you'll still conveniently store and secure your digital assets.
Moreover, Binance offers great trading tools for its users. There's a level 2 order book on the platform that active daily investors can leverage while scheduling their transactions.
This order book displays lists of the best ask and bid prices by crypto sellers and buyers. So Binance advanced mode (for professional) and classic mode (for beginners) provide every user the right tools for crypto trading.
Binance's Transactions Fees
| | |
| --- | --- |
| Transaction | Fees |
| Trading commission | 0.1% |
| Deposit from credit/debit cards | 3% – 4% |
| | |
| | |
Below are some of the pros and cons of using Binance.
Pros
A low fee of 0.1% for trading commission.
Has hundreds of listed cryptocurrencies.
The world's largest platform for crypto trading volumes and liquidity.
A secured and reliable platform for crypto transactions.
Great platform that helps in transfer Chainlink's value globally.
Special tools for professional investors
Cons
Too sophisticated for newbies in cryptocurrency.
Why Buy Chainlink?
It is not just enough to say that Chainlink is a profitable investment without backing it up with good reasons.
In addition to adopting more features into its network, Chainlink has enabled staking on its platform recently. They have also upgraded to a decentralized version- chainlink 2.0, which has increased their advantage.
Below are the five good reasons why you might consider investing in Chainlink in South Africa.
The Ecosystem and Network Effects
Chainlink is among the first oracle protocol that most digital projects adopt. Generally, Chainlink supports a lot of ventures and projects both inside and outside the crypto industry.
These ventures are related to blockchain, data providers, compliance, infrastructure, Defi, payments, NFTs, developer tools, marketing real estate, and gaming.
Chainlink benefits more with this type of exposure and interaction with different kinds of data from various blockchain ecosystems. Crypto is known for its frequent integration with new partners; you can check their Twitter handle for more information.
The Founding Team
The founding team members of Chainlink consist of professionals with experience in various fields. They come from various backgrounds to develop this multidisciplinary and unique protocol. Many crypto and blockchain analysts, leaders, and investors believe that chainlink has the best team to work with.
Sergey Nazarov is the founder and CEO of chainlink. He is a young entrepreneur in his thirties and has gained a lot of experience in the crypto market since 2011.
He was born to Russian immigrants and studied Philosophy and Management at New York University. He first developed a platform for creating programmable contracts for beginners known as smartcontracts.com.
Ari Juels, Alex Coventry, and Lorenz Breidenbach are other notable members of the protocol team. Ari Juels is a faculty member and a professor at the Cornel University Ithaca, New York.
He is a co-director of the (SCC) smart contracts company IC3 and also RSA chief scientist. Alex Coventry is a Chainlink researcher with a Ph.D. in Applied Mathematics from MIT (Massachusetts Institute of Technology).
More so, Lorenz Breidenbach is Chainlink's security researcher and was a formal BRIDGE fellow with working experience from IC3 and ETH Zürich.
He has worked with Ari and has also researched at Cornell Tech with an interest in Google and Open Systems. However, the Chainlink project was developed as a centralized oracle system for verifying incoming information.
Explicit Staking
The Chainlink protocol has a second upgraded decentralized version known as Chainlink 2.0 with the LINK as its native token. The LINK token serves both as a utility token and a full collateral staking token.
This transition is known as 'Explicit Staking.' It implies that Node Operators will adopt the LINK token to ensure the accuracy of the oracle data entering the network.
The mechanism is that the LINK stake of the Node Operators slashes whenever they feed bad or wrong data into the network.
This economic implication will surely make them always provide accurate data to prevent their stake from being slashed. The chainlink protocol has a total trading volume of over $884 million(12.879 billion Rands) listed in Coinmarketcap of July 22, 2021.
Blockchain Agnostic
There are so many blockchain projects, blockchain networks, and decentralized protocols in the Digital market. But the truth is that they all need real-world data to be useful or recognized.
The LINK token is an ERC677 token that mimics the standard functionality of the ERC20 token. It is also built on the Ethereum Blockchain, but the Chainlink network itself is designed to be flexible.
The Chainlink aims to supply data to any smart contract network or blockchain. Many blockchains such as Cosmos, Polkadot, Binance Smart Chain, and NEAR, etc., have integrated it into their network. This implies that Chainlink investment in South Africa might be rewarding if there is more multi-chain adoption in the future.
Tax Advantages
Another reason for you to consider investing in Chainlink is its tax advantages. This benefit applies to Chainlink investments made via the Crypto IRA's.
For instance, the Bitcoin IRA contains both Bitcoin and other digital currencies in its digital portfolio. Crypto coins in the (IRAs) Individual Retirement Account are taxed as stock properties or bonds.
However, investing in Chainlink through the IRAs in South Africa is tax-free, unlike other cryptos. For instance, If you as an investor buy Chainlink worth 14 Rands using the IRA portfolio and it grows to say 145 Rands in a few years.
The profits of $9,000 will not be taxed; they are completely free. Therefore, chainlink investors who wish to focus on a long-term investment are advised to use a crypto IRA.
Buy now
CFDs are complex instruments and carry a high risk of losing money quickly through leverage. 75% of retail investor accounts lose money when trading CFDs from this provider.
Buy now
CFDs are complex instruments that have a high risk of losing money quickly due to leverage. 72.6% of retail investor accounts lose money trading CFDs with this provider.
Buy now
CFDs are complex instruments and carry a high risk of possible rapid loss of capital due to their leverage. 71% of retail investor accounts lose capital when trading CFDs with this provider. You should consider whether you understand how CFDs work and whether you can afford to take high risk in losing your capital.
| | | | |
| --- | --- | --- | --- |
| N/A | Yes | CBI and MiFID in Europe | |
| | | | |
| --- | --- | --- | --- |
| N/A | Yes | 1:2 for cryptocurrencies | |
| | | | |
| --- | --- | --- | --- |
| $48280.47 | $47968.98 | $48088.78 | |
Safest Ways to Buy Chainlink in South Africa
Presently, there are so many ways to buy Chainlink. You can either use your crypto holdings like Bitcoin, PayPal, or other e-payment options.
Some crypto exchanges may allow you to buy directly using a fiat currency with your Credit/Debit card. The choice is yours, depending on the payment option that best suits you.
The majority of the crypto newbies prefer using a crypto exchange or a broker based on the payment options available. You can check the various payment methods that are safe for buying the Chainlink in South Africa below.
Buying with Credit/Debit Card
This payment method is the easiest and quickest among other options. Moreover, the debit card allows you to buy chainlink with funds from your traditional bank account directly.
If you wish to use this method, you can sign in to either Binance exchange or eToro. But, the eToro trading platform takes zero commission, and it's easier to operate than Binance.
Carefully input your login details after registration to enter the eToro's homepage or trading dashboard. Click on the 'Deposit' button and then select either 'credit or debit' from the drop-down menu.
Input the amount of money you wish to buy Chainlink with and then hit the 'Deposit' button to continue. Confirm the fund in your eToro account, search for the LINK token to place a buy-order on the chainlinks page.
Follow the display options to complete the process.
Buying with PayPal
This is the second payment method that you can use to buy chainlink in South Africa. But you will need a trusted trading platform that supports PayPal. You can also use a reputable crypto exchange that allows a peer-to-peer (P2P) marketplace.
The good news is that eToro is among the trading platforms that accept PayPal as a payment option.
Binance, aside from being a reliable trading platform, also supports P2P crypto exchange. Crypto investors on the Binance P2P platform are allowed access to more crypto options in the market.
Buying with Bitcoin
Buying Chainlink with bitcoin is a good payment option for investors that already have Bitcoin crypto in their holdings. Whether the bitcoin is in a wallet or on another crypto exchange, you can still use it to buy LINK.
The major requirement is to look for a LINK / BTC trading platform. This implies that you need an exchange or broker that can give you a LINK in exchange for your BTC.
Once you get a reliable platform, you will be required to register/login as the case may be. It is important to check the two-factor authentication box to secure your account.
If you are using the Binance exchange, for instance, go to markets after logging in. Then carefully follow the instruction of the display screen to complete the exchange.
Feel free to visit the Binance official page or click here for more information.
Risks of Buying Chainlink in South Africa
The performance ratings of all projects and protocols in the digital market are like a two-faced coin. They have their benefits as well as risks associated with buying them, and Chainlink crypto is never an exception.
Therefore, investors should always study, understand and evaluate them before deciding on any of them.
However, check the risk of buying Chainlink in South African below;
Low Token Distribution to Investors
Chainlink raised about $32 million (470million Rands) during their ICO in 2017 with a total token supply of 1billion.
However, the team only sold 35% of this supply to investors, kept another 35% for the node operators. But they reserved the remaining 30% for the development of the company.
However, investors and other crypto users in South Africa have been reacting to this development since then. And it could be a red flag since this behavior might affect the interest of the investors in buying the Chainlink token.
Price Volatility
Price volatility in the digital world is the rate at which the price of a digital currency increases or decreases. Digital currencies are known for their frequent price fluctuations; they are never stable and can be highly volatile.
Chainlink is also in the picture. It rated $4.85 (71.2 Rands) on July 1, 2020. Then on May 9, 2021, it recorded great success and increased to $52.2 (766.4 Rands).
However, this same coin, as of today, July 22, 2021, has depreciated to $15.54 (228.3 Rands).
Low development speed
Chainlink was developed in 2014 as a centralized oracle system for verifying incoming information. It took the team 3 years before launching it in 2017.
Again, it took them time to upgrade the network to reduce the transaction fee and develop the second version-chainlink 2.0. It was even recently that the team integrated the LINK token as a staking tool after 7 years.
Buy Chainlink in South Africa – eToro Guide
If you're now ready to buy Chainlink in South Africa, you should follow this full guide to do so on eToro.
Using eToro ensures you with the safest and less expensive option of buying Chainlink. Also, the broker has a great recommendation globally for its speculative platform.
So, you will get detailed Chainlink speculation from the platform.
Step 1: Signup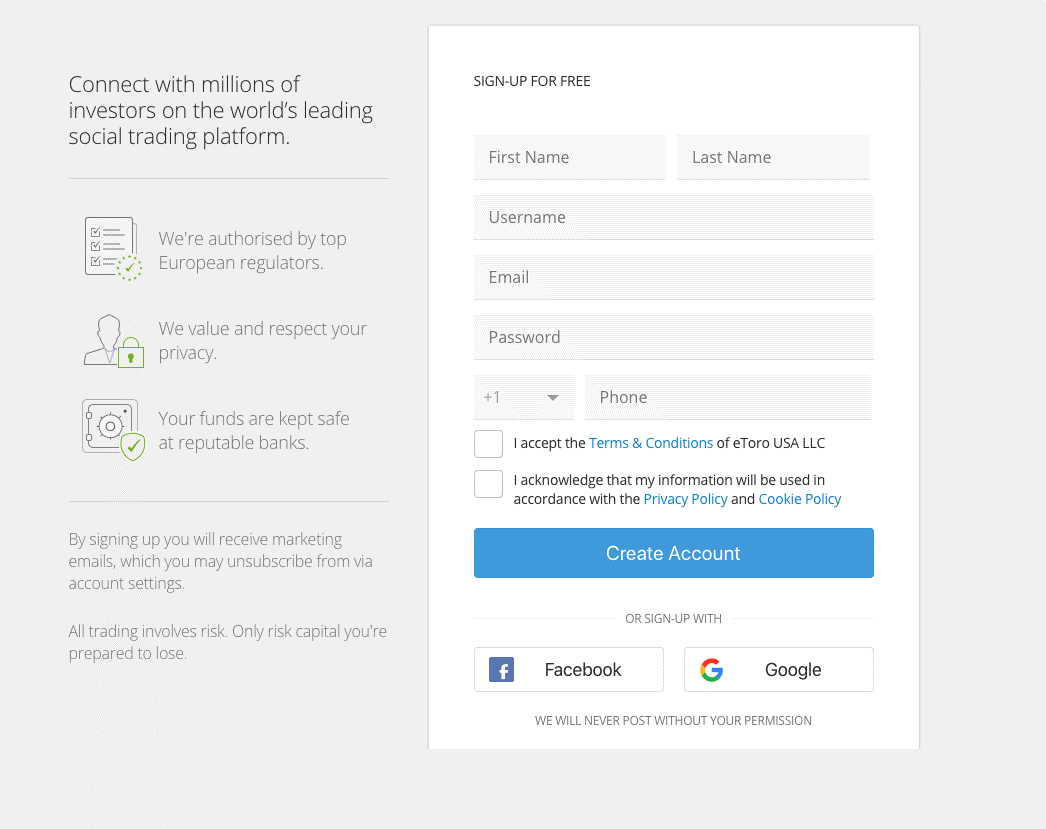 You'll visit eToro's official website and hit the JOIN NOW button to register for an online crypto trading account. Fill the online form using your details such as your name, phone number, email address, date of birth, and others.
Also, ensure you create a password. The best security check is to have a strong password. Make a combination using upper and lower case letters with digits and special characters.
Step 2: Verify Your Account and Upload Your ID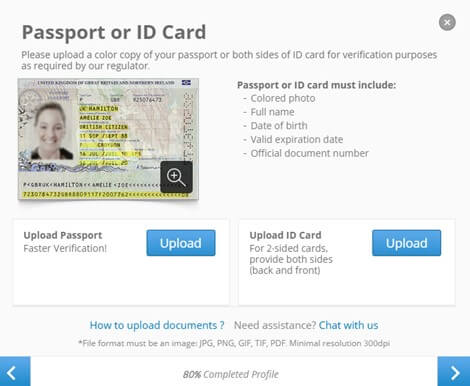 Go ahead and upload any government-issued ID such as a driver's license or passport. Also, you will upload a copy of your recent bank statement or utility bill no more than three months ago. These serve as Know Your Customer (KYC) documents for your account verification.
Step 3: Deposit Funds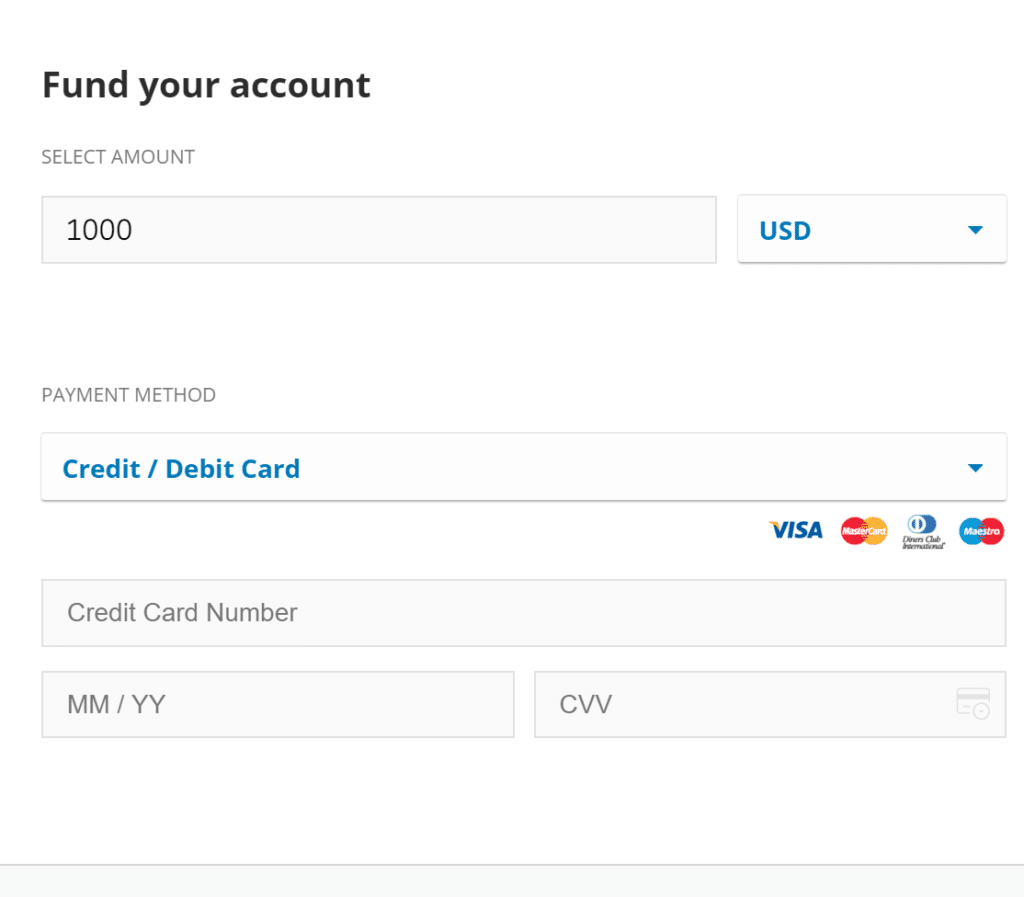 Once you get a confirmation that eToro has verified your account, you can deposit your funds. The broker accepts payments with Rands. It's now left for the broker to convert your South African Rands to any supported fiat (such as USD) for buying Chainlink.
Some of the deposit options you can use include bank transfers, e-wallets, and credit/debit cards. The first minimum deposit supported by eToro is R3,000. Transferring funds through debit/credit cards usually gets near-instantaneous confirmation on the platform.
Step 4: Search for Chainlink and Buy
Once your funds get to your account, you can buy Chainlink immediately. First, search for LINK using the search box. Then, pick the token and click the TRADE button. Finally, enter the amount of LINK you're buying and click on OPEN TRADE to conclude the buying process.
eToro will then buy Chainlink at the best market price for you. You can leave your crypto in the account or withdraw to a compatible private wallet.
Chainlink Price Analysis – Should I Buy
Here, were are going to analyzing the price of chainlink from the time it was launched till date. Chainlink, as at the time of launching, is valued at $0.11 (1.62 Rands).
Three years after, on December 21, 2020, it was $12.34 ( 181.99 Rands), giving it growth of 11,000%. This growth rate has been associated with many price highs and slows stretched throughout the period.
In January 2021, the crypto continued with its struggle towards the rising side and was able to hit $42.75(629.67 Rands). This high was recorded on April 16 in addition to the highs of February 14th and 19th, respectively.
The chainlink crypto maintained an upward price trend within January and May. It rose to $52.2 (768.96 Rands) on May 9th with a 24hour trading volume of over $ 3billion (44.9billion Rands).
But hope started dropping towards the ending of may when the crypto price slashed to $20.1(295.99 Rands).
This gives the crypto a 47% decrease from the high of April; it is yet to bounce back to that high since then. The chainlink is currently trading at $15.46 (227.69 Rands), as seen in the graph below.
In terms of transaction fees, it varies with the trading platform that you choose. Trading platforms like eToro offers a zero-commission fee. But if you are buying LINK through exchanges like Binance, you will be charged some fees.
Chainlink Price prediction
The price of chainlink slashed to over 70%, from $52.99 (780.65 Rands) on May 10 to $15.00 (221.04 Rands) on May 23. The crypto price rose again within June, moved up and down sluggishly, and return to even a lower rate.
The chainlink price outlook is mixed because it lacks relative strength to maintain a price flow pattern. The rate the crypto price fluctuated between May and June is very high.
This price movement is attributed to the fact that Chainlink does not give a high level of trading support. This accusation is still subject to verification.
To stabilize the price outlook, the chainlink price needs to maintain a price above the declining value of May 10. It would be better for the crypto to at least adopt that June 12 price rate of $20.02 (294.9 Rands). Chainlink needs to achieve this target to gain back the interest and trust of its investors.
But if chainlink doesn't cross or at least maintain this June 12 price rate, the coin value will be badly affected. From the price chart below, the coin is still struggling to reach the June 12 benchmark. A decrease below the current price will be like nailing the crypto, and that would be very bad for investors.
However, since the LINK is still making an effort to rise again, all hope is not lost yet. The graph's sharp bend of the downward movement is a positive sign that chainlink has plans to rise anytime soon. Again any increase in the buying pressure will make the crypto surprise its competitors. The Chainlink's price prediction graph is attached below;
Selling Chainlink – A Quick Overview
There are two basic ways of selling the Chainlink crypto, just like other digital currencies. You can either sell it in for fiat currency or in exchange for another digital currency like Bitcoin or Ethereum. The processes are similar depending on the exchange of broker you wish to use.
We have outlined below a step-by-step guide that you can follow to sell your chainlink crypto in South Africa.
Selling Chainlink for Fiat Currency
Sign up or log in to an exchange or a broker
Look for a reliable crypto exchange that trades on Chainlink like eToro. Follow the display instructions to register with the exchange by carefully inputting all the required details. Some personal information like your name, phone number, home, and email addresses are required.
You must activate the two-factor authentication as soon as you are signed in. This will help to fortify the security of your account.
Deposit LINK in your Account
Proceed to move the Chainlink from your wallet into your online exchange account. You will first copy the wallet address where you stored the Chainlink. Then, simply click on the Wallet button and select LINK. You will finally get the address for depositing the Chainlink by clicking on Generate Deposit Address. Follow the on-screen direction and complete the fund deposit.
Sell Chainlink
After confirming the deposit, you will choose the fiat currency for Chainlink from the 'TRADING PAGE' box. For instance, if you want to sell your Chainlink for USD, you will select LNIK/USD from the dropdown. Next, enter the amount of LINK you're selling. Reconfirm your sell order and click the SELL button.
The crypto exchange you're using will then execute your sell order at this best market price.
Cash Out The Fiat Currency
Once your sell order is executed, you can cash out the fiat currency cash account you used for your registration on the platform. However, expect some fees based on the crypto exchange you're using.
Selling Chainlink for Another Cryptocurrency
You can sell Chainlink for another digital asset like Bitcoin or Ethereum using the following steps:
Register for an exchange account
If you already have an exchange account, you can move to the next step. If not, you'll need to register. Choose any trusted crypto exchange that has Chainlink on its list. Then create an online account with your detail in a few minutes.
Deposit Chainlink in your account
Transfer your Chainlink from your private wallet into your online exchange account.
Sell LINK
Proceed by clicking the Exchange button. Select the corresponding crypto pair that you want. For instance, you can select LINK/BTC if you're exchange Chainlink for Bitcoin. Next, enter the amount of Chainlink you are selling or the number of other crypto pairs you're exchanging for. Then, confirm your order and click Exchange.
Move the new crypto to a wallet
You can then move the digital asset to your private wallet for maximum security. However, always remember that leaving your cryptocurrencies in an exchange account exposes them to more security risks like hacking.
Conclusion
Chainlink is a project that runs in a decentralized manner to bring real-time data to the digital on-chain. The uniqueness of this digital asset lies in the fact that it's a means for the global transfer of value. That's why many people in different places, including South Africa, are investing heavily in Chainlink.
The price-performance, analysis, and prediction for Chainlink show that the digital asset has a good future.
Therefore, you can venture into the speculative world both on a short and long-term basis. However, you should understand the possible risks with Chainlink and ascertain your risk tolerance level before investing in this Cryptocurrency.
Furthermore, using a secured and low-cost means to buy Chainlink is one way to leverage your investment in the digital asset.
eToro is a great option when you're considering where to buy Chainlink in South Africa. The overall features and operations of the platform make it a better choice for both beginners and professional investors.
Leading Platform to Buy Chainlink: eToro
FAQs
How to Buy Chainlink?
Buying Chainlink takes simple and easy steps through a trusted brokerage or exchange such as eToro. Just visit the website of the broker you want to use and click on Open Account.
Fill the on-screen giving some personal information such as your name, home, and email address, phone number, etc. Then, upload your ID and other KYC documents. When the account is verified, transfer some funds into it. Then you can buy Chainlink from your online account.
Alternatively, you can also buy Chainlink using crypto to crypto pair exchange. In such a case, you will use the services of a crypto exchange. First, ensure you have an exchange account.
If you don't, then create an exchange account on its website. When you have some funds in the account, you can buy the crypto that you will use to exchange Chainlink like Bitcoin or Ethereum.
Then, click the exchange button on your account and select the crypto pair for it. For instance, you can select BTC/LINK or ETH/LINK when exchanging with Bitcoin or Ethereum, respectively.[/A]
Is Chainlink A Good Investment?
Is Chainlink Safe to Invest In?