Buy TRON – How To Buy TRON in South Africa In Under 5 Minutes
After gaining traction during its initial release in China, TRON has been making huge waves internationally, with over 50 million total active accounts as of August 2021. TRON is a blockchain-based platform designed for the cost-effective sharing of digital media. TRON aims to disrupt the global entertainment sector and dethrone platforms like Netflix and Amazon. TRON also boasts smart contract capabilities similar to Ethereum, however with lower fees. The TRON network's native token is called Tronix (TRX).
South Africa is quickly developing a taste for cryptocurrency investments, relaxed regulations allow citizens to buy, sell and transfer all kinds of cryptocurrency without any issue. Quite a few of the larger online brokers also operate in South Africa, so we have a few options when buying TRON.
With this article, we aim to give you an easy-to-understand rundown on what TRON does, the best brokers, and of course, how to buy TRON in South Africa.
#1 Broker to Buy TRON – eToro
How to Buy TRON in South Africa – The Quick Four-Step Strategy
Buying TRON doesn't have to be a complex task, all you have to do is follow these simple steps:
Register with eToro:

If a great balance between security, convenience, and extra features sounds good to you, then eToro, one of the largest exchanges in the world, might be the best option for you.
Verify your account:

You'll have to verify some basic details before trading with eToro, this is standard practice with most large, respected exchanges.

Fund your eToro account:

To get started on eToro you need to deposit funds into your account using either a credit/debit card or an e-wallet like PayPal. It's important to note that for your first deposit, you'll incur a $200 minimum, although this is reduced on subsequent deposits.

Purchase your

TRON

:

Now you've funded your account, you're free to purchase some TRON. Simply search for "TRON" or "TRX", select your desired amount, and hit "buy".
NEO
4 Providers that match your filters
What we like
Trade real cryptos and crypto CFDs

Licensed broker with deposit insurance

Integrated wallet
Features
Payment methods
CFDs are complex instruments and carry a high risk of losing money quickly through leverage. 75% of retail investor accounts lose money when trading CFDs from this provider.
What we like
Careful selection of cryptocurrencies

Regulated by CBI and MiFID in Europe

No commissions and low spreads
Features
Payment methods
CFDs are complex instruments and carry a high risk of possible rapid loss of capital due to their leverage. 71% of retail investor accounts lose capital when trading CFDs with this provider. You should consider whether you understand how CFDs work and whether you can afford to take high risk in losing your capital.
What we like
Viele handelbare Assets

Hervorragende Trading Plattform

Europäische Lizenz
Features
Payment methods
CFD sind komplexe Instrumente und gehen wegen der Hebelwirkung mit dem hohen Risiko einher, schnell Geld zu verlieren. 76,4% der Kleinanlegerkonten verlieren Geld beim CFD-Handel mit diesem Anbieter.
What is TRON?
TRON is a very interesting platform that, following a successful launch in Asia, has garnered international attention. TRON is a peer-to-peer network that removes the need for middlemen and allows creators to sell content directly to consumers. TRON offers users smart contracts and dApps, allowing them to build on the platform and create TRON-based projects. If this sounds familiar, that's because it is, TRON is closely related to Ethereum, even going as far as to borrow some of the code.
In a drastic difference to Ethereum, TRON boasts no transaction fees. While this may initially seem like a minor change, anyone that has done any sort of transaction on the Ethereum network knows just how quickly fees can rack up, especially with the recent London hard fork, causing increased gas fees as a large percentage of nodes were not upgraded. Considering just this past week (02/09/21 to 09/09/21) ETH gas fees have ranged from $11USD to $200USD (156-3000 GWEI @ 21,000 gas), TRON dApps and smart contracts are becoming ever more intriguing.
It's not just significantly reduced fees that make TRON appealing, the network also can process over 2,000 transactions per second, nearly 100x faster than Ethereum at 25 TPS. As TRON also benefits from slightly reduced transaction times, it's a clear competitor within the "Ethereum Killer" narrative.
Where to Buy TRON in South Africa
Now that you've armed yourself with some important information in regards to how TRON works and the best ways to pay when buying it, you're ready to choose the perfect exchange for your individual needs.
1. eToro – Overall Best Way to Buy TRON Now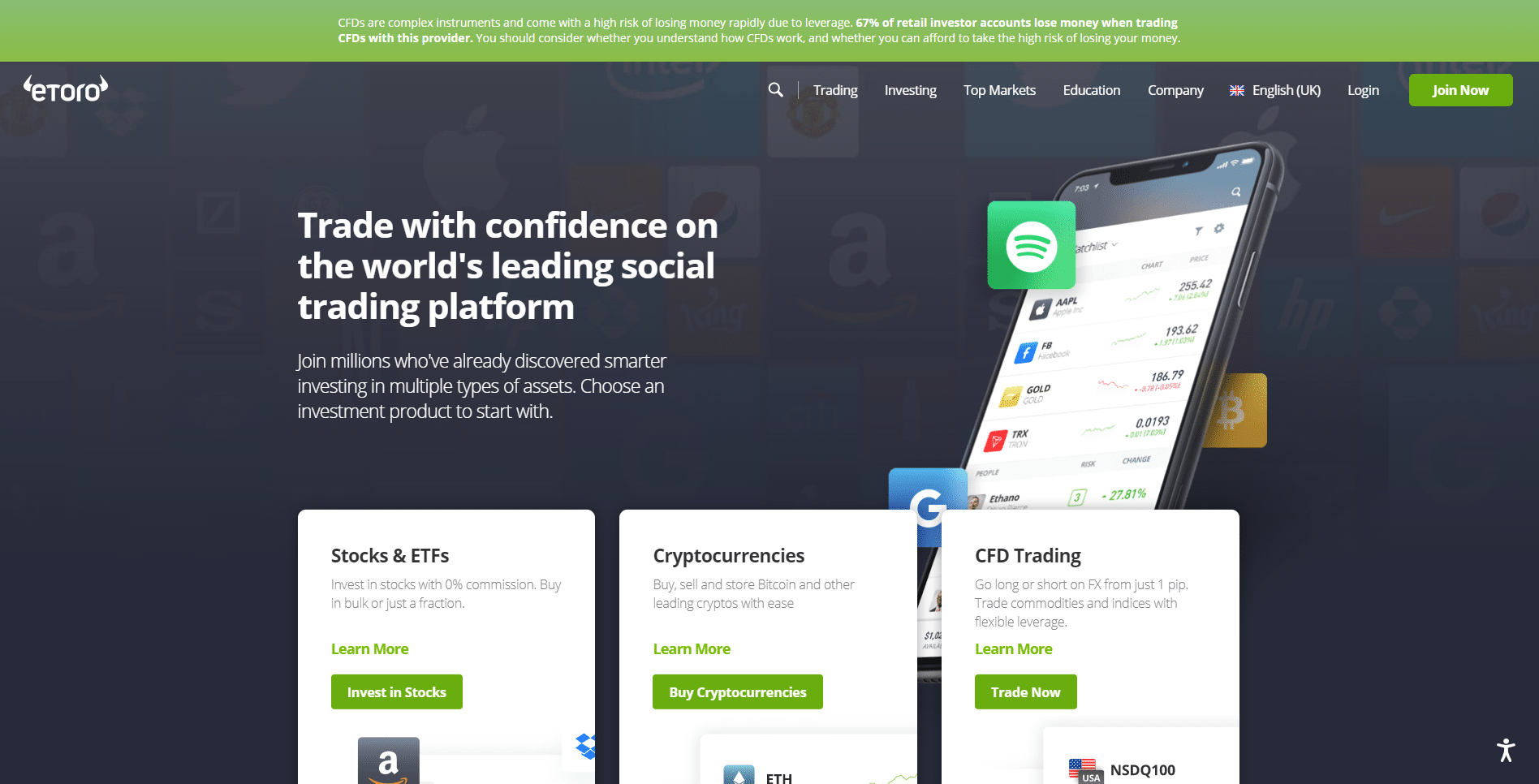 eToro needs no introduction, being one of the largest, and most reputable exchanges speaks volumes. eToro takes security seriously, all your details are protected with SSL encryption and your private keys are kept secure in cold storage. If you trade assets other than crypto then eToro will be perfect for you, it supports several financial instruments like ETFs, commodities, and indices.
Being such a popular exchange, it makes sense that eToro would support various deposit methods. Credit/debit cards, wire transfers, and PayPal are the primary ways to deposit fiat, with PayPal being the best option. As we discussed previously, PayPal provides users with an extra level of security as well as low fees for deposits and withdrawals.
You should keep in mind, one barrier to entry when using eToro is the increased minimum deposit for first-time users. Although, following your initial deposit, the minimum deposit will be reduced to a much more reasonable $50, when you make your first deposit the minimum will be $200. There is also a minimum withdrawal of $30 and a flat withdrawal fee of $5. While this may not be an issue for many, if you want to buy TRON easily, it is certainly a hurdle you'd have to overcome.
Pros
Best overall

Great security

Convenient mobile app

Great customer support
Cons
High initial deposit

No Metatrader support
67% of retail investor accounts lose money when trading CFDs with this provider.
2. Crypto.com – Easy way to Buy TRON
I'm sure it's no surprise a company called Crypto.com is a big player in the cryptocurrency space. When signing up, if you have a referral code you can bag yourself $25 worth of CRO (crypto.com's token) for free, which can be a nice bonus. If you're heavily invested in crypto, it could also be worthwhile getting one of their cards that allow you to spend crypto in retail environments. Crypto.com's cards have various benefits like rebates and cashback, which you can unlock based on how much CRO you stake.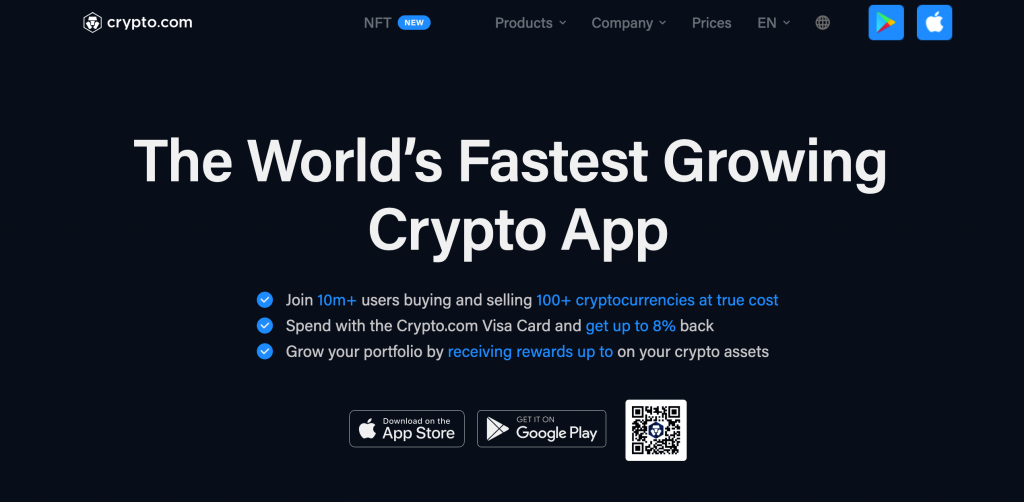 Ratner than depositing fiat and then trading it for your TRON, with Crypto.com you can purchase an asset directly from your bank card. On credit/debit card transactions there is a fee of 2.99%
It's important to note that as Crypto.com is regulated in several countries, you will have to complete a brief KYC (know your customer) questionnaire. This consists of submitting a photo ID, proof of address, and can include answering some questions to prove you understand the risks associated with trading.
Pros
Crypto.com card

Staking

Easy to buy directly with a card

Sign up bonus
Cons
Credit/Debit fees

No limit/market orders on the app
67% of retail investor accounts lose money when trading CFDs with this provider.
3. Bisq – Decentralized way to Buy TRON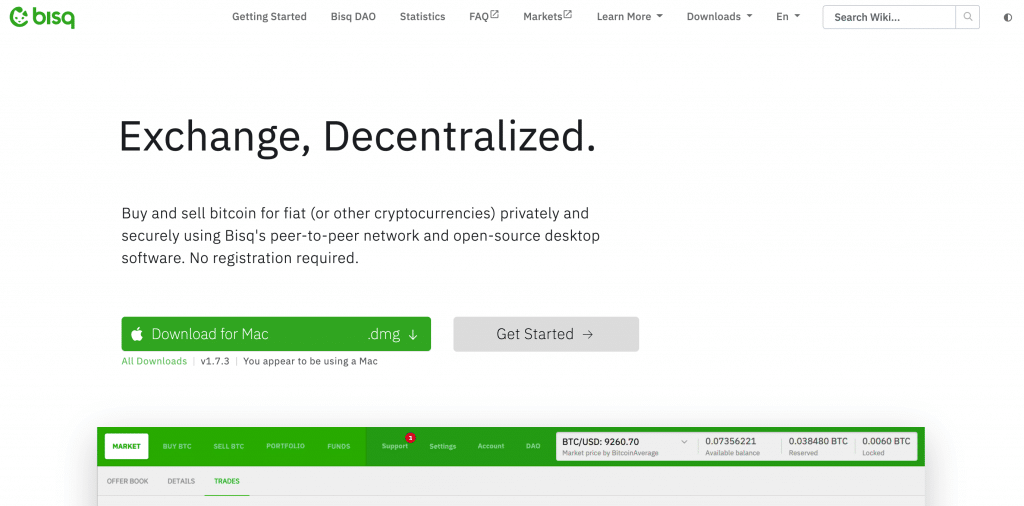 Bisq works differently from the majority of other platforms, rather than purchasing directly from the broker, you instead make a deal with other users on the website. There are positives and negatives to operating this way, one of which is the ability to barter, which you cannot do on many other platforms.
There is no identity verification on Bisq, so as soon as you download it, you're free to buy TRON now. This can be a big advantage to anyone that doesn't have time to wait for verification, as well as those that are privacy-focused. All funds are held in 2-of-2 multi-sig wallets, so you can trade without worrying about losing funds.
For those privacy-focused, Bisq may be the best way to buy TRON. To use Bisq, it needs to be downloaded, you'll then become part of the peer-to-peer network. All data is completely private and is stored locally on your device rather, helping to keep you safe from network attacks.
Pros
Completely anonymous

Decentralized

Great for privacy-centric individuals

Open-source
Cons
Not everyone wants to deal with strangers

Needs to be downloaded
67% of retail investor accounts lose money when trading CFDs with this provider.
4. CEX.io – Buy TRON with Local Currency
If you're after a platform that is easy to get started with, but meaty enough to keep even the most advanced traders busy, then CEX.io might be for you. There is both an app and web-based exchange so regardless of the device you're covered.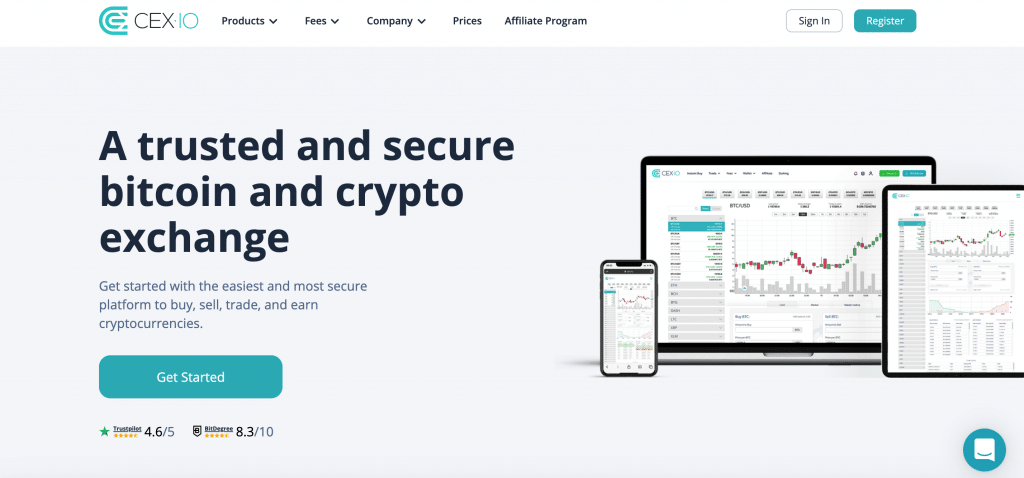 You can deposit almost any local currency, so you don't have to worry about expensive currency conversion fees, or having to jump through any hoops to get a supported currency. This can be huge to anyone wanting to perform multiple transactions or anyone that simply wants to get the most bang for their buck. It's worth making sure the crypto you need is supported on the platform as the list is firefly short, luckily, however, TRON is supported.
You have the option to choose between bank transfer and credit/debit card when depositing fiat through CEX.io. Unfortunately between trading fee and card fee you can end up losing between 5-10%.
Pros
Trusted & secure

Easy to use

Works with most local currencies

Web based and app
Cons
High fees

Limited amount of cryptocurrencies
67% of retail investor accounts lose money when trading CFDs with this provider.
Purchasing TRON – Is it a Good Investment?
TRON price is beginning to once again, slowly rise. Currently trading at $0.09 (09/09/21) TRON has had a 246% YTD gain. Prior to the big market crash in late May 2021 TRON was doing even better trading at highs of around $0.17 (although it's important to note most prices were heavily inflated at this time).
As TRON was initially launched in Asia, it has got quite a big presence out there. Therefore, if you choose to buy TRON now it's important to keep up-to-date on the goings-on of the Asian cryptocurrency market, which can be fairly volatile.
Although TRON is a self-described made-in-china blockchain, it has done well to cultivate several high-profile, international partnerships. The most prominent of these partnerships is Samsung, with TRON integrating with the Samsung Blockchain Keystore this makes TRON one of only 5 currencies able to be used on Samsung's in-built wallet. With Samsung having an 18% global smartphone market share, it's a lot of potential additional users for TRON.
All this being said, it's important to remember that the cryptocurrency market is highly speculative in general, and TRON is no different. It doesn't take much for drastic price moves in crypto and due to this, it's always crucial to do your own research on the project.
The Advantages of Investing in TRON
At the time of writing, TRON has a market cap of over 6 billion USD, this makes it the 28th largest cryptocurrency by market cap. As we previously mentioned TRON can handle a much higher amount of transitions per second than Ethereum, pair this with promising partnerships, and you can begin to see how much potential TRON has.
We've summarized some of the other areas TRON performs well below:
High Scalability:

Thanks to its excellent transaction speed and extremely low fees, TRON has great scalability. TRON can already perform more than 50x the number of transactions per second that Ethereum handles. In an industry growing as rapidly as cryptocurrency, this is big.
Fits the Ethereum Killer Narrative:

TRON has a lot of potential for growth if it starts gaining more market share from the smart contract sector. Due to high fees and low transactions per second on the Ethereum network, more and more people are looking toward alternatives. However, depending on how the release of ETH 2.0 goes, there could be an explosive price change on the horizon for these Ethereum competitors, an increase or decrease? Only time will tell.
Lots of Room for Growth:

As TRON is currently trading at such a low price it's a lot easier to envision large growth and there will be far fewer psychological resistance levels.
Large User Base:

Thanks in part to a successful partial launch and prominent partnerships, TRON has over 50 million active accounts and this number continues to grow daily. We're still only at the first start of cryptocurrency adoption, so numbers like this are massively exciting.

High Profile Partnerships:

Partnerships can make or break a business, and crypto is no different. Having partners like BitTorrent, the world's largest decentralized protocol, and Samsung who boast one of the highest market caps in the smartphone sector means that TRON is certainly in good stead for continued mass adoption.
The Disadvantages of Investing in TRON
As with any investment, there are always some risks involved. For TRON, this comes in the form of a highly competitive space (think Ada, Matic, etc), volatile prices, and the risk of other platforms improving.
Highly Volatile:

The YTD chart for TRON reads like a rollercoaster, and while this is far from uncommon in crypto, it's also far from ideal for investors.
Still Follows Bitcoin Price:

Although it's an altcoin with a strong use case, TRON is still subject to any news regarding Bitcoin. Think back to earlier this year when China cracked down on regulations, TRON dropped in price by nearly 50%.
Lots of Competition:

The smart contract sector is fiercely competitive, while each platform tends to have its unique twists, they fulfill largely the same purpose. Unfortunately, this means that once the dust has settled, and the winners revealed, there are bound to be several losers, and with them a lot of investors out of pocket.
How Much Does it Cost to Buy TRON in South Africa?
As with any cryptocurrency, TRON prices are subject to drastic changes, and while this is something to be aware of, you will not incur any price difference when you want to buy TRON South Africa. As of current, you can purchase one TRX for $0.09361, meaning on a $200 investment you will receive around 2,144 TRX.
TRON is far from its previous all-time high of $0.30, however, this doesn't mean these prices will never be hit again, but it would be heavily dependent on TRON's adoption in the coming months and years. Although it could easily go the other way as TRON has dipped to prices well below $0.05.
One way you can incur additional fees when figuring out how to buy TRON is from the payment method or currency you use. For the majority of brokers using a local currency shouldn't increase costs by much, but exchanges that operate in one primary country often charge steep fees for currency conversion. When paying with debit/credit cards there are almost always high fees and you'll likely get more for your money by using a direct bank deposit instead.
Purchasing TRON – How to Pay for It
You're not limited when it comes to the range of options available when trying to buy TRON South Africa, many of the popular exchanges operate in South Africa so you won't have any issues trying to find a broker.
The main thing to watch for when purchasing TRON is the hidden fees. While many exchanges are upfront about their fees, some tend to hide things like spread or currency conversion fees, which can lead to nasty surprises.
Here are some tried and true ways to purchase TRON:
Buy TRON using PayPal
The world's largest e-wallet, PayPal is always an excellent option when buying anything online as they offer protection to both parties. The only downside is outside of e-commerce there is marginally less acceptance for PayPal as they charge a few fees.
If you want to purchase TRON using PayPal you'll have to make sure the exchange you want to use accepts it. While a lot of big names steer away from PayPal, eToro, a highly reputable platform that lets you buy TRON easily, has full PayPal support. This can be a huge factor for those without a bank account or that simply wish to avoid card fees.
When using PayPal for the first time, you need to verify your identity by providing several documents. These typically consist of a photo ID, for instance, a driving license and proof of address, normally in the form of a bank statement or utility bill. Although this can be a bit of a hassle, PayPal has been around for years and you can trust them to look after your funds.
Buy TRON using a Credit/Debit Card
I'm sure most people reading this have a bank account and therefore a bank card they can use to buy TRON now. However, a Credit/Debit card is far from the most efficient way to purchase any form of crypto. WIth banks cracking down on cryptocurrency, you may have to ring your bank and get them to enable transactions for a certain broker, although that's more common in countries like the UK and USA where crypto is highly regulated.
While they can offer convenience to some people, credit/debit cards will incur some of the steepest fees of any payment method. While a typical card fee could be around 3.99%, there are often several hidden fees you won't know about until after you've completed your purchase. This uncertainty is not great for people trying to get a specific amount of TRON, or anyone that makes frequent purchases, as the fees will quickly eat away at how much you end up with.
So between hidden bank fees and exchange fees, while extremely convenient, using a bank card to buy TRON is far from the most cost-effective method to acquire your crypto. On top of this as your card is linked directly to your bank you do put yourself at increased risk of identity fraud, especially when using a platform without a proven track record.
How to create a TRON Wallet in South Africa
Choosing a TRON wallet that matches your needs isn't something that should be rushed. It's important to consider what you need from your wallet, and what type of wallet is right for you. Below we have broken down the differences between the 3 different types of wallets.
Online/Hosted Wallet (Hot Wallet)
The vast majority of trading-focused exchanges will allow you to store your coins on an online wallet, this is crucial for anyone wanting to buy TRON easily. An online wallet is very convenient, however, you can be vulnerable to a digital attack. You should also bear in mind the majority of exchange wallets manage your private keys for you.
To create an online TRON wallet, just follow these easy steps:

Navigate to the eToro website, click "join now" and fill in your details. You will also have to provide a photo ID and proof of address.

Once you purchase or deposit any TRON, your account will be credited, and an online wallet will be automatically created for you.

Make sure your account is protected with a strong password. It's also heavily recommended to always enable 2FA when using an online/custodial wallet.
Non-Custodial Wallet
A non-custodial wallet blends privacy and convenience. The only real difference between an online wallet and a non-custodial wallet is who controls your private keys. With a non-custodial wallet, you have control of your keys and therefore can easily recover your coins.
To set up a non-custodial wallet you'll have to:

Download the app or software from your chosen wallet, follow all the instructions to set up your wallet.

Make sure you come up with a strong password, for non-custodial wallets your password is the primary weak point.

Make a note of your recovery phrase as well your private keys to ensure you still have access to your crypto if you lose the device

Transfer TRON to the wallet. Most wallets have an exchange built-in if you don't already own some TRON.
Hardware Wallet
If security is your main concern, then a hardware wallet has no equal. Unlike the previous wallets, a hardware wallet is a physical item commonly looking like a USB or a car key. Your coins are stored offline and the hardware wallet is used to verify transactions, this means that without the hardware wallet nobody can access your coins. Generally, hardware wallet exchanges have quite high fees so it's advisable to use an exchange like eToro that will let you buy TRON easily, and then transfer your coins over to a hardware wallet.
If you want to set up a hardware wallet you'll have to:
Navigate to the website of your chosen wallet. Two of the biggest names in this space are Ledger and Trezor, they are both very similar but have a few differences.

Install whatever software is required to manage your funds, then set up your recovery phrase and pin. Make a note of both these as they'll be needed to access your TRON.

Transfer coins to your hardware wallet
Buy now
CFDs are complex instruments and carry a high risk of losing money quickly through leverage. 75% of retail investor accounts lose money when trading CFDs from this provider.
Buy now
CFDs are complex instruments that have a high risk of losing money quickly due to leverage. 72.6% of retail investor accounts lose money trading CFDs with this provider.
Buy now
CFDs are complex instruments and carry a high risk of possible rapid loss of capital due to their leverage. 71% of retail investor accounts lose capital when trading CFDs with this provider. You should consider whether you understand how CFDs work and whether you can afford to take high risk in losing your capital.
| | | | |
| --- | --- | --- | --- |
| N/A | Yes | CBI and MiFID in Europe | |
| | | | |
| --- | --- | --- | --- |
| N/A | Yes | 1:2 for cryptocurrencies | |
| | | | |
| --- | --- | --- | --- |
| $48280.47 | $47968.98 | $48088.78 | |
Conclusion
To conclude, you shouldn't have much trouble when it comes to buying TRON in South Africa. Thanks to their relaxed regulations, most large exchanges operate in South Africa, so there aren't too many hoops to jump through. If possible, it's recommended to use either an e-wallet or bank deposit to buy TRON South Africa as when paying with a debit/credit card you'll have to pay higher fees.
FAQs
Is it illegal to buy TRON in South Africa?
What is the future of the TRON coin?
How many TRON coins are there?
Is
TRON

better than Ethereum?
What type of crypto is TRON?