Buy Shares – How To Buy Shares In South Africa In Under 5 Minutes
Buying shares in South Africa is not a complex task like some may think. It takes just a few minutes to conclude the process and invest in any shares.
In this article, we have a guide on how to buy shares in South Africa. From getting the right broker to learning the basics in shares to the necessary steps in buying shares, you've got all you need to know.
Buy Shares at Capital.com – The Leading Trading Platform in South Africa
How to Buy Shares in South Africa – Your 2021 Guide
As you plan to start investing and trading shares, you should understand the necessary tenets. Getting the right brokerage will save you from all stress and insecurity associated with shares investment. Furthermore, the process will be completed within few minutes and seamlessly.
Using the following full walkthrough steps, you can buy shares from a trusted broker like Capital at 0% commission.
Step 1: Open an Account with Capital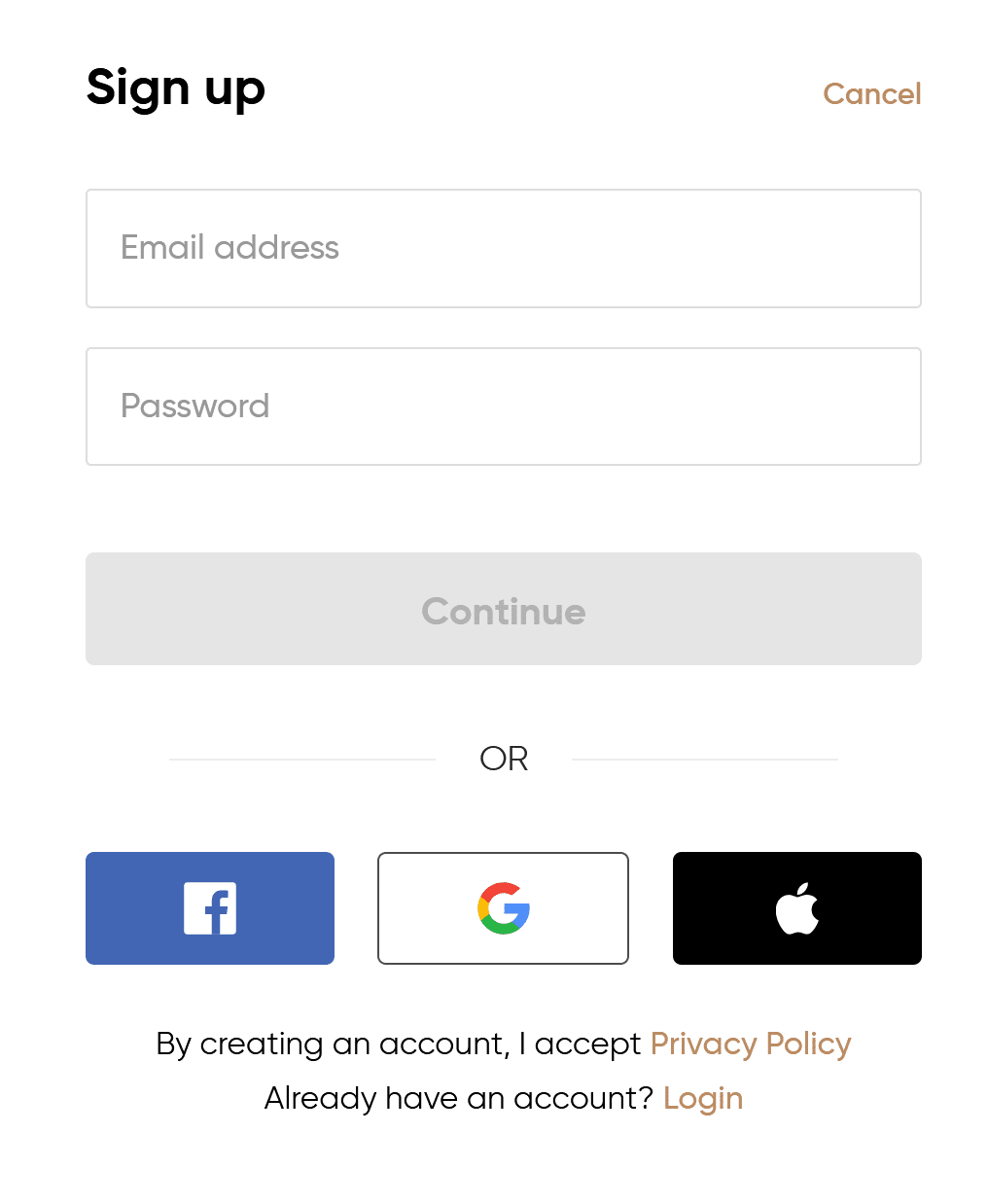 Capital is a reputed broker that offers 0% commission amongst other benefits. You will open an account with it by visiting the official website and clicking the TRADE NOW button.
Following the online form, fill in your information such as name, phone number, date of birth, email address, and others. Also, you will create a username and password. Ensure you use a combination of special characters, numbers, upper and lower cases to make your password strong.
Click here to open your account with Capital & Buy Shares >
Step 2: Upload ID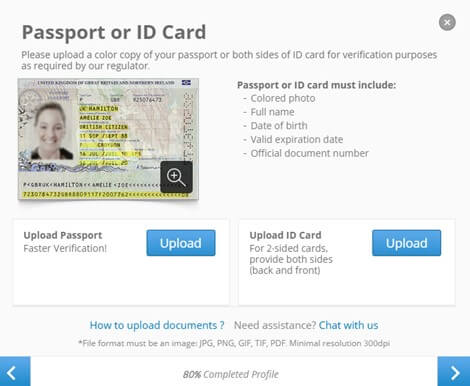 Uploading your ID and other documents verifies your account for full operation. Account verification is a necessary step with Capital. In addition, the broker ensures security and compliance with every rule on anti-money laundering campaigns. What's more, Capital is under strict regulation of some licensing agencies to maintain compliance and security.
Thus, you will upload your government-issued ID and a recent utility bill or bank statement for account verification.
Step 3: Deposit Funds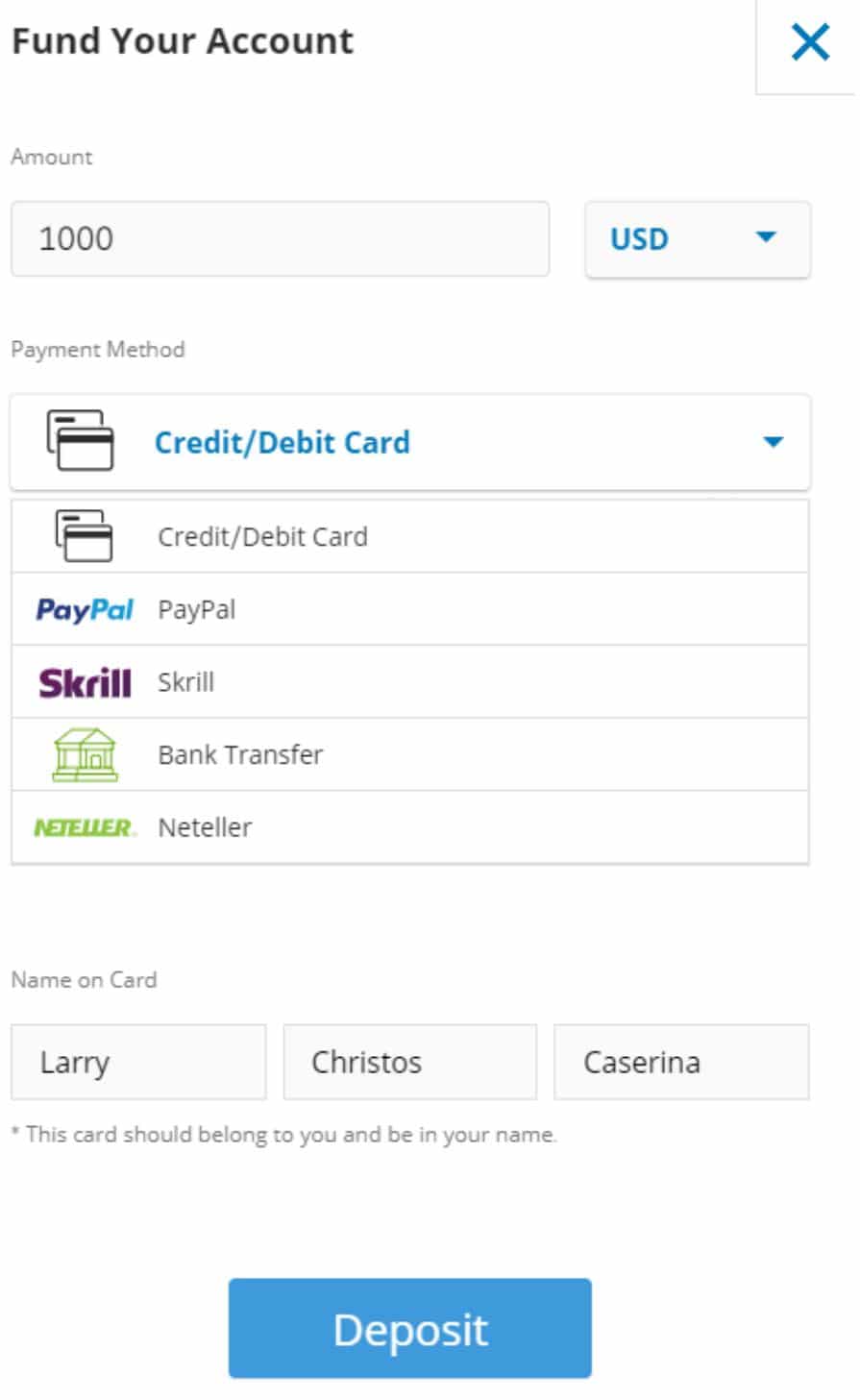 When your account is verified, you will need to deposit some funds into it. Capital accepts deposits of South African Rands, which it will later convert to US dollars. The minimum deposit amount in the platform is $200 (about R3,000).
The broker supports transfers through direct bank wire, credit/debit cards, e-wallets, and others. Except for bank transfers, you will get quiker processing for all deposits on the platform.
Step 4: Buy shares
Capital facilitates and executes the sales of several shares of over 3,000 companies globally. By clicking the MARKETS and STOCKS buttons, you can access and buy the differents shares on the platform. Also, you can search for any company of your choice through the search box.
For instance, if you want to buy shares from Consumer Goods, input Consumer Goods in the search button.
When the shares pop up, proceed by selecting the share you want and click the TRADE button. This directs you to the order box for you to input your buying order accordingly. Finally, you'll complete your buying process by clicking the BUY and OPEN TRADE buttons.
Learn the Basics of Buying Shares in South Africa
There is basic knowledge everyone intending to buy shares in South  Africa should have to guarantee a successful investment. It entails having an in-depth understanding of what investing in shares is, the type of shares to buy, etc. You also need to understand how the financial market works before signing in to avoid loss and regrets.
Here is a detailed explanation of the basic knowledge for all intending investors.
What are Shares?
A share is referred to as a percentage of ownership in a financial asset of a company. Companies issue it as a means of raising capital from individuals known as investors. Individuals who hold the shares of any financial asset of a company are shareholders.
For instance, if you buy 2% shares of AB Company, it means that you now own 2% of that particular company. You will have the legal right to attend and vote during the company's annual general meetings.
Investors are entitled to a percentage of the company's proceeds called dividends according to the percentage share they buy. The company must be on the public stock exchange or brokers list before it can issue shares.
Examples of these stock exchanges in South Africa are Capital.com and AvaTrade. The sellers can reach out to buyers on the stock exchange platform. The price of the shares is not fixed. It is volatile and fluctuates every time, depending on the market forces. Forces like market demand and supply push the shares prices either up or down.
Available Shares in South Africa?
To buy shares from companies in South Africa, you will need to use a shares platform like Johannesburg Exchange. This exchange lists some valuable companies like Anheuser-Busch InBev, Anglo American, Prosus, Naspers, Glencore, and BHP.
You can also visit international marketplaces like Facebook, Apple, Amazon, Google, Nike, and Disney. These international companies are listed in the NASDAQ and New York Stock Exchanges.
Another reputable exchange is the London Stock Exchange which lists companies like GlaxoSmithKline British, HSBC, Royal Mail, and American Tobacco. Aside from the international markets, other platforms that deal on shares in South Africa can allow you access the following exchanges;
Shanghai Stock Exchange
Tokyo Stock Exchange
Euronext
Hong Kong Stock Exchange
Toronto Stock Exchange
Shenzhen Stock Exchange
Frankfurt Stock Exchange
Alternative Investment Market (UK)
It is always advisable to confirm the stock exchanges your preferred broker listed before registering with them.
Indexes and ETFs
You can consider using an ETF or a Stock Market Index if you cannot manage your investment yourself. Using this option will allow you to invest in the larger stock market as against choosing private companies. An index is a logical representation of shares selected using a set of defined and predetermined rules. Morever, an index committee creates the rules to ascertain the type and unit price of the index's shares.
The most popular index globally is market capitalization (market cap), while the most recognized index in South Africa is the FTSE/JSE Top 40 Index. So, let's assume that you invested in FTSE/JSE Top 40 Index as a South African. This index will capture the 100 top companies listed on the South African exchange you choose. So, with a single investment via a stock market index, you can buy shares from the 100 biggest companies.
If you're using an exchange-traded fund (ETF), the operation is similar to the stock market index.  It only requires that you invest in hundreds or dozens of companies through a single trade. An ETF can track a particular market index such as the S&P 500. Some of them track dividend stocks. An ETF can also track a particular industry like Dow Jones, real estate stocks, or tech stocks.
An ETF that tracks dividend stock is the best for investors that wish to have diversified streams of income-generating shares.
How to Make Money through Stocks Investing in South Africa?
The main reason people buy shares is to earn a profit that could come in either dividends or capital gains. The two ways of making money through investing in shares in Sout African are below.
Capital Gains
This is the profit made by selling your shares at a rate higher than what you originally invested -your capital. Investors buy shares hoping that the price will appreciate in the future to sell at a higher price. For instance, if you buy 100 shares in google at the rate of say 200ZAR per share. Your total investment amount (your investment capital) is 200* 100, which equals 20,000ZAR.
If the unit share price increased from 200ZAR to 250 ZAR after some years and you decide to sell yours, you will be making like 250 -200, which gives 50ZAR *100, which is 500ZAR as your profit or capital gains. Residents of South Africa are required to pay tax (capital gains tax)  on the gain they make from their shares. The percentage of tax to pay is not constant; it varies with the income tax band.
Dividends
Most companies pay dividends to their shareholders on a set time. This implies that the company shares its profits among its shareholders according to the percentage of their investment amount. Every three to six months, the company distributes its dividend payments to the brokerage account where the stocks are listed. A typical example of how divided stocks work is outlined below;
Let's assume that you bought 100 shares from a company in January. The company now pays dividends quarterly and announces a total yield of 5%. If this yield gives 0.28ZAR per share, you will have a total profit of 0.28ZAR*100, which is 28ZAR as your dividend. Thus, investing in dividend stock allows you to earn a passive income while hoping for the shares to appreciate.
Liquidating the shares gives you another opportunity to earn a capital gain. That is why most South Africans prefer investing in dividend stocks as they will have the opportunity of earning both a capital gain and divided in one single investment.
Tips to Consider Before Buying a Company Shares
The shares price volatility owing to business challenges is the major reason why any intending investor should read this section. Unfortunately, these unforeseen circumstances have led to the loss of both investor's money and the company's fame.
Diversify your Portfolio
Diversifying the portfolio of your shares is among the best strategies that you need to adopt as an investor. By diversification, we simply mean that you should buy the share from various companies, not just one. It will help you manage risk associated with an investment if you invested in, say, A, B, and C. If anything happens to investment A for any reason, you will still be left with investments B and C.
It may be more expensive and time-consuming to diversify your investment portfolio in South Africa. This is due to the share dealing charge each investment attracts hence, the need for an ETF or market Index.  The ETF or stock market index allows you to invest in so many different companies with a single trade.
Increase Your Stake Amount Gradually
It's better to start with a brokerage account with small stakes to allow you to learn the real market trend. However, this is not right for some market commentators; they suggest starting with a demo account as the best step.
The former exposes you to the real market trends, risks and benefits without losing much of your money. But the latter allows you to buy and sell shares using paper money to test run the various trading platforms.
A demo account exposes you to the market trends but won't expose you to the market risk.
Consider the Merits of a Copy Trading Portfolio
You can Mirror the trades of existing investors if you don't know the best firm to invest in. The process is called the copy trading portfolio, and some platforms like AvaTrade support it. You will copy their buy and sell orders, including their recent stock portfolio. This will guide you on buying and selling shares irrespective of your skill or experience of how it works.
Consider Fees and Commissions
All the share trading platforms in South Africa charge some fees, and the amount varies with the stockbroker. Some brokers charge a fixed amount irrespective of the transaction and transaction frequency, while others vary in theirs. Before registering with a Broker, look out for the following major stock trading fees.
Share Dealing Fee: This is also known as the trading commission, and the rate is flat. It is a fee you pay each time you make a trade, whether buying or selling.
Annual Fees: Most stockbrokers in South Africa charge their commission fee annually against the total amount you invested in their
Spread: The spread is the charge per profit or loss. It's the variation between the bid (buying) and the ask(selling) price. The amount of spread that you pay varies with the gap. The higher the variation, the higher the spread amount.
Non-Trading Fees: These are other fees that you should also consider. It includes the deposit and withdrawal charges and also the fine for leaving your account inactive above the specified period.
Pay attention to Major Market Developments.
Stock investors often pay attention to market trends on long-term investments; they pay less attention to short-term price movements. Therefore, it is important to be aware of the key market developments that can affect your shares, whether long or short-term. This habit will help you know the best time to sell off your shares to avoid money loss and regrets.
Use an automated news tracker if you have many different stocks in your portfolio that you cannot follow up individually. Yahoo Finance is a good example that offers a news service that alerts you any time there is an important news story on your stocks.
Choosing a shares Stock Broker in South Africa
An online trading platform is one of the best ways to buy share stocks in South Africa. They serve as a link between you and your shares. Many regulated online stock brokers now accept trades in South Africa- investors may find making a choice difficult. The reason is that some of them offer low charges while others support more features like PayPal.
If you are about to choose a stockbroker in South Africa, pause and consider the following;
Tier-One Regulation
It is always safe to use a broker regulated by a renowned license body like the Financial Conduct Authority (FCA). However, remember that you are about to entrust your hard-earned money to them. Other regulatory bodies include the Cyprus Securities and Exchange Commission (CySEC) and the Australian Securities and Investments Commission (ASIC).
Using an online trading platform regulated by any of these bodies can guarantee the safety of your investment. The platform should have a mechanism for the verification of the trader's identity and its books audited by their regulator.
Payment Methods in South Africa
You also need to check the method of payment supported by the stockbroker to make sure the type you want to use is accepted. Most online stock brokers accept payments made using South African-issued payment cards. This implies that you can deposit funds you're your online account instantly. The payment method a broker should accept includes;
Credit Cards
Debit Cards
Bank Transfer
E-Wallets
Listed Stock Markets
You need to find out the range of stocks listed in the online stock broker's platform. What stock markets can you access?. Some platforms in South Africa have thousands of stocks for various stock exchanges, including NASDAQ (US). Others are the New York Stock Exchange(US), the Tokyo Stock Exchange (Japan), and London Stock Exchange (UK).
Also, confirm if the stockbroker has ETFs and market index funds, they are ideal options for beginners and unskilled investors.
Fees and Commissions
Consider the amount the stockbroker charges as transaction fees, including the trading and non-trading fees. You will pay a share dealing charge or trading commission for each of your transactions for the trading fees. This charge may be a fixed amount or a variable fee.  Few brokers in South Africa don't take any commission from investors that bought shares without leverage.
It is also safe to find out the amount the stockbroker charges for non-trading fees like deposit and withdrawal fees. This is in addition to the fee the broker's place on inactive accounts.
Best Brokers to Buy Stocks South Africa
You can always get your picks for any brokerage that you've researched and understand how it operates. However, you may not limited time and information available for comprehensive research. Thus, we present you with the best in the industry, reputable and trusted within and outside South Africa.
These brokerages offer maximum security on their platform, being strict regulation of at one licensing agency. Also, their operations are smooth and transparent in every approach, offering their customers cost-effective transactions.
1. Capital.com – The Low-Cost Broker South Africa with 0% commission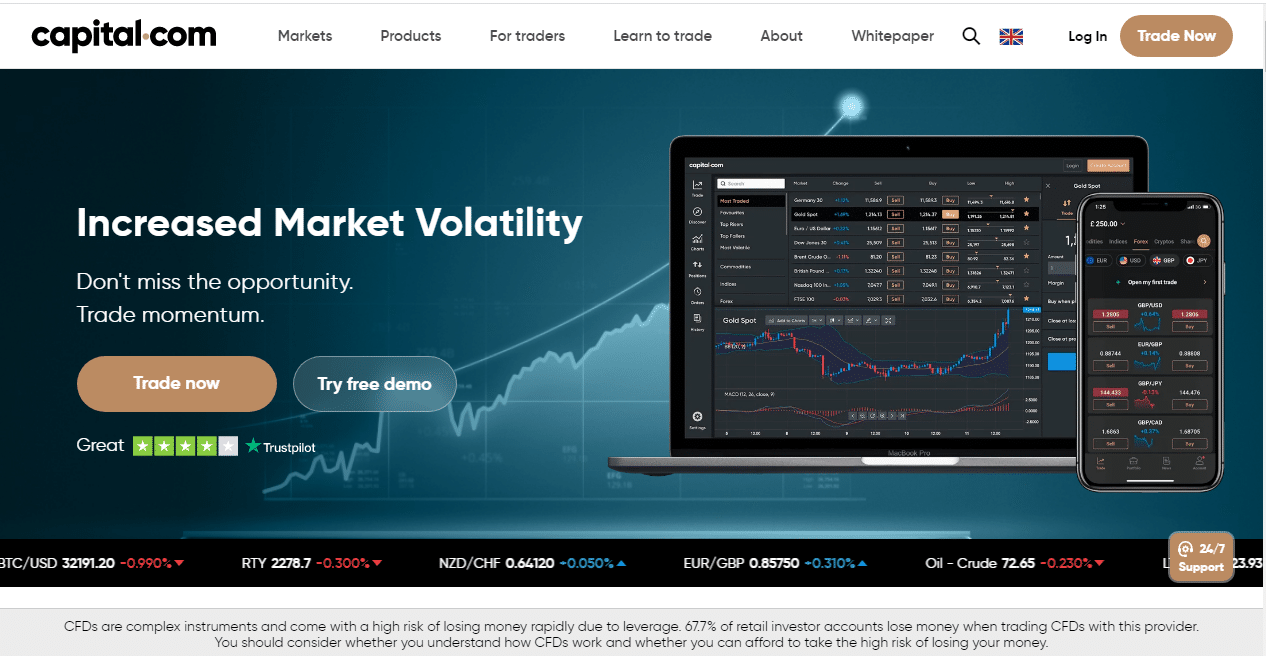 From its launch in 2017, Capital.com has made a meteoric rise to be among the top in popularity and operability globally.  It has a strong and trusted reputation for brokerage in South Africa and other countries worldwide. The broker boasts over 3,000 shares and stocks available for its customers. When you choose to use Capital.com, you'll buy shares as CFDs.
Furthermore, Capital.com has a great reputation in the brokerage industry. The broker is under the strict regulation of two financial agencies – the FCA in the UK and CySEC in Cyrus. So you are sure of the security of your funds with Capital.com.
The broker gives its customers 0% commission charges for buying and selling orders on share CFDs. Also, there's no charge for deposit funds into your brokerage account. Instead, the broker accepts deposits in South African Rands, which it converts to US dollars for your onward transactions. What's more, Capital.com employs the use of spread in its fee structure.
Generally, in the stock market, the broker is known to have one of the lowest spreads. Thus, the platform remains one of the best platforms with the most cost-effective methods in buying shares.
One of the great attributes of Capital.com is its minimum deposit limit of $20 (about R300) for credit/debit cards transactions. However, when the deposit is through bank transfer, the deposit rises to $250 (over R3,500). Also, the platform permits the use of other methods for fund deposits such as Webmoney, e-wallets, and others.
Also, Capital.com offers its customers amazing features and tools for advanced performance. Through its artificial intelligence, customers can get an analysis of their trading performances. It can updates them with custom suggestions for higher performances. Its mobile trading app gives users the flexibility they need.
You can easily operate any transaction, even when you're on the move. The platform indeed has one of the best ratings of 4.8 stars out of 5stars on the Apple store.
Moreover, Capital.com gives exceptional attention to newbies through its educational resources. The broker has an educational app that enlightens beginners on the tenets in the stock markets.
Also, it organizes exclusive webinars and courses that encourage greater performances for beginners. Furthermore, the platform provides market analysis and news for both its new and old customers.
Capital.com Transaction fees
| | |
| --- | --- |
| Transaction | Fees |
| Withdrawal for bank transfers | 0 |
| Commission on trading stock | 0% |
| Deposit (bank transfers) | 0% |
| Deposit (credit/debit cards and e-wallet) | 0% |
| S&P500 CFD | 0.7% |
| Europe 50 CFD | 2 pips |
| Inactivity  (monthly charge) | 0 |
Pros
Provides very low spreads.
Cost-effective investment in shares.
Strong security background being under strict regulation.
0% commission on fees.
Special features and tools for easy trading.
Has over 3,000 shares.
Supports several payment methods for funds deposits.
Special educational resources for newbies.
Cons
Exclusively focused on CFD markets.
2. AvaTrade – Advanced Trading Platform South Africa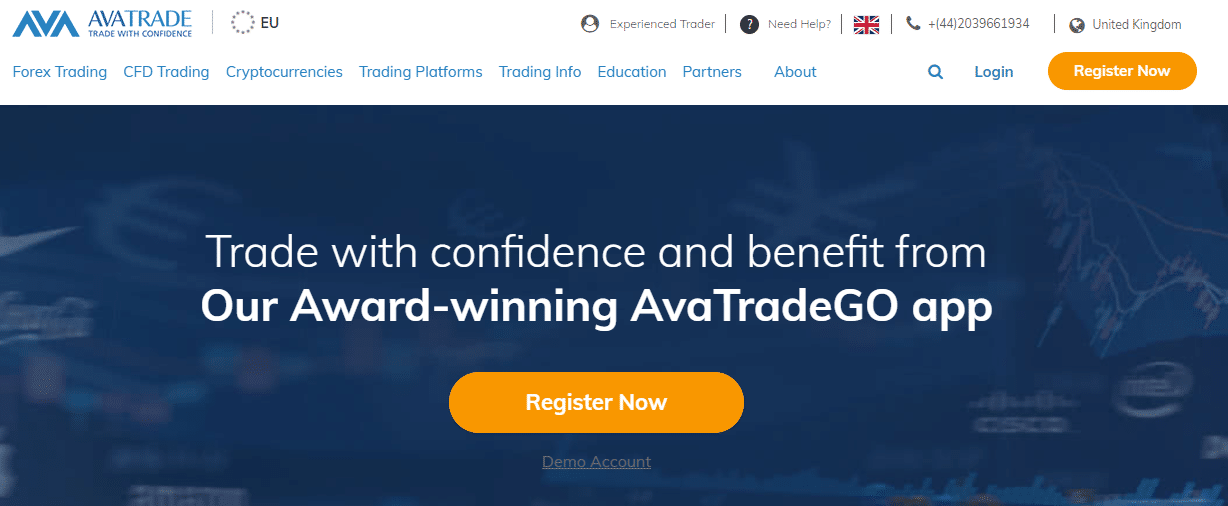 When you're looking for more advanced tools for trading shares in South Africa, AvaTrade is the right platform for you. The platform is secured and has a great reputation right from its launch in 2006.
The company is strictly regulated by some bodies like ASIC, FSA, and the Central Bank of Ireland. The platform facilitates different financial instruments such as stocks, indices, and forex CFDs.
The broker has DupliTrade, ZuluTrade, and MetaTrader tools. These tools give users advanced facilities for buying and trading shares and other financial instruments. The broker supports the third-party platforms of both MetaTrader 4 and MetaTrader 5.
These MT platforms equip users for technical analysis to implement backtesting on historical price data and create special strategies.
Additionally, the broker has a desktop platform to MT 4. It supports notifications and alerts. The platform also has enabled charts customization and interface for users.
However, the desktop version has no two-step login. The platform boasts of great and several educational tools for its users. Some of the tools include trading videos, order types, trading ebooks, professional trading techniques, etc.
Also, AvaTrade has both mobile and web trading apps. The apps are user-friendly and have some research tools such as an idea hub, news feed, an economic calendar, and others. The broker also offers customer support services 24/5 through live chats, phone, and emails. Thus, most of its response is instant, coming from well-trained service representatives of the company.
Fees on AvaTrade are quite moderate. The broker uses a spread of 0.5% for S&P500 CFD and 1 pip for Europe 50 CFD. The broker has a higher currency pairs trading fee than Plus500.
Furthermore, Avatrade now has copy trading features that have helped in the popularity of the company. The users operate on AvaSocial, a social trading platform that connects traders. The customers can also imitate other professional traders to get more knowledge and plan their trading.
AvaTrade Transaction fees
| | |
| --- | --- |
| Transaction | Fees |
| Withdrawal for bank transfers | 0% |
| Commission on trading stock | 0% |
| Deposit (bank transfers) | 0% |
| Deposit (credit/debit cards and e-wallet) | 0% |
| S&P500 CFD | 0.5% |
| Europe 50 CFD | 1 pip |
| Inactivity  (Quarterly charge) | $50 |
Pros
Great technical and research tools.
Fast and easy account opening process.
Fast and excellent customer support services.
Secured and regulated platform.
No fee for withdrawals and deposits.
Cons
High quarterly inactivity fee.
Trades on only CFDs, cryptocurrencies, and forex.
Advanced tools are too sophisticated for beginners.
3. Plus 500 – The Best CFD Broker South Africa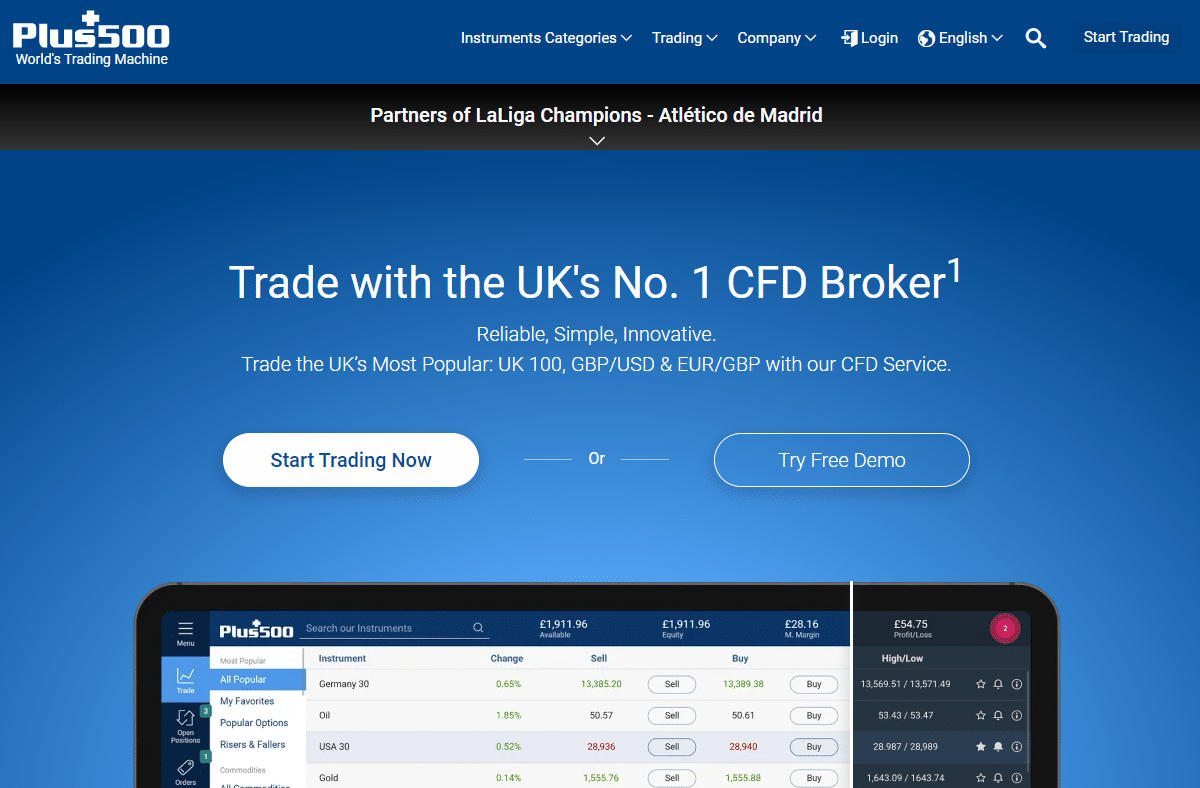 Plus500 was founded in 2008 and headquartered in Israel. This global Fintech brokerage offers online CFD trading services. Besides share CFDs, the platform provides trading in over 2,500 different financial instruments. Some of the CFDs tradings are on ETFs, forex, options, cryptocurrencies, commodities, indices, and others.
Also, Plus500 is a regulated and safe platform for trading shares and other instruments in the country. It maintains full compliance and security rules to combat any possible online fraud, AML, and hacking. The broker is under the strict regulation of the FCA, ASIC, MAS, CySEC, and South African FSCA.
Plus500 supports deposits in South African Rands. The minimum deposit amount is R1,500. Once your account on the platform is confirmed, you can deposit money using bank transfer, credit/debit card, e-wallet, PayPal, or Skrill.
There are no charges for any means of funds deposit in Plus500. While transfers through credit/debit cards and e-wallets instantaneously impact accounts, bank transfers usually take some days for their clearance.
Fees at Plus500 are considerably low in comparison with several brokerages. The broker offers a 0% commission on trading. Also, there are no charges for the first 5 monthly withdrawals, which gives a huge plus to small investors.
The broker uses a spread basis on the CFDs to make money. The S&P500 has a spread of 0.45 %. Plus500 charges a quarterly inactivity fee of $10 for customers that didn't log in for over three months.
Furthermore, the broker has both web and mobile apps that give a secured platform for its users. Both trading apps are user-friendly that even beginners can conveniently navigate through the interface. Users can get different reports about their trading accounts, such as position, historical transactions, fees, and others. Also, there's a search module for selecting the shares and other instruments easily. Additionally, customers can receive SMS, Emails, and push notifications on the platform.
Both the web and mobile apps have charting tools that are profitable to only newbies and intermediary investors. Professional investors will find the charts too simple to use it.
Also, in terms of maximum security, the web app uses two-step logins while the mobile app uses biometric authentication. For the mobile app, push notifications are sent to smartwatches. You can access the mobile in Android, Windows Phone operating systems, and iOS.
With Plus500, you can use leverage in your trading. The leverage levels vary according to customers' location and the applicable laws. For example, South African residents can leverage up to 5:1. This means that you can trade up to 5 times the amount in your account.
Additionally, the platform operates with different order types such as Market, Limit, Stop, and Trailing-stop orders. Also, it has an educational demo account that beginners can use to understand stock trading processes. The customer support services in Plus500 are 24/5.
Plus500 Transaction fees
| | |
| --- | --- |
| Transaction | Fees |
| Withdrawal for bank transfers | 0% |
| Commission on trading stock | 0% |
| Deposit (bank transfers) | 0% |
| Deposit (credit/debit cards and e-wallet) | 0% |
| S&P500 CFD | 0.45% |
| Europe 50 CFD | 1 pip |
| Inactivity  (quarterly charge) | $10 |
Pros
Has mobile apps with all the special features.
0% commission for share CFDs trading.
Availability of a wide range of financial instruments.
Trusted and reputable platform.
Under strict regulations of several financial agencies, including South African FSCA
Has a very low fees
Has demo account suitable for beginners.
Cons
Has no suitable tools for professional investors.
at Capital, South Africa's #1 Trading Platform
Fees Comparison for Best Brokers to Invest in Shares South Africa
Below is a table that gives the fees of our top best broker to invest in shares.
| | | | |
| --- | --- | --- | --- |
| South African Share Dealing Platform | Spread or commission? | Amazon | Overnight fees |
| Capital.com | Spread | 1.83 pips | Yes. Based on leverage for stocks. |
| Plus500 | Spread | 23.51 pips | Yes. Applies to all instruments. |
| AvaTrade | Spread | 13.0 pips | Yes. Based on leverage for stocks. |
Investing in Shares South Africa- Pros and Cons
There are Pros and Cons associated with every business investment, and buying shares in South Africa is not an exception. The pros and cons associated with investing in the South African shares are as follows;
Pros
Ease of Trading
Investing in shares is very easy whether you decide to do it yourself or use a stockbroker. This is because there are many shares and brokers to select according to what best suits you.
Flexibility
You can decide to invest a little or more capital depending on what you want. There is also an option for spreading your capital across the various shares available or exit the previous ones to take up another. You are not locked in one share, nor will anyone penalize you for buying a new share aside from the normal charges.
You can go for an ETF or a stock market index if you don't wish to choose from the varieties of shares yourself.
Capital growth
The value of shares may increase with time which will bring about an increase in your dividends. An increase in the value of a share is the dream of every investor.
Passive income
The income streams of investing in shares are passive, and you can earn a good divided from it. Your dividend drops into your account as at when necessary without you having to do anything. Some of the shares tend to appreciate reasonably regardless of your effort.
Taxation
The imputation credit offers lower tax rates on capital gains from a long-term investment; you can go for it. Again, you can reduce your tax rate by using the profile of a lower-income earner to buy shares.
Low costs
You can sell or buy shares at a minimal rate in proportion to the initial amount invested. The online brokers charge a very small amount. Some brokers will allow you to buy free at zero commission fee.
Liquidity
You can decide to sell your share for physical cash within short notice; most shares are liquid assets.
Information
You have access to relevant information as a shareholder, which will help you in monitoring and managing your investments. As a result, it is easy to manage a wide range of assets in your investment portfolio.
Personal involvement
You can decide to manage your share portfolio yourself, thereby being directly involved in the share activities. This opportunity will broaden your knowledge and also allow you to replace paid work with it- especially if you're a retiree.
Cons
Volatility
Similar to the price of digital currencies, the value of shares in South Africa can be very volatile. The price can rise or fall dramatically even to zero leading to loss of money.
Unexpected events
Unexpected events like bad news from the company that owns the shares can affect the share prices seriously. Such bad news may include a change in government policy, natural or man-made, or disaster.
Lack of knowledge
Your lack of knowledge as a new investor may be considered a risk initially.
Below is the list of the best trading shares among investors in South Africa presently.
Coinbase shares
Alibaba shares
African Rainbow Capital shares
Altron shares
Dischem shares
Gamestop shares
AMC shares
Apple shares
City Lodge shares
Capitec Bank shares
Facebook shares
Etsy Shares
Amazon shares
Gold Fields
MTN shares
Johnson & Johnson Shares
Moderna shares
Nio shares
Naspers shares
Oil shares
Netflix shares
Sasol shares
Sanlam shares
Sibanye-Stillwater shares
Shoprite shares
Pfizer shares
Tesla shares
Vodacom
Woolworths shares
Palantir shares
TymeBank
Conclusion
We believe that you now know how to buy shares in South Africa and the basics idea of how the stock industry operates. This means that you're fully equipped and can buy shares online irrespective of your location.
Remember, the step begins and selecting any South Africa reputable trading brokerage.
Though there are many brokerages out there, we've analyzed and given you the best for buying and trading shares in South Africa. By using a top and trusted broker like Capital, you will never get it wrong while buying your share.
Furthermore, you should understand that the stock market is flexible. Prices can rise and fall at any time. Therefore, you should also consider your risk management before venturing into buying and trading shares.
Once you're finally up for the game, visit Capital's site to open your brokerage account. Not only will you get different shares at 0% commission, but you will also conveniently make your transactions using the best tools on its user-friendly interface.
Buy Shares at Capital, South Africa's Leading Trading Platform
FAQs
How do I buy shares in South African companies?
Who regulates share dealing sites in South Africa?
What South Africa payment methods can I use to buy shares online?
What fee will I pay when buying shares in South Africa?
Is it possible to buy a stock market index that covers South African companies?