Best Algorithmic Trading Platforms – Beginner's Guide 2021
Imagine trading without any emotions, much like a robot. Can you trade without falling victim to your impulses? In this beginner's guide, we'll be uncovering the best algorithmic trading platform that you can use right now. 
But what is automated trading software? Is there a way to buy and sell assets passively? Keep reading this guide as we reveal the best platform for algorithmic trading in 2021.
Best Algorithmic Trading Platform UK – eToro 
Best Algorithmic Trading Platform UK 2021 – Top 5 List
eToro

– Overall Best Copy Trading Broker for Algorithmic Trading

AvaTrade

– Top-Rated Algorithmic Trading Platform for MT4 and MT5

IG

– Best Algorithmic Trading Platform with ProRealTime Charting

Interactive Brokers

– Best Algorithmic Trading Platform with Robo-Advisory Services

Learn2Trade

– Popular Algorithmic Trading Platform with Free Trading Signals
Algorithmic Trading: What is it? 
Algorithmic trading involves using computer algorithms and software to open and close positions based on parameters such as price movements in underlying markets. Once the market conditions match the pre-set rules, trading algorithms trigger a buy or sell order automatically. This means that you can spend less time monitoring and analysing the markets as the trading algorithms do it all for you.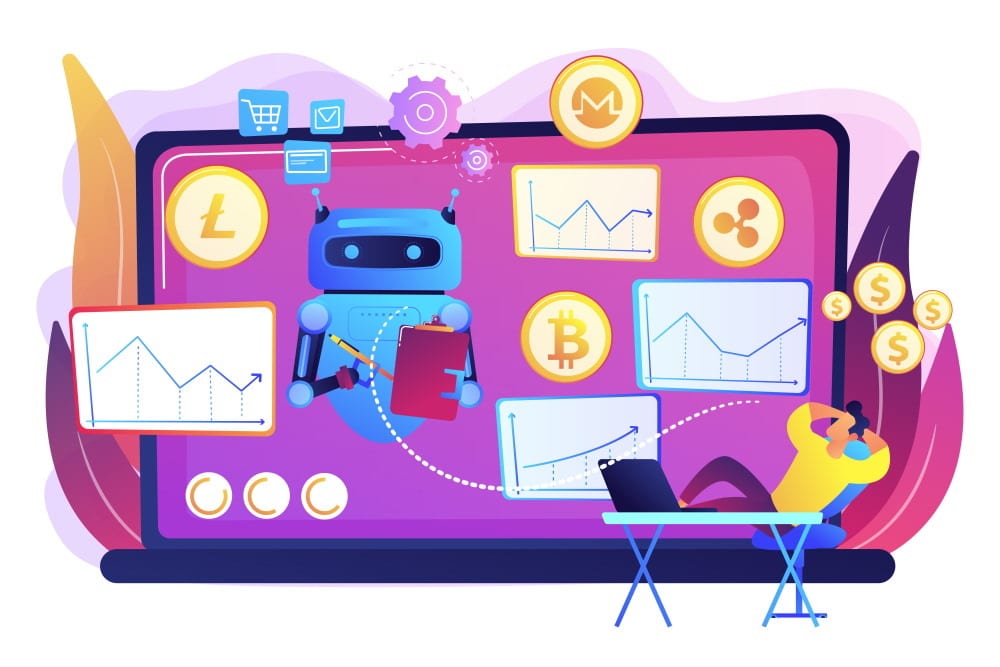 The best algorithmic trading platforms partner with leading investment providers such as ProRealTime, MetaTrader 4 and MetaTrader 5, as well as in-house APIs (Application Programming Interface). For example, IG offers advanced technical analysis and charting features, making algorithmic trading that much easier. Whether you want to create a fully customized trading algorithm that suits your trading needs and goals, or use copy trading tools, there are solutions for all types of traders. 
Best Algorithmic Trading Platforms Reviewed
1. eToro – Overall Best Copy Trading Broker for Algorithmic Trading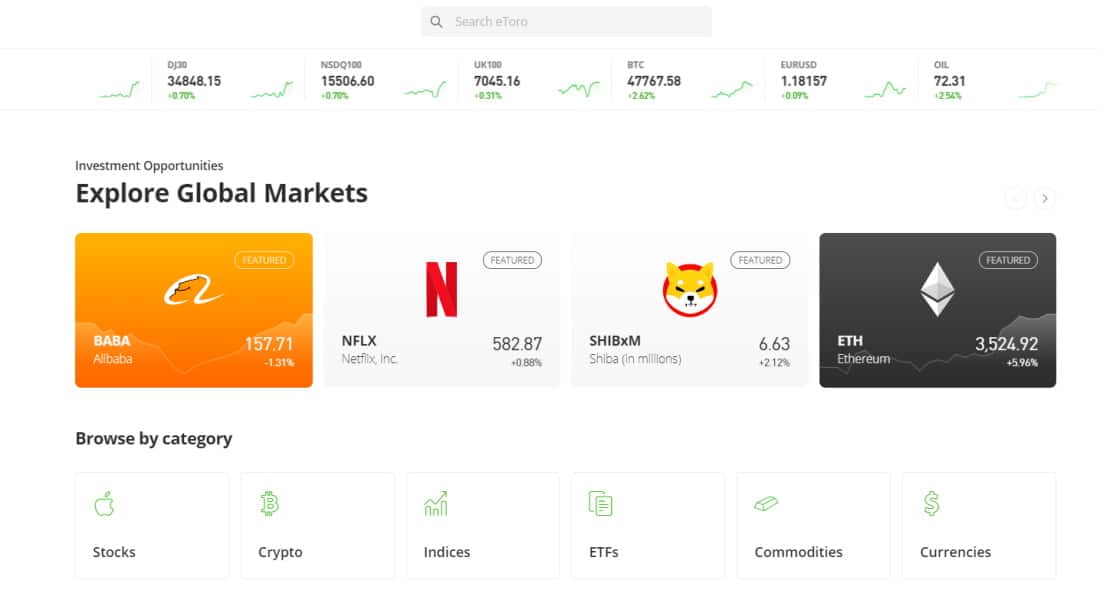 The number one spot on our best algorithmic trading platform guide goes to eToro. Since its inception in 2006, eToro has become one of the leading copy

trading platforms across the board, boasting over 20 million users worldwide. As a global CFD and forex broker, eToro offers a diverse range of instruments from stocks and ETFs to commodity CFDs and cryptocurrencies.  
Trading fees and commissions  
eToro is one of the leading discount brokers, allowing investors to trade on a commission-free basis with competitive market spreads. This trusted broker makes algorithmic trading easy and affordable via its copy trading features and low fees and commissions. In terms of non-trading fees, there are no deposit fees or account fees, but there is a small $5 withdrawal fee and a $10 monthly inactivity fee after 12 months of no login activity. 
What about payment methods and deposit fees? 
Depositing funds into your eToro trading account is as straightforward as the onboarding process. This top-rated copy trading platform supports a variety of payment options including debit cards, credit cards, bank wire transfers, and e-wallets such as PayPal and Skrill. While bank transfers can take four to seven business days to process, all other payment options are processed instantly. 
What is eToro's copy trading offering? 
As the name suggests, copy trading allows you to copy the trading strategies of other experienced traders with the click of a button. eToro offers two cutting-edge features: CopyTrader and CopyPortfolio. 
What is the difference between CopyTrader and CopyPortfolio?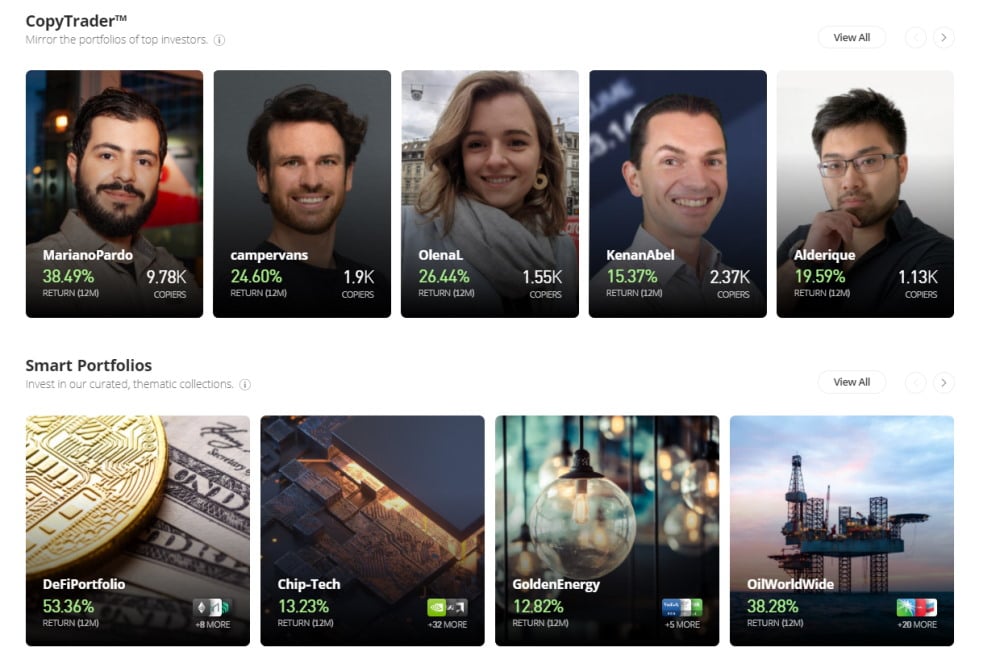 CopyTrader allows you to copy the portfolios of other eToro investors by browsing through public profiles. You can assess their past performance and risk score, as well as other key metrics such as average holding time and trades per week. The minimum investment when using the CopyTrader tool is just $200 and you can copy anything up to 100 different traders at the same time. 
Think of eToro's CopyPortfolio as a CFD portfolio. While the CopyTrader tool allows you to follow one trader, with CopyPortfolio you can invest in a theme or a basket of top-rated eToro investors. Investing in a theme means investing in a portfolio of meme stocks or commodities. eToro's trading algorithms build the portfolios that you can invest in on the platform. The minimum investment for CopyPortfolio is $5,000. 
Is eToro regulated?  
The Financial Conduct Authority (FCA) of the United Kingdom, the Cyprus Securities and Exchange Commission (CySEC), and the Australian Securities and Investment Commission (ASIC) all regulate eToro. 
The Financial Services Compensation Scheme (FSCS) protects UK-based traders, and eToro offers negative balance protection. This implies that if the broker goes bankrupt, you could be eligible for up to £85,000 in compensation.
| | |
| --- | --- |
| Fee Type | Charge |
| Stock Trading | 0% Commission |
| Cost of buying AAPL stocks | Zero Commission |
| Account fee | None |
| Deposit fee | None |
| Withdrawal fee | $5 |
| Inactivity fee | $10 after 12 months |
| Conversion fees | From 50 Pips |
Pros
Invest in stocks UK commission-free
Buy stocks in bulk or just a fraction, from as little as $50
Home to over 20 million traders worldwide
Fully regulated by FCA, CySEC and ASIC
Wide range of payment methods
User-friendly mobile app
Paper trading account with $100,000 of virtual funds  
Cons
USD is the only supported account base currency
67% of retail investor accounts lose money when trading CFDs with this provider.
2. AvaTrade – Top-Rated Algorithmic Trading Platform for MT4 and MT5
AvaTrade is a global CFD and forex broker that was founded in 2006 and is regulated by numerous top-tier financial regulators. It offers forex trading

as well as a variety of CFD derivatives that include stocks, bonds, ETFs, commodities, and more. You can also trade seven cryptocurrencies directly through the AvaTrade platform with no commissions and no transaction fees. The minimum deposit is just £100 and you can access a range of assets covering everything from stock CFDs to commodity CFDs and popular forex pairs. This heavily regulated algorithmic trading platform supports the full breadth of automated trading software. At AvaTrade you can access MetaTrader 4 (MT4), Duplitrade, ZuluTrade, and AvaSocial. 
Fees and Commissions
AvaTrade makes commission-free trading possible. The only trading fees you'll face are the bid-ask spreads, regardless of whether you invest in FX, CFDs, or cryptocurrencies. You'll also have to pay an overnight finance cost if you keep positions open after the market shuts.
Because average spreads are easily swayed by fluctuating market conditions and macroeconomic events, they should only be used as a guide. AvaTrade's margin rates also vary depending on relative market conditions such as transaction volume, liquidity, and volatility. 
While there are no deposit, withdrawal or account fees, AvaTrade imposes a $50 inactivity fee after three months of inactivity. Following that, after one year of inactivity, there is a $100 annual administration cost.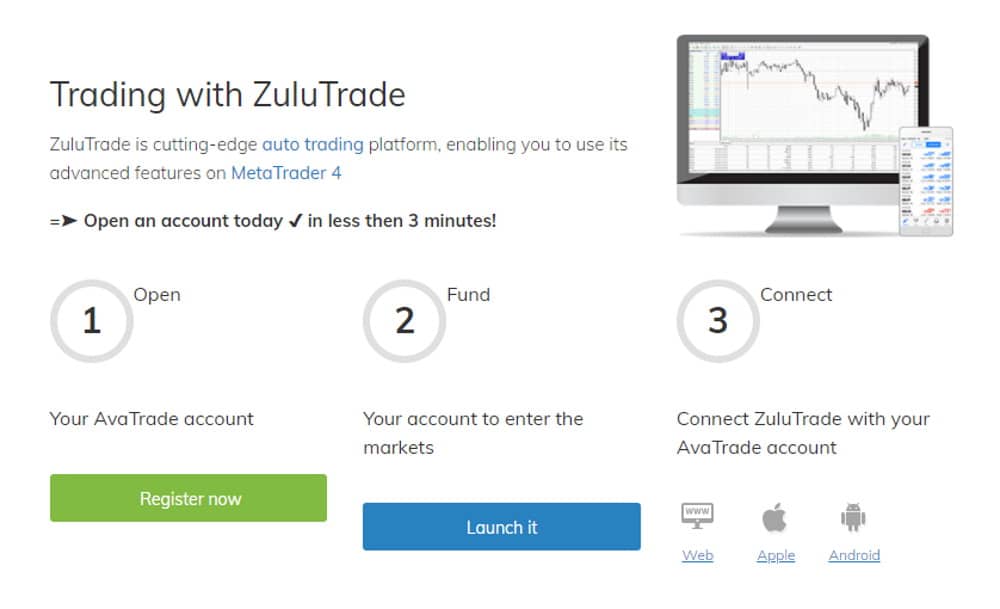 Payment methods
AvaTrade supports a range of payment options including wire transfers, credit/debit cards, and e-wallets such as Neteller and Skrill. The minimum deposit for GBP accounts is £100. 
Is AvaTrade Safe?
AvaTrade is a well-known CFD trading platform that is available all over the world. As a result, several top-tier financial institutions have authorised and regulated this reputable broker. The list of financial regulators includes The Australian Securities and Investments Commission (ASIC), the Financial Sector Conduct Authority of South Africa, the Financial Services Agency of Japan and the Financial Futures Association of Japan, the Abu Dhabi Global Markets Financial Regulatory Services Authority, CySEC, the Central Bank of Ireland, the BVI Financial Services Commission, and the Israel Securities Authority. 
| | |
| --- | --- |
| Fee Type | Charge |
| Stock CFD Trading | 0% Commission, typical spread for Amazon Stocks is 0.13% and leverage up to 5:1 |
| Forex Trading | 0% Commission, typical spread for EUR/USD is 0.9 pips and leverage up to 30:1 |
| Account fee | None |
| Deposit fee | None |
| Withdrawal fee | None |
| Inactivity fee | $50 after 3 months of inactivity and a $100 administration fee after one year. |
| Overnight Financing Fee | Trade Amount * Daily Overnight Interest = Daily overnight interest charged/paid. For example, for a 1,000 EUR/USD trade with a daily overnight interest buy rate of -0.0064% and subject to a one day charge, the calculation is 1,000 * -0.000064 = -0.064 = -$0.06 |
Pros
Commission-free CFD trading
Open a live trading account with a minimum deposit of £100
Low non-trading fees including zero deposit fees
Fully authorized and licensed by top-tier financial regulators
Unfettered access to MT4, AvaSocial, ZuluTrade, Duplitrade and more.
Convenient mobile investment app – AvaTradeGo
Cons
Does not offer trading signals
71% of retail investor accounts lose money when trading CFDs with this provider. 
3. IG – Best Algorithmic Trading Platform with ProRealTime Charting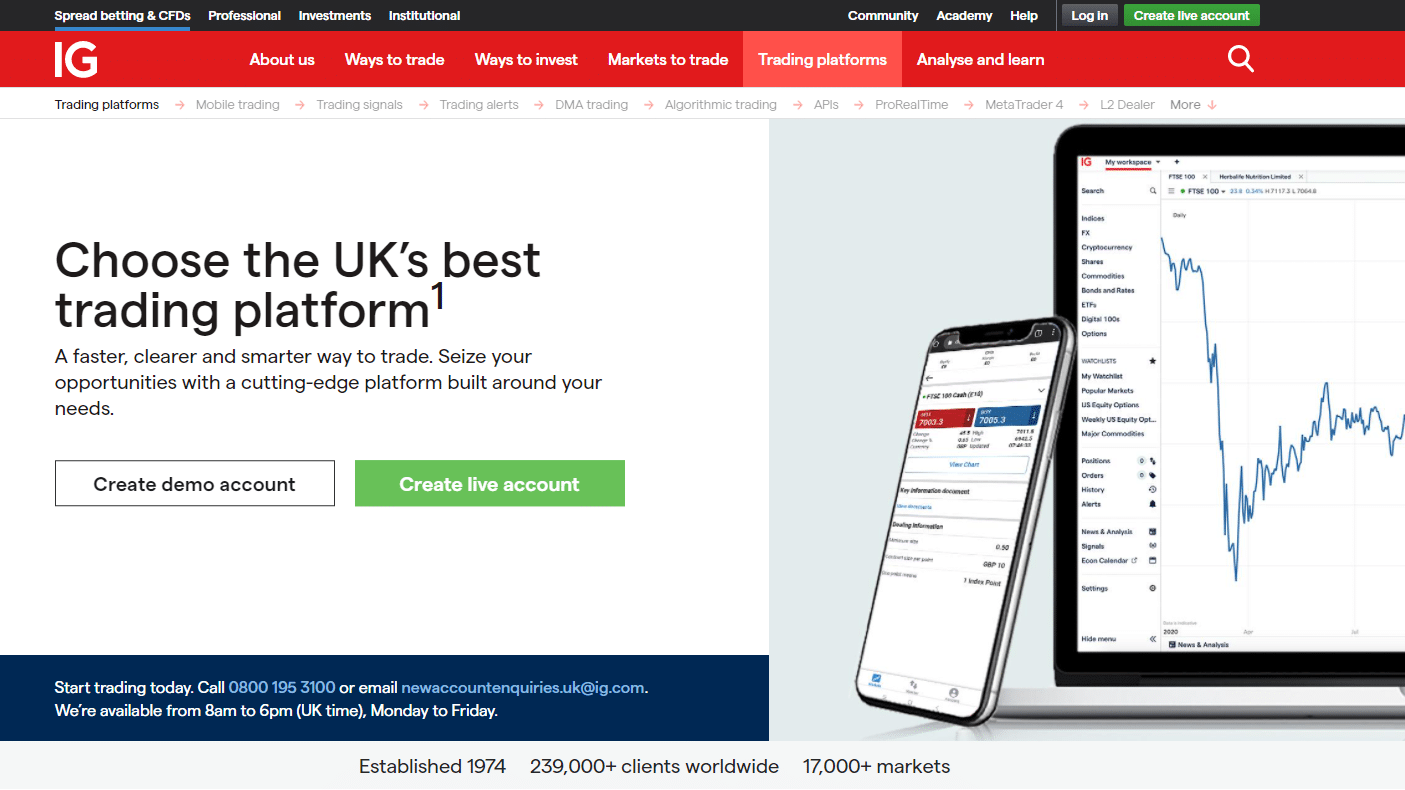 If you want to trade options, CFDs, and forex pairs, as well as invest in stocks directly through a share dealing service, IG could be the right fit for you. IG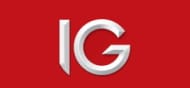 allows you access to thousands of popular markets from the comfort of your own home, with market-leading spreads and cheap fees on share CFDs. So, could IG be the best algorithmic trading platform for you?
Launched in 1974, IG supports over 17,000 financial markets and has a client base of over 240,000 traders. This top-rated algorithmic trading platform allows both beginners and advanced traders to make the most of unique trading opportunities via spread betting and CFDs. 
On the other hand, if you're interested in taking ownership of your preferred assets you can invest in heaps of ETFs and shares. Alternatively, you can opt for a wealth portfolio managed by a professional IG investor. 
IG supports MetaTrader 4
Algorithmic trading, also known as automated trading, is one of MetaTrader 4's best selling points. This algo trading feature allows you to develop, test and use Expert Advisors and technical indicators. This helps to eliminate any barriers in analytical and trading activity. 
The trusted MetaTrader 4 trading platform features the MQL4 IDE (Integrated Development Environment) enabling you to build Expert Advisors (trading robots) and technical indicators. At its core is the MQL4 object-oriented programming language for optimal trading strategy creation. MQL4 provides high levels of flexibility and functionality. 
So, when you use MetaTrader 4 your custom-built technical indicator analyzes the markets 24/7 while a trading robot enters and exits the markets automatically. Simply put, MetaTrader 4 gives you the chance to create Expert Advisors and technical indicators that are tailored to your trading goals. Furthermore, MetaTrader 4 provides you with extra services that allow you to fully leverage your programming skills.
ProRealTime
ProRealTime is a leading online charting software for technical analysis and trading. It is also fully integrated with the IG web-based platform. With this automated trading system you can use technical analysis to automated your dealing with a fully customizable and flexible user interface.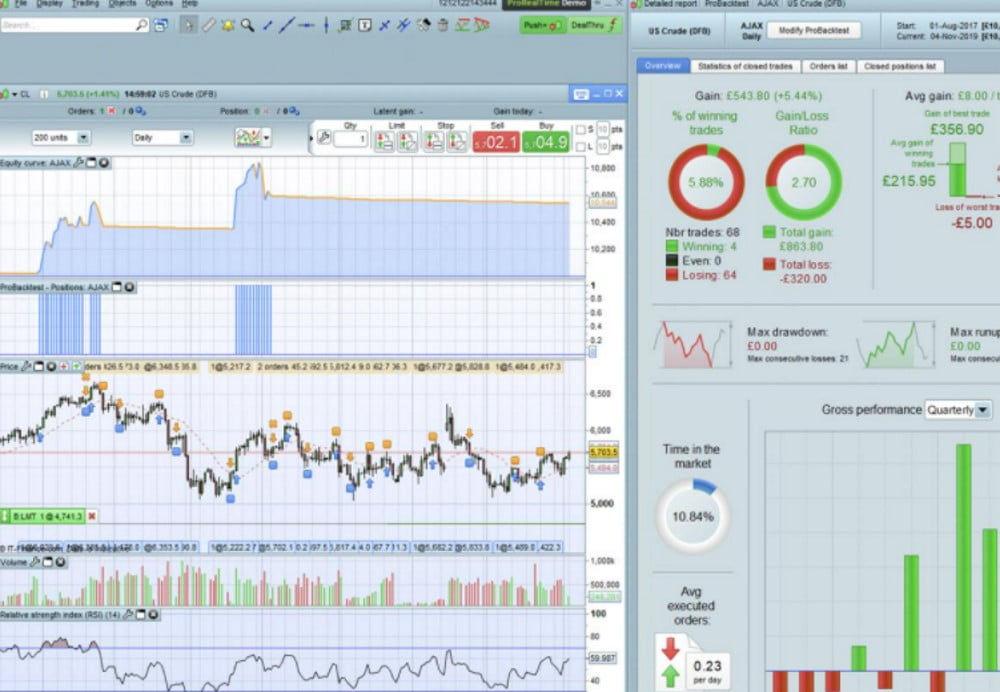 IG's ProRealTime allows you to automate your analysis and trading with the market-leading web-based charting tools. IG is the only UK spread betting and CFD broker to offer ProRealTime. Trading using ProRealTime means you can analyze your preferred markets price movements with 100+ technical indicators. Additionally, you can place orders based on trend lines, rather than just on price fluctuations. 
Fees and Commissions
Non-trading fees at IG are relatively low, with no deposit or withdrawal fees to worry about. With dozens of markets and derivative instruments to choose from, IG's pricing structure might be a bit confusing, especially for newcomers. 
There are different fee models for the different types of asset classes which are as follows:
Share CFDs, real shares, and options incur commissions

When it comes to stock index CFDs, commodity CFDs, bond CFDs, and forex trading, the costs are included in the market spreads

Smart Portfolios incur an administration fee and you pay the trading spread.
Is IG Safe?
IG is authorized and regulated by a wide range of financial authorities such as the UK's Financial Conduct Authority, the US Commodity Futures Trading Commission and National Futures Association, the Australian Securities and Investment Commission, the Bermuda Monetary Authority, and the Financial Services Authority of Japan. 
When you open a trading account with IG you'll also benefit from negative balance protection, meaning that your account balance can never fall below your initial deposit amount. It's worth noting here that the negative balance protection offering only applies to CFD and forex trading for EU-based traders. Furthermore, all client funds are held in segregated bank accounts. UK-based clients are entitled up to £85,000 in compensation by the FSCS. 
| | |
| --- | --- |
| Fee Type | Charge |
| Stock Trading | £8 commission per trade for UK stocks – 0-2 trades in the previous month.  |
| Options Trading | Commission per contract – £0.1 |
| Account fee | None |
| Inactivity fee | $12 per month after 24 months of inactivity |
| Deposit fee | Free for wire transfers and debit cards, while credit cards incur a 0.5% – 1.0% charge |
| Withdrawal fee | Free for credit/debit cards, international wire transfers cost £15 |
Pros
Access to a demo account with £10,000 of virtual paper funds
Supports a wide range of platforms including MT4, and Trading Signals
Competitive non-trading fees
Fully regulated by renowned financial authorities
Automate your trading and technical analysis with ProRealTime charting software
Cons
67% of retail investor accounts lose money when trading CFDs with this provider.
4. Interactive Brokers – Best Algorithmic Trading Platform with Robo-Advisory Services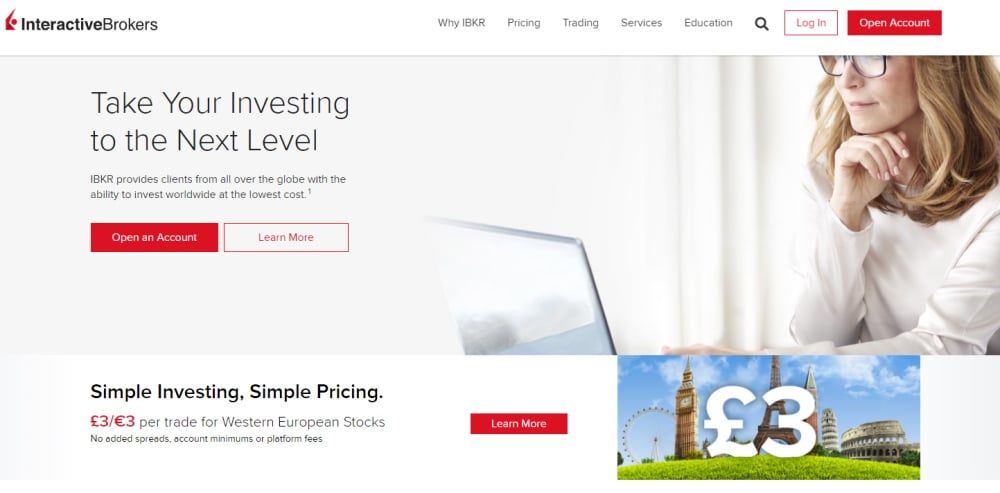 Launched in 1978, Interactive Brokers is a US-based discount broker that's regulated by several financial watchdogs including the UK's FCA and the US

Securities and Exchange Commission. Interactive Brokers is also listed on the NASDAQ exchange (NASDAQ: IBKR) and has a current market cap of $26.60 billion. 
Trading algorithms let you execute buy and sell orders automatically, while also eliminating emotions from your trading decisions. These can include common pitfalls such as FOMO (fear of missing out) which can lead to impulse decisions based on natural human emotions rather than computer-based logic. 
Automated trading is especially useful for beginner traders who don't have much trading experience. As such, Interactive Brokers offers Capitalise.ai – an algorithmic trading program designed to monitor and manage your positions using a sophisticated automated trading system.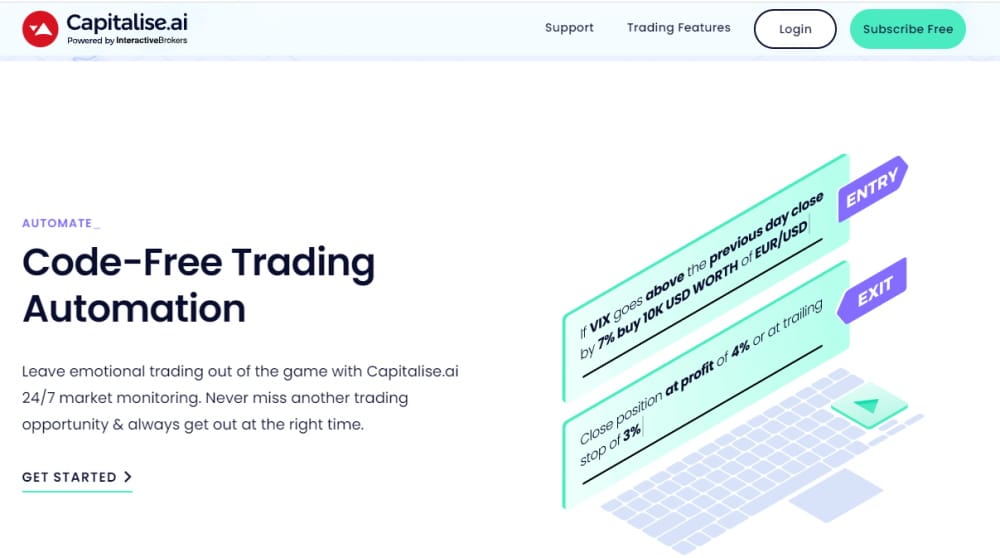 Capitalise.ai uses real-time market data and macroeconomic events, as well as technical indicators to give you a hands-off trading experience. To get the ball rolling, simply subscribe for free via the Interactive Brokers client portal. 
Fees and Payments
| | |
| --- | --- |
| Trading fee | Commission |
| Stock fee | 0% |
| ETF fee | 0% |
| Options | $0.65 per contract |
| US-Future and Future Options | $0.85 per contract |
| CME Bitcoin – BRR | $5.00 per contract |
| Spot Currency commissions | 0.20 basis points |
| No Transaction Fee Funds | $0.00 |
| Inactivity fee | $0 |
| Deposit fee | $0 |
Pros
Access to Capitalise.ai automated trading system
Listed on the NASDAQ exchange with a market cap above $25 billion
Low non-trading fees
Fully regulated by several financial authorities
IBKR's main trading platform, the TraderWorkstation, uses an open API
Cons
Better suited to experienced traders
67% of retail investor accounts lose money when trading CFDs with this provider.
5. Learn2Trade – Popular Algorithmic Trading Platform with Free Trading Signals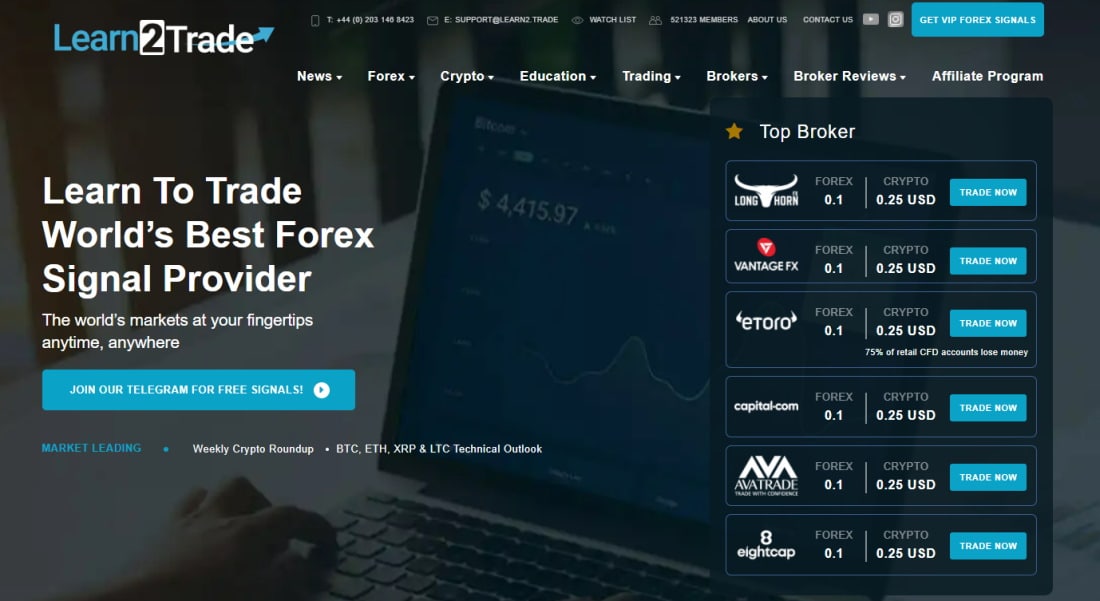 Learn2Trade is one of the leading forex and crypto signal providers on the market. Once you land on the website, you'll appreciate the user-friendly interface

coupled with the abundance of educational resources. 
To get started with some free trading signals from Learn2Trade simply subscribe to the Telegram group. Learn2Trade sends real-time alerts via Telegram that detail unique trading opportunities. These trading signals tell you whether a specific asset is a buy or sell order, the required entry and exit prices, along with stop-loss and take-profit orders. 
New Copy Trading Service – SignalStart.com
Learn2Trade also has a new MT4 copy trading service available with signalstart.com. This is an algorithmic trading tool allowing traders to connect their MT4 account to the new copy trading service. The automated trading system trades automatically for you through your MetaTrader 4 and MT5 accounts. There is also a monthly recurring fee of just $150. To get started simply create an account with Signal Start, link your MT4/MT5 account and then select copy.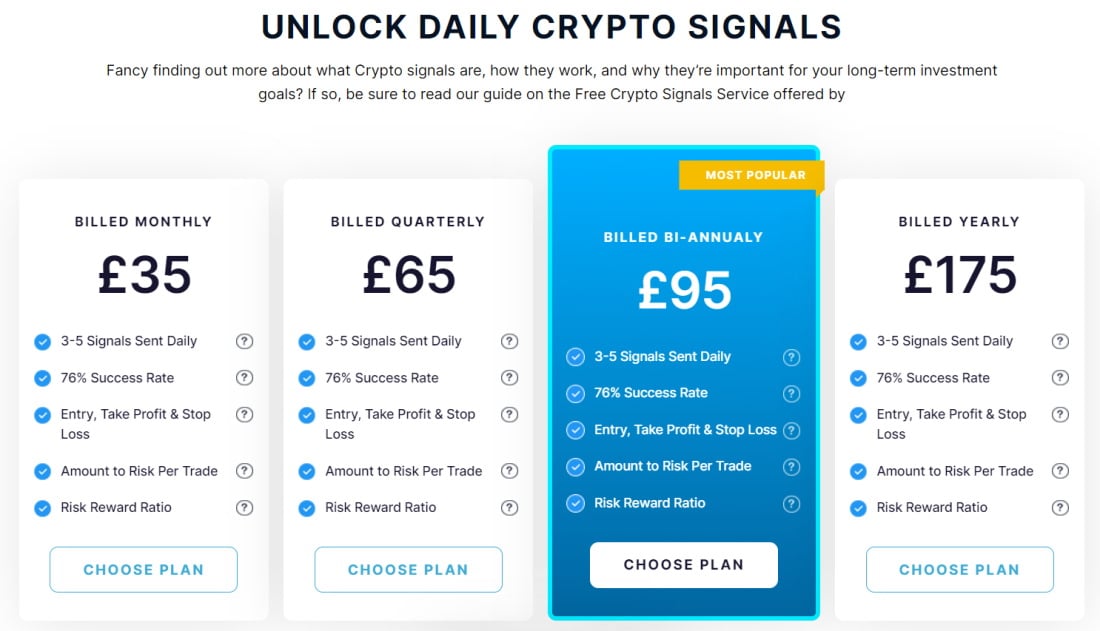 Please note that this provider does not guarantee that you will make money. Proceed at your own risk.
Pricing and Subscription Plans
At the time of writing, the Learn2Trade Telegram group has 37.3K subscribers. Learn2Trade claims to provide reliable crypto signals with a 76% success rate, enabling customers to profit by thousands of pips each month. You have the option of purchasing Learn2Trade daily signals or trying out the free Telegram signals. The subscription plans start from just £35 per month for 3-5 trading signals, along with entry, stop-loss and take-profit recommendations. 
Pros
Popular with forex traders
Premium subscription plans start from £35 per month
High success rate
Access to free signals via the Telegram group
Over 35K subscribers
Cons
Trading signals lean more towards forex than any other tradable asset class
Please note that this provider does not guarantee that you will make money. Proceed at your own risk.
Algorithmic Trading Platform – Fees Comparison Table
| | | | |
| --- | --- | --- | --- |
| Broker | Product Cost | Deposit Fees | Minimum Deposit |
| eToro | No additional fees to copy trade | 0.5% currency conversion for non-USD currency | $50 |
| AvaTrade | Variable spread | Free | £100 |
| IG | £0 – £10 if buying and selling, variable spread for CFDs | Free (0.5%-1% on credit cards) | £250 |
| Interactive Brokers | No account fees | None | $100 |
| Learn 2 Trade | £35 billed monthly – £175 billed yearly | N/A | N/A |
Algorithmic Trading – Pros and Cons
Pros:
Algo trading is ideal for passive trading strategies.
Eliminates emotions and common errors related to investor psychology
Automated trading systems work around the clock, allowing you to analyze and gain exposure to the financial markets 24/7
The most flexible algorithmic trading system allows you to tailor your trading strategies and Expert Advisors to meet your specific goals
The best algorithmic trading platforms provide a demo account with paper funds for you to practice and experiment before trading for real. 
Trading signals vs trading robots. Depending on your trading style you can choose between automated trading bots or trading signals to help boost your returns. 
Trades according to a predetermined set of rules and doesn't deviate from that, which is ideal for trading strategies such as DCA (dollar-cost averaging). 
Cons:
Hard to verify the reported success rates of bots and signals
CFDs are leveraged, speculative instruments that provide exposure to market movements of underlying assets without direct ownership rights.
Trading comes with risks so make sure you only trade with regulated brokers and providers.
Trading strategies that work in backtests may have negative results in live trading conditions
You'll be relinquishing your account to a trading algorithm
What to look for in Algorithmic Trading Platforms
The best-automated trading systems all share several key features. Bear these factors in mind as you pick the right algo platform for you. 
Does it support your preferred assets and markets? 
Algorithmic trading doesn't mean you'll have unfettered access to all markets. For instance, the MT4 trading platform is primarily used for forex trading. Ensure you can access and trade your preferred assets before signing up. 
Fast trade executions
When using an algorithmic trading platform you want to ensure there is minimal latency between your market quote, the trade and the execution of your position. The best automated trading systems have rapid trade executions to safeguard your investments and give you the same exposure to the markets as a floor trader. 
User-friendly interface
While clever AI algorithms do the bulk of the job, algorithmic trading platforms still need to be monitored and adjusted when necessary. Make sure you choose a user-friendly automated software so you can manage changes anywhere at any time. 
Detailed charts for backtesting
Charts play a significant role when it comes to backtesting, so make sure your preferred algorithmic trading platform has detailed backtesting features that can be used across a range of timeframes. 
How to Start Algorithmic Trading
If you're looking to start algorithmic trading right now, we recommend opting for eToro. This leading social trading platform was developed for beginner traders and is also regulated by the UK's FCA, CySEC, and ASIC. Furthermore, you can copy the trades of expert traders passively with the click of a button. 
Step 1: Open an account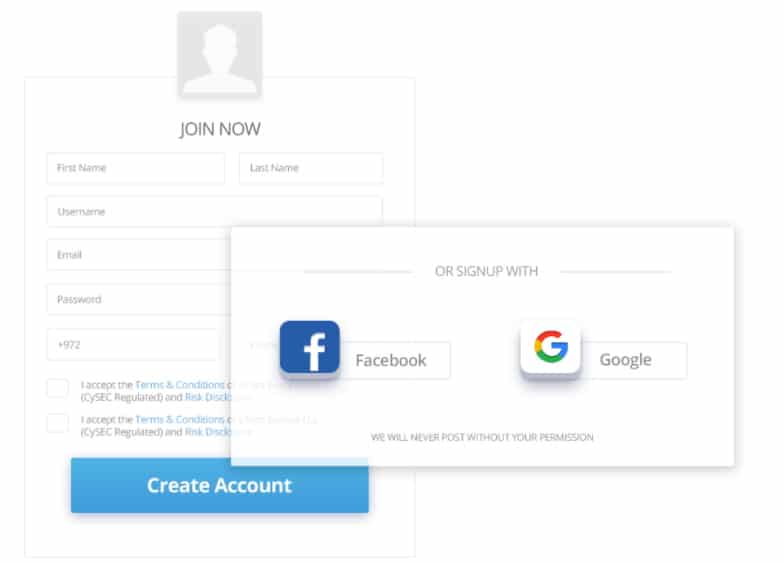 To open a live brokerage account, head over to eToro's official website and tap on the button marked 'Join Now'. You'll then be required to enter a valid email address, and create a username and password for your account.   
Step 2: Verify your Account
Since eToro is licensed and regulated by several top-tier financial institutions (FCA, CySEC, ASIC), all new account holders must go through KYC screening. This is a seamless and fully digital process that takes minutes to complete.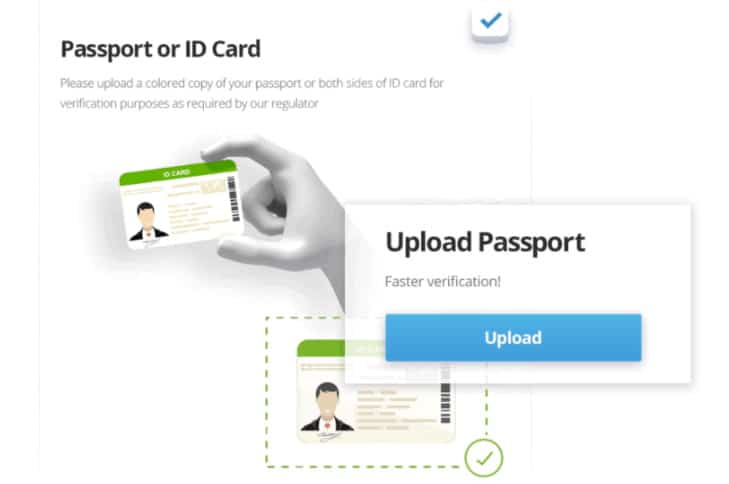 Click on the 'Complete Profile' button from the eToro dashboard and upload proof of ID (a copy of your passport or driving license), and proof of address (a copy of a recent utility bill or bank statement). The eToro verification department will assess your documents and you'll be notified when your account is verified. 
Step 3: Make a Deposit
Funding your eToro account is quick and easy since you'll have access to a range of payment options. eToro supports credit cards, debit cards, wire transfers, and e-wallets including PayPal. Keep in mind that the minimum initial deposit is just $50.
Step 4: Find a CopyPortfolio or use CopyTrader 
Choose a CopyPortfolio that suits your time horizon and risk tolerance. Keep in mind that you can invest in a theme such as stocks or commodities via a prebuilt portfolio of securities.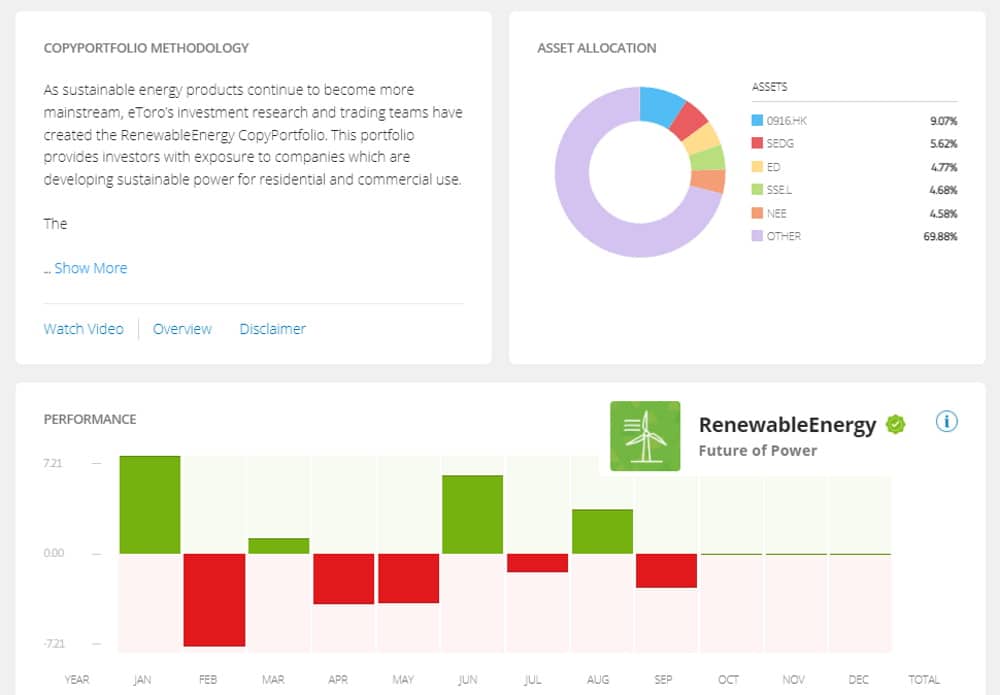 For example, you can invest in the CopyPortfolio RenewableEnergy. As sustainable energy products and services enter mainstream markets, eToro's investment analysis and expert trading teams have come together to create the RenewableEnergy CFD portfolio. This portfolio gives traders exposure to companies that are tasked with generating sustainable fuel for both residential and commercial purposes. 
As we have already mentioned, the minimum deposit when using CopyPortfolios is $5,000. As such, it may be worth experimenting with this on the eToro demo account before you risk your hard-earned money in real-life trading. 
Best algorithmic trading strategies to use right now
Price action strategy 
A price action algorithmic trading strategy uses previous open and close prices to trigger a buy or sell order when similar levels are reached in the future. This means you could build an algorithm to execute buy or sell orders when the price moves beyond a specific level, or if the market price drops below a certain point. This is a popular algorithmic trading strategy with short-term traders such as scalpers. Scalping involves making a series of quick but small profits throughout a single trading day on volatile markets – a popular strategy referred to as high-frequency trading (HFT). 
To build a price action trading algorithm, you'll have to evaluate whether you want to go short or long. As with all leveraged, speculative instruments you'll need to adopt risk management options including stop-loss and take-profit orders. 
Technical Analysis Strategy  
A technical analysis trading strategy is based heavily on technical indicators such as Bollinger Bands, MACD, moving averages, stochastic oscillators and more. Using this type of strategy, you'll build an algorithm that acts on trading parameters, such as opening a position when market prices drop. To create technical analysis strategies, you'll have to research and be confident using various technical indicators. For instance, you can create algorithms that integrate with MACD to open and close trades during heightened market volatility. Whether you open or close trades depends on your risk tolerance, and whether you have a short or long position in a bull or bear market.  
Best Algorithmic Trading Platform – Conclusion 
Throughout this beginner's guide, we've covered the top five best algorithmic trading platforms for automated trading. We've also explored the fundamentals of automated trading and some of the key strategies you can use to help gain passive exposure to the markets. Auto trading eliminates manual trading from the equation while giving you full market access.  
If you're looking to participate in the markets but don't have the time for research and analysis, algorithmic trading may be the solution for you. All in all, eToro is the best algorithmic trading platform for beginners looking to copy the trades of other advanced traders. So, click the link below to start trading with the leading copy trading platform – eToro! 
eToro – Overall Best Algorithmic Trading Platform UK 2021
67% of retail investor accounts lose money when trading CFDs with this provider. 
FAQs
What is the best algorithmic trading software?
What is algorithmic trading?
Can algorithmic trading be profitable?
When did algorithmic trading start?
Do banks use algorithmic trading?