How To Buy Shares UK – Buying Shares Online For Beginners
Please note that we are not authorised to provide any investment advice. The content on this page is for information purposes only.
The modern stock exchange is electronic. So you can trade from the comfort of your own home: without leaving a couch. But this requires an intermediary  — a company with a stock trading license called a broker.
This guide will help beginners understand how to choose a stock broker, how to buy shares, and better understand the process of buying stocks and shares.
Top Broker To Buy Shares UK – eToro
How to Buy Shares UK – A Quick Guide For 2022
Below you will find a quickfire guide on how to buy shares in the UK in less than five minutes!
Step 1: Open an Account with eToro – You'll first need to open an account with FCA-regulated broker eToro – which allows you to buy shares in the UK at 0% commission and 0% stamp duty.
Step 2: Upload Your ID – Upload a copy of your passport or driver's license to get your account verified.
Step 3: Deposit Funds – You can now deposit funds with a debit/credit card, e-wallet, or bank transfer.
Step 4: Buy Shares UK – Search for the name of the company you want to buy shares in. After clicking on the 'Trade' button, enter your investment amount.
Once you click on the 'Open Trade' button – eToro will execute your share investment instantly!
Cryptoassets are highly volatile unregulated investment products. No EU investor protection. 67% of retail investor accounts lose money when trading CFDs with this provider.
Later in this article, we talk about each broker, consider the pros and cons, and compare them eventually. Now let's dive in and get some shares.
How to Buy Stocks and Shares – Complete Tutorial 2022
Being a shareholder is profitable. Over the years, the shares of large and reliable companies rise in value, and in addition, you can earn dividends.
Many people believe that becoming a shareholder is difficult, but that's a myth. Well, maybe 40 years ago it was almost impossible to get stocks, but in 2022 you can purchase stock within seconds.
All you need is an account on some broker's website. We all need to understand how to buy shares for the first time. Let's take eToro as a prime example.
Step #1 – Open an Account with eToro to Get Started
Go to eToro's website and click on Open an account. You'll see a form with email, username, and password. Once you fill them up, you'll be asked to continue.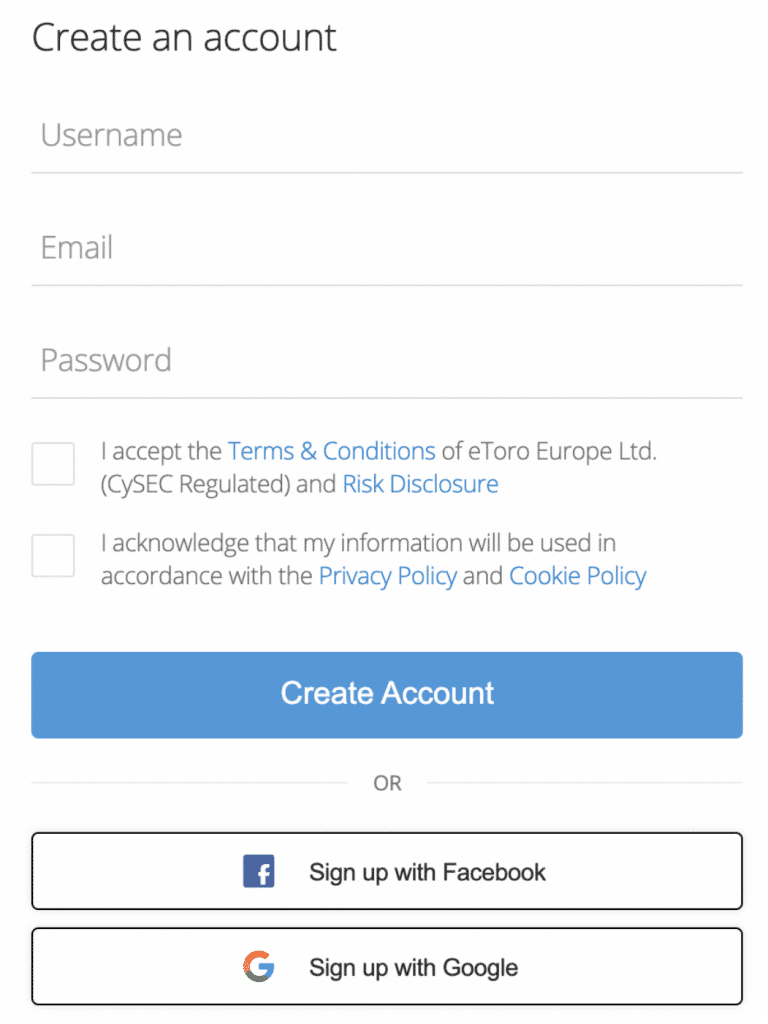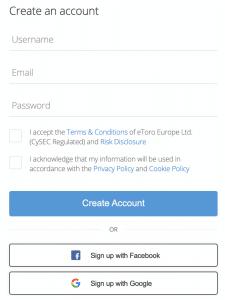 Step #2 – Fund Your Account  — No Fees, 0% Commission on Stocks and Shares
Once you've created your account, it's time to fund it. Etoro requires a minimum deposit of at least £160. You can deposit up to £1400 without your ID. Once you verify your account, no limitations will be applied.
All you need to verify your account is a copy of your passport or driver's license. On top of that, you have to prove your address. Use any of the following to do that:
utility bill, credit card bill, bank statement, company payslip, etc. Once you upload the documents, eToro usually validates them within 5 to 10 minutes.
Step #3 – Check on Shares To Buy

Assuming you've funded an account, let's search for some stocks. You can either utilize the Trade Markets tab or use the search box on the top of the website.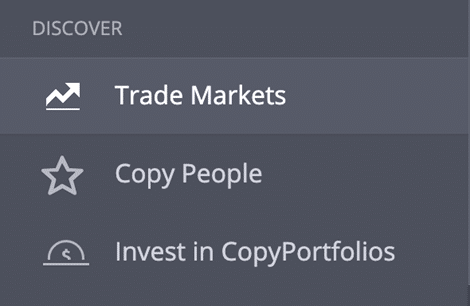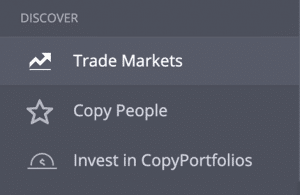 Type any company's or stock's name to check whether eToro has this asset or not. If you're looking for major companies, the chances are eToro has them in its database. For example, you could type Apple or APPL (short for Apple on NASDAQ).

Click on it and you'll see trending information about the company: graphs, pricing aspects, current position, etc.
Step #4 – Buying Your First Share On eToro

To buy an asset, click on Trade. Another window will open.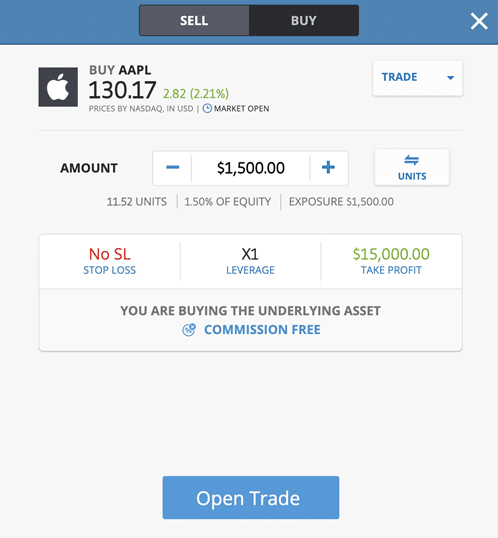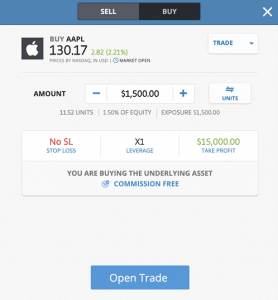 To complete your purchase, enter the amount and click Open Trade. You can also schedule your purchase by setting an order.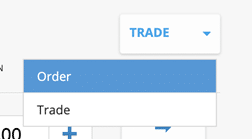 Step #5 – I've Got Shares – What's Next?
From now on, you are an investor. If you bought the stock to hold it for a longer period, you don't need to check price movements every day, but you can check quarterly or annual reports.
For short-term buyers, position management can mean setting a Stop-Loss and Take profit.
Stop-loss automatically closes the trade when you reach a certain loss, and Take Profit automatically sells the stock at a profit.
Such levels do not require you to follow the market at all, as trades close automatically when the levels are reached.
We advise you to study the basic information related to stocks. You can do this by reading the following sections.
How To Buy Shares For Beginners  — Understand the Basics
What is a share?
A share is a security issued by a joint-stock company, in other words, by the issuing company.
As well as learning how to buy shares in the UK, all investors who have bought shares have also become co-owners of the company.
A share confirms that its owner has a stake in the company, including a very small one.
What do shareholders get in return?
You've probably heard the expression "controlling interest"  — usually in movies, a villain insidiously takes over a company by acquiring 50% and another share.
Even though the villain isn't a 100 percent owner, he still gets control of the company because he owns most of it.
But even if you didn't buy the controlling interest, but just a tiny piece of the company, you become a shareholder and also get rights, the main ones being:
The right to vote at shareholder meetings and thus participate in the management of the company (voting rights required).
The right to receive dividends  —  part of the company's profits (if they are paid out).
The right to receive part of the company's assets in the case of liquidation.
What makes voting right so essential? All of the most important decisions are made by the general meeting of shareholders. Including decisions on liquidation and reorganization of the company.
It's the meeting that decides how best to dispose of profits at the end of the year: to streamline the business development or pay off the dividends.
What do stocks and shares look like?
Cinematic and literary stereotypes have crept into our heads, thanks to a whole galaxy of Wall Street movies.
The word "share" itself is usually associated with a beautiful stamped letterhead. But modern shares to buy are not luxurious papers: they are not printed at all.
Officially speaking, shares are non-documentaries that exist only in electronic form.
Special organizations like depositories play an important role in protecting investors. The UK Depositary is responsible for safeguarding the fund's assets.
How To Buy Shares in a Company
You probably heard such names as Warren Buffett, Benjamin Graham, or Joel Greenblatt  — each of them is a legendary investor. The latter came to the stock market in the 1980s.
It was a sluggish year without much of a surge in growth. But it helped Greenblatt: he picked pearls when there was nothing to choose from.
Five years later, Greenblatt founded the hedge fund Gotham Capital, with an unbelievably high rate of return for America  —  40% per annum. The question is can you make money just the way they did?
On average, shares yield around a 6-7% annual return. Imagine that your current income allows you to put £3,000 toward savings annually, and you plan to buy shares UK for ten years.
Let's consider three options.
Option #1. You invested £3000 in stocks once: as initial capital.
Option #2. You invest £3000 as initial capital and top-up £3000 with a yearly cadence.
Option #3. You invest £3000 as initial capital and top-up £250 with a monthly cadence (Instead of investing £3000 once a year, you invest the same capital split into 12 months, £250 monthly).
This is a graphical representation of the above: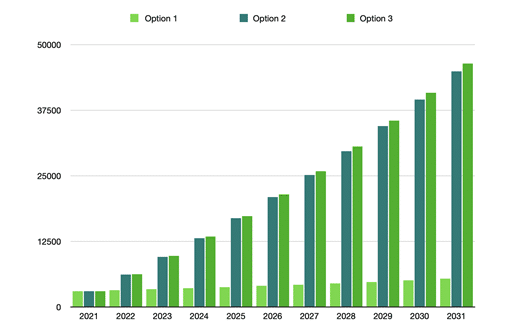 Now let's talk numbers. The table below shows total interest earned  — the money you get on top of your investments.
Genre
Total Interest Earned #1 

(£3000 Initial Capital)

Total Interest Earned #2 

(£3000 Initial Capital + £3000 once a year)

Total Interest Earned #3

 (£3000 Initial Capital + £250 once a month)

2021
£180
£180
£269
2022
£180
£370
£470
2023
£180
£573
£685
2024
£180
£787
£912
2025
£180
£1,014
£1,153
2026
£180
£1,255
£1,409
2027
£180
£1,510
£1,681
2028
£180
£1,781
£1,969
2029
£180
£2,068
£2,276
2030-2031
£180
£2,372
£2,601
Summary
(10 years)
£1,800
£11,910
£13,425
In this case, the difference between options 2 and 3 is barely seen because the capital is relatively small. The larger your capital is, the more profit you gain. This phenomenon is called compound interest.
Compound interest is a simple way to increase the profitability of your investments. To apply it, all you have to do is not spend but rather reinvest income from securities — for example, dividends on stocks or interest on bonds.
You can also apply compound interest when you deposit money in a bank. Let's take the same £3000 as initial capital to see how it works on when you buy shares for beginners.
In the table below, you can see similar investments with returns of 10 and 20 percent for 10 years. At the bottom of the table are figures for 20-year investments with returns of 6 to 20 percent.
By comparing these figures, you can understand what to expect from investments and how much you can earn.

All the difference for the same time occurs due to reinvestment. Compare £6000 and £82,828… It's more than 10 times the difference in total interest earned.
The first case scenario implies that you invest £3000 in total, and ten years later, you get £6000. In total, you'll have £9,000 in your bank account.
The second case, on the other hand, requires total investments of £30,000 over the next decade. Finally, you'll earn £82,828 of interest and have around £116,000 in your bank account.
A return of 6 percent is considered average, but you have the opportunity to invest with higher returns.
Of course, this requires knowledge and experience, so it's better to start with a lower return and gradually increase it through the right investments.
Seasoned investors can boast 30%, 40%, or even higher returns.
What do share earnings depend on?
Stock earnings depend on three major conditions: what resources and strategy you have, where do you trade, and what chosen assets are.
In terms of resources, you have three questions to ask yourself:
How much money do you have to invest? Huge capital can generate steady profits unless you over risk.
For how long are you willing to look for shares to buy UK? The longer  — the better. We'll talk about it soon; it's called compound growth.
What is an affordable level of risk? You can hit the jackpot as well as be back to square one if your credo is "Nothing ventured, nothing gained."
With that in mind, let's have a look at how you can make money on the stock market.
Buy Shares Now From eToro, the UK's #1 Trading Platform

Making Money On Shares: Investment vs CFD Trading
Traders and investors are two groups of stock market participants who differ in their preferred investment horizons. That is, the interval of time in which the planned profit will be received.
Traders focus on short- and medium-term market movements ranging from a few minutes to a couple of weeks.
Investors, on the other hand, completely ignore such fluctuations and pay attention only to global changes that take months or even years.
CFD Traders  — Contract For Difference
If you see the name of a few familiar stocks on an exchange site, it does not mean that they are being sold. Some exchanges widely advertise CFD services.
CFDs are differential trades that allow you to make a profit if you correctly predict the movement of a stock quote in a particular time frame. In this case, you do not become the actual owner of the stock.
The main feature of CFDs is leverage. For example, you make a profit if the price of an asset goes up. Remember that high leverage only plays on your side if the price goes up and quickly ruins your capital if the prediction is wrong.
In terms of how to buy stocks in the UK, this approach is more like trading. Trading involves the use of any, even the most short-term stock market movements, which means that it requires constant presence in the market and active trading with a large number of transactions.
CFD trading allows a low-cost entry; Trades are not tying up your money for weeks or months as holding open positions overnight incurs charges and increases risk.
The main weapon of traders is technical analysis. In a nutshell, it's based upon studying charts of stock prices (or other financial instruments) to determine their future direction.
Digging a little deeper, we can say that technical analysis tries to predict the behavior of large masses of people with the help of mathematical models.
| | |
| --- | --- |
| Positive aspects of trading | Negative aspects of trading |
|  The potential yield is much higher than that of investing since you can use all price movements. In practice, not all deals turn out profitable, but theoretically, the profits can tend to infinity. |  Full-time employment: The trader is chained to the terminal during the trading session. In other words, the entire working day. The use of trading robots certainly facilitates life but cannot solve the problem completely. You still have to watch the robots. |
|  A trader can earn both on market growth and its drop: The direction of movement does not matter as long as this movement exists. The investor is deprived of such options. |  High risks: The ease of using intraday price fluctuations is apparent. One in ten traders makes money consistently and becomes successful. |
|  The capital used in trading has high mobility: it can be increased, reduced, or transferred to another area at any time. The investor freezes his funds for a long period. |  Dependence on the broker: The broker takes a percentage from each transaction, so even the most carefully developed intraday strategy can lead to losses only at the expense of commissions. The technical component is also important: access to trading should be provided without failures and with high speed. |
| |  Limited choice of financial instruments: The liquidity of the shares to buy traded is very important to the trader. No sales = no profit. |
Now let's consider another option called investment.
Investment
Investing involves playing the long game: months, years, and even decades. The whole point of this approach is just two simple concepts:
Invest in the least risky assets for the long term.
Spread your money across different industries, countries, and assets  —  this is called diversification.
By investing in stocks, you have three ways to make money through investing. Let's have a look at the process using Apple as an example.
This is what Apple stock looked like in 2016:

Say, you bought 50 shares of the company on December 16, 2016. The price per share was $28.99, which means you would have paid a total of about $1450 for them. Now let's talk about earnings.
In June 2021 Apple looks like this:

On June 11, 2021, the price was already $127.35 per share. The total return on your 50 shares would be about $4920. In other words, the return on your investment is 239.1%. However, this is not the only part of the return. Some investors call it capital gain.

You may receive the other part of your income as dividends. As a thank you for your investment, the company pays you a portion of its profits.
The more shares you have, the more dividends you will receive. The management team of the company meets once a quarter and decides whether to pay dividends (Companies can reinvest in the development. In that case you don't get dividends right away.)
Apple has consistently paid dividends to its shareholders over the entire period from 2016 to 2021. If you had 50 shares, you would get an extra $568. That means the total return from buying the shares could be $5,488 or 278.5% ROI.
However, investments are not some kind of magic bullet. For example, imagine you bought 50 shares of a less successful company at $84.98 in 2016 (pictured below).

If you would have sold this stock on June 11, 2021, at $47.73,  you'd overlooked $1,862 in total.

Tips to Follow Before You Buy Shares Online in a Company
Tip 1: Diversify your investments
Diversification is the dispersal of capital among different investees to reduce economic risks. It's aimed at smoothing unsystematic risk events in the capital, so positive results of some investments neutralize the negative results of others.
The benefits of diversification persist only if the objects of investment are not perfectly correlated, that is, they react differently, often in opposite ways, to market influences.
To put it simply,  don't put all your eggs in one basket. Imagine you have £3,000. Instead of rushing into 20-40 Apple shares, you would buy 5 Apple shares, 5 Google shares, 5 Microsoft shares, etc.
Did you notice that all three companies are related to computers, technologies? In other words, the same industry. It's not always reasonable to put all the money into one industry.
A more interesting way to invest in shares UK would be 5 Apple, 5 Tesla, and 5 Amazon.
Do you still see something in common?  All companies are US-based businesses.
If all of your stocks are too closely tied to one country's economy, you increase the level of risk.
A good stock portfolio might include large-cap stocks, small-cap stocks, foreign developed or emerging stocks to buy, etc.
Tip 2: Start smoothly
If you've never invested in the UK, the US, or other shares, don't rush it. Start smoothly with a small deposit and learn along the way.
You have to understand that you'll lose some money at the start.
That's why it's better to fund an account and start with small-cap stocks. They are cheap yet potentially profitable.
Tip 3: Analyze a company
When assessing investment attractiveness, rely on a comprehensive approach comprising of the following techniques:
Macro analysis, company cyclicality relative to the business cycle.
Fundamental analysis  —  key business metrics, performance, financial health.
In-depth internal analysis of the company and its reporting.
With that in mind, form reliable portfolio principles. Here are some basic rules you may want to apply for your portfolio.
Basic portfolio principles
Always have a hedging part: gold, currency, short bonds to compensate for a possible stock market crash. As well as free cash for additional purchases.
Diversify by country  —  Russia, U.S, China  —  and by sector, with the share of each depending on the current economic environment. Within each sector, split the share across multiple issuers.
Allocate no more than 5% of the portfolio to each issuer.
Don't buy overvalued securities or companies with poor fundamentals: falling revenues, low margins, high leverage, etc.
Tip 4: Look for great opportunities
Not all industries are the same in terms of growth. Compare three industries from the picture below.

Information technologies experienced 400% growth since 2012 while the real estate sector showed 43%. The Healthcare industry floats somewhere in between with almost 248% growth.
Three industries, three completely different growth tendencies. Imagine you're back in 2012, which one would you pick?  You never know what would have happened if another "expert" told you something like, "I'm sure real estate is a great way to multiply your capital."
Long-term trends are like a snowball that forms gradually. For investors, this means that such trends have prerequisites.
If you watched the market in 2012 and then invested in the IT industry, your capital would increase on average by 400%. Against this background, the real estate industry doesn't look attractive, right?
What if you would have invested in Energy?

Shortly, you'd be sitting on a time bomb. The point is, if you want to make money on investments, you have to analyze the market and track changes.
Otherwise, you may witness firsthand how your capital melts. For example, you could have a look at the fundamentals of many companies on Finviz.
How to Buy Stocks in the UK – Choose a Stock Broker
Consider several factors such as UK payment methods, fees, availability of foreign and local shares to buy UK,  broker's licenses & standards.
Fees and Commissions
Newbie investors try to choose a broker with minimal commissions. However, one should keep in mind that some fees are waived by developing brokerage companies to attract investors.
When opting for a broker, or rather one of his tariff plans, you should initially decide on the following nuances:
The amount of money that you're ready to spend on the purchase of assets. The more funds, the fewer fees you'll pay to the broker.
Choose financial instruments and trading styles. If you're going to earn high annual interest, you'll have to make lots of transactions all the time. Consequently, it's necessary to choose such a minimal commission rate. If you prefer a small but stable income, it's better to choose a rate with the lowest storage & withdrawal fees. On top of that, you may want to refuse most of the broker's additional services (for example, the mobile terminal).
A client who borrows money or securities from a broker to trade against available assets needs a rate with minimal fees for margin lending.
Sometimes an investor needs some additional services and products (for example, a mobile terminal or a tariff with a "Personal broker"), which means looking for an intermediary where these services are cheaper.
Note: Increasing your trading turnover is one of the easiest ways to reduce commissions. Because brokers benefit from such clients, they offer lower rates.
Shares To Buy – Different Exchanges Explained
Publicly listed companies are traded on several stock exchanges. The available pool of stocks depends on your broker. The more exchanges your broker cooperates with, the bigger your stock pool will be.
Here is the list of some crucial exchanges:
London Stock Exchange (UK).
Deutsche Börse (Germany).
Alternative Investment Market   — a.k.a. AIM —  (UK).
Australian Securities Exchange (Australia).
NASDAQ (US).
Euronext (Europe).
NYSE (US).
Tokyo Stock Exchange (Japan).
Hong Kong Stock Exchange (Hong Kong).
This is not the whole list; Other exchanges also exist. Pay attention to how many exchanges are available to you.
If your broker covers the UK as well as international markets such as the US, Australia, Japan, you can diversify (lower) stock trading risk.
Markets.com, for example, offers 16 exchanges worldwide.
Buy Shares Now From eToro, the UK's #1 Trading Platform

Payment Methods UK
Many UK brokers offer a whole range of payment options.
Here are the most popular ones:
Visa/MasterCard.
PayPal.
Sofort.
Skrill/Qiwi/Neteller.
Fastapay.
Wire Transfers.
Some brokers may not accept payment methods from the list above. Extra payment options are also possible.
For example, Pepperstone accepts transfers via POLi, BPay, and China Union.
Where to Buy Shares in the UK
1. eToro  — Best Low-Cost UK Stock Broker
eToro is a platform with the lowest UK commissions for buying shares. You can benefit from this broker whether you're a beginner or seasoned investor.
The main features of the platform are highly-secured assets, stocks, ETFs, CFD trading, commodities, currencies, and more.
A community of over 23 million users mixed with educational materials featured on the broker's website grants you almost unlimited possibilities.
You can join veteran traders to make a profit in no time with eToro's copy trading feature. Another way to benefit is ready-made portfolios: focus on innovative markets such as cloud technologies, 5G, etc.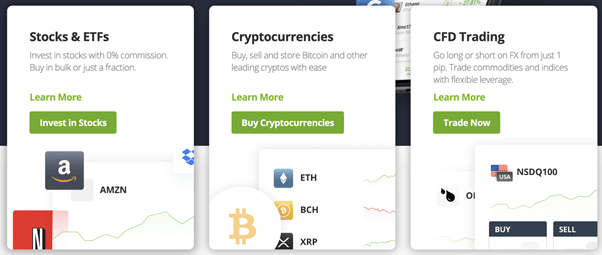 eToro is the Best UK platform for share investments. The broker offers 0% commission with no limit on trading volume. As a bonus, you'll get free access to TipRanks stock analytics.
| | |
| --- | --- |
| Pros | Cons |
| One of the lowest commissions (UK). 0% commission for stocks, ETFs. | Perhaps too elementary for technical stock traders. |
| Useful and convenient mobile app: best trading app in the Google store. | |
| Transparent: you won't face hidden fees. | |
| Trusted by millions. Join 23+ million traders worldwide. | |
| Your funds are kept safe. | |
| Powerful social trading feature. | |
| Free $100,000 demo account. | |
67% of all retail investor accounts lose money when trading CFDs with this provider.
2. Capital.com  — Best CFD Trading UK Stock Broker
Capital.com is the best CFD trading platform you can find in the UK.
With more than 6100+ markets you can reach within a second, the platform offers 0% commissions, no hidden fees, and AI-powered trading insights gathered for you personally.
You get regular, live updates to track prices and tendencies on the market. Not to mention advanced financial tools, technical indicators, and risk management instruments.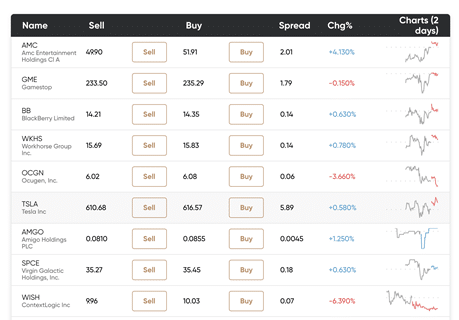 | | |
| --- | --- |
| Pros | Cons |
| No commission or hidden fees. | Only CFD trading. |
| Officially regulated by FCA, CySEC, ASIC, and NBRB. | Limited leverage for shares. |
| High-quality online courses. | |
| Trending financial news. | |
| Demanding security standards. | |
| Hedging mode available. | |
| Strong data encryption. | |
67% of all retail investor accounts lose money when trading CFDs with this provider.
3. CMC Markets  — Best User Interface UK Stock Broker
CMC Markets offers two types of accounts. Both of them entail no minimum deposit. This platform is recommended if you're planning long-term investments.
CMC features complex financial instruments to trade with maximum efficiency.
9500+ shares, 80+ indices, 1000+ ETFs are at your disposal to make money as fast as lightning strikes.
You also get transparent execution, an intuitive interface, and more than 115 indicators, tools to analyze potentially profitable stocks.

| | |
| --- | --- |
| Pros | Cons |
| Convenient trading on margin. | It takes 2-3 days to fund an account. |
| Risk-free demo account. | You can use one main bank account. |
| No deposit is required. | |
| Easy trading platform. | |
| Great support is available 24/7. | |
| High-security standards. | |
67% of all retail investor accounts lose money when trading CFDs with this provider.
4. Pepperstone  —  High Execution Speed UK Stock Broker
Pepperstone offers more than 1200 CFD instruments with low spread. CFD and Forex trading, user-friendly interface, and 24/5 support  — what else do you need to get started?
You can get such equities as Tesla, Pfizer, Uber, etc. The broker offers NASDAQ, NYSE, ASX, and more.
On top of that, Pepperstone boasts high-security standards: your funds are stored in top-tier banks.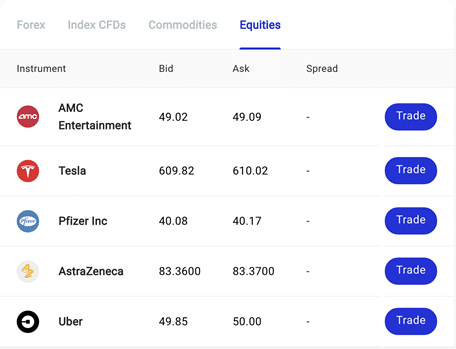 | | |
| --- | --- |
| Pros | Cons |
|  User-friendly interface. | Lack of educational materials. |
|  It takes just minutes to open an account and deposit funds. | Support is only available 24/5. |
|  Cares about security & standards a lot. | |
|  Features technical analysis wraps every week. | |
67% of all retail investor accounts lose money when trading CFDs with this provider.
5. Markets.com  — Low-Risk UK Stock Broker
Created back in 1999, this broker conquered country by country. Nowadays, it's available in the UK.
You can trade more than 7,500 stocks from 16 exchanges. London Stock Exchange, NASDAQ, Australian Exchange, NYSE, and some exchanges from Europe.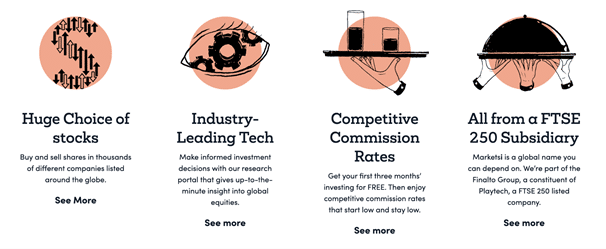 | | |
| --- | --- |
| Pros | Cons |
|  The abundance of CFD trading options. |  The platform might seem pricey to some traders. |
|  Low spreads. |  Minimum Initial deposit required. |
|  More than 7000 stocks to trade. | |
|  16 available exchanges worldwide. | |
|  Trending IPOs. Keep an eye on the latest stocks. | |
|  High-security standards. | |
67% of all retail investor accounts lose money when trading CFDs with this provider.
Buy Shares In The UK & Compare The Best Rates
| | | | | |
| --- | --- | --- | --- | --- |
| Stock Broker UK | Commission | Deposit | Margin | Overall Value for Newbies |
| eToro.com  — top recomendation | A+ ( one of the lowest in the UK) | 200 GBP | 20% | A+ |
| Capital.com | A | 20 GBP/USD/EUR | 20% | A |
| CMC Markets | A | 0 GBP | 20% | B |
| Pepperstone | B+ | 0 GBP | 20% | B+ |
| Markets.com | B+ | 70 GBP | 20% | A |
How to Buy and Sell Shares
When purchasing shares, it's important to understand what affects their value (to reduce risks).
Contrary to the common belief among novice investors, the value of a stock is influenced not only by the company's performance but also by many other factors.
Here are some of them:
The value of a stock is largely determined by the profits the company makes. Nevertheless, this is a rather tentative factor – after all, the share price also depends on the company's reputation, the policy of top managers, observance of shareholder rights, etc.
Global economic news also affects stock prices, contributing to growth (in case of positive news) or decline (in case of negative news) of stocks.
Share prices may change depending on fluctuations in the refinancing rate of the Central Bank; Prices also depend on the policies pursued by the country's leadership, and on the country's foreign economic activity.
Seasonal fluctuations of the share market can also be observed  —  for example, New Year's rise. Prices change before, during, and after major events.
Statements of first-class experts may affect the current situation on the stock market.
Falling share prices may be a consequence of large-scale actions on the stock market, which are carried out by big players.
Some countries have behind-the-scenes features to take into account. For example, Russia and China are not as predictable as other countries.
Stock prices are influenced by global stock indices.
Summary of How to Buy Stocks and Shares UK
To buy shares UK, all you have to do is choose a broker and register on their website. Once you fund your account, you will be able to buy and sell stocks.
If you're still not sure whether you should buy stocks and shares UK, you might want to take a look at the pros and cons table below.
Pros and Cons of Buying Shares
| | |
| --- | --- |
| Pros | Cons |
| Great profit potential. | Emotional roller-coaster. |
| You don't need a lot of money to get started. | Some investments might involve risk management. |
| A good way to withstand inflation. | Time-consuming. |
| Easy to buy or sell. | Highly competitive investment tool. |
Buy Shares Now From eToro, the UK's #1 Trading Platform

FAQs
Who is responsible for regulating the UK stock market?
What kind of payment can I use to buy shares online in the UK?
What are stock investment expenses?