How to Buy Aave Australia – Buy Aave In Under 5 Minutes
Based in Australia and looking to buy cryptocurrency Aave? As the native crypto for the most popular DeFi (decentralised finance) protocol that allows users to borrow and lend other cryptos in seconds, Aave (pronounced 'ah-veh') is a hot prospect for investors.
Look no further for step-by-step instructions on where and how to purchase Aave – plus a detailed overview of this crypto asset.
Buy Aave at eToro – #1 Broker
How to Buy Aave Australia – Quick Four-Step Strategy
Take just 4 steps to buy your first Aave on the eToro trading platform:
Step 1. Open an account with eToro:

head to the

eToro

website. To get started, click 'Join Now'.

Step 2. Upload ID:

eToro's verification process is not hard work. You will need to upload proof of identity (POI) as well as proof of address (POA). Conveniently, the eToro app will scan your IDs for you. 

Step 3. Deposit funds in your account: you can use a

credit or debit card, bank transfer, or e-wallet.

Step 4. Buy Aave:

Use the eToro search bar at the top of the screen: input 'Aave' and press return: then press the big blue 'Trade' button to place your order.
Why Buy Aave Australia?
Aave is a DeFi cryptocurrency based on the Ethereum blockchain. Aave comprises under 0.2% of the entire crypto sector by market capitalisation, but is the biggest DeFi lending protocol, with over $16 billion in crypto assets locked in. Roughly $250 million USD Aave cryptocurrency is traded every day.
You can use cryptos in general to balance your portfolio of steady stocks, bonds and ETFs. Investors nowadays look back on the financial markets of twenty years ago and, seeing how prices have risen, wish they had got in earlier; cryptos are such a new sector that the opportunity to get in at the bottom is there right now.
So what does Aave in particular offer in terms of technology?
As a DeFi cryptocurrency, Aave is the native currency for the Aave system which offers decentralised finance: specifically, Aave arranges smart contracts between lenders and debtors. Both institutions and private individuals use Aave to make the most of their crypto holdings. Aave manages a series of lending pools, drawn from the funds of Aave users who want to lend money sitting in their accounts in the form of any of 23 cryptos, including MANA, BAT and ETH. Lenders receive interest in the form of Aave aTokens, whereas the Aave crypto (AAVE) is a governance token. Buying Aave shows you have confidence in Aave's DeFi system.
The massive advantage to users of the Aave decentralised lending system is that, unlike with conventional banking, nobody has to trust the borrower or lender to proceed with a transaction safely. Risk management is handled by Aave.
Over the long-term, Aave is specifically designed to rise in value. How? 80% of fees collected in the system are used to burn the currency, thus reducing its supply – and therefore driving up its price. There is a maximum supply of 16 million Aave coins; in circulation are currently 13.2 million.
Where to Buy Aave Australia
1. eToro – Overall Best Way to Buy Aave Australia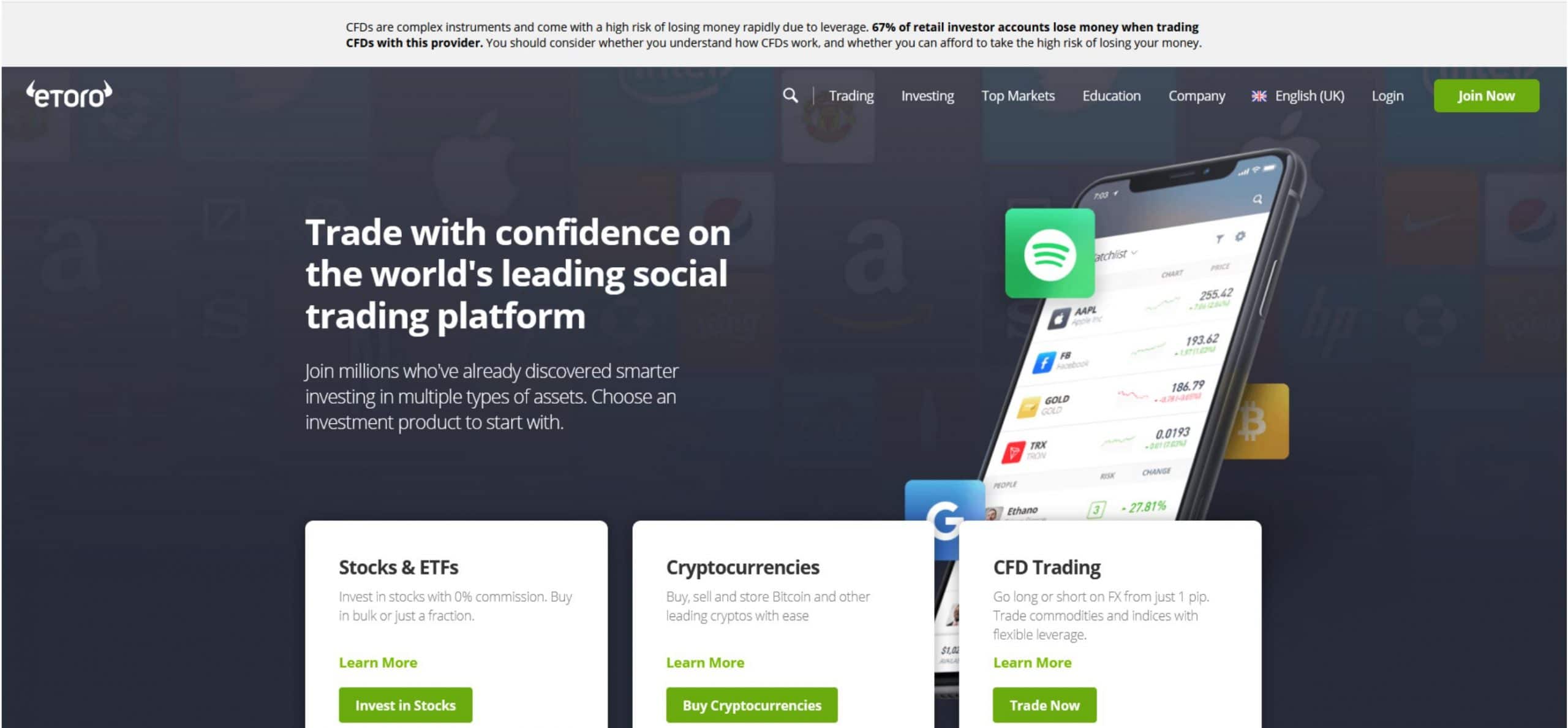 eToro is the hands-down favourite for crypto investing globally. Buy your Aave with eToro for a simple and reassuring purchasing experience.
Since its inception in 2007, eToro has developed a following of 20 million users. A slick interface, clear fee structure and plenty of assets to choose from accounts for that success – let alone eToro's free CopyTrader service, which allows you to copy successful traders for free (including crypto traders).
When it comes to cryptos, eToro is so popular because the only trading fee comes in the form of the spread. There are no hidden fees otherwise: all you will need to bear in mind is that depositing/withdrawing AUD into your account will attract a small currency conversion fee, and a flat fee of $5 applies to withdrawing funds.
When you invest in Aave, or any other crypto, with eToro:
eToro confirms that 'the percentage of the spread for buy and sell is the entire cost of the trade.' eToro calls the spread (the difference between buying and selling prices) a 'spread fee.'
You only need $25 (ie. roughly 35 Australian dollars) as a minimum crypto trade.
eToro keeps your crypto asset secure – you do not need to transfer it to a crypto wallet.
No overnight fees.
eToro — Aave Fees
The only trading fee you will pay to buy or sell Aave with eToro comes in the form of a 'spread' fee. This is not a fee charged on top of the spread between the offered Aave buy and sell prices; rather the fee is the actual spread itself, which eToro expresses as a percentage of the buy price.
Bid/ask spreads are well established as a means of trading in conventional stocks as well as in cryptos. These spreads are set by the broker as a way of covering their costs on processing your transaction. 'Ask' is the price at which you, the investor, buy your Aave at. And 'bid' is the price you sell at. The difference between the bid price and the ask price is called the 'bid/ask spread'.

When you trade Aave (or any other crypto) you will not need to worry about spotting which bid and ask prices apply. All brokers, including eToro, simply present you with a 'buy' and a 'sell' price. You just press the button to execute the trade.
Three key take-aways here are that:
eToro considers the bid/ask spread on crypto to be a fee in itself.
This 'spread fee' is expressed as a percentage of the ask (buy) rate.
The spread fee only applies once and applies automatically as part of buying at a slightly higher price and selling at a slightly lower price than the listed Aave price.
The more popular the crypto, the narrower the spread and therefore the lower the percentage fee on the ask price (the price you buy at).
For cryptos with high liquidity, eToro's spread percentage is very low. For popular Bitcoin (BTC), for example, which has the highest market capitalisation of all cryptos and claims 40%+ of the entire crypto sector, eToro charges a spread fee of 0.75%. Ethereum (ETH) – claiming roughly 20% of the sector – attracts a spread fee of 1.9%, as do Litecoin (LTC) and Bitcoin Cash (BCH).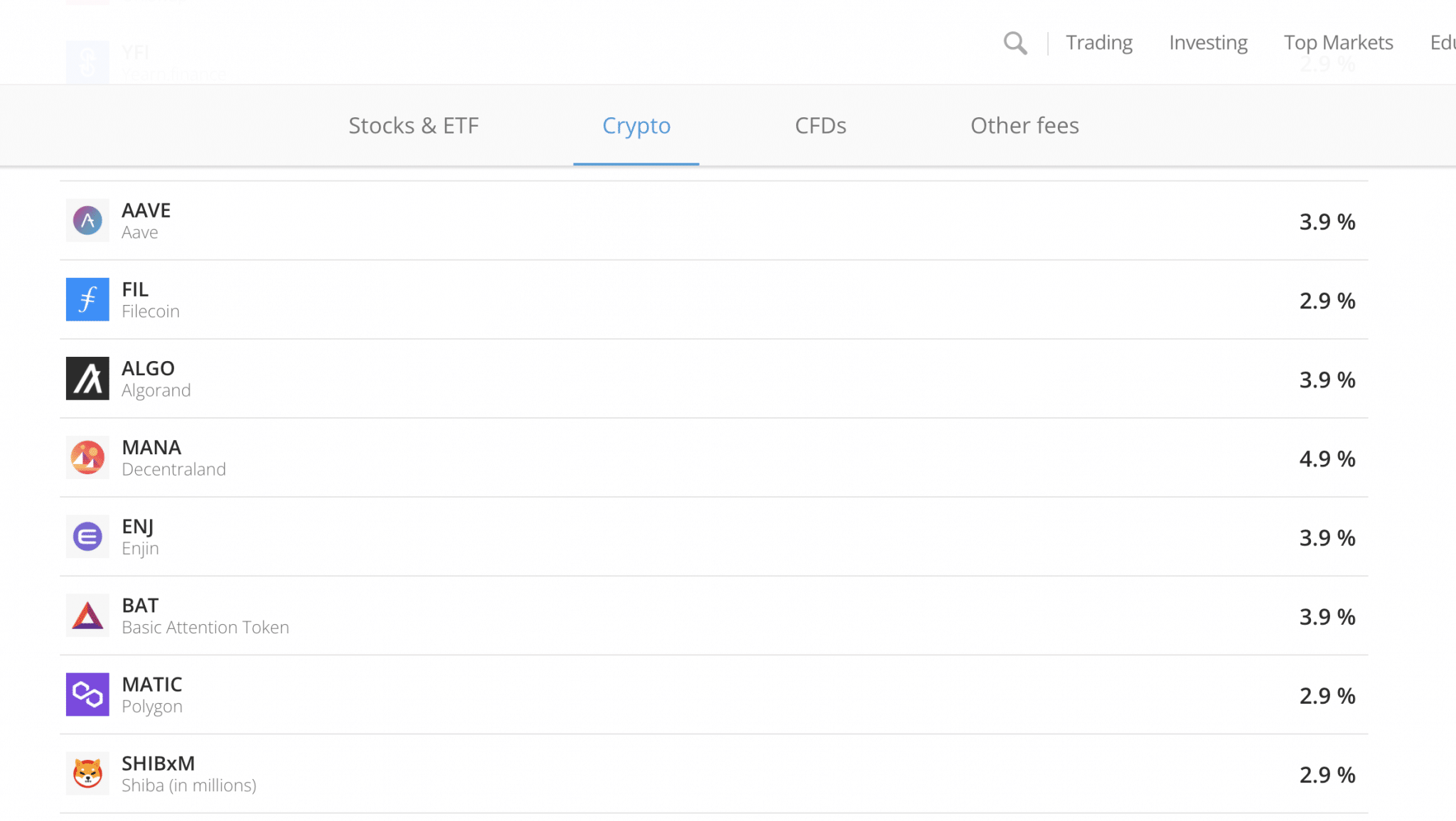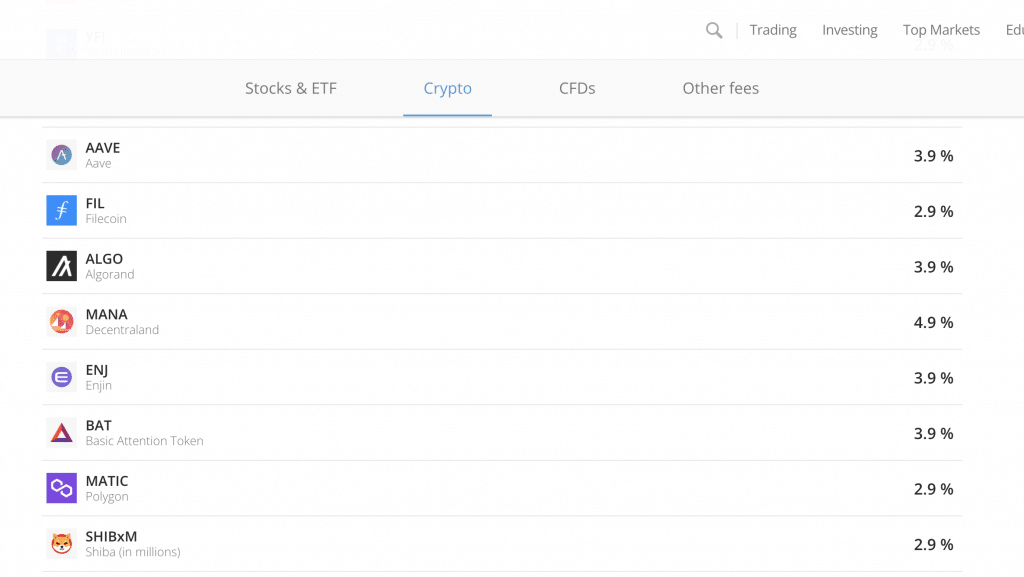 For Aave (AAVE), Etoro charges a spread fee of 3.9%. This is the same spread fee as for Algorand (ALGO), Enjin (ENJ) and Compound (COMP). Higher spread fees, up to 5%, are charged by eToro on cryptos with lower market capitalisations.
eToro Spread Fee on Aave – Example
| | |
| --- | --- |
| Your initial investment: | $100 USD |
| Sample Aave ask (buy) price: | $500 USD |
| Your position size: | 0.2 Aave units |
| eToro typical spread for Aave: | 3.9% |
| Total spread fee for round trip of Aave buy and sell: | = 3.9% (spread fee) * $500 USD (Aave buy price) * 0.2 (your position size) = $3.9 USD. |
Note that the spread fee may change over the course of you buying and selling Aave. This might happen if the crypto's liquidity changes dramatically. eToro spread fees, like all brokers' spread fees, are therefore indicative only.
Pros
No transaction fees or cryptos other than the cost of the spread.
Buy and sell Aave in seconds.
Practice crypto trading with no risk using eToro's free $100,000 USD virtual demo account.
120 cryptos to trade.
Transfer cryptos from your investment account into eToro's crypto wallet, and then spend or transfer them. (Not currently available for Aave, but a possibility in the future).
Cons
Customer service not the fastest.
$5 USD withdrawal fee.
Trading denominated in USD.
2. Coinbase.com — Buy Aave Quickly From Australia With Just A Debit Card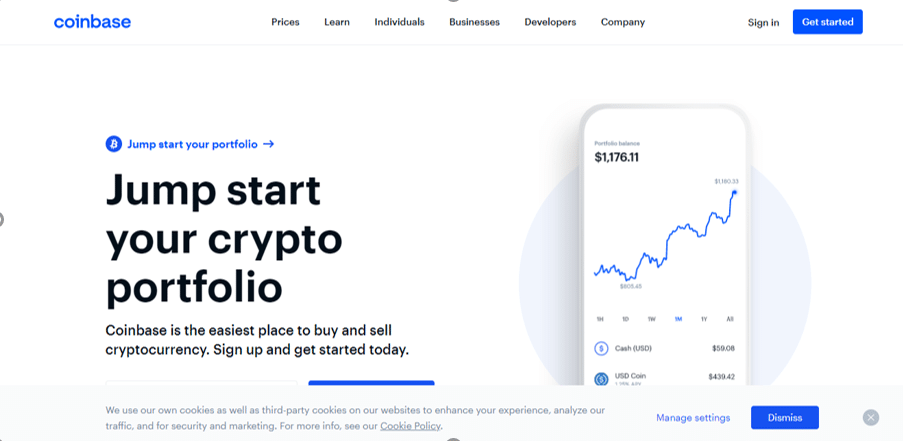 Coinbase is a US exchange that welcomes Australian clients who want to purchase Aave with a debit card. A 3.99% fee applies. No other form of payment or deposit is possible for Australians.
Coinbase has a big reputation for great crypto investing going back to its inception in 2012. It boasts 56 million users drawn to its regulation by US authorities, excellent security and simple approach. There is tonnes of educational material about cryptos, and over 50 cryptos to choose from. A minimum trade of $2 USD applies.
Pros
US-regulated.
State-of-the-art security to keep your cryptos safe.
Fantastic range of educational materials.
Simple, slick interface.
Mobile app.
Cons
Australian investors limited to debit card purchase.
Coinbase customer service is only available via email/help ticket.
A reputation for higher fees than other brokers.
3. Capital.com — New Australian Service To Trade Aave Australia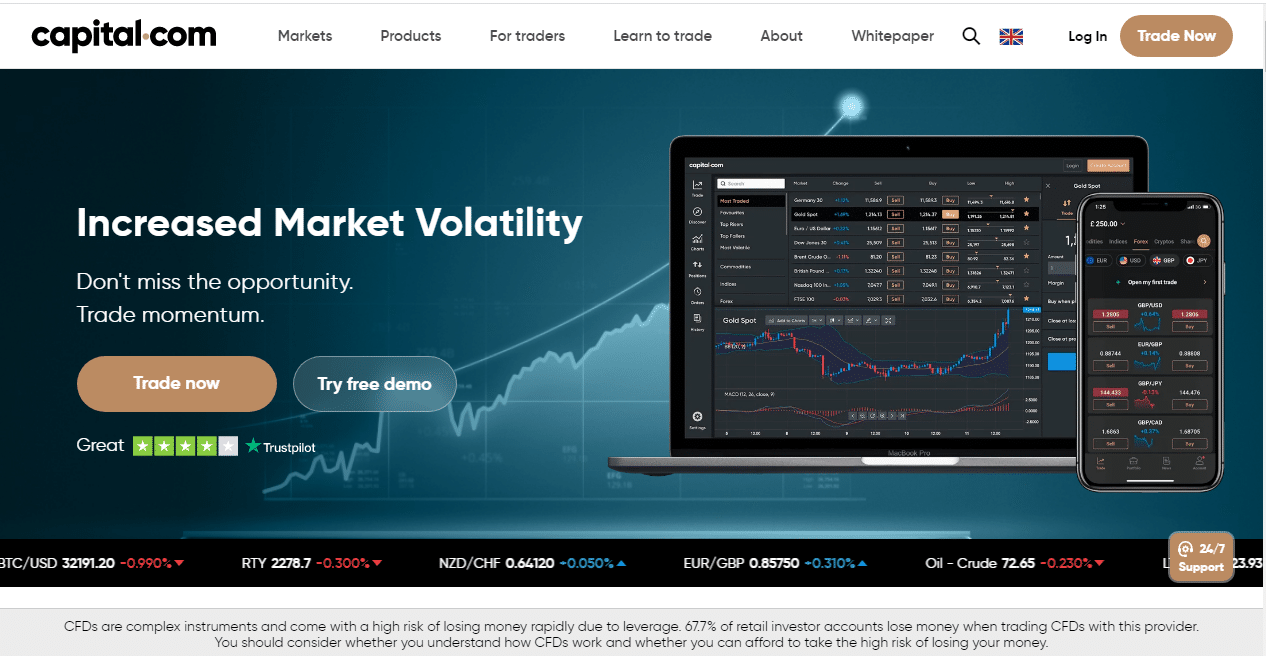 In September 2021, Capital.com announced the opening of its services to Australians. A Capital.com office has been opened in Melbourne, and trading will be regulated by the Australian Securities and Investments Commission (ASIC).
Capital.com already have a formidable reputation in Europe and the UK as the top broker for CFDs (contracts-for-difference), including crypto trading.
CFDs are a convenient way of trading for some because, with them, you don't ever own the crypto you buy, but you do benefit/lose out from its change in price. CFDs allow you to leverage your position but, if you are new to trading cryptos, you should gain more experience before taking them on. Note that CFD trading involves your account is run on margin, which is not suitable for beginners.
Note that if you want to buy Aave to use elsewhere – perhaps in its native habitat of the Aave lending pool environment – Capital.com is not for you. That's because Capital.com crypto trades are executed as CFDs. So you will never actually own the underlying Aave.
Pros
2 million existing clients.
Well-regulated.
Lots of positive Trustpilot reviews.
Good range of educational materials on Capital.com's standalone platform Investmate.
Simple, slick interface.
Mobile app.
No commissions on trades.
Cons
Margin account only.
Not suitable for crypto beginners.
4. Binance.com — Giant Exchange To Buy Aave Australia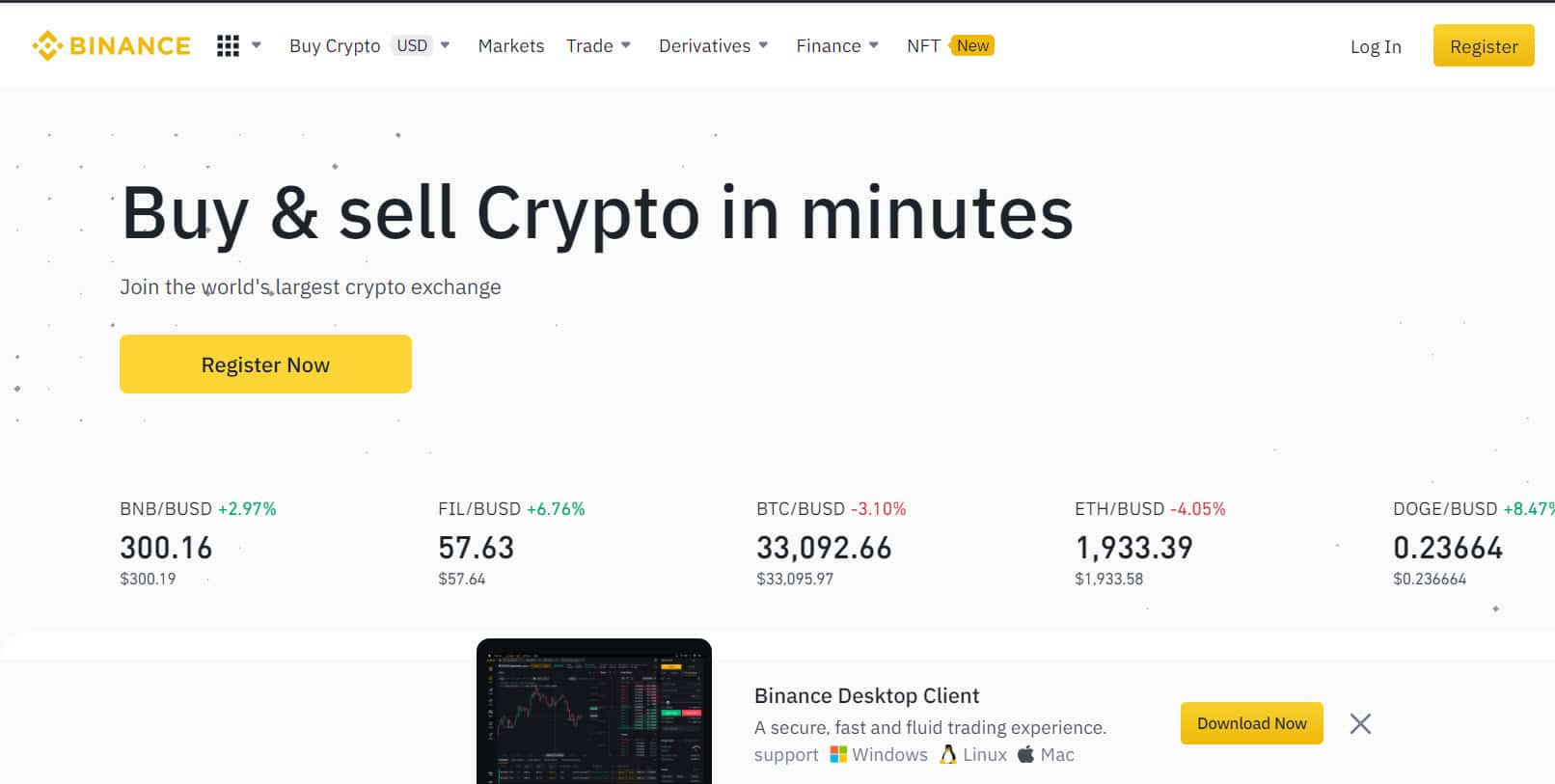 Binance is the world's biggest crypto exchange. It offers 500 cryptos to trade in – including Aave.
On the plus side, Binance offers many options for the more advanced trader. On the minus side, these options can be overwhelming for the new crypto investor; the Binance interface also takes some getting used to.
Once you have verified your ID, you can deposit Australian Dollars (AUD) into your Binance account straight from your bank account using PayID.
Binance provides dedicated help pages to support Australian customers.
Pros
The largest crypto exchange.
Over 500 cryptos to trade.
Some of the cheapest fees around.
Advanced charting tools.
Dedicated Australian support.
Cons
Newbies might get overwhelmed by all the tech options.
No integrated digital wallet.
Problems with regulation: under investigation by the Securities and Exchange Commission of Thailand, as well as both the Justice Department and IRS of the USA.
5. Avatrade — Best MT4 & MT5 CFD Broker to buy Aave Australia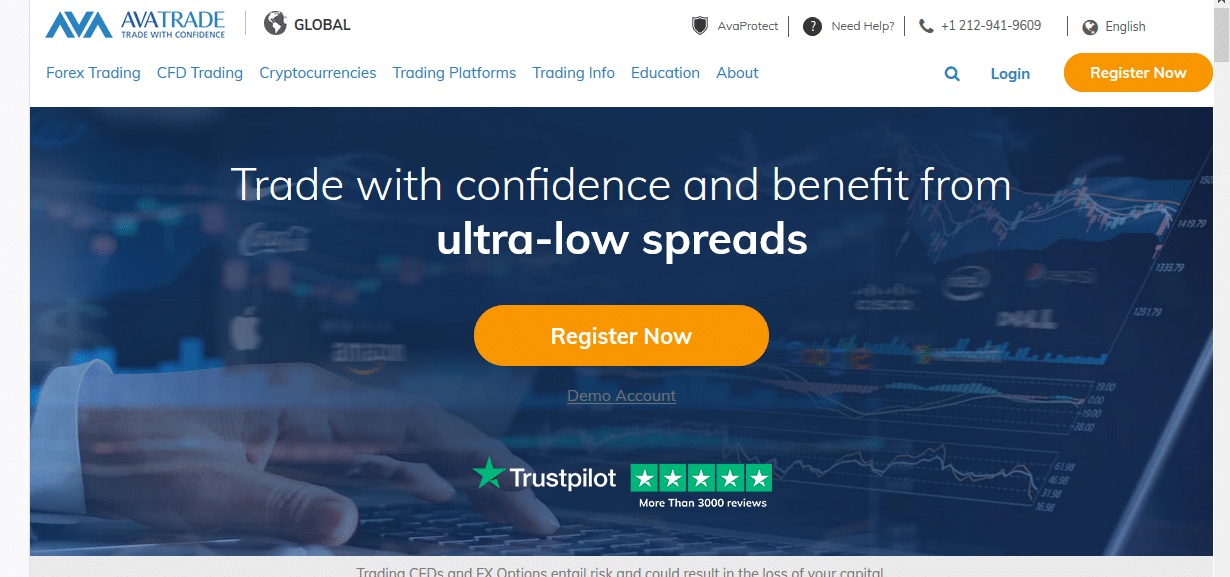 Founded in 2006, AvaTrade is one of the smaller online brokers, with 200k users. AvaTrade is making a name for itself thanks to its provision of a number of trading platforms. Not only does AvaTrade provide access to MetaTrader 4 and MetaTrader 5, but it also allows the use of the main copy trading platforms DupliTrade and ZuluTrade. What's more, AvaTrade offers its own copy trading platform (for mobile only) called AvaSocial.
Australian investors will be pleased to know that AvaTrade offers its own dedicated Australian website where you can get started with your crypto journey and buy Aave.
Principally a forex broker, AvaTrade offers access to cryptos and other assets and boasts regulation from many sovereign governments, including the Australian Securities & Investments Commission (ASIC).
Note that, as a dedicated CFD broker, AvaTrade offers leveraged trades and margin accounts only. This makes this a great broker for seasoned investors. But newbies should start their investment journey with eToro and conventional trading.
Pros
Great support for copy trading.
Fee structure based on spreads (like eToro).
Full support for MT4 and MT5 platforms.
Good regulatory accreditation.
Strong educational support.
Cons 
Stringent non-activity fees.
Patchy customer support.
Buy Aave in Australia – eToro Guide
Buying Aave is easy. You only need to take four steps:
Step 1: Sign Up
You only need $25 USD (roughly $35 AUD) to make your first Aave purchase. But first you will need to open your account with eToro and make a minimum first deposit of $50 USD (roughly $70 AUD).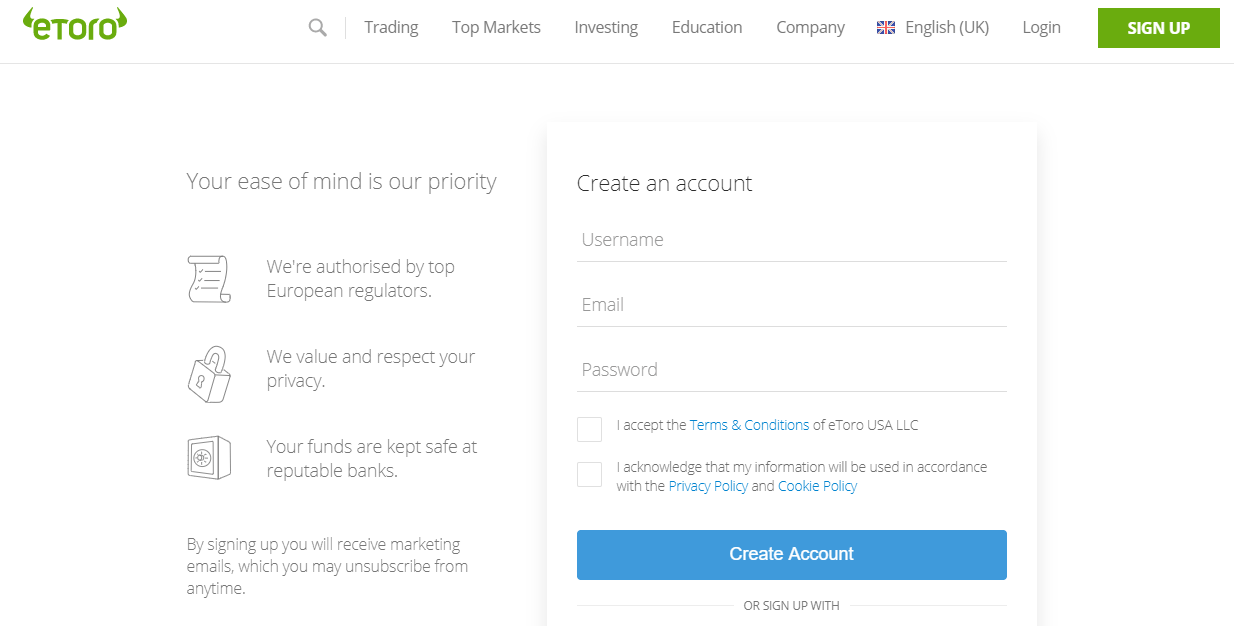 Fill in the form to continue. 
Step 2: Verify Your Account & Upload Your ID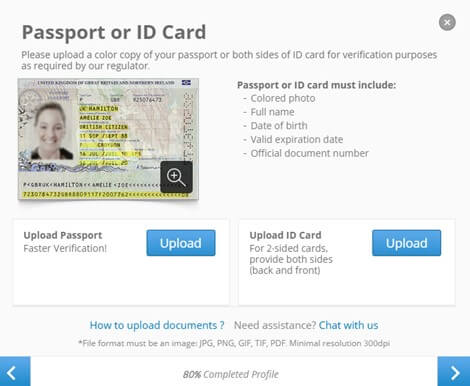 eToro requires Proof of Identity (POI) and Proof of Address (POA). The software will take care of scanning the relevant documents – or you can supply scans yourself. These will be then checked by eToro's verification team. The process only takes a few days.
Step 3: Deposit Funds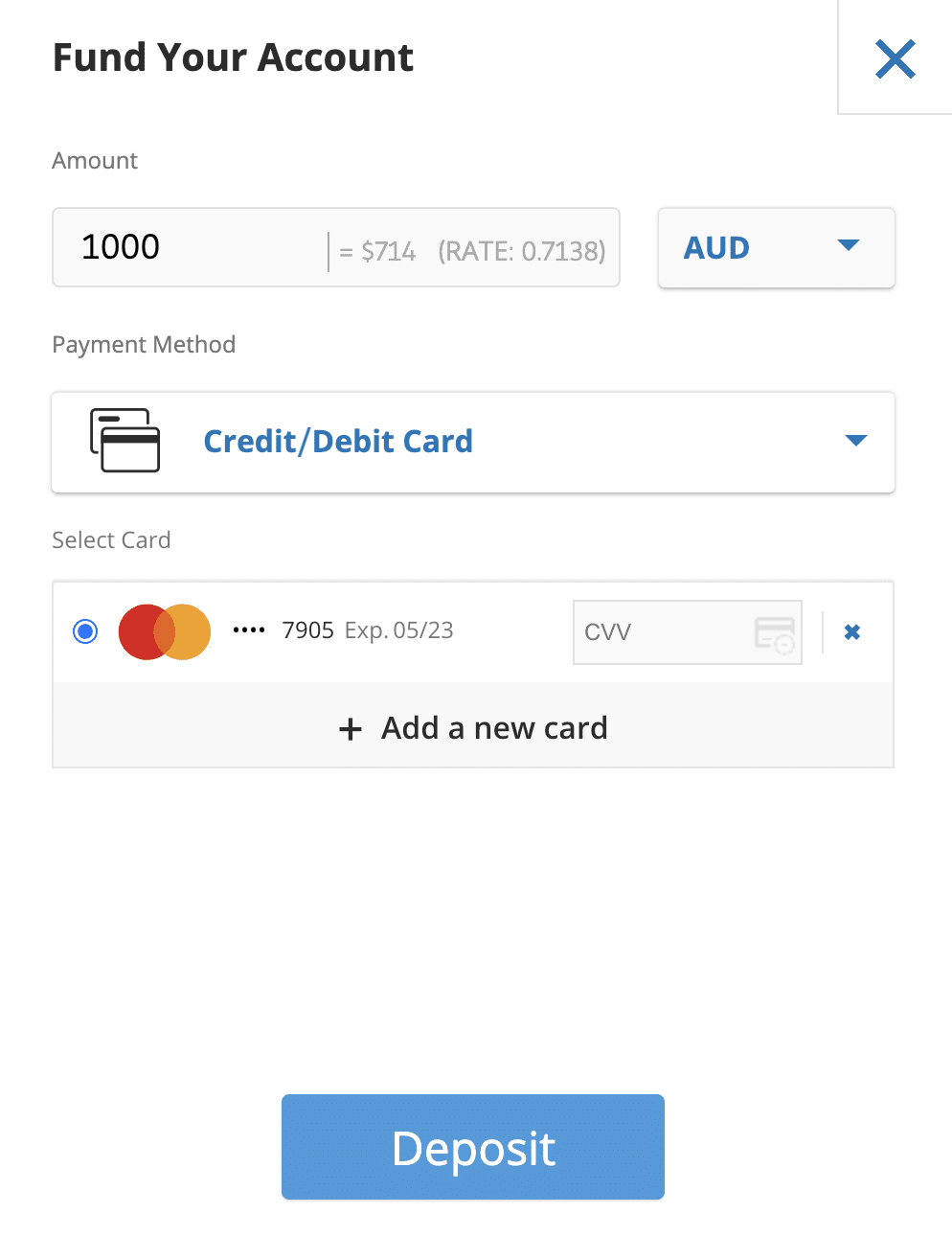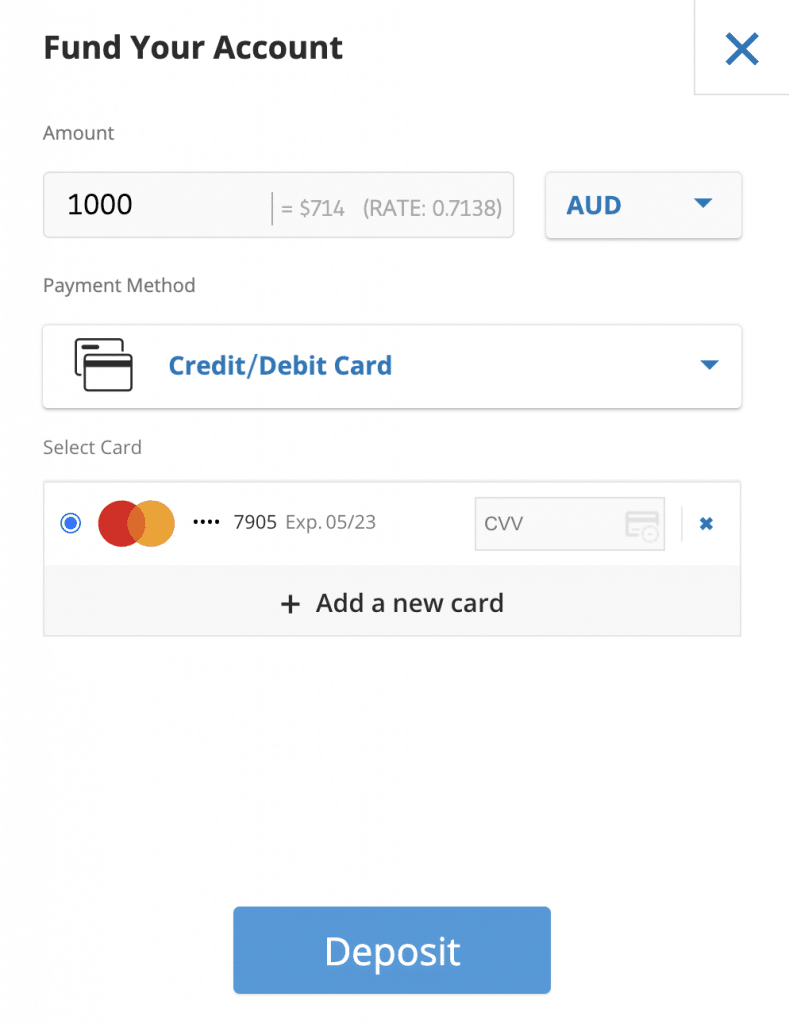 eToro accepts Australian dollars (AUD) as a deposit currency. To deposit, enter your eToro account, click on the blue 'Deposit funds' button at the bottom, enter the amount and type of currency (AUD) and select your payment method.
Step 4: Search for Aave & Buy
In eToro, enter 'Aave' in the top search bar. Then select 'AAVE' as it comes up, highlighted in blue. This will take you to the Aave page. Press the blue 'Trade' button on the right to access buying options.

Aave Price Analysis: Should I Buy Aave?
Aave is currently priced in the $300 USD region. A year ago in October 2020, it was priced at $60 USD. That's a five-fold increase in twelve months.
In May 2021, Aave hit an all-time high (ATH) of $662 USD. Two months later, its price almost halved – along with prices in the entire crypto sector – thanks to China clamping down on cryptos as well as influential Tesla CEO Elon Musk suggesting that Bitcoin mining was ruinous for the environment.
Risks Of Buying Aave In Australia
Aave is not the only DeFI crypto. Nine others are bigger by market capitalisation, including Terra (LUNA), Uniswap (UNI), Avalanche (AVAX), Chainlink (LINK) and Wrapped Bitcoin (WBTC). There is always the risk that a competitor could seize a decisive advantage and come to dominate the market. There is also the risk that market sentiment could swing, for whatever reason, against DeFi lending/borrowing in general; the way things are going, this is a low risk, because DeFi offers so many advantages over conventional banking systems.
Aave Price Prediction & Analysis
Coin Price Forecast has the price of Aave hitting $1000 USD by the end of 2021. Digital Coin Price are less optimistic, but still bullish with a price prediction of $808 USD by the end of 2021. GOV Capital are more enthusiastic, predicting an Aave price of $1340 by the end of 2021 and over $4700 by the end of 2025.
Predictions from Longforecast.com have Aave hitting highs of $751 USD to $871 USD in October 2023.
When it comes to predicting the price of Aave, so much depends on pressures on the crypto market as a whole. Because cryptocurrencies are a relatively new financial area, price volatility is high and market sentiment is very influential.
Why Is Aave Popular?
Aave is the ninth-largest DeFi crypto by market capitalisation (according to the influential coinmarketcap.com). Aave's market capitalisation is currently just over £3.9 billion USD with around $250 million Aave traded in a day.
The top 3 DeFi cryptos by market capitalisation are Terra (LUNA), Uniswap (UNI) and Avalanche (AVAX). Avalanche is the only top 10 DeFi crypto to be bucking the bullish trend and is down 1% in the last 7 days. Aave is up almost 12% in the same period.
Aave has a reputation for punching above its weight when it comes to offering competitive lending/borrowing compared to the bigger players in the DeFi market.
Is It Always Safe To Invest In Cryptocurrency?
Investors with a bearish view say that the bottom could, theoretically, fall out of the crypto sector. Why? Because, unlike conventional shares in a company, cryptos do not give investors a share in a money-making enterprise; rather, they give you some currency that is used in the operation of a money-making enterprise. It is a fine distinction. Over the long-term, it may conceivably turn out to be a crucial one. (Note that, in the case of Aave, the currency is a governance token employed in the DeFi Aave system of arranging smart contract loans.)
The bearish long-term view on cryptos fails to take into account two key positive crypto factors. Firstly, the cryptocurrency sector is valued at over $2 trillion USD and comprises over 9000 cryptos. That's some market to disappear overnight! Secondly, this year has seen institutional investors (banks/hedge funds) flock to cryptos. In a January 2021 poll (conducted by Nickel Digital Asset Management), 85 out of 100 wealth managers from the US, UK, Switzerland and Germany said that they planned to increase their crypto holdings over the next two years. 56% said they expected valuations to rise across the sector. And 40% said they were attracted to cryptos as a means of hedging against inflation.
High volatility in the crypto sector means that prices can jump around, but the fundamentals of the sector as a whole are well-established and continually firming up.
Selling Aave: A Quick Overview
Selling Aave will not be a problem for you provided you are using a reputable broker. Aave's liquidity is reasonable, and your broker should have no problem taking your trade. If you are using eToro, simply select Aave in your portfolio and press the 'Sell' button.
Conclusion
Aave is a crypto with a lot going for it. DeFi borrowing/lending is likely to continue its rise in popularity amongst institutional and private investors, and Aave – with the largest amount of crypto funds locked in amongst DeFi lending structures – is well-placed to prosper.
If you want to buy Aave, the broker eToro is a great place for beginner investors to start their crypto journey. eToro offers growing benefits to the more experienced investor too. eToro has consistently committed to upping their service game, which means the purchasing experience continues to offer more in the way of choice as well as simplicity than competitors. What's more, if you want to diversify your spending outside of crypto Aave, eToro's CopyTrader facility allows you to follow and automatically copy the trade of more experienced crypto investors.
eToro.com – the #1 Broker Platform to Buy Aave in Australia
FAQs
Is Aave A Good Investment?
Is Aave Safe To Invest In?