Buy Ripple – How To Buy XRP in South Africa In Under 5 Minutes
If you're thinking of how to buy XRP in South Africa, our detailed guide will help you achieve it within the shortest possible time. Ripple's appearance in the crypto world enables funds transfers by financial institutions in a quick and low-cost approach.
Through this article, we'll explain how to buy Ripple in South Africa and why. Also, the guide exposes some leading and best brokerages such as Capital, Coinbase, and Binance, where you can buy Ripple.
Buy Ripple (XRP) at Capital.com –  South Africa's #1 Platform

How to Buy Ripple – Quick 4-Step Guide
Here are some simple steps in buying Ripple in a few minutes through the top broker, Capital.com.
Step 1: Open an Account with Capital.com – The easiest way to buy Ripple in South Africa is through Capital.com. a CFD broker. Sign-up for an account using your detail and enjoy a 0% commission on trading on the platform.
Step 2: Upload ID

– To become eligible for trading, you must verify your account. Simply upload any government-issued ID (passport or driver's license) and a recent utility for your account verification process.

Step 3: Deposit Funds

– Deposit your funds using any supported payment option on the platform.

Step 4: Buy Cryptocurrency

– Once you get a confirmation for your deposit, you can buy your digital asset. First, search and select the crypto you want to buy from the search box. Then, input the amount and click the TRADE button to complete the buying process.
Where to Buy Ripple?
We've got a review of three top platforms suitable for buying Ripple tokens in South Africa.
1. Capital.com – The Overall Best Platform to Buy Ripple South Africa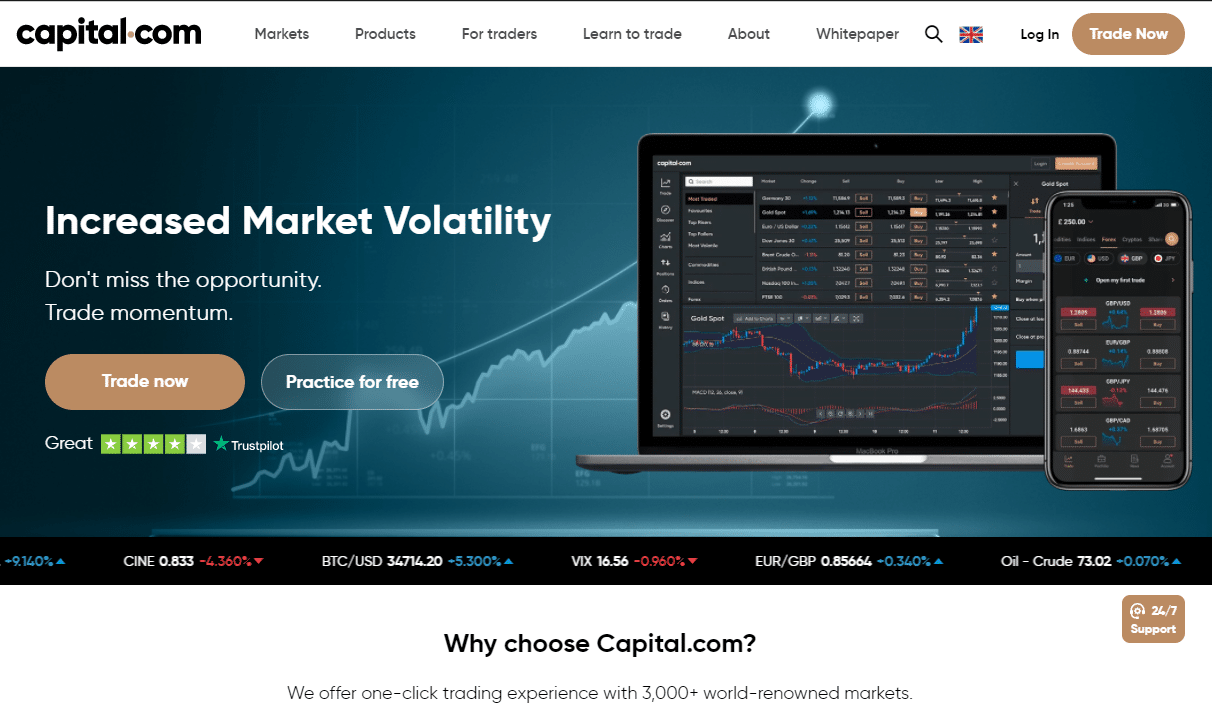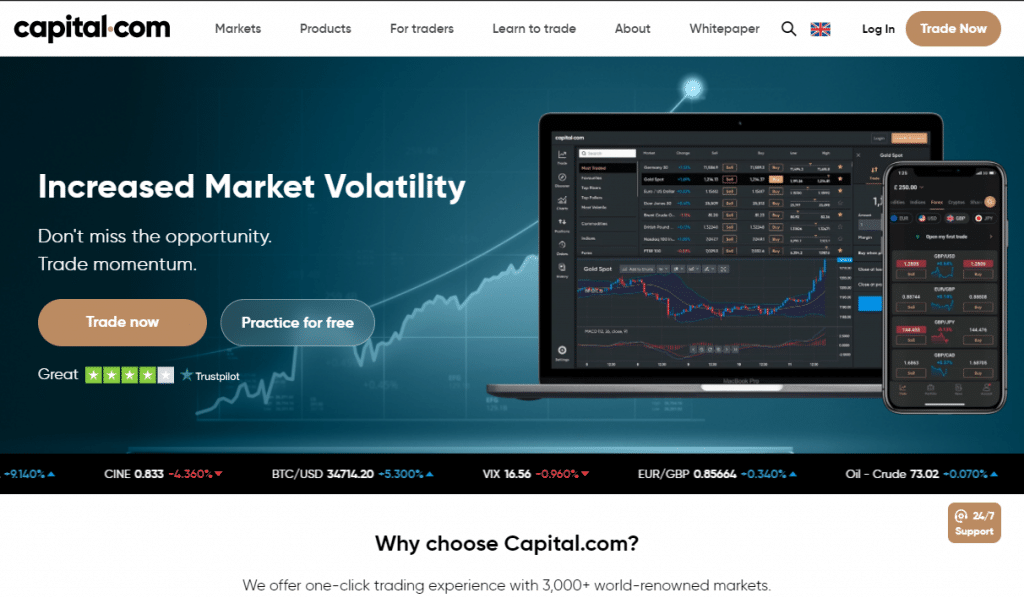 Capital.com is a global CFD and forex broker with physical offices in Cyprus, London, and Belarus. It is referred to as a fintech company founded on April 7, 2016, with Ivan Gowan.
The company aims to enhance the world of finance by making it more helpful, accessible, and engaging.
This broker has lots of financial assets apart from Bitcoin. You can access stocks, commodities, ETFs, Forex, Indices, etc. Bear in mind that Capital.com allows investors to trade crypto as CFDs. So, you don't have to worry about the storage or ownership of your Bitcoin.
Capital.com is regulated by the Financial Conduct Authority(FCA) UK and the National Bank of the Republic of Belarus (NBRB).
It's also regulated by the Cyprus Securities and Exchange Commission (CySEC) and operates in over 183 countries globally. Capital.com is regarded as a reliable broker because it's regulated by the top-tier FCA.
Capital Fees
Items
Fee
Fee Terms
Deposit
0
No Deposit fee
Withdrawal
0
No Withdrawal Fee
Trading fee
$3.1-$6.4

(45.2SGD -93.46SGD)

varies
Inactivity
low
No inactivity fee
Pros
It has excellent customer support that provides a quick and detailed response.
The account opening process is easy, user-friendly, and fast.
It has low stock CFD fees.
It takes as low as $20 (27.04SGD) direct fund deposit, and $250 (338.01SGD) for bank transfers.
com charges a zero-commission fee for deposits and withdrawals.
Cons
The price alerts are not included in the web trading platform
The available product range is limited to CFDs like shares, cryptos, etc.
Minor account base currencies are also missing in the platform.
2. Coinbase – The Best Beginner-Friendly Platform To Buy XRP in South Africa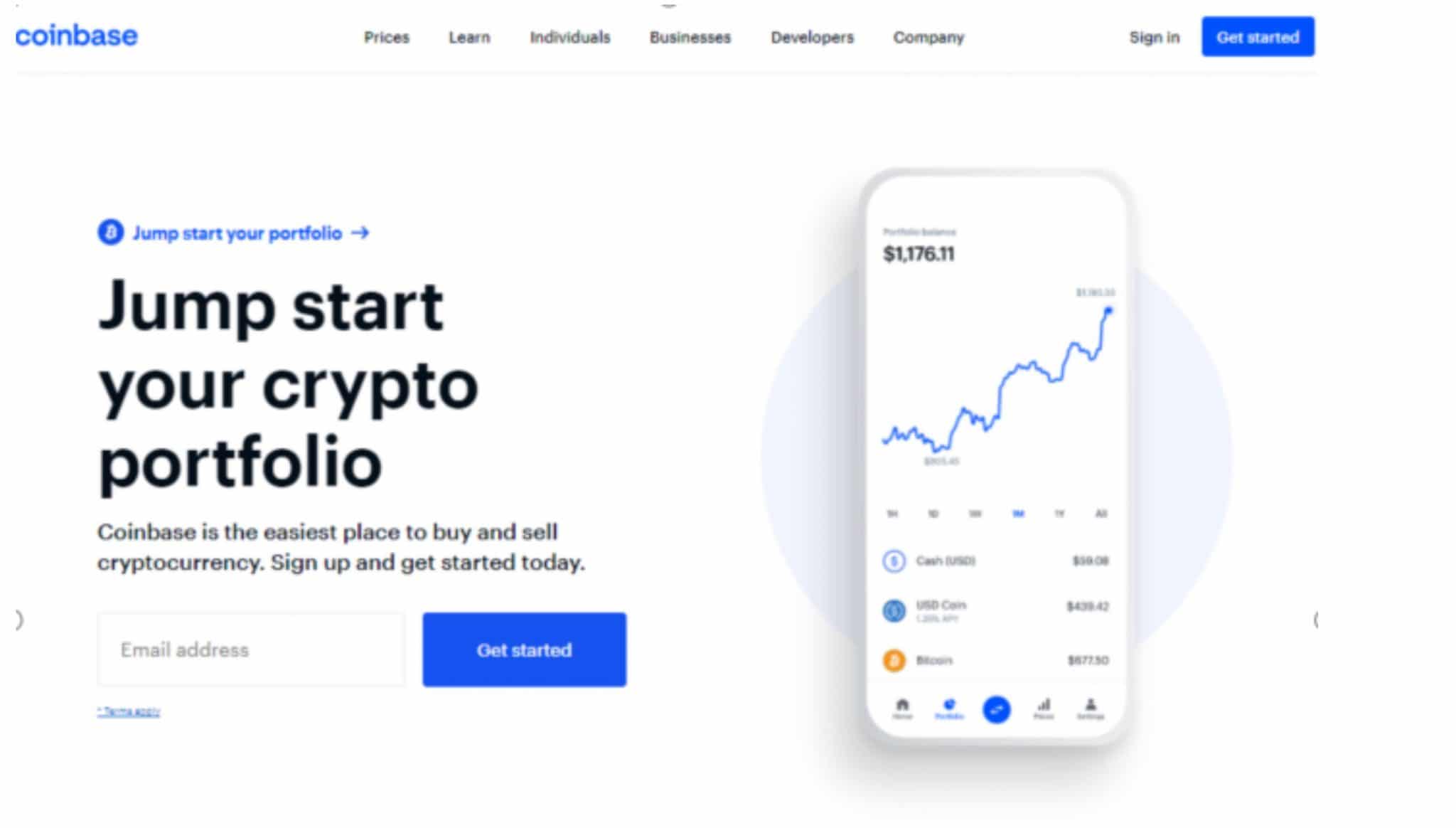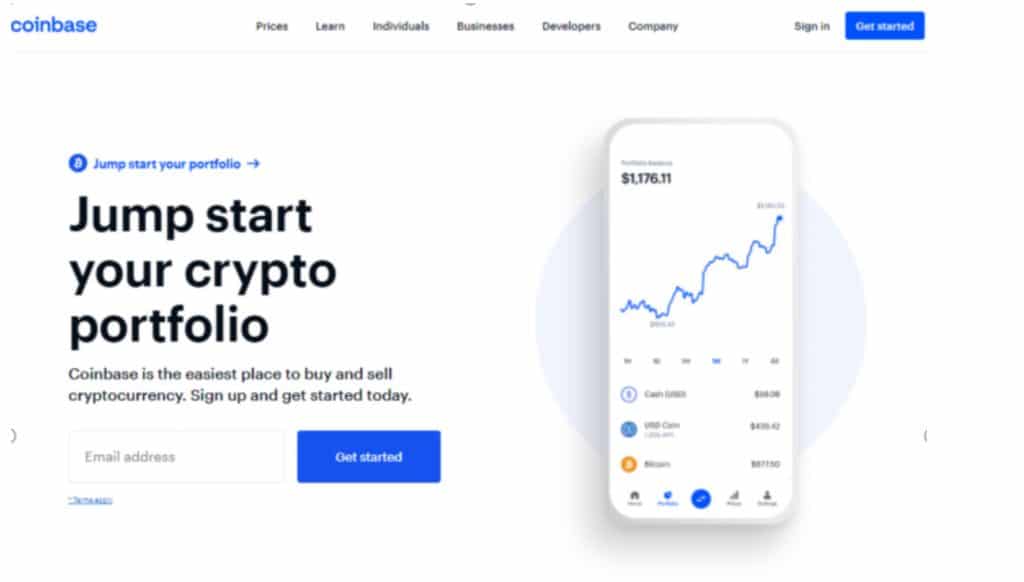 Coinbase is reputed as the best user-friendly platform for transacting cryptocurrencies. The exchange has over 35 million users. Moreover, the platform is secured, being under the regulation of the FCA.
While using Coinbase to buy Ripple in South Africa, you can access several other cryptocurrencies. The exchange gives its customers maximum security through the two-factor authentication (2FA) feature. You can also utilize the address whitelisting and email notification features on the platform.
Direct buying of Ripple is temporarily suspended in Coinbase at the time of writing this article. This is basically due to the SEC's accusation on Ripple Labs (the XRP developers). However, since many investors are still buying Ripple, you can also diversify into a unique digital asset.
So, here's how to buy Ripple through Coinbase. Besides having an exchange account on Coinbase, you must have the Atomic Wallet app on your phone. The buying process requires that you first get Stella Lumens (XLM) before swapping it for Ripple.
To create an exchange account on Coinbase, visit the website and register with your details. Next, verify your account by uploading your ID and any recent bank statement or utility bill. Proceed by depositing your funds. You can transfer Rands using debit/credit cards or bank wire.
For debit/credit card deposits, Coinbase charges 3.99% of the deposit amount. The exchange will then convert your Rands to USD to facilitate the purchase for Stella Lumens (XLM).
To buy XLM, click on the Buy/Sell button on your account. Search through the list of the cryptocurrencies to select Stella Lumens (XLM) from the Buy option. XLM is reputed as the best swapping coin since it has low fees.
Continue by selecting the amount of XLM to buy. This will be dependent on the amount of XRP you will get once the swapping is complete. Then conclude by clicking on BUY NOW.
Once you've gotten your XLM, you can proceed to swap it for Ripple. First, go to your Atomic Wallet. From the search box, search and select XLM. Next, click on the 'Receive' button. Then copy the address of the XLM.
Return to your Coinbase account and click on the SEND/RECEIVE button. Next, on the 'TO' box, paste the XLM copied address. Then select XLM from the PAY WITH area and click the 'CONTINUE' button.
It will take some minutes for the XLM to move to the Atomic Wallet. When it finally does, click on the EXCHANGE tab. Proceed by selecting XLM for YOU SEND, and XRP for YOU GET. Then click SEND ALL. Complete the entire process by clicking the 'EXCHANGE' button. You will finally get XRP coins.
Coinbase's Transaction Fees
| | |
| --- | --- |
| Transaction | Fees |
| Commission  on trading | 1.49% |
| Debit card transfer | 3.99% |
| Bank Deposit | 0% |
| Withdrawal (minimum) | R7.50 |
| Crypto conversion | 0.5% to 2% |
| Purchases | 0% to 0.5% |
Some of the pros and cons of using Coinbase are below.
Pros
The best user-friendly platform for beginners.
Easy funds withdrawal to e-wallets like PayPal.
Has over 35 million users.
Offers a wide range of cryptocurrencies.
Gives maximum security through its 2FA feature.
Cons
High fee of 3.99% for deposits through debit/credit cards.
3. Binance – The Largest Platform for Trading Volume and Liquidity to Buy Ripple in South Africa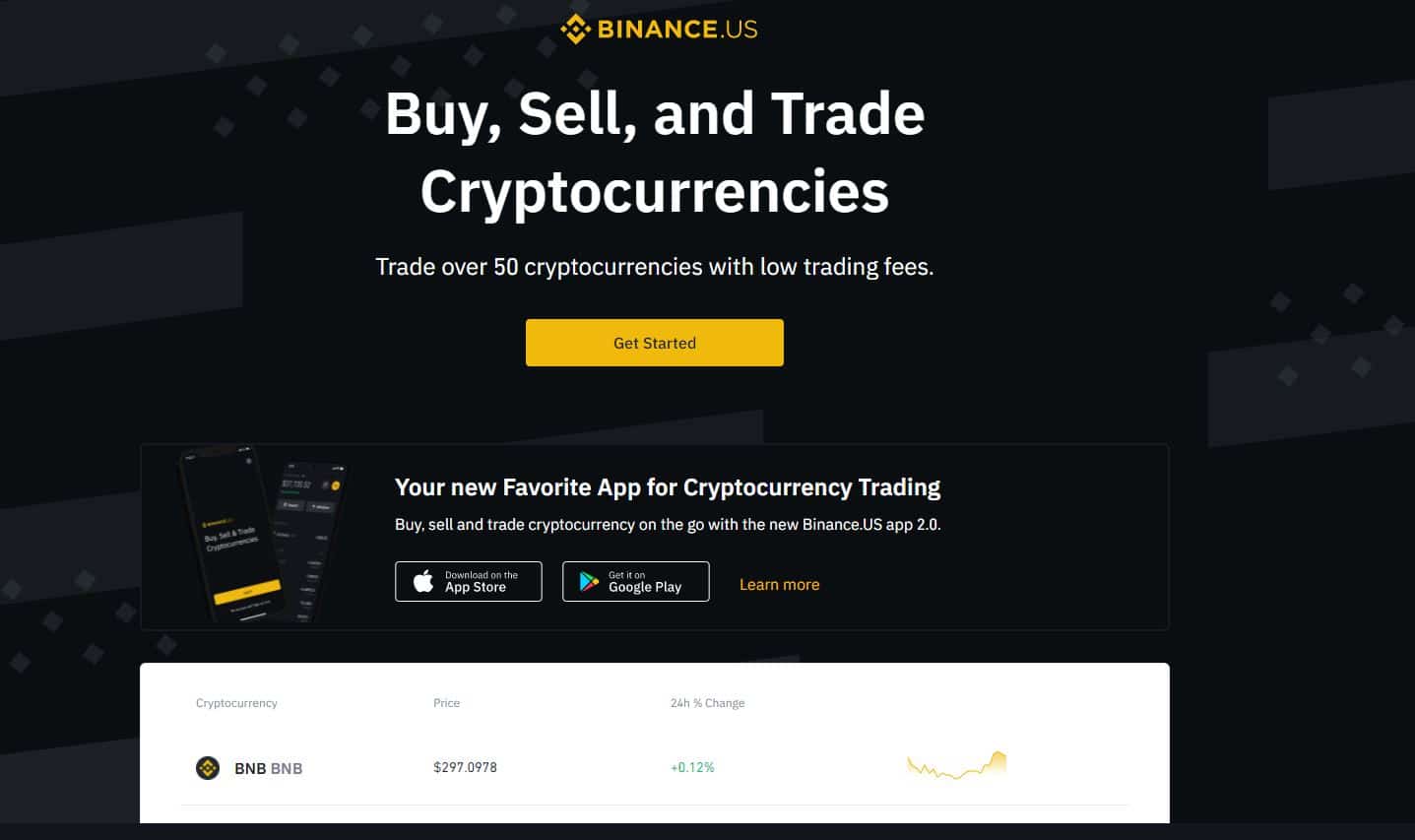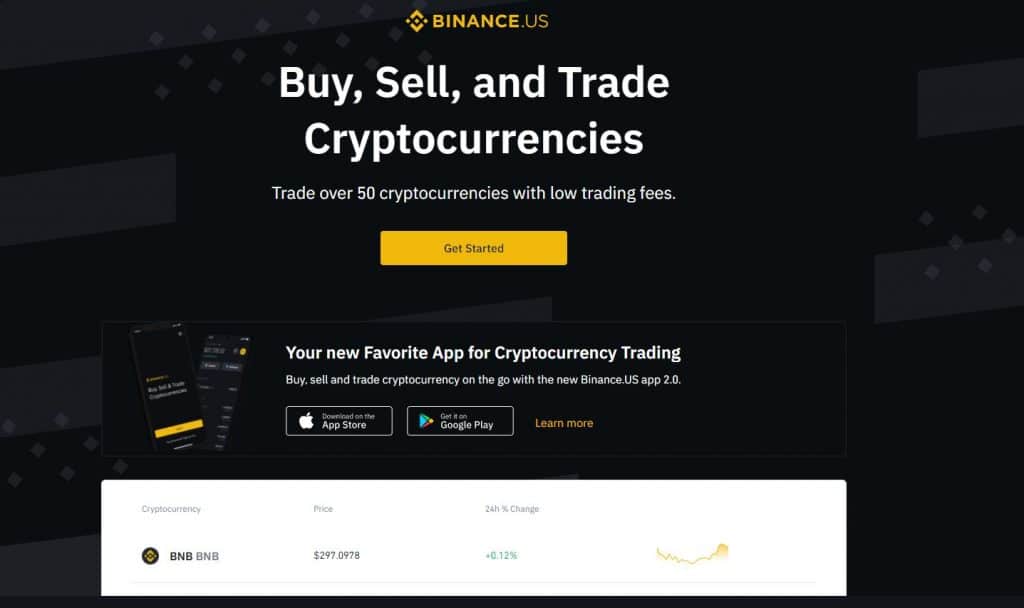 Binance is the largest global platform in trading volumes for digital assets. It has a great reputation in the crypto industry, attributed to its low-fee policy and security for transactions. The exchange has thousands of cryptocurrencies listed on it. This long list attracts crypto investors who want to expand their digital portfolios.
When you are considering where to Ripple in South Africa, Binance is a great platform for you. However, you won't be able to buy Ripple directly with Rands on Binance.
You will need first to buy another prominent cryptocurrency such as Bitcoin, Litecoin, or Ethereum and exchange it for Ripple. You can buy Ethereum or the other altcoins on Binance with Rands by following our guide on How to buy Ethereum in South Africa.
First, visit the exchange website to open an account. You will fill the on-screen form with your details such as name, email address, phone number, and others. Then upload your ID and other KYC documents to verify your account.
Proceed and transfer your funds into your account. Binance supports funds transfers through credit/debit cards and bank transfers.
The card transfers are almost instantaneous and have faster confirmation for the deposits. However, it attracts a deposit fee of about 3% to 4.5% depending on the transferred amount.
For bank transfers, you'll get an intermediary account from Binance to move your funds. Though there's no charge for it, the transaction takes 48 hours before getting your deposit confirmation.
Binance will then convert your Rands to USD from where you can first buy Ethereum. Once you've purchased the Ethereum, you can proceed to exchange it for Ripple on the platform.
For the exchange, you will search for the crypto pair that you want to exchange for Ripple, in this case, Ethereum. So search for XRP/ETH pair.
You must ensure that your 'LIMIT' tab is active when buying Ripple through the crypto exchange pair. This is because by using the limit buy option, you'll buy Ripple at a very low price than what is obtainable through the market tag.
Though limit buys may take a longer period to execute, they remain the best cost-effective means for both buy or sell orders. Also, they are easy and simple to use that even newbies can conveniently handle.
You will enter the amount of Ripple you desire to buy. Also, you can input the percentage of your funded tokens to use like 25%, 75%, or 100%.
This will display in the 'AMOUNT' box the equivalent Ripple you will get from the crypto pair exchange. Then, complete your purchase by clicking the BUY button to get your XRP coins in your account.
The exchange is insured by FDIC. The Binance platform provides its users with a web wallet for storing their cryptocurrencies.
The wallet is secured by two-factor authentication (2FA) powered on the platform. Also, the users have access to address whitelisting on the exchange.
Binance's Transactions Fees
| | |
| --- | --- |
| Transaction | Fees |
| Trading commission | 0.1% |
| Deposit from credit/debit cards | 3% – 4% |
Some of the pros and cons of trading with Binance are as follows:
Pros
Over 500 cryptocurrencies for global trading.
Strong security features such as 2FA and address whitelisting.
Low fee applicable on the platform.
Largest platform for trading volume and liquidity.
Limit buy option for very low prices for buy orders.
Cons
High deposit fees for debit/credit cards.
Why Buy XRP in South Africa
Ripple crypto is among the top ten positions in the crypto market cap with its growing population. The stock is taken to be one of the best cryptos to invest in South Africa. But why? The five major reasons why you should consider buying Ripple instead of the popular Bitcoin are outlined below.
Ripple has a Top Ranking position
Ripple is proven to be digital crypto that works. It has growing popularity as the number of XRP investors increases daily.
Ripple has a current trading volume of over 1.8 Billion, as listed in Coin Marketcap. Many industries and companies are now going for the XRP crypto because it offers cheap, fast, and risk-free transactions.
Ripple utilizes modern technology to increase its efficiency in the domestic and international crypto markets, unlike other cryptos.
Even with the challenges, it faces including the SEC court case; it still records a price increase. The popular crypto did not remain at a lower benchmark after being delisted from many trading platforms.
However, the presented condition of XRP on many exchanges is that you can buy, but you cannot see. This is enough to be the end of some digital currencies, but because XRP has been popular, it is still surviving. Ripple enthusiasts believe that crypto will shake the digital market if they eventually emerge the winner over SEC.
Ripple Supports the Banking Industry
Ripple is related to Bitcoin in terms of safety. Banks prefer using cryptos that can offer faster and simple transactions at reduced risk – Ripple is one of them.
The Ripple token XRP is not only a fiat coin for consumers; it is also a transfer instrument between institutions. This feature also makes it the best option for banks.
Banks need a high liquidity level to function, and cryptos are in the best position to provide that.
Many experts predict that banks will require a huge volume of crypto as a reserve currency, and Ripple will be the best choice. The importance of Ripple is evidence in the increasing number of Banks adopting the RippleNet.
RippleNet is the Ripple technology launched by San Francisco. It is a global payment network based on blockchain, and it consists of payment providers, financial institutions, and banks.
The Fintech Company based in South Africa has adopted a RippleNet gateway technology. This will facilitate the international and local transfers of fiat and digital currencies.
More so, leading companies such as the Western Union, Exchange4Free, MoneyGram, MoneyMatch, and UniPAY use Ripple technology.
Ripple has a High Speed with Less Fee
Ripple XRP has a high transaction speed and a low transaction fee. It is believed that Ripple XRP's transactions are instant with virtually a zero fee, unlike its competitors – Tron and Stellar. As a result, many financial institutions adopt XRP due to its high transaction speed that reduces unnecessary hassles.
Banks also accept XRP because of this feature, as it is easier for anyone to transfer funds into an account with it. In addition, the Ripple technology ensures that the transferred funds are moved with certainty.
XRP provides a Good Investment Opportunity
Like every other digital asset in the crypto market, XRP price is also volatile. Even with this, the XRP still makes new opportunities available for its investors.
Though one crypto cannot solve all the problems in the digital world- it is impossible. Therefore, the XRP has adopted an upgraded modern technology to influence the crypto space positively and set a bull in 2021.
Ripple founders are experienced directors with the right attitude to decide on new strategies and critical plans. They are the Ripple policyholders and have planned to upgrade the protocol's technology. They also aim to make direct XPR to fiat conversions available to users for a more profitable opportunity.
Opportunities for Money Remittance
Money remittances in the financial markets provide a big opportunity that is very profitable. Initially, Western Union and PayPal dominated this sector.
But Revolut and Transferwise are now partnering with Ripple to take over money remittance in the digital market. This is backed by the bank's decision to adopt a reliable and cheap XRP in international transactions.
Banks are now willing to join the crypto trend as it gives high liquidity at a reduced rate. Ripple has made a symbolic success that PayPal now wants to sue it for being a competitor. The XRP performs better than the traditional method for financial transactions. It is swift and efficient.
Buy now
CFDs are complex instruments and carry a high risk of losing money quickly through leverage. 75% of retail investor accounts lose money when trading CFDs from this provider.
Buy now
CFDs are complex instruments that have a high risk of losing money quickly due to leverage. 72.6% of retail investor accounts lose money trading CFDs with this provider.
Buy now
CFDs are complex instruments and carry a high risk of possible rapid loss of capital due to their leverage. 71% of retail investor accounts lose capital when trading CFDs with this provider. You should consider whether you understand how CFDs work and whether you can afford to take high risk in losing your capital.
| | | | |
| --- | --- | --- | --- |
| N/A | Yes | CBI and MiFID in Europe | |
| | | | |
| --- | --- | --- | --- |
| N/A | Yes | 1:2 for cryptocurrencies | |
| | | | |
| --- | --- | --- | --- |
| $34544.83 | $34575.91 | $34662.27 | |
Safest Ways to Buy Ripple in South Africa
Are you thinking of the best way to buy XRP coins in South Africa? There are various payment options for you; the entire process is also easy and straightforward. It all depends on the payment method that best suits your digital portfolio.
The numerous way or payment methods to adopt while buying Ripple in South Africa are below.
Buy with PayPal
PayPal allows trading on Litecoin, Bitcoin Cash, Ethereum, and Bitcoin so, you cannot buy Ripple directly with it. You need to use a broker or an exchanger that allows you to transfer money to your account with PayPal. Hence, the digital platform may charge you for choosing PayPal as a means of payment.
It is not difficult to get a trading platform that accepts PayPal in South Africa as there are many of them. A good example is Capital.com
Buy Ripple (XRP) with PayPal at Capital.com from just $25 now >
Buy with Debit/Credit Card
Most crypto trading platforms like Binance and Capital.com accept payments made with a Debit/Credit card. This payment method is among the easiest and best ways to transfer money into your account before buying Ripple.
Always remember that payment made with a Credit card only can attract additional charges from issuers.
Buy Ripple (XRP) with Debit/Credit Card at Capital.com from just $25 now >
Buy with Bitcoin
This method is basically for an investor who already has some Bitcoins in his account or wallet. You can use your Bitcoin holding to buy Ripple in South Africa, irrespective of the source.
Most cryptocurrency exchanges permit you to deposit your Bitcoin easily into your trading account. You can then convert the Bitcoin to Ripple directly afterward.
Buy Ripple (XRP) at Capital.com from just $25 now >
Buy with Luno
Luno trades on both Bitcoin and Ripple. With this exchange facility, you can transfer funds to your account with a debit card, credit card, Bitcoin, or bank account. Luno, in addition, has a crypto wallet that is safe for storing your Ripple.
Buy Ripple (XRP) at Capital.com from just $25 now >
Risks of Buying Ripple in South Africa
The risks associated with investing in all digital currencies are similar, with few cases peculiar to some of them. Ripple is among those digital coins with such cases. Investing in XRP tokens in South Africa is associated with the following risks as discussed below;
Ripple is not a decentralized Protocol
Ripple was developed solely for the finance and banking industry, unlike Bitcoin that is mined and anonymously exchanges between investors. Its XRP is not real crypto for blockchain traditionalists.
Many people argue that its mechanism is not in line with the principles of economic autonomy and decentralization. Ripple's primary aim is to solve the banking industry issues and not enhance people's exchanging or storing value.
Ripple has a Strong Competitor
SWIFT is Ripple's biggest competitor, and it is short for the Society of Worldwide Interbank Financial Telecommunication.
SWIFT is a global cooperative and the provider of financial messaging services in a secure manner. It is currently among the biggest international payment network and the choice of many financial institutions.
However, Ripple will require an extra effort to outshine SWIFT. It needs to convince the banking sector that its payment mechanism is safer, quicker, and better than that of SWIFT.
Another challenging issue is that XRP is not linked directly to Ripple; they are not intertwined. As a result, the success of the token doesn't count for Ripple, and most financial institutions working with Ripple don't use the XRP token.
SEC Case is Still Ongoing
In December 2020, the Securities and Exchange Commission SEC had charged Ripple and two other executives to court. The charge states that they conducted a $1.3 billion unregistered Security offering. This has led to the delisting of XRP by many crypto trading platforms.
Though the court cases presently seem to favour Ripple, there is still the risk that they might lose later on. The SEC under political pressure, may decide to set an example with Ripple; this may make them take unfair decisions.
For instance, in April, reports disclosed that SEC allegedly sought information on criminality even from other countries to nail Ripple the more.
As of October 19th 2021, XRP price currently stands at $1.09 as renewed hope appears in XRP holders amid the ongoing SEC vs. XRP lawsuit. The latest on the case indicates that the SEC seek to request a two-month extension.
Buy Ripple in South Africa – Capital.com Guide
Once you've decided on buying Ripple in South Africa, you can follow the full guide below. Again, the process is completely seamless and the most cost-effective platform to use is Capital.com.
Step 1: Open an Account
Once you're ready to open an online account for trading cryptocurrency, visit the official website of Capital.com. You will click on REGISTER NOW button. Then, you will need to input your email address and create your password.
To ensure adequate account security, endeavour to form a strong password. You can use a combination of special characters, numbers, upper and lower cases for the password.
After concluding the account sign-up process, you will have access to a demo account on the platform. This will assist you in learning the processes of buying or trading on cryptocurrency as a newbie.
Step 2: Verify Your Account
Account verification is one of the prerequisites for trading in Capital.com. Being under the regulation of some giant financial agencies such as the FCA and others, the broker maintains KYC compliance. Thus, every account must undergo verification.
The verification process requires an upload of any government-issued ID such as a passport or driver's license. Also, you'll upload a copy of your recent utility bill or bank statement that is not more than 3 months. After the upload, Capital.com sends a notification message to
Step 3: Deposit Your Funds
When you get a notification for the account verification, you can deposit your funds. Capital.com accepts the deposit of South African Rand. It later converts it to USD, one of the fiats for crypto transactions.
Log in to your online account and click the DEPOSIT button.
Then select any payment option that is suitable for you. The broker supports deposits through bank transfers, e-wallets, and debit/credit cards. The minimum deposit on the platform is $20. This is considerably low in comparison to other competitors in the industry.
With Capital.com, there's no deposit fee for any method of transfer that you choose. While bank transfers may take a longer time to reflect in your account, transfers from cards and e-wallets are instantaneous.
Step 4: Buy Cryptocurrency
You can buy any cryptocurrency of your choice after funding your account. First, search for the digital asset your want to buy in the search box. Then select the crypto and USD pair that matches your choice. For instance, when buying Bitcoin, you will choose USD/BTC. Proceed by clicking the TRADE button.
Then, input the amount of the digital asset you're buying and set your order. Ensure you confirm your order and click the TRADE button. The broker will buy your cryptocurrency according to your order.
Ripple Price Analysis, Should I Buy?
Crypto investors with the interest of trying other altcoins normally look out for the one with similar price movement to Bitcoin.
Recently, Ripple has proved to be among such coins; its price synonymously goes up and down with Bitcoin price.  Consider the price of Ripple in the first weeks of November 2020 and January 2021; you will conclude that it didn't make any headway.
You wouldn't know that the crypto had increased to over $ 0.69 (10.11 Rands) in late November. It was formally at $0.23 (3.37 Rands) on November 2nd, making over 300% growth in just two months.
Ripple's price continued moving in a zig-zag manner representing its high volatility until April 14th, when it hit its all-time high. After that, the crypto increased above $ 1.8 (26.36 Rands), recording a percentage increase of 261% from January to April.
The reason for Ripple's price bull is that the developers- Ripple Labs are working towards bringing the crypto to the mainstream.
Again, a Judge had recently stopped SEC from scanning through the legal records of XRP. This encouraged investors more and has shot up the XRP price by 15%. More investors may come in if the court case continues to be in favour of Ripple.
Today July 21st, 2021, Ripple's trading price is $0.556 (8.14 Rands) per coin, a 30% decrease from the April high. It has a 24-hour trading volume of over 2.14 billion. This analysis is available in the XRP chart below.
Ripple Price Prediction
Ripple made a 30% decrease from its April high price, and since then, the crypto has been rising and falling. It maintained a decreasing movement from May ending till now with a value of $0.556 (8.14 Rands) per crypto. Despite the challenges facing Ripple, the crypto has not fallen back to its value of $0.23 (3.37 Rands) in 2020.
It still shows a strong recovery sign irrespective of the brutal sell-off and delistings by some exchanges. The Crypto has made a sharp turning point of the curve from $0.52 (7.62 Rands) to $0.55 (8.06 Rands).
There is a tendency of it reaching $0.56 soon, which will be the cryptos starting point for an upward trend. Investors can expect a confirmation of this Ripple price bull prediction after the XRP rises above $0.59 (8.64 Rands).
However, If this becomes true, the traders should expect another XRP price increase to $0.627 (9.18 Rands) or $0.647 (9.48). But a slash in the selling volume can mess up things for Ripple.
For example, if Ripple's price goes below the $0.509(7.46 Rands) low range and couldn't bounce back, it indicates a low buying rate. And a decrease in price below the $0.49 benchmark is a red flag.
Selling Ripple – A Quick Review
Do you have Ripple in your crypto holdings and wish to cash out? Then this section is for you. Coinbase, Capital.com, and other trading platforms have suspended trading on Ripple because of the ongoing court case with SEC. Below are the steps to follow; the process is simple and easy.
Create an account
You need to open an online account if you don't have one. To do this, just click on the 'Register' button at the top right side of your browser screen. This will be on the platform of your desired Ripple exchanger like e-Toro. Then, follow the instructions as they pop up and complete your KYC (know your customer).
The details you have imputed will be saved automatically in the exchanger's database. And cannot be disclosed without your permission. They include your details and valid ID issued by the South African Government.
Input the Amount of Ripple to Sell
With an online account, selling Ripple is easy though you need to have a minimum of 20 XRP in your holdings. This is because the ripple protocol doesn't approve transactions when you have less than 20 XRP. If you have confirmed this, then follow the steps as listed.
Log into your Bitcoin account.
Select 'Sell' on the homepage, then click on Ripple in the drop-down menu.
Enter the amount of Ripple token that you want to sell in the empty box on the display screen. The dollar equivalent of the XRP amount will appear for you.
Confirm the details and hit the 'Sell Ripple' button to continue. This action will take you to the order form.
Carefully fill in your bank account details.
Look out for transaction charges and then agree to the terms and conditions. Then click on the 'Sell Ripple' to continue.
The address to receive the Ripple will show on the screen; carefully sell your XRP coins to it.
Receive your Money
Once you have completed the required steps, the exchanger like Capital.com will do the rest. They will execute your order as soon as possible with close to zero commission fees.  And within the shortest time possible, your money will drop in your bank account.
You will receive a notification after the transaction process has been completed.
Conclusion
Ripple is one cryptocurrency that is making waves both in the crypto industry and other financial institutions recently. Its fast transaction periods and low cost are some of its selling points. As lots of people are embracing this digital asset, you can't afford to be left out.
Using our guide on how to buy XRP in South Africa is an essential tool that will help you to take the right steps. Remember that cryptocurrencies are highly volatile. As such, do some personal research before venturing into the market.
Also, for you to reduce risks associated with digital assets, use a trusted and reputable platform like Capital.com. The broker offers you great opportunities to leverage while buying Ripple in South Africa.
Best Platform to Buy Ripple (XRP): Capital.com
FAQs
Is Ripple A Good Investment?
Is Ripple Safe to Invest In?