Investing With eToro – How To Invest With eToro Australia For Beginners 2021
One of the first steps to financial freedom for many is learning how to invest. It allows you to put your money to work and earn a passive income, far better than letting your money sit in a bank and deflate by 2-3% each year. Although this sounds great on paper, investing is a little bit more complex in reality. You have to choose an investment type, a market, and a specific asset that you'd like to invest in. On top of this, you're burdened with the task of selecting a brokerage to make your investments with. Once again, this seems like it should be an easy task, but in actuality, there are far more factors at play than you'd first think. Before selecting a broker you have to consider trustworthiness, fees, and features. This can end up being a lengthy process, so to help save you valuable time we've created a guide on investing with the best broker in Australia, eToro. 
Throughout this article we'll explain the ins and outs of eToro, covering everything from security to supported markets. To make sure our readers have an easy time making their first investment, we'll also be providing a rundown on precisely how you can invest with eToro today.
#1 Investment Platform Australia – eToro
Investing with eToro – Get Started in 4 Steps
If you simply want to find out how to invest with eToro and many other assets, this 4-step guide introduces you to everything you need to know without further ado. 
Step 1: Open an eToro Account – The first thing you need to go to eToro, c

lick the "Join Now" button and enter the details required on the registration form.

Step 2: Verify Your Identity

– Verify your identity by

uploading your photographic ID and proof of address/utility bill.

Step 3: Fund Your Account

– After KYC is complete,

deposit funds via your preferred method, including PayPal, debit card, wire transfer, and online banking. The minimum deposit is only $50.

Step 4: Invest with eToro

–

Once your account is funded, type in the search bar "eToro" and select the stock. Click on "trade" and add the amount of money you want to invest in the company.
What is eToro?
Founded in 2007, eToro is an online brokerage that operates in a plethora of markets and within a wide variety of countries. As of 2021, they serve more than 20 million users, making it one of the largest brokerages in the world. They support trades in forex, indices, crypto, stocks, ETFs, CFDs, and commodities, meaning that regardless of your investment goals, you should be covered. 
Why eToro?

You might be asking yourself "why should I invest with eToro?", well once you've had a look at their offerings all will become clear to you. With almost 15 years in the investment space, it's no surprise that eToro has taken the time to learn what really matters to investors. When you first use the platform, it's clear that they've taken the time to analyze the needs of investors and implement relevant features. So, if you're looking for an excellent platform to start your investment journey with, it's hard to beat eToro, and considering they have over 20 million users, I'm sure many people will agree with me. 
Security
I'm sure the majority of investors will agree with me that one of the most important aspects when selecting a brokerage is security, after all, you don't want the additional stress of wondering if a brokerage is mishandling your finances. On top of this, a brokerage having poor security dramatically increases your risk exposure. Instead of simply needing to keep track of how your investment is performing, you would also have to worry about the brokerage getting hacked or going into insolvency. Because investors have very little recourse in the event of a trading platform getting hacked, it's always a better option to do your due diligence and make sure the platform's security is up to scratch. 
Regulation
eToro ensures its users remain safe when investing with eToro by adhering to strict regulations laid out by an authoritative body. For Australia, this would be ASIC (Australian Securities & Investments Commission). The job of ASIC is to ensure platforms operating in the financial sector are doing so in accordance with national rules and laws. This protects retail investors from unfairly losing funds and allows users to report a bad actor to a higher body, something that wouldn't be possible if investment platforms were allowed to operate completely unchecked. Whenever you're picking a new platform to invest with, you should always make sure they're regulated by your country's authoritative body, in eToro's case, they're regulated by over 5 bodies worldwide. 
SSL Encryption
One of the most common ways attackers will try and gain unlawful access to your data is by intercepting it as it makes its way from your device to the broker's central server. This can pose a big threat to both brokerages and individual users, due to the massive amount of information being constantly sent and received. Think about it like this, if a hacker was able to intercept one person's data, it's likely they could do the same to others. eToro, on average, receives more than 1 new sign-up every single minute, this would mean in just one day an attacker could steal the information from over 1440 people, so if each user has an average of $1000 in the account, the hacker could make off with upwards of $1,440,000 in client funds. To prevent this from happening, eToro uses a piece of technology called SSL encryption, which is designed to obscure your information before it leaves the device, rendering it useless to anyone other than eToro.  
2-Factor Authentication
Another way eToro helps protect users is by giving them the option of enabling something called 2-factor authentication (2FA). This prevents users from completing sensitive account actions without first entering a code that gets sent directly to your mobile, this acts as an additional layer of protection in the event of your account getting compromised. Although it may seem fairly basic, 2FA offers a great deal of protection because, without direct access to the mobile number associated with the account, a hacker would find it incredibly difficult to withdraw funds. Due to 2FA being extremely effective and simple to set up, we recommend that you always enable 2FA where the option is available.  
Features
It goes without saying that to be considered the "best investment platform", a brokerage needs to include some pretty useful features. Seemingly eToro received that memo as they've made sure to include heaps of features that pretty much every trader can make good use of. eToro has, of course, made sure to include all the standard trading features you could imagine, order types, charting tools, and pretty much anything else you could think of. However, outside of what's expected from one of the best investment platforms, they've also included some fairly unique features that could help give eToro users a leg-up on the competition. 
CopyTrading
One feature seldom seen on brokerages is social trading, a way users can help each other make profits by sharing predictions, news, and trades. eToro's social trading feature is called "CopyTrading", outside of what we've already mentioned it provides eToro users a way of automatically mirroring the trades of experienced investors. This feature is perfect for those without much trading experience looking for a way to better understand trending strategies, all while earning a passive income. 
When you CopyTrade with eToro, you get to choose which user you'd like to mirror, with a huge amount of statistics regarding their trading habits easily accessible. You'll be able to see how much profit people copying them have made in the past year, their most traded assets, as well as the average amount of risk they take on. Overall, with all the statistics at your disposal when CopyTrading, it's extremely easy to find a trader that matches your needs, 
CopyPortfolio
Another Copy feature eToro offers its users is something called "CopyPortfolios". As an investor, it pays to maintain a well-diversified portfolio because it massively reduces the amount of risk you're exposed to. As the saying goes "don't put all your eggs in one basket", if a particular asset has a bad year, your exposure to other investments will shield you from some of the losses you would've otherwise incurred. This is where a CopyPortfolio comes into the picture, it provides you exposure to a large number of different companies without having to do the leg work of opening tonnes of individual positions, saving you time & allowing you to focus on the more important aspects of investing.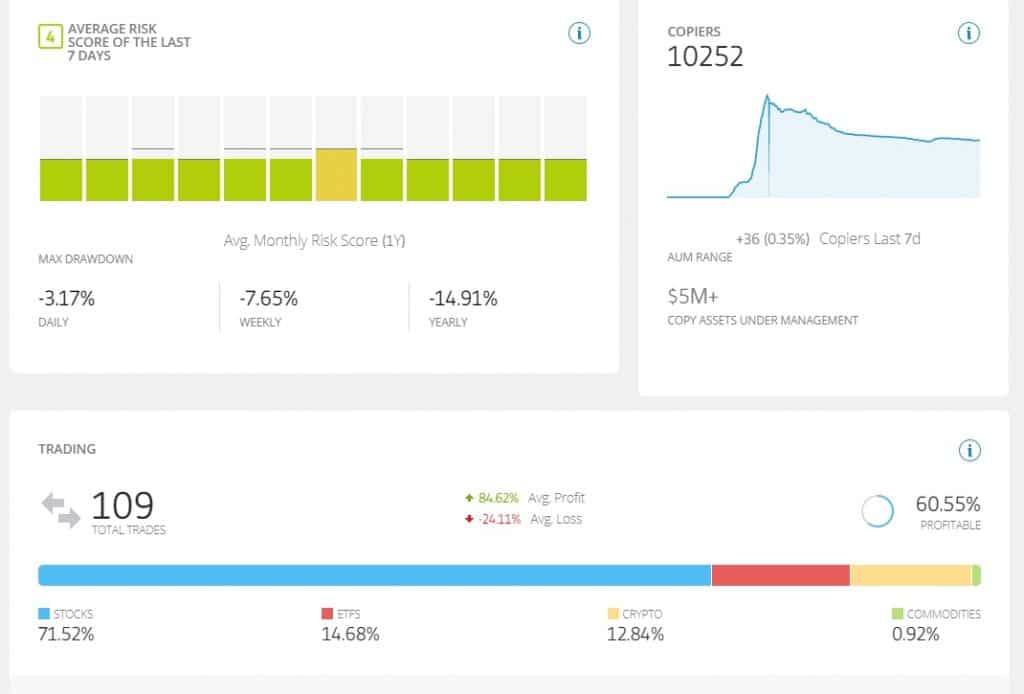 Pros
Regulated

SSL Encryption

2-Factor Authentication

Almost 15-Year Track Record

Trusted by Over 20 Million users

CopyTrading

CopyPortfolios
Cons
Additional Technical Indicators Would be Beneficial 

Lacking Support for MetaTrader
67% of retail investor accounts lose money when trading CFDs with this provider.
Fee Structure
If there's one thing you can be sure of when trading, it's that you'll inevitably be charged some sort of fee. While I'm sure nobody is excited by the prospect of losing a portion of their profits to fees, that's how brokerages make their money and therefore something you'll need to come to terms with. That being said, although you'll always have to pay one type of fee or another, they're not all charged at the same rate. This means that if you executed an identical trade on 2 different platforms at the exact same time, you'd still most likely earn a different amount of profit. Because of this, it pays to do some research on the fee structure offered by a brokerage, before making a commitment. To help provide our readers with a clearer understanding of what they need to look out for we've broken down 3 of the most common types of fees below.
Commission-Free
In this day and age there really isn't an excuse for a platform to not offer commission-free trading on non-leveraged instruments. Despite commission-free trading being a fairly common offering, some platforms still try to pull the wool over customers' eyes by including things like "convenience fees",  which I'm sure everyone will agree are only convenient for brokerages. eToro is a commission-free trading platform, meaning that you won't be subjected to any unexpected fees, ensuring you get the most out of your investment. 
Low Spreads
Almost, if not every, investment platform will charge a spread fee when you trade. This is the difference between the buy and sell price. For example, if you can buy an asset for $1000 and sell it for $998 the spread fee is 0.2%. Because you'll be subjected to spread fees pretty much every time you place a trade you should always try and analyze the spread fees a platform offers because they can vary drastically. eToro is transparent about the spread fees they charge and have a useful search function that allows you to type in the name of an asset and fee how much the spread will be. 
eToro Spread Fees (Top 3 Markets)
| | |
| --- | --- |
| Asset Name  | Spread Amount  |
| Stocks & ETFs | Commission-Free |
| | |
| --- | --- |
| Asset Name (Crypto) | Spread Amount  |
| Bitcoin (BTC) | 0.75% |
| Ethereum (ETH) | 1.90% |
| Binance Coin (BNB) | 2.45% |
| | |
| --- | --- |
| Asset Name (CFD) | Spread Amount  |
| Currencies | From 1 PIP |
| Commodities | From 2 PIPs |
| Indices | From 0.75 Points |
Deposit/Withdrawal Fee
It's easy to overlook the fees linked to deposits and withdrawals when doing your initial research because you're more likely to be focusing on spread/commission fees. However, it's certainly beneficial to make sure you're not going to be losing large sums for completing basic actions. eToro only charges a minimal $5 fee for withdrawals to cover banking costs; deposits, however, are completely free. 
Inactivity Fee
Another easily overlookable fee is the inactivity charge. Typically these fees will only be relevant if you have a position open on an account you haven't used in over 12 months. Although, for some platforms, this grace period can be as little as 6 months. Once this period has elapsed you'll be charged a monthly fee to maintain your account. eToro does charge an inactivity fee, however, it's on the low end of the spectrum at just $10 per month after 12 months of inactivity. 
eToro Fee Overview
| | |
| --- | --- |
| Fee Type | Fee Amount |
| Commission Fee | 0% on Stocks/ETFs  |
| Deposit Fee | $0 |
| Withdrawal Fee | $5 |
| Inactivity Fee | $10 (Monthly After 12 Months) |
Supported Markets
As we briefly mentioned earlier, having a well-diversified portfolio is crucial to your success as a trader. Therefore, I'm sure those wanting to invest with eToro will be happy to know, they support trade in all of the largest markets, further securing its position as the best investment platform. 

Cryptocurrency
Cryptocurrency is perhaps the most hyped investment type of recent years, nothing has come anywhere close to the potential crypto has to rebalance the world's wealth. People are seeing enormous gains in incredibly short time frames, due to a combination of revolutionary technology and extreme volatility. With such enormous potential, it's no surprise that investors are flocking to platforms allowing users to trade crypto. eToro supports investment in over 120 crypto-assets, even offering a crypto CopyPortfolio, called "CryptoEqual". Combine these factors with eToro boasting some of the lowest spread fees in the industry and it's no wonder why so many people trading crypto invest with eToro.
Stocks
The most common type of investment in today's world is stocks. When you purchase a stock you're essentially purchasing fractional ownership of a company. This is perfect for long-term investors or anyone that has strong faith in a specific company. eToro allows users to trade over 800 different stocks and with 0% commission trading, anyone wanting to dip their toes in the stock market could benefit from investing with eToro. 
ETFs
An exchange-traded fund, otherwise known as an ETF, is a financial instrument designed to allow for easy investment into a variety of assets at once. Typically, a brokerage or fund manager will compile a group of assets to allow for easy investment, often with the goal of mirroring the performance of a specific index. Because an investment into an ETF is akin to investing in a variety of assets, it's an extremely effective way of reducing your overall risk. As of 2021, eToro supports over 140 different ETFs and offers commission-free investment in many of them. 
CFDs
A contract for difference, commonly referred to as a CFD is a speculative financial instrument that allows investment into an asset without actually purchasing it. Instead of buying an underlying asset, you speculate on whether the price will increase or decrease, earning money on the difference between your entry and exit price. This is a great option for short-term traders looking for a highly liquid investment. eToro supports CFD trading but because you'll likely be trading using leverage, it's advisable to only trade CFDs if you understand the risks.
How to Invest With eToro – A Comprehensive Guide
It's no secret that learning how to invest with a new platform can be an arduous process, especially with all the jargon that gets thrown in your face. So to ensure none of our readers have any trouble investing with eToro, we've created this handy guide detailing exactly how to invest with eToro.
Step 1: Register with eToro
Before you can start investing with eToro, you'll need to register for an account with them. This process only takes a couple of minutes and requires minimal information. All you've got to do is type "eToro.com" into your browser's search bar, press "Join Now", and provide some basic details (email, password, etc).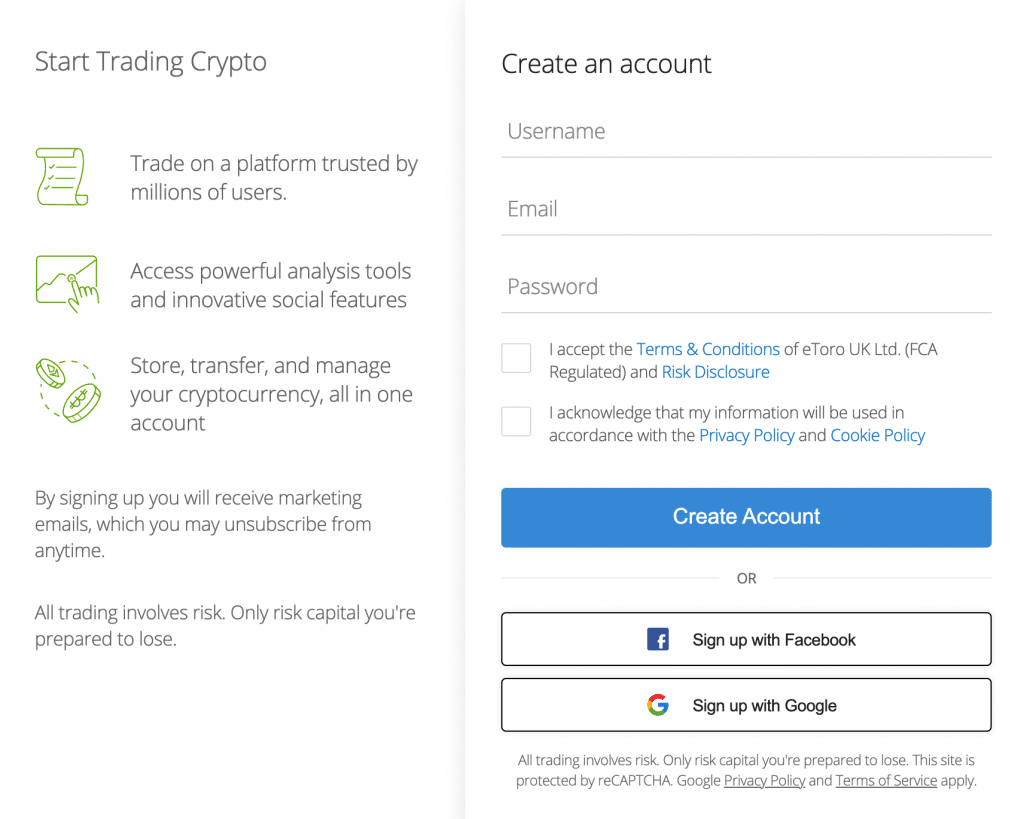 67% of retail investor accounts lose money when trading CFDs with this provider.
Step 2: Verify your Account
Once you've registered with eToro, you'll have to verify your identity. This is standard practice in the finance space, if a broker doesn't require verification this can indicate a lack of trustworthiness. Luckily, it only takes a second to verify yourself, the only official documents you'll need to provide are a photo ID (passport, driving license) and proof of address (utility bill, bank statement).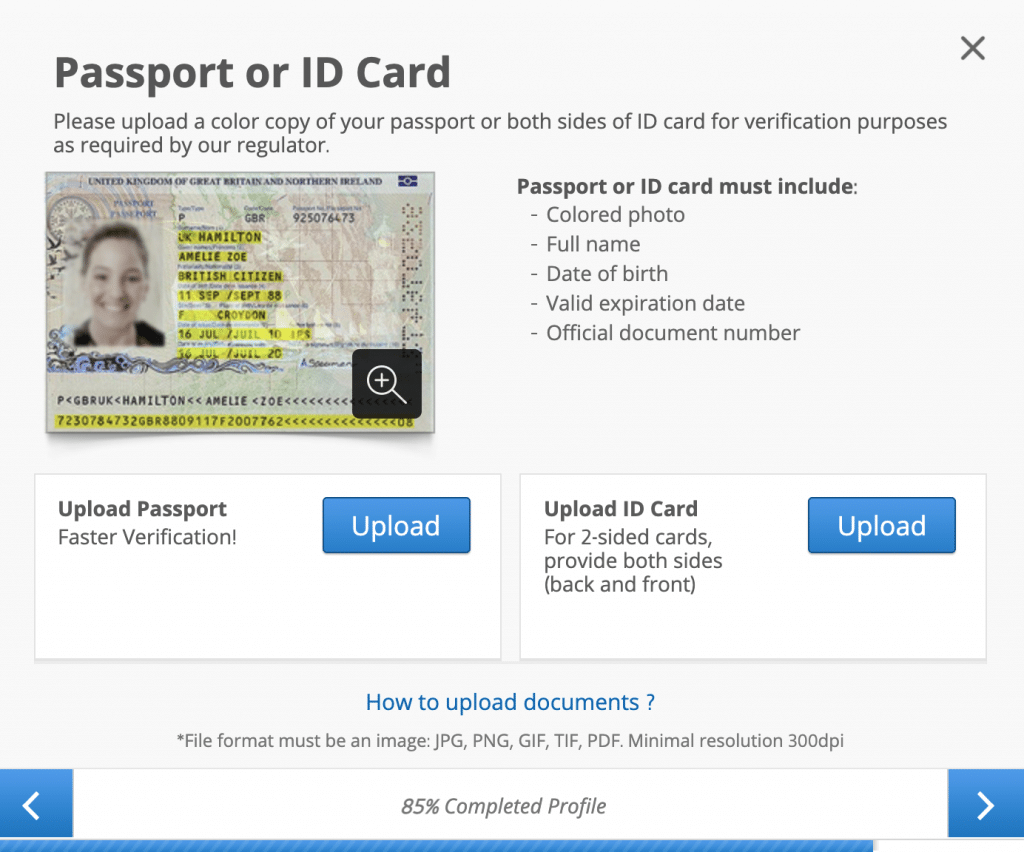 Step 3: Fund your eToro Account
Now that your eToro account has been verified, you're almost ready to make your first investment! The only thing left to do is fund your account. Doing so couldn't be simpler, just click on the button marked "Deposit Funds", enter the amount you plan on investing, and press deposit. You'll be able to see your new balance in the portfolio section. eToro supports deposits using a credit/debit card, bank transfer, or e-wallet (PayPal, Skrill).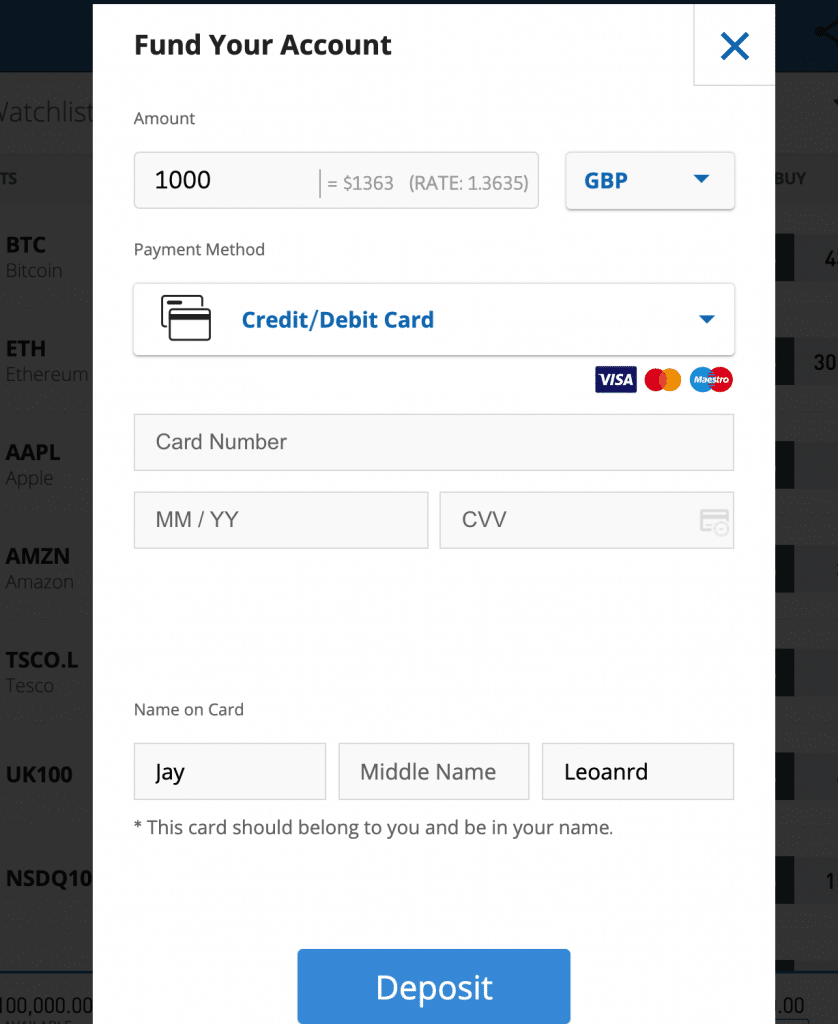 Step 4: Make your First Investment!
After your funds have arrived in your account, it's time to invest! All you've got to do is type the name of the asset you'd like to purchase into eToro's search bar, press "Trade", enter the amount you'd like to invest, and press "Open Trade". eToro explains what type of trade you'll be opening just below the leverage. Once you've purchased your asset, you'll be able to monitor it from the portfolio section.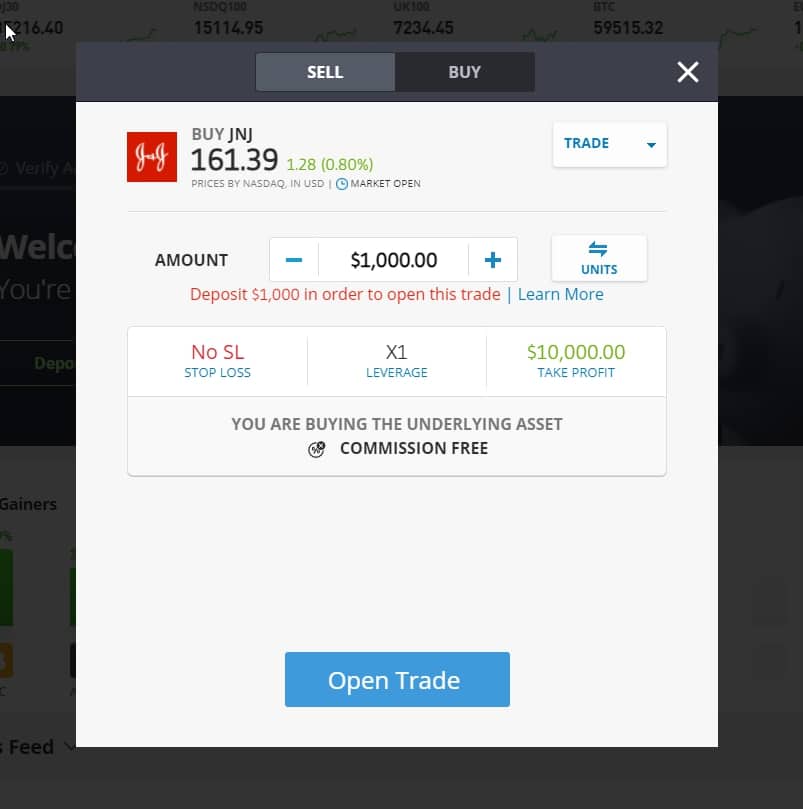 Conclusion 
All in all, eToro is an incredibly capable investment platform, with tonnes of useful features. They've made sure to include everything you'd expect from one of the best investment platforms in the world, you have full access to a range of orders, investment types, and charting tools. Along with this new users can benefit from the eToro academy, an educational platform designed to teach new users precisely how to invest with eToro and give them all the skills needed to have a successful time investing. On top of this, eToro has included some fairly unique features like CopyPortfolios and CopyTrading, both of which are useful for traders of all experience levels. Overall, we can say with a good degree of certainty, eToro is one of the best investment platforms currently available, especially for those without much previous trading experience. 
Best Trading Platform Australia – eToro

FAQS
Is eToro Legal in Australia?
Can you Receive Dividend Payments with eToro?
Is eToro Beginner Friendly?
How can I Invest with eToro?