Where To Buy TRON in USA – Learn How To Buy TRON Today in 2022
Founded by Justin Sun in 2017, TRON (TRX) is a blockchain project that aims to decentralize the global content sharing industry. This is with the view of putting control back into the hands of content creators and away from centralized third parties – such as YouTube and Facebook.
In this guide, we show you how to buy TRON in the US with a regulated and low-cost brokerage. We also cover key talking points on whether TRON is a good investment and what risks need to be considered before you proceed with a purchase.
#1 Broker to Buy TRON – eToro
Where To Buy TRON in USA – Overview of the 3 Best Brokers
You will need to open an account with a cryptocurrency broker to buy TRON online. The best platforms to buy TRON in the US can be found below.
eToro – Overall Place to Buy TRON
Binance – Best Place to Buy TRON for Asset Diversity
Kraken – Great Way to Buy TRON via ACH
We offer a full review of each of the above TRON brokers further down in this guide.
=
Bitcoin Cash
Cardano
Dash
Ethereum
Ethereum Classic
IOTA
Litecoin
Stellar
XRP
Binance Coin
EOS
NEO
Tezos
TRON
ZCash
Elrond
Chainlink
Uniswap Protocol Token
Dogecoin
yearn.finance
Decentraland
Algorand
Basic Attention Token
Polygon
Shiba Inu
Enjin Coin
Maker
Tether
Compound
Bitcoin
Polkadot
Solana
FTX Token
Terra
0x
Aave
Aragon
Augur
Avalanche
Balancer
Bancor Network Token
Band Protocol
Bitcoin Diamond
Bitcoin Gold
Bitcoin SV
Bitshares
BitTorrent
Blockstack
Celo
Celsius Network
Chiliz
Cosmos
Curve DAO Token
CyberVein
Dai
Decred
DFI.money
Electroneum
Energy Web Token
Fantom
Gnosis
Golem Network Token
Hedera Hashgraph
HedgeTrade
Helium
Hive
Holo
Huobi Token
ICON Project
IOS token
Kava
RIF Token
SafeMoon
Serum
Siacoin
Sola
Stacks
Status Network Token
Steem
Storj
Stox
Stratis
Sushi
Swipe
Synthetix
The Graph
Theta
Thorchain
TomoChain
UMA
UniBright
USD Coin
Utrust
VeChain
Verge
Waves
Wrapped Bitcoin
xDai Chain
ZB
Zilliqa
Komodo
Kusama
Kyber Network
Lisk
Loopring
Machine Xchange Coin
Matic Network
MonaCoin
Monero
Ocean Protocol
OMG Network
Ontology
Orchid Protocol
PAX Gold
Paxos Standard
PlusCoin
QTUM
Quant
Ravencoin
REN
Reserve Rights
Revain
Multi Collateral Dai
Nano
NEM
Nervos Network
1inch
Axie Infinity Shards
Hoge Finance
Alien Worlds
Yield Guild Games
The Sandbox
Ankr Network
Crypto.com
ABBC Coin
aelf
Ampleforth
Ardor
3 Providers that match your filters
3 Providers that match your filters
for $100 you get
1367.7570
TRX
CFDs are complex instruments and carry a high risk of losing money quickly through leverage. 75% of retail investor accounts lose money when trading CFDs from this provider.
Features
Payment methods
for $100 you get
1398.8424
TRX
83% der Konten von Privatinvestoren verlieren beim Trading von CFDs bei diesem Anbieter Geld. Ihr Kapital ist im Risiko
Features
Payment methods
How to Buy TRON in USA – A Quick Guide For 2022
Below you will find a quickfire guide on how to buy TRON in the US with eToro – an online broker that is regulated by the SEC.
Step 1: Open an Account with eToro – You will need to open an account with eToro before you can buy TRON. This will require some personal information and confirmation of your email address and cell phone number.
Step 2: Upload Your ID – As you will be buying TRON with US dollars, you will also need to verify your account. You can do this by providing eToro with a copy of your government-issued ID.
Step 3: Deposit Funds – Deposit some money into your eToro account with a debit/credit card, ACH, or online banking. The minimum for US clients is just $50 and no deposit fees are charged by eToro – irrespective of the payment method.
Step 4: Buy TRON – Now that your eToro account is funded you can search for 'TRON' and click the 'Trade' button. Next, enter the size of your investment into the 'Amount' box (minimum $25) and confirm your purchase by clicking on the 'Open Trade' button.
And that's it – in just 5-10 minutes you have successfully learned how to buy TRON in the US with a regulated and low-cost broker. If the above guide is not sufficient for your skillset, we offer a much more detailed walkthrough further down.
Cryptoassets are highly volatile unregulated investment products. Proceed at your own risk.
Where to Buy TRON in USA – Full Broker Reviews
Perhaps the most challenging part of the process when learning how to buy TRON is choosing the right broker. This is because there are many key factors that need to be taken into account – such as what fees you will need to pay and what deposit methods are supported.
When searching for the best TRON brokers, we also looked at customer service, regulation, user-friendliness, and available markets. Below you will find full reviews of the best platforms allowing you to buy TRON in the US.
1. eToro – Overall Best Place to Buy TRON in the US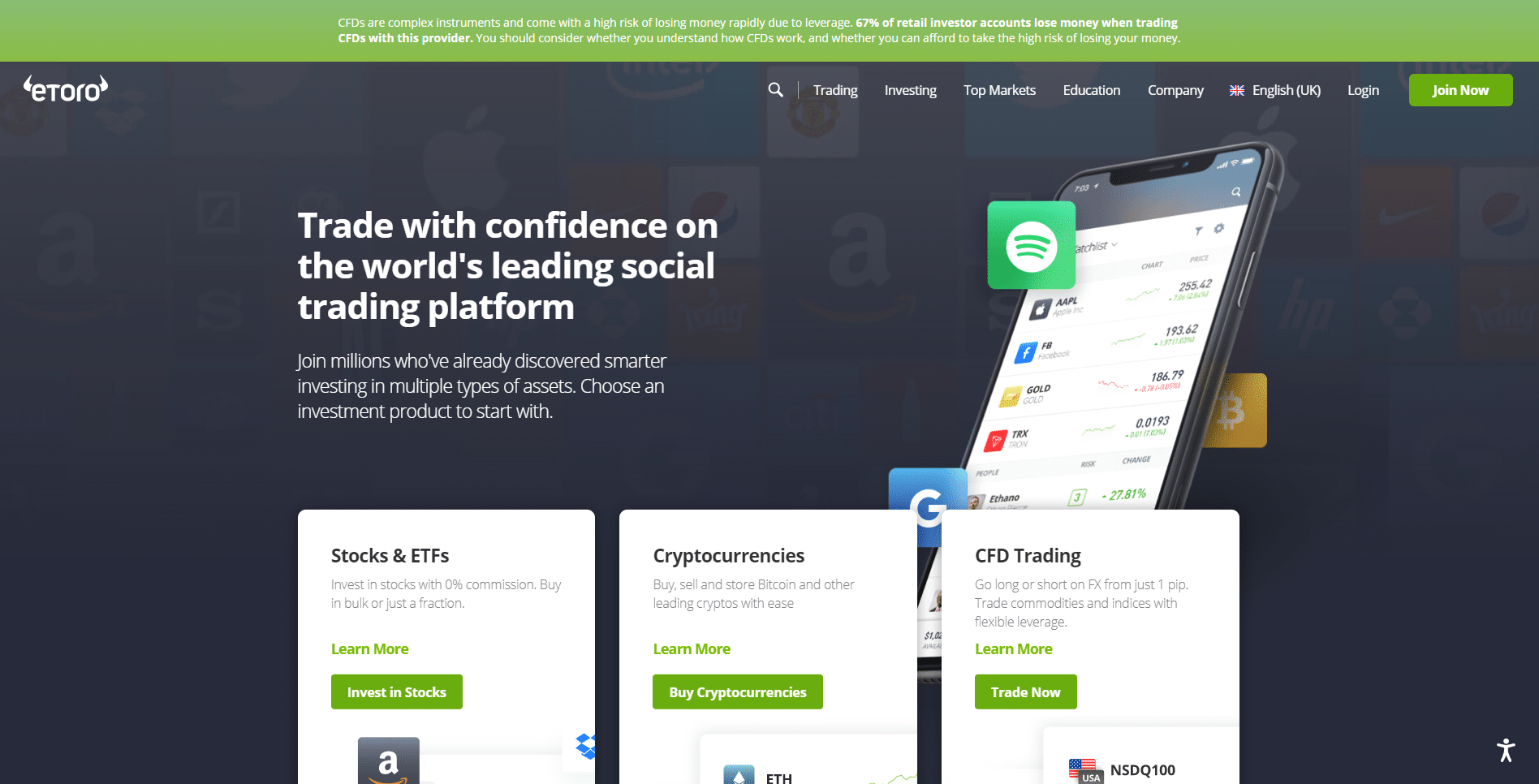 eToro is the best online broker to buy TRON in the US for a number of reasons. First and foremost, eToro is highly reputable – with more than 20 million clients using the platform to buy, sell, and trade cryptocurrencies. The brokerage firm is heavily regulated too – which includes approval from the SEC and FINRA. For additional regulatory oversight, eToro is also licensed in the UK, Australia, and Cyprus. Crucially, this means that you can be sure that you are buying TRON from a safe and secure source.
In addition to its strong regulatory framework, eToro is also popular with investors due to its low-fee pricing structure. For example, US clients can deposit funds with a variety of payment methods without being charged a single cent in commission. Then, when it comes to placing your TRON buy order, the only fee that you need to pay comes via the spread. For those unaware, this is the difference between the buy and sell price of TRON as per current market conditions.

When it comes to account minimums, eToro requires a deposit of just $50 to get started. You can fund this with ACH, online banking, or a debit/credit card. With that said, the minimum TRON investment is just $25 per stake. If you're also interested in buying alternative digital currencies, eToro is home to 30+ other tokens. This covers everything from EOS, Bitcoin, and Dogecoin to Litecoin, Cardano, and XRP. You can also invest in a basket of digital assets through a single trade via the eToro CryptoPortfolio.
This functions in a similar way to an ETF – as the portfolio is managed in-house by the eToro team. You can also trade cryptocurrencies passively at eToro – which is great for both newbies and time-starved investors. The way that this feature works is you will select a successful eToro trader to copy and then all future positions will be mirrored in your own account. This requires a minimum investment of just $500 per trader and no additional fees apply.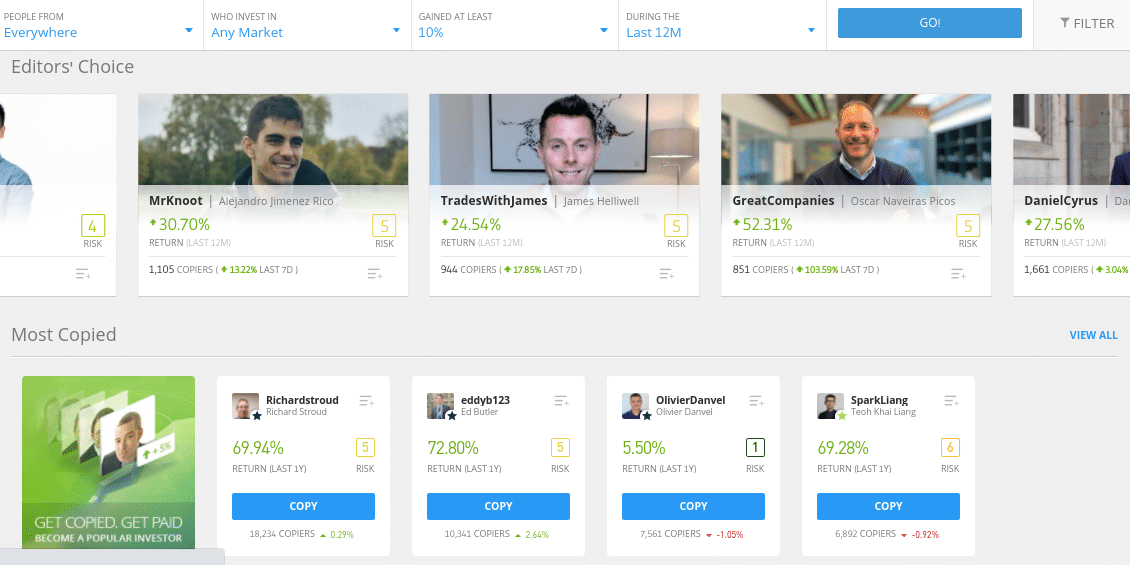 What we also like about eToro is that investors do not need to worry about storing their TRON tokens. The reason for this is that eToro offers a web wallet that is not only safeguarded by institutional-grade security features – but is regulated by the Gibraltar Financial Services Commission. This means that you can easily buy TRON without needing to have any knowledge of how private keys and digital wallets work. Finally, if you want to buy TRON on your cell phone, eToro offers a mobile app that can be downloaded for free on iOS and Android.
Pros
Invest in cryptocurrencies on a spread-only basis
Minimum investment per trade from just $25
Supports debit/credit cards, e-wallets, and local bank transfers
Registered with FINRA/SEC and regulated by the FCA, CySEC, and ASIC
Minimum deposit of $50 and no transaction fees for US citizens
Used by over 20 million people
Perfect for beginners
Social and copy trading tools
Cons
Perhaps too basic for technical traders
No support for MT4 or MT5
Cryptoassets are highly volatile unregulated investment products. No EU investor protection. 67% of retail investor accounts lose money when trading CFDs with this provider.
2. Binance – Best Place to Buy TRON in the US for Asset Diversity

Binance offers a US-specific exchange and brokerage service for Americans. The platform is home to over 50 cryptocurrencies – which includes TRON. This also includes large-cap tokens like Ethereum and XRP and a number of emerging DeFi coins. What we like about Binance US is that it offers a safe, secure, and convenient way to buy TRON. This is because you will be able to pay for your tokens with a debit or credit card – with both Visa and MasterCard accepted.
On the one hand, Binance doesn't offer fee-free deposits like eToro. However, the fee is still reasonable at just 0.5% of the transaction amount. You will first need to go through a quick KYC process should you wish to use Binance to buy TRON. This will require a copy of your ID and confirmation of your social security number. Once you've got that out of the way, your debit/credit card purchase will be processed instantly. Binance will then give you a number of options when it comes to storing your TRON tokens.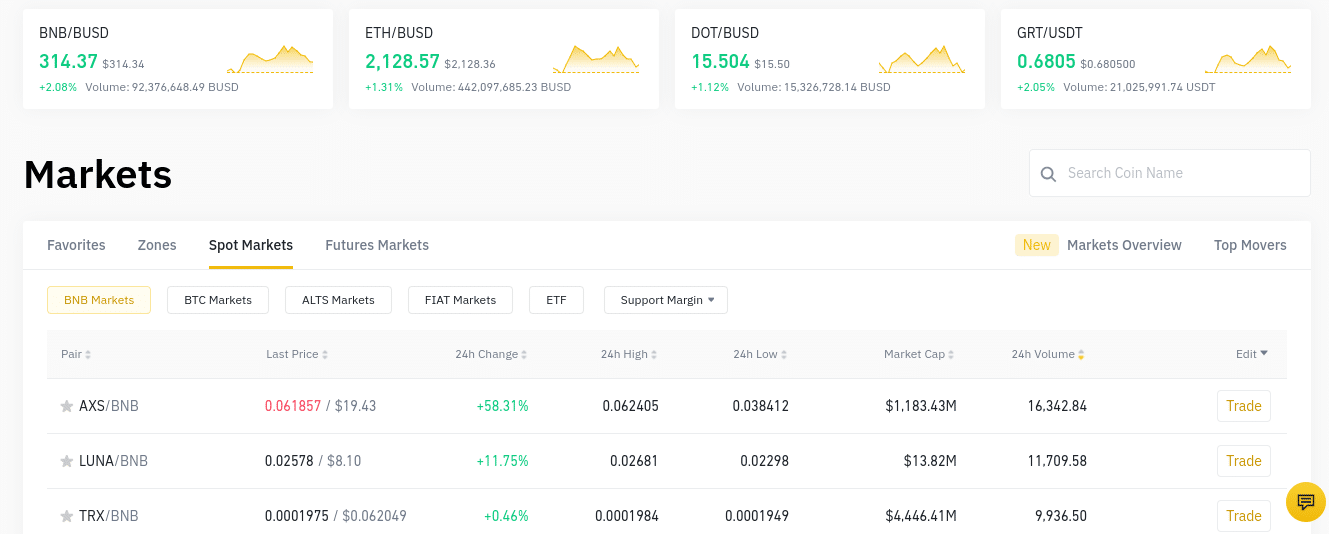 For instance, if you favor convenience over security, you can leave the tokens in your Binance account until you are ready to sell. Alternatively, if you want to remain in full control of your private keys – you might consider withdrawing your TRON tokens to the Trust Wallet. This wallet is decentralized and is backed by Binance itself. And of course – you can also withdraw your digital assets to any private wallet of your choosing. Finally, if you are planning to use Binance to trade crypto – the entry-level commission stands at just 0.10%.
Pros
Facilitates billions of dollars in daily trading volume
Supports hundreds of digital asset pairs
Near-instant deposits via debit/credit card
Trading commission starts at just 0.1% per slide
Offers crypto savings accounts
Ideal for both beginners and experienced traders alike
Cons
Not all supported cryptocurrencies can be purchased with a debit/credit card
No e-wallet deposits or withdrawals
at eToro, #1 Broker in the US
Cryptoassets are highly volatile unregulated investment products. No EU investor protection. 67% of retail investor accounts lose money when trading CFDs with this provider.
3. Kraken – Great Way to Invest in TRON via ACH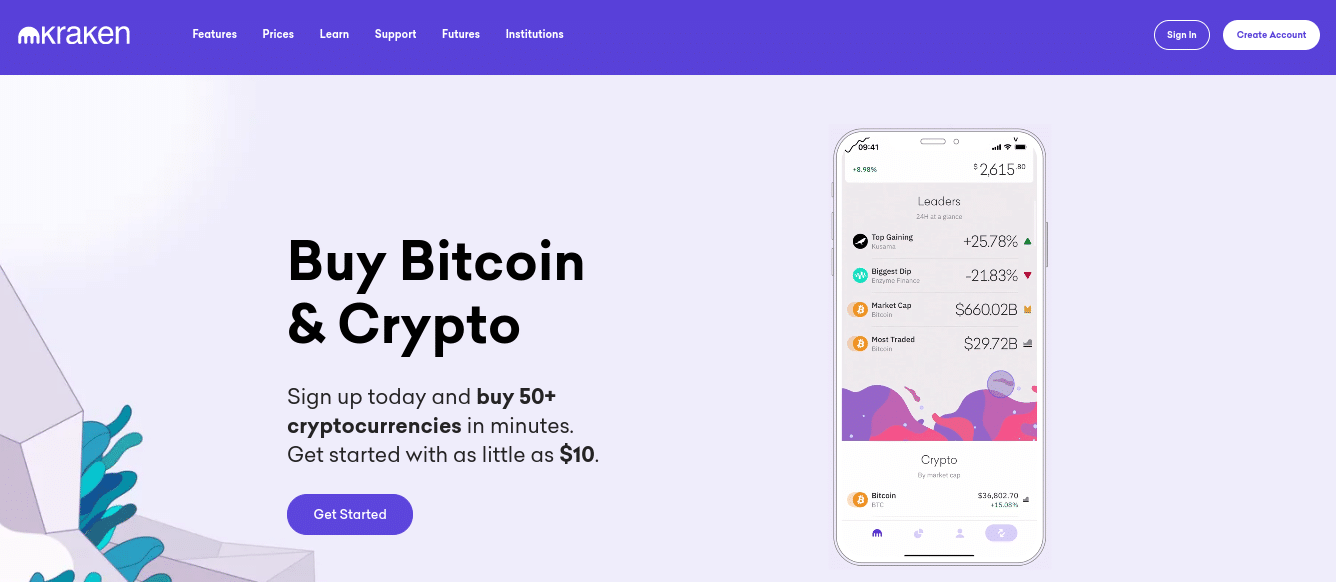 The next option to consider when searching for the best place to buy TRON in the US is Kraken. This popular online exchange is used by millions of people from dozens of countries – many of which are based in the US. This is because Kraken allows US investors to buy cryptocurrency via ACH. The fees involved with an ACH transfer amount to 0.5% at Kraken and transfer times will depend on the sending bank. Once the funds do arrive, you will then be required to pay a commission of 1.5%.
This does make Kraken a tad expensive, especially when you consider that eToro charges nothing in deposit fees and a spread that starts from just 0.75%. Nevertheless, Kraken also offers a 'Pro' version of its exchange which is particularly useful for advanced traders. Here, you will have access to dozens of digital tokens that are offered via both fiat and crypto-cross pairs. The fees applicable on Kraken Pro start at 0.26% – but lower commissions are available to those trading larger volumes.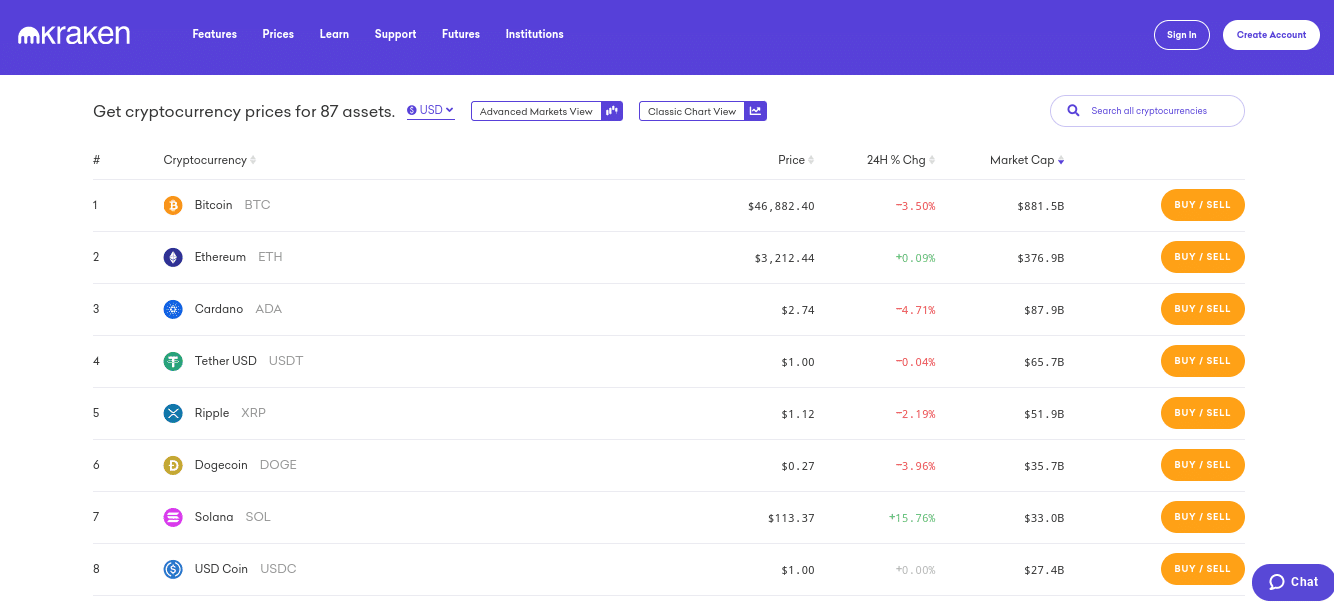 An additional feature available at Kraken is margin trading – which allows you to buy cryptocurrencies with more money than you have in your account. This can be maximized at 1:5 – which means you can amplify your account balance by up to 5x. The fees charged for accessing margin trading facilities are reasonable too – with Kraken charging a maximum rate of 0.02% every 4 hours. In addition to margin trading, Kraken also allows you to buy and sell cryptocurrency futures.
Pros
Popular cryptocurrency exchange and broker
Great selection of cryptocurrencies
Supports both crypto-cross and fiat-to-crypto pairs
Accepts debit/credit cards and bank transfers
Offers complex crypto instruments for experienced traders
Cons
Not all US states are supported
Fees are somewhat pricey
at eToro, #1 Broker in the US
Cryptoassets are highly volatile unregulated investment products. Proceed at your own risk.
How to Buy TRON in USA – Detailed & Explained in Full
If you are a novice in the world of cryptocurrency investments – this detailed walkthrough will show you how to buy TRON with ease. Our guide will initially show you how to open an account and verify your identity with SEC-regulated broker eToro, before explaining how to deposit funds and complete your TRON purchase. All of these steps can be completed in under 10 minutes from start to finish!