Buy Cryptocurrency Singapore – How To Buy Cryptocurrency for Beginners in 2021
Buying cryptocurrency in Singapore is easy. Within some minute, you can buy any digital assets of your choice, such as Bitcoin, Ethereum, and others. Using a secured and trusted platform gives you the safe ground to prospect the cryptocurrency world.
In this article, we'll present you with the right guide on buying cryptocurrency in Singapore.
Buy Cryptocurrency Singapore at Capital.com – #1 Platform
First, you will understand the general performance of digital assets and why you should buy them. Also, we reveal some top brokerages and exchanges where to buy cryptocurrency in Singapore. So, if you're ready, let's explore this route together!
What is Cryptocurrency?
Cryptocurrency is a digital currency, a digital asset, or a type of virtual money. It can serve as ordinary money like dollars, euros, and pounds but with no physical counterparts like banknotes or coins.
This implies that cryptos cannot be carried about; they exist only in digital, electronic, or non-tangible forms. Furthermore, Cryptos are not owned by the government or the central bank, and no governmental authority controls their technologies.
Most cryptos are decentralized and governed by users who stake these digital assets. Similar to normal or traditional money, cryptos are stored in a wallet on the blockchain.
However, they are stored in a manner accessible to only the owner with a private key for safety. The blockchain is an account ledger that keeps the track/record of all transactions.
Unlike standard money but similar to stocks, the crypto value is never stable; they fluctuate per second. That is why the crypto market is highly volatile, even though some cryptos are regarded as a store of value.
According to the coin market cap, Bitcoin is known as the first and highest crypto in the digital market. Moreover, it is the most used and is referred to as the de-facto digital crypto of choice in Singapore.
Crypto Investments in Singapore: How does it Work?
Singapore, in recent times, has emerged as a global hub for technologies like blockchain and cryptocurrencies. The Monetary Authority of Singapore and Singapore's financial regulatory body offer a stable regulatory and legal atmosphere for cryptocurrency businesses.
MAS regulates and monitors the crypto ecosystem against the risks accompanied by crypto trading activities like money laundering and Terrorism. Therefore, all the crypto in the digital market was developed for a particular purpose.
Bitcoin was developed to dare the global banking industry while Ethereum focuses on smart contracts. Crypto like Ripple creates a fast and cheap environment for financial institutions to send and receive funds. However, most people in Singapore engage in crypto activities to make more money, so they buy based on speculation. To invest in crypto and make more profit, below is an overview of how it works.
Let's assume that you bought Ethereum worth 2,000 Singapore Dollars when the crypto price is $30,000. A few years later, the crypto price increased from $30,000 to $50,000, giving a percentage increase of 66.6%.
This implies that your 2,000 SGD investment has yielded a profit of 66.6% (0.666) of your investment capital. Therefore, if you liquidate your investment selling it back to SGD, your selling price will be (0.666*2,000 + 2,000) 3,332 SGD.
To calculate your profit, it will be 3,332 SGD – 2,000 SGD, which equals 1332SGD. It's important to note that the crypto market is volatile; the prices change every second with little or big difference.
For instance, Ethereum price rose from $2,311(3,128SGD) to $2,316 (3,135SGD)  at 12:20 pm and 12:24 pm respectively – a 0.2% increase. In 7days, the crypto recorded a 14.3% increase from $2,025 (2,741SGD) on July 22nd to $2,316 (3,135SGD) on July 29th.
Why Buy Cryptocurrency in Singapore?
Singaporeans invest their funds in crypto to make more money, just like every other investment. There is no doubt that the digital market is becoming crowded with investors as the awareness of crypto assets increases.
This growth is influenced by the growth of top cryptos like Bitcoin and Ethereum. In addition, Singaporean crypto investors now consider digital currencies as an investment tool because of their upside potential and MAS regulation.
The reasons why Singaporeans buy Crypto, in addition to the few points listed above, are;
A Transformational Technology?
The blockchain industry where the cryptos are built has proven to be a game-changer for numerous sectors. For example, it has been efficient in industries like banking, supply chain, and healthcare.
Moreover, it allows distributed ledgers to facilitate impossible economic activity by eliminating trusted actors and intermediaries from computer networks. This feature makes crypto investment attractive to Singaporeans who believe that crypto has a future.
People who believe that crypto investment is worth seeing it as an avenue to make more money while promoting the technology.
A Store of Value
This is another common reason why Singaporeans choose to invest in crypto. Crypto investors desire to have a reliable, censorship-resistant store of value. Censorship-resistant means that crypto transactions cannot be altered on the investment platform.
In addition, most cryptos have a limited supply capped by mathematical algorithms, unlike fiat money. Hence, no government agency or political body can affect their value via inflation.
More so, cryptocurrencies are cryptographic– the government body cannot tax or confiscate the tokens without the owner's consent. This attribute makes them attractive to investors with the concerns of bank failures, hyperinflationary events, and other disasters. Bitcoin proponents describe it as digital gold due to its censorship-resistant and deflationary properties.
Potential or Speculation?
The crypto market is recently dominated by speculative trading, while promoters believe that cryptocurrencies could be part of everyday life. However, the most widespread use of cryptos, according to blockchain studies, is exchange trades.
Thus, it accounts for more economic activities compared to everyday purchases and trades. As a new technology, the crypto space is expected to exhibit some speculative behavior as blockchain technology adoption increases.
However, new investors or beginners are advised to take a calculated risk and not a foolish one. They should be vigilant not to fall into psychological traps like Fear of Missing Out, herd instinct, or the Greater Fool Fallacy.
Scams, Thefts, and Other Losses
The significant ability is among the most unique and impressive aspects of crypto. It doesn't rely on any central intermediary but on investors' ability to keep the cryptographic keys controlling their accounts safely.
The crypto space has adopted many security measures to protect investors from scams, thefts, and other losses. Investors are expected to look out for these features and explore them as funds lost in the crypto space may be unrecoverable.
However, online theft is among the common threats to crypto investors; it's referred to as hacking. Cyber hackers have stolen digital coins worth billions of dollars from Software wallets, exchanges, and ordinary users. In addition, they use many schemes to trick users into giving up their holdings, including market manipulation, social engineering, and doubling scams.
Moderate Staking Amount
Cryptocurrencies are known for their volatility irrespective of their growth and popularity; they are highly speculative too. Unfortunately, this behavior is common among all the cryptos, and as such, it is best to invest or stake moderately.
The crypto space gives investors the leverage of buying any amount of crypto according to their pocket size. This will help you manage the risk associated with crypto investment properly without losing much of your funds.
Many Singaporeans now prefer investing through the Capital.com exchange to minimize cost. This is because the exchange allows you to have the best and fast trading experience at almost zero cost.
They will also give you access to a wide range of cryptos, and you can invest as low as $20 (27SGD). In addition, the blockchain industries allow investors to invest in more than one crypto at a time to minimize risk.
The Best Cryptocurrency to Buy in Singapore now
There are thousands of cryptos in the digital market listed by various exchanges that you can buy with ease. Unfortunately, this has decided on the crypto to buy a challenging task for investors, especially a newbie.
Learning how to buy crypto is not enough; you need to know the best crypto that suits your digital portfolio. Then, you can study the one discussed below and add the knowledge to the outcome of your research.
Bitcoin
Bitcoin is referred to as a decentralized cryptocurrency invented under Satoshi Nakamoto's nickname and launched in January 2009.  It is the first and crypto that was launched in the market.
The crypto has recorded a $100 (135.38SGD) market cap of $200 (270.76SGD) billion in 2020. As of July 2021, the Bitcoin market cap has risen to over $744 (1,007SGD) billion, with a total circulating supply of over 18million BTC. This makes the BTC crypto more valuable than other coins listed in Singapore.
More so, Bitcoin holds a 60% market share of over 8,600 cryptos in the digital market; this is a unique advantage. As a result, it's regarded as investors' choice, especially for newbies awing to its global recognition.
The institutional investors are now buying, selling, and trading Bitcoin futures, making the crypto find its way to Wall Street. With the way Bitcoin crypto is breaking records, a Bitcoin ETF may get a green light in the nearest future.
In addition to being an exchange medium, Bitcoin is also taken to be a store of value. The Bitcoin exchange network enhances borderless transactions in 10minutes at the cost of less than a dollar.
As a store of value, it has the characteristics of gold and is a finite digital asset class. Presently, the bitcoin price is $39,763 (53.825SGD) with $31,096,274,042 (42,093,471,356SGD) as its 24-hour trading volume.
Ethereum
Ethereum is an open-source, decentralized blockchain with Ether (ETH) as its cryptocurrency, as described in its white paper in 2013. ETH serves as a platform for the execution of decentralized smart contracts and other numerous cryptocurrencies.
It was founded by Vitalik Buterin and seven other co-founders on July 30, 2015. Ethereum aims at becoming a global platform for DApps allowing users globally to write and run censorship and fraud-resistant software.
Ethereum has promoted the concept of a decentralized blockchain smart contract. Smart contracts are referred to as computer programs that execute the required actions for fulfilling an online agreement between parties. They were developed to minimize transaction costs and increase transaction efficiency by eliminating intermediaries.
The blockchain of Ethereum, with its ERC20 token compatibility standard, can host other cryptos tokens in addition to smart contracts. This has been the ETH platform's most common use as it has hosted over 280,000 ERC20 tokens lately. This feature has made Ethereum crypto to be among the top 100 cryptos by market cap.
The current price of ether as of July 29th is $2,326 (3,146SGD), with a market cap of over $271 (366.54SGD) billion.  Ether has a total token supply of 116million ETH with a 24-hour trading volume of $15,996,169,113 (21,635,298,610.41SGD).
Binance Coin
Binance is one of the biggest and globally recognized cryptos founded by Changpeng Zhao and He Yi. They launched the crypto in July 2017 with BNB as its native token.
The crypto name is gotten from its technology Binary Finance –Binance. The Binance network includes Trusted Wallet, Binance Chain Academy, and Research projects. They all make use of decentralized blockchain technology.
The main purpose of BNB is to provide less trading commission for investors on the Binance exchange. Therefore, the Binance team has adopted the burning program; they burn BNB coins to reduce the BNB token supply.
This will, in turn, increase the crypto value and may attract more investors into the system. Early this year, 2021, the BNB token made a significant price rise and has become among the enterprise investors.
As of today July 29th, the BNB price is $314.9(426SGD) shifting from its high of $675.68 (914.13SGD) in May 3rd. It has a current coin market cap of $52,946,556,736 (71,631,396,608.13SGD) and a total supply of 168,137,036.00BNB. The 24-hour trading volume is $1,393,280,110 (1,885,149,787.23SGD).
Buying Cryptocurrency in Singapore: Is it Legal?
Cryptocurrency trading and exchanges are legal in Singapore. However, the country took a more friendly approach to crypto issues than some of its neighbors. Though they have not considered crypto a legal tender, Singapore's tax authority sees Bitcoin as goods. As a result, they have resorted to taxing crypto proceeds as it applies to other goods and services (Singapore's version of Value Added Tax).
The Monetary Authority of Singapore (MAS) in 2017 took its position on crypto growth, declaring its intention to regulate the system. MAS seeks to regulate virtual currencies and digital payment tokens DPT so far; the token is labeled securities.
The regulatory body, later in 2020, issued a public warning on the risks associated with the crypto investment. Presently, any proceeds from crypto transactions are taxed the same way tax is paid on gains from stock investments.
How to Buy Cryptocurrency Safely in Singapore
Make no mistake about it; although cryptocurrencies no longer have a murky reputation in Singapore, the industry is still prone to scam artists. After all, digital currencies largely operate anonymously; transactions are not tied to the identity of the sender or receiver. In turn, this means that crypto-assets like Bitcoin are often the currency of choice for scammers.
With this in mind, there are several safeguards that you can take to ensure you buy cryptocurrency safely in South Africa.
Only use Broker that is Regulated
There are so many ways to buy crypto in Singapore; check if the exchange you choose is regulated. Ensure that the exchange has enough available resources for new investors. How secured is the exchange? Look out for the following to confirm this;
Is it secure? Find out whether the exchange has a hacking history and the percentage of its digital assets stored offline.
­­­­Is it insured? Some exchanges ensure investors' funds against theft and fraud.
What are the charges like? First, you need to know how much the exchange charges for transactions like deposits or withdrawals.
Can you sign up from Singapore? Unfortunately, some crypto exchanges cannot operate in Singapore like eToro. So, look for the ones that you can easily sign up for there.
Don't Engage in Peer-to-Peer Transactions
Peer-to-peer transactions involve the direct buying and selling of cryptos among users without any third party. The users here use market aggregators and charts to know when to buy, sell or hold their cryptos.
This transaction method is becoming so common among Singaporean investors, and it is not the best option. The process is based on trust and is very risky; no regulatory agency backs it.
Decide if you want a hot or cold wallet.
Most beginners do think that storing their crypto holdings in a private wallet is not useful. Instead, they prefer keeping their assets on the exchange, which could be risky as exchanges don't have private keys.
However, storing your crypto holding in a private wallet is part of the safe way to compete for your crypto buying transaction. It is the next decision to make once you have decided to enter the crypto industry.
However, a private wallet will help secure your crypto holdings from cyber thieves and hackers, unlike an exchange. Although with a regulated exchange, the story may be different. The types of wallets you can use are the software or mobile wallet and hardware or cold wallet.
Payment Methods for Buying Cryptocurrency in Singapore
Buying cryptocurrency in Singapore requires the use of a regulated and trusted brokerage or exchange. Using unlicensed companies creates some difficulties as they don't have the legal right to handle fiat currencies. They can only transact on digital assets.
By using Capital.com to buy cryptocurrencies in Singapore, you have several payment methods at your disposal. Also, except for bank transfers, the other options impact instantaneously on your account.
Below are the available payment methods on Capital.com:
Bank transfers
Credit cards
Debit cards
PayPal
ApplePay
Webmoney
Qiwi
2c2p
Trustly
Giropay
Where To Buy Cryptocurrency Singapore – Best Brokers
While considering to plunge into cryptocurrency investment, you must choose a trusted and prominent brokerage or exchange. Unfortunately, thousands of online crypto platforms can't be trusted due to insecurity.
Most of them are not under any regulatory agency and comply with no laws to checkmate frauds and money laundering. In addition, trading on such platforms exposes you to the risks of losing your funds. Therefore, you'll need to make some checks and balances before investing your money.
Having that in mind, we'll present you with the best and trusted platforms where to buy cryptocurrency in Singapore. So not only will you have a safe environment to trade, but you will get meager fees on these highly equipped platforms.
1. Capital.Com – Overall Best Broker to Buy Cryptocurrency in Singapore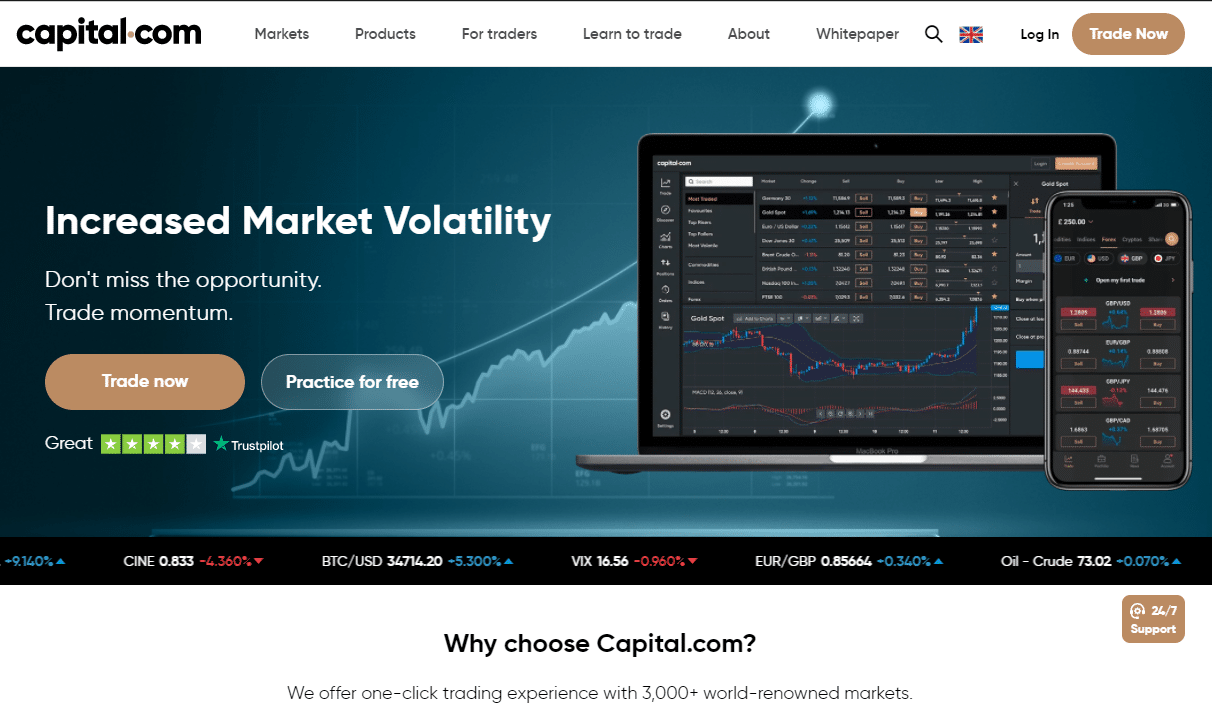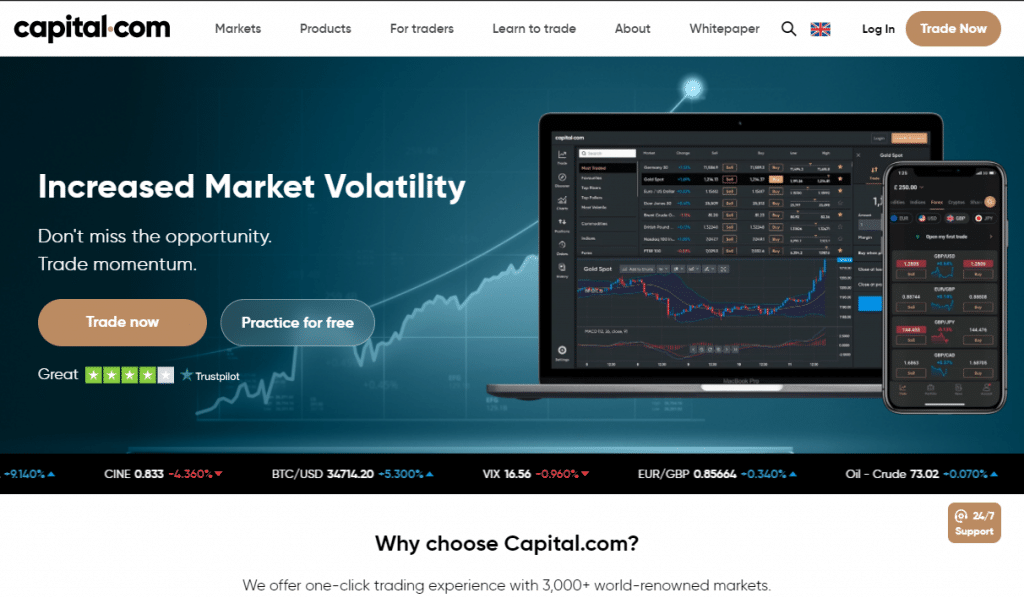 Capital.com has risen as one of the top and outstanding platforms to buy, sell, and trade cryptocurrencies globally.
Founded in 2016, the broker has created more accessibility of different financial instruments to its users. Its safe and unique platform has special tools and features for every customer, whether beginner or advanced.
The broker offers the trading of digital assets in CFDs. So for any cryptocurrency you want, you can buy the crypto CFDs instead of the tokens.
This removes the issues of getting a wallet for storage or keeping your crypto coins. Also, you'll have no worries about the risks and stress associated with private keys and their safekeeping.
At Capital.com, most of the services for customers are free. The broker gives a 0% commission on trading. There are no fees for deposits, withdrawals, opening /closing trades, educational tools, real-time quotes, indicators/charts, and others. Capital.com uses the variable spread approach on the buying/selling of instruments for charges.
Furthermore, it supports several payment options for funds deposits. Some of the options include credit/deposit cards, bank transfers, PayPal, ApplePay, Neteller, Skrill, etc.
The platform has a low minimum deposit of €250 (about 405 SGD) for bank transfer only and $20 (27 SGD). Apart from bank transfers, deposits through other payment options reflect instantly in the user's account.
When it comes to security, Capital.com has a tight spot for its users. The broker is under the regulation of top-tier financial agencies such as the FCA, CySEC, etc.
Hence, compliance with financial and security laws is a top priority for the company. The brokerage's reputation speaks for it, and there's why it boasts over 20 million users.
Capital.com offers a satisfactory experience to its users. Just with a single click, you can access over 3,000 financial market instruments in one same place. Some of the instruments include cryptocurrencies, stocks, indices, forex, commodities, etc.
You won't need to log in to different exchanges to access the multiple classes of instruments. Also, there's a 24/7 customer support service on the platform through phone and emails.
Also, the broker has a unique smart trading app. There's an integration of an AI in the trading system. This exposes cognitive detective biases in the trading patterns for users. It automatically identifies deviations in a trading pattern and alerts the user. Additionally, the AI provides helpful content to traders in boosting their skills and performances.
Capital.com has both web and mobile apps for customers' convenience wherever and whenever. In addition, they have trade indicators, news, and analyses charts for the different market instruments.
In addition, the platform offers excellent educational resources for beginners to learn and improve on their transactions. Some of them are courses and webinars on crypto buying and trading activities.
Capital.com Transaction fees
| | |
| --- | --- |
| Transaction | Fees |
| Withdrawal | Free |
| Commission on crypto trading | 0% |
| Deposit | Free |
| Charges for buy/sell crypto | Spread |
| Inactivity | None |
Pros
Offers a 0% commission on crypto trading with no hidden fees.
Trusted platform and easy, user-friendly interface.
Fast execution of orders.
Competitive spreads.
Under the regulation of top-tier agencies like the FCA, CySEC, and others.
Accessibility of over 3,000 markets
Mobile and web apps
Availability of educational resources and demo account.
Cons
CFDs come with a high risk of losing money rapidly due to leverage. 67% of retail investor accounts lose money when trading. Proceed at your own risk.
2. AvaTrade – Advanced CryptocurrencyTrading Platform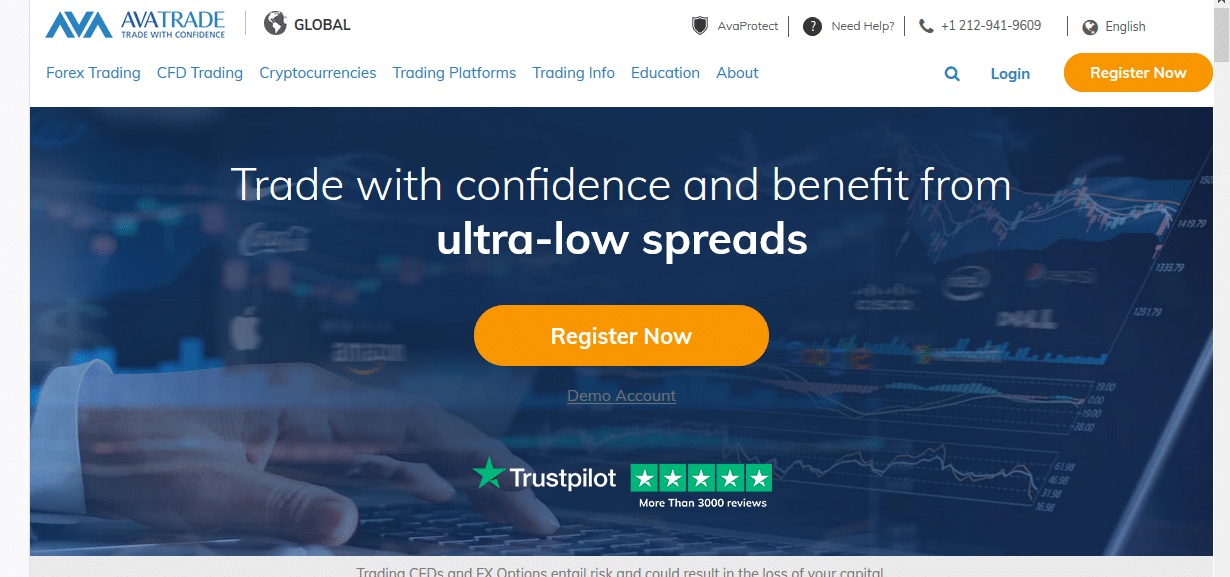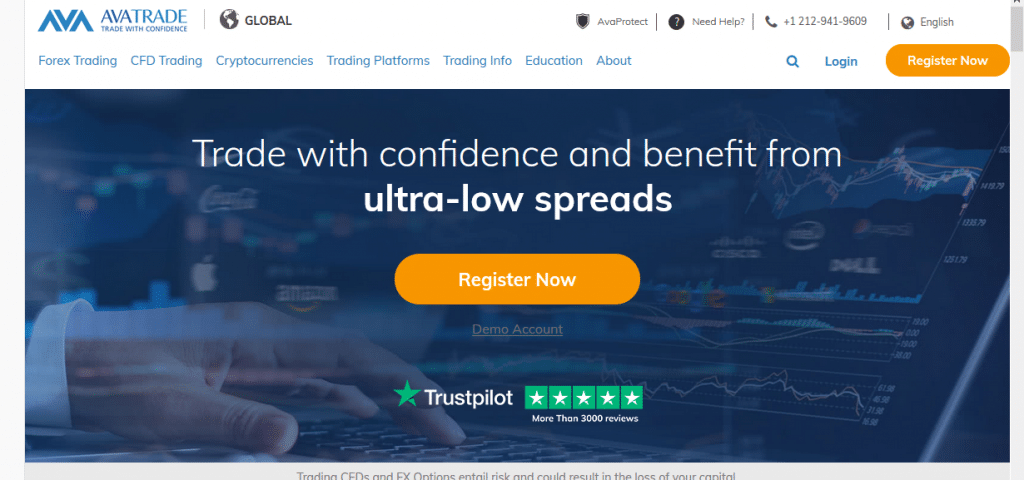 AvaTrade stands as the best platform if your interest is in advanced tools for your crypto transactions. The company is one of the leading and prominent sites for CFDs transactions in different financial instruments.
It offers CFD trading opportunities in cryptocurrencies such as Bitcoin, Ethereum, Ripple, Litecoin, etc. Some of the assets on the platform besides crypto include stocks, forex, ETFs, bonds, indices, and commodities.
The broker is under the regulation of top-tier agencies in Europe, Japan, Australia, South Africa, and others. AvaTrade maintains a secured platform by complying with financial laws on security and anti-money laundering campaigns. Right from the account opening process, the company ensures KYC compliance and documentation.
Also, there's encryption for every transaction on the platform via SSL technology. This maintains the security and confidentiality of customers. Using Avatrade means trading in a safe environment.
AvaTrade supports different payment options like bank transfers, credit/debit cards, e-wallets, and others. The minimum deposit through bank transfers is $500 (675 SGD), while cards and e-wallets are $100 (135 SGD).
The broker takes no fee for deposits and withdrawals of funds. The charges on the platform are based on spreads which vary by the market prices and digital assets. Also, you can leverage at different caps depending on your deposit amount.
The platform is user-friendly and easy to navigate. It comes with some advanced trading tools such as ZuluTrade, MetaTrader, and DupliTrade. In addition, users can access perform backtesting on historical price data using technical, analytical tools.
They can also create unique customized strategies for their trades. There are also charts and graphs displaying price changes for digital assets.
AvaTrade supports mobile app on iOs and Androids that help customers even when they are on the go. In addition, it has a demo account that gives beginners the right heads-up on the platform and in crypto transactions.
The platform offers 24/5 customer support in different languages via live chats, emails, and phones. However, a major downside for this broker is the high quarterly inactivity fee of $50 (67.5 SGD).
AvaTrade Transaction fees
| | |
| --- | --- |
| Transaction | Fees |
| Withdrawal | Free |
| Commission on crypto trading | 0% |
| Deposit | Free |
| Charges for buy/sell crypto | Spread |
| Inactivity (Quarterly charge) | $50 |
Pros
Trusted and secured platform.
Trades in other financial instruments.
Under the regulation of top-tier bodies from different countries.
Free deposits and withdrawals.
Advanced tools for research and analysis.
Cons
High inactivity fee of $50 per quarter.
The platform may be too advanced for newbies.
CFDs come with a high risk of losing money rapidly due to leverage. 67% of retail investor accounts lose money when trading. Proceed at your own risk.
3. Binance – The Largest Platform for Trading Volume and Liquidity in Cryptocurrency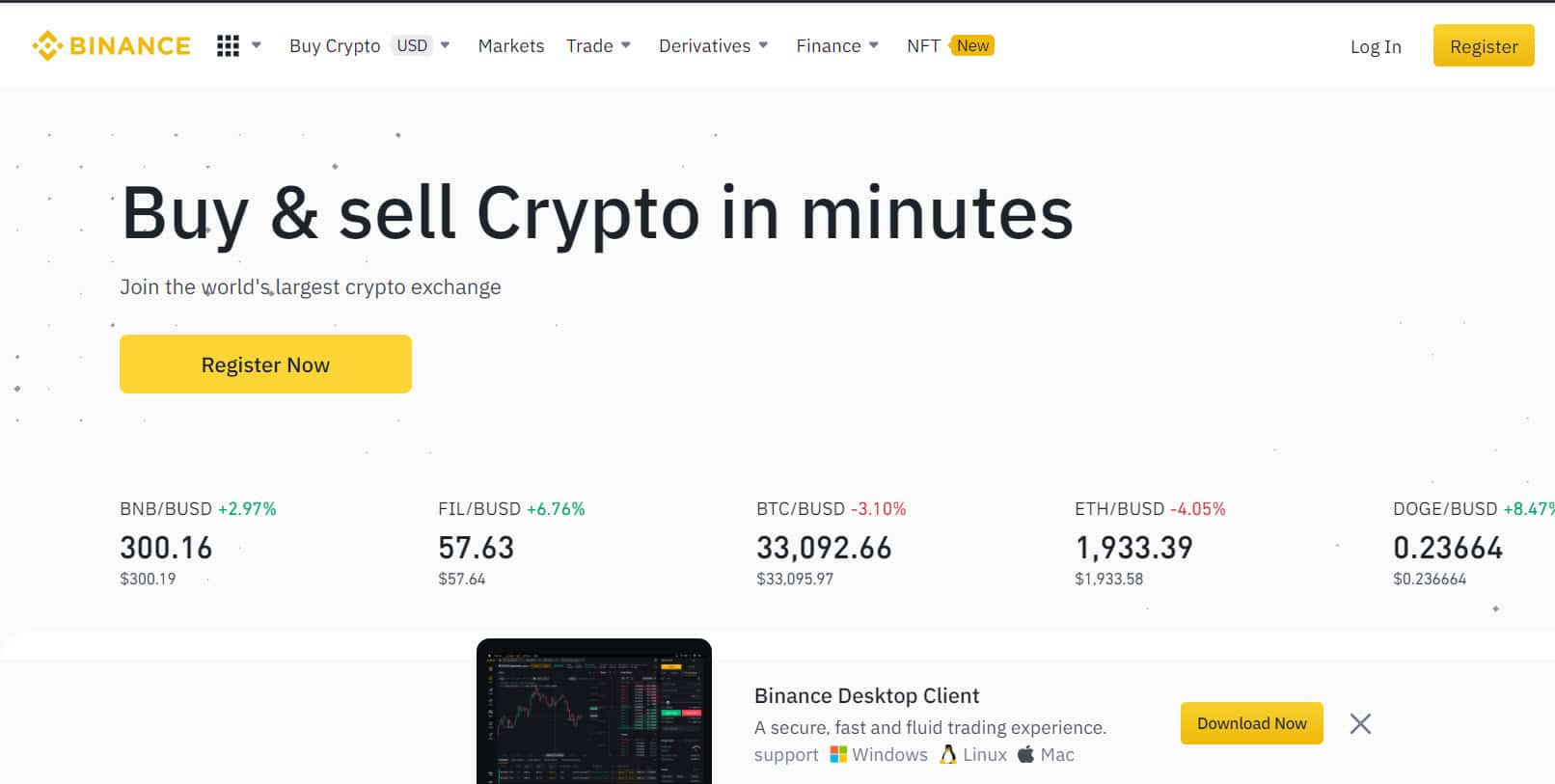 Binance is a popular company and remains the largest global platform for trading volume and liquidity in crypto and other instruments. The broker has a wide range of cryptocurrencies listed on it.
Some of the digital assets available on the platform include Bitcoin, Ethereum, Litecoin, Dash, Ripple, and others. Also, Binance has its coin, the Binance coin (BNB), for trading. By using the platform, you can conveniently trade in crypto-fiat and crypto-cross pairs.
Also, you can different funds transfer options using Binance. The company supports bank transfers, credit/debit cards, and e-wallets. Besides bank transfers, the other options are instantaneous confirmation for your deposits. However, bank transfers take a longer time.
Binance uses an intermediary account for bank wires. The entire process will require 48 hours to complete, excluding weekends and public holidays. The minimum deposit on the platform is $100 (135 SGD).
The platform has both basic and advanced crypto trading versions. There are charts/graphs, trade histories, and order books. However, there are added tools for technical analysis on the advanced version. This helps the users while trading on crypto value over time.
Binance fees are competitively moderate. It has a 0.1% average fee for crypto trading. Withdrawal fees vary based on the digital asset.
The customer support service on Binance is a little below standard. There is no live chat or phone. Instead, the customers utilize support tickets through an online form on the website. The company makes responses through emails.
Binance Transaction fees
| | |
| --- | --- |
| Transaction | Fees |
| Withdrawal | Variable |
| Commission on crypto trading | 0.02% – 0.1% |
| Deposit (Cards) | 3% – 4.5% |
| Charges for buy/sell crypto | 0.5% |
| Purchases | 0.02% – 0.1% |
| Inactivity | |
Pros
The largest platform for trading volumes and liquidity.
Has a wide range of crypto and other assets.
Moderate fees.
Several transactions types are available.
Cons
Too sophisticated for beginners
No built-in wallet.
CFDs come with a high risk of losing money rapidly due to leverage. 67% of retail investor accounts lose money when trading. Proceed at your own risk.
4. Kraken – High Leverage Cryptocurrency trading platform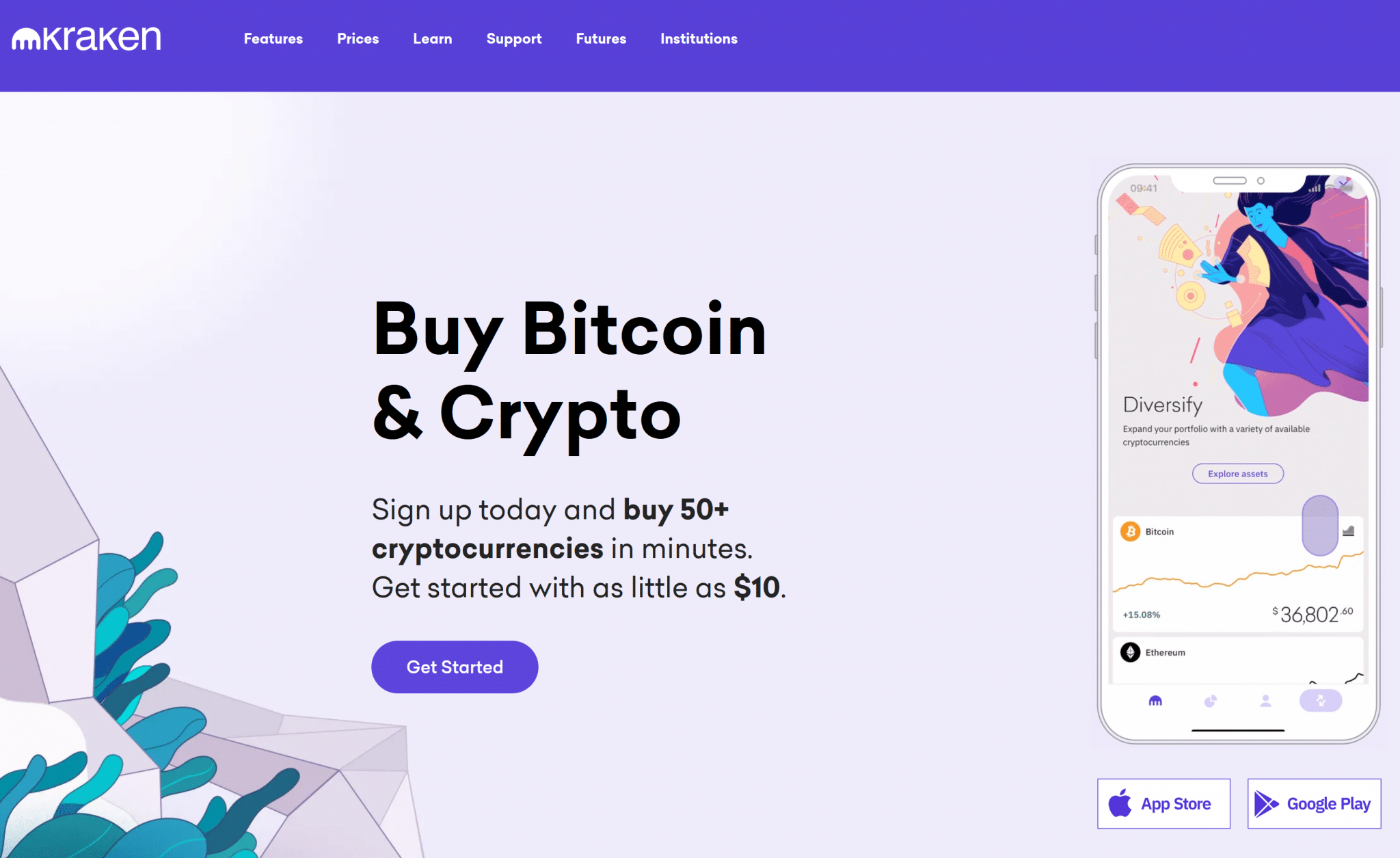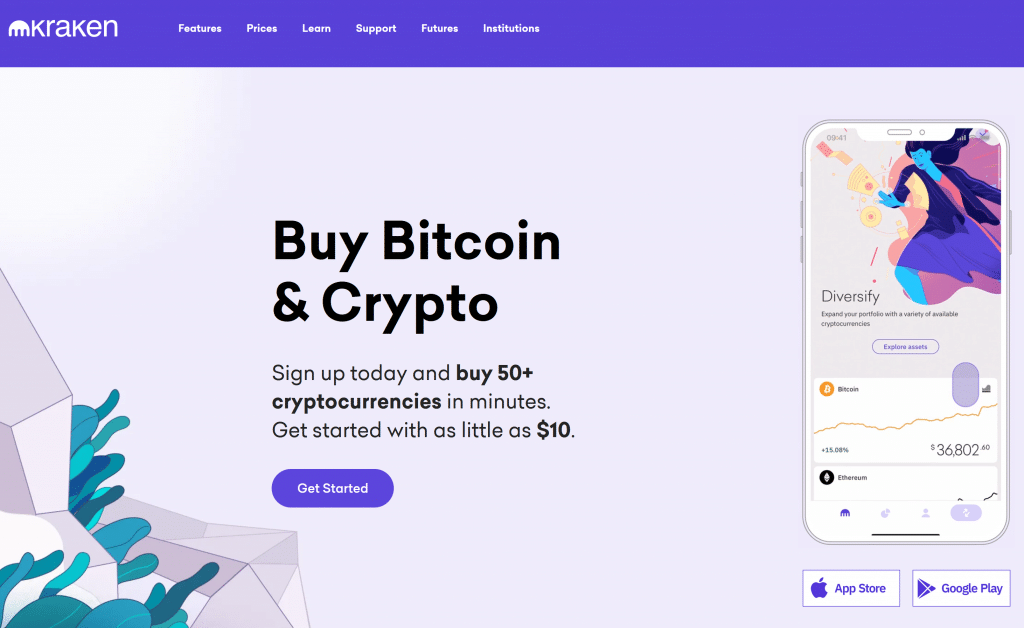 Kraken is another outstanding platform where you can buy and trade cryptocurrency in Singapore. Founded in 2011, the platform has made outstanding performance for over a decade.
It has a widespread reputation, respect, and trust with the crypto industry. Its services include digital assets such as Bitcoin, Etherrum, Ripple, and others. Also, it has other financial instruments like stocks, indices, etc.
The platform boasts unique trading tools and features. Using the broker allows trading on crypto futures. Another great outstanding feature is the ability to leverage up to 50:1 while engaging in crypto margin trading. Advanced investors will always prefer to stick to Kraken.
Also, the platform has a great user-friendly interface that beginners can easily navigate. Also, it has 24/7 customer support services through live chats. In addition, the broker runs a help center comprising detailed answers to the most frequently asked questions. You will also find information and guides for every aspect of cryptocurrency you want.
An education section on the platform hosts some content, tutorials, and articles suitable and helpful to beginners.
Kraken Transaction fees
| | |
| --- | --- |
| Transaction | Fees |
| Withdrawal | Variable |
| Commission on crypto trading | Variable |
| Deposit | |
| Charges for buy/sell crypto | 1.5% |
| Inactivity | None |
Pros
Meager trading fees.
Great performance for over a decade.
Advanced trading features.
Availability of extensive leverage.
Cons
CFDs come with a high risk of losing money rapidly due to leverage. 67% of retail investor accounts lose money when trading. Proceed at your own risk.
5. Coinbase – Best User-Friendly Cryptocurrency Trading Platform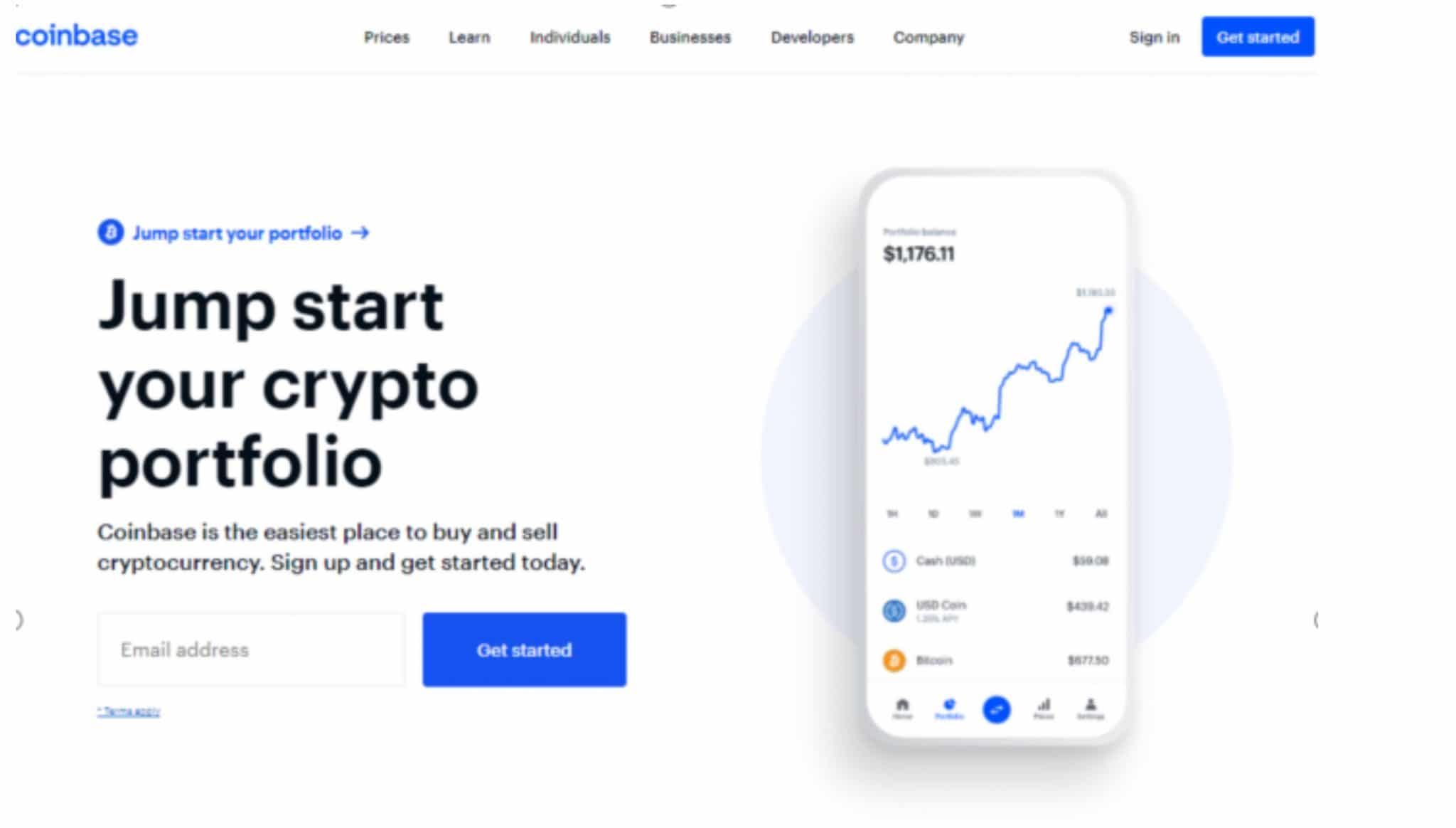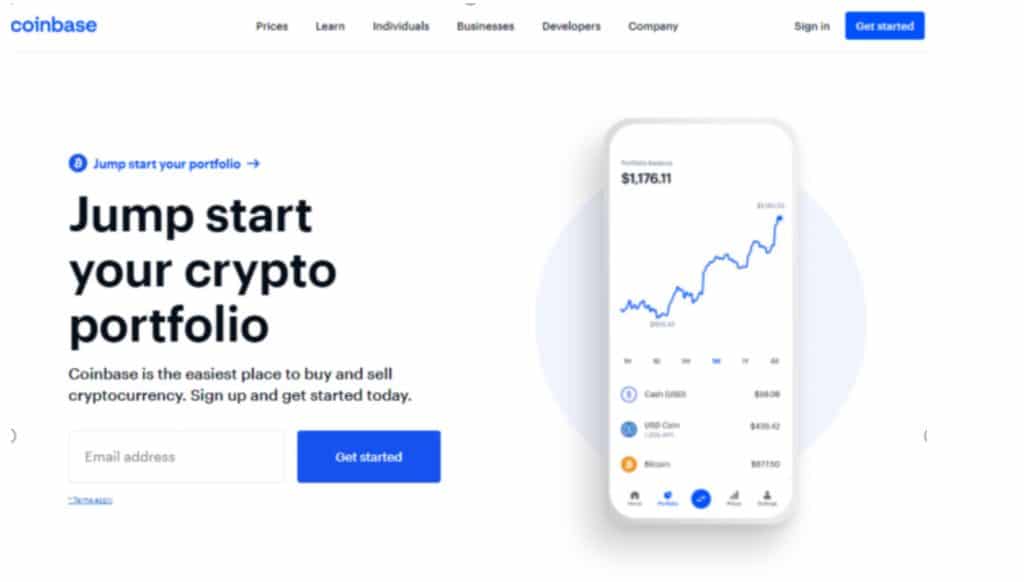 Coinbase has a great reputation as the best user-friendly platform for cryptocurrency and other financial instruments. Its interface is straightforward and easy and most suitable for beginners. There is no complexity associated with the features on the platform. This account for its over 35 million users.
The broker has a wide range of digital assets available on the platform to boost your crypto portfolio. You can conveniently buy Bitcoin, Ethereum, Litecoin, Ripple, and others. There's also the mobile app for easy transactions when you're on the go.
The platform is a safe and trusted platform for crypto transactions, regulated by several licensing agencies, including FinCEN. Also, Coinbase has some security features like 2-factor authentication (2FA), email notifications, address whitelisting. Finally, there's the Coinbase Vault, where you can lock all your withdrawal requests within 48-hour.
The broker supports funds deposits through bank transfers, credit/debit cards, and others. There's a fee of 3.99% for deposits through debit cards. Though banks transfers are cheaper, they will a long time to get confirmation. The crypto trading commission fee is 1.49%. In general, Coinbase may be considered quite an expensive platform.
Coinbase Transaction fees
| | |
| --- | --- |
| Transaction | Fees |
| Withdrawal | 1.5% |
| Commission on crypto trading | 1.49% |
| Deposit from debit cards | 3.99% |
| Charges for buy/sell crypto | 1.49% |
| Inactivity | |
Pros
Trusted and reliable broker with over 35 million users.
Wide range of cryptocurrencies.
Added security with 2FA.
Instant buying with debit cards
Easy, user-friendly interface suitable for newbies
Availability of mobile app
Cons
Delays in purchases by bank transfers.
High fees for debit cards deposits.
CFDs come with a high risk of losing money rapidly due to leverage. 67% of retail investor accounts lose money when trading. Proceed at your own risk.
How to Buy Cryptocurrency in Singapore – Guide
To get started on how to buy cryptocurrency in Singapore, you'll need the service of a crypto brokerage or exchange. The process of opening an online account takes just some minutes to complete.
Remember that the reliability and security stance of such a platform matters a lot. Using a reputable brokerage such as Capital.com provides safety and cost-effective platform for buying cryptocurrency.
Here are the complete walkthrough steps in buying cryptocurrency on Capital.com at 0% commission.
Step 1: Signup an Account on Capital.com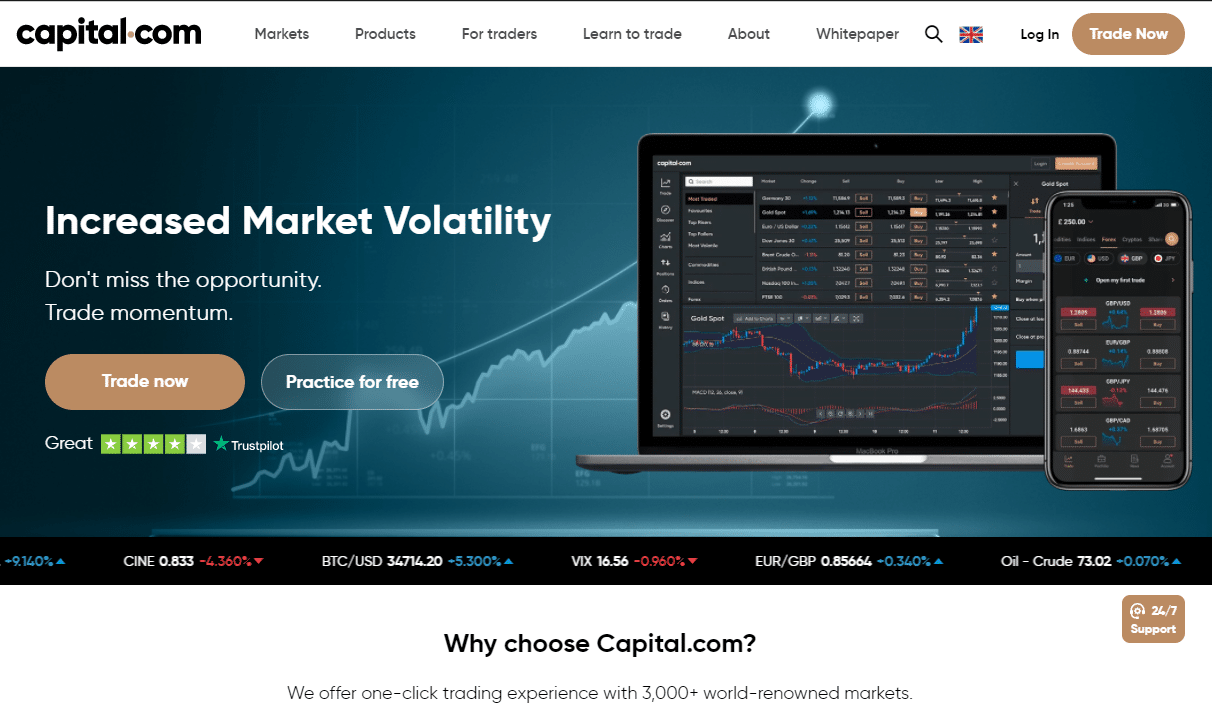 Capital.com is the best platform to use for crypto activities in Singapore. The broker offers its customers most of its services for free, and where there are charges, they are competitively low.
You'll have a 0% commission on crypto trading, and it accepts deposits in Singapore dollars. Also, Capital.com allows its users to leverage up to 1:5 in their transactions.
Visit the official site of Capital.com and click the 'START NOW' button to register for a new online account. Then, fill the on-screen form by entering some personal information such as your name, phone number, date of birth, etc.
Also, you'll create a username and password for your login. Ensure to use a strong password to increase the security of your account.
Buy Cryptocurrency with 0% Commission Now >
Step 2: Verify Your Account and Upload Your ID
Capital.com is under the strict regulation of three top-tier licensing agencies – the FCA, CySEC, and ASIC.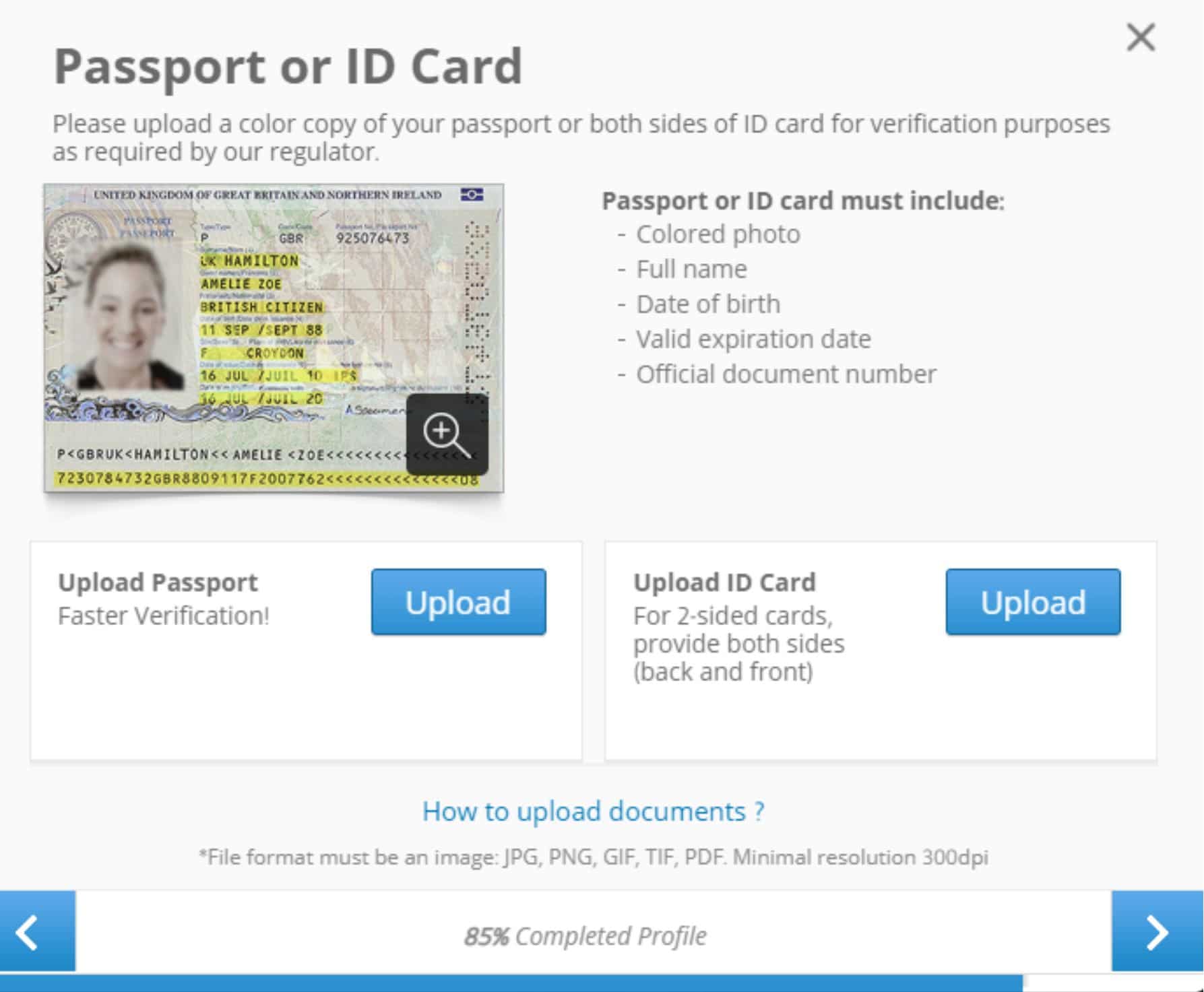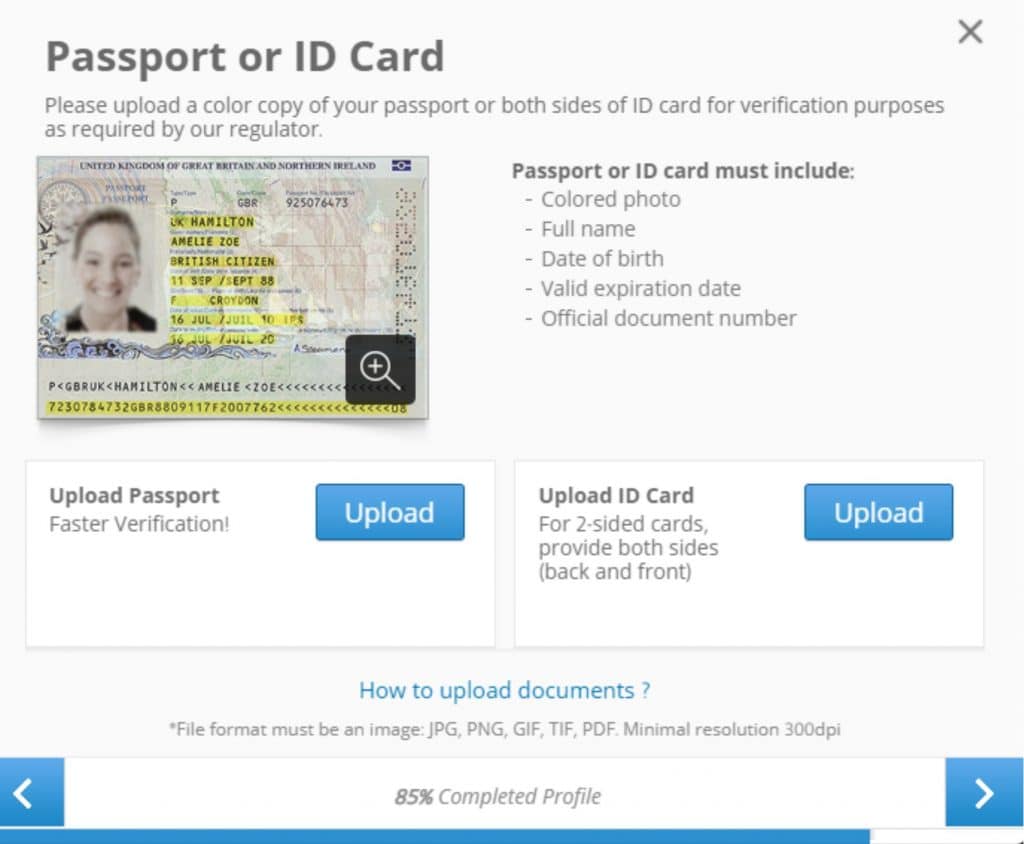 As such, the broker ensures compliance with security rules in account documentation and anti-money laundering campaigns. Thus, Capital.com carries out account verification and KYC documentation on every user.
The verify you're your account, you will upload the following :
Your government-issued ID like passport or driver's license.
A recently issued bank statement or utility bill, not more than 3 months.
Account verification in Capital.com is near-instantaneous. Once you're through with your uploads, you'll receive a notification confirming the verification of your account.
Step 3: Deposit Funds
After the account verification, you can process to deposit your funds in your account. Capital.com accepts deposits in Singapore dollars which it can convert to USD to your crypto transactions.
You'll log in to your account and click on the 'DEPOSIT' button on your left-hand side.
Also, the broker supports different payment methods on its platform. Therefore, you should select any transfer method that is suitable for you. Some of the options available for users for first-time deposits include:
Bank transfers
Credit cards
Debit cards
PayPal
ApplePay
Webmoney
Qiwi
2c2p
Trustly
Giropay
The platform supports subsequent funds deposits through Neteller and Skrill. The minimum deposit for all the payment options is $20 (27 SGD) except bank transfers. However, bank transfer has a minimum deposit of €250 (about 405 SGD). Also, the broker takes no charge for funds deposits irrespective of the payment options you chose.
Deposits through cards and e-wallets instantly impact your account, but bank transfers can take more time.
Step 4: Buy Cryptocurrency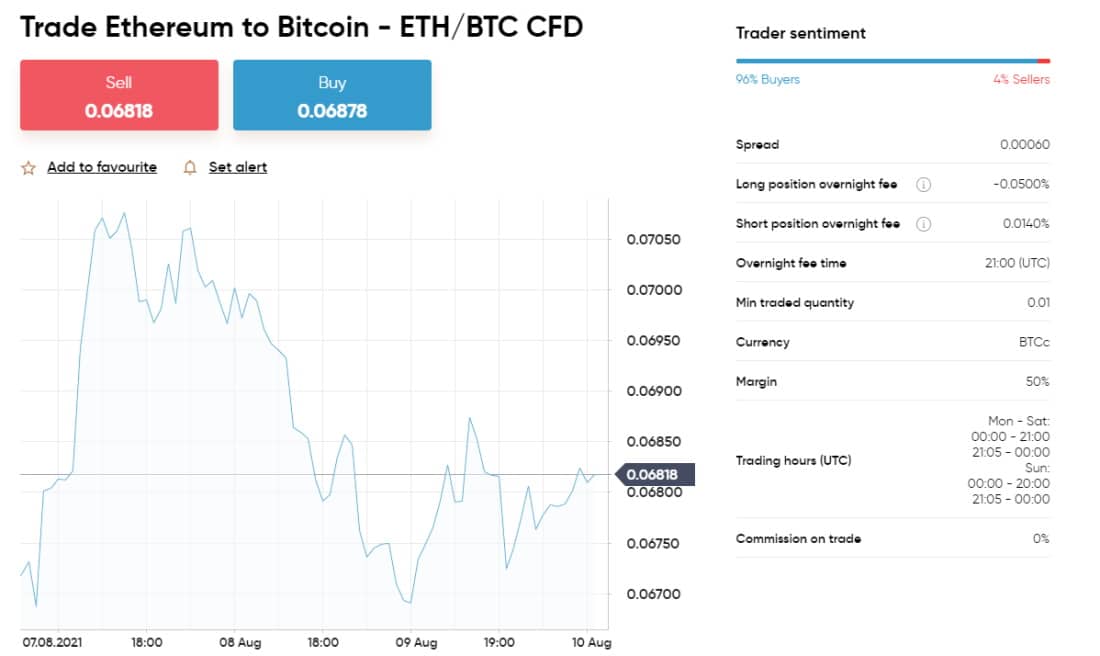 When the deposit reflects in your account, you can proceed to buy any cryptocurrency you desire. Capital.com trades on CFDs, so you'll be getting your purchase in CFDs form.
From the search box, search and select the crypto you want to trade. Since the broker converts other fiat currencies to USD, you will choose the option that has USD/the crypto. Then, click the TRADE button on the right-hand side.
Enter the amount of the crypto CFDs your want to buy and set your order accordingly. Finally, confirm your order and conclude by clicking the TRADE button. Capital.com will execute your buy order using the best available market price. And there, you have your cryptocurrency.
Conclusion – Buy Cryptocurrency Singapore
Following this article, you now have all it takes on how to buy cryptocurrency in Singapore. The guide takes a deeper dive to clarify digital assets and the best brokers available for your purchase. It also reveals the trend cryptocurrencies available in the market for you, what to consider, and the potential risk in crypto investment.
Being fully equipped, you now understand what to expect as you leap into the industry. Remember, you must use the right ground for the investment of your digital assets. Capital.com gives you all and more than you can expect when buying cryptocurrency.
Starting from the account opening process to buying the crypto, 0% commission, and the leverage cap. You will never get it better out Capital.com. So, visit the site today and hit the STRAT button now!
Buy Cryptocurrency Now in Singapore: Capital
FAQs
Can I buy cryptocurrency with Singapore dollars?
How much does it cost to buy 1 Bitcoin in Singapore?
Where can I buy cryptocurrency online in Singapore?
Is it legal to buy crypto in Singapore?
Where to buy cryptocurrency in Singapore with Paypal?
What is the best cryptocurrency to buy now?