Best Crypto Exchange South Africa – The Best Bitcoin Exchanges Reviewed
As the first and most popular cryptocurrency in the world, Bitcoin is almost a household name. Its value is pushing this digital asset as the most desirable global virtual currency.
Many people worldwide are searching for the right platform to buy cryptocurrency. So, if you are searching for the best Bitcoin Exchange in South Africa, we will guide you.
This article highlights the best cryptocurrency exchanges in South Africa to buy, sell, and trade Bitcoin conveniently.
Exchange Cryptocurrency at South Africa's Leading Crypto Exchange, Capital
List of Best Cryptocurrency Exchanges South Africa
There are several crypto exchanges in South Africa where you can buy Bitcoin. However, it's very crucial that you go for a reliable and trusted Bitcoin exchange for your transactions.
That's the only way you'll get great trading features and lower transaction fees. What's more, there.s always a seamless navigating interface on such Bitcoin exchanges.
We present our 6 top best Bitcoin exchanges South Africa as follow:
Capital – Overal Best Exchange in South Africa. Visit now.
Binance –The Best Active Platform for Bitcoin transactions.
Coinbase –The Best Platform with Widest Selection of cryptocurrencies.
Coinmama – A faster platform for Bitcoin transactions
Kraken – The Best User Support to buy Bitcoin
Luno – The Best Bitcoin Exchange for Newbies in South Africa.
Bitcoin
3 Providers that match your filters
What we like
Trade real cryptos and crypto CFDs

Licensed broker with deposit insurance

Integrated wallet
Features
Payment methods
CFDs are complex instruments and carry a high risk of losing money quickly through leverage. 75% of retail investor accounts lose money when trading CFDs from this provider.
What we like
Amount of withdrawal fee: $0

Large amount of cryptocurrencies for CFD trading

Minimum deposit: $20
Features
Payment methods
CFDs are complex instruments that have a high risk of losing money quickly due to leverage. 72.6% of retail investor accounts lose money trading CFDs with this provider.
What we like
Careful selection of cryptocurrencies

Regulated by CBI and MiFID in Europe

No commissions and low spreads
Features
Payment methods
CFDs are complex instruments and carry a high risk of possible rapid loss of capital due to their leverage. 71% of retail investor accounts lose capital when trading CFDs with this provider. You should consider whether you understand how CFDs work and whether you can afford to take high risk in losing your capital.
Review of Best Crypto Exchanges South Africa
Below are detailed assessments for the best Bitcoin exchanges available to you in South Africa.
1. Binance – Best Active Platform for Bitcoin transactions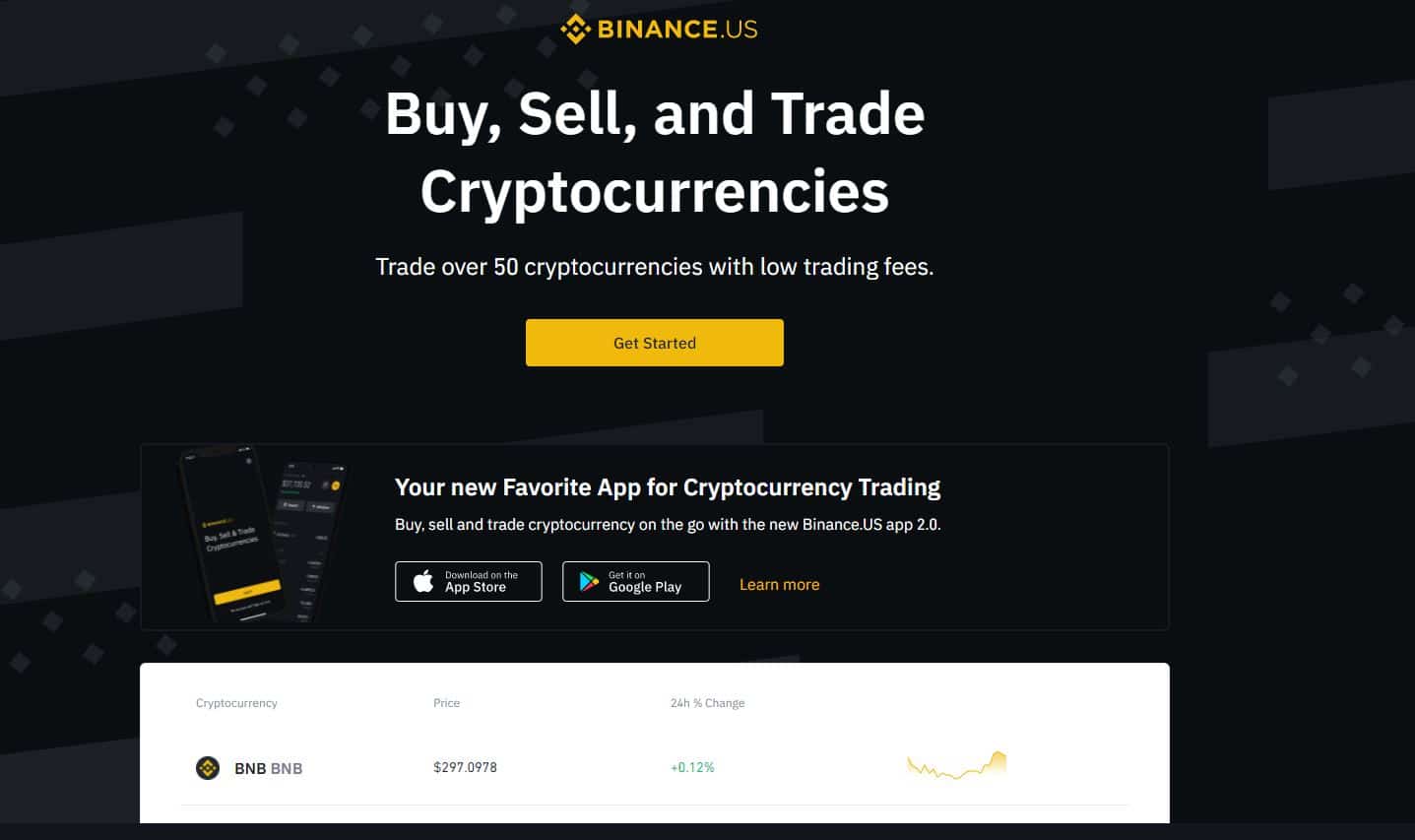 Binance is the best and reliable Bitcoin exchange with the largest trading volumes. Launched in 2017, the exchange has risen meteorically in popularity and customer base. It has hundreds of cryptocurrencies that users can invest in to boost their portfolios.
Binance supports the buying of Bitcoin and other digital assets using South Africa Rands (ZAR). You can conveniently deposit Rands through bank transfers, credit/debit cards, and e-wallets.
Another interesting service on the platform is the Binance P2P which makes fast conversion of ZAR to BTC. This conversion attracts no charges, is easy, fast, and reliable. Moreover, you can withdraw Rands (ZAR) directly to your local account.
Additionally, using Binance for trading exposes you to several other cryptocurrencies available in the crypto market.
Also, you can access other alternative crypto derivatives such as Bitcoin vanilla options and futures contracts. For example, you can mask your risk and speculate beyond Bitcoin's price move when buying Ripple.
Another outstanding feature of Binance is its flexibility. By using the API, you can connect to third-parties trading services such as Bitcoin trading robots.
Alternatively, you have the option of loaning your digital holding on an interest basis. Finally, there is the availability of user support through chats 24/7. This's completely out of the stance of most Bitcoin exchanges.
While professional investors have lots of advanced tools and play with, newbies are not left out on Binance.
There's an interface for beginners for one-time Bitcoin purchases. Also, users have access to a secured built-in wallet. The platform gives one of the best wallets for Ripple.
Furthermore, Binance has its digital asset – the Binance coin (BNB). Users get trading discounts when they keep and trade their holding in BNB.
So rather than leaving your funds in Rands, you can trade with BNB. Also, the overall fee on Binance is low. The platform uses the spread basis for fees which is between 0% to 0.1%
Pros
A global leading crypto exchange for trading volumes.
Supports several payment methods in depositing Rands.
Trading fees discounts and low spread.
Multiple trading pairs for cryptocurrencies, fiats, and others.
Availability of hundreds of digital assets.
Secure built-in crypto wallets.
Crypto interest-earning with a saving account.
Withdrawal of Rands directly to bank accounts.
Cons
Too complex for crypto newbies.
2. Coinbase – Best Platform with Widest Selection of cryptocurrencies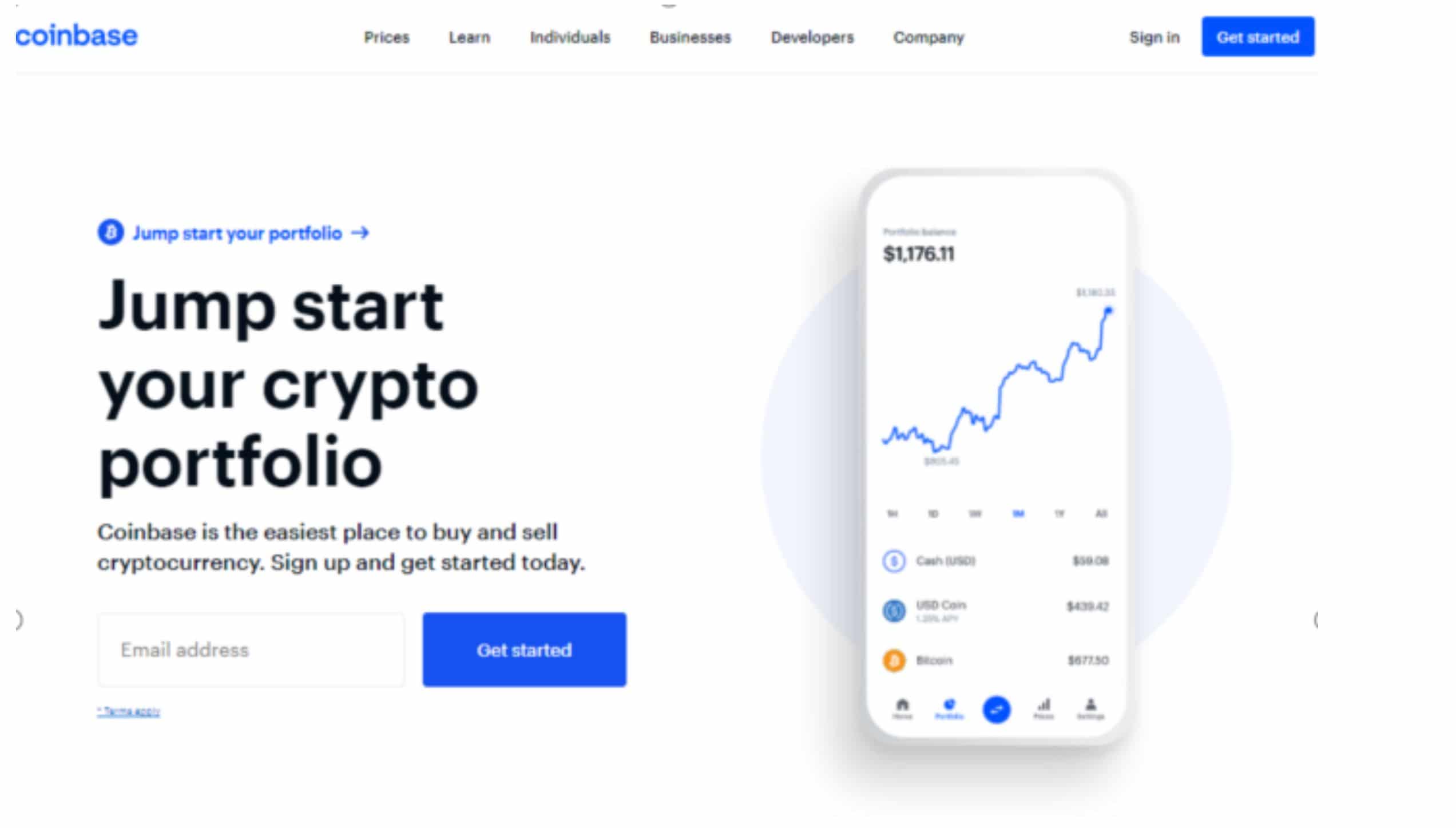 Coinbase has the reputation as the best exchange with the widest range of products and services for beginners. The platform has a great interface that gives beginners a simple and easy flow. These simple operations account for a large number of users of over 35 million.
The platform has wider trust based on its safe platform that secures users' personal information and funds. Coinbase is one of the prominent exchanges without any history of funds loss from hacking and criminal activities. The ultimate security on Coinbase is its insurance policy cover for all funds stored online.
Also, the platform has Bitcoin exchange multi-coin wallets. There's no complexity in the wallet set-up format. They run seamlessly on mobile devices and support decentralized apps for finance and payments. Furthermore, the wallet allows the storage of collectibles such as digital arts.
Coinbase has two operating platforms – the Basic platform for beginners and the Pro platform for advanced investors.
As a newbie, using the Basic platform simplifies the process of buying and trading Bitcoin. While on the platform, you'll input the amount of Bitcoin you desire to buy and click send. Also, the crypto trading guides are your handy companion for a faster understanding and growth in Bitcoin transactions.
The Coinbase Pro platform has advanced tools such as an order book for Bitcoin, a news feed, and some technical charts. Studying and applying the information is a good strategy for enhancing your trading patterns and risk management.
However, using Coinbase exposes you to high deposit and trading fees in comparison with other top exchanges. This remains the major downplay for the great Bitcoin exchange.
Pros
Great Bitcoin exchange for beginners.
Has the widest range of top cryptocurrencies.
Offers free digital assets by learning about crypto or staking your holdings.
Special Pro platform for advanced users.
Regulated and reliable platform.
Secured Built-in wallets for storing Bitcoin and other cryptocurrencies.
Cons
Reduced customer support
High deposit and trading fees.
3. Coinmama – A faster platform for Cryptocurrency Exchange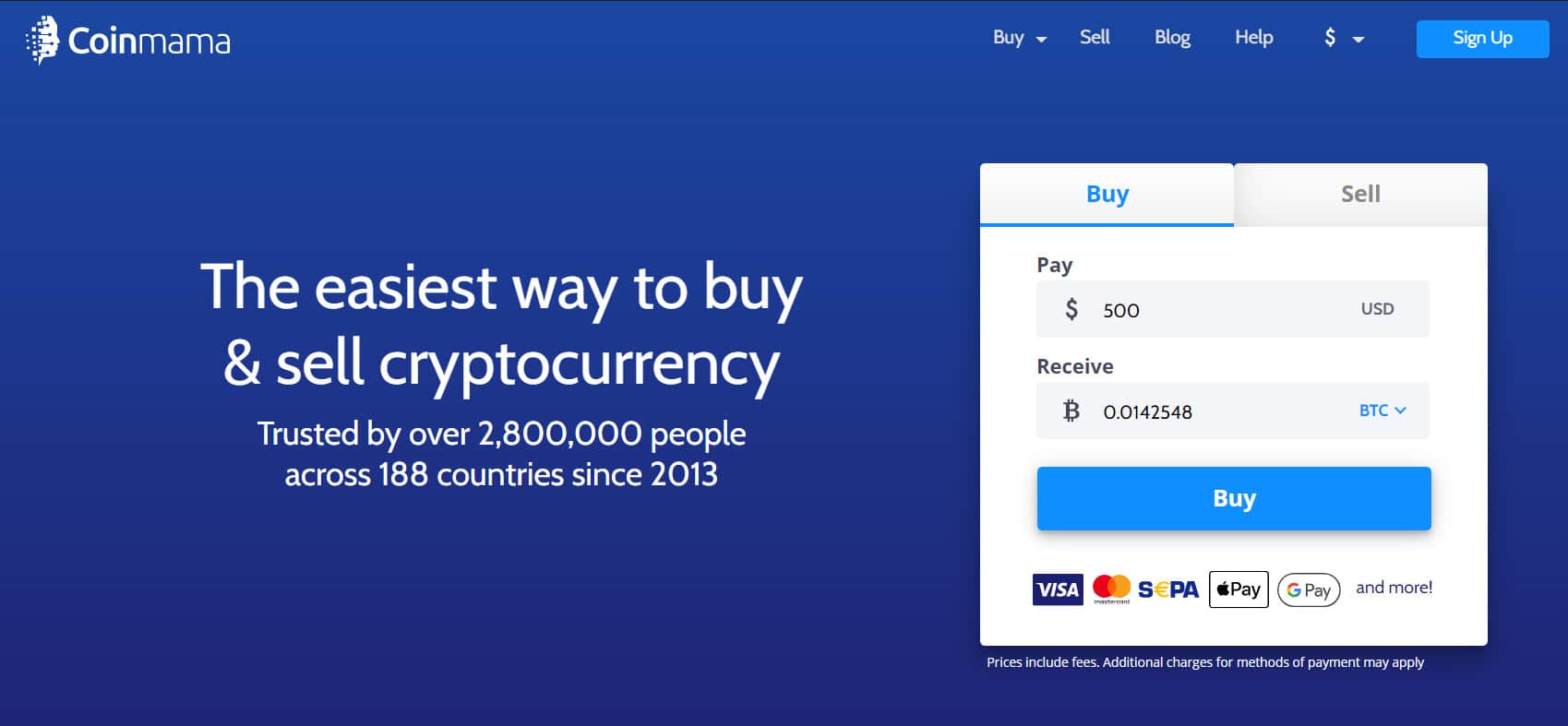 When looking for the fastest means of buying Bitcoin in South Africa, Coinmama is the best option for you. Just within the shortest possible time, you'll be done with the sign-up process on Coinmama. Not only will you get speedy transactions on this platform, but you are also sure of a safe and easy environment for buying Bitcoin.
The platform supports instant purchase funding through bank transfers, credit/debit cards, Apple Pay, SEPA, or SWIFT. There's no need for an initial account deposit because the exchange does support South African Rands.
Coinmama has no built-in wallet for storing Bitcoin or other digital assets. When you're utilizing a private wallet for your cryptocurrencies, this will be an advantage.
You'll just buy your Bitcoin on the platform and move your holdings to your private wallet. But, for a crypto beginner, the absence of a built-in wallet could be a limitation. Most newbies are not familiar with the setup process for a private wallet.
Also, the exchange has an outstanding customer support service for its users. It operates with 17 hours of live chats for 24/5.
Though the exchange's interface creates the right platform for beginners, Coinmama has no advanced trading features for professional users. However, the platform provides updates for Bitcoin prices, but its order options are simply basic.
Furthermore, Coinmama is notable for its high fees. It has 3.9% and 1.9% as commission for Bitcoin buying and trading, respectively.
Also, there's a 5% fee for using credit cards in buying cryptocurrencies. However, when using bank transfers, the exchange has no increase in fees.
Pros
Quick account sign-up and ID verification.
Availability of major cryptocurrencies for buying and selling.
Operates with private wallets.
Basic interface suitable for beginners.
Responsive and outstanding customer support 24/5.
Cons
Platform too simple for professional investors.
High buying and trading fees.
No built-in digital wallet.
4. Kraken – Best User Support to buy Bitcoin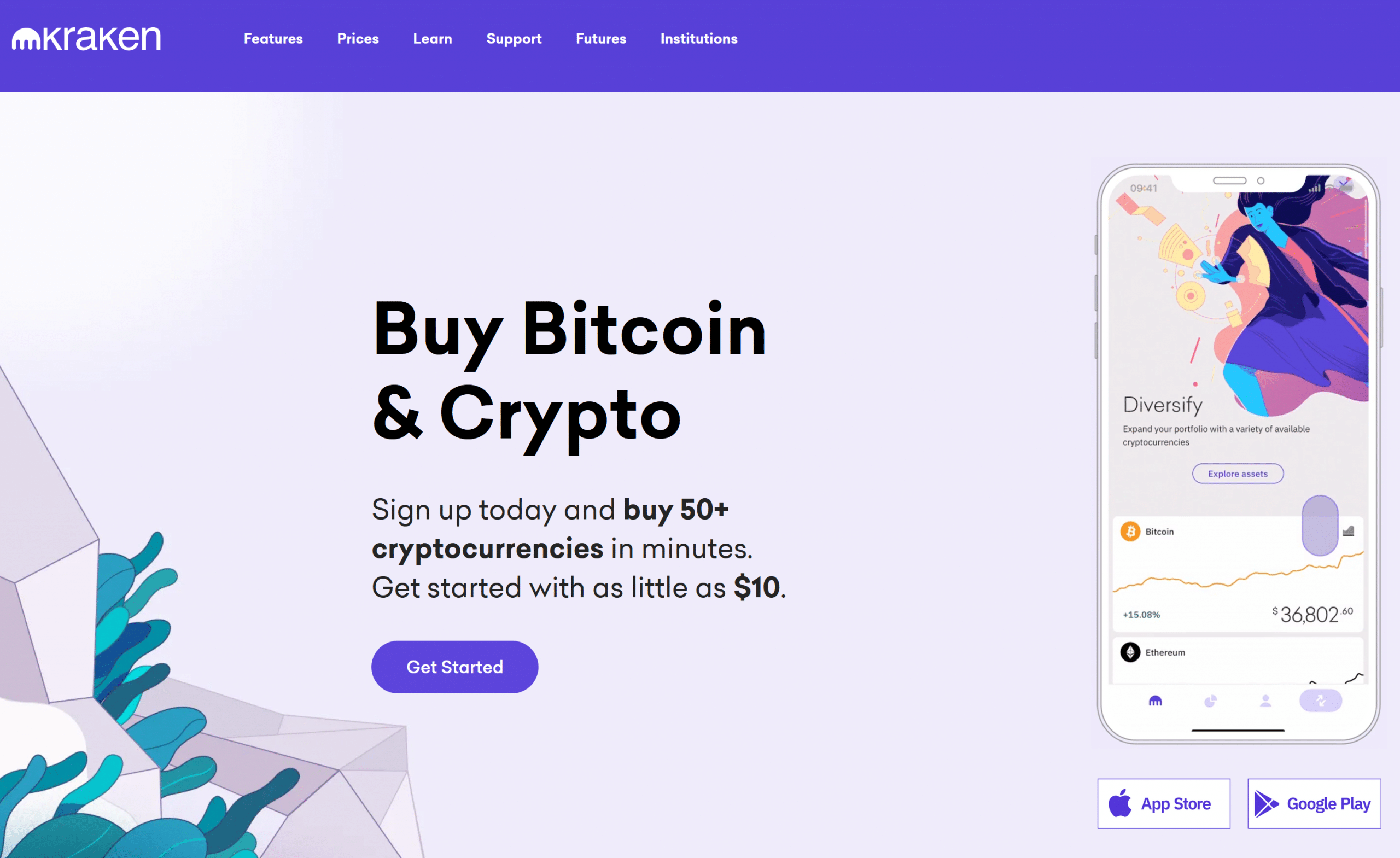 Founded in 2011, Kraken has skyrocketed with its consistent outstanding services and performance. The exchange is among the top 5 exchanges with a great reputation for trading volumes, liquidity, and traffic.
The signing up process for an exchange account is very seamless and easy on Kraken. Just in less than 5 minutes, you'll be able to open your account with your information. Furthermore, you can transfer funds to buy Bitcoin through simple methods such as credit/debit cards.
The platform offers a safe and secured environment for easy Bitcoin transactions. It has several digital assets for its customers. There are also more than 17 crypto pairs that you can trade, buy or sell for Bitcoin. In addition, you can get leverage of up to 50:1 with Bitcoin trading.
Also, with Kraken, you have at your disposal three mobile apps to improve your Bitcoin tradings and other transactions. As a result, you can conveniently select the best option that suits your trading schedule.
Moreover, the exchange gives professional investors the platform to visualize their portfolio performance. Also, from a single location, they can track all cryptocurrencies.
Kraken customer supports an all-around clock and all-year-round service to their users. The interactions with Kraken's team and its customers are through live chats.
When it comes to fees, Kraken gives a favorably low trading fee for its users. The exchange has a 0.2% trading fee for Bitcoin. However, the value changes based on the coin's market liquidity.  Moreover, Kraken operates with transparency on cost for every transaction order.
Though the exchange is not under any regulatory body, it still maintains a good reputation. It also observes FinCEN rules.
Pros
Simple charting interface for easy navigation
Seamless deposit through credit/debit cards.
High trading volumes and liquidity in order books.
Earning passive rewards through staking.
Several digital assets for investment.
Has no hidden fees
Three mobile apps for easy Bitcoin transactions.
Great live chat customer support 24/7
Cons
Unclear fee schedule.
The exchange has no regulation.
5. Luno – Best Bitcoin Exchange for Newbies in South Africa

From the time of launch, Luno has risen to be one of the best beginner-friendly exchanges for buying and trading Bitcoin. The exchange is available in many countries globally, with South Africa inclusive.
Luno offers a platform the facilitates great trading experiences for newbies by providing the easiest and safest ways of trading Bitcoin. The exchange employs three seamless steps for buying Bitcoin for its users.
The entire process through these steps removes every ambiguity and limitation such that the users get their desired satisfactions. Also, users have at their disposal a wide range of other digital assets.
One of the interesting parts of using Luno is that users can convert South African Rands (ZAR) to digital assets. You can also get the reverse conversion from Bitcoin back to Rands. So, you can conveniently buy Bitcoin using credit/debit cards or bank transfers.
Additionally, the exchange has a built-in wallet for users. This makes it easier for users to store and secure the digital assets on the platform. It also eliminates any potential stress and challenges in setting up and maintaining a private wallet by the customers.
As for beginners, the built-in wallet is a great advantage for them. Also, Luno operates its customer support services through emails which takes 24 to 48 hours for responses.
Though Luno runs as a simple platform without advanced tools, users are not left behind in the crypto industry. The platform enables you can conveniently keep up with every current trend crypto market.
You have the make adjustment for your trades like stop-loss orders or set limits for your transactions. Also, you can receive price alerts for the top digital assets in the market.
Furthermore, when you consider investing in Bitcoin for a long-term purpose, Luno is your right platform. The exchange has special features that will make your dream come true. There is the opportunity of earning up to 4% interest from your Bitcoin Holding through loans.
Pros
A simplified 3-step process for buying, selling, and trading Bitcoin.
Best platform for newbies in the crypto industry.
Earn 4% interest on Bitcoin through loans.
Wide range of other cryptocurrencies.
Trading fee of 0% – 0.1% for most regions.
Has a built-in crypto wallet
Cons
Customer support is by email alone.
Has no technical features for analysis.
Too simple for professional investors.
Bitcoin Exchange – What Is It?
A Bitcoin Exchange is an online platform for buying and selling Bitcoin. It is a digital marketplace where traders exchange Bitcoin and other currencies using various altcoins or fiat currencies.
It's a meeting point for various crypto buyers and sellers; buyers here are the takers while sellers are the makers. The Bitcoin exchange also operates like a stock brokerage, and the currency ticker is XBT or BTC.
Bitcoin exchange allows you to deposit money through various means when buying Bitcoin or other cryptos. The payment means include direct bank transfers with fiat currencies like ZAR or USD, wire, PayPal, etc.
Furthermore, when you place a buying order, the Bitcoin exchange matches your order with a sell order from another crypto investor. The exchanger randomly picks these orders from the marketplace and automatically executes them within the shortest time possible.
Investors who trade on various cryptos using the Bitcoin exchange are charged a fee known as the currency conversion fee.
This charge is similar to the institutional bank charge when you trade currencies from different countries. By placing an order, you authorize the Bitcoin exchanger to trade your crypto for the best rate available in the digital marketplace.
Almost all the Bitcoin exchanges offer a storage device for storing your crypto, known as the Bitcoin Wallets. You either use this in-built wallet or set up another digital wallet and link it to your crypto account.
Before trading on the Bitcoin exchange, you will need to go through the registration and verification processes. The exchange will require your details and valid ID to authenticate your account detail.
The Bitcoin Exchange – How it all Started
The bitcoin white paper was released in October 2008, followed by the Genesis Block in January 2009. The only way to buy bitcoin within this period is to trade on IRC or other forums.
Transactions were made with the belief that the other party will sincerely honor them.  The first crypto exchange known as the 'Bitcoinmarket.com' came live in March 2010
Dwdollar made a proposal on the bitcointalk forum to develop a real market where people can be buying and selling bitcoin. NLS, an early bitcoin user, had earlier suggested a useful pricing system as a kick-off trading price.
The rate is around 1,500 BTC for $1, and Bitcoinmarket.com has the greater volume of bitcoin trades.
The bitcoin exchange initially used PayPal to trade on fiat currencies but was later removed in June 2011. The increasing rate of fraudulent trades backed the removal of PayPal.
Other bitcoin exchanges started emerging afterward with more modernized technology that may cause bitcoinmarket.com to fade out.
However, since 2011, many exchanges with better features and technology has been developed and adopted into the crypto space. These crypto exchanges are developed to offer better trading options and attend to the trading challenges of investors.
They include Coinbase, Poloneix, Huobi, Bithumb, Gemini, Bittrex, and others. The developers continue improving on these exchanges in terms of size and security to date.
The popularity of bitcoin exchange became more pronounced with time as more investors join in the crypto market.  Though there are still hackers and cyber crimes in the digital industry, Bitcoin exchanges have adopted some features to protect their users.
Buy now
CFDs are complex instruments and carry a high risk of losing money quickly through leverage. 75% of retail investor accounts lose money when trading CFDs from this provider.
Buy now
CFDs are complex instruments that have a high risk of losing money quickly due to leverage. 72.6% of retail investor accounts lose money trading CFDs with this provider.
Buy now
CFDs are complex instruments and carry a high risk of possible rapid loss of capital due to their leverage. 71% of retail investor accounts lose capital when trading CFDs with this provider. You should consider whether you understand how CFDs work and whether you can afford to take high risk in losing your capital.
| | | | |
| --- | --- | --- | --- |
| N/A | Yes | CBI and MiFID in Europe | |
| | | | |
| --- | --- | --- | --- |
| N/A | Yes | 1:2 for cryptocurrencies | |
| | | | |
| --- | --- | --- | --- |
| $36057.81 | $36090.25 | $36180.39 | |
Factors for Rating the Best Bitcoin Exchanges in South Africa
Many Bitcoin exchanges operating in South Africa that decide on the particular exchanger may be tasking.
This is mostly the story of crypto users that are new to the system. However, there are some factors you need to consider before deciding on the particular exchanger to go for.
These factors explain the things you need to know to help you select the best Bitcoin exchanger that will suit your needs. So let's take a look!
Safety and Regulation
The history of crypto exchanges is filled with the stories of platforms that lost investors' money to cyber thieves (hackers). This happened because such platforms were not secure enough as they did not take safety seriously.
Safety is very important in trading Bitcoi