Crypto Signals – Beginner's Guide to the Best Crypto Signals UK 2021
What are crypto signals and do I need them to trade cryptocurrencies right now? Are you looking to buy and sell digital assets but don't have the time or expertise to research the markets? It might be worth using crypto trading signals to copy the trading strategies of expert crypto traders.
Keep reading this guide as we reveal the best crypto signals to use right now in 2021. As well as looking at a handful of free trading signals, we'll also cover the key metrics you need to be aware of when choosing the right crypto signals for your needs.
Best Crypto Signals 2021
The global cryptocurrency market cap is $2.14 trillion according to CoinMarketCap.com. This represents a rise of 2.33% within 24 hours. With an average total crypto market volume of more than £140 billion, it makes sense that most traders and investors are flocking to gain exposure to the volatile crypto market.
There are tons of crypto signals out there which makes choosing the right one quite a challenge, especially for beginner traders with little trading experience. With that being said, here are five of the best crypto signals you can start using right now to help boost your ROIs.
Learn2Trade

– Best Crypto Signals Platform with Free Crypto Signals

CoinSignals

– Crypto Trading Signals With Over 10k Telegram Members

4C Trading

– Accurate Crypto Signals with SMART Crypto Trading Bots

AltSignals

– Best Crypto Signals for Experienced Traders

MYC Signals

– Top-rated Crypto Quality Signals for Crypto Derivatives
1. Learn2Trade – Best Crypto Signals Platform with Free Crypto Signals
What is Learn2Trade?
Based in the UK, Learn2Trade is one of the world's leading forex and crypto signal providers allowing you to access the global markets at your fingertips

anytime and anywhere. Learn2Trade currently boasts a client base of over 520,000 members. From the moment you land on the website, you'll notice it has a user-friendly interface along with heaps of educational materials and resources ranging from real-time Bitcoin news and trade ideas to crypto signals and broker reviews.
To start getting free signals right now with Learn2Trade, simply join the Telegram group and receive up to 10 accurate, profitable crypto trading signals daily. Learn2Trade sends real-time alerts via Telegram that specify the unique trading opportunities, whether it's a buy or sell order, and the required entry and exit prices.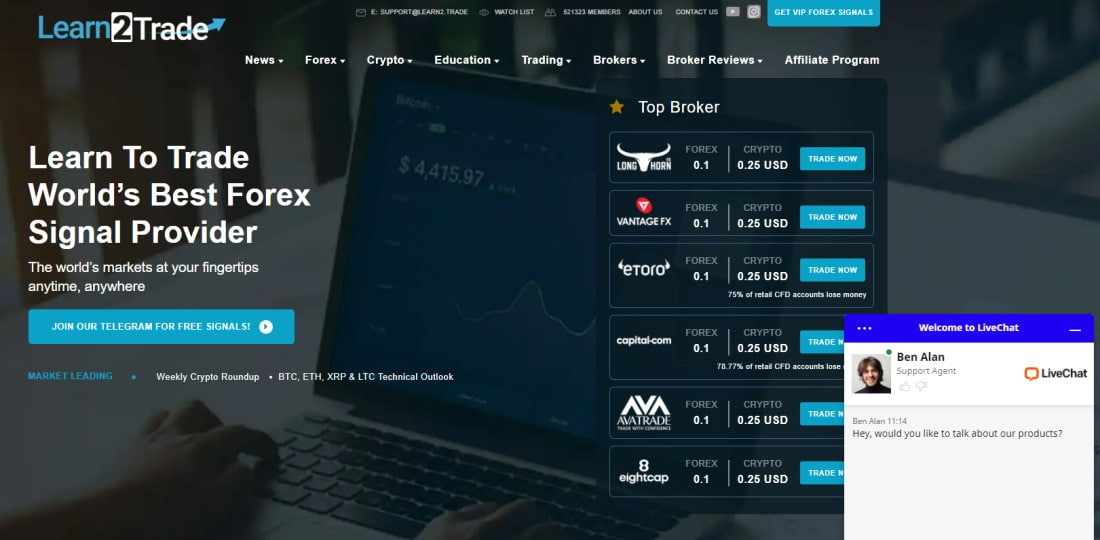 Crypto trading signals – Learn2Trade Telegram
Here's an example of a crypto trading signal published on the Learn2Trade Telegram page:
Instrument: ETH/USD
Order: Buy
Entry Price: $183
Stop: $170
Target: $383
What can we gather from this example? It's easy to see that crypto signals take the guesswork out of cryptocurrency trading. Rather than spending hours researching current market trends and financial news, all you have to do is follow the Learn2Trade crypto signals. To do this you simply head over to your preferred crypto exchange or broker, such as eToro, and copy the free crypto signals. Therefore, crypto signals are suitable for beginner traders with little to no trading experience, who find technical analysis and market research too time-consuming and complex.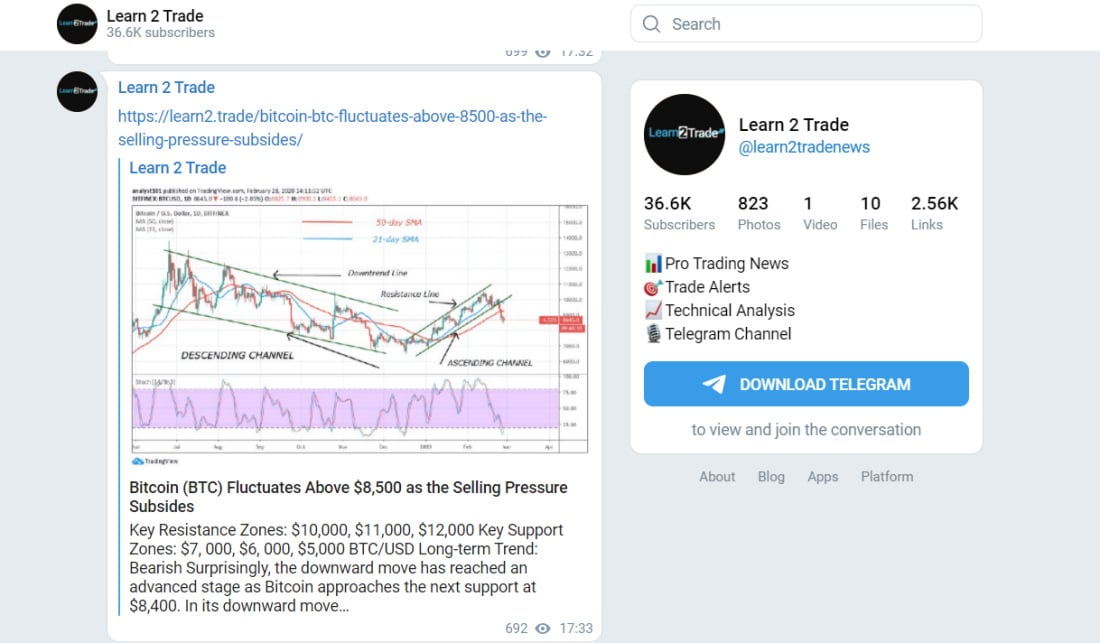 Please note that this provider does not guarantee that you will make money. Proceed at your own risk.
At the time of writing, the Learn2Trade Telegram group has 36.4K subscribers. This demonstrates just how popular the UK crypto signals provider has become as more traders are participating in the DeFi crypto market. Learn2Trade uses Telegram as its main social communication platform because it's a cloud-based mobile and desktop instant messaging app that allows the provider to send crypto signals in real-time right to its clients' phones.
Learn2Trade Crypto Signals – Pricing and Subscription Plans
Thousands of traders trust Learn2Trade's live crypto signals. According to the provider, all of its crypto trading signals are supplied by veteran traders who have over 15 years experience. Learn2Trade claims to offer accurate crypto signals with a 76% success rate, helping its subscribers generate thousands of pips in profit every month. You could either buy Learn2Trade daily signals or test the free Telegram crypto signals.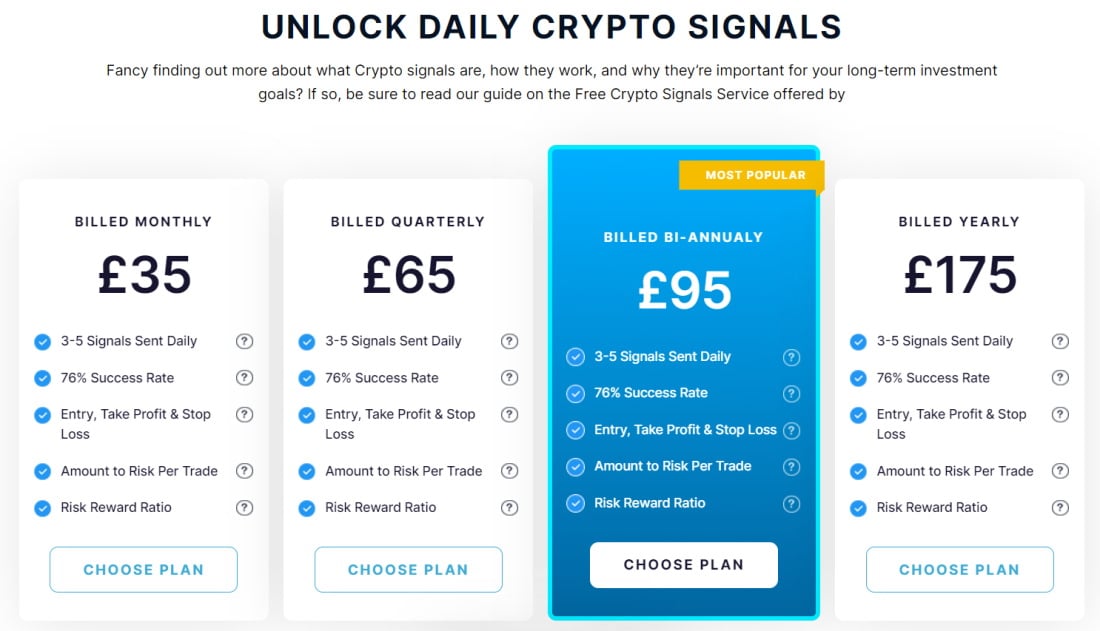 The most popular crypto signals plan is billed bi-annually and costs just £95. Some of the perks of subscribing to one of Learn2Trade's plans include:
3-5 Signals Sent Daily

76% Success Rate

Entry, Take Profit & Stop Loss

Amount to Risk Per Trade

Risk Reward Ratio
Get crypto quality signals with Learn2Trade
Another reason why Learn2Trade secures the number one spot on our best crypto signals UK in 2021, is that it explains the logic behind each crypto signal. This means that you can learn how and why Learn2Trade comes to the conclusions that it does, making you a better trader and smarter investor.
Please note that this provider does not guarantee that you will make money. Proceed at your own risk.
2. CoinSignals – Crypto Trading Signals With Over 10k Telegram Members
CoinSignals.io is an AI system that was built by experienced crypto traders. The sophisticated AI algorithms scan multiple crypto trading pairs 24/7,

providing the best entry and exit points for maximized short-term profit trades. Following a second market screening, CoinSignals executes the buy or sell orders on your behalf via the exchange's API. All trades are safely managed with preventative stop-loss orders to cushion potential losses. The CoinSignals AI (artificial intelligence) algorithms allow you to gain exposure to the crypto market passively without having to lift a finger.
All crypto signals are posted on the CoinSignals Telegram channel, allowing you to trade manually or by using AutoTrade features to participate in round-the-clock crypto trading.
CoinSignals Subscription Plans
There are four subscription plans to choose from which range from a free plan with basic crypto signals, news and events, and market updates, to a 365-day subscription with VIP TA signals, Binance BOT signals, BTC updates, 24/7 customer support and more. In terms of costs, the 365-day plan costs 0.1 BTC which equates to $4,602.19. For most beginner crypto traders, it's highly recommended that you try the free subscription plan first to see whether the crypto signals help enhance your trading strategy and experience.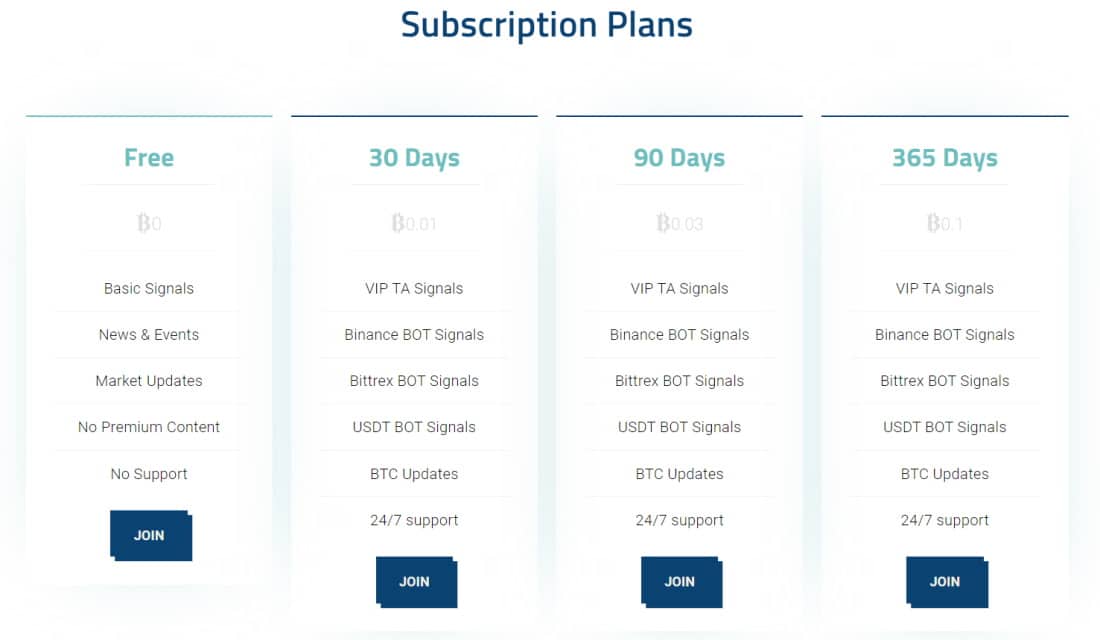 What crypto exchanges and cryptocurrency pairs does CoinSignals support?
At the time of writing CoinSignals supports Binance, Bittrex and Bitfinex, as well as BTC, USDT, USDC, and USD. The onboarding process is straightforward as you only need a Binance/Bittrex account and a Telegram account. You can choose a DIY approach to crypto trading or you can use the third-party Bitcoin robot called Cornix.
Please note that this provider does not guarantee that you will make money. Proceed at your own risk.
3. 4C Trading – Accurate Crypto Signals with SMART Crypto Trading Bots
4C Trading is one of the leading crypto signal providers in the market right now. Having started as a crypto trading signal provider, the company soon

realized that there was a growing demand for automated Bitcoin trading robots.
4C Trading offers Smart Bots which are ideal for automated Bitcoin, Ethereum, and LINK trading. Users also gain access to SMART margin for the most accurate and precise margin signals on the market right now. Additionally, the 4C Trading Dashboard is a user-friendly and professional crypto trading dashboard allowing you to seamlessly manage all your trades and portfolios anytime, anywhere.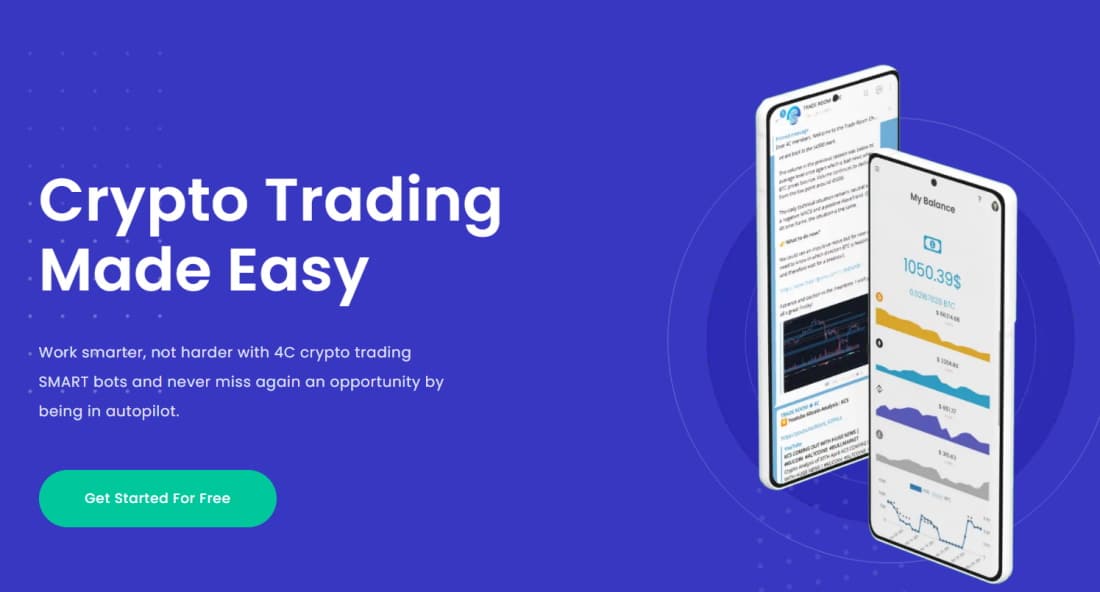 How can I get started with 4C Trading?
Getting started with 4C Trading is simple and quick. Simply subscribe to 4C Trading, create an API key on your exchange, link your crypto trading account to the 4C Trading dashboard and let the SMART Bitcoin robots do the work for you. According to 4C Trading, it boasts an 85.89% success rate for its SMART ETH Bot that trades using an aggressive strategy.
What subscription plans are there?
It doesn't matter if you're a complete beginner or a crypto trading expert, 4C Trading has a plan that suits everyone. Clients are also given rewards when they refer friends and family. There are three subscription plans to choose from:
BEGINNER – which costs $59 per month

ADVANCED – costing $139 per month

EXPERT – $179 per month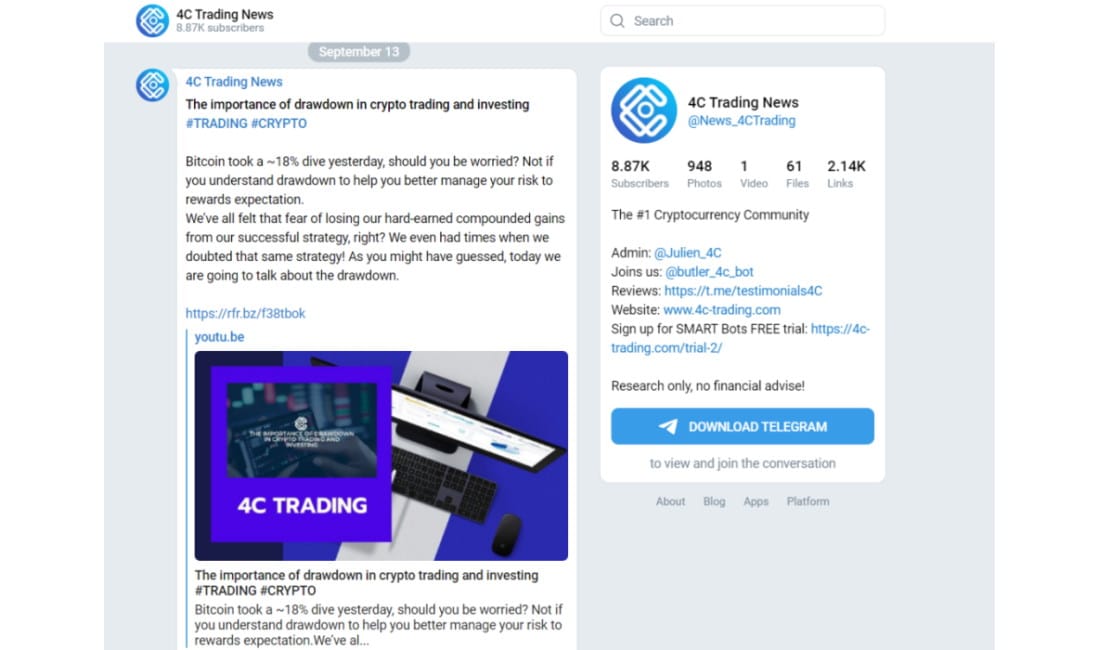 All the 4C Trading crypto trading signals plans come with full access to Deep Market Analysis, Channels, and the SMART Bots. But what is the difference between each plan? You're right to ask that question because the maximum investment per SMART bot varies depending on the plan you choose. For example, the Beginner plan allows you to invest a maximum of $2,500 when using the SMART bots, while the Expert plan has a cap of $10,000.
4C Trading expert traders use technical and fundamental analysis to generate the best crypto signals
There is also a 7-day free trial on all packages allowing you to test which plan works best for your crypto trading strategy. Not only are subscribers given between five and ten signals every week, but 4C Trading also offers a cryptocurrency education program consisting of guides and webinars. This means beginner traders can learn more about the crypto industry and market while becoming better traders in the long run. One potential downside is that the automated SMART crypto bots only work on Binance.
Please note that this provider does not guarantee that you will make money. Proceed at your own risk.
4. AltSignals – Best Crypto Signals for Experienced Investors
AltSignals has been offering crypto trading signals to users since 2017. This top-rated crypto signals provider has become home to over 50k members, with

over 3,750 signals sent since its launch. According to the company, 75% of members stay with AltSignals after their first month, and its Binance Futures and Forex signals have an accuracy rating of 80%.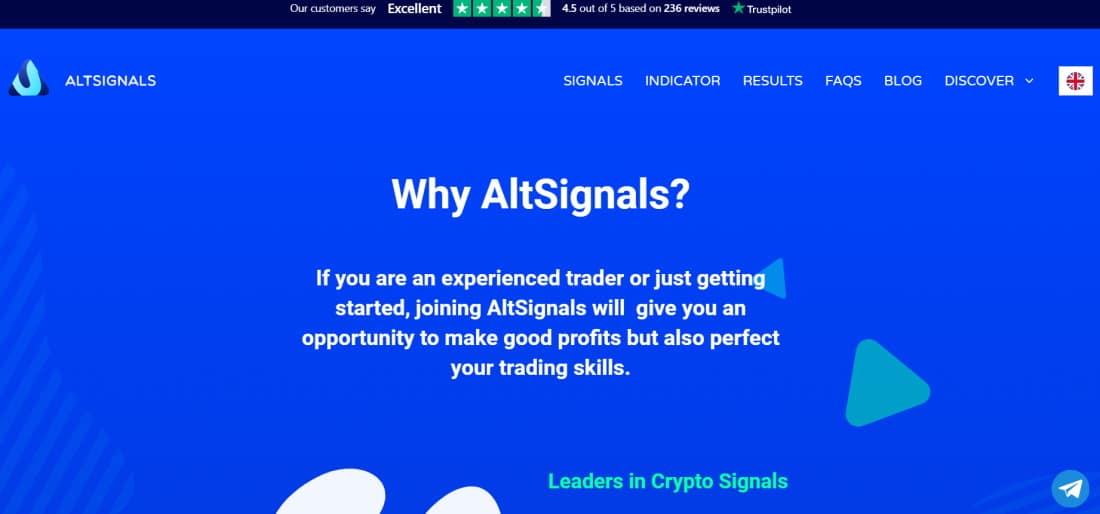 Choose from three packages
Forex – £99 per month

Binance Futures – £99 per month

AltAlgo Indicator – £198 per month
The AltAlgo Indicator is designed to help you maximise your return on investments (ROIs) from anywhere in the world. Rather than using complex trading tools, the AltAlgo system scans the crypto market in real-time. It then simply displays the best entry and exit prices for maximum profits. The Indicator Script runs on the trusted TradingView.com website. It uses advanced algorithms to analyse the cryptocurrency and forex markets and notifies traders when price movements are about to occur in real-time.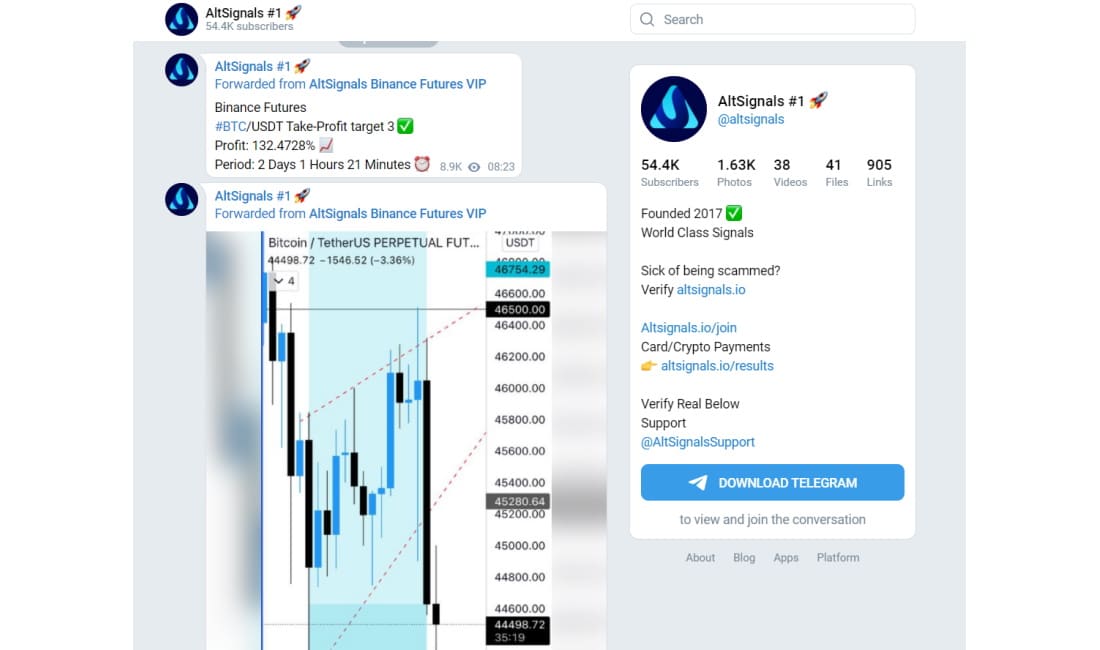 Why AltSignals?
If you're a professional trader or just a beginner, joining AltSignals could help you boost your profits and improve your trading skills. AltSignals' traders are strategic specialists, offering tailored signals to those seeking management tactics within the forex and crypto sphere. The AltSignals Telegram group also has over 54.4k subscribers.
Please note that this provider does not guarantee that you will make money. Proceed at your own risk.
5. MYC Signals – Top-rated Crypto Quality Signals for Crypto Derivatives
The Mycryptopedia team started MYC Signals as a place for crypto enthusiasts to learn the art of successful crypto trading. Since its launch in 2017,

Mycryptopedia has become one of the largest providers of cryptos signals, market analysis, and trading advice. The company boasts more than 34,000 community members and 900+ premium members. This means that thousands of traders just like you rely on Mycryptopedia to access accurate and profitable crypto trading signals in addition to educational trading content.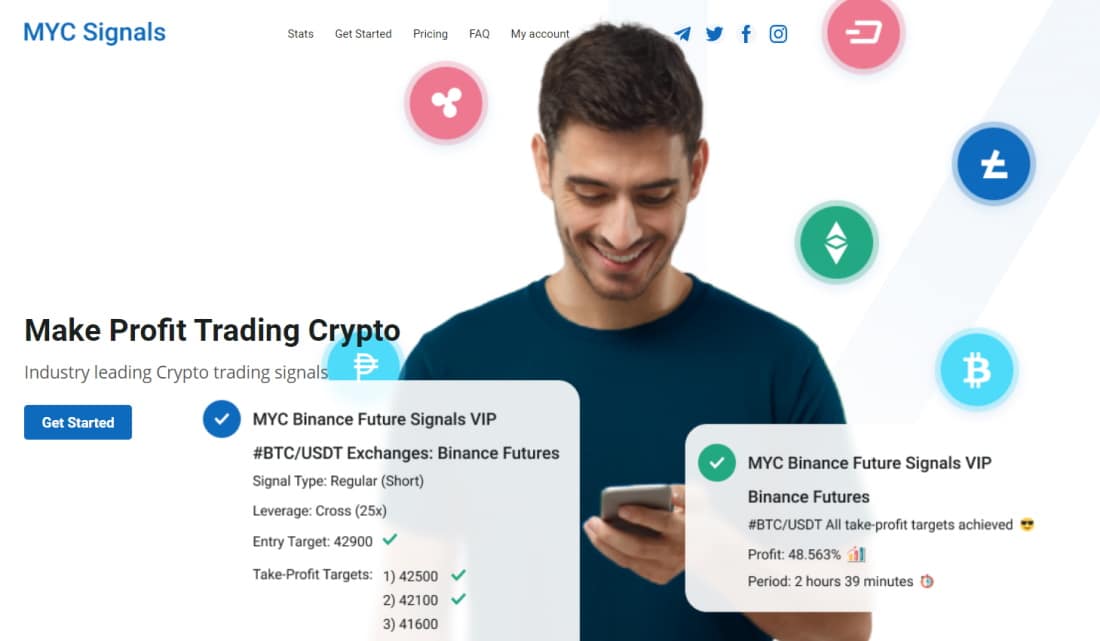 Crypto Signals to Match your Trading Needs
At Mycryptopedia you can choose the right crypto signal plan that meets your preferred trading strategy and risk tolerance. There are three subscriptions to choose from. These include:
BTC-only Spot

– $60 for one month. This plan is ideal for beginner traders due to its low-risk profile and simple trade structure, with 1-2 signals per week.

BTC+Alt Spot

– $120 for one month. This plan offers spot trading signals that cover both BTC and popular Altcoins, along with 3-5 weekly signals.

BTC Futures

– $150 for one month. This plan is great for intermediate to experienced investors who trade actively and are looking to maximize their ROI, with speculative trading (long and short positions), and 3-5 signals per week.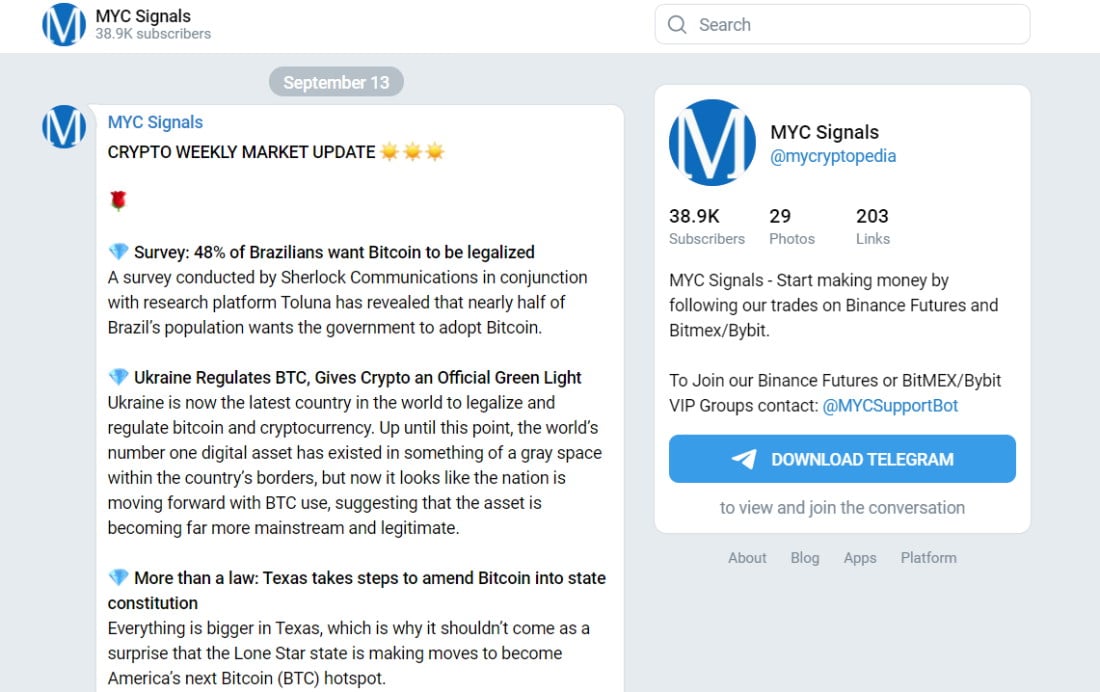 What crypto exchanges does MYC Signals support?
Mycryptopedia supports the following popular cryptocurrency exchanges:
Bybit

Deribit

Binance

BitMEX signals

Binance Futures

BITTREX

Huobi

KuCoin
Why should I use MYC Signals?
50-70 signals every month

24/7 customer support

Automated trading

3 tailored signals products to match your trading strategy and experience levels
Please note that this provider does not guarantee that you will make money. Proceed at your own risk.
Crypto Signals Explained
While the best crypto signals may eliminate the research and guesswork involved in crypto trading, it's still a good idea to understand how providers generate signals in the first place. After all, premium signals are a service you have to pay for.
To clear any uncertainties you may have, we'll cover everything you need to know about using crypto signals to invest in cryptocurrencies.
What are Crypto Signals?
Crypto signals are trading ideas or trade recommendations based on expert consensus to buy or sell a certain cryptocurrency at a specific time and price. The best Bitcoin signals are created either manually by an experienced market analyst, or by AI algorithms and trading bots that generate the signals automatically.
Crypto signals typically come with take-profit and stop-loss orders to help minimize potential losses. You can access free signals via Telegram, but many crypto enthusiasts opt for premium services and pay a monthly fee to receive up to 10 signals a week.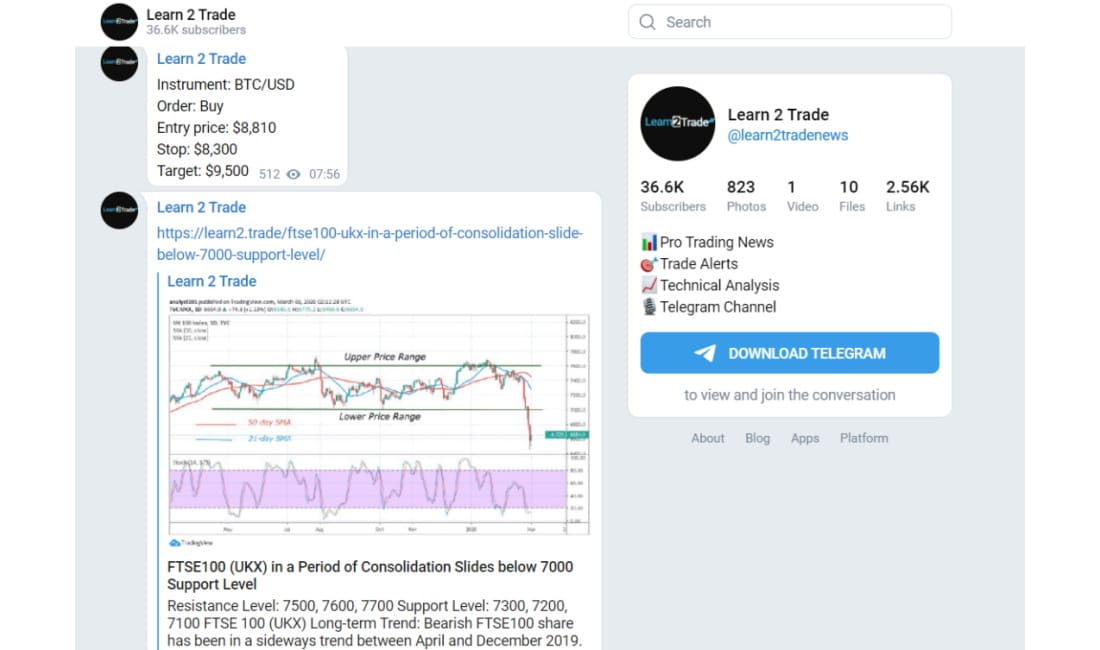 Please note that this provider does not guarantee that you will make money. Proceed at your own risk.
The main appeal of cryptocurrency signals is that you can participate in the market, potentially capitalizing on short-term price movements, without years of trading experience or a deep understanding of how the crypto market works.
Crypto Signals in Action…
Let's take a look at a crypto signal from the Learn2Trade Telegram page and what it means for beginner traders encountering crypto signals for the first time.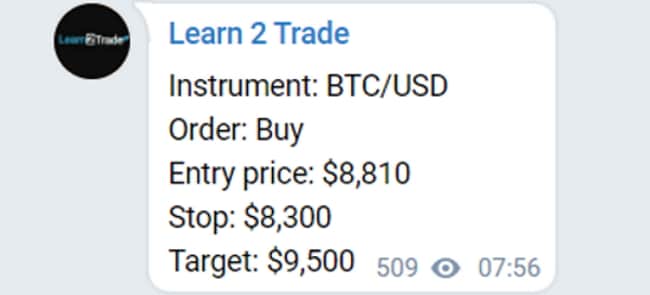 From this example, we can gather that we need to open a buy order for BTC/USD. In other words, Learn2Trade speculates that the price of BTC/USD will rise. If the provider is right and the market price increases, you're in with a chance of earning a profit. However, it's not as simple as placing a buy order and sitting back as you patiently wait for some type of market fluctuation. The best crypto signals, like the ones generated by Learn2Trade, include entry and exit prices.
For example, let's say that the current price of BTC/USD is $8,790, the crypto signal provider recommends entering the trade at $8,810. This can be done by placing a Limit Order via your preferred crypto trading platform. All in all, the best signals include stop-loss and take-profit orders. In the case of our example, the stop-loss order is recommended at $8,300 and the take-profit or target price is $9,500.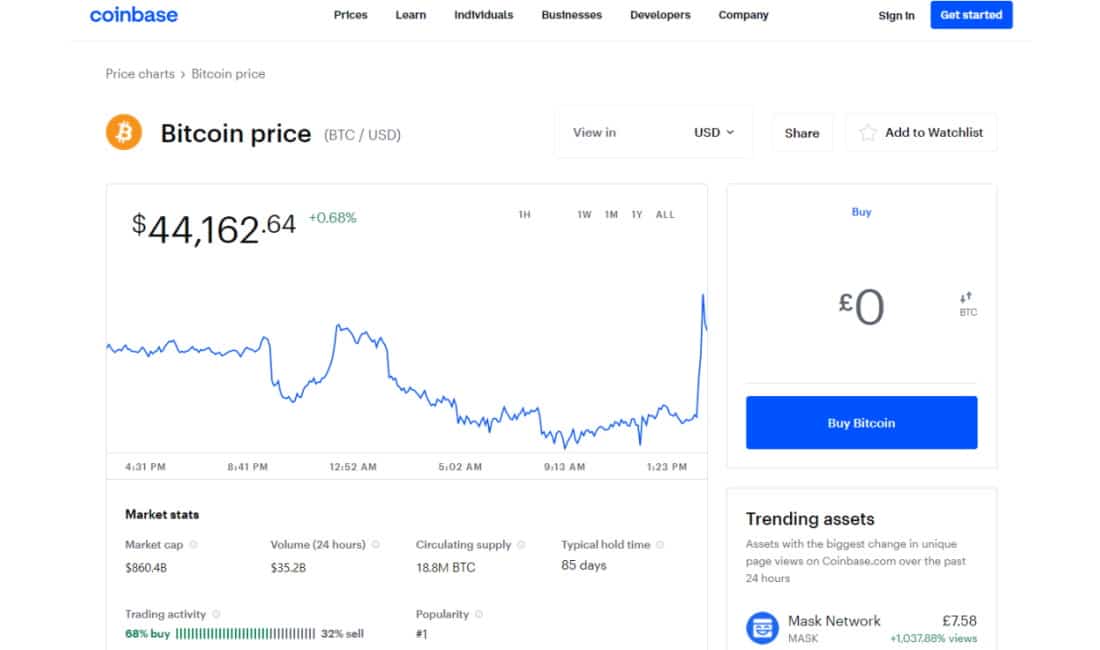 For the best Coinbase Alternative UK be sure to also read our comprehensive guide by clicking here.
Free Crypto Signals vs Premium Signals
If you're searching for free trading signals you may want to take a minute to examine just how crypto trading signals are created.
The best crypto signals groups have a team of experienced and dedicated market analysts that use technical and fundamental research to analyze the crypto markets.

Then when the expert traders notice a unique trading opportunity they will come up with a trading strategy.

The crypto signal consists of the best entry price, stop-loss, and take-profit order prices to enter the market with minimal risks.
Simply put, providers such as Learn2Trade spend a lot of time researching the markets using the experience and skills of expert analysts to generate accurate and effective signals. Nevertheless, some providers like Learn2Trade offer free signals. Learn2Trade's free signals do not restrict any of the key entry or exit order prices, meaning you can act on them in the same way that you would with a monthly subscription.
So why should you pay for crypto signals when you can get them for free?
The free crypto signals that you can access on the Learn2Trade Telegram page are limited to three signals per week. Learn2Trade allows you to access free signals so that you can test them before subscribing. And as we have seen, Learn2Trade has over 36.5k subscribers on Telegram and boasts a success rate of 76%. Therefore, once you've tried and tested the free signals from Learn2Trade, you can go ahead and register for the Premium Plans.
Choosing the Best Crypto Signals
With so many options available, how do you choose the best crypto signals in 2021? In this section, we'll discuss the key metrics that you'll need to consider when seeking the best cryptocurrency trading signals to use right now.
Claimed Results and Success Rate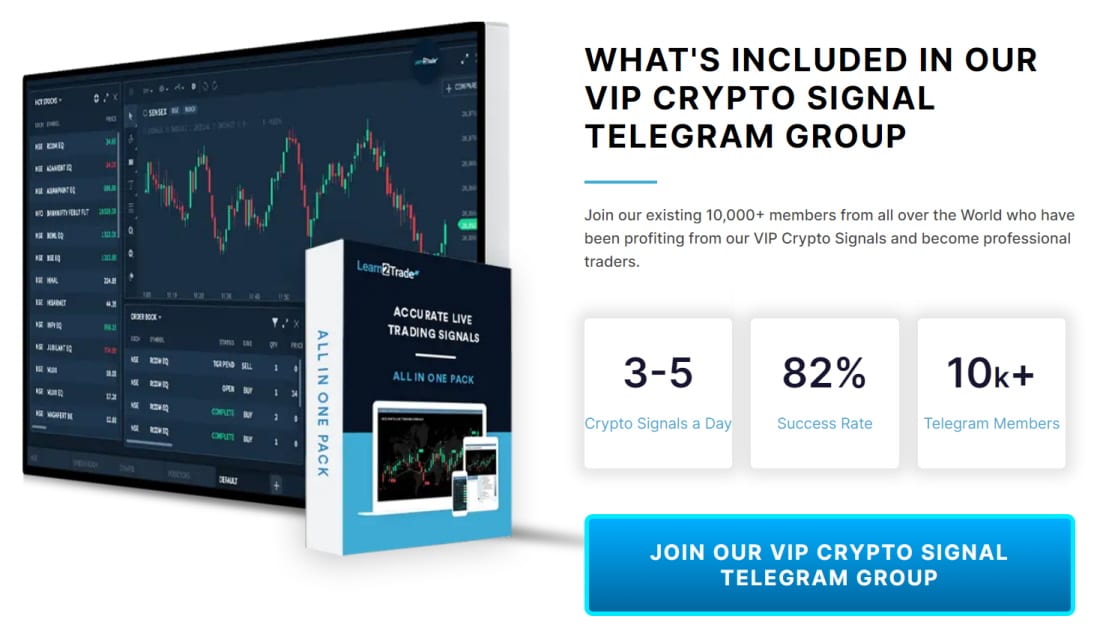 When you visit a crypto signal provider's website you will typically see how successful the service claims to be. This is usually presented as a percentage win rate or monthly returns.
The win rate is the percentage of crypto trading signals that generate profits. For instance, let's say a provider sends out 100 signals and 76 are successful. This means that the company's win rate would be 76%. While most crypto signal providers boast win rates over 95%, these statistics are often generated by the companies themselves so you need to be aware of bias and marketing practices.
The monthly returns, on the other hand, are also expressed as percentages – for example 50% per month. This is then multiplied by the total funds that are invested in a given month. So, let's say you invested £100 per trade and placed 10 trades – that would be a total amount of £1,000. Therefore, a monthly return of 50% would yield a profit of £500.
All in all, it's hard to verify the credibility and accuracy of a provider's win rate and monthly return. This is why you must dig a little deeper and assess things like social forums to see what other users have to say about the service provider.
Social Proof: Public Reviews and Reputation
Arguably the most accurate way of assessing the claims made by a provider is to consult social networks and the wider trading community. You could check out popular discussion forums and review sites like Reddit and Trustpilot to see what other users have experienced before you make a decision.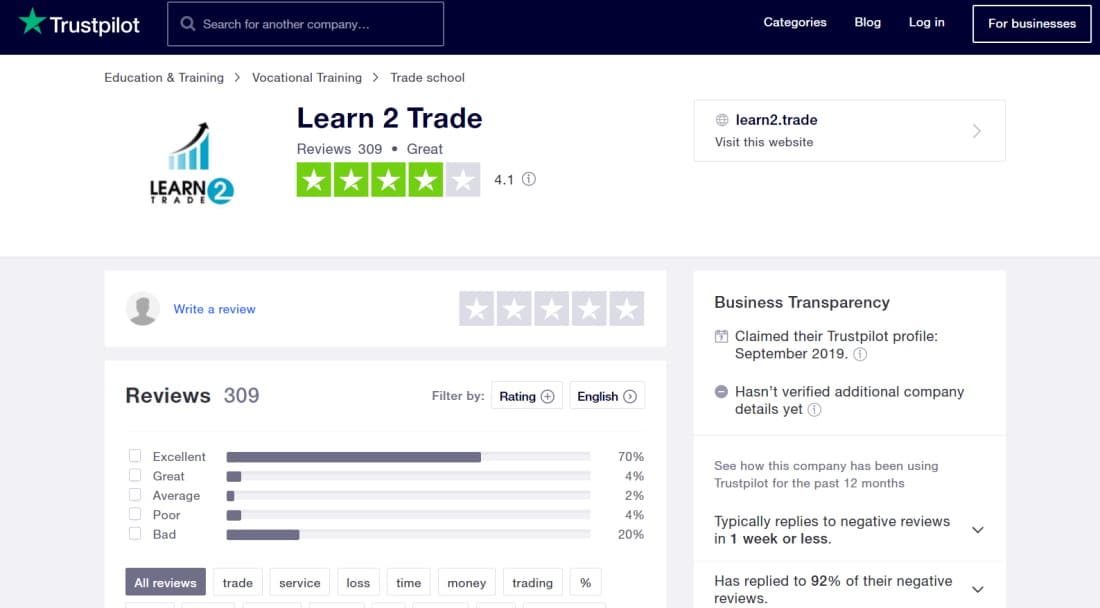 Social proof is a key marketing tool that most successful businesses pay a lot of attention to. In the same way that you would read the reviews when buying something online, crypto signals should be treated in the same way.
Trustpilot and Reddit
Trustpilot is famous for its fraud detection software. According to the company's Support Center "We use unique software to detect fake reviews and maintain the trustworthiness of our online review community. No system is perfect, but computers tend to be more accurate than the average person at spotting fake reviews.* That's why we combine customized software with an international team of dedicated analysts, investigators and agents who work with reviews every day."
Reddit is another great source to evaluate social proof, as you can ask questions and read reviews from current and past users about popular signals providers.
How many Telegram Members does the provider have?
The top-rated crypto signal companies have a page on the open-source instant messaging software, Telegram. While this isn't an exact science, there seems to be a correlation between Telegram members and how successful the crypto signal provider is.
Furthermore, bad news travels fast in the crypto signals universe meaning that a scam company wouldn't stay under the radar for long. For instance, the popular crypto signal service Learn2Trade currently has over 36.6k Telegram subscribers.
Tradable Crypto Markets
Once you're happy that your preferred provider is credible and trustworthy, you can focus on your trading strategy and risk tolerance. Most beginner crypto enthusiasts prefer to keep things simple and trade basic crypto crosses, commodity crosses and currency crosses.
If you have a higher risk tolerance and are looking for more complex crypto instruments, you might want to consider crypto signal providers that focus on crypto derivatives such as futures and options.
Time Zone of Signal Provider
A common mistake that many beginner crypto traders make is not checking what time zone the crypto signals are sent out on. For instance, if you're based in the UK and the provider sends its signals from the US, chances are that all the signals will be sent out during the night.
As a result, if you're looking for a top-rated crypto signal provider that's based in the UK we'd recommend considering Learn2Trade.
Number of Crypto Signals
Another important metric you need to consider is how many cryptocurrency trading signals you will receive on a daily basis. We found that the best signal providers send approximately 3-5 crypto trading signals per day.
Educational Resources
Expert crypto traders stress the importance of good technical and fundamental analysis. This means that the most successful traders can generate their own signals independently.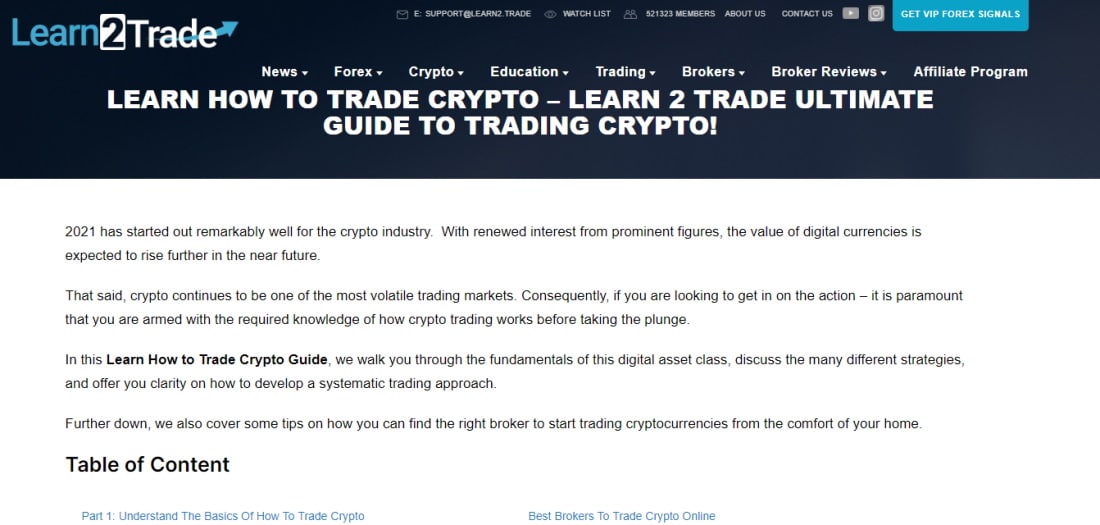 Moreover, the best crypto trading signal providers also offer heaps of educational materials and resources. For example, Learn2Trade supports tons of in-depth trading guides. As well as crypto trading, Learn2Trade also provides information on forex pairs and stocks. Furthermore, the Learn2Trade Telegram group offers detailed charts on its trading signals allowing you to understand the logic behind the trade recommendations.
How to Get Started with Crypto Signals
If you want to get started with the best crypto signals right now keep reading as we guide you through the onboarding process with Learn2Trade.
Step 1: Choose Your Learn2Trade Signals Plan
To get started simply head over to the Learn2Trade website and choose a package that suits your needs and goals. It's recommended that first-time users test the monthly plan to see if it suits their trading needs.
Step 2: Join Learn2Trade Telegram Group
After registering and paying for your Learn2Trade crypto signal plan, you'll receive an email explaining how to join the official Telegram channel.
Step 3: Set up Notification Alerts and Wait for Signals
It's crucial that you enable push notifications on the Telegram app, which is available for both Apple and Android devices as a mobile app. Enabling notifications means that you will be alerted every time Learn2Trade sends out signals in real-time.
Step 4: Place Order at Your Chosen Crypto Broker
Once you've received a crypto trading signal it will contain details of what cryptocurrency or crypto crosses to trade and whether you should place a buy or sell order. Additionally, the crypto signal will tell you the entry price, and what stop-loss and take-profit orders you should place.
If you're looking for a trusted crypto broker or the best crypto exchange UK, we highly recommend the leading social trading platform eToro. Launched in 2006, eToro is an Israeli fintech company that offers access to CFDs, stocks and ETFs, forex, and cryptocurrencies. eToro is also regulated by several top-tier financial authorities including the UK's Financial Conduct Authority, CySEC and ASIC. You can also use the eToro trading app on your smartphone device.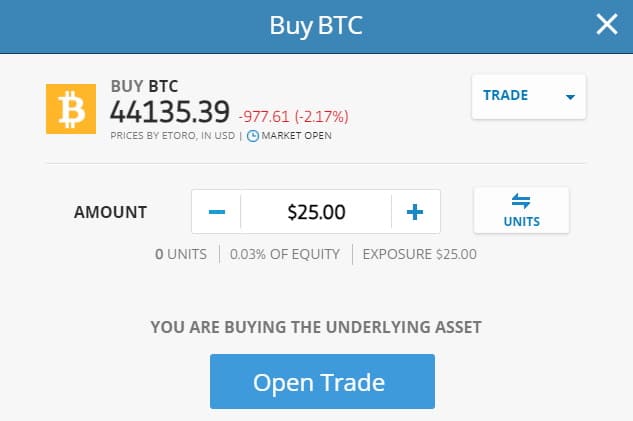 Then, once you have placed the market or limit order based on the Learn2Trade recommendation, you can sit back and relax. Your preferred crypto broker will close your position when either the take-profit or stop-loss orders are triggered.
Best Crypto Signals UK – Expert Verdict
For avid cryptocurrency market analysts and beginner crypto enthusiasts alike, digital currencies have been trending, are trending, and are likely to be trending in the foreseeable future. If you're looking to participate in the volatile cryptocurrency market but aren't sure where to start, crypto signals remove the guesswork.
We have already covered the best crypto signals providers as well as key metrics such as live crypto news, the best Telegram groups, as well as how to read crypto trading signals.
Which crypto signal provider is best for newbies? Based on our research, we found that Learn2Trade is ideal for first-time crypto traders as it has a strong track record of offering universal crypto signals. The service provider offers three free signals per week and has over 36.6k subscribers on its Telegram group.
Simply click on the link below and choose a plan today!
Learn2Trade – Best Crypto Signals of 2021

Please note that this provider does not guarantee that you will make money. Proceed at your own risk.
FAQs
What are crypto trading signals?
How do you read crypto trading signals?
What is the best crypto signal app?
How many free crypto signals does Learn2Trade offer?
Are there any free crypto signals?