How to Buy Cardano in South Africa – Your Essential Guide
Like most cryptocurrencies in 2017, Cardano received recognition on a large scale that it hit a high of $1.24 per coin. However, for about three years, it never got to where most could have expected but was trading around $0.02-$0.10 per coin. At that time, the future didn't look so bright for Cardano.
Cardano may have been launched in 2017, but it was founded in 2015 by Charles Hoskinson – a co-founder of the Ethereum network, and since then, Cardano hasn't looked back. Continues its upward trajectory currently priced at $2.98 with a market cap of $134B, it is currently ranked as the third largest cryptocurrency globally as of September 3rd, 2021.
There's much to admire about Cardano as it's a public blockchain for smart contracts that helps a user build smart contracts and create decentralized apps and protocols. In addition, the networks aim to solve several problems such as interoperability, scalability, and sustainability available on the other blockchain networks.
If you're in South Africa and wondering how you can buy Cardano, this guide has been perfectly tailored for you – it will help you with all the answers you seek.
#1 Broker to Buy Cardano – eToro
How to Buy Cardano in South Africa – A Step-by-Step Guide
Perhaps, you want those ADA tokens in your e-wallet as soon as possible, right? You don't have to wait for so long; let's show you the simple steps that will help you buy Cardano. The good news is that the entire process is a walk in the walk:
Open an eToro Account

– First, you have to get a trading account, and the online trading platform has to support Cardano. Therefore, eToro is arguably your best option – you won't have to pay commissions on eToro. All you need to do is to get to the eToro website and then click on "Join Now." The requirements are an email address with some personal as well as contact details.

Verify your Account

– Nowadays, most brokerage firms require that new users verify their identity – it's a trading condition. There's no denying that the KYC (Know Your Customer) protocol is annoying, but it's a trading condition. Therefore, eToro ensures that you accomplish it as per the South Africa legislation. You'll be required to submit the necessary documentation to prove your residential address and establish your identity as authentic.

Deposit Funds

– the next step is to add funds into your account. eToro offers many deposit methods that you can select from; for instance, you can deposit using credit/debit cards, PayPal, Skrill, Wire Transfers, Neteller, SEPA bank transfers, and several others. However, eToro maintains a minimum deposit requirement of about 3000 South African Rands (200 USD).

Buy Cardano

–Now your account is verified and funded, and all that's remaining is to search for Cardano on the eToro platform and click "Trade," then fill in the amount you want to spend on the new ADA tokens.
That's it! Your journey just started, your train just left the station, and now it's your turn to enjoy the cryptocurrency world.
Cardano
3 Providers that match your filters
What we like
Trade real cryptos and crypto CFDs

Licensed broker with deposit insurance

Integrated wallet
Features
Payment methods
CFDs are complex instruments and carry a high risk of losing money quickly through leverage. 75% of retail investor accounts lose money when trading CFDs from this provider.
What we like
Viele handelbare Assets

Hervorragende Trading Plattform

Europäische Lizenz
Features
Payment methods
CFD sind komplexe Instrumente und gehen wegen der Hebelwirkung mit dem hohen Risiko einher, schnell Geld zu verlieren. 76,4% der Kleinanlegerkonten verlieren Geld beim CFD-Handel mit diesem Anbieter.
Understanding Cardano: What is it?
2020 was a financially turbulent year, and even the keenest investor had to hold their breath and flipped the calendars over to the New Year. However, a few companies are rising to the challenge – and quickly rising in price. Cardano is one of the notable firms.
Cardano is merely a decentralized public blockchain and cryptocurrency project, which is the first to come out of the scientific philosophy and the research-first driven approach. ADA is its native token.
For a few years now, Cardano has flown under the radar, but it could be poised for something big after all.
Cardano was launched in 2017, and it has often been referred to as the third-generation cryptocurrency. Ideally, it builds entirely on what Ethereum and Bitcoin have done but aims to be more scalable and sustainable. Therefore, it means that it's more environmentally friendly, secure, and faster.
It has long been hailed as a potential "Ethereum-killer" (which is quite a claim), given the fact that Ethereum is the second-largest crypto, only trailing Bitcoin. Yet, as Ethereum looks to overtake Bitcoin, it seems that it already has a rival on the ranks trying to take its place.
Founders of Cardano
So, who's the founder of Cardano?
First, Cardano earns comparison to Ethereum – its founder Charles Hoskinson was also a co-founder of Ethereum. Things didn't work as expected and when he had a fall out with Ethereum's founder, Vitalik Buterin. Hoskinson's idea was to lead Ethereum in a commercial direction as well as accept venture capital; however, Ethereum founders wanted to take a less business-centered approach – and therefore, he left.
After leaving, he decided to improve Ethereum with Cardano, whereby the new project could keep most of the best Ethereum features but improve some of the weaknesses. Therefore, in simple terms, Cardano offers most of Ethereum's compelling capabilities, like robust smart contracts.
What makes Cardano Unique?
Ideally, what makes Cardano a bit unique from the others is that it's arguably one of the most prominent blockchains to use a Proof-of-stake (PoS) consensus mechanism successfully. In addition, unlike Bitcoin that relies on the Proof of Work (PoW) algorithm, PoS is a less energy-intensive mechanism.
Being the first blockchain platform to be built via peer-reviewed research, Cardano aims at solving several problems like interoperability, scalability, and sustainability. Scalability for a long time now has been the major challenge for cryptocurrencies.
Bitcoin, for instance, processes about 5 transactions per second, while Ethereum processes about 15 transactions per second. On the other hand, Cardano can process up to 257 per second; and plans to add an extra layer (known as Hydra) to its blockchain, which could mean that it could process up to 1m transactions per second – impressive, right? Also, given that Cardano is a PoS blockchain, users staking their coins are responsible for validating the new blocks.
Moreover, just like any other cryptocurrency, ADA is a digital asset and can be used in storing value or even transferring funds.
Cardano is clearly an ambitious project with several potential uses for the technology across a plethora of industries. For example, in a real-world context, there's a Cardano partnership with the Ministry of Education of Ethiopia, whereby Cardano's blockchain stores tamper-proof records for several students. When they pursue higher education or jobs, their records and achievements will be available right in the blockchain.
There are several sectors that Cardano is helpful, such as in Health Care, whereby Cardano blockchain authenticates pharmaceutical products so that folks cannot purchase counterfeit medications. In agriculture, it provides a reliable supply chain for farmers and merchants.
The available number of Cardano is limited – cryptocurrencies can have an unlimited or fixed supply. For instance, Bitcoin has a fixed supply, whereby there'll never be over 21 million Bitcoin. Just like that, Cardano has the same fate with a maximum supply set at 45 billion ADA. Currently, there're about 32 billion ADA circulating, which might not guarantee ADA price going up, but in case its popularity takes off, the limited supply might help increase demand.
Another thing that makes Cardano one of the most sought-after cryptocurrencies, is the fact that you'll find it in almost every best cryptocurrency exchange. Moreover, the Hard Fork Combinator is another great innovation feature that allows the network to easily hard-fork without real interruption.
There Are two components for every transaction: the mechanism in which the tokens are sent as well as the conditions behind those movements. The first layer is the settlement layer that allows the user to send as well as receive ADA coins. The other layer is the computation that helps the user to create as well to enter into the smart contracts.
Unfortunately, like every cryptocurrency, Cardano is not exempted from risks (in fact, it's something almost certain to happen on every single digital asset). First, you can't be so sure of it to succeed in its objectives or even the fact that it might be worth anything going forward. But they're the risks you will be willing to take with every cryptocurrency investment you make.
Why should I Buy Cardano?
You want to invest in a cryptocurrency that you won't regret, right? Therefore, a growing crypto project is the best place to start.
There's no denying that most cryptocurrencies are on an upward trajectory, but the pace at which Cardano is growing is clearly at the top. Unfortunately, given its low market capitalization, it doesn't get all the focus that it deserves. Instead, all the press is on Bitcoin, with Ethereum following closely. But despite all that, Cardano is proving to be a force to reckon with.
In fact, since it was launched in 2017, Cardano has been booming, especially since mid-last year. So, what are the reasons for the boom?
Perhaps, the most important reason for the increase in price is the famous Shelley hard fork upgrade released last year in July. It's an upgrade that has ideally had an immense impact on Cardano, given that it has transformed the network to a PoS (Proof-of-stake) protocol. Therefore, it means that users can hold their coins on the ADA network and receive rewards.
Furthermore, Cardano recently launched the new hard fork update known as "Mary" that helps developers to easily issue custom cryptocurrencies in addition to the blockchain.
So, what's "Mary" exactly?
It is part of Cardano's "Goguen" roadmap that aims to rival the Ethereum network, arguably the largest rival in the crypto industry. It's designed to transform Cardano into a multi-asset network. Mary allows users to create non-fungible tokens easily. The recent updates mean that Cardano now has faster transaction per second rates than Ethereum. After all, Cardano's goal is to develop a blockchain network that processes vast transactions at low costs.
There can be several reasons that might make you buy something, and the hype can be on top of any list. Therefore, the hype currently around Defi (decentralized finance) projects is hard to resist. Besides, Cardano has made partnerships as well as collaborations, including The Cardano Foundations, IOHK, IBM, New Balance, Emurgo, PwC, SirenLabs, and several others.
Cardano developers have also made it easy for you to buy it as they have ensured that all the technology developed passes through a strict process of peer-reviewed research. Therefore, it means that every idea related to the network has to be challenged before being committed. Such academic rigor ensures that the Cardano blockchain maintains its resilience as well as stability to ensure that several possible future issues are easily identified before they become a real problem.
How to Buy Cardano in South Africa
So you want to buy Cardano in South Africa? When it comes to buying cryptocurrency, what matters is if your preferred payment method would be helpful. Luckily, you will be spoilt with choices here. There's an array of ways that you can buy Cardano, and without wasting any time, let's explore all the available options.
Credit and Debit Cards
Using your debit or credit card to buy Cardano is arguably the easiest way to consider. Even though not every crypto trading platform would accept debit and credit cards, it's the most commonly used method of payment.
Fortunately for you, Cardano accepts debit and credit cards as a mode of payment, meaning you'll have to choose between them. Furthermore, the process is extremely straightforward. All you have to do is to visit the eToro homepage and then sign in to your online account and do your business.
PayPal
Slowly but steadily, PayPal is joining the crypto world. In fact, it's proving to be one of the best ways to use it as it offers a user-friendly platform on its mobile app. In addition, you can buy some cryptocurrencies (Dogecoin, Litecoin, and Ethereum), making it an excellent option.
Unfortunately, not all brokers accept PayPal as a payment method, but our recommended broker, eToro, accepts PayPal as a way of payment. Therefore, you don't have to go through the hassle of exchanging anything.
Bitcoin
Another best option that you might want to consider using in buying Cardano in South Africa is Bitcoin. Therefore, if you have Bitcoin in your e-wallet, you only need a simple way to get hold of ADA. You need to navigate to your trade tab and convert your coins.
Where to Buy Cardano in South Africa
Cardano is undoubtedly a popular cryptocurrency, meaning you'll have several cryptocurrency exchanges as well as online trading platforms allowing you to sell and buy the digital coin. Therefore, if you already have an account with an exchange regulated, then buying ADA would be a walk in the park in South Africa.
However, you'll have to ensure that you choose a trading platform that meets all your needs as well as your financial budget. Perhaps, the best way to get hold of your ADA is to use a CFD trading platform such as eToro.
There's a difference between buying Cardano with a cryptocurrency exchange and an online broker. For instance, an exchange enables the physical purchase of the coin, while a CFD allows speculation on the price without actually exchanging or owning it.
Here are the top-rated trading options that are the best bet for you to buy Cardano in South Africa:
1. eToro – Overall best platform for Cardano in South Africa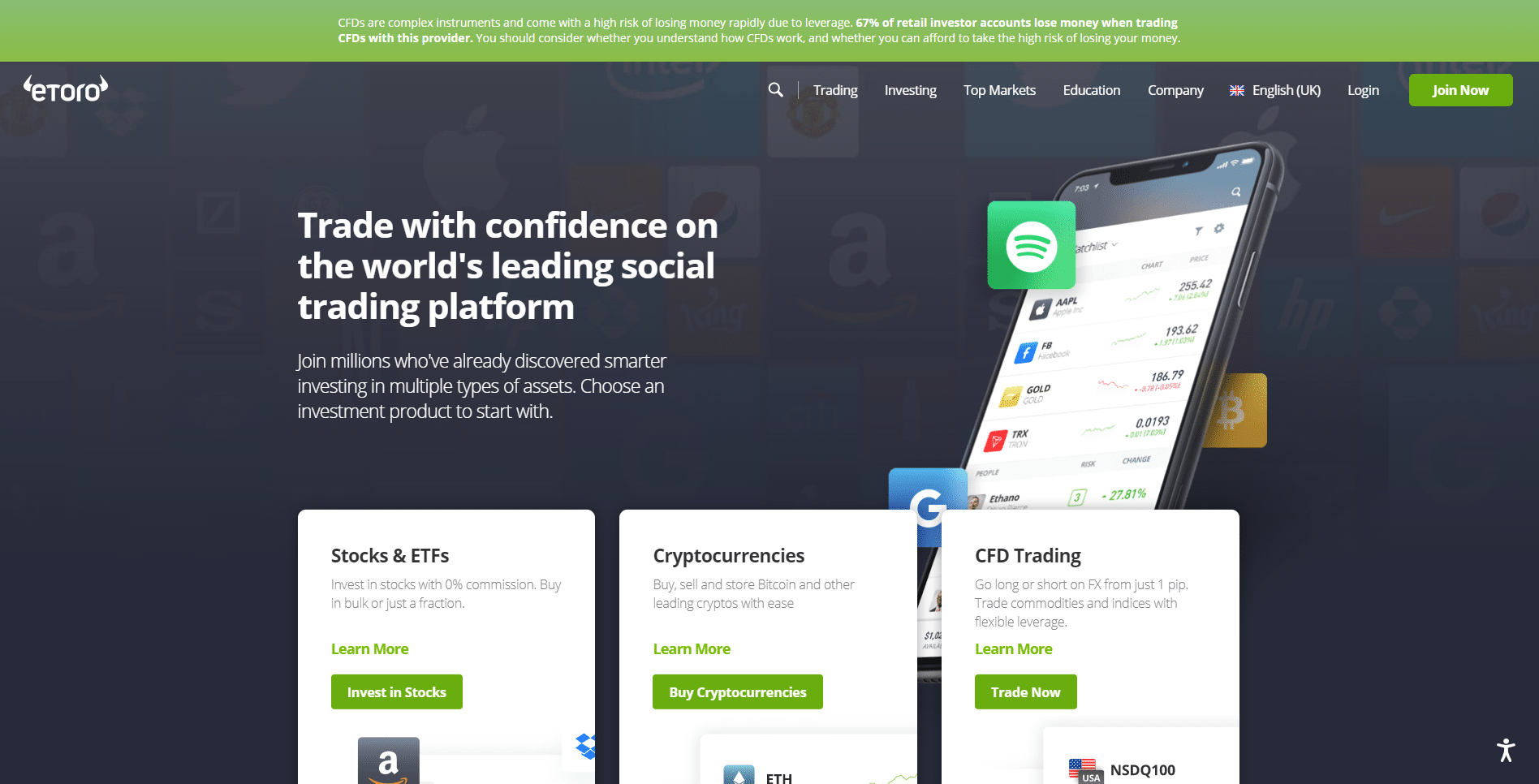 Since the initial stages of blockchain, eToro has stood tall as a global fintech leader providing a complete solution in cryptocurrency trading. It's arguably the world's best social trading network with several registered users as well as a plethora of innovative tools such as the eToro Money crypto wallet.
However, the platform has a limited menu as it supports only 16 coins; and fortunately, Cardano is on that list. Moreover, the platform has a seductive pricing structure, making it attractive and removes the hassle of making some profit for traders.
There are several reasons that make eToro a recommended option to buy Cardano. First, its short position feature – it might be a standard financial feature in the traditional market, but when it comes to the crypto exchanges, it's a different scenario. The fact that eToro supports it makes the platform one of the best as it will allow you to make profits even when the prices decrease.
In terms of fees, eToro charges a 2.45% spread when you purchase only Cardano. However, you'll not pay commissions. In fact, it's the best platform when it comes to keeping low cost, and it's a feature that both seasoned and new investors alike.
Moreover, the platform allows you to store your actual ADA tokens on your wallet or portfolio. Besides, it's a social media platform – even when only focusing on online trading. The point is that you'll have fun while trading; you can easily exchange trading ideas with others and equally get some advice as well as developing news.
Now, how could we forget Copy Trading? Sometimes, you don't have to do things alone – you can look for a professional trader with proven success for help. But, perhaps, you want to follow exactly what they do to ensure you get into that success train. Thanks to eToro, it has a copy trading feature. All you have to do is to pick the trader that you want to follow and copy their trades, and then the system will mimic their movements trade by trade.
Copy-trading comes a long way as it will help you to save the workload of having to learn and master the crypto market curve. Furthermore, it ensures that you get your profits quickly. Interestingly, the service doesn't have a fee; you only need to meet the 200 USD minimum deposits to use it.
Finally, the legal situation for eToro in South Africa is nothing to worry about. It's regulated by the CySEC, the FCA, and FinCEN. Therefore, it means that you're all but set to have those ADA tokens without worrying about watching your back.
Pros
Very easy to set up an account

Many payment options to choose from

Trusted platform with millions of users all over the world

Attractive trading fees
Cons
The $200 minimum for the initial deposit can be a bit high
67% of retail investor accounts lose money when trading CFDs with this provider.
2. Capital.com – Great way to Buy Cardano in South Africa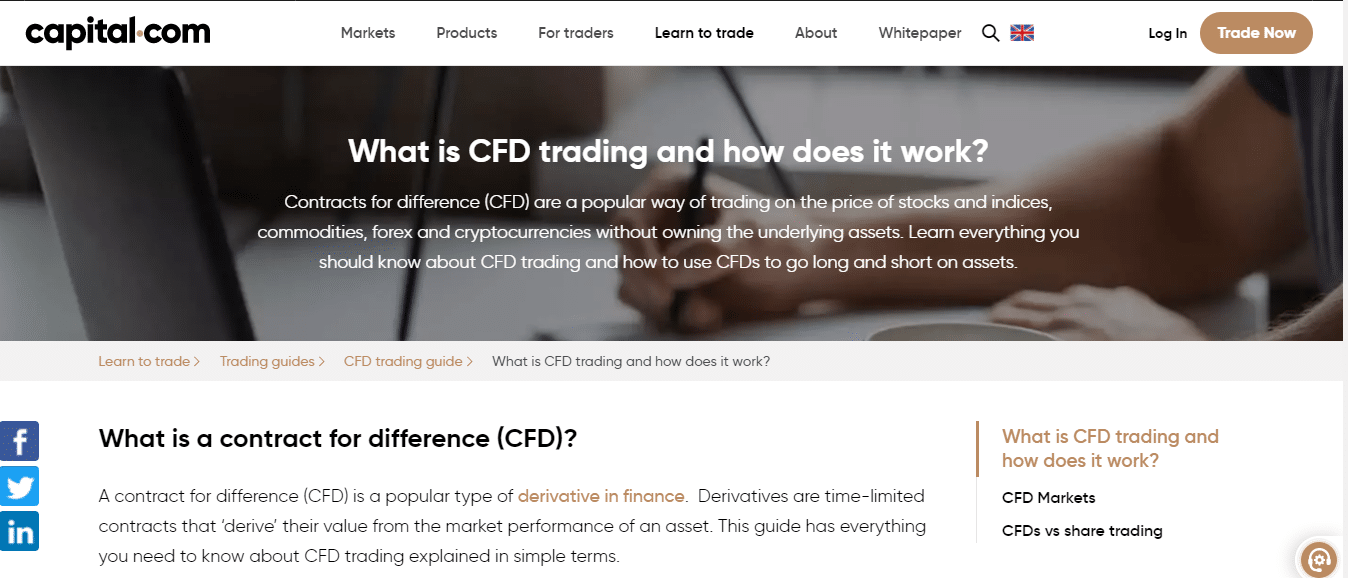 Another best place to buy Cardano in South Africa is on Capital.com. In fact, it offers an option for up to 80 other cryptocurrencies in the country. Signing up with Capital.com only takes a few minutes, and you'll be required to make a minimum deposit of $20 for a new account.
However, it's a CFD broker, meaning you can't buy cryptocurrency outright. Fortunately, that comes with some significant advantages. For instance, it takes away the stress of setting up a cryptocurrency wallet or even storing the Cardano tokens. Also, you can choose to go short or long on Cardano, depending on your predictions about the market movement. Furthermore, trading CFDs here offers an option of leveraging your trades to an impressive ratio of 2:1, meaning you can have huge bets on Cardano with even a tiny trading account.
Moreover, you can even trade fiat-to-crypto as well as crypto-cross pairs with capital.com. Trading Cardano starts with spreads at $1.45%. However, for Bitcoin trading, it charges spreads up to $0.20%. Interestingly, Capital.com is 100% commission-free for all cryptocurrency trading, and it doesn't charge withdrawal, deposit, or inactivity fees.
It also includes a mobile app that allows users to trade ADA on the move. The app is available on both Android and iOS. If you wish to diversify, Capital.com offers CFD asset classes that include commodities, indices, stocks, and forex.
Capital.com is also regulated and authorized in South Africa by the Cyprus Securities and Exchange Commission (CySEC) and the Financial Conduct Authority (FCA). Also, given the fact that the crypto market doesn't sleep, Capital.com offers 24/7 customer support.
Pros
AI assistant that picks out your weak points
Excellent analysis and charting interface
Trade ideas generated daily
Educational app for newbie traders
Cons
It doesn't build the custom trading strategies
67% of retail investor accounts lose money when trading CFDs with this provider.
Buying Cardano in South Africa: The detailed tutorial
By now, you already have enough information to decide whether you really want to buy Cardano. Already, we've provided you with a quick guide on how to get your ADA tokens. As previously mentioned, eToro is arguably the best platform to buy Cardano in South Africa because it has both actual tokens and CFDs and doesn't charge any fees with several payment options. Therefore, now we'll show you the details to ensure that you seamlessly acquire your ADA in South Africa step by step.
First step: Open an eToro Account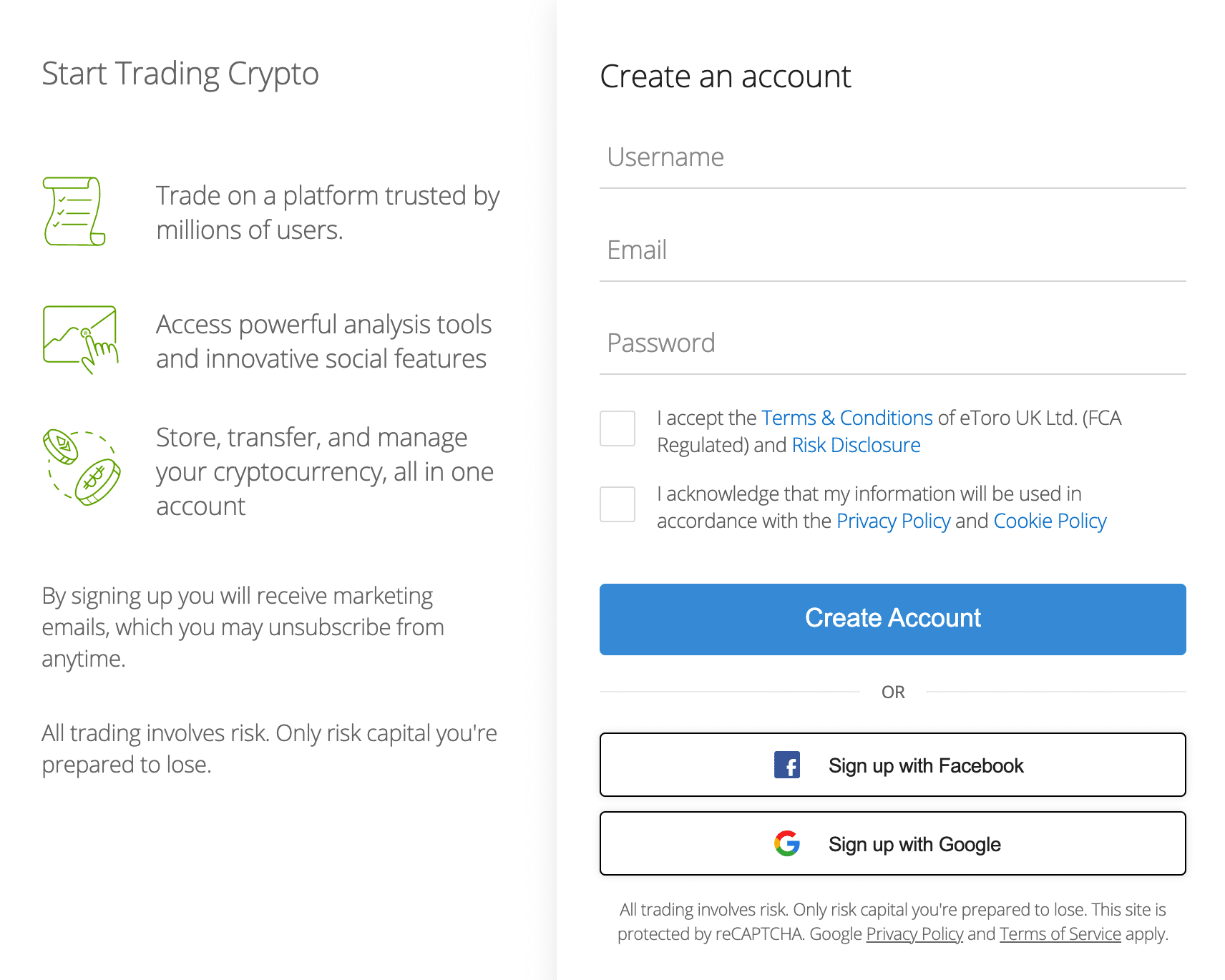 The first thing to do is to register and open an eToro account. You need to get to the eToro webpage at the top right and click "Join Now."
After clicking there, you'll be directed to the registration page, where you'll provide your email address, full name, and a secure password. To complete your registration process, you must verify the email address that you provide in an email that will be sent to you by eToro. However, if you want to make things swifter, you can choose to sign up with your Google or Facebook accounts.
Step two: Verify your Identity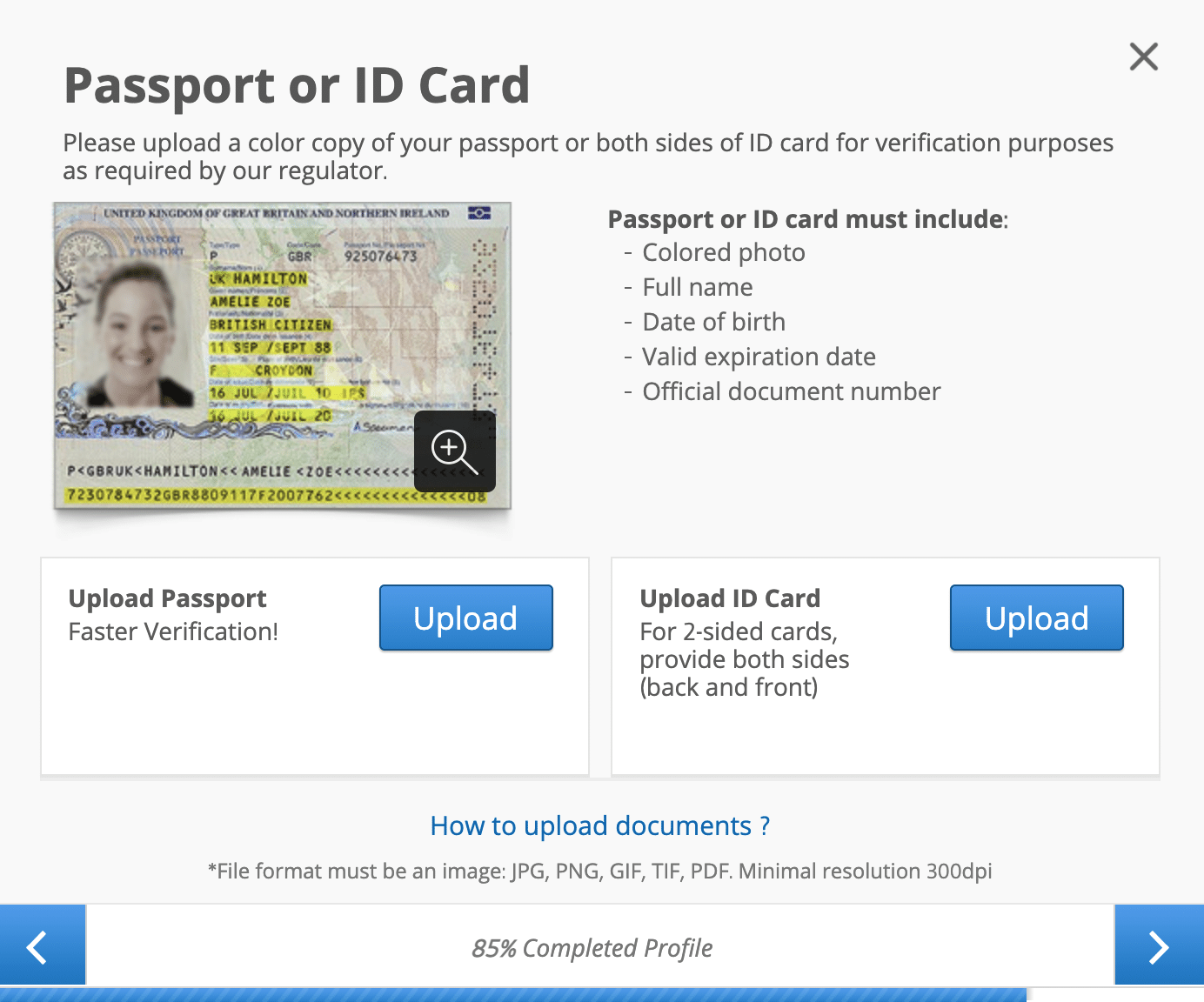 Before you can start buying Cardano, you must verify your identity. As much as Know your Customer is an annoying process, it's the price to pay for your security, especially when your investment is in question.
All you have to do is to log into your account and click on the identification button below your profile logo. Then click on the Verify button, where you need to upload your passport or ID document (back and front pages) and a utility bill document of any sort to confirm your residential address to be in South Africa.
Step three: Deposit Funds
Now it's that moment to fund your account. Interestingly, you can easily fund your account using several methods. Once you click on the payment option, you'll have several methods to choose from; ranging from PayPal to Bitcoin. However, you should remember that you need to fund your account with at least 20 USD. Also, the fees will vary depending on the payment method you choose.
Step Four: Buy Cardano (ADA) Coin
Finally, it's that moment you have been waiting for; to buy Cardano. Once your account is verified, and you have funded it, now you can trade Cardano on eToro.
First, you need to find the dashboard and search for "Cardano." Once it appears on the menu, just click on it. You'll then be directed to the Cardano trading dashboard, where you select "Trade" and then type the amount of USD that you want to buy. At this moment, you'll have to consider using the "stop-loss" or "stop-profit" limits to help you manage the risks accordingly. Whenever you're ready you can click on "Open Trade."
That's it! Your trading journey just started!
If you like to make your trades on the move, you might consider downloading the eToro app to help you monitor your portfolio easily and anywhere. However, if you use your desktop, then this step should not be a concern.
Is Cardano the Next Big Thing?
If you're planning to buy Cardano, there's every reason to be optimistic that you now own arguably "the next Bitcoin." First, the Cardano management team is full of experience in terms of blockchain technology and still attracting the brightest minds in the entire academic world.
Additionally, they take thoughtful approaches in developing what they believe to be a blockchain environment for the future. Besides, with ongoing developments taking place within its ecosystem and in the entire crypto market, we could be poised to see Cardano hitting new heights.
However, that doesn't mean that buying Cardano in South Africa has no risks. Perhaps, things might seem to be on the uptrend for Cardano currently, and you might be tempted to think that it's the best bet, and you won't go wrong about it.
Now, you don't have to forget that it's a speculative world that's much similar to gambling, and there's always an element of risk attached. So, therefore, it means that the possibility of losing some money is always there.
It's a volatile market, and prices can suddenly go down and up dramatically within a short period; if you panic, you'll surely lose money.
Buy now
CFDs are complex instruments and carry a high risk of losing money quickly through leverage. 75% of retail investor accounts lose money when trading CFDs from this provider.
Buy now
CFDs are complex instruments that have a high risk of losing money quickly due to leverage. 72.6% of retail investor accounts lose money trading CFDs with this provider.
Buy now
CFDs are complex instruments and carry a high risk of possible rapid loss of capital due to their leverage. 71% of retail investor accounts lose capital when trading CFDs with this provider. You should consider whether you understand how CFDs work and whether you can afford to take high risk in losing your capital.
Mobile App
Wallet
Number of Coins
Trading Fees
Deposit Fees
Withdrawal Fees
Regulated
| | | | |
| --- | --- | --- | --- |
| N/A | Yes | CBI and MiFID in Europe | |
Min. Deposit
Leveraged Trading
| | | | |
| --- | --- | --- | --- |
| N/A | Yes | 1:2 for cryptocurrencies | |
Bitcoin
| | | | |
| --- | --- | --- | --- |
| $48280.47 | $47968.98 | $48088.78 | |
Ethereum
XRP
Tether
Litecoin
Bitcoin Cash
Chainlink
Cardano
IOTA
Binance Coin
Stellar
EOS
Credit Card
Paypal
Sepa Transfer
Skrill
Sofort
Giropay
Neteller
Conclusion
When you want to buy crypto, you need a platform that won't give you difficulties. Luckily for you, if you want to buy Cardano in South Africa, you don't have to look any further as eToro has your back. It offers zero commission, and it's straightforward to use. Besides, it supports several cryptocurrencies and several payment methods that you'll find applicable in South Africa.
Cardano, on the other hand, looks to be on course to fulfilling its "destiny" – dethroning Ethereum. The project has already secured crucial strategic partnerships, it has specific use cases, and its mission to become the largest smart contract platform has never been this clear.
Cardano is built on a scientific philosophy as well as based on clear peer-reviewed research. Besides, it has a limited supply with several platforms enabling trading of the coin. Therefore, the long-term picture for Cardano and its ADA token is very promising.
Now, that's everything at your fingertips about how to buy Cardano in South Africa. Perhaps, the time is now to take action; sign up for an eToro account, and start your ADA journey.
FAQs
What are the Risks Associated with Buying Cardano?
Can I Buy Cardano Instantly?
Can I Buy Cardano Anonymously?
Can I Buy Anything with Cardano?