Buy NFT Art – How To Buy NFT Art Work Online Without Coding & With Credit Card in 2022
At the end of February 2021, the sale at Christie's of the artist Beeple's work "EVERYDAYS: THE FIRST 5000 DAYS", composed of 5,000 images made daily since 2007, for $69 million, caused a real tidal wave in the crypto world – almost everyone became interested in NFTs. So, how can you jump in on the NFT wagon?
This guide will discuss some of the top NFT art collections, explain how you can identify the best NFTs to invest in, elaborate step-by-step how you can buy NFT art from any marketplace, and finally review some of the top NFT marketplaces. 
#1 Broker to Buy Ethereum – eToro
How to Buy NFT Art – Step by Step Guide 2022
Although NFTs have gained mainstream popularity, for many, buying them can be a bit tricky at first. That is why we've created this step-by-step guide on how to buy NFTs. 
Step 1: Find the right NFT Art marketplace
Your first step towards buying an NFT is to identify the best marketplace for you. Your marketplace choice will depend on the type of NFT you want to buy – there are specialized NFT marketplaces like NBA Top Shot and Enjin or universal NFT marketplaces like OpenSea. For this guide, we will use OpenSea to show you how to buy NFT art. We will review the top NFT marketplaces later on in this guide.
Note that the process of buying NFTs is relatively similar throughout. 
Step 2: Buy Ether (ETH) on eToro
Since NFTs are blockchain assets, you have to buy them with cryptos – very few marketplaces accept fiat. For most marketplaces, Ethereum is the most popular crypto used to buy NFTs. That means your first step is to buy ETH. While there are thousands of exchanges where you can buy ETH, in our opinion, the eToro crypto wallet is the simplest way to store, receive and transfer crypto. Here's how to go about it.
Firstly, head over to eToro and register for an account. Click on the "Join Now" tab and go ahead with the simple registration process. The next step is to verify your account by providing proof of ID and proof of residence.
After your account is verified, you're ready to buy ETH. Simply deposit fiat currency into your account by clicking the "Deposit Funds" tab on the bottom left of your eToro dashboard. Note that you can deposit through PayPal, Skrill, Neteller, direct bank transfer, or debit/credit card. 
Finally, proceed to buy ETH. Type in 'ETH' or 'Ethereum' in the search bar, and click on the "Trade" tab. Enter the amount of fiat you want to use to buy ETH and click "Open Trade." The most important thing to note here is that you are buying the underlying asset, which means that you are buying the actual ETH and not its CFD.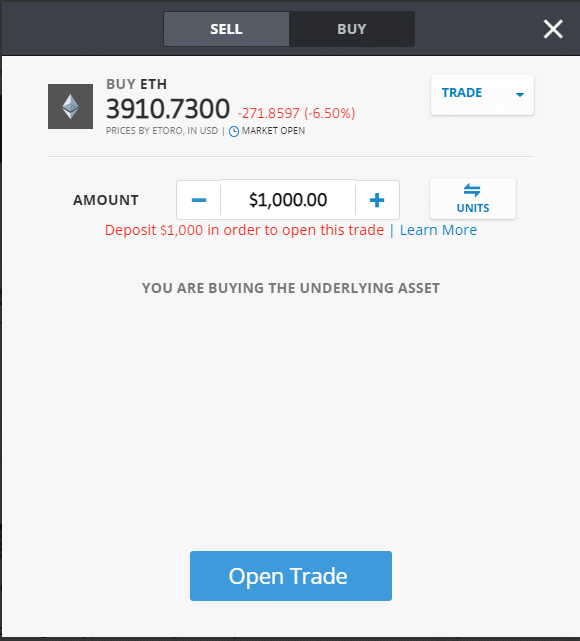 After purchasing the ETH, you will need to transfer it to the eToro money wallet available for Android and iOS. This process is also fairly straightforward. Here's how to go about it.
Click on the "Portfolio" tab on your dashboard, then select the crypto you intend to transfer, in this case, ETH. Click on "Edit Trade" and then select "Transfer to Wallet." It's that simple!
67% of retail investor accounts lose money when trading CFDs with this provider. 
Step 3: Transfer ETH to an external crypto wallet
Now you can transfer your ETH to any other wallet you prefer – ideally, to MetaMask, an Ethereum web3 wallet. It is one of the most popular wallets in NFT marketplaces. After setting up your MetaMask wallet, transfer the ETH from your eToro crypto wallet to MetaMask. Keep in mind that when you buy the NFT, the marketplace automatically transfers it to the MetaMask wallet, which you can then transfer to a hardware wallet if you prefer. For most people, a hardware wallet is never really necessary; but if you spend thousands on NFTs, then you might consider a cold wallet a necessity for that added layer of security for your investment. However, you will be managing your NFTs from the hot wallet.
A key point to note here is that you can only use MetaMask for Ethereum-based NFTs. However, there are NFTs based on other blockchains like Flow, Tezos, or Binance Smart Chain, which would require you to have a wallet on the respective blockchains. So always make sure to double-check. 
Step 4: Connect your wallet to an NFT Art marketplace
After transferring your ETH to MetaMask, you can go ahead and connect it to the NFT marketplace of your choice. In our case, we're going to connect the MetaMask wallet to OpenSea – the largest NFT marketplace. It is fairly straightforward and shouldn't take more than 30 seconds to connect.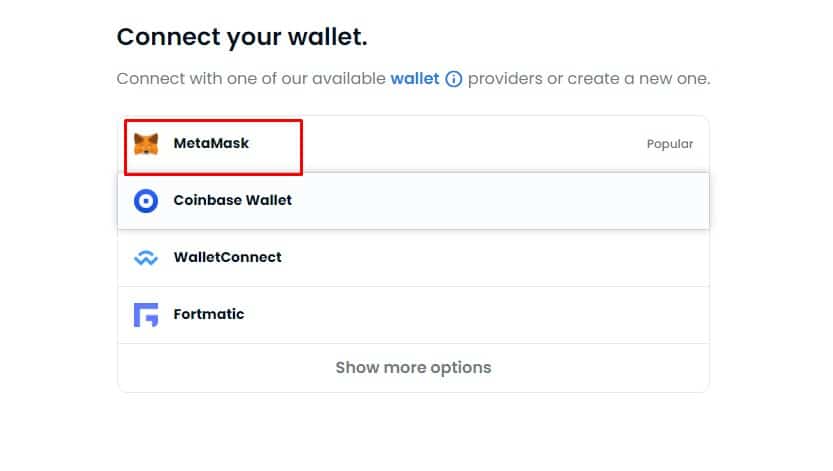 Step 5: Browse the NFT Art Collections
If you already know the name of the NFT you intend to buy, enter the name in the search bar and search OpenSea. If you haven't settled on any particular NFT, you can browse the entire marketplace. Use the "Explore" tab to browse the entire marketplace by category.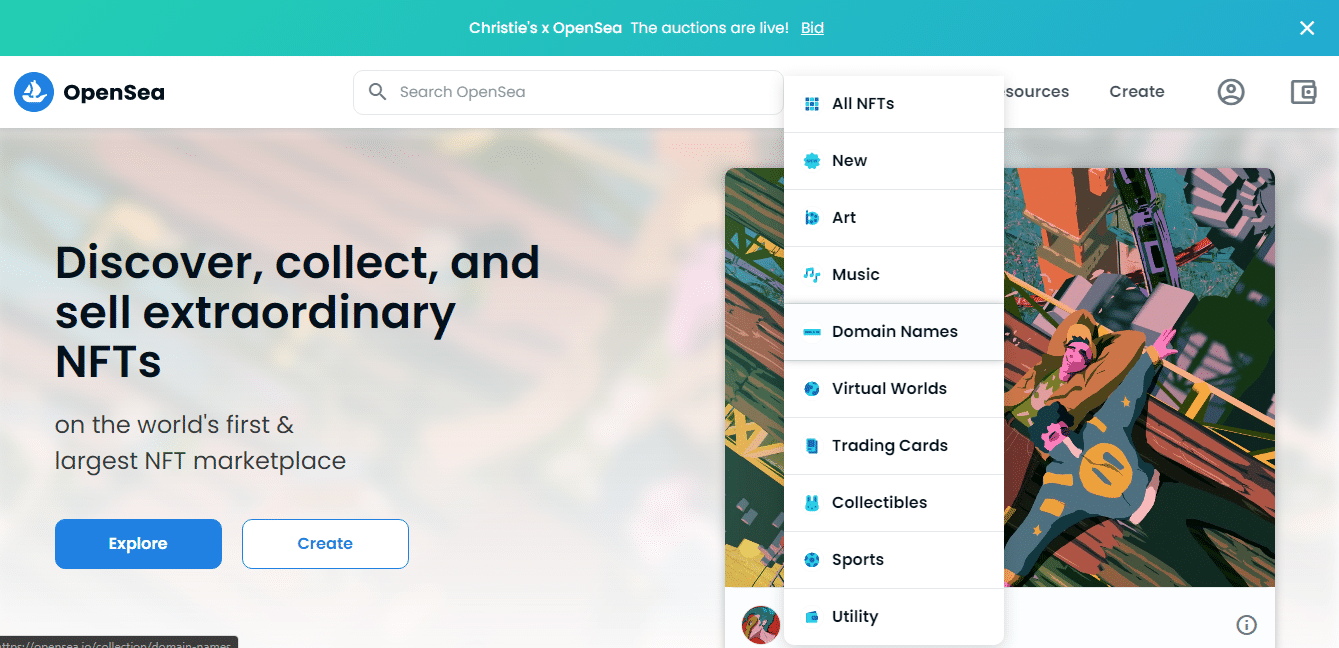 Alternatively, you can browse the NFTs on OpenSea by the weekly top collections.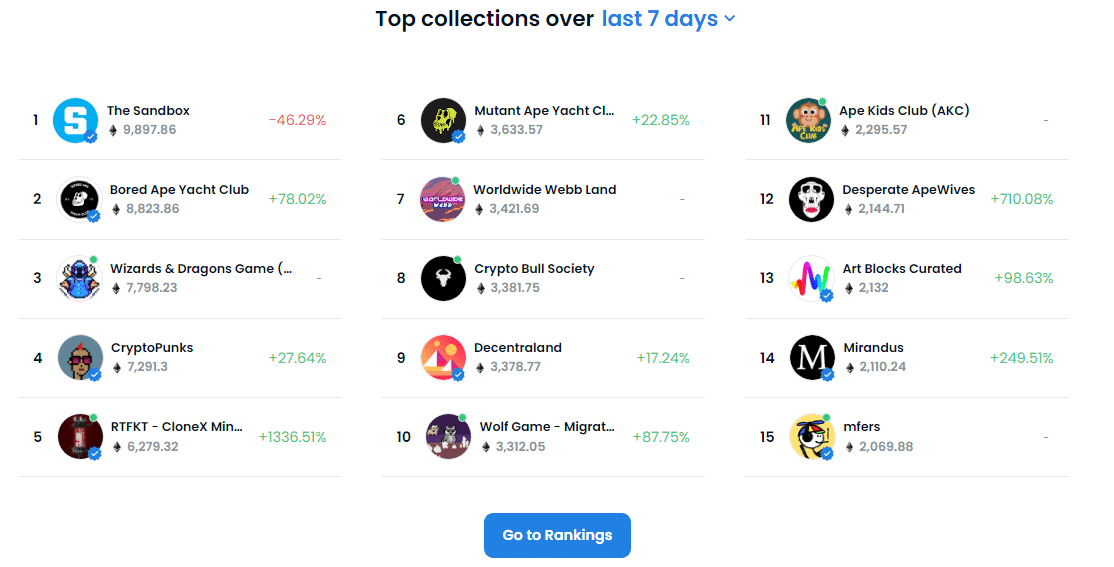 You can also browse the top NFTs based on the most popular NFTs and Notable drops. Typically, OpenSea organizes the NFTs by collections. When you select the collection, you can review the summary of that collection and the list of all NFTs it contains.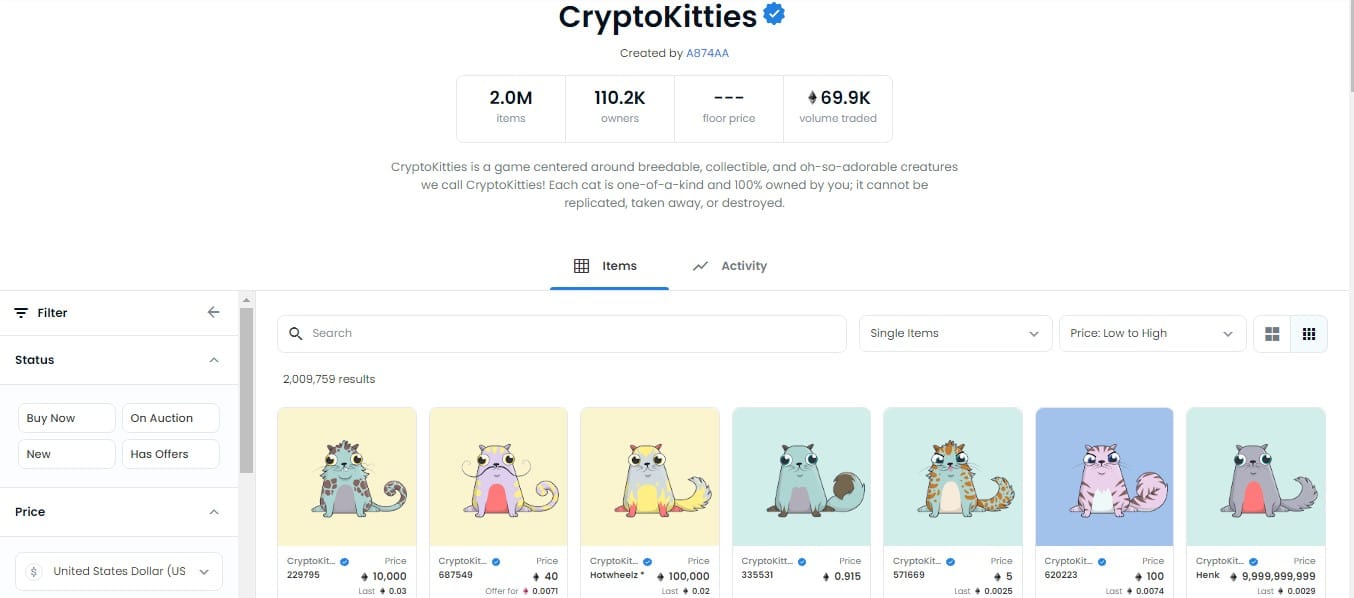 You can narrow down your search using the "Filter" function. This allows you to search NFTs based on their status, price, host blockchain, collection, categories, and payment method.
Step 6: Make an offer for the NFT Art
Once you find the NFT you intend to buy, click on the image and make an offer, or instantly buy it at the listed price.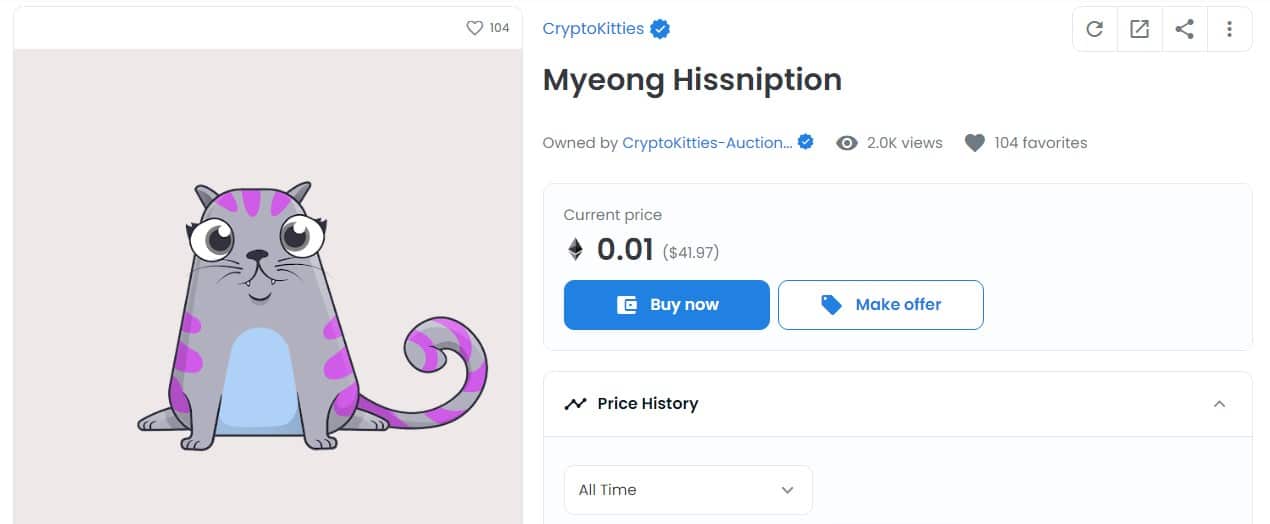 If you choose to make an offer, click on the "Make Offer" tab. In the pop-up window, select the crypto you wish to pay with, enter the amount, set the expiration timeline, and complete by clicking the "Make Offer" tab.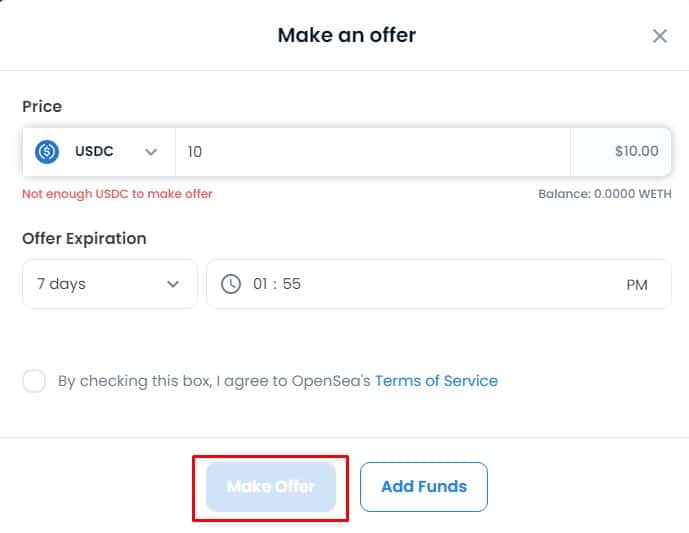 When buying the NFT at a fixed price, simply click on "Buy now" then "Complete checkout," and the NFT transfers to your MetaMask wallet.
Note that transactions on OpenSea are gas-free – you don't pay transaction fees when buying NFTs.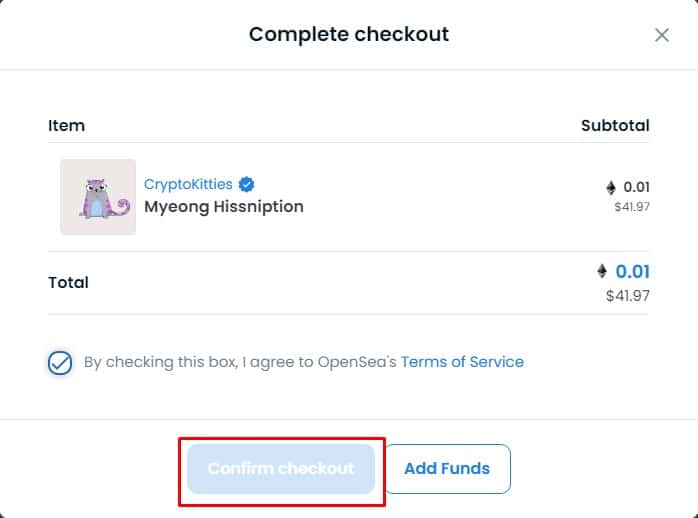 Step 7: View your NFT
Once your payment has been processed, or after successfully bidding for the NFT, you can view your NFT under the "Profile" tab. Note that OpenSea is non-custodial, which means that it doesn't store your NFTs; they are stored in your MetaMask wallet.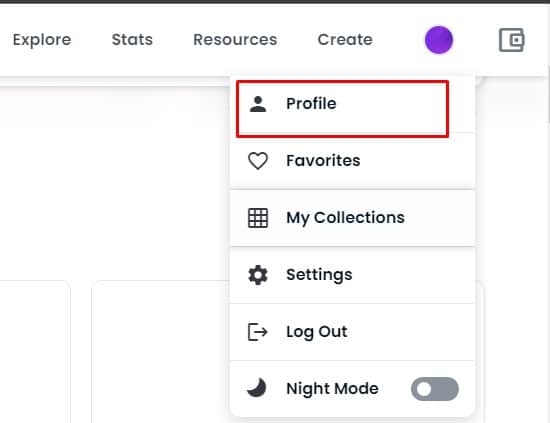 The Top NFT Art Marketplaces
Now that you know how to buy NFT art let's review some of the top NFT marketplaces.
OpenSea – Universal Marketplace for NFTs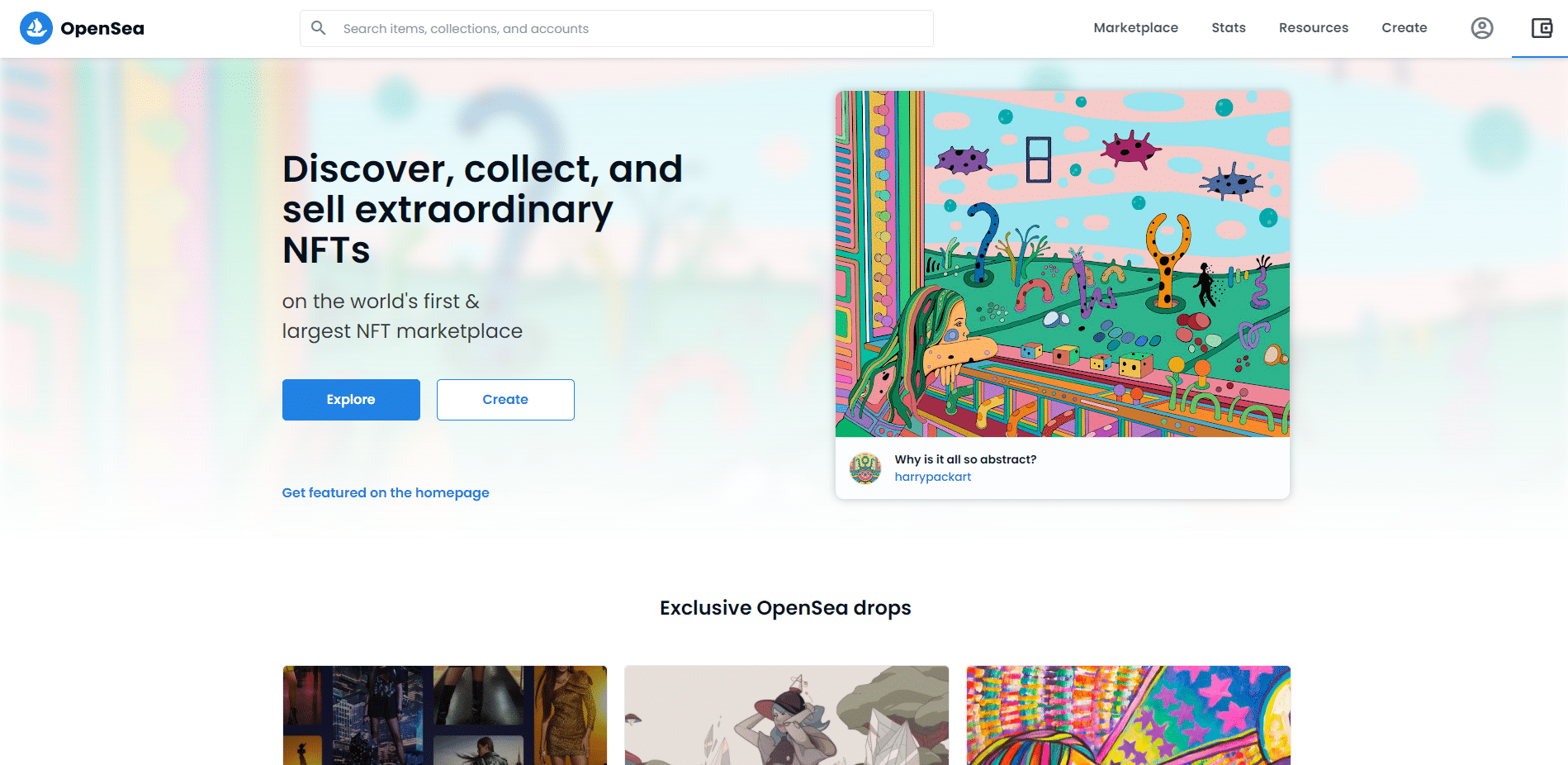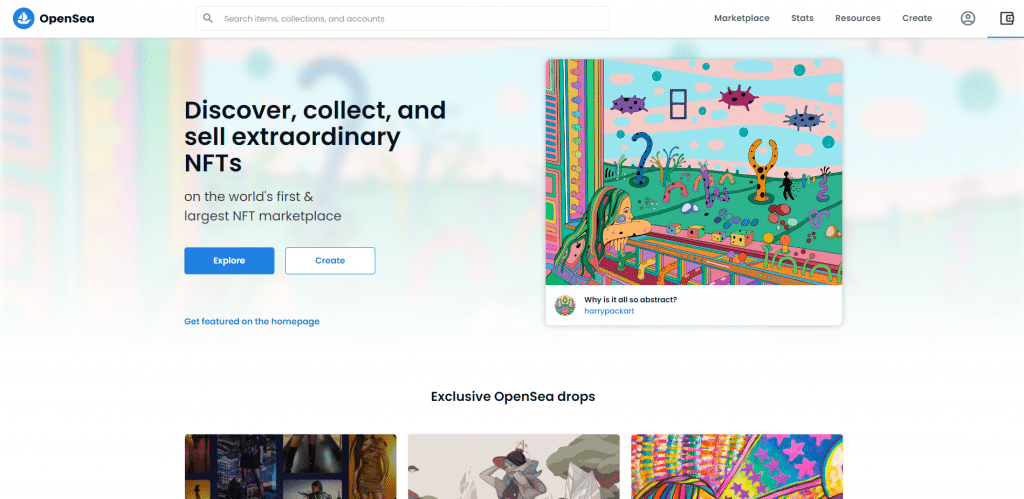 OpenSea was launched in December 2017 as the first open marketplace for NFTs and currently has over 600k active users. It boasts over 2 million NFT collections composed of over 80 million NFTs. Creators can only auction ERC-721 NFTs on OpenSea. Unlike specialized NFT marketplaces, OpenSea has a broad category of NFTs, and anyone can create NFTs on OpenSea.
As the largest general marketplace for user-owned digital items, OpenSea supports the broadest NFT category ranging from music, art, domain names, virtual worlds, trading cards, sports, collectibles, and utility. It also supports 13 wallets and three blockchains, including Ethereum, Polygon, and Klatyn. Over $10 billion worth of NFTs has been traded on OpenSea. 
Pros:
The OG NFT platform with massive art selection
Low-commission fees
Hosts some of the most popular NFT collections
Cons:
Doesn't accept direct purchases with credit/debit cards
67% of retail investor accounts lose money when trading CFDs with this provider. 
Rarible – Non-Custodial Marketplace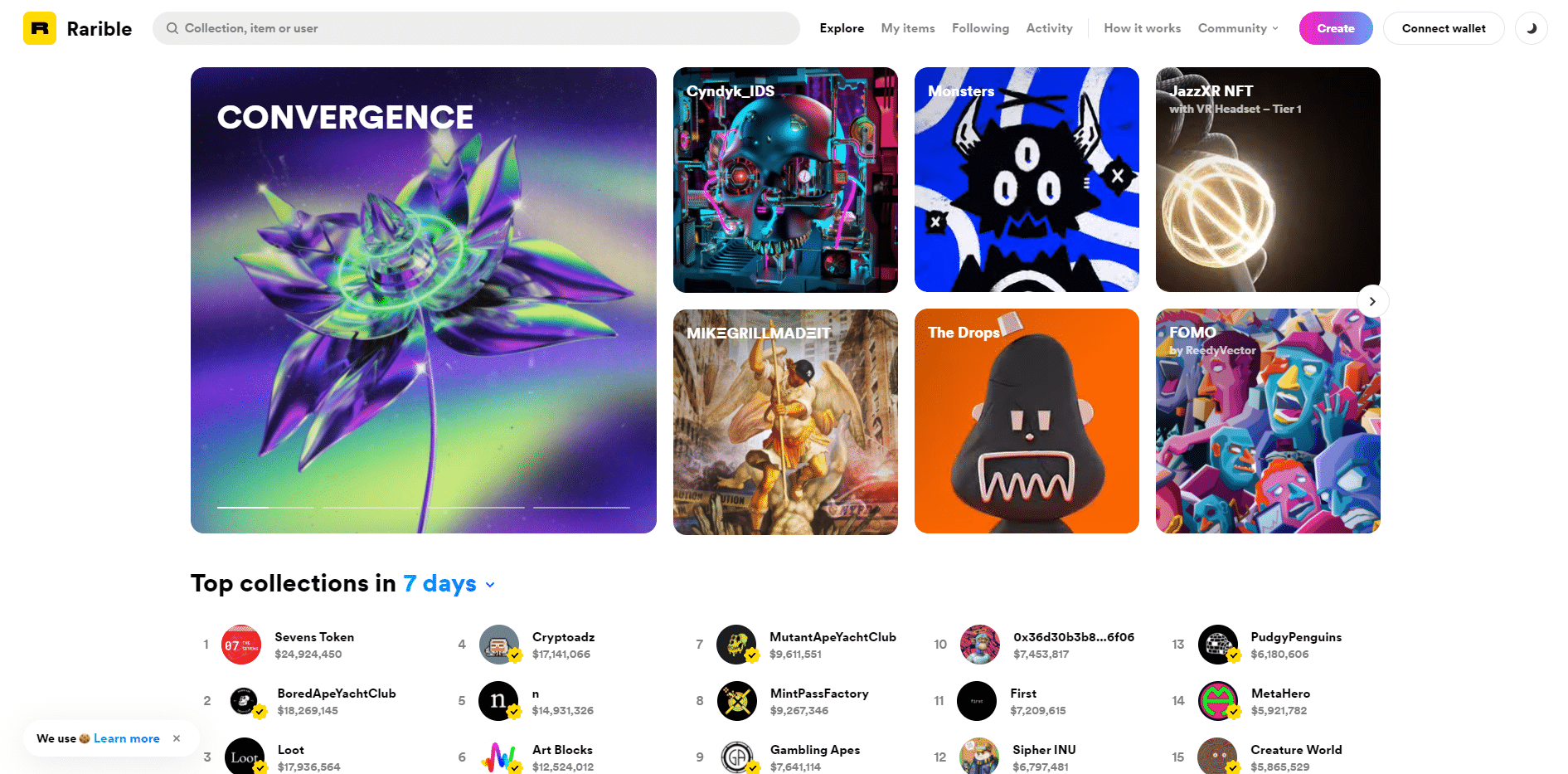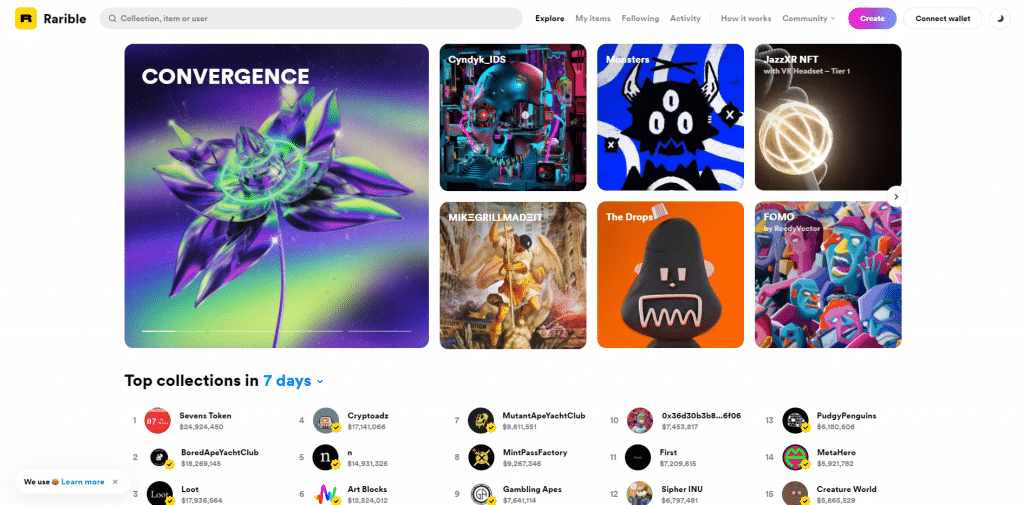 Rarible was launched in 2020, and in just under two years, it has amassed about 1.6 million active users and a traded volume of $274 million. Like OpenSea, Rarible is an open marketplace where users can freely create, buy, and sell NFTs. The features included in the marketplace range from timed auctions, royalties for NFT creators, multiple edition NFTs, customized activity feed, and messenger. 
Since it is a non-specialized NFT marketplace, it gives users access to various NFTs, including music, art, collectibles, metaverse lands and wearables, domain names, and videos. It is also a multi-chain NFT marketplace supporting Ethereum, Flow, and Tezos blockchains and is compatible with 8 wallets. The platform has a native token, RARI, a DAO governance token – specifically for the Rarible Protocol, a public DAO-governed tool enabling users to create and personalize their own NFT storefronts. 
Pros:
Very easy to navigate, create and buy NFT tokens.
Offers great analytics regarding NFT Sales
Open-source code
Allows low-cost peer-to-peer transactions
Cons:
Doesn't have a mobile app yet
Fees can be high relatively
67% of retail investor accounts lose money when trading CFDs with this provider. 
Axie Infinity – Unique Marketplace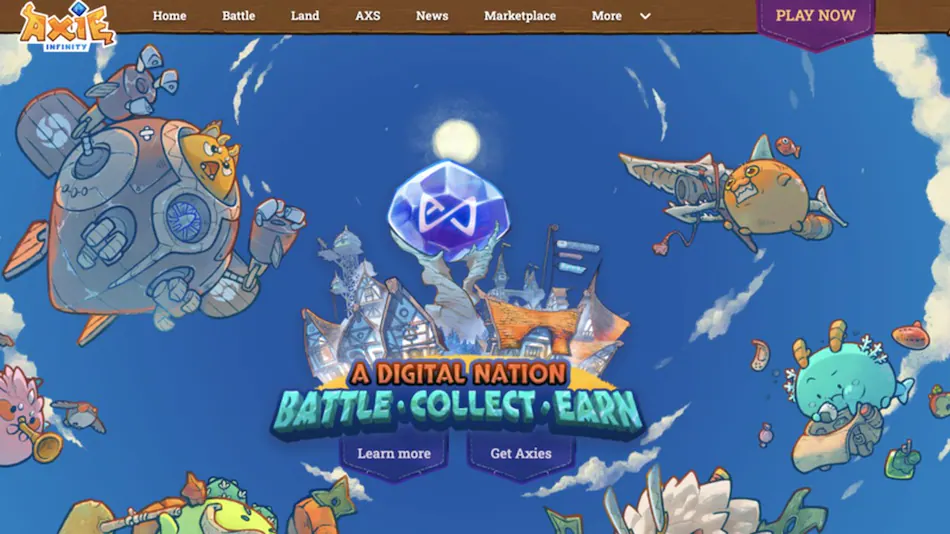 Axie Infinity is a specialized NFT marketplace for Axie Infinity, a play-to-earn blockchain game. It is the second-largest NFT marketplace in terms of sales volume, about $3.7 billion. The marketplace revolves around Axies, unique video-game creatures designed to battle, build, and hunt for treasure. Since players can gather a collection of Axies and customize them, the Axie Infinity marketplace empowers them to freely trade their in-game assets – Axies, land, or items. The Axies can also be bred and customized with hundreds of body parts to increase their value. 
The platform also has an ERC-20 native token – Axie Infinity Shards(AXS). Aside from governance, AXS is used to reward players within the Axie Infinity Universe. However, the marketplace only accepts the Ronin crypto wallet.
Pros:
Get paid for something you're already doing
Available on both desktop and mobile devices
Get the full experience with the most popular NFT-based video game
Earn crypto in a way that is not too technical or complicated
Be part of something bigger than yourself
Cons:
Has gotten fairly costly for beginners to play
Ethereum and Axie Infinity are the only payment methods accepted
67% of retail investor accounts lose money when trading CFDs with this provider. 
Larva Labs CryptoPunks – Unique & Pixelated Collectible Characters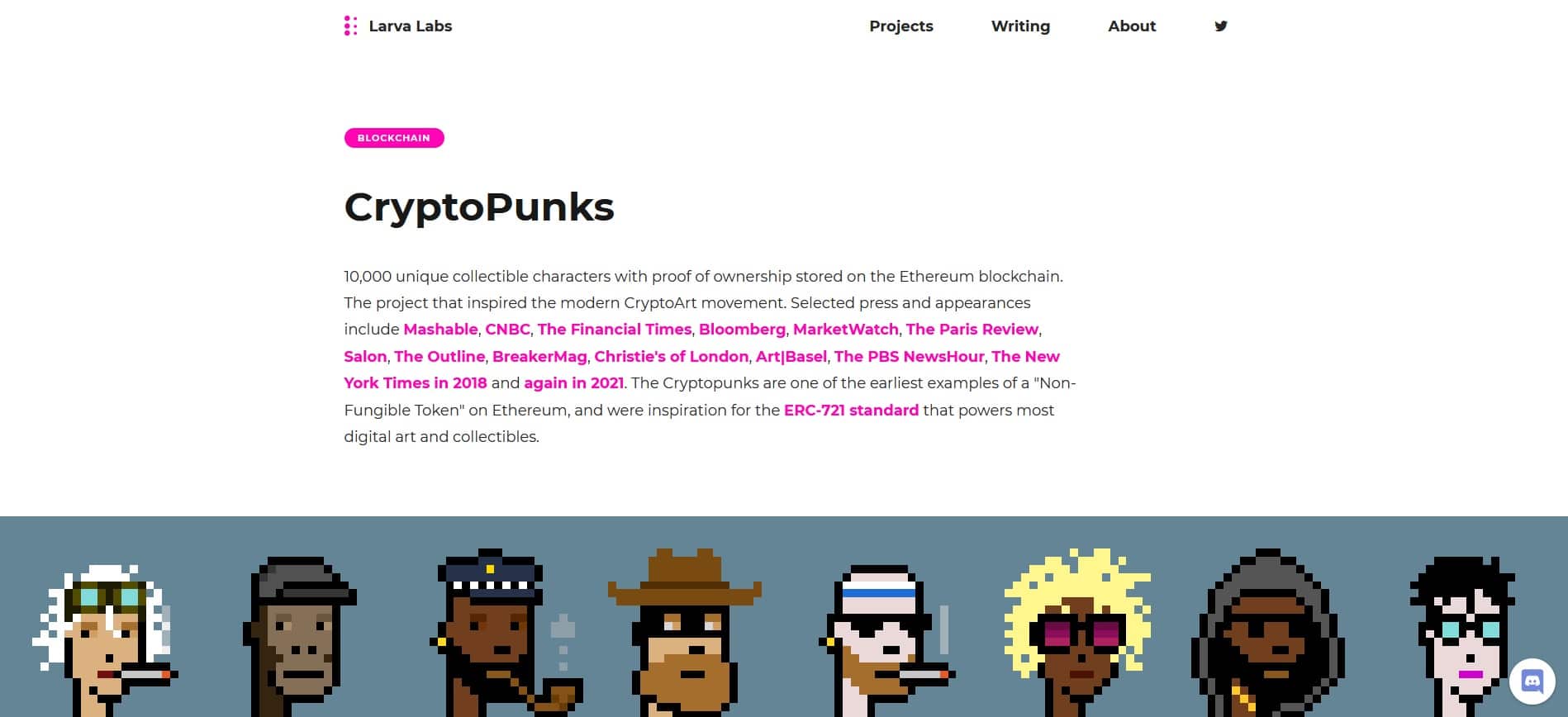 Larva Labs CryptoPunks is a specialized marketplace designated for the CryptoPunks NFT collection. It is run by Larva Labs – the creator of the collection. Launched in June 2017, CryptoPunks is widely credited with inspiring the modern NFT revolution. The collection comprises 10,000 unique and pixelated collectible characters based on Ethereum. The individual NFTs are 24×24 pixel art images generated by an algorithm. Although Ethereum-based NFTs are generally ERC-721 or ERC-1155 tokens, CryptoPunks predates these standards but comply with them nonetheless.
When buying the punks, please take note of their background color. Ones with a blue background aren't for sales and have no active bids. Those with a red background are up for sale, while those with a purple background have active bids. Note that you can only use the MetaMask wallet if you intend to buy or bid on a Punk. When the collection was introduced, the NFTs could be claimed for free by anyone with an Ethereum wallet. Now, they can be bought and sold on open marketplaces, including OpenSea and Rarible. The cheapest Punk in the marketplace is currently worth about 66.66 ETH, with about $ 2.26 billion total sales.
Pros:
10,000 distinct CryptoPunk characters
Perfect for collectors and enthusiasts
Compatible with MetaMask wallet
Get a piece of history for your collection
Become part of the NFT community and feel like you're making a difference
Cons:
Increased on-chain costs as a result of Ethereum use
Lack of payment methods such as credit cards and PayPal
67% of retail investor accounts lose money when trading CFDs with this provider. 
NBA Top Shot – Most Successful NFT Collectible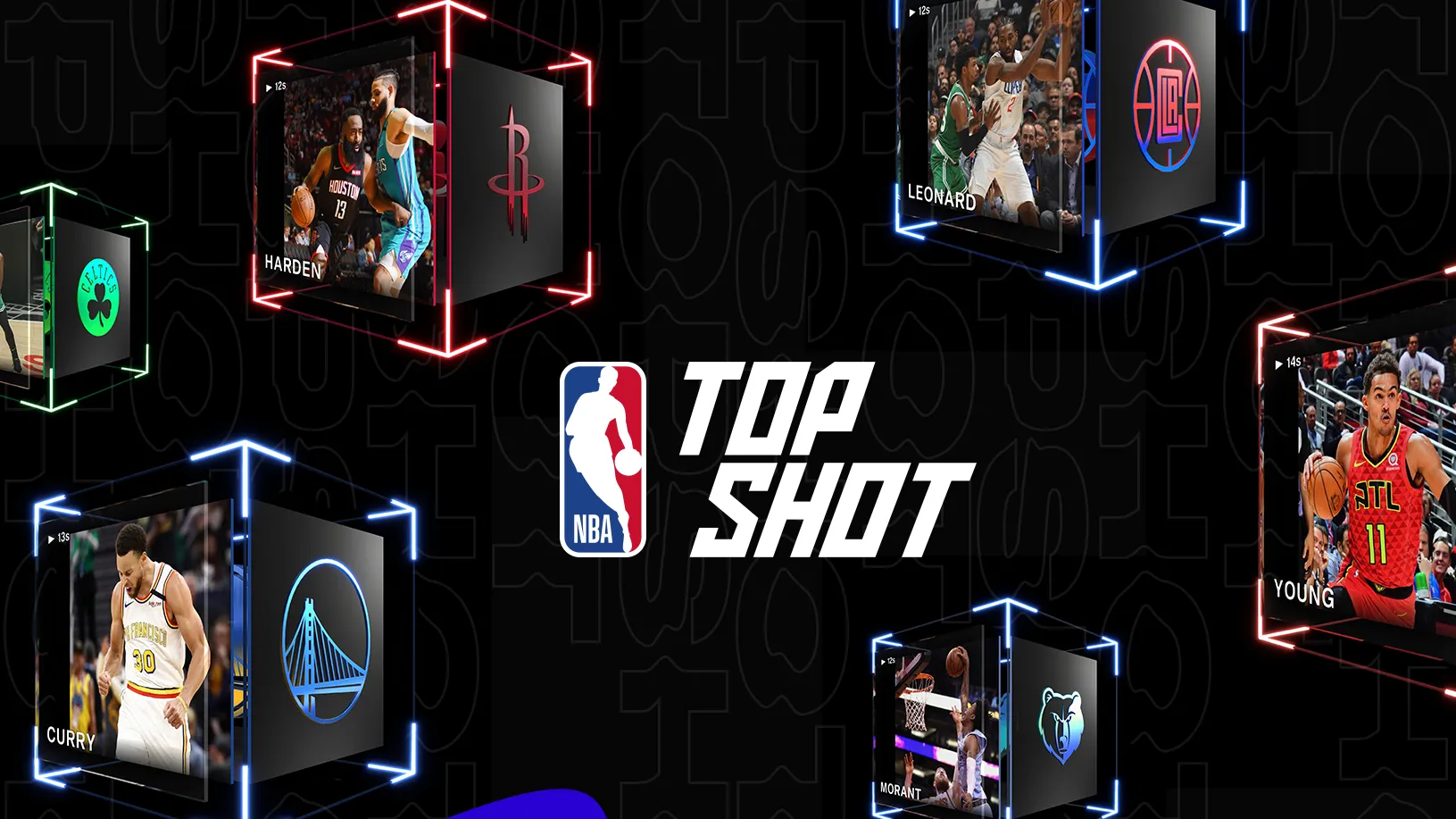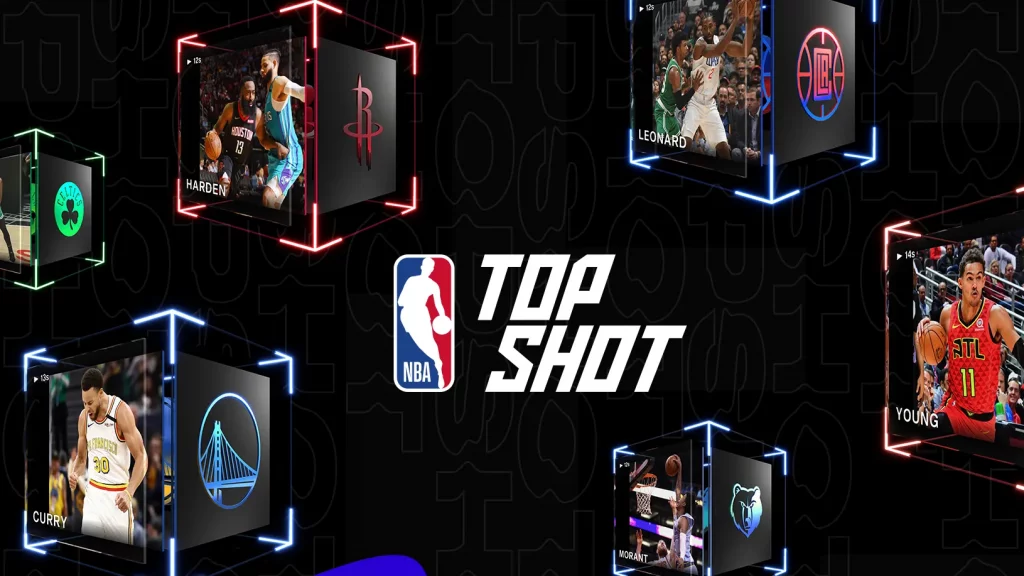 NBA Top Shot is a specialized marketplace launched in July 2019 in collaboration between the National Basketball Association (NBA) and Dapper Labs – the creators of CryptoKitties. The marketplace is built on the FLOW blockchain and is specifically designed for digital collectibles from some of the top NBA moments. Unlike other NFT marketplaces where users can create the NFTs, the NFTs on NBA Top Shot are strictly issued as limited edition packs.  Users can only bid, buy, and sell their NFTs here. When new packs are available for sale, users are placed in a queue and sold the NFTs on a first-come, first-served basis. Users can only buy and sell a specific pack on the peer-to-peer marketplace once a specific pack sells out. About $747 million worth of NBA Top Shot NFTs has been traded.
Typically, the packs offered for sale usually vary in their rarity, based on four active tiers – common moments, fandom moments, rare moments, and legendary moments. Common moments are the largest edition sizes and are widely available. Fandom moments focus on special fan experiences like drops received for special events or when fans buy moments at a game in real life. Think of these as custom NFTs from a game you attend. Rare Top Shot moments come in smaller editions and are generally hard to come by. They are from NBA legends' historic plays. The legendary moments are NFTs of the best plays from the best players in NBA history. They are extremely rare, with less than 200 in circulation. 
Pros:
You'll have a lower cost of transactions on the Flow blockchain
Does not compel users to make cryptocurrency payments
Considered by many to be the most successful NFT collectible
Play the game of your dreams
Show off to friends and family with a rare new addition to your collection
Cons:
Support for cryptocurrency is limited
Is an entirely custodial NFT platform
67% of retail investor accounts lose money when trading CFDs with this provider. 
SuperRare – A Marketplace for Artists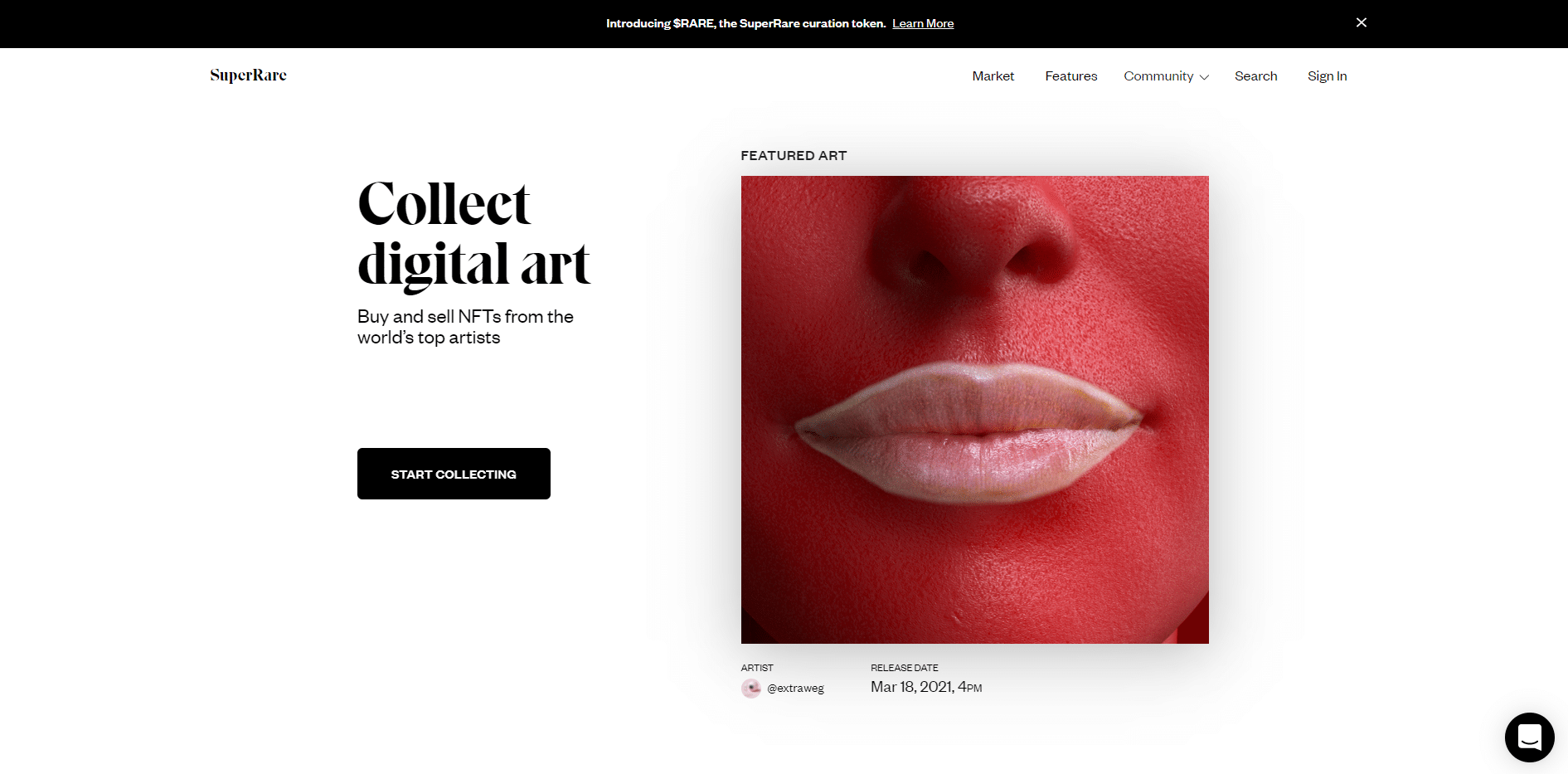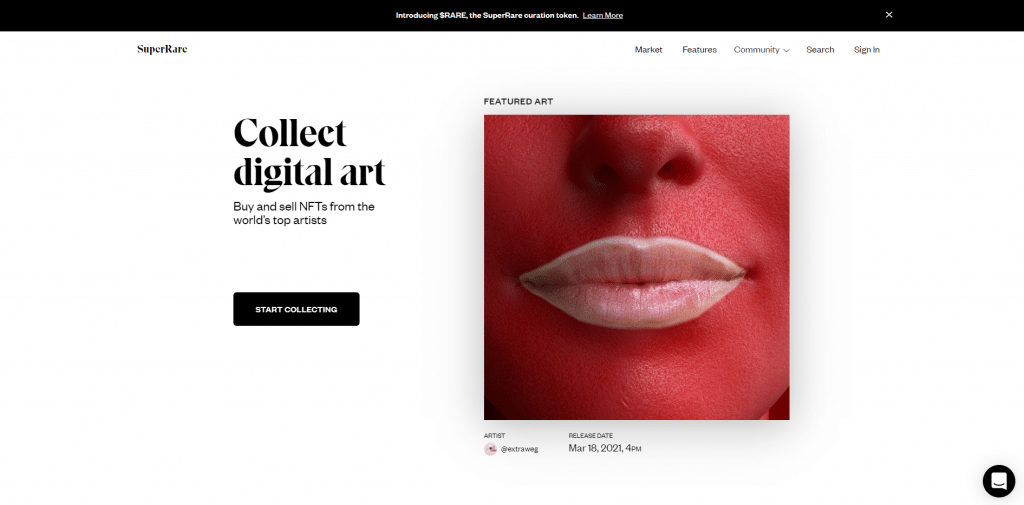 SuperRare was launched on the Ethereum blockchain in April 2018 and is regarded widely as an upscale version of Rarible. It is the best marketplace to collect and trade unique, single-edition digital artworks that verified artists have authentically curated within the network. All artists who create and sell their artworks on SuperRare are vetted before showcasing their NFTs. They have social profiles, so you can get to know your artist as you buy the NFT and access live auctions. Typically, buyers pay a 3% fee, and they can only transact in ETH. Note that SuperRare supports 8 wallets, including MetaMask and Fortmatic
The SuperRare network comprises artiste-curated storefronts (SuperRare Spaces) and SuperRare DAO. The RARE token governs SuperRare DAO. Given its exclusivity, artists generally pay a 15% commission as gallery fees for all primary sales, but they receive 10% royalties for all secondary sales of their artworks. Independent artists can also deploy Sovereign Smart Contracts to import NFTs minted outside the marketplace. 
Pros:
Easy to create digitized art
Supports artists by continued royalties for sales after the first sale
Curated content
Cons:
Most art will be useful on the platform as it grows
Exclusive listing of single piece listings
67% of retail investor accounts lose money when trading CFDs with this provider. 
Decentraland – The Metaverse Marketplace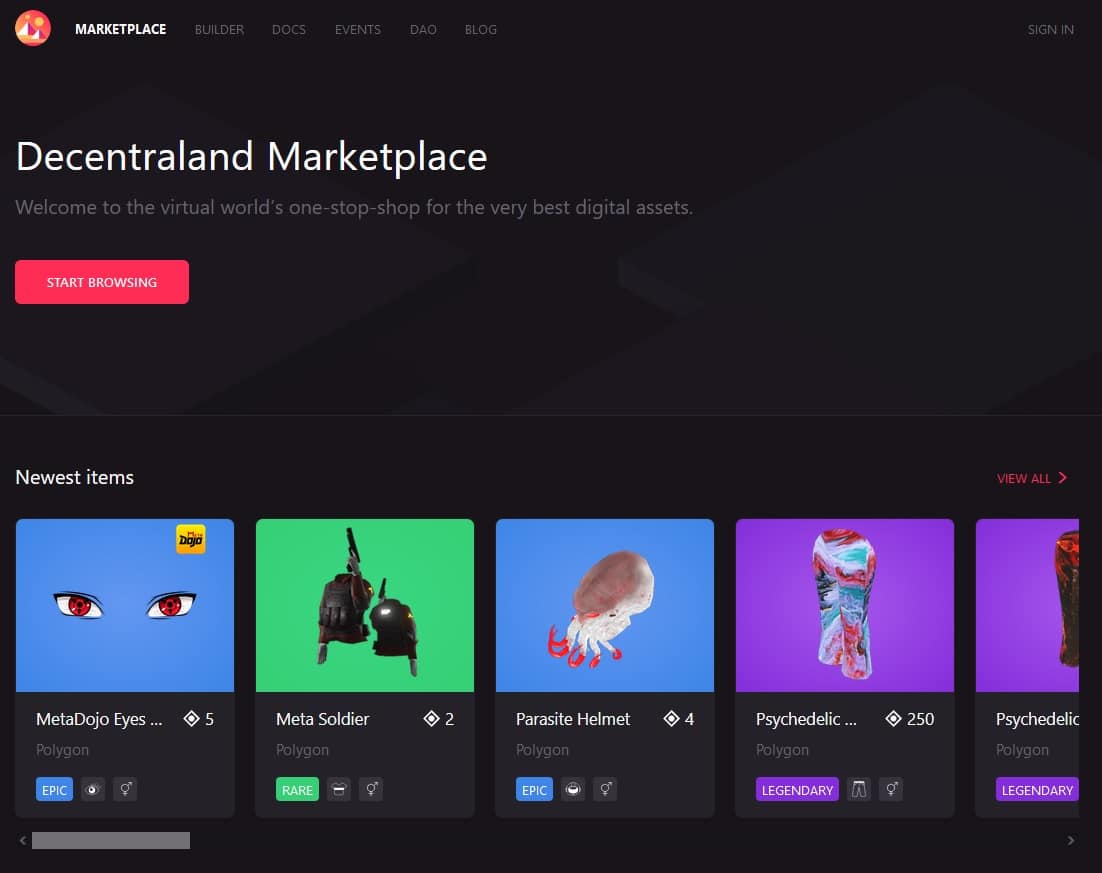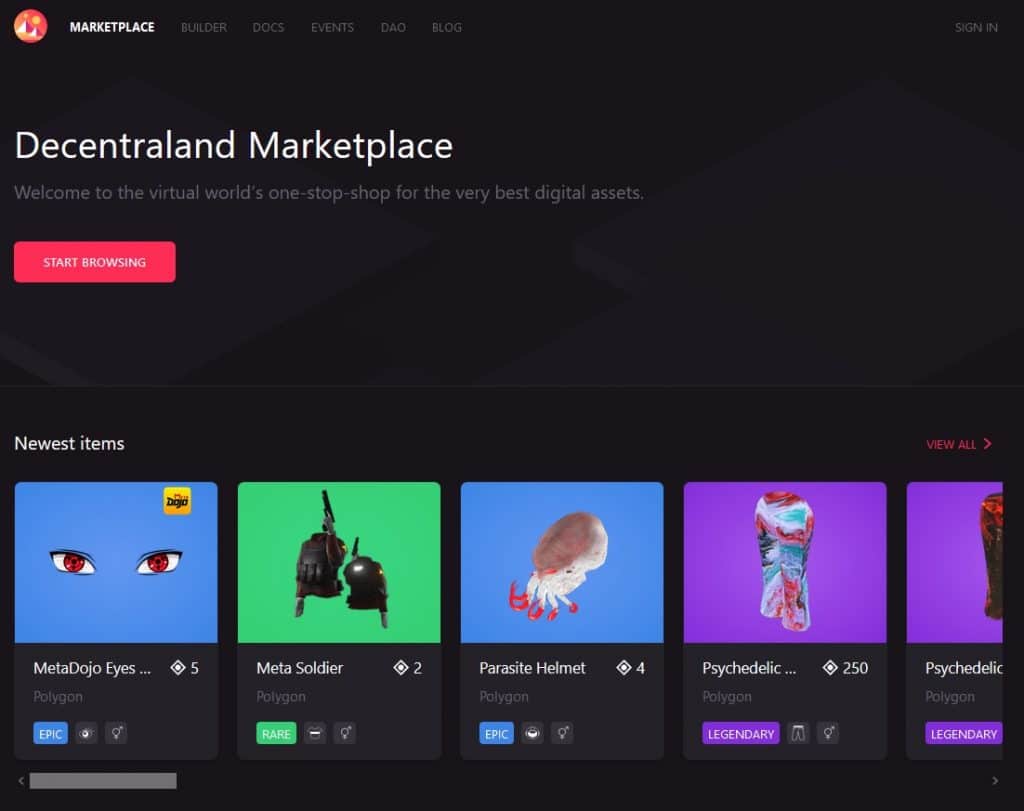 Decentraland was launched in 2020 and is one of the most popular metaverse marketplaces built on the Ethereum blockchain. You can buy LAND, wearables, estates, or estates on the Decentraland marketplace. When an item is on sale, you can buy it immediately or place a bid. The marketplace supports MetaMask, Fortmatic, and WalletConnect crypto wallets.
The Decentraland metaverse is divided into 90,601 parcels of land, available for purchase via Decentraland's native token, the MANA. Each LAND is an ERC-721 type NFT, allowing its owner to develop their plots however they want to. Note that a parcel is a 16 meter by 16 meter piece of LAND within Decentraland. The 90,601 parcels are estates, individual plots, districts, and plazas. The estates have several parcels, while communities own the plazas, which cannot be traded. 
Here's an Atlas view of Decentraland.

The parcels are color-coded. The dark grey regions are privately owned parcels of land which can be traded. The large green squares are Plazas, which are not for sale. Roads are the light grey straight lines are they aren't for sale too. The purple areas are districts, which are groups of adjacent parcels forming a community with similar user interests. The districts aren't available for sale either. The light green spots show private the parcels that are up for sale.
Pros:
Can auction NFTs and sell LAND in exchange for MANA
Decentraland tokens can be used in a variety of ways
The protocol is constantly being updated to keep up with the latest innovations
Stay ahead of your competition by adopting new technologies
Be part of something bigger than yourself
Cons:
Lack of user interaction
Security concerns
67% of retail investor accounts lose money when trading CFDs with this provider. 
EnjinX – A Marketplace for Gamers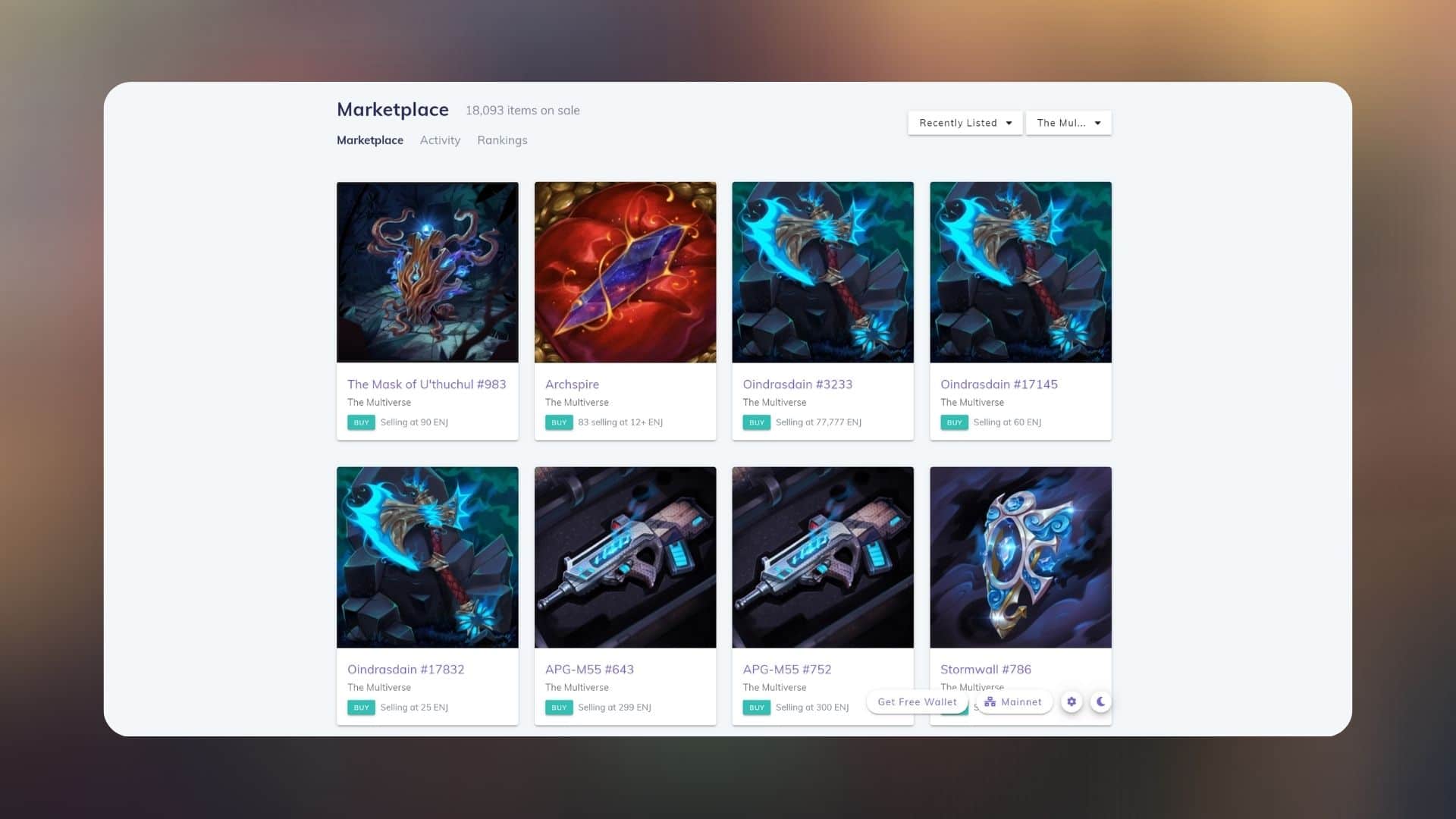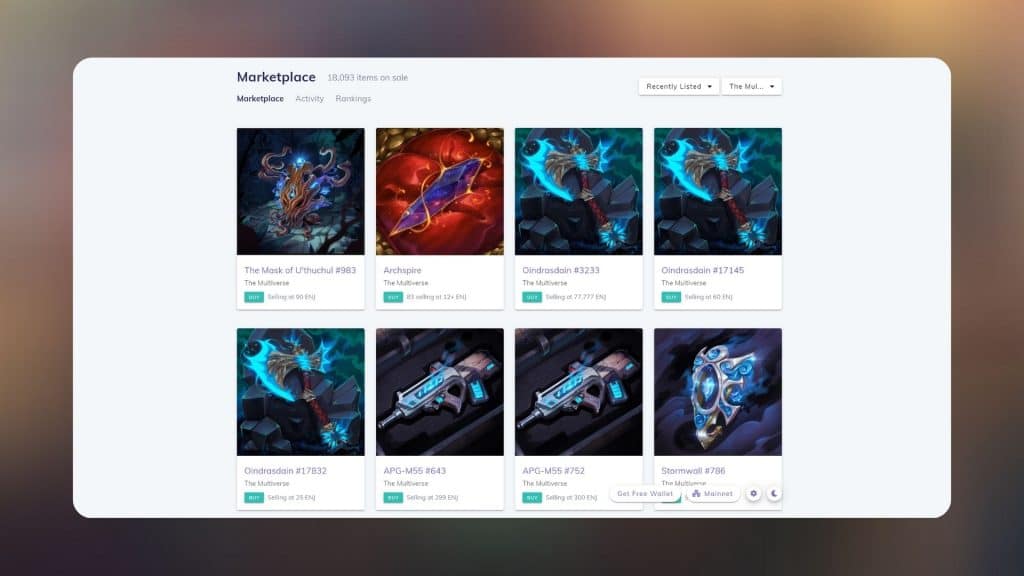 EnjinX is regarded widely as the marketplace for in-game items, but it also has a vast assortment of NFTs for art, sports, music, collectibles, and real-world items. It is the official marketplace for the Enjin-based NFTs and is one of the first NFT marketplaces. The Enjin gaming community platform was launched in 2009, but its NFT marketplace was created in late 2017. Conveniently for buyers, Enjin has an Enjin Smart Wallet, which is a non-custodial wallet for cryptos and NFTs, supporting ERC 20, ERC 721, and ERC 1155 tokens. The wallet is available in the mobile version only. 
When buying NFTs, users have to scan the QR code on every NFT with their Enjin Smart Wallet to make the payment. After the payment is processed, the NFT is transferred to the wallet. To buy NFTs, you need ENJ token and ETH for transaction fees since EnjinX is built on Ethereum. 
Pros:
Huge gaming ecosystem
The Enjin smart wallet simplifies and streamlines the minting and trading processes
Provides a popular network for those interested in interacting with their marketplace
Be part of a network that's growing every day
Cons:
Enjin's smart wallet is not open source
Behind in development
67% of retail investor accounts lose money when trading CFDs with this provider. 
Binance NFT Marketplace – Easiest NFT Marketplace to Navigate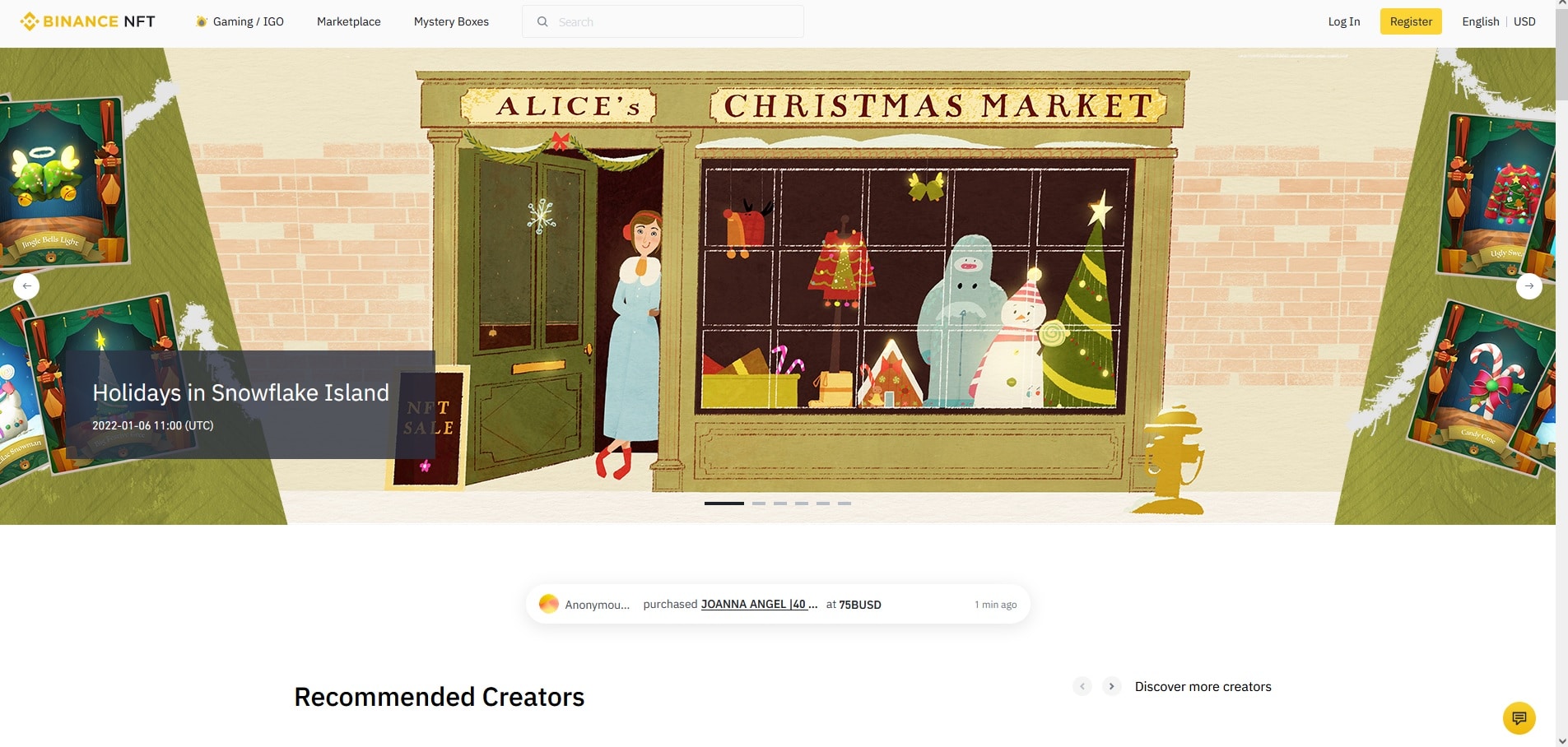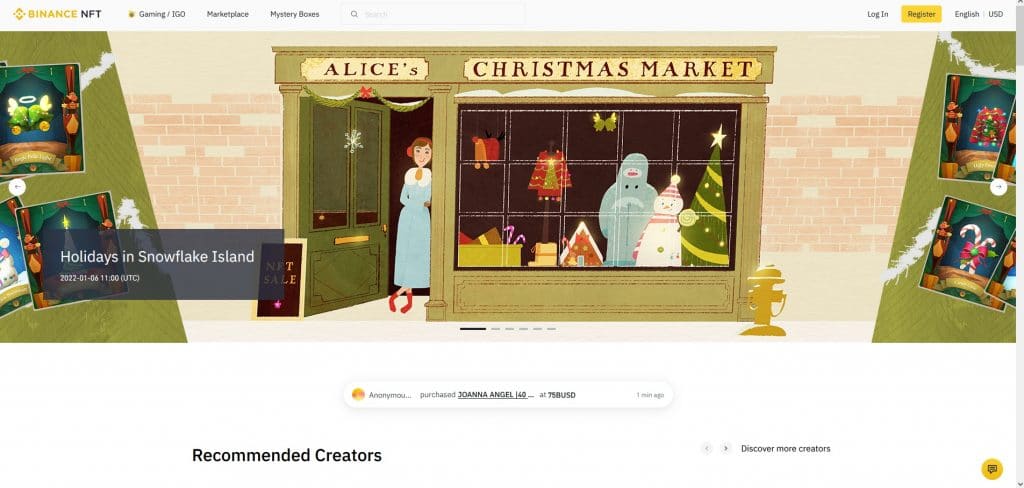 Binance NFT Marketplace was launched in June 2021 and became an instant hit. It is arguably one of the easiest NFT marketplaces for buyers to navigate. It has a vast collection of NFTs ranging from sports, art, entertainment, gaming, collectibles, e-sports, and NFTs for good, created by artists who have been pre-approved by Binance. This means that not just anyone can create an NFT on Binance NFT Marketplace. The elegance of this marketplace is in the search function that allows buyers to filter NFTs by category and by top sales, top collections, and top creators. Buyers can also filter NFTs based on whether they are offered for a fixed price or on the live auction. BUSD, ETH, and BNB are the only currencies accepted here. 
Note that the Binance NFT Marketplace is centralized, which, unlike other marketplaces, you must create an account on Binance and pass the KYC checks. 
Pros:
To begin using the NFT Marketplace, a user only has to register a free Binance account
Low minting fees for NFTs
Be part of something big
Experience the thrill of collecting digital assets
Get started in seconds and start using the NFT Marketplace
Cons:
Permissions for mining are slightly more limited than those for other platforms
Lack of the rarest and most desired NFTs
67% of retail investor accounts lose money when trading CFDs with this provider. 
How to Buy NFT Art – Conclusion

NFTs are certainly the hottest assets in the crypto sphere right now. Over the past few years, they have evolved from fringe assets into a mainstream craze, with top NFT marketplaces like OpenSea grossing over $12.7 billion in sales. Whether you're buying it for fun, like in the case of gaming NFTs, or for investment, this guide has explained how you'd go about it. The process of buying an NFT is as simple as signing up for a crypto wallet, funding it, and connecting it to a marketplace. We've also reviewed the best NFT marketplaces, so you'll have plenty to choose from.
Looking to get into the NFT token game? Look no further! Our guide will show you how to buy NFT tokens in under 5 minutes, without any headaches. So what are you waiting for? Get started today!
FAQs
Are NFTs cryptocurrencies?
Can I buy NFTs with fiat money?
What is the difference between NFT Collection and marketplace?
What is the difference between ERC-721 and ERC-1155?