How to Buy NFT Tokens – Buy NFT Tokens in Under 5 Minutes
NFTs have become very popular in 2022. Celebrities are adopting it. Some people even claim NFTs will bring the Second Renaissance; a flourishing of digital art and creativity which gives way to an upgraded civilization and prosperity. But does it make sense? Are NFTs here to stay? What is the technology behind NFTs? And how does one buy an NFT or Non-Fungible Token?
In this article we will try to answer the questions around purchasing and minting of NFTs, their legitimacy and more importantly: how to buy NFT tokens.
#1 Broker to Buy Cryptocurrencies – eToro
How to Buy NFT Tokens – Quick Four-Step Guide
Step 1: Signup to eToro
Step 2: Purchase the cryptocurrency required to buy or mint NFTs in marketplaces.
Step 3: Connect Wallet – MetaMask browser extension wallet is probably the most popular one today for most tokens.
Step 4: Use your cryptocurrency to buy NFT Tokens. Some of the most common choices are: Ethereum (ETH), Solana (SOL), Avalanche (AVAX), Fantom (FTM), Binance Smart Chain (BSC).
67% of retail investor accounts lose money when trading CFDs with this provider. 
What are NFT Tokens?
NFTs ("Non-Fungible Tokens") make use of technology and computer science and brings significant advantages such as: uniqueness, originality, ownership facilitation, social prestige, transfer speed and convenience. At its core NFT is a type of unique cryptocurrency, usually based on ERC-721 contract standard and it gets its name from being non-fungible (unique and irreplaceable, opposite of law and economics term fungible.)
NFTs features and characteristics can be attributed to the blockchain technology it lives on. Because of these characteristics, NFTs gained so much fame and popularity as a new way of representing ownership, art and collectible assets while facilitating transactions at real 21st century speed, security and convenience.
FOMO or "Fear of Missing Out" is another important phenomenon in NFT ecosystem dynamics when it comes to people wanting to buy NFT tokens. Many people want to hop on the NFT train as some NFT tokens achieve astonishing sale value and as NFTs in general continue to rise in popularity over the recent months and years.
The (R)evolution of Digital Art
New art forms always get mocked at first before mainstream acceptance and admiration phases take place. Some people suggest NFTs will bring about a digital renaissance era and help creative artwork flourish while supporting new artists. In that case, we might be very lucky to live in this era. Imagine having the opportunity of buying a Picasso in early 1900s at discounted prices! However, no one can confirm how NFTs will really play out and we will only be able to tell by time.
Today an NFT can already be sold for tens of millions of dollars but it can also be completely worthless. Valuation depends upon many factors. What we know for sure is that it can always be traced to its original source thanks to blockchain technology – unlike physical art pieces which can sometimes be tampered with or imitated.
Countless Use Cases
NFTs can be used in a number of sectors in the economy such as: art, fashion, music, film, gaming, sports, event ticketing, adult entertainment and collectibles. Even celebrities such as Mark Cuban and Paris Hilton have already begun praising them. Another great aspect of NFTs is the fun and joy one can have during the participation in the marketplace and interaction with the community and artists.
Let's take a quick look at the standard contract commonly used for NFT tokens; ERC-721
While ERC-20 represents a class of identical tokens on Ethereum blockchain, whereas ERC-721 represents a class of unique tokens on Ethereum blockchain. So, while former is used for currency minting (creating) and transactions, the latter is used for art and collectible minting and transactions. Makes sense!
What is the Best NFT Marketplace?
Choosing the most suitable marketplace will depend on a number of factors such as which blockchain's NFTs you want to follow and what kind of art or digital asset you are after.
Once you make your decision based on these factors it becomes easier to navigate around and find the best NFT marketplace that suits your needs and wants. Below you can find some of the most popular NFT marketplaces that have been gaining serious traction in terms of transaction volume:
OpenSea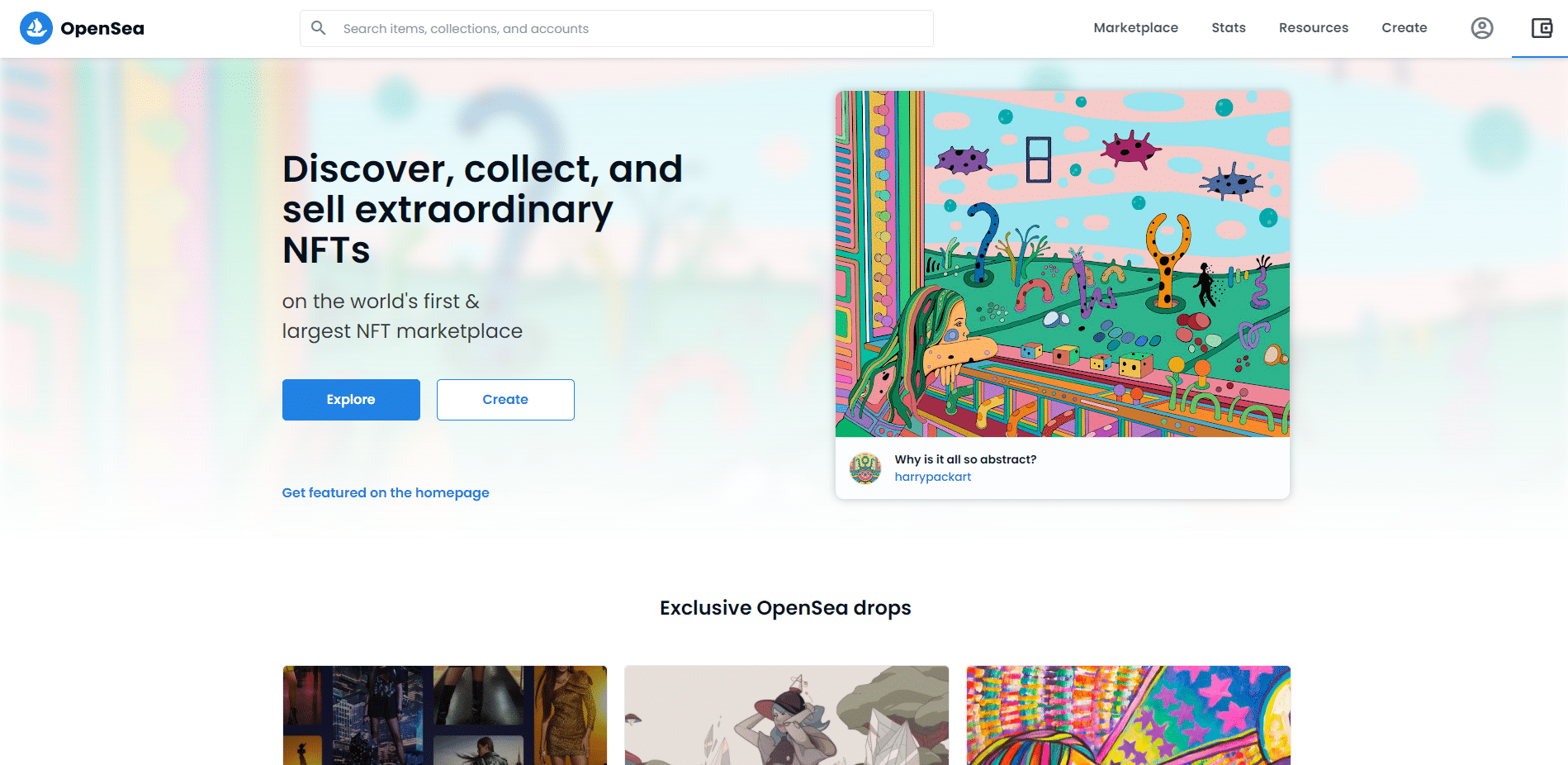 Probably the most popular NFT marketplace out there. Founded in 2018, OpenSea hit $1.5 billion valuation and many famous artists showcase and list their artwork through the platform. Loot, CryptoPunks and Boread Ape Yacht Club share top 3 collections with volumes ranging from 10K ETH to 22K ETH as of August 2021. But you can also possibly find hidden gems among the hundreds of other collections. OpenSea is compatible with many popular wallets including MetaMask and Coinbase Wallet. As such, there are few places easier to learn how to buy NFT tokens when seeking ETH-based NFTs.
Pros:
The OG NFT platform with massive art selection
Low-commission fees
Hosts some of the most popular NFT collections
Cons:
Doesn't accept direct purchases with credit/debit cards
67% of retail investor accounts lose money when trading CFDs with this provider. 
Rarible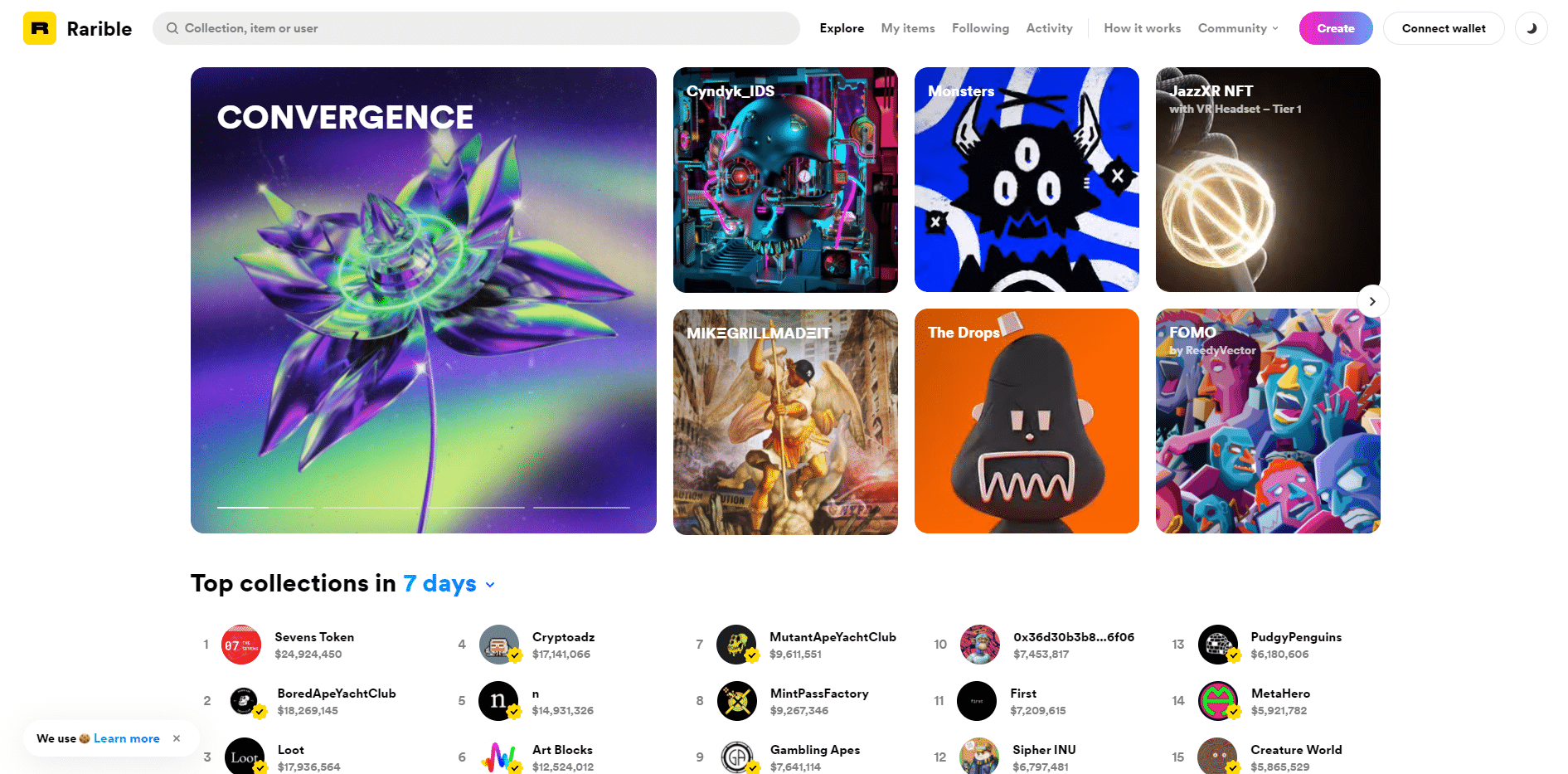 Is another popular NFT marketplace and has some unique features. For example, if an artist wants to have a royalty applied to the transactions of their NFT, Rarible platform makes it possible.
Lots of impressive contemporary digital art gets listed on Rarible each week and collections hit staggering 10s of millions of dollars in weekly revenue. Again, you won't have any trouble connecting with your MetaMask or Coinbase wallet. Additionally, Rarible also supports Portis Solana wallet for those interested in a blockchain that has recently gone parabolic.
Pros:
Very easy to navigate, create and buy NFT tokens.
Offers great analytics regarding NFT Sales
Open-source code
Allows low-cost peer-to-peer transactions
Cons:
Doesn't have a mobile app yet
Fees can be high relatively
67% of retail investor accounts lose money when trading CFDs with this provider. 
SuperRare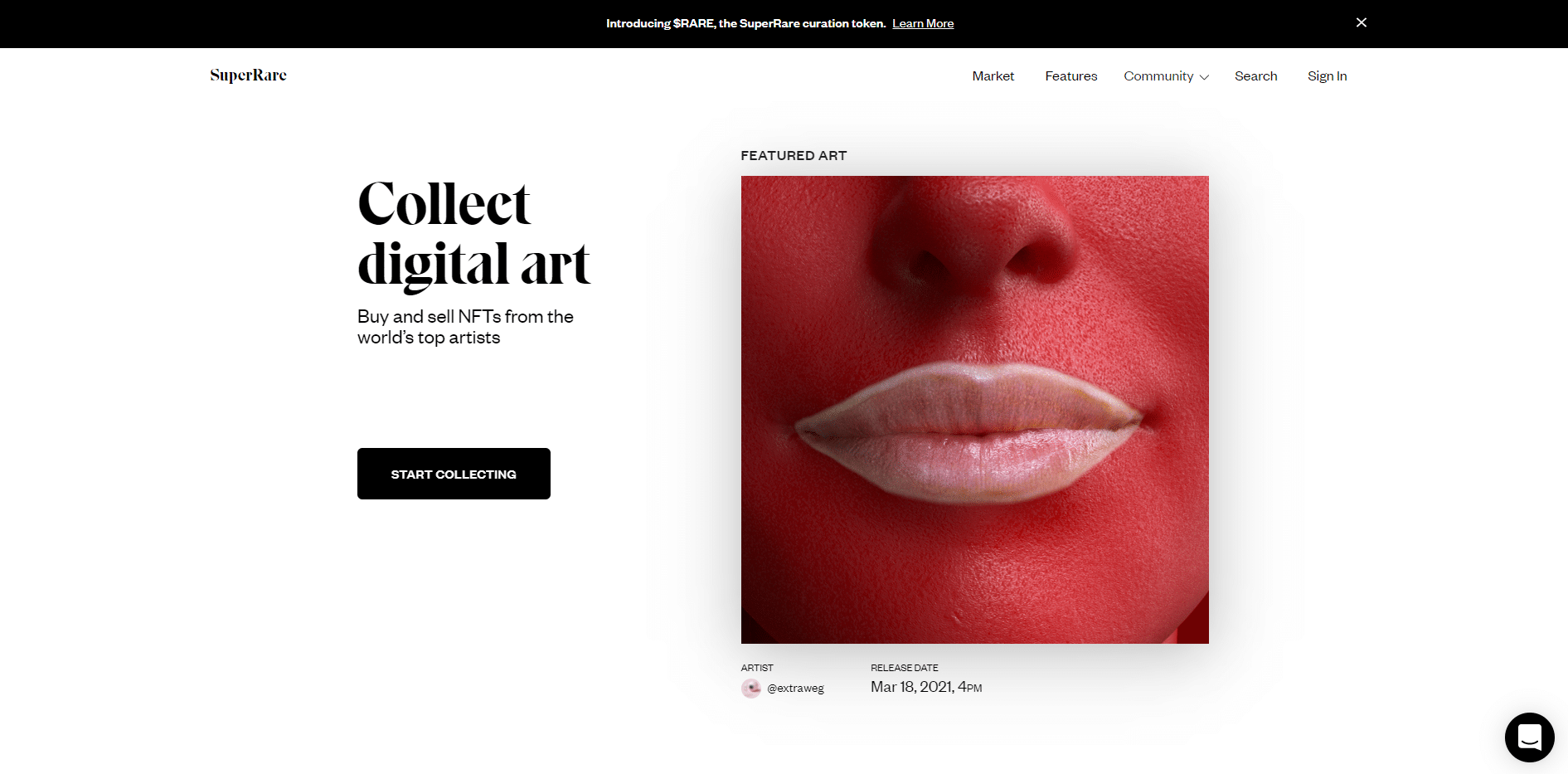 This NFT marketplace/platform has slightly more art orientation and less playful collections than others. It hosts many pieces of digital art that touch on very interesting topics such as society and philosophy. So, serious artwork here and it only allows three crypto wallets to connect: MetaMask, Fortmatic and Wallet Connect. If you have to use another wallet this marketplace won't work for you.
Pros:
Easy to create digitized art
Supports artists by continued royalties for sales after the first sale
Curated content
Cons:
Most art will be useful on the platform as it grows
Exclusive listing of single piece listings
67% of retail investor accounts lose money when trading CFDs with this provider. 
Nifty Gateway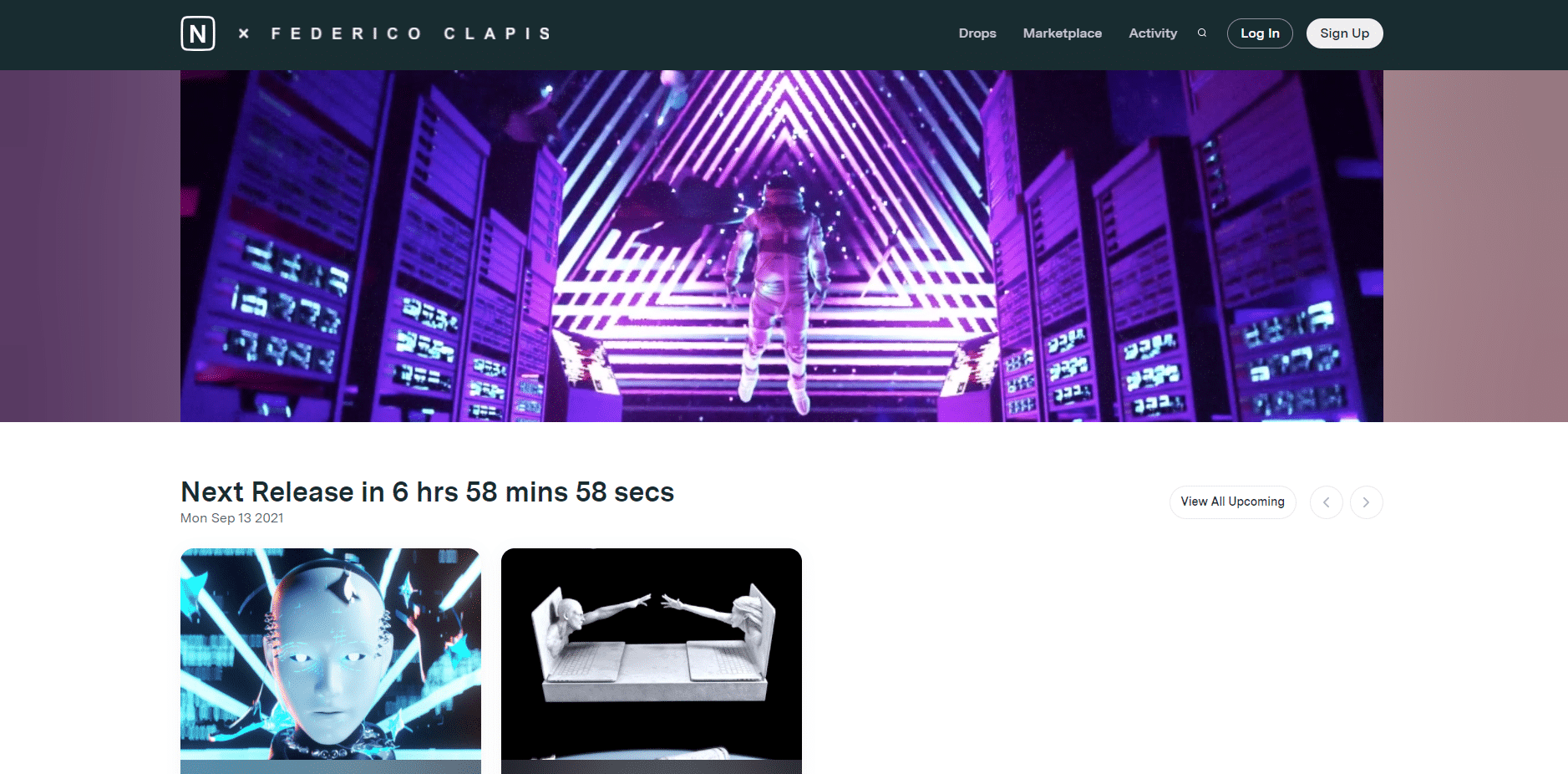 This is another interesting marketplace where you can find many original collections that aren't listed elsewhere. Another unique selling point of Nifty Gateway is that it offers direct credit card purchases. In case you have limited access to a centralized crypto exchange or you want to make an immediate transaction you can purchase an NFT within seconds on Nifty Gateway.
Pros:
Prestigious listings with strict standards
Associated with NFT legends like Beeple, Michael Kagan, Calvin Harris and Deadmau5
Cons:
High commission fees
Difficult to be listed as an artist
Somewhat confusing and less intuitive navigation
67% of retail investor accounts lose money when trading CFDs with this provider. 
NFTrade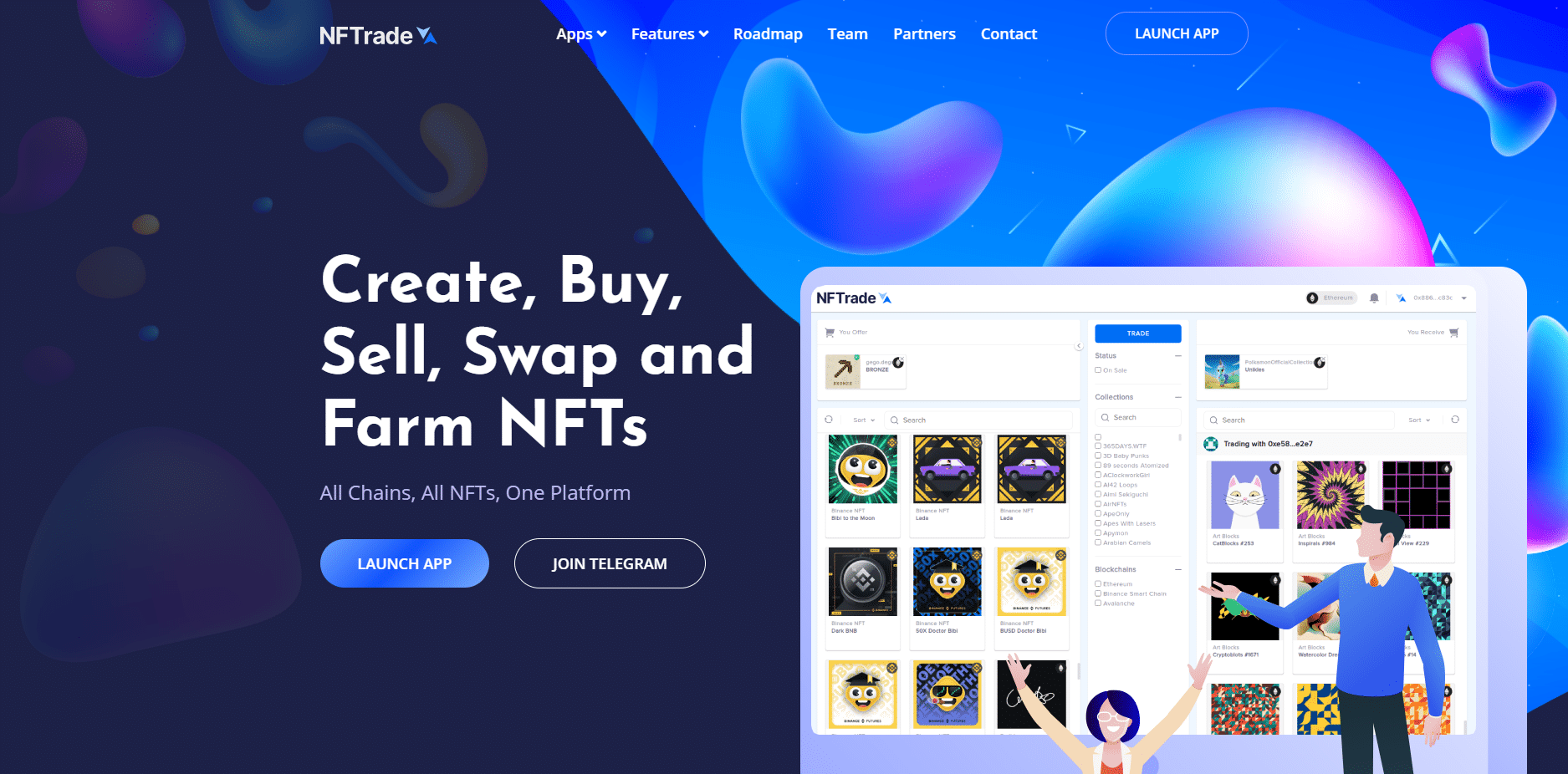 New marketplaces are being created by reputable developer teams every week or month. You can say NFT ecosystem is absolutely booming in 2022. On a less known platform like NFTrade.com you can find many interesting and unique NFTs based on up-and-coming blockchains like BSC, Polygon or Avalanche in addition to Ethereum.
Pros:
New and alternative marketplace on the verge of high growth.
Supports up and coming blockchains like Solana, Avalanche and Polygon
Budget friendly, verified listings
Good place for cross-chain hidden gems.
Cons:
Fairly new and can potentially have bugs
Curation and filters aren't as polished as mainstream alternatives
67% of retail investor accounts lose money when trading CFDs with this provider. 
How to Buy NFT Tokens – Detailed & Explained in Full
Step 1: Signup to an exchange
First you'll need to sign up to an exchange like eToro. Some other common alternatives include Binance, Coinbase, FTX and KuCoin. After the signup process, you can start purchasing cryptocurrency using your debit/credit card or direct bank transfers. Bank transfers are usually more ideal since they incur less fees during the process. After you have some fiat money in your account, you can start buying any of the cryptocurrencies you want. ETH, AVAX, SOL and FTM are some common and popular ones.
Please note that, to make transactions above certain limits you will need to complete a KYC (Know your customer) process. Don't worry, this process is nowadays automated and only takes a couple minutes. You will need to take pics of your government ID (such as Passport, National ID or Driver's License) and a selfie.
Step 2: Purchase the cryptocurrency required to buy or mint NFTs.
Cryptocurrency needed will depend on which blockchain NFT is minted on. ETH NFTs pioneered this space hence they tend to be more liquid and more valuable. But there are also many interesting NFTs starting on new blockchains like AVAX or SOL. Once you have some cryptocurrency (think ETH, SOL, AVAX, XTZ, ENJ etc.), you will be almost ready to purchase or mint NFTs.
Step 3: Connect your Wallet
Now that you have cryptocurrency, you can purchase any of the NFTs from marketplaces. The most common practice is to use a web browser-based wallet and the most common web browser-based wallet is currently MetaMask. These wallets are simply installed as a browser extension (or add-on) to your browser and that process is fairly straightforward. For instance, for Chrome based browsers simply go to Chrome Web Store, search for MetaMask extension and install it. Once you have MetaMask installed on your browser you can click Connect on your choice of marketplace (for example OpenSea.io). This will prompt a notification in your MetaMask wallet and once you approve it you will be connected to the marketplace and your funds will be ready to use on that NFT platform. This is probably the most critical step in the journey of Buying NFTs.
Here are some more information about Web Browser Wallets:
MetaMask –  will support ETH based transactions and even other blockchains and their cryptocurrencies as long as they support ERC20 and ERC721 smart contract formats. These are simply the smart contract standards pioneered by Ethereum and later adopted by some other blockchains such as Fantom, Polygon, Avalanche and Binance Smart Chain (BSC).
TrustWallet – is another ERC20 wallet that's been gaining popularity. It allows anonymous transactions and direct fiat purchases which can be a nice alternative if you don't want to purchase crytpcurrency on an Exchange like Binance or Coinbase first and then transfer it to Metamask. Purchasing commissions and transaction fees will vary so it makes sense to dip your toes first and start with small transfers and transactions.
Coinbase – Wallet another alternative offered by Coinbase. Not to be confused with the Coinbase Exchange, Coinbase Wallet is a standalone app that lets you connects to dApps and NFT marketplaces through your browser. Rest assure you don't need a Coinbase account to operate a Coinbase Wallet and you can transfer the cryptocurrency you purchased from any exchange such as eToro or Binance to your Coinbase Wallet as long as you pay attention to sending crypto to the right token address on the right blockchain.
Portis – allows direct purchase with fiat for US residents which can be helpful, again, if you don't want to purchase your crypto somewhere else and then transfer to the web browser wallet. You can purchase ETH, BTC, DAI and XDAI without ID verification using a credit card.
Some other NFT marketplaces can require blockchain specific wallets. For example, SolanaArt.io, DigitalEyes and Solmees are marketplaces for Solana (SOL) related NFTs and you can connect to those using Solana Wallets such as Phantom, Solflare or Sollet.io.
Step 4: Marketplace Purchase or Minting
At this stage you are all set to make your first NFT purchase or mint one if you are lucky enough to participate in an NFT contract's minting before it's completely minted. You can choose one of the marketplaces we've discussed above or you can find a reputable one yourself by doing some online research. Make sure it's from a verified source and never connect your wallet to unknown domains or projects as it can be a scam and they will empty your wallet if you authorize them!
Step 5: Confirm NFT Token Purchase/Creation
Once you purchase or mint an NFT, it will belong to the wallet you purchased it from. By going to the relevant blockchain explorer you can search your wallet address and confirm the tokens in it there. Under the tokens section you will see your NFT listed as an ERC-721 contract. Each blockchain has its own blockchain explorer website so it's something to pay attention to in that regard. Here are some blockchain specific official websites where you can view your crypto transactions and token holdings.
67% of retail investor accounts lose money when trading CFDs with this provider. 
Blockchain specific explorer websites to check your token holdings:
Ethereum
BSC
Avalanche
Solana
Fantom
How to Mint Non-Fungible Tokens
Minting is a term that confuses many crypto newbies and NFT newcomers. Think of it as creating unique a branch on the tamper-proof blockchain which will probably exist until forever or the end of the civilization.
You can buy NFTs in one of the many marketplace options available. But when we use the terms buy or purchase this usually means buying an already minted NFT second hand.
So, does it matter if you mint or buy an NFT from the ownership perspective? Not so much. If you mint or buy an NFT you will have the same ownership of that digital art piece however your acquisition costs may differ.
Since, developers and artists tend to offer NFTs at a discounted price you might be able to mint one at a great price and then be able to sell it for a high profit margin or keep it as part of your collection. Or in another case you might mint an expensive NFT and if it doesn't establish itself as a prestigious or desirable artwork its value might be a lot less than what you've initially paid.
Finding good NFTs to mint depends on many factors such as your connectedness with the community, your sense of art, reputation of the artists or sometimes simple the hype that spreads around makes a piece highly valuable.
Additionally, some NFTs come as a one-piece unique artwork with a straightforward purchasing option while others can be minted on a bonding curve as pieces that belong to a collection of many with dynamic pricing. Bonding curve suggest that, for example, first 10-piece of a 100-piece NFT collection are sold for a favorable price while price increases incrementally for say, 10-20, 20-30 … 90-100 all the way up to the end of the collection. Here is a hypothetical example for minting prices:
| NFT ID | ETH Price | NFT ID | ETH Price |
| --- | --- | --- | --- |
| 1-10 | 0.1 ETH | 50-60 | 1.1 ETH |
| 10-20 | 0.3 ETH | 60-70 | 1.3 ETH |
| 20-30 | 0.5 ETH | 70-80 | 1.5 ETH |
| 30-40 | 0.7 ETH | 80-90 | 1.7 ETH |
| 40-50 | 0.9 ETH | 90-100 | 2.0 ETH |
For this very reason it's common to see a rush when a reputable artist or developer team issues NFTs because most people believe same unique NFTs will be hard to find in the marketplace after the minting process or the prices will be high.
Another term that's related to the minting process is "Floor". After a minting event takes place, Cheapest price for the same NFTs in the marketplace defines the Floor. For example, it's common to see Tweet such as I bought that NFT for 0.1 ETH now the floor is 5X (Meaning minimum price you can get the same NFT is 0.5 ETH in the marketplace.)
NFT Tokens: What are the Pros and Cons?
So far, we have seen that NFTs are unique contracts that exist on the blockchain and their use cases usually involve artwork, multimedia or specific rights such as collectibles or tickets. Let's take a look at some of the advantages and disadvantages this new technology brings to our world.
Pros
Edge cutting technology and art revolution
Easy, speedy transferring of crypto assets and NFTs
Connectedness, becoming part of the movement and the fun factor.
Uniqueness (You will be the owner of a unique artwork or multimedia)
Blockchain security (you still need to make sure your computer and network are also secure and free from hackers, exploits, viruses and malware)
Cons
Requires some tech-savvy so there might be a learning curve for some users.
Watch out for scams, anytime there is a booming business activity, scams boom with it!
Illiquid markets, you might not be able to sell what you've bought if there aren't any buyers.
Inter-subjective valuation, NFTs are relatively new and their value depends on collective beliefs and appreciation.
Bleeding edge can mean bugs and glitches. Many new NFT projects and marketplaces face bugs and glitches every now and then. This can affect you as well as a participant if you get unlucky.
5 Biggest NFT Sales
NFT Sales are continuously breaking new records and reaching new all-time highs. So, we prepared a list of 5 biggest NFT sales of all-times to date. If this list becomes obsolete as soon as next month it won't be a big surprise! We'll still attempt to record the history.
Here are the 5 biggest NFT sales to date:
1 – Everydays – The First 5000 Days. This artwork tops the list not only as one of the most expensive NFT transaction but also one of the most expensive art transactions in history. Artist Beeple work on this project for 13,5 years and created one art piece every single day for 5000 days showing his personal journey and development as an artist.
2- CryptoPunks – Multiple sales occurred for Cryptopunks between a range of 5 and 12 million US dollars.
3- Crossroad – Another famous piece created by Beeple and sold on Nifty Gateway. Crossroad made the news when it was sold for $6.6 million on February 21, 2021.
4- WWW (World Wide Web) source code – World Wide Web changed our lives when it hit mainstream usage nearly 25 years ago. Now its founder listed its source code as an NFT and it got sold for $5.4 million. A historical piece indeed. Something any tech oriented individual or institution want their hands on.
5- Stay Free by Edward Snowden – Sold for $5.3 million. This political piece had signed court order against NSA about their violation of law regarding mass surveillance with Snowden's portrait overlaid. Talk about a victory for public benefits.
6- First Tweet – We can't really skip Jack Dorsey's famous first tweet NFT can we? As the founder and one of the biggest influencers of the global social media platform brought his historical first tweet on-chain using Valuables (This platform can be used to convert a tweet to NFT). Well, it sold for $2.9 million and Jack donated all of it to Africa Response charity.
Today we have a plethora of NFT sales around $1 million through generative digital art and other projects such as Axie Infinity, Crypto Apes and Crypto Kitties.
Conclusion
Since the first beginning of NFTs and ERC-721 contract in the early 2010s, Non-Fungible Tokens have sticked around, gained mainstream popularity, received endorsement from public figures, influencers and celebrities as well as reputable art galleries and museums. With this robust guide, you should now know how to buy NFT tokens, where to buy NFT tokens and where to store them.
Will NFT tokens stand the tests of time for hundreds or thousands of years? Only time itself will tell. One thing for sure though, it's extremely exciting and NFT sales have surged exponentially in 2021.
#1 Broker to Buy Cryptocurrencies – eToro
FAQs
What is the Best NFT Marketplace?
Where are my NFT Tokens Stored?