Where To Buy Enjin in USA – Learn How to Buy Enjin Token Today in 2022
Non-fungible tokens are all the rage in 2022, and with people making millions on them it's not hard to see why. Gaming is another sector only growing in size, with triple-A titles often having a budget similar to movies. Enjin aims to merge the two sectors by allowing users to create NFTs on the Ethereum blockchain that developers can implement into games, creating, tokenized, unique, tradable, in-game items. Tradable assets in games can be big money with a planet from ENTROPIA selling for $6 million in 2011, with prices this high it makes sense to tokenize items using blockchain technology to avoid fraud and lower fees associated with cashing out for real money.
With the price of Enjin rising by a factor of 10 since the start of the year, it's no surprise so many people are wanting to know what the best Enjin exchange is. We've created this guide to answer this question and provide you with an easy-to-understand walkthrough on how to buy Enjin. 
#1 Exchange to Buy ENJ – eToro
How to Buy Enjin – The Quick Four-Step Strategy
If you're looking for a quick and easy walkthrough on how to get started with Enjin then this is the section for you! Further down the page we've included full-length reviews on the top 5 Enjin exchanges and given a detailed step-by-step guide on how to buy Enjin. 
Step 1: Register with eToro: If you're wanting to invest in Enjin, you'll need to create an account with a reputable broker. For this, we recommend eToro because they've got an excellent track record and a great variety of features. Just got to etoro.com hit "Join Now" and provide some basic information.
Step 2: Verify your Account: As eToro is a regulated platform, they have to comply with KYC (know your customer) regulations. You'll need to provide a photo ID (driving licence, passport) and proof of address (bank statement, utility bill).
Step 3: Deposit Funds: Once your account has been verified you'll need to deposit some funds. You can do this with PayPal, Bank transfer, or credit/debit card.
Step 4: Purchase your Enjin: Now you've verified your account and deposited some funds, you're ready to invest! Just type "Enjin" into the search bar, press "trade", enter the amount you want, and hit "buy".
What is Enjin?
Enjin is an Ethereum based platform that allows users to create NFTs, usable in video games. These in-game items can be almost anything, from currency and accessories to weapons and spaceships, the only limit is what can be designed. For years players have traded in-game items for real-life money, but this comes with the risk of scams and accounts being closed, this is why people are so interested in implementing blockchain technology into video games, it would provide a way to view the "history" of an item and guarantee its authenticity. 
The system Enjin uses to create and distribute tokens is fairly simple at its core, developers purchase ENJ, they then design items and "mint" them on the network using that ENJ, players can then purchase items from an in-game store or as a limited drop, they then trade the items amongst each other causing items with lesser supply to sell for more money. If a player has an NFT they don't want and can't sell, they can "melt" the token and receive ENJ in return, creating something of a self-sustaining ecosystem. Generally, users that melt a token will receive between 50% and 100% of its value, with the remainder going back to the token's creator. 
Where to Buy Enjin in USA – Full Broker Reviews

If you're a resident of the US and want to find out the best Enjin exchange, then read on. Below we've compiled a list of our top 5 picks for the best Enjin exchange and wrote a full review for each. We hope after reading, you'll have all the information needed to choose the best US Enjin exchange for your specific requirements. 
1. eToro – Best Overall way to Buy Enjin in the US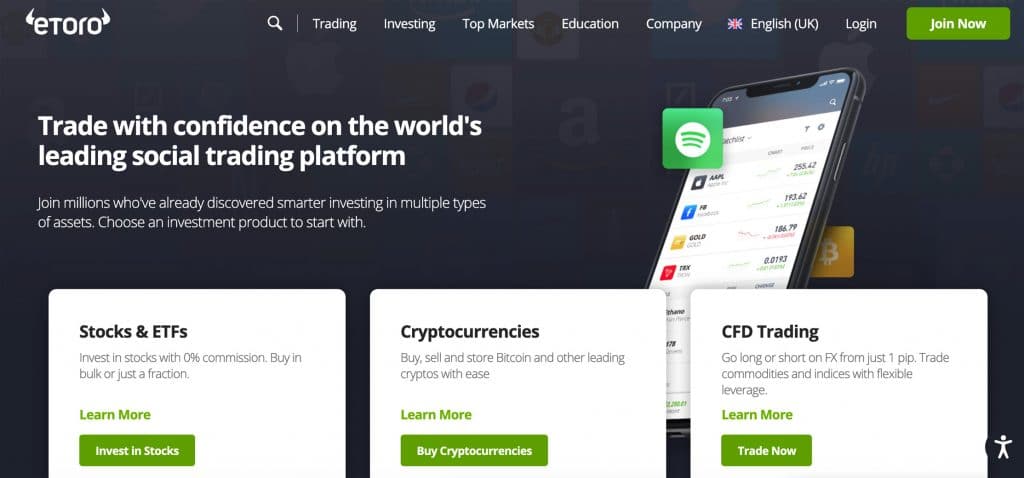 No list of the best Enjin exchanges would be complete without investment-giant eToro, as a fully regulated platform with a 15-year track record and you know you're in good hands. eToro has an easy onboarding process and an intuitive interface that allows new users to get started without any confusion, something increasingly rare these days. That doesn't mean experienced traders have been left out though, with a range of indicators, charting tools, and advanced financial instruments there's plenty to get stuck into.
It pays to make sure customers have a secure platform to store their funds, eToro achieves this using a variety of industry-leading techniques. If someone were to gain access to the servers, there would be a distinct possibility of customer information getting leaked, however, to combat this eToro protects all user data with SSL encryption. When it comes to your funds, you're also protected, eToro keeps over 95% of funds locked away offline in cold storage, with the remaining 5% only being kept in hot storage to facilitate the smooth operation of the platform. As with any reputable exchange, it's recommended to set up 2FA on your eToro account, although the platform is already secure, it just provides an extra layer of protection.
As we mentioned, eToro is the perfect platform for new traders, this is because they offer a few unique features that beginners can benefit from massively. Copy trading is one such feature, it allows users to automatically mirror trades from some of the most profitable users on the site, this lets you earn a passive income without any previous trading experience. Managed portfolios are another feature that could be great for both new and experienced traders, it lets you invest in a well-thought-out group of assets so you can have a diversified portfolio from day 1, greatly reducing any risk exposure. For anyone coming from a background trading or investing outside of the crypto space, then eToro could certainly be the best Enjin exchange for you, outside of crypto you can manage any investments in commodities, ETFs, indices, and even forex. With a tiny minimum investment of just $50, there's no reason why you shouldn't start investing with eToro today!
eToro Fees
| | |
| --- | --- |
| Coin Name | Spread Amount  |
| Enjin (ENJ) | 3.9% |
| Bitcoin (BTC) | 0.75% |
| Ethereum (ETH) | 1.90% |
| Cardano (ADA) | 2.90% |
| Binance Coin (BNB) | 2.45% |
| Ripple (XRP) | 2.45% |
Pros
Great for beginners and experienced traders alike

Easy to understand

Copy Trading

Managed portfolios

Range of financial instruments

Low fees

Great security

Fully regulated
Cons
Lack of MetaTrader support

Could do with a larger variety of indicators
67% of retail investor accounts lose money when trading CFDs with this provider. 
2. Coinbase – Easiest way to buy Enjin in USA

Coinbase is the largest exchange in the US, so it's only right we discuss it. Coinbase is likely the most simple to understand platform on this list, they keep the interface easy to navigate and have a strict vetting process for coins, ensuring customer's funds are safe. Although generally touted as a beginner platform, Coinbase offers a "pro" app that has some extra features and reduced trading fees. 
Security is taken seriously by Coinbase, as we mentioned they have a strict vetting process for adding new coins to the platform, this increases customer security but unfortunately, does mean they have a smaller variety of assets than some of the other exchanges on this list. They encrypt user data to make sure even if a breach occurs your data won't be usable. As the US's largest exchange Coinbase is, of course, regulated, meaning while you won't have to worry about Coinbase running off with your money, you will need to complete a KYC (know your customer) questionnaire. Customer funds are kept safe, with 98% being locked in cold storage, with Coinbase claiming to store the drives and keys in various safety deposit boxes all over the world.
There's a reason Coinbase is referred to as a beginner platform, they keep purchasing crypto as easy as possible, doing away with any asset pairs, allowing you to invest directly in each coin. They provide users with a plethora of educational material, incentivizing users to learn about different cryptocurrencies by providing rewards in the form of a small amount of whichever coin you learn about. As we mentioned, Coinbase also has a platform called "Coinbase Pro" which is aimed at experienced traders, it has a greater range of indicators, charting tools, and allows you to invest in asset pairs. It can be beneficial for new users to sign up for Coinbase Pro because it has a much more friendly fee structure, designed with high-volume traders in mind. Below, you'll find a comparison of the fee structure of each platform. 
Coinbase Fees
| | | |
| --- | --- | --- |
| Fee | Coinbase | Coinbase Pro |
| Debit/Credit Card | 3.99% | 0% |
| Bank Deposit | 1.49% | 0% |
| Wallet | 1.49% | 0% |
| Conversion | 0.5% to 2% | 0.5% to 2% |
| Trades | $0.50 | $0 to $0.50 |
| Coinbase fee | $0.99 to $2.99 Based on size of transaction  | 0.04% to 0.50% taker fee and a 0% to 0.50% maker fee |
Pros
Easy-to-use

Rewards system

Low fees on Coinbase Pro

Good reputation
Cons
High fees if using regular Coinbase

Limited amount of assets

Lack of indicators for technical traders
67% of retail investor accounts lose money when trading CFDs with this provider. 
3. Gemini – Buy Enjin in the US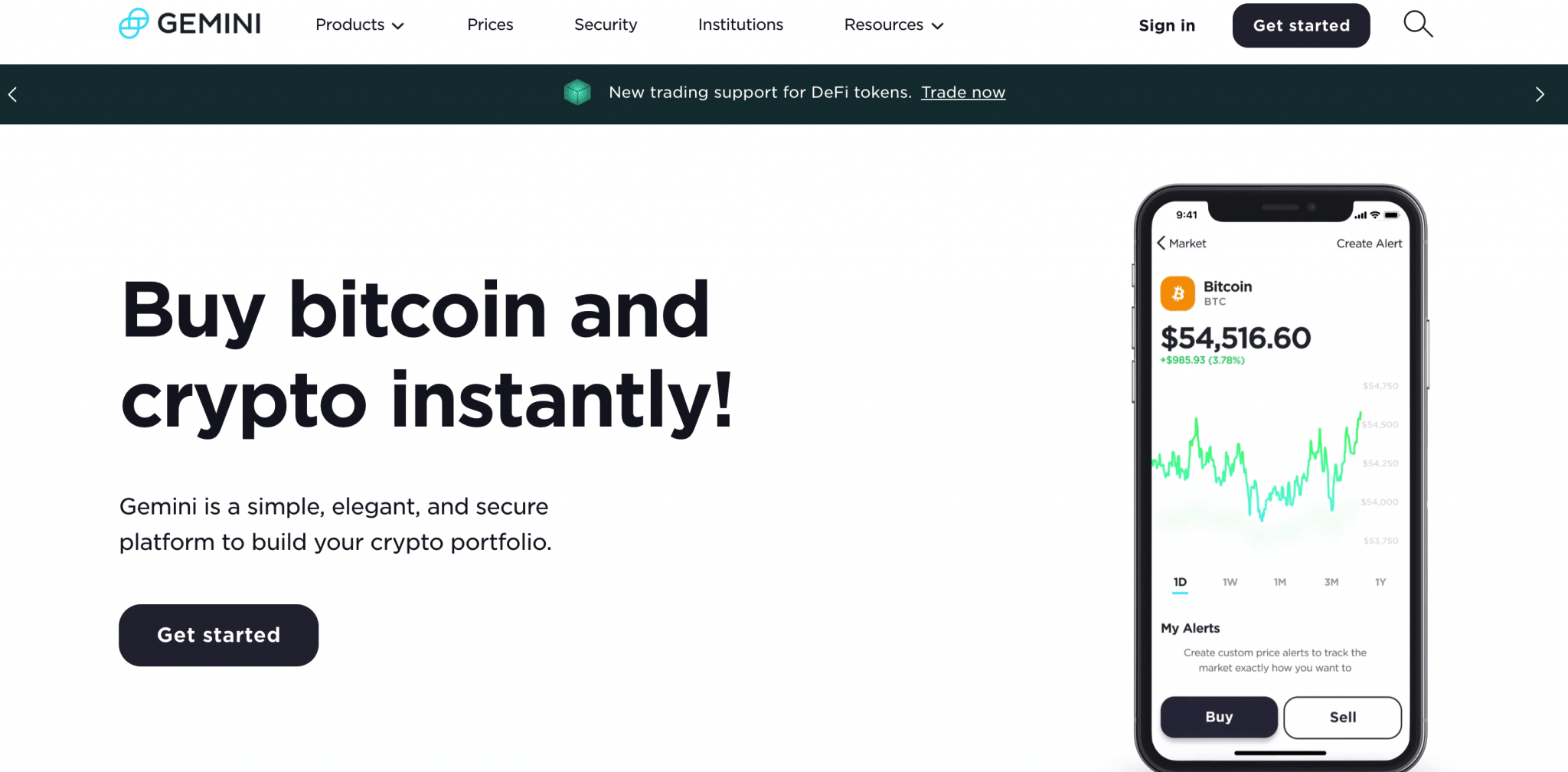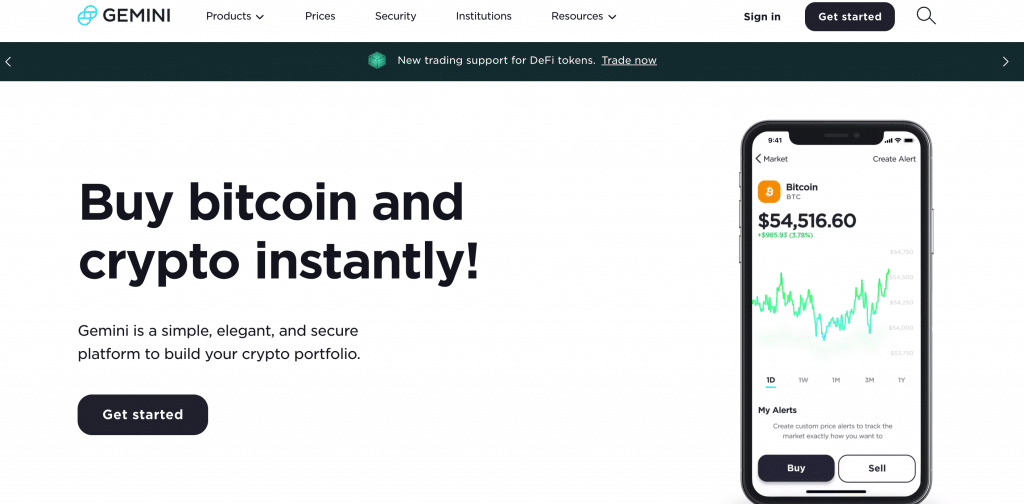 Launched in 2015 Gemini's claim to fame comes partly from its founders; the Winklevoss twins. Although many people likely heard about Gemini because it was the latest Winklevoss project, the exchange is quite capable of offering features that will please both new and experienced traders.
Because of its status as one of the only exchanges allowed to operate in all 50 states, it's not surprising Gemini takes regulations seriously. With Gemini, you benefit from FDIC insurance on all USD balances up to $250,000, meaning if a breach occurs your money is still safe, although it's important to note this doesn't apply if your individual account is compromised, only if Gemini gets breached. They keep the majority of customer funds offline, in cold storage.
Gemini achieves a great balance between being simple enough for new users to understand, and meaty enough for experienced traders to enjoy. They have several educational resources available for everyone, which is increasingly important these days. For anyone frequently trading, they have a platform called "Gemini ActiveTrader" which is designed for experienced users, it has a greater range of indicators and charting tools, a larger variety of pairs, and a more in-depth order book. 
Gemini Fees
| | |
| --- | --- |
| Fee Type | Fee Amount (%) |
| Convenience Fee | 0.5% |
| Transaction Fee | 1.49% |
Pros
Great for new and experienced traders

Simple to understand

Educational Material

Lots of features

Available in every state
Cons
Often the first platform to implement new regulations

Slow support

Some users report issues withdrawing 
67% of retail investor accounts lose money when trading CFDs with this provider. 
4. Bitstamp – Buy Enjin in the US for Beginners
Another beginner-focused platform, Bitstamp provides a platform that's extremely easy to get to grips with. Rather than trying to be a "jack of all trades" exchange, Bitstamp instead focuses on making basic services are well-refined and work as expected. As the oldest running crypto exchange, Bitstamp has been around long enough to show they can be trusted with customer funds, they're regulated by the CSSF in Luxembourg which provides peace of mind, although it would be nice to see regulation by some other authoritative bodies.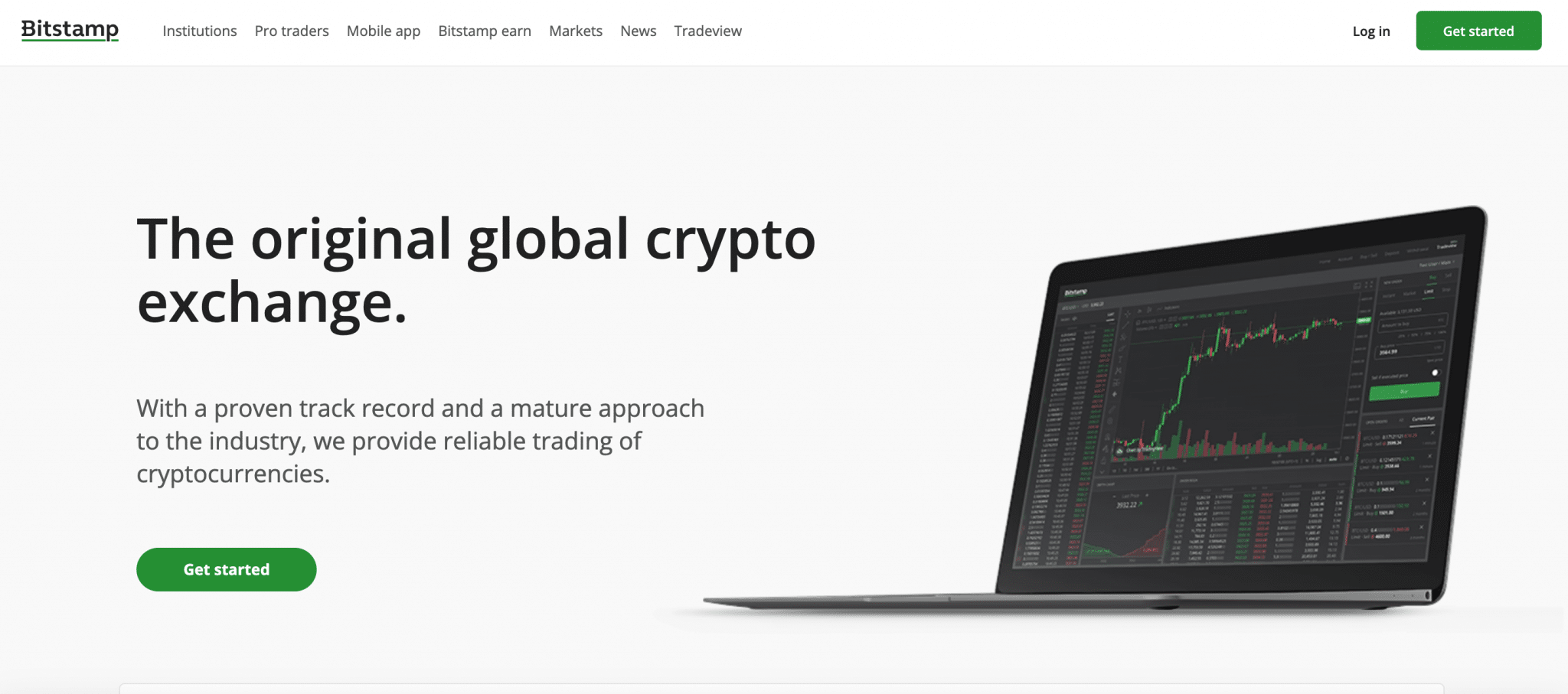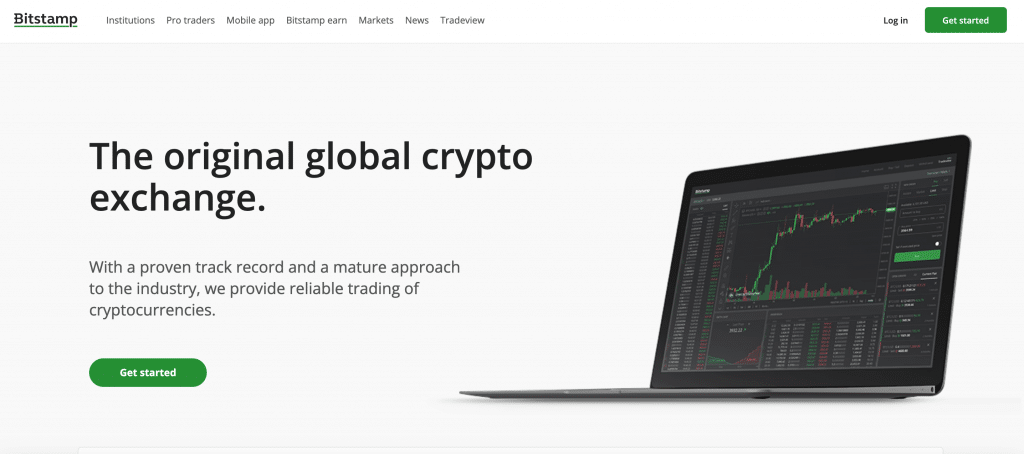 The security of Bitstamp is somewhat of a hot topic, in 2014 and 2015 Bitstamp was subject to a hack resulting in the loss of over $5 million worth of Bitcoins. While this would usually be a big red flag, the unfortunate incident caused Bitstamp to upgrade security, with them being the first exchange to implement 98% cold storage. As a beginner-focused platform, they also provide great customer support, even having 24/7 phone support which is seldom seen in the crypto world.
As we mentioned, Bitstamp is more directed toward new traders rather than active day traders, as such they forgo the majority of advanced features, instead of focusing on refining basic ones. For US residents, Bitstamp offers automated clearing house (ACH) transactions that allow for instant deposits, letting you buy ENJ now. Although aimed at beginners, they boast 4 different order types (limit, market, stop, trailing stop) which might make the platform more worthwhile to experienced traders wanting to take advantage of ACH for a quick purchase during a dip.
Bitstamp Fees
| | |
| --- | --- |
| Fee Type | Amount  |
| Transaction fee | 0.5% |
| Credit/Debit fee | 5% |
Pros
Refined basic features

ACH transactions for instant deposits

Cold storage

Long track record
Cons
Lack of advanced features

Victim of several hacks

Limited variety of cryptocurrencies
67% of retail investor accounts lose money when trading CFDs with this provider. 
How to Buy Enjin in USA – Detailed and Explained in Full
Buying Enjin doesn't have to be a confusing process, we've analyzed the best exchanges you can use to buy Enjin now, so the process can be as simple as possible. eToro has a simple onboarding process, which we've detailed in full below.
Buy now
CFDs are complex instruments and carry a high risk of losing money quickly through leverage. 75% of retail investor accounts lose money when trading CFDs from this provider.
Buy now
CFDs are complex instruments that have a high risk of losing money quickly due to leverage. 72.6% of retail investor accounts lose money trading CFDs with this provider.
Buy now
CFDs are complex instruments and carry a high risk of possible rapid loss of capital due to their leverage. 71% of retail investor accounts lose capital when trading CFDs with this provider. You should consider whether you understand how CFDs work and whether you can afford to take high risk in losing your capital.
| | | | |
| --- | --- | --- | --- |
| N/A | Yes | CBI and MiFID in Europe | |
| | | | |
| --- | --- | --- | --- |
| N/A | Yes | 1:2 for cryptocurrencies | |
| | | | |
| --- | --- | --- | --- |
| $34544.83 | $34575.91 | $34662.27 | |
Step 1: Open an Account with a Broker
Regardless of which crypto you want to invest in, you'll first need to set up an account with a broker. We recommend using eToro because they offer a great blend of features, security, and an easy-to-use platform. Just go to "eToro.com", press "Join Now", and fill in some basic details.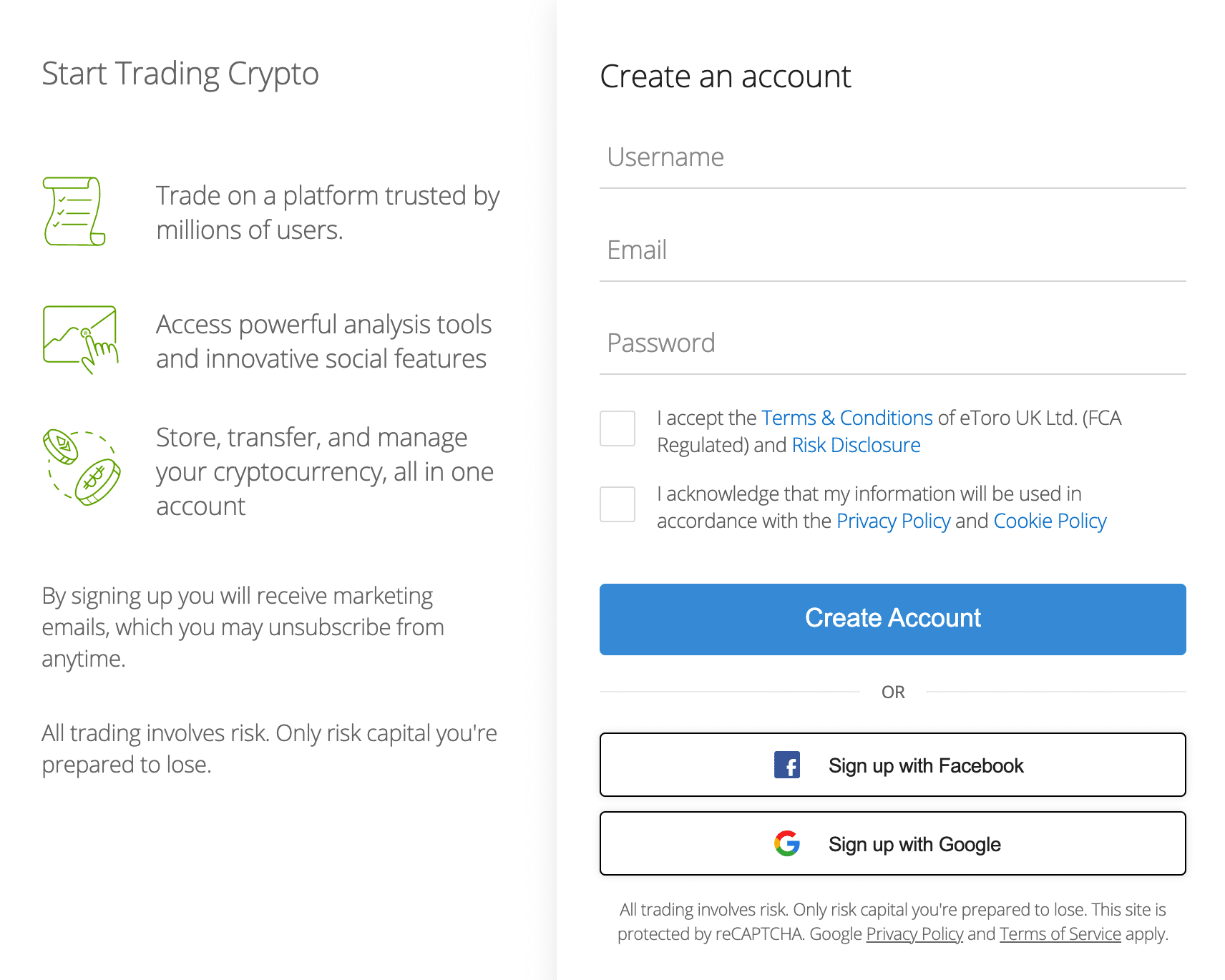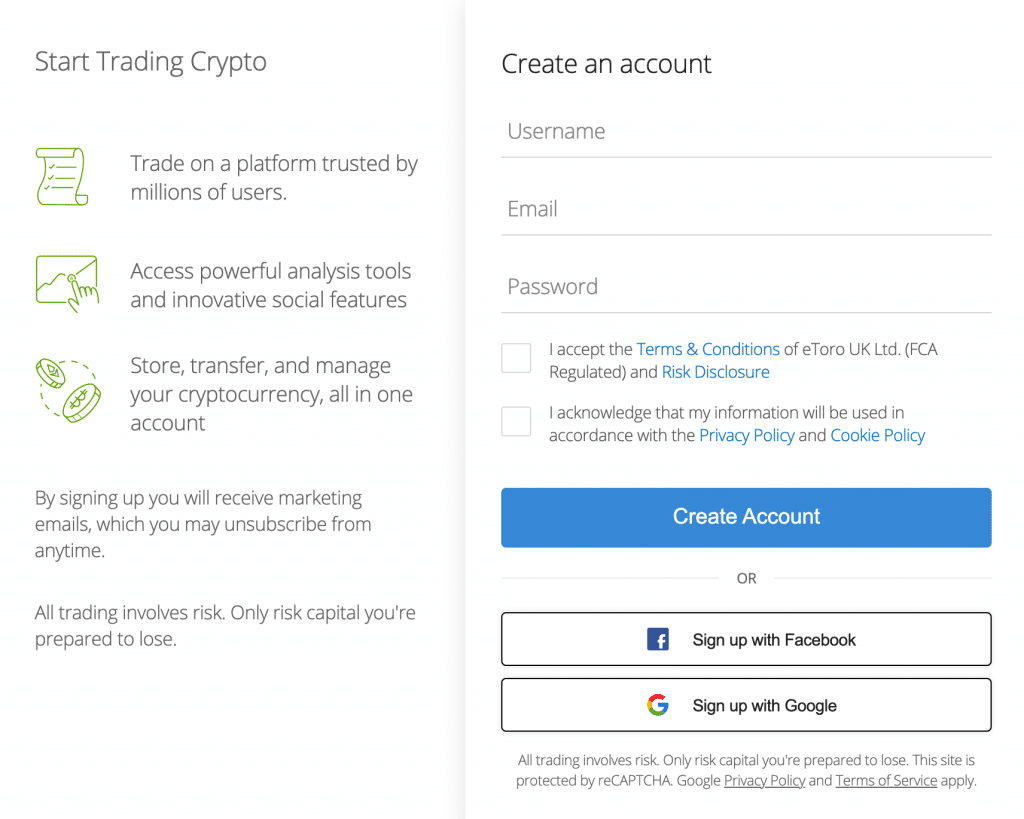 Cryptoassets are highly volatile unregulated investment products. No EU investor protection. 67% of retail investor accounts lose money when trading CFDs with this provider.
Step 2: Verify your Account
Once you've signed up to eToro you'll need to verify your account. This is because eToro is a reputable, regulated platform, and is standard practice. You'll need to provide a photo ID (driving licence, passport) and also proof of address (utility bill, bank statement).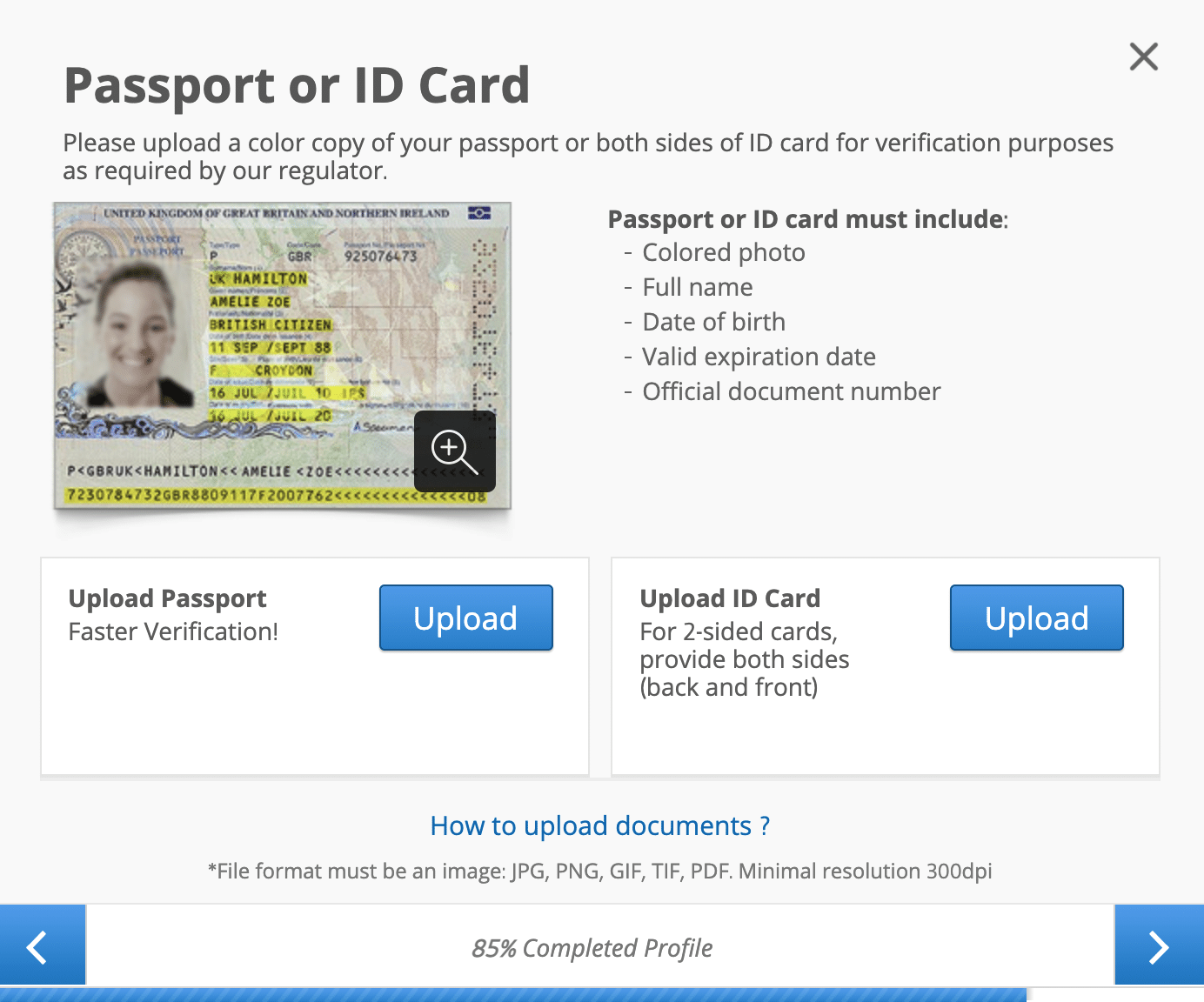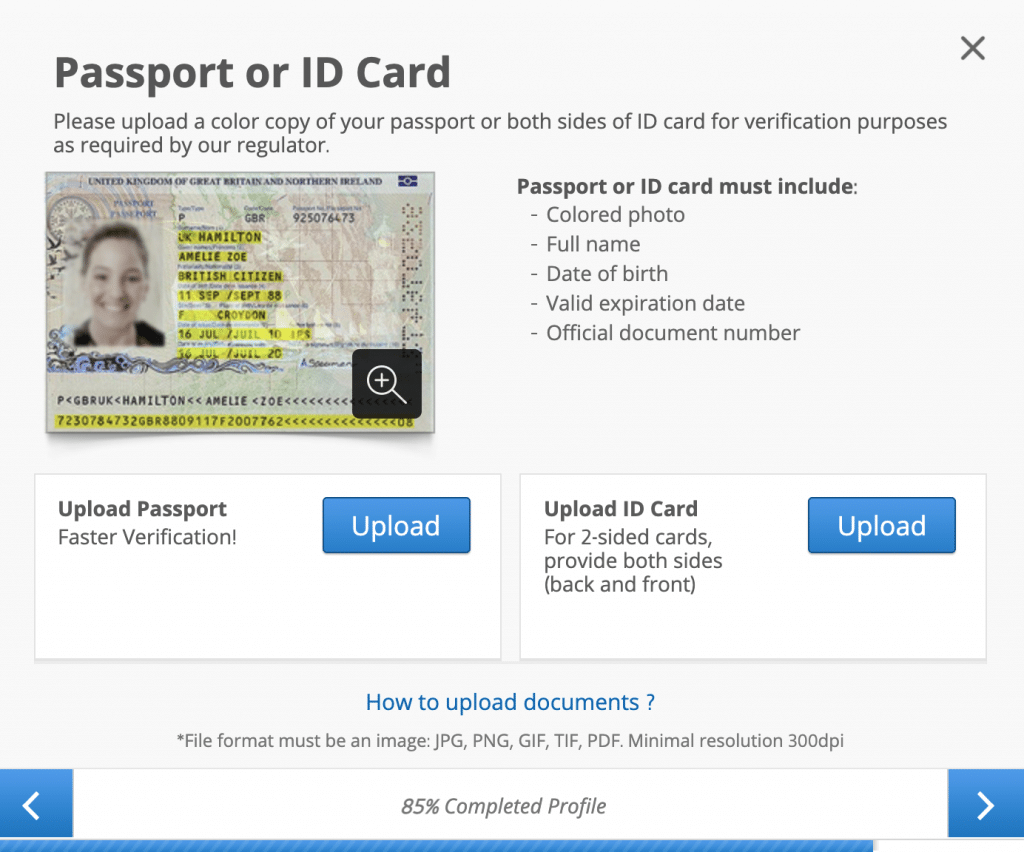 Step 3: Fund your eToro Account
Now you've verified your account, you need to deposit some funds. Doing so is simple, you'll just need to press "deposit funds" enter the amount you desire, and choose a payment method. eToro supports credit/debit cards, e-wallets, and bank transfers.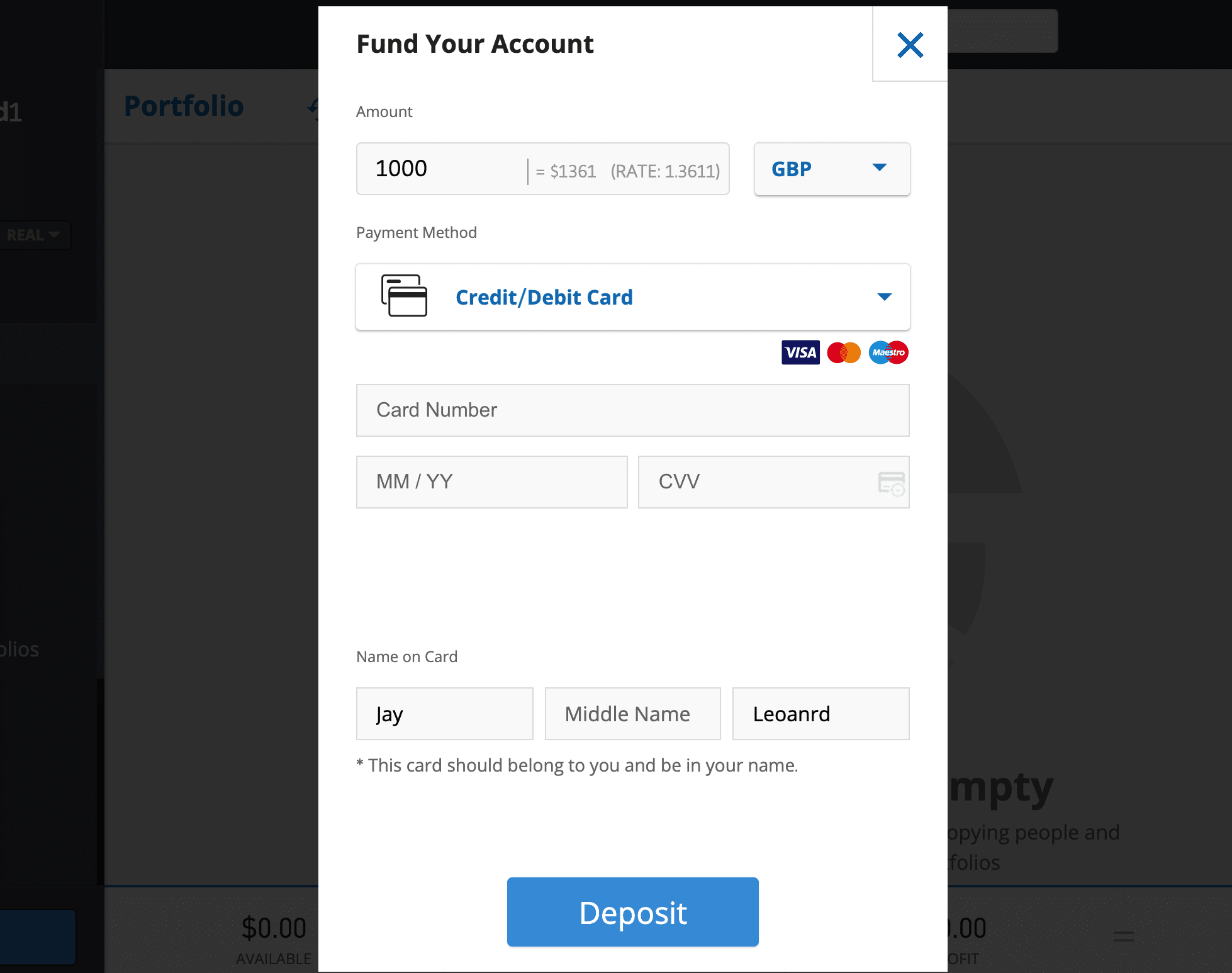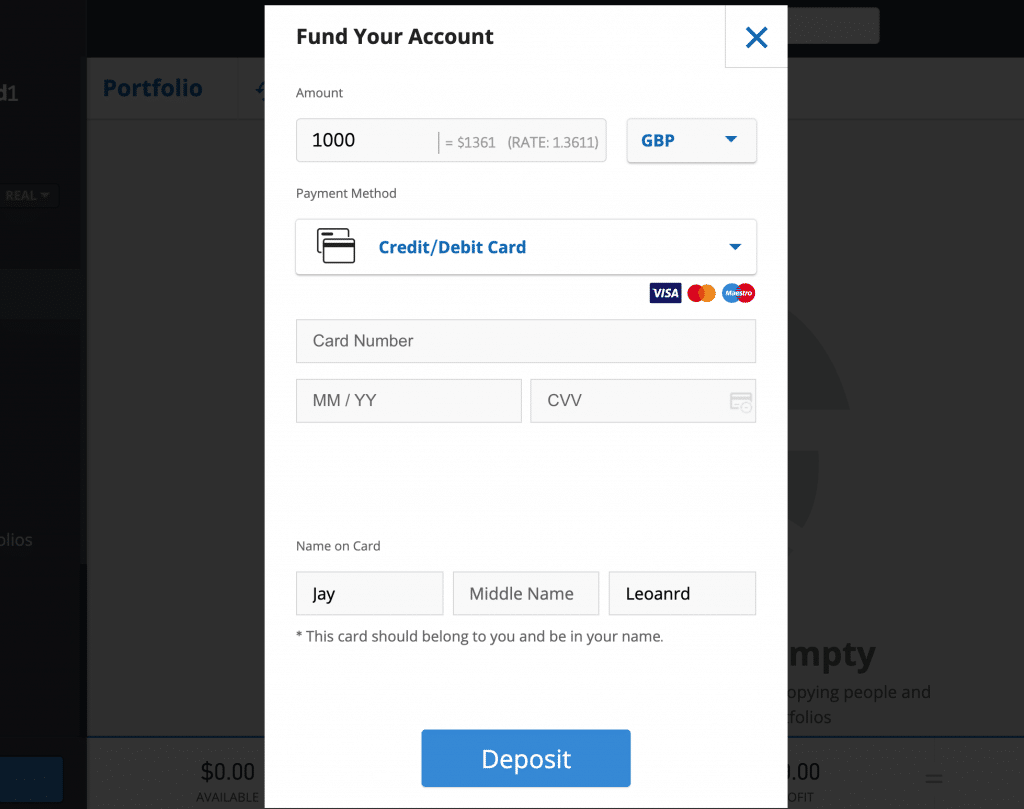 Step 4: Search for Enjin
After you've funded your account, just type in "Enjin" into the search bar, select the relevant option, and click "trade"


Step 5: Buy Enjin
You're almost ready to buy some ENJ! All you have to do is enter how much you want to purchase, and hit open trade!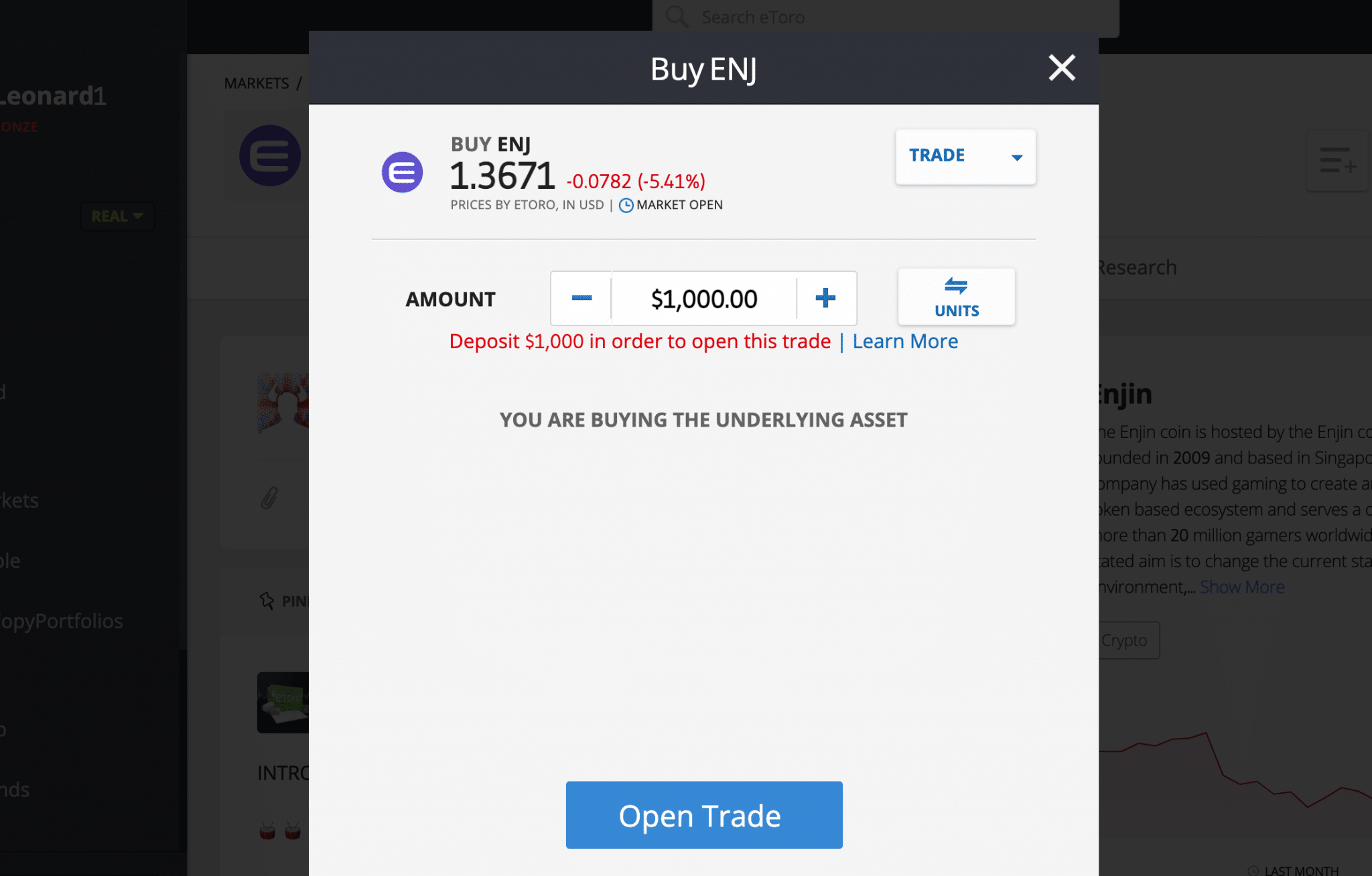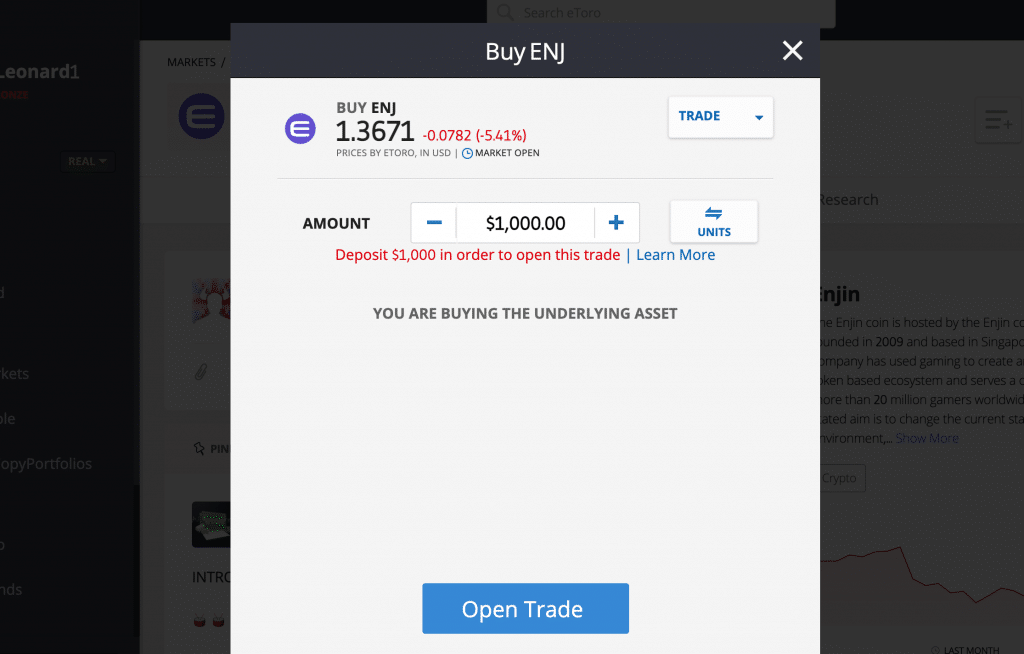 Purchasing ENJ – Is it a Good Investment?
With the price of ENJ (Enjin's token) rising over 10x since January, a lot of people have been left wondering if ENJ is a good investment. After years of trending sideways, ENJ has begun to explode, this is likely due to the current NFT narrative, which is driving a lot of prices through the roof.  When you have NFT apes selling for millions of dollars it makes sense to look at the platforms used to create them, Enjin, based on the Ethereum blockchain aims to bridge the gap between blockchain technology and video games.
Aiming to position themselves as the de-facto platform to create tokenized video game assets, Enjin is in a unique position to capitalize on the gaming and NFT sectors, both of which are huge (and only growing). Blockchain games are becoming increasingly common, and although many are currently fairly simple, it's only a matter of time before large triple-A titles begin experimenting with tokenized items for games. When melting an item, a portion of the Enjin received goes back to developers, allowing them to continue to earn money from in-game items past the initial sale, promoting a healthier "game to real-world" economy. The ability to continue earning money on in-game items should, in theory, give developers a reason to implement blockchain technology in their games. If this becomes more commonplace, with Enjin positioned the way they are, this year's 10x increase could only be the start.
The Advantages of Investing in Enjin
In a world of million-dollar .jpgs, any platform designed to put a fresh spin on NFTs is likely to generate a lot of attention. With items from games often being worth far more than the game itself, it makes sense for developers to want to get their hands on a piece of the pie, prior to Enjin, gamers wanting to cash out an item for real-world money would usually have to use a shady platform that pairs sellers and buyers. Because of these 3rd party platforms many users were scammed and lost money, as did developers. A platform like Enjin promotes a healthy in-game economy and with some users making a full-time wage from buying and selling in-game items, it makes sense to make it more secure. If some large game houses begin to implement blockchain technology there is no telling how far the price of ENJ could soar.
In-game items can be worth a lot:

It's not strange to see virtual items selling for more than houses. As this trend continues to grow it makes a lot of sense developers would like to get their share of this money.

NFT Narrative:

2022 is the year of the NFT, people have been making hundreds of thousands of dollars by holding digital art for minutes. As more and more people hear about NFTS, more and more people want to invest before they miss out. It doesn't take a genius to work out that as NFTs become commonplace, platforms used to create them are set to do well.
The Disadvantages of Investing in Enjin
There are pros and cons to every investment, investors need to work out if the advantages outweigh the disadvantages. For Enjin, the list of disadvantages is relatively short and comes predominantly in the form of high fees on the Ethereum blockchain and a lack of adoption (which is common for new technology).
Price based on adoption:

This could easily be seen as either an advantage or disadvantage depending on how much you believe in Enjin. If large names begin to use blockchain technology, Enjin aims to be the go-to platform for creating tokenized game assets. The downside being, if a competitor emerges or developers use a different method, Enjin could be left with a limited user base.

Gas Fees:

Fees on the Ethereum network are horrible, there's no other way to put it. During peak times it could cost many times an item's worth to send it to another wallet, this isn't ideal for small transactions. It's important to note that Enjin's Jumpnet and ETH 2.0 could solve this, but we'll have to see how they're both rolled out.
How Much Does it Cost to Buy ENJ?
Purchasing Enjin is easy when using a regulated broker like eToro, you don't have to worry about being unfairly charged more than anyone else just because of the country you reside in. The only thing to keep in mind is card fees and transaction fees, although using a commission-free platform like eToro prevents some of these fees. Currently, the price of ENJ is $1.33, meaning if you invested $100 you would end up with 75 ENJ. If you invested $100 at the start of the year your investment would be worth around $1000 today.
Purchasing Enjin – How to Pay for It
You have a few options when choosing how to pay for your Enjin. You'll have to consider what's more important to you, low fees, convenience, or security. If you use a regulated platform you'll typically have a few options when choosing how to deposit, with our top choice, eToro, you'll be able to choose from a card, e-wallet, and bank transfer. With eToro all sensitive information is SSL encrypted so you don't have to worry about it falling into the wrong hands.
Buy ENJ Using PayPal
One of the largest e-wallets, PayPal handles over 5 million transactions a day, if that many people trust PayPal there's a reason. They offer a great blend of convenience and security that not many payment methods can compete with, PayPal transactions only take a few minutes to complete and put an additional layer between your bank information and exchange. The downside is not many platforms support PayPal due to their fee structure, luckily, eToro supports PayPal along with several other e-wallets (Skrill, Neteller, Rapid transfer).
Buy ENJ with Paypal via Etoro Now >
Buy ENJ using a Credit/Debit Card
Using a bank card can be the most convenient payment method for a lot of users, however, convenience comes at a cost. Generally, most exchanges charge a card fee ranging from 2% to 5%, and while this may not seem like a lot it adds up quickly. On top of this, using a credit/debit card means if an exchange got compromised your data may be at risk.
Buy ENJ with Credit/Debit Card via Etoro Now >
How & Where to Buy Enjin in USA – Conclusion
Buying Enjin doesn't have to be difficult, we hope after reading this guide you'll have all the know-how needed to start investing! Enjin is a very interesting platform, and with returns of 10x YTD a lot of others probably feel the same, the next few years are likely to be huge for Enjin, gaining some high-profile partnerships could make or break the coin. If you're ready to start investing in Enjin, we wholeheartedly recommend using regulated broker eToro, they provide users with a secure, easy-to-use platform, and boast a feature set that even the most experienced traders would be happy with.
FAQs
What type of crypto is Enjin?
Is it legal to buy Enjin?
How much ENJ is in circulation?
What is the future of Enjin?
What is the best Enjin Exchange?