Best XRP Wallet Australia – 4 Best XRP Wallets in 2021
​​​It might be a tricky task to find a suitable XRP wallet these days. The options are almost limitless — choosing the wrong wallet may spell the end of your crypto money, which you surely don't want to happen. If you've read some reviews and opinions about the wallets, you might have noted that some wallets suit you better than others.
In this article, we've left all mediocre wallets behind the scenes, leaving only viable XRP wallets. Namely, you can enjoy TOP4 XRP wallets available for Australian traders, investors, and enthusiasts.
#1 XRP Wallet In Australia – eToro
Best XRP Wallets Australia – Top 4 List
eToro

 — Overall Best XRP Wallet in Australia

Coinbase

— Best DeFi XRP Wallet in Australia

Freewallet — 

Best Usability XRP Wallet in Australia

Binance

 — Best Credibility XRP Wallet in Australia
CFDs come with a high risk of losing money rapidly due to leverage. 67% of retail investor accounts lose money when trading. Proceed at your own risk.
Best XRP Wallets Australia — Full Reviews
Now let's talk about the core features of TOP4 XRP wallets available in Australia. You can judge our pick yourself while reading the full descriptions listed below.
1. eToro — Overall Best XRP Wallet In Australia

eToro is Australia's top-rated cryptocurrency exchange. Here you can buy and sell XRP tokens & other cryptocurrencies. This down-to-earth broker has ASIC, FCA, CySEC, and GFSC license up its sleeve: that is why you can expect pretty straightforward and transparent trading no matter what. Initially, eToro was created to address issues that have plagued other well-established crypto exchanges, including scams, frauds, manipulations, and unreasonable fees. Fifteen years later, eToro's goals still hold true.
Since the launch many years ago, this fintech company evolved into a fully-fledged ecosystem. When opening an eToro software wallet, you can access eToro exchange, Copy Trading, educational materials, eToro school, and much more. On top of XRP trading, you can enjoy CFD trading, ETFs, commodities, stocks, etc.
Services and community are the best features eToro offers. When creating an XRP wallet, you get a secured & rock-solid online storage and join a huge trading community. For example, you can benefit from eToro's CopyTrader. Follow trades of veteran traders automatically to raise your annual income. The average yearly profit among the top 50 most copied traders is about 84%, meaning that you can replicate their success.
eToro holds valid distributed ledger technology and anti-money laundering (AML) licenses issued by the Financial Conduct Authority (FCA), the Gibraltar Financial Services Commission (GFSC), CySEC, ASIC. The fact that eToro's wallet is regulated shows that the broker prioritizes security rules. eToro wallet is the top XRP hot wallet in terms of security.
Opening an XRP wallet on eToro is free of any creation fees. However, you should take additional costs into account. For example, if you want to convert fiat money like AUD or USD to crypto, eToro charges you a small fee, automatically added to the final price. Note that eToro doesn't charge you a penny when it comes to crypto-to-crypto transactions. You don't pay any commission for sending or receiving XRP on eToro. However, if you send XRP, you have to pay a small blockchain fee (not applicable if you receive it).
Pros
Intuitive interface suitable for beginners
Mobile app available in App and Play Store
You need as little as $50 to get up to speed
Access your crypto anytime within seconds
Forefront DDoS protection & security protocols
Become a part of a large, convenient ecosystem
Desktop version for extra protection if you feel like it.
Cons

45XRP to open your XRP wallet by eToro
You can only store your crypto online (hot wallet).
Cryptoassets are highly volatile unregulated investment products. 67% of retail investor accounts lose money when trading CFDs with this provider.
2. Coinbase — Best Desktop XRP Wallet In Australia

Security is the number one priority for Coinbase: to maintain a status of top security-focused wallet, Coinbase stores 98% of all coins/tokens in cold storage. On top of that, you have to pass a two-factor authentication each time you enter your Coinbase wallet.
As any regulated broker, Coinbase requires you to provide personal information upon registration, including a copy of your ID and some official document confirming your address. Once you provide all necessary documents, you can enjoy the outstanding security and reliability Coinbase ensures: trade and invest in major crypto using Coinbase without any risk.
You can also use Coinbase wallet to work with decentralized exchanges, DeFi protocols, collectibles such as ERC-20 tokens. Coinbase offers you native support for some ETH collectibles.
Pros

Customer support 24/7/365
Worldwide crypto transactions
Use your wallet anywhere and anytime
Ultimate protection of your private keys
Work with collectibles, including ERC-20
Native support to world-known crypto assets
Participate in ICOs, browse DApps, and more
Compatible with DeFi protocols, collectible, decentralized exchanges, etc.
Cons

Coinbase wallet implies high fees.
Cryptoassets are highly volatile unregulated investment products. 67% of retail investor accounts lose money when trading CFDs with this provider.
3. Freewallet — Best Usability XRP Wallet in Australia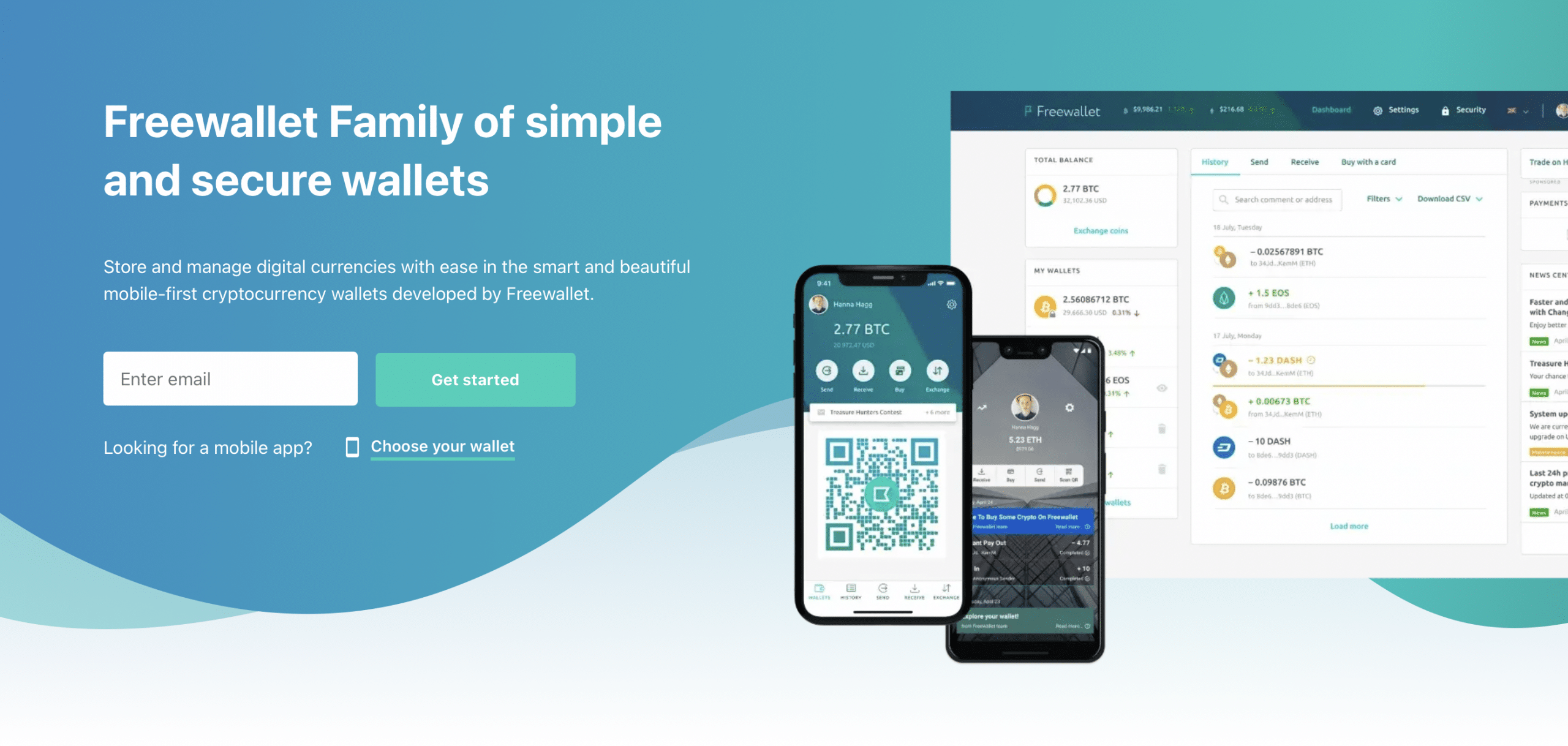 To keep your crypto safe and sound, Freewallet employs greater-than-expected security measures. You can amplify security and set new safety standards by using the main features Freewallet offers. If you want to prevent fraud, malicious activity, or other digital threats, you can use the following features:
The Personal Identification Number (PIN) is a unique 4-digit code you can set. Each time you enter the app, a PIN code is right there to be entered as well. You can also set a Touch ID or Fingerprint Login for extra protection.
Two-factor authentication (2FA) provides an extra layer of security to your account, preventing unauthorized access even if someone knows your password. 2FA requires entering a randomly generated code. You can enter your account then and only then if you provide an authentication code. The 2FA procedure usually involves an authenticator app, such as Authy or Google authenticator.
MultiSig is another feature to enhance your crypto security. Even if someone hacks your account, they can't withdraw money without your key. You can also request up to three emails to confirm your transactions. No one can withdraw money without confirmation for each email you request.
Once you validate your email address, you can turn on all the features mentioned above in the app's settings. Freewallet respects your privacy. Hence, it doesn't have access to your personal information, including emails, social media, or device data. If you don't want hackers at your heels, keeping your data is the number one duty you should consider. Freewallet is among the best XRP wallets in terms of security.
Pros

IOS and Android mobile app
Exchange your XRP coins within minutes
Customer-friendly and secure XRP wallet
Use an Australian credit/debit card to buy XRP
No transaction fees for trade with other Freewallets
Convenient price charts to analyze XRP in real-time
A desktop wallet is available. Freewallet supports any major OS.
Cons

Questionable customer response.
Cryptoassets are highly volatile unregulated investment products. 67% of retail investor accounts lose money when trading CFDs with this provider.
4. Binance — Best Safety XRP Wallet In Australia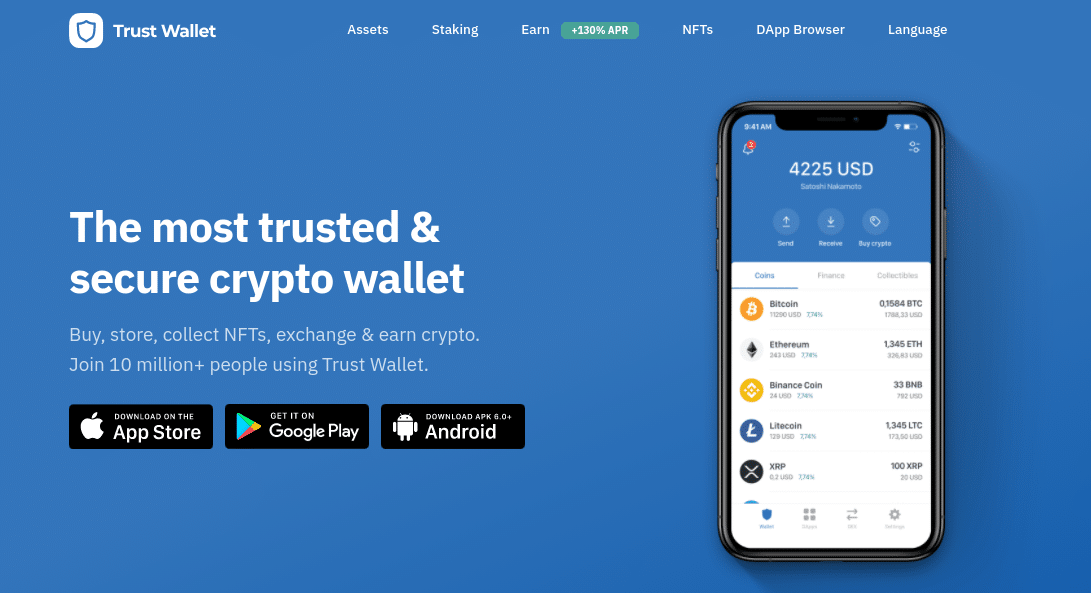 Binance is the world's largest cryptocurrency exchange, where you can buy, trade, and sell over 200 digital currency trading pairings, including XRP/AUD. More than a hundred Australian banks and financial institutions back up the Binance wallet, allowing you to make instant AUD deposits and withdrawals. Banks usually use PayID/Osko or other NPP payments. At the same time, Binance wallet is associated with the lowest fees ranging from 0% to 0.1% on each slide.
​​​The broker cherishes your security; that's why you can choose the mobile, desktop, or web version of the Binance wallet. Other features related to Binance and its wallet include zero deposit fees to transfer AUD, a vast pool of supported crypto assets. You also have access to basic and advanced tools for traders of varying skills, leverage coins, crypto loans, and staking pools. If your goal is to save some money, you can open a special saving account.
Pros
Enjoy a 0.1% spot trading fee
Over 400 crypto assets available
You can lower the fees down to 0%
No deposit fees to transfer your AUD
Ten minutes to open your Binance Wallet
You don't have to meet any minimum deposit
Amplify your trading with extra services and charts
#1 cryptocurrency exchange in terms of the trading volume.
Cons

The account verification process isn't perfect
The company has legal issues in some countries.
Cryptoassets are highly volatile unregulated investment products. 67% of retail investor accounts lose money when trading CFDs with this provider.
What is an XRP Wallet in Australia?
To trade any coins, altcoins, and tokens, you need a place where you can store your assets safely. XRP wallet is special software/hardware to send, receive, and keep your crypto. Even though you can store several coins/tokens at once – major wallets usually support a limited number of crypto assets.
When you create an XRP wallet, the system associates you with a pair of security keys: private and public. These keys make sure your crypto is safe & sound.
What Are Private and Public Keys?
Every blockchain network issues a pair of keys to users. Public and private keys are necessary to make your crypto transactions safe. The system uses a public key to locate your wallet; a private key gives you access once the location is known.
Since your public key allows other users to send tokens to your wallet, you can consider it an address. To put it simply, think of the pair as an email account or a bank login; the address is your username or email address, and the private key is your password.
Once you want to transmit coins from your wallet to another wallet, you'll need your private key. Remember an email account? The email address serves as a reference point for email network users to send mail to. The password grants you complete access to the account's privileges, notably drafting and sending emails. A similar process happens when you deal with an XRP wallet.
How To Find The Best XRP Wallet?
There are many crypto wallets available on the market nowadays, and their variety can complicate your choice. You need the right crypto wallet that fits your needs, especially if you're a beginner. We listed some criteria that your wallet must meet to benefit you the best.
Reputation
A background check is the first thing you should do. How long does the wallet provider/broker operate? What do clients say, what are their biggest concerns? Paying attention to even small detail such as support response time, contact methods, email address, etc., can be a decision-driving factor.
Functionality
As the market evolves, top-notch exchanges introduce new coins and tokens. You should pick a wallet that supports multiple currencies: from large-scale Bitcoin to relatively unknown, modern coins/tokens. To stay in the picture, you should also manage and track your portfolio as effectively as possible. To do so, you need advanced tools combined with user-friendly panels, charts, and graphs. An issue on the agenda is your wallet is functional enough to cover all the above?
Some wallets have a strong leaning towards advanced and complicated trading tools, completely forgetting about the convenience for beginners. Other wallets, on the contrary, oversimplify the trading process, making it look like gambling. A good wallet strikes a balance between the technical part and your convenience. For a clear demonstration of a good balance, you can try eToro Wallet and see for yourself.
Regulations & Privacy
The financial institutions introduce a "know your customer" procedure every time they need to accept and verify a new customer. The process involves collecting Personal Identifiable Information (PII) of the customer: full name, date of birth, and address. The financial authorities check this data against official government-issued documents, such as a passport, driver's license, utility bill, and so on.
Here is what KYC means to you:
Your personal information will be accessible to the crypto wallet processing your crypto, leaving you more exposed to security risks and theft.
A third party, such as a government agency, may limit or ban your crypto transactions if they don't like your activity.
Your privacy and anonymity are no longer possible since your crypto wallet may now link your crypto activities to you.
On the other hand, if the broker is not regulated (FCA and others don't approve brokers without KYC), you can't be sure that the broker is trustworthy. We recommend you to look for lightly-regulated brokers such as eToro. The broker doesn't ask for tons of personal information, just a required minimum.
Your Priorities
To pick the best XRP wallet, you should understand the different types of wallets available. There are two main types of wallets to choose from: you can pick a hot or a cold wallet.
Hot wallets refer to online wallets that are connected to the internet. Cold wallets, on the other hand, are not connected to the internet. They usually come in the form of some physical storage like a flash drive.
Hot wallets provide you with more flexibility, meaning that you can work with crypto everywhere. Use any mobile device, tablet, or laptop to access your assets 24/7 via the internet. Such flexibility, on the flip side, creates opportunities for hackers and digital rascals of all sorts. That's why eToro pays so much attention to security standards.
Cold wallets boast higher security and can suit value investors. However, you won't have instant access to your crypto. The best thing you can do is the combination of wallets, especially if your crypto holdings are substantial. You might want to store a bigger part of your crypto on a cold wallet, keeping 10-30% of your assets on the eToro wallet. A combined wallet strategy can boost security and flexibility at the same time.
If you don't feel like dealing with two wallets, we recommend thinking about your trading style. If you prefer proactive trading, dealing with crypto daily, then pick a hot wallet. Once in a while kind of investments, say once or twice a week, couple well with hot wallets. For value investors and those who grow capital steadily over the years, cold wallets or a combination of hot and cold wallets may work.
To pick up your wallet, you should know about further classification. Both hot and cold wallets can be either software or hardware. In this article, we focus on software wallets, as hardware wallets are pretty simple to understand (they usually work as a flash drive)
Software Wallets
Software wallets are usually those connected to the internet. You can run into such terms as web wallets, desktop wallets, and mobile wallets. All of them are essentially software wallets.
Web Wallets
You can access these wallets through your web browser, such as Google Chrome, Safari, etc. There is no need to download special software or app. Access your crypto from anywhere: all you need is your password and any device that can run a browser.
Poor web wallets provide you with just one security key; the website holds your key. More advanced wallets like eToro offer MultiSig wallets with a pair of keys. A wallet's website contains one key; another is yours. Since you partially depend on the wallet provider (even if it offers MultiSig), we recommend you to focus on the security your wallet provider can ensure.
Desktop Wallets
Desktop wallets are those you have to install on your PC/laptop. Once you download an app, you create a data file containing your keys. Then you set a password to access your keys.
The most significant advantage of a desktop wallet is that you control your key. There is no need to depend on others. However, you must guarantee that your PC or laptop is free of any malware. On top of that, you have to remember your password; forgetting your password can cause a splitting headache.
If you use a desktop wallet, copy the data file and save it somewhere else. This way, you may still access your funds even if you are away from your computer or if something happens to it.
Mobile Wallets
Mobile wallets are similar to desktop wallets; the main distinction is that the wallet is a mobile app on your phone.
A mobile wallet gives you greater freedom regarding where you can be when you want to trade crypto. They also frequently include QR codes, making it easier to purchase and sell cryptocurrency.
Mobile wallets provide greater freedom, but they also require additional security measures. Namely, you must exercise greater vigilance so that you do not misplace your phone.
How To Get Started With The Best XRP Wallet — Full Guide
If this is your first time using an XRP wallet in Australia – this part of our guide will walk you through the setup process every step of the way. By following the guidelines below, you will learn how to use the eToro wallet, the safest and most convenient way to store your XRP tokens.
Step 1: Open an Account
Unlike many other XRP wallet providers, eToro is well-regulated, including the FCA, ASIC, CySEC, and GFSC licenses. As such, the broker behind the wallet must ask you to open an account before using its services. The whole procedure requires only basic personal information and some contact details.

At this stage, you have to upload a copy of your ID. eToro accepts passports and driving licenses to meet the regulatory requirement. Namely, Know Your Customer (KYC) and anti-money laundering (AML) regulations. You'll also need a copy of a recently issued bank statement or utility bill.
Cryptoassets are highly volatile unregulated investment products. 67% of retail investor accounts lose money when trading CFDs with this provider.
Step 2: Download eToro Wallet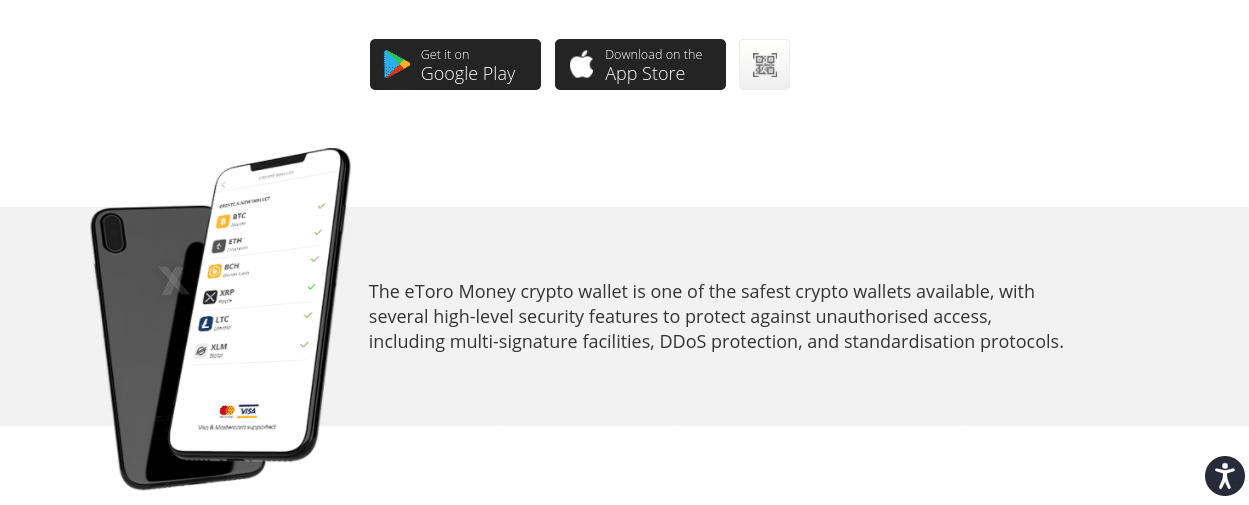 Now that you have a verified account – click on the Google Play or App Store button to download the eToro wallet to your device. Once you open the wallet on your phone, you will need to log in. You can enter by using the username and password that you created when you opened your eToro account.
Step 3: Add XRP to eToro Wallet
You're almost ready to go, yet your XRP wallet is still empty. You can either top up your wallet using a credit/debit card (other payment methods work as well) or use your previous wallet/exchange to send some tokens.
Transfer XRP Tokens into eToro Wallet
If you have tokens stored in an external XRP wallet or exchange – here's what you need to do:
Enter your eToro wallet, search for XRP and click the 'Receive' button.
Copy your XRP public address and head over to the external source where the tokens are currently stored.
Paste the address into your external source and enter the number of tokens you want to transfer into the eToro wallet.
Once you confirm the transfer, you should see the XRP tokens in your eToro wallet in less than 15 minutes.
Buy XRP Tokens From eToro Wallet
If you've yet to buy some XRP tokens – here's how you can complete the purchase via the eToro wallet:
Make a deposit to get started. You can fund your account with any major e-wallet like PayPal, Skrill, Neteller, or a debit/credit card.
Type XRP or Ripple into the search bar and click on the 'Trade' button.
Enter the amount of money you want to invest in XRP. At eToro, the minimum is just $50.
Click the "Open Trade" button to proceed.
Once you confirm the purchase, the XRP tokens will appear in your eToro wallet in a blink of an eye.
Conclusion
If you want to trade XRP tokens, you need a wallet to store your assets. You can take a shot in the dark, trying to find a trustworthy wallet for yourself, or you can rely on the opinion of seasoned traders and investors. However, there is no need to pick any well-received broker with your eyes closed. Good reviews don't always mean the reliability and convenience you should be looking for. Analyze and try several wallets before settling on one. For example, you can try the eToro XRP wallet to see why millions of traders already trust this wallet.
eToro – Best XRP Wallet in Australia
CHECK OTHER WALLETS:
FAQs
What is the best XRP wallet in Australia?
How can I select the best XRP wallet in Australia?
Which is the best XRP wallet in Australia for safety?
What do you need an XRP wallet for?
What wallet can be used to purchase XRP?