Invest In Maker – How To Invest In Maker For Beginners
MKR – which is an ERC-20 token, is one of the hottest projects in the crypto space. In a nutshell, MKR governs the Maker ecosystem which in turn – supports the stablecoin DAI. DeFi tokens like this offer an innovative financial service that enables users to borrow and lend digital currencies without intermediaries.
Your best chance at success when learning how to invest in Maker is to buy MKR tokens via a creditable platform. In this guide, we explain how to invest in Maker in 5 minutes or less with a regulated and lost-cost cryptocurrency broker.
#1 Broker to Invest in Maker – eToro
How To Invest in Maker – Choose a Broker
As we said, the best way to invest in Maker is via a credible platform. See below the best in the industry.
eToro – Overall Best Place to Invest in Maker
Coinbase – Great Way to Invest in Maker for Beginners
Binance – Best Place to Invest in Maker for Asset Diversity
OKEx – Invest in Maker via a Crypto Deposit
Kraken – Reputable Exchange for Investing in Maker
Whilst this list of trustworthy places to invest in Maker should save you some time, you can also study our full reviews of each provider after the short sign-up guide that follows.
How to Invest in Maker – A Quick Guide For 2021
This guide will cover each important aspect of how to invest in Maker. First, please find below an easy-to-follow walkthrough. Note that we opted for eToro for this demonstration. This is because it has the approval of huge regulatory organizations such as the FCA, SEC, and ASIC. Moreover, the platform is easily operated for beginners and allows you to invest in Maker from $25.
Step 1: Open an Account with eToro – To join this brokerage, look for the sign-up button and fill in all boxes necessary to create an account. You will enter your chosen password and username, your full name, date of birth, email, home address, and mobile number.
Step 2: Upload Your ID – eToro is regulated – so must comply with all laws surrounding anti-money laundering. A big part of this is the completion of a KYC process. As such, confirm who you are with a government-provided photo ID and an official letter showing your residential address (like a bank statement).
Step 3: Deposit Funds – Add some money to your eToro account so that you can get started and invest in Maker straight away. You can choose between e-wallets like PayPal, or debit/credit cards like Maestro, Visa, and MasterCard. You can also opt for a wire transfer, but the funds might not show for as long as seven days from the date of your deposit. Don't forget to enter the amount you wish to add and check before confirming everything.
Step 4: Invest in Maker – You can't invest in Maker until you find it on the platform. eToro makes this a walk in the park as you just need to look for the search box on the website and type 'MKR'. Once you see Maker tokens, you can press 'Trade' to reveal the MKR buy box. Add the amount you want to invest and confirm everything by pressing 'Open Trade'.
After the completion of step 4, eToro will credit your portfolio with the MKR tokens you purchased.
Cryptoassets are highly volatile unregulated investment products. Proceed at your own risk.
Where to Buy Maker – Full Broker Reviews
When researching where to buy Maker, our expert team studies various important characteristics.
This includes:
Which fees are charged and when?
How will MKR tokens be stored?
What other crypto assets are listed?
Are there any tools available to invest in Maker?
What deposit methods are supported and at what charge?
We also take the platform for a test drive to ensure it's easy to use for most skill sets. See below the best places to invest in Maker – with each platform reviewed in full.
1. eToro – Overall Best Place to Invest in Maker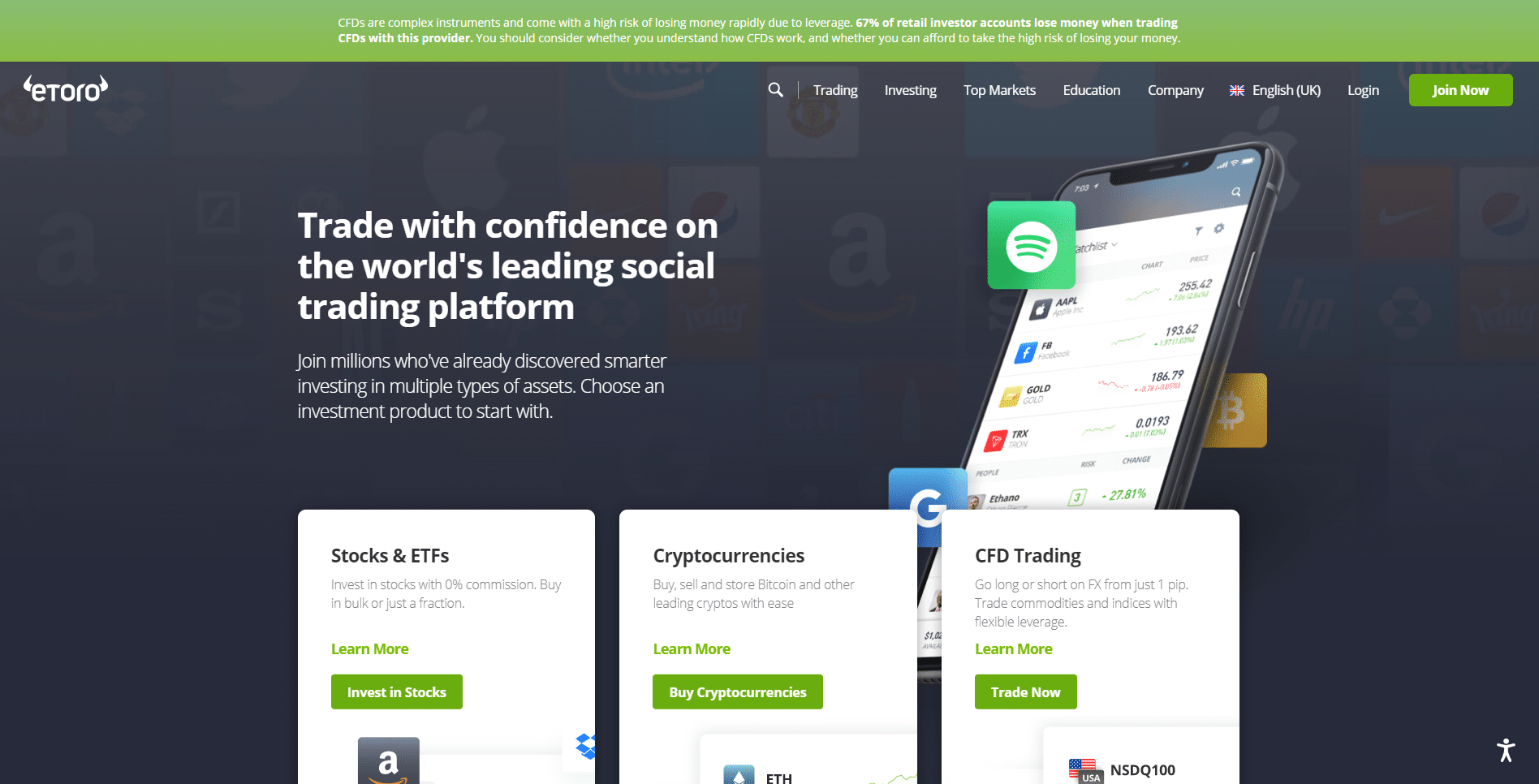 eToro is one of the world's leading investment platforms for multiple reasons. You can invest in Maker here on a spread-only basis which means there are no fixed or variable commission fees, unlike many online brokers. We checked out the average difference between the sell and buy price of a range of cryptocurrencies and found the lowest spread to be very competitive at 0.75%. You will also find a further 29 digital markets including Basic Attention, Dogecoin, UniSwap, NEO, Binance Coin, and Stellar. eToro also lists some of the oldest and biggest tokens including Ethereum, Bitcoin, and Litecoin.
When thinking about how to invest in Maker, you should pay attention to which payment methods might be supported by the platform. At eToro, you can add money to your account with a credit/debit card, e-wallet, or bank wire transfer. This includes PayPal – which isn't often supported by crypto brokers. eToro is regulated by financial bodies the SEC, the FCA, CySEC, and ASIC – with consent from FINRA. It also enables you to store digital currencies you've purchased within your account, which provides a level of peace of mind not offered by unlicensed crypto exchanges.

At eToro, you can complete each step of KYC and have a fully operative brokerage account to invest in Maker within 5 minutes. Moreover, US clients will not pay a fee to fund their account here, as eToro is denominated in USD. Other nationalities will be charged 0.5% to exchange their currency for US dollars – which is still really competitive. The first-time minimum deposit varies. For instance, for US citizens this is $50, whereas UK clients pay $200 (around £145). As such, when carrying out research on how to invest in Maker, you should check which amount applies to you.
Most newbies or even seasoned investors want to lessen the risk involved with the digital currency markets. At eToro, it's possible to invest in Maker without needing to purchase a full token. The minimum investment starts from $25. This amount allows you to buy just 0.01 units of MKR – at the time of writing. With that said, the price of cryptocurrencies is always subject to change. There is also an eToro app that is free to download and permits you to invest in Maker on the move. You can also use charting tools, view indicators, and take part in the social trading platform where you can comment and 'Like' other investors' posts.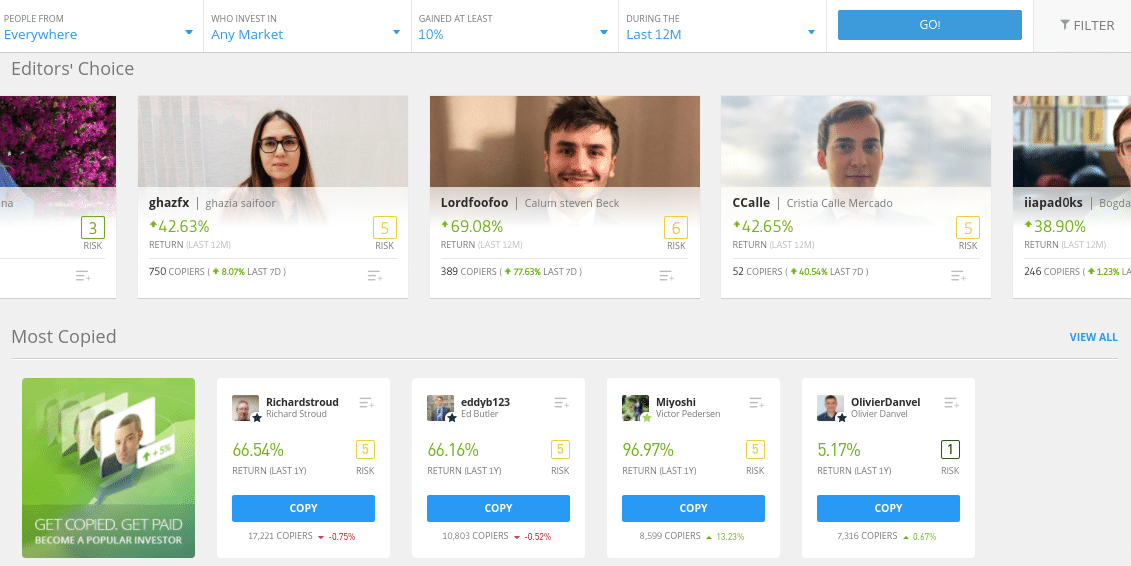 Some people prefer a laid-back investing technique. One of the simplest ways to achieve this is to invest in one of the pre-vetted investors listed on the eToro Copy Trading page. You can allocate some funds to a person you like the look of and any order they place will be reflected in your own portfolio – in proportion. Ergo, if they risk 25% of their trading balance on Maker and 25% on Enjin – 50% of the amount that you invested in the Copy Trader is now allocated to MKR and ENJ tokens. You can also check out the CopyPortfolio tool which is a basket of varying crypto assets under a single investment. This is automatically managed and rebalanced.
Pros
Invest in cryptocurrencies on a spread-only basis
Minimum investment per trade from just $25
Supports debit/credit cards, e-wallets, and local bank transfers
Registered with FINRA/SEC and regulated by the FCA, CySEC, and ASIC
Minimum deposit of $50 and no transaction fees for US citizens
Used by over 20 million people
Perfect for beginners
Social and copy trading tools
Cons
Perhaps too basic for technical traders
No support for MT4 or MT5
Cryptoassets are highly volatile unregulated investment products. No EU investor protection. 67% of retail investor accounts lose money when trading CFDs with this provider.
2. Coinbase – Best Way to Invest in Maker for Beginners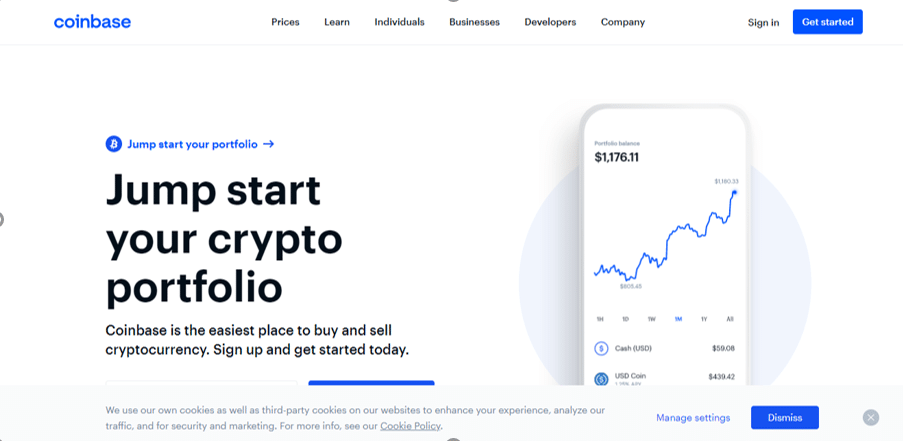 Coinbase is another viable option for those looking to invest in Maker. The platform is straightforward and easily accessible – making it compatible with complete beginners looking to invest in Maker. As well as MKR tokens, we found large-cap cryptocurrencies to include Litecoin, Bitcoin Cash, Ethereum, and Bitcoin amongst others. You will also find offerings such as Algorand, Polygon, Dogecoin, XRP, Stellar Lumens, DAI, and more. Unlike spread-only broker eToro, this platform stipulates a standard commission charge of 1.49%.
As such, if you allocate $1,000 to invest in Maker you will be charged $14.90. Importantly, this fee is also payable when closing your position. There are other charges to consider here, too. For instance, we found that debit and credit card deposits come in at 3.99% of the amount added. In other words, if you fund your account with $1,000, Coinbase will take $39.90. It has to be said this is very pricey. The only way to skip the deposit fee is to complete a bank transfer. The problem with this is that bank transfers will delay your ability to invest in Maker – as the payment takes days to be added to your account balance.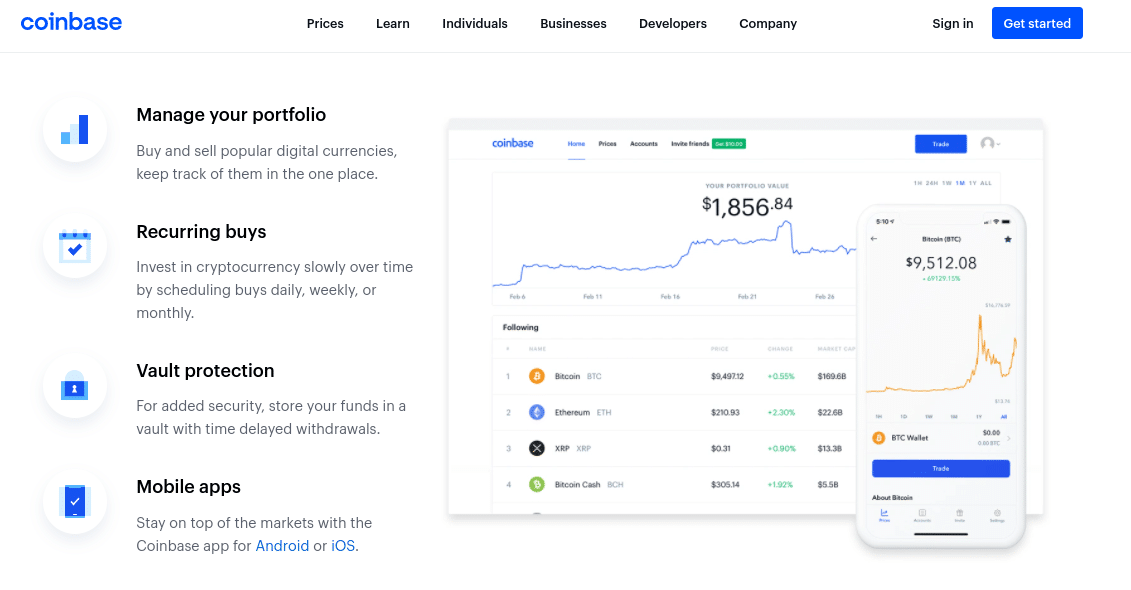 As with all the best places to invest in Maker, you will be required to finish the KYC process when signing up and making a deposit. In other words, the platform needs to validate your ID and address to operate within the regulatory guidelines it has been given. If you wish to try a dollar-cost averaging strategy, you can utilize the Recurring Buy feature offered by Coinbase. This saves you from placing regular orders manually and therefore allows you to invest in Maker without doing anything. There is also a free app available to download which is easy to use and allows you to buy, sell, and swap supported cryptocurrencies.
Pros
One of the most popular cryptocurrency exchanges
More than 56 million users
Supports instant debit card purchases
Dozens of digital currencies to choose from
Institutional-grade security practices
Cons
Debit card deposits are expensive at 3.99%
You will pay a standard trading commission of 1.49%
at eToro, #1 Broker in the Crypto Space
Cryptoassets are highly volatile unregulated investment products. No EU investor protection. 67% of retail investor accounts lose money when trading CFDs with this provider.
3. Binance – Best Place to Invest in Maker for Asset Diversity

Many cryptocurrency investors lessen their vulnerability to one market by diversifying. At Binance, you can invest in Maker as well as a long list of other markets. We found Ethereum Classic, Tron, Dogecoin, Aave, Monero, Terra, Dash, and a plethora of other digital assets. This well-known crypto exchange also has a site called Binance US for American clients. The latter features 50 digital assets and charges 0.5% for instant debit and credit card deposits.
The main Binance platform stipulates 1.8% on debit and credit card deposits for UK clients. However, some other parts of the world could be charged up to 3.50%. As such, you need to make sure you check potential fees for your region before opting to invest in Maker via this exchange, as the costs may be unviable long term. If you would prefer to fund your account using a bank transfer, you will also need to ensure this is possible where you reside.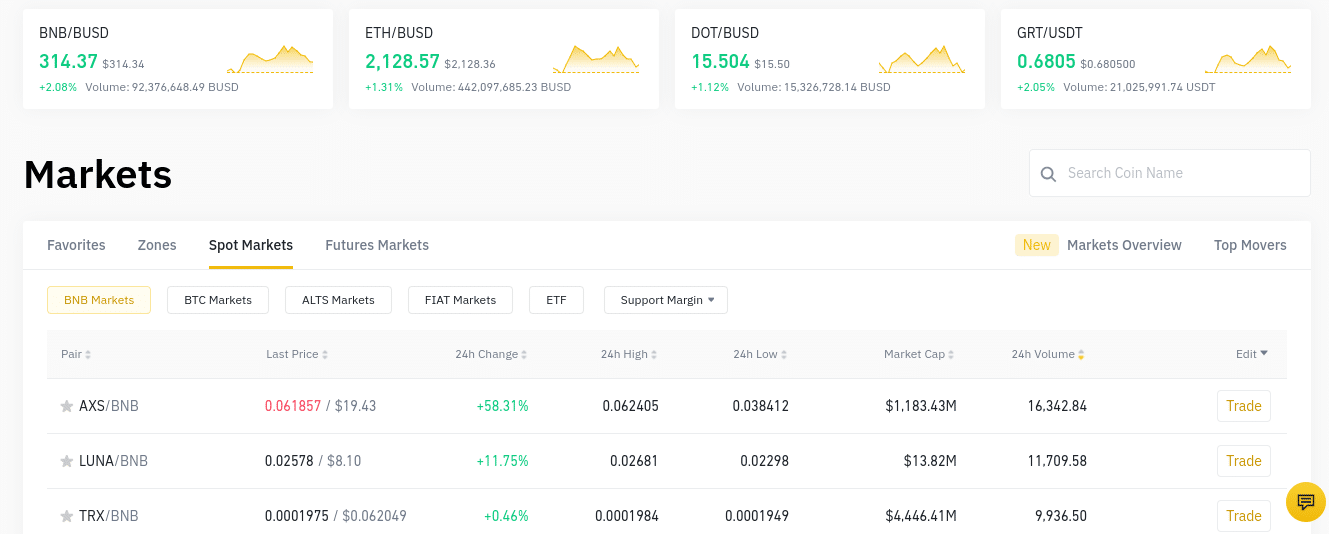 There is a standard commission fee at Binance – which is a reasonable 0.10% – charged both when buying and selling. Notably, this will be reduced by 25% if you opt in to pay your fees using BNB tokens. People who trade large volumes of cryptocurrencies will also receive a discount on such charges. Beginners might find the academy useful here as it includes educational material that is specific to the blockchain and crypto industry. We also discovered many trading guides covering the financial markets.
Pros
Facilitates billions of dollars in daily trading volume
Supports hundreds of digital asset pairs
Near-instant deposits via debit/credit card
Trading commission starts at just 0.1% per slide
Offers crypto savings accounts
Ideal for both beginners and experienced traders alike
Cons
Not all supported cryptocurrencies can be purchased with a debit/credit card
No e-wallet deposits or withdrawals
at eToro, #1 Broker in the Crypto Space
Cryptoassets are highly volatile unregulated investment products. No EU investor protection. 67% of retail investor accounts lose money when trading CFDs with this provider.
4. OKEx – Invest in Maker via a Crypto Deposit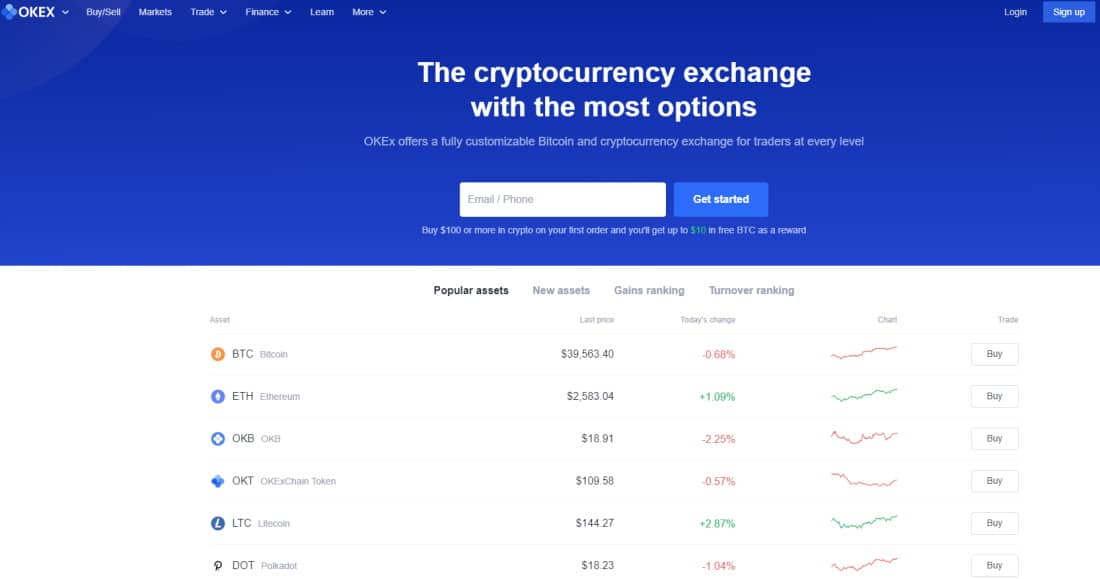 If you already have some Tether, Ethereum, Bitcoin, or any other leading crypto asset – you might want to invest in Maker at OKEx. This is because the platform supports crypto deposits – which also saves you from taking part in the KYC process. In this case, you can create an account and make a deposit using your existing tokens – provided they are listed. In addition to Maker, we found tons of alternatives and in excess of 400 pairs to trade at this crypto platform.
Popular crypto markets include Chainlink, Litecoin, Filecoin, Monero, NEO, Litecoin, SushiSwap, Bitcoin, and Cardano. Let's say you are completely new to investing in cryptocurrencies, so are yet to hold any tokens. if this is the case, OKEx supports fiat deposits after the KYC process has been completed. This spans 30 fiat currencies –  such as GBP, USD, AUD, EUR, and JPY – to name a few. Investing in Maker should be simple here. To make a deposit, choose between a credit/debit card or bank transfer.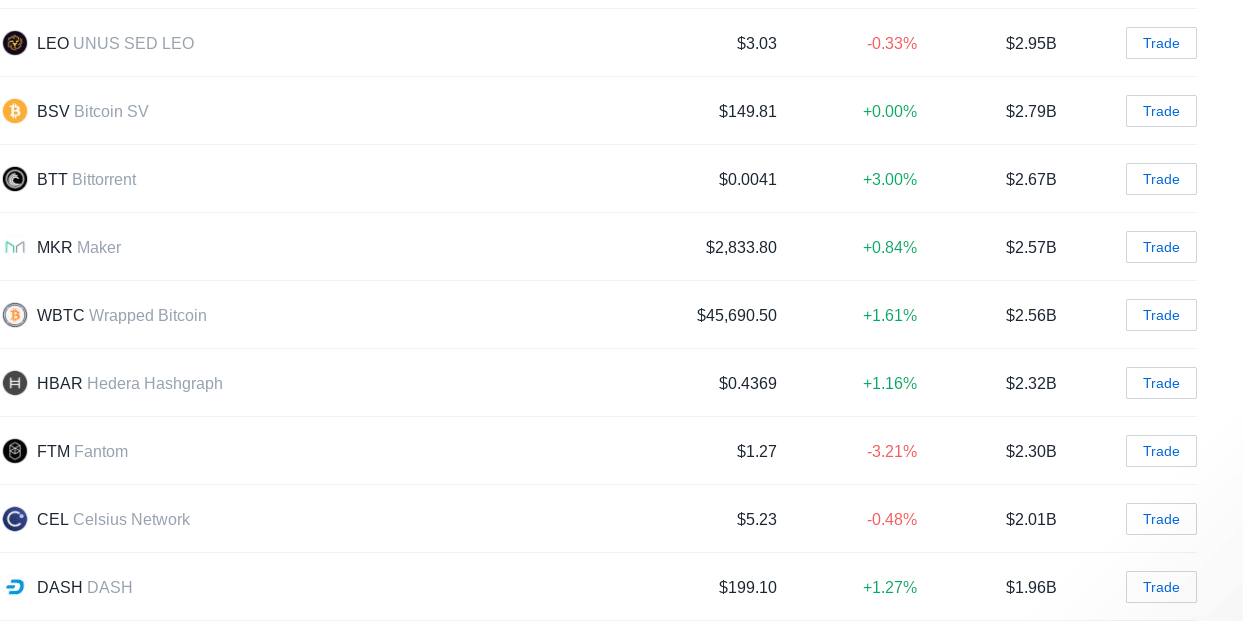 OKex charges 0.10% per trade, meaning if you place an order worth $1,000, the exchange will take $1 as a commission fee. If like many people, you would like to have the option of accessing your investment in the palm of your hand – then you can head over to the app store on your phone and download the free app offered by OKEx. Here, you can access all account features as found on the main OKEx platform.
Pros
Trusted crypto exchange with over 20 million users
More than 400+ digital currency pairs
Buy and sell cryptocurrencies with a debit/credit card or bank transfer
Low commissions that start from 0.1%
Fully-fledged mobile app on Android and iOS
Great reputation and highly secure
Cons
Debit/credit card fees could be more competitive
Derivative products are too complex for beginners
at eToro, #1 Broker in the Crypto Space
Cryptoassets are highly volatile unregulated investment products. No EU investor protection. 67% of retail investor accounts lose money when trading CFDs with this provider.
4. Kraken – Reputable Exchange for Investing in Maker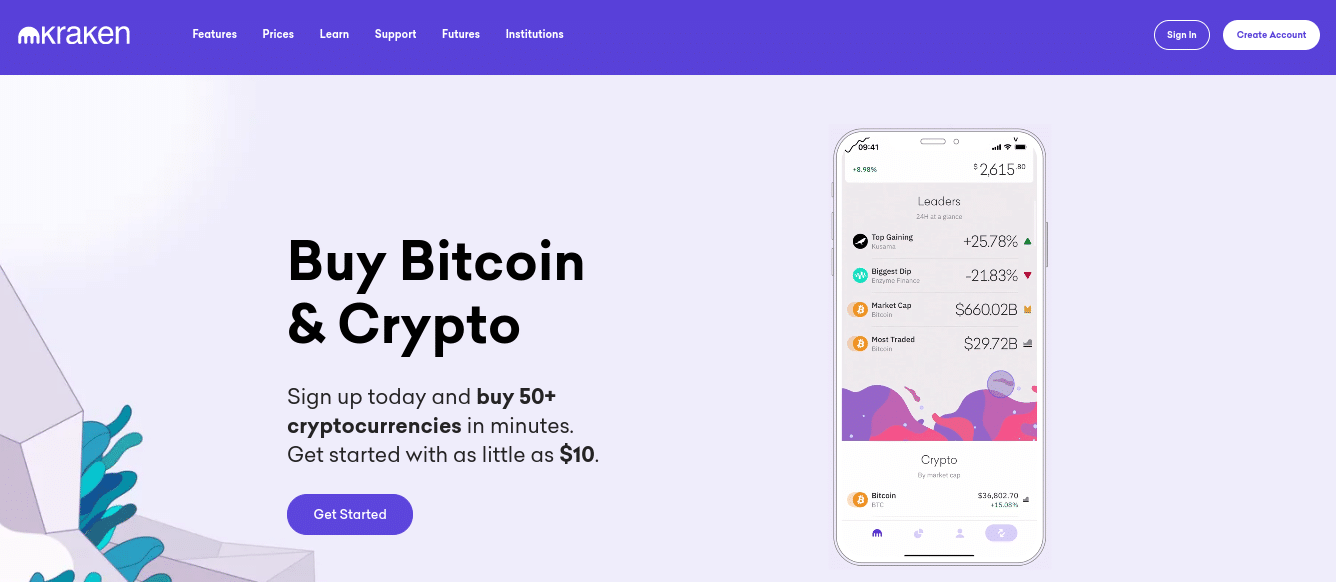 Kraken is a large crypto exchange with a good reputation and over 70 cryptocurrency tokens – including MKR. You can invest in Maker here from $5 upwards and other assets listed include Ripple, Solana, Bitcoin, Tether, Compound, and Litecoin. You will also find tons of other digital asset offerings of all different shapes and sizes. This broker complies with AML laws, so you will need to finish the KYC process to add funds to your account and make a purchase.
Supported fiat currencies to invest in Maker include USD, GBP, CAD, AUD, and more. Deposit methods include FedWire for US clients, and many other countries can also fund their accounts with a credit and debit card. Some payment types are fee-free, but you will need to check this information against your country and also your chosen method. The first time you make a deposit, Kraken adds a 72-hour hold on all withdrawals. This is for security purposes.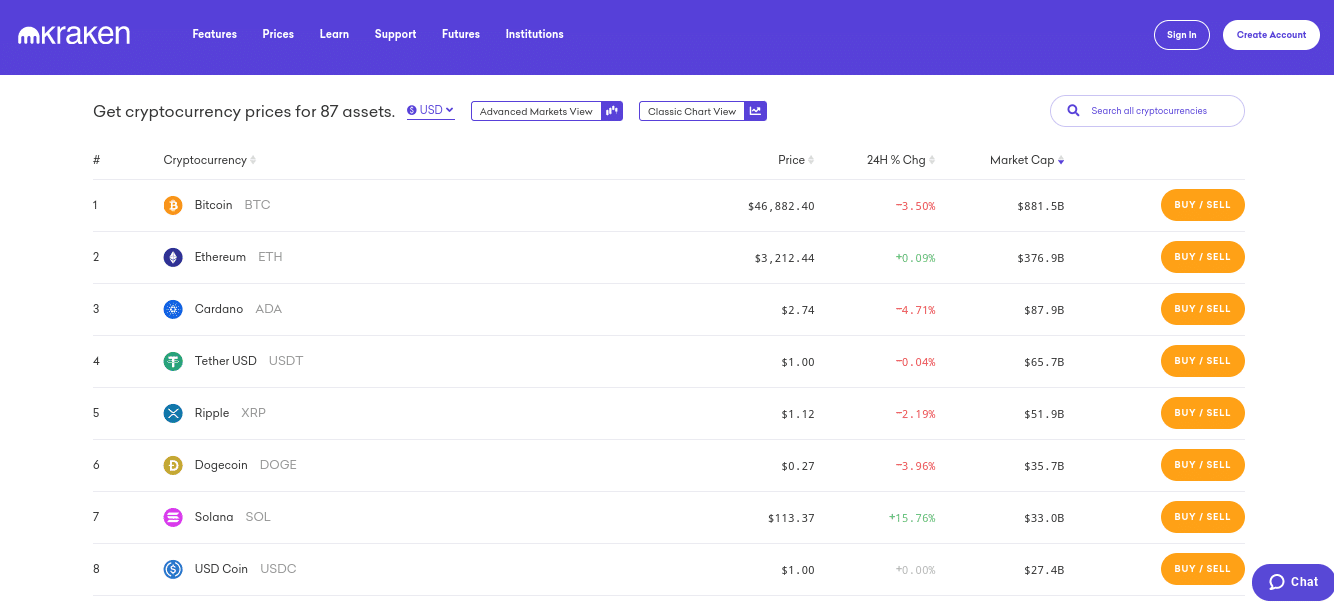 The minimum deposit to get started and invest in Maker is $10 and commission fees will vary depending on how much you trade. To give you an example, if you think you will allocate less than $50,000 within a 30-day period you will have to pay Kraken 0.26% on every order. If you risk more than $10 million, you benefit from a lower charge of 0.10% for each buy or sell position. Granted, this amount of risk is highly unachievable and inadvisable for beginners. Finally, Kraken also offers margin trading – which allows you to invest with more money than you have in your trading account.
Pros
Popular cryptocurrency exchange and broker
Great selection of cryptocurrencies
Supports both crypto-cross and fiat-to-crypto pairs
Accepts debit/credit cards and bank transfers
Offers complex crypto instruments for experienced traders
Cons
Not all US states are supported
Fees are somewhat pricey
at eToro, #1 Broker in the Crypto Space
Cryptoassets are highly volatile unregulated investment products. Proceed at your own risk.
How to Invest in Maker – Detailed & Explained in Full
By this point in our guide, you should have a clearer idea of the best platforms to invest in Maker. The next step is to sign up with your chosen broker.
We have elected to use eToro to demonstrate how to invest in Maker in a safe and secure manner. This is due to the reasons discussed in our eToro review, which included a strong regulatory standing, low fees, a wide variety of crypto assets, and low minimum investments.
Step 1: Open a Maker Investment Account
To put everything you've learned in this guide on how to invest in Maker to good use – create an account with the regulated platform eToro.
You can sign up for free:
Start by entering your first name, surname, username, and password of your choosing.
Fill in your mobile number and email address.
You will also need to tick the relevant boxes and confirm you have read the T&Cs and acknowledge the privacy policy. This is standard practice in regulated spaces and enables the broker to be transparent to its clients.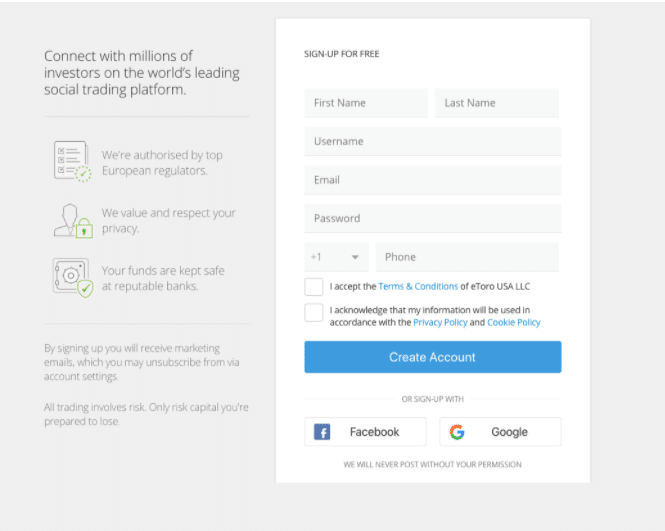 eToro will also ask you for your tax number, date of birth, and residential address – and ask some uncomplicated questions regarding your trading history. Again this is nothing to worry about and takes seconds to complete. eToro will also validate your mobile number by sending you a code.
Cryptoassets are highly volatile unregulated investment products. No EU investor protection. 67% of retail investor accounts lose money when trading CFDs with this provider.
Step 2: Upload ID
Once step 1 is complete, you can move on to the all-important KYC undertaking. This couldn't be easier and is necessary so you have a fully operational trading account. This will allow you to deposit as much as $10,000 to invest in Maker – not that we recommend risking such a high amount.
You will find a list of accepted documents on the eToro platform, but most people opt for a passport to validate their ID and a recently dated bank statement to back up the address.
Step 3: Deposit Funds
To add funds to your account to invest in Maker, you must decide on the preferred deposit option from the list available to you.
eToro supports a plethora of payment methods inclusive of the following:
Visa/Visa Electron
Mastercard
Maestro
Bank Transfer
Skrill
PayPal
and more.
As we mentioned in our earlier review, US clients will not pay a fee to fund their account and can deposit from $50. Many other countries must deposit a minimum of $200 and will be charged a low fee of 0.5% to swap their local currency for USD. This is still competitive, and it's important to remember you don't have to invest the whole amount.
Step 4: Search for Maker
Next, use the built-in search bar to search for Maker.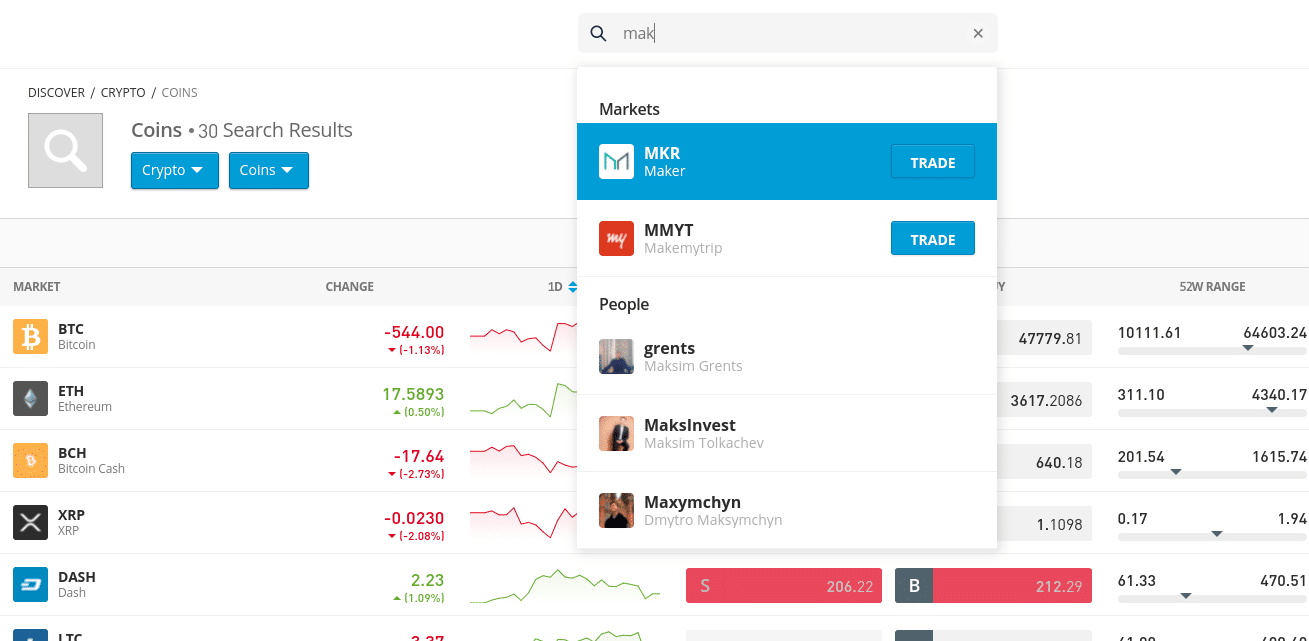 As you can see, this will reveal the asset you are looking for, and anything else that looks like it. As such, it's important to ensure you are clicking the correct asset before you confirm with the 'Trade' button.
Step 5: Invest in Maker
When you see the order box appear, make sure it says 'Buy MKR' at the top so you know you are about to invest in Maker and not something else. eToro supports investments starting from a minimum of $25. Here we are about to allocate $50 to MKR tokens – which at this time affords us 0.02 units.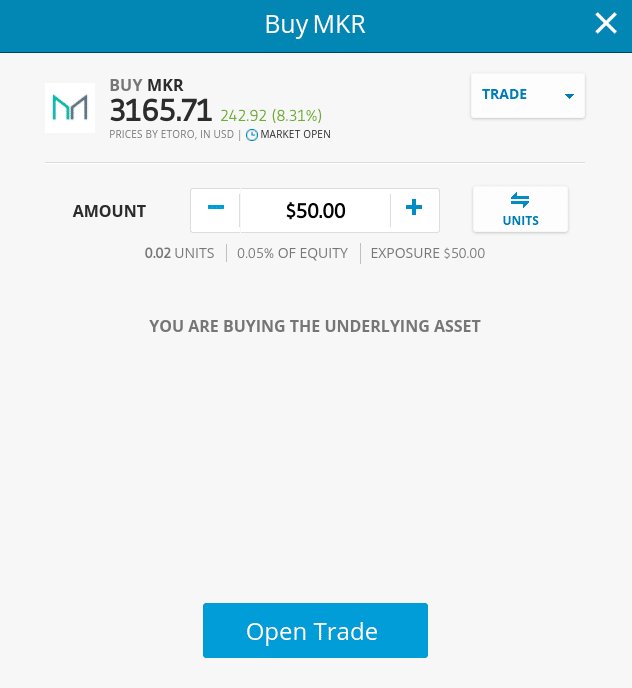 Small investments are great for new investors as it's a low-risk way to get the ball rolling and access this speculative cryptocurrency. Type the amount you wish to invest in Maker, check your order over, and press 'Open Trade' to verify that you want to go ahead. eToro will swiftly add the MKR tokens to your newly set up portfolio!
How to Sell Maker
Once you know how to invest in Maker, you will also need to be aware of how to sell your tokens when the moment takes you.
Let's assume you followed the above 5 step guide to invest in Maker at eToro:
Log in to your eToro account and head over to your portfolio.
Look for Maker in your list of holdings and press 'Sell'.
eToro will buy back the MKR tokens and will credit your broker account.
The amount you get will depend on what price Maker is valued at when you place your sell order.
It really is that simple. Furthermore, as eToro is able to store your MKR tokens for you at no extra cost – you can 'HODl' for as long as you wish. This prevents the arduous task of looking for a wallet and keeping your private keys safe.
Ways to Invest in Maker
When you are exploring how to invest in Maker, you will no doubt see different platforms offering access to the cryptocurrency markets. No two investors are the same, so it can be hard to decide what might be the best decision for you.
To make this decision easier, below you will find the two best ways to invest in Maker.
Maker Exchange
You could decide to invest in Maker at a cryptocurrency exchange, although it has to be said this is risky business – especially for people unfamiliar with the inner workings of keeping digital assets safe.
The reason we say this is that such platforms are often plagued with fraudulent activity.
This often leads to people losing large amounts of digital funds.
Moreover, you will probably find it difficult to locate a suitable exchange that accepts fiat deposit methods such as debit cards.
The crypto exchanges that do accept debit and credit cards sometimes charge you a small fortune in fees.
A much more secure option is to invest in Maker at a platform that answers to financial authorities such as the SEC and the FCA for example. This way, at least you can count on the brokerage adhering to standards and thus operating in a safe environment.
Maker Broker
As we said, regulated online brokers offer the best way to invest in Maker. For instance, eToro complies with rules laid out by regulatory bodies located in the US, the UK, Australia, and Cyprus – as well as gaining the approval of FINRA, an independent organization in the US.
Aside from the peace of mind regulation brings, another benefit is that there is no doubt the brokerage is adhering to the long list of rules associated with retail investment accounts and thus – will offer you a legitimate financial service.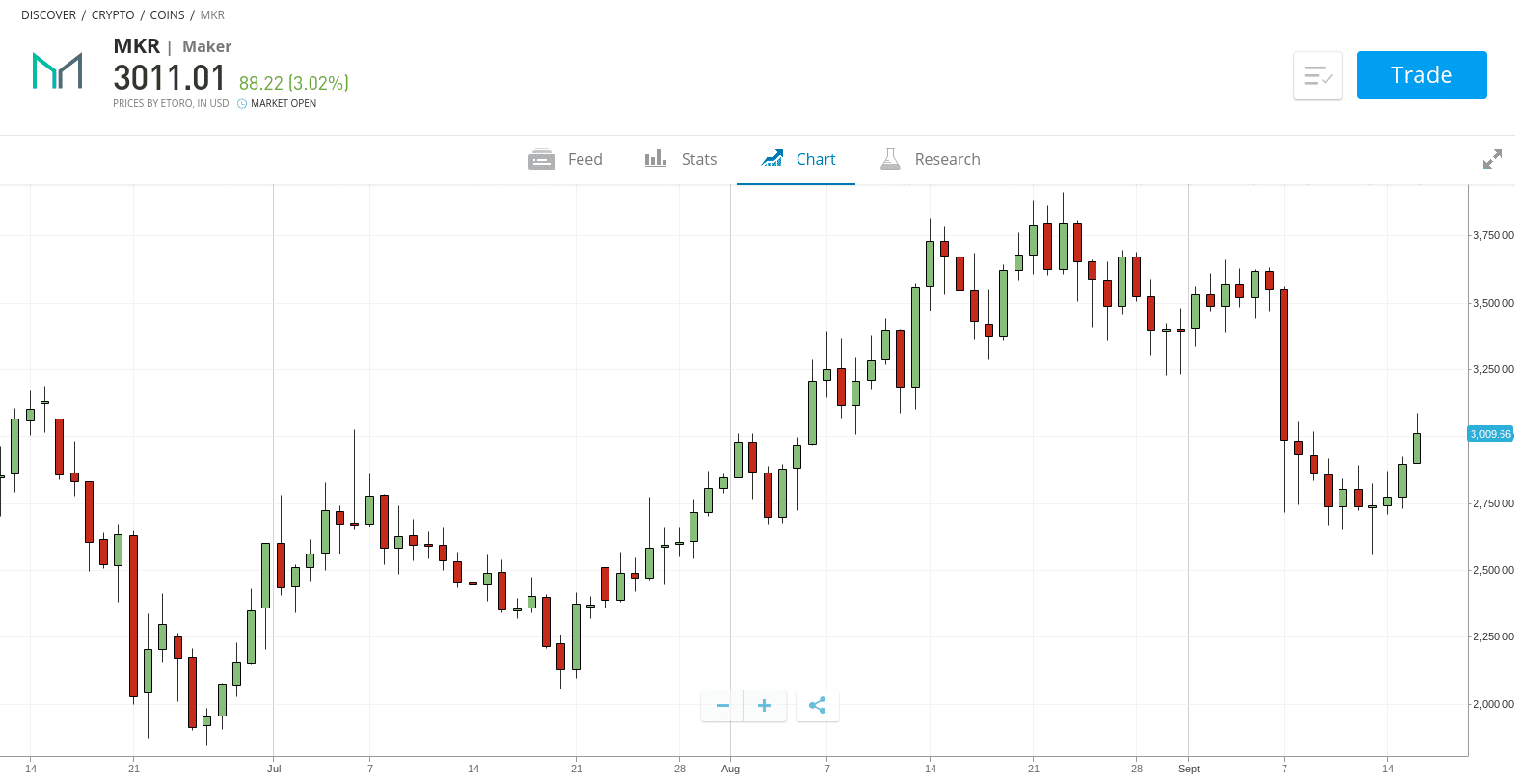 If you invest in Maker via online broker eToro, there is no need to deal with other traders at an exchange or use a separate crypto wallet. Moreover, the broker will keep your MKR tokens in your portfolio for safekeeping, which means you can access them at any time if you decide to cash out for a profit.
Should I Invest in Maker?
MKR tokens are gaining momentum amongst crypto-curious newbies, as well as seasoned traders and investors. When you commit yourself to learn how to invest in Maker, you are buying into a DeFi (decentralized finance) asset, which as we said, is believed by some commentators to be the future of financial services as we know them.
You will see some of the other reasons you may want to invest in Maker below.
MakerDAO
The chances are you've heard about the buzz surrounding DAO (decentralized autonomous organizations). Next, we explain why when you invest in Maker; you are also taking part in a bigger operational protocol.
DAO describes a system whereby rules are recorded on a blockchain. There is no central leader, and the digital asset is governed by the crypto community itself.
MKR tokens are the governance of the software platform Maker Protocol, as well as the decentralized organization MakerDAO.
Maker uses blockchain technology to create a safe ledger (digitally) to monitor financial transactions.
DAOs cut out the hierarchy and bureaucracy involved with traditional financial transactions. We are referring to negotiations that with fiat money would usually be carried out via government-regulated banks and third-party organizations.
Maker Allows Users to Govern
Maker allows you as a user to have a say in various aspects of how the project is run. Specifically, this means that when you invest in Maker, you can opt to take part in the governance of MKR tokens. This is done by voting, discussing, and debating on the operation and management of the digital asset with other users.
See below to throw some more light on the subject, including what you might vote on:
The sentiment of Maker voters is measured by using official governance polls (on-chain).
MKR token holders might be requested to come to an agreement on Maker community targets and goals.
You may need to give consent to shifts in risk parameters.
Vote on the changing of authorizations.
Decide on new and improved types of collateral to enable users to mint additional DAI coins.
Agree on adjustments to the DAI policy.
Selecting the oracles that are tasked with making on-chain and off-chain information available such as price-feed data.
Vote on the increase of decrease of the mint fees and savings rates.
As you can see, when you invest in Maker and thus hold MRK tokens, you become a stakeholder of the system and can participate in both executive votes and governance polls. The more you invest in Maker, the more power you have when it comes to voting as each token you hold.
The Growth and Popularity of Maker
As you may know from researching how to invest in Maker, this is a DeFi project – which means the application aims to challenge traditional financial services such as banks. As such, MKR tokens can use smart contracts on the powerful Ethereum blockchain, enabling users to earn interest. This also means you can lend others digital currencies just like you would with say US dollars or British pounds.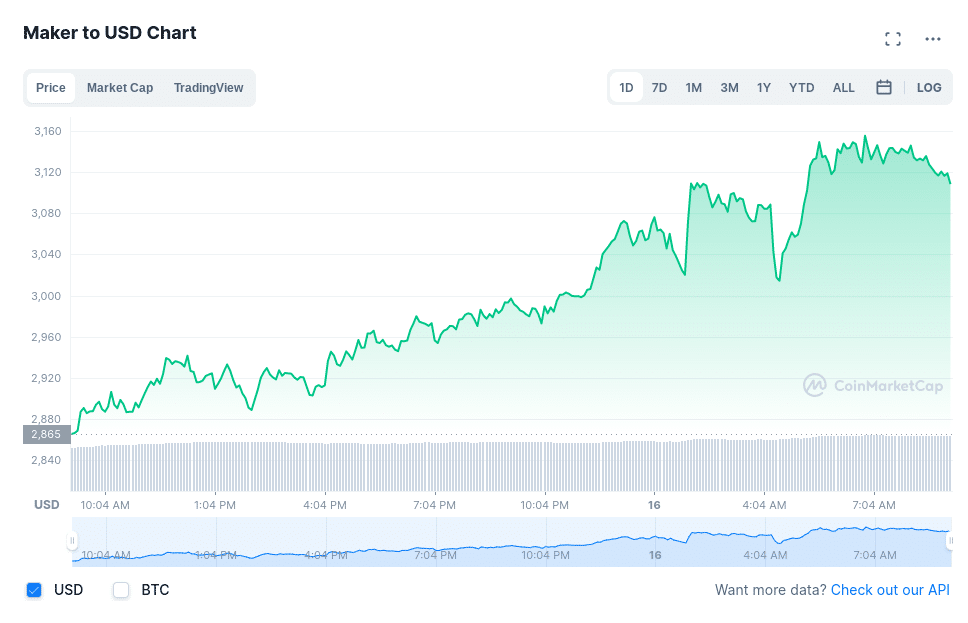 This is just one reason you might want to master how to invest in Maker, as the project has also grown a great deal since its release.
Let's take a look at the growth of Maker since 2017:
This cryptocurrency was officially released to the public in 2017.
In January 2017, Maker encountered an all-time low of $21.
By January 2021, MKR tokens had skyrocketed to just short of $2,000.
Maker saw an all-time high in May 2021 when MKR tokens reached $6,339.
As is the nature of this market, by the end of June 2021, Maker plummeted to $1,989.
Just three months later, at the time of writing, Maker tokens are priced at $3,106.
The hype surrounding DeFi projects shines the spotlight on digital assets like Maker. Crypto analysts believe MKR tokens will skyrocket over the coming years. Despite this prediction, cryptocurrency traders and investors frequently encounter high levels of volatility, so when you begin to invest in Maker, do bear this in mind.
You can lower your risk exposure and get your foot in the door to invest in Maker in small amounts via high-ranking broker eToro. This starts from as little as $25.
Maker Has Multiple Uses
As you are familiarizing yourself with the fundamentals of how to invest in Maker, you should also know this cryptocurrency has the advantage of high usability.
MKR tokens serve multiple functions within the Maker ecosystem and we list just some of these uses next:
This digital currency was first conceived in 2015, with the goal of running the community-governed stablecoin DAI – soft-pegged to USD.
DAI was created by the Maker team using collateralized debt position (CDP) smart contracts.
As such, it is mainly used as a way of lending, paying back, and making purchases.
People who invest in Maker can leverage other assets to create additional DAI.
MKR token holders can use Maker to pay fees on the system.
Maker permits the payment of interest and fees. When DAI is used to take out a loan, MKR tokens are utilized to pay the interest rate related to it.
Maker is able to drive demand for tokens partly down to its value as a DeFi governance project, but as you can see, it also serves other purposes. This is quite the opposite of the many pump-and-dump schemes on the cryptocurrency scene, where people create digital assets that are worthless – unbeknownst to newbie investors.
Some market commentators believe Maker has every chance of continuing to climb higher over the coming years. With that said, before going ahead and risking your money – you should also embark on your own fact-finding mission to ensure you understand the finer details of how to invest in Maker.
What are the Risks of Investing in Maker?
It's no secret that investing in crypto assets is fraught with risk. When you invest in Maker or any other cryptocurrency, there is no telling whether the price of the asset will skyrocket or plummet.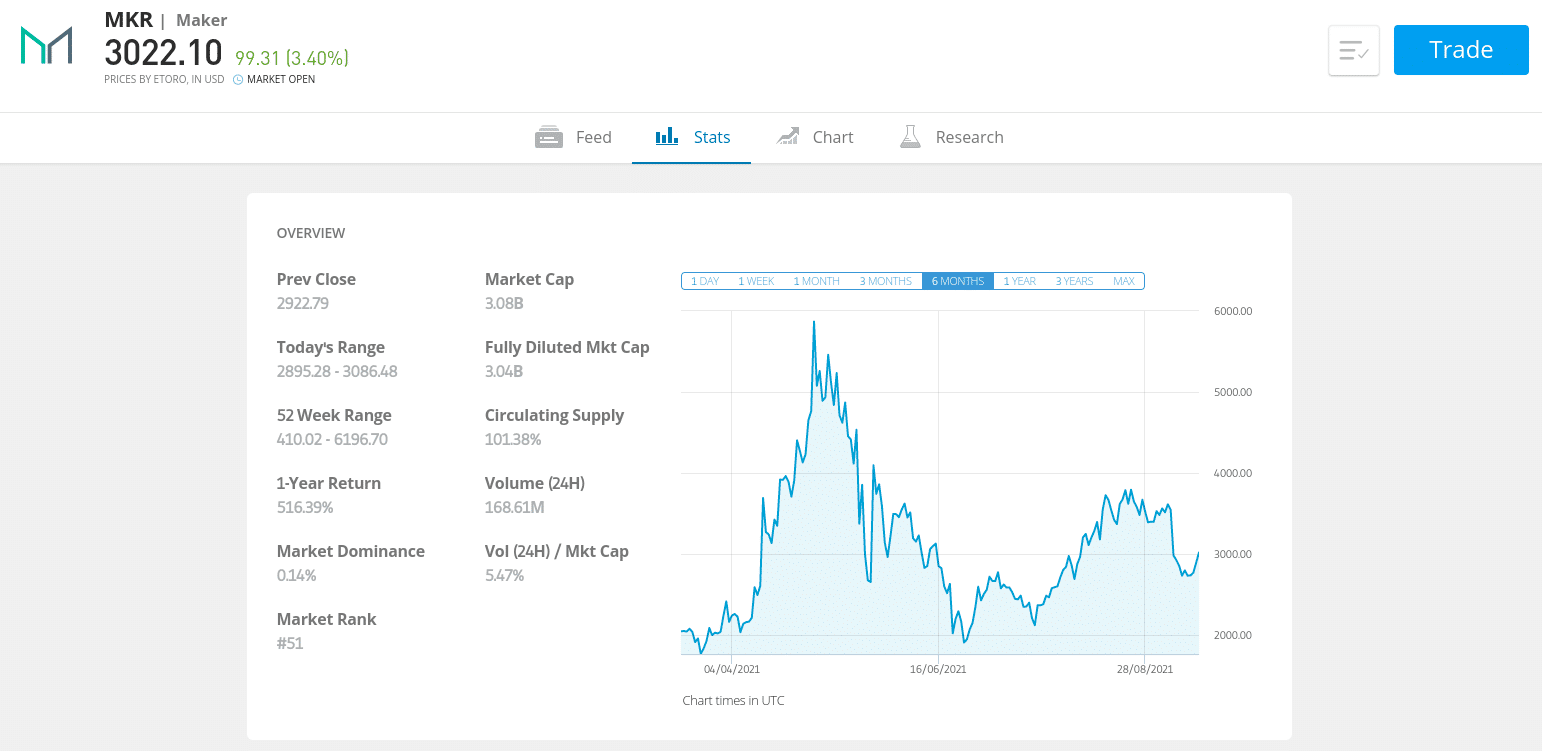 See a few points below to give you an idea of the risks you might consider before you invest in Maker:
Digital assets are mostly speculation-based – so volatile price stakes are standard in this industry.
Some have voiced concerns over the fact that votes to add more centralized collateral to Maker will make it vulnerable to censorship attacks.
Maker is much more volatile than its USD-backed counterpart DAI.
See below for inspiration on how to invest in Maker in a more risk-averse manner:
Consider a dollar-cost averaging approach to invest in Maker. This is a tried and tested way to grow your MKR tokens steadily.
Invest in Maker alongside other tokens to diversify your holdings.
It's also worth looking into having other assets entirely in your portfolio. For instance, some crypto investors like to dabble in shares and commodities as well.
Finally, when you begin to invest in Maker, only ever allocate an amount you could face losing, as experiencing a loss is a very real possibility. Remember that eToro will let you buy Maker in manageable amounts of $25 and over.
How Much Does it Cost to Invest in Maker?
No matter what crypto asset you are thinking about investing in, there will be some costs involved for the service offered. This might be charged for simply adding funds to your account, or perhaps executing your order.
Below you will find some customary fees to invest in Maker:
Commissions: There will be a big difference between the commissions charged at one platform compared with another. As such, be sure to check this before proceeding and creating an account. Place an order to buy Maker at eToro and you will only be required to pay the spread – which starts as low as 0.75%. The same order at Coinbase would set you back 1.49%.
Transaction Fees: Always look for deposit/transaction fees when researching the best place to invest in Maker. For example, let's say you are in Australia and you add AU $2,500 to your account using a debit card at eToro. In this case, the broker will take AU $12.50. The same deposit at Coinbase would result in a fee totaling AU $99.75.
The importance of checking fees before you invest in Maker needs little explanation. You can see what a huge impact this might have on your take-home profit.
How to Invest in Maker – Conclusion
Maker is one of the more popular DeFi projects in this space. And the more attention an asset gets, the more brokers list it amongst their supported cryptocurrencies. Answering the question of how to invest in Maker is easy if you elect to do so via a well-established and regulated brokerage. It's establishing which platforms are trustworthy that stumps most investors.
We checked out heaps of platforms covering both unregulated exchanges and also online brokers. This research found that the most convenient and safe option for newbies is undoubtedly eToro.
Numerous regulatory bodies approve of and regulate the broker including the FCA, ASIC, and the SEC. You will be able to invest in Maker in small amounts thanks to the broker's minimum order stipulation of just $25. Furthermore, you will only pay the spread and can fund your purchase by credit/debit cards, PayPal, Neteller, wire transfer, and more.
FAQs
Where to invest in Maker?
How can I safely invest in Maker?
How can I cash out my Maker investment?