Best Bitcoin Wallet Canada – Top 5 Bitcoin Wallets Revealed
If you're looking for the best Bitcoin wallet to safely store your crypto-assets you've come to the right place. While some traders prefer to hodl (buy and hold) their Bitcoins on a crypto exchange, you might want to consider using a trusted Bitcoin wallet. As such, you can conveniently manage and store your digital currencies in a safe hot or cold Bitcoin wallet. 
However, with such an abundance of Bitcoin wallets available on the market, how do you choose the right one for your needs? In this beginner's guide we'll reveal the best Bitcoin wallet Canada that you can use right now in 2021.
#1 Broker to Buy Crypto CFDs – Capital.com
Best Bitcoin Wallet Canada – Top 5 List
Binance

– Overall Best Bitcoin Wallet Offering Heaps of Crypto Pairs

Coinbase

– Best Bitcoin Wallet Serving Over 68 Million Crypto Traders

Mycelium

– Top-rated Decentralized Bitcoin Wallet with Peer-to-Peer Transactions

Exodus

– Best Bitcoin Wallet with a User-Friendly Interface

Edge

– Trusted Bitcoin Wallet for Beginner Crypto Traders 
Best Bitcoin Wallet Canada 2021 Reviews
In this section of our best Bitcoin wallets review, we'll go into each cryptocurrency wallet in more detail, covering all the key metrics you need to consider when choosing the right Bitcoin wallet for your needs.
1. Binance – Overall Best Bitcoin Wallet Offering Heaps of Crypto Pairs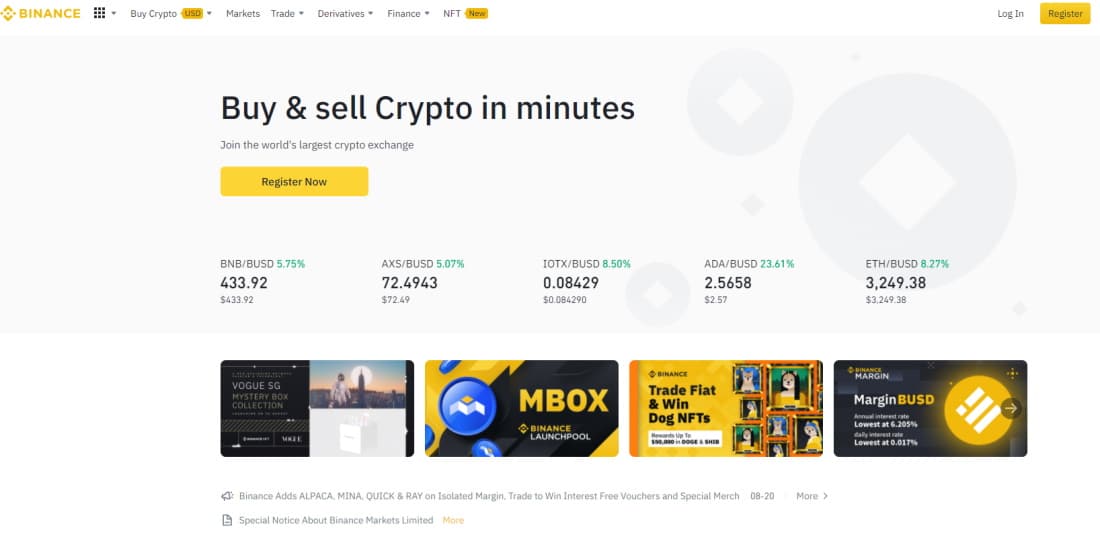 In terms of daily crypto trading volumes, Binance is the largest cryptocurrency exchange across the board. Launched in 2017 by Changpeng Zhao, it is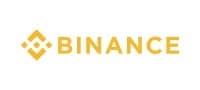 registered in the Cayman Islands and has a client base of more than 10 million. At the time of writing, Binance's daily trading volume reached $126 billion. These figures highlight the high levels of liquidity you can expect when trading cryptocurrencies on the Binance crypto exchange.    
Binance Custodial Wallet
When it comes to Bitcoin wallets, Binance offers two options. First and foremost, if you're looking to engage in cryptocurrency trading you'll be happy to learn that Binance offers hundreds of crypto crosses and currency crosses. The Binance app comes with a custodial wallet. This means that Binance has custody over your Bitcoin wallet's private keys.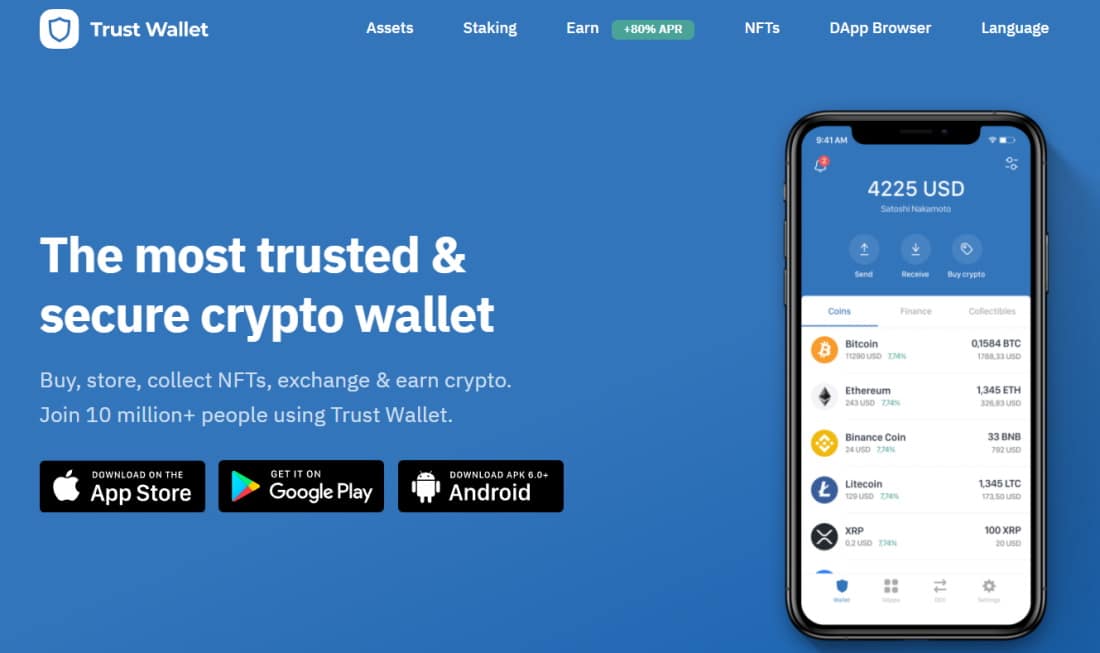 While a custodial Bitcoin wallet means that you'll be trusting the crypto exchange to keep your digital assets safe, Binance does have a full suite of top-tier security measures in place. These include 2FA (two-factor authentication), cold wallets, wallet address whitelisting, and Safe Asset Fund for Users (SAFU). 
Binance Trust Wallet 
On the other hand, if you're seeking a Bitcoin wallet that gives you complete control over your private keys, the Binance Trust Wallet is for you. This popular Bitcoin wallet is compatible with Android and Apple iOS mobile devices and comes with no additional costs. Transferring your Bitcoin assets to and from this Trust Wallet is seamless and fast. 
The Trust Wallet is also compatible with 40 blockchain networks, allowing you to store a wide range of cryptocurrencies. This is ideal for traders who own a diversified portfolio of crypto-assets and want to store them in a trusted Bitcoin wallet.
Using the Binance Bitcoin wallet to buy, sell, and swap cryptocurrencies comes with low commissions and fees. The fees start from just 0.1% per side, meaning you'll pay 0.1% to open a position and 0.1% to close the position. However, if you decide to buy Bitcoin (BTC) with a debit card or credit card you'll incur a hefty 2% commission charge. Not all countries can use fiat currency when depositing funds and trading with Binance, so be sure to double-check this beforehand. 
Pros
Facilitates billions of dollars worth of daily trading volumes
Competitive trading commissions starting from 0.1% per side
Supports debit/credit cards, wire transfers, and cryptos
Access to heaps of crypto crosses
Offers two types of Bitcoin wallets
Good customer support
Cons
Rather complicated for beginner traders
2% fixed deposit fee when using debit/credit cards
2. Coinbase – Best Bitcoin Wallet Serving Over 68 Million Crypto Traders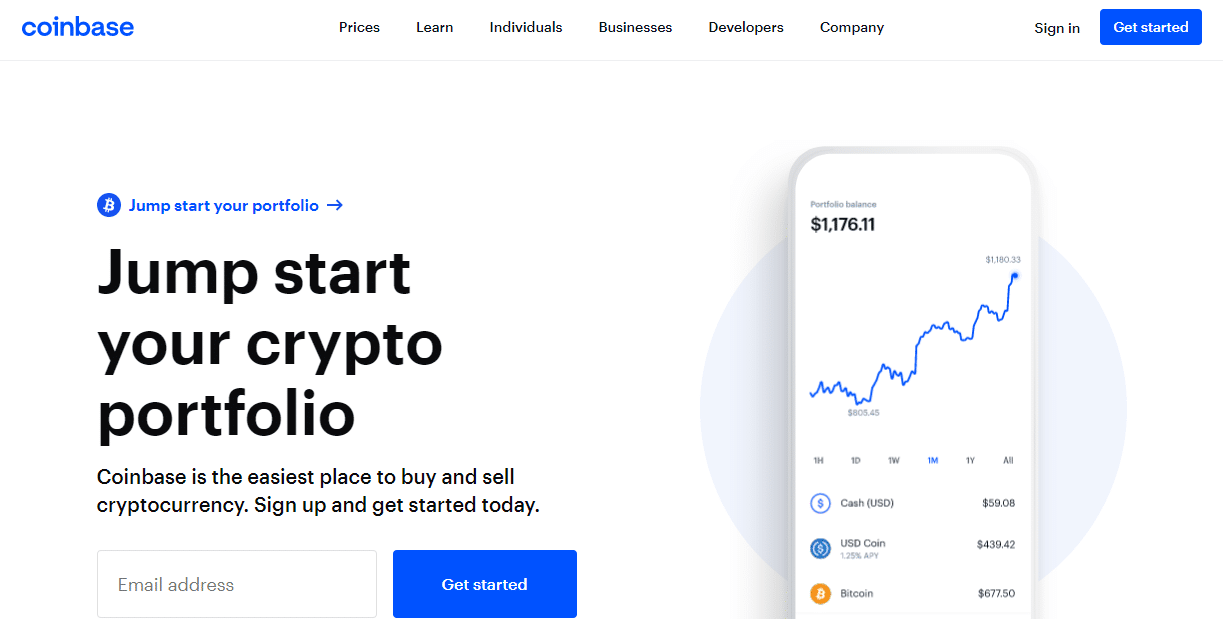 Founded in 2012, Coinbase Global Inc. is a US-based cryptocurrency exchange. Being a centralized crypto exchange, Coinbase uses middlemen to execute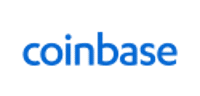 trades. According to Coinbase, it has roughly 68 million verified users, 9,000 institutions, and 160,000 ecosystem partners in more than 100 countries. This means that most crypto enthusiasts trust Coinbase to seamlessly and safely invest, spend, hold, earn, and use cryptocurrencies. 
Coinbase can be accessed either on its web-based platform or via its native mobile app. Coinbase has one of the best Bitcoin Wallets for multiple reasons. Firstly, this crypto exchange is a publicly-traded company on the NASDAQ exchange, with a market cap of $50.30 billion. It also provides great security features to help you store your Bitcoin funds safely.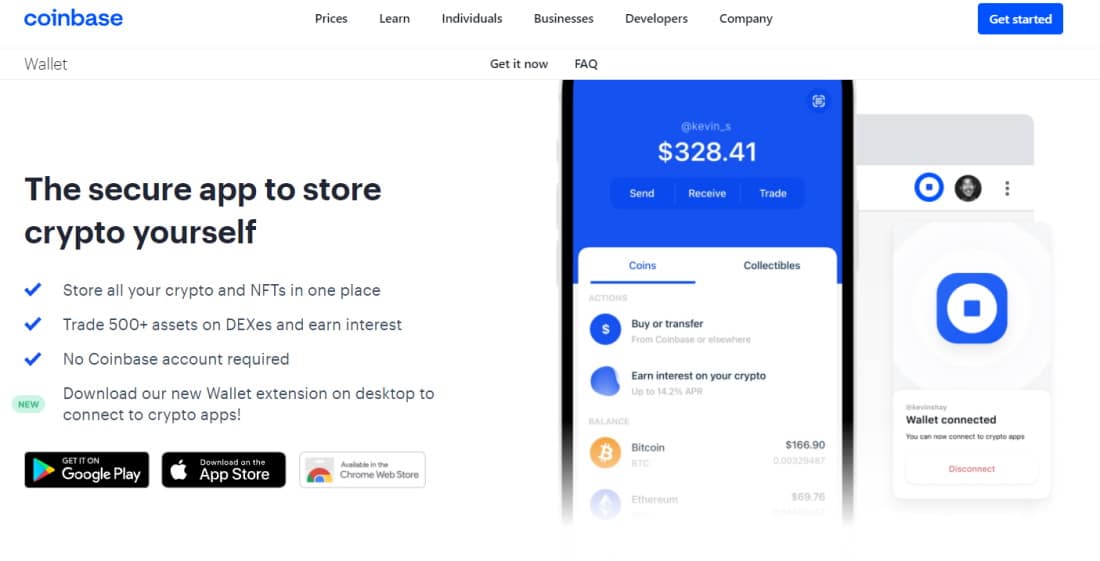 For instance, over 90% of client funds are held in cold storage. This means that your crypto-assets are not connected to the internet making remote malware hacking attempts impossible. Additionally, there is the Coinbase Vault which locks withdrawal requests for up to 48 hours. 
Is Coinbase safe? 
When it comes to safety and regulations, Coinbase is registered with the US FinCEN (the Financial Crimes Enforcement Network) as a Money Services Business. It also discloses its financials publicly as a result of being a NASDAQ-listed company. 
While Coinbase stands out for convenience and security, we should stress that the trading fee model leans more towards the expensive side. For instance, you'll pay a variable fee of 1.49% every time you trade Bitcoin and other altcoins. If you then opt for a debit card when buying Bitcoin the fee rockets to 3.99%. 
Pros
Publicly-traded company listed on a major US exchange
Offers a user-friendly trading platform
Deposit funds with a range of payment methods
Supports two-factor authentication for added account security 
Registered with FinCEN as a Money Services Business
Cons
High deposit fee of 3.99% when using a debit card
Standard trading commission of 1.49% 
3. Mycelium – Top-rated Decentralized Bitcoin Wallet with Peer-to-Peer Transactions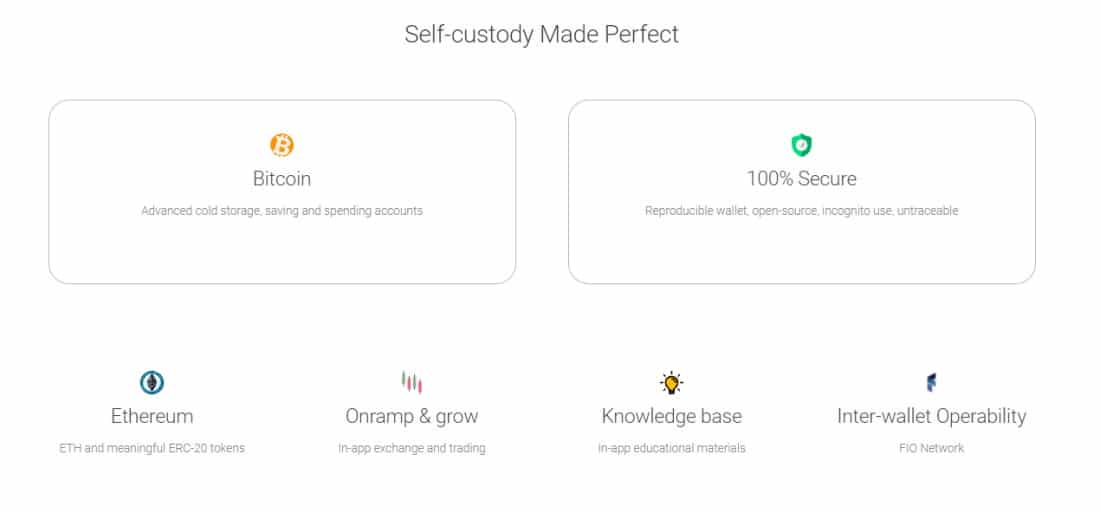 Unlike the other Bitcoin wallets we have reviewed so far, Mycelium is not a crypto exchange or broker. Instead, it is one of the oldest and widely accepted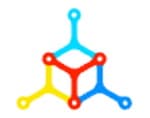 Bitcoin wallets available on most mobile devices. With the Mycelium Bitcoin wallet you can send and receive Bitcoin, Ethereum, and other popular ERC-20 tokens including Tether, USD Coin, Binance USD, and more. 
By simply downloading the Mycelium Bitcoin wallet app, you'll be able to instantly transfer crypto-assets into the secure wallet using a QR code. To access your Mycelium account you'll also have to create a secure PIN code. This will be used every time you log in and transfer digital funds. 
The Mycelium Bitcoin wallet is decentralized, meaning that your funds are not in the custody of a centralized institution, and only you have access to your private keys. This is a great advantage if you're looking to control your Bitcoin holdings. On the flip side, if you lose your private keys or forget your PIN, Mycelium won't be able to help. 
User interface
The Mycelium Bitcoin wallet is easy to use, allowing you to buy and sell Bitcoin and other cryptos from your mobile device anytime and anywhere. Additionally, you can exchange Bitcoin for other altcoins via the marketplace. Trades are facilitated on an open-source blockchain, and decentralized basis. This way you'll be trading coins with another Mycelium Bitcoin wallet user on a P2P (peer-to-peer) basis.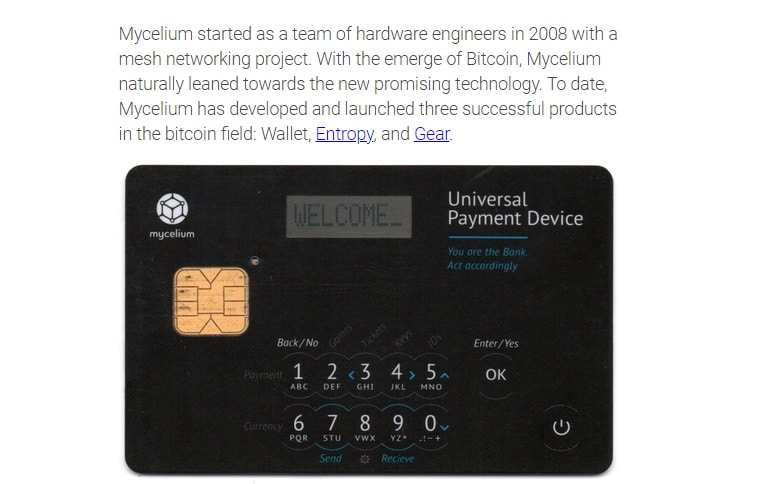 It's also worth noting that the Mycelium Bitcoin wallet is user-friendly and well designed. While it helps to have a sound understanding of private keys and how decentralized crypto wallets work, the user interface is simple and streamlined. Last but not least, there are no fees to use the Mycelium Bitcoin wallet app. You will, however, incur blockchain transaction fees when you transfer Bitcoin out of your wallet.
Pros
No commissions or fees to use the Mycelium Bitcoin wallet
Offers a user-friendly interface
Crypto trading takes place on a peer-to-peer, decentralized basis
Compatible with both Apple and Android mobile devices
100% control over your Bitcoin holdings with total anonymity
Cons
Cannot purchase BTC with fiat money
Unregulated by top-tier financial authorities like FinCEN, or FINTRAC.
4. Exodus Wallet Review – Best Bitcoin Wallet for Peer-to-Peer Swaps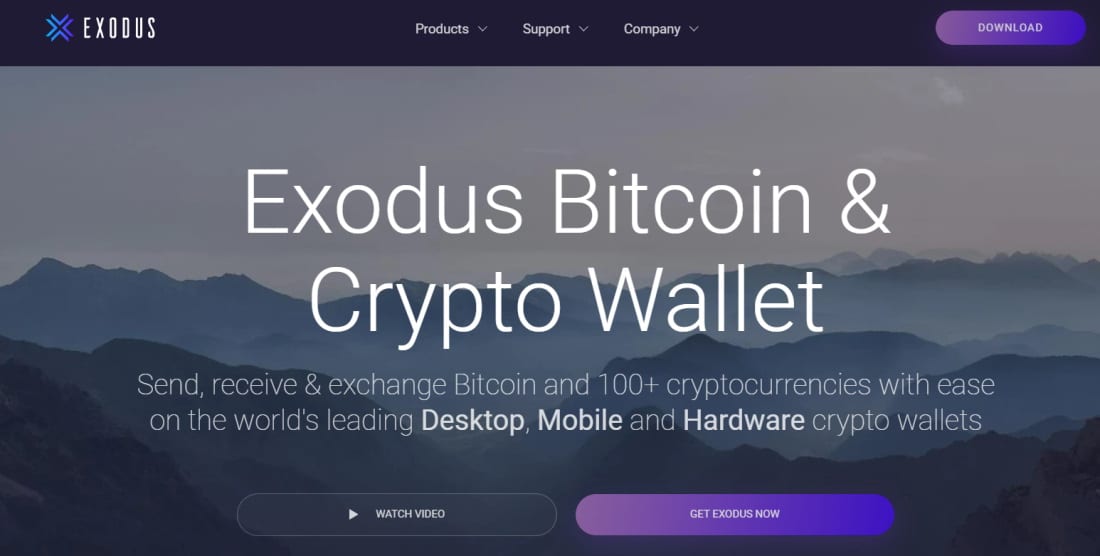 Exodus is a multi-currency cryptocurrency wallet that is a great option for anyone just stepping into the crypto arena. The Exodus Bitcoin wallet was

originally launched as a desktop version, but now it's also available on Apple and Android mobile devices. 
When it comes to ease-of-use, Exodus sets itself apart from other popular Bitcoin wallets with its beginner-friendly and intuitive UI. One of the most popular features is that it supports an array of altcoins. You can also use the Exodus wallet to swap one crypto for another without having to register your identity.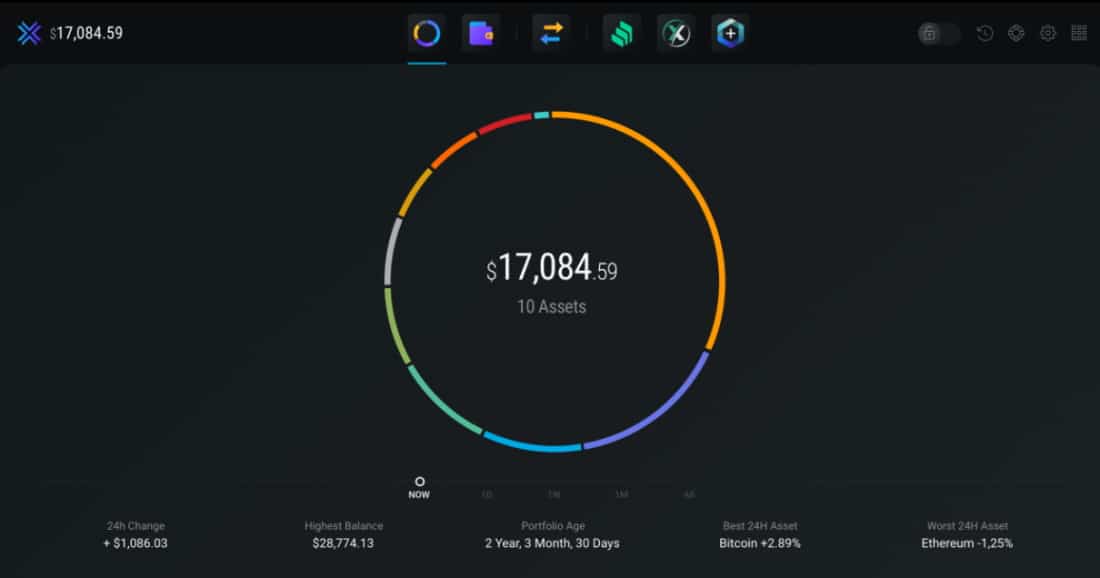 Exodus is a crypto wallet that's integrated with a decentralized crypto exchange. It offers access to over 130 digital assets for crypto-to-crypto peer-to-peer swaps. This means that users have 100% control over their digital assets. 
We wouldn't recommend Exodus for advanced users, mainly because the option of setting custom fees is limited to Bitcoin only. Nevertheless, this top-rated Bitcoin wallet is ideal for beginners who want to store their Bitcoin holdings in a hassle-free way. 
Pros
Supports more than 145 cryptocurrency assets
Offers a user-friendly interface
Uses Simplified Payment Verification
Its decentralized DNA means you can get started right away with complete privacy
Offers both a crypto exchange and portfolio management service
Cons
Does not support 2FA
Not 100% open source
5. Edge – Trusted Bitcoin Wallet for Beginner Crypto Traders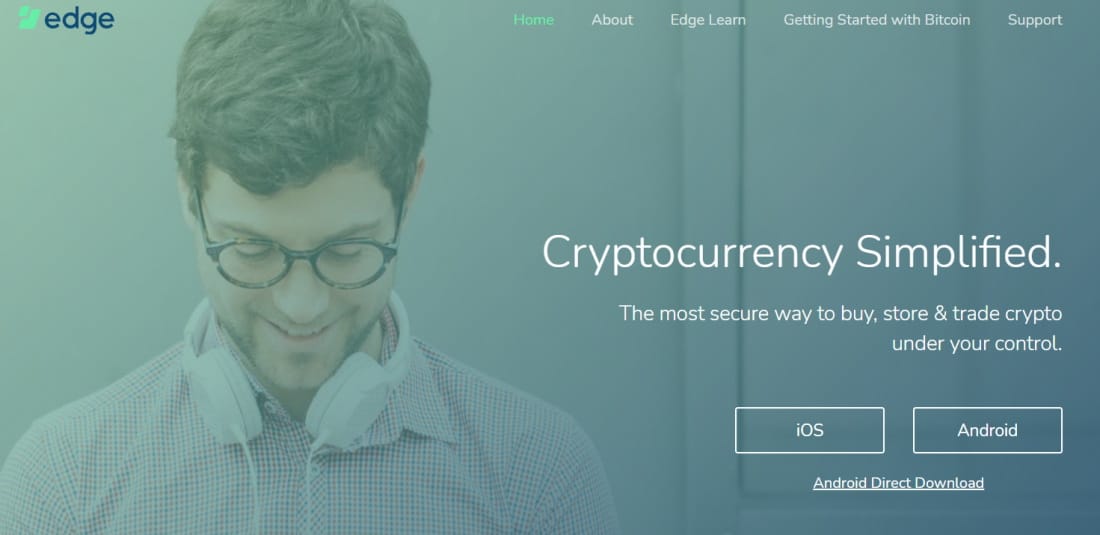 HD address rotation, decentralized access, and zero-knowledge encryption make Edge one of the best crypto wallets on the market in 2021. The Edge

cryptocurrency wallet lacks some of the key features that the leading hardware and desktop crypto wallets offer, simply because it's only available as a mobile Bitcoin wallet. 
The Edge Bitcoin wallet has a limited range of supported cryptos which include Bitcoin, Bitcoin Cash, Bitcoin SV, Litecoin, Dash, Ethereum, Stellar, Monero, Digibyte, EOS, and Ripple/XRP.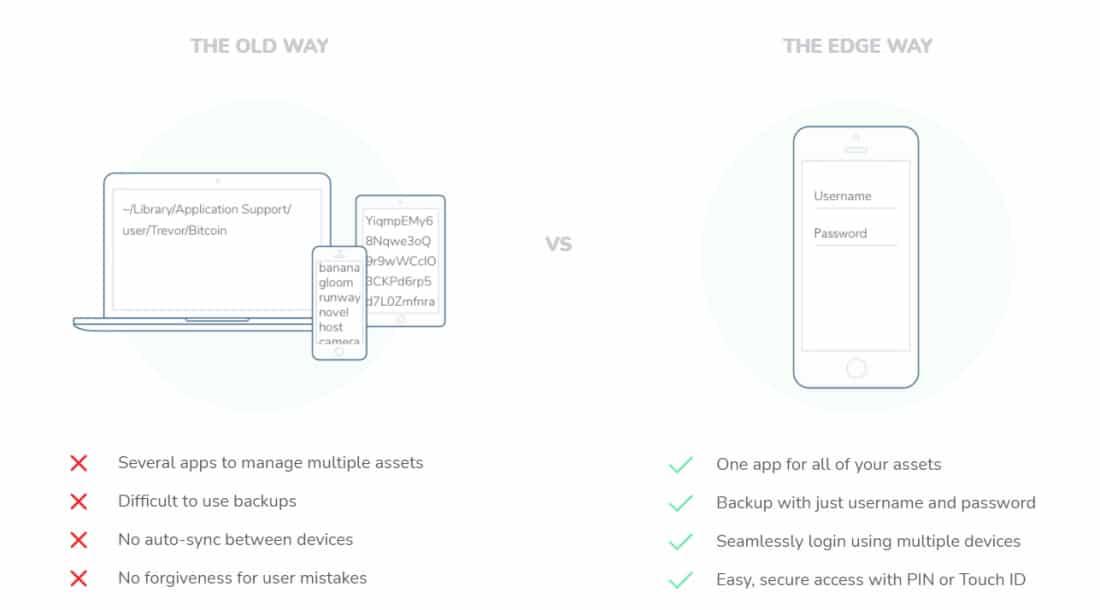 You can gain access to your Edge Bitcoin wallet with a conventional username and password, or you can use a PIN or biometric login. This means that you'll be getting the perfect blend of convenience, security, and intuitive UI. 
Overall the Edge crypto wallet is a great mobile Bitcoin wallet that's safe and secure. While the list of supported coins is limited, there are plans for the company to expand its offering in the near future.
Pros
Offers an intuitive user interface
Easily log in with biometric authentication
Swap cryptos using the in-app DEX service
Available on both Apple and Android operating systems
Edge Bitcoin wallet is free to use
Cons
Limited amount of supported cryptos
Only available as a mobile Bitcoin wallet app
What is a Bitcoin Wallet?
Think of a Bitcoin wallet as a digital version of a conventional wallet you put in your pocket. Rather than storing your physical bills, credit and debit cards, a Bitcoin wallet stores a bunch of private keys. Usually, a cryptocurrency wallet is encrypted with passwords to safeguard against hackers.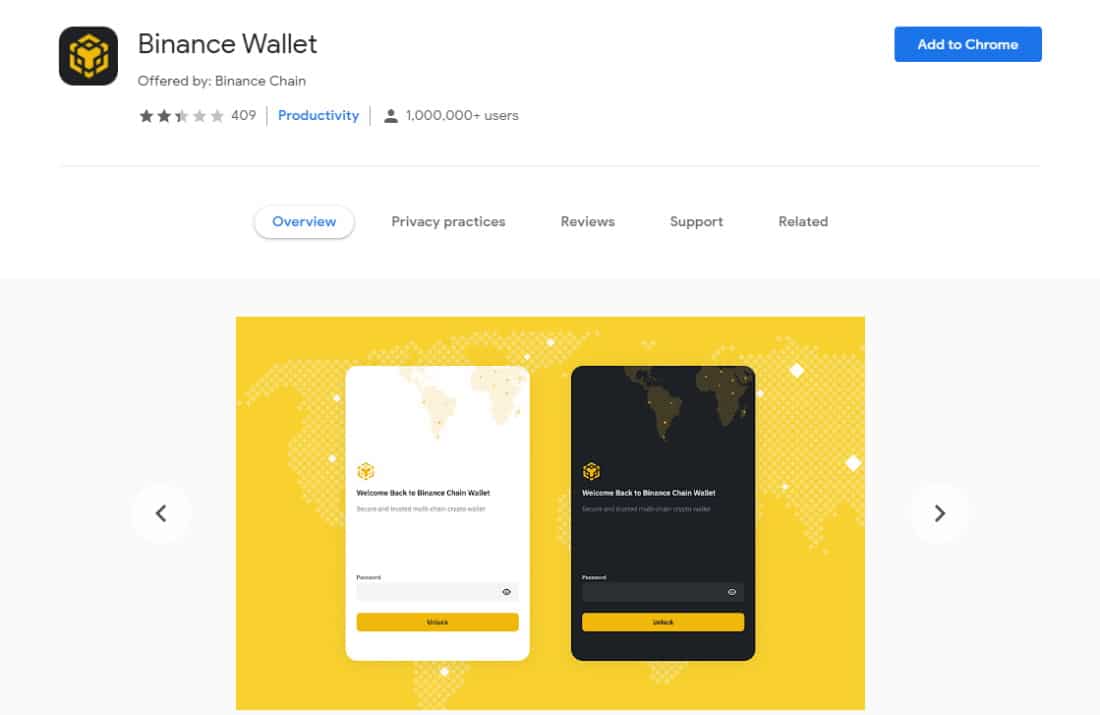 In contrast to the Bitcoin blockchain network, the owner takes full control of the funds within his/her Bitcoin wallet. Bitcoin wallets come in a variety of categories including: 
Web wallets 

Desktop wallets

Cold wallets

Hot wallets

Mobile wallets

Hardware wallets

Paper wallets

Brain wallets
There are several different forms that a Bitcoin wallet can take, varying in key metrics from security to accessibility. Full-node Bitcoin wallets work on a decentralized basis and support the Bitcoin network, while mobile wallets offer in-app crypto exchanges and useful QR code scanners. 
You need to ensure that the Bitcoin wallet you select supports the altcoins you want to store and caters to your crypto trading needs and goals. 
How to Choose the Best Bitcoin Wallet
To buy Bitcoin and other popular cryptocurrencies, you need a hot wallet, cold wallet, or a combination of both to trade and store your digital asset holdings. 
Looking to trade Bitcoin and other altcoins, but don't know where to begin? One of the first things you'll need is a Bitcoin wallet. Let's dive into some of the most commonly asked questions, as well as how to pick the best crypto wallet for your trading needs in 2021.
Different types of Bitcoin wallets 
The best crypto wallets come in all shapes and sizes, each with its own features and security protocols. But regardless of the type of digital wallet, security starts with you. You must protect the private keys that grant access to your Bitcoin wallet. The type of wallet you choose depends on your risk tolerance and trading needs. 
As we have already mentioned, Bitcoin wallets can be broken down into two main categories: cold storage and hot storage Bitcoin wallets.
Hot storage Bitcoin wallets
Hot storage Bitcoin wallets are connected to the internet, such as a mobile app, or online service provider. On the plus side nearly all hot storage wallets are free to use right off the bat. But on the flip side all of these hot storage wallets carry a degree of risk. This is because they're directly connected to the internet and are vulnerable to potential hacks. 
While cryptocurrency crimes continue to make news headlines, crypto exchanges and Bitcoin wallet providers are investing a lot of time and money into improving the security of their digital wallets. According to CipherTrace.com's Cryptocurrency Crime and Anti-Money Laundering Report, February 2021 in 2020 crypto theft, hacks and fraud reached $1.9 billion. This marks the second-highest yearly value in cryptocurrency crimes since records began. 
Cold storage Bitcoin wallets
A cold storage Bitcoin wallet, otherwise referred to as offline storage,  is a portable encrypted hardware device allowing you to download and carry your Bitcoin and other crypto-assets securely. Unlike hot storage wallets, it's not connected to the internet which makes it much more secure. 
Cold wallets can have price tags as high as $100 but because the crypto funds are stored offline they are generally regarded as much safer storage options. 
Some of the most popular cold wallet companies include Trezor model t and Ledger nano x
What is the best Bitcoin wallet for you?  
Crypto traders who have high trading volumes and heaps of crypto-assets, a combination of both hot and cold wallets may be best. You'd want a hot Bitcoin wallet for fast trading executions and a cold wallet for storing the bulk of your digital assets. 
In any case, the cryptocurrency market is highly volatile so you should only invest money that you can afford to lose. 
Fees and Mark-Ups
Most hot Bitcoin wallets are free to use. Therefore there'll be no fees to download the app, and you won't pay a penny to store your cryptocurrencies. But you will incur a fee when you transfer digital assets to another Bitcoin wallet. 
Why are there fees to transfer funds from one wallet to another? Bitcoin miners, who keep the Bitcoin blockchain working, take a small commission for every transfer that they validate. Therefore, the user that makes the transfer has to pay the fee. 
The best crypto wallets do not include a mark-up fee when transferring funds. Rather, if the crypto network charges $2 to make the transfer, you'll have to pay $2. Nevertheless, some Bitcoin wallets add a mark-up fee, which adds more to your total fee expenditures. 
Supported Coins
By clicking on this guide to the best Bitcoin wallet Canada in 2021, you're likely to only be interested in buying and storing Bitcoin (BTC). But if you're looking to diversify your cryptocurrency portfolio with other trending and upcoming altcoins, you'll need to check that your preferred Bitcoin wallet supports the digital coins you're interested in. 
How to Get Started with a Bitcoin Wallet 
So far, this best Bitcoin wallet beginner's guide has covered everything you need to know from cold and hot storage, to security and fees. After thorough research we'd recommend the Binance crypto  wallet for 2021. 
By following these simple steps you'll be able to get started with the best cryptocurrency wallet in 2021. 
Step 1: Download the Binance Chain Wallet
Download the Binance Chain Wallet from the Binance Chain homepage. You have to choose either Chrome, Firefox, or Brave to install the extension.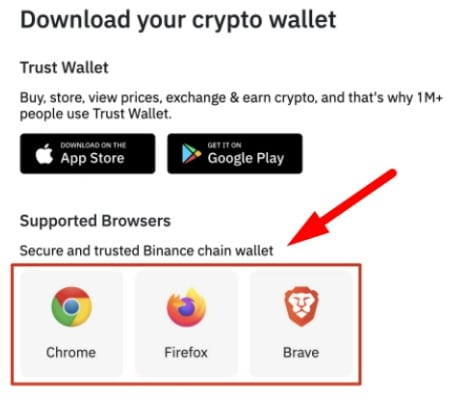 Once you've installed the extension, you'll come across the sign-up page. Additionally, you can use an existing crypto wallet if you have your original seed phrase or tKey login details. In this example, we'll be creating a new wallet with a Gmail account. 
Now tap on 'Create Wallet' and choose either continue with tKey via Google. 
Step 2: Login using your Gmail account
A pop-up will appear asking you to sign in using your Gmail credentials. tKey and Binance Chain Wallet will use your Gmail account as a way to authenticate your identity if necessary. 
Step 3: Create a password
The next step involves creating a password that acts as a secondary layer of cover should you lose your private key.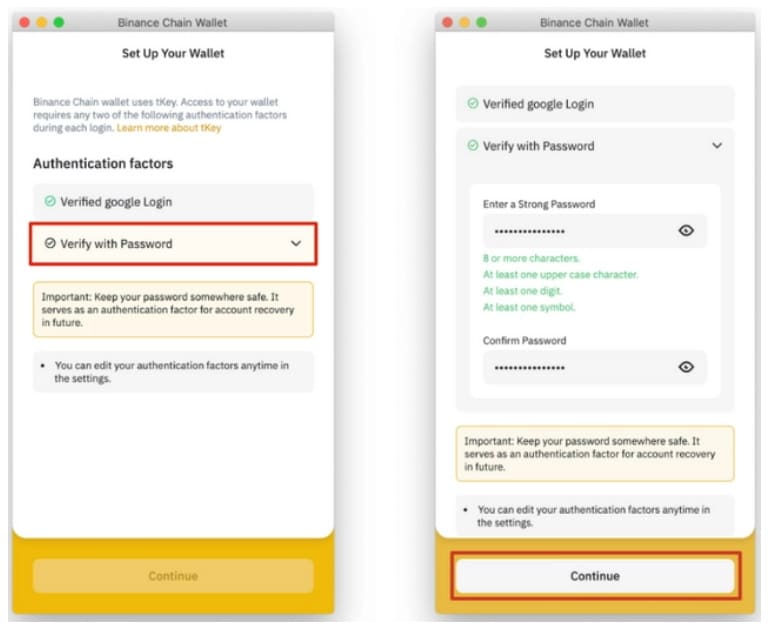 Now you'll see your Binance Chain Wallet seed phrase, which can help recover your account if needed. Additionally, you could also set up your own seed phrase containing between 12 and 24 words. 
Your seed phrase needs to be kept confidential, the same way you would protect your bank account pin and sort code. If you lose your seed phrase you can regain access to your Binance Chain Wallet by using your email and tKey password. 
Now click on Continue at the bottom of the screen.
Step 4: Use your Binance Chain Wallet to send and receive cryptos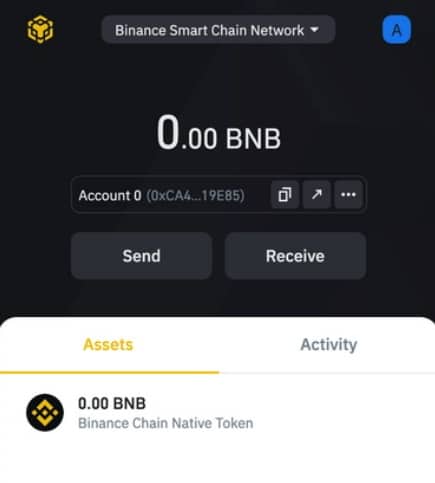 You have successfully opened your Binance Chain Wallet. You can now use it to buy and sell Ethereum tokens, Binance Chain and more with the click of a button. Furthermore, you can interact with DApps and smart contracts on a range of blockchain networks. 
Best Bitcoin Wallet – Expert Verdict
By reading this beginner's guide you'll be able to pick and use the best Bitcoin wallet Canada that suits your needs. We've also explored all the key metrics from security and functionality to the different types of Bitcoin wallets available on the market. 
All in all, we found that Binance offers the best Bitcoin wallet across the board. Not only is it one of the most popular crypto exchanges but it allows you to store, buy, sell, and exchange heaps of crypto crosses with low fees. 
#1 Best Place to Buy Crypto CFDs – Capital.com
FAQs
What is the best Bitcoin wallet?
What is the best Bitcoin wallet for Windows?
What is the safest Bitcoin wallet?
What is a Bitcoin wallet?
Where do I find my Bitcoin wallet address?