Where To Buy Cryptocurrency in USA – How To Buy Cryptocurrency For Beginners in 2022
Bitcoin was nothing but a fancy phenomenon when it was first unveiled in 2009. Futurists and technicians tried to woo the public with interesting projections but it was not drawing much attention from the investment world.
Hundreds of more cryptocurrencies have emerged and gone, while some like Bitcoin and Etherium have continued to stand the taste of time. Have you been wondering what is the best way to buy cryptocurrency? This article will enlighten you about cryptos and how to buy them. It is entirely possible that cryptocurrencies will continue to head skywards and only those who will have jumped in early will make a good kill. So get comfortable and learn to buy cryptocurrency from this article. Welcome to the wonderful world of cryptocurrency.
eToro.com – Best Platform to Buy Cryptocurrency
Where To Buy Cryptocurrency in USA – Overview of the 3 Best Brokers
Cryptocurrency continues to explode in popularity, and with so many crypto trading platforms offering the opportunity to buy in the US, we've gone through each and rated the 3 best brokers you can buy cryptocurrency at today.
Bitcoin
3 Providers that match your filters
What we like
Trade real cryptos and crypto CFDs

Licensed broker with deposit insurance

Integrated wallet
Features
Payment methods
CFDs are complex instruments and carry a high risk of losing money quickly through leverage. 75% of retail investor accounts lose money when trading CFDs from this provider.
What we like
Amount of withdrawal fee: $0

Large amount of cryptocurrencies for CFD trading

Minimum deposit: $20
Features
Payment methods
CFDs are complex instruments that have a high risk of losing money quickly due to leverage. 72.6% of retail investor accounts lose money trading CFDs with this provider.
What we like
Careful selection of cryptocurrencies

Regulated by CBI and MiFID in Europe

No commissions and low spreads
Features
Payment methods
CFDs are complex instruments and carry a high risk of possible rapid loss of capital due to their leverage. 71% of retail investor accounts lose capital when trading CFDs with this provider. You should consider whether you understand how CFDs work and whether you can afford to take high risk in losing your capital.
How To Buy Cryptocurrency in USA – Quick 3 Step Guide
Now that this is getting exciting you probably can't wait to start buying cryptos, right? Well, that's what you're going to learn next. Here are six steps to follow for you to buy cryptocurrencies for the first time.
Step 1: Select the right Broker
This is the most important step in your journey to buy cryptocurrencies for the first time. You need to pick a crypto platform that is in line with your investment goals. Ther are brokers that only offer you wallets, while others allow you to hold crypto in your wallet and be able to trade it whenever you want to. If you're looking for a fast solution, we recommend eToro. You will find a list of five top crypto platforms for your comparison after this section.
Step 2: The registration and Login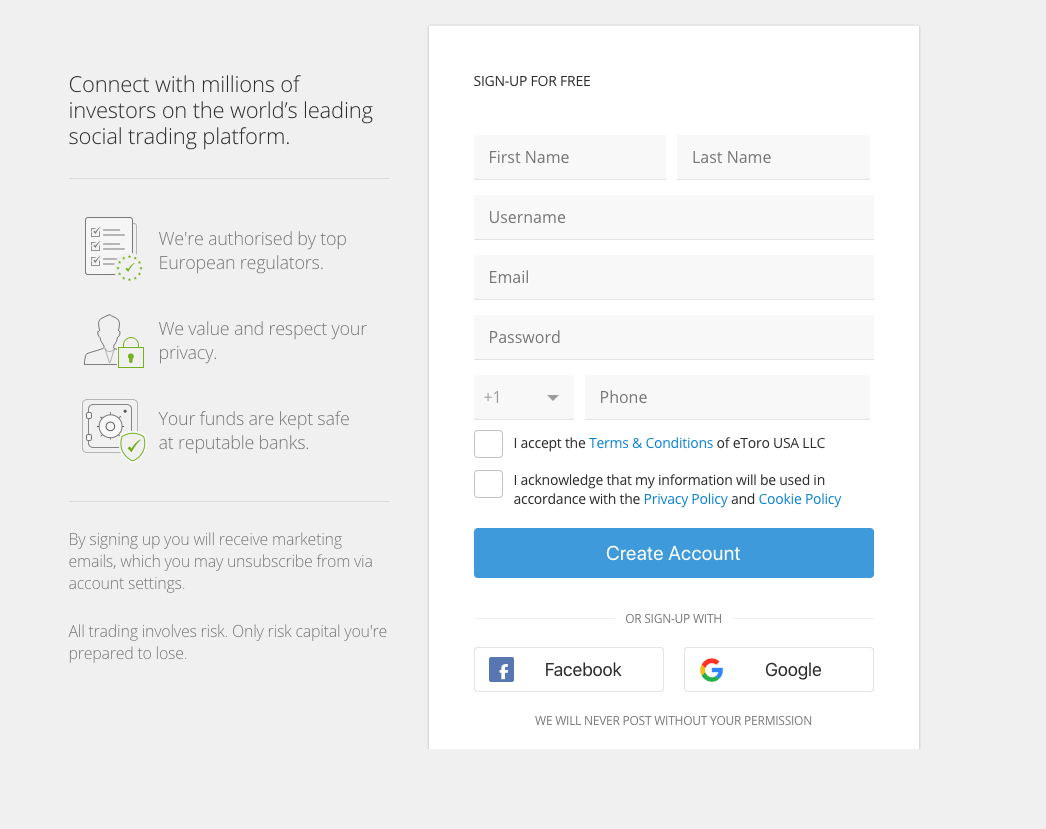 The registration process does not differ among different providers. Here you will be required to provide your details to be attached to your trading account or crypto wallet. If you want to buy cryptocurrency with eToro, you'll first head to their website, and click on "Join Now."
You will be requested to provide your personal details, mainly:
Your Name
Email Address,
Password
Accept the Terms and Conditions
Click on "Create Account"
eToro also supports registration and login via your Facebook and Google+ accounts. This is an easy and faster option. You should take advantage of that for a more seamless customer experience. To do that, click on "Sign up with Facebook" or "Sign up with Google." A pop-up will appear and direct you through the procedure. You will be required to allow eToro to access your personal information from your social media account for this process to be successful.
Step 3: Verification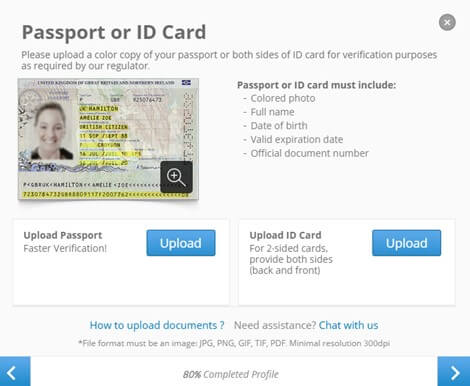 Once your account has been set up, you need to verify that the information you provided is correct and legally right. eToro does not require you to go through this stage if you intend to buy cryptocurrency worth less than $2000. For larger amounts, you will have to complete your verification before you can start investing in cryptos.
Verification is a simple procedure. Upload a utility bill with your residential address to verify your address. This address should match the one you provided during registration. For identity verification, take a clear picture of your government issues ID card, driver's license, or passport and upload it to the broker's verification portal.
Step 4: Deposit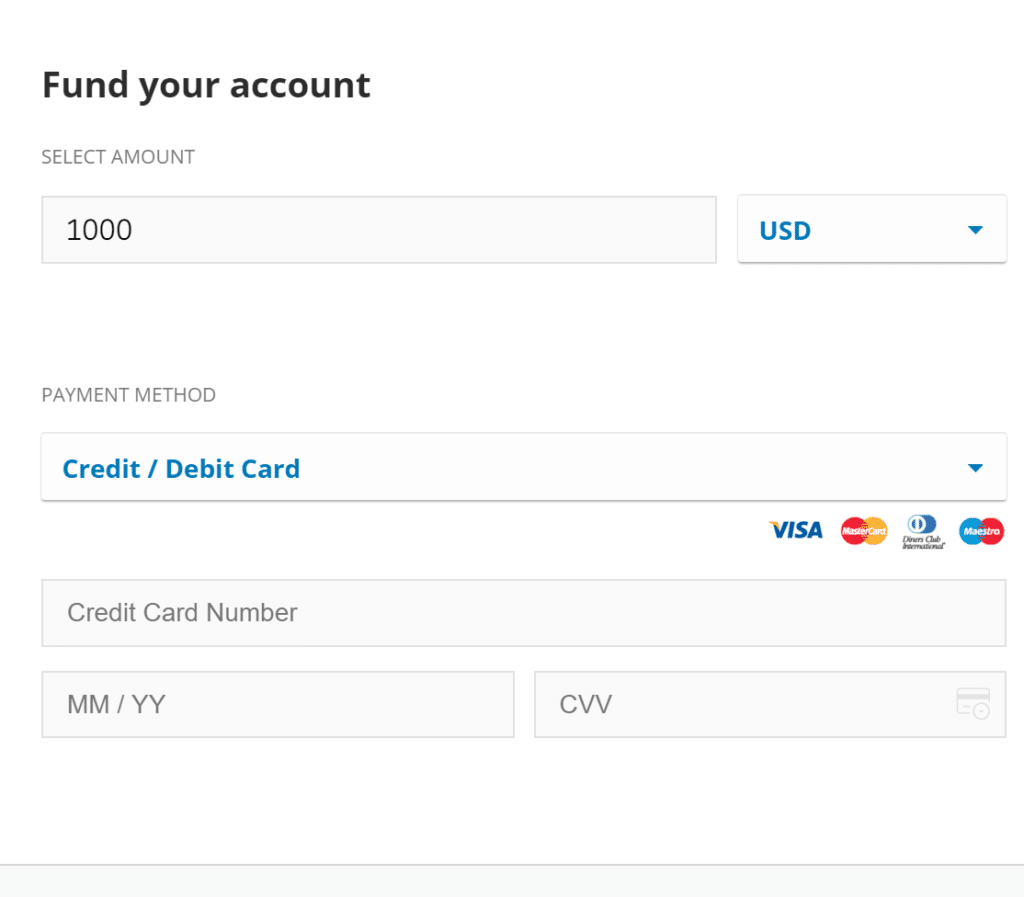 Now you are ready to deposit your funds to the crypto platform. Most crypto exchanges allow you to deposit via bank transfer, debit/credit cards, eWallets, and digital currencies.
Step 5: Buy Crypto
When logged into you eToro platform, go to "Trade Markets," pick the crypto that you want to buy, in our case BTC, key in the amount of money that you want to invest, then click on "Open Trade." Your position will received and queued to be filled when there will be liquidity.
Step 6: Secure your Crypto
Once you buy cryptocurrency, you want to make sure that it is secure, just the way you protect your money. Your browser can be exposed to a lot of crawling viruses and hacker's tools that may leak out your login credentials and cause you to lose your cryptos. The best way to prevent this is by using a Virtual Private Network (VPN). A VPN secures your online connection and no one can intercept your online transactions since your data is encrypted. Encryption adds an extra layer of protection to your data so that your online transactions are entirely anonymous and safe from hackers who may be targeting your device.
Where To Buy Cryptocurrency in USA – Full Broker Reviews
We are just about to buy cryptocurrencies, and we know that the most important step is to select the right broker. So here we listed for you five top crypto platforms that you should definitely consider before you buy cryptocurrency in the US.
1. eToro: The Best Place to Buy Cryptocurrency in the US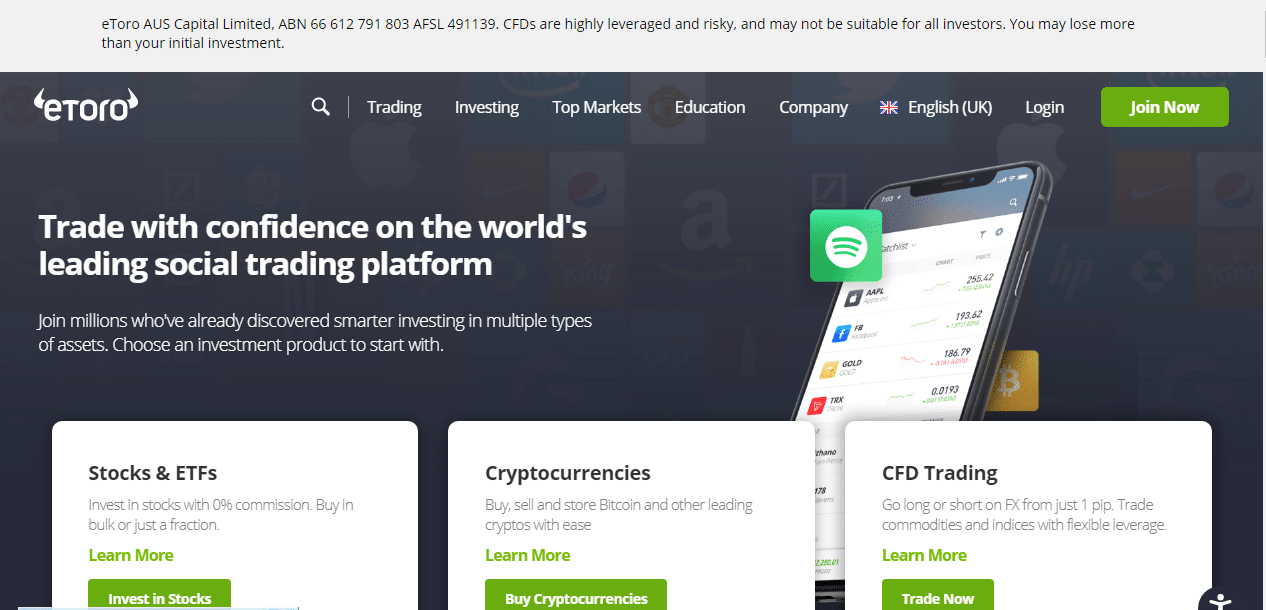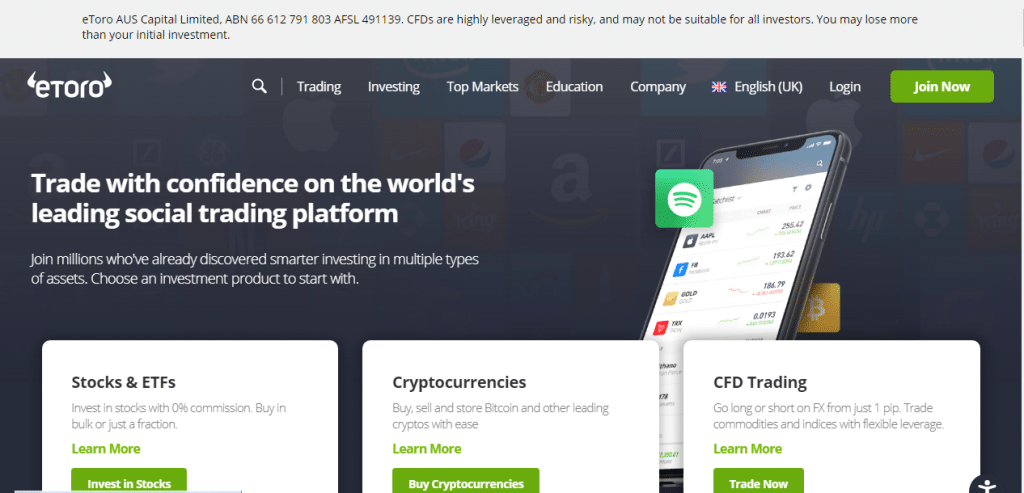 eToro is one of the best platforms to buy cryptocurrency in the US. Founded in the year 2007, the broker has expanded its wings all around the globe. eToro currently serves over 10 million users across 140 nations worldwide and the U.S cannot miss that list. eToro's has had a very fast growth over the years thanks to its social trading platform. This is one of the most innovative tools of the century allowing you to copy trades from already successful portfolios, instead of making expensive mistakes from your trading. Beginners like eToro because this feature enables them to learn from professional traders.
As a beginner, you also want to watch your transaction cost. If you agree, then there's no better place to start buying crypto than eToro. This platform takes zero commission from you and there are no other hidden charges. How about this? Trying out the platform before investing your real money- with eToro you can buy cryptocurrency in a virtual portfolio and learn the ropes of the game before investing your real money. That's why we recommend eToro as the number one choice to buy cryptocurrency in the U.S.
Crypto buyers on eToro are allowed to start investing with as little as $50. The company only makes its fees through spreads which are also considerably lower than the normal market spreads. Unlike most brokers, eToro will charge you only one spread per round turn, which means, for both buying and selling cryptos. How low is this? Using Bitcoin as an example, this spread adds up to about 0.75% which is very low compared to the average of 1.9% to 2.9% that is charged by competitors.
| | |
| --- | --- |
| Pros | Cons |
| eToro offers access to over cryptocurrencies. | eToro is only available to residences in 41 U.S states. |
| You only need $50 to start investing. | eToro customers in the U.S can only trade crypto, out of all the options that the broker offers. |
| Social trading allows you to start making money by taking advantage of pros, as you keep learning. | |
| Social trading is good for busy people. | |
67% of all retail investor accounts lose money when trading CFDs with this provider.
2. Pionex: Leading Crypto Exchange with 18 Automated Crypto Trading Bots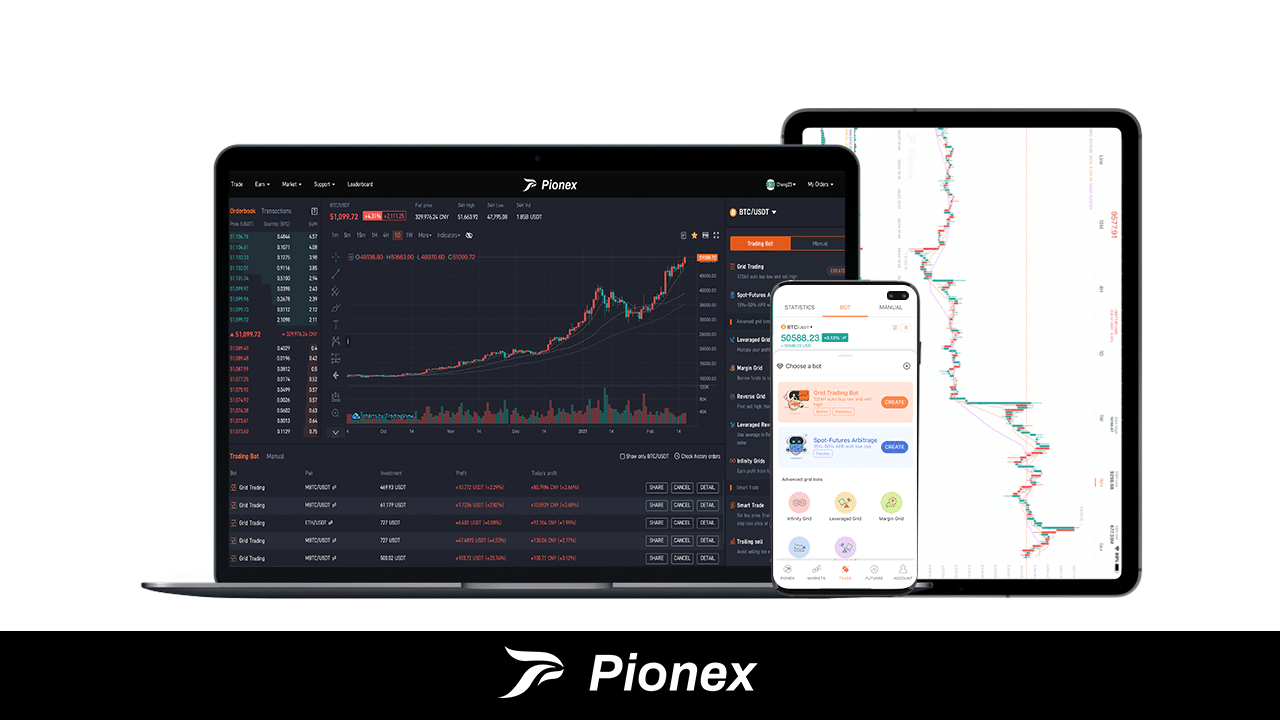 Looking to trade automatically without always having to keep an eye on the markets? Look no further than Pionex! Pionex's innovative exchange platform offers 18 free crypto trading bots, giving you the ability to automate your trading around the clock. Don't miss out – sign up today!
Plus, Pionex's liquidity aggregation from Binance and Huobi Global makes Pionex one of the biggest brokers in the industry – perfect for anyone looking for a reliable and trustworthy trading partner.
With 18 free trading bots and a trading fee of only 0.05% for the maker and taker, Pionex is the perfect place for investors to get started. Plus, there's no subscription fee, so you can keep your money in your wallet! So what are you waiting for? Sign up today and start trading!
Pionex is the next-generation crypto exchange that offers a fast, reliable, and secure trading experience. Pionex is built mainly for automated trading bots but also allows manual traders to execute their strategies. With Pionex, you'll enjoy a smooth and user-friendly trading experience with world-class security features.
Are you looking for a top-quality crypto trading experience? Look no further than Pionex! Pionex offers traders over 250+ cryptos to choose from, so you're sure to find the perfect market to invest in. With Pionex's cutting-edge trading tools and world-class customer service, you're guaranteed an unparalleled trading experience.
Pionex – the ultimate crypto trading bots for anyone looking to make a killing in the crypto markets! With 18 pre-built bots to choose from, you're sure to find the perfect strategy for your trading style. Let Pionex take care of the trading while you focus on making profits!
With Pionex's low trading commissions and top-of-the-line mobile app, Pionex makes it easy for you to invest on the go. So what are you waiting for? Trade with Pionex today!
Pros
Get 18 free trading bots to help you make the most of your investment
Automated Grid Trading Bot that buys low and sells high in a specific price range, ensuring consistent profits
Get up to 5x the leverage with Leveraged Grid Bot
Spot-Futures Arbitrage bot assists investors to obtain passive income with low risk. It employs a strategy that has been estimated to provide a return of 15-50% APR
Martingale bot increases portfolio profitability through DCA strategy
Ensure you're in control with the easy-to-use Rebalancing bot to hodl your coins
Work smarter with Dollar-Cost Averaging (DCA) bot that purchases the same dollar amount at regular intervals
Increase your winning trades by setting up advanced stop-loss, take profit, trailing in one trade
Gain an edge over other investors with these sophisticated bots
Improve your chances of making a profit with these tools at your disposal
No need to spend hours researching the best trading strategies – let the bots do the hard work for you!
Mobile apps available for iOS & Android
Regulated by FinCEN
Cons
Lack of fiat deposits or withdrawals
Lack of demo account for beginners to practice trading
3. Webull: Trade Smarter in Minutes with No Commissions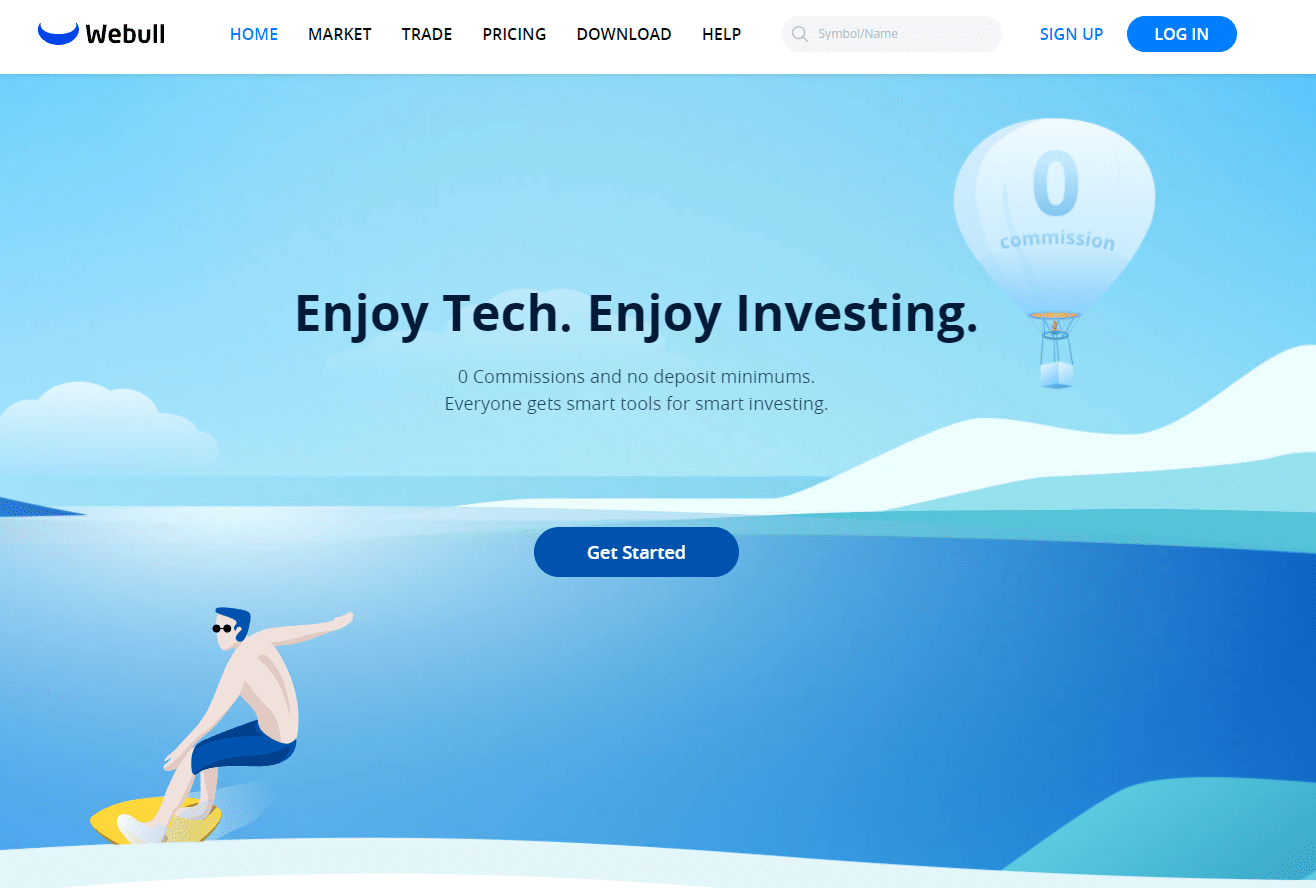 Are you looking for an online broker that will help you achieve success in the crypto market? Then, look no further than Webull. The Webull platform offers a wide range of features and tools to make trading easier and more profitable for you. Plus, the platform offers competitive rates and no commissions that will save you money on each trade.
Webull is the full package. It caters to investors and traders with intermediate to advanced skills who don't want to pay commissions and still save considerably.
Webull's commission-free concept gives you the chance to trade quicker, cheaper, and smarter. The app trades swiftly and lets you find your trading style through detailed stats with incredible precision, all for free. As a result, Webull makes it possible to be a better trader without all the wasted commission fees.
The Webull app can tell you everything you need to know in a few seconds. This user-friendly and intuitive app is the perfect way for beginners to get started investing in cryptocurrency with confidence.
Bitcoin trading platforms are complex and can be difficult to navigate. If you're looking for a way around these challenges, download the best crypto apps today! You'll never miss another investment opportunity as long as your phone has internet access and battery life!
Webull doesn't charge commissions on crypto trades, but there is a 1% spread. That means you still get the best deals without paying fees. In addition, Webull has no minimum deposit requirement, so start with as little as $1 today!
Your Webull account just got even more rewarding. You no longer have to pay any deposit or withdrawal fees when you use Webull with ACH transfers, which is the best way to get money in and out of your account! On the other hand, bank wire deposits cost $8 each transaction.
Make a name for yourself in the investment world by trading with the best. Get your jump-start today at Webull!
Pros
No commission on trades, ever
No account minimums
Open your account in just minutes
Wide variety of tools for traders
No fees trading crypto
Cons
Crypto spreads start at 1%
Too simplistic for seasoned traders
Lack of mutual funds
No support for e-wallets or debit/credit cards
4. Binance: Trade Anywhere, Anytime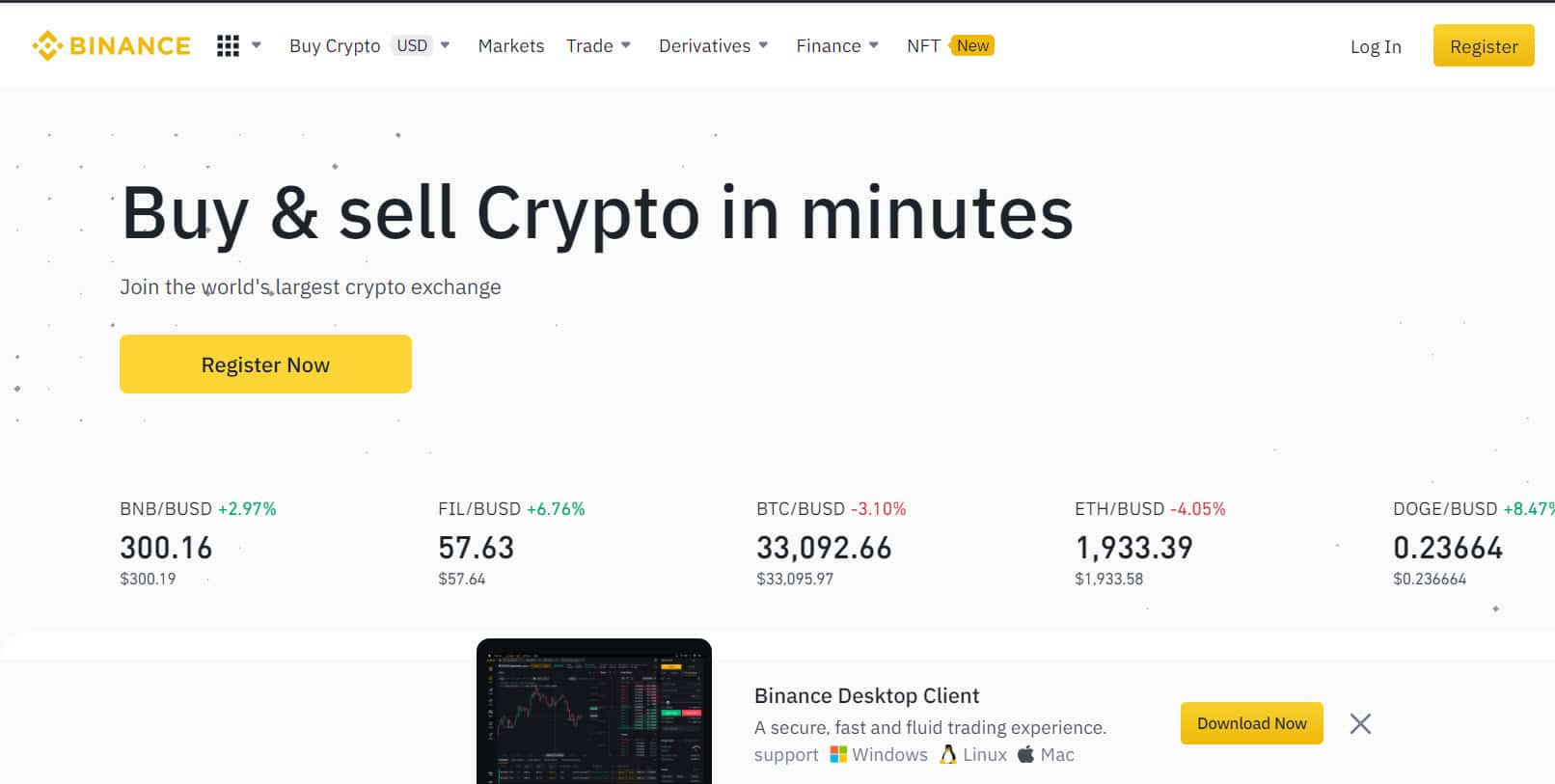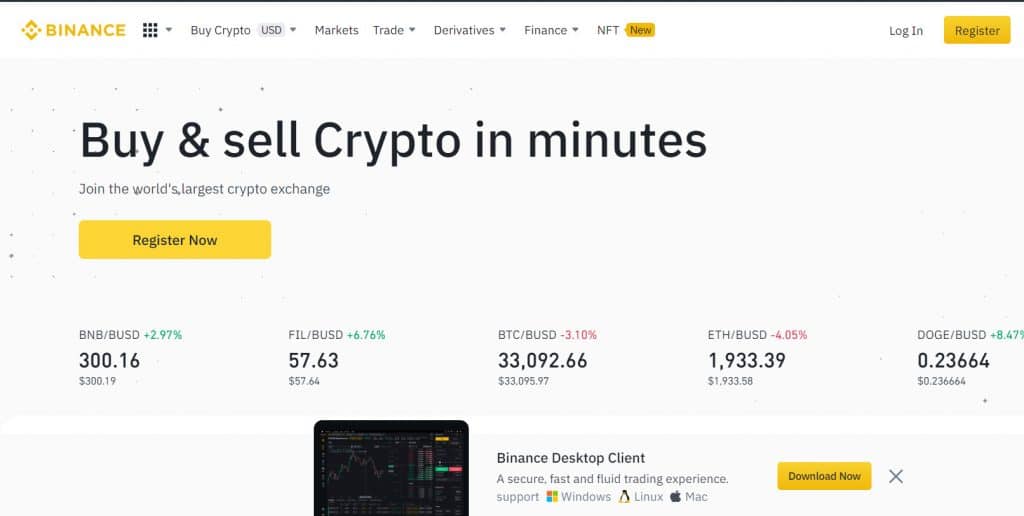 Binance is a well-known crypto exchange among many traders and cryptocurrency enthusiasts. It was initially set up in China, but later on, moved its operations to Malta in the EU. Malta is a more crypto-friendly country than China, mainly due to regulation and the legal environment. Binance has the highest number of cryptos among the choices we have reviewed and is most preferred by experienced traders. With Binance, you can also purchase altcoins.
Significantly, Binance is one of the most high-profile cryptocurrency exchanges in operation today. The downside of the platform is that it has faced regulatory and legal issues across multiple nations, which may be why some crypto investors are looking for an alternative exchange to trade their coins on!
Furthermore, the Binance platform can be complex for a beginner. So they created a basic and advanced trading view to be able to satisfy the needs of both beginners and pros. You simply need to select the right option that suits you.
Looking to buy cryptocurrencies but don't want to break the bank? Look no further! Binance has you covered with some of the lowest fees in the industry. When you acquire crypto with a debit or credit card, you will be charged 1.8%. Nonetheless, this is a more affordable option compared to a number of other exchanges in this market.
Furthermore, Binance applies a 1% fee on withdrawals to debit or credit cards. Users are charged a fixed fee for each withdrawal to cover the transaction fees connected with withdrawing crypto from their Binance account. The blockchain network dictates withdrawal rates, which can fluctuate unexpectedly due to factors like network congestion.
Binance is renowned for its huge altcoin selection, which includes more than 500 options for non-US customers. The Binance.US exchange, on the other hand, supports only 60 coins. Registration is fast in Binance; it's as easy as hitting a button, key in your details and you're done.
To access Binance products and services, including crypto deposits, trades, and withdrawals, every new user must verify their accounts. Verification tiers include Verified and Verified Plus. Verification on Binance is sometimes very slow. The verification process is a way to ensure that users have the best experience possible. Individuals with verified accounts are permitted to withdraw up to 100 BTC daily.
With Binance's fast and easy-to-use platform, you can be on your way to buying Bitcoin, Ethereum, and more in just a few clicks. So what are you waiting for? Start trading today!
| | |
| --- | --- |
| Pros | Cons |
| Great for pros who need a wide range of cryptos. | Limited methods of deposit- you can only deposit and withdraw funds using cryptos. |
| Have some of the lowest trading fees in the world so you keep more of your money. | They can be slow in their verification hence delaying your transactions. |
| Different trading views for beginners and professional traders. | Binance has encountered regulatory trouble in a number of nations. |
5. Coinbase: The Easiest and Fastest Way to Buy Cryptocurrency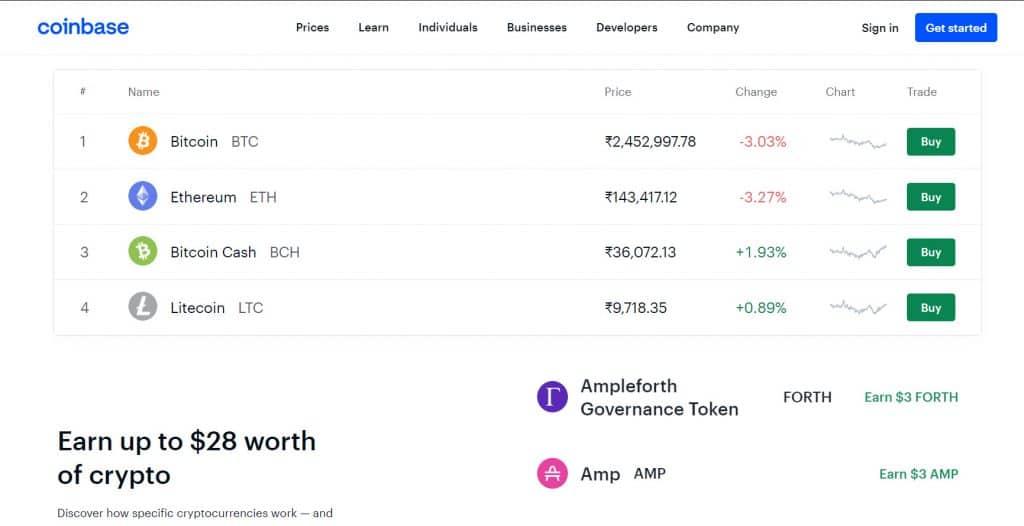 Coinbase is one of the easiest platforms to use to buy cryptocurrency. They have an easy signup procedure and deposits into your wallet can be made with a credit card. Transaction fees at Coinbase are however higher than most crypto exchanges. A standard trade at Coinbase will cost you as high as 1.49%, while credit card transactions cost a fee of 3.99% which is considerably high. Coinbase is licensed in the U.S and has its headquarters in San Francisco. It operates in about 32 countries across the world. Unlike eToro and Binance this provider only offers a handful of cryptos, including Bitcoin, Ethereum, Bitcoin Cash, Classic, Litecoin, BAT, ZRX, and Zcash.
Coinbase Pro is the most reliable, secure platform for trading cryptocurrencies. With high trading volumes and deep liquidity, Coinbase Pro makes it easy to invest and make money. Low fees and security measures up to par make Coinbase Pro an excellent choice for experienced traders.
Did you know that you can invest in Coinbase in a variety of ways? The more you learn about the ins and outs, the better!
Coinbase is popular for having a user-friendly interface that favors both beginners and pros. Coinbase does not allow you to make any transaction until you verify your mail address and your phone number. The initial limit after this verification is $1500, but users can raise their limit by passing a second verification stage that requires them to submit personal identification documents.
| | |
| --- | --- |
| Pros | Cons |
| Easy to use for both beginners and professional traders. | High transaction fees. |
| User-friendly and attractive interface. | Supports very few cryptos. |
| Supports more than one method of payment including credit/debit cards. | |
| Easy signup procedures. | |
6. Robinhood: Invest in Crypto Without Commission


Robinhood is a free-trading application that offers stock trading services to investors. It also lets users invest in options, exchange-traded funds, and cryptos at zero commission and fees. Robinhood grew fast in popularity for being the only broker that offered free trading during its early days. This enabled it to stand out and rise above many big names in the trading industry. This makes it a solid choice for Robinhood investors who want to buy a cryptocurrency and still limit the cost of the transaction.
That said, Robinhood is one of the most stable platforms that allow users to invest in cryptocurrency. They offer both web-based and mobile app trading solutions. If you are an investor looking to try out a couple of different coins. Robinhood may disappoint you and they don't offer many options when it comes to cryptos.
| | |
| --- | --- |
| Pros | Cons |
| Zero minimum account deposit and balance. | Limited customer support. |
| Easy to use interface. | A limited number of cryptos to buy. |
| Offers both crypto and currency trading. | |
| Cost-effective trading due to zero commission and fees. | |
7. TradeStation: Get More Out of Your Trading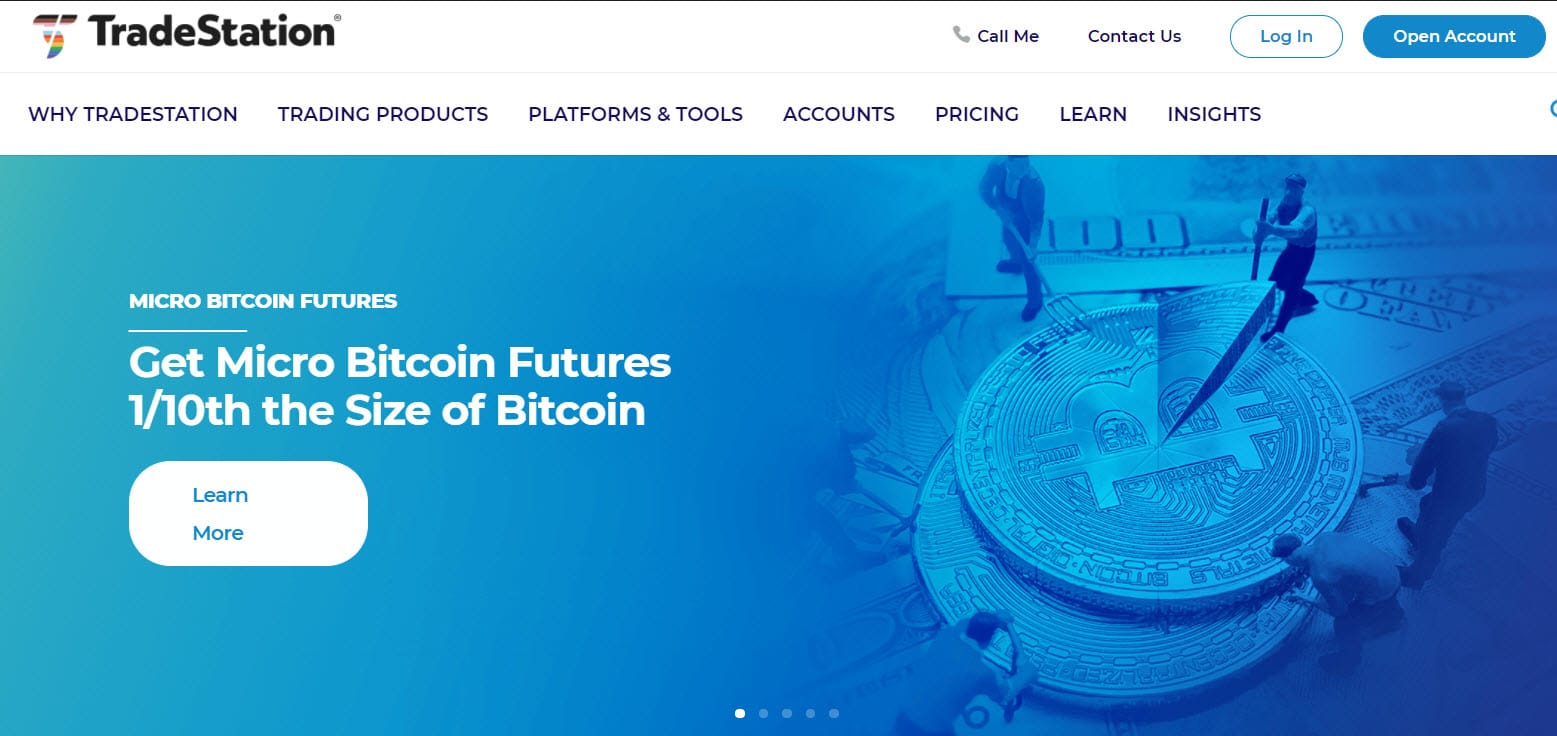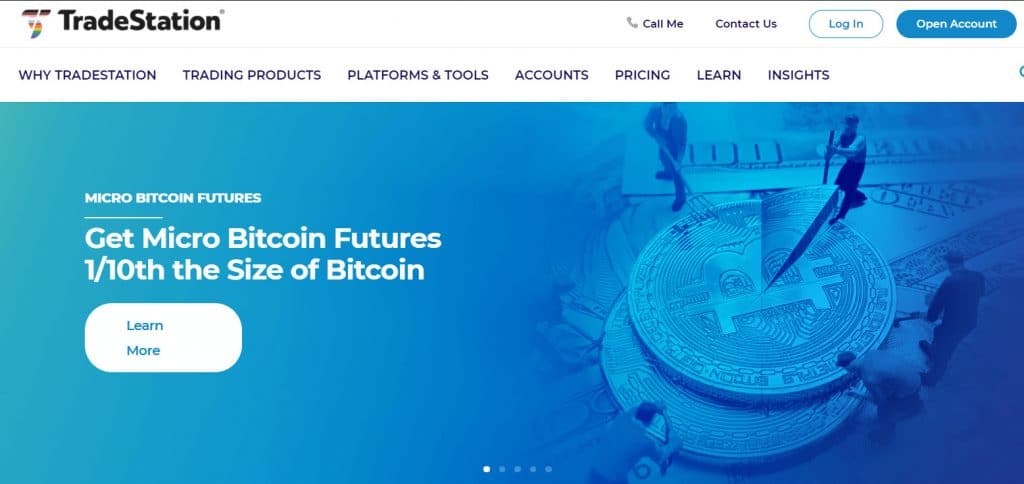 TradeStation is a state of the art choice for professional investors seeking to trade with a top-notch broker that offers a sophisticated trading experience. Until a few years ago, TradeStation was only offering services to professional fund managers and institutions. Regular investors are now open to buying cryptocurrency in the U.S with TradeStation's high-octane trading tools. The company offers trading services at zero costs and has no minimum investment amount.
You may find this broker less attractive due to its exclusive TS SELECT plan that is only available to an investor who deposits $2,000 for equities, equity options, and futures trades. These plans give you access to the full range of trading tools available as well as the premium TradeStation 10 desktop.
Many competitors charge for deposits, withdrawals, or custody of your crypto assets. With TradeStation, you are not charged such fees! Traders with less than $100,000 in assets will profit from a simple flat commission structure. Traders with over $100,000 in their accounts will benefit from one of the most competitive maker/taker pricing structures in the cryptocurrency industry.
However, investors may deposit any amount for the TS GO plan. Note that trading surcharges will apply when placing trades using the TradeStation Desktop platform on this plan. TS GO charges apply solely to trading via mobile app and web.
Makers pay 0.30% if the account balance is $100,000 or below. In addition, makers pay 0.10% if the account balance is over $100,000. Takers pay 0.30% if the account balance is $100,000 or below. Moreover, takers pay 0.20% if the account balance is over $100,000. Additionally, makers pay 0.05% if the account balance is over $1 million. Takers will pay 0.15% if the account balance is over $1 million.
The bottom line: TradeStation is the platinum standard for the sophisticated trader, but it is now open to serve beginners and offers $0 commission and no minimum deposits for crypto to appeal to casual investors.
| | |
| --- | --- |
| Pros | Cons |
| Advanced trading platform. | Advanced interface might be confusing for beginners. |
| 0% commission on trading. | Plans and Pricing can be confusing. |
| Gold standard trading tools available. | Favors the pro trader more than a beginner. |
| Active traders community. | |
8. Crypto.com: Get Ready to Turn your Coins into Cash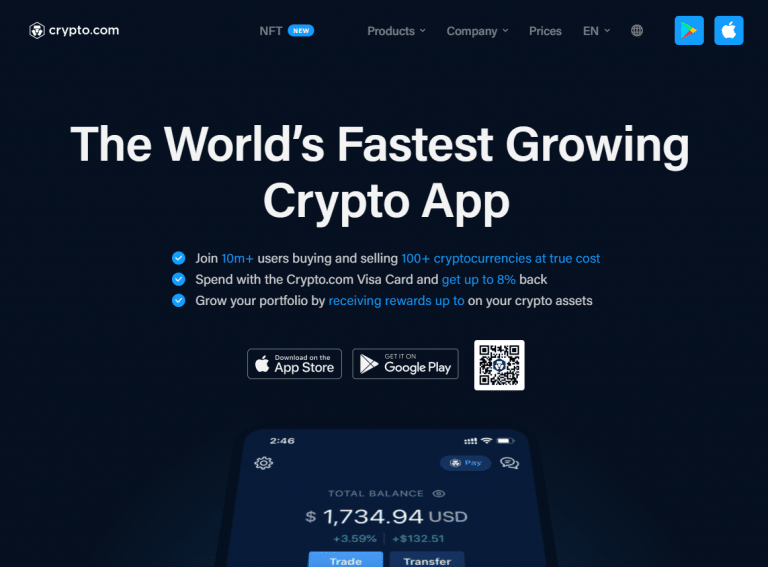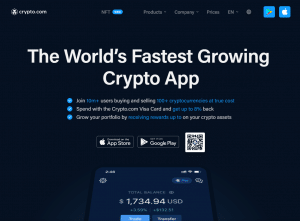 Crypto.com is your one-stop spot for all your crypto needs! Crypto.com offers a wide range of cryptocurrency investments. You can invest in well-known cryptocurrencies, but you can also branch out to lesser-known coins with the knowledge that each user's cryptocurrencies are 100% kept entirely offline in cold storage. The Singapore-based exchange makes it easy to buy Bitcoin, Ethereum, Ripple, Shiba Inu, Dogelon Mars, and Litecoin.
A crypto enthusiast's dream has finally arrived. Crypto.com is your single destination for crypto transactions, no matter what experience level you're on. The Crypto.com platform provides users with an intuitive experience that unifies substantial cryptocurrency knowledge and powerful trading tools and charts.
With just a minimum purchase of USD $1 for all supported cryptocurrencies in the Crypto.com App, all trades come attached to strong customer support – not bad for a group of "little guys" who simply believe in the future of blockchain technology.
Crypto.com is the ultimate trading powerhouse on the web. With fees at just 0.40% and reduced with trading volume or staking CRO holdings, Crypto has positioned itself as a go-to trading destination site for savvy traders looking to make a profit!
With the exception of CRO staking, new Crypto.com members will pay 0.4% on trades with a monthly volume of less than $25,000. Notably, trading fees are somewhat lower than those charged by certain major competitors. However, they are not the lowest in the industry.
Furthermore, Crypto.com offers Visa debit cards that pay you back with rewards. This particularly benefits users with massive CRO holdings.
In a world where there are so many superstars, Crypto.com has to stand out from the rest and have renamed Staples Center in Los Angeles to Crypto.com Arena!
The Crypto.com app is available in 49 states in the United States of America and US Territories, and the company is always working on expanding its reach. With Crypto.com, you can buy Bitcoin, Ethereum, Litecoin, and XRP with a few taps.
Crypto.com wants to help you take back control of your money and make profits. With no hidden fees or overage charges, Crypto.com is the perfect solution for anyone looking for a streamlined, affordable way to invest and manage their cryptocurrencies. Plus, with responsive customer support, you'll always have someone there to help you out when you need it.
Give Crypto.com a try today and see how easy it can be to invest in crypto and get your money under control!
Pros
Buy and sell a wide variety of cryptocurrencies with low fees
Earn cashback rewards and enjoy numerous privileges
Invest in a portfolio of coins and tokens with just one click
Earn interest on your crypto holdings
Safe and Secure Transactions
Cons
Fees are higher unless you own and utilize CRO
Navigating can be difficult for beginners
Inadequate client service
Discounted trading fees can be difficult to understand
Insufficient educational resources
9. Gemini: Trade with the Winklevoss twins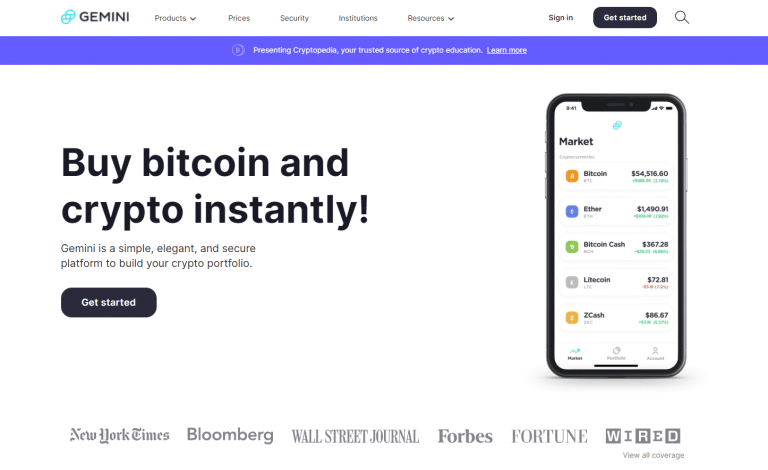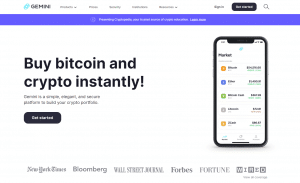 Love the sound of money in your pocket? Gemini is for you. The Winklevoss twins founded this US-based cryptocurrency exchange, making it one of the first and most recognized names in this space.
Gemini is regulated by the New York State Department of Financial Services (NYSDFS), which means you can rest assured with your funds when investing here.
Gemini is the perfect exchange for residents in all 50 states. With Gemini, you can trade cryptocurrencies quickly and easily without any restrictions. With their unique interface and quick transactions, this service will have you trading away in no time!
Funding your Gemini account is 100% free via ACH, wire transfer, or crypto transfer from external accounts. Debit card deposits, on the other hand, carry a 3.49% fee.
Convenience fees are included in the quoted price of the crypto you are buying and are normally 0.5% higher for buy orders. The transaction fee is defined by the currency and transaction volume.
It's always a great day for trading when you give Gemini ActiveTrader a try. The tool is designed to assist you in capturing opportunities in the continually changing markets profitably. With its powerful and professional-quality trading system, it simplifies your trading process whether you are an investor or trader!
Gemini was founded on the principle of extraordinary customer service. The crypto exchange takes pride in how happy their customers are, and they want to make sure you have a first-hand experience with all that Gemini has to offer.
Gemini's responsiveness has been enhanced to at most 24 hours, and the company is constantly enhancing its Support Services. Gemini looks forward to growing its interactions with clients to provide top-rated service.
Looking to get into the world of trading? Look no further than Gemini! The platform makes it easy for you to invest in various crypto assets, and the $0 account minimum means you can start trading with ease. So why wait? Start trading today with Gemini!
Pros
Add more diversity to your investment portfolio
Intuitive features for a more efficient workflow
A cutting-edge trading platform
Earn daily interest for your crypto holdings
High quality, reputable exchange
Maintain peace of mind knowing that your assets are insured
Makes you feel like a pro
Create a portfolio that reflects your personality
Cons
The fee structure is prohibitively expensive for modest trades
Could be challenging for beginners
10. Kraken: Trade Freely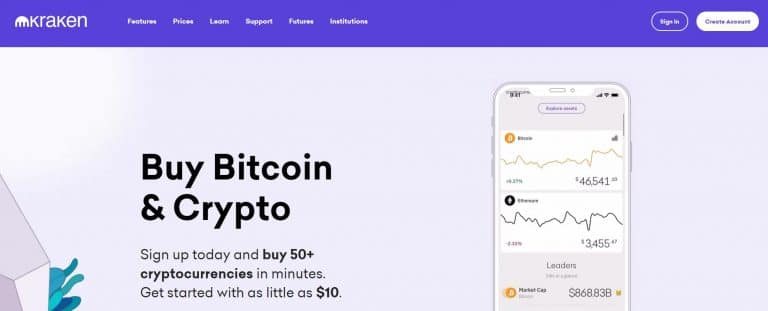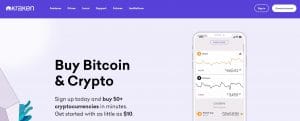 Kraken is the perfect choice for serious traders who want a secure and reliable platform with advanced features. In addition, Kraken's robust compliance program and American headquarters make it a safe and trusted choice for crypto investors.
With margin and futures trading, Kraken offers more sophisticated tools than other platforms, making it the ideal choice for experienced traders. For the investor with a risk appetite, Kraken offers an exciting portfolio of investments. Prices fluctuate constantly, so take advantage of this opportunity while it lasts. Significantly, Kraken supports cryptocurrency futures.
Instant purchases cost 1.5% for the majority of coins and 0.9% for stablecoins utilizing USD or another stablecoin.
Additional fees may apply depending on the payment method used to complete the transaction. For instance, funding costs differ from 0.5% when utilizing a bank account to more than 3.75% when using a debit card, credit card, or digital wallet.
Kraken is the perfect place for budding crypto-investors. With ridiculously low trading fees and a user interface that's easy to navigate, Kraken makes it simple to invest in your favorite digital currencies. There are 72 cryptocurrencies for you to invest in. So why wait? Sign up today!
Kraken offers you the opportunity to experience investing for yourself with its diverse offerings. They provide an inexpensive trading platform that is easy to use, making it perfect for beginners! With Kraken's Cryptowatch, a leading trading terminal for analyzing and generating data on crypto markets, you're sure to find something that will work for your specific needs.
All U.S. residents can use Kraken, except for those residing in New York and Washington. But don't worry – there are always other available crypto exchanges on this list like Gemini for New Yorkers and Washingtonians!
Pros
Low fees
Easy to use and understand
Simplify the process of exchanging many different crypto assets
Trade in a safe way
Earn rewards on staked assets
Cons
Fees are prohibitively high for novices who use the Instant Buy platform
Customer service is limited
11. Bisq: Crypto Trading on Steroids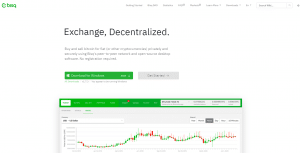 If you're tired of trusting your cryptocurrency to centralized, vulnerable exchanges such as Coinbase or Kraken, you owe it to yourself to check out Bisq.
Bisq is a decentralized cryptocurrency exchange, meaning it operates on a "peer-to-peer" basis rather than through a third party. As a result, you get the benefits of trading peer-to-peer with improved security and without needing to complete a standard identity verification — something that you don't get from more conventional exchanges.
When you live overseas and value privacy, it can often feel like your dream of trading is out of reach. With Bisq, you can trade securely anywhere in the world — all without pesky borders or regulations getting in the way.
Notably, Bisq is a way to trade crypto peer-to-peer. Since the Bisq network doesn't have any central servers, you never have to worry about your personal information being compromised or leaked by an outside third party. It protects you from the risks of centralized exchanges and provides complete freedom in who you transact with!
Bisq is the perfect way to make anonymous trades on the go. With Bisq, you can access your account from anywhere with internet access and make trades quickly and easily. So whether you're in a coffee shop or on a train, Bisq puts the power of trading at your fingertips.
Maintain a better level of security while thinking on the go by depositing a 0.01 BTC security deposit into a multi-signature escrow wallet to trade safely until the transaction is complete.
Bisq offers a safe, secure, and unique way to trade cryptocurrencies. By calculating fees as a proportion of trade size, Bisq ensures that everyone pays a fair price for their trades. With 0.1% for makers and 0.7% for takers in BTC, Bisq is an affordable option available.
Pros
Decentralized exchange platform
Numerous payment options
High level of security and anonymity
Trade crypto more securely
Cons
Lack of regulation
Insufficient tools for advanced traders
High trading fees
Inconvenient to use
Best Cryptocurrency To Buy – Bitcoin
What is Cryptocurrency?
We have to make sure that we all understand what we're are talking about before diving deep into the sea of cryptos. Cryptocurrency is a form of digital currency. You can also call it "crypto." Just like fiat currency, it can be used to make purchases of goods and services. Recently, El Salvador, the smallest country in Central America, passed a law to adopt Bitcoin as legal tender. Different businesses across the globe are also following suit by accepting some major cryptos as payment methods.
Cryptos use cloud-based ledgers with powerful cryptography to secure transactions. This is called blockchain technology. It's basically a chain consisting of pieces of digital transaction information whose distribution is not controlled by any institution. These are but technical and we really don't need to get into that now that you understand the concept of a digital currency. Cryptos eliminate middlemen such as banks because they allow buyers and sellers to interact and transact with each other directly.
There are thousands of cryptocurrencies; the most popular one is Bitcoin. It has a lot of volatility due to the high number of investors trading it, and recently, in April 2021, it hit a high of $65,000 in price, and quickly lost almost half of its value in May.
Buy Cryptocurrency at eToro, the World's leading Broker
Payment Methods you can use to Buy Cryptocurrency
Buy Cryptocurrency with Credit Card or Debit Card
The easiest way to make any payment, including depositing funds into your crypto wallet is by using the traditional credit or debit card. It is an instant method and uncomplicated method to buy cryptocurrency; you only need to enter your card number, expiry date, and security code and your funds will be transferred to your wallet immediately.
Most brokers that allow you to buy cryptocurrency with a debit or credit card do not permit you to withdraw funds back to the same cards. You will hence have to explore other methods that available.
| | |
| --- | --- |
| Pros | Cons |
| Deposits are instant. | It can be expensive as some exchanges charge as high as 3.5% for a deposit. |
| Easy and convenient. | Low limits- usually less than $10,000 at any one time. |
| Deposits can be made on the move. | |
Buy Cryptocurrency with Paypal
Paypal is the most popular and secure online wallet in the financial services industry. Deposits and withdrawals to PayPal are normally instant and cost-effective. Some brokers even offer 0% fee when using PayPal. Transferring funds between your bank account and PayPal is easy and fast, making it one of the most convenient methods that you can use to buy cryptocurrency in the United States.
| | |
| --- | --- |
| Pros | Cons |
| Deposits are instant. | Accepted by select exchanges. |
| Enhanced security features to protect your funds from fraudsters. | PayPal may levy charges during withdrawal. |
| Fast and easy withdrawals. | |
Buy Cryptocurrency with Skrill
Skrill is another popular and secure e-wallet like PayPal. It is a UK company with cross-border licenses to offer online financial services globally. Deposit and withdrawals via this gateway are instant and free in some instances. Transaction fees charged by skrill can however be considerably expensive. You can use Skrill to buy cryptocurrency in the U.S if your platform allows it.
| | |
| --- | --- |
| Pros | Cons |
| Instant deposits. | Skrill charges expensive transaction fees. |
| You can withdraw from skrill to your personal bank account easily. | Skrill is not accepted by many exchanges. |
| You don't need to enter personal information when depositing, hence keeps your information safe. | |
Buy Cryptocurrency by Bank Wire Transfer
A bank wire transfer is an electronic message that allows communication between banks in regard to transactions between client accounts. You will need to log into your bank account and initiate a transfer into the exchange platform whenever you want to use a bank wire transfer to buy cryptocurrency. One of the advantages of this method is that it gives you high transaction limits, and is also very secure. On the flip-side, this is a slow transaction that may take 3 to5 days before your funds reflect in your wallet.
| | |
| --- | --- |
| Pros | Cons |
| Gives you the largest deposit limits. | Slow method- may take 3 to 5 days for your funds to be credited. |
| Most secure method of transaction. | |
| Cost-effective. | |
Buy Cryptocurrency with Neteller
Neteller is an online money provider that facilitates e-money transfers among different merchants like stock trading firms, cryptocurrency exchanges, and even social network firms. To buy cryptocurrency with Neteller, first, deposit funds into your Neteller wallet and use the balance to purchase cryptos.
| | |
| --- | --- |
| Pros | Cons |
| Instant deposits. | Not accepted by many providers. |
| Easy withdrawals to Neteller and to the bank. | Might have high withdrawal charges to your bank account. |
Buy Cryptocurrency Revolut
Revolut is an e-money application that provides digital banking services to users. Clients hold bank account numbers in different countries which allows them to transact with ease. Revolut users can apply for a card that works similarly to a credit card or debit card. The Revolut card is not accepted by most crypto providers but you can buy cryptocurrency with Revolut by transferring money directly from a Revolut account, just like a normal bank wire transfer, into your crypto wallet. Coinbase is one of the exchanges that allow Revolut deposits through SEPA.
| | |
| --- | --- |
| Pros | Cons |
| Revolut is a cost-friendly method to buy cryptocurrencies. | Revolut card is not accepted as a funding method, you must initiate a wire transfer. |
| High transaction limits. | Might have high withdrawal charges to your bank account. |
Important Tips to get you along
Tip1: Selecting a Cryptocurrency
With thousands of cryptos available, none is the best to buy. However, we can have the best buy in line with your goals. For example, Bitcoin is so far the best cryptocurrency to buy for investors looking for a reserve asset. BTC has a widespread acceptance and adoption and is in limited supply. There are more chances that it will continue to be the most expensive and valued crypto in the future. Regardless of your purpose for buying cryptos, always go for the ones that are in the top 50 market capitalization of cryptos. Small-cap cryptos tend to under-deliver and disappoint investors. Small market cap cryptos are risky and you would want to avoid them as compared to top 50 market cap cryptos like Bitcoin. You also want to invest in cryptos that are solid and have a sustainable backing project. You can always find this information by reading the cryptocurrency's white paper. A whitepaper reveals to you details on how the coin works as well as its intended use and future.
Tip 2: Cryptocurrency Trading vs Stock Trading
It's possible to be confused about the difference between crypto trading and stock trading especially after reading this article. Let us help you put things into perspective. Cryptos are extremely volatile; they can rise and fall within a short time and cover as much as 50% price gain or loss within a matter of days. Crypto trading is generally seen as riskier than stock trading for this reason. On the other hand, the risk level of these two markets also depends on how you trade them. Trading penny stocks could hold as much or even more risk than trading cryptos.
You should be fully aware of the risk that trading cryptocurrencies carry before you invest in them. If you are a firm supporter of cryptos, it is much better to buy a cryptocurrency and hold it as a long-term asset other than trying to trade lows and highs.
Tip 3: Trading on an exchange means you need to understand order types
You are going to have to learn about order types such as limit orders and market orders if you are trading on an exchange. In some brokers such as eToro, you will need to learn how stops work so that you can effectively buy cryptocurrency without exposing yourself to unnecessary risk. It is also important to understand the concept of slippage. Lastly, be careful about placing huge orders since the crypto market can run out of liquidity.
Tip 4: Securing your Account
We cannot overemphasize the need for securing your account. You need to understand that if your crypto account gets hacked and you lose everything, there is no way for you to recover what is lost. This is why you always have to make sure that your account is well protected. A rule of the thumb is to have a strong password and add 2FA (two-factor authentication). Change your passwords from time to time and never save them to your device. You can save your passwords on a different device that you never use to access your crypto wallets. If possible, find an offline secure method of saving your account's credentials.
Tip 5: Cryptocurrency trading is taxable
Before you buy cryptocurrency in the US, make sure you understand the tax implications of this kind of investment in your state. Cryptocurrency trading is a taxable event and you wouldn't want to be on the wrong side of the law while trying to invest your money. You could fall into some nasty traps if you ignore this advice.
Tip 6: Bitcoin Trading Robots
If you want to buy cryptocurrency but are still thinking that it's such a complex thing, you may consider sourcing for a crypto-robot. Most robots trade bitcoin. Robots are algo-based software programs that have been developed to follow certain strategies in buying and selling cryptos automatically; your intervention is not needed. These programs decide 100% when to take buy orders and sell orders as well as when to exit the market. Brokers like eToro operate under regulation but robots do not, hence comes a risk of loss of capital. Seek proper advice and do enough research before investing in a robot.
Buy now
CFDs are complex instruments and carry a high risk of losing money quickly through leverage. 75% of retail investor accounts lose money when trading CFDs from this provider.
Buy now
CFDs are complex instruments that have a high risk of losing money quickly due to leverage. 72.6% of retail investor accounts lose money trading CFDs with this provider.
Buy now
CFDs are complex instruments and carry a high risk of possible rapid loss of capital due to their leverage. 71% of retail investor accounts lose capital when trading CFDs with this provider. You should consider whether you understand how CFDs work and whether you can afford to take high risk in losing your capital.
| | | | |
| --- | --- | --- | --- |
| N/A | Yes | CBI and MiFID in Europe | |
| | | | |
| --- | --- | --- | --- |
| N/A | Yes | 1:2 for cryptocurrencies | |
| | | | |
| --- | --- | --- | --- |
| $37165.12 | $37198.57 | $37291.47 | |