Coinbase Pro Review – Is Coinbase Pro Safe? Features and Fees Explained
Please note that we are not authorised to provide any investment advice. The content on this page is for information purposes only.
If you are an experienced crypto trader looking for a suitable exchange interface, then the Coinbase Pro platform might be the right fit for you. This advanced version of the popular Coinbase exchange gives you access to additional tools, lower fees, and a lot more control over your trades.
In this Coinbase Pro review, we provide you with all the details you need to know about this exchange. We discuss the different tools available, what fees are charged, the security offered, and whether it is a suitable platform for your cryptocurrency needs.
Recommended Broker – eToro
What is Coinbase Pro?
Coinbase Pro is the advanced trading platform run by Coinbase Global, Inc. The website was originally called GDAX and was rebranded in 2018 to cater to the needs of professional traders. Apart from offering better features and tools, this platform gives you access to digital assets that are not listed on the traditional version of the exchange.
As a global platform, Coinbase Pro offers its services to traders across the world and offers free fiat onboarding for users in the US, UK, and the EU. The exchange offers a secure way for you to buy, sell, and trade cryptocurrencies online and instantly – by supporting a wide range of markets. Moreover, the trading interface is equipped to provide you with all tools necessary to track the market, monitor your orders, manage portfolios, and more.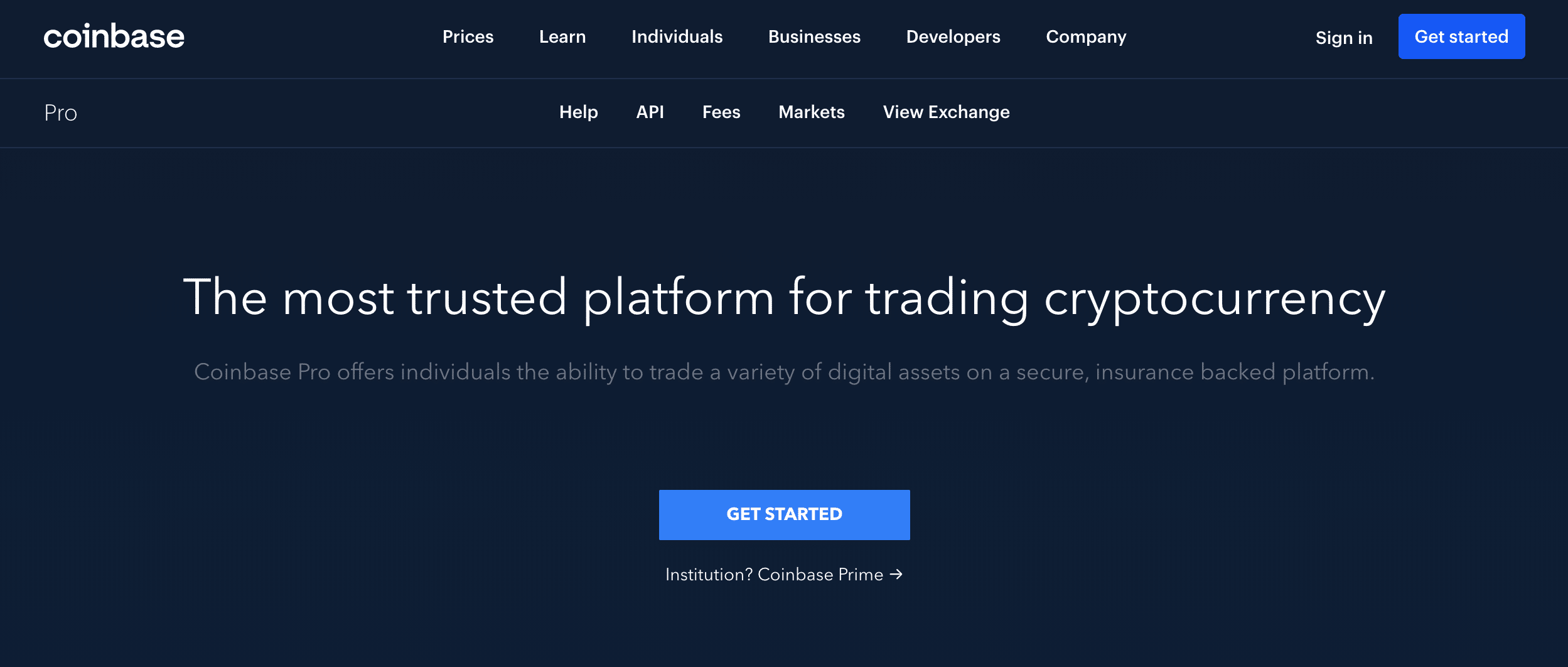 In terms of security, Coinbase Pro is on par with some of the safest cryptocurrency trading platforms that you will find online. This exchange is fully regulated and licensed in all US states, except Hawaii.  The site also enforces active coin management protocols such as cold storage and multi-signature wallets to offer added protection for your digital assets.
There is a wide selection of digital currencies that you can trade on Coinbase Pro. You can pick a crypto-crypto, or a crypto-fiat pair, depending on your trading preferences. When it comes to fees, the commissions at Coinbase Pro are dynamic, based on whether you are a maker or taker on the platform.
Coinbase Pro Pros and Cons
Based on our extensive Coinbase Pro review process, we found that this platform has the following pros and cons.
Pros
Hundreds of crypto trading pairs supported
Supports fiat currency deposits
Regulated in the US
Cons
Perhaps not suitable for beginners 

Limited charting tools and technical indicators

No passive investment tools

No demo account
Cryptoassets are highly volatile unregulated investment products. No EU investor protection. 67% of retail investor accounts lose money when trading CFDs with this provider.
Coinbase Pro Supported Markets
Coinbase Pro has a large selection of assets listed on the platform. There are over 100 digital tokens that can be exchanged against fiat currencies such as the US dollar, euros, British pounds, and cryptocurrencies like Bitcoin, and Ethereum. You can also trade stablecoins – including Tether, and Terra USD.
This exchange is particularly known for providing high liquidity in terms of monthly trading volume in USD. Due to this, it is one of the most popular platforms preferred by traders to buy and sell cryptocurrencies.
Coinbase Pro Trading Platform
As an advanced cryptocurrency exchange, Coinbase Pro comes integrated with an enhanced trading platform. The interface is well laid out and offers you easy navigation. In fact, even though the site is geared towards professionals, you will find that the layout is intuitive for traders of all levels.
You can see order books, trade history, charts, indicators, and enter positions directly, without having to figure out where to click. The platform also makes it incredibly easy to switch between different markets to buy and sell assets.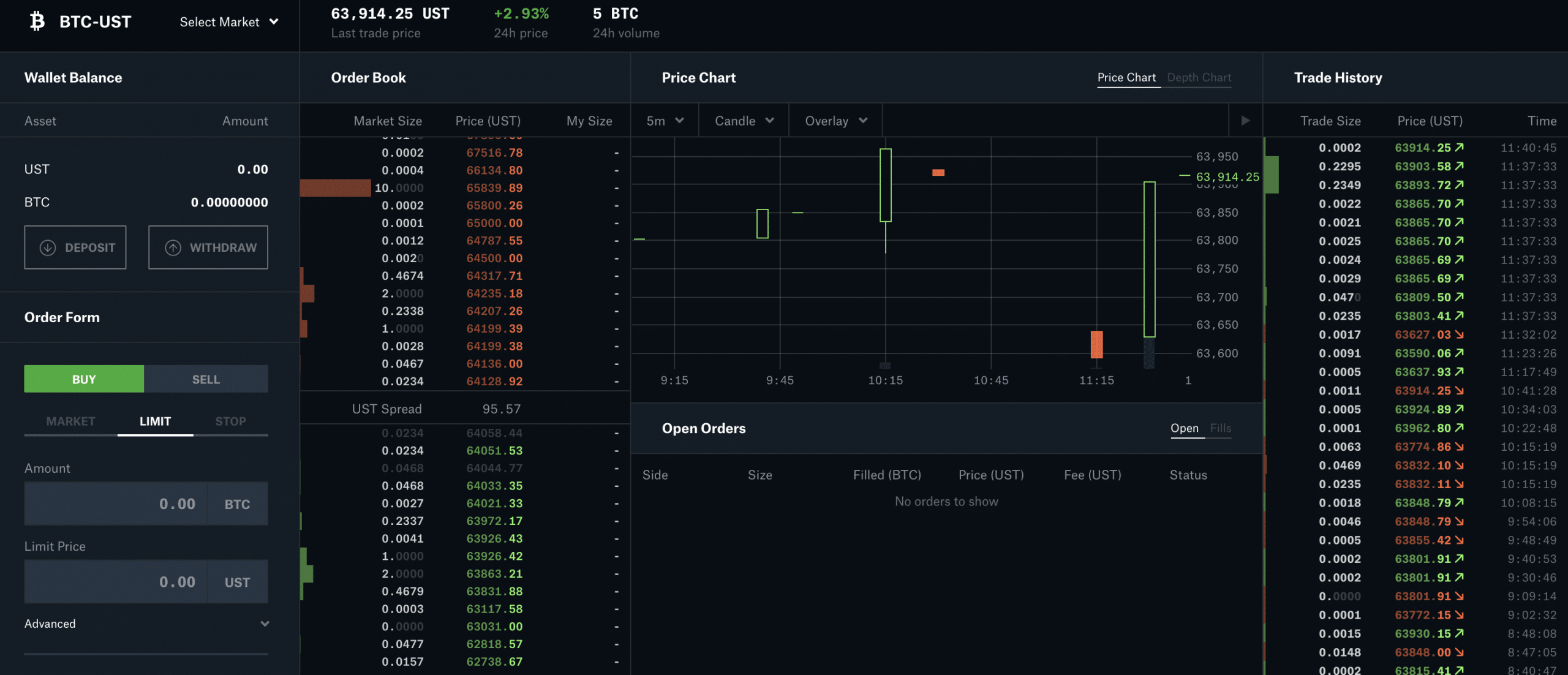 However, it is also important to emphasize that this isn't the most robust trading platform that you will come across. Although more advanced than the traditional Coinbase version, the interface still lacks in terms of the indicators and other technical tools offered. In fact, there are only two EMAs available (Exponential Moving Average) and no other indicators.
When it comes to charts, you will have to choose between a candlestick or a line pattern based on your personal preferences.
Unfortunately, this means that for trades that like to deploy technical analysis tools, Coinbase Pro might not be the best option.
The platform is also very limited when it comes to customization.
There are only market, limit, and stop orders to choose from, and nothing else that might be sought by experienced professionals that gives them more control over their positions.
Furthermore, there are also no derivative products or other financial instruments available. Although Coinbase Pro was used to facilitate margin trading, recent regulatory changes have resulted in the platform shutting down this service.
That being said, Coinbase Pro also comes with an API function. This means that if you are a developer, you can use code to develop bots to trade cryptocurrency 24/7 all year round.
Coinbase Pro – Supported Countries
Coinbase Pro is currently available in 70 countries across the world – including the US, UK, Europe, South Africa, India, Oman, New Zealand, Mexico, and more. Where you reside will determine the trading pairs you have access to.
Moreover, Coinbase Pro does not provide its services in the US states where Coinbase, Inc., is not licensed to operate. Currently, this means that those in Hawaii will not be able to benefit from the advanced features and products offered by this exchange.
Coinbase Pro – Payment Methods
One notable advantage of Coinbase Pro is that it allows you to fund your trading account using both fiat and cryptocurrencies. In order to do this, you can simply head over to your portfolio on the platform and click on the 'Deposit' button that you find in the right-hand corner of the screen.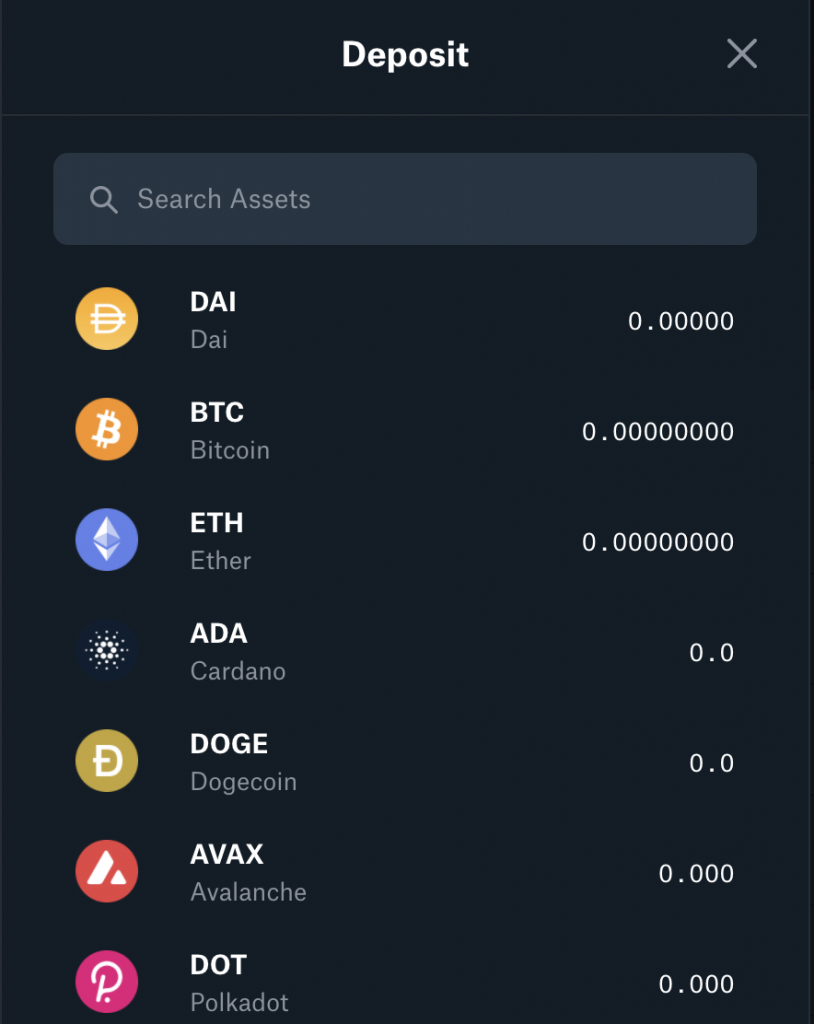 You will then see a dialogue box open up like in the image above, from where you can select the asset you want to deposit.
Coinbase Pro – Fiat Deposits and Withdrawals
Here is a list of the payment methods supported for the different fiat currencies available on Coinbase Pro:
USD: When it comes to making USD deposits, you can choose between a debit card, ACH, or a bank wire transfer. While the first payment method allows you to process transactions instantly, the latter two options could take anywhere from one to seven business days.
EUR: If you are located in a European country or the UK, you can make a deposit of EUR via a SEPA transfer. It can take between 1-3 business days for the funds to come through to your account.
GBP: Lastly, you can also deposit GBP to your Coinbase Pro account by making a bank transfer.
Note that funding your account with EUR or GBP is currently available only via the Pro website and not the mobile app. In order to make withdrawals, you can use the same payment method.
Coinbase Pro verifies your bank account details once you have completed the first deposit, after which you will be able to make transfers automatically. Unfortunately, while Coinbase supports PayPal for making fiat deposits and withdrawals, this option is not available in the Pro version.
Coinbase Pro – Crypto Deposits and Withdrawals
On Coinbase Pro, you will also have the option to fund your account with cryptocurrencies. This can be done by sending digital assets from another exchange or external wallet.
You only have to copy the correct address of your chosen token and use it to send the coins from the external wallet.
Withdrawals can also be processed the same way, by transferring cryptocurrencies from your Coinbase account to external storage.
In this case, you will need to obtain the destination address from your private wallet.
Crypto deposits and withdrawals are available on both the Coinbase Pro website and mobile version (for USD transfer). There is also a minimum trade requirement that varies based on your chosen cryptocurrency and trading pair.
Transferring Funds Between Coinbase to Coinbase Pro
Since both Coinbase and Coinbase Pro accounts are linked, it only makes sense that you have an option to transfer your funds seamlessly between these two platforms. The only thing you need to remember is that these two exchanges have different wallets.
As with other transfers, you can make deposits and withdrawals from your portfolio, and proceed by selecting Coinbase as the source of your funds.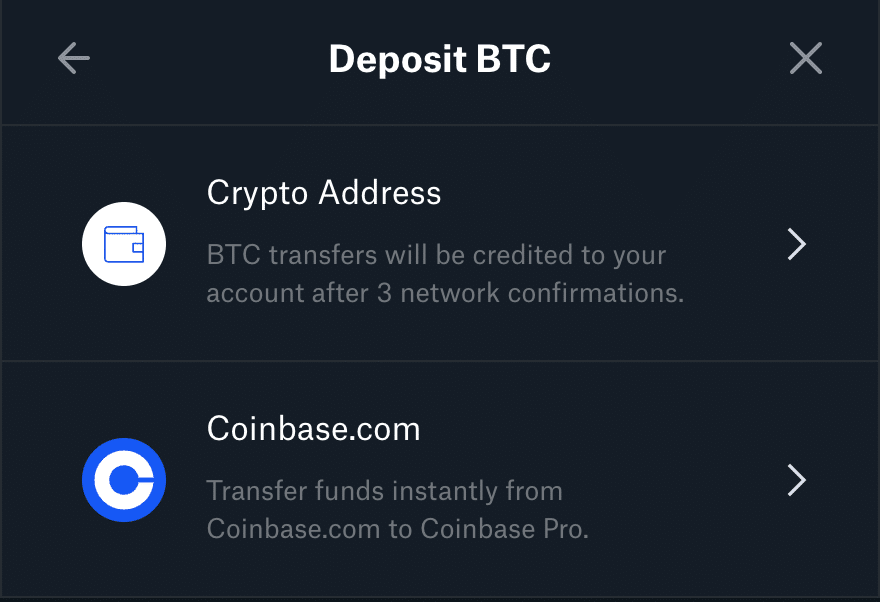 You can then select the number of tokens or the amount of fiat money you want to transfer to complete the deposit or withdrawal. The main advantage of using this option is that there are no fees involved.
However, you will need to remember that these transfers can count towards your Coinbase Pro cashout limit.
Coinbase Pro – Fees
If you are a regular trader, then there is no doubt that you will be interested in learning about the fees charged by Coinbase Pro. As such, in this section of our Coinbase Pro review, we will break down the main fees that you will come across when using the platform to trade.
Coinbase Pro – Trading Fees
When it comes to the trading fees, our Coinbase Pro review found that the platform operates on a maker-taker fee model. This means that the charges you are liable for will be determined by whether you are taking liquidity from the exchange, or adding to it.
To explain further:
If your order gets filled right away, then you are a 'taker'. This means that you will pay a fee between 0.04% and 0.50%.
On the other hand, if your order is not filled immediately, then it will be placed in the order book.
You will then have to wait until another trader matches it and you become a 'maker'.
If this is the case, you will pay between 0.00% and 0.50%.
In addition, this fee is also dynamic based on your 30-day trading volume. To simplify, the more you trade, the less you pay in fees. The tier you belong in is recalculated every hour based on your activity on the platform. 
The fees also differ if you are trading stable pairs such as USDT/USD, or USDC/EUR. In this case, takers will be charged 0.01%, and makers will be able to complete their orders for free.
Coinbase Pro – Deposit and Withdrawal Fees
Our Coinbase Pro review found that the exchange also charges you for deposits and withdrawals. This can only be avoided if you are using ACH as your payment method. If not, the following fees will be incurred depending on your chosen currency.
USD – Wire transfers will cost you $10 and $25 for deposit and withdrawal respectively.
EUR – Making payments via SEPA will come with an additional flat charge of €0.15.
GBP – While deposits are free for Swift payments, withdrawals will cost you £1.
Cryptocurrency payments will also cost you a fee based on the network. This will be calculated and disclosed to you at the time of making the transfer.
Coinbase Custody
Coinbase Custody provides you access to safe cold storage for your digital assets. This feature is included as a part of both Coinbase and Coinbase Pro.
What sets this wallet apart from other service providers is the fact that it is regulated by the New York Department of Financial Services (NYDFS).
Although the storage option is integrated into both versions of the exchange, Coinbase Custody functions as an independent entity.
By choosing Coinbase Custody for storing your digital assets, you will also be able to benefit from staking benefits as well as obtaining access to voting on governance for supported cryptocurrencies.
Coinbase Pro – Mobile Platform
Like many leading exchanges in this space, Coinbase Pro also comes in a mobile version. The app features all the necessary tools of the platform and is available on both Android and iOS. You can use it to make deposits, withdrawals, and use the different types of orders supported to trade your desired pairs.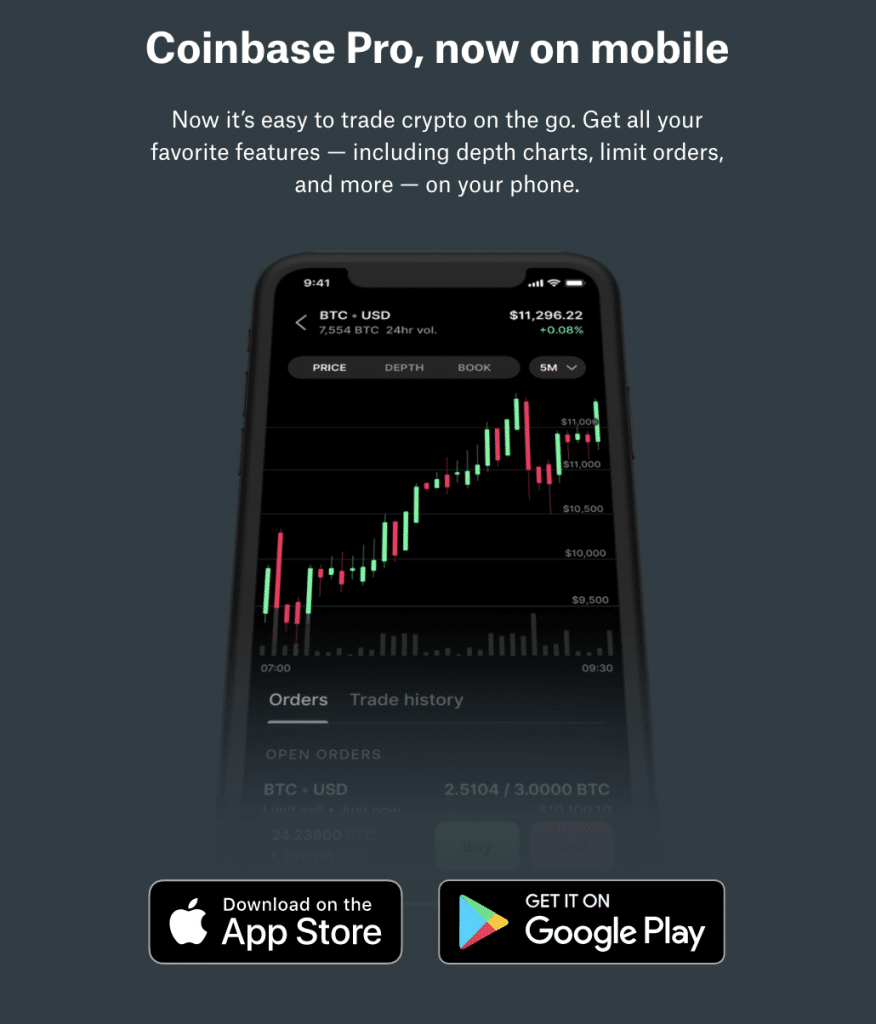 However, there are still a few features that are missing – such as using stop-limit orders or accessing advanced charting tools. Regardless, the app can come in handy if you are looking to place cryptocurrency trades on the go.
Coinbase Pro Regulation
Coinbase Pro presents itself as a cryptocurrency trading platform that enjoys high levels of trust from its users. This mainly comes from the fact that this is one of the few exchanges that is regulated in the US,  by a respected authority such as the New York State Department of Financial Services.
In addition, Coinbase Pro also offers crime insurance that protects digital tokens held in its storage systems.
This means that in case of theft resulting from any cybersecurity breaches, your assets will be protected.
However, the platform also emphasizes that if such a loss is occurring from unauthorized access to your personal Coinbase Pro account, particularly due to the loss of your credentials – you will not be able to benefit from this insurance.
In other words, it is your responsibility to use a strong password, and ensure that you keep your login credentials safe.
In addition to this, all US dollar account balances on Coinbase Pro are also insured under the FDIC. This means that your funds up to the first $250,000 are federally protected by the US government.
This is not an aspect commonly found in any other cryptocurrency exchange. That being said, it is crucial to note that this protection does not extend to your digital assets, but only to the USD that you have stored in your account. Furthermore, FDIC coverage only applies to US clients.
Coinbase Pro Security Features
Aside from regulatory protection, the exchange also enforces a variety of measures to enhance the security of the platform.
Our Coinbase Pro review found the following safeguards:
2FA on all user accounts
Website traffic encrypted using SSL cryptographic protocol
Wallets and private keys encrypted using AES-256 encryption
98% of crypto assets held in cold storage
Background and security check for all employees
And most reassuringly, Coinbase Pro has obtained a BitLicense from the New York Department of Financial Services. This means that the platform has to regularly submit its financial records for audits to demonstrate that it is soundly managed and that it offers sufficient levels of liquidity.
Coinbase Pro KYC
Before signing up on this exchange, it is also important to know that Coinbase Pro follows a thorough verification process. This means that you will not be able to trade anonymously on this platform. In order to complete the KYC process, you will need to submit two forms of documents.
Unlike most cryptocurrency platforms you come across, the process of identity verification on Coinbase Pro differs based on your location.
For instance:
US customers can upload a driver's license or state ID.
For those based in the UK, you have the option to choose between a driver's license, passport, or any other government-issued ID.
If you are in the EU, Australia, Canada, or Singapore, you will need to upload two different IDs.
Aside from providing an identification document, you will also need to answer a set of questions that covers your experience in cryptocurrency trading. You also have the option to verify IDs from two different countries, but this will require you to initiate a manual review by contacting the customer support team.
That said, if you already have a Coinbase account, then any verification you have already done will also extend to your Pro account. The platform also emphasizes that in the case you experience trouble completing the verification process, you can use the mobile app.
Coinbase Pro – Customer Support
Coinbase Pro allows you to reach out to customer care in three ways – email, Twitter, and live chat. However, the live chat option is somewhat deceiving, as it is operated by a bot. Furthermore, receiving support via phone from a live agent is currently not available. In case of any query, you will need to take action by sending a message to the team.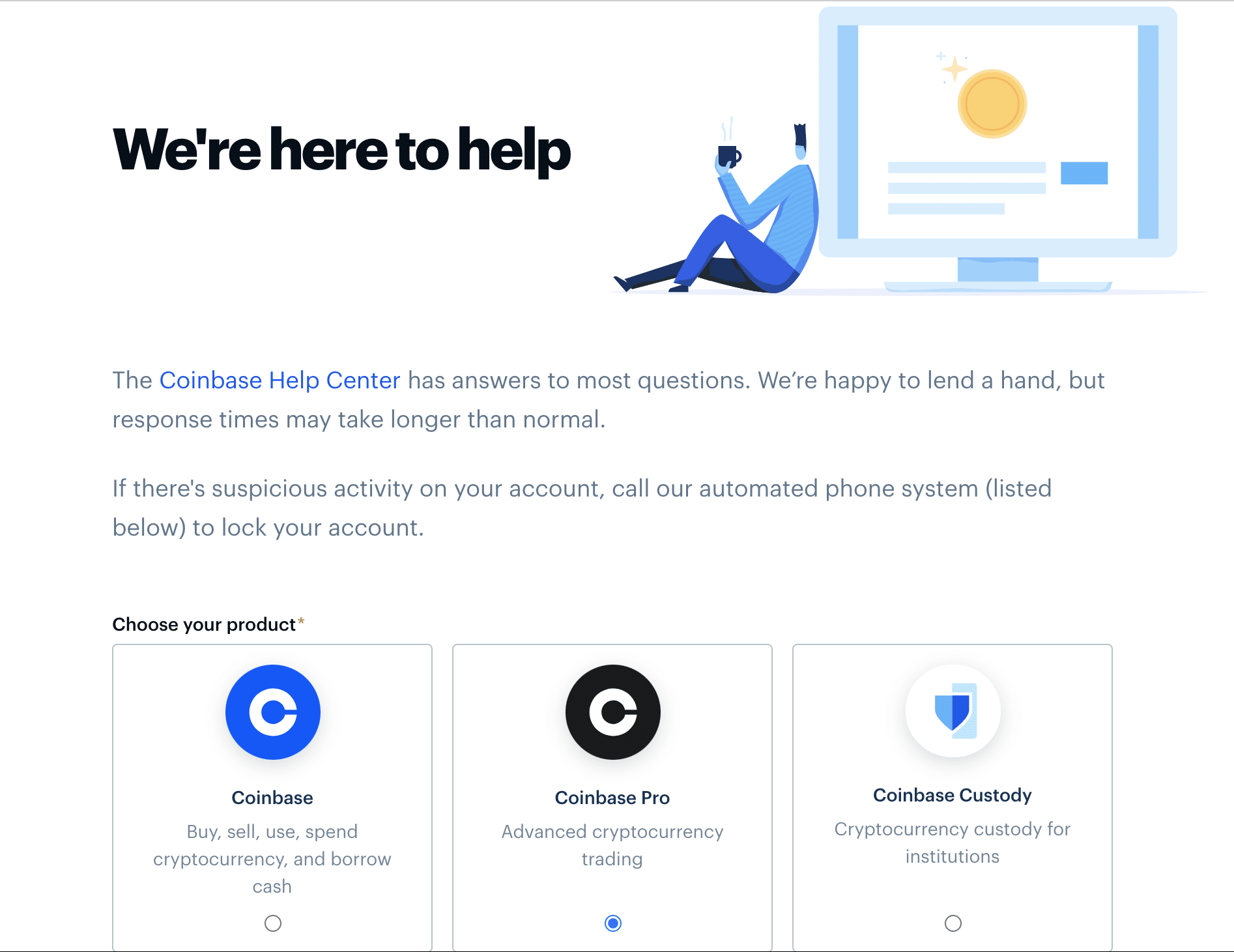 Furthermore, the platform also comes with a collection of educational resources which includes video tutorials and how-to articles that allows traders to familiarize themselves with the different features of the exchange. There are also dozens of posts that cover trading strategies and market trends to help you stay updated.
Coinbase vs Coinbase Pro
When conducting our Coinbase Pro review, we thought it would be wise to make a between the advanced and the traditional version of this platform. As you might have already gathered, Coinbase caters to beginner traders and those who wish to buy and sell cryptocurrencies with ease. However, if you are a professional who is highly active in this trading space, you have plenty to benefit from when choosing Coinbase Pro.
Not only does this platform allow you to streamline your orders, but you can also avoid incurring high fees.
Another advantage of using Coinbase Pro is that you have access to different types of trading orders.
Unlike Coinbase, you can also place market, limit, and stop-loss orders when buying and selling digital assets.
The interface might appear to be complex to the untrained eye, but for advanced professionals, it is quite easy to use and accessible.
Both Coinbase and Coinbase Pro allow you to conduct transactions using either the web browser or mobile app. Other services – such as digital wallets for storing your cryptocurrencies, and the security aspects are common to both platforms.
To sum up, while Coinbase facilitates easy transactions and storage of digital assets for everyone – Coinbase Pro caters only to professionals.
And as such, the latter version might be overwhelming if the user is not educated entirely about advanced crypto trading.
So, when it comes down to whether or not you should upgrade to Coinbase Pro, the answer depends on your trading preferences.
If you are a beginner, then the traditional platform can offer you almost every feature that you could possibly need.
On the other hand, if you are familiar with advanced trading and feel comfortable navigating it, then Coinbase Pro might be worth considering.
eToro vs Coinbase Pro – Comparison
There is no doubt that Coinbase Pro is an excellent cryptocurrency trading platform available in the online space. But is it the best? To provide you with a clearer picture, we have prepared a comparison of Coinbase Pro with eToro -a regulated brokerage that caters to over 20 million clients across the world.
Here is what we found out:
Safety and Regulation
Coinbase Pro is one of the few cryptocurrency exchanges to hold a valid license with a renowned financial authority, the NYDFS. This adds to the security of the platform to an extent.
However, when compared to eToro, a well-established broker with licenses in four different jurisdictions including the US, it still falls short.
This is because eToro is regulated in the UK by FCA, in the US by SEC, in Australia by ASIC, and in Europe by CySEC.
As you can see, when you use eToro for your investments and trades, you receive an unparalleled level of protection that is rarely found in the online investment arena.
Available Markets
Another area where eToro wins hands-down is in the number of supported markets. Coinbase Pro offers support only for cryptocurrencies. This means that if you want to trade other assets or make a direct investment, you will have to look elsewhere.
On the other hand, if you choose eToro – you will be able to buy and sell not only cryptocurrencies but also virtually any other type of asset available. The broker supports thousands of financial instruments including stocks, commodities, and forex,  and you will also be able to diversify your funds using ETFs and indices.

Moreover, eToro also gives you access to CFD instruments and allows you to trade assets with leverage. This is a key feature that is missing at Coinbase Pro, especially when considering that the exchange advertises itself as an advanced trading platform.
User-Friendliness
Coinbase Pro does feature a sleek interface. However, if you are a beginner, this platform is far from the ideal choice. There are a few tabs to navigate through, and the crowded appearance can confuse the newbie traders.
In the case of eToro, you will be welcomed with a simple trading interface that allows even the absolute beginner to trade with ease.
You will be able to create your account, make a deposit, and start placing trades – all within a few minutes.
Moreover, eToro also comes with a demo account that allows beginners to practice trading with paper money – a feature that is altogether missing on Coinbase Pro.
Payment Methods
Although Coinbase Pro supports a few different payment methods, there is no way for you to make instant purchases other than funding your account with USD. This can be an issue for those residing outside the US. Whereas on eToro, you have access to debit/credit cards, bank transfers, and even e-wallets such as PayPal, Neteller, and Skrill.
Fees
When it comes to fees, you will find that eToro allows you to trade cryptocurrencies by charging you only a variable spread – that starts from 0.75%.
For those unaware, this is the markup between the buy and sell prices of your chosen asset.
In addition, if you choose to invest in stocks or ETFs, you will have access to a 0% commission policy.
Coinbase Pro, on the other hand, charges you a fee determined by your trading volume. There are also additional charges for making deposits and withdrawals on the platform, which isn't the case with eToro – where all USD-based transactions are absolutely free. If you are depositing funds in another currency, you will simply pay a 0.5% FX fee.
Passive Investment Tools
Another feature that Coinbase Pro lacks is support for passive investment tools. In fact, this is also an aspect that sets eToro apart. To elaborate, the latter supports two options where you can engage in trading without having to place any positions yourself.
To facilitate this, eToro offers a CopyTrading feature. This allows you to choose an experienced trader featured on the platform and invest in them. Any position opened or closed by the trader will then be replicated in your portfolio, at a proportionate sum.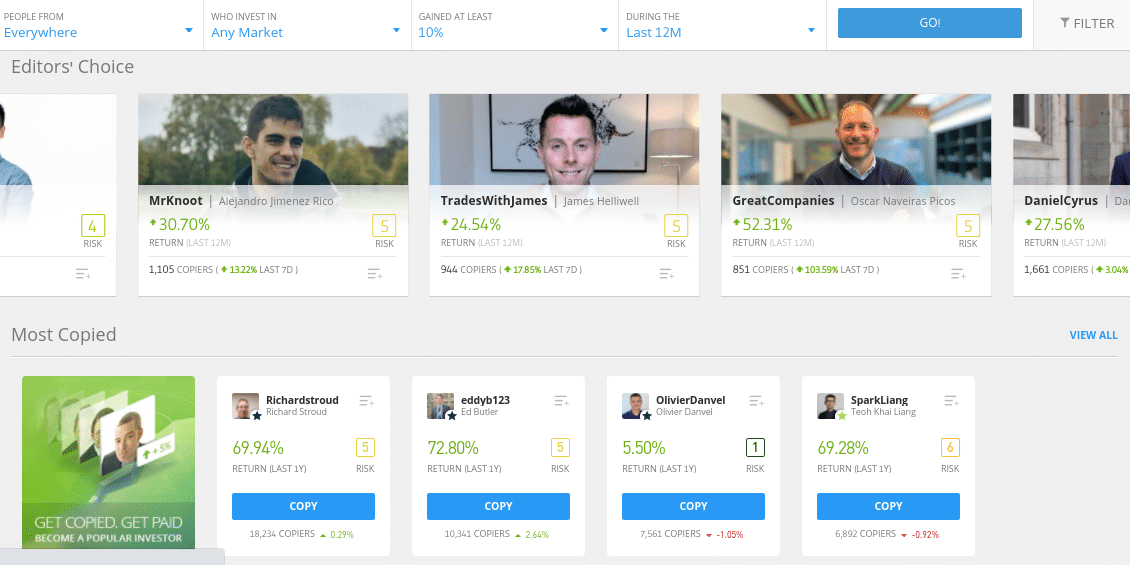 You will also be able to set up passive investment by using the eToro CopyPortfolio tool. In this case, the eToro management team will pick a selection of cryptocurrencies at various weights and balance them periodically.
Coinbase Pro Review – Conclusion
Over the years, Coinbase has built a strong reputation in the cryptocurrency industry as a user-friendly exchange for beginners. With Coinbase Pro, the platform offers the right combination of pricing and trust, which has thus encouraged growth among advanced traders.
However, in spite of the security it offers, Coinbase Pro is not the best exchange in this marketplace when it comes to fee and asset diversification. For example, at eToro, you can trade dozens of cryptocurrency markets on a spread-only basis, and US clients can deposit funds for free.
Plus, the broker supports a much wider selection of payment methods – including debit/credit cards, Paypal, and Neteller. Finally, eToro also offers a Copy Trading tool that allows you to passively invest in an experienced and proven trader.
eToro – Best Broker to Trade Crypto
FAQ
Is Coinbase Pro regulated?
Is Coinbase Pro available in the US?
What fees does Coinbase Pro charge?
How do you contact Coinbase Pro?
What is the Coinbase Pro minimum deposit?