Invest in Bitcoin Australia – How To Invest In Bitcoin For Beginners
From an all-time low of $65.53 in 2013 to an all-time high of $64,863.10 in April 2021, the price of Bitcoin has increased by just under 60,000% since its launch. Furthermore, with a market dominance of 48.65% and a market cap of $727,832,826,677.99 Bitcoin is one of those crypto assets that could exceed investor expectations, potentially offering much higher ROIs than most alternatives across the board.
With that said, if you want to know how to invest in Bitcoin in Australia, this beginner's guide will cover all the key metrics from picking the right crypto investment platform, to the latest and relevant research.
Invest In Bitcoin Using eToro – Australia's #1 Bitcoin Broker
How to Invest in Bitcoin Australia Quick Tutorial
How do I invest in Bitcoin? This age-old question is one that all beginner traders have been asking since Bitcoin was introduced in 2009. As such, follow these four simple steps to invest in Bitcoin in Australia from the comfort of your own home.
Pick a Bitcoin Broker: The first step is to choose a top-rated Bitcoin broker. We recommend eToro, which is fully regulated and authorized by the Australian Securities and Investments Commission (ASIC) and allows you to invest in Bitcoin from just $25.
Open an account: The next step is to visit the eToro website, click on 'Join Now' and register a brokerage account by providing your personal details.
Deposit Funds: Once your account has been verified you can deposit funds with a debit/credit card, e-wallet, or bank transfer.
Invest in Bitcoin Australia: Lastly, search for Bitcoin (BTC) and enter your preferred investment amount. Finally click on the button marked 'Open Trade' to open your position.
And there you have it – you've just invested in Bitcoin on eToro with a typical spread of just 0.75% and zero commissions.
Choose a Bitcoin Investment Platform
If you want to invest in Bitcoin, arguably the most important aspect of this process is choosing the right broker or crypto exchange that suits your trading goals and needs.
Most top-rated brokers and crypto exchanges allow you to invest in Bitcoin within minutes from both desktop and mobile devices. Is the crypto platform regulated? What are the trading fees? What payment methods are available? These are just some of the questions you need to ask when selecting a broker or exchange.
To help you pick the right Bitcoin trading platform in Australia, let's explore some of the best options out there, covering all key metrics in detail.
1. eToro – Overall Best Platform to Invest in Bitcoin
Founded in 2006, eToro is one of the best Bitcoin trading platforms for beginners. This social trading platform, which serves over 20 million active users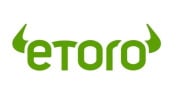 worldwide, offers a variety of financial products and markets from commission-free stocks and ETFs, to CFDs, cryptos, and forex pairs. Perhaps the best selling point is that you can invest in Bitcoin with typical market spreads of 0.75% and zero commission. Furthermore, you can store your BTC in the secure eToro Money crypto wallet.
What tradable assets does eToro offer?
eToro is mainly a CFD and forex broker. Nevertheless, you can also invest in real stocks, ETFs, and several cryptocurrencies. eToro also has some innovative trading features and tools including CopyTrader and CopyPortfolio. These allow you to copy the trading strategies of other experienced investors with the click of a button.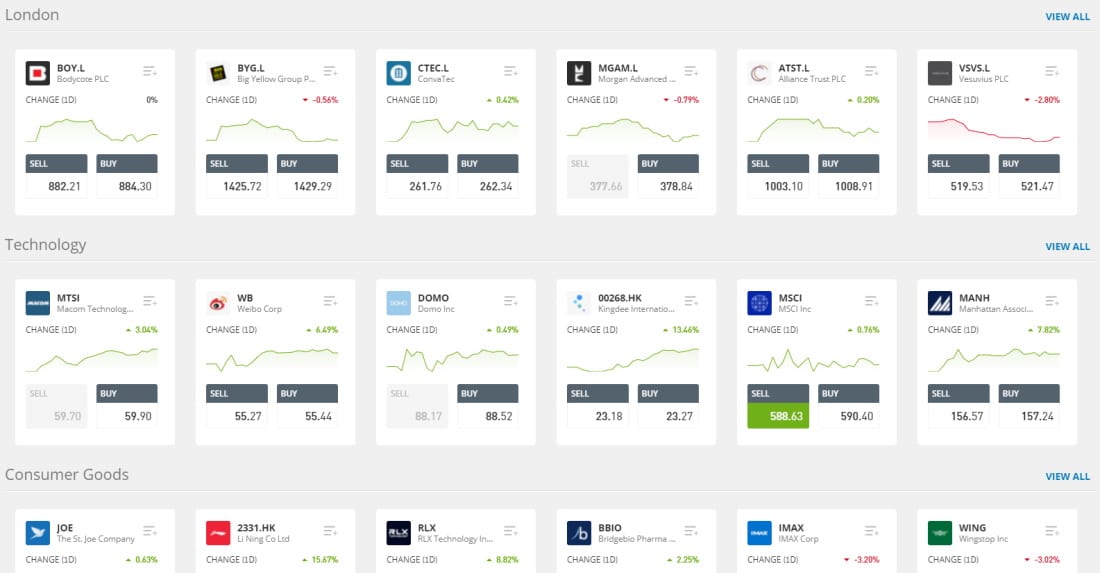 When you open long positions on stocks, ETFs and digital assets without using leverage, you are investing in the underlying asset, and the asset is bought in your name. The same applies to fractional share trading. For instance, on eToro you can invest as little as $50 to buy a portion of a share whose price per unit is $2,000. When you open a non-leveraged BUY (long) position on a stock, eToro charges 0% commission as well as no markup, no ticket fee, and no management fee.
All leveraged long and short positions in ETFs, stocks, and cryptocurrencies, as well as all positions in forex, are traded as CFDs.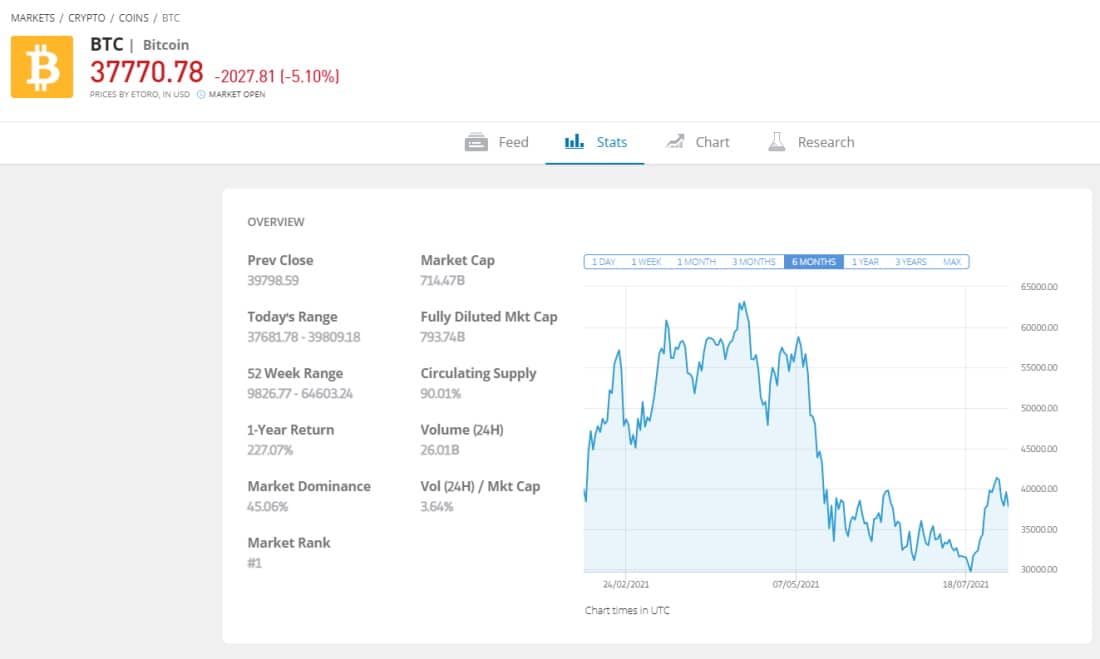 Is eToro safe?
eToro is fully regulated by top-tier financial regulators including the UK's FCA, CySEC, and ASIC. All in all, eToro is one of the best cryptocurrency trading platforms for beginners looking to diversify their crypto portfolios with the most popular digital assets on the market.
Pros
Minimum deposit of only $50
Offers Bitcoin and 15 other top cryptocurrencies
Minimum crypto investment of just $25
Offers CopyTrader and CopyPortfolio tools to fully automate your Bitcoin investments
Invest with 0% commission and market-leading spreads
Cons
67% of retail investor accounts lose money when trading CFDs with this provider.
2. Coinbase – Top-rated Bitcoin Exchange Home to 35+ Million Crypto Traders
Coinbase is one of the leading cryptocurrency exchanges, according to coinmarketcap.com, with a market cap of more than $47 billion and an average 24-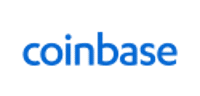 hour trading volume of more than $1.4 billion. Coinbase (NASDAQ: COIN) received $500 million in a blockbuster IPO on the NASDAQ market in April 2021, valuing the cryptocurrency exchange at $8 billion.
When you purchase and sell cryptos on Coinbase, you'll have to pay a normal commission of 1.49 percent per slide. Coinbase charges a fee when you convert one cryptocurrency to another. This 2% spread is slightly higher than the industry average when compared to its competitors.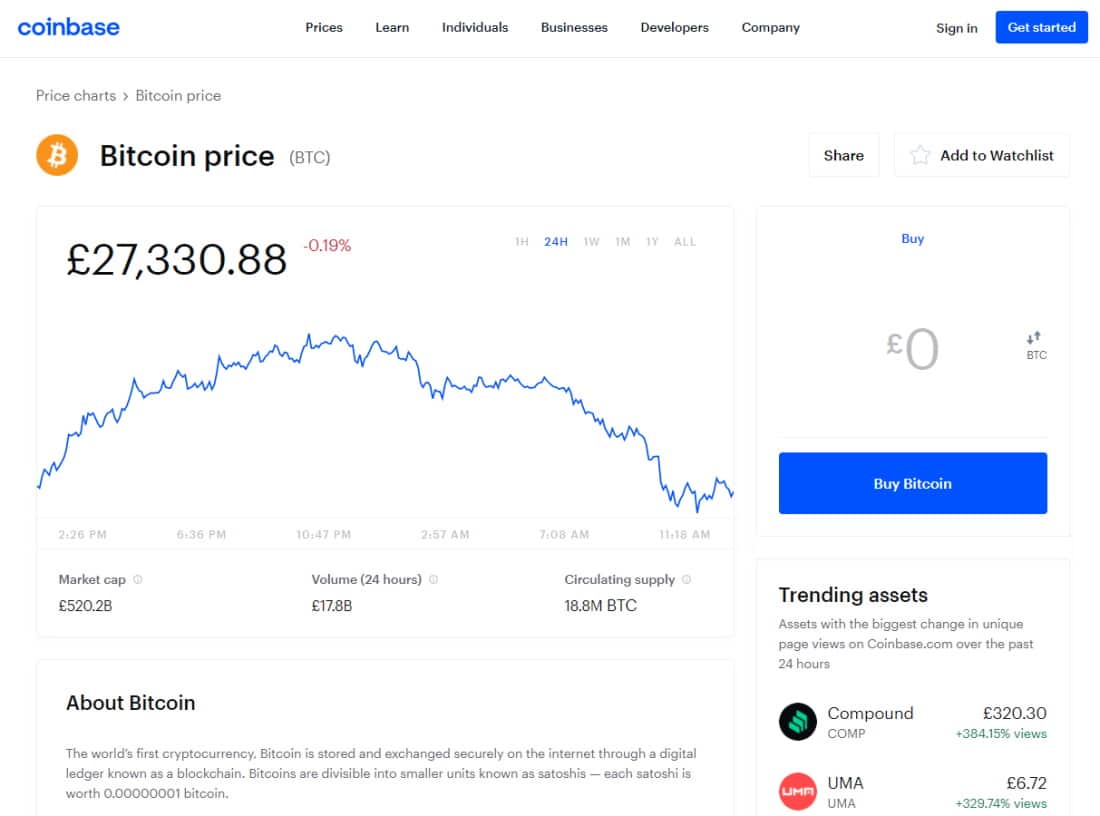 Coinbase accepts debit cards, cryptocurrency, and bank transfers as payment methods. We recommend that you use bank transfers to fund your account to avoid the 3.99 percent Coinbase fee on debit card deposits and transactions.
In terms of regulations and security, Coinbase is registered with FinCEN as a Money Services Business, and is listed on the NASDAQ exchange and therefore discloses its financials publicly.
Pros
User-friendly crypto exchange platform ideal for beginners
Straightforward account opening process
Wide range of payment methods i.e debit cards and bank transfers
No inactivity fees & no minimum deposits
Registered with FinCEN as a Money Services Business
Cons
High debit card deposit fee of 3.99%
Cryptoassets are highly volatile unregulated investment products. No EU investor protection. 67% of retail investor accounts lose money when trading CFDs with this provider.
3. Binance – Best Cryptocurrency Exchange with High Trading Volumes and Liquidity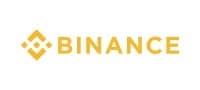 Binance is one of the largest cryptocurrency exchanges in the world, with a daily trading volume of more than $13 billion. Binance, which is based in the Cayman Islands, was founded in 2017 and today boasts a client base of over 15 million people.
In comparison to most of its competitors, Binance's trading fees are low. The fee for spot trading is only 0.1 percent, and the instant buy/sell fee is just 0.5 percent. The Binance ecosystem's native DeFi token is the BNB coin. Depending on your location, Binance offers both fiat and crypto deposits. Binance supports the following payment methods: cryptocurrencies, credit/debit cards, and bank transfers.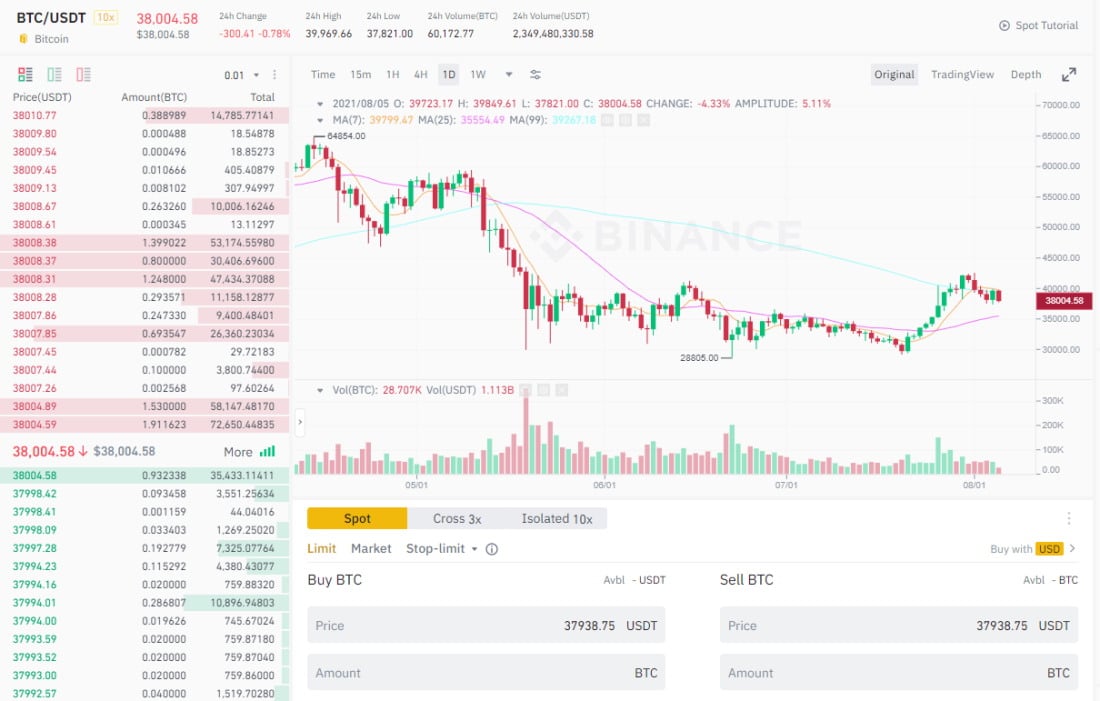 When it comes to storage, Binance offers a convenient crypto wallet. Despite being less secure than withdrawing your Bitcoins to a private third-party crypto wallet, Binance does support a number of security features. For instance, you can use 2FA and IP and wallet address whitelisting.
Furthermore, the majority of client funds are held in cold wallets and you also have the Safe Asset Fund for Users (SAFU) to rely on. The SAFU is an insurance pot that is funded via transaction fees and is designed to offer compensation when necessary.
As is the case with eToro and Coinbase, Binance also offers its own proprietary Bitcoin wallet. The Binance 'Trust Wallet' can be downloaded as an app on your mobile device, and is very user-friendly and secure.
Pros
Access Cryptos with High trading volume and liquidity
Trade hundreds of crypto pairs
Market-leading trading commission as low as 0.1% per slide
User-friendly platform with high liquidity levels
Debit/Credit card, local bank transfer deposits accepted
Cons
High credit/debit card deposit fee of 2%
Cryptoassets are highly volatile unregulated investment products. No EU investor protection. 67% of retail investor accounts lose money when trading CFDs with this provider.
Research Bitcoin Investment
Once you've picked a broker or crypto exchange that suits your needs, it's time to research all the key metrics related to how to invest in Bitcoin. In other words, you need to consider the high risks and potential rewards associated with Bitcoin investments. All in all, Bitcoin and all other altcoins are both speculative instruments and prone to waves of high volatility.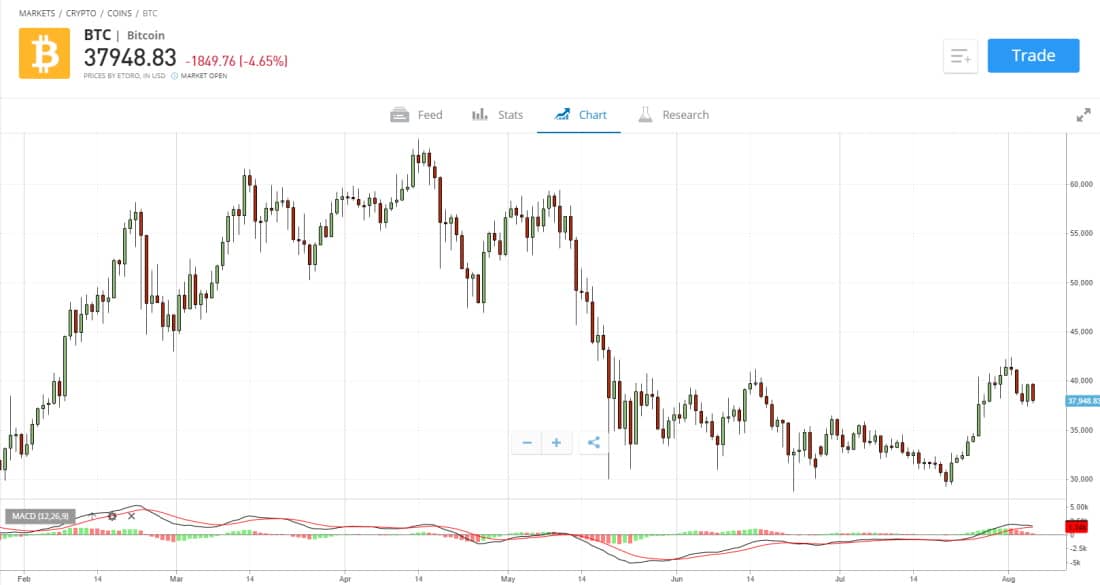 The best way to invest in Bitcoin is to ensure that you fully understand the ins and outs of the world's largest digital asset.
What is Bitcoin?
Bitcoin has been dubbed the father of cryptocurrencies, or decentralized digital assets that are not managed and regulated by centralized institutions such as governments or banks. Bitcoin shifts monetary control from traditional financial institutions to its retail traders.
Since its launch, Bitcoin has inspired a myriad of other cryptocurrencies, commonly referred to as altcoins, that run on the Bitcoin blockchain. Additionally, Bitcoin has grown to be a very popular asset with a market capitalization of $727,832,826,677.99 and a market dominance of 48.65%.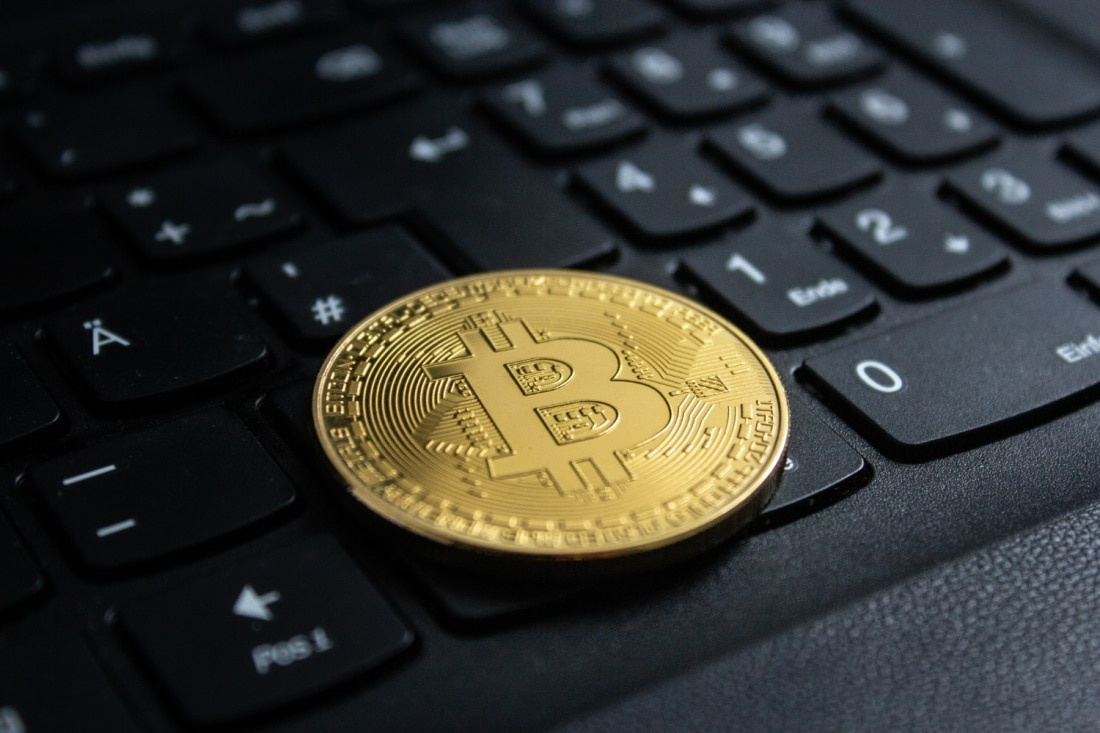 Bitcoin was launched in 2009 by an anonymous crypto enthusiast under the alias Satoshi Nakamoto. The digital currency was set up to allow peer-to-peer payments without depending on centralized financial institutions to act as intermediaries.
Nakamoto was incredibly important in Bitcoin's early research and development stage, and proved instrumental in mining the initial block and executing the first payment when he sent 10 BTC to Hal Finney, a developer for PGP Corporation famous for his reusable proof-of-work system and the first Bitcoin recipient. In 2010, Nakamoto vanished and effectively relinquished control of Bitcoin to Gavin Andresen.
How does Bitcoin work
Bitcoin is a digital currency that processes transactions by using blockchain technology and cryptography.
Blockchain technology facilitates Bitcoin transactions by continuously and safely adding blocks to a chain. The blockchain is a public ledger of every transaction made with the Bitcoin digital currency. When users send and obtain BTC, additional blocks are added to the chain as proof of the transactions. The blockchain presents public data to all users, which makes all Bitcoin transactions traceable and unchangeable.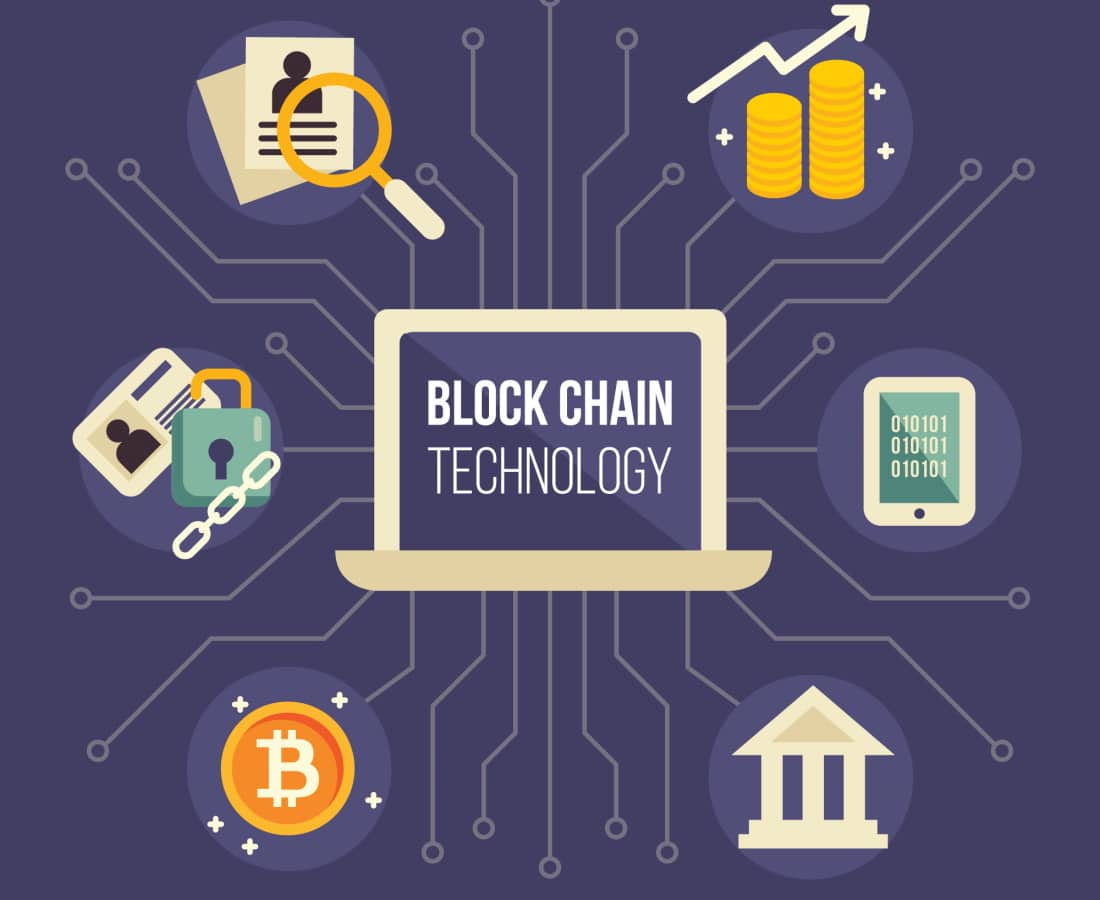 A technique known as mining is used to complete Bitcoin transactions. A miner needs to use a computer to solve complicated mathematical equations to add a block to the blockchain. Although computers can solve these complex equations, specialised mining equipment like the ones developed by NVIDIA (NASDAQ: NVDA) are far more efficient.
Bitcoin mining consumes a lot of energy, hence it has a negative environmental impact. Bitcoin miners use a considerable amount of energy, far more than several countries.
Ways to Invest in Bitcoin
In this section of our beginner's guide on how to invest in Bitcoin Australia, we're going to cover several ways you can participate in the crypto market and open positions on Bitcoin with a top-rated broker such as eToro.
Buy Bitcoin Outright
You can invest in Bitcoin with an ASIC-regulated broker such as eToro from the comfort of your own home. eToro allows you to buy Bitcoin with a debit/credit card, bank transfer, or e-wallet including PayPal, Neteller, and Skrill. When you buy cryptocurrencies on eToro you only have to pay the market spread as the broker facilitates commission-free crypto trading.
Furthermore, the minimum investment required to invest in Bitcoin is just $25 which is ideal for beginner traders and first-time crypto enthusiasts who are looking to participate in the volatile crypto market while keeping trading costs as low as possible.
Invest in a Crypto Portfolio
If you're looking for a passive way to invest in Bitcoin in Australia, then eToro's copy trading offerings may be of interest. At eToro you can access CopyTrader and CopyPortfolio. These features allow you to copy the trades of other seasoned investors or you can invest in a full basket of carefully selected cryptocurrencies.
The minimum investment amount for CopyTrader and CopyPortfolio is $200 and $5,000 respectively. CopyPortfolios are built on a variety of financial themes set by eToro's algorithms or third-party expert investors.
Use Bitcoin ATMs in Australia
According to coinatmradar.com, the total number of Bitcoin ATMs/Tellers in Australia is 35.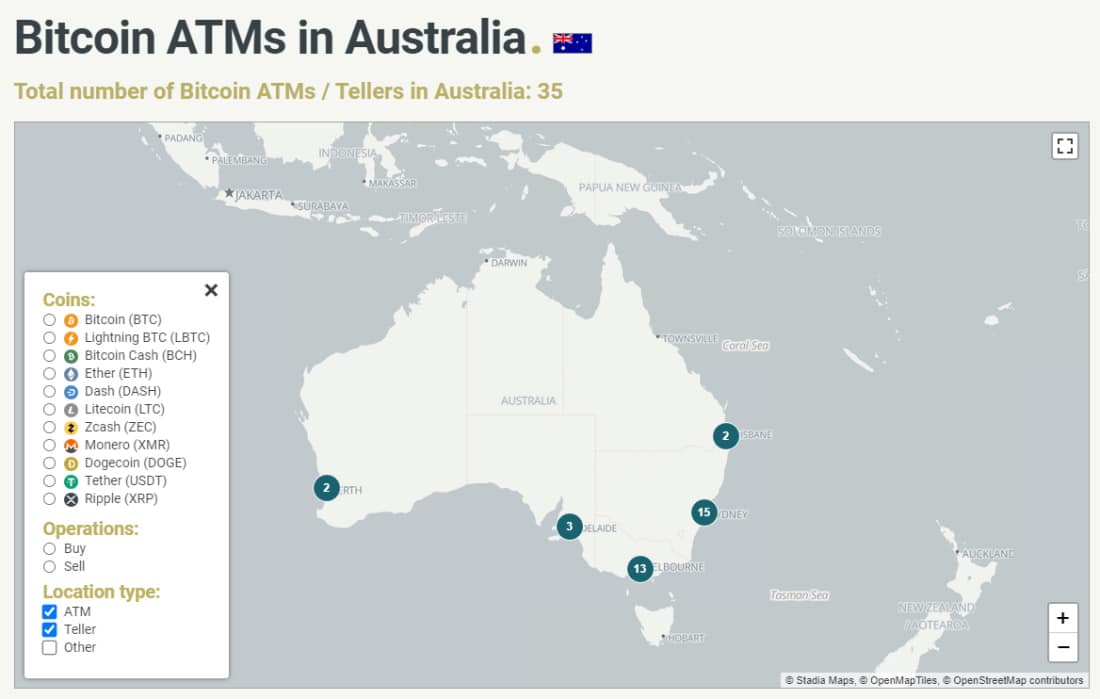 Adelaide 3
Brisbane 1
Launceston 1
Melbourne 12
Perth 2
Surfers Paradise 1
Sydney 15
How does a Bitcoin ATM work?
The Bitcoin ATM is a fairly new innovation within the decentralized finance space. Essentially, it is a kiosk that allows users to buy Bitcoins with fiat currency and debit cards. There are some Bitcoin ATMs that enable users to buy and sell Bitcoin with fiat funds.
Bitcoin ATMs consist of a monitor, QR scanner, and a cash dispenser and acceptor. Nevertheless, Bitcoin ATMs are not the same as conventional ATMs in the sense that they are not in any way tied to a centralized bank. Instead, they are tethered directly to a cryptocurrency exchange through the internet.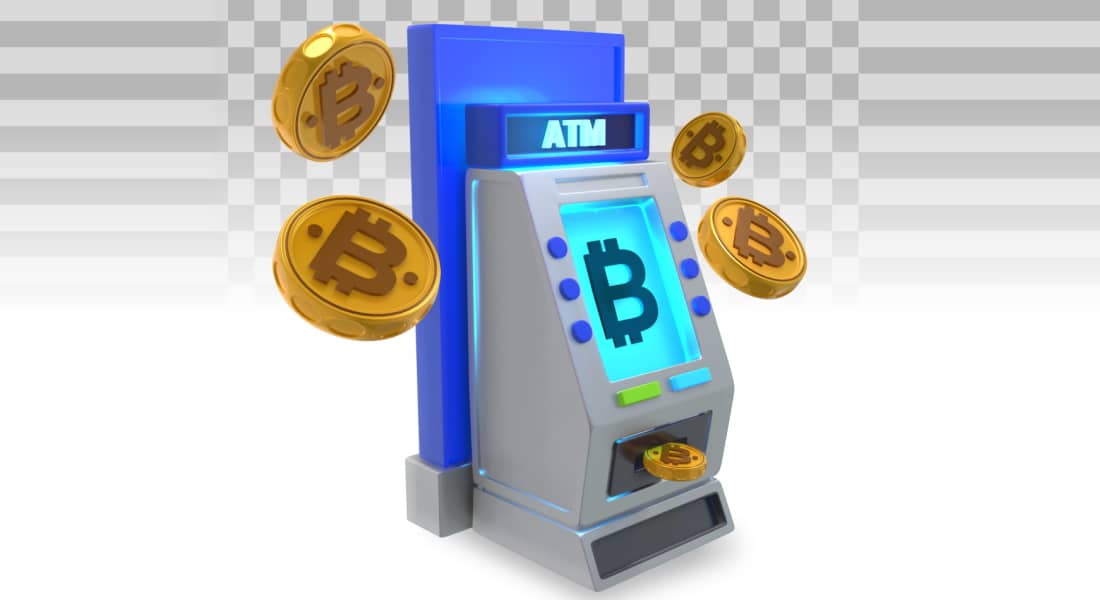 Buying and selling Bitcoins via a Bitcoin ATM is a simple and convenient process that can be separated into two streamlined steps:
Verification – Before being able to use a Bitcoin ATM the user must verify their identity. Typically, this is achieved by entering a verification code that is sent by SMS to your mobile phone. Once verified you will have the opportunity to make a transaction.
Buy or sell Bitcoin – After you have successfully logged into the BTM you can buy Bitcoin by putting cash into the machine, then generating a QR code from your crypto wallet, which then needs to be scanned to obtain the purchased BTC.
What are the pros and cons of using a Bitcoin ATM?
Perhaps the most attractive feature of a Bitcoin ATM is that of convenience. By scanning a QR code of your crypto wallet address you can buy or sell Bitcoin within minutes. Another benefit of Bitcoin ATMs is that the transaction speeds are much faster. Without Bitcoin ATMs users have to deposit funds from their crypto wallets into their bank accounts and vice versa which can take a few business days for the funds to be credited to your account. A Bitcoin ATM, on the other hand, can exchange BTC for fiat currencies within seconds.
Now for the disadvantages of using a Bitcoin ATM. The most common negative associated with Bitcoin ATMs is that of high costs. In Australia, Bitcoin ATM fees account for approximately 5% of the total transaction amount, with some Bitcoin ATM fees reaching the 15% mark in certain areas. Another disadvantage of using a Bitcoin ATM is that because they are a new infrastructure still heavily involved in the research and development process, there have been reports of issues with service reliability. For instance, a common complaint is that Bitcoin ATMs are often out of cash reserves.
How to Invest in Bitcoin Stock
Investors can undoubtedly participate in the crypto market by purchasing small portions of various cryptocurrencies. However, investing in companies that benefit from and promote blockchain and crypto asset adoption is a much more effective approach to gain exposure to the sector. The amount of money these cryptocurrency exchanges and service providers make from blockchain technology could double in the years to come as digital assets enter mainstream markets.
With that in mind, let's explore some of the best Bitcoin stocks to consider this year:
Coinbase Global is a popular cryptocurrency exchange that is listed on the NASDAQ exchange under the ticker symbol COIN. It started trading on the floor of the NASDAQ exchange earlier this year in April 2021. Coinbase is a popular choice for millions of crypto enthusiasts and first-time traders looking to buy and sell the biggest cryptos on the market including Bitcoin, Ethereum, and 50+ altcoins.
As digital currencies and blockchain technology continues to evolve, new use cases are being explored outside the realm of digital payments. NFTs (non-fungible tokens), for example, are being used to ensure the authenticity of digital art. NFTs could also be used as a means to verify and authenticate physical assets such as art and real estate. Coinbase could see revenues grown exponentially as the use of cryptocurrency grows.
PayPal Holdings (NASDAQ – PYPL) and Square (NYSE – SQ)
Investor sentiment has become bullish recently as crypto asset prices continue to rise even after the May 2021 crypto market crash. When Satoshi Nakamoto launched Bitcoin, the primary goal was to facilitate digital payments with less interference from centralized intermediaries such as banks. Therefore, allowing users to buy and store crypto assets within an electronic wallet is something that comes naturally to both PayPal Holdings and Square.
Square's Cash App, a consumer-facing app, began allowing Bitcoin trading in late 2017. Bitcoin was a big income generator for Square in 2020 and 2021. However, through the Square ecosystem, the company is promoting the use of Bitcoin among its customers, and it might become a leading platform for transferring cryptos between businesses and their clients.
PayPal's Venmo digital wallet and peer-to-peer payments programme, which enabled crypto trading in early 2021, is also a good example of a Bitcoin stock that has gained a lot of traction recently. Venmo facilitates the trading of Bitcoin, Bitcoin Cash, Ethereum, and Litecoin. With many users looking for a top-rated peer-to-peer transaction app, Venmo has the potential to become one of the best crypto platforms.
How much should I invest in Bitcoin?
At the time of writing the Bitcoin price is $66,753, so you may be asking yourself how much do I need to invest in Bitcoin and if you can afford it.
You don't have to be put off by the huge price as most top crypto brokers and exchanges allow you to buy smaller units of Bitcoin at a lower price. For instance, a Satoshi is equal to 100 millionth of a Bitcoin and happens to be the smallest Bitcoin unit.
Fully regulated cryptocurrency brokers such as eToro allow you to invest in Bitcoin with a minimum investment of just $25. This is ideal for beginner traders who want to diversify their crypto portfolio by gaining exposure to a variety of digital assets.
Is Bitcoin a good investment?
All investments come with a level of risk, and there is no avoiding it. However, the risks associated with investing in a crypto asset like Bitcoin appear to be greater when compared to investing in established stock such as Apple or Amazon.
For starters, while Bitcoin has been around longer than other digital currencies, it has a much shorter history than many of the companies that are listed on the stock markets today. While equities are subject to price changes, Bitcoin has become somewhat accustomed to dramatic price fluctuations, especially during this year when the price of Bitcoin dropped by -35.38% amidst the May crypto market crash.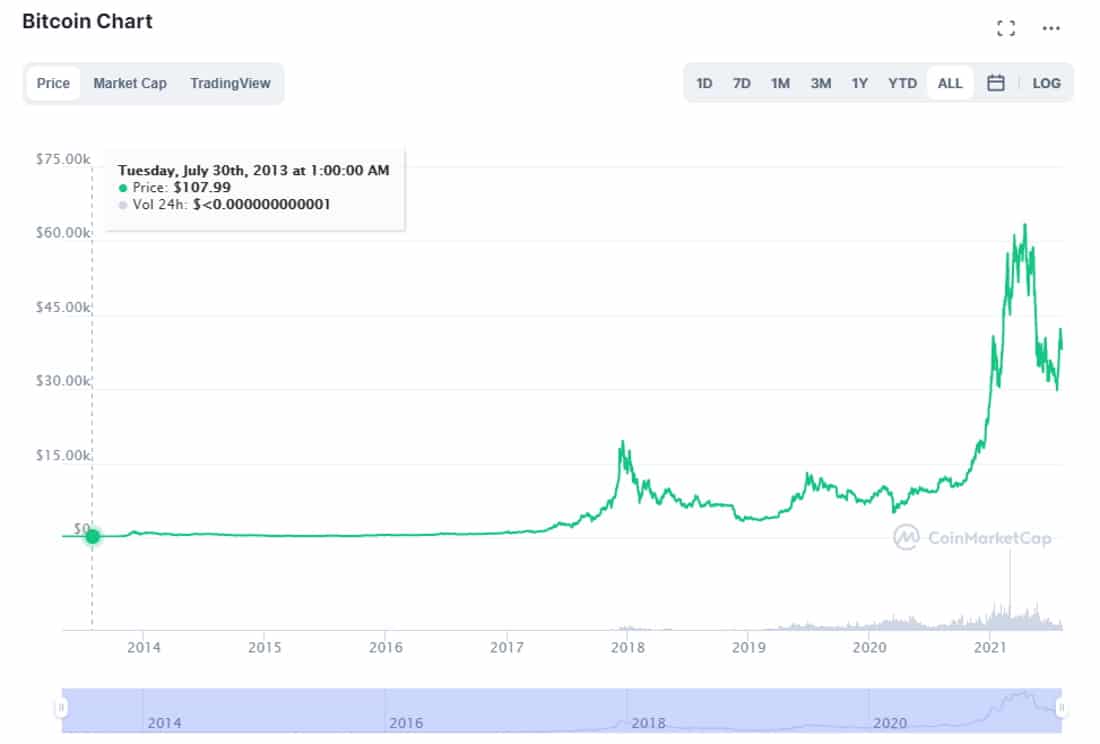 Furthermore, if we compare the price of Bitcoin recorded in August 2020 ($11,644.2) with the price recorded a year later of $38,032.2, we can see that in the space of one year Bitcoin's price has risen by 226.6193%.
However, there are other risks that come with Bitcoin investments, including the underlying risk that governments and financial authorities around the world reject cryptocurrencies as an accepted payment method. This has been one of the main factors that fueled the recent crypto market crash.
Bitcoin has only been circulating for just over a decade, and as such it is very hard to forecast whether it will be trading in the long term. While these risks don't make Bitcoin a bad investment choice, there just isn't enough concrete evidence to prove that Bitcoin is a good investment choice for retirement.
As of October 19th 2021, the first Bitcoin Futures ETF launches today – setting a new milestone for the cryptocurrency industry. This catalyst towards mainstream acceptance now gathers global attention as Bitcoin Price began to break towards and above $63,000 once more.
BTC price broke above $68,000 as of November 9th 2021 and still struggles towards the $70,000 mark as it fights the resistance level. Bitcoin's current price is $66,826.
What are some investment strategies to use when buying Bitcoin?
Portfolio diversification
Most cryptocurrency traders prefer to spread their investment funds across a variety of digital assets to diversify their portfolios and to capitalize on bullish and bearish trends.
A great hands-off approach to this type of trading strategy is to use eToro's CopyPortfolio feature as it gives you access to a fully diversified portfolio of cryptocurrencies. The CopyPortfolio is then rebalanced and reweighted automatically by eToro so you don't have to.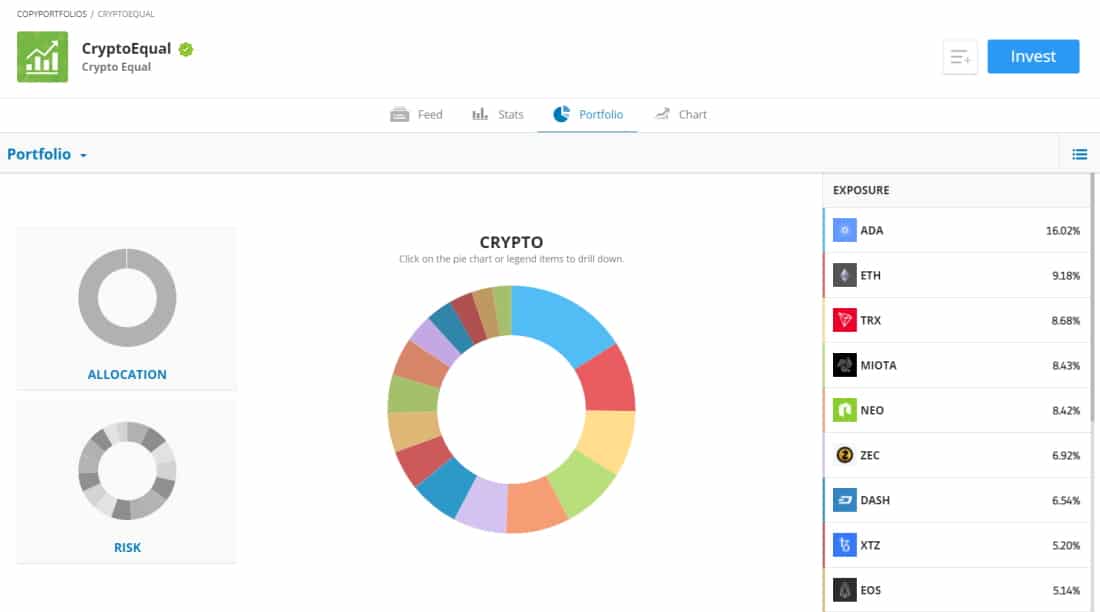 Alternatively, you could build your own diversified portfolio by compiling small investments in a wide range of cryptocurrencies. However, diversification doesn't always protect against risks. Occasionally, the crypto markets lose value at an unprecedented rate, which is why cryptocurrencies are notoriously volatile and high-risk investments. But, more often than not a fully diversified portfolio helps to cushion against the impact of a market crash.
How to Invest in Bitcoin on eToro
Let's take a look at how to invest in Bitcoin with the popular social trading platform eToro. This crypto broker is regulated by ASIC, as well as the UK's Financial Conduct Authority and CySEC.
Step 1: Open an Account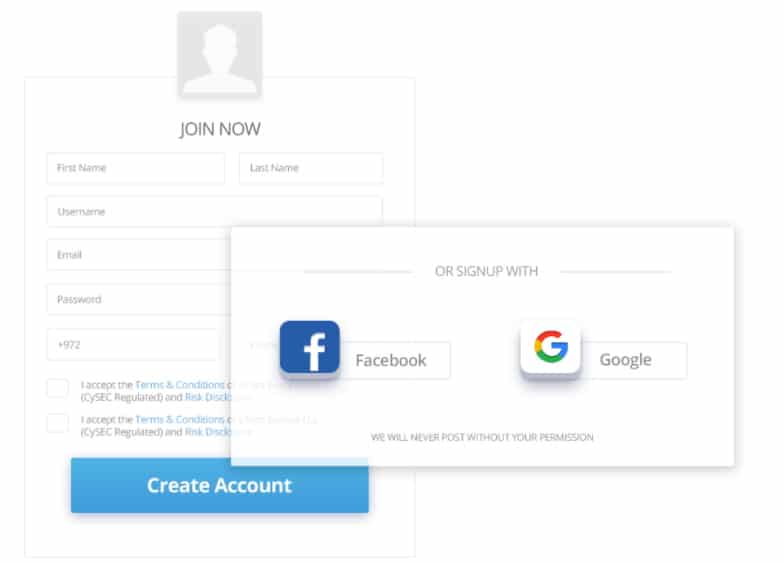 To get started, navigate your way to the eToro website and click on the 'Join Now' button. You will then be required to enter your personal information such as contact details and National Insurance Number.
Step 2: Verify your identity and address
As part of the KYC process, you will be required to verify your identity and address by uploading copies of both your passport, driving licence, bank statement or a recent utility bill.
Step 3: Deposit funds
After your account has been verified, you can go ahead and deposit funds. eToro supports a range of payment methods including debit/credit cards, bank transfers and popular e-wallets like PayPal and Neteller.
While there are no deposit fees, bank transfers usually take a few business days to process while debit/credit card and e-wallet deposits are processed instantly.
Step 4: Search for and Invest in Bitcoin (BTC)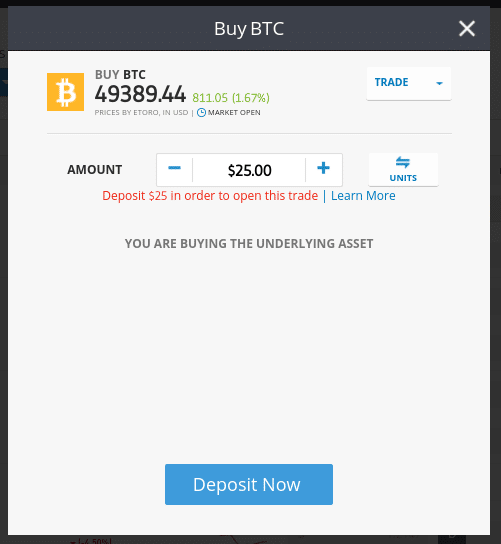 Using the convenient search box, simply type 'Bitcoin' and click on the relevant result in the list. Then tap on the button marked 'Trade' to bring up the order box. The only thing left to do is to specify the amount of Bitcoin you want to purchase. As mentioned above, the minimum investment for crypto trading on eToro is just $25.
Step 5: Transfer your Bitcoins to the eToro Money crypto wallet
Most eToro traders who invest in Bitcoin store their digital assets in their portfolio until they are prepared to sell for a profit.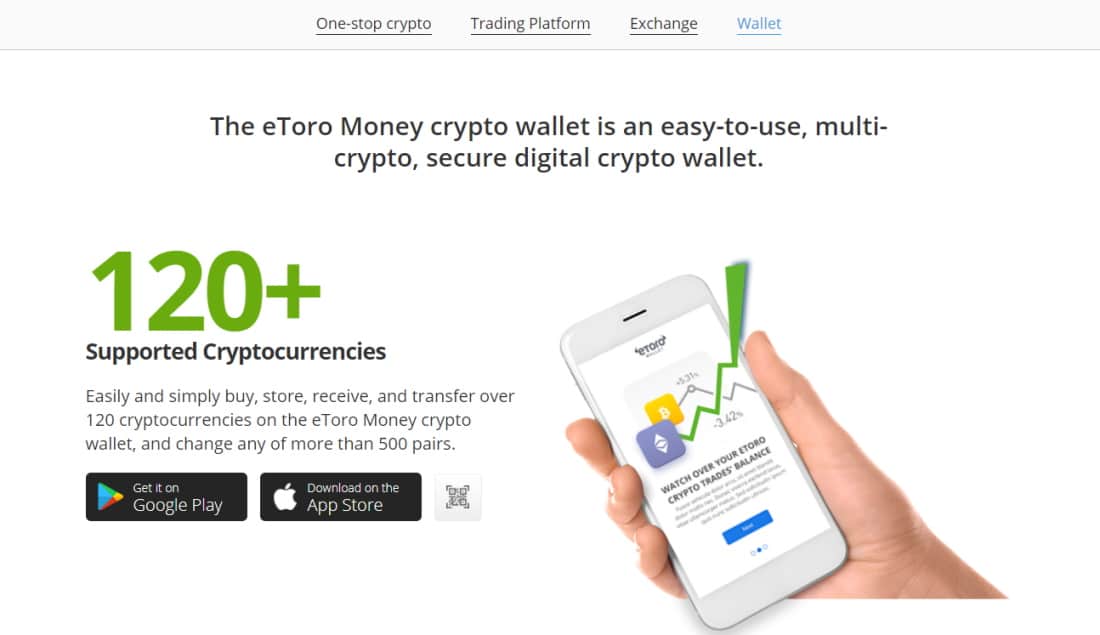 Alternatively, eToro offers an in-house developed crypto wallet that gives users greater control over how they manage their cryptocurrencies, such as being able to exchange them for another digital asset. Some of the key features of the eToro Money crypto wallet include:
Change more than 500 crypto pairs to other digital assets all within the eToro crypto wallet without needing to transfer anything anywhere else.
The private key service helps you to recover access to your crypto wallet if needed.
With your personal, unique, and entirely private on-chain address, you may store, receive, and move your cryptocurrency anywhere on the blockchain.
The eToro Money crypto wallet is free to download and use with your eToro credentials. The crypto wallet incorporates various high-level security measures and industry standards, making it one of the safest crypto wallets on the market.
Invest in Bitcoin Conclusion – Expert Verdict
The price of Bitcoin has risen by 200% since the same period last year, and as cryptocurrencies continue to grow in terms of popularity and mainstream adoption, more and more investors and crypto enthusiasts are flocking to invest in Bitcoin.
If you want to invest in Bitcoin, while it is still in the early stages of its research and development, you will need to choose a trusted broker that suits your needs.
In summary, we recommend eToro as the best trading platform Australia to invest in Bitcoin with a minimum investment of just $25. Furthermore, when you buy Bitcoin on eToro you will only have to pay the market spread, typically 0.75%, meaning you will not pay a penny in commissions.
eToro – Best Trading Platform Australia to Invest in Bitcoin with Tight Spreads & Copy Trading Tools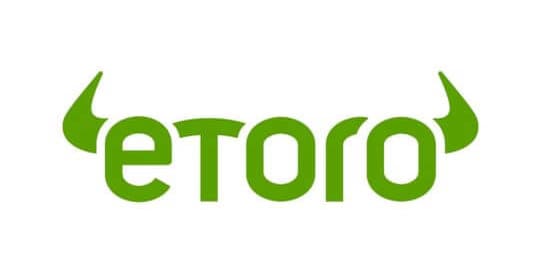 67% of retail investor accounts lose money when trading CFDs with this provider.
FAQs
How to invest in Bitcoin in Australia?
How much to invest in Bitcoin
How much is Bitcoin worth?