Buy Uniswap Australia – How to Buy UNI in Under 5 Minutes
Established in 2018, Uniswap rose to popularity and is currently ranked 2nd for top DEX's. Uniswap is technically the largest DEX in the world in terms of market capitalization at present. Alongside being the most popular Ethereum Dapp in the market, meaning it plays a crucial role in furthering innovation and adoption in the crypto world and hence a great place to start.
In this guide, you will learn how to buy UNI in Australia in under five minutes.
Best Place to Buy Uniswap – eToro
How to Buy UNI Australia- The Quick Four-Step Strategy
If you want a quick summary on how to start investing with Uniswap, then you have come to the right section. Simply follow the steps below and you'll be ready to buy UNI or start trading other ERC-20 tokens via Uniswap in less than five minutes.
Step 1: Sign up to eToro – If you haven't already got an account, you'll need to register with eToro. Firstly, go to eToro.com and click the "Join Now" prompt. You will need to enter your email address and create a password. Once you've made an account, the next step is to verify your identity.
Step 2: Verify your details – Since eToro is a regulated exchange, meaning they have increased protection for customers, you are required to verify your account by providing a photo ID (e.g driver's license, passport) your social security number and proof of home address (e.g utility bill, bank statement).
Step 3: Fund your eToro account – Once verification is complete, you'll need to deposit some funds. eToro allows users to deposit using either a credit/debit card, wire/bank transfer, or e-wallet (PayPal, Skrill, etc).
Step 4: Buy UNI -Now the depositing of funds is complete, you can buy some UNI or other ERC-20 tokens. Just type "UNI" into the search bar, press "trade", enter the amount you desire, followed by pressing "buy".
What is Uniswap?
Created in 2018, Uniswap was born from the idea proposed in 2016 by Vitalik Buterin, the creator of Ethereum, for a DEX that would employ an on-chain automated market maker. The unique characteristic of Uniswap is that it solves the problem of high spreads for illiquid assets on order-book exchanges or centralised exchanges.
Uniswap is one of the leading decentralised exchanges that run off Ethereum blockchain technology, meaning it utilizes Ethereum's blockchain to process transactions instead of having its own network. Therefore making it compatible with all ERC-20 tokens and infrastructure such as MetaMask and MyEtherWallet.
The platform was the first of its kind to process over a billion dollars in volume. Not only a very exciting milestone for decentralised finance in general but a prized achievement in earning its place as the most used decentralized exchange in the world.
Due to its rising success, In Sept 2020, Uniswap introduced UNI tokens through an airdrop, providing each person who previously used Uniswap a total of 400 UNI tokens for free. The token has substantially risen in value since its release, despite not being created to serve as a currency. Instead, its purpose stands as a governance token, meaning whoever holds them has influence and voting power on future development.
The more you hold, the greater influence you have and the idea is for the Uniswap team to gradually fade out their involvement and leave the management of the project solely to the token holders.
Since releasing their own token's, the platform has continued to flourish simultaneously on the ERC-20 token front. It currently has one of the highest volumes of liquidity to facilitate quicker exchanges but surprisingly, it is also evolving to be increasingly secure. With its recent V3 upgrade, Uniswap is protected from other decentralized exchanges (DEX's) for 2 years, giving Uniswap a huge competitive advantage over other decentralized exchanges.
Completely open-source, Uniswap comes with the added bonus of allowing users on the platform to create their own tokens. Anyone can copy the code to create their own decentralized exchanges and list it on Uniswap for free, provide liquidity to the protocol and start earning trading fees. Normal centralized exchanges are profit-driven, therefore charge very high fees to list new coins, making Uniswap a better alternative for coin creation.
Where to Buy UNI in Australia
Since UNI is decentralised, there are a few different ways to go about buying UNI including buying directly from the source or using a third-party regulated exchange platform with a good track record. We've compiled the list below, explaining the differences in purchases alongside reviewing the best UNI exchanges.
1. eToro – Best Way to Buy Bitcoin Cash in Australia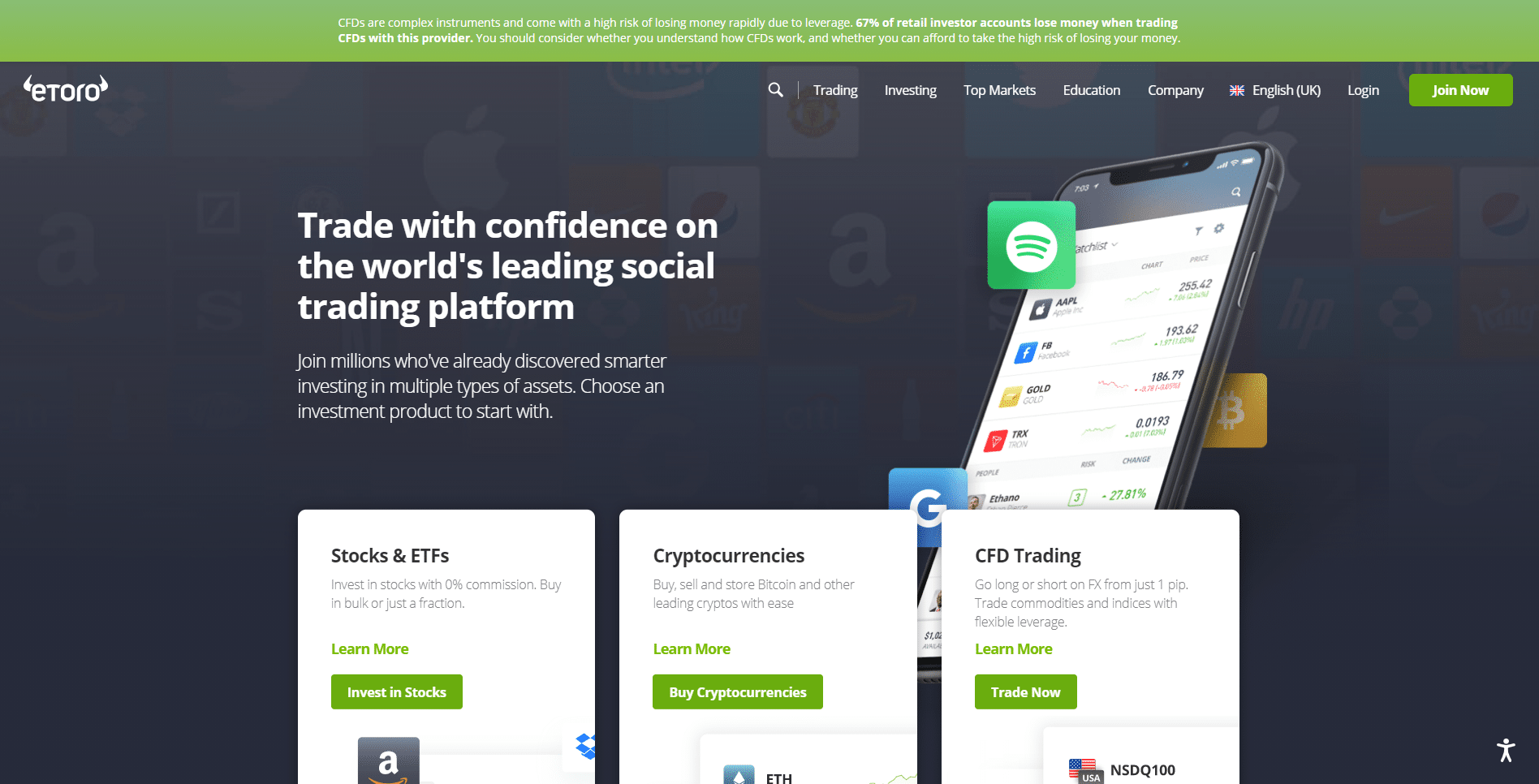 With it being one of the most beginner-friendly platforms, It's difficult to review the best crypto exchanges without giving an honourable mention to eToro. Launched in 2007, eToro has taken the world by storm and mushroomed to be one of the largest exchanges in the world, serving an influx of 17 million users. Its mass popularity is largely due to them offering a vast range of financial tools outside of the cryptocurrency space, making it a powerful platform for anyone trading in a variety of markets. Alongside its ease of use making it welcoming for both new and experienced traders.
eToro utilizes several industry-leading techniques for customer protection; these include SSL encryption on customer information to ensure nobody can use or capitalise on any stolen data. As well as cold storage for added security to prevent the loss of 95% of funds in the event of a hack.
As previously mentioned, eToro is an excellent platform for both beginners and experienced traders, this is because they offer a range of features designed to balance the needs for both parties. For the new traders, eToro can function as an educational tool allowing users to not only copy other traders but also view a trader's past performance. This allows users to mirror the trades of the most profitable users on eToro, allowing people with no previous trading experience to earn a passive income through crypto. When choosing top traders to follow please ensure they demonstrate their market knowledge and experience on their profile feed as well as having low weekly and daily drawdowns. This will greatly reduce the risk of financial loss when investing and ensure you have guidance from those with a proven track record.
In addition to these features, it's worth noting eToro offers a commission-free experience, drastically reducing trading costs. The low minimum deposits and low-cost transactions are ideal for new traders.
Pros
Low minimum to fund an account and begin investing
Great for beginners
Industry-leading security
Ability to match moves of popular traders.
Fully regulated
Cons
Lack of advanced order placement controls
Inactivity fee after 12 months
67% of retail investor accounts lose money when trading CFDs with this provider.
2. Binance– Best Way to Buy Bitcoin Cash in Australia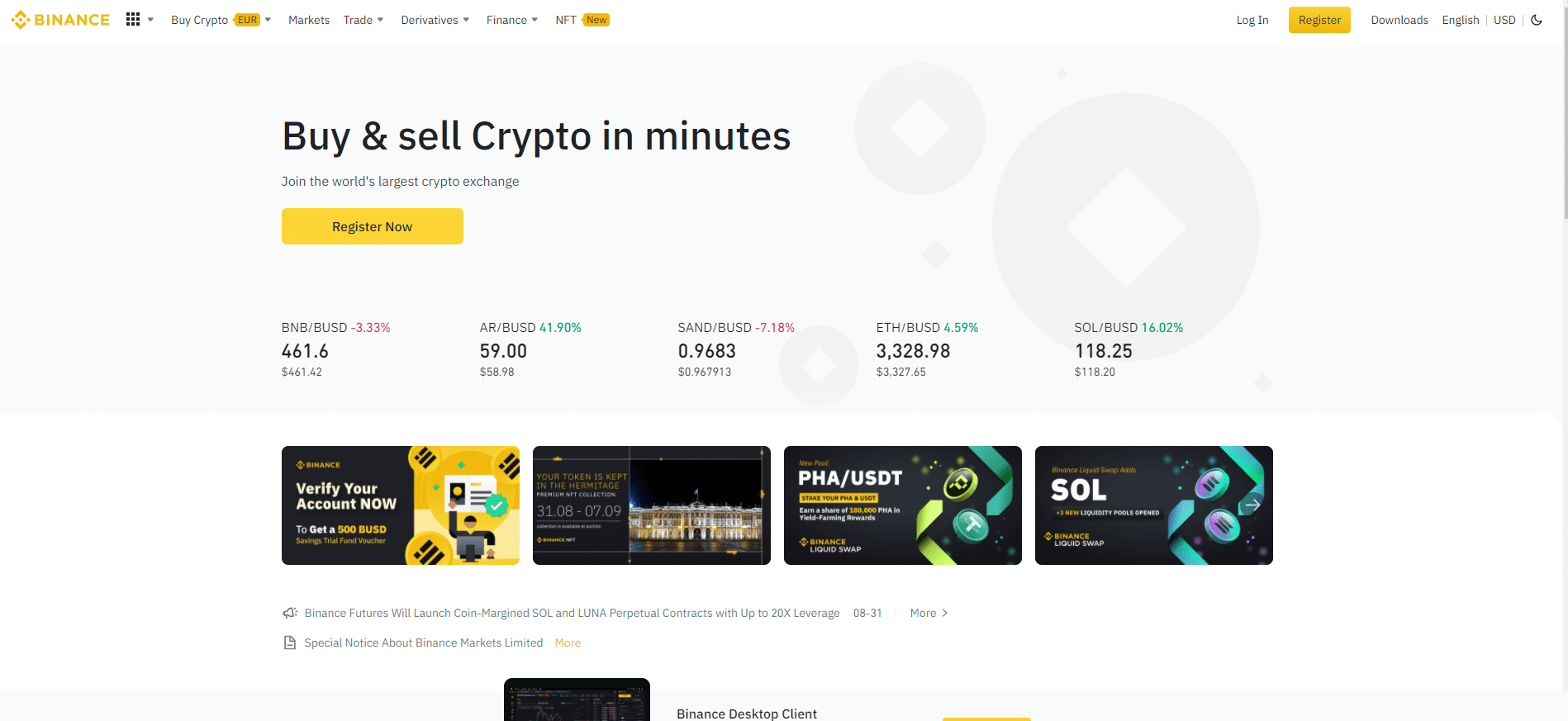 Binance is renowned for being one of the best and reliable platforms for exchange. Launched in 2017, it was thoroughly praised by users for its transaction fees being among the lowest in the world. Users pay just 0.1% to execute each of those billions of trades, putting it at a huge advantage over its competitors.
Despite being targeted at more advanced traders, it is slowly incorporating new instruments to assist beginners with their first trades and securing financial success through the platform. Alongside, the competitive fees it has incentivised even the newest of traders to take the extra time to navigate the platform, learning its usages.
The first of which being 24/7 customer support. When you're dealing with finances, the assurance of around-the-clock customer support is vital. Having a dedicated Help Center team to walk you through various issues, from beginner startup questions to more in-depth explanations of the exchange's many functions, features, and products is very favourable.
Pros
Secure built-in crypto wallets
Competitive transaction fees
24/7 customer service support
A vast range of coin selection
Cons
Takes practice
Based outside of developed economies
67% of retail investor accounts lose money when trading CFDs with this provider.
3. Gemini– Best Way to Buy Bitcoin Cash in Australia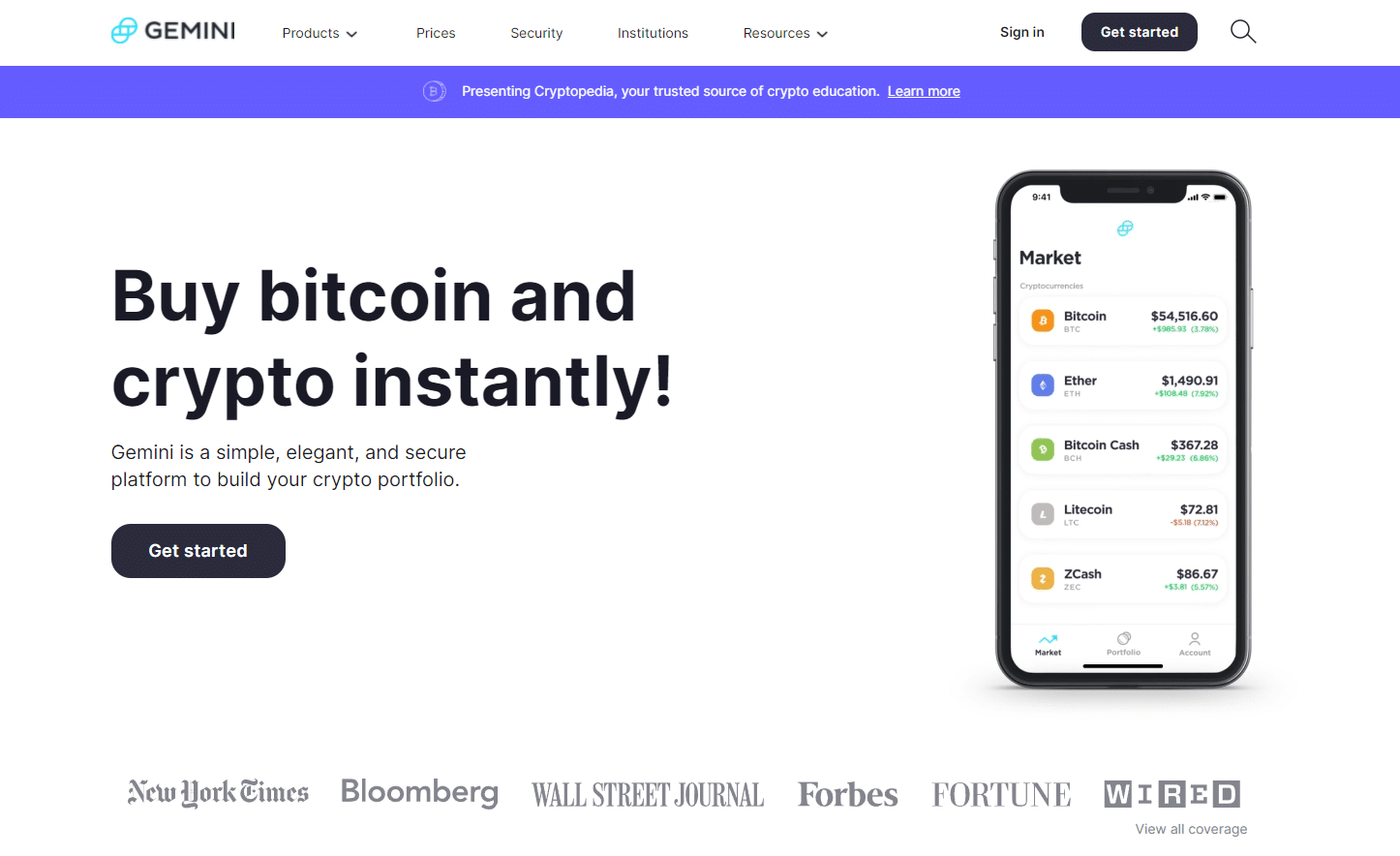 Gemini officially opened its door to Australian traders in late 2019 and continues to expand on its user base. Gemini is one of the only brokers with multiple platform options based on the user's skill level. This makes it ideal for new investors craving a simple, easy to use one-stop-shop to buy, sell and store all of their coins.
In regards to security, it is one of the best options for traders as it comes with hot wallets that are insured and backed by underwriters. This is a feature very rarely found among hot wallets and reassures you're protected against digital asset theft and hacks.
Alongside being one of the best platforms for casual traders, requiring no account minimum and having low trading fees.
Pros
Insured hot wallets
Email and chat support
No account minimum
Seamless mobile app for IOS and Android
Cons
Limited educational resources
Trading coins available are limited
67% of retail investor accounts lose money when trading CFDs with this provider.
4. Kraken– Best Way to Buy Bitcoin Cash in Australia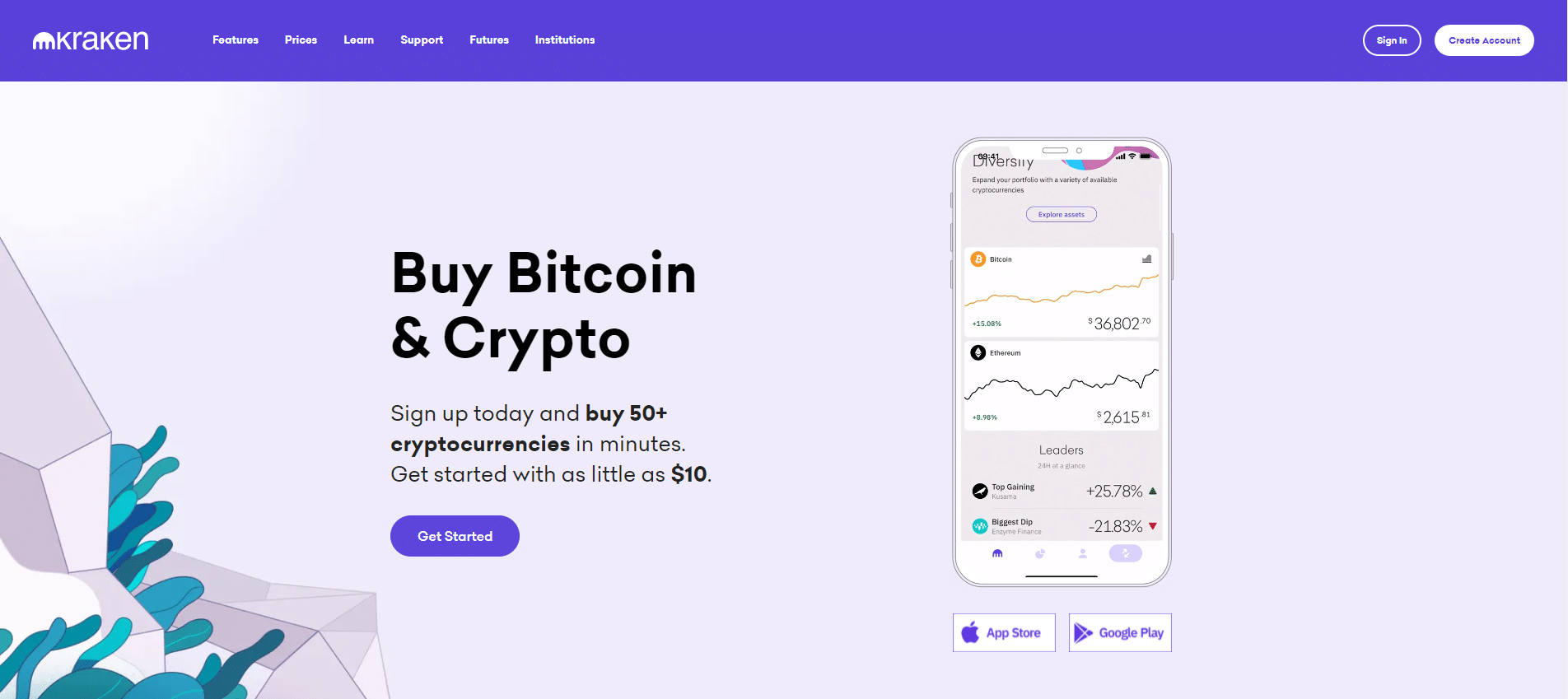 Kraken is one of the longest-running crypto exchanges out there, entering the scene in 2011. Kraken is still a relatively small crypto exchange in comparison to market leaders such as Coinbase or Binance and is one of the smaller exchanges too, with low trading volumes. Despite this, it's renowned for its reliability, security and beginner-friendly nature.
One of the key things to highlight with Kraken is it has multiple trading platforms. Meaning, it's scalable depending on your level of trading expertise. It is one of the few platforms that doesn't have a clear divide between beginner and advanced but instead is one that can grow with your abilities and be moulded to your experience.
Kraken takes a comprehensive approach to protecting investments and is an industry leader for its security measures. Registered as a Money Services Business through the US FinCEN and Canada's FINTRAC. To date, The exchange has yet to report any security incident since its launch, offering a great track record for consumer reassurance.
Pros
Multiple trading platforms
High security
Educational materials
Long track record
Cons
Slow verification
Withdrawal fees, and high minimums
67% of retail investor accounts lose money when trading CFDs with this provider.
5. Uniswap– Best Way to Buy Bitcoin Cash in Australia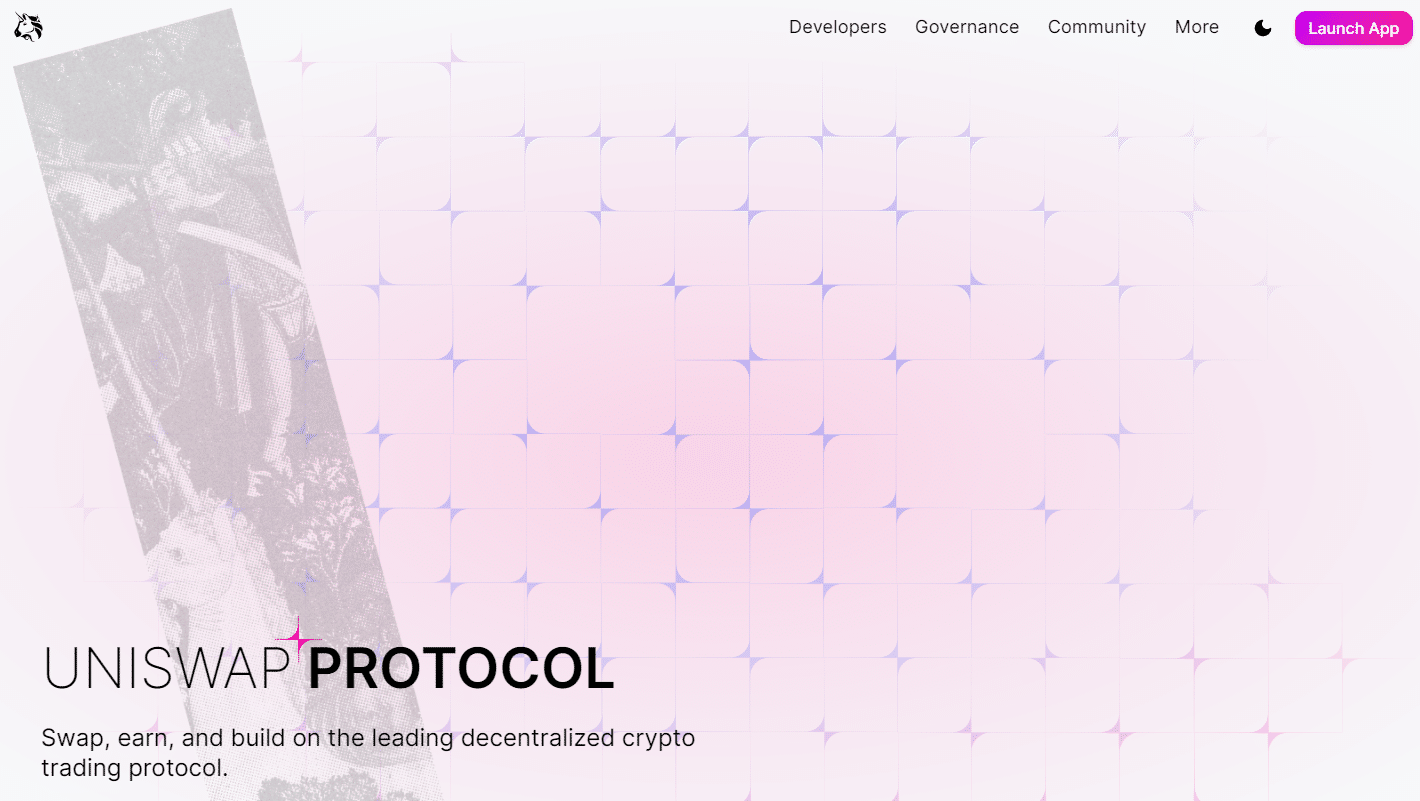 With Uniswap being the creator of the UNI token, it seems only fair to provide it with a spot on the list and explain how you can purchase UNI and trade other tokens directly from the source.
Unlike the other centralised exchanges mentioned so far, using Uniswap instead has significant advantages. Starting with the fact it's completely anonymous, rather than having to go through "know your customer" verification processes, the trading is done directly from your wallet. Meaning none of your personal information is needed, and your public wallet address is the only identifier involved.
Uniswap is also non-custodial, meaning the protocol doesn't hold funds, making it heavily secure. Since it runs off Ethereum blockchain, Uniswap's smart contracts have been audited by several teams and passed the checks with flying colours.
Thanks to its easy-to-use functions and marginal fees, Uniswap beats other decentralized exchanges. Uniswap only charges a flat fee of 0.30% per trade. This is much cheaper than most decentralised exchanges. In comparison to other decentralised networks, It also does not require native tokens, has no listing fees, and considerably low gas costs.
Getting started with Uniswap as a beginner is very straightforward as it requires no login or identification process. However, you will need to make sure you already have an ERC-20 supported wallet setup such as MetaMask, WalletConnect, Coinbase wallet etc. Metamask is one of the most popular wallets as it can be installed on your browser, making connecting your wallet a breeze. Once done, you can go to uniswap.org, click on "connect wallet", select "Metamask" and start trading any Ethereum ERC-20 token that is listed.
Pros
Airdropped UNI tokens
Quick and easy to set up
Can trade directly from a wallet
Low trading fees
Access to new coins
Cons
Potential transaction failure
Risk of fake coins
How to Buy UNI in Australia – Detailed and Explained in Full
When it comes to learning how to buy UNI there is a lot of conflicting advice, which is why we created this fast and simple walkthrough to get you started with your investments in just a few minutes.
Step 1: Open an Account with a Broker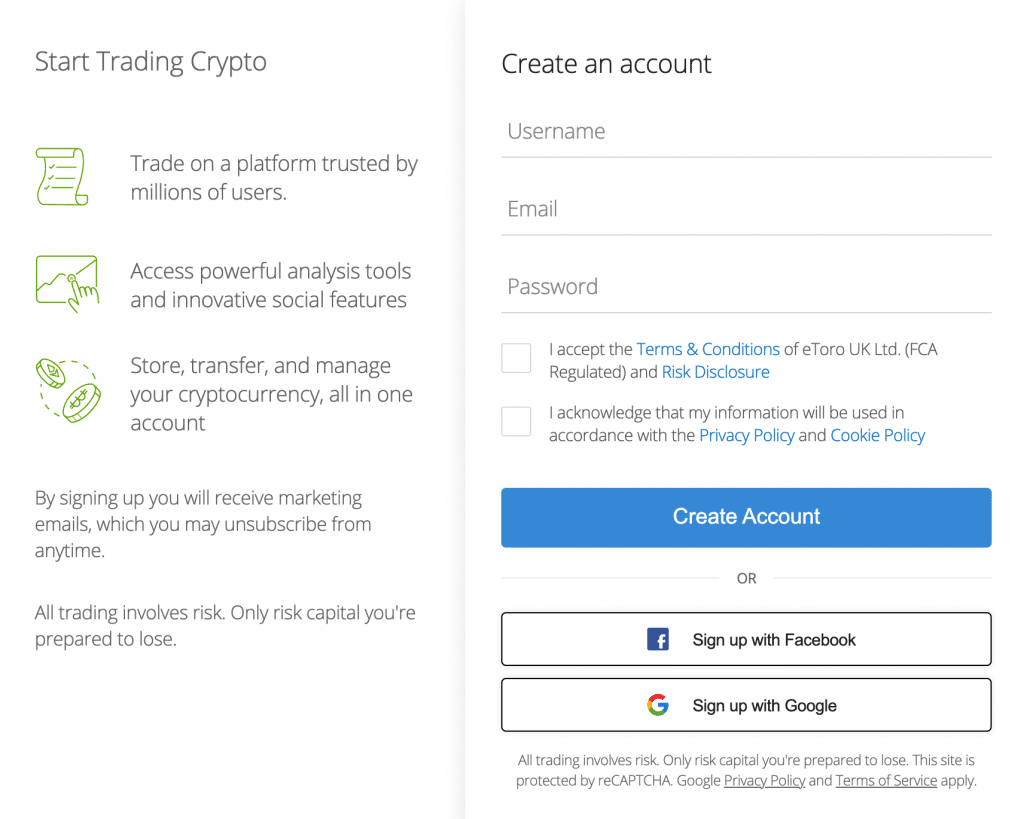 The first step when buying any cryptocurrency is to set up an account with a broker. We recommend eToro because of its blend of security, features, and easy-to-use interface. Simply type "eToro.com" in your browser, click "Join Now" and then fill in your details.
Step 2: Verify your Account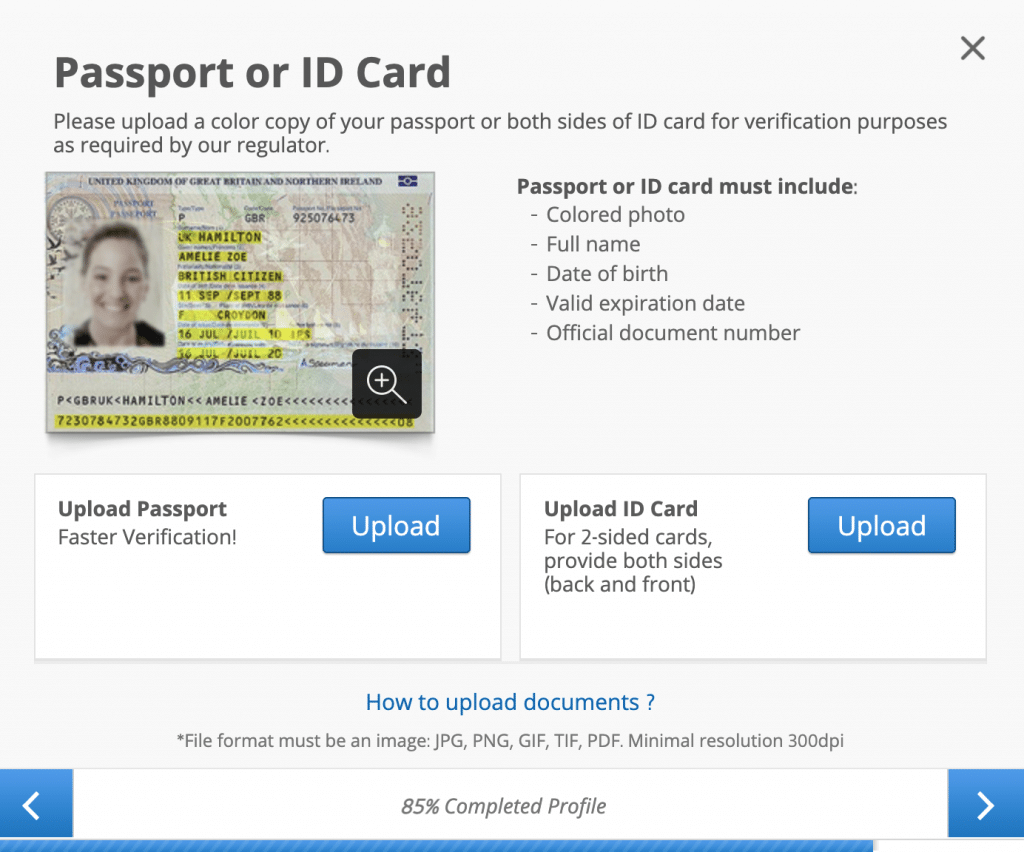 After registering with eToro, you'll now need to verify your documents. With eToro being a regulated platform, unlike Uniswap, it's standard practice with most trustworthy exchanges. You'll have to provide a photo ID (e.g passport or driving licence) and proof of address (e.g utility bill or bank statement).
Step 3: Fund your eToro Account
Now your account has been verified, you're ready to deposit funds. You can do this using either a bank card, bank/wire transfer, or by using an e-wallet (PayPal, Skrill, etc). Please make sure you're choosing the method that best suits you.
Step 4: Search for UNI
Once you've funded your account, it's time to purchase some UNI. Simply, type in "UNI" in the search bar and select the relevant option.
Step 5: Buy UNI
Finally, enter the amount you want to purchase and hit "Buy". After your purchase, a wallet will be automatically created for you and the funds will be deposited there.
Purchasing UNI – Is it a Good Investment?
Uniswap has increased significantly since the start of 2021 and as per projections made by analysts is likely a good investment. Investing in Uniswap has the potential of valuable returns which is predicted to offset losses in the past.
Having returned 588.02% year-to-date, UNI has certainly recovered from the lows and hit its all-time highs back in May 2021. It is now on a steady increase to return to mirroring value and such performance shows signs that the DeFi coin is not going to slow down in the months leading up to the end of the year.
Uni is certainly a long term investment however, it's worth noting one of the biggest appeals to invest in Uniswap now is the upgrade to Version 3. This provides up to 4,000 times capital efficiency, will prevent slippage when transactions are executed and allow users who decide to become liquidity providers to see more rewards through protocol fee sharing.
The Advantages of Investing in UNI
Uniswap, as we've covered, is a rather unique exchange and its birth was intentionally planned to solve the problem of high spreads for illiquid assets on order-book exchanges. Since this point, it has evolved substantially and continues to thrive and offer benefits not only to experienced traders looking for fruitful investments but to beginners and even startups.
Free token creation: Uniswap is exceedingly useful to blockchain startup projects wanting to release their tokens directly to the market and gain traction. Listing a new coin or token on a centralized exchange is riddled with complications and uncertainties on its success. With Uniswap, there are no listing fees or tedious processes before a coin or token can be listed for trading. Therefore making it a much more popular and reassuring opinion for startups.
Liquidity pools: Uniswap allows everyone to earn by providing liquidity to the market and then collecting trading commissions. Being completely decentralized, all trading fees are distributed among the liquidity providers proportionally to their share in the pool. This is a great bonus if you would be looking to create or finance your own tokens to put out into the market.
Smart contracts: Since UNI runs on Ethereum's blockchain it counteracts the liquidity issues present on other DeFi platforms. Smart contracts are used to lock the liquidity pools, enhancing the security and making the Uniswap protocol to be unhackable.
The Disadvantages of Investing in UNI
As with all investments, there are always risks and pitfalls, no exchange is perfect. As the platform evolves and offers updates to its consumers, it aims to fix some of the hiccups that are beginning to emerge within decentralised exchanges. Despite taking the market by storm and having many unique selling points, Uniswap is still subject to the same issues that come part and parcel with DeFi.
Fake coins: the downfall to Uniswap, in contrast to a traditional exchange that does extensive due diligence and research on every coin that adds to its platform, Uniswap doesn't. When buying tokens, always verify the legitimacy by checking the token's contract address before trading and remember, just because it's listed on Uniswap it doesn't mean it has intrinsic value.
UNI coin governance: Despite the concept being seemingly good on the surface, around 20-60% of UNI tokens remain in the hands of a significant few vs the masses. Meaning the tokens can be easily manipulated and determine the future of the asset's price. One of the main benefits of UNI is its decentralised structure, but having the community have such a small say in its future runs the risk of the benefits potentially being receded in the future.
Competition: With the arrival of the Internet Computer that aims to decentralize all aspects of the internet, Uniswap faces the daunting task of maintaining its current users and increasing that number for future stability. The enormous competition in this saturated market may encourage traders to look elsewhere especially given the prices aren't as competitive.
Purchasing UNI – How to Pay for it
If you want to know how to buy UNI, the most important consideration is how you're going to pay for it. Exchange platforms offer a range of payment methods, and it's wise to choose the best option for you. As a general rule of thumb, using a bank card, although convenient, has the highest cost fees. Using an e-wallet like PayPal although slightly lower fees and added security, many platforms do not accept it. The bright side is eToro, our number one choice, supports e-wallets granting you reduced fees, increased security, and convenience.
Buy UNI Using PayPal
If using an e-wallet sounds appealing to you, you've likely already got one set up. PayPal is the most commonly used one, and offers easy payments and additional security. Despite exchanges typically providing a secure way to use a credit/debit card, if they get compromised you could risk your bank information being at risk. However, a service like PayPal puts a third party barrier between your data and anyone trying to access it.
Buy UNI using a Credit/Debit Card
Buy UNI with Credit/Debit Card today >
For others, convenience is bliss no matter the cost, if this is your go-to the bank card is the way for you. Accepted by the majority of regulated exchanges, it offers the easiest way for a new user to purchase crypto. The downfall is the cost, typically you'll be hit with an additional card fee in the range of 2-5%, which when doing multiple purchases can drastically stack up and ultimately decrease the amount of crypto you'd receive.
Conclusion
With a push for the internet to become decentralised, it feels like no time is better than the present to start investing in UNIswap. Not only are you reaping the benefits of liquidity pools and coin startup creation but also the potential to have influence over the future governance of the platform. When trying to decide which platform is the best UNI exchange for you, it's important to pick a regulated platform that offers an easy onboarding process. Upon thorough analysis, we've concluded that eToro is the best UNI exchange.
Best Platform to Buy UNI – eToro
FAQs
What type of crypto is UNI?
How much UNI is in circulation?
What is the future of UNI?
What is the best UNI Exchange?