How To Buy Dogecoin Australia – Buy Dogecoin In Under 5 Minutes
Maybe you're just getting started with investing and want to add Dogecoin to your investment portfolio, or perhaps you already have a portfolio and want to diversify it.
This article will help you evaluate and purchase Dogecoin (DOGE).
Buy Dogecoin at eToro – #1 Broker
How to Buy Dogecoin – Quick 4-step Guide
Follow these steps to purchase your first Dogecoin on eToro:
Open an account with eToro:

Visit the

eToro

website and click 'Join Now' to create an account.

Upload ID: Upload and verify your identity.

You can use a copy of your passport or any other proof of identity document such as billing, receipt, etc.

Fund Your Account:

Fund your trading account by making a deposit using a credit or debit card, bank transfer, or e-wallet.

Buy Dogecoin:

Search for ETH, click 'Trade,' and place your order.
=
Bitcoin Cash
Cardano
Dash
Ethereum
Ethereum Classic
IOTA
Litecoin
Stellar
XRP
Binance Coin
EOS
NEO
Tezos
TRON
ZCash
Elrond
Chainlink
Uniswap Protocol Token
Dogecoin
yearn.finance
Decentraland
Algorand
Basic Attention Token
Polygon
Shiba Inu
Enjin Coin
Maker
Tether
Compound
Bitcoin
Polkadot
Solana
FTX Token
Terra
0x
Aave
Aragon
Augur
Avalanche
Balancer
Bancor Network Token
Band Protocol
Bitcoin Diamond
Bitcoin Gold
Bitcoin SV
Bitshares
BitTorrent
Blockstack
Celo
Celsius Network
Chiliz
Cosmos
Curve DAO Token
CyberVein
Dai
Decred
DFI.money
Electroneum
Energy Web Token
Fantom
Gnosis
Golem Network Token
Hedera Hashgraph
HedgeTrade
Helium
Hive
Holo
Huobi Token
ICON Project
IOS token
Kava
RIF Token
SafeMoon
Serum
Siacoin
Sola
Stacks
Status Network Token
Steem
Storj
Stox
Stratis
Sushi
Swipe
Synthetix
The Graph
Theta
Thorchain
TomoChain
UMA
UniBright
USD Coin
Utrust
VeChain
Verge
Waves
Wrapped Bitcoin
xDai Chain
ZB
Zilliqa
Komodo
Kusama
Kyber Network
Lisk
Loopring
Machine Xchange Coin
Matic Network
MonaCoin
Monero
Ocean Protocol
OMG Network
Ontology
Orchid Protocol
PAX Gold
Paxos Standard
PlusCoin
QTUM
Quant
Ravencoin
REN
Reserve Rights
Revain
Multi Collateral Dai
Nano
NEM
Nervos Network
1inch
Axie Infinity Shards
Hoge Finance
Alien Worlds
Yield Guild Games
The Sandbox
Ankr Network
Crypto.com
ABBC Coin
aelf
Ampleforth
Ardor
4 Providers that match your filters
4 Providers that match your filters
for $100 you get
1298.7401
DOGE
CFDs are complex instruments and carry a high risk of losing money quickly through leverage. 75% of retail investor accounts lose money when trading CFDs from this provider.
Features
Payment methods
for $100 you get
1294.3398
DOGE
CFDs are complex instruments and carry a high risk of possible rapid loss of capital due to their leverage. 71% of retail investor accounts lose capital when trading CFDs with this provider. You should consider whether you understand how CFDs work and whether you can afford to take high risk in losing your capital.
Features
Payment methods
for $100 you get
1298.8700
DOGE
83% der Konten von Privatinvestoren verlieren beim Trading von CFDs bei diesem Anbieter Geld. Ihr Kapital ist im Risiko
Features
Payment methods
Why Buy Dogecoin in Australia?
Factors affecting cryptocurrencies are incredibly different from those affecting traditional financial instruments.
For example, macroeconomics has almost no impact on the Dogecoin exchange rate. Information about the falsification of turnovers by crypto exchanges and even their bankruptcy and closure, which would undoubtedly lead to investors' withdrawals from conventional exchanges, has almost no impact on cryptocurrencies.
Let's break down five positive factors that can influence the price of Dogecoin.
Blue-tick Endorsements
Even though some experts have lashed out at blue-tick endorsements of coins like Dogecoin, Elon Musk followed by Snoop Dogg, and other celebrities continue to affect the coin's price.
Last February, the value of Dogecoin reached a record high after it was mentioned on Twitter by SpaceX founder Elon Musk, rapper Snoop Dogg and Kiss bassist Gene Simmons.
The token's value rose to a record 8.2 cents on a market capitalization of $10.5 billion. In the same month, the coin was among the ten most expensive cryptocurrencies.
Subsequently, Elon Musk mentioned Dogecoin several times in his tweets, which almost invariably contributed to the coin's value.
For example, Tesla CEO Elon Musk tweeted a meme of Marlon Brando from The Godfather with the phrase, "Release the Doge!" He then posted a song on Dogecoin on Twitter with the words "Who let the Doge out," playing a Baha Men song.
Previous to Musk's tweet spree, Dogecoin had been trading in the downtrend. However, meme coin quickly rebounded in response, climbing as much as 7% — from below $0.24 to $0.2573.
Dogecoin Consolidation
Although the buzz around the meme cryptocurrency has faded, it continues to move in a slow-paced uptrend. Some experts firmly insist that now is the best time to buy.
The basis for such loud statements is usually technical analysis, which points to a rising trend. Recently the trend line has been growing slowly but steadily.
After a prolonged fall, Dogecoin showed a period of consolidation: the asset's price has not changed much for a while. However, the asset outpaced the necessary resistance to move into a prolonged uptrend not so long ago.
DOGE price is now following an uptrend on the daily chart and may shortly break over $0.3. The DOGE/BTC pair has the potential to break over initial resistance and reach new highs. However, we recommend you do your due diligence before investing.
The Bitcoin Connection
As a rule, Bitcoin pulls on the entire cryptocurrency market as a whole — on positive news about the leading cryptocurrency, all others grow.
As for competitors, the vast majority are not so significant as to impact other altcoins. Thus, to understand how Dogecoin's price will change, you can refer to Bitcoin as a prime example.
Whether or not a country's government would allow cryptocurrencies to float alongside its official currency largely impacted Bitcoin's price. The news about bitcoin adoption (as a payment mechanism) has an influence as well.
For example, a prominent coffee shop chain stated that it was ready to take cryptocurrencies for several years before discussing issuing its tokens.
In May, the drama occurred when the crypto billionaire Winklevoss brothers attempted to film paying for coffee using an Ethereum-based cryptocurrency payment system.
Media Fuels Dogecoin
Scott Paul from Utah, the founder of Wooly, claimed he has a big interest in cryptocurrency. Here's what Paul says:
"I got lucky and got into Ethereum and Bitcoin in 2015, and then I was just one of those individuals who believed in the stories I heard that one day it would become a lot more," 
The Saratoga Springs resident is looking for someone to purchase his property for nearly $400,000, but he offers a 10% discount if buyers pay with Dogecoin. Long story short, Paul has already received two offers to sell the property in cryptocurrency.
News like these pops up more and more frequently in the last months. On top of that, some real estate experts feel confident about crypto's future in the industry.
For example, Julian Fowkes, the Senior Manager of Listing Operations at Homie, said: 
​​"I think the future is peer-to-peer. It's just going to be sending that money, smart contract technology will hold it, and once the purchase contract is complete, it will release the money to the seller."
Big Companies, SEC, and Dogecoin
The news background is a substantial price driver, but transactions in the market determine Dogecoin targets in the short term. The news background, which has a general effect on the entire cryptocurrency industry, is the statements or reports from regulators on cryptocurrencies.
The leader here is the U.S. Securities and Exchange Commission (SEC), which has a strongly negative stance on any kind of cryptocurrency. Even Libra, which Facebook and other major companies back, is not yet a favorite of the SEC.
From this point of view, Dogecoin has a relatively safe position, as regulators have not spoken out too strongly about the Shiba Inu-themed coin.
On the other hand, rumors about big companies like Robinhood give additional weight to Dogecoin in the crypto asset market. 
Where to Buy Dogecoin in Australia
Let's talk about where to buy Dogecoin.
We have narrowed down all brokers to just TOP5 cryptocurrency exchanges, which you can see listed below.
1. eToro – Best Broker for Beginners to Buy Dogecoin Australia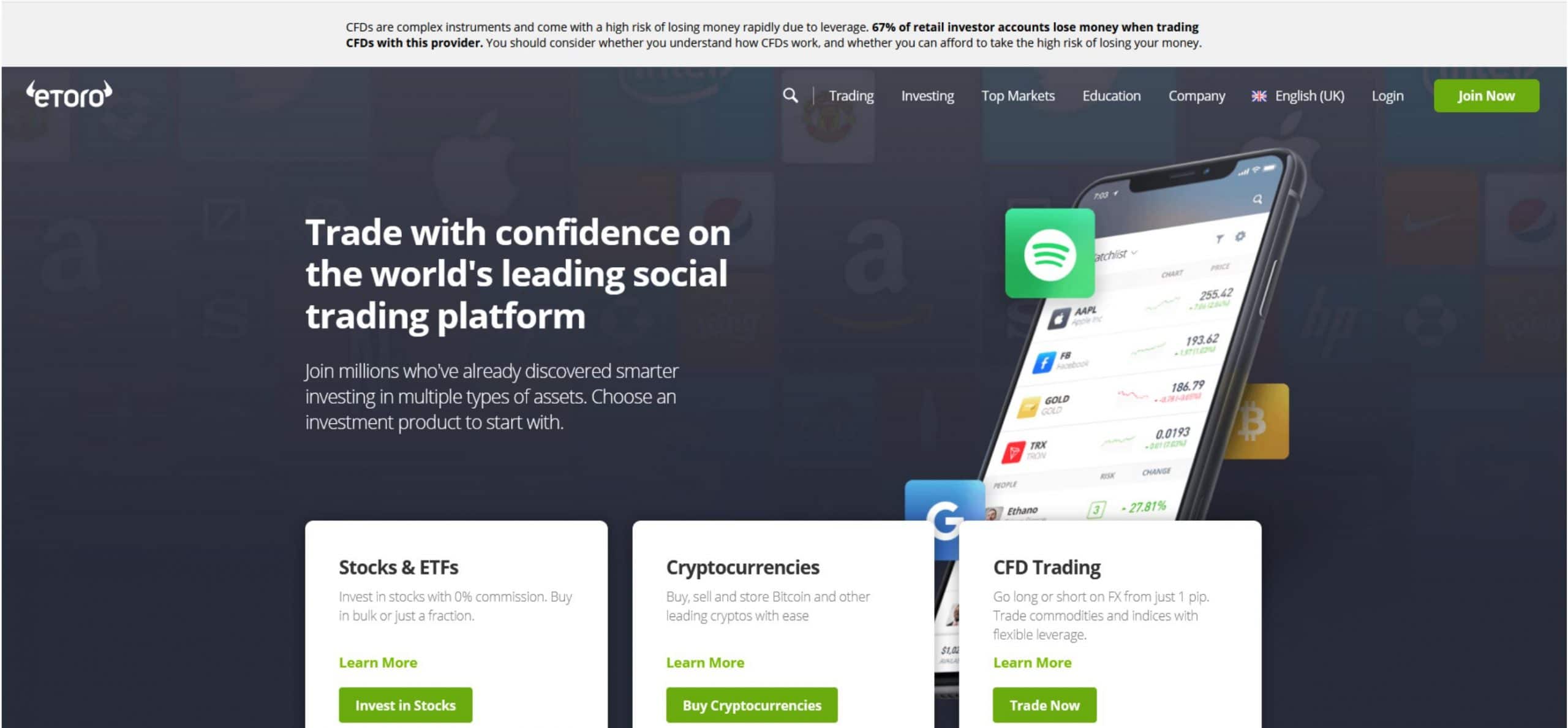 The best trading platform for novices is eToro. The CopyTrader copying system is the broker's primary feature, and the site offers a wide range of options in this respect. You may invest in Dogecoin even if you have no prior understanding of the cryptocurrency market.
eToro is particularly appealing to investors seeking passive gains by imitating the trades of successful managers and lucrative mid-term traders looking to enhance their income as copy traders. Even with a risky asset like Dogecoin, you can duplicate trades and generate consistent gains.
If you want to invest in Dogecoin or other crypto assets, eToro is the way to go:
You pay a 2.9% spread to invest in Dogecoin 

eToro safeguards your assets and finances as long as you need

You need as little as $10 to start investing in Dogecoin.
Dogecoin Fees on eToro
eToro imposes spread costs listed in the table under the eToro Fees section under crypto spreads. For example, to open a BUY (Long) position for Dogecoin:
Dogecoin's ask rate is 0,2000 USD. 

Your Initial investment is 250 USD.

Position Open 250 USD / DOGE; Ask Rate 0,2000 USD; 250/0.2000 = 1,250 Dogecoins. 

Overnight fees: No. 

Total Cost = DOGE spread fees (2.9%) 0.029 * 0,2000 USD * 1,250 units = 7,25 USD.
Pros
Trading crypto assets in a blink of an eye.
Easy-to-understand deposit and withdrawal policy.
Top-tier security key. You also get a private wallet to store your funds in a safe place.
Transfer your cryptocurrency in no time.
The platform supports 120+ altcoins, stablecoins, tokens, etc.
Cons
Delayed support team reaction.
67% of all retail investor accounts lose money when trading CFDs with this provider.
2. Capital.com — Best CFD-Focused Broker for Dogecoin Traders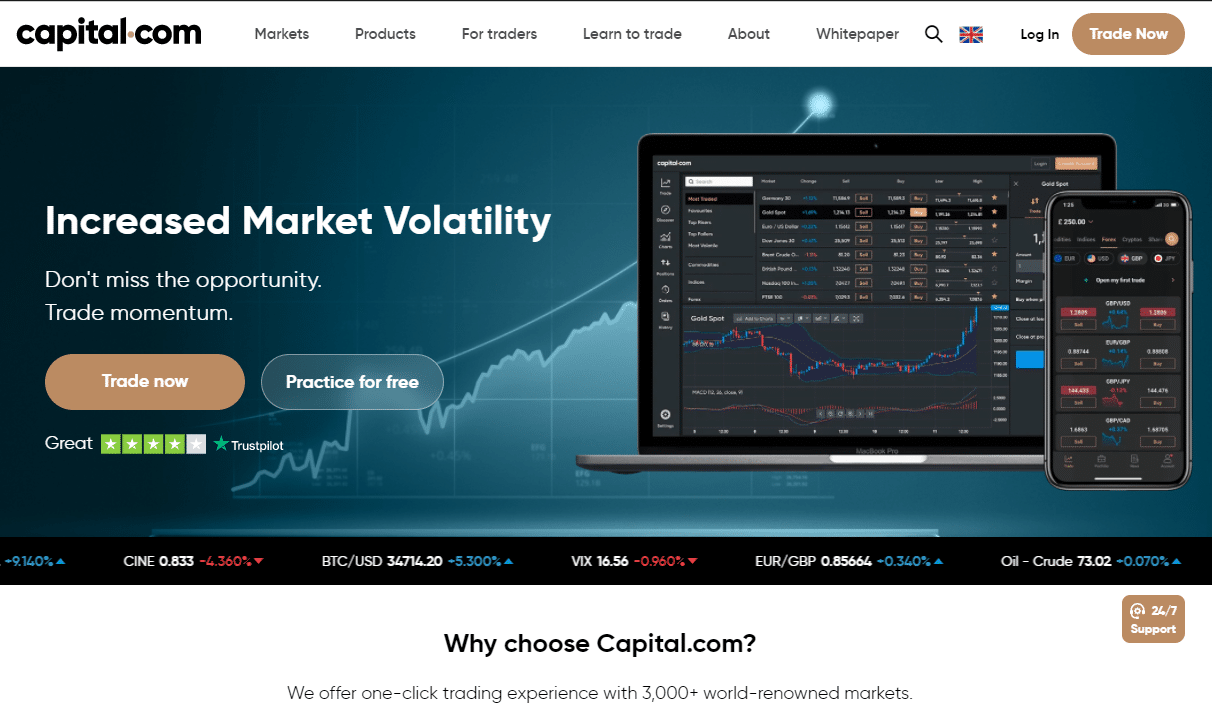 Capital.com is a great option for seasoned investors seeking to use advanced trading tools. Numerous third-party agencies completely regulate and protect the broker, employ cutting-edge technology to improve customer experience, and provide exceptionally competitive spreads.
The platform is simple to use, and the mobile applications are quite functional. Capital.com is a place for medium-hand and veteran traders to benefit the best from the platform's top feature — CFD crypto trading.
With more than 30 crypto assets available and leverage up to 20, you can invest in Dogecoin and grow your capital.
Capital.com Fees – Reliable Dogecoin Broker in Australia
Capital.com earns commission through spreads. Spread is the difference between the Buy and Sell prices. As an investor, you pay the spread every time you open a new position.
The spread price changes depending on the instrument. If you want to check the spread for your specific asset, live spread information is available on each financial instrument's mobile and online platforms. For example, on August 4th, 2021, the DOGE to USD CFD spread is 0.0092.
Type of activity
Fees

Deposit

Withdrawal

Real-time Quotes

Opening/Closing trades

Educational material

Dynamic charts and indicators

0% Fee

Crypto trading

The spread varies for each trading pair and instrument.

Overnight charge

The overnight fee is based on the leverage provided, not on the entire value of the DOGE you buy.
Pros
Functional application is suitable for newbies.
Reliable overall rating on Trustpilot.
Responsive customer support system.
Relevant and fresh data on cryptocurrencies, indices, stocks, futures, etc.
Helpful and meaningful educational resources.
Cons
You can only trade CFD Dogecoin.
Not a good choice for beginners.
67% of all retail investor accounts lose money when trading CFDs with this provider.
3. Crypto.com – Trade with Confidence on the Most Advanced Platform in the World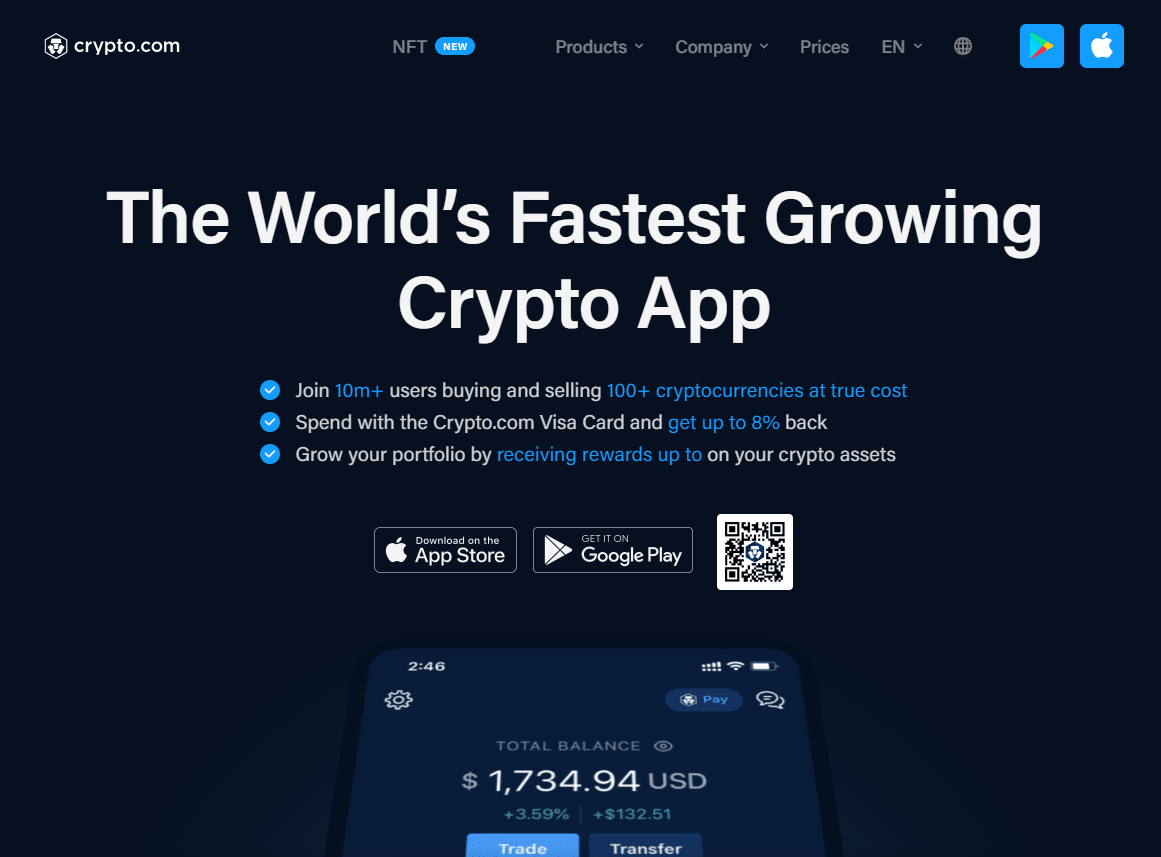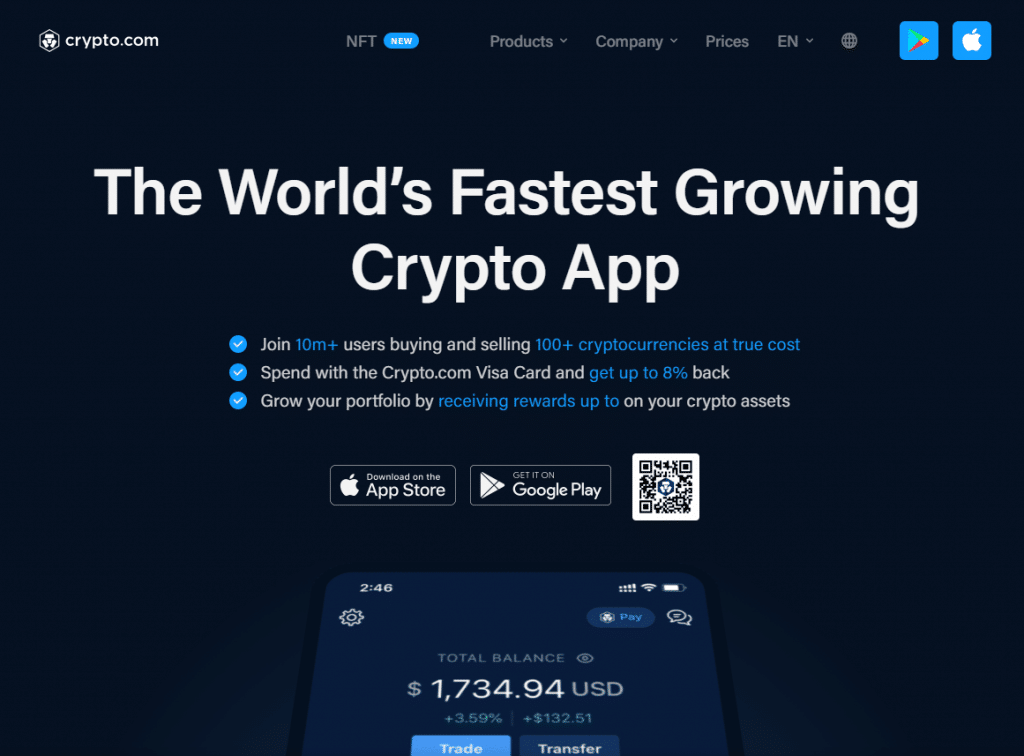 Crypto.com is the world's most trusted cryptocurrency exchange. With over 250 digital currencies supported, you can buy, sell, and trade your way to crypto success.
Crypto.com offers some of the most competitive rates in the industry, with 0.4% fees on trades totaling less than $25,000 per month for users who haven't staked any CRO.
So whether you're just getting started with Dogecoin or you're a seasoned pro, Crypto.com is an excellent exchange for you.
Looking for a way to slash your trading fees? Look no further than Crypto.com. Our volume-based fee structure means the more you trade, the more you save – and there's no better way to take advantage of those savings than by staking CRO.
Plus, with huge discounts for users staking CRO, there's never been a better time to invest in crypto.
In addition to great rates, Crypto.com also offers a safe and secure platform for you to trade on.
Crypto.com uses the latest security measures to keep your account safe, including multi-factor authentication and whitelisting.
Plus, their compliance monitoring and offline storage of customer deposits mean you can start enjoying peace of mind with your crypto coins!
With industry-leading security measures in place, you can rest assured that your funds are always safe.
And, if you're a U.S. customer, Crypto.com offers $250,000 in FDIC insurance on your U.S. dollar balances.
Crypto.com's intuitive platform makes it easy for beginners to get started, and their 24/7 customer support ensures that you're never left in the dark.
So what are you waiting for? Join Crypto.com today!
Pros
Buy, sell, and trade over 250 digital currencies
Save on your trading fees with volume-based discounts
Get started in minutes with a user-friendly platform
Start building your wealth today with cryptocurrency trading
Ride the cryptocurrency wave and get in on the ground floor
Cons
Fees are higher unless you hold and utilize CRO
Cryptoassets are highly volatile unregulated investment products. No EU investor protection
4. AvaTrade – Best MT4 Terminal Broker to Buy Dogecoin Australia