AvaTrade Review – Is AvaTrade Safe? Fees & Minimum Deposit Explained
AvaTrade is a popular online trading platform that offers contracts-for-differences (CFDs). This allows you to trade forex, commodities, stocks, ETFs, crypto, and more without needing to take ownership of the underlying asset. As such, this promotes low fees, leverage, and short-selling facilities.
In this AvaTrade review, we cover everything there is to know about the platform – with key sections focusing on fees, supported markets, regulation, and core features.
What is AvaTrade?
Launched in 2006, AvaTrade is an online trading platform that specializes in CFDs. Those based in the UK will also have access to tax-free spread betting markets. In total, AvaTrade serves over 300,000 registered users which translates into monthly trading volume in excess of $70 billion. This top-rated broker is regulated in no less than seven jurisdictions, so safety is assured.
In terms of supported markets, this covers a variety of forex markets, alongside cryptocurrencies, stocks, ETFs, and bonds. Once again, as you are trading CFDs at AvaTrade, you will not own any of the respective assets that you speculate on. In turn, this means that you can trade CFDs at AvaTrade with leverage. Limits will depend on whether you are a retail or professional client, alongside your country of residence.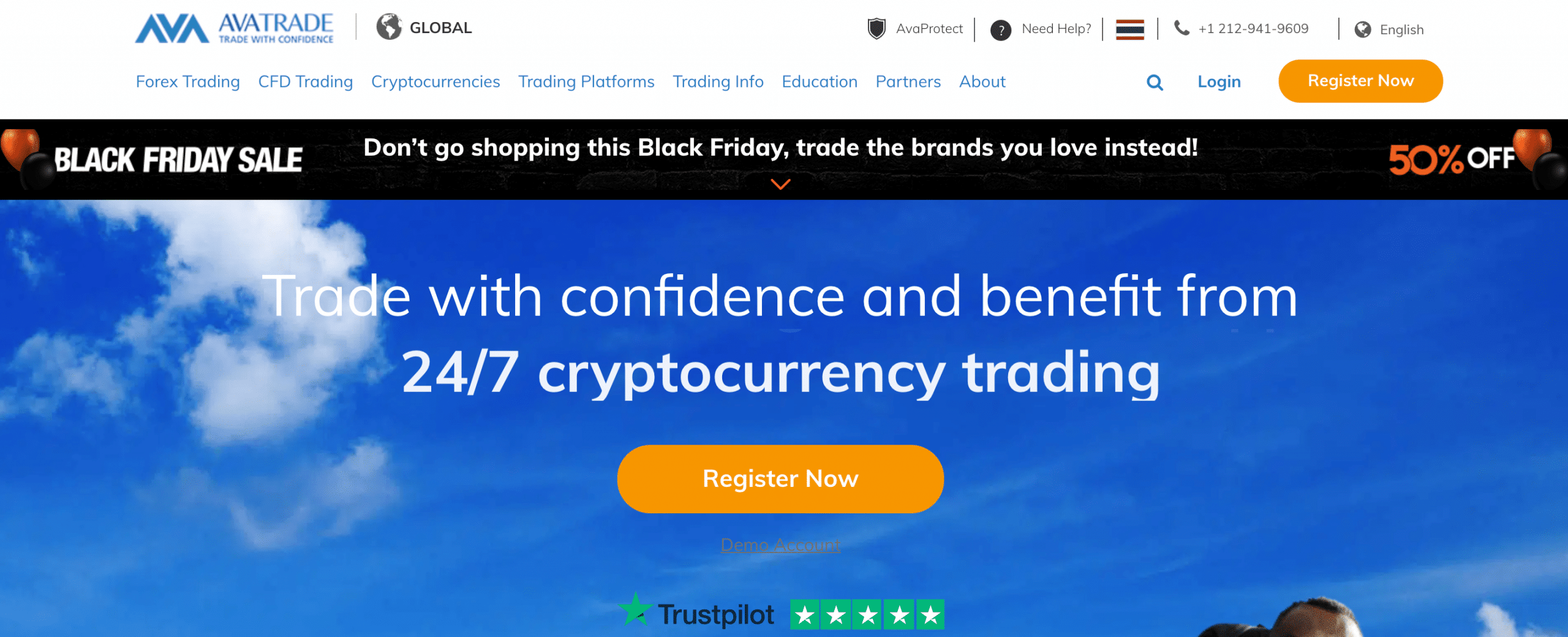 AvaTrade also gives you the option of opening a trade with either a buy or sell order – which means that you can attempt to make a profit irrespective of whether market prices are rising or falling. Furthermore, this AvaTrade review found that the platform offers some of the lowest fees in this marketplace. This includes 0% commissions on all supported assets, tight spreads, and fee-free deposits and withdrawals. 
When it comes to trading platforms, AvaTrade gives you several options. Many will elect to use the native AvaTrade platform – which can be accessed via your web browser, as well as through a mobile app. Alternatively, if you seek more advanced trading tools through a fully customizable platform, AvaTrade is also compatible with both MT4 and MT5.
AvaTrade Pros and Cons
For a snapshot overview of our AvaTrade review findings, check out the pros and cons listed below.
Pros
Leverage offered on all supported markets
Trade forex, crypto, stocks, commodities, and more
No commissions charged and tight spreads on most instruments
Ability to go long or short
Support for MT4 and MT5
Regulated in 7 jurisdictions
Great for educational materials
Cons
$100 minimum deposit
E-wallets are not supported in all regions
CFDs only – so no traditional investments
Trading CFDs and FX Options entail risk and could result in the loss of your capital.
AvaTrade Derivatives
As we noted in the above section of this AvaTrade review, you will be buying and selling financial derivatives on this platform. If you're new to this particular segment of the trading arena, below we briefly explain how CFDs and spread betting works at AvaTrade.
CFDs
Unless you are from the UK, the only financial instrument that you will have access to at AvaTrade is CFDs. This means that you will be trading without owning the underlying asset. For example, if the global spot price of gold is trading at $1,767 per oz, so will the respective CFD at AvaTrade.
By trading CFDs at AvaTrade, you will be able to apply leverage to your position. You can also choose from a buy or sell order when entering your position and benefit from 0% commissions.
Spread Betting
As mentioned above, traders based in the UK will also be able to access spread betting markets. For all intents and purposes, spread betting works in exactly the same way as CFDs.
This is because spread betting provides no ownership of the underlying asset and you will be able to apply leverage. The main difference is that spread betting gains are tax-free in the UK and markets always come with an expiry date – which CFDs don't.
AvaTrade Supported Markets
When choosing the best trading platform for your financial goals, it is important to assess what markets you will have access to.
As such, in this section of our AvaTrade review, we will discuss which asset classes are supported.
AvaTrade Stocks
If you are looking to trade stocks, AvaTrade offers a selection of markets from the US (NASDAQ and NYSE) and the UK (LSE). This mainly focuses on large-cap stocks, such as the likes of Tesla, HSBC, Amazon, and Microsoft.
AvaTrade ETFs
You will also find a selection of ETFs from the US and UK that come in the form of derivatives. This means that you will be trading the future value of the respective ETF – as per its real-time market price.
AvaTrade Forex
Forex is perhaps the strongest department offered by AvaTrade. This is because the platform gives you access to a wide variety of currency pairs. In addition to majors and minors, you will also find several exotic currencies.
AvaTrade Indices
Our AvaTrade review also came across a selection of popular indices that can be traded around the clock. This includes CFD instruments that track the S&P 500, Dow Jones, NASDAQ 100, FTSE 100, and more.
AvaTrade Cryptocurrencies
If you're looking to trade cryptocurrencies, doing this through AvaTrade is highly beneficial. First and foremost, unlike the vast majority of traditional cryptocurrency exchanges, AvaTrade is heavily regulated.
As such, you can speculate on digital currencies like Bitcoin, Ethereum, Dash, Litecoin, and more in a safe and secure environment. Plus, you can easily apply leverage to your chosen cryptocurrency and even short-sell. All supported cryptocurrencies on the AvaTrade platform are paired against the US dollar.
AvaOptions
If you're well-versed in financial derivatives then you might be looking to trade options. If so, it's well worth checking out the native AvaOptions platform, which covers a wide range of markets and order types.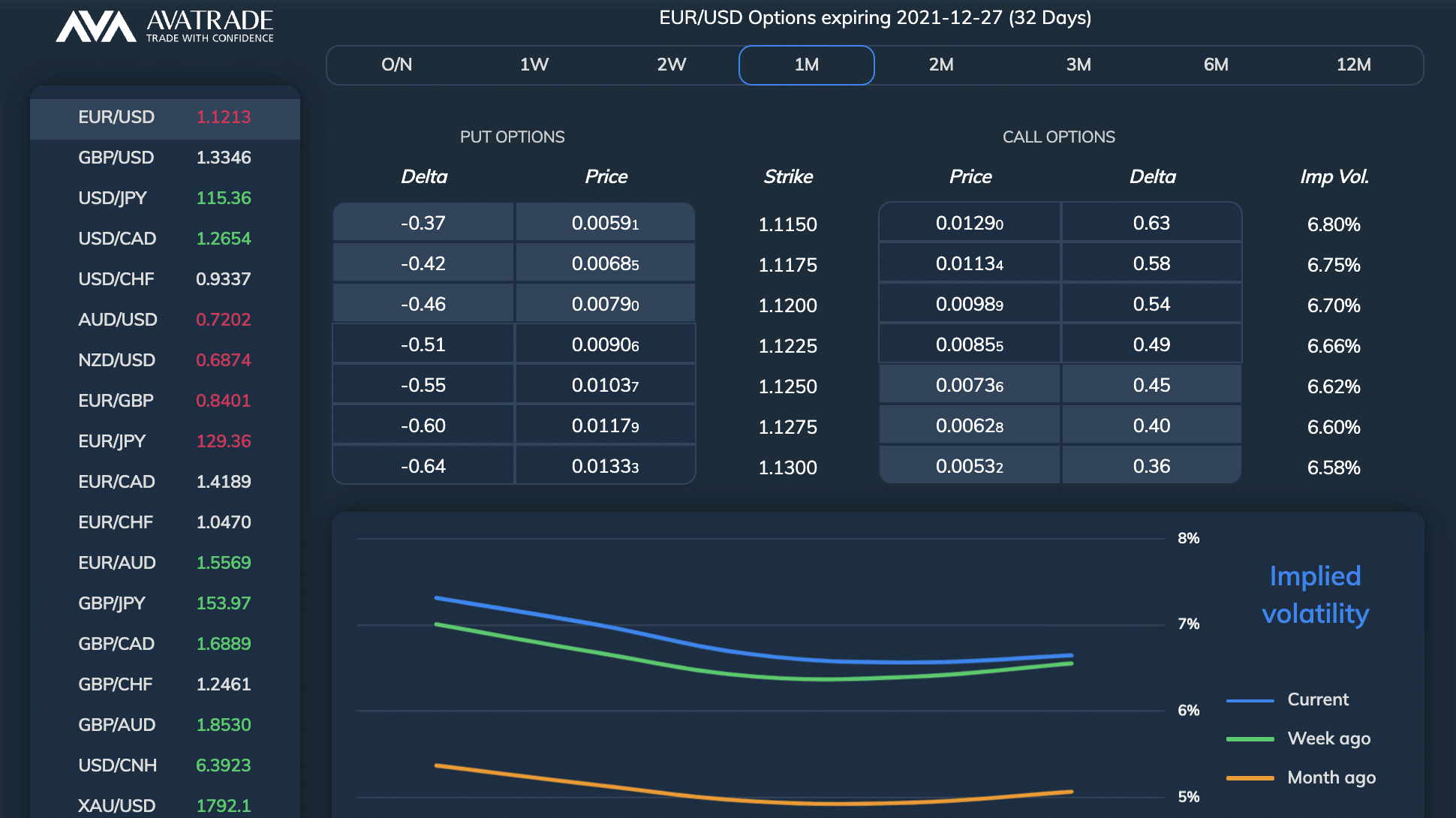 For example, you can trade forex options against 40 currencies, and strategies such as risk reversals, straddles and strangles are supported. You can enter a position with both calls and puts, and there are various strike prices and contract durations available on most markets.
AvaTrade Fees
It goes without saying that you need to have a firm grasp of what fees and commissions you will be required to pay when at your chosen platform.
In the sections below, we cover the main fees charged by AvaTrade and whether or not the broker is competitive when compared to other providers in this space.
0% Commission
Irrespective of which CFD instruments you decide to trade, our AvaTrade review found that the broker charges no commissions. This means that you can enter and exit a position with only the spread to pay. This is particularly useful if you are trading small amounts. After all, many brokers in this arena charge flat fees (e.g. $10 per trade), which can be unfavorable on low stakes.
Spreads
AvaTrade claims to offer competitive spreads, albeit, the specific gap between the bid/ask price will depend on a full range of factors. Notably, if you are trading highly liquid asset classes like forex – then you can expect to get some of the best spreads available.
For example, in trading EUR/USD, you will get a minimum spread of 0.9 pips. When you combine this with the broker's 0% commission policy, this offers great value.
Other major pairs like USD/JPY and AUD/USD can be traded from 1.1 pips.
The spread on major stocks is also competitive. For instance, our AvaTrade found spreads of just 0.13% on stocks like Apple, Amazon, and Microsoft.
When it comes to commodities, gold and silver can be traded at spreads of just 0.34 and 0.0029 pips, respectively.
Spreads can and will vary throughout the trading day based on market conditions. As such, be sure to assess the competitiveness of your chosen asset before placing an order.
Deposits and Withdrawals
You won't need to pay any fees when depositing or withdrawing funds into and from AvaTrade. This is another major advantage over other brokers in this space, which often charge a fee of some sort to process transactions – especially when using a debit/credit card.
Inactivity Fee
Like many trading platforms, AvaTrade charges an inactivity fee when your account is marked as dormant. This will kick in after three months of inactivity – and the fees are as follows:
USD Account: $50
EUR Account: €50
GBP Account: £50
Take note, you will only pay an inactivity fee if your account has a positive balance. If not, the account will simply remain dormant. Furthermore, as soon as you place a trade, the inactivity period will reset to zero.
Overnight Financing
All markets offered by AvaTrade come in the shape of CFDs. As such, for each day that you keep a position open, you will need to pay an overnight financing fee. Much like the spreads charged by AvaTrade, overnight financing will vary considerably depending on the market. Additionally, by applying higher levels of leverage, your fees will increase.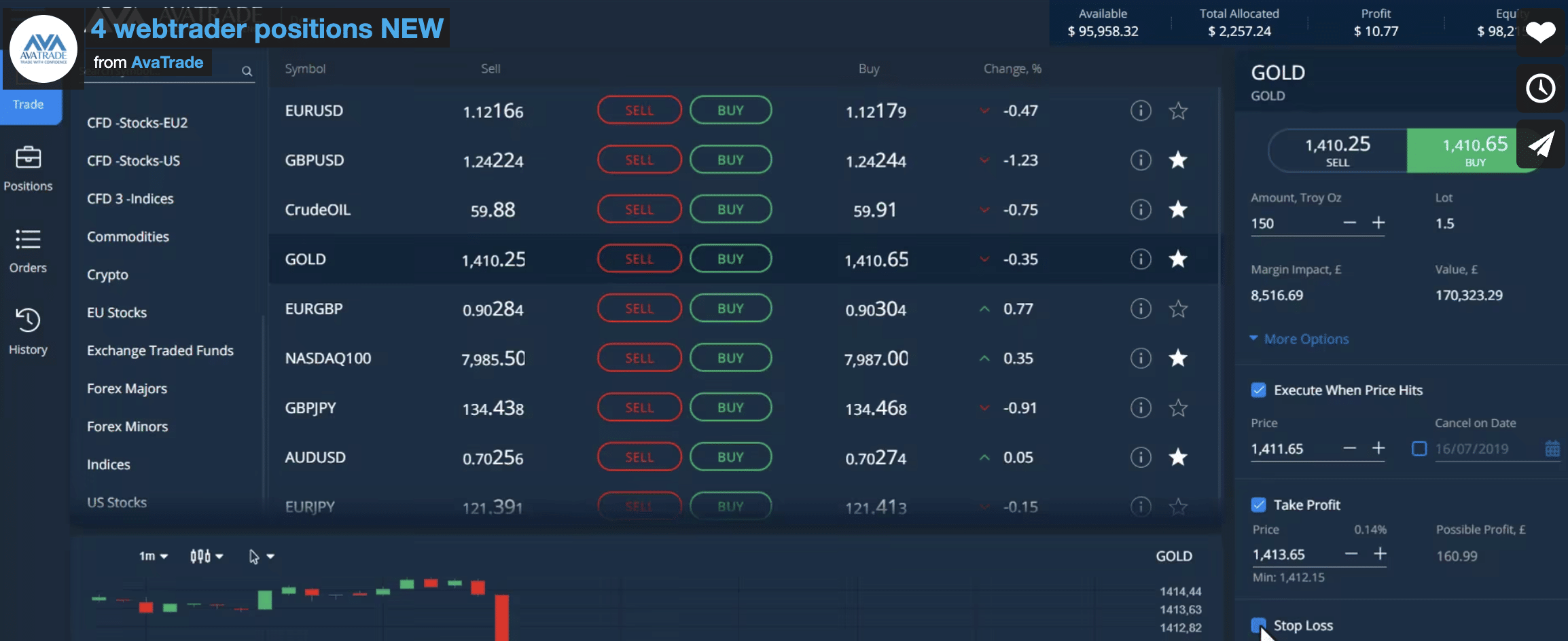 This should be a further reminder that CFDs should be viewed as short-term financial instruments as opposed to long-term investment products. If you seek an investment platform that is suitable for long-term holdings, consider 0% commission broker eToro.
AvaTrade Payments
AvaTrade makes the deposit and withdrawal process both easy and low-cost. As we mentioned just a moment ago, all payments are processed fee-free.
In terms of supported deposit types, you can choose from a:
Debit Card
Credit Card
Bank Wire
Skrill
Paypal
Neteller
Skrill
WebMoney
Take note, e-wallets are not supported in all regions – so be sure to check this for yourself. Furthermore, bank wires can take several days to process. On the other hand, both debit/credit cards and e-wallets are typically processed instantly.
AvaTrade Minimum Deposit
The minimum deposit at AvaTrade stands at just $/€/£ 100. This makes the platform accessible even for those on a budget.
AvaTrade Trading Platform
Our AvaTrade review found that this CFD broker really stands out when it comes to the availability of trading platforms. In fact, you can trade via the native AvaTrade platform or through third-party providers. The latter includes MT4 and MT5.
If you want to trade via your web browser, then the AvaTrade platform is well worth considering. This award-winning platform gives you access to a huge number of trading tools, such as:
Chart drawing tools
Technical indicators
Basic and advanced order types
Fully customizable screens
Market insights
As a browser-based platform, AvaTrade can be accessed without needing to download or install any software. With that said, if you wish to use algorithmic bots or engage in high-frequency trading, you might be better suited for MT4/MT5 software.
AvaTrade Demo Account
We really like the fact that AvaTrade offers free demo accounts to all registered users. You are not required to deposit any funds to gain access to the demo facility, which allows you to test the AvaTrade platform out before making a financial commitment.
The demo account offered by AvaTrade comes with $100,000 in pre-loaded trading funds. Furthermore, and perhaps most importantly, the AvaTrade demo facility mirrors live market conditions, and no trading tools and features are blacked out.
Trading CFDs and FX Options entail risk and could result in the loss of your capital.
AvaTrade Leverage and Short Selling
Many people use CFD trading platforms like AvaTrade because of the leverage on offer. In terms of how much leverage you can get your hands on, this will invariably depend on your country of residence and whether you are a retail or professional client.
If you're based in the European Union and sit within the remit of a retail client, then you can get 1:30 on major forex pairs, 1:20 on gold and minor currencies, and less on other assets.
Similar limits have since been implemented in both the UK and Australia.
Some countries, such as South Africa, have no such regulatory constraints when it comes to access high levels of leverage. As such, you might be able to get up to 1:400 – even if you are a retail client.
Just make sure that you tread carefully when trading with leverage at AvaTrade. After all, leverage has the effect of amplifying both profitable and losing positions.
Short Selling
When using a traditional brokerage site, you can typically only go long on assets. This means that in order to make a profit, you need the value of the respective asset to rise. If the opposite happens, you have no way of making money. On the contrary, the value of your position will also decline.
This is why AvaTrade stands out for many traders, as the CFD broker allows you to short-sell assets at the click of a button. In fact, all you need to do is enter a position with a sell order. Then, if your chosen market declines in value, you can cash out at a profit with a buy order.
AvaTrade App
AvaTrade offers its own native mobile app – which it calls AvaTradeGO. The mobile app can be downloaded free of charge and is compatible with both Android and iOS operating systems. The AvaTradeGO app has been well optimized for smaller screens, which makes it ideal for buying and selling instruments on the move.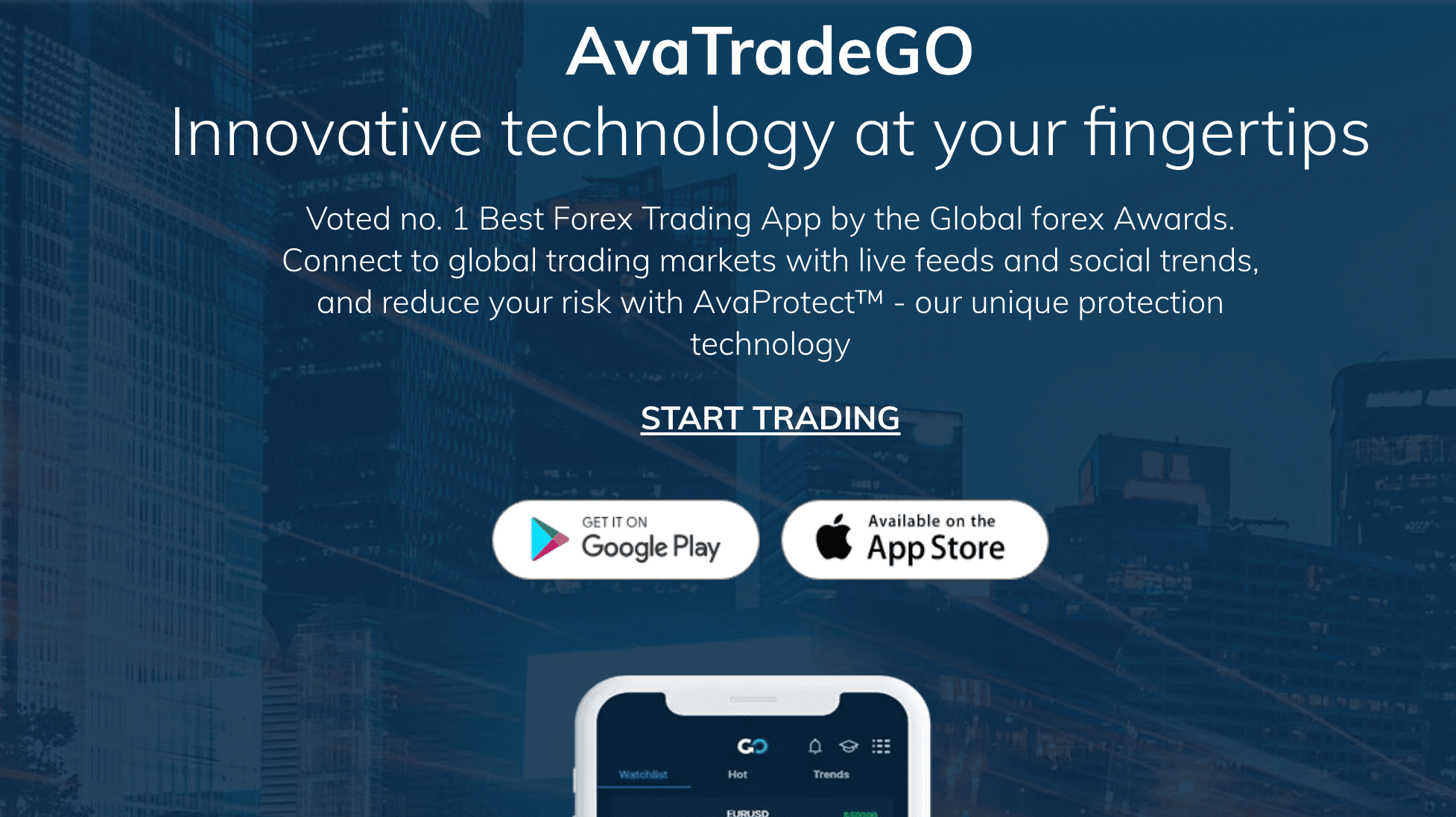 For instance, you can easily find your preferred market by using the search bar and working your way through the filter buttons. Placing orders can also be achieved without fear of making a mistake, as you will be asked to confirm the position before it goes live.
Is AvaTrade Safe?
Irrespective of whether an online broker offers low fees, the most important metric to consider before opening an account is whether or not your capital is safe.
Put simply, you should have no such concerns at AvaTrade, as this top-rated brokerage holds licenses from multiple regulators. In fact, AvaTrade is regulated in no less than seven jurisdictions.
Below you will find a list of licensing bodies that regulate AvaTrade:
AVA Trade EU Ltd is regulated by the Central Bank of Ireland
Ava Trade Markets Ltd. is regulated by the B.V.I Financial Services Commission
Ava Capital Markets Australia Pty Ltd is regulated by the ASIC
Ava Capital Markets Pty is regulated by the South African Financial Sector Conduct Authority (FSCA)
Ava Trade Japan K.K. is licensed and regulated in Japan by the Financial Services Agency and the Financial Futures Association of Japan
Ava Trade Middle East Ltd is regulated by the Abu Dhabi Global Markets (ADGM) Financial Regulatory Services Authority (FRSA)
DT Direct Investment Hub Ltd. is regulated by the Cyprus Securities and Exchange Commission
If your country of residence is not listed above, you can be sure that AvaTrade is authorized to offer services in your jurisdiction.
AvaTrade Customer Support
AvaTrade offers numerous ways in which you can speak with a member of the support team. The easiest option is to use the live chat facility – which can be found on the main website as well as the native mobile app. You can also send a message via your AvaTrade account.
Alternatively., if you prefer to speak with AvaTrade over the phone, various local numbers are available. This includes telephone numbers from countries based in Europe, Australia/New Zealand, Africa, and Asia.
In terms of support hours, AvaTrade operates a 24/5 system to mirror the broader financial markets. This means that the support team begins the week on Sunday at 9 pm GMT and closes on Friday at 9 pm GMT.
How to Use AvaTrade – Get Started Today!
If you like the sound of our AvaTrade review findings and wish to open an account today – we will now walk you through the process step-by-step.
Step 1: Open AvaTrade Account
You can open an AvaTrade account from the comfort of home in less than two minutes. First, visit the AvaTrade website and look out for the 'Register Now' button.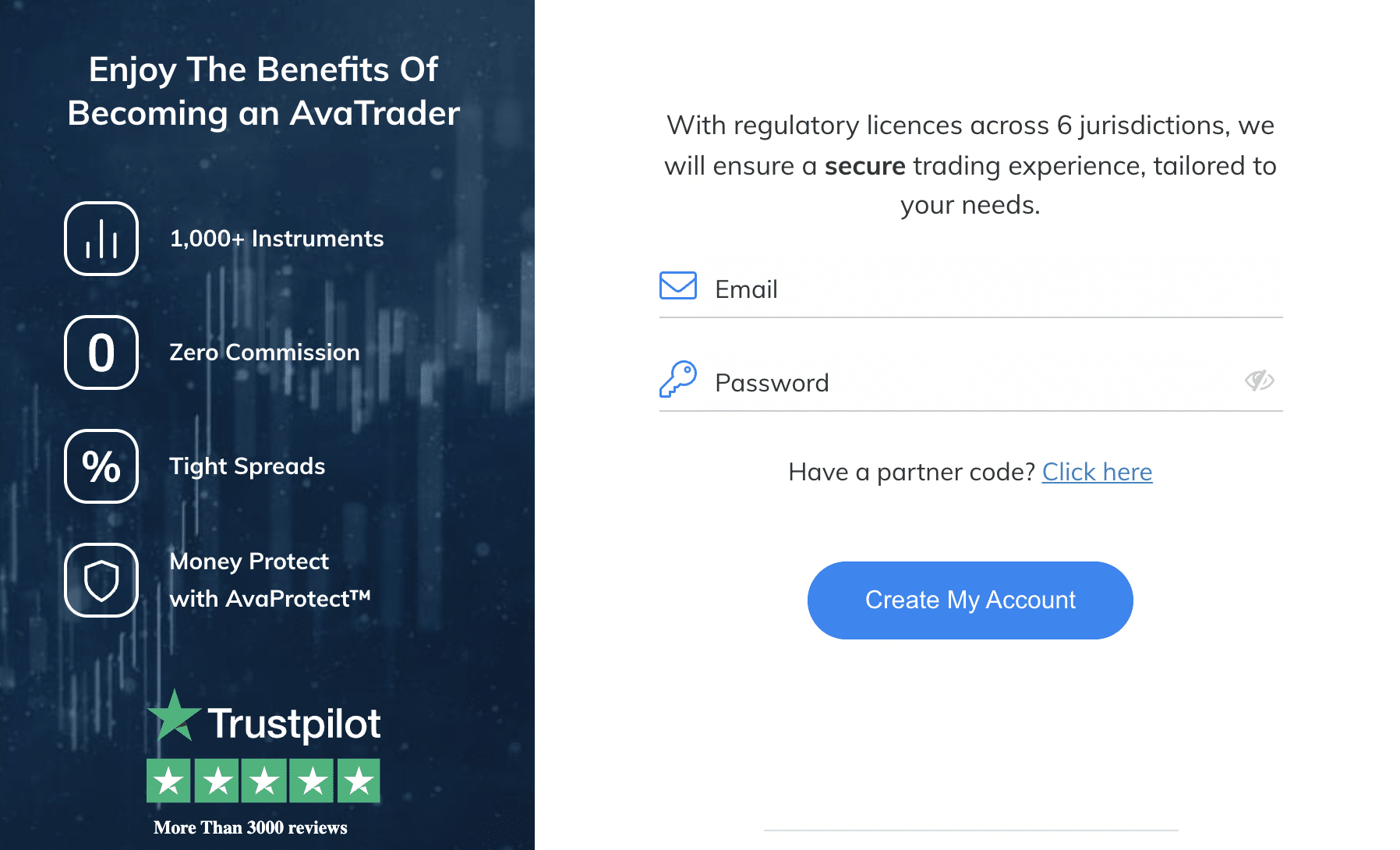 You will then be shown a registration form. Initially, this will simply ask for your email address and a chosen password. Next, you will be asked for some personal information – such as your name, nationality, home address, date of birth, and telephone number.
Trading CFDs and FX Options entail risk and could result in the loss of your capital.
Step 2: Upload ID
Regardless of where you are from, all account holders at AvaTrade are required to go through a KYC (Know Your Customer) process. This will entail uploading a couple of documents so that AvaTrade can verify your identity.
First, you need to upload a copy of a valid government-issued ID. In most cases, this will need to be a passport or driver's license. Some nationalities can also upload a government-issued ID card.
Second, you need to upload a document that verifies your stated home address. You have plenty of eligible documents to choose from – such as a utility bill (electricity, water, etc.) or a bank account statement.
Take note, your proof of address document must have been issued within the prior six months.
Step 3: Deposit Funds
As we covered earlier in this AvaTrade review, the minimum deposit is $/€/£ 100. Most nationalities can deposit funds with a debit/credit card or bank wire. You might also be able to deposit funds with an e-wallet like Paypal or Skrill – but this is location-dependent.
Step 4: Choose Trading Platform
Now that you have a funded account, you need to decide which trading platform you wish to use. If you prefer trading on your laptop via a web browser, then it's best to stick with the native AvaTrade platform. This means that you can trade instantly without needing to download or install any software.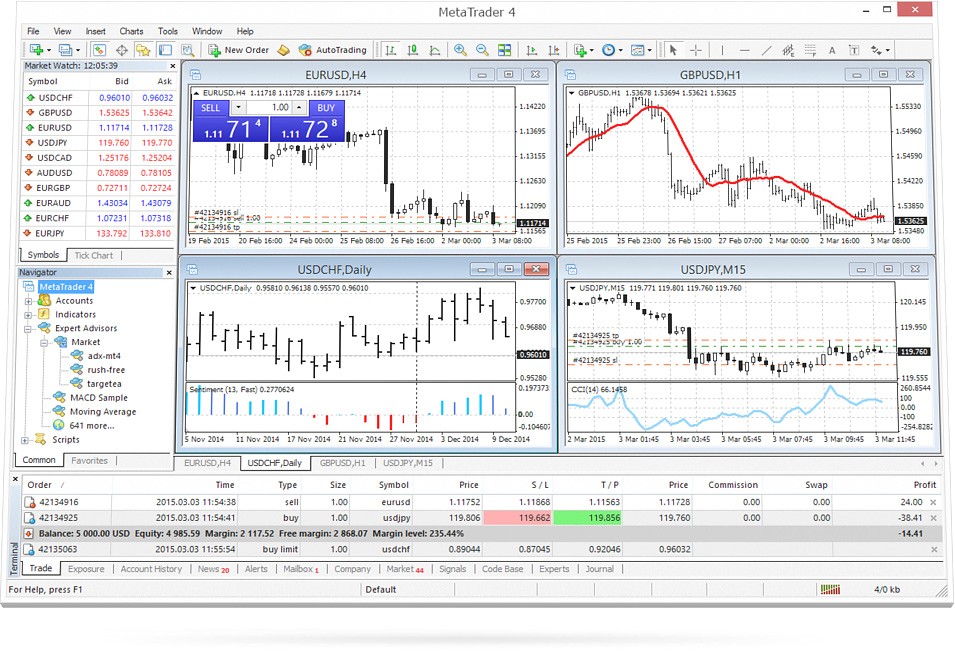 Alternatively, you might also consider linking MT4 and MT5 to your AvaTrade account. For those that wish to trade on the move, you can also download the AvaTradeGO mobile app.
Step 5: Start Trading
Now it's just a case of searching for the market that you wish to access. You can either use the filter buttons or search bar. Either way, once you have found the respective market you will need to set up an order.
This operates much the same way as any other CFD broker insofar that you need to choose from a buy or sell order. Next, you need to enter your stake and if required – your chosen leverage limits. AvaTrade also offers advanced order types like stop-losses and take-profits, so this can be executed if you desire.
Finally, confirm your order and AvaTrade will execute within a matter of seconds.
AvaTrade Review – Conclusion
This AvaTrade review has covered every nut and bolt you need to be aware of before proceeding. All in all, we found that the platform stands out in most divisions – especially when it comes to fees.
After all, the broker allows you to trade hundreds of financial instruments at 0% commissions – and spreads start from just 0.9 pips on EUR/USD. You can deposit and withdraw funds for free via debit/credit cards, e-wallets, and bank wires – and leverage is offered on all supported markets.
Most importantly, AvaTrade is regulated in no less than seven jurisdictions.
Trading CFDs and FX Options entail risk and could result in the loss of your capital.
FAQ
Is AvaTrade available in the US?
What fees does AvaTrade charge?
How do you contact AvaTrade?
What is the AvaTrade minimum deposit?