Dogecoin Price Prediction 2021 – Dogecoin Forecast 2021, 2022, 2025 & 2030
Initially starting as a meme, Dogecoin has taken the crypto world by storm in recent months. A 300% rise in April and May saw Dogecoin reach heights nobody thought possible; however, these were short-lived. Now, some bullish momentum is coming back into the market, with many people considering Dogecoin for investment once again.
This article presents our Dogecoin Price Prediction for the months and years to come. We'll explore Dogecoin in detail, highlighting the future outlook and showing you where to buy Dogecoin with 0% commissions.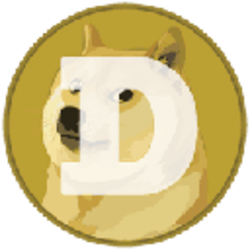 Dogecoin (DOGE)
Price
Dogecoin Price Prediction 2021 to 2022
The current Dogecoin price of $0.3039 represents a decrease over just over 50% from the highs experienced in May 2021. However, the future does look bright for this altcoin, with new uses and influential backers helping boost the coin's popularity. Found below is our Dogecoin price prediction over the upcoming months, giving you an idea of its price potential.
One Month – Given the momentum showcased in recent times, if Dogecoin projections continue on this trajectory, it's likely that the price will head towards the $0.4000 level over the next month.
Three Months – If Dogecoin can capitalise on the current crypto bull market, the next stop would be $0.5500, where some strong resistance is located.
Start of 2022 – By the beginning of 2022, our Dogecoin stock forecast estimates that Dogecoin will have returned to the all-time highs of $0.7400 that was reached in May 2021. This would represent a 168% increase from current levels.
Dogecoin Price History – the Story of 2021 So Far
If you are looking to buy Dogecoin in the short-term, it's crucial that you analyse the coin's history and how it arrived at this point. This is known as doing your 'due diligence' and is one of the most critical aspects of the investment process. First, let's take a look at what Dogecoin is before diving into its price journey.
Dogecoin (DOGE) was created by Billy Markus and Jackson Palmer, two software engineers who worked for IBM and Adobe. As is common knowledge, Dogecoin was started as a joke between the two founders, using the Shiba Inu dog as the coin's logo. According to Yahoo Finance, Dogecoin was launched in December 2013 and has grown since then to reach a market cap of $35.80 billion.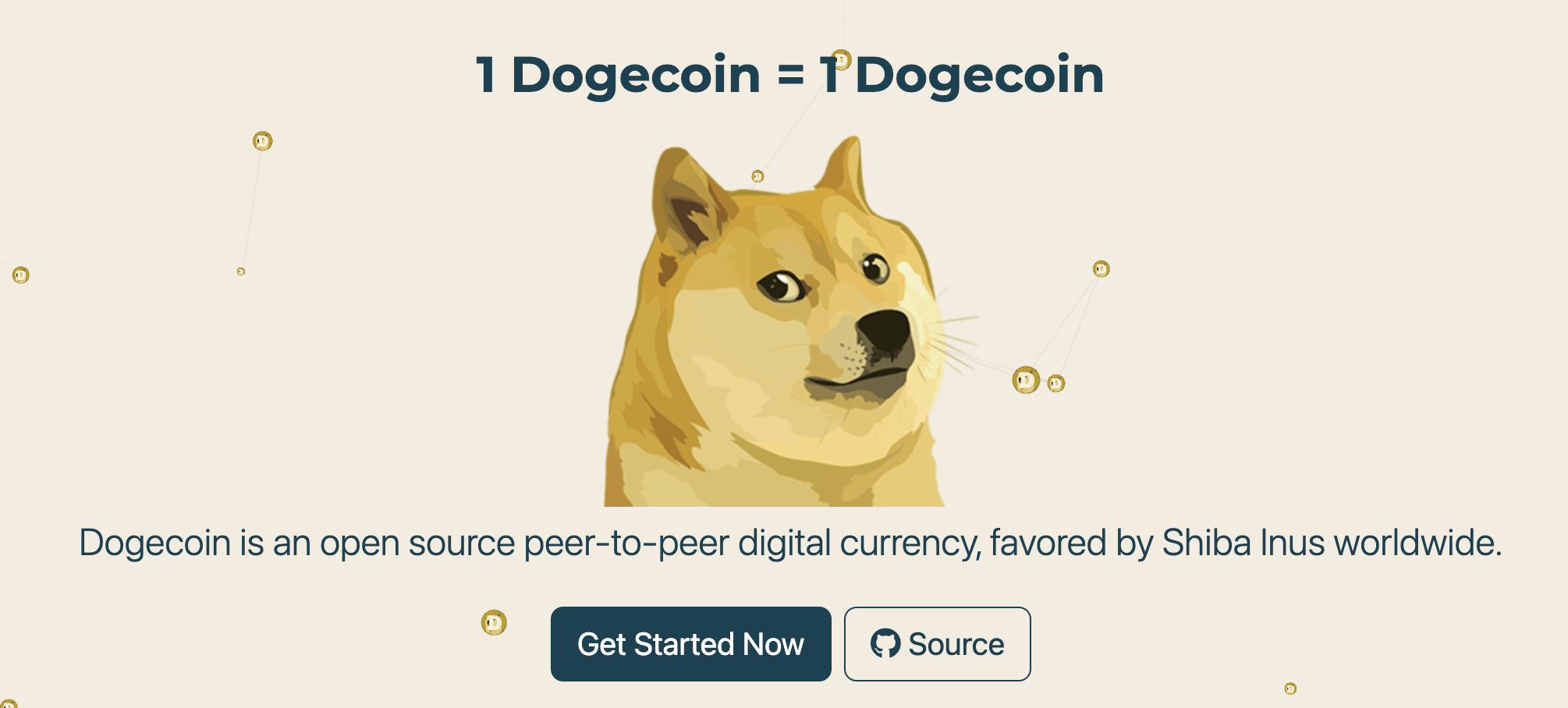 Until the beginning of 2021, Dogecoin didn't generate much positive momentum, ranging around the $0.0088 level. However, in January 2021, that all changed thanks to the hype generated by social media communities. This hype was a by-product of the Gamestop short squeeze, which led many retail investors to pile into Dogecoin as a joke.
Dogecoin's price rose by 1167% in just a few days during January, providing incredible returns for investors. The cost of Dogecoin then stabilised around the $0.0500 level after this uptrend until April 2021, when momentum began picking up again. By this point, Dogecoin was firmly in the consciousness of crypto investors thanks to an endorsement from Tesla CEO Elon Musk, Snoop Dogg, and Mark Cuban.
As reported by the Wall Street Journal, Coinbase's direct listing (which allowed members of the public to buy shares) caused a considerable bull run in the crypto market. Coins such as Bitcoin, Ethereum, Litecoin, XRP, and Cardano all surged to new heights thanks to renewed interest in the crypto market from retail traders. Although Dogecoin was not a tradeable asset on Coinbase, the coin still benefitted indirectly from this momentum.

However, in May 2021, Dogecoin's price finally fell by around 79% throughout the next couple of months. Analysts believed that Dogecoin's 'bubble' had burst, leading investors to flock to other currencies instead. Dogecoin continued to fall until early August 2021, where momentum began spiking again.
Now, the Dogecoin price live has increased nearly 50% in the space of a week, as some positive impetus comes back into the market. No specific news has been announced that relates to Dogecoin; however, the broad market rally is having a positive impact on the coin overall. Going forward, the future looks bright for Dogecoin projections ahead – and the crypto market in general.
Dogecoin Price Forecast
As someone who is wondering how to buy cryptocurrency, it's vital to use a thorough approach to your research. Relating this to Dogecoin, technical and fundamental price analysis factors should be used together to arrive at an accurate price forecast. With that in mind, we present the technical analysis and fundamental aspects that help influence our Dogecoin price prediction in the section below.
Technical
As you can see from the Dogecoin price chart, the current price has recently broken out of a falling wedge pattern. These patterns tend to occur in the cryptocurrency market just before a bullish or bearing impulse – so the fact that we saw the former is excellent news for Dogecoin investors. At present, Dogecoin is testing the resistance at $0.3, following its fall from $0.35 in mid-late August, 2021.
If the price shows a solid close past this region, the next resistance would be $0.4200. Price also rejected off this level in June 2021, but in a very strong manner. There will likely be some volatility around this area as buyers and sellers battle to see who comes out on top, so a clean break may not be feasible.
67% of retail investor accounts lose money when trading CFDs with this provider.
Going forward, our Dogecoin price prediction 2021 is relatively optimistic. The technical factors all point to some bullish momentum for this digital coin, with resistance at $0.5500 being the crucial level to break. If this occurs, we could undoubtedly see Dogecoin return to all-time highs – and even beyond!
Fundamental
When people buy Bitcoin, they're not just investing due to the price – they invest due to the digital currency's use cases. This is no different for Dogecoin, as use cases are where a cryptocurrency derives its value. Initially, people were sceptical about Dogecoin as it seemingly didn't have any actual practical uses – although this has changed in recent times.
One of the essential elements that make Dogecoin a good investment is its strong community backing. Reddit and Twitch users all seem to love Dogecoin cryptocurrency due to its 'memecoin' status. As such, these communities can hype up the coin and help boost its value – which then has a snowball effect on momentum.
Furthermore, Dogecoin is partnering with more and more companies choosing to accept the coin as a payment method. Yahoo Finance reported that on-demand dog walking app Wag will now accept Dogecoin as a method of payment. If this trend continues, it'll add to Dogecoin's credibility – helping to push the price even higher.
Dogecoin Price Prediction 2025 – Long Term Outlook
Now, let's take a look at our Dogecoin price prediction over a longer timeframe. As noted in the section above, Dogecoin has broken out of the falling wedge pattern that price was trapped in during recent months. The key now is to evaluate whether price instantly returns to this pattern – or whether the bullish momentum continues.
Going forward, one of the essential things for Dogecoin is to partner with more of the best trading platforms UK to offer it as a tradeable asset. At present, Dogecoin is not provided by many brokers and exchanges, which limits the amount that people can invest in it. In turn, this reduces how high the price can go.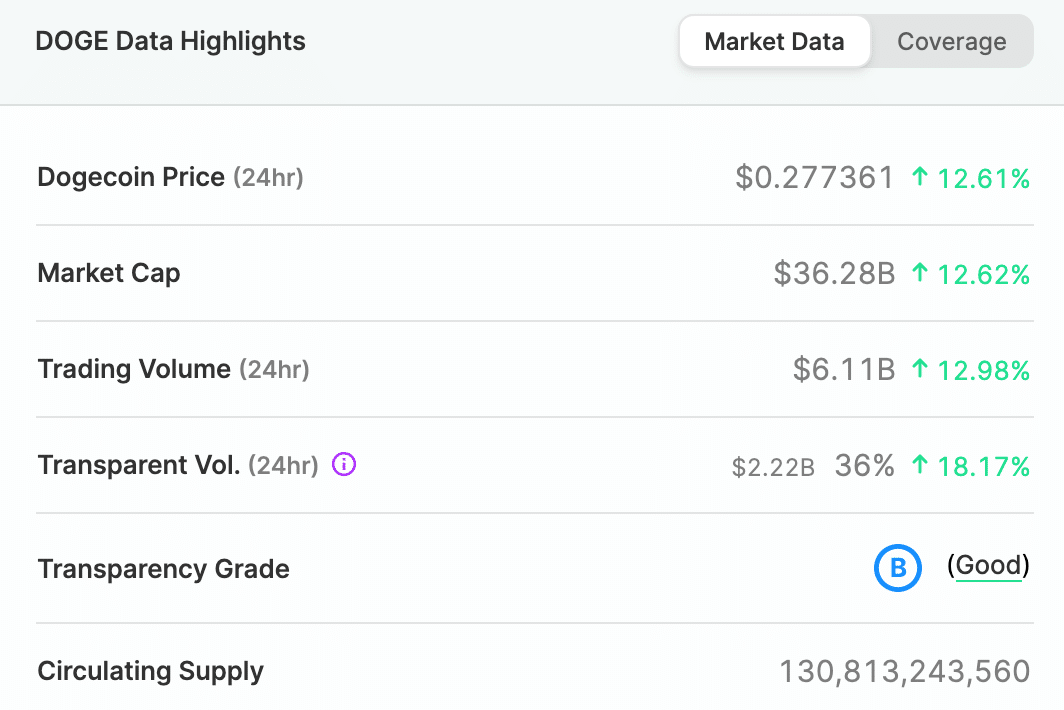 Another critical element of our Dogecoin forecast is the practical benefits that the coin needs to work on. Right now, most of the coin's usage is on more minor actions such as tipping. Notably, Dogecoin's platform is more environmentally friendly than some other cryptos – if Dogecoin can lean on this benefit, it'll mean further reasons for people to buy.
With this in mind, our Dogecoin price prediction 2025 can see the coin reach the $1 mark. This would require a 272% increase from today's price, which does seem huge. However, when you consider how much Dogecoin has grown until this point, an increase of this size doesn't seem out of the question as Dogecoin projections continue to depict an upwards trajectory.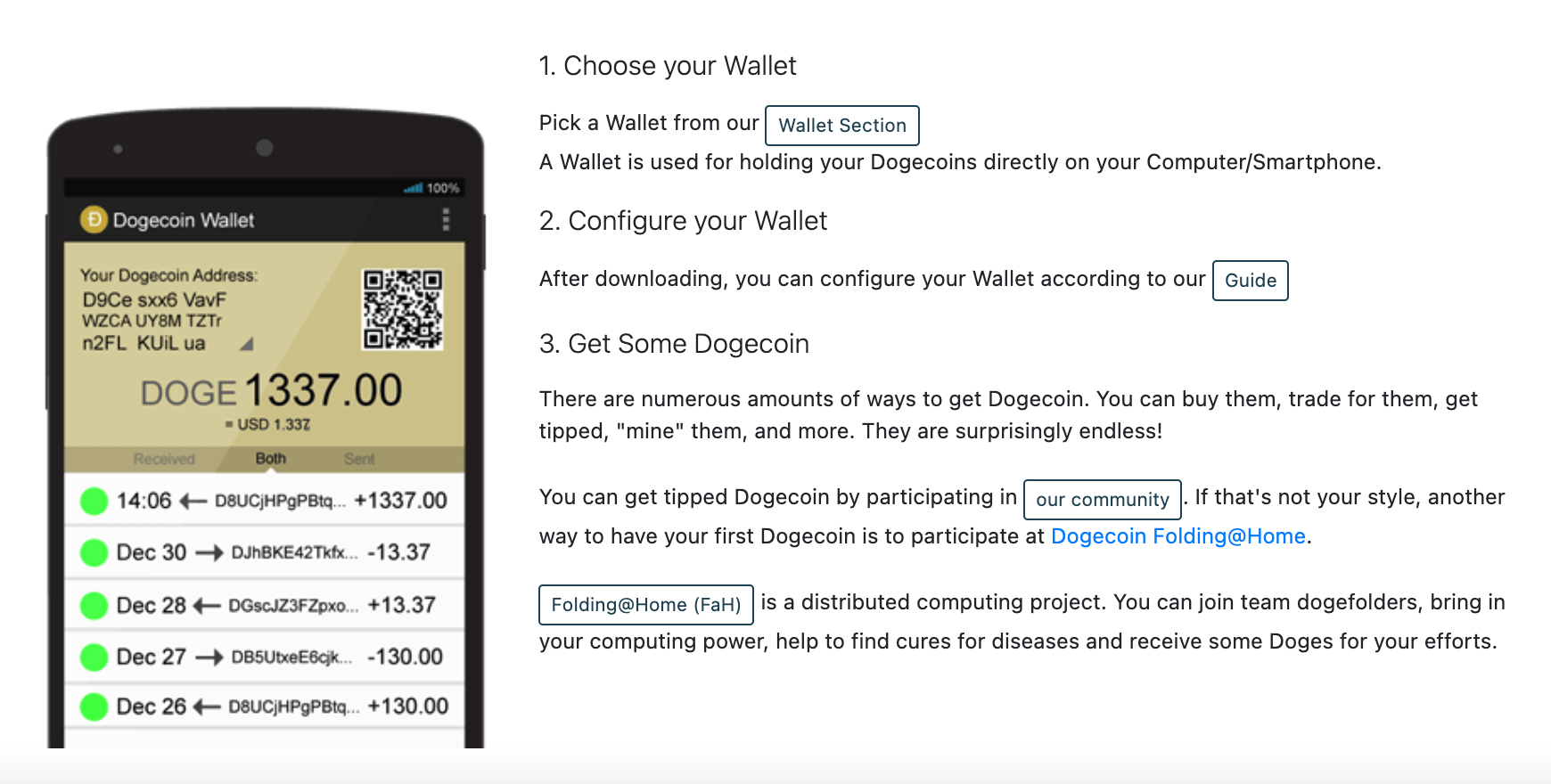 Looking even further ahead, our Dogecoin price prediction 2030 estimates even further value increases. Market trends are clearly pointing towards outdated systems being replaced by more effective solutions – for example, people who buy XRP feel that this software is much better than the current payment systems. Taking this into consideration, Dogecoin could also experience a similar uptake from investors. By 2030, we feel that Dogecoin could be worth $2 or more.
This is because, as we have seen recently, Dogecoin can be positively impacted by rises in the broader crypto market. Thus, even if Dogecoin doesn't have any positive news related to the coin directly, any bullish momentum in other cryptos will help the coin's price rise. With the crypto market expected to increase in value overall in the future, this is excellent news for smaller currencies such as Dogecoin.
Dogecoin Price Chart
Our Dogecoin prediction has taken into account the various factors that affect Dogecoin's price. As you can see from the price chart, the decline in price since May 2021 has been pretty steep. During this decline, many analysts stated that Dogecoin was essentially a 'bubble' and that the coin had no real value – hence why it fell back to pre-spike levels.
However, as you can see, price did find a base at the $0.1600 level, which has held as solid support. Both times that price has met this area, it has retraced immediately – which is what we are seeing in the chart right now.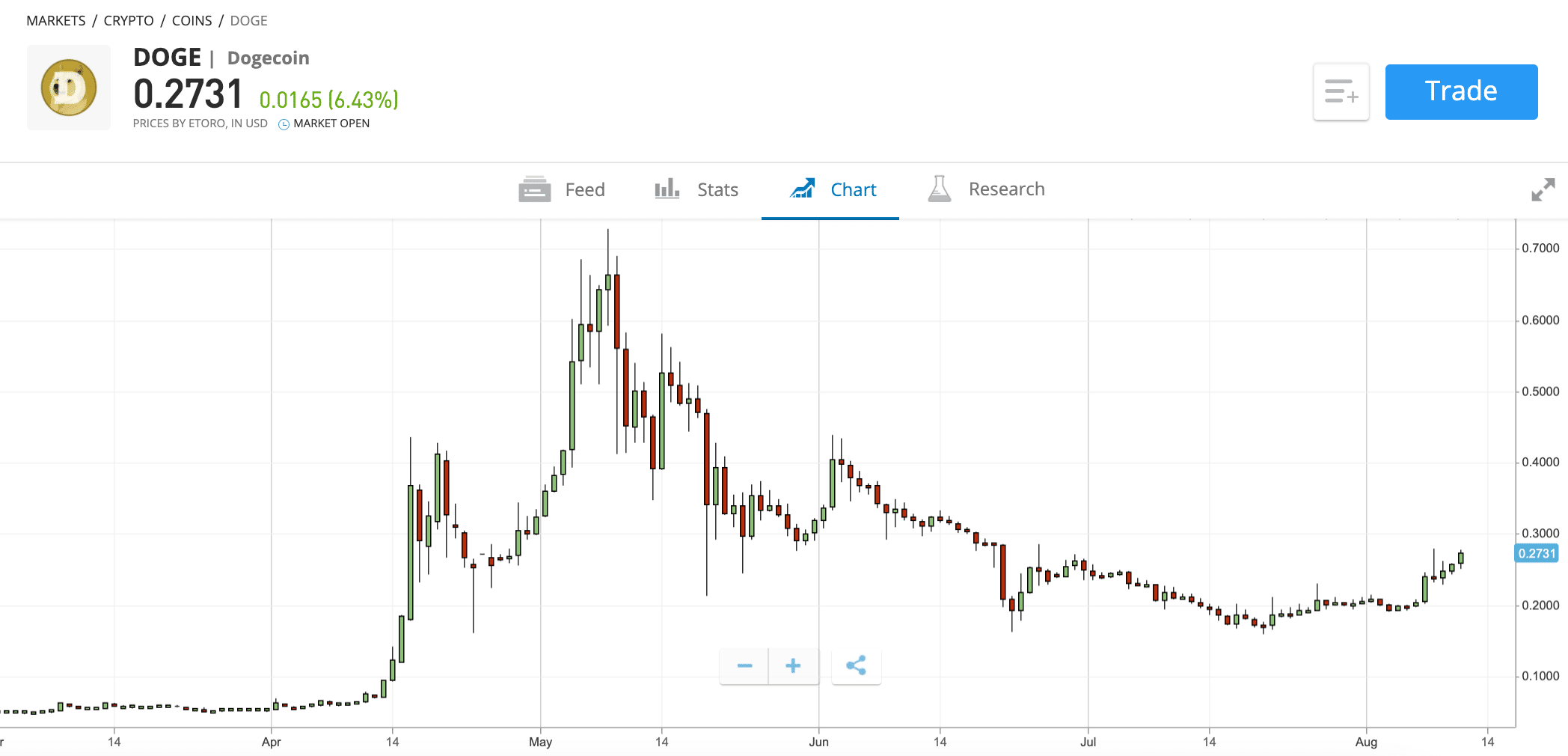 67% of retail investor accounts lose money when trading CFDs with this provider.
There's a good chance that we will see a bull flag forming on the daily chart now, as price gears up for another push. If a bull flag forms and then is broken, there's a clear path for price to head towards the next resistance level at $0.4200. Again, multiple factors would need to combine for this to happen – but the fact that price has been at these levels before adds validity to the idea that it could happen again.
Where to Invest in Dogecoin
Before rounding off this article, it's a good idea to discuss the process of investing in Dogecoin. Similar to when you buy stocks, the process of buying Dogecoin requires you to create an account with a broker or exchange that can facilitate your investment. These days there are so many broker options out there that it can seem challenging to narrow them down.
Not to worry – through our research and testing, we've found that the best crypto exchange to buy Dogecoin is eToro. Although technically not an 'exchange', eToro offers brokerage services that allow users to purchase Dogecoin from the comfort of their own homes. Notably, eToro is regulated by numerous top entities such as the FCA and ASIC. In addition, eToro is covered under the FSCS, which means traders' capital is protected in the unlikely instance of the company going bankrupt.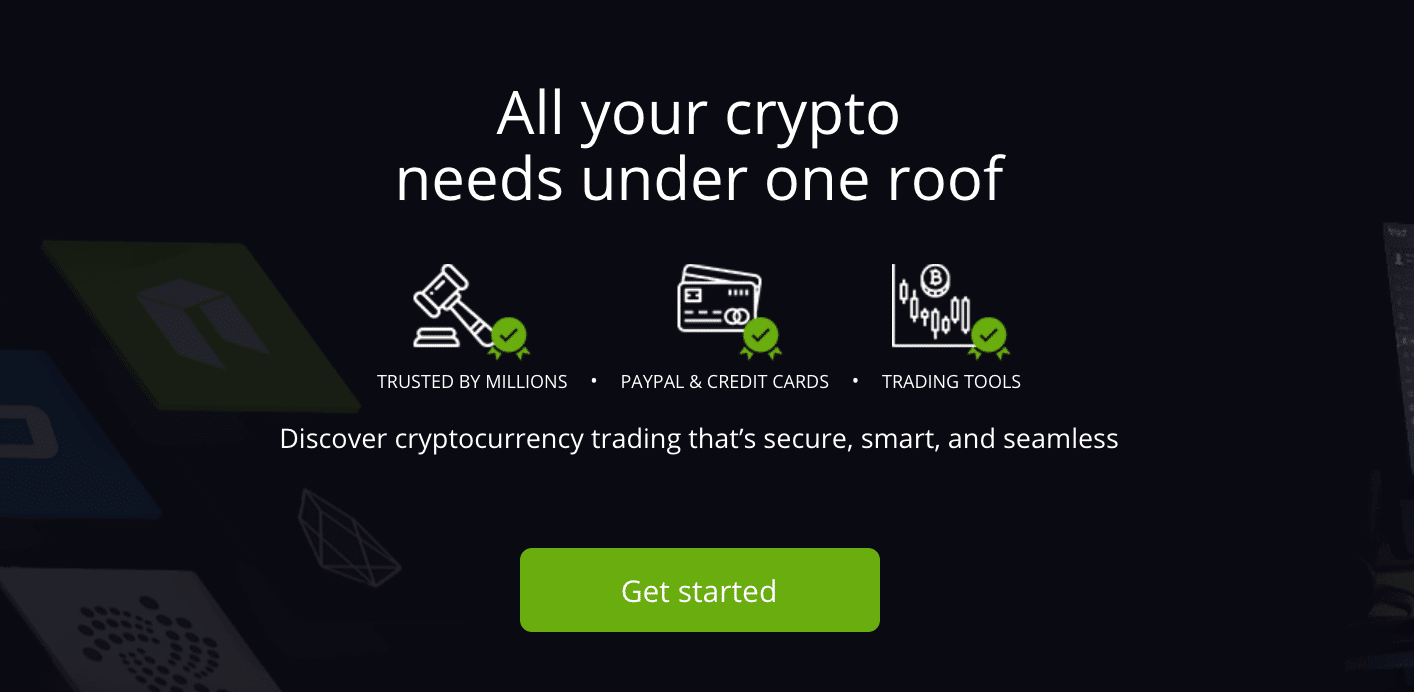 One of the main reasons we rate eToro so highly is because they allow users to invest with zero commissions. This means that if you wanted to invest £1000 in Dogecoin, that's all you'd have to pay – no added transaction fees whatsoever. Furthermore, eToro doesn't charge any deposit or monthly account fees, making them a low-cost broker to trade with.
eToro also has one of the best trading apps UK, allowing users to make trades whilst on the go. If you decide to invest in crypto, eToro also offers a handy crypto wallet that you can use for free. This helps keep your crypto holdings safe and allows you to exchange them for other coins quickly and easily!
Finally, eToro's minimum deposit is only $50 (£36), which can be made via credit/debit card, bank transfer, or e-wallet. Various e-wallets are offered, including PayPal, making it easy to fund your account. Additionally, if you'd like to try out eToro's platform first, you can use the free demo account beforehand – allowing you to gain risk-free experience in the markets!
Dogecoin Price Prediction – Conclusion
In summary, our Dogecoin price prediction has covered the coin in great detail, highlighting its history and providing input into its future. As our Dogecoin forecast has noted, the future does look bright for this crypto. If the developers can continue to add practical use cases for Dogecoin and partner with large companies, it'll give Dogecoin the impetus it needs to return to all-time highs – and beyond.
So, if you'd like to invest in Dogecoin today, we'd recommend using eToro. eToro offers 0% commissions when trading Dogecoin (and numerous other cryptos), ensuring you avoid all the hefty fees other brokers charge. What's more, eToro's minimum deposit is only $50, which can be made by credit/debit card, bank transfer, and e-wallets such as PayPal!

67% of retail investor accounts lose money when trading CFDs with this provider.
FAQs
What is the price of Dogecoin right now?
What drives the price of Dogecoin?
Where can I buy Dogecoin?
Why is Dogecoin going up?
What will Dogecoin be worth by 2022?
What will Dogecoin be worth in 2025?