How To Buy Stocks – Where To Buy Stocks USA (2021) For Beginners
Nowadays, with the growing accessibility to the internet through personal computers and mobile devices, it's not too difficult to buy stocks online – you can simply register for an account on an online brokerage platform in a matter of minutes and get your hands on your favorite stocks quickly. But there are several brokers offering several stocks, which means that you need to do some research to find out the best platforms with the lowest fees before investing in stocks.
This guide intends to introduce you to the basics of the stock market as well as to guide you on how and where to buy the best stocks in the US.
How To Buy Stocks – Choose a Broker
How to Buy Stocks – A Quick Guide For 2021
Below you will find a quickfire guide on how to buy stocks in less than five minutes!
Step 1: Open an Account with eToro – Visit the eToro website and open an account. This broker is heavily regulated and allows you to buy stocks at 0% commission.
Step 2: Upload Your ID – As per KYC rules, upload a copy of your government-issued ID.
Step 3: Deposit Funds – Deposit funds into your account with a debit/credit card, e-wallet, or bank transfer.
Step 4: Buy Stocks – Search for the stock you want to buy and click on the 'Trade' button. Next, enter the value of your investment into the 'Amount' box.
Finally, click on the 'Open Trade' button to place your first 0% commission stock purchase at eToro!
Cryptoassets are highly volatile unregulated investment products. No EU investor protection. 67% of retail investor accounts lose money when trading CFDs with this provider.
How To Buy Stocks For Beginners – Basic Guide For Learners
Before you buy your first stock, you must have a basic understanding of the stock market, as this process involves high risks of losing money. To help you make the first steps in the world of buying stocks, this part of the article will give you essential knowledge about the stock market to help you with your first steps in trading.
What Are Stocks & Why Should You Buy Them?
When you buy shares of a company, you invest in that company and own some percentage of it. But actually, people don't invest just to get some part of the company; investing usually occurs to gain more money in the future. There are two ways of doing this in stock trading – by gaining capital and through stock dividends.
Dividends are an amount of money that a company decides to pay its stockholders from its profits, and is a great way to generate passive income as you just get paid for owning shares of that company and keeping them. For example, if you own 4 Microsoft shares worth $1000 (at the time of writing), the company will pay you a dividend of $0.56 per share, so you will get 4x$0.56 quarterly from Microsoft Corporation.
Dividends are usually paid quarterly, while some companies pay them bi-annually. An important note here is that not all companies pay dividends to their shareholders, so you better check this before you make a long-term investment.
But dividends are not usually the main goal for people to invest in shares because they are not too high and are only paid by a few companies. The main force that drives people in the stock market is capital gaining. This usually occurs when you buy some company stocks, and after a particular period, when its stock value increases, you sell them at higher prices and make a profit.
The risk in investing in stocks is that sometimes the reverse can happen, and the company's stock value will drop. In this case, you obviously will lose money. This is the reason you must do research and find the best stocks to invest in to avoid these risks. Other risks may include inflation, economic growth, high interest rates, etc.
What Is the Stock Market?
The stock market is basically made of stock exchanges where people can buy, sell or trade shares of different companies. Stock exchanges usually have some listing requirement to include this or that company in their exchange and often comprise primary and secondary markets. Some famous stock exchanges include the New York Stock Exchange, NASDAQ Stock Exchange, London Stock Exchange, etc.
That said, you cannot buy shares directly from the stock exchange and must find a licensed online broker to make a purchase on your behalf. eToro, Robinhood, and Stash are some of such broker platforms that enable you to make an online purchase of US stocks.
Buy Stocks at eToro, the World's leading Stock Broker!
How To Buy Stocks Online Using Different Trading Strategies
Experienced traders usually follow a particular plan in buying and selling stocks; in other words, they adopt a trading strategy. Trading strategies can be of two kinds: active and passive. Active trading strategies usually take more time and trading skills because you should actively keep an eye on the market, while passive trading doesn't require too much attention. In this case, you just invest and wait until the stock price increases.
With that in mind, here are some of the most famous trading strategies. The first three are active, and the last one belongs to the passive strategy group.
Day Trading
When traders adopt this strategy, they get in and out of position during the same day. It means that they close all positions by the end of the day they bought/short sell them.
Swing Trading
Here is another strategy for short-term trading, but in this case, the buy and sell interval is usually more than a day (usually, 2-5 days). Traders generally hold their stocks in the period of some days to some weeks.
Scalping
This trading strategy has the shortest intervals between the buy and sell processes. Scalping traders usually close their positions after a few seconds/minutes to profit from tiny price fluctuations. In this case, scalpers typically make small profits, but they actually buy a large number of stocks or any other assets.
Buy and Hold
The buy and Hold strategy is maybe the best one for beginners. It's kind of a long-term trading strategy when you buy an asset and keep it for months or years without considering the market fluctuations.
How To Know What Stocks To Buy
These days, online trading platforms offer you a vast selection of hundreds and thousands of stocks to invest in. Thus, it can be quite a challenging process for how to know what stocks to buy. That's why in this part of the guide, we will talk about some stocks that are worth buying in 2021.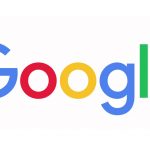 Alphabet Stocks
Alphabet Incorporation was initially called Google Inc. and was founded in 1998. It's the most famous search engine globally and owns an 87% global search market share. It's also one of the members of the so-called FAANG group, which includes 5 giant tech companies of the US market by market cap. It has two ticker symbols on NASDAQ – GOOG for Class C and GOOGL for Class A. At the time of writing, Alphabet Class C and Class A shares cost $2513 and $2415, respectively.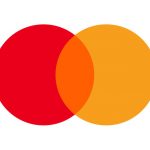 Mastercard Stocks
Mastercard Incorporation is listed on NYSE as MA, and its price per share stands at $363 right now. Mastercard is one of the world's most famous financial services corporations with a market capitalization of $364 Billion. It also pays a dividend yield of $1.76 per share that represents a dividend yield of 0.48%.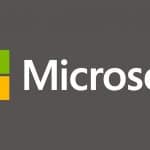 Microsoft Stocks
Microsoft is a member of FAANG and the second-largest US company in terms of market capitalization with a valuation of almost 2 trillion dollars. It's also one of the few tech companies that pay dividends – the company has quarterly dividends of $0.56 per share, around 0.87% per year. Microsoft is listed under the ticker MSFT on NASDAQ, and each stock is currently valued at $257.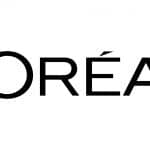 L'oreal Stocks
L'oreal is a French personal care company that was founded in 1909 and went public in 1963. Along with being a leading beauty player that constantly seeks innovation and growth, the company also pays annual dividends to its stockholders, which is $0.87 per share. The company is listed on the French Euronext Paris stock exchange under the ticker symbol OR.PA and each share costs $389.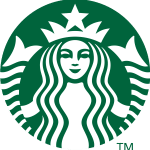 Starbucks Stocks
Starbucks is another dividend stock that can be an excellent buy-and-hold asset. It pays a quarterly dividend to its shareholders, and its current annual dividend rate is 1.6%, which is fairly generous in the current situation of zero-interest-rate policy around the world. Starbucks is traded on NASDAQ under the ticker SBUX.
Tesla Stocks
Tesla is a Palo Alto-based car-producing company that produces not only clean energy cars but also solar roofs, solar panels, and other similar products. Tesla's stock has skyrocketed over the past years, and now it is traded at $604 per share. Tesla doesn't pay dividends to its stockholders, but its shares have room for growth as it aims to bring lots of innovation into the clean energy and self-driving industries. You can find it on online brokerage platforms under the ticker TSLA.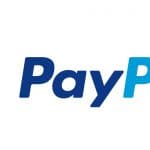 PayPal Stocks
PayPal stock is another great buy for new investors. This American company is one of the leading payment systems globally and supports customers in the majority of countries. PayPal shares cost $268 right now, and the company is listed as PYPL on NASDAQ. PayPal does not pay dividends to its shareholders.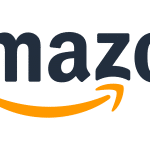 Amazon Stocks
Though Amazon is also a non-dividend stock, it's actually a good long-term investment. With a market cap of $1.75 trillion, Amazon stock costs $3425 right now. However, some online platforms like eToro, Stash, and Robinhood allow you to buy fractional shares. It's a great way to invest in this company if you want to do it but don't have too much money. You just need to register for an online brokerage that supports buying fractional shares. Amazon is listed under the ticker AMZN.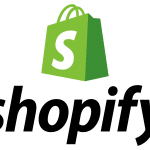 Shopify Stocks
Headquartered in Ottawa, this multinational e-commerce company managed to become one of the giants among online stores. Shopify has a stock worth $1366, but some analysts believe it has more room to grow in the future. The company never paid dividends and announced that it won't do it in the near future. Shopify is listed on the NYSE as SHOP.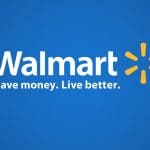 Walmart Stocks
Walmart stock is another good buy as it is one of the most defensive stocks in the US market. Founded in 1962, this giant retail corporation went public in 1970 and its stock now costs $137. Further, the company pays dividends to its stockholders four times a year, with a dividend yield of 1.60% as of 2021. You can find Walmart on brokerage platforms under the ticker WMT.
How To Buy Stocks Online Without a Broker
Investors generally choose to buy stocks with a broker, although there are some disadvantages using the broker method and so we'll walk you through exactly how to buy stocks online without a broker.
In the world of buying stocks, there's a method called Direct Stock Plans. This means you purchase shares directly from the company you are sought after. Why would you do this you may ask? The primary reason is to avoid broker fees.
Most brokers charge trading fees or charge a commission for every purchase or transaction you make. Generally, we don't recommend to buy stocks online without a broker – especially if you're a beginner.
How Much Money Do I Need To Invest In Stocks and Shares?
There is no strict limitation on how much money you should invest in stock trading, but it mostly depends on your income and the money you can afford to lose. In any case, you should consider that investing involves high risks, so try to be careful with your money.
Investing usually occurs in two ways – those who buy at once and those who add investment gradually. If you set aside a considerable amount of money, you can instantly purchase multiple shares of the best stocks and hold them until the prices increase to harvest your capital in the future.
However, if you have little experience in trading and don't want to risk too much money at once, you can start with a couple of hundred dollars and add more funds gradually. You can look for some good stocks to buy now and get fractional shares. Little by little, you will learn new and crucial things in this field and make your further investments more wisely in the future.
The important thing in both ways is to invest with caution and don't risk the cash you will need in the near future.
How Old Do You Have To Be To Buy Stocks?
Depending on your state law, you must be over the age of 18-21 to buy stocks online. Stock trading is heavily regulated in the United States and with that; market manipulation, money laundering and fraud are big topics which are frequently discussed by the US government.
Should I Buy Stocks?
Honestly, buying stocks is a risk, but after all, it's one of the easiest ways of making high profits. And if you take a wise approach, you can generate returns while you are busy with your personal life. Besides that, buying is fun, and you learn lots of new things and strategies that can broaden your knowledge and help manage your funds alternatively.
To make things more clear, here are some of the most crucial factors why people buy and what it can give you.
Compound Annual Returns
The main reason people invest in stocks is to invest their capital in order to get more money in the future. This process becomes a reality through the compounded annual returns. The term is used to describe the annualized growth rate of an investment over several years. For example, if you invest $2000 in a stock with an interest rate of 5%, it means that your compounded annualized return will be equal to $2100 for one year span and to $2205 for two years, etc.
The Risk-Return Trade-off
As it says, "No risk, no reward," and consequently, if the risk is higher, the reward is higher too. This is how the risk-return tradeoff principle is used by traders to learn that if the asset has a low level of uncertainty or risk, it has lower potential returns. In contrast, assets that have a higher risk level promise to have higher potential returns. There are several methods for measuring the risk and reward ratio. Most common methods include Sharpe Ratio, Standard Deviation, Beta, etc.
Diversification
Diversification is one of the methods to control the risks of losing money. To diversify your stock trading portfolio simply means you need to invest in multiple companies and different asset classes. Diversification cannot wholly solve the problem of risks, but it can considerably reduce it.
One of the ways to diversify your portfolio is to invest in both cyclical and non-cyclical stocks. Cyclical stocks include the companies that are valued high when they are in trend. In contrast, non-cyclical industries are the ones that produce essential products like food, hygiene components, etc. Putting your hands on both of them means that you may gain rewards even when the economy is down, and cyclical companies suffer from it.
Passive Investments
Passive investments are best for those people who are very busy with their everyday life and cannot spend too much time exploring the stock market. These are essentially buying and holding some stocks and waiting for several years to gain more capital without paying attention to the ups and downs of stocks. In this case, you should take into consideration the fees and commission you need to pay to your brokerage firm.
Where To Buy Stocks – The Best Stock Brokers in 2021
One of the most essential things in stock trading is to choose the best brokerage platform for you to start. Trading platforms differ in the amount and types of fees they charge, trading tools they offer, minimum deposit your account must have, etc. With that in mind, the following are the most suitable brokers for online trading in the US, according to our research.
1. eToro – Best Social Trading Platform For US Residents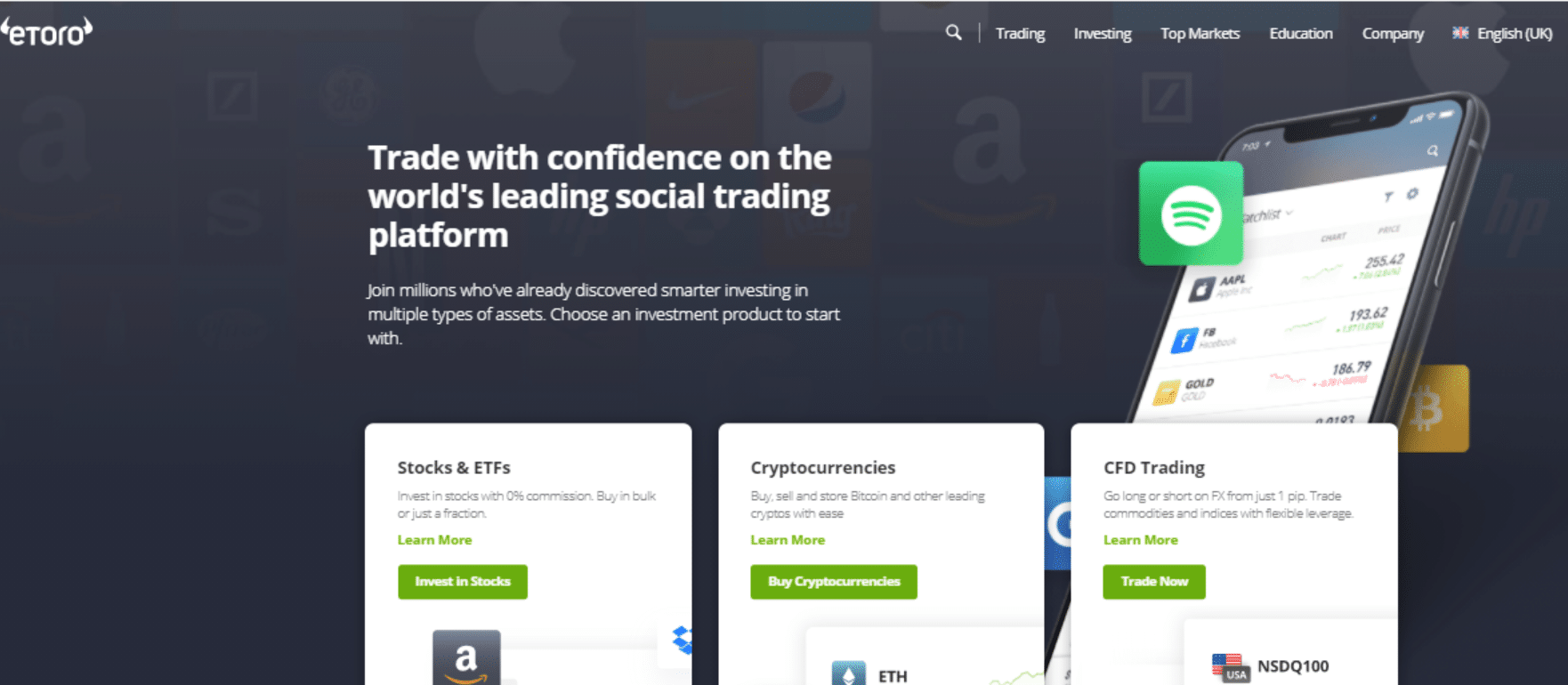 | | |
| --- | --- |
| Pricing | Commision-free |
| Minimum Deposit | Minimum deposit of $200 |
| Mobile App | Yes |
| User friendly for beginners | Yes |
| Features | Social and trading tools, a range of over 2400 markets, heavily regulated |
| Regulation in the US | Regulated by FinCEN |
| Range of Stocks | 800 stocks to buy |
| Additional Fees | Charges inactivity fees |
If you are a beginner in stock trading, starting your experience with eToro.com can be the best option for you. eToro is one of the most well-known and leading social trading platforms in the world with lots of social trading tools. Founded in 2007, this Israeli-based company has a community of over 10 million users from various countries of the world, and in 2018, it started to accept US residents. When it comes to stock trading, eToro offers you a large selection of 800 stocks, including those of such well-known companies as Amazon, Tesla, Alphabet, Microsoft, etc.
As to its reliability, eToro has its legal entities in different countries, including China, the US, Australia, UK, and is regulated by FinCEN in the United States, by CySEC in the EU, by FCA in the UK, and by ASIC in Australia.
Coming to its fees, eToro does not have any commission fee for stocks and ETFs, and it does not have management fees even for CopyTrade and other social tools. However, eToro charges a $10 monthly inactivity fee if you don't use your profile for more than 12 months. eToro also has deposit and withdrawal conversion fees, but this does not refer to US residents as long as those actions are conducted in USD. There is a minimum of $200 you must deposit on your account to start trading on this platform.
In general, eToro has a very user-friendly interface that is perfectly designed for new traders and does not require a long process of learning how to use the platform. Opening an account on eToro is a straightforward and quick process and the broker accepts several methods to deposit money including credit and debit cards, E-wallets (Skrill, Neterel, PayPal, etc.), and bank account.
On this platform, users can also enjoy a wide range of social tools to communicate with other traders and copy their trades. It is done with the help of the CopyTrade tool that allows you to choose an expert trader and copy his portfolio with a click of a button.
| | |
| --- | --- |
| Advantages | Disadvantages |
| Zero-commission brokerage firm. | Charges inactivity fees after a year. |
| Offers a large selection of 800 stocks. | Minimum deposit of $200. |
| Regulated by FinCEN. | Offers limited technical analysis tools for more experienced traders. |
| Accepts multiple payment methods. | |
| User-friendly interface for beginners. | |
| Provides a variety of social and copy trading tools. | |
Use the World's #1 Trusted Broker to Buy Stocks, eToro
67% of all retail investor accounts lose money when trading CFDs with this provider.
2. Stash – Best US Broker For Buying Shares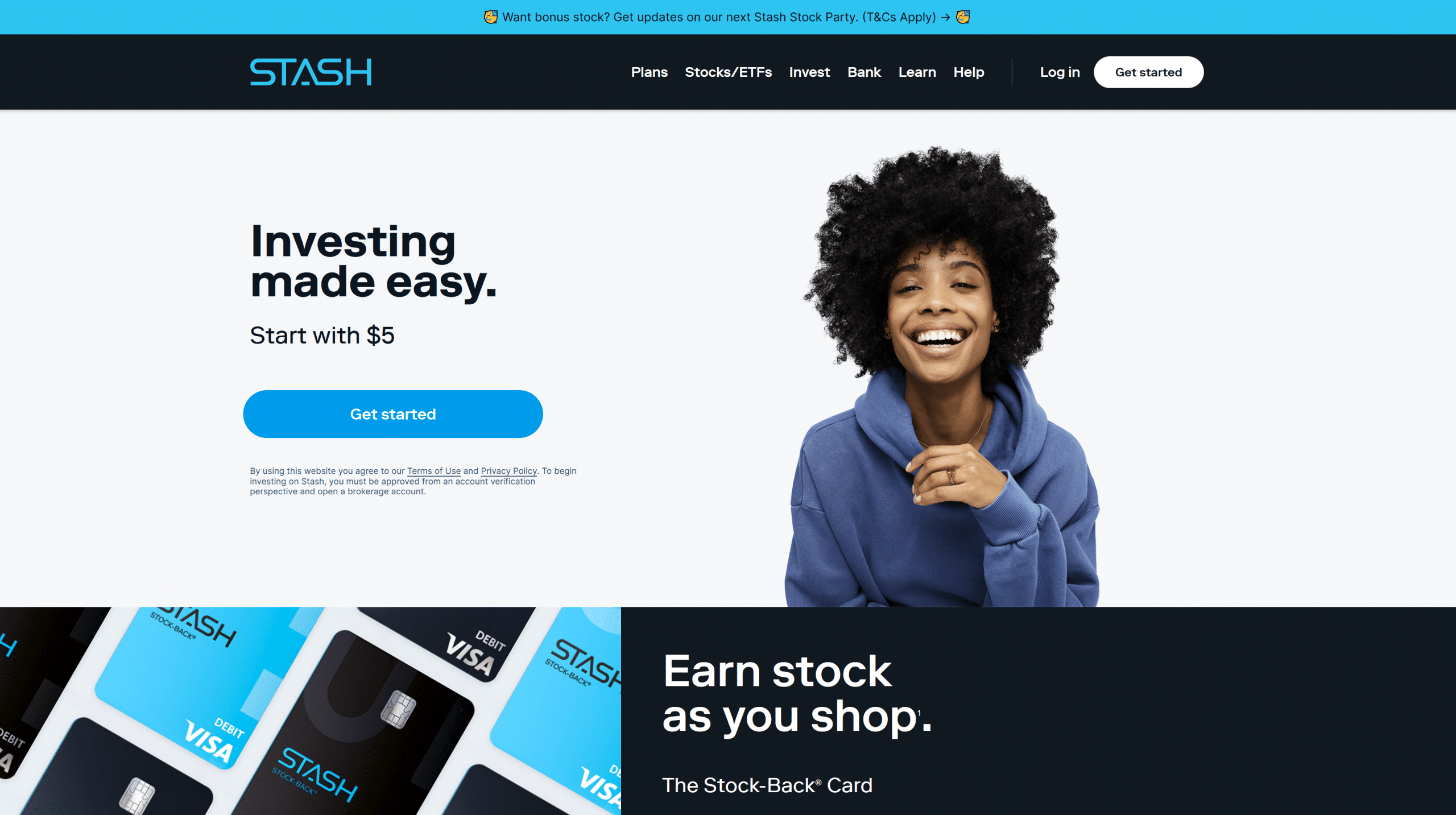 | | |
| --- | --- |
| Pricing | Commision-free |
| Minimum Deposit | $5 minimum deposit |
| Mobile App | Yes |
| User friendly for beginners | Yes |
| Features | Fractional shares trading is available, lots of investment solutions, extensive range of US stocks and ETFs, stock back card, saving tools |
| Regulation in the US | Insured by FINRA/SIC |
| Range of Stocks | 1800 stocks and ETFs |
| Additional Fees | Charges monthly account fees |
Another largest and well-known platform for trading stocks is Stash that operates in New York. Stash boasts of having 5 million users and is designed to make investing possible even with limited resources. You can make your selection between 1800 stocks and ETFs it offers.
The great thing with Stash is that you can start investing with a 0$ deposit, but it has a monthly fee of $1-9 depending on what type of account you will choose. There are three options – Beginner version costs $1/month, Stash Growth account costs $5/month, and Stash+, which is designed for more advanced traders and costs $9/month.
| | |
| --- | --- |
| Advantages | Disadvantages |
| 1800 stocks and ETFs for trading | Lack of advanced tools for experienced traders. |
| Well-designed interface for beginners. | Has monthly fees starting from $1-$9 depending on the type of account. |
| 0$ minimum deposit. | Charges $0.25 for advisory services. |
| Allows buying fractional shares. | Has higher expense ratios for ETFs. |
| No trading fees or commissions. | |
| | |
3. Robinhood – Best Commission-free Mobile Trading App To Buy Stocks

| | |
| --- | --- |
| Pricing | Commision-free |
| Minimum Deposit | $0 minimum deposit |
| Mobile App | Yes |
| User friendly for beginners | Yes |
| Features | Huge range of assets, excellent mobile app, offers cryptos and options |
| Regulation in the US | Regulated by FinCEN |
| Range of Stocks | 5000 stocks +650 international stocks |
| Additional Fees | Charges fees for sell orders |
With more than 10 million users, Robinhood is another commission-free brokerage platform to buy stocks in the US. Founded in 2013, this California-based company offers a vast selection of 5000 stocks, including most US equities and ETFs listed on US exchanges. It also provides 650 global stocks through American Depository Receipts.
As for its fees, the platform is commission-free for stock, ETF, and cryptocurrency trading, and its account minimum is also $0. That said, you must pay a monthly fee of $5 if you want to have a subscription to Robinhood Gold.
In comparison to other platforms, Robinhood can be a good choice for those who prefer mobile trading and perfect for beginners as it has a very easy-to-use interface. It offers its users both mobile and web trading and launched its mobile app in March 2015 and since then the app has become extremely popular in the US and globally.
When it comes to the safety of funds, Robinhood is a FINRA-regulated brokerage platform similar to its competitors. It is also a registered member of the US Securities and Exchange Commission and Securities Investor Protection Corporation.
| | |
| --- | --- |
| Advantages | Disadvantages |
| Regulated by FinCEN and a member of the US Securities and Exchange Commission. | Poor customer support system. |
| Offers a mobile app. | Lack of trading and research tools. |
| User-friendly interface for beginners. | Charges $0.25 for advisory services. |
| $0 minimum deposit to allow trading. | Has higher expense ratios for ETFs. |
| Zero fees for trades. | Poor trading platform for experienced traders. |
| High yield savings. | |
What Are The Pros And Cons Of Investing In Stocks?
| | |
| --- | --- |
| Pros | Cons |
| Generating high profits | Involves high risks of losing money |
| Getting dividends | Volatility of the stock market |
| Profiting with low investment | Takes much time to research the market |
| Staying ahead of inflation | |
| You can easily sell your assets | |
| Profiting when the companies you invested in grow | |
| Easy to start | |
How to Buy Stocks After Hours
You can buy stocks after hours using a number of leading brokers such as eToro.com. In order to do so, you simply have to choose the stock you wish to buy, and then set an "after hours order".
This will execute your trade at the first available rate when the stock market opens.
Please note, stock market trading sessions take place between 4PM and 8PM in the USA and pre-market trading sessions end at 9:30AM.
What Type Of Stocks Can I Buy In The US?
While researching which stocks to invest in, you will find different types of them. Crucially, when selecting which kind of stock you want to buy, you should first pay attention to your risk profile and the type of portfolio you are planning to build.
Below, you'll find some of the main types of stocks to invest in.
Income Stocks
Income stocks are mainly preferred for low-risk investors that want to generate some profits passively. This term is used to describe the stocks that continuously pay dividends to their shareholders and are, somehow considered as defensive stocks. Thus, these are usually well-established companies and always generate high profits, so they also pay dividends from those profits. The dividends are generally paid quarterly or annually, but some generous companies pay dividends monthly. One of the characteristics of these companies is that they involve the lowest risks and less volatility, and that's why they are also known as blue-chip stocks.
Value Stocks
Value stocks are the ones that usually cost lower relative to their growth potential, earnings, and other fundamentals. These stocks are more appealing because who wouldn't like to invest in a company with less money than it actually costs? The essence of value trading is that investors find the company shares at a discount but have long-term growth potential. Investors invest in the company's stock, anticipating that they will profit in the future when its share prices increase.
Growth Stocks
In contrast to value stocks, growth stocks involve the companies that increase their revenues faster than the average rate. These stocks usually have a higher price-to-earnings ratio, and they involve the highest risks. Meanwhile, they can bring the highest rewards. The important thing is to find the right growth stock and invest at the right time. Amazon, Shopify, Alphabet, Netflix are among the best growth stocks to select.
Penny Stocks
Penny stocks refer to a small company's stock that trades below $5 per share. Unlike regular stocks, this type of stocks typically trade over the counter on the OTC Bulletin Board (OTCBB) and are known as a risky investment as there's not much information available about the companies. Further, penny stock companies are often very small and are in the early stages of development.
Nonetheless, penny stocks are a great way to leverage your capital and it is mainly used by day traders or investors who are looking for a quick buck.
Invest In Stocks – Most Popular Industries
In this part of the guide, we will list multiple industries that you can invest in to help you make your portfolio more diversified.
Tech Stocks
Tech stocks are one of the most famous areas where people make investments. This industry includes electronic goods and services, artificial intelligence, computers, and everything related to IT. The most well-known representatives of the technology sector are the members of FAANG group – Facebook, Amazon, Apple, Netflix, and Alphabet (former Google), which are the largest US companies by market cap. Some other tech stocks include Microsoft, Intel, HP, SalesForce, Roblox, etc.
Healthcare Stocks
Healthcare stocks are a great way to lower portfolio risks, as they belong to the group of so-called non-cyclical companies. The latter include such products that people will always need regardless of the economic growth and decline (as evident in the Covid-19 pandemic case). There are different types of healthcare stocks to select from, including those that provide healthcare services, produce drugs, medical devices, etc. Notably, while choosing a healthcare company to invest in, try to consider its financial strength and potential growth.
Airline Stocks
The airline industry has suffered dramatically due to recent lockdowns and travel restrictions following the coronavirus pandemic. But this problem is being gradually solved with the help of vaccines, so recovery will occur in the near future. This means that airline stocks can actually be an excellent long-term investment to buy and hold now. Among the airline industries to invest in can be United Airline Holdings, American Airlines Group, Delta Air Lines, etc.
Cannabis Stocks
The marijuana industry is another sector that has fast-growing companies to invest in, largely due to the fact that cannabis has begun to catch more interest and is being legalized in more and more countries. The companies in this area either develop, produce or research medical cannabis and its uses or support it. So, it's the right time to invest in those stocks as they can return high profits. Among such companies are Canopy Growth, Tilray, Trulieve, Curalief, etc.
Real Estate Stocks
Real Estate Stock includes the real estate companies that are publicly traded on stock markets. These stocks can also bring high returns, but they involve higher risks. This type of industry can also be attractive with their high dividend payments, though sometimes this can also be speculative as they have had to cancel their dividends because of the lack of financial flexibility.
On the other hand, some people believe that real estate companies are relatively safe as some of these companies typically generate stable income from rental. Some of the real estate stocks that seem to perform great this year include Digital Realty Trust, American Tower, Simon Property Group are among the real estate stocks that seem to perform great this year.
Solar Stocks
The demand for clean energy sources is growing year by year, which means that solar industries can make a fascinating long-term investment. Among the best solar corporations to invest in are Tesla, SunPower, SunRun, Daqo New Energy, etc.
What To Consider Before You Buy Stocks?
If you are a completely new player in the stock market, you should realize that it's a pretty competitive and risky way to generate profits. At the same time, if you'll be able to develop a successful investment strategy and apply risk management processes, then there's a high chance of becoming a successful trader/investor. With that in mind, the following tips can help you greatly to start with.
Diversify your portfolio
Diversifying your portfolio is one of the critical steps to take if you want to be seriously involved in trading and generate high returns. To diversify your portfolio means to buy stocks of multiple assets rather than investing in one company. The idea is to purchase different stocks, but you should also pay attention to buying stocks from various industries.
In that aspect, one crucial tip in diversification is to include both cyclical and non-cyclical stocks in your investment portfolio. If you don't have too much money to invest in various stocks, you can choose a brokerage platform that supports buying fractional shares and get small amounts of stocks from multiple companies.
Start off with low stakes
Regardless of how much you read and gain knowledge about trading, you ultimately get more experience in practice. So, don't invest all your money in one stock when you are just starting. Instead, try to start with small fractions and with a relatively low amount of capital. In this case, you will not only lower the risks, but your investment strategies will gradually become wiser.
Another tip is to use a demonstration account before you get into the real live markets. A trading demo account is a great way to learn and practice the platform as well as to test different trading strategies with virtual money. From our list of the best US brokers, eToro is the only broker that provides a demo account.
Learn how to research stocks
Many famous investors will tell you that the most important element in trading is to research and find as much information about the company you will invest in. Start your research by taking a look at the company's quantitative materials, including its net income, earnings, revenue, debt, etc. Then gradually shift to qualitative research, taking into consideration its competitors, values, privileges over other similar companies, and so on. Finally, take a quick look at the company's stock price performance, using technical analysis indicators like Moving Average (MA), RSI, Bollinger Bands, support and resistance, and Fibonacci retracement levels.
Copy a trading portfolio
Finally, if you don't have too much time to spend on research but have set aside some amount of money to buy stocks, you can just copy the portfolios of expert traders. eToro offers a fascinating trading tool called CopyTrade that allows you to look for an expert trader that you want to replicate and mirror with just a click of a button.
How to Buy and Sell Stocks
Selling your stocks is a very straightforward and quick process, even easier than buying. If you want to sell your stocks, you just need to log in to your account on the brokerage platform you bought it, select the type and amount of shares you want to sell and just place an order to sell the stock you own. If the market is open, your shares will be sold immediately, and your money will be deposited into your account. If you make your sell order, not during the standard hours, you just need to place an order, and your broker will take care that they get sold when the market opens.
Another way to make money when trading stocks is to short sell the stock. This is a process that works similarly to buying a stock but in the other direction. When short selling, you borrow a security from your broker and sell it with the anticipation that the price of the asset will drop. Then, you buy it back to return it to your broker.
Conclusion
In conclusion, investing in stocks has become such an easy and simple process that anyone with a couple of hundred dollars can start building a trading portfolio. All you need to do is to find the appropriate broker to open an account, deposit your funds and start buying stocks.
Robo-advisors and online brokerage platforms help you considerably in this process. Still, before starting your investment, you had better do your own research and try to learn about the company you're going to invest in. Brokerage platforms usually offer hundreds and thousands of stocks to trade, so browse a bit to find out the best stocks for you to buy, diversify your portfolio, and don't put too much money if you still cannot make up what is going on.
How To Buy Stocks Online – Step by Step Guide
In this part of the guide, we will provide you with a detailed step-by-step process on how to buy stocks with one of our recommended platforms, eToro.
Step 1: Open an Account with eToro
Registering for an account on eToro is quite an easy process. To do this, all you need to do is to visit the eToro website and click on the "Join Now" button at the top right corner of the broker's homepage. A registration window will open where you must fill in your personal information, including username, email and must also create a password.
Before passing the next step, you should provide more personal information by clicking the "Complete Profile" button under your name. Then, you must fill in your name, surname, birthday, gender, and address. Be careful to write the correct versions, as this information will be compared to your ID during the verification process. You will also be asked about your financial status, how much earning you expect to get, and other similar questions. Finally, you are required to verify your account with your phone number.
Step 2: Upload your ID
eToro is registered by FinCEN, which means that all the users must verify their accounts before they can start buying stocks. As your second step, you must go through this KYC process by verifying your identity and address. As proof of identity, you must provide a copy of your ID, passport, or driver's license; as proof of address, you must provide your utility bill or a bank statement. The verification process on eToro usually takes three business days, but you can use its demo version and explore its tools while it is being completed.
Step 3: Deposit Funds
As soon as your account is verified, you can click on the Deposit Funds button and choose one of the payment methods that eToro allows. The selection includes Credit and Debit cards, PayPal, Neteller, and Skrill. There is no conversion fee for US residents, but you must have a minimum of $200 on your account to be allowed to start trading.
Step 4: Buy Stocks Online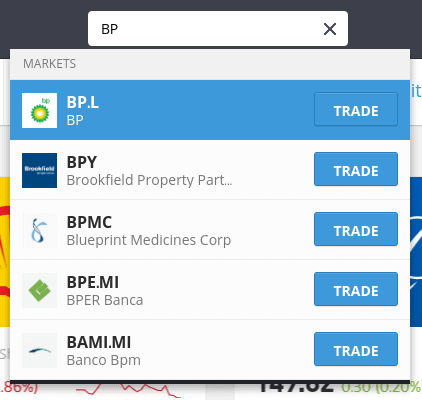 When you have a verified account and deposited money on it, you just need to search for the company in the search bar and click on the first result that pops up. In our example, it's Microsoft stock which is listed on NASDAQ under the name MSFT.
Once you find the company shares you want to buy, just click on the Trade button on the right side. Next, you will see a window to fill in the number of shares you want to buy and to place the order, click on the Buy button. Bear in mind that if the market is closed when you make your purchase, you will see the "Set Order" button instead of the "Buy" button. If you click on "Set Order," your broker will automatically complete the purchase when the market opens.
Use the World's #1 Trusted Broker to Buy Stocks, eToro
FAQs
What stocks are there to buy?
How to know which stocks to buy?
When is the best time to buy stocks?
How many stocks should I buy?
How to buy dividend stocks?
Do I get taxed on profits?
Do I get taxed on profits?