Best Trading App South Africa – Best Free Stock Trading Apps in 2021
If you want to buy and sell shares anytime in South Africa, the first step is to get a reliable and reputable stock app. Once you get such an app, it will be easy to invest in all stocks within a few seconds. Also, it will alert you when a position is not working so you can exit it faster.
But it is somehow difficult to choose a particular app given the multiple options in the market. That's why we will help you make the best decision by exploring some of the best stock apps in South Africa. We will also share some tips that will help you decide on the one to choose.
Best Trading App For South Africa – Capital.com
You will also find a good beginner-friendly trading app in South Africa to kick-start your stock investment journey. So, keep reading to uncover all these below.
List of Best Trading Apps For South Africa
Before our deep dive into the best trading apps in South Africa, we present a sneak peek into some of these stocks apps for a quick perusal.
Capital.com – Overall best trading app in South Africa
AvaTrade – The best trading app that features MT4 & MT5
Plus500 – Trading app for CFD with zero commission and tight spreads
Vantage FX – Versatile for trading UK, US & AU share CFDs
Best Stock Trading Apps For South Africa Reviewed
The first thing to do before buying and selling stocks via a stock trading app is to find the broker that you. The app you'll use comes from the brokerage site. So, there are important things to check about every stock trading apps, such as the payment methods they support, the fees, regulations, tradable stocks, etc.
To ensure that you choose the best amongst the numerous ones out there, we'll review the best trading apps in South Africa down below.
1. Capital.com- Top trading app South Africa without trading commissions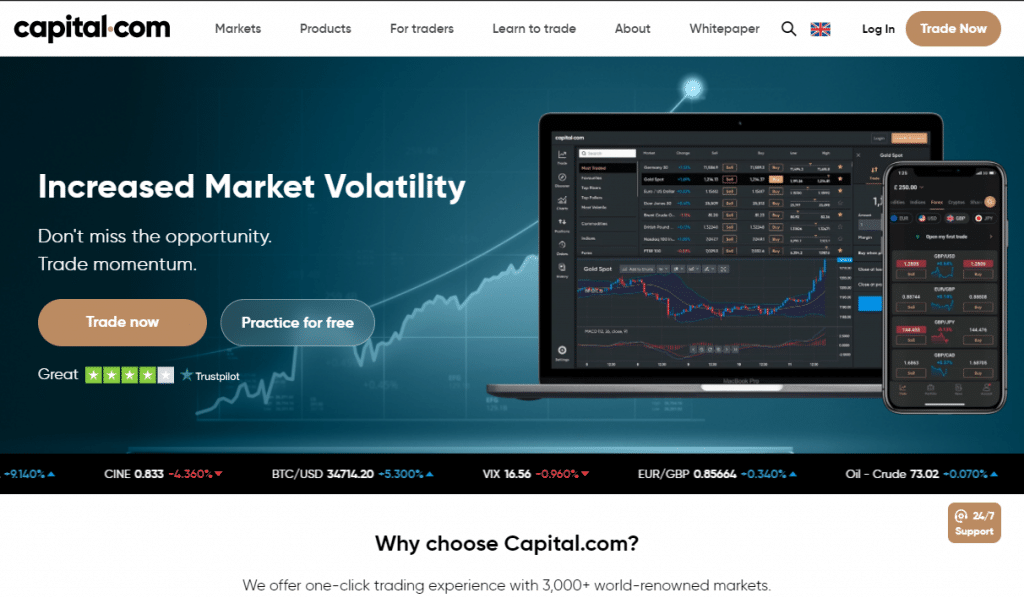 Capital.com is a great stock trading app in South Africa that won't charge any commission for trading. It specializes solely in CFDs (contract for difference) products. The broker also offers commodities cryptocurrencies, forex, indices, and ETFs. Also, you can trade crypto as CFDs on the platform without the need for owning or storing it.
Moreover, Capital.com enables both commercial and retail clients to trade on many financial markets. Some of the markets include high-performing stocks in the UK, US, Hong Kong, Ireland, Italy, Norway, etc.
The brokerage platform is highly competitive when it comes to spreads and trading. But at least, you will enjoy the zero commission fees on stock trading. Also, the platform provides advanced investment ideas and advice for users through its AI technology.
Presently, this broker operates in more than 50 countries, of which South Africa is amongst them. Also, they have more than one 1million clients from these countries. If you're concerned about regulations, this broker is compliant with CySEC and the FCA regulations. So, you don't have to worry about funds security.
One great about choosing Capital.com is that the broker offers two apps. One of these apps is the main stock trading app that enables you to buy stocks or sell them within seconds.
This trading app is compatible with operating systems such as Android and iOS, and it has lots of features. For instance, you can send money to the trading account and also research stock trading information.
Apart from the trading app, Capital.com has a second app they called "Investmate." Through this second app, you can learn everything there is to stock trading online. Once you download and open the Investmate app, you will find quizzes, mini-courses, etc., that can help you trade seamlessly as a beginner.
One other notable thing about Capital.com is that you can start with just $20 as a beginner. But this minimum amount is not allowable for users who transfer funds from any local bank in South Africa. That option requires a minimum of $250 to fund your account.
Pros
Tight spreads and zero commission charges
AI assistance to increase win rate
The mobile trading app facilitates quick trades
Mobile education app for stock trading training
Leverage of at least 1,100
Amazing customer support
Cons
Limited product offer
Social trading network is not available.
2. AvaTrade- Best trading App for MT4 & MT5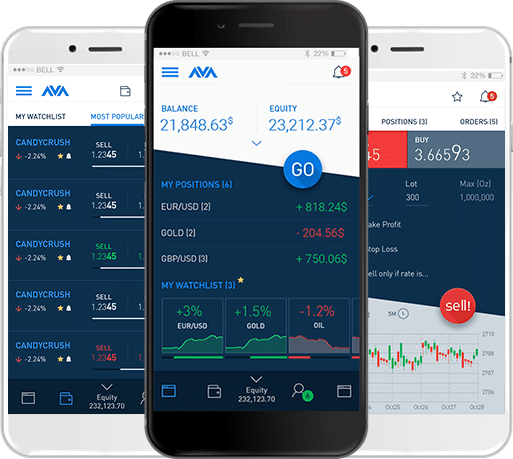 AvaTrade is another stock trading app in South Africa to access different kinds of assets. It is an online platform that features commodities, stock, indices, crypto, and even forex. The exciting aspect is that users can access popular and leading markets, including LSE, NASDAQ, NYSE, etc., on the AvaTrade app.
Moreover, you can apply the leverage of 1,400 on the platform as a South African trader. Also, you can easily decide to go for the short positions for short-term trading or long positions. With the app called AvaTradeGO, you can perform all trading activities on the go.
You can enter the position you want, carry out simple technical analyses, check the worth of your stock portfolio, and do other things. The good news is that the app has all the features of the desktop interface. So, you're not losing out on anything.
Interestingly, this broker offers two different platforms for its professional and new stock traders. You can utilize the MT4 for more flexibility and suitability for forex trading too.
Once you download the app and input your credentials, you can utilize the automated trading app stock systems. Moreover, the app allows you to trade stocks as CFDs freely without commission charges.
The regulators governing the operation of AvaTrade are commendable and ensures a secure and reliable stock trading experience.
The broker- Ava Capital Markets Pty, operates under the South African Financial Sector Conduct Authority (FSCA No. 45984). So, any funds you deposit on the online trading account are safe.
With a minimum deposit of $100, you can start trading stock on AvaTrade. Also, you can send this fund from your local credit/debit card from South Africa.
Pros
Charges no trading commission on stocks
Leverage of 1:400
Provides many kinds of asset classes
Provides MT4 for traders
Tight/narrow spreads on stocks
Free withdrawals and free deposits
Offers research tools
Cons
Limited stock market
High fees for inactivity
3. Plus500 – Best trading app for CFD with zero commission and tight spreads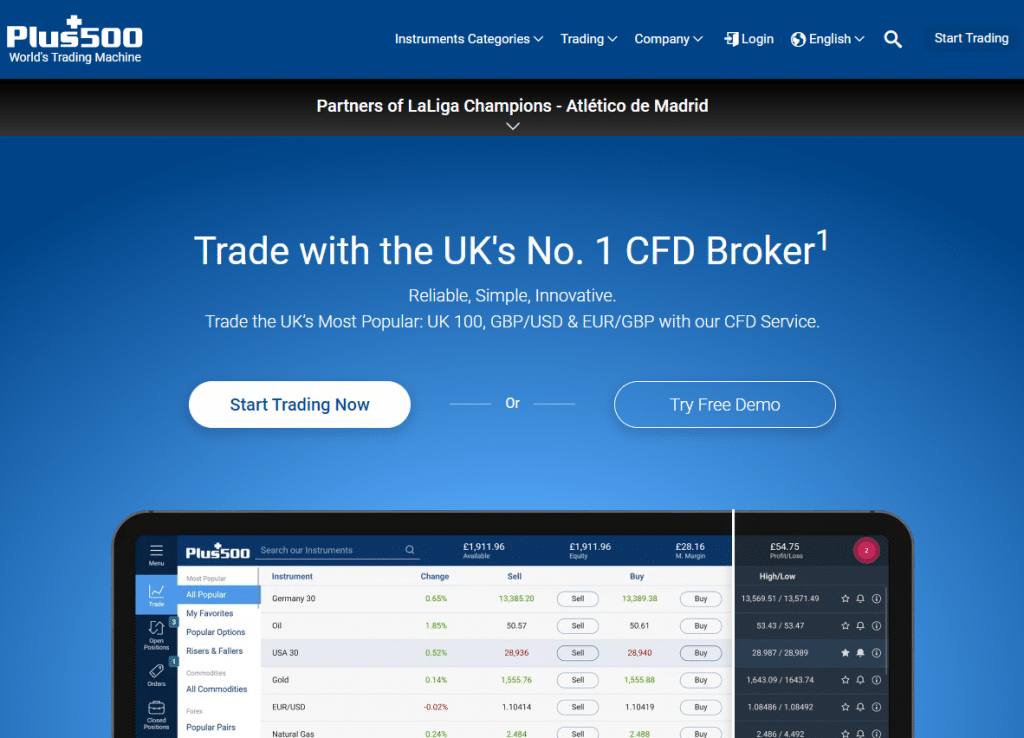 Here is another stock trading app in South Africa to trade CFDs. You can access numerous financial instruments on this app and different markets. Plus500 offers thousands of stock CFDs (Contract for difference).
Some of the companies that appear on the Johannesburg SE, such as Shoprite, MTN, Aspen Pharmacare, FirstRand, Gold Fields, Sanlam, Bidvest Group, etc., are available on this platform.
Also, on the Plus500 stock trading app, you'll access stocks from companies in the UK, Germany, the US, Hong Kong, and Japan. No matter the stock you chose, Plus500 charges nothing from your trades.
The spread is competitive for Stock CFDs. But even if you want to invest in other financial instruments, you can also try cryptocurrencies, indices, interest rates, forex, etc.
The Plus500 stock trading app is free and works well on iOS and Android devices. Once you download it, you can log in to your Plus500 account to trade on the app. You also have a leverage of 1:30, and you can use the app to place the buy or sell orders.
Funding your account on the app is also easy. The broker accepts credit/debit cards, e-wallet, or even bank account transfers. But your minimum deposit must be 1500 Rands (£100).
As for security, the platform is regulated by the Authorized Financial Services Provider South Africa, ASIC (Australia), and other regulatory bodies in New Zealand and Australia.
Pros
Exposure to 2000+ trading instruments
Regulated by many regulatory authorities.
No commissions and low spread
Leverage 1:30 for top currency pairs
Support many deposit methods
Access to charting tools
Cons
Doesn't pair with other trading platforms or tools
4. Vantage FX – Versatile for trading UK, US & AU share CFDs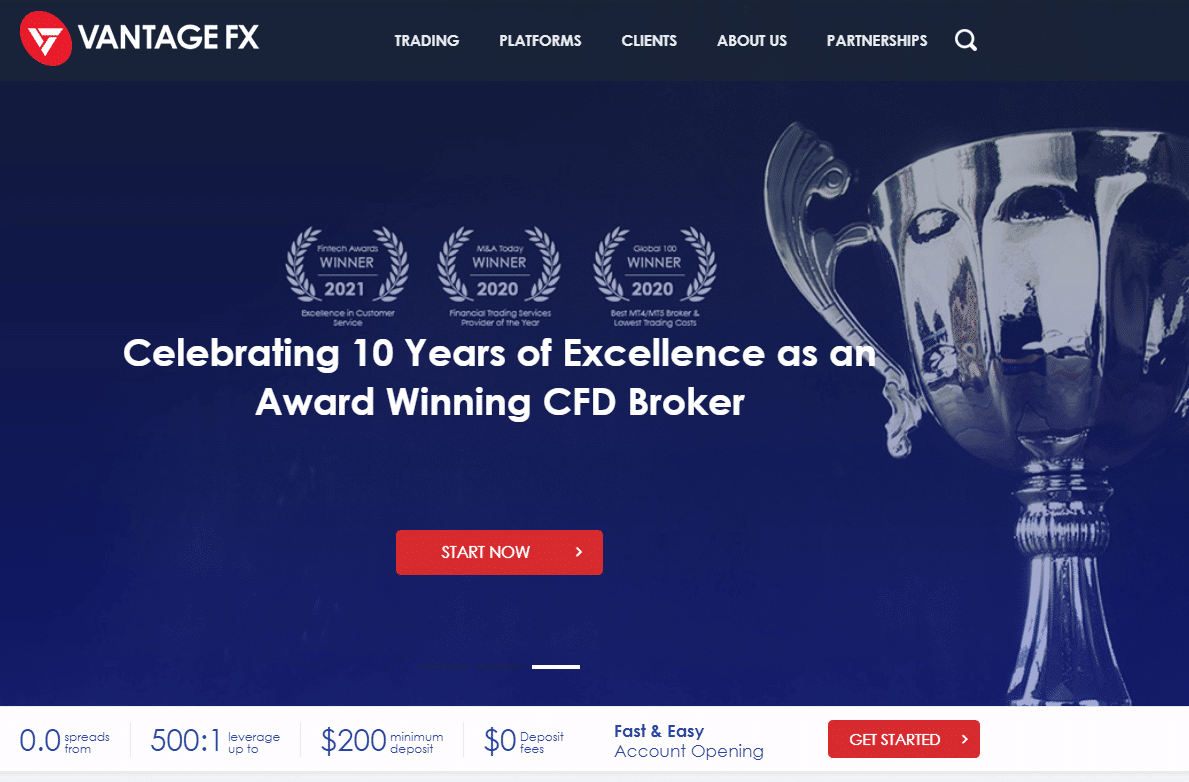 Here is another stock trading app in South Africa to trade on many shares in the EU, US, Australia, UK, etc. The leverage offerings of this broker make it a popular choice amongst investors. For example, the broker allows you to buy and sell individual US stocks on a margin of 20:1. This allows you to invest with a small trading account but gain exposure to the market.
Vantage offers its users a mobile app that operates on both iOS and Android devices. You can carry out different transactions on the go while utilizing amazing features such as technical indicators, full-screen charts, different timeframes, and others. There is also an in-built news feed that provides relevant market news from all over the world.
The Vantage app allows users to integrate MetaTrader4 and MetaTrader 5 for more analysis on the go. Also, it allows you to connect copy trading functionalities through ZuluTrade, Myfxbook, and Duplitrade.
As for regulation, Vantage operates under the regulations of major financial agencies in both the UK & Australia. But the minimum amount to deposit must be $200, and it charges a $6 commission on your stock trades. The good news is that it doesn't have added spread for stock trading.
Pros
Mobile app supports Android and iOS devices
Offers 20:1 leverage to trade individual stocks
Newsfeeds with relevant information
Copy-trading support with Duplitrade, ZuluTrade, and MyfxBook
Regulated in Australia and UK
Exposure to US, Australia, and Europe stocks
 Cons
Charges commission on stock trades
Offers CFDs only
What is a Stock Trading App?
A stock trading app is a mobile application that online brokerage sites offer to their users. Some brokers have one or two apps, as we saw in the case of Capital.com. These brokers support stock traders worldwide with these apps to enable them to complete buying and selling orders with a click of a button.
So, as soon as you download and open any stock trading app like the eToro mobile app, you are automatically trading with the broker online. The account you open on the app is the same, no matter the medium you want to use and sign in. You can then proceed to buy or sell stocks from major companies all over the world.
How does it all work?
Once you download and add funds to your stock trading app
Then you choose to trade Amazon shares
You place the "buy order" of $500
After some hours, Amazon shares rise by 4%
You will automatically make a profit of $20
Then you initiate a "sell order" to cash out the gains you've made.
The whole process is simple, straightforward, and encouraging for South African investors. You can use your mobile phone to trade on stocks all over the world. All you need is to speculate the stock price movement and choose a stake amount to buy it.  If the stock rises, you will make gains and cash out.  But if it falls instead, you will lose money.
Why use Stock Trading Apps in South Africa
A long time ago, stock traders only had the option of trading on their desktops. But given the growth that technology has brought in all industries, you can now access your online account through your phone. Once you choose a reliable stockbroker like eToro, you can download its mobile app and start trading.
So, let's consider some of the top reasons to use a stock app in South Africa.
Easy access to profitable stocks
Using a stock trading app enables investors to speculate and make gains on major stocks at all times. You don't have to miss a profitable trade because your desktop is not with you. Of course, you can't lug it everywhere, given the bulky size. But with a mobile app, you can get all the news about your favorite stocks and buy them at peak periods.
By following the news on your favorite company, you can speculate correctly, and within seconds, you have bought the company's stocks and grab a share of the profits. With your app, you can also invest in many companies at the same time and maximize your gains.
Dump a Losing Position Instantly
Apart from initiating a "buy order" when the news is favorable and indicates a rise, you can also initiate a "sell order" when you discover an adverse effect on your stocks. How does this work? Let's say you invested almost $10,000 in Tesla stocks, and the news carries that there is a scandal of fraud in the company's management. This means that once the news breaks, Tesla stocks will spiral downwards no matter what.
So what do you do? You will immediately initiate the "sell order" and dump the stocks to cut your losses. If peradventure the stock prices fell by 12%, you will avoid huge losses of $1,200 by exiting the position faster.
But without a mobile stock trading app, you will watch your money go down if you can't rush to your desktop to exit the position.
Access Market News all the time
You can't trade on stocks and make gains if you don't follow the Stock market news. When you use a stock trading app like eToro, you will get access to market news & advanced analysis to help your stock trading decisions. The news stories will land on your phone as notification, and you can get first-hand analysis every second too.
The only thing you must do is to charge your mobile phone and leave it on all the time. Moreover, you can customize the news as you want by selecting to receive notifications about the companies or sectors you're following. With that, you can make faster decisions on buying or selling stocks every minute.
Monitor your stock portfolio
Installing a stock trading app in South Africa will enable you to monitor the growth of your portfolio on the go. Instead of waiting to log in to the desktop device, you can just open the mobile app and see the total value of your stocks in a few seconds.
Access to real-time pricing alerts
When you install a stock trading app South Africa, you will be getting price alerts every time. The alerts come the way you get news notifications. So, for instance, if you're interested in the price movement of Amazon stocks and are waiting to buy them when they hit $140.
You can simply set a pricing alert for that amount, and once it hits that price, the notification will pop up for you to buy it. By that, your research will not be in vain. You can just execute the buy order once the alert pops up and grab some Amazon stocks.
Stock Apps are optimized for phones
One good thing about downloading a stock trading app is that it will match your phone in every aspect. Instead of opening a brokerage site on the web through your phone, you can simply open the app. For instance, using the web browsers such as Google or Chrome to access eToro will not give you a great trading experience. But when you use the app directly, everything is designed to suit the mobile operating systems.
Also, navigating the interface on the mobile app will be simpler than opening it directly on a phone web browser. With such a simple and easy way, you can trade on a stock without hassles. You can never compare an optimized mobile app to the web browser exposure of a brokerage site.
iPhone Stock Trading Apps
Users of iPhones and other Apple products can't use mobile apps from other companies except for Apple. That's why you can only download from the Apple play store no matter the company you aim to use. But the good news is that mobile trading apps for iPhone users are also available on eToro.
Moreover, the app is designed for all iOS devices. So all it takes is to open the broker's website and download the iOS version of its stock trading app.
Android Stock Trading App
If you're using an Android device, you will also find the app from the broker's site. These apps are designed to suit the Android operating system. That's why top brokers will distinguish and label their app as an iOS mobile app or Android mobile app.
So, all you have to do is visit the website of your favorite broker and choose the Android mobile app download. You can also find the app on Google Play Store, but we encourage you to directly get it from the broker to avoid clones and scam versions.
Let's say you choose eToro as your broker, visit the official page and get the download link for its Android app. That's the best way to protect your device against hackers.
Best Stock Trading Apps to Practice
There are lots of opportunities to make money through stock trading. But the truth is that the process is not so easy. Also, there are no fast returns as it may take months or years before you make considerable gains from stock investments.
That's why we encourage you to practice first with demo accounts or consider low stake brokers. So, while investing in stocks, don't jump in too deep so you won't lose your investment. Let's discuss these options a little more below.
Demo Accounts
If you're willing to practice stock trading in South Africa, search for the app that provides fully featured demo accounts. If you use a broker like eToro, you will have access to a demo account that has up to $100,000 virtual funds to practice without risks. As a new customer, this account helps you to practice without fear of losing your own money. eToro has already funded it for you, and you can access the real-world stock markets.
The meaning is that everything from trade liquidity, volume, and pricing, are the same as the actual markets and not fabricated figures. So, as you practice, you're already exposed to the real market conditions and not a make-believe market.
Using this demo account will help you learn more and slow down the enthusiasm that could lead to heart-breaking losses.
Low-Stake Brokers
Even though the demo accounts helps beginners to acquaint themselves with the stock market, some professionals believe it is not adequate. Instead, they prefer the low stake traders for new traders so that they can face the emotional trauma of losing their real money. According to commentators, when you lose virtual funds, you won't feel the pain. But when you start small and lose your money, you will understand the pains of losing money in stock trading.
So, try to use a stockbroker that accepts lower minimum deposits for trades. Some platforms ask as high as $10,000, which shouldn't be okay if you're just learning the basics.
Best Stock App for Beginners
Joining the stock trading hustles for the first requires careful consideration while choosing the stock app to use. For example, you don't want to use a site with a hard-to-use interface or one that doesn't have a demo account. Also, there should be low fees, trading tools, and educational resources to help you out. Also, there should be responsive customer service, safety, low minimum deposit, and easy access to the site.
Capital.com is a top broker when it comes to picking a beginner-friendly stock trading app in South Africa. They have all the features that help beginners in stock trading. The educational tools are numerous, and the customer support is top-notch.
Moreover, the broker offers a demo account with $100,000 virtual money, and it also charges a 0% commission on stock trades. These and more are why eToro remains our top app for beginners.
How to Choose a Suitable Stock trading App, South Africa
This section will look into the factors you must consider before choosing a stock trading app. the tips we'll share below will guide your decision on picking the right stock broker right there in South Africa.
Regulation
This is simply a very crucial aspect of choosing a stock app in South Africa. You have to know if the broker is safe before you download its mobile app. Since you're going to transfer your real money to the app, it is important to know that the funds will be secured. That's why the app you choose must operate under strict regulations of financial watchdogs.
Right now in South Africa, the regulatory body for financial operators is the FSCA. However, if the broker is an international firm, make sure CySEC, FCA, or ASIC regulate it. These are top regulators that monitor financial market operators. The reason for this research is to ensure that you're not sending your Rands to a dubious broker's bank account.
Number of Listed Stocks
This is another consideration when choosing a stock app. You must find out if the broker exposes you to many stocks in different stock markets such as the US, UK, Europe, etc. For instance, some stock apps such as eToro will allow you to buy shares of international companies such as Google, Amazon, Tesla, etc. Also, check if you can buy or trade shares through Stock CFDs.
However, if you're hoping to find a broker that gives you access to companies on Johannesburg Stock Exchange, go for Plus500. This stock app features a lot of companies in South Africa.
Mobile Stock Trading Experience
Not many stock apps grant a good mobile experience. In addition, some mobile apps may not be simple to understand. So, it is vital to use an app that will allow you to sell and buy stocks seamlessly on the mobile app.
So, don't download any stock app without checking its user-friendliness, even when on a small screen.
App Trading Fees
Fees are significant when selecting a mobile trading app. If the broker will charge you for transacting on the mobile phone, it is not worth your time. This is why we picked the best stock trading apps such as eToro, Plus500, Capital.com in this guide. These brokers don't charge commissions on your stock trades but check the spread too.
Usually, buying shares traditionally attracts a dealing charge which is a flat fee charged at the two ends of the stock trade. So check it out.
Trading Platform and Tools
Another important thing is to check the trading platform on the phone. There may be some limitations depending on the broker. So, check if you have the chart reading tools and other technical indicators. That way, you won't miss out on any features.
Educational resources
Since you're starting from scratch in stock trading, you need all the educational tools you can find. So, make sure that the stock app has it all for you. For instance, eToro provides many educational resources to help beginners learn faster. Some of these tools include trading strategies, regular webinars, guides, etc. All these resources should be available on the stock app.
Supported Payment Methods
This is another essential aspect to consider. If you can deposit funds in Rands into the app, go for it. So, it depends on the payment method you prefer, such as PayPal, credit/debit card, e-wallet such as Skrill, etc. Both from our findings, many South African stock traders prefer the credit or debit card option for faster payment processing. So, check the app that suits your choice here and download it.
Responsive Customer Service
If you're using the stock app for the first time, the chances are that you might make mistakes. That's why you need a broker that has responsive customer service to help you out. At least once you reach out through the live chat option, you should get an instant reply.
How To Use the Best Stock Trading App for Beginners
After choosing the app that suits your goals, it is time to download and start using the app. We will focus this section on eToro, our top pick for South African stock traders.
Install the Capital.com mobile app
The first step is to download and install the app on your phone. But first, visit the official website to get the download link for either the iOS version or the Android version. Also, you can access the app on Google Play Store, but you need to avoid fake clones.
After downloading the app, install it and move it to your desktop.
We've made a detailed analysis of the cryptocurrency for a clearer understanding of why you should buy the asset. Also, reveal the top brokerages and exchanges where you can buy the assets in South Africa.
Below, we present the tutorial guide on how to buy cryptocurrency from Capital.com. Through its operations, fees, and features, the broker remains the overall best platform for trading cryptocurrency in South Africa.
Step 1: Open an Account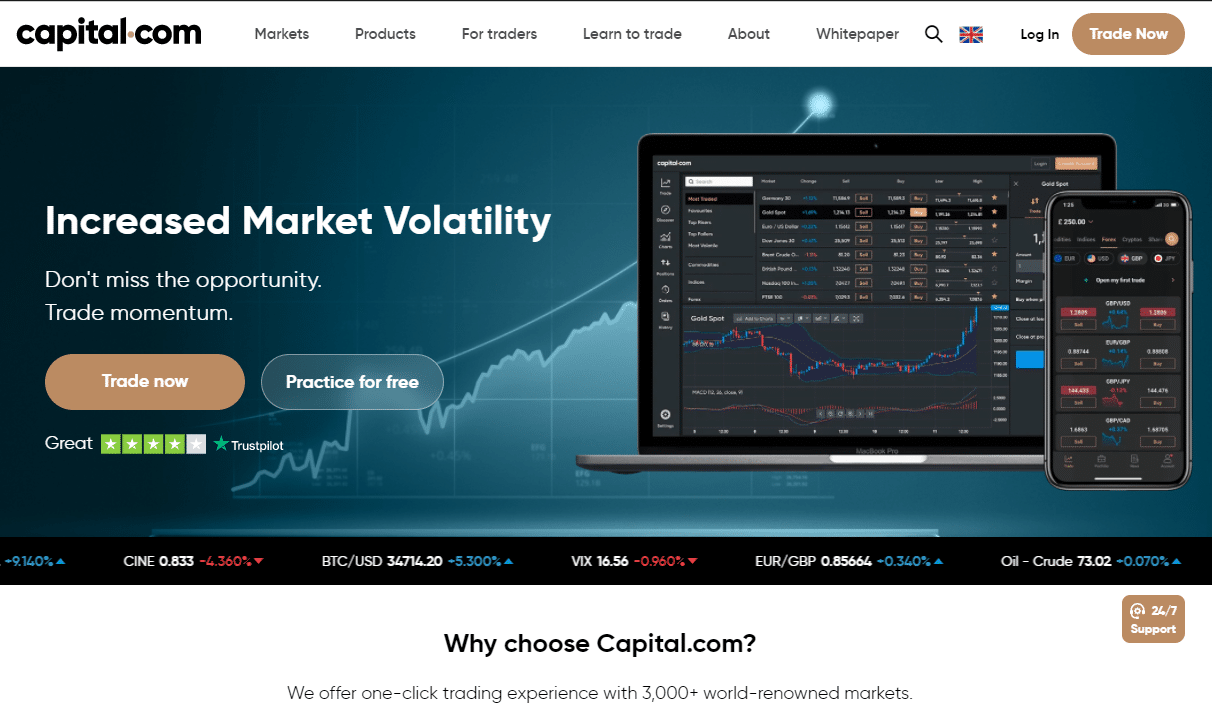 Once you're ready to open an online account for trading cryptocurrency, visit the official website of Capital.com. You will click on REGISTER NOW button. Then, you will need to input your email address and create your password.
To ensure adequate account security, endeavor to form a strong password. You can use a combination of special characters, numbers, upper and lower cases for the password.
After concluding the account sign-up process, you will have access to a demo account on the platform. This will assist you in learning the processes of buying or trading on cryptocurrency as a newbie.
Step 2: Verify Your Account
Account verification is one of the prerequisites for trading in Capital.com. Being under the regulation of some giant financial agencies such as the FCA and others, the broker maintains KYC compliance. Thus, every account must undergo verification.
The verification process requires an upload of any government-issued ID such as a passport or driver's license. Also, you'll upload a copy of your recent utility bill or bank statement that is not more than 3 months. After the upload, Capital.com sends a notification message to
Step 3: Deposit Your Funds
When you get a notification for the account verification, you can deposit your funds. Capital.com accepts the deposit of South African Rand. It later converts it to USD, one of the fiats for crypto transactions.
Log in to your online account and click the DEPOSIT button.
Then select any payment option that is suitable for you. The broker supports deposits through bank transfers, e-wallets, and debit/credit cards. The minimum deposit on the platform is $20. This is considerably low in comparison to other competitors in the industry.
With Capital.com, there's no deposit fee for any method of transfer that you choose. While bank transfers may take a longer time to reflect in your account, transfers from cards and e-wallets are instantaneous.
Step 4: Buy Cryptocurrency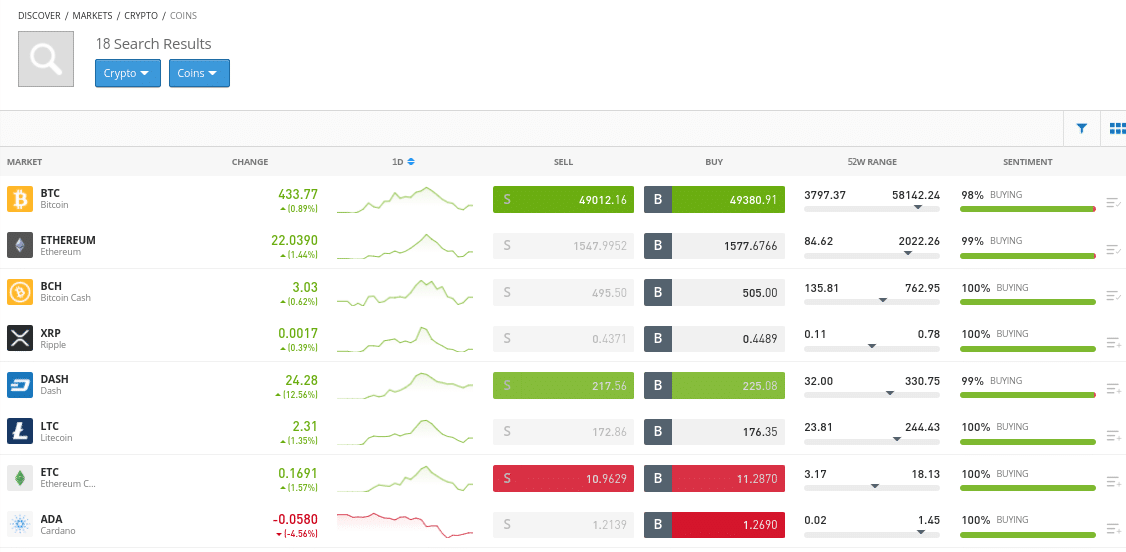 You can buy any cryptocurrency of your choice after funding your account. First, search for the digital asset your want to buy in the search box. Then select the crypto and USD pair that matches your choice. For instance, when buying Bitcoin, you will choose USD/BTC. Proceed by clicking the TRADE button.
Then, input the amount of the digital asset you're buying and set your order. Ensure you confirm your order and click the TRADE button. The broker will buy your cryptocurrency according to your order.
Conclusion: Stock Trading App South Africa
Using a stock app is the next best thing for South African investors. It allows you to buy and sell shares on the go and even exit a losing position faster. Moreover, the mobile trading app updates you with new developments, real-time notifications on pricing alerts, etc. With all that. Stock trading will become easier when you're starting.
The challenge, however, is usually on choosing the best stock app for your goal. That's why we took the time to choose FXVC- a beginner-friendly app that charges zero commission. Also, it is regulated and supports diverse payment methods.
Download eToro mobile app and start trading today.
Best App For Trading in South Africa: Capital.com
FAQs
Are stock trading apps available for Android and iPhone?
Are stock trading apps available for tablets?
Does every Stokebroker have mobile apps?
Are Stock apps free to download?
Can you Trade with real money on a stock market app?
Can you Practice stock trading on a mobile app?