Best Dogecoin Wallet USA – 4 Best Dogecoin Wallets in 2022
Thanks to Elon Musk, Dogecoin has had a huge year with the DOGE/USD pair up over 10,000% so far. Although Dogecoin was originally touted as a 'meme coin', with Musk promoting the coin and working closely with the Doge team to add more functionality, many believe there is still a massive amount of upside potential that is yet to be unlocked. If you're a believer in Elon and want to invest in Dogecoin you'll need to equip yourself with the best Dogecoin wallet available right now, luckily we've compiled a list of our top 4 picks for the best Dogecoin wallet.
If you're still asking the question "what is the best free Dogecoin wallet", then stop what you're doing and give this guide a read! We have a summary of our top 4 Dogecoin wallets, as well as full-length reviews for each of them, so you'll have all the knowledge needed to select the best Dogecoin wallet for your individual needs.
#1 Dogecoin Wallet In the USA – eToro
Best Dogecoin Wallets USA – Top 4 List
We believe it should be easy to find a free Dogecoin wallet, which is why we've done the research and created the below list of our top 4 Dogecoin wallets. If you're looking for a bit more detail, we also included full-length reviews for each selection just a little further down the page.
eToro – Overall Best Dogecoin Wallet
Coinbase – Best Dogecoin Wallet for Beginners
Crypto.com – Dogecoin Wallet with Most Extra Features
67% of retail investor accounts lose money when trading CFDs with this provider.
Best Dogecoin wallets USA – Full Reviews
We have analyzed several key aspects that are important to the vast majority of Dogecoin investors and broke down which wallet will be best for you, based on your specific requirements. 
1. eToro – Overall Best Dogecoin Wallet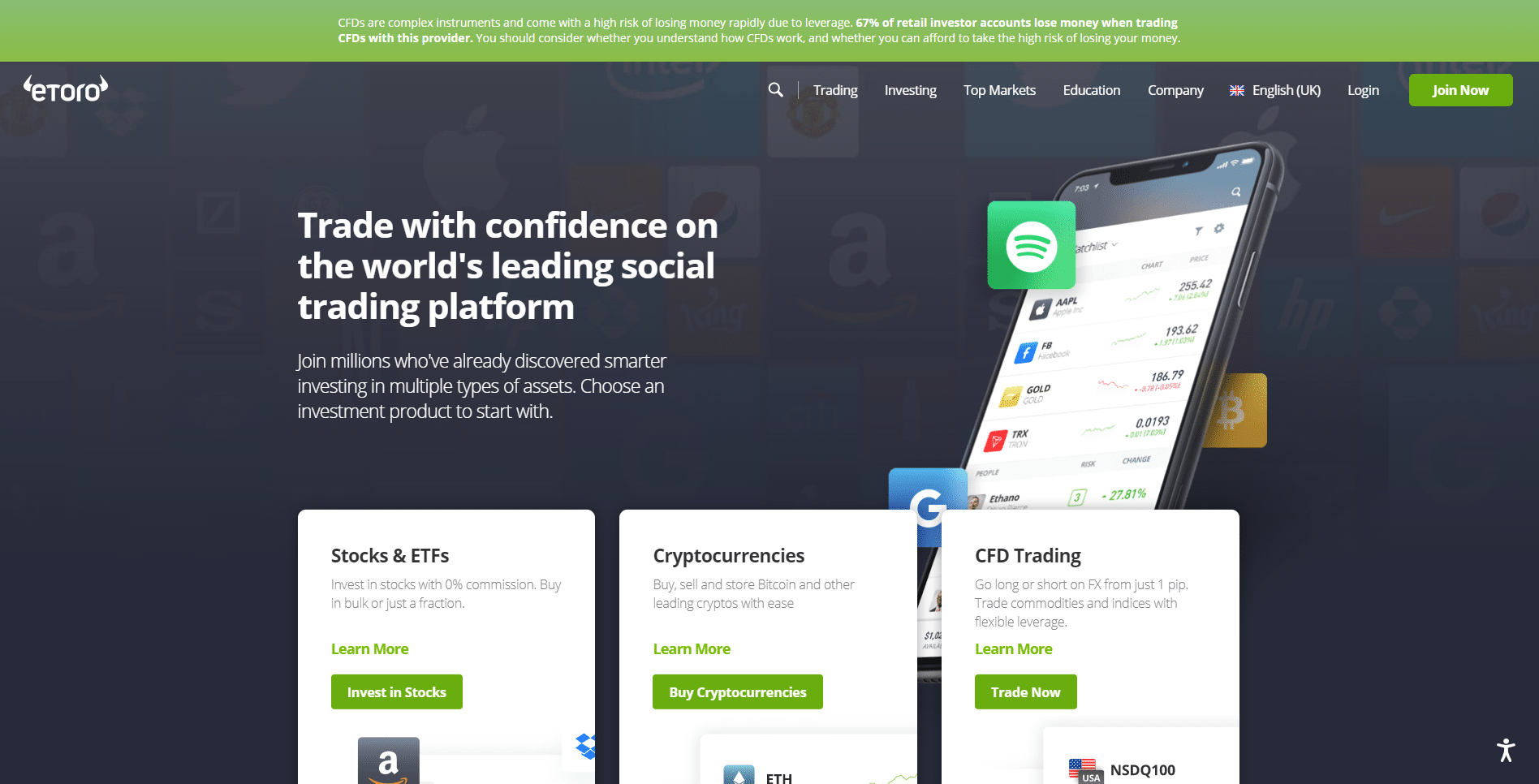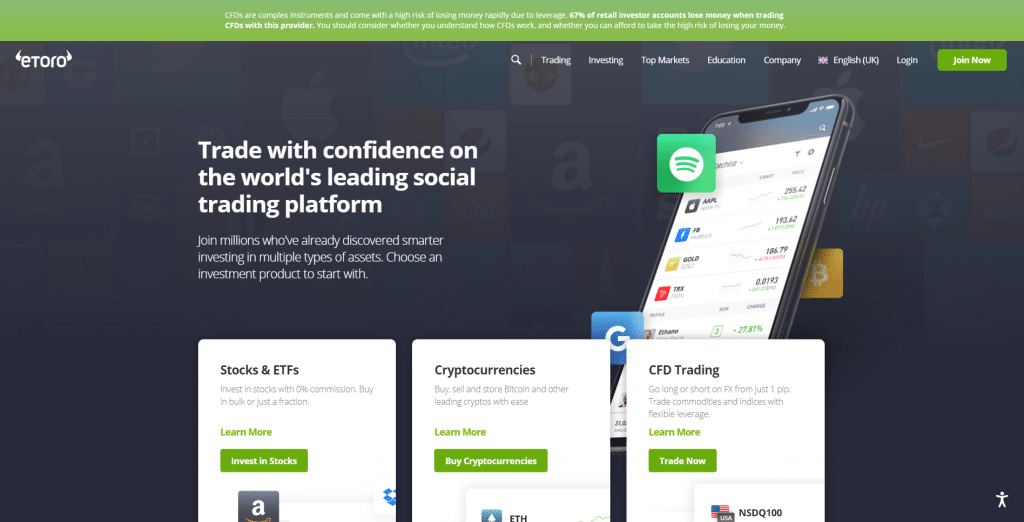 If you're looking for a balance of security, convenience, and additional features, from your free Dogecoin wallet, then eToro could be the answer you're looking for. As eToro is an exchange wallet you can enjoy the benefits of a fully regulated platform with a diverse range of financial instruments, such as ETFs, commodities, indices, and of course crypto. For anyone with previous trading experience, this could be the perfect bridge over to the exciting world of crypto, while still letting you manage any other previously held assets. 
Although eToro makes an excellent bridge for traders new to the crypto world, that doesn't mean you need to be a pro trader to make the most of all the features eToro has to offer. The copy trading system is a great onboarding point for those without any previous experience, it allows you to automatically mirror the trades of some of the best users on the platform, meaning you could end up with a load of extra DOGE to add to your free Dogecoin wallet. As eToro shows several statistics about the trader you're mirroring, you can find someone that matches your level of risk tolerance which will give you peace of mind when you don't have time to be closely monitoring the markets. If that wasn't enough incentive for any new traders, eToro also offers the chance to invest in managed portfolios. This system allows you to get stuck into trading and gain a better insight into how the platform works, without having to do hours of research beforehand. Combine this with the small minimum investment of just $25 and I'm sure you can start to see why so many people recommend eToro as the best Dogecoin wallet. 
As we previously touched on, eToro is regulated by CySEC, the FCA, and ASIC, because of this you can rest easy knowing when depositing fiat you're fully insured, and even if eToro gets compromised your funds will still be safe. When initially signing up, as with any exchange you'll have to enter some personal information which can be unnerving for some, but with eToro, you can put your mind at ease knowing all personal information is protected with SSL encryption. If that wasn't enough to quell your worries, you also have access to a 24/7 support team (that actually responds quickly) to help you through any issues. This can be a big weight off the head of anyone, especially those new to trading or that don't yet have a full understanding of how exchanges work. 
When it comes to selecting the best Dogecoin wallet, it makes sense that you should have options, and with eToro, you have just that. You have the option of a dedicated wallet app that can give you greater control and let you more closely manage your assets. That being said, if you're the type of person that doesn't like to manage their assets on the phone, or simply would rather do so on a larger screen, then you also have a fully-featured web wallet available where you can make use of the technical indicators and charting tools at your disposal, as well as, of course, buying/selling your DOGE. 
eToro Fees
| | |
| --- | --- |
| Coin Name | Spreads |
| Bitcoin (BTC) | 0.75% |
| Ethereum (ETH) | 1.90% |
| Cardano (ADA) | 2.90% |
| Binance Coin (BNB) | 2.45% |
| Ripple (XRP) | 2.45% |
| Dogecoin (DOGE) | 2.9% |
Pros
Large user-base

Copy trading & managed portfolios

500+ crypto pairs

Great support and security

SSL encryption for personal data

App + web wallets

Low minimum investment

Spread only fees
Cons
Lacking MetaTrader support

Missing some important indicators
67% of retail investor accounts lose money when trading CFDs with this provider.
2. Coinbase – Best Dogecoin Wallet for Learners
Coinbase is a huge name in crypto and it's easy to see why, getting started in the world of crypto can be a daunting task and Coinbase makes this a breeze. The onboarding process is straightforward and once signed up, you'll immediately have access to the best Dogecoin wallet currently available for learners. Rather than crypto-asset pairs which can get confusing quickly when just getting started, Coinbase lets you buy the token itself, meaning you won't get affected as badly by currency fluctuations.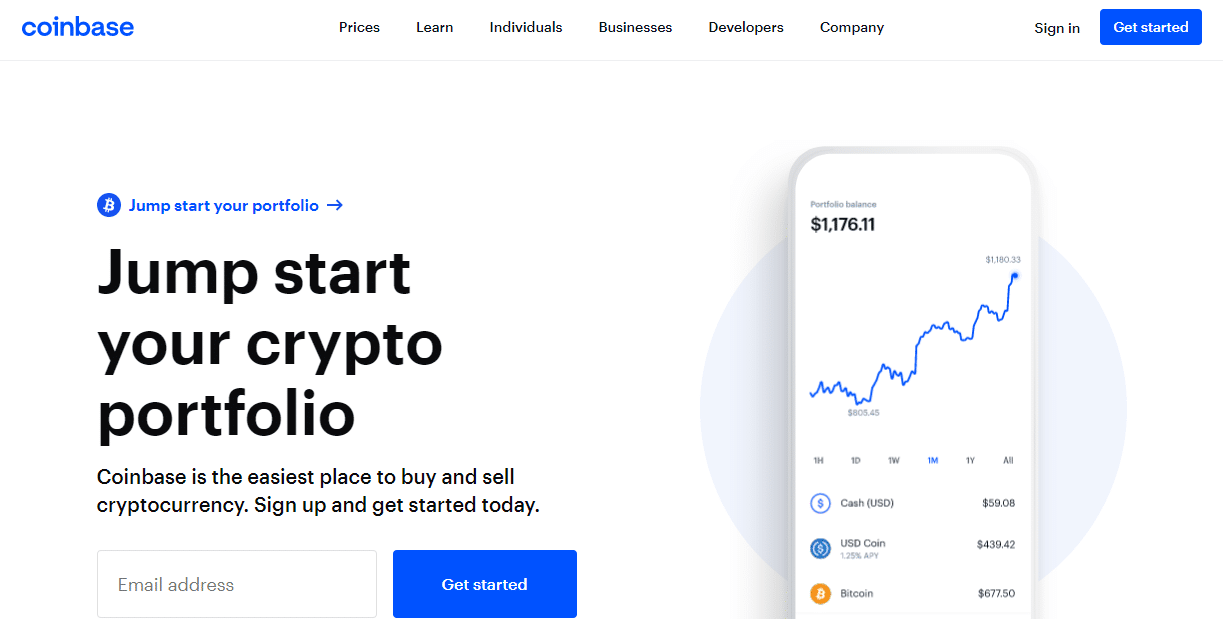 An admirable quality of Coinbase is their attitude toward education, rather than simply letting users loose on the platform once they've been verified, Coinbase has a substantial amount of educational videos, designed to give new users an easy to understand explanation on what some of the coins they offer do. These videos are often incentivized by letting users earn a small amount of the coin they're learning about, giving them a reason to follow the markets more closely. Once you've earned your coins, you're free to sell, transfer, or withdraw them as you wish, so if you swap for Dogecoin, you can earn a nice little bonus addition to the best Dogecoin wallet. 
This doesn't however mean Coinbase is without negatives, if you haven't already been verified and are wanting to take advantage of a quick dip in the market, then it's important to note that during busy times Coinbase can take quite a while to verify documents and the support team isn't the most proactive when it comes to replies. Coinbase also has 3 separate apps, 2 of which have differing fee structures, we've included a table of fees below, but the main takeaway is that even for new users it can be cheaper in the long term to start on the "Coinbase Pro" platform as its geared more toward frequent, high volume traders.
The 3 apps Coinbase offers are "Coinbase", "Coinbase Pro", and "Coinbase Wallet", while all provide users with a free Dogecoin wallet, there are some key differences we'll discuss. Coinbase Wallet is a dedicated app that allows you to keep a close eye on your assets and is separate from any funds stored on Coinbase itself. Coinbase is essentially a brokerage that gives users a virtual wallet, meaning they set the price and fee at which they're happy to part with a coin, whereas Coinbase Pro acts as an exchange meaning that everyone on the platform is creating buy/sell offers simultaneously. As Coinbase Pro is geared more toward frequent buyers and sellers the fee structure is a bit nicer, meaning you get more crypto for your money.
Coinbase Fees
| | | |
| --- | --- | --- |
| Fee | Coinbase | Coinbase Pro |
| Debit/Credit Card | 3.99% | 0% |
| Bank Deposit | 1.49% | 0% |
| Wallet | 1.49% | 0% |
| Conversion | 0.5% to 2% | 0.5% to 2% |
| Trades | $0.50 | $0 to $0.50 |
| Coinbase fee | $0.99 to $2.99 Based on size of transaction  | 0.04% to 0.50% taker fee and a 0% to 0.50% maker fee |
Pros
Educational, rewards system

Largest US exchange

Easy to understand

Something for everyone's needs

Indicators on Pro platform
Cons
High fees

Slow support

Somewhat long verification
67% of retail investor accounts lose money when trading CFDs with this provider.
3. Crypto.com – Dogecoin Wallet with Most Extra Features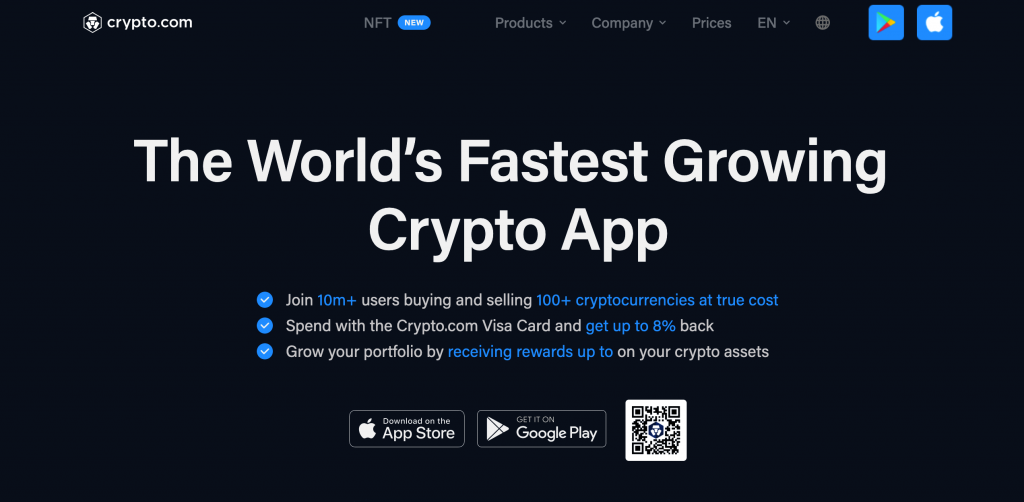 I'm sure it's no surprise that a website calling itself "Crypto.com" boasts the most cryptocurrency-related features out of any wallet on our list. With a "bank" card that lets you spend your crypto in retail locations, staking/lending rewards, cashback, and advanced trading features; regardless of your goal, Crypto.com has something for you. Combine this list of attributes with a referral bonus for new users, quick support, and you have yourself a potential answer to the question "what is the best free Dogecoin wallet?"
Crypto.com sports an app with a plethora of additional features, but unfortunately still manages to miss out on some basic abilities. An area that Crypto.com does better than anyone else, is the various ways to earn interest on your crypto balance, they do this in much the same way as a bank, by lending your assets to others, and rewarding you with a portion of the fees they earn.  The first way you can earn interest is the aptly named "Earn" where you can choose a coin you want to lock for either a flexible period or 1-3 months, then you're paid weekly directly into your crypto wallet (rates between 0.5% to 12%). Supercharger is the second way to earn, you deposit money into a liquidity mining pool for a flexible amount of time and then earn a percentage back, the main difference between this and "earn" is you get paid the month after your time is finished and you will be rewarded with a coin picked by Crypto.com rather than one you choose. 
One overlooked aspect is the ability to set different types of orders (limit, market, etc), while you can still buy and sell as you please, you can only do so manually. Most other exchanges will let you set up an order to buy or sell an asset when it hits a certain price, however, you don't have this ability on the Crypto.com app, which considering the number of additional features they boast seems like a glaring oversight. (the crypto.com exchange website allows this, but is only available in a few countries). Another potential cause of concern is the fees, although the maker/taker fee can be reduced by staking CRO (Crypto.com's token) I have recently been hit with a spread fee higher than 5%. 
Crypto.com Fees
| | | |
| --- | --- | --- |
| Fee Type | Fee Amount (Staking ≥ 0 CRO) | Fee Amount (Staking ≥ 5000 CRO) |
| Maker  | 0.4% | 0.36% |
| Taker | 0.4% | 0.36% |
| Credit/Debit | 2.99% | 2.99% |
Pros
Plethora of features

Earn interest on assets

Crypto.com card

Referral Bonus

Recurring Deposits
Cons
Exchange only in certain counties

Lack of order types on app

Fees can be high
67% of retail investor accounts lose money when trading CFDs with this provider.
4. Trezor – Most Secure Dogecoin Wallet
If you're heavily security-focused, then nothing offers the same protection as a hardware wallet. Trezor is one of the leading names in the hardware wallet space for good reason, they support over 1000 coins, have been audited by security professionals, and come with a couple of interesting pieces of software.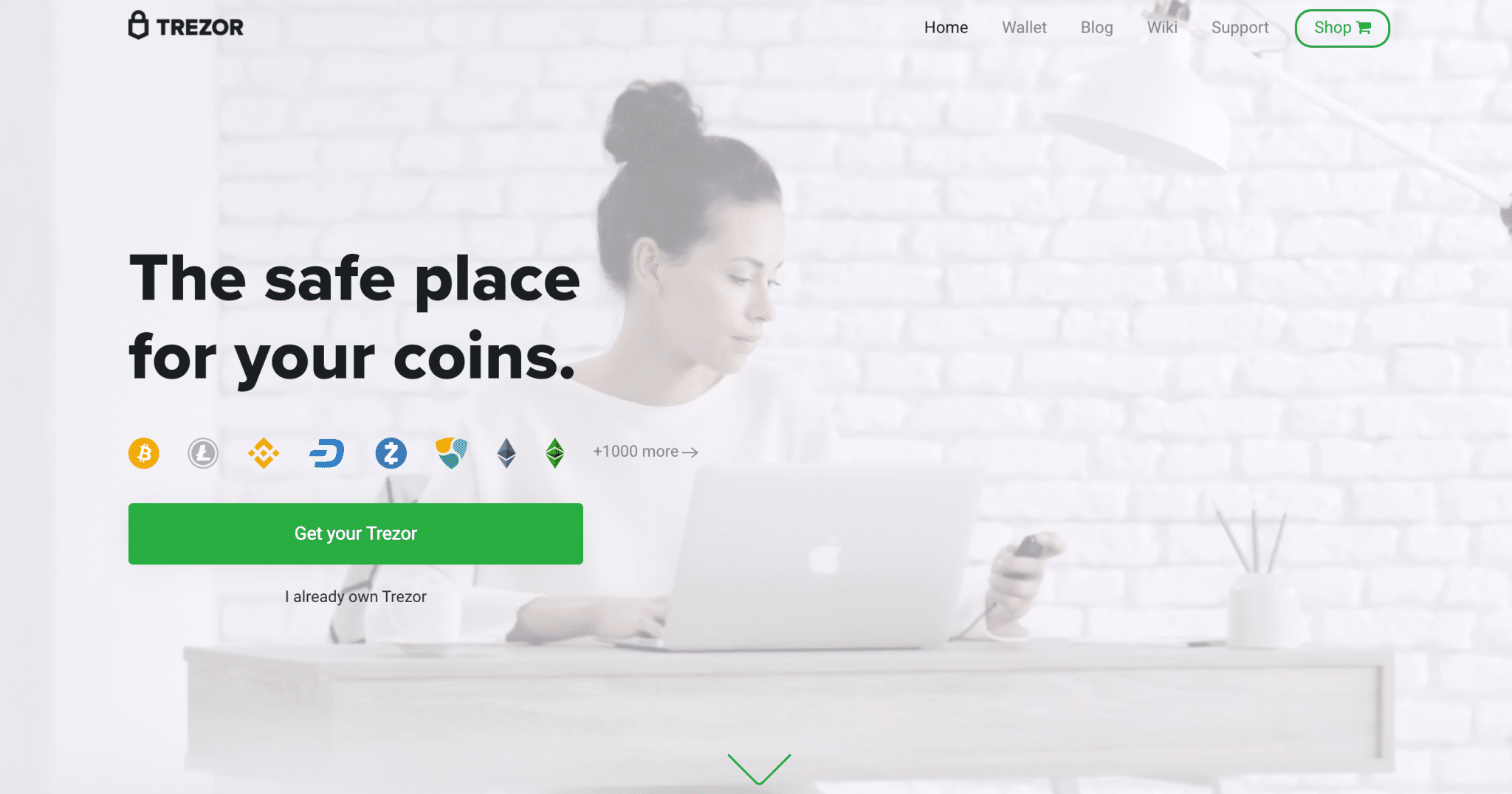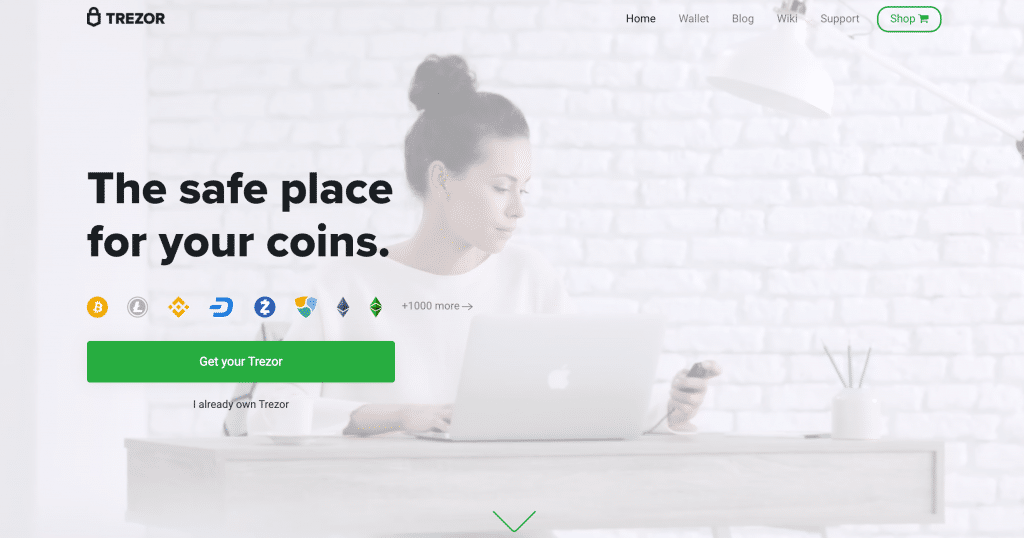 Unlike most Dogecoin wallets, a Trezor is a physical item meaning an aspiring criminal would need to have the device in hand to even have a chance to get hold of your coins, however even then, they would still need the password. This gives a distinct advantage to hot wallets that hold your assets online, and are vulnerable to potential network-based exploits. The one major drawback to keeping your coins in cold storage permanently is the lack of convenience. If you send multiple transactions a day, the additional time required to verify each one would certainly add up. Due to this, it's often better to hold large sums in cold storage but still have a smaller portion available on an exchange wallet like eToro, so if you need to quickly send funds, you can easily do so.
While Trezor is similar to Ledger in their use of a downloadable app to let users manage their assets, they also provide a password manager to help you keep track of your accounts, that being said I can't imagine many people security-centric enough to buy a hardware wallet would put their trust in a password manager. Another bonus to Trezor is expandable storage, while a Ledger has limited storage, you can add a micro SD to your Trezor and therefore have more wallets per device. It's important to note that Trezor does not have a proprietary exchange and is dependent on their partners, while this isn't inherently negative it does mean if you choose to buy on the Trezor Suite app, you will be subject to variable fees.
Trezor Fees
Fee Type
Amount

 

Cost Of Purchase

$59 to $225

Network Fees

Variable

Exchange Provider

0.5%
Pros
Extremely secure

Cold storage

Expandable storage
Cons
The initial cost of purchase

Lack of convenience

No proprietary exchange
67% of retail investor accounts lose money when trading CFDs with this provider.
What is a Dogecoin Wallet USA?
A Dogecoin wallet is used to store and manage your DOGE. There are a huge amount of Dogecoin wallets, but we've broken down the basic, key features every Dogecoin wallet worth its salt needs to have:
Holding Coins

: For many, the most crucial aspect of any free Dogecoin wallet is the ability to hold and store your coins. It's important to select a wallet with good security so you can rest easy knowing your crypto is safe.

Exchanging Coins:

If you plan on buying or selling any Doge, you'll need a wallet with an exchange. eToro is an excellent regulated exchange wallet with low fees.

Managing Funds:

And lastly, you'll want a wallet that makes it simple to send/receive your crypto and offers easy to understand charts.
How to find the best Dogecoin wallet
Filtering through all the available information can be difficult, to help ease this burden we've broken it down into 3 main factors that will be important for everyone. When selecting which Dogecoin wallet is right for you, it's important to match the wallet with your specific needs; if you need beefed-up security, a hardware wallet. If convenience is key, an exchange wallet will be best. 
CFDs are complex instruments and carry a high risk of possible rapid loss of capital due to their leverage. 71% of retail investor accounts lose capital when trading CFDs with this provider. You should consider whether you understand how CFDs work and whether you can afford to take high risk in losing your capital.
| | | | |
| --- | --- | --- | --- |
| N/A | CBI and MiFID in Europe | N/A | |
| | | | |
| --- | --- | --- | --- |
| N/A | 1:2 for cryptocurrencies | N/A | |
| | | | |
| --- | --- | --- | --- |
| $28230.72 | $28326.70 | $28340.81 | |