AUD/USD Investing Australia – Beginner's Guide 2021
AUD/USD is the Australian Dollar and the U.S. dollar currency pair. It is also referred to as the ticker symbol that is used for trading purposes. Due to the fact that Australia relies on material exports, this is a currency pair that is influenced by the prices of commodities.
The AUD/USD currency pair tells a trader how much of a currency they must have to buy one unit of another currency. AUD is considered the base currency in this case, and the U.S. dollar is considered the quoted currency.
If this seems a bit complicated, worry not, as we have created a guide for investors that might be interested in AUD/USD investing in the Australian region. You will find well-researched information regarding passive investing and some brokerage solutions that can assist you in getting started with trading in Australia. We will also discuss their pros, cons, and fee structures, so let's dive in.
#1 Broker for AUD/USD Investing – eToro
AUD/USD Investing in Australia – Step by Step Guide 2021
Picking the right brokerage is an essential part of anyone's investing process and can define how well their investment strategy can be executed. As such, we highly recommend eToro, a cryptocurrency brokerage established in 2007 which has served millions of customers on a global basis. The set-up process takes less than 5 minutes so let's dive in.
Step 1: Open an eToro Account:

Opening an eToro account is actually quite a simple process, as the sign-up process by itself only takes up a few minutes. All that's required from you to do is to type in "eToro.com" in your browser, press the "Join Now" button and fill in the required details.

Step 2: Verify Your Identity:

Once the account creation process has been completed, you will need to verify it. This process is easy, and all you have to do is provide a photo ID (passport, driving license) as well as proof of address (utility bill, bank statement). 

Step 3: Fund Your Account:

Once you have verified your account, you are one step closer to the start of your investments. Now all you have to do is make a FIAT deposit, so your account is filled with enough funds to start the process. Click on "Deposit Funds" and enter the amount that you want to invest, then press "Deposit." 

Step 4: Invest in AUD/USD:

Once you have your account verified and funded, all you have to do is type AUD/USD in the search bar and press "Buy." 
AUD/USD Investing – Top Brokerage Platforms
No matter what pair you would like to purchase, aside from just AUD/USD, there are numerous strategies that you can accomplish through picking solid brokerages that will provide you with the tools required to do so. AUD/USD as a pair is available on many of them. However, some work better than others, and each of them brings something new and interesting to the table, which can make things either a bit more difficult for you or a bit easier for you.
1. eToro – Best Overall Choice for AUD/USD Investing in Australia
eToro is by far the oldest and most well-established option on this list, and it is why it remains at the #1 spot. It is the go-to platform for cryptocurrency investing, forex investing, commodities, indices, and stocks. It has an easy-to-use interface, and as a platform, it features an excellent iOS and Android mobile application that you can easily download and install as well as use. 
You can build your AUD/USD portfolio, as well as other pairs with ease, and benefit from features not offered by other exchanges, such as near-immediate execution of market orders as well as no deposit fees. eToro offers easy investments in stocks, CFDs, ETFs, and forex pairs. It has a popular investor program that identifies the most talented and responsible traders that end up sharing their knowledge and allow other users to mimic their trades.
Security and Privacy
When it comes to the security of eToro, it is a fully safe as well as regulated platform originally founded in 2007. It is licensed in many jurisdictions and is monitored and audited on a regular basis. 
eToro has even collaborated with FinTech Acquisition Corp and became a publicly renowned trading company that a lot of traders choose. eToro even ensures that all client funds are kept in secured tier-1 banks, and all of the personal information gets stored through SSL encryption that ensures the privacy of the users. This way, privacy, and safety can be guaranteed under strict security and privacy measures.
Fees & Features
When you open an account on eToro, you are not charged anything. eToro does not charge any ticketing or management fees either. Investments in stocks and trading are commission-free on the platform itself, and you are only charged from the bid/ask spreads on the assets you trade.
eToro Fees
| | |
| --- | --- |
| Fee Type | Fee Amount |
| Commission Fee | 0% |
| Deposit Fee | $0 |
| Withdrawal Fee | $5 |
| Inactivity Fee | $15 (Monthly) |
Pros
Commission-free trading.

Simple to set up and use.

Great social trading experience.

A large variety of trading pairs is available alongside AUD/USD.
Cons
Slow withdrawals.

You only get access to one account base currency.
67% of retail investor accounts lose money when trading CFDs with this provider.
2. SpreadEx – Best Customer Support Brokerage in Australia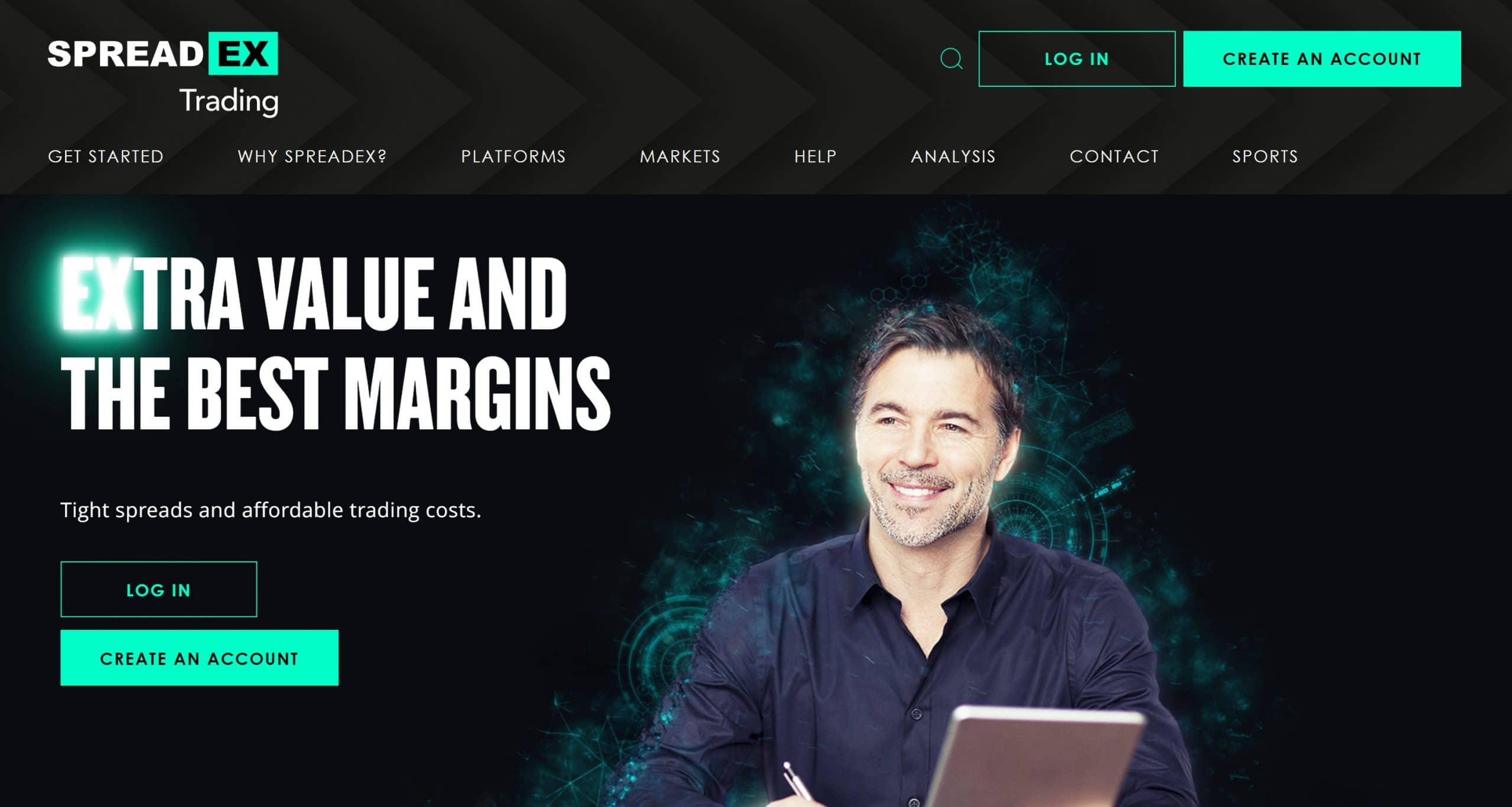 SpreadEx is a British company that will provide you with the ability to trade AUD/USD. The company also features sports fixed-odds betting and spread betting and is fully regulated. If you want to get started with AUD/USD investing, SpreadEx might be the perfect platform due to its various features.
Security and Privacy
SpreadEx is a regulated as well as stable brokerage. That said, SpreadEx is authorized and regulated by the FCA (Financial Conduct Authority) and has safeguards in place in accordance with the FCA client money rules. It is also a member of FSCS (Financial Services Compensation Scheme).
Fees & Features
SpreadEx deals with commodities, stocks, cryptocurrencies, Bonds, Forex, ETFs, CFDs, and a lot more in terms of the features. Funding your account is easy and takes a credit card or a debit card, but you can also use wire transfers and cheques. It's a user-friendly platform, and the company even offers sports betting products.
SpreadEx Brokers Fees
| | |
| --- | --- |
| Fee Type | Fee Amount |
| Commission Fee | $0 |
| Deposit Fee | $0 |
| Withdrawal Fee | $0 |
| Inactivity Fee | $0 |
Pros
Great web client

Low fees

Friendly Support

Regulated
Cons
Lack of variety of deposit methods

Limited educational content 
67% of retail investor accounts lose money when trading CFDs with this provider.
3. easyMarkets – Best Regulated Platform in Australia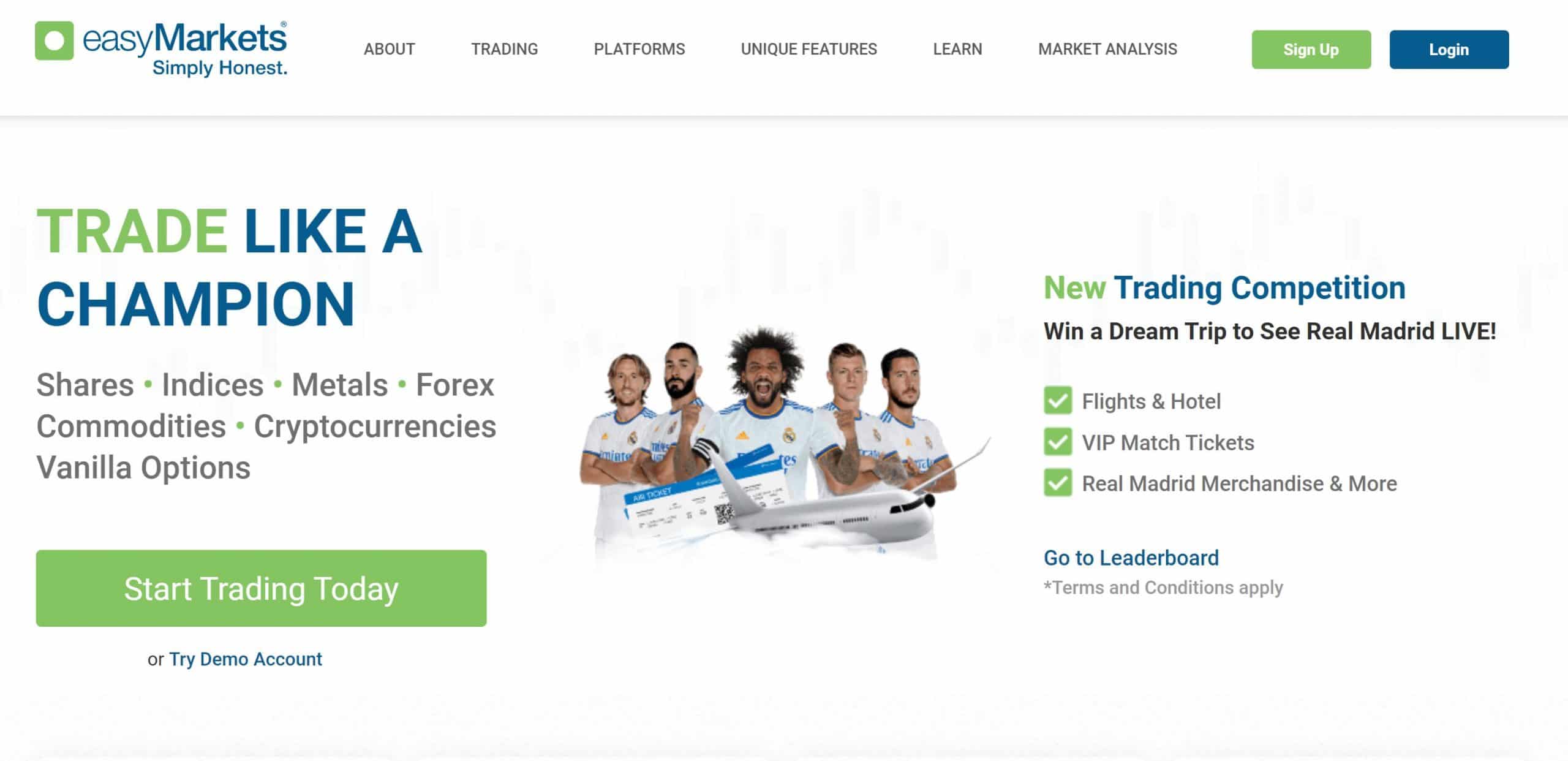 easyMarkets is an amazing multi-asset trading platform that will provide you with hundreds of assets that you can trade on. It goes without saying that AUD/USD as a pair is available on the platform, and it even uses the latest technology alongside innovative tools. Through paying a premium for a feature called "undo," you can undo a losing trade within 1 to 3 or even 6 hours after it's been made, assuming the market moves against a direction you anticipated. It offers a unique tool as well where you can freeze the price that you see and make your trade on that price.
Security and Privacy
easyMarkets is also regulated by Australian securities and ASIC, an investment commission regulatory body. 
Cyprus Securities and CySec even regulate the platform. With that said, it has gathered a lot of trust from traders, and it does not trade publicly. It is authorized by a regulator that's tier-1.
Fees & Features
easyMarkets spreads start at $0.04. It's free and has no account fees when it comes to its usage; there aren't even any deposit or withdrawal fees. The platform has well-developed trading software with full support for desktop and mobile devices. The platform even provides you with additional learning resources, trading software, a mobile application, and charting tools.
easyMarkets Fees
| | |
| --- | --- |
| Fee Type | Fee Amount |
| Commission Fee | 0% (for spread only account type) |
| Deposit Fee | $0 |
| Withdrawal Fee | $0 (applies to only certain methods) |
| Inactivity Fee | $15 per month (after 12 months of inactivity) |
Pros
No deposit or withdrawal fees.

Spreads at $0.04.

Demo account access.

Simple account creation process.
Cons
No 24/7 support.

No variable spread accounts.
67% of retail investor accounts lose money when trading CFDs with this provider.
AUD/USD Investing Australia – Broker Price Comparison
If you are a bit overwhelmed at the different fees charged by the different brokers, here's a fee comparison table between eToro, SpreadEx, and easyMarkets.
| | | | | |
| --- | --- | --- | --- | --- |
| Broker | Commission | Deposit Fee | Withdrawal Fee | Inactivity Fee |
| eToro | 0% | $0 | $5 | $15 (Monthly) |
| SpreadEx | 0% | $0 | $0 | $0 |
| easyMarkets | 0% | $0 | $0 | $15 per month (after 12 months of inactivity) |
What Are the Different Ways For AUD/USD Investing?
Trading between currency pairs, such as AUD/USD, is one of the best ways to increase your earning, which may help you build wealth and attain financial independence. 
The foreign exchange market (forex) is a market where currencies are traded 24 hours per day, and due to their liquidity, trading them can be popular and profitable. You can invest in the AUD/USD pairs by trading currencies in the forex. However, you can also buy ETFs, invest in corporations as well as other methods. Investing in AUD/USD does, however, still involves a high level of risk, especially during volatile economic times, so ensure that you are prepared for that potential outcome and remember never to invest more than you are willing to lose.
Best Ways For AUD/USD Investing
There are many ways through which you can engage in AUD/USD investing, and we are going to go over each and every one of your options.
Trading
You can open up an account with a brokerage such as eToro, for example, and trade currencies from around the world. This also includes pairs such as AUD/USD. Typically, currencies are traded in pairs on brokerages, so you are betting that one will go up (long) while the other might go down (short). 
Spot Trading
This is the type of trade where the currency pairs are exchanged when the trade gets settled. This is, in turn, instant trading, and the spot price is a representation at which a currency can end up getting bought or sold.
Forward Trading
This occurs when you agree to buy or sell foreign currency at a set price on a set date at some point in the future. This spot price will then be settled, and you will end up getting insulated from volatility when the time comes to trade.
Future Trading
This is similar to forward trading, except that you are legally bound to make the trade within a futures trading contract. Additionally, in this case, the price of the contract is based on the foreign exchange rate. 
CDs and Savings Accounts
These are baskets that earn local rates, where the basket includes a mix of various currencies. It offers foreign currency accounts that function as a money market account and allow the transferor of money between major currencies. These CDs, however, are subject to exchange rate fluctuations, however, feature a higher interest rate than dollar-denominated CDs. 
As this matures, you will get back fewer dollars than you invested, assuming the Dollar strengthened against the foreign currency.
Foreign Bond Funds
Even mutual funds invest in foreign government bonds, which earn interest denominated in foreign currency.  More specifically, if the foreign currency ends up going up in value relative to the local currency, this interest increases when it gets converted back to the local currency.
ETFs and ETNs
Exchange-traded funds (ETFs) and exchange-traded notes (ETNs)are traded much like stocks. However, they can also be a way through which you can invest in currencies without needing to trade directly.
Is AUD/USD Investing a Good Investment Opportunity?
You can essentially trade AUD/USD 24/7, which makes it really liquid. There are also low costs in doing so, as most brokerages do not charge you commissions for these trades. The transaction costs are built within the bid-ask spread instead, and the brokers are compensated this way. There are even brokers out there that offer forex trading with the goal of letting their customers trade through the usage of borrowed money, known as margin trading.
AUD/USD Investing – What Are the Risks?
There are, however, drawbacks as well when it comes to investing in currencies.
For example, as leverage might be an advantage in some cases, which lets you earn larger returns with less money, it also elevates the risk. Foreign currencies, in this case, you are trading with the U.S. dollar, so we'll use that as an example, and can be volatile. In a single day, there can be swings in the exchange rate between AUD and USD. 
There have also been cases where AUD has changed by nearly 2% in value within a day. This creates opportunities for you if you are a savvy and experienced investor as you can buy low and sell high multiple times throughout a short time frame; however, this also creates just as many opportunities when it comes to buying USD while it's at a higher point, which will, in turn, make you lose money.
Unlike assets such as bonds and stocks, currencies do not pay dividends nor produce a cash flow and do not have any intrinsic value.  You do not get any benefit from holding a currency for the long-term, other than the chance that it might start appreciating in value.
AUD/USD Investing with eToro
Within this section, we will showcase simple steps that you can take in order to start AUD/USD investing on eToro within minutes.
Step 1: Open an account with eToro
In order for you to open a brokerage account, you need to create an account first. eToro offers you a free account registration option where you can have a brokerage account set up in just a few minutes. All you have to do in this case is type "eToro.com" in your browser, then just press on "Join Now," after which you can fill in the required information.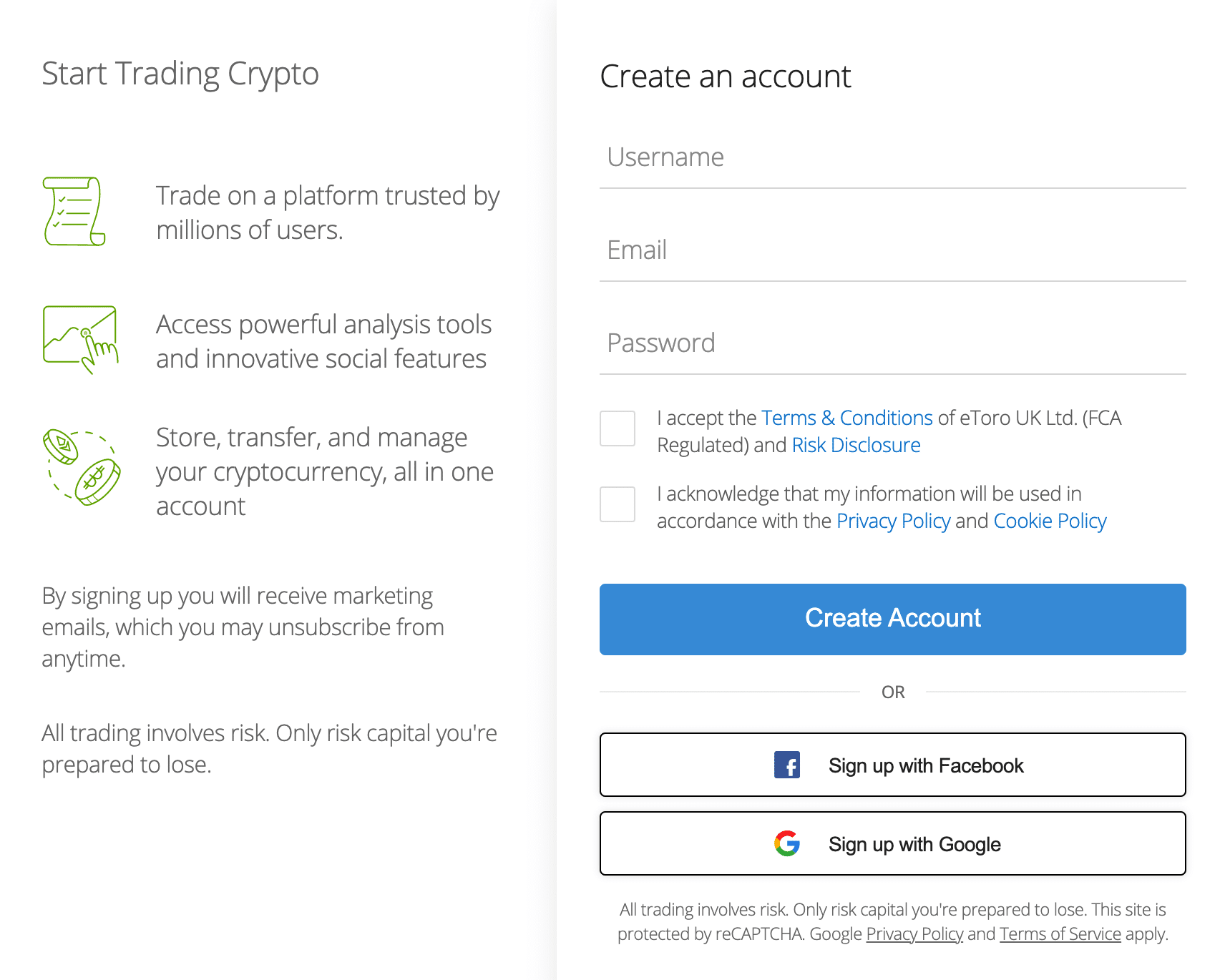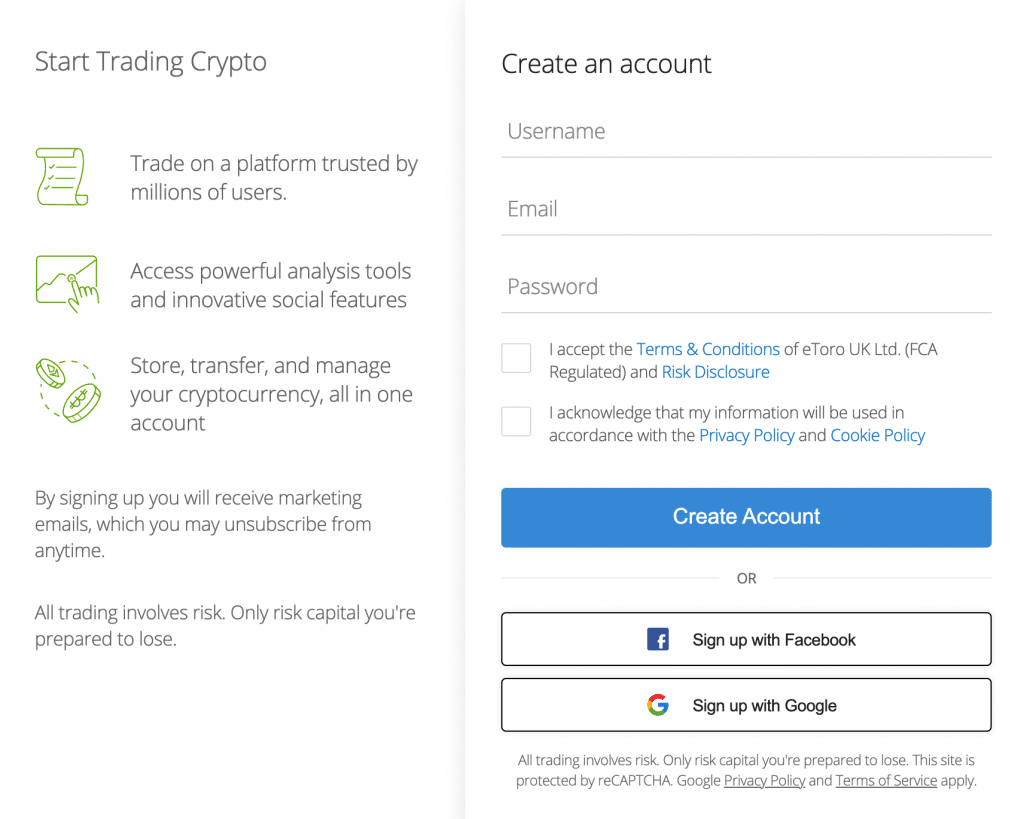 Step 2: Verify your account
Once your initial account creation process has been completed, the next step that you need to take is to verify the account. The account verification will require personal documents from your end, and this is a process that can quickly be completed if you already have them.  Make sure to provide a photo ID (passport, driving license) and proof of address (bank statement, utility bill), and if everything goes according to plan, your account should be verified very soon.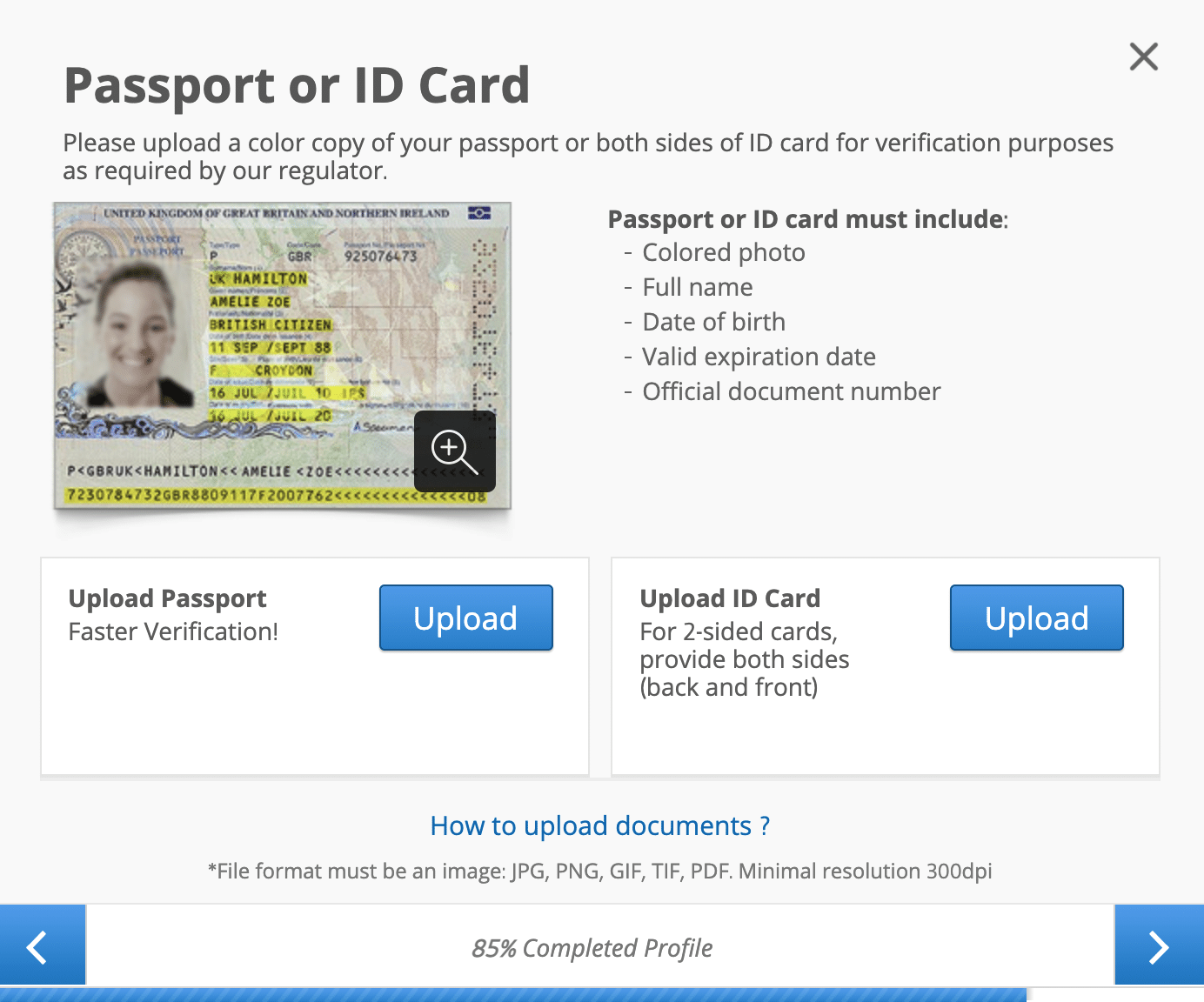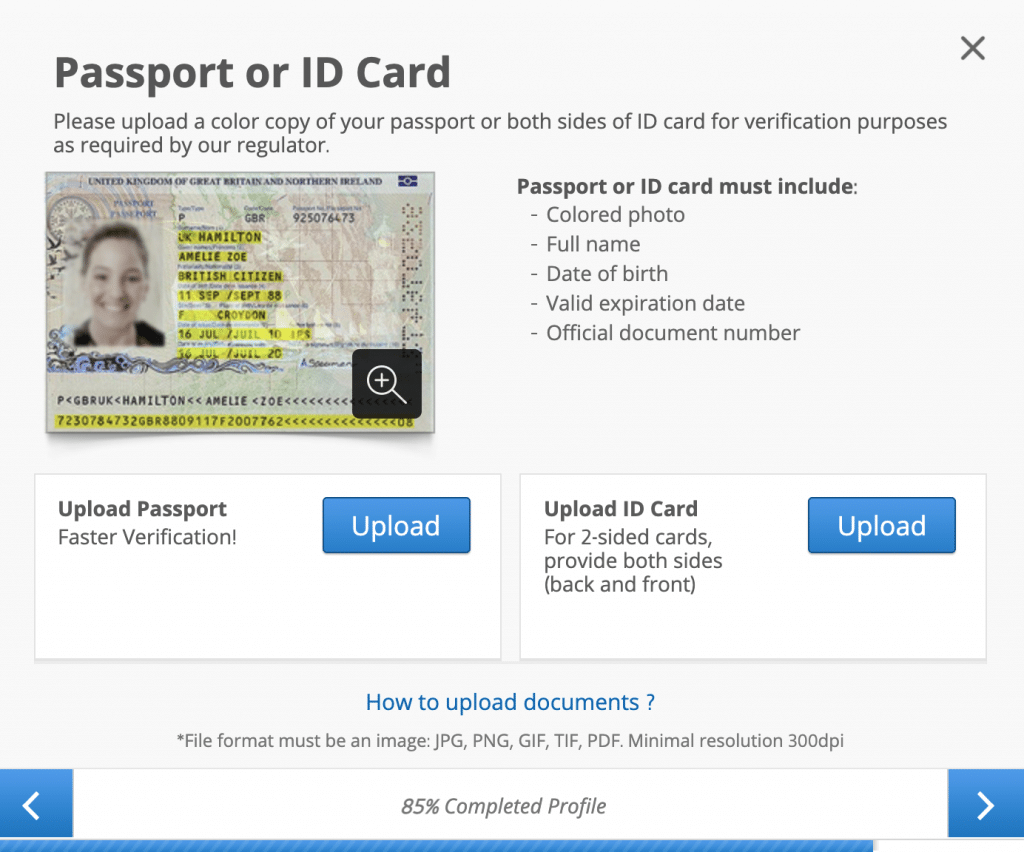 Step 3: Fund your account
After your account has been verified, you will be a step closer to buying as well as selling financial assets on the brokerage platform. In this case, all that will be left for you to do is top up your brokerage account with funds. You can easily make a deposit with many different payment methods while using eToro. In order to do so, all you need to do is click on "Deposit Funds" and enter the amount that you would like to deposit for trading or for investing. Then press "Deposit," and your funds will be transferred. eToro offers credit card and debit card deposits, e-wallet deposits, as well as bank transfers alongside other convenient payment options.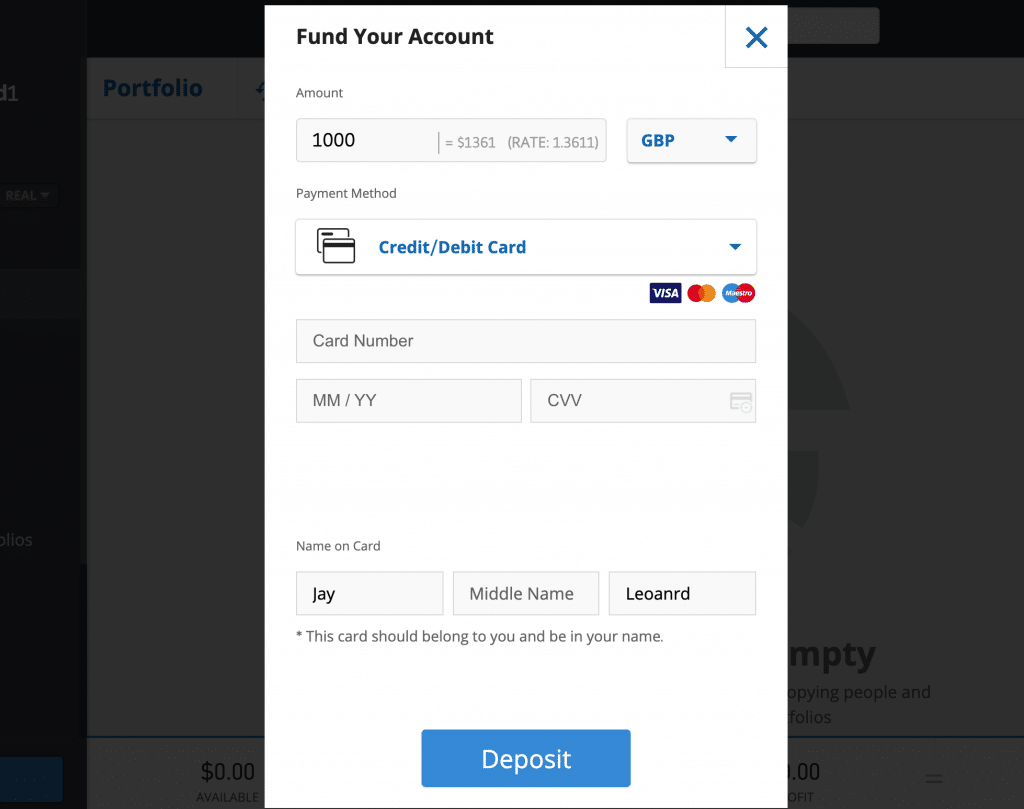 Step 4: Invest in AUD/USD
Once you end up funding your eToro account successfully and everything gets confirmed, you will be fully allowed to start trading on the platform. If your focus is on the AUD/USD trading pair, all you have to do is just type in the name of the pair in the search bar and click on it. Once you do so, you can click on "Trade" and proceed with the amount you would like to trade by pressing on "Buy." Good luck with your AUD/USD investment strategies.
Conclusion
Throughout this article, we went over everything you need to know about AUD/USD investing and took you through a step-by-step guide on how you can sign up for an exchange and initiate the process initially. The strategies you implement are now up to you, but remember that it is always crucial to know financial trading methods, investing tools and have a reliable platform that can be used to execute the buy and trade orders.
eToro, SpreadEx, and easyMarket are platforms that have gathered a high level of reputation that can be used to carry out passive investing strategies within Australia. Always ensure the security of the broker and consider its administrative body and regulatory status before investing to avoid any security and privacy issues. We highly recommend eToro because it is a trusted and well-regulated platform that is used by millions of traders, that ensures a high level of security and privacy.
#1 Broker for Passive Investing Australia – eToro
Where can I do AUD/USD Investing in Australia?
What is AUD/USD Investing?
What are the merits of AUD/USD Investing?
What's the Future of AUD/USD Investing in Australia?