Coinrule Review 2022: Is it Legit, or a Scam?
Trading can be exciting, especially for a new user, but the idea of monitoring and analyzing the market can be tedious. However, cryptocurrency traders have the opportunity to pick from the increasing number of precise automated trading platforms that offer features, settings, and other functions that allow users to make a good trading decision. A trader wants a platform that offers what they need to make a profit. Coinrule and Bitcoin Loophole are both automated trading platforms users can use. We will look at their features and how they help users in trading.
Short Review of Coinrule
Coinrule is a crypto automation software that helps execute trades on users' behalf to streamline trading strategies and connect users' different portfolios across different exchanges. It is easy to use, and the trading bot prioritizes simplicity and efficiency to provide specific solutions to general approaches.
The platform was created in 2018 by Gabriele Musella and Oleg Gilberstein which claim it enhances and upgrades the most frequently used strategies in popular exchanges. The platform supports multiple cryptocurrencies giving more choices to traders to choose from. The app allows users to customize their trading strategies and even create new ones to trade with.
Features of Coinrule
Functionality
This app operates a web-based solution and the team uses a clean, simplistic design that is easy for all traders to understand. The platform has over 150 trading strategies that can be used at any point. Also, users can set their own trading rules with the need to know or utilize any code.
Technology
The platform works via the latest technology and API to link over ten supported exchanges. The orders from the platform usually take like 500 milliseconds to reach the market which shows that the platform is fast. The platform also uses SMS notifications for alerts, and data encryption to enhance its services.
Range of tools
Inset trading rules, the platform employs different tools to ensure that the user funds are kept intact. The tools used include stop-loss, take profit and buy the dip/breakout to make the most out of any trading session activated on the platform.
Different Plans
The Coinrule platform offers different plans for an extra level of trading. The coinrule service is free for the starter account. Other plans include the Hobbyist plan, the pro plan, and the trader plans. All these plans come with different pricing and different access to the numerous features offered on the platform. The pro plans provide access to 50 live/demo rules, and unlimited template strategies, and integrated exchanges.
Short Review of Bitcoin Loophole
Bitcoin Loophole is a crypto market bot that has amassed a lot of users online. The platform offers users an autopilot trading option and claims to be able to generate profits. The trading tools are easy to learn and allow you to set your preferred trading strategies. The platform is free for everyone to register and needs a one-time investment of $250 to begin trading. Users can wish to deal with this amount or increase their investment anytime. The platform has a good reputation as users have claimed to make money trading on the app.
Features of Bitcoin Loophole
One time investment
Bitcoin Loophole only has a one-time investment of $250 which can be used for trading for life except in case of loss, while coinrule has a monthly subscription, and the amount is based on the number of functionalities the users want to access.
Success rate
Bitcoin Loophole has a success rate of 90%. The platform guarantees the user of profit if they trade on the app. Coinrule gives no assurance or guarantee and even has no success rate.
User testimonials
Users have claimed to have made money trading on this platform from a one-time investment of $250. There are no such testimonials available on the coinrule platform, and all such reviews are unverifiable.
Fast withdrawals
Bitcoin Loophole claims that a user's withdrawal is processed and deposited within 24 hours of request and that users can withdraw any day and any time. Coinrule withdrawal times and period of delivery are not stated, which could take days before depositing.
Pros & Cons of using Bitcoin Loophole vs Coinrule
Bitcoin Loophole Pros and Cons
| | |
| --- | --- |
| Pros | Cons |
|  Fast withdrawals |  No mobile app |
|  Quick transactions |  Does not eliminate market risk |
|  Low Minimum deposit | |
|  Payouts | |
|  Regulated brokers | |
|  High-profit ratio | |
|  Positive testimonials | |
Coinrule Pros and Cons
| | |
| --- | --- |
| Pros | Cons |
|  Easy to use platform |  No mobile app |
|  Integrates with top exchanges |  Provides limited information on templates performance |
|  Good range of pricing plans |  A limited selection of technical indicators |
|  Transparent core team |  It does not support backtesting on the platform |
| |  Applicable exchange fees |
at Bitcoin Loophole – #1 Bitcoin Robot
How to Register to Bitcoin Loophole
Step 1: Registration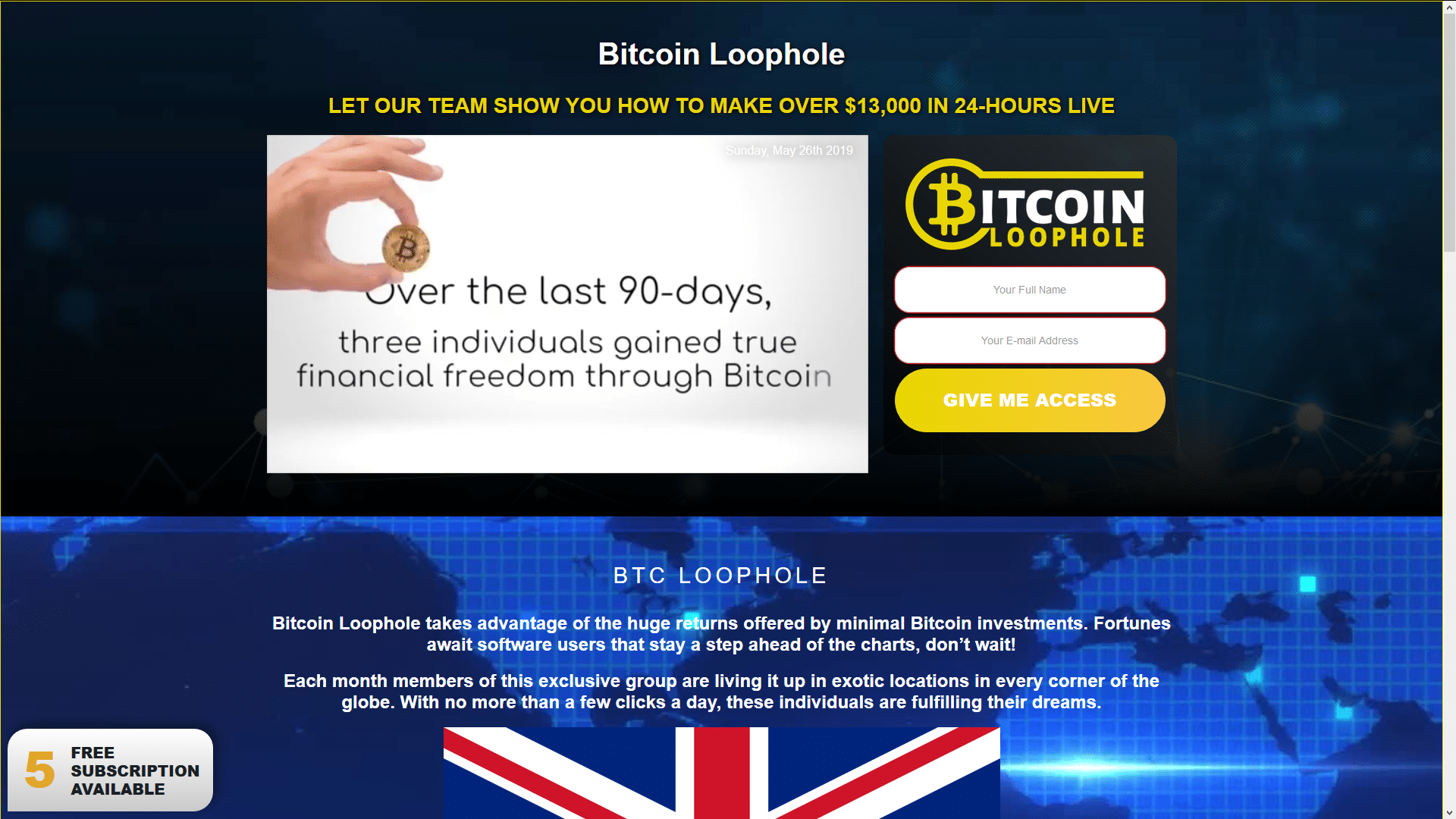 To get started with Bitcoin Loophole, go to the official website and fill out the registration form for a free account. Your name, email address, and phone number are essential. You'll be prompted to confirm your phone number, so make sure it's correct. Users may be certain that their data is secure because the platform is encrypted, making it impossible for hackers to access it. According to the platform, it does exchange user data with third parties.
Step 2: Deposit Funds
Users must make a minimum deposit of $250 to be eligible to trade live on this platform. The deposit will be used to fund the platform's investment. The software completes all transactions in 24 hours, as compared to up to 48 hours on other platforms. Credit and debit cards, Voguepay, Skrill, and Neteller are among the payment methods accepted by Bitcoin Loophole.
Step 3: Demo Trading
After gaining experience on the demo account, this phase comprises customizing the risk management features and beginning to trade with real money. The demo account allows you to get a feel for the platform. It also allows traders to try out new trading techniques. Everyone, both expert and new traders, are encouraged to try out this demo account.
Step 4: Live Trading
After you've gotten a feel for the platform, you can move on to live to trade. The bot runs on its own, and all you have to do to start making money is turn on live trading. Before starting a live transaction, we recommend that all new users set trading limits. Any investment will be protected, or at the very least, the risk of big losses will be reduced. After a user has selected the initial limit settings, they will apply every day of trading unless the user changes them before a transaction.
Conclusion
Trading bots are useful for making trading easier and the trading bots reviewed are good examples. Coinrule and Bitcoin Loophole help traders make automated trades with an easy-to-use platform and affordable pricing. However, Bitcoin Loophole uses regulated brokers to keep your funds safe, and with fast payouts, you can get your money as soon as you need it. For trading ease, we suggest using Bitcoin Loophole.
at Bitcoin Loophole – #1 Bitcoin Robot
Top 3 Coinrule Bitcoin Robots:
ALSO READ:
FAQs
Is Coinrule Legit or a Scam?
How Quick Can I Make Money On Coinrule?
How Many Trades Can I Make Daily with Coinrule?