Best Ethereum Wallet USA – 4 Best Ethereum Wallets in 2022
As it stands today, Ethereum is the largest altcoin and one of the largest cryptocurrencies overall, second only to Bitcoin. Often abbreviated to ETH, Ethereum is similar to Bitcoin in its use of decentralized blockchain technology however differs as it allows "dApps" to be used and created on the platform. To take advantage of these dApps or invest in Ethereum you'll need to know the best Ethereum wallet available right now.
To ensure you have all the knowledge required to succeed on this front, we have reviewed the best Ethereum wallet USA for the needs of every kind of user and how to get set up in just a couple of minutes. 
#1 Ethereum Wallet In the USA – eToro
Best Ethereum Wallets USA – Top 4 List
Do you want to know what the best currently available Ethereum wallet USA is? Well, look no further! We've analyzed several key characteristics to answer the question "what is the best free Ethereum wallet?"
eToro

– All Round Best Ethereum Wallet

Exodus

– Best Free Ethereum Wallet for Beginners

Coinbase

– Easiest to Use Ethereum Wallet USA 

Metamask

– Best Ethereum Wallet for dApps
See the below full length reviews of our top 4 picks for best Ethereum wallet.
67% of retail investor accounts lose money when trading CFDs with this provider.
Best Ethereum Wallets USA – Full Reviews
1. eToro – All-Round Best Ethereum Wallet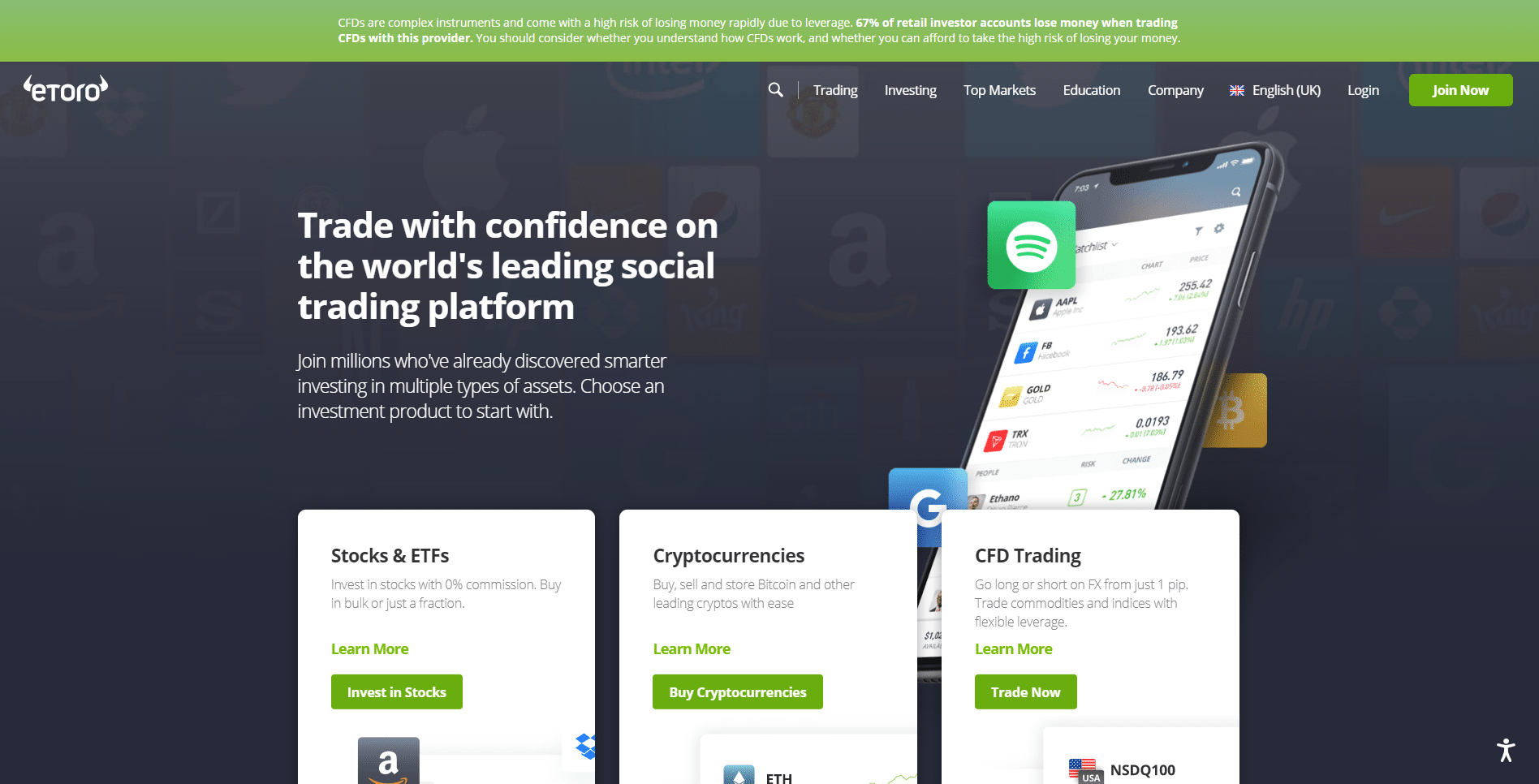 There's a reason why eToro is one of the largest exchanges in the world. They offer a huge amount of useful features, such as copy trading, great security, and an easy-to-use, completely free Ethereum wallet. Pair this with the company's stellar reputation and it becomes, in our opinion, the clear choice for the best Ethereum wallet. They allow users to trade a huge variety of cryptocurrencies, for example, Bitcoin, Dogecoin, Ripple, and Cardano. However you're not limited to just trading crypto as eToro also lets you trade ETFs, indices, and commodities providing its users with an extremely diverse range of financial instruments. 
Opening an account with eToro is simple, once on their website all you have to do is click "Join Now",  fill out your sign up information, verify your identity with a driving license/passport and provide proof of residency (a utility bill or bank statement will work). Once verified, you're free to browse through all of the interesting features, set up your free Ethereum wallet, and invest in Ethereum for as little as $50.
The fee structure on eToro operates slightly differently from the majority of exchanges, instead of being charged buy and sell fees, you're charged a spread – the difference in the buy and sell price of a coin. This means that as long your investment outperforms the spread percentage you're essentially not paying fees. We have included the below table showing the spread of the current top 5 cryptocurrencies so you can get an idea of eToro's fee structure.
Once you purchase your Ethereum on eToro it'll be credited to your account and you'll immediately have access to it via your web wallet. You can hold your coins for as long as you want without incurring any fees so this is a great option for both short and long-term holders. If you require a bit more control over your free Ethereum wallet, then you can download eToro's mobile wallet where you can manage your holdings a bit more closely and instantly convert your Ethereum to any of the 120+ other cryptocurrencies available on the platform. 
In addition to providing users with the best Ethereum wallet, a wide range of cryptocurrencies, and some of the lowest fees, eToro provides investors with a way to earn money passively; copy trading. Copy trading allows you to automatically mirror the trades of the highest-earning traders on their platform, this lets you earn money while you sleep and still have peace of mind knowing that you're in good hands. Combine this plethora of features with the ability to easily deposit and withdraw a wide range of currencies and you have a recipe for success. 
eToro Fees
| | |
| --- | --- |
| Coin Name | Spreads |
| Bitcoin (BTC) | 0.75% |
| Ethereum (ETH) | 1.90% |
| Cardano (ADA) | 2.90% |
| Binance Coin (BNB) | 2.45% |
| Ripple (XRP) | 2.45% |
Pros
One of the largest exchanges

Plethora of features

Wide range of deposit options

Regulated by the FCA, CySEC, ASIC

Lots of financial instruments to choose from

Low minimum investment at only $50

Mobile wallet available

Great support

All-round best Ethereum wallet
Cons
Lack of indicators may not be ideal for technical traders

No Metatrader support
67% of retail investor accounts lose money when trading CFDs with this provider.
2. Exodus – Best Free Ethereum Wallet for Beginners
If you're new to crypto and asking yourself "what is the best free Ethereum wallet" then Exodus is for you. Although relatively new to the crypto space, Exodus has certainly made a big splash. Available on both mobile and desktop, Exodus is an extremely easy-to-use, multi-currency platform and potentially the best Ethereum wallet available for beginners. It offers an easy-to-navigate UI, a streamlined buying process, and a simple-to-use exchange built into the app. This allows users who may be new to the crypto space to set up a free Ethereum wallet without much hassle.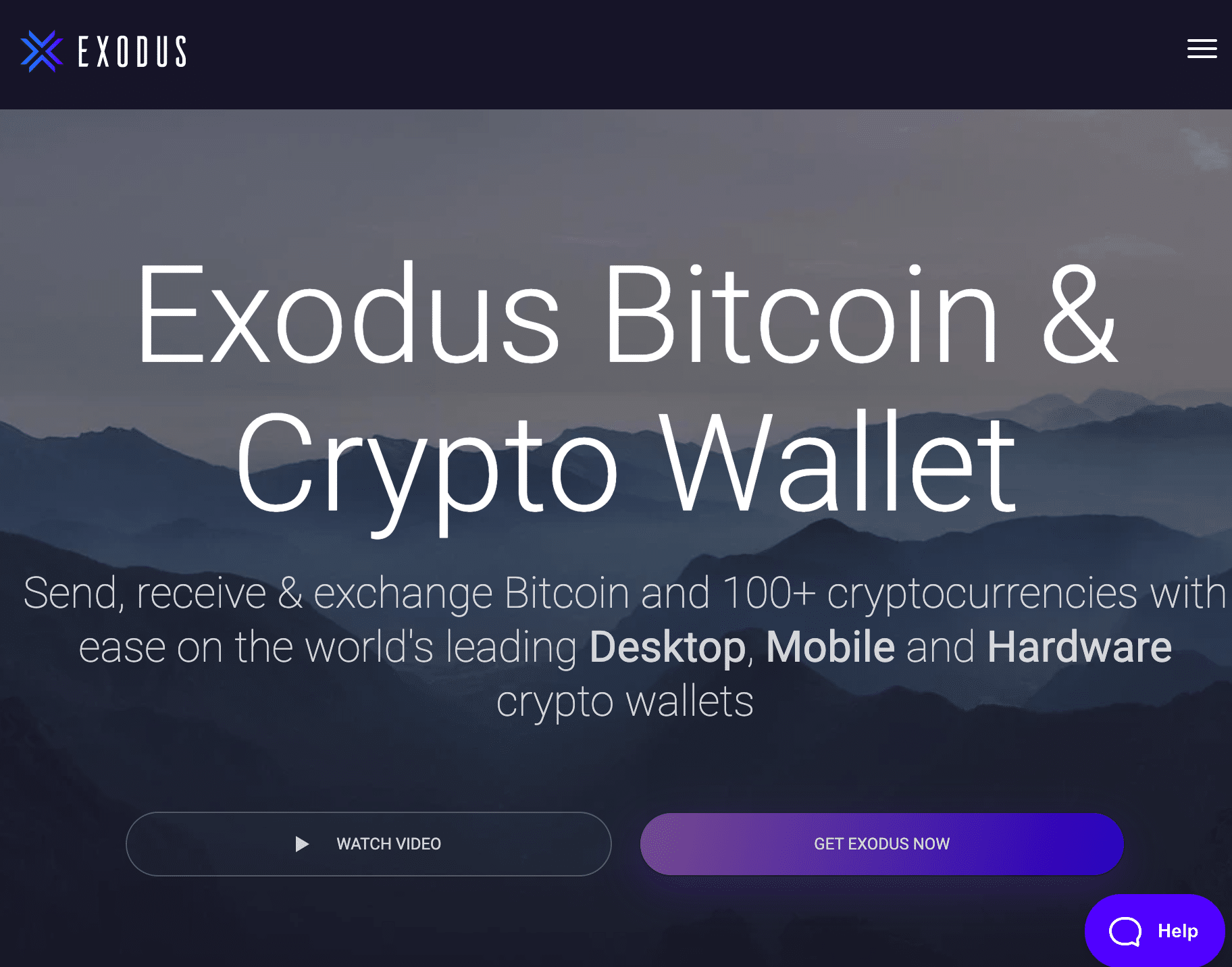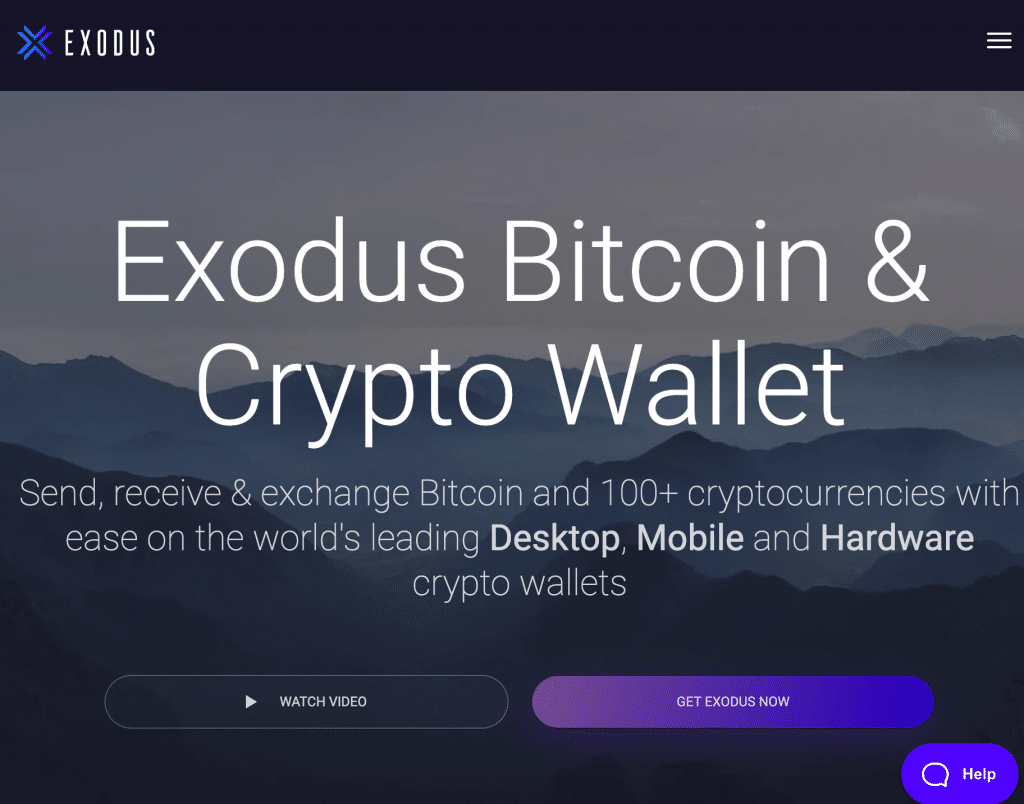 Another area that can be confusing for people new to the crypto space is fees. While many exchanges tend to hide fees in places the average user may not notice, Exodus is very transparent about what fees they charge and how they make money. While Exodus does not make a commission on transaction fees like many of their competitors, they make money through their relationships with exchange providers that offer their services from within the app. This means that while Exodus does not directly charge any fees they take a portion of the spread charged by their exchange partner, Shapeshift. These fees tend to be around 0.5% although can vary day to day based on several factors, a small miner fee is also charged at about $1. If you hold any FOX tokens (Shapeshift's token) then you can enjoy reduced spread and gas fees, which is a nice bonus considering you get 100 FOX for verifying your account. 
Exodus Fees
| | |
| --- | --- |
| Fee Type | Amount Charged |
| Spread  | ~0.5% |
| Miner Fee | ~$1 (USD) |
Pros
Simple to use

Low fees

Well designed wallet

Easy to use exchange

Use FOX to lower gas fees
Cons
Doesn't yet support 2FA

Not a proprietary exchange 

Relatively new so not much of a track record
67% of retail investor accounts lose money when trading CFDs with this provider.
3. Coinbase – Best Ethereum Wallet For Ease of Use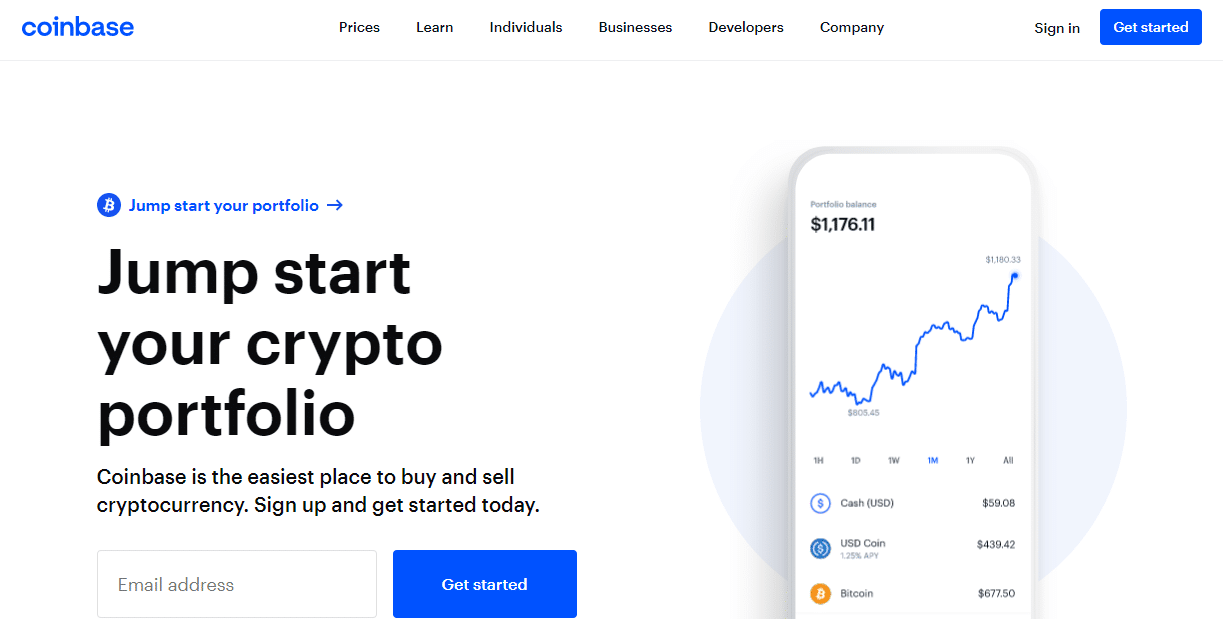 If you've spent any time monitoring the crypto space, I'm sure by now you will have heard of Coinbase. If you're looking for an easy-to-use, feature-rich free Ethereum wallet then Coinbase may be the best Ethereum wallet for you. Coinbase offers 3 separate apps (Coinbase, Coinbase Pro & Coinbase Wallet) as well as a web-based wallet/exchange, so regardless of your needs or device there will be something for you. Being the largest US exchange you can rest assured knowing your Ethereum is safe, however, there are a number of pros and cons that come with the title, namely, fiat depositor insurance, high security, and the possibility of earning free crypto rewards. However this is balanced out by the negatives; slow customer support, higher than average fees, and certain cryptocurrencies missing from the platform.
The easiest way to get started with your Ethereum wallet USA is to download the "Coinbase" app. You can consider this the starting point for Coinbase, it lets users store, trade, and manage their crypto without facing a whole heap of complex charts and indicators. All you have to do to get started is sign up and complete the standard 2 step verification process, you can however still browse through everything while waiting to be verified, which in my experience may take a while. If having greater control of your assets is your aim, then the Coinbase Wallet app gives you real ownership of your coins by providing you with private keys for the wallet,  which can be a make-or-break feature for some users. And for the more advanced traders, we finish off the trifecta with Coinbase Pro, a platform designed for those who are active traders and use more advanced charting techniques. It can also actually be cheaper to buy using Coinbase Pro as they use a fee structure geared more toward active day traders and larger transactions, so while it may be harder to initially get to grips with the platform, you will end up being better off for doing so. 
An excellent feature for anyone new to crypto and one I love is the rewards system. This allows you to earn crypto for completing quizzes designed to educate you on what certain coins do and how they're used, the quizzes tend to only be around 5-10 questions long and most can be completed in around 10-15 minutes. These quizzes definitely won't make you rich but if you do a few of them it can certainly add up and make a nice addition to any holdings in your free Ethereum wallet. As you would expect for the largest exchange in the US it has excellent security offering 2FA, AES-256 encryption, and insurance in the event of a breach. Additionally, Coinbase boasts that they hold 98% of funds in cold storage with the other 2% being held by their insurance provider, this ensures that even in the event of the Coinbase servers getting hacked your money will be safe in the best Ethereum wallet.
Coinbase Fees
| | | |
| --- | --- | --- |
| Fee | Coinbase | Coinbase Pro |
| Wallet | 1.49% | 0% |
| Bank Deposit | 1.49% | 0% |
| Debit/Credit Card | 3.99% | 0% |
| Conversion | 0.5% to 2% | 0.5% to 2% |
| Trades | $0.50 | $0 to $0.50 |
| Coinbase fee | $0.99 to $2.99 Based on size of transaction  | 0.04% to 0.50% taker fee and a 0% to 0.50% maker fee |
Pros
Something for everyone

Extremely Easy to use

Largest US Exchange

Rewards system
Cons
 Slow support

Higher than average fees

Lack of indicators on pro platform
67% of retail investor accounts lose money when trading CFDs with this provider.
4. MetaMask – Best Ethereum Wallet for dApps & NFTs
In the world of web 3.0, blockchain-based apps, and NFTs, MetaMask aims to capitalize by being an extremely versatile and dependable wallet in the ever-growing crypto space. I'm sure you will have heard the term NFT(Non-Fungible Token), perhaps from a friend, influencer, or even a celebrity, however, it can be confusing getting your head around what an NFT is or why it holds any value. At current NFTs are predominantly digital art but can be any digital asset, a NFT differs from a simple image saved on your computer in the identifying code embedded within, which enables all NFTs to be completely individual and therefore impossible to create an exact replica.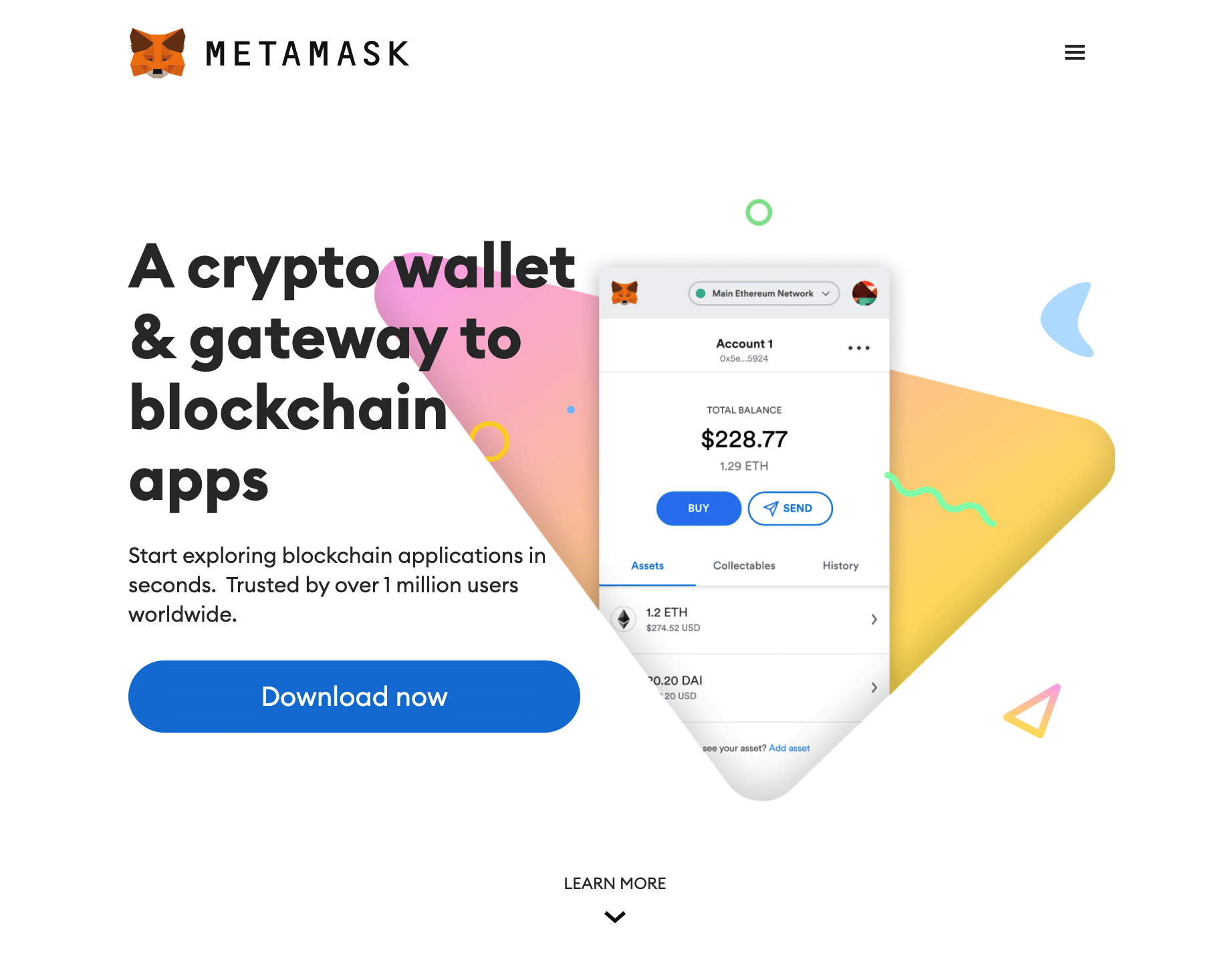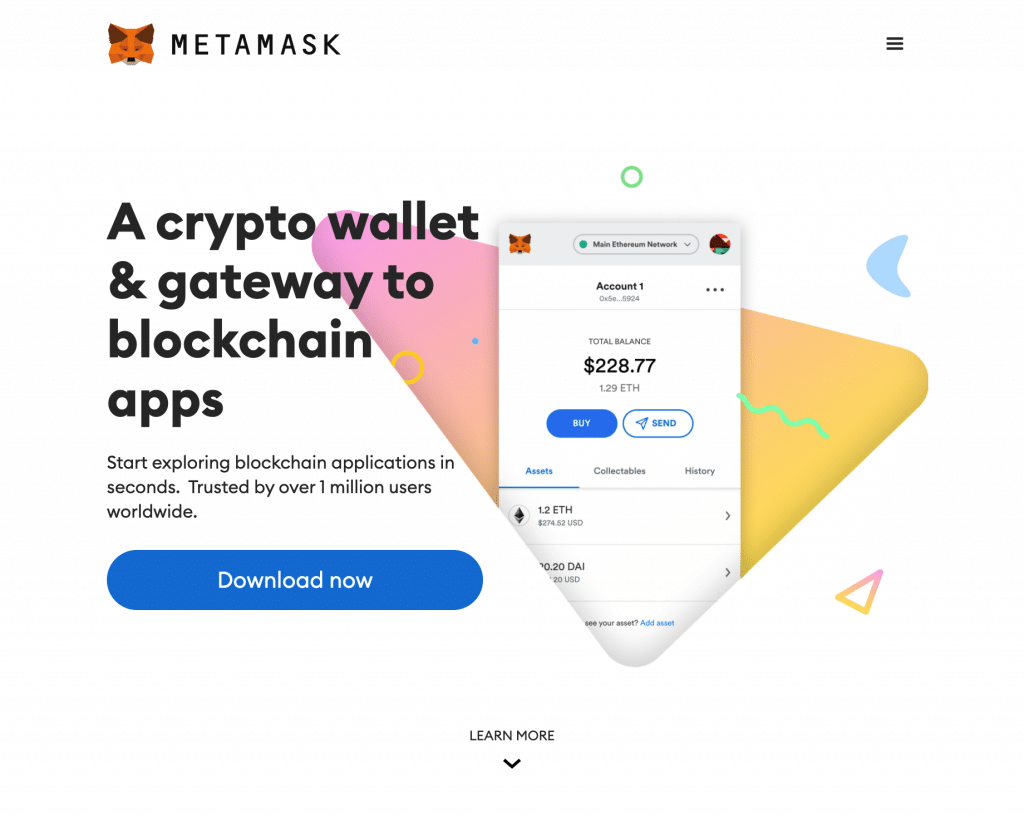 If you've heard the term "dApp" or "NFT" and wondered "what is the best free Ethereum wallet" then MetaMask may be the wallet for you. Offering a dedicated section to hold and view your NFTs as well as a built-in browser to access the huge range of Ethereum based dApps currently available, MetaMask offers users a simple-to-understand portal into the blockchain-based apps; something that was previously much more difficult to grasp. After signing up for your free Ethereum wallet and copying your seed phrase, you will immediately have access to your crypto & NFT wallets as well as a browser that you can use to explore dApps on the Ethereum blockchain. 
As of current, the majority of dApps and NFTs are created on the Ethereum network however MetaMask allows users to switch between networks (e.g. Matic & Binance Smart Chain) which is becoming ever more crucial as Ethereum gas fees rise and both users and developers look toward cheaper alternatives. MetaMask makes it easy to switch between networks, all you have to do is click the "Ethereum Main Network" section and choose the network you require. 
While you get access to your private keys and the security benefits that come with having a large user base, due to MetaMask being an online wallet, there are some security concerns. The most glaring comes as a vulnerability to hackers attempting to steal your crypto or data, as MetaMask is a hot wallet, meaning it's connected directly to the Ethereum blockchain there aren't many additional steps you can take to secure your crypto, however, there are a few. Rather than using the inbuilt browser or the Chrome/Firefox (which are known to store your data) extension, you can instead use Brave which is much more privacy-focused. And as with any hot wallet, it is safer to move large holdings to cold storage on a device such as a Ledger.
MetaMask Fees
| | |
| --- | --- |
| Fee | Amount Charged |
| Swap Service Fee | 0.875% |
| Ethereum Gas Fees | Variable |
Pros
Private keys

Browser & app support

Access to dApps & NFTs

Large user base

Custom networks
Cons
Hot wallet

Not the best for privacy

At-risk from hackers
67% of retail investor accounts lose money when trading CFDs with this provider.
What is an Ethereum Wallet USA
To answer the question "what is the best free Ethereum wallet?" We first have to understand what a wallet does and why we need one. In short, an Ethereum wallet is a piece of software or hardware that lets users access and interact with the Ethereum blockchain, similar to how we interact with our money through online banking. 
There are 3 main features that most good Ethereum wallets have:
Holding Coins:

The most obvious and for many, the most important feature is the ability to securely store your Ethereum. This gives you peace of mind knowing your Ethereum will be there when you need it.

Exchanging Coins:

If you don't already hold some Ethereum, then a built-in exchange will be crucial to you getting started. It's important to look for a platform with low fees and a range of deposit options that fit your requirements.

Managing Funds:

The reason the majority of people need an Ethereum wallet is to manage their funds. You need to be able to easily receive, transfer and exchange your coins.
How to Find The Best Ethereum Wallet
Due to the huge amount of platforms available, it can be easy to get confused when looking for the best Ethereum wallet. Luckily for you, however, we have broken down the most important factors so you can match your needs with a relevant wallet. Ultimately a mix of convenience, security and a diverse range of features tends to be what the average user is looking for, which is where platforms like eToro shine. 
Everyone has different needs and as such it's important to match your requirements with the correct wallet. Below we've summarized several key factors so you can make a hassle-free, informed decision on what free Ethereum wallet is best for you. 
CFDs are complex instruments and carry a high risk of possible rapid loss of capital due to their leverage. 71% of retail investor accounts lose capital when trading CFDs with this provider. You should consider whether you understand how CFDs work and whether you can afford to take high risk in losing your capital.
| | | | |
| --- | --- | --- | --- |
| N/A | CBI and MiFID in Europe | N/A | |
| | | | |
| --- | --- | --- | --- |
| N/A | 1:2 for cryptocurrencies | N/A | |
| | | | |
| --- | --- | --- | --- |
| $28230.72 | $28326.70 | $28340.81 | |