CryptoHero Review 2022: Is it Legit, or a Scam?
For investors, automated trading has made things a lot easier. This is true in a variety of sectors, including cryptocurrency trading. There are a variety of technologies available for automated trading, each with its own set of benefits and drawbacks. CryptoHero is one of the most popular automated crypto trading systems on the market, with a solid reputation.
CryptoHero claims to connect to the most popular cryptocurrency exchanges and instantly start trading for you. It's also capable of managing several accounts and offers many subscription choices from which you can choose based on your market needs.
However, is the trading platform a scam or a legit app? Can users make money, and what features does this app have? In the following assessment, we'll look at everything that makes CryptoHero unique.
CryptoHero at a Glance
| | |
| --- | --- |
| Type | Automated Robot |
| Minimum Deposit | Unspecified |
| Withdrawal Duration | 24 Hours |
| Win Rate | Not specified |
| Mobile App | Yes |
| Supported Cryptocurrencies | BTC, ETH, BCH, LTE |
CryptoHero Review: What is CryptoHero?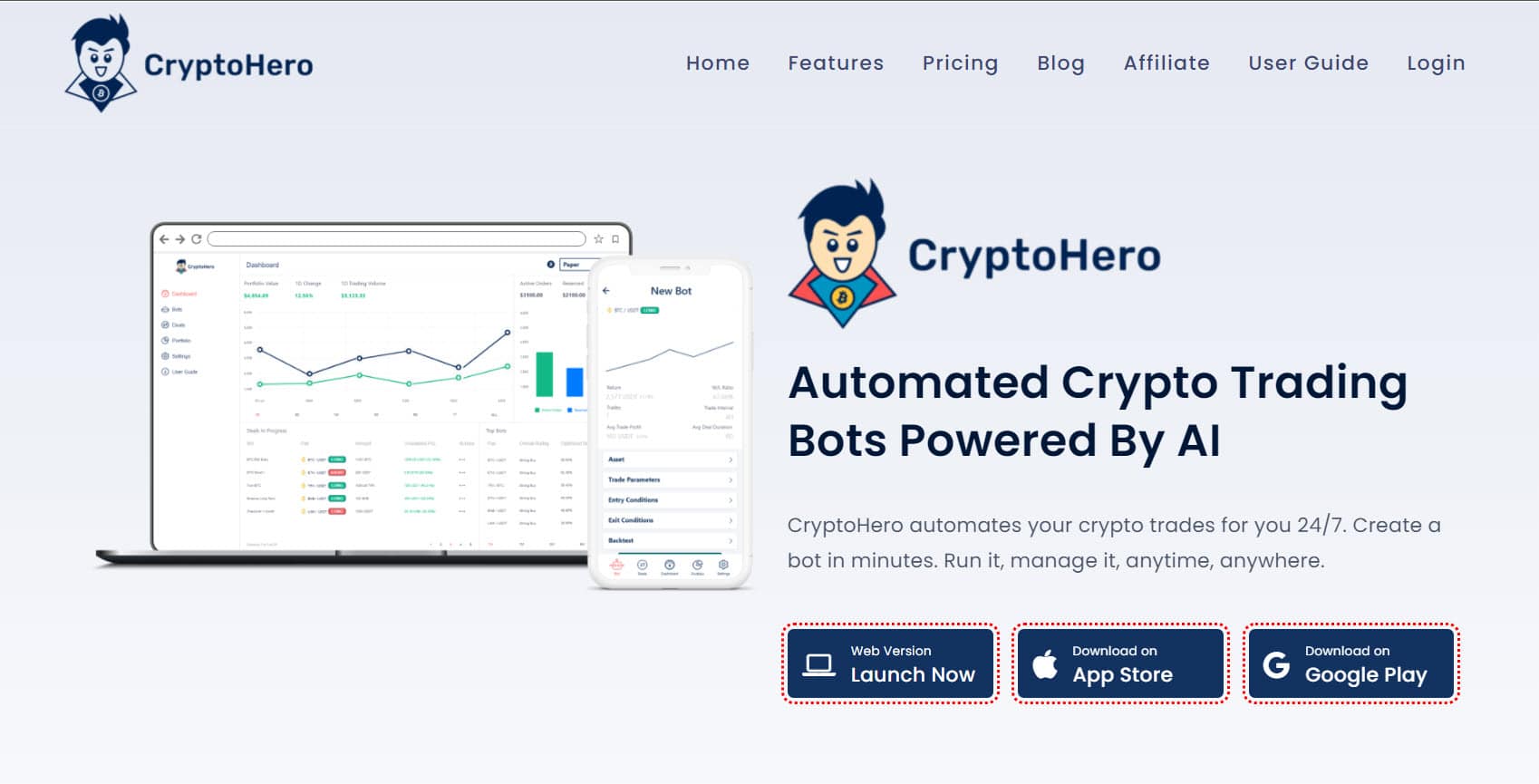 CryptoHero is a cloud-based bitcoin trading bot controlled using a web browser. The automated tool, which is situated in Singapore, is said to be intuitive, straightforward, and easy to use. This makes it an ideal choice for newbies who have little or no experience manually or automatically trading cryptocurrencies.
Also, CryptoHero prides itself on the accessibility of its solutions for all types of bitcoin users, which is a significant element of its value proposition. This method also means that the solution may be accessed using modern web browsers without any software installation.
Furthermore, CryptoHero seeks to serve bitcoin traders from all walks of life, and it succeeds thanks to a well-organized set of services. The features available are long and short strategies, technical indicators, various trading bots, backtesting, paper trading, and AI-optimized bots.
CryptoHero: Legit or a Scam?
CryptoHero was founded by a group of professional fund managers who have traded crypto and the stock market, which has kept their identity a secret. Client testimonies are also unavailable on trusted review sites such as TrustPilot. Instead, the corporation showcases a few on its website, all of which were handpicked to highlight its product. While it is simple to sign up, deciding what to choose might be a little complicated because there are so many options for selecting a bot, which can make the product hard for novice users.
Even though the company is new to the market, it has already established itself as one of the leading crypto bots, as said by the founders, owing to the devotion and hard work that the team behind it put into establishing the incredibly user-friendly trading robot. Users should keep in mind that the cryptocurrency market is volatile, and they should only invest what they can afford to lose.
CryptoHero Features
Auto trade feature
CryptoHero claims to be a one-of-a-kind platform that manages your investments with AI-optimized crypto trading bots. The AI-optimized bots execute simulations after you specify your trade parameters so you can see which choice is better. Choose the bot you think will provide you with the best results, and you can even copy it for future use.
Multiple exchange integration
CryptoHero can connect to the market's leading crypto exchanges via API keys and automatically initiate trading for you. It can also manage several accounts, making it an excellent option.
Cost
Users can use CryptoHero for free with basic features under the AI Free Plan. It's entirely possible to manage a small cryptocurrency portfolio using only the free plan.
To avoid risking your assets while assessing CryptoHero, keep them on one of the many supported exchanges, such as Binance, Huobi, Bittrex, or Kraken, or use a simulated paper trading account CryptoHero.  
User Experience
CryptoHero makes the process of using a crypto trading bot as simple as possible. It delivers a pleasant experience from start to finish, the software is simple to use, and the settings ensure that you can trade without difficulty according to reviews. Furthermore, simply researching the platform before signing up or committing any funds to its trading bots will give detailed information.
Mobile App
Because CryptoHero's website is mobile-friendly, its mobile app closely resembles the website's appearance. Like on the website, you can easily sign in, evaluate your account, and manage your trading bots as said on the platform.
Trading community
Clients can also join a trading community and connect with others to share ideas and discuss everything related to cryptocurrency trading. This makes trading more exciting and elevates everything because you will observe what works best for others and benefit from their experiences.
Customer Service
CryptoHero's customer service is unique in that it offers live chat via WhatsApp and Telegram. You can also contact the team by email at any time. With active accounts on Telegram, Twitter, Facebook, LinkedIn, Instagram, WhatsApp, and Medium, CryptoHero enhances its customer service rating. Reaching out through one of these channels can connect you with a team member who is eager to assist you.
How to Create a CryptoHero Account
Step 1: Registration
It's simple to create a CrypotHero account. Go to the platform's official website and fill out the registration form to sign up. Users must submit their email addresses and create a strong password. After submitting the form, the user will receive a verification email that will enable them to validate their account, and they may then log in to begin utilizing the service.
Step 2: Deposit Funds
Because the site claims to link to several exchanges, there is no deposit cost. The site provides a free basic account with limited functionality for all users. Users are encouraged to upgrade their accounts to premium to take advantage of all features. The premium subscription costs $13.99 per month, which appears to be less expensive than other cryptocurrency trading bots.
Step 3: Demo Trading
The demo is a simulated version of the actual trading procedure, but it does not involve real money. The purpose of the demo trade is to fine-tune strategies and familiarise yourself with the platform. The money earned on a demo account is not representative of what will happen in live trading, but it can assist users in avoiding costly trading errors. Users can try out multiple bots before committing to one with CryptoHero's demo function. The historical data utilized on this platform is claimed to have come from Binance.
Step 4: Live Trading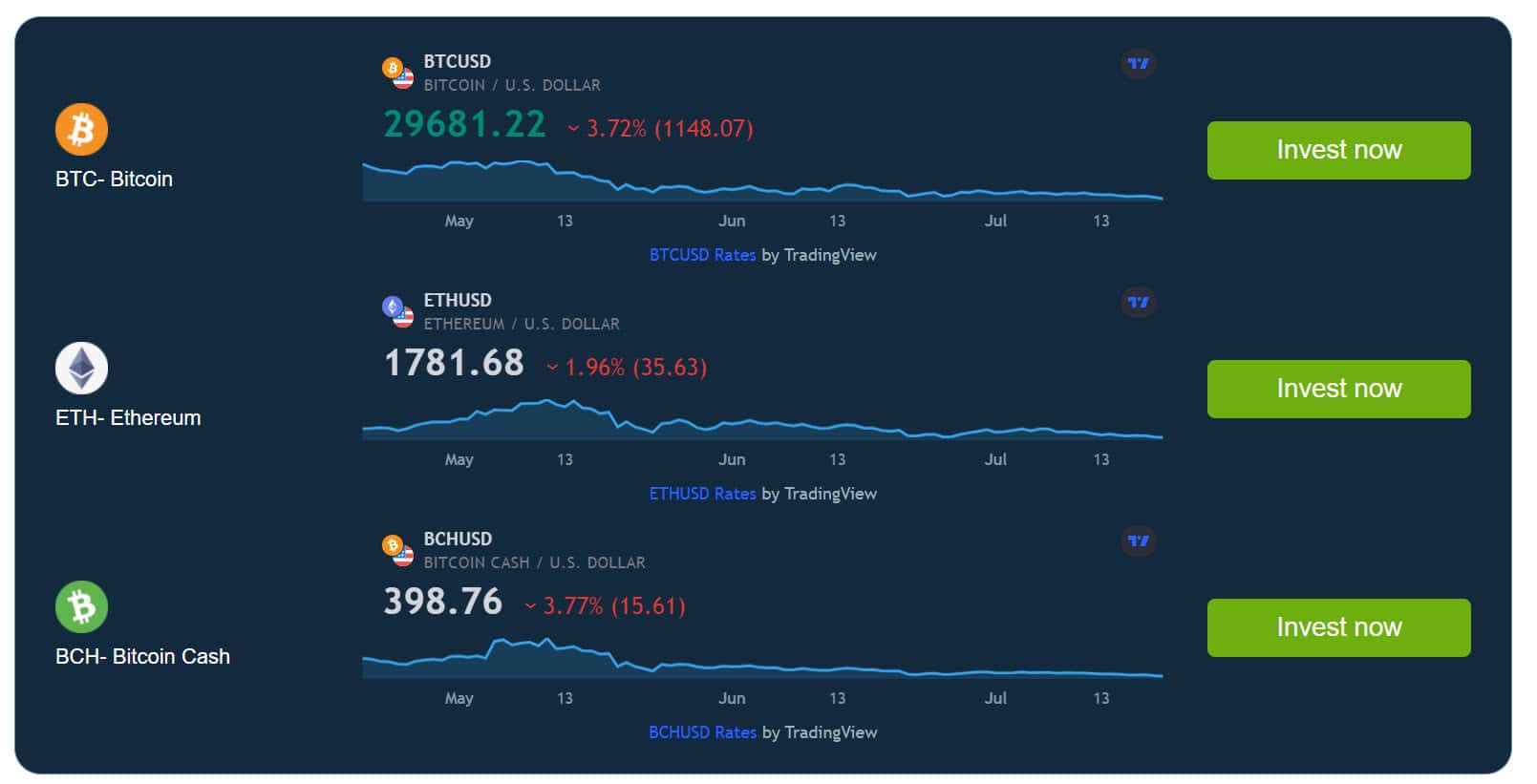 Live trading can be enabled with the customization and activation of a bot. The good news is that consumers can use live trading to trade several cryptocurrencies and increase their profits. Before beginning live trading, the user must first set the robot's parameters and select the cryptocurrencies they wish to trade. Unless the user changes them before trading begins, these settings will apply every trading day. 
CryptoHero Features – Why Choose This Bitcoin Robot?
Aggregated Portfolio
With the CryptoHero app, you may track your crypto trading performance individually or aggregate across different exchanges.
Technical Indicators with Presets
You can define both entry and exit conditions for your positions in CryptoHero. In addition to bots, technical indicators can be used to evaluate price patterns, market volatility, and asset worth. These indicators include Bollinger Bands (BB), Exponential Moving Average (EMA), Relative Strength Index (RSI) and Stochastic RSI (SRSI.
Quick Backtest
You may also use backtesting tactics to put your bots through tests. These will show you how your trading strategy compares to historical data when finished. Without investing any money, test bots can execute scenarios through Binance.
Blog
A website-based blog covers all of the critical crypto-related issues that every beginner or amateur trader should know. With each major release, the CryptoHero documentation is updated with features and how to use them.
Simulated Paper Trading
Paper Trading with Cryptohero Is Using a Simulated Crypto Trading Account That Doesn't Use Real Cryptocurrency. It's a Risk-Free Way to Test Bots Before Putting Them on The Live Markets. CryptoHero's Paper Trading Simulates Binance Trading Using Binance Currency Pairs and Live Market Data.
Supported Trading Pairs
Across the supported exchanges, CryptoHero Bots supports significant trading pairs. More exchanges and pairings will be added over time with more partnerships or requests from the CryptoHero community. Exchanges may have different coins or pairings. The platform is constantly being updated with new trading pairs.
| | |
| --- | --- |
| Pros | Cons |
|  Multiple trading strategies |  Web and mobile subscriptions are paid differently |
|  Offers AI optimization and are capable of managing several accounts at the same time |  Bots discovery page look basic |
|  Available on numerous devices, including iOS and PCs | |
|  Ability to quickly backtest their strategies | |
|  Offers clients a 24/7 live support team | |
| Trading terminal with spot and margin options | |
Which countries is CryptoHero in?
United States: This trading bot's services might be available to traders in the United States. The platform is simple to navigate and enables quick access to app features.
United Kingdom: Traders in the United Kingdom can use CryptoHero's services. To use these services, you must first create an account. To get started, follow the steps outlined above for creating an account.
Canada: Canada is one of the nations that can use CryptoHero's services. The app's user interface is simple, making all functionality accessible.
Indonesia: CryptoHero has a user-friendly trading platform interface that allows for automated trading of various bitcoin assets. 
How Much Money Can I Make Using CryptoHero?
CryptoHero does not indicate the potential profitability of its solutions. This is due to the stated uncertainty, which makes crypto trading so profitable in the first place. Because asset values fluctuate so quickly, what worked in the past might not work in the future. That's why, even though backtesting and paper trading is available, CryptoHero does not forecast the types of earnings you can make. With that said, the automated trading bot does provide a robust solution at an attractive price. This ensures that you can fine-tune your approach to obtain the most profit from your activities by combining multiple methods, indications, and actions.
When Should I Use a Bitcoin Robot?
Difficult Techniques
Some methods are physically impossible for a human to accomplish in their entirety. When it comes to complex trading strategies that must be automated, trading bots are vital. The issue strategies would be challenging to carry out without the assistance of these bots, so they must be present. The moral of the story is to use trading bots wherever possible.
Accuracy
Traders must be exact in their tactics to succeed in the volatile cryptocurrency market. These bots do the essential assessments and enter or exit transactions at the right moments since traders must enter and exit the market at specific times.
Keep your emotions under check.
At times, traders may become overly concerned with their activities. If they leave with the idea of generating a profit, they can linger on the market for an extended period. This can have a significant negative impact on your portfolio, which is why an automatic trader is used. Write down your trade strategies if you wish to trade safely without putting your emotions at risk, and the computer will work tirelessly for you.
Is CryptoHero Right for Me?
CryptoHero enables traders to trade using algorithms, attempting to earn regardless of their level of competence. It also includes several tools like backtesting, ensuring that the bots work correctly. As a result, CryptoHero is appropriate for traders looking to profit from the market.
Worthy Tips for Beginners to Make Positive Returns Using Bitcoin Robots
Learn about Crypto Trading
It's important to remember that understanding the fundamentals of trading will require time and effort. Even if you want to trade using bitcoin robots as your platform, you will need to learn some basic concepts to get started and understand what you're doing. You won't have any trouble getting started because, thankfully, most bitcoin robots include the vast bulk of the information you'll need.
Learn about cryptocurrency assets you want to trade
The ability to better grasp your chosen asset enables you to create superior trading strategies based on how the asset's performance has altered over time. On the other hand, insufficient information on the object you're trading may expose you to more significant trading risks, increasing the possibility that your investment will lose money.
Only put money into investments that you can afford to lose.
It's common for new traders to make high initial investments when they first start to reap more significant returns later. Increasing your investment amounts can result in higher earnings, but raising your investment amounts can also increase your danger of losing your money. Beginners should make every effort to be as safe as possible while learning the fundamentals of trading, which is why they should begin with smaller sums of money and gradually increase their investment as their knowledge grows.
Be Patient
Even though the bitcoin market is growing increasingly competitive with each passing day, this does not mean you should rush into trades. Take some time to consider your alternatives, goals, and dangers before you start trading. This is the key to becoming a successful trader financially. According to a study, many people have a predisposition to make rash financial judgments, and it is in this area, they make the most of their financial mistakes.
Withdraw profits
Always make a profit and put it into your account after each profitable trade. This will make it easier for you to tell the difference between your invested capital and the profit you've made thus far.
Trade Consistently
Because the trading platform is constantly available online, you can trade at any time of day or night. Nothing is prohibiting you from conducting daily transactions. It is only needed to spend at least 20 minutes per day on the platform.
Why are Bitcoin Robots Profitable?
Timing
Bitcoin bots, which are computer programs that purchase and sell cryptocurrency far faster than humans, can help overcome the inefficiency of manual cryptocurrency trading. If you're using a trading bot, a trading indicator might help you place more precise market orders on stock exchanges.
Efficiency
Bots are distinguished from humans by their ability to run nonstop and consistently conduct transactions based on specific indicators. In this field, bots outperform humans by a significant margin. Maintaining trading discipline when dealing with cryptocurrencies can be difficult; as a result, utilizing a trading bot decreases the risk of trading based on emotions.
Possible Risks when Trading with CryptoHero
Trading using the app comes with its own set of hazards. According to CryptoHero, the market is highly unpredictable; thus, there is no guarantee that consumers will make any money. The app has several identical robots, making it difficult to choose one that matches the user's trading expectations. Furthermore, because the app does not have any reviews on sites like Trustpilot, it isn't easy to establish their accuracy rate and how easy it is to earn on the app.
Does CryptoHero Have an App?
Yes, CryptoHero has an iOS app as well as a web-based app. The iOS-only app gives customers access to automated trading algorithms. The Android app is already in production, according to the platform, and should be launched in the next quarter.
Has CryptoHero Been Featured on the Media or Endorsed by a Celebrity?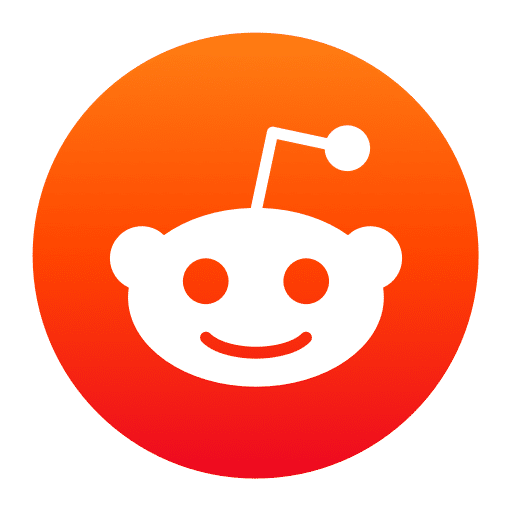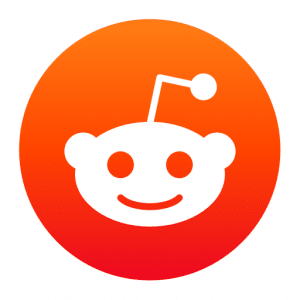 CryptoHero Reddit
CryptoHero was allegedly aired on various TV shows, according to multiple Reddit threads. Because CryptoHero has not made that information publicly available, there is no proof to back up their claims.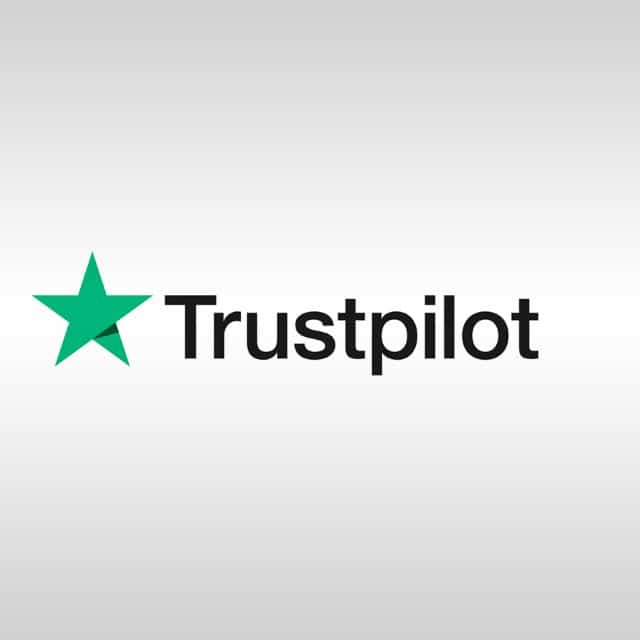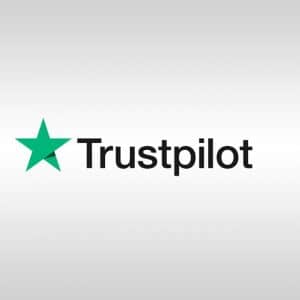 CryptoHero Trustpilot
Many people claim to have seen reviews of the app on Trustpilot. We found no rating or review of this app on trust pilot by researching the rating app. Any rating on this platform from the trust pilot should be regarded as false.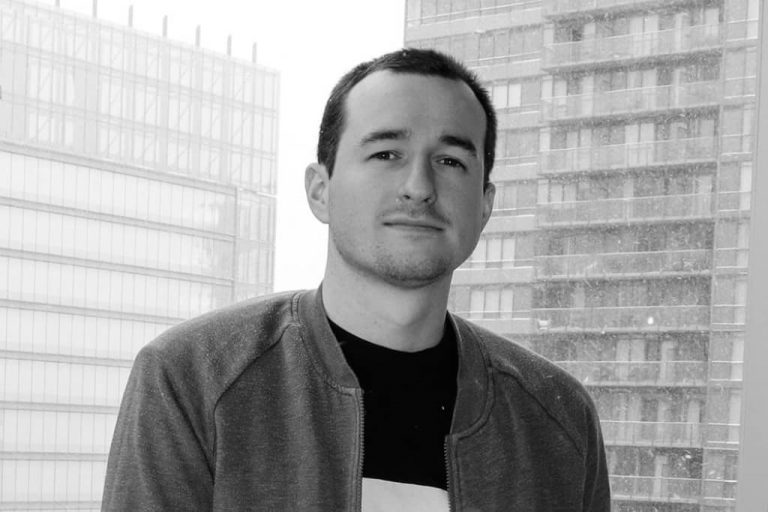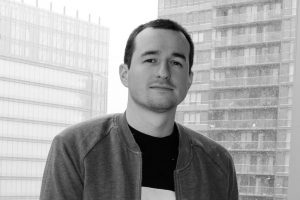 CryptoHero Thomas Gio
The founder of Gio Media has allegedly invested in cryptocurrencies and used an auto trading robot. However, after research, there is no proof that the French entrepreneur has any connection to any bitcoin trading robot.
CryptoHero Review: Our Conclusion
Overall, CryptoHero provides an appealing solution in the form of an easy-to-use, accessible, and affordable bitcoin bot to its target audience. Whether you utilize the solution on a laptop or a mobile device, you can efficiently complete the setup process and begin trading your digital assets with the utmost ease. You can immediately sign up for the Free plan to see whether you enjoy what CryptoHero has to offer. The availability of a free plan can tremendously assist you in making an educated decision. However, users should research well before using any automated trading robot.
Top 3 Alternative Bitcoin Robots:
ALSO READ:
FAQs
Is CryptoHero Legit or a Scam?
Is CryptoHero Easy to Use?
How Quick Can I Make Money On CryptoHero?
How Many Trades Can I Make Daily with CryptoHero?