Buy Solana Australia – How to Buy SOL in Under 5 Minutes
As of late, Solana has been stealing the limelight and you might be asking why. With growth exceeding almost 100x its value since the beginning of 2021, it's impossible to disregard it's potential. Solana is a decentralised smart contract blockchain technology that uses the proof of stake mechanism, similar to Etherium, to increase transaction speed. After only officially launching in 2020, Solana is already paving the way for tokens-alike and cementing its reputation in the crypto world.
Cryptocurrencies in Australia are swiftly spiking in popularity, and you might be wondering how you too can get a slice of the pie and purchase Solana in Australia. This guide aims to make it simple and provide you with all the information required to get you started purchasing SOL now.
Best Place to Buy Solana in Australia – eToro
How to Buy SOL Australia- The Quick Four-Step Strategy
eToro recently announced the addition of SOL to its expanding collection, due to popular demand. Just follow these easy steps to register with eToro:
Step 1: Sign up to eToro – If you haven't already got an account, you'll need to register with eToro. Firstly, go to eToro.com and click the "Join Now" button. You will need to enter your email address and create a password. Once you've made an account, the next step is to verify your identity.
Step 2: Verify your details – Since eToro is a regulated exchange, allowing you to take advantage of increased protection and security, you are required to verify your account by providing a photo ID, your Social Security number and proof of home address.
Step 3: Fund your eToro account – Once verification is complete, you'll need to deposit some funds. eToro allows users to deposit using either a credit/debit card, wire/bank transfer, or e-wallet.
Step 4: Buy your SOL – Now the depositing of funds is complete, simply search "SOL", press "trade", enter the amount you desire and click "buy.
What is Solana?
Solana is a decentralised blockchain technology that aims to give developers the ideal platform to create infinitely scalable DeFi apps and facilitate staking. The DeFi sector is currently booming, simply because of the intrinsic, real-world value they provide making them hugely desirable to obtain.
As a brief overview, Solana emerged onto the scene solving the issue of delayed processing time, which many experienced with currencies such as Cardano and Etheruim. Solana has the capability to process over 50,000 transactions per second, notably being crowned the fastest blockchain available on the market. This is possible as a result of Solana's enterprising Proof of History (PoH) system. Historically, the standard practice for cryptocurrencies is a Proof of Work (PoW) system, requiring nodes to agree on the time and order of transactions. Despite being functional, it's certainly not the most optimal way and speed is hindered. The PoH system instead allows network computers to order transactions immediately without waiting to hear about the latest block of transactions. This feature allows a new block of transactions to be created every 0.4 seconds.
Scalability is crucial when looking at any blockchain technology as you need to consider longevity when investing or trading. As the Solana network grows, scalability is at the forefront of it's business plan. This begins by increasing the number of validator nodes operating on the network. After more than doubling in the past year, there are no plans to slow down as SOL continues to grow. Simultaneously, SOL has increased it's security by integrating with TRM, a blockchain intelligence firm that helps identify financial crime risk in blockchain-based transactions. TRM's architecture was uniquely designed to enable swift integration with new blockchains and new asset mapping. With this in mind, it's clear to identify Solana as a very interesting project and it's unsprising so many people are curious about how they can buy Solana.
Where to Buy SOL in Australia
Now you have grasped the premise of Solana, you can take a look at our picks for the best exchanges to buy Solana now.
1. eToro – Best Way to Buy Solana in Australia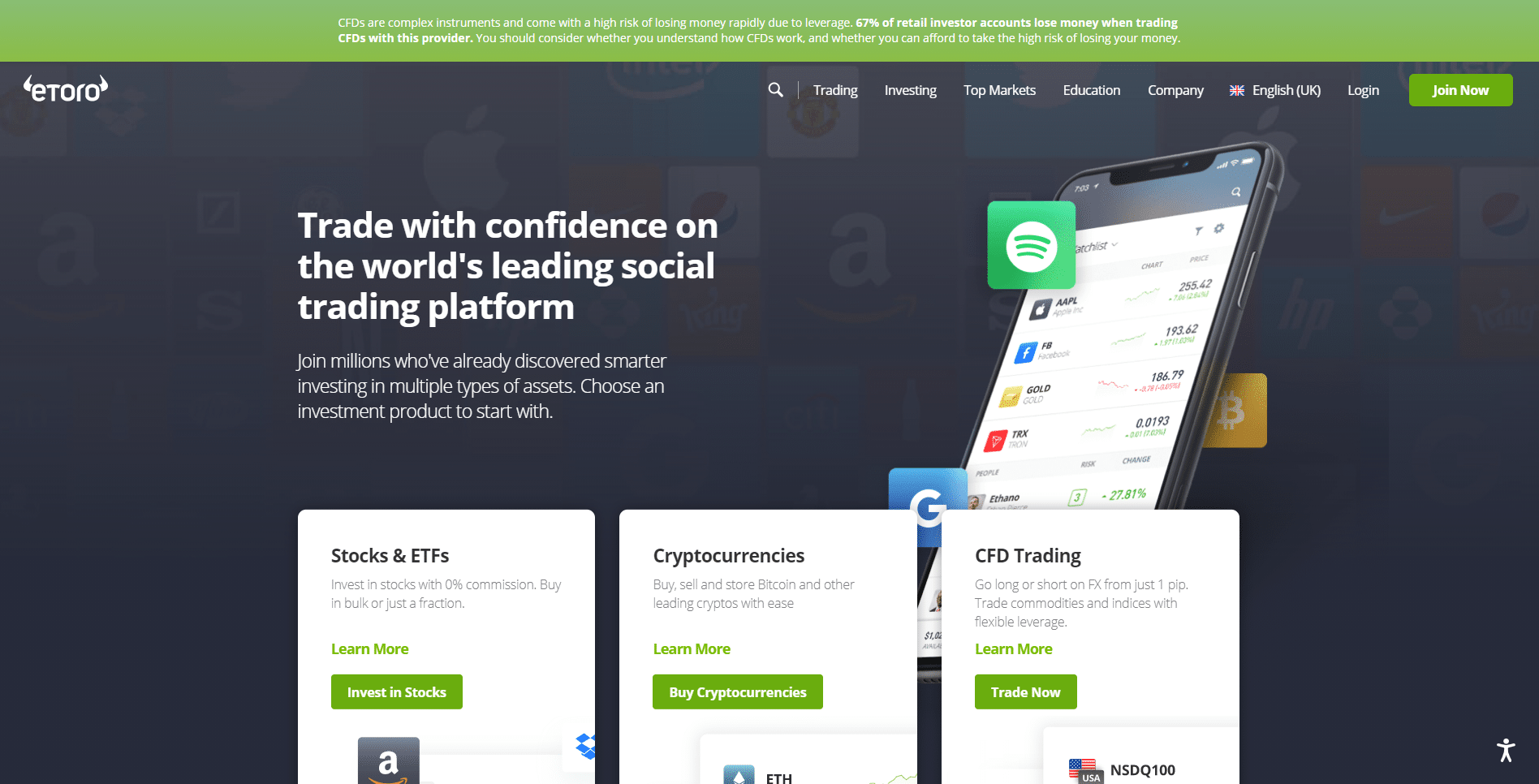 It's near-impossible to review the best crypto exchanges without mentioning eToro as it consistently ranks among the best exchanges, and there are many reasons for that. Since its launch eToro has grown to be one of the largest exchanges in the world, with its popularity surge being the result of an easy-to-use and secure platform, with plenty of features making it great for new and experienced traders.
eToro utilizes several industry-leading techniques to secure it's customers, these include 2FA, SSL encryption to secure personal details, and cold storage for 95% of funds to prevent loss from hacking.
As previously mentioned, eToro is an excellent platform for both beginners and experienced traders, this is because they offer a range of features designed to keep both parties in harmony. Beginners can copy trades of more experienced traders via the copy trading feature to help build trading confidence.
Pros
Copy trading
Great for beginners
Industry-leading security
Recently added Solana
Cons
Inactivity fee after 12 months
Money withdrawal can be slow
67% of retail investor accounts lose money when trading CFDs with this provider.
2. CEX.io – Best Way to Buy Solana Cash in Australia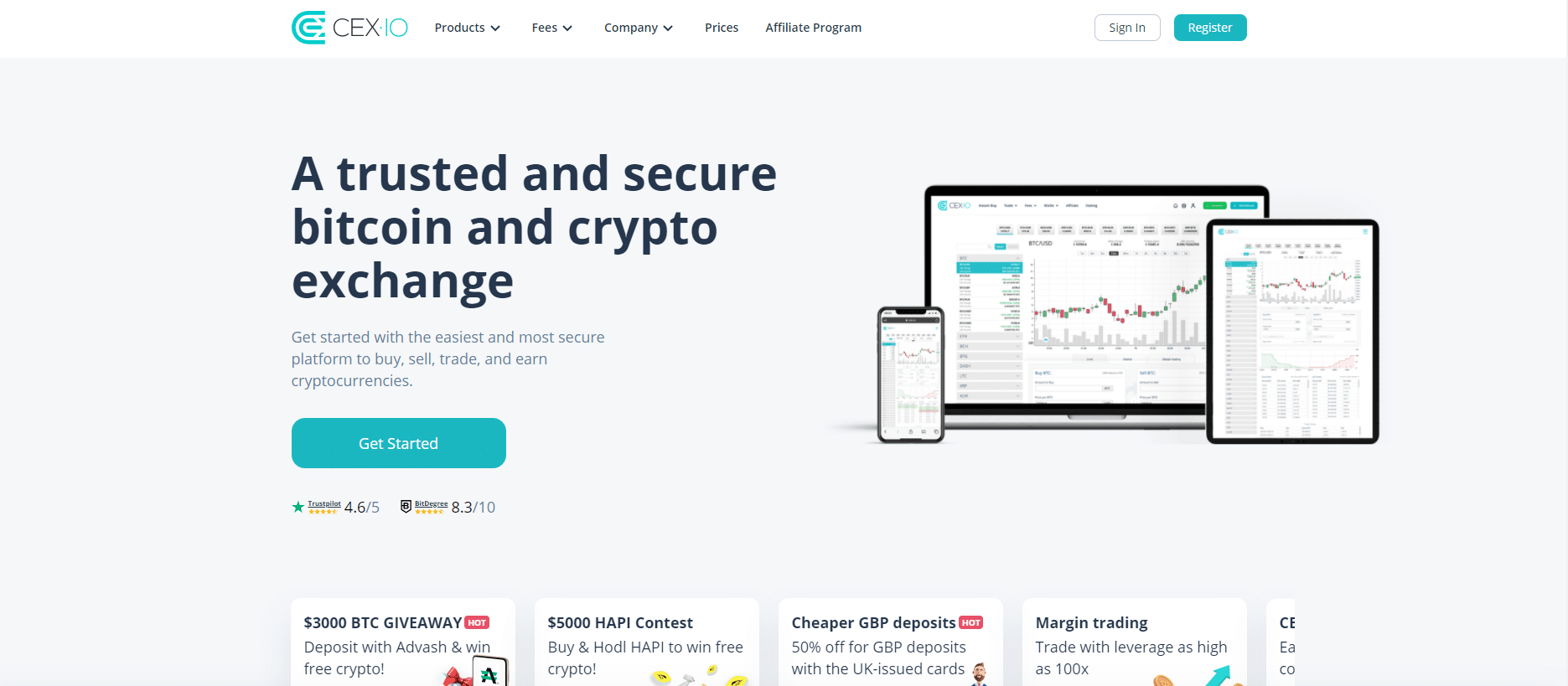 CEX.io is a very mixed bag, and is best described as knowing a little about a lot but having no specialities. In saying that, they do provide a good level of security, unlimited withdrawals, and several payment methods, however, this is offset by the high fees, the limited number of cryptocurrencies, and lack of features for advanced users.
Cex.io takes regulations seriously by implementing security features we've mentioned previously, 2FA, SSL encryption, and insurance on USD balances. As well as having more than enough features to keep the everyday investor happy. The interface is simple for new users to understand and offers a reasonable amount of features. Unfortunately, they fall short on the range of currencies they offer and the lack of variety in order types which makes them unappealing to experienced traders.
Pros
Regulated
Good security
Easy to use interface
Cons
High fees
Limited currency range
67% of retail investor accounts lose money when trading CFDs with this provider.
3. Kraken– Best Way to Buy Solana in Australia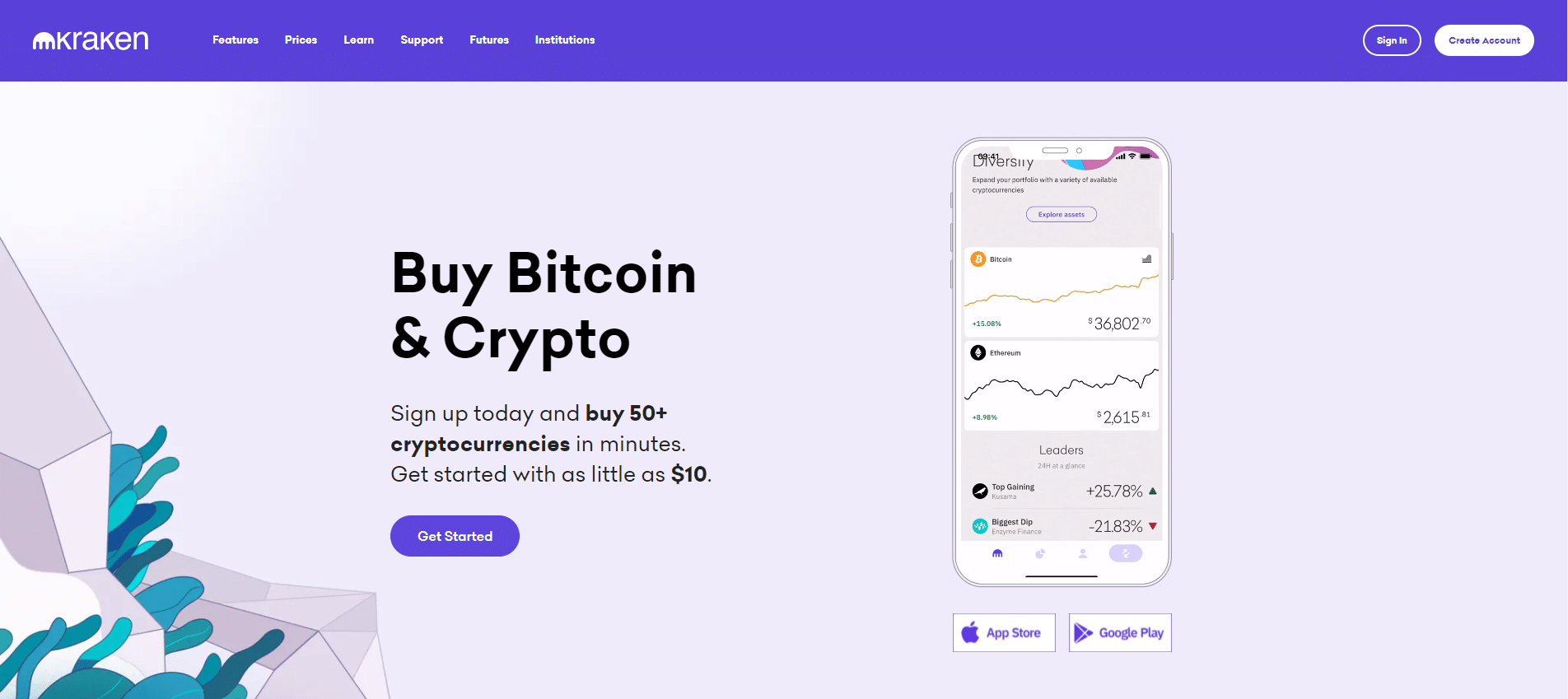 If you plan on buying and holding SOL long-term, then similar to CEX.oi, Kraken is a great option as it will remedy the main issue of the platform, the higher fees.
Kraken is the perfect platform for both new and experienced traders. They offer a range of educational materials, charting tools, and additional features for technical traders. Alongside worldwide support, a good reputation and a beginner-friendly instant buying option for additional peace of mind when making trades.
When it comes to security, Kraken is elite in its methodology. Offering a 360 approach to preventing both digital and physical attacks on the servers, through 24/7 guard surveillance. This diminishes the chance of a coin or data theft by getting physical access to the servers, a security gap for most other exchanges.
Pros
Beginner-friendly options
High security
Educational materials
Cons
67% of retail investor accounts lose money when trading CFDs with this provider.
4. Binance – Best Way to Buy Solana in Australia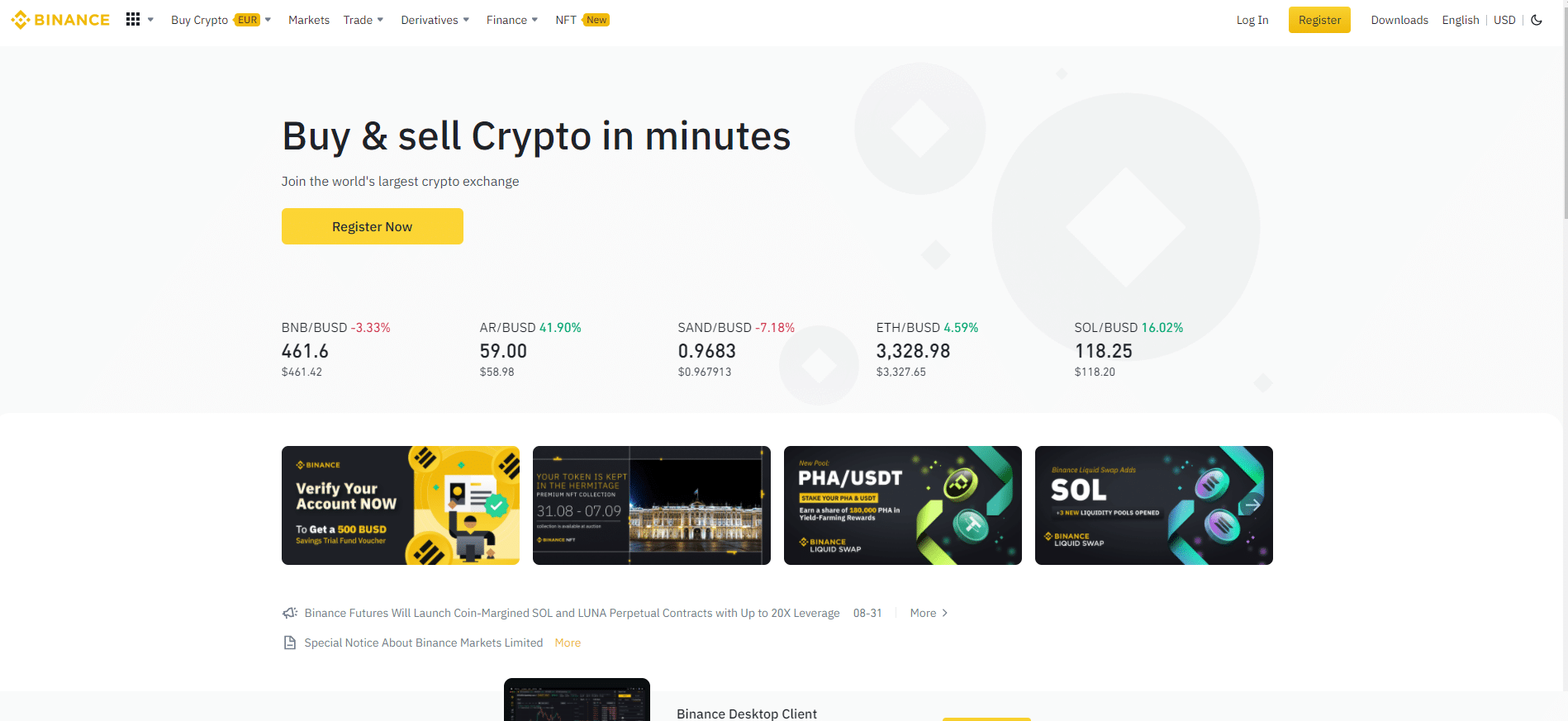 Binance is a huge name in the crypto space, renowned for its impressive coin collection and low non-instant and instant buy fees.
Binance is a fully regulated exchange, providing high-end security and good data protection. As with most exchanges, you will have to confirm your identity when creating an account.
As previously mentioned, if you plan on holding your SOL then CEX.oi or Kraken will be a better fit for you. However, if you're looking to trade SOL Binance is a great option and will certainly save you money in fees. Some other perks include registration being one of the fastest, great liquidity and the likelihood of you finding SOL at the best price available. Binance allows you to trade in seconds and also lists a large selection of other cryptocurrencies, so you can easily convert your SOL to another coin later.
Pros
Fast and simple registration
Low fees
Fast exchange
Large coin selection
Cons
Not beginner friendly
Limited deposit options
67% of retail investor accounts lose money when trading CFDs with this provider.
How to Buy SOL in Australia – Detailed and Explained in Full
Step 1: Open an Account with a Broker
The first step when buying any cryptocurrency is to set up an account with a broker. We recommend eToro because of its blend of security, features, and easy-to-use interface. Simply type "eToro.com" in your browser, click "Join Now" and then fill in your details.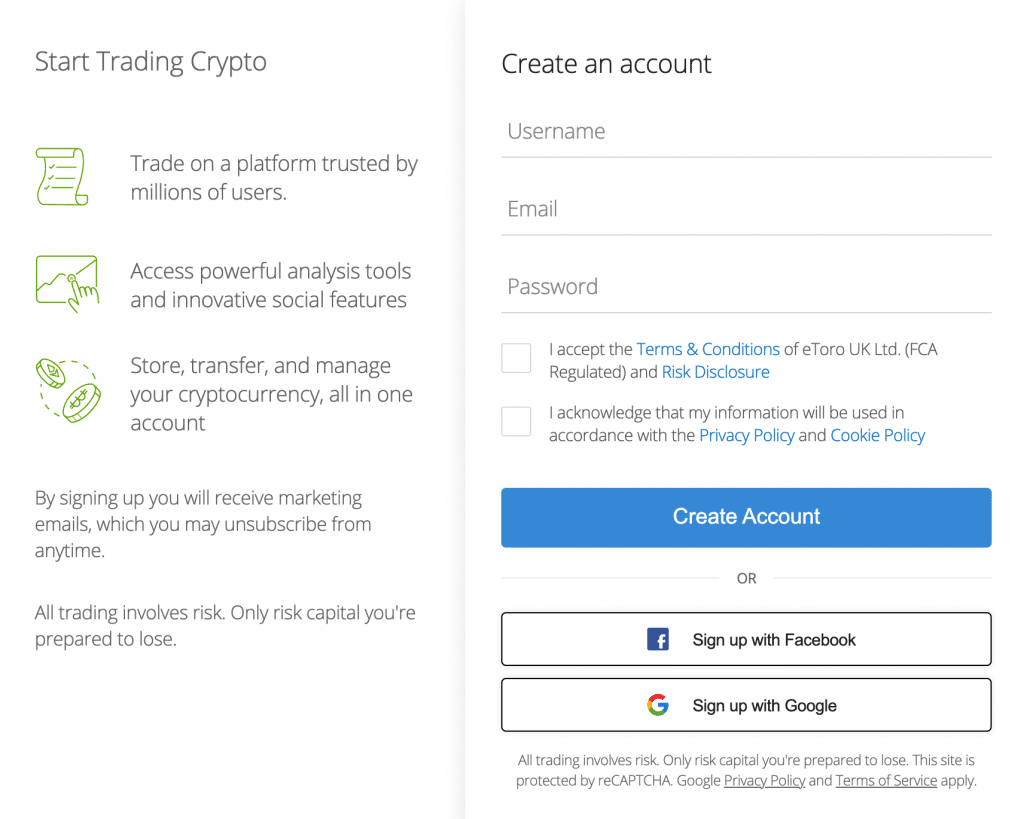 Step 2: Verify your Account
After registering with eToro, you'll now need to verify your documents. With eToro being a regulated platform it's standard practice with most trustworthy exchanges. You'll have to provide a photo ID (e.g passport or driving licence) and proof of address (e.g utility bill or bank statement).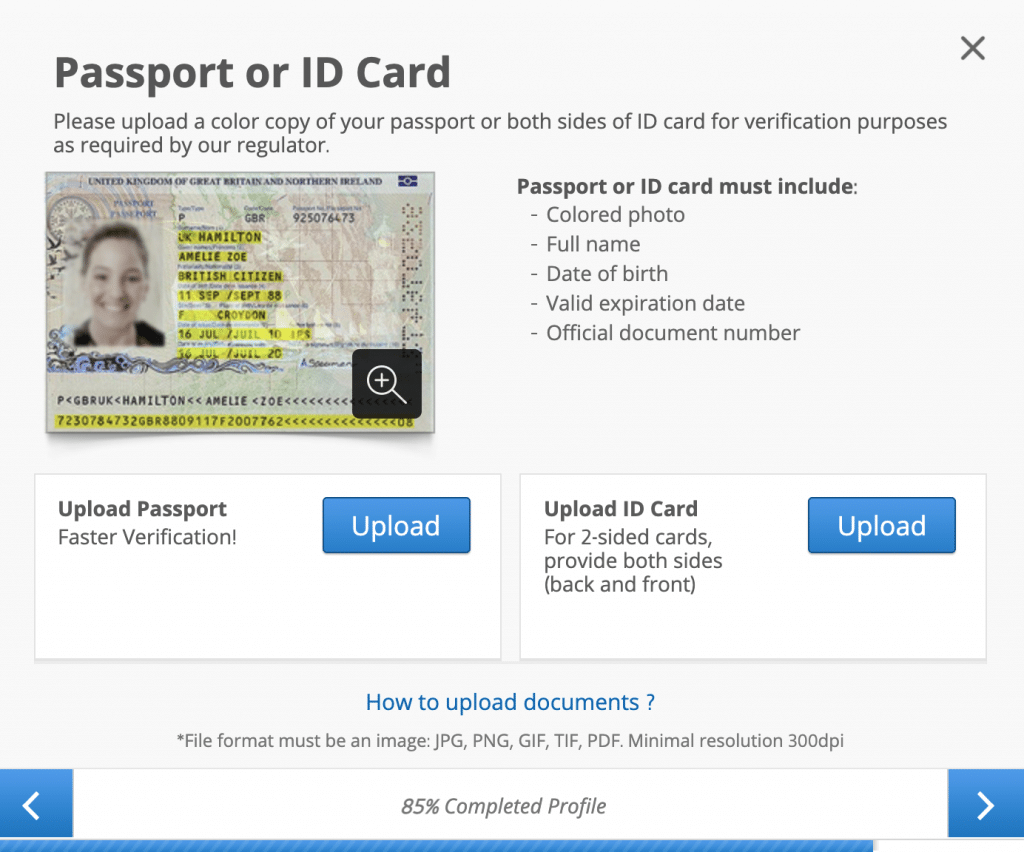 Step 3: Fund your eToro Account
Now your account has been verified, you're ready to deposit funds. You can do this using either a bank card, bank/wire transfer, or by using an e-wallet (PayPal, Skrill, etc). Please make sure you're choosing the method that best suits you.
Step 4: Search for SOL
Once you've funded your account, it's time to purchase some SOL. Simply, type in "SOL" in the search bar and select the relevant option.
Step 5: Buy SOL
Finally, enter the amount you want to purchase and hit "Buy". After your purchase, a wallet will be automatically created for you and the funds will be deposited there.
Purchasing SOL – Is it a Good Investment?
Solana has indeed proved to be a good investment so far, with it's value climbing from $147 to $159 in just under a month and with price predictions only pointing up.
Looking at the statistics, Solana as an investment is looking very optimistic and is predicted to increase from its current value of $159.25 to $273.79 by December 2021. We have already seen Solana double in value back in January this year, and again in April. With this in mind, it's not uncommon nor is it unrealistic to assume this growth rate will occur and take SOL towards $300 by year-end.
In a nutshell, according to experts, the future value of Solana looks bright and is likely to prove to be a wise investment. Solana is a low-risk investment with lots of potential rewards. However, It's important to always remember the impact of fake news and impulsive trading decisions when investing in any cryptocurrency. We always recommend doing your own due diligence and research before deciding to add SOL to your portfolio.
The Advantages of Investing in SOL
As of October 2021, SOL is the 7th largest cryptocurrency with a market cap of almost 50 billion dollars. 2021 has been a show-stopping year for SOL resulting in substantial growth in the Solana community. Upcoming plans for the SOL include the transactions per second the network can handle being set to drastically increase. It's important for Solana to keep pushing itself on its unique selling point to remain competitive. Solana's biggest threat at the moment is Ethereum 2.0, which is similarly focusing on speed, being able to support over 100,000 transactions per second.
Some of the areas Solana performs well are:
Speed: When it comes to speed, nothing really compares. Solana can process a blistering 50,000 transactions per second with only Ethereum 2.0 currently being the potential competitor on the horizon.
Scalability: Solana has achieved high levels of scalability after only a year of existence. It has been a breakthrough innovation technology for Crypto and in theory, with its growth comes more recognition and room to expand further. We're very excited to follow its journey and see where it goes.
Low fees: With its increasing popularity has come the added knock-on benefit of lower fees. With billions of users on board, Solana has achieved substantial financial gain and kept the application fees extremely low for users.
The Disadvantages of Investing in SOL
When deciding if you want to buy SOL it's easy to get blindsided by the numbers and enormous price predictions. It's important to consider all factors and weigh out the pros and cons before taking the plunge, we've summarised some key downfalls below:
Network hiccups: With Solona still arguably being in its infancy, it's fair to accept many of the implementations still awaiting their launch on the Mainnet Beta. Meaning, the network doesn't work as smoothly as advertised. It's best to stay up to date with Solana's blog to help notify yourself of any issues.
Increasing competition: The smart contracts sector has a lot of fierce competitors who are set to be fighting over the fastest spot. We've already discussed Etherium 2.0 which can make SOL seem like a small fish in a big pond with its long-standing reputable popularity. Solana seems to be hanging on by providing competitive fees but only time will tell if it can hang on.
How Much Does it Cost to Buy SOL?
When it comes to cost, it can be difficult to put a price tag on any cryptocurrency as you will be subject to drastic price swings. Currently, one SOL would set you back $156 meaning if you were to invest $1000 you could expect to get 6.41 SOL back. Make sure you remain diligent when it comes to spread fees exchanges charge, as the difference between the buy and sell price could prevent you from getting as good of a deal as you had hoped for.
Purchasing SOL– How to Pay for It
Now we have covered the fundamentals of SOL you're likely wondering how to actually pay for it. We have created a breakdown below covering the range of options, highlighting the benefits of each one.
Buy SOL Using PayPal
Using an e-wallet to purchase SOL is certainly a great way to go if you're looking for that extra layer of security. In the event of fraud, PayPal is one of the best for keeping the buyer satisfied. Meaning the likelihood of them siding with the buyer to recover lost funds is almost second to none.
One of the only downsides to Paypal is that a lot of exchanges don't accept it due to fees, so be sure to check if your chosen exchange does if this is the best option for you.
Buy SOL using a Credit/Debit Card
A credit/debit card is certainly the fastest way to buy SOL, ranking it the most convenient option. However, this comes with a hefty price, unlike when you use your card for everyday purchases, when it comes to crypto you will be subject to high fees. Now, if you plan on being a long term holder of SOL this isn't exactly going to break the bank for you but if you plan on regularly trading, you will likely rack up some hefty fees which will affect your overall profit.
How to create a SOL Wallet in Australia
When it comes to choosing a wallet, it can be quite daunting to pick what's right for you. Firstly you might be wondering what a Wallet actually does. Similar to the physical wallet you carry around, a crypto wallet has the same principles by allowing you to store and retrieve your digital assets.
There are a few major differences between the Wallets and below we've highlighted the pros and cons of using each to help you make an informed decision on what best suits your plans.
Non-Custodial Wallet
A non-custodial wallet is a great choice as it fuses security and convenience for the user. A non-custodial Wallet grants you full access to your private keys, offering unscathed privacy to the user. The downside being if you lose your private key, it's going to be a big headache using the wallet making this not the best beginner-friendly option.
Please follow the steps below to create a Non-Custodial Wallet:
Download the relevant app or software for your chosen wallet.
Follow all instructions for correct Wallet set up
Choose a strong password
Transfer your SOL into your new wallet. Most wallets do have a built-in exchange, although this can be more pricey than using a dedicated exchange
Online/Hosted Wallet (Hot Wallet)
An online wallet is the most common type of wallet you will find as most exchanges will automatically provide one for you. Most online wallets are custodial, meaning that they look after your private keys, making it great for beginners as the risk of losing your private keys is eliminated. Despite not being a fundamentally bad thing, it's not ideal for those wanting full control over their security.
Not only are custodial wallets matchless when it comes to convenience, but most are also free to use and can be downloaded to your phone or computer for on the go trading. If security is a concern for you, it's worth noting most reputable exchanges offer SSL encryption and cold storage for private keys, to help alleviate any security worries. To reap these benefits, we heavily recommend using eToro to set up your online wallet.
To create an online/hosted wallet, follow these simple steps:
Enter the eToro website, press "Join Now" and submit your details.
Verify your account by uploading your photo ID, proof of address and complete the KYC questionnaire.
Once verified, you can purchase some crypto. Simply, deposit fiat, choose SOL token. Once purchased a wallet will be automatically created for you.
Make sure to use 2FA when using ANY custodial wallet for an additional layer of security for your SOL.
Hardware Wallet
Hardware wallets are unparalleled when it comes to security making it perfect if you plan on holding larger amounts of SOL. A hardware wallet provides you with your private keys, but goes the extra mile to protect your assets, by keeping them offline. Unlike other wallets, Hardware Wallets are physical arguably making them less convenient but on the flipside making them invincible to online attacks.
If you want to secure your coins with a hardware wallet, below are the steps:
First, navigate to the website of your chosen wallet. We highly recommend using Ledger Nano X as it comes with the added benefit of connecting to your mobile phone, eliminating the convenience issue without sacrificing security.
Purchase your wallet and wait for it to be delivered.
Download and install any relevant software
When setting up the wallet, make a note of your recovery phrase as well as the pin and keep these safe. These provide access to your coins even if you lose the physical device.
Conclusion
To summarize, buying SOL in Australia can be a very simple process, it's just about deciding what works best for you. It's advised you do your due diligence when it comes to inflated price predictions and make sure when storing your SOL you do so sensibly. We recommend traders use a combination of an exchange wallet, like eToro, for day trading or smaller amounts of SOL and a hardware wallet for long-term storage to hold the bulk of profits.
eToro – The #1 Broker to Buy Solana in Australia
FAQs
What is Solana's Native Token?
What is the future of the SOL coin?