Where To Buy Bitcoin in USA – Learn How To Buy Bitcoin Now For Beginners in 2022
Bitcoin (BTC) is both the origin and the pioneer of all cryptocurrencies.
Invented in 2008 by the unknown person/group named "Satoshi Nakamoto", Bitcoin implementation started in 2009.
Bitcoin today – even still in 2022 – remains the best place for beginners to explore the crypto space and to learn how to buy Bitcoin.
This how-to buy Bitcoin guide is here to inform both beginners and veterans of the most effective and efficient methods of buying Bitcoin in the United States (US).
We will discuss the advantages and disadvantages of investing in Bitcoin while providing and analysing the range of options available.
#1 Broker to Buy Bitcoin – eToro
Where to Buy Bitcoin in USA – Overview of the 3 Best Brokers
There are many places to buy Bitcoin in the US, but which are the safest and quickest brokers?
Below, we identify the 3 best brokers to buy Bitcoin in 2022.
Further down the guide, you'll find thorough reviews on each of them.
=
Bitcoin Cash
Cardano
Dash
Ethereum
Ethereum Classic
IOTA
Litecoin
Stellar
XRP
Binance Coin
EOS
NEO
Tezos
TRON
ZCash
Elrond
Chainlink
Uniswap Protocol Token
Dogecoin
yearn.finance
Decentraland
Algorand
Basic Attention Token
Polygon
Shiba Inu
Enjin Coin
Maker
Tether
Compound
Bitcoin
Polkadot
Solana
FTX Token
Terra
0x
Aave
Aragon
Augur
Avalanche
Balancer
Bancor Network Token
Band Protocol
Bitcoin Diamond
Bitcoin Gold
Bitcoin SV
Bitshares
BitTorrent
Blockstack
Celo
Celsius Network
Chiliz
Cosmos
Curve DAO Token
CyberVein
Dai
Decred
DFI.money
Electroneum
Energy Web Token
Fantom
Gnosis
Golem Network Token
Hedera Hashgraph
HedgeTrade
Helium
Hive
Holo
Huobi Token
ICON Project
IOS token
Kava
RIF Token
SafeMoon
Serum
Siacoin
Sola
Stacks
Status Network Token
Steem
Storj
Stox
Stratis
Sushi
Swipe
Synthetix
The Graph
Theta
Thorchain
TomoChain
UMA
UniBright
USD Coin
Utrust
VeChain
Verge
Waves
Wrapped Bitcoin
xDai Chain
ZB
Zilliqa
Komodo
Kusama
Kyber Network
Lisk
Loopring
Machine Xchange Coin
Matic Network
MonaCoin
Monero
Ocean Protocol
OMG Network
Ontology
Orchid Protocol
PAX Gold
Paxos Standard
PlusCoin
QTUM
Quant
Ravencoin
REN
Reserve Rights
Revain
Multi Collateral Dai
Nano
NEM
Nervos Network
1inch
Axie Infinity Shards
Hoge Finance
Alien Worlds
Yield Guild Games
The Sandbox
Ankr Network
Crypto.com
ABBC Coin
aelf
Ampleforth
Ardor
5 Providers that match your filters
5 Providers that match your filters
for $100 you get
0.0035
BTC
CFDs are complex instruments and carry a high risk of losing money quickly through leverage. 75% of retail investor accounts lose money when trading CFDs from this provider.
Features
Payment methods
for $100 you get
0.0035
BTC
CFDs are complex instruments and carry a high risk of possible rapid loss of capital due to their leverage. 71% of retail investor accounts lose capital when trading CFDs with this provider. You should consider whether you understand how CFDs work and whether you can afford to take high risk in losing your capital.
Features
Payment methods
for $100 you get
0.0035
BTC
83% der Konten von Privatinvestoren verlieren beim Trading von CFDs bei diesem Anbieter Geld. Ihr Kapital ist im Risiko
Features
Payment methods
How to Buy Bitcoin in USA – The Quick Four-Step Strategy
Many first-time investors in Bitcoin today can be victims to "shilling" – otherwise known in laymen's terms as promoting Bitcoin.
Shilling can often lead newcomers to incidentally buy the "top" ( the highest price) and watch their investment value plummet.
To overcome such obstacles when buying Bitcoin, simply follow these four steps:
Signup to eToro: As our recommended broker, this is the best place to start.
Verify your Trading Account: Provide your identification documents to confirm and verify your details.
Add funds to the Trading Account: Deposit funds into your trading wallet, ensuring it is not more than you are willing to lose.
Buy the Bitcoin Cryptocurrency: Search for Bitcoin on the platform and purchase your preferred amount.
Where to Buy Bitcoin in USA – Choosing the Right Broker
1. eToro – Best Place to Buy Bitcoin in the US

eToro was established in 2007, is the winner of multiple broker awards, and boasts a client base of over 23 million global investors.
Standing the test of time, eToro provides traders with a secure investing platform accessible to more than 150 nations around the world.
eToro complies with regulations set by the Financial Conduct Authority (FCA), Cyprus Securities and Exchange Commission (CySEC), and the Australian Securities and Investments Commission (ASIC).
eToro has also obtained Money Services Business (MSB) registration from FinCEN.
As such, eToro is our recommended broker platform for newcomers to buying Bitcoin in the US.
Supporting multiple payment methods, both depositing and withdrawing funds with eToro function seamlessly and efficiently. Payment methods include debit/credit cards, crypto wallets, and bank transfers.
With eToro, there are no hidden fees and zero commission on trades. Additionally, beginners also have the opportunity to practice with $100,000 in virtual funds. This helps newcomers learn how to buy Bitcoin and trade sufficiently before diving into the real thing.
Whether you choose to access eToro on the web or from your phone, the eToro trading platform is the best place to buy Bitcoin in the US.
eToro Fees
| | |
| --- | --- |
| Deposit fees | 0% |
| Withdrawal fees | $5 |
| Trading Commissions | Commission-free, but charges a fee of 1%. |
| Extra fees | After one year of inactivity, $10 per is charged per month. |
| | |
| --- | --- |
| Pros | Cons |
| Compliant with global financial regulators |  Lacks sophisticated trading tools for advanced traders |
|  Multi-award-winning broker platform | |
|  Excellent reputation | |
|  Zero commission trading | |
|  Wide portfolio of crypto available | |
|  Access to most popular cryptocurrencies | |
|  User-friendly platform | |
|  Best copy trading tech | |
|  Educational support | |
67% of all retail investor accounts lose money when trading CFDs with this provider.
2. Webull – Trade Smarter in Minutes with No Commissions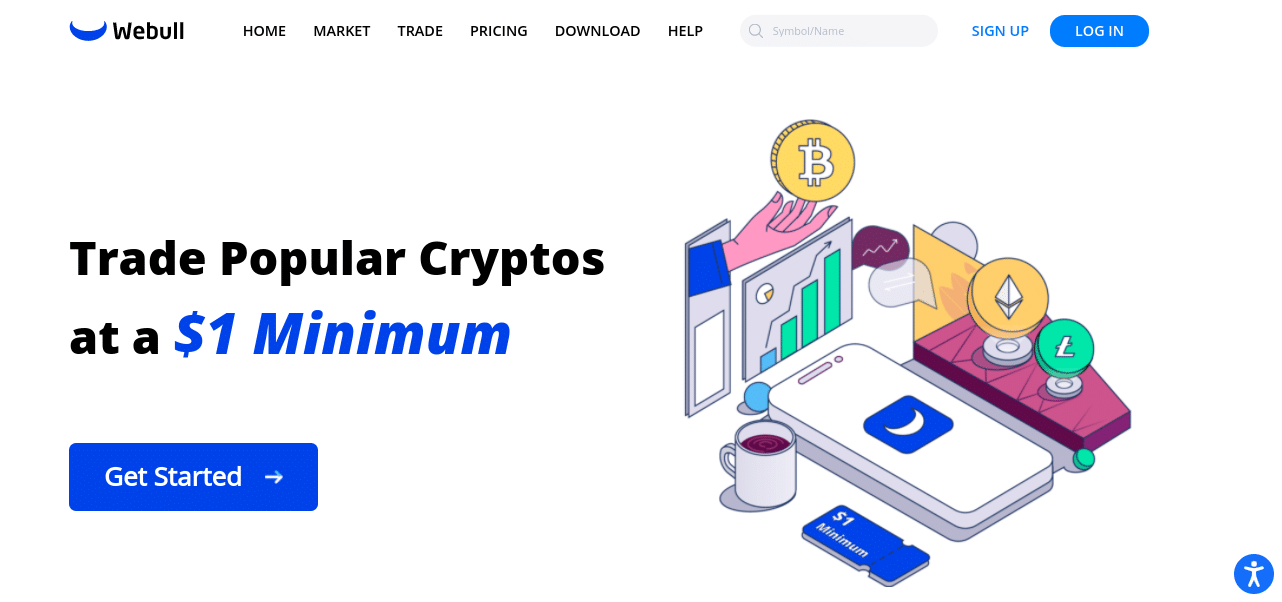 In just a few years, Webull has become one of the new generation's most popular brokers. Webull is a phenomenal online broker that can help you trade your way to success.
Webull's internet-based, fast account opening experience will help you be even more disciplined and skilled in your trading strategies.
Webull's target market is clear: millennials are their primary focus because they have witnessed firsthand how technology moves forward. Webull will continue down that path by catering its services to those who know what really matters most at any given time!
Furthermore, Webull wants to make investing simple and easy for people who are new to the game.
They don't want their customers worrying about account minimums or hidden fees – they just want you to focus on the fun part, like buying crypto!
That's why Webull is commission-free with no account minimums.
In other words, Webull doesn't charge commissions on stock, ETF, or options!
Even though there is no charge for cryptocurrency trading on Webull, there is indeed a 100-basis-point spread on either side of a cryptocurrency trade. This means that crypto spreads start at 1%.
Nevertheless, Webull is the perfect opportunity for those who want to take their trading skills seriously.
Webull does not charge any fees for deposits or withdrawals made via ACH transfers. On the contrary, bank wire deposits will cost you $8 for each transaction.
With all of those scary things you need to know about investing, Webull makes it easy to make good decisions with features like news and analysis tools as well as built-in screening for stocks.
Along with Bitcoin, this trading platform supports a slew of alternative currencies, including Cardano and Shiba Inu.
There's never been an easier way for you to become a pro trader with Webull which lets you purchase crypto, stocks, ETFs, and options!
Webull fees
| | |
| --- | --- |
| Deposit fees | 0% |
| Withdrawal fees | 0% |
| Trading Commissions | 0% |
| Extra fees | 1% of the spread |
Pros
No commission on trades, ever
No account minimums
Open your account in just minutes
Wide variety of tools for traders
No fees trading crypto
Cons
Crypto spreads start at 1%
Too simplistic for seasoned traders
Lack of mutual funds
No support for e-wallets or debit/credit cards
67% of all retail investor accounts lose money when trading CFDs with this provider.
3. Coinbase – Cheapest way to buy Bitcoin in the US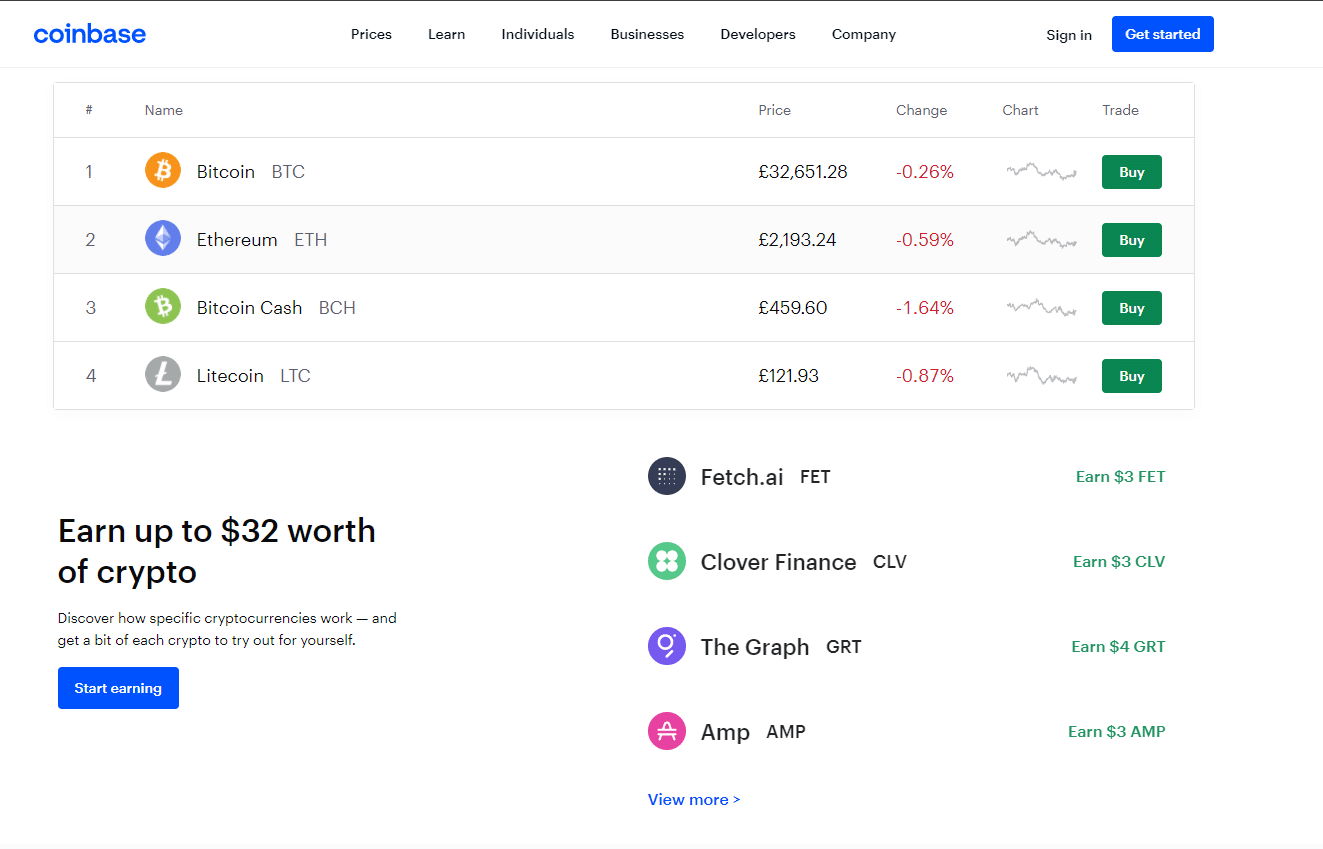 Established in 2012, Coinbase is one of the first platforms that offered crypto exchange services in the US.
As one of the most trusted brokers, Coinbase still has approximately 73 million verified users as of 2022 that continue to buy Bitcoin today.
Offering over 100 cryptocurrencies – including Bitcoin and a plethora of altcoins – Coinbase provides a secure and insured (up to $250,000) exchange platform that users trust.
There are different ways to invest in Coinbase. The more you know about how it works, the better!
Coinbase is still ranked among the largest exchanges by trading volume, featuring over $460 million in daily trading volume in Bitcoin alone.
With Coinbase, users can expect a user-friendly interface, rapid order filling, and accessibility to vast numbers of cryptocurrencies.
On the other hand, Coinbase does charge a 1.49% commission fee for each transaction. This fee is also applied when withdrawing funds – essentially doubling to almost 3% in transaction fees.
Furthermore, when depositing via debit/credit card, Coinbase also deducts a further 3.99% transaction fee.
Considering all fees combined, traders that carry out multiple transactions can quickly find their profit margins shrinking. As such, Coinbase seems better suited to long-term traders.
Coinbase Fees
Deposit fees

3.99% for debit/credit cards

1.49%

for bank accounts
Free for ACH Transfers
$10 ($25 withdrawal) for Wire Transfers

Withdrawal fees
Vary according to location and payment method
Trading Commissions
Depends on the amount traded + account type (Coinbase Pro)
Extra fees
2% crypto conversion fee
| | |
| --- | --- |
| Pros | Cons |
|  Trusted by 73 verified million users | High commission rates |
|  User-friendly platform | |
|  Over 100 cryptocurrencies | |
|  Strong reputation | |
|  Widely regulated | |
|  Compliant in the US | |
|  Little slippage due to high liquidity held on the platform | |
|  Straightforward registration process for beginners | |
67% of all retail investor accounts lose money when trading CFDs with this provider.
4. Coinmama – Simplest way to Buy Bitcoin in the US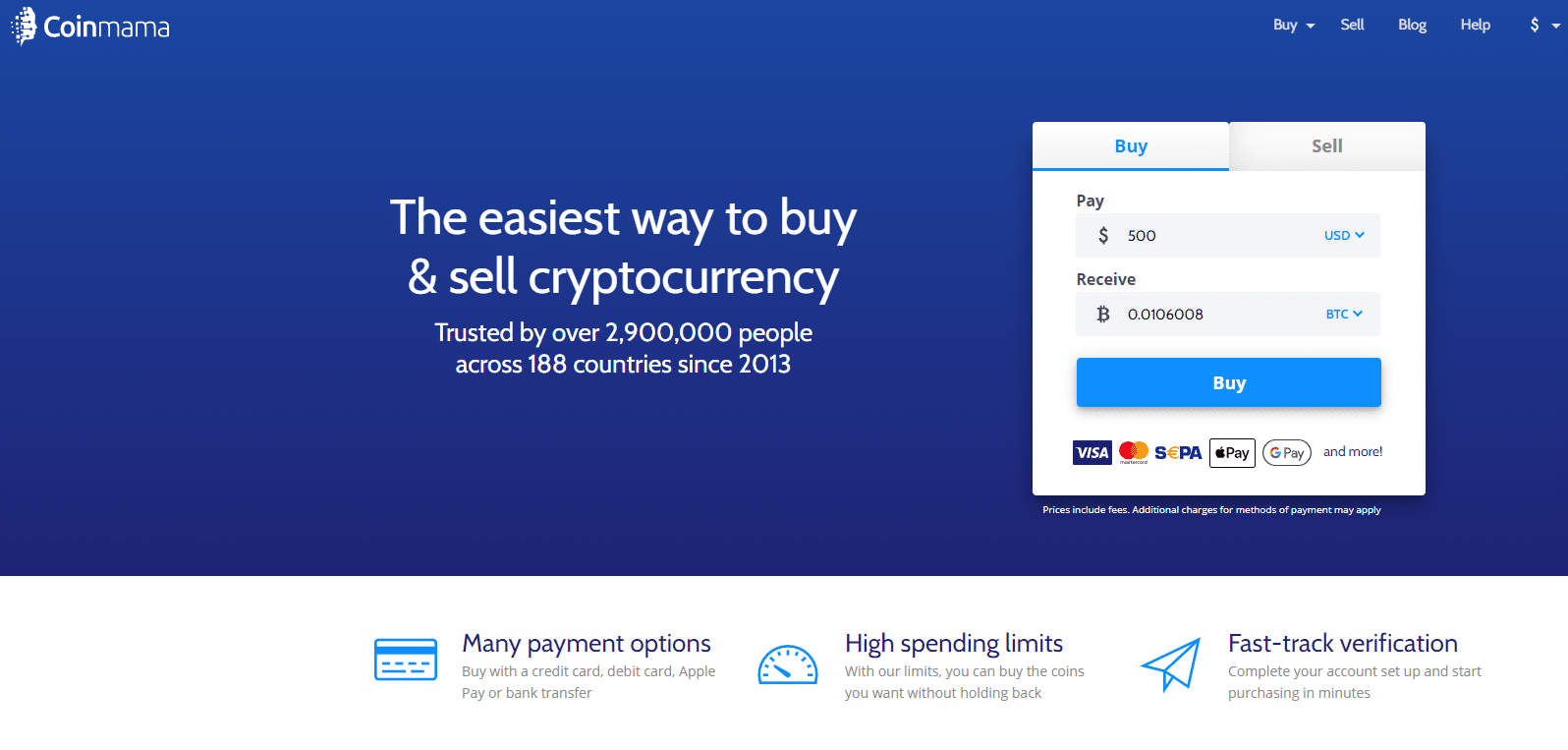 The Coinmama cryptocurrency exchange is another great platform for beginners to buy Bitcoin today in 2022.
Accepting multiple payment methods, including debit/credit cards and Apply Pay, Coinmama makes buying Bitcoin simple and accessible.
Unlike the aforementioned exchanges, Coinmama does not facilitate trading.
Instead, users can buy and sell Bitcoin on Coinmama directly from the company as it has its own inventory of cryptocurrencies.
Furthermore, Coinmama does not have a wallet/storage system on the platform. This means users have to have a pre-established wallet outside of Coinmama before Bitcoin can be purchased.
Coinmama's strengths come from its simplicity. You select how much Bitcoin you want, assess how much fiat (USD) you wish to spend, and confirm the transaction.
Despite this simplicity, broker charges applied by Coinmama are often enough to discourage buyers.
Adding a 2% markup on Bitcoin market price, up to 3.81% commission on purchases, up to 0.9% on sales, and a 5% fee for Apple Pay/debit/credit card deposits; Coinmama fees stack up quickly.
Coinmama fees
Deposit fees
5%
Withdrawal fees
$0
Trading Commissions

Up to 3.81% for buying
Up to 0.9% for selling


Extra fees
2% markup on crypto market prices
| | |
| --- | --- |
| Pros | Cons |
|  User-friendly interface | High transaction fees |
|  $0 account minimum |  No platform-based crypto wallet |
|  Offers tier 1 cryptos |  Android app only |
|  Wide range of payment options |  Does not support crypto-to-crypto trading |
|  No fees for crypto deposits |  Customer support via email only |
67% of all retail investor accounts lose money when trading CFDs with this provider.
5. Crypto.com – Get Ready to Turn your Coins into Cash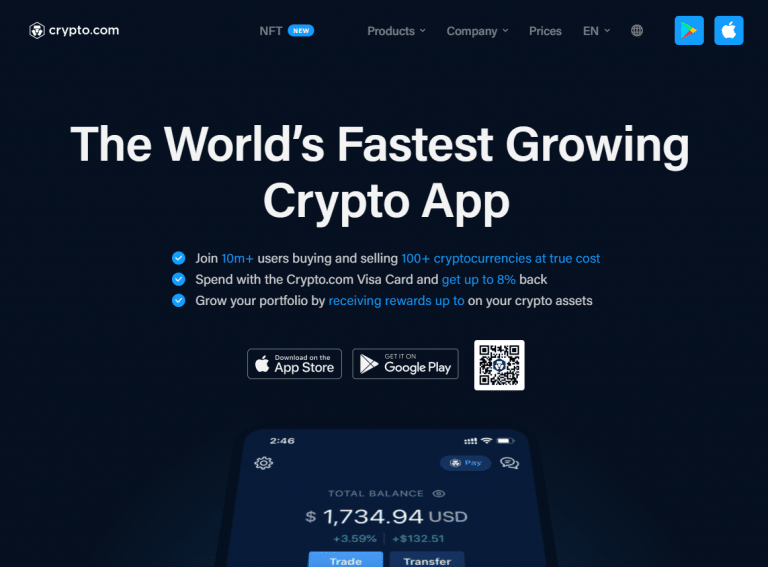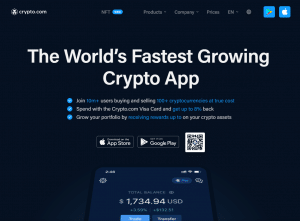 Crypto.com is the world's leading cryptocurrency exchange and provides a robust platform with low coin-trading fees for anyone that wants to turn their tokens into cash or vice versa.
If you have never traded crypto before, today is the day to give Crypto.com a try. With so many coins on offer, there is something for everyone.
For crypto traders of all levels, Crypto.com welcomes you to secure your future with a range of innovative products such as their Crypto.com debit Visa credit cards and easy-to-use exchange services.
Moreover, Crypto.com provides a decentralized exchange, a stand-alone cryptocurrency wallet, and a marketplace for NFT to help you invest in the future of finance on your terms.
Fees are capped at 0.40% and drop with increased trading volume or considerable CRO currency holdings. Therefore, Crypto.com's prices make it possible to hold long-term positions without breaking the bank.
Excluding any CRO staking, new Crypto.com customers will pay 0.40% on trades with a monthly trading volume of less than $25,000.
Significantly, trading fees are slightly lower than those charged by certain major competitors, though not the cheapest in the industry.
Due to the absence of extra per-trade fees, Crypto.com maintains a competitive pricing structure.
Details are light on the ground, but with Crypto.com, you'll be able to move smoothly through your day without worrying about overages or hidden fees.
Staples Center is no longer the home of Staples only, as Crypto.com has bought out naming rights to this iconic arena and made it their own!
Get your digital assets in order with Crypto.com – whether you're a hedger, whale, or newbie. Crypto.com does its best to make cryptocurrency as simple as possible for all investors.
Whether you're looking for the safety and security of cold storage or want to trade quickly on an exchange, Crypto.com has everything you need at your fingertips.
With over 200+ cryptocurrencies available in one place, there is no better way than Crypto.com to take charge today!
Crypto.com fees
Deposit fees
2.99% for debit/credit cards
Withdrawal fees
Fees vary
Trading fees

Maker: 0.04-0.20%

Taker: 0.10-0.20%
Pros
Buy and sell a wide variety of cryptocurrencies with low fees
Earn cashback rewards and enjoy numerous privileges
Invest in a portfolio of coins and tokens with just one click
Earn interest on your crypto holdings
Safe and Secure Transactions
Cons
Fees are higher unless you own and utilize CRO
Navigating can be difficult for beginners
Inadequate client service
Discounted trading fees can be difficult to understand
Insufficient educational resources
67% of all retail investor accounts lose money when trading CFDs with this provider.
6. Binance – Trade Anywhere, Anytime