Bitstamp Review – Is Bitstamp Safe? Features and Fees Explained
Launched in 2011, Bitstamp is one of the oldest cryptocurrency exchanges to cater to both beginner and experienced traders. This continues to function as an efficient fiat gateway to buy, sell and trade digital assets.
In this Bitstamp review, we provide you with all the essential information you need to know about this exchange – including its features, fees, and the security of the platform itself.
Recommended Broker – eToro
What is Bitstamp?
Bitstamp is a global cryptocurrency exchange where you can trade fiat currencies for a wide range of digital assets. The platform has been around since 2011, attracting users from across the world. With an intuitive interface and easy-to-understand fee structure, this site has built a solid reputation among investors.
The notable advantage of using Bitstamp is that the platform gives you the ability to purchase digital assets with fiat currencies such as USD, GBP, and EUR. There are just over 40 different markets supported by the exchange and you will be able to make payments via debit/credit cards, and bank accounts for this purpose.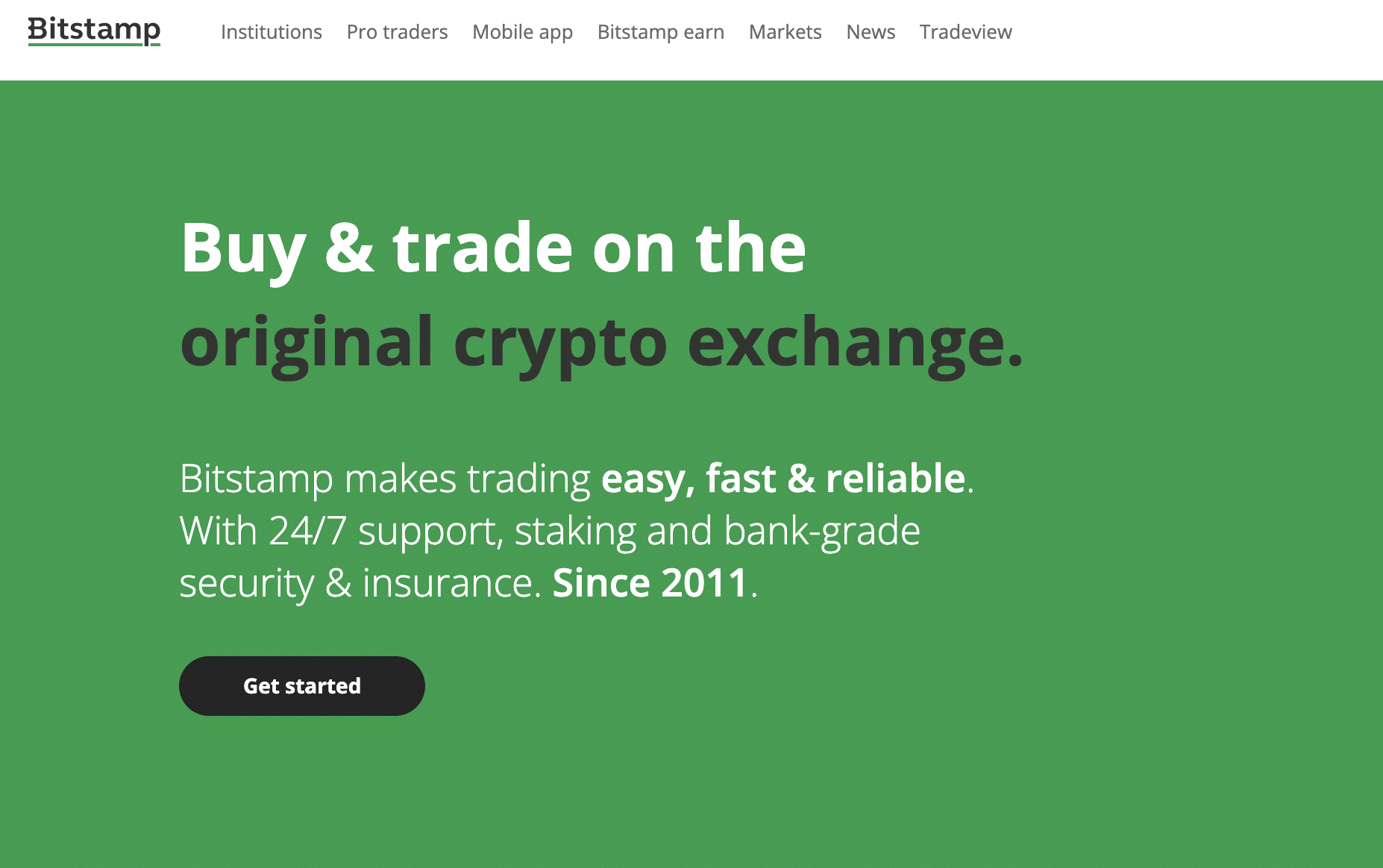 When it comes to fees, Bitstamp offers reasonable rates for facilitating your investments and trades. However, you will face a higher fee when it comes to deposits, especially if you are not funding your account in euros. Bitstamp is also one of the few cryptocurrency exchanges to be regulated in Europe.
The platform holds a license from the Luxembourg financial regulator and is registered with CSSF for AML/CFT supervision. However, there have been a few cases of security breaches in the past, which has led to a drastic reduction in its trading volume. With this in mind, we have prepared a quick overview of the different advantages and disadvantages of using Bitstamp as your go-to cryptocurrency exchange.
Bitstamp Pros and Cons
After conducting a thorough analysis, our Bitstamp review concluded the following benefits and drawbacks of using this platform.
Pros
Beginner-friendly and intuitive interface
Buy cryptocurrencies with fiat money such as USD and EUR
Supports debit/credit cards and bank transfers
Operational since 2011
Cons
Limited trading markets

No margin trading

5% fee on debit/credit card payments

No passive investment tools
Cryptoassets are highly volatile unregulated investment products. No EU investor protection. 67% of retail investor accounts lose money when trading CFDs with this provider.
Bitstamp – Supported Markets
Bitstamp is a well-established cryptocurrency exchange that supports only 40 markets. Although this might seem to be thin on the ground when compared to competitors, the site has attracted a lot of beginners due to its user-friendly and hassle-free interface. 
The platform has simplified the process of buying and selling cryptocurrencies using fiat money, providing an easier point of entry for new traders and investors.
The exchange supports the most prominent digital assets such as Bitcoin, Ethereum, and Tether.
You will also find DeFi tokens, including Compound, Sushiswap, AAVE, and yearn.finance.
Bitstamp – Instant Orders
One of the main reasons why Bitstamp is popular is because of its Instant Orders feature, where you can use a payment method such as debit/credit card and automated clearing house (ACH) to fund your account and start trading immediately.
However, if you are using this tool, you need to remember that these payment methods are often subject to higher fees on the platform.
Another thing to note is that not every cryptocurrency listed on Bitstamp is available in all locations.
For instance, if you are based in the US, you will not be able to buy or sell Ripple (XRP) on this platform.
For those unaware, Bitstamp only provides a safe environment that functions as a cryptocurrency marketplace. This means that when you are purchasing a digital asset on this platform, you will be making the purchase from another user.
The same happens when you sell tokens too. In other words, this exchange functions as a connection between buyers and sellers.
Bitstamp Trading Platform
As we covered earlier, Bitstamp provides you with traditional crypto-fiat and crypto-crypto pairs. In other words, you will not be able to find margin trading or leveraged products on this exchange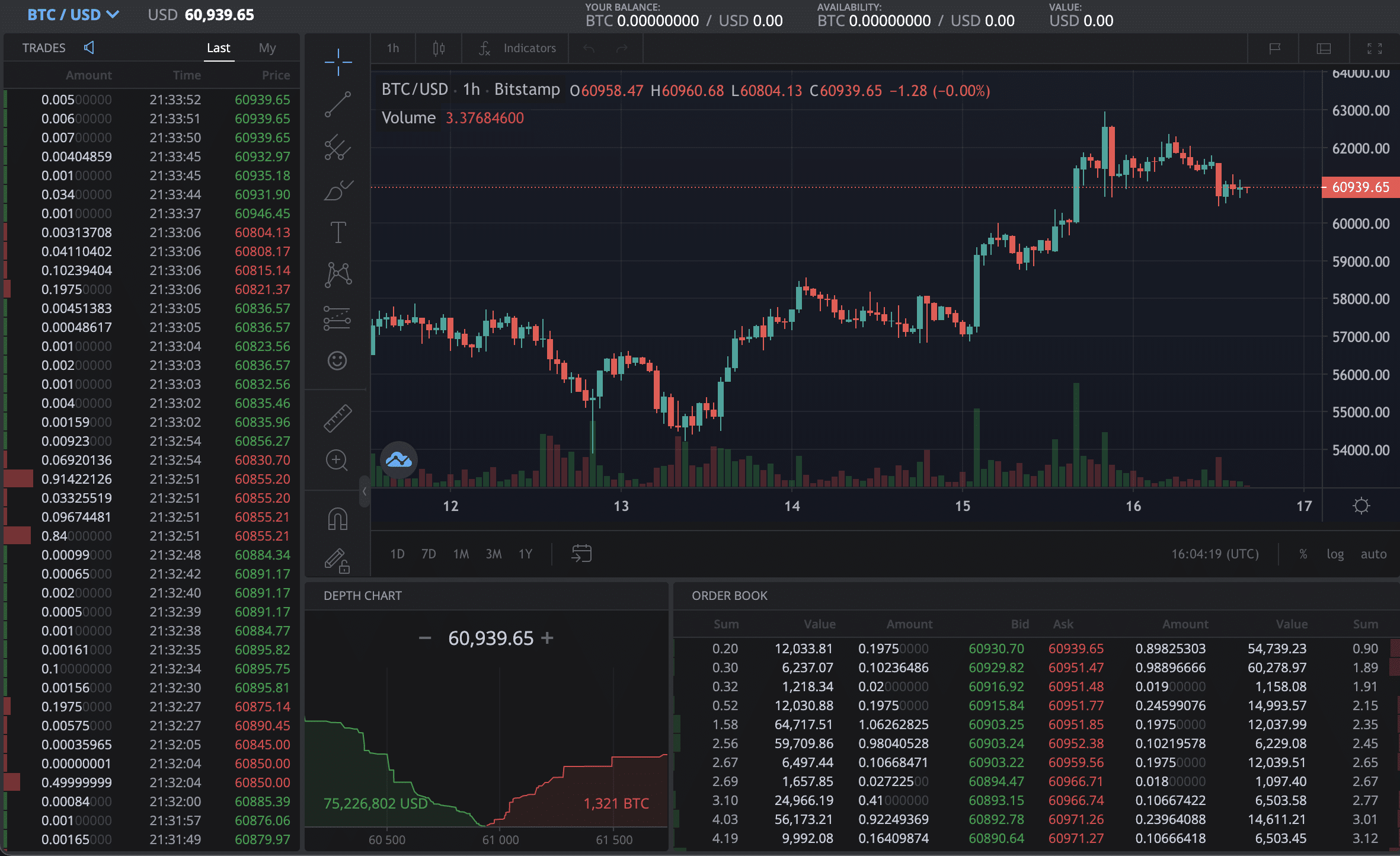 However, Bitstamp has built its trading platform with both beginners and advanced traders in mind. The interface comes integrated with charts, indicators, and order books that appeal to professional users who want to capitalize on the short-term price fluctuations of crypto assets.
Bitstamp Trading Order Types
If you want to trade cryptocurrencies on Bitstamp, you can do so by using the following orders:
Market Orders: Buy or sell cryptocurrencies at the next best available price.
Limit Orders: Specify a price at which you want to purchase or sell your chosen digital asset.
Stop Orders: Set a price point at which your trades will be closed to limit any potential losses.
Trailing Stop Orders: You can use this order to set an exit point for your trades that will be adjusted as the price changes. But if the market goes against you, this stop level doesn't change.
Bitstamp News 
Our Bitstamp review found that the exchange has an entirely different section dedicated to news. In simple terms, this feature is designed to keep you updated about everything that is going on with the associated cryptocurrency market.
You will also find regular blog posts and notifications about new product releases, company information, and more. Put otherwise, the news tab functions as a notice board at Bitstamp – where you will find all the latest developments regarding the platform.
Bitstamp – Supported Countries
Bitstamp offers its services in all EU member states. Aside from that, you will also find the platform available in over 50 different countries across the world – including the US, UK, Australia, Brazil, South Africa, Qatar, India, South Korea, and more.
Bitstamp – Types of Accounts
It is also worth mentioning that Bitstamp allows two different types of accounts – one for standard traders and another for institutions.
That is, the platform caters to institutional traders and brokers by providing them unfettered access to a wide range of cryptocurrencies.
Bitstamp also ensures 24/7 customer support, along with regulatory clarity, and real-time market updates for this purpose.
Furthermore, institutions can use Bitstamp to build their own crypto offerings using the Crypto-as-a-Service feature.
Bitstamp Payments
In terms of funding your account, Bitstamp supports both fiat as well as crypto deposits.
All you need to do is to sign in to your account, go to deposits, select the currency you wish to add and enter the amount.
However, bear in mind that there might be some fees depending on the payment method you choose.
Bitstamp accepts fiat payments in USD, EUR, and GBP.
You can also make transfers in other currencies, but the platform will first convert it to one of the above and as such, this will come with FX fees.
The exchange also supports crypto deposits with additional charges. We will take a closer look at fees later in this Bitstamp review.
Bitstamp Earn
Bitstamp Earn is a feature that allows you to earn interest on your cryptocurrency holdings on this platform. This process is popularly known as 'staking' in the market.
Typically, you will be locking up your digital assets on Bitstamp for a set period of time. In return, the platform pays out rewards at regular intervals. However, it is crucial to remember that you will not be able to withdraw or trade the said token for the lock-in duration.

That said, Bitstamp also offers a flexible staking option for some cryptocurrencies – meaning there is no locking period, and you are free to withdraw your assets any time you want.
Here are the benefits of staking your cryptocurrencies with Bitstamp Earn:
Earn passive income on your cryptocurrencies by receiving a steady payout
Automate your earnings automatically by holding the minimum required amount of digital tokens
Currently, Bitstamp Earn is supported for only two cryptocurrencies – Ethereum 2.0 and Algorand, at an interest of 5.58% and 4.23% APR respectively. Moreover, if you are a US resident or citizen, this service is not yet accessible to you.
The main downside to this Bitstamp feature is that you will have to pay a hefty staking fee of 15%.
Bitstamp Fees
Unlike the majority of cryptocurrency exchanges, Bitstamp has a simplified fee structure. This means that regardless of whether you are a Maker or Taker, you will be charged the same for making any cryptocurrency purchases and sales.
This makes Bitstamp even more accessible to beginners. However, if using the exchange to buy or sell digital assets immediately, the platform's fees can fall on the expensive side. In this section of our review, let us take a deep dive into the charges you will face when using this site.
Bitstamp Trading Fees
As we briefly covered earlier, Bitstamp has a standard fee for cryptocurrency trades based on your total trading volume over the past 30 days. There is a total of 17 tiers, with the highest fee being 0.50%. As you move up a level, you will be charged lower fees.
Bitstamp Staking Fees
Apart from cryptocurrency trades, Bitstamp also facilitates staking on the platform. However, as we touched upon earlier – this can cost you a whopping 15% on the site.
However, this is not calculated as a direct fee.
Instead, the platform collects commission from the total reward pool collected from the staking nodes.
Bitstamp then distributes the rewards.
This 15% charge covers all the costs and fees associated with staking.
That said, if you decide that you no longer want to stake your assets, the rewards collected will be taken by Bitstamp for enabling the opt-out functionality.
Bitstamp Fiat Deposit Fees
Perhaps, the most expensive fees charges on Bitstamp is for processing your deposits and withdrawals. This varies not only based on the payment method but also on your location and the currency you are transferring.
Here is an overview of the transaction fees you will encounter on Bitstamp:
SEPA: Deposits via SEPA (Single Euro Payments Area ) payments are free, while withdrawals cost 3 EUR.
ACH: If you are in the US, you can use ACH to fund your account. In this case, both deposits and withdrawals are free of charge.
Faster Payments: For those in the UK, you can utilize Faster Payments to immediately process deposits at a 0% fee. However, withdrawals will cost you 2 GBP.
Debit/Credit Card purchase: A card purchase will cost you 5% of the purchase amount as the instant service fee. This is expensive when you consider that brokers like eToro charge just 0.5% on debit/credit card deposits and 0% if you're from the US.
International wire: When making deposits via wire transfers, you will be charged a 0.05% fee. Whereas withdrawals using the same method will cost you 0.1%.
In addition to all of the above, you will also be charged an exchange rate for bank deposits and withdrawals that require currency conversions. You might also have to pay some administrative costs.

Bitstamp Crypto Deposit Fees
Bitstamp also allows you to start trading by funding your account using cryptocurrencies. The main advantage here is that all deposits are free. However, you will have to pay a withdrawal fee that varies from one digital token to another.
For instance, the withdrawal fee for Bitcoin is set at 0.0005 BTC; whereas, for Litecoin, you will be charged  0.001 LTC. 
Bitstamp Minimum Trade Amount 
If you are exchanging a fiat-money-dominated trading pair, then Bitstamp requires you to make a minimum order size of 20 EUR, 20 GBP, or 20 USD. When swapping stablecoins such as USDC, USDT, or PAX, you will need to make a trade for at least 20 tokens.
That said, if you are trading Bitcoin-denominated pairs, then the minimum order comes to 0.0002 BTC.
Bitstamp Mobile App
As with almost every other cryptocurrency exchange these days, Bistamp also provides you access to its platform via a native mobile app. You can use it to log in to your account using a fingerprint or face ID, without compromising on security. The Bitstamp mobile app also comes integrated with the full features of the platform. This includes a variety of order types, real-time charts, and a wide range of analytical tools.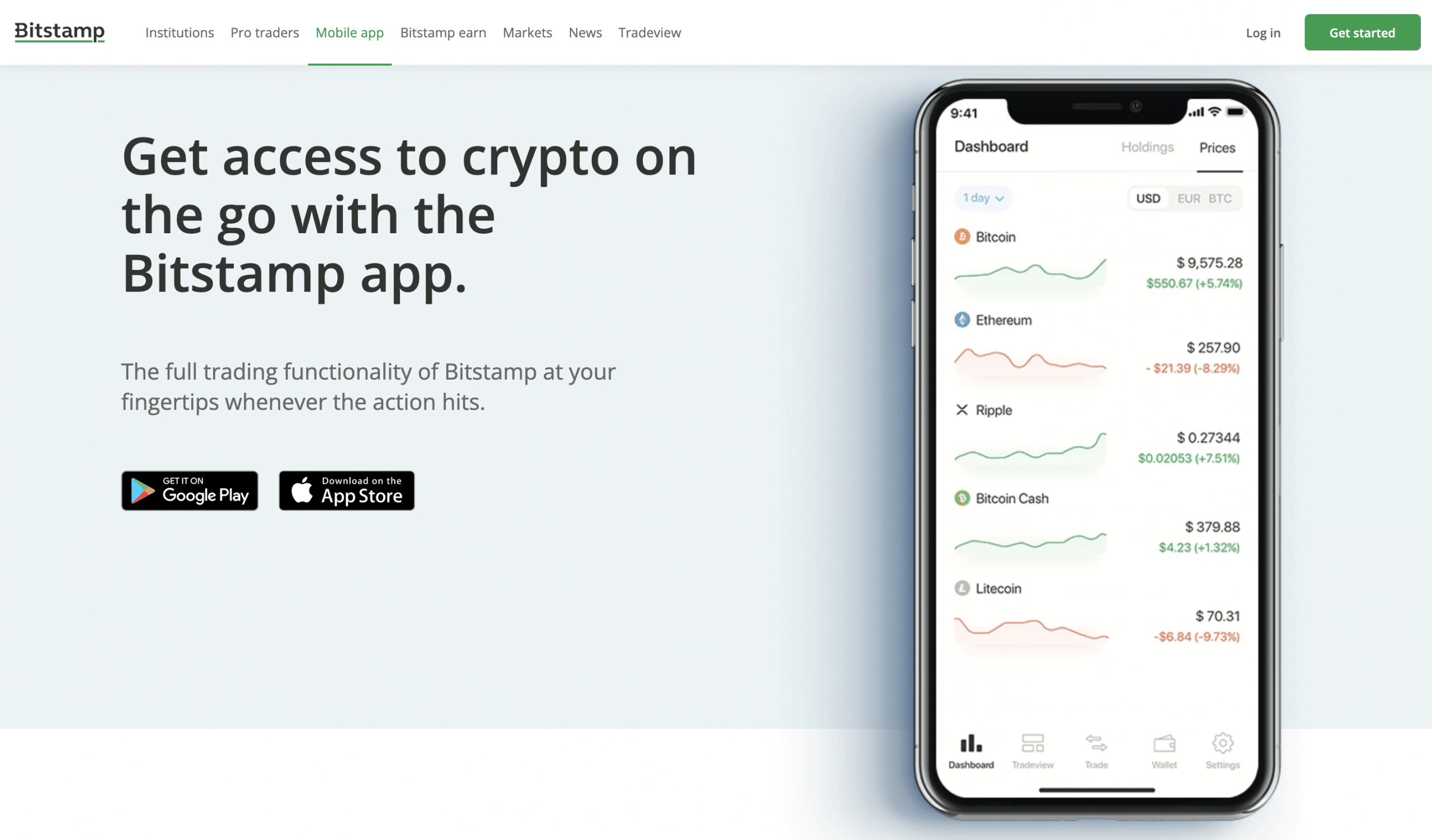 The interface is completely equipped to provide you with the same level of control over your trades while allowing you to buy and sell cryptocurrencies on the go. Moreover, you will also be able to secure crypto and fiat transfers to your Bitstamp account using the app.
Is Bitstamp Safe?
Arguably, one of the most important criteria when choosing a cryptocurrency exchange is safety. In that regard, our Bitstamp review found that the platform has been a victim of several hacks in the past.
In fact, following a security breach in 2015 – the platform had to halt its operations for a week. Following the incident, Bitstamp has since ramped up its security strategy and has added a number of features to protect users' funds and assets.
Bitstamp Security Features
Bitstamp currently operates as a payment institution licensed in the EU and registered with a BitLicense in New York. In addition, the platform is also regularly audited by some of the largest accounting firms in the world.
Apart from this, Bitstamp has also implemented the following security features:
98% of customers' assets are kept in cold storage.

Digital asset insurance provided by BitGo. 

Option to set up two-factor authentication to protect your accounts.
Email confirmation before processing withdrawals.
Bitstamp User Verification
Additionally, Bitstamp also conducts a verification procedure for all of its registered users. This is to make sure that all personal accounts are used only for non-commercial purposes, and that any transfers made via a bank account are held in the cccount owner's name.
As such, when you open an account on Bitstamp, you will be prompted to go through the KYC (Know Your Customer) process.
After creating your account, you can get started with your Personal Account Verification on Bitstamp.
You can proceed to fill out the verification form by providing your full name, and contact information.
You will then have to upload requested documents – such as a passport, national identity card, or driver's license. Bitstamp also requires a proof of residency document, which can be fulfilled by uploading a copy of your utility bill or bank statement, issued within the last three months.
When you finish uploading the required documents, Bitstamp will process your verification in the shortest time possible. This can take from a few minutes to a couple of days. You will receive an email notifying you of the result. If approved, you will receive access to all features of the platform.
Bitstamp Customer Support
As a user on Bitstamp, you will be able to avail yourself of customer support around the clock. The website displays multiple phone numbers that cater to providing you with information, support, complaints, or any press-related queries.
You will also have the option to raise a customer support ticket directly from your account.
Notably, you will also find multiple phone numbers listed. This is, in fact, a rare find in the cryptocurrency space.
And if you are someone who prefers to talk to a customer support agent, then it is definitely worth giving Bitstamp a second look.
That being said, Bitstamp does not offer a live chat facility – which is a major drawback. Additionally, the FAQ section is also quite limited, but you will be able to find videos on the Bitstamp YouTube channel.
eToro vs Bitstamp – Comparison
This Bitstamp review has explained what the exchange is all about and what features are available on the platform. If you are still considering which exchange to use for your cryptocurrency investments, we strongly suggest that you consider an alternative.
In fact, this will shed light on some of the drawbacks of Bitstamp when compared to more popular crypto brokers like eToro. To give a better idea, we have put together a detailed comparison of these two platforms so that you can make an informed decision.
Safety and Regulation
If security is your priority, then Bitstamp might be a good choice for those in the EU. However, outside the borders of Europe, this cryptocurrency exchange does not offer you much protection.
On the other hand, eToro is as safe as it gets when it comes to the online crypto space.
The broker is covered by four prominent regulatory bodies – the FCA in the UK, the SEC in the US, ASIC in Australia, and CySEC in Cyprus.
The platform is also approved by FINRA for added protection.
In other words, eToro offers you an unparalleled level of safety and security that is difficult to find in the cryptocurrency arena.
Available Markets
Even when compared to other cryptocurrency exchanges, Bitstamp falls short in terms of the number of markets provided – by supporting only 40 digital tokens. Moreover, as a trading platform, this site does not offer any derivative products such as margin trading or leverage.

However, if you choose eToro, you will have access not only to cryptocurrencies, but also stocks, commodities, forex, and ETFs. Not only can you make direct investments using fiat money, but you can also trade assets on the platform. In other words, this is the only broker you need to diversify into a basket of opportunities.
User-Friendliness
Although Bitstamp takes many beginner-friendly aspects into consideration, the trading interface is not one of them – especially when compared to eToro.
The latter has one of the most intuitive setups for placing trades.
It is incredibly easy to buy and sell any asset on the eToro platform, even if you are entirely new to the space.
Not only in terms of the trading interface, but eToro also makes it easy for you to make deposits and withdrawals.
The eToro platform accepts a few different payment methods and fiat currencies to get started with your cryptocurrency investments. This includes debit/credit cards, bank transfers, ACH, and even Paypal.
Fees
Fees are another department where you will find eToro the much better alternative. The platform allows you to trade cryptocurrencies on a spread-only basis, starting from just 0.75%. There is also no commission for investing in stocks and ETFs.
Moreover, processing deposits are entirely free on this broker if you're from the US (0.5% in other locations) – regardless of the payment method you choose. Whereas on Bitstamp, you will have to pay 5% for funding your account via debit and credit cards – which is huge.
Crypto Storage
Bitstamp is a cryptocurrency exchange that does not offer any wallet services. Meaning, for the safety of your digital tokens, you will need to transfer the funds to a wallet that is protected by a private key.
If you misplace this private key, then you will not be able to gain access to your assets.
Moreover, when you are looking to sell your coins, you will need to move them back to Bitstamp, which will incur additional deposit fees.
On the other hand, eToro comes integrated with a free in-house wallet which you can use to store your crypto coins for the long term. This also comes with the advantage that you do not have to go through any hassle when cashing out your investments. All you need to do is to visit your portfolio and sell your chosen token directly from the brokerage platform.
Passive Investment Tools
If you are new to cryptocurrency investing, then you might also want to choose a broker that is more oriented towards beginners. In that aspect, our Bitstamp review found that eToro is certainly the better option. The platform has a dedicated educational space that offers webinars, trading tips, and guides on strategies.
Most importantly, you will also find that eToro has set up passive tools that will allow you to trade without having to make any decisions yourself. In other words, you will choose one of the many experienced traders using the brokerage platform and elect to mirror their moves in your portfolio.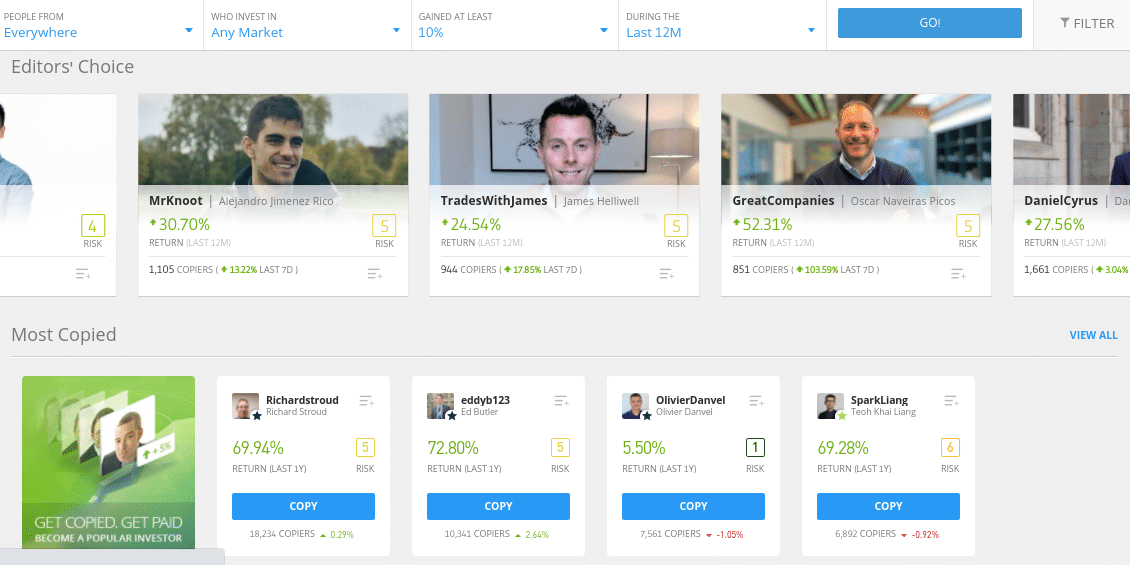 So, at the time your chosen trader buys or sells cryptocurrencies, the same position will be replicated in your account, proportionate to your balance. In addition, you will also have access to a passive investment service via the eToro CryptoPortfolio.
This means that the eToro management team will choose a basket of digital tokens at different weights to make up your portfolio. This will also be rebalanced regularly to keep up with the market sentiment.
Bitstamp Review – Conclusion
As you can gather from our extensive Bitstamp review, this cryptocurrency exchange is well-established and gives you easy access to over 40 different digital assets. While this might be more than enough for most beginners, the platform fails to provide advanced markets such as derivative products or leverage. There are also concerns about the safety of Bitstamp – considering its previous hacking failures.
On the other hand, if you choose a broker like eToro, you will not only be able to benefit from heavily regulation from the likes of the SEC and FCA but also gain access to a diverse set of markets. The platform also provides you with in-house wallet services and a spread-only fee structure for cryptocurrencies.
eToro – Best Broker to Trade Crypto
FAQ
Is Bitstamp available in the US?
What fees does Bitstamp charge?
How do you contact Bitstamp?
What is the Bitstamp minimum deposit?