Bisq Review – Is Bisq Safe? Features and Fees Explained
Bisq is one of the few cryptocurrency exchanges in the online space that operates in a decentralized manner. Meaning, instead of being owned and operated by a single entity, this platform has its servers scattered around various independent locations.
If you want to know the benefits and drawbacks of using a DEX for your cryptocurrency trades, then our Bisq review is a must-read. Within it, we cover the core features of this platform, what fees to consider, and find out how it keeps up with the needs of crypto traders across all levels.
Recommended Broker – eToro
What is Bisq?
There are a variety of ways for you to buy and sell cryptocurrencies. However, the vast majority of platforms in this arena will require you to provide your personal details and verify your identity. If you are looking for a way to get around this, then Bisq might be of interest to you.
Launched in 2014, Bisq is a decentralized and open-source cryptocurrency exchange platform that allows you to trade digital assets on a peer-to-peer basis with minimal requirements. In other words, you can download the software to your computer and be in total control of how you use the platform and what information you share with others.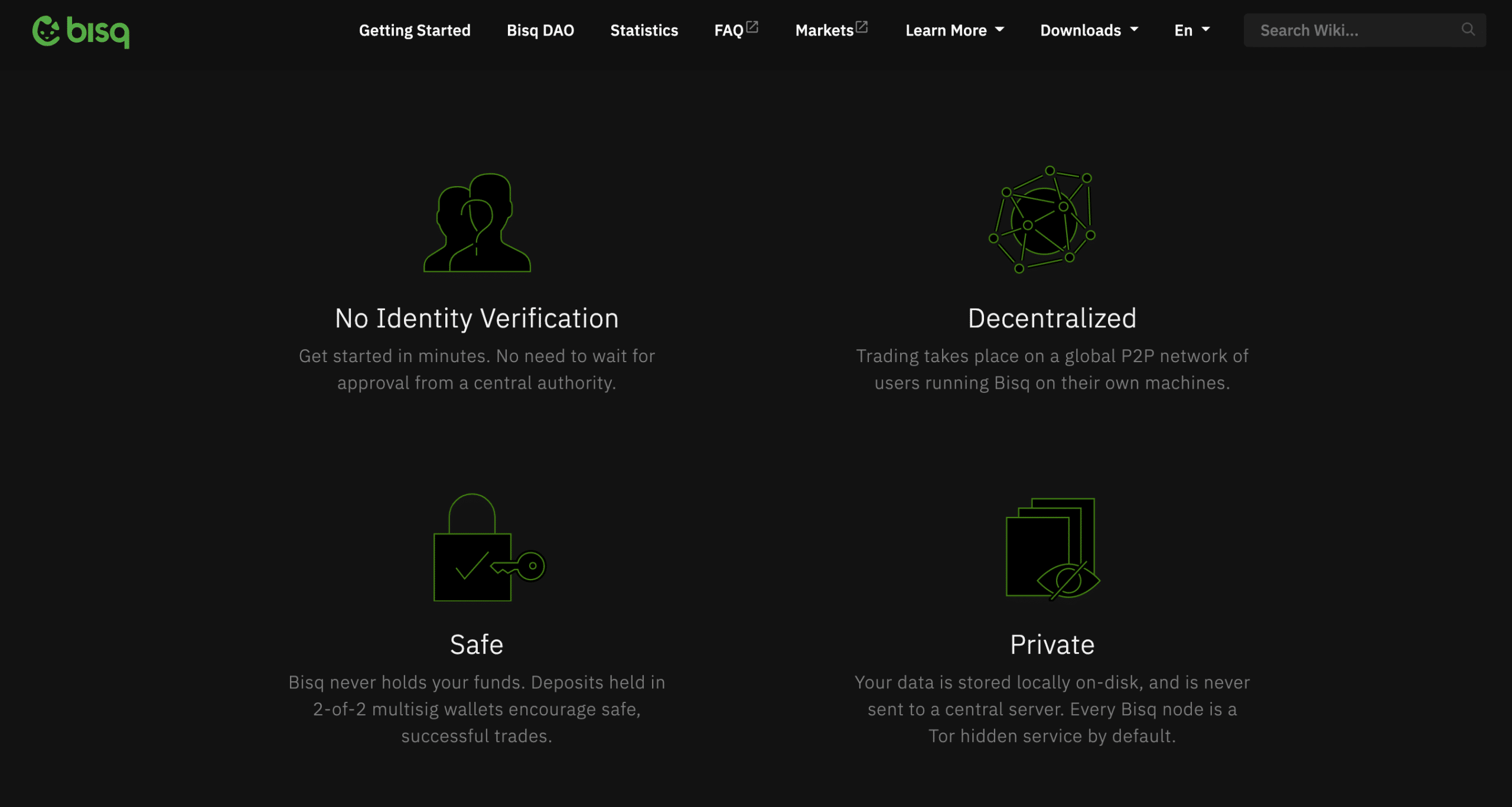 For a cryptocurrency trader, another important reason to consider Bisq is that there is no need to rely on the platform for the safety of your funds. You will not be holding any assets on this software itself but instead – will be directly transferring the fiat money or digital coins to the buyer's/seller's wallet when you make a trade.
However, there are also a few notable disadvantages, such as high trading fees and lack of scalability. As we go forward with our Bisq review, we will take a closer look at these aspects to provide you with a clear picture as to whether or not this DEX is right for you.
Bisq Pros and Cons
Our Bisq review concluded that using the decentralized exchange comes with the following pros and cons.
Pros
Decentralized exchange services
High security and anonymity
Operational since 2014
Cons
No regulation
Not enough tools for advanced traders
Not user-friendly
High trading fees
No passive investment tools
Cryptoassets are highly volatile unregulated investment products. No EU investor protection. 67% of retail investor accounts lose money when trading CFDs with this provider.
How Bisq Works
Since Bisq is not a centralized exchange, some of you might be wondering how the cryptocurrency trading process actually works. In a nutshell, our Bisq review found that you will initially need to download the application to your computer via the official website. You can then configure the software with your payment method details. When you are ready to proceed, you can look for your trading pair.
If you then want to buy or sell Bitcoin, you can browse the application for existing offers.
For instance, let's say that you are looking to trade BTC/USD.
When you have found an offer that matches your requirements, you can connect directly with the other user to perform the transaction.
You can then transfer the USD to the seller's bank account and indicate on Bisq that you have completed the transaction from your end.
Once the other trader receives the money, they will also confirm it with Bisq.
Finally, you will receive the Bitcoin to your built-in Bisq wallet address, and the trade will be completed.
The platform highly recommends that you move your BTC tokens to a private wallet right away. As you can see, there is no need for you to sign up on Bisq or submit your personal financial information.
Instead, you can perform trades entirely anonymously. However, before you can start trading, you will need to make a security deposit of at least 0.01 BTC. This needs to be locked in a multi-signature escrow wallet until the trade is complete to prevent any fraud.
Our Bisq review found that the DEX primarily caters to Bitcoin trades. At the same time, you will find that the platform offers support for trading a wide range of national currencies and dozens of other digital assets.
This includes popular fiat money such as US dollars, euros, British pounds, Canadian dollars, Australian dollars, and more.
You will also find less liquid markets including the Indian rupee, Norwegian krone, South African rand, etc.
However, there is no guarantee that the pair you want to buy or sell will be available on the Bisq market.
This is because there must be other users willing to trade similar pairs.
Moreover, there is a constraint here that you should be aware of – which is that one side of the trade you place should always be Bitcoin. In other words, Bitcoin should be a part of the trading pair you choose.
However, remember that there is no automatic order matching. This means that you will have to wait until another trader agrees to your offer. As such, your trades might not be fulfilled as quickly as they would on a centralized exchange.
Bisq Trading Interface
While the trading platform of Bisq might appear to be somewhat sophisticated, in fact, it offers you only the bare minimum. You can either choose to create an offer or accept one that is already listed on the platform. In other words, you will not be able to trade your assets like you would at a centralized exchange.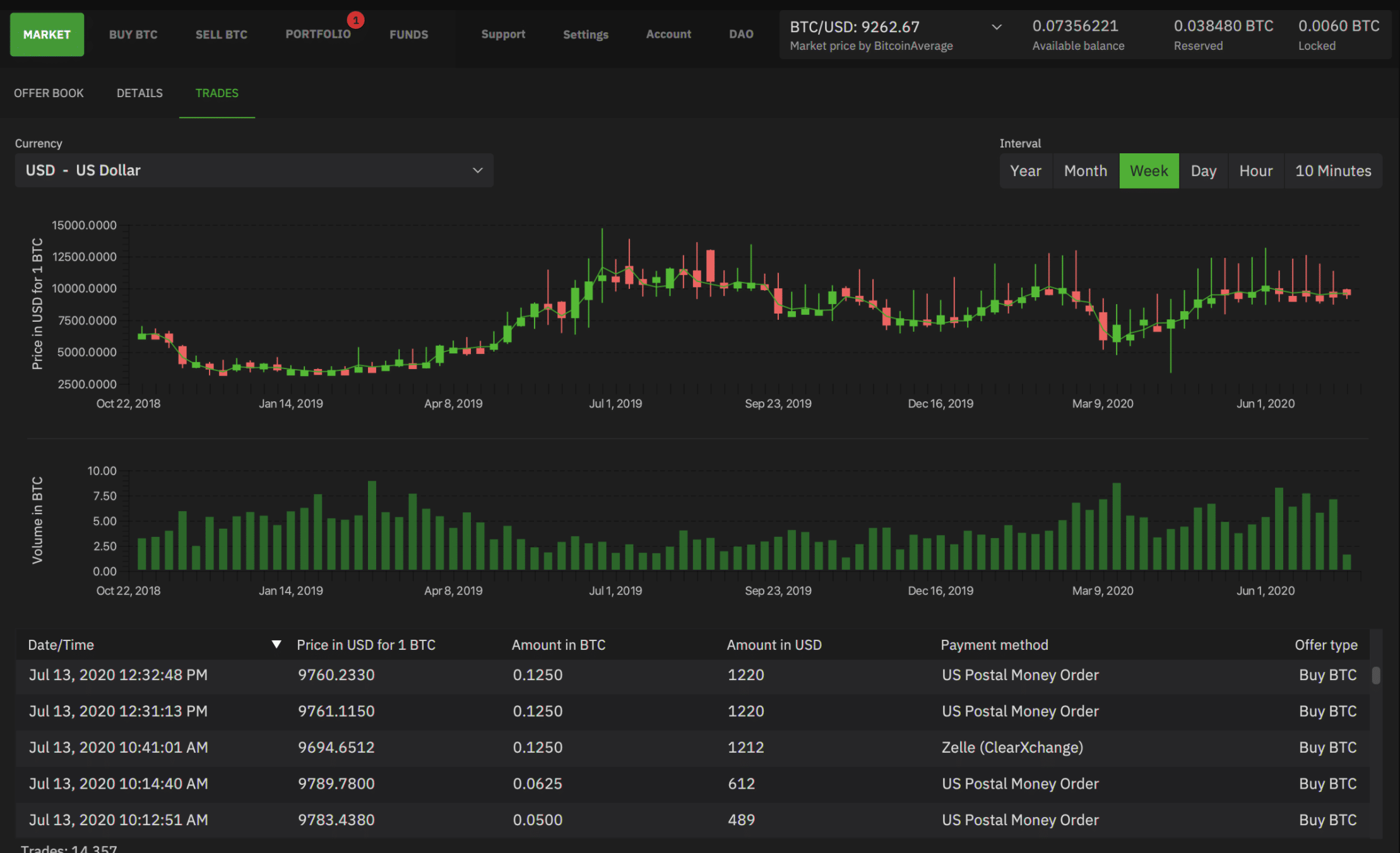 There are no charting tools, technical indicators, and orders that you can use to customize your positions. However, that does not mean that the software is beginner-friendly either. If you are using Bisq to purchase Bitcoin, then it will take you a while to get used to the interface.
Moreover, you will need to make a security deposit in Bitcoin to get started. Meaning, you should already own some BTC tokens for you to be able to use this platform.
Bisq Payments
Since Bisq accommodates a wide range of fiat currencies, you will be able to find at least one method that supports your chosen asset. For instance, for global payments, you can transfer funds through Swift, Western Union, World Remit, Transferwise, Skrill, Amazon eGift Card, and more.
There are also country-specific methods you can use, such as Domestic Wire Transfer in the US, PayID in Australia, Faster Payments in the UK, and more. While some of these are instant – such as Faster Payments, others, like SEPA, might take a few days to complete. Bitcoin transactions, on the other hand, take around 10 minutes to confirm.
When it comes to making payments via Altcoins (cryptocurrencies other than Bitcoin), this will often involve a waiting period of one day. You can also choose the Instant option, which will be completed in an hour. However, there is a limit of 2 BTC per-trade when trading BTC/Altcoin pairs.
As such, if you are looking to make fast transactions, the key is to choose the right payment method and find a trader who wishes to complete trades quickly.
Remember that Bisq does not orchestrate the process of payment within its software. In other words, the software does not integrate with banks or other financial solutions.
Instead, any fiat transfer you make will be settled outside the platform, between the buyer and seller. This means that you will be depositing funds directly to the other users' bank account or cryptocurrency wallet.
Additionally, there is a per-trading limit associated with all these payment methods. In simple terms, no matter which option you choose, you will not be able to make unlimited trades.
Bisq DAO
Now that you have an idea about what Bisq is, you might be wondering how this software is governed or manages its revenue. Our Bisq review found that in order to become sustainable, the network has structured itself as a decentralized autonomous organization (DAO).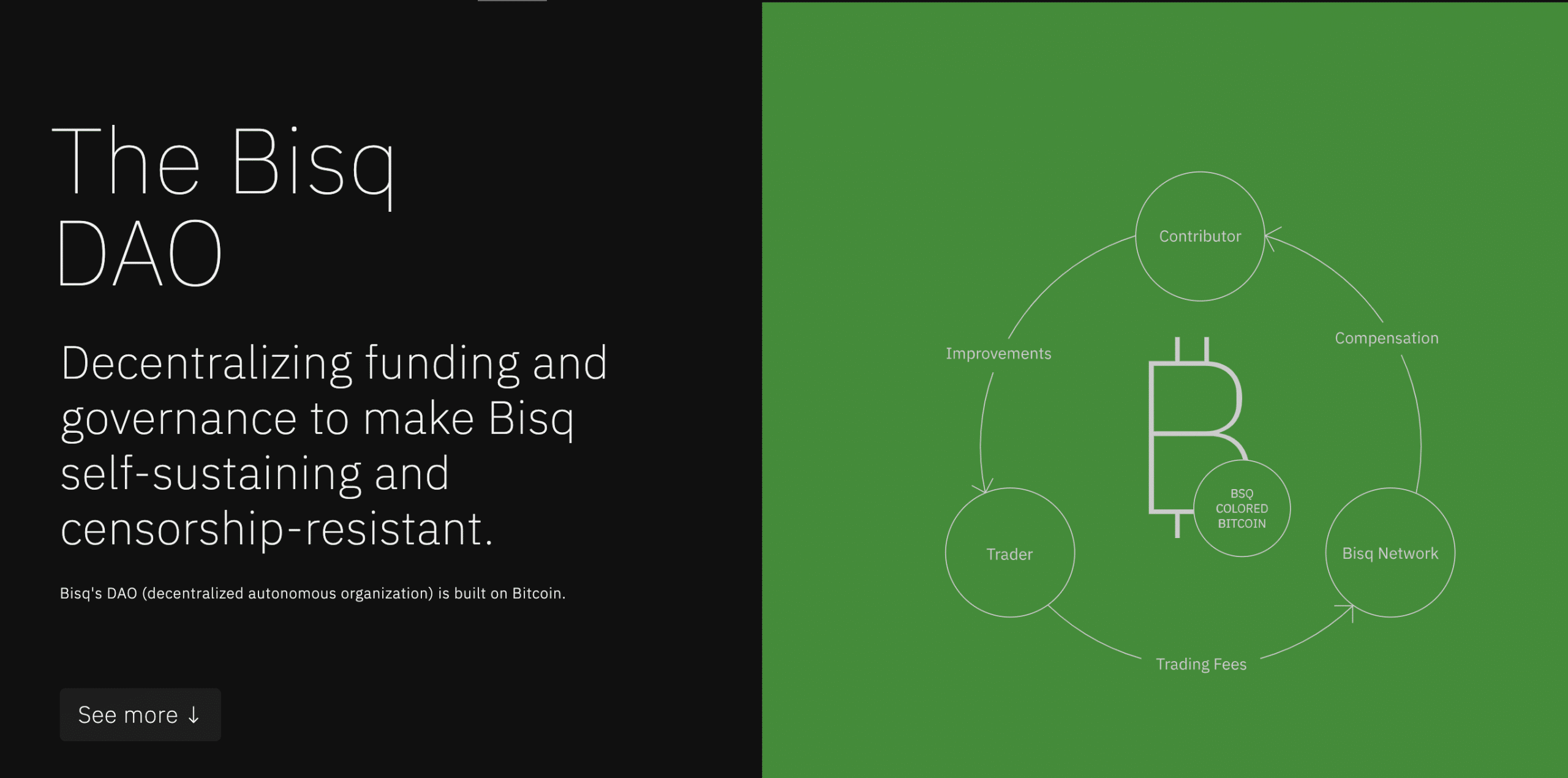 Meaning, the governing model of this software is as decentralized as the platform itself, To explain further – instead of giving control to a single entity, the network has released the Bisq token. Owners of this BSQ token will provide voting rights on the Bisq DAO. However, there are a number of other attributes to this digital asset that adds to its utility on this particular network.
BSQ Token
In simple terms, BSQ is the native token of the Bisq protocol. Technically, it is a colored coin, with its value equalling 100 satoshis (0.00000001 BTC). On the network, this token has additional governing properties that facilitate the smooth functioning of the project.
If you are a BSQ holder, then you have the power to propose changes and improvements to the protocol or vote on the suggestions made by others.

Additionally, this digital token is also how the network compensates contributors for its work. 

You can trade this coin like any other Altcoin on the platform, but you will have to use the in-built BSQ wallet to store your digital assets.
This is because, outside the Bisq network, this token only represents a few satoshis.
Note that the only way to buy BSQ tokens is via the Bisq network. And more importantly, Bisq allows you to pay your trading fees using BSQ tokens. If you do, you will be able to receive a discount on the network.
Bisq Fees
When choosing a cryptocurrency platform, trading fees are an aspect that you should pay close attention to. In the case of Bisq, the network charges fees in a slightly different way to traditional centralized exchanges.
That is to say, our Bisq review found that you can either choose Bitcoin or BSQ tokens for this purpose.
For every Bitcoin traded, a maker will be charged 0.001 BTC, and a taker will have to pay 0.007 BTC.
On the other hand, if you choose to cover the cost of transactions in BSQ tokens, the fees will amount to 13.16 BSQ and 92.15 BSQ accordingly.
In addition to this, you will also have to pay mining fees, which will fluctuate based on how busy the network is at the time of the trade.
Furthermore, no matter the size of your trades, you will need to meet the minimum charge, which is set at 0.00005 BTC.
Although Bisq does not charge you any other fees, since you are paying in Bitcoin, you might end up paying a sizable amount depending on the timing of your trade.
Furthermore, you might also encounter additional fees charged by the payment method you use when funding your trades on Bisq.
Bisq Mobile App
As with the desktop version, you can also download Bisq to your mobile to monitor ongoing trades. Once you have it installed, you can pair it with your PC version by scanning your QR code. You can then set up the different notifications and alerts that you want to receive on your phone.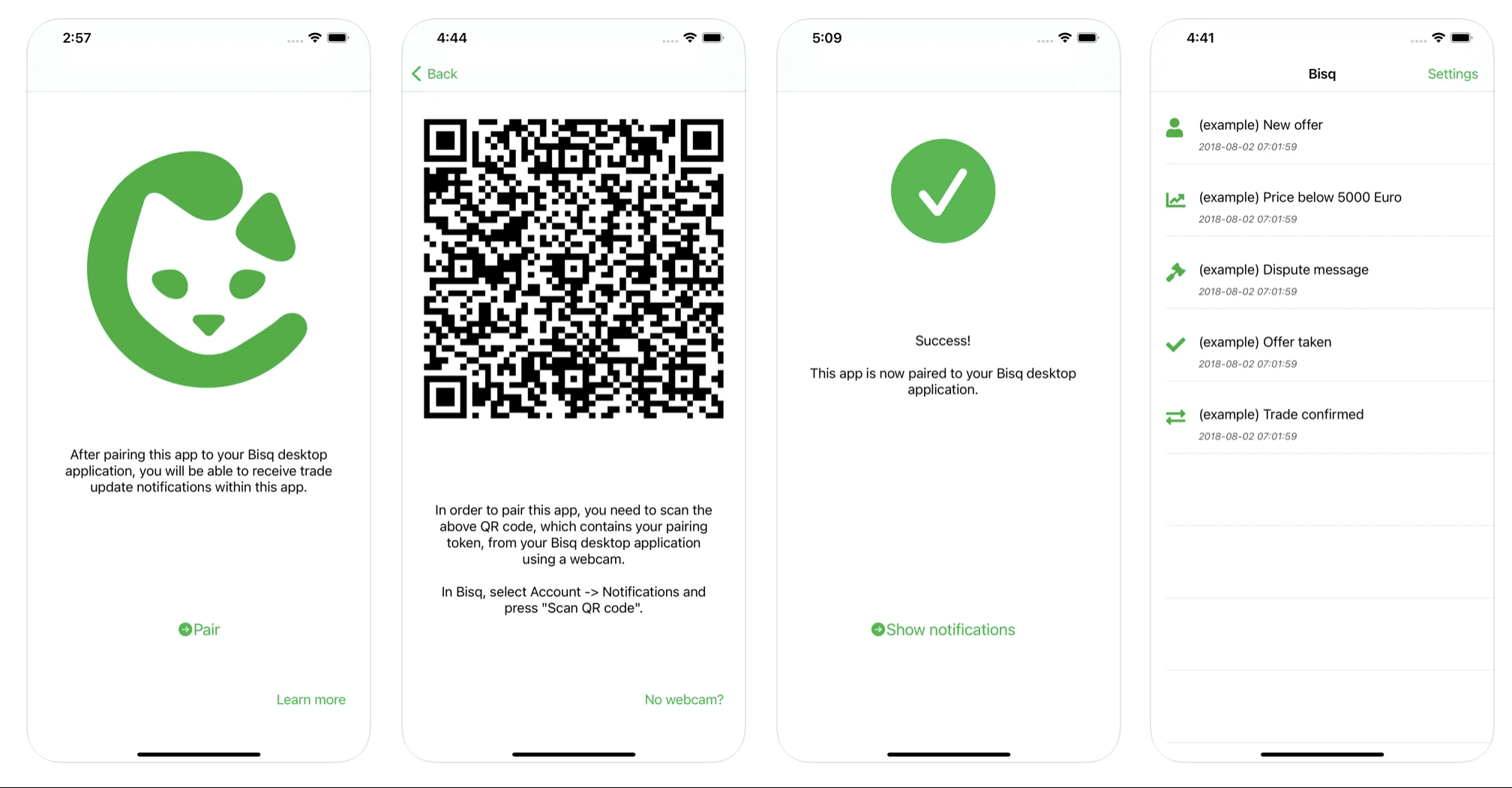 However, you will not be able to buy or sell Bisq on the go. This means that the app is only useful for you to monitor the market or get updates about any offers you have made.
Is Bisq Safe?
The main attraction of Bisq is that it is decentralized, which comes with certain advantages when it comes to security and anonymity. To begin with, you will not have to divulge your personal details to any third party, nor do you have to worry about your financial information getting hacked via this software.
On the contrary, our Bisq review found that the software is entirely non-custodial, meaning – you are in full control of your fiat and crypto funds. However, this means that if you lose your private key or if your computer gets hacked by any other means, you alone will be entirely responsible for the loss.
And perhaps, most importantly, unlike centralized exchanges, Bisq is censorship-resistant. As this platform does not adhere to any legal jurisdictions, the laws or rules of specific countries do not have an impact on the tool or how you use it. 
Bisq Security
To avoid further security issues – the platform adopts the following guidelines:
All traders are required to make security deposits to prevent fraud
Any trading funds and security deposits involved with open positions are locked in a multi-signature escrow wallet
Built on Tor, and inherit censorship resistance
In case of any disputes, Bisq has set up decentralized human mediation and arbitration systems to handle any potential issues
Data concerning trade details are encrypted
To add more protection, you should encrypt your Bisq wallet with a strong password and back up the seed words.
And to make things crystal clear, Bisq is only a code. It is not a company or organization.
Bisq Customer Support
Bisq has set up detailed documents, video tutorials, and how-to guides on how you can get started with the platform and access its features. Since this is a decentralized exchange, you will not find any dedicated customer support.
Instead, you can reach out and engage with the community via the Bisq forum, subReddit, or Keybase. You will also find active social media pages on Twitter and YouTube from where you can receive the latest news and updates.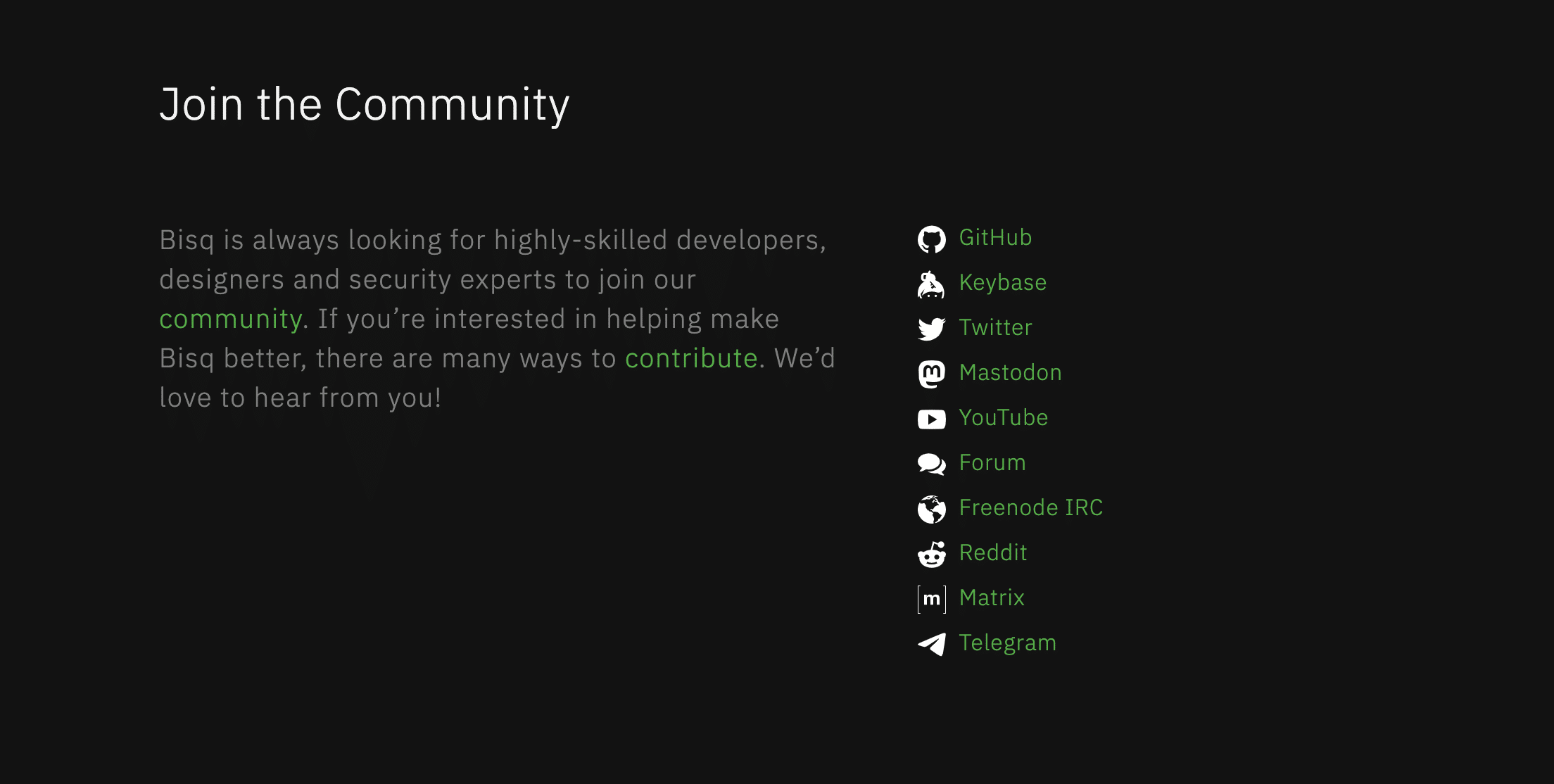 Unfortunately, this means that if you encounter any problem, you are well on your own. But the platform has also created a system for dispute resolution in case a problem arises between two traders.
eToro vs Bisq – Comparison
As a decentralized platform, Bisq offers you a number of advantages. However, whether or not these features are of any benefit to you will ultimately depend on your specific trading needs.
If you are wondering whether a centralized exchange would be more suitable for you, we have compiled a comparison that will provide you with a better perspective. In this section of our Bisq review, we will weigh the different features of this DEX against that of eToro – a popular cryptocurrency broker used by over 20 million clients around the world.
Safety and Regulation
Bisq aims to maintain a high degree of user privacy, security, and censorship resistance. However, this also means that you are practically on your own. You will have no access to any kind of protection when using this platform.
On the other hand, eToro offers you a fully regulated environment. The platform holds multiple licenses in different jurisdictions – including the SEC in the US. Yes, this requires you to go through identity verification, but, in return, you will receive access to a high level of protection. Some financial authorities also offer you insurance coverage for the fiat funds that you store on the site.
Trading Volume and Markets
As a centralized broker, eToro offers you access to more markets with high levels of liquidity. Although Bisq lists a wide range of pairs, there is no guarantee that you will find another trader who can match your offer. This means that you might have to wait a while for the trade to be completed.

Instead, on eToro, you will be able to gain access to dozens of crypto-to-crypto and crypto-to-fiat trading pairs. Also, if you want to diversify, you can also trade or invest in stocks, commodities, forex, indices, or ETFs.
User-Friendliness
As we have already mentioned, Bisq is not beginner-friendly software. If you are an advanced user, then it might be easier for you to find your way around the interface. However, you will not find any more features such as charts, indicators, or even trading orders.
In comparison, eToro has found the perfect balance in creating a platform that works well for both beginners and professional traders. The interface makes it easy to buy and sell digital assets, while advanced users can take advantage of different order types and charting tools.
Fees
We have already established that when using Bisq, you will be paying high trading fees. This can be an issue for many traders, especially beginners who want to get access to the cryptocurrency markets without risking large sums.
At eToro, you will be able to buy and sell cryptocurrencies on a spread-only basis – which starts at 0.75%. There is also no deposit fee if you are funding your account in USD – even when using a debit/credit card.
Passive Investment Tools
eToro also comes with passive investment tools that you will not find on Bisq. For instance, the Copy Trading feature allows you to mirror the trades of an expert trader on your account. Meaning – any profits or losses they make will also be replicated in your portfolio. The benefit is that you will not have to do anything once you invest the money.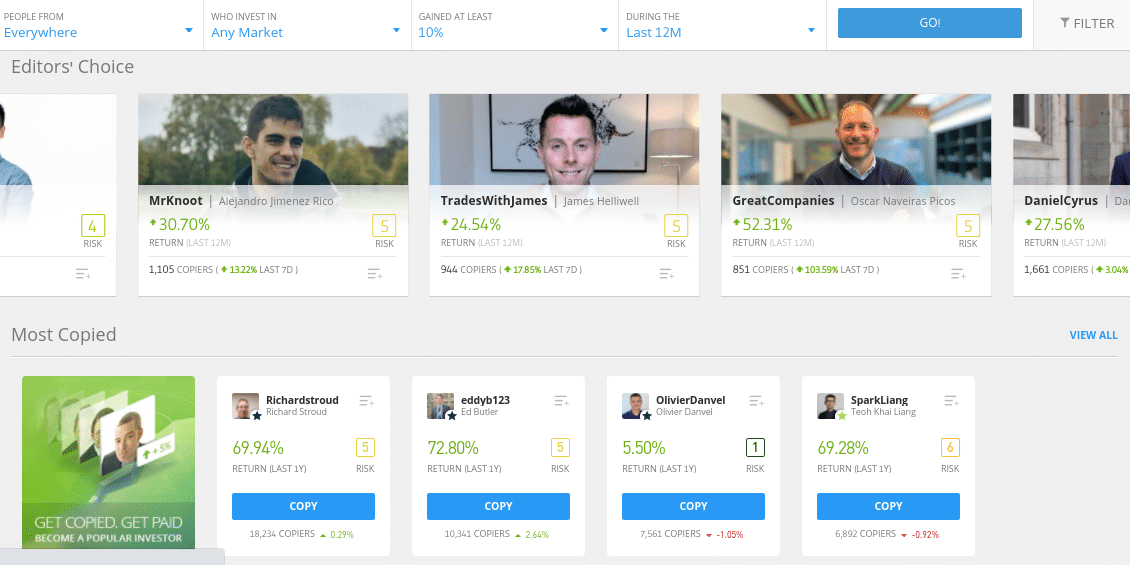 If you are looking to invest in cryptocurrencies passively, that is also possible on eToro. The team will handpick a collection of digital assets and create your portfolio based on the wider market sentiment. This will be regularly rebalanced to align with the market movements.
Bisq Review – Conclusion
Our Bisq review found that the platform facilitates secure, private, and decentralized Bitcoin trading. As such, it does not offer you the apparatus that you would receive from a centralized exchange. On the other hand, this means that you will be able to trade anonymously and have full control over your digital assets.
However, Bisq is not a platform that is either beginner-friendly or suited for advanced trading purposes. If you prioritize the comfort of using an exchange rather than anonymity – it would be better to use a broker such as eToro. In doing so, not only will you be using a platform that is regulated by multiple tier-one bodies, but you can invest in dozens of cryptocurrencies on a spread-only basis.
eToro – Best Broker to Trade Crypto
FAQ
Is Bisq available in the US?
What fees does Bisq charge?
What is the Bisq minimum deposit?