Crypto.com Cronos Attracts Bison Trails, Wins Staples Center Rename
Please note that we are not authorised to provide any investment advice. The content on this page is for information purposes only.
Crypto.com is making waves. Particle B, a startup accelerator dedicated to incubating projects built on blockchains, today announced the participation of Bison Trails, a leading blockchain infrastructure platform-as-a-service provider, in the testnet and mainnet beta of Cronos, the Ethereum Virtual Machine (EVM) chain running in parallel to the Crypto.com Chain. 
Staples Center to be renamed Crypto.com Arena
The news follows hot on the heels of the iconic Staples Center in Los Angeles being renamed Crypto.com Arena. Crypto.com is splashing on marketing spend, with just last week it announcing a tie-up with Hollywood star Matt Damon. The renaming of the 20,000-seater Staples Center venue goes into effect from Christmas Day.
Crypto.com was formerly known as Monaco and was one of the first crypto companies to issue a Visa card. The company has since launched its own blockchains. Crypto.com Chain token (CRO) is up 26% in the past 24 hours and up 159% in the past month, currently priced at $0.483. The Crypto.com token (MCO) is up 6.6% at $12.24 today.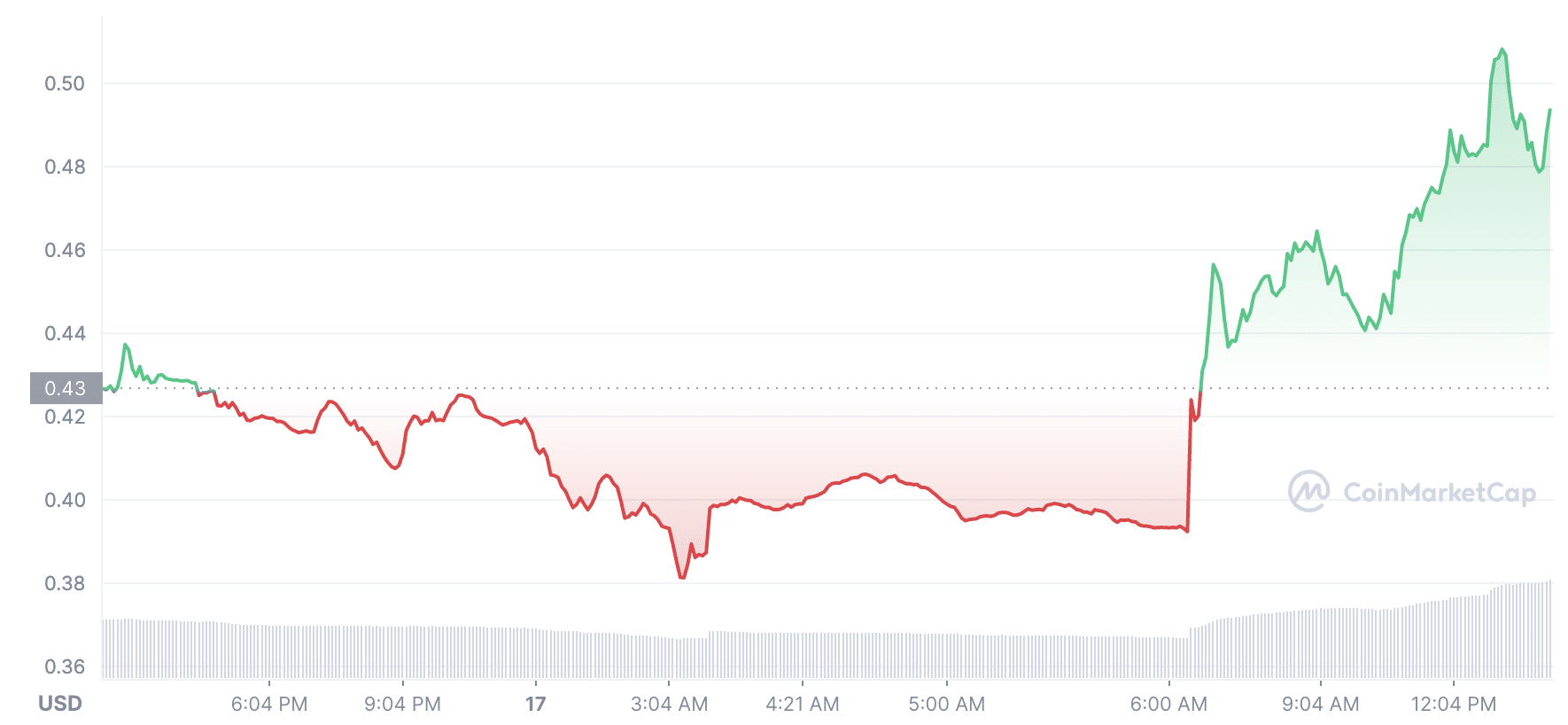 If you are new to crypto and looking to buy cryptocurrency, check out our guide.
Specifically, Bison Trails will run a validator node upon the mainnet beta launch of the Cronos network. The company's participation in the rollout of Cronos is aligned with its goal of supporting the growth of the entire blockchain ecosystem. The Bison Trails platform makes it easier for developers to participate in decentralized networks, and build applications that connect to blockchain data.
Crypto.com, Bison Trails  Collaboration deepens
In December 2020, Crypto.com enlisted Bison Trails to provide validator node infrastructure support on the Crypto.org Chain. Bison Trails' robust node infrastructure platform enabled validators to sign transaction blocks with low latency and high throughput on the Crypto.org chain.
The collaboration with Bison Trails extends this working relationship to the launch of Cronos mainnet beta.
In addition, Crypto.com will leverage Bison Trails' infrastructure to provide node service on the Cronos chain.
As a key contributor in the launch of Cronos, Bison Trails will provide network design and rollout support, including protocol design collaborations, as well as structuring, coordination, rollout, and troubleshooting support for testnet and mainnet launches, among other services.
Particle B and Bison Trails to boost Cronos adoption efforts
Gary Or, Founder of Particle B, said: "We're happy to have Bison Trails as one of the Validator Node operators for the current Cronos testnet and the mainnet.
"We chose to work with Bison Trails because of their skill with distributed systems and decentralized node infrastructure, as we have seen in our previous work with them on the Crypto.org Chain.
"Their node clusters are built on a multi-cloud, multi-region foundation spread across geographic regions and are able to withstand cascading failover events."
Aaron Henshaw, head of engineering at Coinbase Cloud and co-founder of Bison Trails, commenting on the announcement said: "We're excited to support the launch of Cronos and believe that it will continue to advance the mainstream adoption of crypto with EVM compatibility and capability to support DeFi solutions and more. Similar to the launch of Crypto.org Chain, this is a milestone that will help expand access to innovative offerings and services."
Cronos claims to be the first Cosmos EVM chain for DeFi, NFTs and Metaverse. It aims to scale the DeFi and decentralised application ecosystem, by providing developers with the ability to instantly port apps from Ethereum and EVM-compatible chains.
With low cost, high throughput, fast finality, and built-in interoperability, Cronos plans to bring decentralised applications to the 10 million-plus user base of the Crypto.com ecosystem.