Best Prepaid Credit Cards – Prepaid Credit Cards Guaranteed Approval in 2021
It's pretty common for individuals to find themselves in a tough financial situation. If you find yourself in a bad credit situation and you're not being able to access traditional credit or debit cards, you might need to consider something else. This is where prepaid credit cards come into play.
Prepaid credit cards are an easily obtainable credit instrument that requires no credit checks to be conducted on applicants. While they won't exactly help improve your credit score, they are an ideal solution when you can't pay cash or use any other method to pay off debts or bills.
#1 Prepaid Credit Card in 2021 – Credit Soup


Quick List of Best Prepaid Credit Card Providers
Because of the demand for prepaid cards and other similar non-traditional lines of credit, numerous providers have emerged who provide pre-paid credit cards. Consumers should exercise caution while selecting a prepaid credit card as all of them are not created equally. If you are searching for reliable prepaid credit cards, you will find the following list helpful.
Brinks
Mileage Plus
Walmart
PayPal
Mango
How We Rated & Reviewed the Best Credit Card Providers
It's pretty easy to be confused with so many prepaid credit card providers fighting for consumers' attention. The list compiled above is based on several criteria including convenience in funding the card, the fees, and any other additional features. The providers in this list meet the criteria and are backed with good customer testimonials.
The best providers for prepaid credit cards provide ones that not only function as a great budgeting tool but also affordably provide additional features. Other features taken into consideration while preparing the list include extra benefits, free reload options and special features such as integration with popular cryptocurrency wallets and high-rate savings accounts.
Reviews on top 5 Best Prepaid Credit Cards
1. Brinks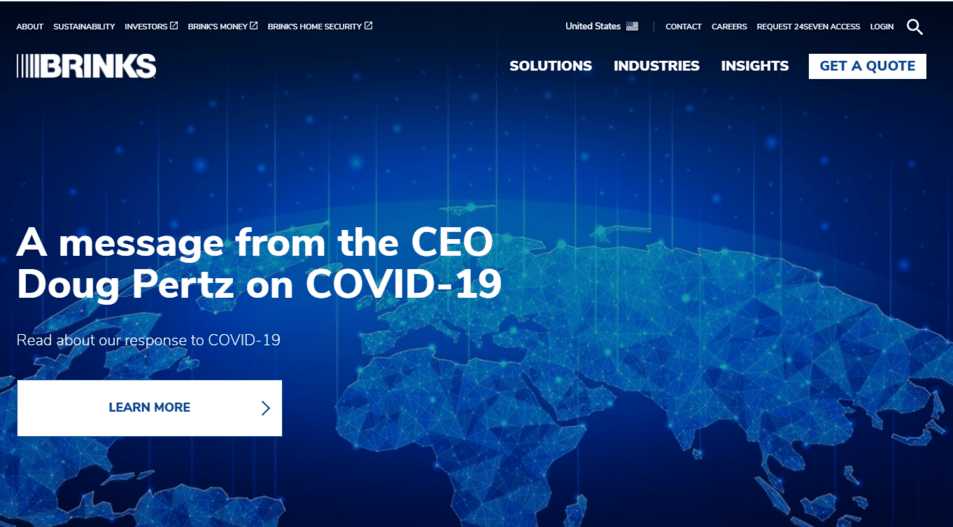 Brinks is a popular prepaid credit card service available for people who want a hassle-free prepaid credit card. You can get started with Brinks easily and directly as there are no unnecessary credit checks or even minimum balance required. The process of getting a prepaid credit card from Brinks requires a straightforward sign-up to directly deposit funds.
Highlights:
Brinks prepaid credit card is available as a MasterCard which rewards users in case the check is valued at $500 or more. These rewards include:
Reduction in fees which brings $9.95 to $5 per month.
An optional savings account is offered with over 5% APY.
In case of any shortages, Brinks prepaid MasterCard covers up to $10.
Other benefits include:
Brinks rewards users by including them in a payback rewards program when they buy products from an eligible category. Restaurants, retailers, and different kinds of services are included in the categories. All you have to do is make the purchase using your Brinks prepaid card from a participating merchant to earn a reward point that would be credited into your account as Cashback.
One of the most popular modes of payment i.e., via online banking can be accessed with Brinks prepaid card through any website or application. Users can simply sign in to their account to check their balance, transfer funds, figure out the location of a nearby reload station, fix alerts to be informed of any changes made to their cards, and pretty much everything that online banking offers to do.
Pros
These cards are virtual
It hides your credit card number during online purchases
No credit check is required
It can be personalized
Including a picture on your card makes it extra secure
No card purchase fee required
Early direct deposit available
Cons
A long list of fees
Variable monthly fees
Card reload levies fees
Point values and higher-yield rewards are hard to obtain unless you have an account
2. Mileage Plus
MileagePlus prepaid card is a Visa credit card which is also known as MileagePlus Go card that rewards users, miles as they continue to spend. United airlines are connected with this card and awarded miles are available for redemption for users having a MileagePlus account.
Highlights:
This prepaid card is reloadable and insured by the FDIC. Being a Visa card, it can be used at any point where Visa debit cards are also accepted. The benefit of earning travel reward points without spending via a credit card is the reason why the MileagePlus card is so popular. Being a prepaid card means you can only use the amount of money already deposited into your MileagePlus account. With this card, you do not have to worry about overdrafts or late fees and simply earn and track your purchases through the account. Following are the characteristics of the MileagePlus card;
Fees
MileagePlus Go does not offer overdrafts or late fees. Users have the choice to either go with a monthly or annual plan and these fees are uploaded onto the card. Their website has detailed information regarding the fees.
Additional services
This card works like any other normal Visa debit card but without worrying about overdraft. An online account created for the MileagePlus card allows you to reload and transfer money easily in a few steps through a simple mobile check photo, direct deposit, bank transfer, and more.
Other features:
This card does not require credit checks.
Users can schedule text alerts. Online account management is available on the main website.
Mobile application to track purchases and balance of reward points easily.
Instant transfers are allowed.
Pros
Users receive $1 per mile on their annual plan or $1 per 2 miles on the monthly plan
Customer service of MileagePlus card is satisfactory
This card is a good deal for people unable to use travel rewards credit cards
Easy to follow the process for creating an account
Cons
This card is limited in terms of annual earnings
Travel benefits are also limited
This card does not come with a smart chip
3. Walmart
Being a global retailer, Walmart offers several reward opportunities to its loyal customers. This includes two types of Walmart MoneyCard both in Visa and MasterCard versions for people who shop at Walmart a lot. Through these two cards are basically identical, but it gives users 3% cashback at Walmart's website and 2% cashback at any Walmart fuel station within the USA.
Highlights:
Like other cashback cards, to obtain a Walmart MoneyCard there are no credit checks required. Users can get an approved MoneyCard without overdraft fees and a bank account to receive guaranteed cashback rewards by simply signing up with an account. Special features that make Walmart MoneyCard important;
Like other cashback cards, to obtain a Walmart MoneyCard there are no credit checks required. Users can get an approved MoneyCard without overdraft fees and a bank account to receive guaranteed cashback rewards by simply signing up with an account. Special features that make Walmart MoneyCard important are;
Users can send money to one another (at 0 extra costs) if their card was issued by Green Dot Bank.
Money is accessible up to 2 days early with a free direct deposit function depending on your payment provider's timing.
This card was recently converted into a demand deposit account this year.
It's great for:
If you shop at Walmart constantly then their MoneyCard is an added bonus for you. Not only does it save users a lot of money while shopping but it also offers free bill pay and money transfers among your friends and family gave as per terms and conditions.
People with account issues
Those who have faced issues while handling different kinds of accounts can take advantage of Walmart MoneyCard. There are no credit checks required to obtain this card. Simple signup is necessary which allows cardholders to check how many points remain.
Pros
MoneyCard offers $75 cashback rewards in a year
3% cashback on Walmart online store, 2% cashback from fuel stations in the USA, and 1% from Walmart stores
Users can pay their bills online for free
Direct deposit of payroll or government benefits are free
Cons
$1000 is needed to avoid the monthly fee
It charges a $2.5 fee for bank teller and AMT withdrawals.
A third-party fee is charged by banks and ATMs
Rapid reload of $3 is necessary at Walmart checkout
4. PayPal
PayPal has to be one of the world's largest financial services providers that reach several countries and is present in many continents. Each day, millions of people use its services to pay online in a secure and easy process. That is why PayPal's prepaid MasterCard is one of the most trusted prepaid credit cards among global consumers.
Highlights:
The PayPal prepaid card charges low fees as compared to other alternatives present in the market. For unlimited purchases, users only need to pay $4.95 per month and get additional perks such as;
Free money transfer via PayPal
$0 activation fee
Free direct deposit
Charges
The ATM fee this card charges is as low as $1.95 which makes it the lowest ATM fee charged. The foreign currency fee charged by PayPal prepaid card is approximately 2.5%. You cannot get a better forex fee unless you have been approved for no foreign transaction fee credit cards.
Accessibility
With this card, users get a cashback at select restaurants and retailers. Fast access can be enabled easily if users set up direct deposits or simply transfer money from their PayPal account onto their prepaid card. These cards can be easily reloaded at 130,000+ Netspend locations.
Bonus offers
PayPal prepaid cards are popular for their various bonuses which are available for users frequently. These offers allow you to refer to a friend to get a cash bonus. Some others are signup bonuses that would reward users to load cash on their cards.
Pros
It is best suited for PayPal users
Perfect to use for a rewarding online shopping experience
Accepted wherever PULSE or MasterCard is accepted
PayPal balances can be transferred on the card for free
Use at retail checkouts for free cashback
Mobile application available for account management
Easy to fund and reload
No credit check required
Cons
PayPal transfers are limited to $300
Online services are inaccessible without linking your card with your PayPal account
No-fee ATM withdrawals
Would not build credit
Monthly maintenance fees
5. Mango
The Mango prepaid credit card is available as MasterCard which is great for those who still do not own a bank account but need the convenience and facility of having a card to pay for their daily necessities. For this card's approval, no credit checks are needed.
Highlights:
The Mango prepaid card is famous for its several features which makes it quite similar to a card that is available through a checking account.
Savings account
Mango prepaid card provides the opportunity to open linked savings account with Mango by paying a minimum of $25. The Mango savings account offers 6% APY which is more than the average interest rate on savings accounts in the US. But to qualify for 6% APY, minimum signature purchases worth $1500 are required.
Adding funds easily
Several options are available for users to add funds through Mango. One can either start a direct deposit or use PayPal, a linked bank account, or even use cash at Green Dot retailers to load funds. You can walk into a Walgreens or 7-Eleven to add funds to your Mango prepaid card easily.
Mobile application
Mango mobile application is perhaps of its best quality. One simple login process can allow users to check, track, and view balances. Previous transaction details are also clear to see on Mango mobile app. The app can also be used to set up alerts whenever the card is being used.
Fees
A simple and easy-to-understand fee structure is why Mango prepaid has so many users. It charges a monthly maintenance fee of $5 which can be avoided if users maintain $800 in direct deposit to the account monthly. An Inactive card would also imply $8 a month so make sure that you don't keep your Mango prepaid cards inactive for more than 90 days
Pros
Low fees than other prepaid cards
Best for people without a traditional checking account
A Mango card can meet your basic spending needs without relying on cash exclusively
Great for transferring money to an adult or a relative who does not have a bank account
Cons
$3 ATM withdrawal fee
Inactivity fees
Monthly maintenance fees
Checking the balance on ATM also costs $1
How do Prepaid Credit Cards Work?
Prepaid credit cards with no fees are ideal solutions for individuals with low credit scores or poor credit histories. These individuals are normally disqualified from applying for loans or other forms of credit from traditional banks and financial institutions. However, compared to normal, secured credit cards, prepaid credit cards do not require any sort of collateral. You are entirely responsible for limiting the amount of money you use with a prepaid credit card. As these credit cards do not look at an applicant's credit score or credit history, they are easily approved.
Prepaid credit cards are a good way to keep you on a budget even if you possess perfectly good credit and can apply for other loan types. These cards offer the same functionality as credit cards while preventing you from overspending. They work in a similar fashion to bank debit cards as each transaction reduces your cash balance. However, the main difference with a conventional debit card lies in the fact that it is not tied to a bank account. You can also withdraw up to the amount loaded onto the card, with some prepaid cards even allowing people to withdraw from ATMs.
It is harder for you to get into debt if you use a prepaid credit card compared to a traditional credit card. Prepaid credit cards impose limits on the maximum amount you can spend using the card. Some prepaid cards do allow you to over your fund limit but may charge an overdraft fee for the facility. You can also end up going over your limit if your card doesn't have enough balance and a separate card fee turns the balance into negative.
Unlike traditional credit cards, prepaid credit cards do not report your activity to the credit bureaus. This also means that you cannot build your credit history while using it. Prepaid cards are simply a tool to control, your spending and will not help you to establish or repair credit scores.
Do Prepaid Credit Cards Harm Your Credit Score?
Every time you use a traditional credit card to transact, you are essentially borrowing money from the issuer. During repayment, you can either repay the entire amount before your billing period or just make the minimum monthly payment. The remaining balance, if any, is carried over or revolved to the following month. You will be charged for added costs in the form of interest payments if you carry a balance.
Traditional issuers of credit cards normally report the payment activity of their client to one or more of the three major consumer credit bureaus – Equifax, TransUnion, and Experian. Making on-time payments thus helps build credit and improve your credit scores.
But prepaid credit cards are different in this respect. You are essentially putting your own money into the card account and your total spend is limited by the account balance. You can add money as needed to the card if it is reloadable. They are no longer usable once the funds have been extinguished. Prepaid credit card issuers do not conduct credit checks when granting their services to consumers. This allows wider participation from individuals who have been rejected by banks and financial institutions. Because of this, prepaid card usage is not reported to credit bureaus. So timely repayment of prepaid credit card amounts will not contribute towards improving your credit score.
Advantages of Prepaid Credit Cards
Prepaid credit cards are pre-loaded with funds and operate in a reasonably straightforward manner. Users may use the funds on the prepaid card to conduct transactions, as opposed to traditional credit cards, which operate on borrowing credit from the bank. These are the best substitute for credit cards because of their efficiency, ease of use, assured approval, and other benefits.
Simple to use and reload
Prepaid cards function in the same way as regular credit and debit cards from the major card brand networks, despite the fact that they are funded differently. Users may reload their prepaid credit cards in a number of methods, such as online and in-person bank account deposits, fund transfers, and cash. These cards are just as frequently approved as credit cards and can be used for online purchases, over the phone, or in any other vending machine.
Lesser chance of going over budget
Compared to credit cards, prepaid cards ensure a lesser possibility of overspending. With conventional payment systems, it is often tempting to go overboard. Many users thus look for solutions in order to make informed buying decisions. Since prepaid cards have a purchasing restriction of the card's balance, it can be the best option to consider in such instances. Since users can just spend what they have deposited in the cards, there is little risk of overspending. This may greatly improve one's budgeting skills and aid in the development of healthy monetary practices.
Safer alternative payment method
For user privacy concerns, many users are hesitant to use their credit or debit cards in any circumstance. Prepaid cards provide an extra layer of privacy and security to safeguard one's personally identifiable information. Cardholders can have more confidentiality with anonymously authorized prepaid credit cards. Anonymous prepaid credit cards are more secure than regular credit cards since they function similarly to debit cards. These cards do not keep track of a cardholder's purchases or payments, and they are rarely addressed to credit bureaus.
More secure than cash
Prepaid credit cards are safer to handle than cash, making them ideal for travellers. Users are protected if their prepaid cards are reported stolen and allow users to access funds without actually carrying a wallet full of cash. Consumers who reported their cards missing, damaged, or illegally used in a reasonable timeframe now have the right to a company inspection, compensation for unlawful transactions, and error rectification as well.
Ease of approval and no credit check
The benefit of such prepaid cards is that they are simple to obtain approval for. If a prepaid credit card declines to approve you or requests a credit check, it is better to get rid of it right away. Prepaid cards are issued based on the amount of money you have put. As a result, individuals with a poor credit score are also eligible to take the benefit of these cards. There are no credit checks or income verification requirements with such credit cards, and thus acceptance is practically assured.
Disadvantages of Prepaid Credit Cards
While using prepaid credit cards and taking advantage of all the offers they provide, one must also need to be informed of the drawbacks. Hence, it is critical to consider certain factors in order to make informed judgments while dealing with these cards.
Limiting the purchasing power
Using a regular credit card means having a higher credit limit; this may facilitate users to make a significant transaction with ease if the chance arises. However, using a prepaid credit card might restrict ones spending ability. While restricting users to going over the budget may be beneficial at times, this makes it challenging and inconvenient to make the transactions if required.
Reduced access to liquid funds
Another drawback of utilizing a prepaid credit card is that it reduces your access to liquid money. To make a purchase, you must first deposit the amount beforehand. This implies that you must decide ahead of time how much money you intend to spend which can be troublesome in an emergency.
Comparatively time-consuming
You must first transfer money to the credit card company before you can use your credit card to make any transactions. This implies that it may take some time for the organization to collect and deposit your money into your account.
Alternatives to Prepaid Credit cards
Prepaid credit cards are one of the safest and most reliable options for credit-challenged individuals who are struggling to access lines of credit. However, there are a few alternatives that can prove a better fit for some individuals.
Debit cards
Money orders
Cash
Secured credit cards
Prepaid cards cannot boost your credit score as they do not report your spending activity to credit reporting agencies nor do they have a line of credit attached to them. If you intend on building or rebuilding your credit history, a secured card may be a better option for you.
Secured credit cards will allow you to make a deposit with the issuer in a specific amount that is treated as collateral. In this case, your credit limit is the amount you've deposited. It requires you to pay back what you owe in the form of minimum monthly instalments.
Because of the security deposit, issuers get more confidence in providing you with the loan even if you have a bad credit score. These credit card issuers also report your account activity to credit bureaus, including all payment information. Thus, you can improve your credit score if you pay the bills of a secured credit card on or before the due date.
Secured credit cards have their own problems, such as a heft upfront expense for cardholders. Compared to prepaid credit cards which can be acquired for less than $5, secured credit cards typically require deposits ranging from $200 to $3000. Despite this fact, secured credit cards are still a powerful tool to help you get your financial life back on track.  Once you've proven your worth with timely monthly payments, the card issuer may even allow you to increase your credit limit.
Cash, debit cards, and money orders are some of the other alternatives to prepaid credit cards. While debit cards are undoubtedly the better alternative, you require a relationship with a bank to get one.
Conclusion
Acquiring a prepaid credit card can be the best viable alternative if you have low credit or wish to avoid using regular credit or debit cards. Apart from being easily accessible, these cards do not necessitate a credit check and hence can be acquired by basically everyone. Prepaid cards can also help you keep track of your expenses and are a more cost-effective alternative to high-fee bank accounts.
Request Your Credit Card at our Top Rated Provider – Credit Soup


ALSO CHECK:
– Best Credit Cards For Travel Rewards
– Credit Cards For People With Bad Credit
FAQs
How does a prepaid card work?
Can I use my prepaid card immediately?
What are the types of prepaid cards?
How to put money on a prepaid card?