Best Options Trading Platforms Australia – Top Options Trading Platforms Compared 2021
One thing you're bound to notice when you begin trading is the huge amount of available investment types. Most new investors assume trading is as simple as selecting a particular market, buying low, and selling high, but with the invention of options and CFDs, this has become less accurate. The investors of today have access to financial products that change the way we invest. Instead of buying an asset outright, you can speculate on whether you think a price will go up or down. This has several advantages over traditional investments, with the primary being a reduced chance of getting stuck in a losing trade and the ability to open and close trades in a quicker time frame when compared to investing in stocks.
#1 Options Trading Platform Australia – eToro
Best Options Trading Sites Australia  – Quick Pick
We understand not everyone has the time to read in-depth reviews. So, we've created this quick summary of the best options trading platforms.
AvaTrade – Most Accessible Options Trading Platform Australia
Capital.com – Alternative Options Trading Platform Australia
easyMarkets – Best Options Trading Platform for Beginners Australia
CMC Markets – Best Options Trading Platform For Range of Assets Australia
What is Options Trading?
Options trading is a speculative way of investing, similar to investing in a CFD. Instead of purchasing an asset, you purchase a contract that gives you the right to buy an asset at a particular price, however, you're not obligated to make the purchase. This is called a "call option". So, if an asset's current price is $100 and you think it will rise to $150, you buy a call option for $125, giving you the right to buy the asset at $125 before your option expires. If the asset rises to $150 you can exercise your call option and purchase shares at $125, pocketing a profit of $25 per share. However, if the asset falls in value, to say, $50, you can simply let your option expire, meaning you only lose the premium you paid for the option, rather than getting stuck in a losing investment. Alternatively, if you believe an asset is likely to decrease in value, you can take out a "put option", similar to shorting a stock. A put option works in the exact same way as a call option, however, instead of having the right to buy at a certain price, you're given the option of selling at your chosen price. It's important to note, the "premium" (the fee for taking the call) is continually changing. As the chance of the option occurring increases, so does the premium.  
Top 4 Best Options Trading Platforms Australia 
One of the most overlooked aspects of trading is selecting the right platform. It's important to consider what features a broker offers, their security, and the markets they support. You should weigh the offerings of a broker against your personal requirements to help make an informed decision. To make this a little easier for our readers, we've put in the hours and done the research to bring you our in-depth reviews on the best options trading platforms in Australia. 
1. AvaTrade – Best Overall Options Trading Platform Australia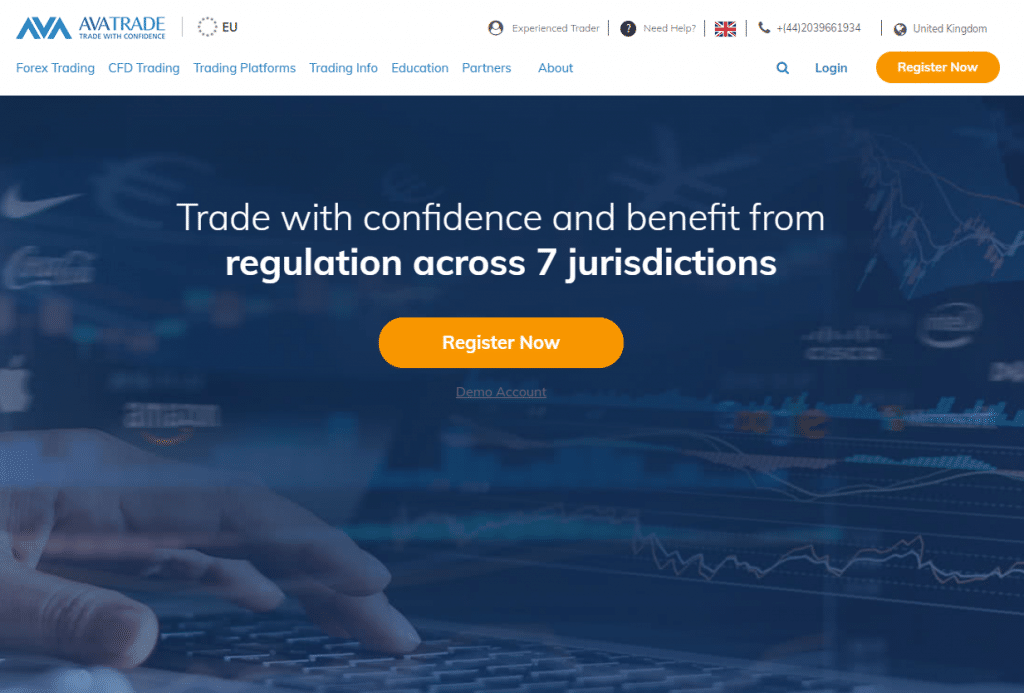 Since its launch in 2006, AvaTrade has grown to become one of the best options brokers in the world. As of 2021 they currently serve over 1 million users, so clearly they're doing something right. Although your first impression of AvaTrade may be affected by the somewhat bland interface, under the hood they've managed to pack in tonnes of top-quality trading features.
Security & Privacy
We couldn't in good conscience recommend an options trading platform if it didn't have phenomenal security, luckily for AvaTrade, they certainly didn't skimp in that regard. They're regulated by the Australian Securities and Investments Commission, meaning that they need to comply with strict regulations concerning the safety of customers and their funds. AvaTrade has also taken SSL encryption one step further by implementing 256-bit SSL encryption, preventing your data from being intercepted on its way to the AvaTrade servers. As we all know, there's little information more sensitive than identity documents and card information, so to protect these AvaTrade uses McAfee Secure, a piece of software created by legendary digital security advocate John McAfee.
Features
As we briefly mentioned, AvaTrade has managed to pack an impressive amount of features in an easy-to-use package. The first thing we'll note is AvaTrades is an extremely accessible platform, it's available both on the web and mobile, ensuring you're able to use AvaTrade regardless of your device. They also give users the option of a regular AvaTrade account, a professional account, or an Islamic account, catering to the needs of the majority of users. Beginners will be happy to know AvaTrade offers in-depth video trading guides that explain the basics of trading in simple terms and an easy-to-understand format. In a similar fashion to eToro, AvaTrade offers its users something called ZuluTrade, an auto-trading platform that lets users mirror the trades of over 10,000 users.  Outside of general features, AvaTrade has one feature in particular that helps it secure its place as one of the best options trading platforms out there. The aforementioned feature is AvaOptions, a platform specializing in options trading, it's packed with 'exclusive tech' like AvaTrade market trends which provide traders with on-the-fly information related to your investment.
AvaTrade Fees
Fee Type
Fee Amount

 

Commision Fee

0%

Deposit Fee

$0

Withdrawal Fee

$0

Inactivity Fee

$50 after 3 months & $100 after 12 months
Pros
Regulated by ASIC

256-bit SSL encryption

McAfee Secure

Professional trading account

Video trading guides

AvaOptions

ZuluTrade 
Cons
Not available in certain countries

Could benefit from a UI revamp
Your Capital is at Risk.
2. Capital.com – Alternative Options Trading Platform Australia 
By far the youngest platform on our list, Capital.com, offers users an incredibly powerful, sleek, and modern options trading platform. Despite its age, Capital.com has done well to create an excellent platform that everyone can use. Considering the number of people getting into trading the past few years, it makes sense that Capital.com provides extremely extensive trading guides, covering everything from the basics to advanced trading strategies.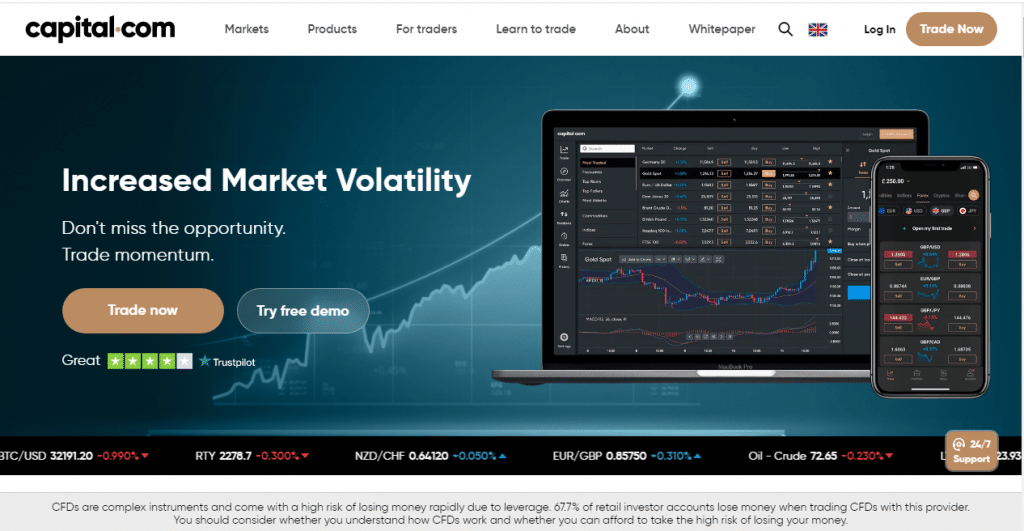 Security & Privacy
Capital.com lacks the long track record some of the other brokerages on this list have, therefore it's easy to see why they've made sure to have water-tight security. After all, a platform getting compromised so close to its inception could certainly shake investor confidence. To ensure this doesn't happen Capital.com complies with strict standards outlined by PCI Security Standards Council. These security standards are designed specifically to protect customers' payment data throughout the entire payment cycle, this removes a large amount of the incentive for criminals to attempt to steal your data. Additionally, Capital.com relies on Transport Layer Security to protect your data while it makes its way from your device to Capital.com's central server. Capital.com also has FDIC insurance, meaning users are protected in case Captial.com gets compromised.  And lastly, to ensure that expectations are matched and nothing illicit goes on behind the scenes, Capital.com is regulated by both ASIC and the FCA, two tier-1 regulators. 
Features
Despite its age, Capital.com has implemented a huge amount of interesting features that could help you take your trading to the next level. The first thing you'll notice when using Capital.com is how easy the website is to navigate. They have done well to ensure that anyone can successfully find what they're looking for, something surprisingly uncommon with brokerages. Another feature that is extremely beneficial to new traders is Capital.com's extensive educational material. If you want to learn how to trade, Capital.com offers completely free online courses consisting of several lessons lasting a few minutes each, followed by a quiz so you can test your knowledge. On top of this, I'm sure technical traders will be happy to hear that Capital.com has full TradingView integration, so you can chart markets with ease, to your heart's content. Overall we'd have to say all these features certainly make Capital.com a contender for the best options broker.
Capital.com Fees
| | |
| --- | --- |
| Fee Type | Amount |
| Commission | 0% |
| Withdrawal Fee | $0 |
| Deposit Fee | $0 |
| Inactivity Fee | $0 |
Pros
Regulated by ASIC + FCA

PCI data security compliant

Transport layer security

FDIC insurance

Educational material

Easy to use

TradingView integration
Cons
Not available in certain countries
Could benefit from implementing more advanced features
 76.72% of retail investor accounts lose money when trading spread bets and/or CFDs with this provider.
3. easyMarkets – Best Options Trading Platform for Beginners Australia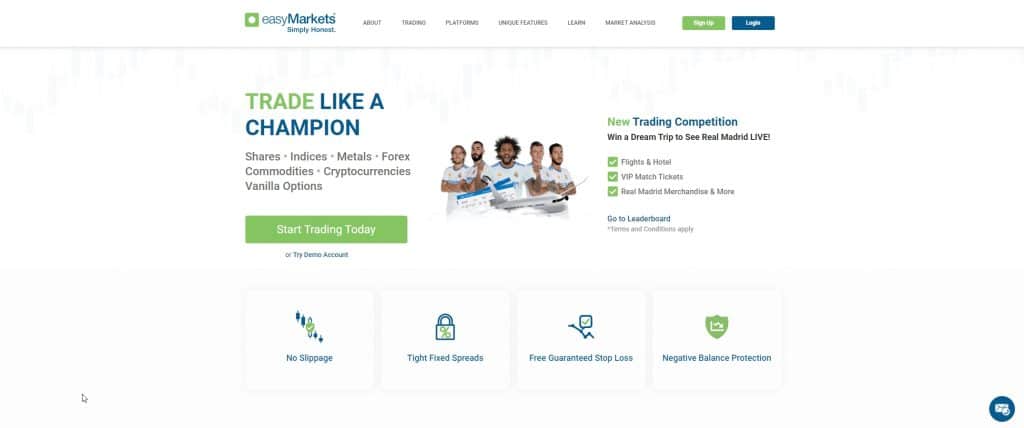 easyMarkets is one of the foremost trading platforms in Australia, currently tending to over x customers. They're the second oldest platform on the list, founded in 2001. As they say, with age comes experience, therefore it's no surprise that easyMarkets is packed full of useful features and handy resources. 
Security & Privacy
It's evident that easyMarkets understands how important security is to investors. They've implemented several excellent security features, with a focus on protecting customers via banking. One way easyMarkets has achieved this is by ensuring the majority of customer funds are held in a segregated bank account, meaning that even if easyMarkets were to get breached, customer funds would remain safe. On the topic of banking security, easyMarkets only stores funds in "tier-1" bank accounts, meaning the bank has to have strong capital reserves, ensuring that customers won't have issues when withdrawing. This is important because even if easyMarkets went into insolvency, customers would still be able to withdraw their funds. On top of all this, easyMarkets does, of course, comply with regulations laid out by ASIC, ensuring customer safety. 
Features
It's hard to gain 20 years of experience in the investment space without learning what your customers are looking for. easyMarkets has done just that and tailored its platform to the needs of both new and experienced traders. They've chosen to implement a step-by-step trading course that runs you through trading terminology and helps you create your first trading framework. Although easyMarkets doesn't offer as extensive a range of topics as others, they've designed their course to ensure beginners end up with a solid foundation, before moving onto more advanced topics. easyMarkets boast that they were the first brokerage to offer a feature called "DealCancellation", a way users can cancel a losing trade for free, up to 6 hours after it was initially placed, a great feature in case a trade gets affected by an unexpected factor. Additionally, easyTrade is a feature that allows you to set the amount of risk you want to take on and the amount of time a trade will run, automatically closing when the time is up. If you've got previous experience trading I'm sure you'll have stayed up late to ensure a trade goes to plan, so you'll understand how useful this feature is. All in all, we'd say these features definitely push easyMarkets into the best options trading platform conversation. 
easyMarkets Fees
| | |
| --- | --- |
| Fee Type | Amount |
| Commission | 0% |
| Withdrawal Fee | $0 |
| Deposit Fee | $0 |
| Inactivity Fee | $0 |
Pros
20-year track record

Regulated by CySEC & ASIC

Funds held in a segregated bank account

Funds kept in tier 1 banks 

Step-by-step trading course 

DealCancellation 

easyTrade
Cons
Doesn't have the largest range of assets
67% of retail investor accounts lose money when trading CFDs with this provider.
4. CMC Markets – Best Options Trading Platform For Range of Assets Australia 
CMC Markets is a titan of the investment space, they've been operating since 1989 and since that time has continued to grow their range of offerings. CMC Markets operates primarily in Australia and the UK and as such comply with financial regulations set out by both countries. 

Security & Privacy
For a platform to survive as long as CMC Markets has, they need to take security seriously. CMC Markets has implemented some industry-leading security features to make sure its users are well protected. Firstly, they're regulated by the FCA and ASIC, meaning that it's extremely unlikely they're going to up and run off with client funds. They make sure to keep client funds in segregated bank accounts, separate from corporate funds, ensuring nothing gets mixed up. Users can also benefit from 2FA and biometric security, which provides greater account security, 
Features
CMC Markets is huge in the investment space, this is especially evident when you look at the huge range of markets they allow users to trade in, covering everything from forex to stocks. Despite a focus on serving users with some trading experience, CMC markets have a tonne of educational material available to help get beginners up to speed. Unfortunately, however, much of this won't be relevant to those wanting to build on previous experience because it only covers the basics. One area that CMC Markets excels in is their 24/5 customer service, the response time is fast and the customer service team is helpful and friendly. Overall, we'd say all this certainly makes CMC Markets a contender for the title of best options trading platform. 
CMC Markets Fees
| | |
| --- | --- |
| Fee Type | Amount |
| Spread | Variable |
| Withdrawal Fee | $0 |
| Deposit Fee | $0 |
| Inactivity Fee | $10 after 12 months |
Pros
Regulated by the FCA & ASIC

FSCS insurance up to $85,000

Segregated funds

2FA

Biometric security

Educational material

Range of markets 

24/5 customer service
Cons
It could be too complex for some users

Analysis tools are lacking
67% of retail investor accounts lose money when trading CFDs with this provider.
Best Options Trading Platforms Compared
If you're still undecided on which broker sounds right for you, we hope this table will help. We've compared the fees of the top 4 best options trading platforms, to give you a clearer look into how much it costs to trade with each broker. 
| | | | | |
| --- | --- | --- | --- | --- |
| Broker | Commission | Deposit Fee | Withdrawal Fee | Inactivity Fee |
| AvaTrade | 0% | $0 | $0 | $50 after 3 months, $100 after 12 months |
| Capital.com | 0% | $0 | $0 | $0 |
| easyMarkets | 0% | $0 | $0 | $0 |
| CMC Markets | 0% | $0 | $0 | $10 after 12 months |
Which Platform is Best For You?
To help you understand some of the criteria we used to select our choices for the best options brokers, we've broken down some of the most important things to look out for when selecting which broker is right for you. 
1. Features
We understand that this might be overly general, but rather than simply looking at the features a platform has, you need to consider your individual needs and weigh them against a platform's offerings. For example, if you had some investment experience and wanted to solely trade options, AvaTrade's AvaOptions may be a serious selling point for you. If you want to learn as you trade, you might be enticed by Capital.com's extensive guides. It's less about selecting the platform with the most features, and more about selecting a platform with the right features for you. 
2. Security
I'm yet to meet a trader that doesn't make a point of researching the security measures a platform has implemented before using it. You don't want to have to worry about your broker "misplacing" your funds, after all, watching the markets go up and down is stressful enough! If you want to trade options in Australia, you should only use a platform that is regulated (preferably be ASIC), uses some sort of encryption for sensitive data, and allows you to enable 2FA. 
3. Fees
Fees are a silent killer that can do some serious damage to your profits if you're not careful. Unfortunately, many options platforms like to hide fees in areas that the average investor would likely miss. You should always ensure that the platform you select offers commission-free trading and has low withdrawal & deposit fees. By performing these checks it makes it less likely that you'll be caught out later on. 
How to Use the Best Options Trading Platform
At Economy Watch, we understand how difficult getting to grips with a new trading platform can be. Oftentimes the features you actually need are hidden away in menus, making it extremely difficult to find what you're looking for. So to help our readers get accustomed to AvaTrade, the best options trading platform, we've created this comprehensive guide. 
1. Sign Up
Before you can start trading options, you'll need to register with a trusted broker. AvaTrade is an excellent option, thanks to their dedicated options trading platform. All you have to do is type "AvaTrade.com" into your browser's search bar, press "Register Now", and fill in the required details.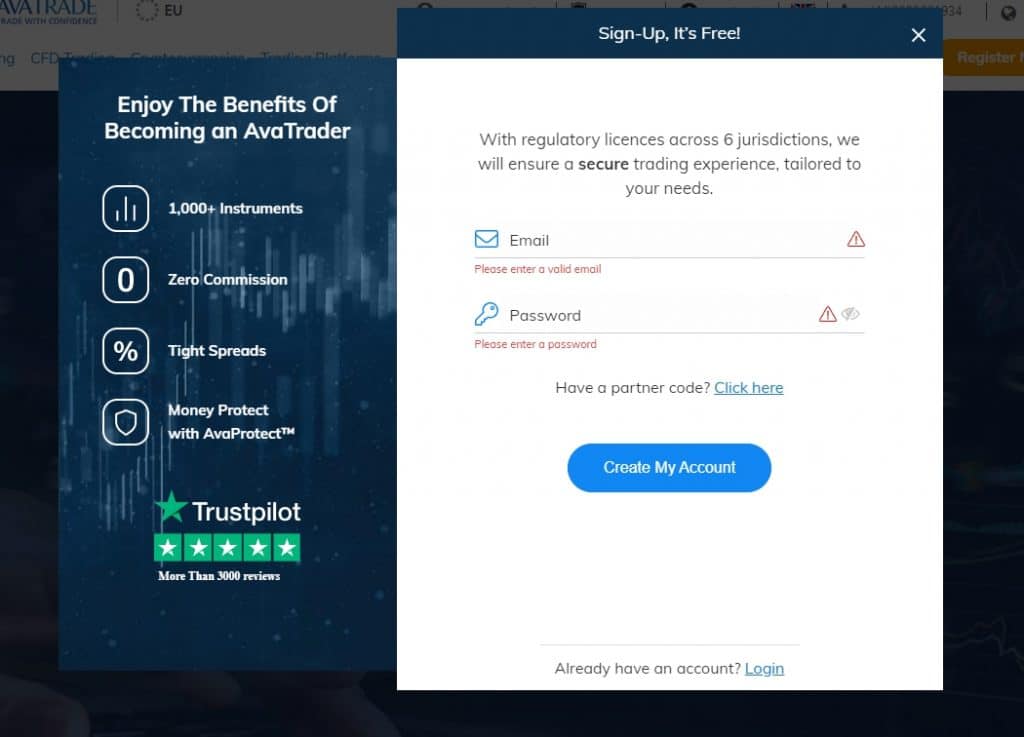 67% of retail investor accounts lose money when trading CFDs with this provider.
2. Verify ID
Because AvaTrade is a regulated brokerage, you'll need to verify your identity. Don't worry, doing so only takes a few minutes. The only documents you'll need are a photo ID (passport, driving license) and proof of address (utility bill, bank statement).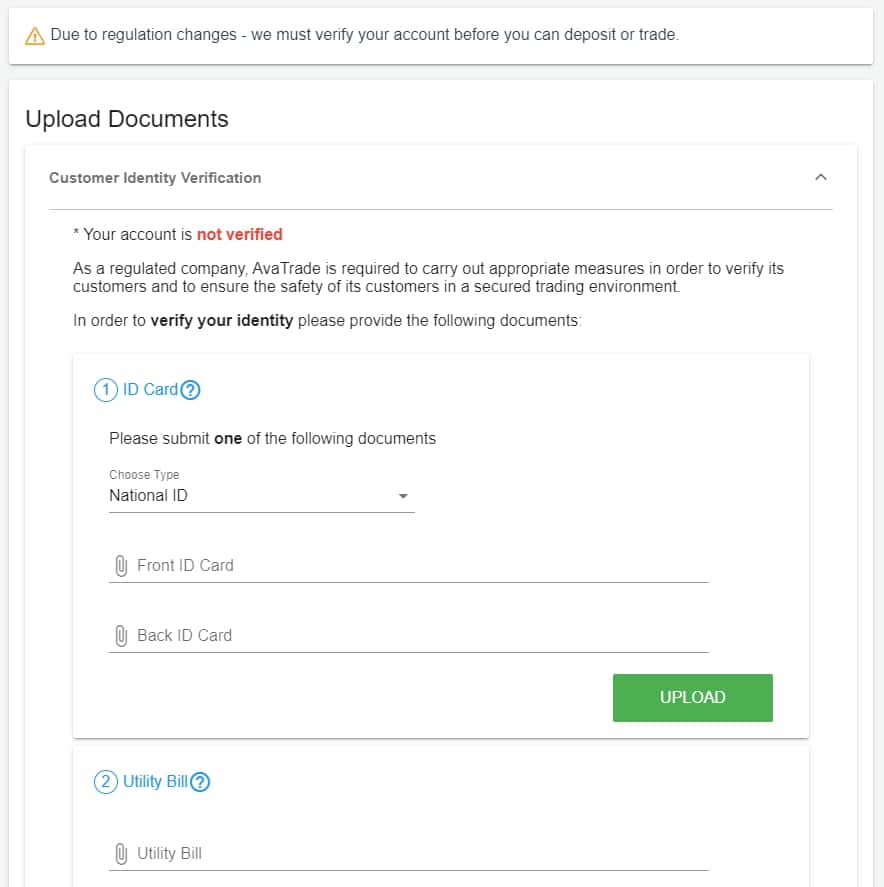 3. Fund Account
Once your account is verified, you've only got one step left before you can start trading options. You need to deposit some funds to your AvaTrade account, to do this simply click on the "Deposit" button, enter the amount you plan on investing, and press "Deposit". When you're making your deposit AvaTrade supports credit/debit cards and bank transfers.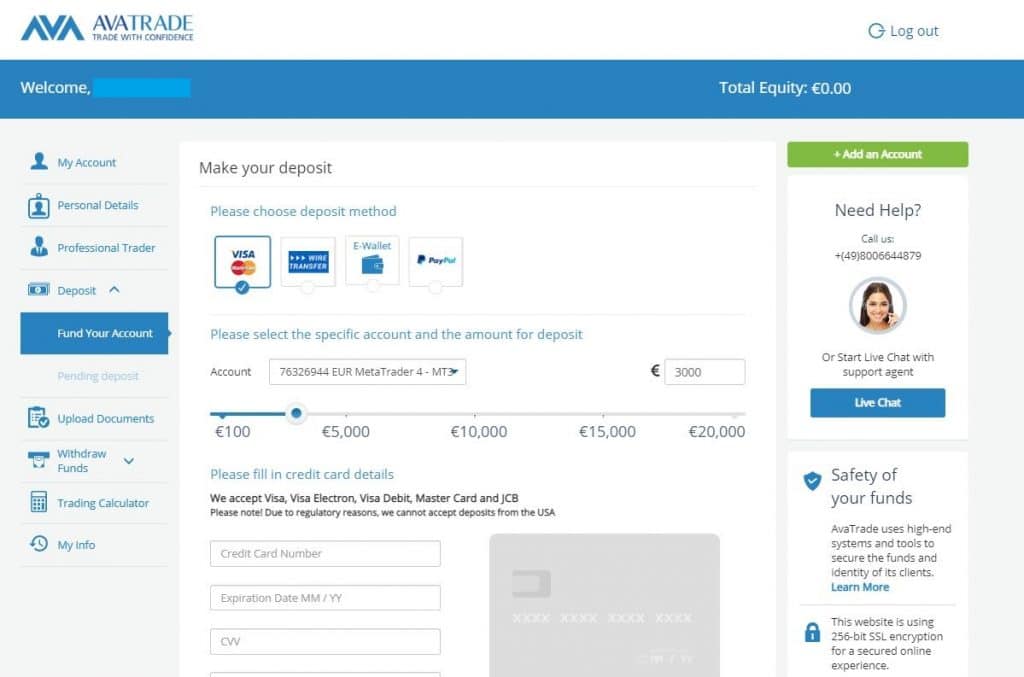 4. Start Options Trading
Now that your account has been funded, you're ready to start trading. Simply type in the name of the asset you'd like to trade, enter the size of the position you want to open, and press "Open Trade". You'll be able to manage your investment from the portfolio section.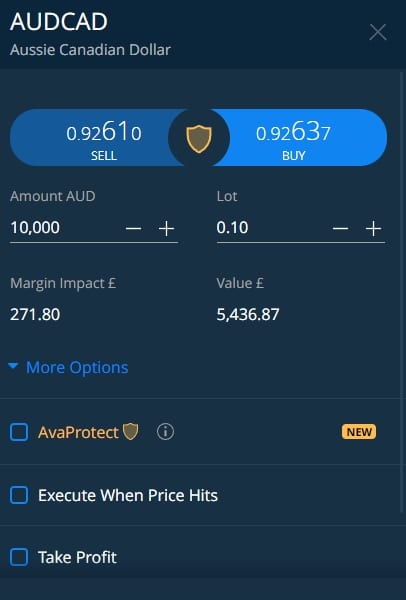 Conclusion
All in all, provided you do your due diligence, options trading can be an extremely lucrative career, it's not particularly uncommon for experienced traders to make thousands of a single trade. That being said, options trading is considered quite a high-risk endeavor and can easily result in huge losses. To prevent this from happening, it's crucial you take the time to do your research and familiarise yourself with the markets and commonly used terminology. We also advise only risking a small amount on a single trade, as a rule, if you need the money to survive it's likely not worth risking on a trade. As we spoke about, half the battle of being a successful options trader is selecting the right platform for your needs. If you're still unsure which platform would serve you best, we recommend AvaTrade, because its feature set makes it perfect for general use.  
Best Trading Platform Australia – Avatrade
FAQs
What is the Best Options Trading Platform?
What is a Regulated Broker?
Is Options Trading Legal in Australia?
How Much Money Should I Use to Trade Options?