Best ETF to Invest in Right Now – Beginner's Guide 2022
Long-term investing is one of the most effective ways to earn profits in the stock market. So what is the best ETF to invest in? The best investments are those that continue to grow over the long haul. 
In this beginner's guide, we'll be covering the best ETFs to invest in right now as well as the most important metrics you need to consider when buying and selling exchange-traded funds in 2022. 
Best ETFs for 2022
The best-performing ETFs are not created equal and it can be difficult to pick the right ones. The following three exchange-traded funds are the best ETFs to buy and hold right now. 
iShares Russell 1000 Growth ETF

(NYSEMKT: IWF) – Best ETF to buy now

Invesco QQQ Trust

(NASDAQ: QQQ) – Best Growth ETF to Invest in

Vanguard Growth ETF

(NYSEMKT: VUG) – Best ETF for 2022 that tracks the CRSP US Large Cap Growth Index

AdvisorShares Pure US Cannabis ETF

(NYSEMKT: MSOS) – Best ETF to invest in for exposure to US Marijuana stocks

Reality Shares Nasdaq NexGen Economy ETF

(NASDAQ: BLCN) – Best Crypto ETF to invest in 
Best ETFs to Invest in 2022 – Reviewed 
In summary, there are thousands of ETFs available to buy right now with the click of a button. The best ETF brokers also facilitate commission-free trading, allowing you to buy and sell ETFs on the stock markets at low costs. 
There are tons of markets and industries that ETFs can track. Therefore you'll be able to invest in the best tech ETFs, the best energy ETFs, the best dividend ETFs and so on. 
If you're a beginner trader looking for the best ETF to invest in now but don't know where to start, keep reading as we reveal the five best ETFs to invest in today!
1. iShares Russell 1000 Growth ETF (NYSEMKT: IWF) – Best ETF to buy now
The iShares Russell 1000 Growth ETF covers just under 500 stocks from a broad range of sectors. All of the stocks included in the exchange-traded fund are forecast to have above-average growth. Some of the largest market capitalization companies include FAANG stocks as well as Microsoft. 
This ETF was launched back in 2000, giving it a track record of over two decades. While past performance isn't a guarantee of future performance or growth, an ETF that's withstood over 20 years of market volatility is likely to carry on growing as a long-term investment.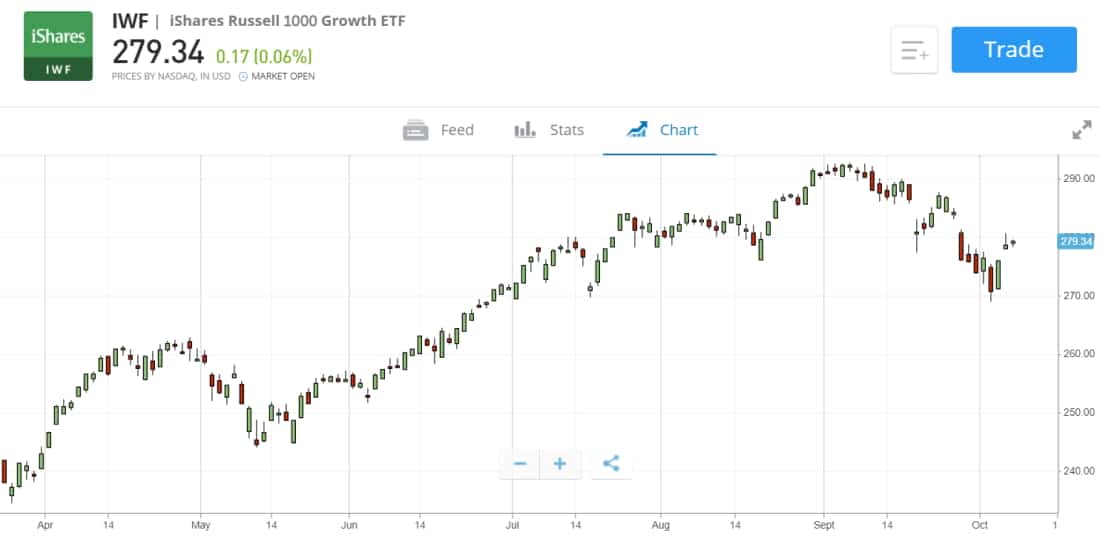 Since its initial launch, the iShares Russell 1000 Growth ETF has managed to generate a 7% annual return rate. Simply put, despite the bearish and bullish market trends, the fund's yearly returns averaged 7%. 
Therefore, this makes it one of the best ETFs to invest in if you buy and hold as a long-term investment. Let's say you invested £150 every month while earning a 7% average yearly return, you'd have around £250,000 saved after 35 years. 
67% of retail investor accounts lose money when trading CFDs with this provider.
2. Invesco QQQ Trust (NASDAQ: QQQ) – Best Growth ETF to Invest in
Invesco QQQ Trust is an ETF that closely tracks the NASDAQ 100 index and covers around 100 stocks from the largest non-financial global businesses. Approximately 50% of the ETF is made up of companies within the tech industry, but it also covers stocks from a range of other sectors. 
This ETF has less diversification than other funds because it holds fewer equities. It also provides additional risk because the majority of the stocks are from a single sector. Technology businesses, on the other hand, are recognized for their spectacular growth, and this fund includes international tech giants such as Apple, Microsoft, Amazon, and Alphabet, all of which are expected to thrive in the long run.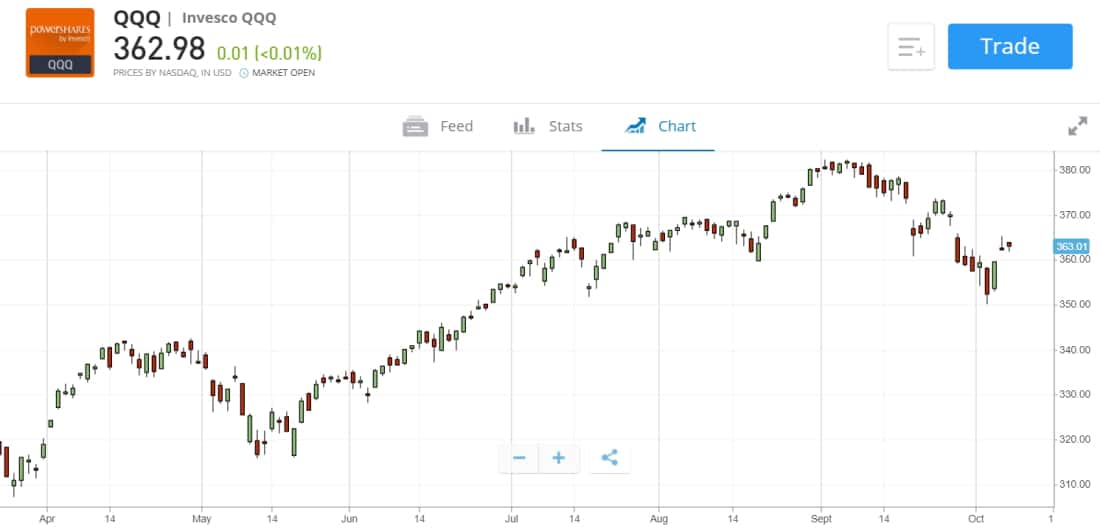 The Invesco QQQ Trust ETF, which was founded in 1999, has a strong track record making it a good choice for long-term investors. It has generated an annual average rate of return of around 9% since its inception.
Let's say you invested £150 every month in this ETF while it earned a 9% yearly average return. After 35 years you could stand to make returns of about £350,000. 
67% of retail investor accounts lose money when trading CFDs with this provider.
3. Vanguard Growth ETF (NYSEMKT: VUG) – Best ETF for 2022 that tracks the CRSP US Large Cap Growth Index
The Vanguard Growth ETF mirrors the performance of the CRSP US Large Cap Growth Index and covers over 280 of the best growth stocks. This ETF is also weighted more towards the tech sector but it also includes equities from a bunch of other industries. 
Despite being launched in 2004, this has proved to be one of the best growth ETFs to buy right now as it boasts high average annual return of 11%. Some market analysts have pointed to the ETFs track record and life span as justifications for its unrivalled success.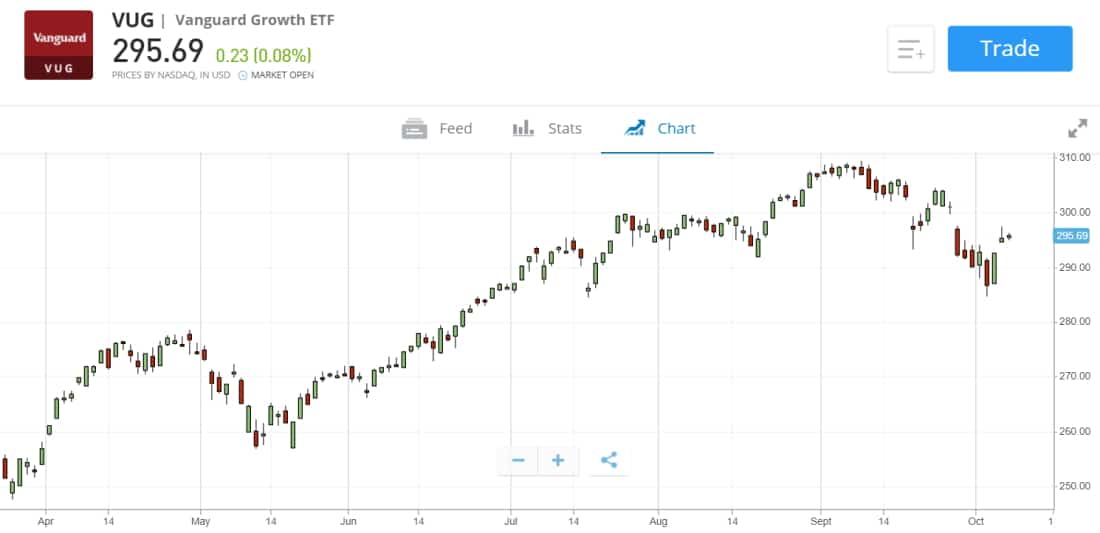 For example, the Vanguard Growth ETF simply didn't exist during the dot-com bubble burst of the early 21st Century. All in all, while it boasts above-average annual returns the Vanguard Growth ETF is one of the best ETFs to invest in for overall portfolio diversification and to potentially earn high returns over the long term. 
Growth ETFs can be a great addition to any investment portfolio. ETFs are also passively managed and can help to mitigate the risks of other volatile assets such as stocks and cryptocurrencies. The key to long-term investing is to do just that. Buy and hold for years on end while the growth stocks continue to appreciate.  
67% of retail investor accounts lose money when trading CFDs with this provider.
4. AdvisorShares Pure US Cannabis ETF (NYSEMKT: MSOS) – Best ETF to invest in for exposure to US Marijuana stocks
Arguably, the AdvisorShares Pure U.S. Cannabis ETF is one of the best ETFs to invest in right now. On the broad spectrum of things, cannabis is one of the fastest-growing sectors. However, there's a huge contrast between the US cannabis markets and other nations. 
According to New Frontier Data: 'Fueled by strong consumer demand, annual legal (medical and adult-use) sales are projected to grow at a compound annual growth rate (CAGR) of 21%, to reach more than $41 billion by 2025 (from $13.2 billion in 2019)'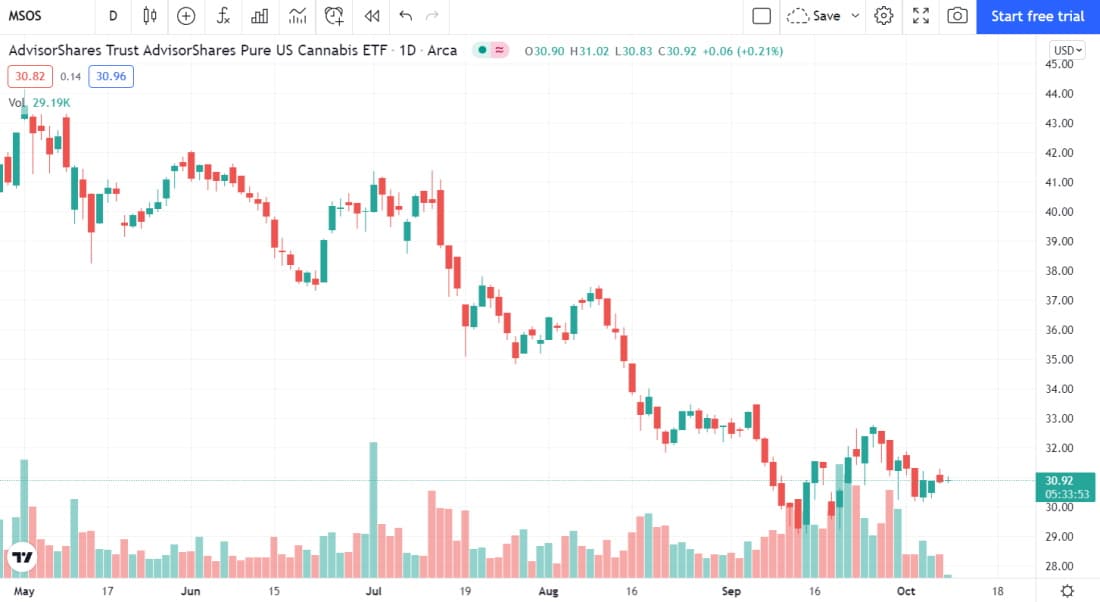 Moreover, US cannabis stocks are still growing, despite the US federal government's failure to pass new cannabis legislative measures. Currently, over 35 US states have legalized medical marijuana, with half also preparing potential laws to permit recreational use of the drug. 
This ETF's largest weighting is with Green Thumb Industries, a Multi State Operator (MSO) that's been profitable for the most part of a year now. In an ever-expanding sector like cannabis, the MSOS ETF could be a good investment for October 2021.  
67% of retail investor accounts lose money when trading CFDs with this provider.
5. Reality Shares Nasdaq NexGen Economy ETF (NASDAQ: BLCN) – Best Crypto ETF to invest in
Reality Shares Nasdaq NexGen Economy ETF was launched in 2018. It tracks the performance of the Reality Shares Nasdaq Blockchain Economy Index and covers more than 70 companies including the likes of PayPal, Mastercard, Silvergate Cap Corp, and Robinhood MKTS Inc. 
This ETF has a 0.68% expense ratio, a Net Asset Value (NAV) of $45.35, and 6,050,000 shares outstanding. On a YTD basis, the BLCN NAV has increased by 10.14%.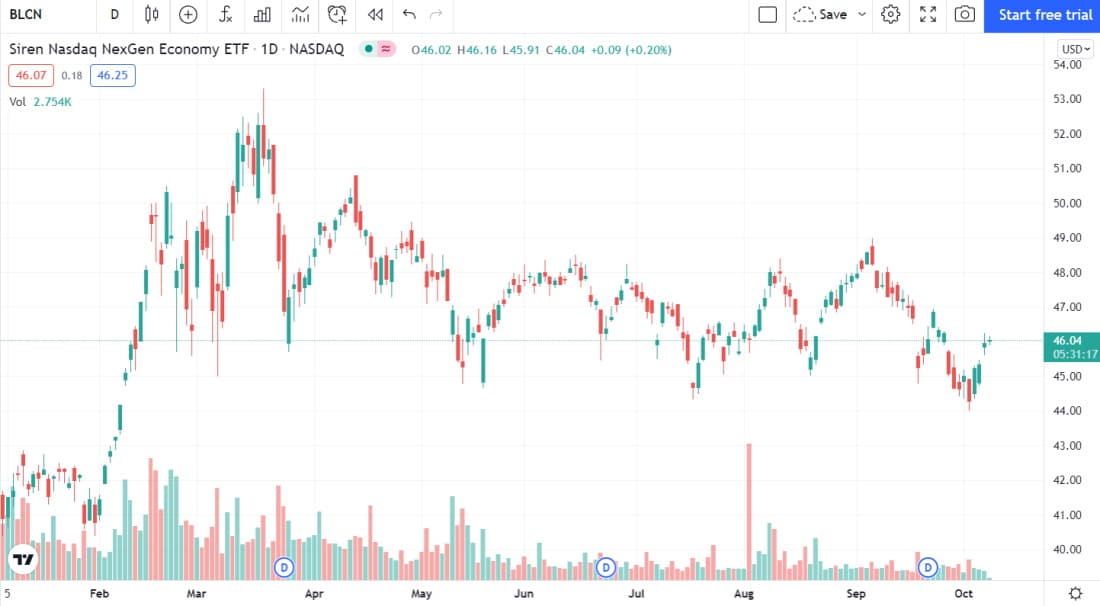 The Reality Shares Nasdaq NexGen Economy ETF is a fairly new exchange-traded fund that gives crypto enthusiasts and investors immediate exposure to companies that stand to capitalize on the emergence and mainstream adoption of digital currencies and blockchain technology. 
67% of retail investor accounts lose money when trading CFDs with this provider.
What is an ETF? 

An ETF, short for exchange-traded fund, is a fund that is bought and sold on an exchange just like a stock. This means it can be traded throughout standard market hours. ETFs typically have cheaper fees compared to other types of funds such as mutual funds. Furthermore, depending on the ETF's weightings and holdings they generally carry less risk than other tradable assets. 
But like any financial instrument, ETFs aren't suited to every trader so you'll need to evaluate your risk tolerance and time horizons to see which ETFs will work best for you. 
67% of retail investor accounts lose money when trading CFDs with this provider.
How do ETFs work? 
The fund provider who owns a basket of assets sets up an ETF to track the performance of the underlying securities and sells shares in the fund to investors. Shareholders then own a percentage of the exchange-traded fund, however, they do not own the underlying assets within the fund. Nevertheless, the ETF's shareholders can receive dividend payouts, or reinvestments, for the stocks that constitute the index. 
While ETFs are supposed to replicate the value of an underlying asset or index, such as gold or a basket of stocks like the FTSE 100, they trade at prices set by the markets. Furthermore, due to factors such as costs, an ETF's long-term returns will differ from those of the underlying assets. 
What is the market spread? 
When you trade ETFs you'll be faced with two separate prices – the bid price and the ask price. The difference between these prices is otherwise known as the market spread. Furthermore, when it comes to ETF trading you'll need to keep the spread at the back of your mind as it will likely add to your overall trading costs. 
What are the pros and cons of trading ETFs? 
Pros
Portfolio diversification – ETFs allow investors to diversify across a wide range of industries without taking ownership of the underlying assets. 
Easy access – If you have access to the internet you'll be able to browse through the price performances of ETFs on an exchange. Furthermore, a fund's holdings are published publicly every day. 
Tax exemptions – generally speaking, you'll only be taxed when you sell the ETF.
Trading ETFs is more cost-effective than buying and selling individual stocks.
You can gain exposure to emerging markets, as well as equity ETFs, and healthcare ETFs.
Low expense ratios  
Cons
Trading expenses – ETF costs may not be limited to the expense ratio. Since exchange-traded funds are bought and sold on an exchange, they can be subject to commissions from ETF brokers. Most discount brokers, like eToro, offer zero commission ETF trading. 
Lack of liquidity – As is the case with all investments, you'll be at the mercy of the current market conditions when you decide to sell. Moreover, ETFs with lower trading volumes can be difficult to sell as there is less market liquidity.
How to choose the best ETFs to Invest in and that fit into your portfolio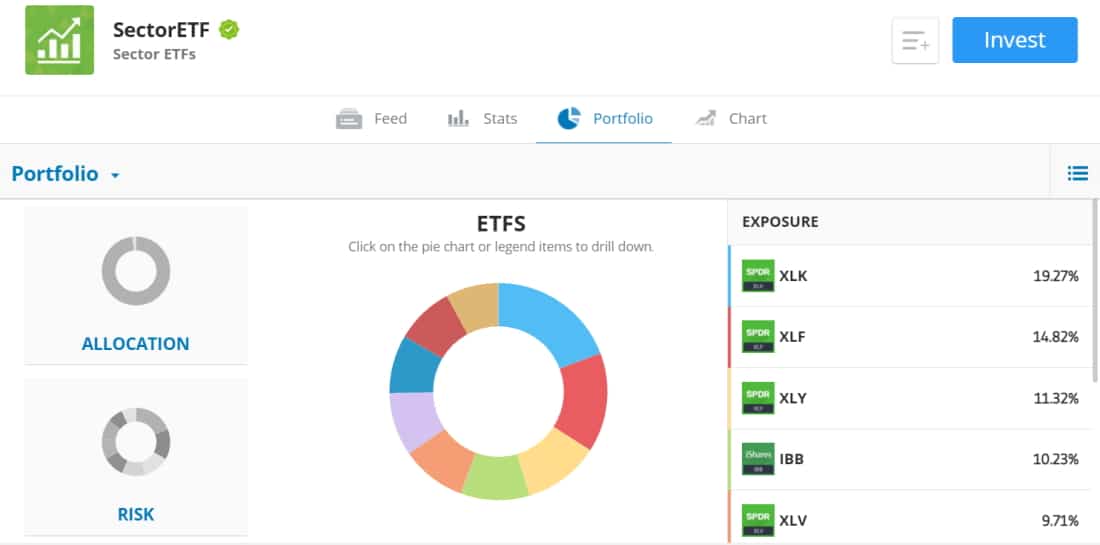 While ETF expenses are generally lower than other financial instruments, they can vary substantially from fund to fund, depending on the issuer, as well as complexity and demand. Even ETFs that track the same index can have varying fees.
The majority of ETFs are managed passively; they simply track a stock index. Some investors favour the hands-on approach that comes with mutual funds. Mutual funds are controlled by a professional wealth manager who attempts to beat the underlying market. There are also actively managed ETFs that track mutual funds, but these are typically more expensive. So keep your trading strategy and budget in mind before investing. 
Best ETF Broker 2022
Looking to invest in ETFs but don't know where to start? There are hundreds of brokers out there that choosing the right one can be disorientating. We've spent hours researching the best brokers so that you don't have to.  
Now that we've covered the five best ETFs to invest in, as well as the fundamentals of exchange-traded funds, let's cover the best ETF brokers to use in 2022. 
1. eToro – Best ETF Broker for 0% Commission Trading and Access to 17 Exchanges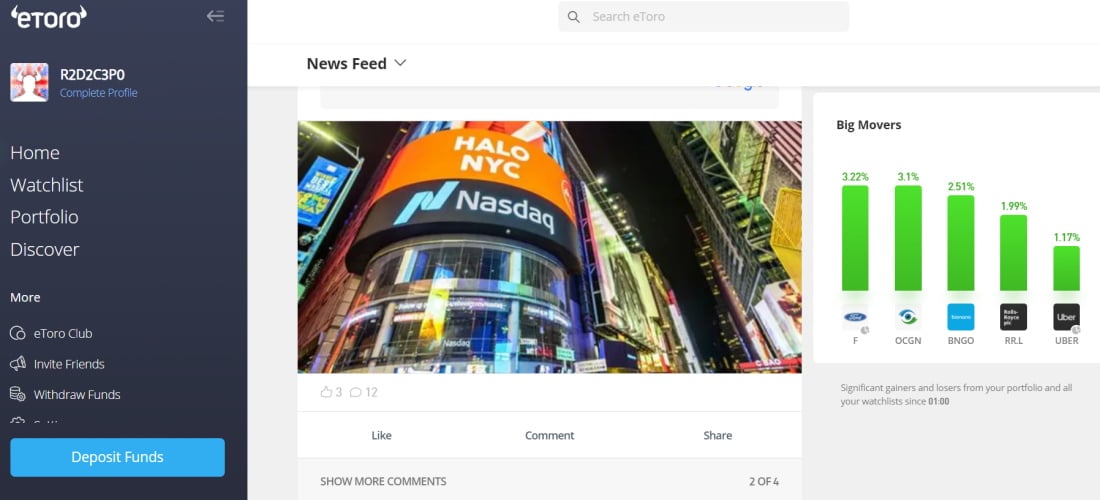 With a global client base of more than 20 million traders, eToro is now one of the most popular global social trading platforms. Not only can you trade stocks, cryptocurrencies, FX, and commodities on eToro, but you can also trade ETFs.
Secondly, each ETF only requires a $50 minimum investment, which is substantially less expensive than dealing directly with the fund issuer. This allows you to invest in a variety of ETFs without having to make a hefty initial investment. We also like eToro since it has a variety of passive trading tools that you may use in conjunction with a traditional ETF investment.
eToro's Copy Trading Features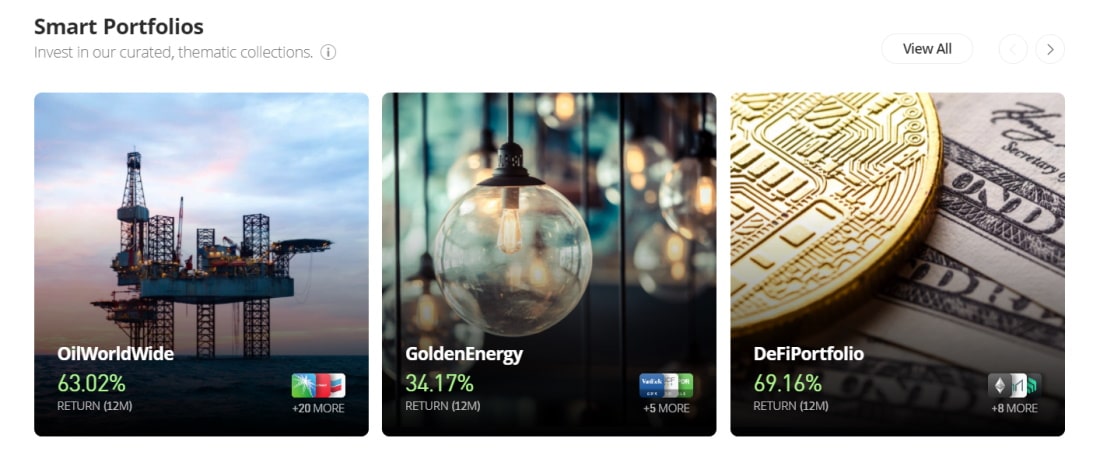 For example, eToro offers hundreds of CopyPortfolios which are CFD portfolios covering various sectors and industries. This includes portfolios that track digital currencies like Bitcoin and Ethereum, as well as the top green energy companies. This is an excellent solution because a crypto-specific ETF has yet to reach the UK market, and due to the growing demand for renewables. 
Opening an account is simple
When it comes to getting started, eToro makes things easy and simple. The onboarding process is fully digital and seamless, taking a matter of minutes to complete. You can deposit funds into your brokerage account using a broad range of payment methods including credit cards, debit cards, bank wire transfers, and e-wallets such as PayPal and Neteller. 
Is eToro safe? 
The UK's FCA, CySEC, and ASIC all regulate eToro. This means that your funds and trading account are protected by top-tier financial authorities including the FCSC. In the U.S eToro's online investment platform is offered by eToro USA LLC, which is registered with the Financial Crimes Enforcement Network (FinCEN) as a Money Services Business (MSB), as well as with applicable state-level regulators.
Pros
Buy and sell 250+ ETFs on a commission-free basis
Fully regulated by top-tier financial institutions
Convenient mobile trading app 
Paper trading account with $100,000 of virtual funds
Low minimum deposit of just $50 
Cons
Charges $5 withdrawal fee
67% of retail investor accounts lose money when trading CFDs with this provider. 
2. TD Ameritrade – Trusted US-based Broker with a Giant Asset Portfolio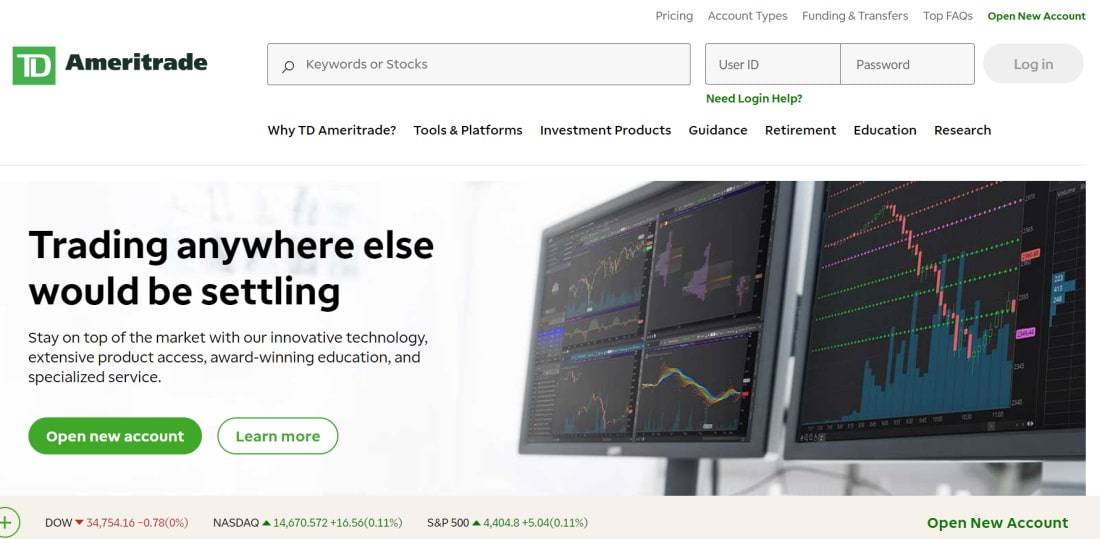 TD Ameritrade is one of the oldest brokerage firms in the United States, having been launched in 1975. With almost four decades of experience in the financial world, it's no wonder that the company boasts a client base of 11 million. 
TD Ameritrade stands out not only in terms of trust and reputation but also in terms of the size of its products and markets. In fact, tens of thousands of traditional financial products, such as stocks, bonds, ETFs, mutual funds, and IPO access, are available on the platform. 
Fees and commissions
When it comes to fees and commissions there are 0% commissions to pay on US stocks and ETFs. As for non-trading fees, TD Ameritrade has some of the most competitive fees out there. This includes no platform fees, no deposit or withdrawal fees, as well as no inactivity fees. 
Trading platform functionality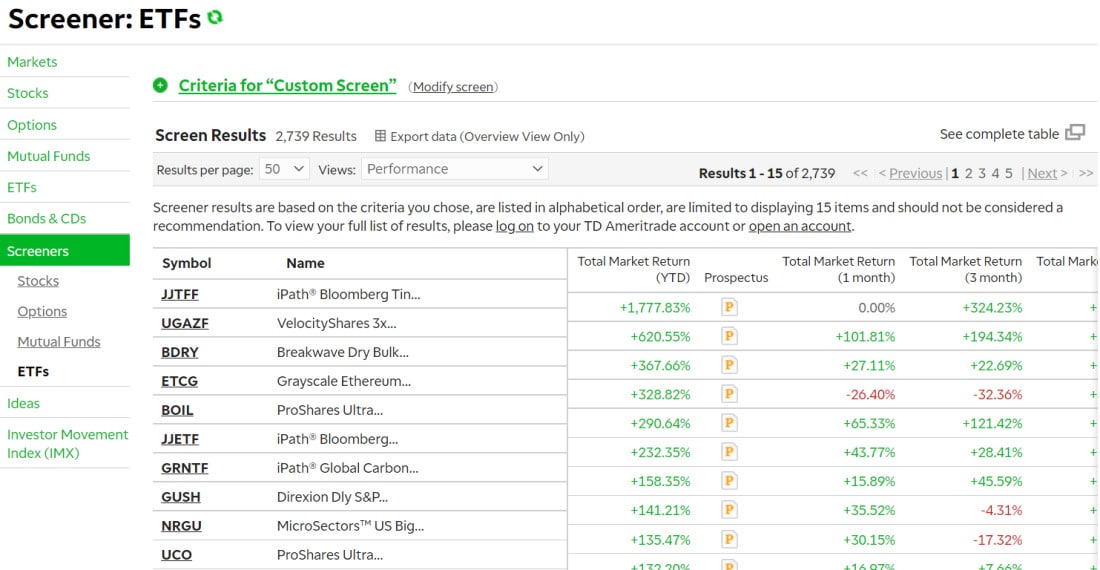 In comparison to trading platforms like eToro and Libertex, however, the platform is more difficult to use. If you're an experienced investor, you'll likely find the broker's proprietary trading platform, Thinkorswim, to be extremely useful.
Payments
Our research shows that TD Ameritrade solely accepts bank transfers. This includes support for bank wire and ACH deposits and withdrawals. As a result, e-wallets and credit/debit cards are not accepted as payment methods. 
Is TD Ameritrade safe? 
It will come as no surprise to learn that TD Ameritrade is fully regulated and authorized by several top-tier US financial authorities including the Financial Industry Regulatory Authority (FINRA), Commodity Futures Trading Commission (CFTC), Securities and Exchange Commission (SEC). 
Pros
Access to thousands of investment products
Fully regulated by FINRA, CFTC, and the SEC.
Advanced trading platform Thinkorswim ideal for expert traders
0% commission trading on US-listed ETFs and stocks
Seasoned investors can access derivatives including futures, options and forex trading
Supports Morningstar
Cons
Does not support e-wallets and debit/credit cards as acceptable payment methods
No direct market access to international exchanges
How to invest in ETFs 
Now that we've covered the basics along with the best ETFs to invest in right now, let's go through the process of making your first ETF investment with eToro. 
The steps outlined in this beginner's guide are based on the trusted FCA broker eToro. This copy trading platform allows you to invest in ETFs with 0% commissions and with a minimum investment of just $50. 
Step 1: Open and Verify a Trading Account
Head over to the eToro official website and click on the Join Now button. Provide your details including a valid email address, your name and phone number and then choose a username and password for your account.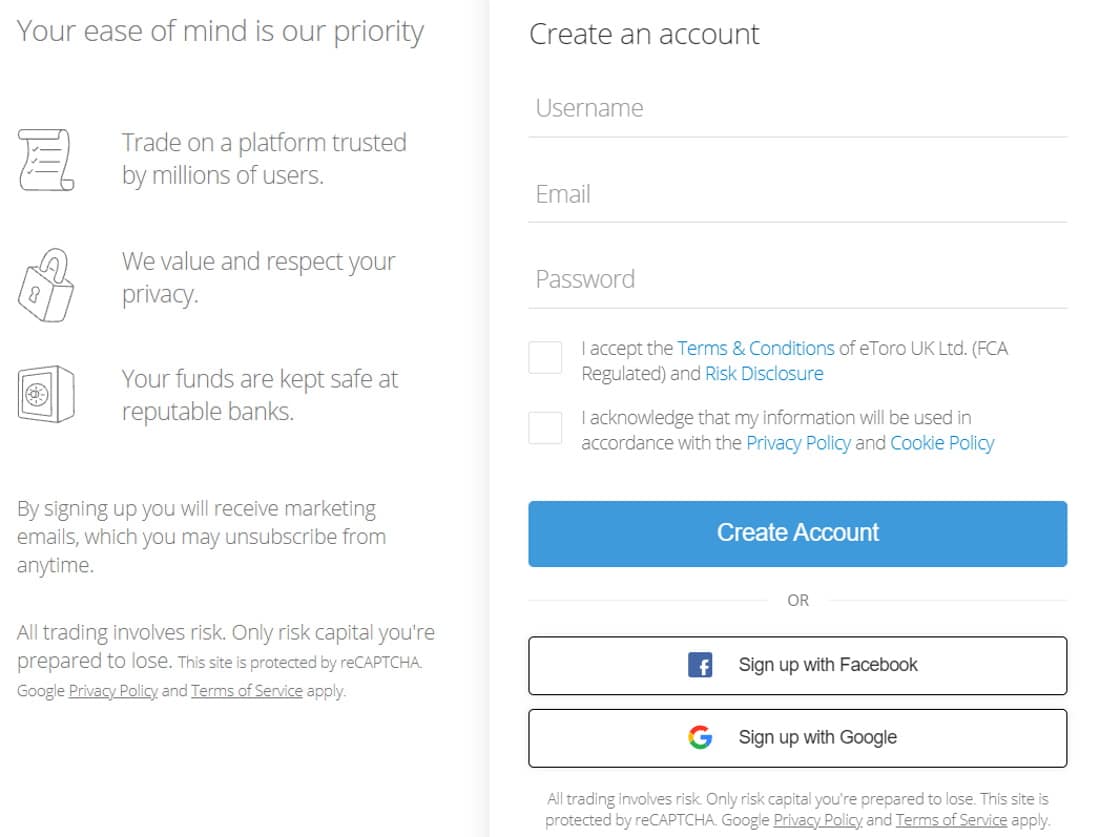 You'll then need to verify your email address and mobile number. Furthermore, as part of the FinCEN regulations eToro complies with the latest KYC policies. This means you'll have to upload copies of your passport and a recent utility bill as proof of ID and address.
67% of retail investor accounts lose money when trading CFDs with this provider.  
Step 2: Deposit Funds 
Depositing funds into your eToro account is quick and easy. There are several payment methods to choose from credit cards and debit cards to e-wallets and bank transfers. Simply pick your preferred payment option and follow the instructions below to successfully deposit funds into your eToro account. 
Log in to your account

Tap on the button marked 'Deposit Funds'

Specify the amount and choose a currency

Lastly, pick your preferred deposit option
Step 3: Search for ETFs
If you know which ETFs you want to invest in then you can use the search bar at the top of the trading dashboard. Alternatively, you can browse through all the supported ETFs on the platform by clicking on the Discover tab located within the navigation bar on the left-hand side of the screen. You'll find there are over 250 ETFs to choose from. 
Step 4: Invest in an ETF
After you've chosen the best ETF to invest in, click on the 'Trade' button next to the relevant result. In the order box, you'll be able to either go long or short, enter your stake amount, as well as place stop-loss and take-profit orders. Since you'll be trading ETF CFDs you'll also be able to use leverage of up to 2:1 to stretch your investing capital even further. 
Once you're happy with your choices, simply tap on the Set Order button at the bottom of the screen and eToro will execute your zero commission ETF trade immediately. 
Step 5: Dividends and Cashing Out
You can keep track of your ETF investments by tapping on the Portfolio tab on the left-hand side of the screen. This way you can keep tabs on how much your investment portfolio is worth in real-time. 
You can sell your ETF investments at any time during standard market hours, given that there is enough liquidity. 
If you choose to hold your investment during the long term, you'll be entitled to any high dividend payouts the fund issuer may provide. 
Best ETF to Invest in – Expert Verdict
In conclusion, the top five best ETFs for 2022 have been examined in this article. From the Russell 1000 index, to growth stocks, cannabis, and dividend stocks, we explored a wide range of markets. Finally, because no two ETFs are the same, you must consider your risk tolerance and overall trading strategy before investing. 
If you're ready to get started investing in ETFs right away, eToro is one of the best low-cost ETF brokers to choose. The FCA-regulated broker has a large selection of the best ETFs to invest in, all of which can be traded without paying a commission. Best of all, the minimum investment is only $50 per ETF, allowing you to diversify your portfolio while sticking to a budget.
eToro – Overall Best CFD Broker to Invest in ETFs with 0% Commission
67% of retail investor accounts lose money when trading CFDs with this provider. 
FAQs 
What is the best ETF to invest in?
Why invest in ETFs over mutual funds?