How To Buy Penny Stocks – Buy Penny Stocks For Beginners
Most of us have regretted not investing in a stock when it was going for pennies only to see it rise to hundreds of dollars within a few years. Learning how to trade penny stocks is becoming common as more people realize the opportunities that are hidden in penny stocks.
Most Americans today believe that penny stocks could be among the easiest ways to make huge returns quickly and even become a millionaire over time. If you have never invested in penny stocks you might be wondering how you could go about finding penny stocks to buy in 2021. So first we need to understand what are penny stocks and why they are gaining popularity very fast.
Buy Penny Stocks at eToro – #1 Stock Broker
What are Penny Stocks?

Penny stocks can be defined as any stocks that are valued at under $5. Usually, they belong to companies with a small market capitalization of $300 million and below. Most of these are small companies with little or no track record, and thus only attract investors who are keen on investing for speculation. They can be categorized in the following two sections:
Nanocap Stocks – These are penny stocks whose market capitalization is less than $50 million.
Microcap Stocks – Defined as penny stocks whose market cap is anywhere between $50 million and $300 million.
Despite carrying a small value, most penny stocks are riskier than regular stocks because in most cases, these companies are not yet profitable and might or might not be able to see the light at the end of the day. Investors into penny stocks try to spread their risks as much as possible bearing in mind that only a handful of these companies might become successful and pay off. The motivation behind buying such stocks is that if they manage to grow, the returns on investment could be unbelievable. Imagine someone who bought only $50 worth of Netflix stocks when they were going for $1, would be holding a portfolio of more than $15,000 today. That's how much penny stocks can pay, and hence the motivation behind them
Penny stocks tend to have inadequate volatility due to insufficient numbers of buyers or sellers. That means you may have to wait longer for your orders to be filled, or they may not be filled at all.
The 4 Tiers of Penny Stocks
Tier 1 – Penny Stocks
These are penny stocks that have been listed on main exchanges such as the New York Stock Exchange and NASDAQ. These companies are required to maintain certain standards and compliance policies, including providing information about their finances, and thus are less subject to manipulation. Such compliances give them a higher reputation than normal OTC penny stocks. They are normally priced under $5 like normal penny stocks, but in some cases, they can have a higher value as the companies continue to stabilize.
Tier 2 – Penny Stocks
Did you know that stocks can be traded at fractions of a penny on NYSE and NASDAQ? Tier 2 penny stocks are those that are priced under 99 cents, but not less than 1 cent; they have a value between 1 and 99 cents of a dollar. These companies follow the due process of applying for listing. They get a letter requiring them to comply with certain requirements within a specific time and once they do, their stocks are listed publicly. If they fail to comply they continue trading in the OTC market. It's important to remind you that spread for stocks trading above $1 will always be more than a penny. Stocks listed for less than $1 trade in fractions of a penny.
Tier 3 – Penny stocks
Tier 3 penny stocks are also referred to as sub-penny stocks and they are usually priced under 1 penny per share. You cannot find sub-penny stocks listed on NYSE and NASDAQ because they are not noteworthy and in most cases, the companies are very unstable. They might be subjected to manipulation, but not always.
Tier 4 – Penny Stocks
Tier 4 penny stocks are also called trip zero stocks due to their pricing. Normally priced between 0.0001 and 0.0009, with three zeros. As you may have already imagined, these stocks experience frequent manipulation. A single move can see the market rise or fall by 200% within a short time. They are a dangerous investment unless you're a friend to risks. You may make good returns from trip zero penny stocks if they move in your favor and the opposite is also true.
Best Places to Buy Penny Stocks
1. eToro– Best Broker to buy Penny Stocks at 0% Commission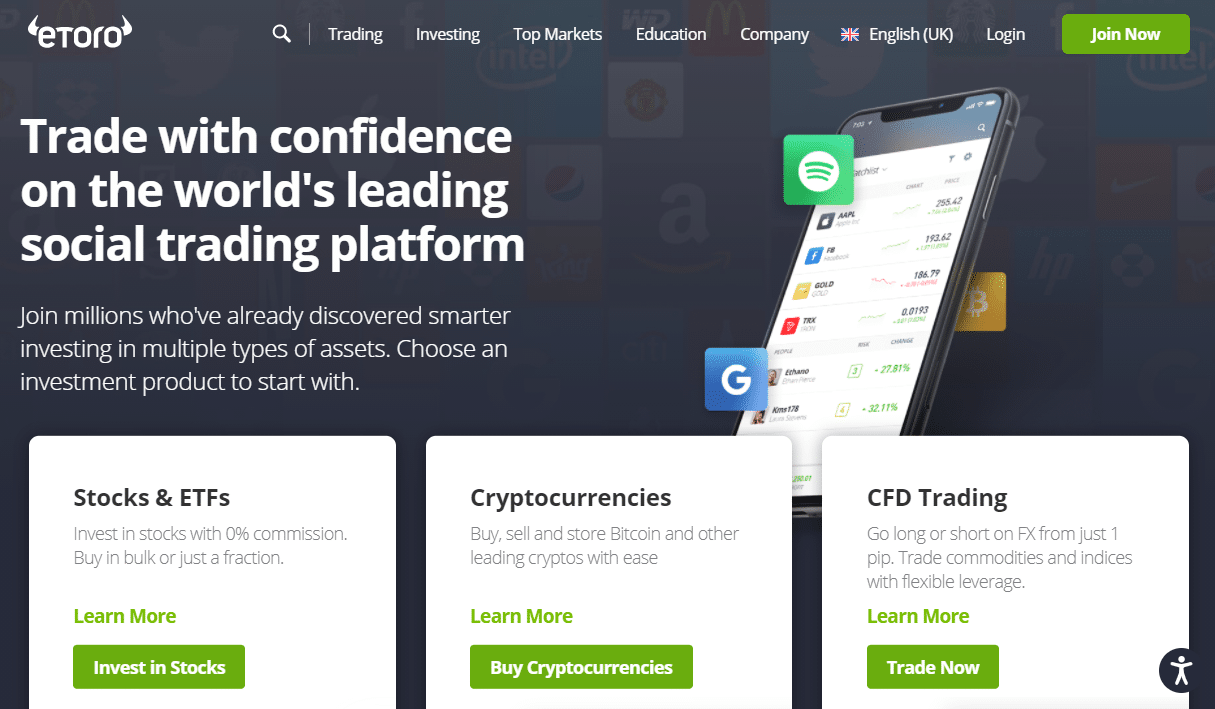 eToro is a US-regulated online broker with multiple other international licenses. It prides itself on serving more than 20 million traders globally and being the best social and copy trading system provider. It was first established in Tel Aviv, Israel, which the currently the company's headquarters, before spreading its wings to the rest of the world. Today the company operates in the US under SEC regulations and has more licenses that allow it to work in more than 100 countries worldwide. eToro is our top-rated broker for buying penny stocks in the US 2021 because it only offers the most potent penny stocks to its users. You will not get pink-sheet listings on eToro. eToro steers away from low-quality penny stocks that can are dangerous and risky for its clients; only tier 1 stocks, ranging between $1 and $5, are provided by this reputable broker. This is a good quality that makes us recommend eToro as the best broker to buy penny stocks in the US in 2021 because we can clearly tell that the broker cares about the safety and success of its users.
Head to their website right now and signup for a trading account to buy penny stocks today in the US with eToro if you are impressed with them. Account opening procedures are quick at eToro. Unlike many brokers that take up to 3 days to verify your account, eToro's AI system enhances client account verification within less than ten minutes of registration. This means you can open your eToro account today, get verified, deposit your funds and buy penny stocks in the US today with eToro.
eToro fees
| | |
| --- | --- |
| Commission | 0% |
| Deposit charges | 0% |
| Withdrawal charges | $5 |
| Inactivity charges | $10 per year after 12 months of inactivity |
Pros
Only offers tier 1 penny stocks
User-friendly platform
Best social trading and copy trading system
Zero commission stock trading
No charges on deposits
Supports multiple funding methods
eToro is regulated
Cons
Doesn't have many advanced technical analysis tools for professional and sophisticated traders
You must withdraw a minimum of $30 for your request to be approved.
Not a good choice for the risky investor seeking to invest in pink-sheet listings
67% of retail investor accounts lose money when trading CFDs with this provider. 
2. Stash US Stockbroker– Best US Regulated Broker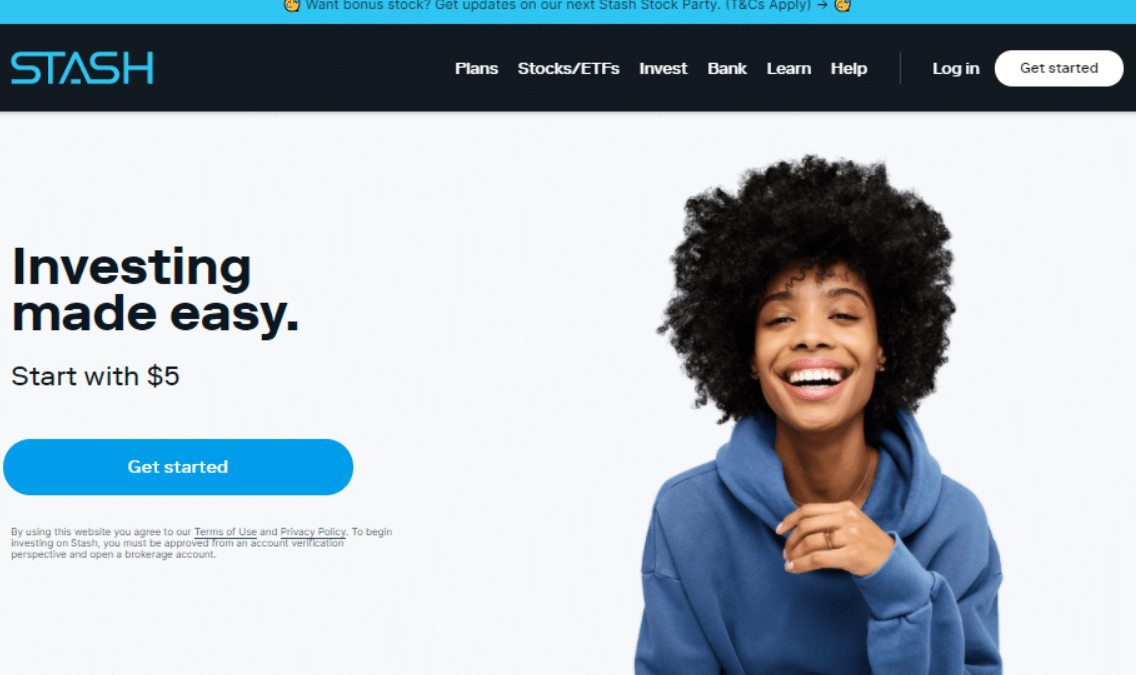 Stash is a US stockbroker that targets to provide straightforward brokerage services to beginners in the US. This is a new school online broker providing affordable brokerage solutions to the stock market investor in the US. They strive to deliver a unique user experience  and better service delivery. If you are not a US citizen, we are sorry you may not be able to signup for an account with Stash, including citizens of the EU. Green card holders and individual with the following visas can, however, apply for a trading account with Stash; E1, E2, E3, H1B, L1, O1, or TN1. Investments in penny stocks do not do you any good unless you have the right skills to make good buying and selling decisions. The kind of educational assistance and support that you get when using Stash is unmatched. Stash invests in providing enough research material, analysis, and predictions to help their clients make informed decisions. It's important to note that they do not, however, manage your investments.
Like eToro, Stash does not offer OTC penny stocks but only focuses on tier 1 stocks that are generally safer and much more stable than pink-sheets. Beginners looking to get into automated trading will find Stash reliable. It also allows you to trade fractional shares, meaning you can start your trading career by taking small stakes and increase them as you gain confidence in your trading skills.  Stash makes its money by charging a small trading fee to users whenever they make transactions in the stock market. You will pay a minimum commission of $1 when buying penny stocks on Stash, which is slightly higher than other competing online brokerage firms in the US.
Stash fees
| | |
| --- | --- |
| Commission | Charges $1 to $9 |
| Deposit charges | 0% |
| Withdrawal charges | 0% |
| Inactivity charges | $0, but you pay $75 annually |
Pros
Regulated in the US
Offers safe tier 1 penny stocks
You can buy fractional shares
Good for beginners
Unmatched educational guidance and support
Reliable trading Platform
No account minimum
Supports automated trading
Cons
Charges relatively high commissions
67% of retail investor accounts lose money when trading CFDs with this provider. 
3. Robinhood Trading– Best Penny Stock Broker for Zero Charge Trading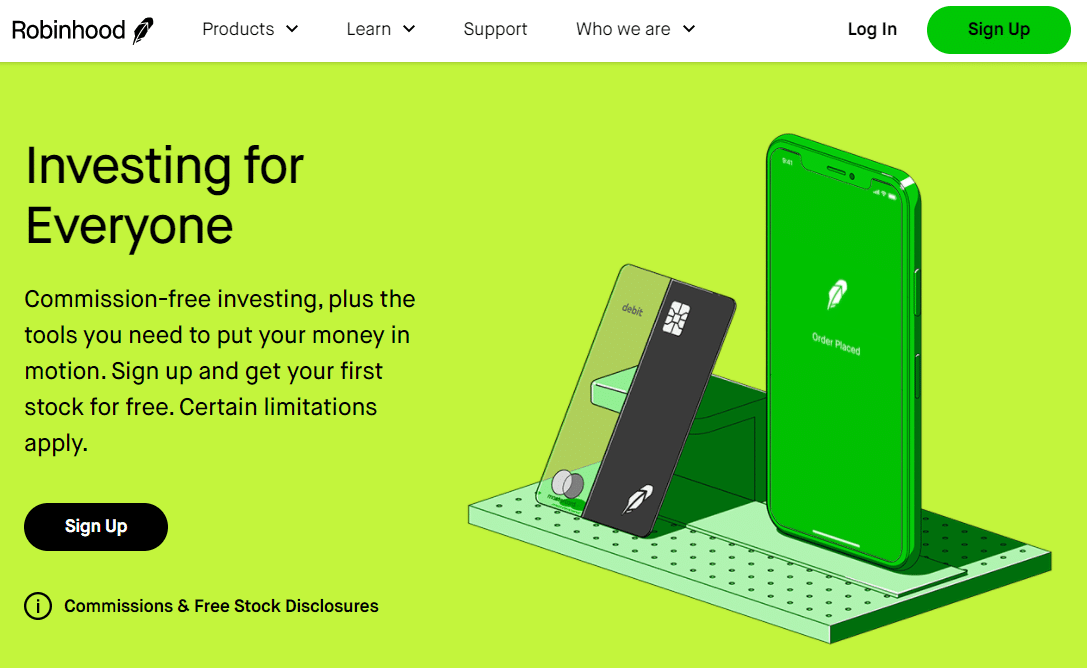 Robinhood is a US-regulated commission-free trading broker offering penny stocks, stock trading, CFDs, options, and cryptos. It favors investors looking for zero-charge trading and mobile investing. If you are looking to buy fractional shares, you will love working with this broker. Unlike many brokers, Robinhood doesn't have strict minimum deposit requirements; you can deposit any amount of money you need to buy penny stocks with Robinhood in the US today. However, if you want to purchase fractional shares, you'll be forced to pay the minimum investment amount for buying fractional shares on Robinhood. You'll enjoy a user-friendly and straightforward mobile and web trading platform if you pick Robinhood as the best broker to buy penny stocks in the US 2021. It might be an issue if you want to invest together as a couple or with your friends because the broker does not offer a joint trading account for buying penny stocks in the US. If you're an investor looking to invest in automated trading using robots, this might not be the right broker for you as it doesn't support automated trading.
Robinhood fees
| | |
| --- | --- |
| Commission | 0% |
| Deposit charges | 0% |
| Withdrawal charges | 0% |
| Inactivity charges | $0 |
Pros
Commission-free trading
Offers a wide variety of penny stocks
Commission free buying and selling of penny stocks
Straightforward web and mobile trading platforms
No account minimum
Cons
Limited research tools
No joint accounts
Doesn't provide automated trading to users
Offers limited customer support
67% of retail investor accounts lose money when trading CFDs with this provider. 
How To Buy Penny Stocks – eToro Guide
Step 1: Signup to eToro
Head to the broker's website, hit the "Join Now" button, and fill the registration form. Legally you are required to submit your full names, phone number, email address, source of funds, identification documents and a proof of address document.  Click on the "Submit" button as soon as you complete the registration form.
Step 2: Verification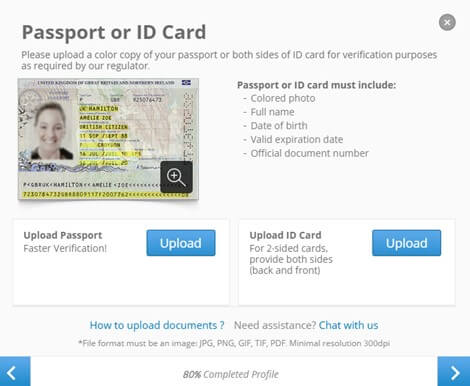 eToro and all other brokers require you to verify the details you provided during signup. Mainly, you will submit a photo of your government issued ID, passport or driving license to verify your identify, and a scan of a recent utility bill to verify your address. Make sure the utility bill that you submit is not more than six months old, and carries the same physical address that you filled in your registration form.
Step 3: Fund your eToro Account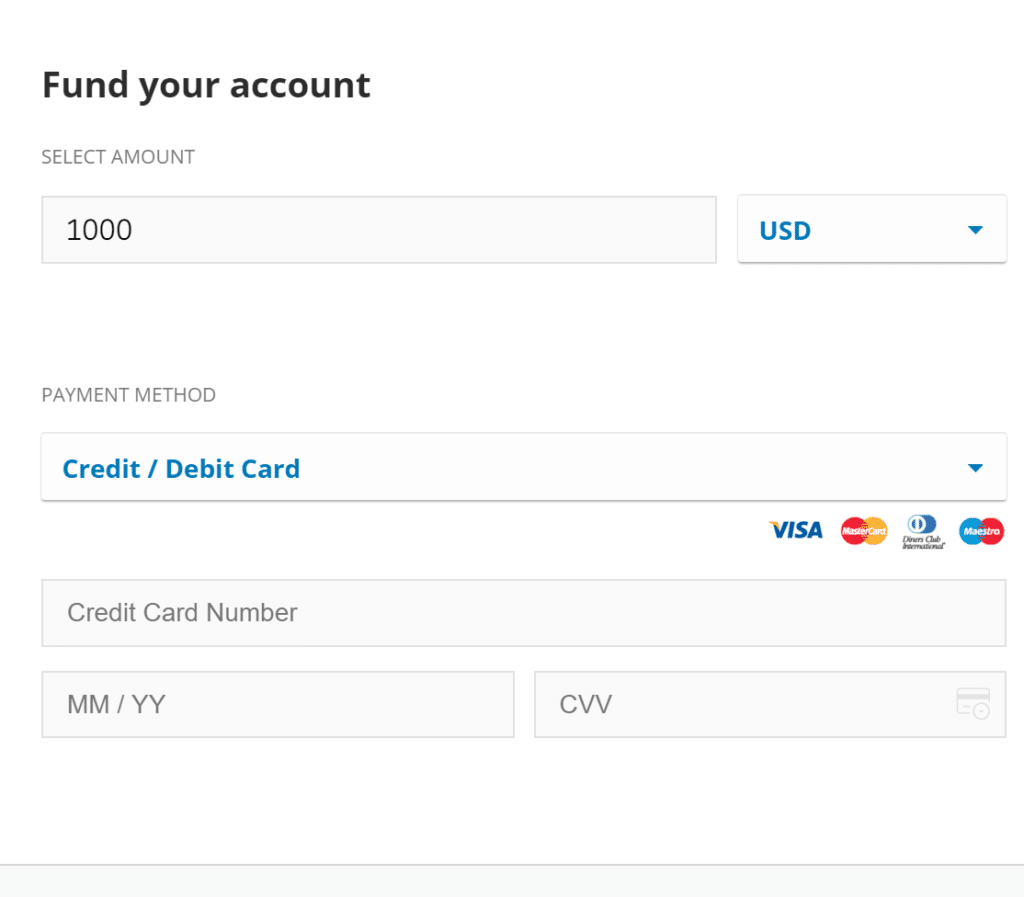 The next step is to fund your trading account using a method of your choice. eToro supports multiple funding methods like bank wire transfer, ewallets like PayPal, and credit/debit cards.
Step 4: Search and buy Penny Stocks
You're now ready to start buying penny stocks as soon as your funds reflect in your wallet. Penny stocks are normally represented by a ticker symbol. If you know the ticker symbol of the penny stock that you are looking for, simply type it in eToro's search box and click on "Trade." Set your order by specifying the amount of money you want to use to buy penny stocks then submit your order. The broker will fill your order by matching it with the right market prices, and you will have bought your first penny stocks.
The Pros and Cons of Investing in Penny Stocks
| | |
| --- | --- |
| Pros | Cons |
| Today's penny stocks might be tomorrow's market leaders. | Low liquidity. |
| Gains can be quick. | There's limited transparency. |
| They are kind to your budget. | Extreme volatility. |
| Do it yourself. | Prone to scams. |
Trading Penny Stocks for Beginners
There is a high potential of making a fortune by investing in penny stocks. You can make small investments in cheap stocks and end up earning abnormally high returns that could turn your life around. But how easy is it to live off penny stock? It's a lot harder than you would want to imagine. The allure of invest small and earn quick big returns draws crowds into buying penny stocks, and most end up losing their shirts in no time. While they carry the risk of losses, you can easily experience the ultimate rags to richness story if you're on the right side of the market. Eventually, less than 10% of active penny stock investors make money. The other group of investors gives away their cash to the good traders.
No one wants to be a losing trader, but how do you avoid that? There are a handful of penny stocks that make big moves every other day. It takes an investment in research to find out which stocks are likely to make the next big move in the market. You must always be in the penny stocks with the highest chance of making a solid run if you want to buy penny stocks and make money from your investment. But how do we know which stocks will be making the big moves? We will look at three main parameters you may follow to determine which stocks might be preparing for the big run.
Parameter 1: Breaking News
You need to classify each penny stock by industry and find out which events, regulations, and factors affect the health of that industry. Once you have done that, look at penny stocks that are starting to gap up because of a favorable new release. You, however, want to avoid penny stocks that are already hitting new highs because they usually don't trade away.
Parameter 2: Float
You want to go for a stock that could quickly skyrocket when it has many buying interests. Target penny stocks whose float is under 100 million shares, but even much better if the float is under 50 million shares. When enough buyers jump into such penny stocks, the demand is likely to cause a strong market push upwards, which is exactly what we want.
Parameter 3: High Relative Volume
You want to find active stocks in the premarket zone with a good amount of volume. Usually, stocks that are likely to have a strong move will be gapping up even before the news is released. Whenever you see that, you should know that there will be a lot of liquidity to trade on that stock.
Parameter 4: Research
This is one field that will require you to engage in endless research. Learn about the industry you're investing in and get to know how your particular company of interest runs its business. You will want to look at their company values, analyze their financials, analyze the viability of their business model, product and even try to establish the possibility of this company becoming a market leader in the future. Companies that are solving stubborn problems like climate change are likely to be a good bet. You may also be interested in investing in tech firms, but first, make sure you understand the product behind these companies.
Once you have made your watchlist of best-looking stocks by following the above criteria, you can relax until the market opens and look for signs of breakouts before jumping into a stock.
Risks of Trading Penny Stocks
Many amateur investors think that a share with a low value is indicative of its great potential- this is a flawed belief. Penny stocks trade so cheaply because most of the companies behind them are not worth more than the value of their stocks. Here are some risks to consider before you purchase penny stocks.
Penny Stock Belong to Tiny Companies
Normal traded stocks are usually backed up by substantial high-valued business, usually above hundreds of millions to as high as a trillion dollars. This assures you that you're investing in stable companies that have a future and a chance for continuous growth. On the contrary, penny stock companies are usually small, and you may not be able to determine how long they will stick around.
Penny Stocks Companies Run Uproven Businesses
It's rare for any mainstream company to be among the ranks of penny stocks. Penny stock companies are less established and have not proven themselves. Some of them are selling products that are yet to find acceptance in the market. You have to wait longer for such businesses to go mainstream, and it's also possible that most of them may never see the light.
Most Penny Stocks are Not listed on Major Exchanges
Most penny stocks do not meet the requirements to be listed on major exchanges such as NYSE or NASDAQ. Instead, they trade over the counter. Companies whose stocks trade over the counter are not required to do much reporting as those listed on major stock exchanges, which means there is less transparency. Since these stocks are less traded, an inefficient buying and selling environment leads to high spreads and transaction costs.
Penny Stocks are Sometimes the Target for Manipulation
Pump and dump artists target penny stocks for market manipulation. Con artists can buy huge volumes of stocks of a particular company at a low price and invest in building hype around it as the next big thing. This hype attracts more buyers into the stock pumping up the price high, and while that happens, these artists dump all their stocks and run away with huge profits leaving the stock to crash. Late arriving investors end up sustaining unheard-off losses.
How to Invest in Penny Stocks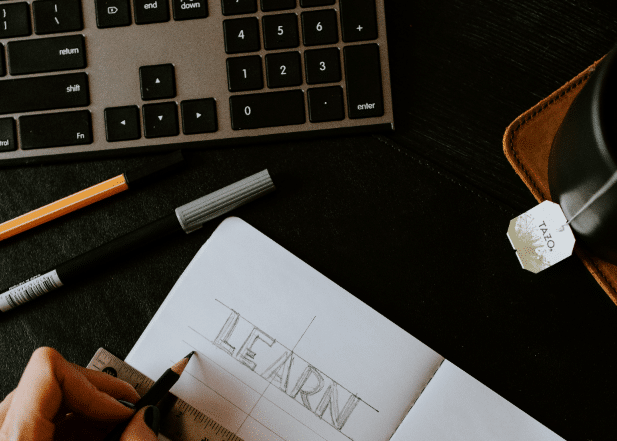 Okay, you've read the pros and cons of penny stocks, listened to our warnings but you still dead set on investing in penny stocks, right? Now we are sure you can be a successful penny stocks trader. Brace yourself to be bombarded with more knowledge that will help you learn to navigate in this terrain. It would be best if you still learned, then you can start trading.
Savvy penny stock traders are educated investors who understand every move that they are making perfectly. They know how to find trades with good risk-reward ratios, and they don't get hooked to scammers. Any email or promotion you come across that goes like, "Pennies to make you rich instantly" will be the fastest and significant source of your tears and pain. Yet many people always fall for such scams without a second thought.
Follow our guide and learn the best way to succeed if you want to buy penny stocks:
Do Your Research Properly
Many new investors buy penny stocks of illegitimate companies and end up crying foul. Make sure to confirm that the penny stock company you're interested in is legit. Even if you only want to throw in a few dollars, you want them safe. You can also check if a company is regulated by searching for them on the securities exchange commission (SEC) website. You may also retrieve a copy of the most recent SEC report to get a grip of their financial health. Congress gave SEC the mandate to administer over penny stocks in 1990 as a measure to clamp down on fraud. Understand the main business of the company and how it makes its money. This might require some time investment, but it will be worth it.
Find the Right Broker to Buy Penny Stocks
Once you have identified the best penny stocks and are ready to buy them, you need to find a broker that will enable you to purchase your first penny stock. Technology has made it easy to trade penny stocks using online brokers. A bunch of them offer penny stocks at a low cost, but the rest can get very expensive. Make sure to find a well-regulated broker that provides a friendly environment to buy penny stocks. A broker with extra services such as free educational material and trading tools would be a good choice. We will soon teach you what to look for when selecting a good broker.
Signup With Your Preferred Broker
Once you have identified a good broker, you will first need to sign up, get verified, and you'll be ready to go. The signup procedures are pretty much the same for almost all brokers. You will be required to input your details and click submit. Afterwards, go to your email and click on the verification link sent to you to verify your email address. Lastly, sign in to your account and upload your identification document and proof of address to complete the verification process. Your account is now ready. It's time to fund it and get ready to trade.
Find Your Stock of Interest and Place Your Trades
You can go ahead and find the stocks you had earlier shortlisted as the best buy. Take a keen look at each of them while trying to determine whether it's the right time to buy or not. Once you are ready to buy, you simply need to open a trade, specify the amount to invest, submit your trade and wait for your order to get filled. The broker will make sure your trade is filled as soon as there is enough liquidity.
What to Consider While Finding a Good Broker To Buy Penny Stocks 2021
Newbies always have difficulty cutting through numerous broker banner ads and recommendations from friends to pick the right broker that will help them fulfil their investment goals. Consider these factors if you're can't move forward with selecting the right broker to buy penny stocks in 2021.
Minimum Account Deposits
For obvious reasons, find a broker that will allow you to start small. You're still learning, and you don't want to invest so much money into penny stocks at once. As a beginner, go for a broker with a low account minimum requirement, as you want to start investing small amounts until you have mastered the game.
Research Platform
Good penny stock traders are as good as the amount of research they engage in. Brokers don't need to provide you a research platform, but competition has led some brokers to go an extra mile in providing additional tools to help their users improve their skills. Go for a broker that offers an excellent research platform. The only way to avoid being a victim of pump and dump is to do quality research since penny stocks are never reported on the mainstream media.
Transaction costs
We are in this to make money, and like any other business, we want to keep our expenses as low as possible; otherwise, they will eat into our profits. A good broker specifies all costs of transactions and doesn't have any hidden fees. Compare trading costs of different platforms and go for one that makes it affordable to buy penny stocks in 2021. While looking at costs, don't get blinded and forget about other critical factors; some brokers may use costs to lure you, yet everything else is unfavorable.
Volume Discounts
We want to do all it takes to drive down our expenses and maximize returns. You may want to consider a broker that offers discounts on volumes. Even if you're not planning on taking high-volume trades, you may soon start doing that once you have acquired proper skills in this field.
Do You Plan To Be A Penny Stock Day Trader or Investor?
Are you feeling lost in this headline? Well, hold on tight; we'll soon help you understand what we mean. Now that we are on the same page, would you want to be an investor or penny stock day trader? Investors want to buy penny stocks and hold them for an extended period; usually, months, to even years, while day traders are interested in taking advantage of small price movements that typically occur within a day to a few days.
Penny stocks can be so unpredictable and volatile that you may find it so difficult being an investor. Some penny stocks are also exposed to too much manipulation, which will thwart the goals of any investor. This is not to say that you cannot be an investor, but it may be such a rough ride for you. Find a balance between day trading and long-term investments if you want to be a successful penny stock trader. A good plan would be to focus on day trading, then use some of the proceeds to invest in penny stocks and hold them for as long as your analysis permits; that way, you will surely make losses in some of these stocks, but a handful of them may go mainstream in a few years and pay you off handsomely.
We will keep reminding you that some little efforts from your side to read and learn more about penny stocks will pay off immensely. Before you know it, you'll be making thousands and even hundreds of dollars annually from buying penny stocks without breaking a sweat. Find more day trading courses that teach beginners how to buy penny stocks in 2021; there's no end to learning.
Four Golden Tips for Beginner Penny Stock Traders
1 – Keep Your Finger Off Pink-Sheet Listed Penny Stocks
We discussed earlier that penny stocks could either be listed on major exchanges such as NYSE and NASDAQ or purely sold over the counter. Purely OTC penny stocks, also referred to as pink sheet listed penny stocks, fare subject to fewer regulations and compliance requirements as compared to those listed in major exchanges. Pink sheet-listed penny stocks are easily susceptible to all kinds of manipulation and even fraud. More regulated penny stocks listed on major exchanges are a safer haven for your money.
2 – Don't Be Lured To Promotions With Unrealistic Promises.
Pump and dump fraud is so common in the penny stocks market. You have probably come across a promotion like "this stock will the next Amazon; don't be left out." The reality of things is that the next Amazon is already a mid-sized company, and there is no way it is coming from penny stocks. Penny stocks can be a good investment but they still have a long way to go. Most companies that become a big deal in the industry hardly start as penny stocks. For example, Tesla started with an IPO of $17 per share. Buying a penny stock with the hope that it will become the next market leader will only leave you disappointed.
3 – Focus on Penny Stocks with High Relative Volume
One of the most essential tips that you should never forget is that illiquid penny stocks are not good. Well, all penny stocks will trade at 50 times relative volume when there is good news. For some penny stocks, however, this only happens once a year. Look for penny stocks that are continually trading on high volume if you want to feel the goodness of penny stocks.
4 – Hit and Run
If you come across a good penny stock listed on a major exchange and meets your conditions for buying, look for a good set-up and jump in. You might want to learn about good entry set-ups such as gap and go momentum and flag patterns. Sell half your position as soon as you have made reasonable profits. You do not want to overstay in a penny stock, knowing very well that this a very volatile market. Be quick to cash out part of your profits and trail your earnings to avoid any chance of making a loss at this stage. Small wins accumulate into huge profits. On the other hand, avoid over-trading- only go for specific set-ups.
Where To Find Penny Stocks?
Penny stocks are not offered in all markets. A licensed broker will give you access to several markets to find different categories of penny stocks. Go to the following markets to buy penny stocks today.
National Securities Exchanges
You will find stocks trading for under $5 on NASDAQ, NYSE, and other mainstream stock exchanges. These are penny stocks, although the companies will be delisted if the value of their stocks goes under $1.
Pink-Sheets
The pink open market is also referred to as the pink sheet penny stock market. This market lists different types of penny stocks, among them, mid caps, small caps, and companies that have gone bankrupt, or was delisted from mainstream exchanges. Most companies in this market self-list and may not give full disclosure.
OTCBB
Any security that is listed in the mainstream market may also list on the OTCBB under a private firm. The main operator on the OTCBB is FINRA.
OTCQX
This market lists stocks of different categories, ranging from newly formed companies to those that lack revenues completely and are trying to raise it.
OTCQB
Very young companies that do not meet listing requirements trade in this market. However, they are still required by the securities exchange to make regular reports. They are operated by OTC markets.
Best Penny Stocks to Buy 2021
Zovio Inc. (ZVO)
With restrictions of movements brought about by covid, the future of many things might be online. Zovio is an online education provider. It has zero debt and good fundamental, so you might count on it to make some good returns.
Buy Penny Stocks from just $50 at eToro >
AmpliTech Group, Inc (AMPG)
This is a good play if you're thinking about investing in a Tech penny stock. This is a 4g focused company and may be a good bet for long-term investment.
Buy Penny Stocks from just $50 at eToro >
l  Williams Industrial Services Group Inc. (WLMS)
President Biden's infrastructure plan may see investors in some penny stock companies in that field, such as Williams Industrial Services Group Inc go home with a fat paycheque. This is a tier 1 penny stock that has been stable for the past year and is still looking like a good bet.
Buy Penny Stocks from just $50 at eToro >
Red Flags to Look For Before You Buy Penny Stocks Today
Stock symbol that ends in the letter "E": This is a stock that has not met reporting requirements and should be delisted anytime if it fails to comply. You will find this in the OTCBB
A skull and bones: Whenever you see a skull and bone on the OTC you should be warned that the company has not complied with the rules set by the securities exchange.
Stock symbol ending with "Q":This symbol is used to mark bankrupt companies. They may be considered high risk because you may not find someone to buy them when you need to cash out.
Wrapping It Up
Trading penny stocks carries a lot of risks and may not be suitable for everyone. If you are a patient risk-taker with good research skills and the ability to react quickly, you may enjoy trading penny stocks. Remember, your success will be determined by the amount of time you bury into educating yourself and learning to pick the right penny stocks, as well as equipping yourself with proper money management skills to protect your hard-earned money.
Pink-sheet-listed penny stocks may be susceptible to manipulation and fraud. We recommend trading penny stocks listed on NYSE and NASDAQ if you want to buy penny stocks in 2021 for the first time.
FAQs
Can You Get Rich Trading Penny Stocks
How Much Should I Invest In Penny Stocks?
Is My Money Safe On The OTC Markets?
Do Penny Stocks Pay Much Better Than Normal Stocks?
How Can I Find Reliable Brokers To Buy Penny Stocks In 2021?