Cardano Price Prediction 2021 – Cardano Forecast 2021, 2022, 2025 & 2030
Currently the fourth-largest cryptocurrency by market cap, Cardano has rocketed to prominence over the past few years. Due to its excellent peer-reviewed platform, Cardano looks set to be the foundation for many decentralised apps in the future – meaning great things for the crypto's price.
In this article, we discuss our Cardano Price Prediction for the months and years ahead. We'll explore Cardano in-depth, highlighting the elements that drive price and showing you where you can buy Cardano completely commission free!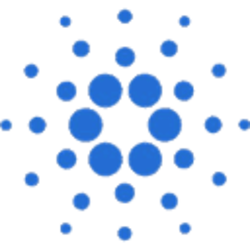 Cardano (ADA)
Price
Cardano Price Prediction 2021 to 2022
Later in this article, we will dive into our Cardano prediction 2021, covering the coin from a technical and fundamental standpoint. However, if you are looking for a quick Cardano forecast for the short term, this section will present our findings through an in-depth analysis of the coin's future trajectory.
One Month – The momentum that Cardano is showing right now looks unstoppable, which is why our Cardano prediction for the next month estimates that the digital currency will continue skywards towards $3.50.
Three Months – If Cardano's smart contracts upgrade launched successfully and Bitcoin breaking $50,000, the bullish momentum we have seen will likely continue. This will see Cardano push towards the $5 mark within the next three months.
Start of 2022 – Before 2022, we will likely see some consolidation before another upwards push. With this in mind, our Cardano prediction for 2022 has the coin valued at the $7-$10 if this bullish pattern continues.
67% of retail investor accounts lose money when trading CFDs with this provider.
Cardano Price History – the Story of 2021 So Far
To kick off our Cardano price prediction, it's essential to look back and see how we arrived at this point. This process is an important aspect of investing, as it ensures that any investment decisions are well informed. But first, let's briefly overview what Cardano is before looking at the coin's price history.
Cardano is a public blockchain platform that allows peer-to-peer transactions through its native token, ADA. The platform was founded by Charles Hoskinson, one of the co-founders of Ethereum, alongside Vitalik Buterin. The idea for Cardano began coming to fruition in 2015 and was officially launched in 2017.
Notably, Cardano is very similar to the Ethereum platform because it can facilitate the development and deployment of decentralised apps (dApps). However, Cardano's developers aim to position the platform as an 'upgrade' to Ethereum. Cardano uses proof-of-stake (PoS) to mine blocks – which is much more efficient than the proof-of-work (PoW) protocol used by Ethereum and Bitcoin.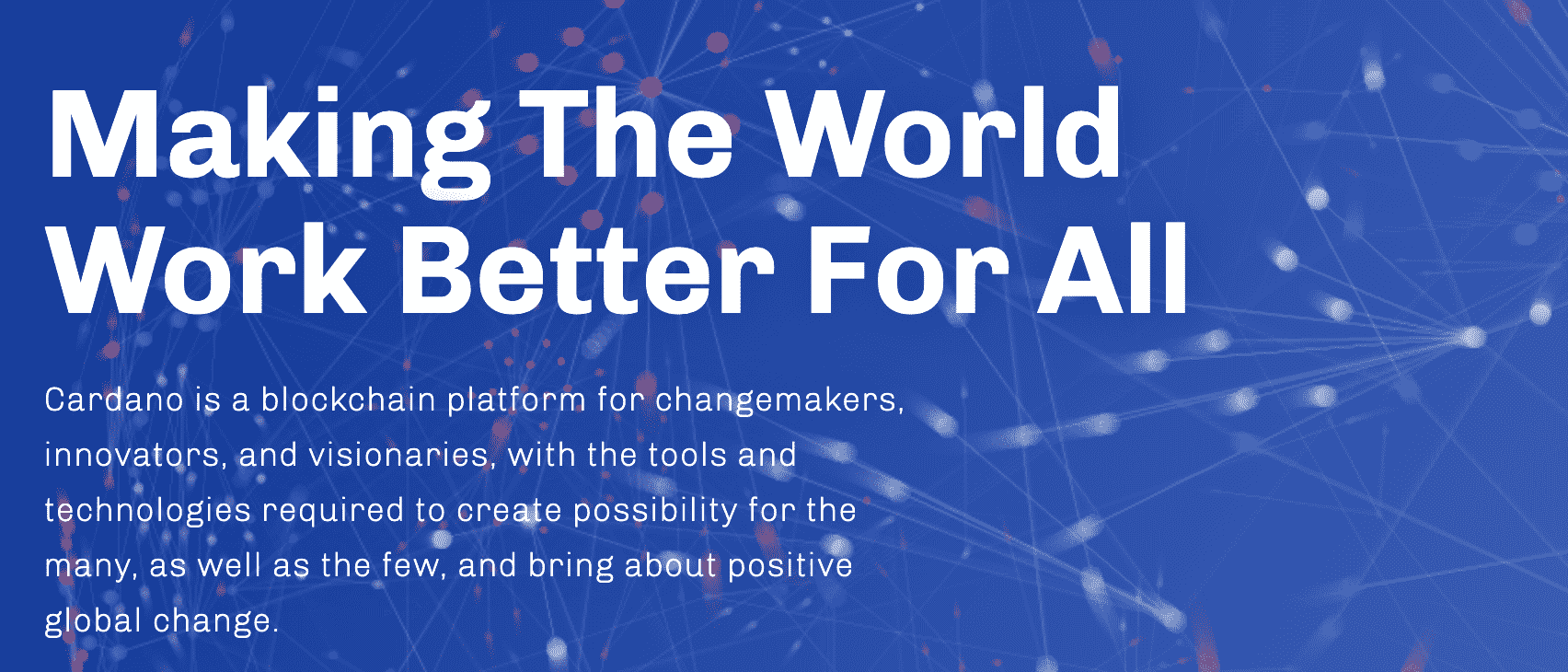 Not many people were looking to buy Cardano UK until late 2020 when momentum started picking up in the market. Between the beginning of 2021 and May 2021, the Cardano price live rose by a remarkable 1299%. Much of the hype surrounding Cardano was derived from its peer-reviewed foundations. The fact that Cardano's platform is rooted in science means that companies are more comfortable partnering with this digital asset over others.
However, in late May 2021, the hype died as Cardano (along with most of the altcoins in the cryptocurrency market) experienced a significant downturn. The coin dropped around 58% over the following months, finding a support level at $1. Notably, the Cardano price tested this support level three times and never broke through – this implies that investors still believed that Cardano has value, even though the crypto market was in freefall.

Everything changed in July 2021 as the Cardano price began picking up momentum. Much of this was attributed to the rumours surrounding Cardano's smart contracts upgrade, announced for September 2021. Since the rumours started, Cardano's price has increased by 141% in just a few weeks.
Logically, this is most likely investors pricing in the upgrade before it's launched – but either way, the price increase is fantastic for people who are speculating on Cardano's current price. Right now, Cardano has broken its All-Time High (ATH) and is soaring into the $3-$3.10 range. As Bitcoin breaks $50,000, Cardano's bull run into $4-$5 is expected within the next few months if bullish momentum continues.
Cardano Price Forecast
A key element of our Cardano stock forecast is understanding the technical and fundamental factors that could drive price in the future. This is a necessary process to complete when you consider how to buy cryptocurrency, as it ensures any investment decision is well informed. With that said, the sections below present the technical and fundamental components of our ADA price prediction.
Technical Analysis
Much like when you buy stocks, it's crucial to analyse the price chart to determine where the price could go in the future. We've studied the chart in-depth through our Cardano forecast and noticed some interesting patterns that could play out in the future. As you can see currently, the Cardano price is showing no signs of stopping, rising rapidly since July 2021.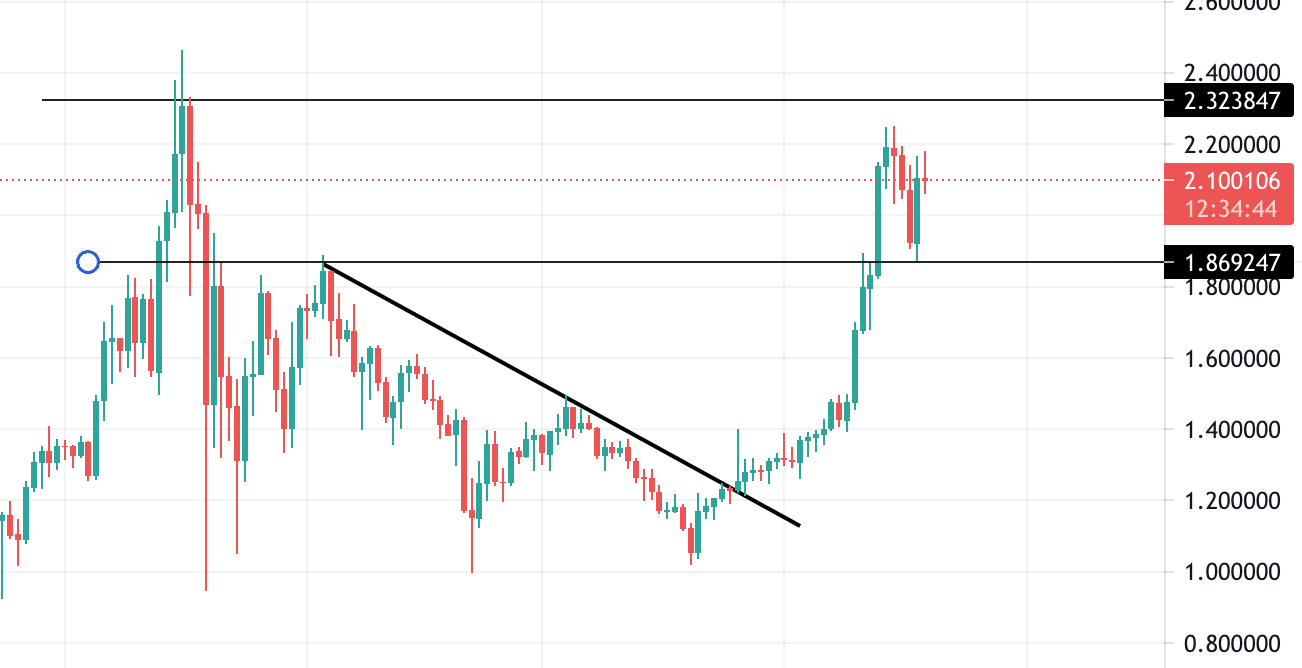 67% of retail investor accounts lose money when trading CFDs with this provider.
Price breezed past the $1.80 level, which was previously significant resistance. In fact, the price even returned to this level and retested it as support – which is a very bullish sign. Due to this occurring, the ATH of May 2021 will likely be tested and broken. The market sentiment towards Cardano is far too optimistic for these levels of resistance to hold.
In the future, our Cardano price prediction is very optimistic. Having broken the ATH, there's no technical basis to make a specific price prediction – as the price will have never been to these heights before! However, what commonly happens is that price moves the same amount upwards as the previous bullish impulse. Measuring this out would put Cardano around the $3.60-$5 level before the end of the year – making it a good investment for speculative investors!
Fundamental Analysis
Another aspect of our Cardano prediction is fundamental analysis. Much like when you buy Ethereum UK, an investment in Cardano is an investment in the Cardano blockchain. As noted earlier, Cardano's platform looks to market itself as an upgrade on Ethereum's – making it a more attractive prospect for companies.
One of the most appealing things about Cardano is the way that staking works. The people who own ADA coins on the network are the ones who validate the transactions – and due to this, they can earn 'interest' on their holdings. People who own large amounts of Cardano can operate a 'stake pool', making them over 6% interest per year, whereas smaller holders can offer their tokens to an existing stake pool and earn a return. This process is attractive to investors, as it allows them to generate a passive income stream, just through holding Cardano.
Over the long term, our Cardano forecast estimates that many more companies will adopt Cardano's platform. Right now, Ethereum is still the most marketable and well-known platform, so Cardano does have stiff competition in that regard. However, once their smart contracts upgrade goes live, it could provide the impetus needed for future moves in the coin price.
Cardano Price Prediction 2025 – Long Term Outlook
So, now that you know the fundamentals of Cardano, our focus turns to the coin's long-term outlook in our Cardano price prediction 2025. As noted earlier, Cardano's proof-of-stake algorithm looks to better the current algorithms used by Bitcoin, Ethereum, and Litecoin, making Cardano much more energy efficient. An article by Forbes noted that Bitcoin represents 0.51% of the world's total energy consumption, making it the same as a small country!
Due to Cardano's different algorithm, the energy required is much lower, making the platform more environmentally friendly. This has the added benefit of making the Cardano ecosystem more attractive to companies, as they will want to partner with a responsible company. Essentially, this turns out to be a win-win for Cardano.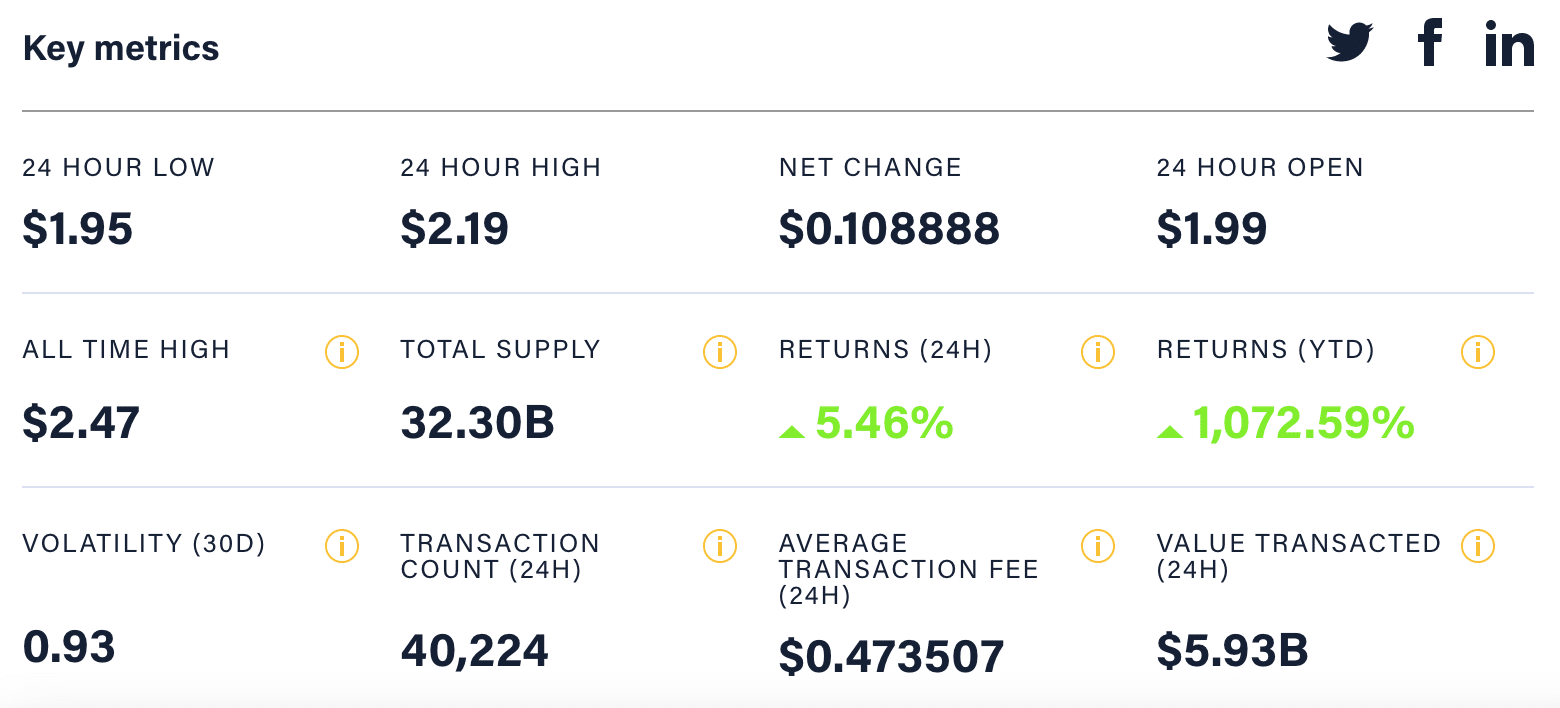 The upcoming upgrade (named Alonzo) that will allow Cardano to utilise smart contracts is the major boost that the crypto needs. These smart contracts remove the need for an intermediary, meaning they can be used in a limitless number of scenarios. Removing the intermediary in certain transactions is said to be much safer and prevents data from falling prey to cyber-attacks.
With all of that said, the future looks exceptionally bright for this coin. Our Cardano price prediction 2025 sees the coin head towards the $10 mark. This may seem like a big prediction to make, given that the coin is hovering around $2 at present. However, the underlying technology that Cardano uses looks set to make their platform the go-to for companies as we advance.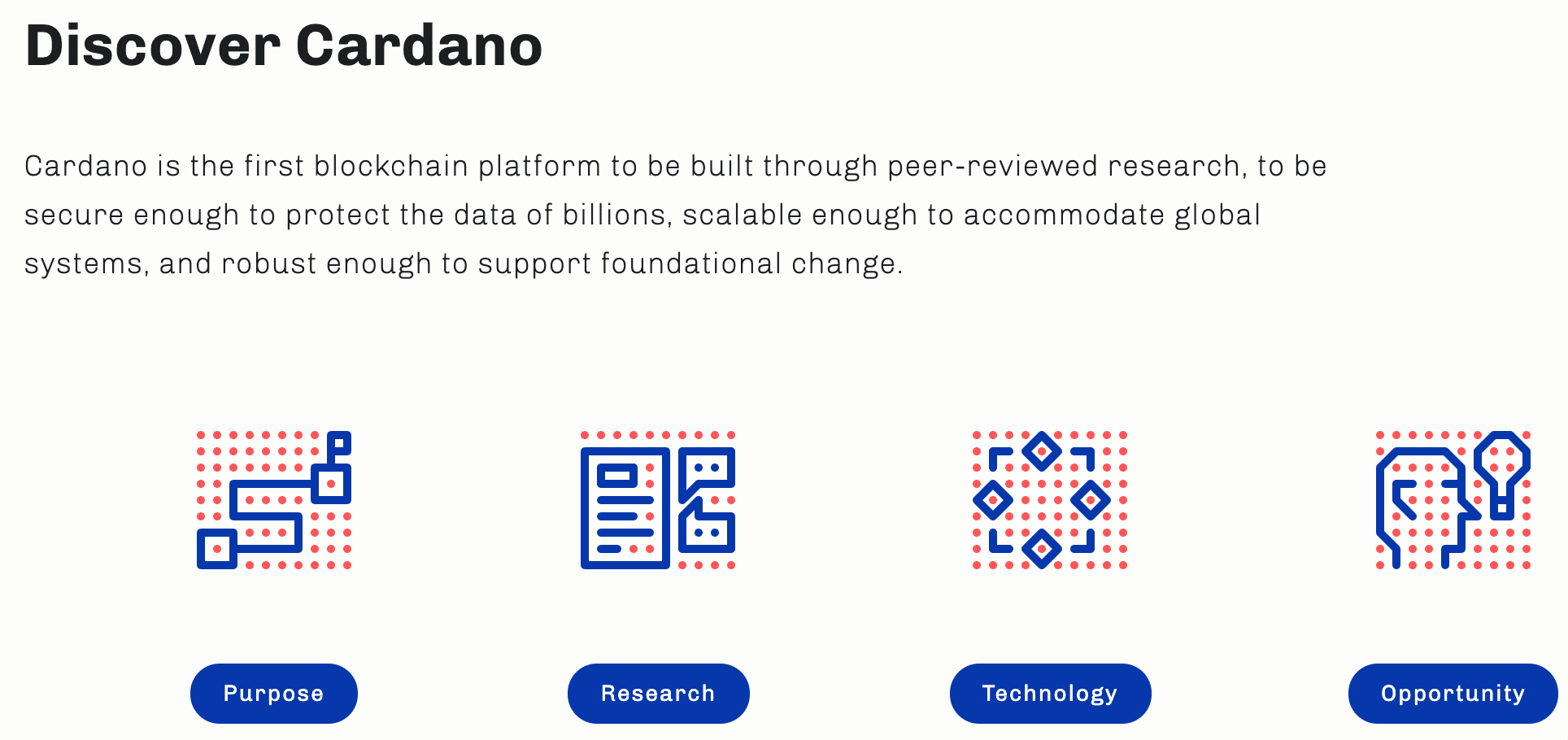 Finally, following on from our Cardano price prediction 2025, next up is our Cardano price prediction 2030.
Our Cardano price prediction 2030 estimates that the ADA coin will be worth a remarkable $15 by this point. This would represent an increase of over 500% from today's price, meaning exceptional returns potential for investors. So, if you are happy to take some risk speculating on this coin, it's very likely to pay off in the years to come.
Cardano Price Chart
As you can see from our Cardano price prediction above, we are highly optimistic about this coin's future prospects. The price chart highlights this clearly, with the current bullish momentum showing no signs of stopping. Price formed a clear support level around the $1.91 region, which will act as a base for any future moves.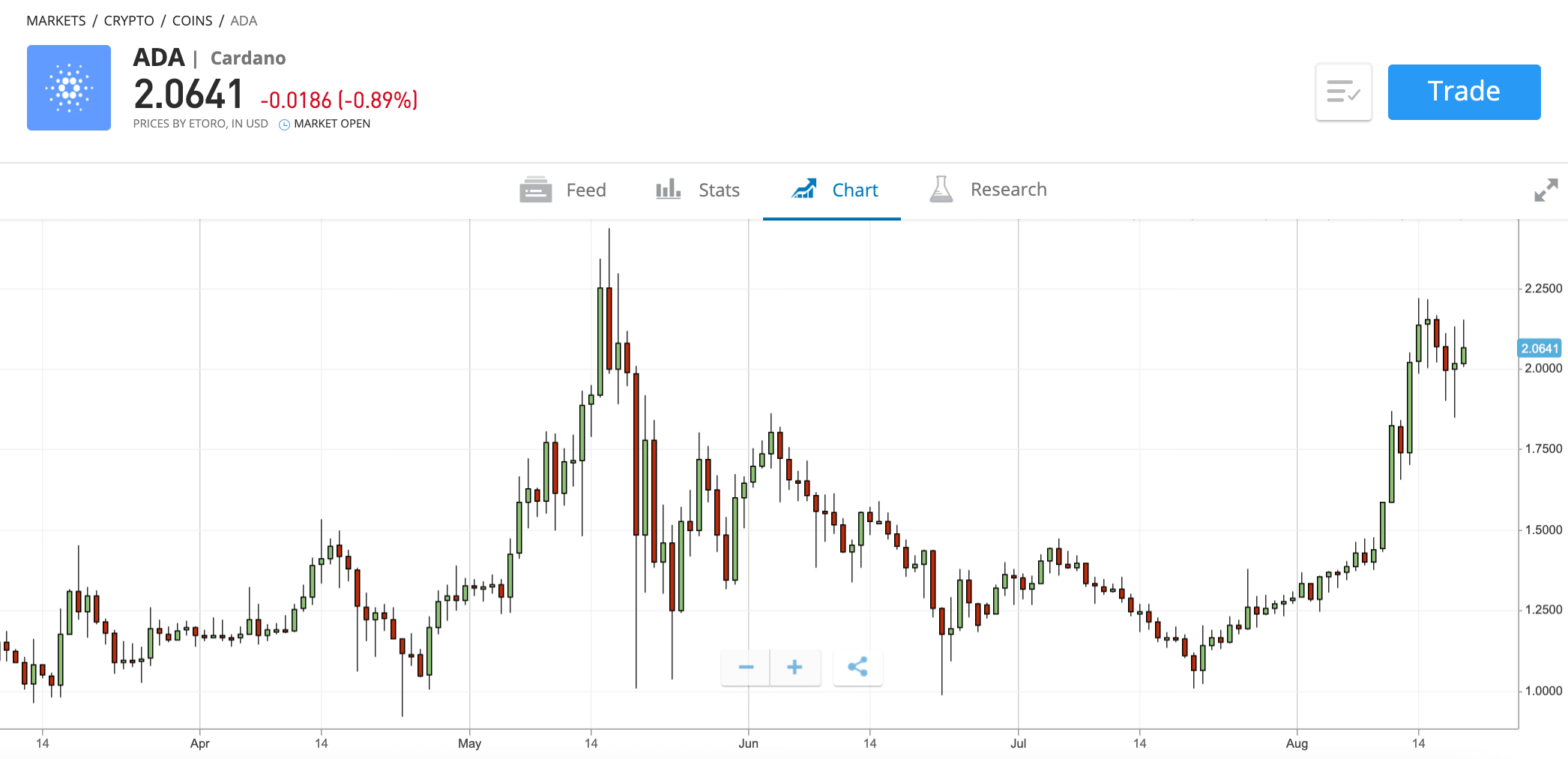 67% of retail investor accounts lose money when trading CFDs with this provider.
The key point to keep an eye on is the $2.4 level. The momentum that price is showing right now is undoubtedly strong enough to break it – although it may take multiple attempts to pass through. Again, as this is an ATH and there is a psychological element to it that adds to its strength.
Having broken this ATH resistance, the bullish momentum has been 'confirmed'. This is most likely in expectation of the release of Cardano's smart contracts platform, which investors are waiting for with bated breath. Going forward, it's wise to note that there may be pullbacks here and there. However, the overwhelming sentiment is bullish, so it's important to remove emotion from the equation if you hold long term.
Where to Invest in Cardano
Throughout this article, we've touched on the various aspects that drive Cardano's price, ensuring you have all the information you need to make an effective investment decision. However, it's also essential to analyse the best trading platforms that offer Cardano as a tradeable asset. Due to the coin's popularity, many brokers and exchanges offer Cardano now – so it can be tough to choose which one to go with.
Not to worry – we've completed the required research and testing and found that eToro offers the best platform to buy Cardano. First and foremost, eToro is regulated by numerous top tier entities, including the FCA, ASIC, and CySEC. As eToro is so heavily regulated, users are very well protected when trading the crypto market. Furthermore, eToro offers FSCS protection for UK-based users, ensuring that funds are protected up to a total of £85,000.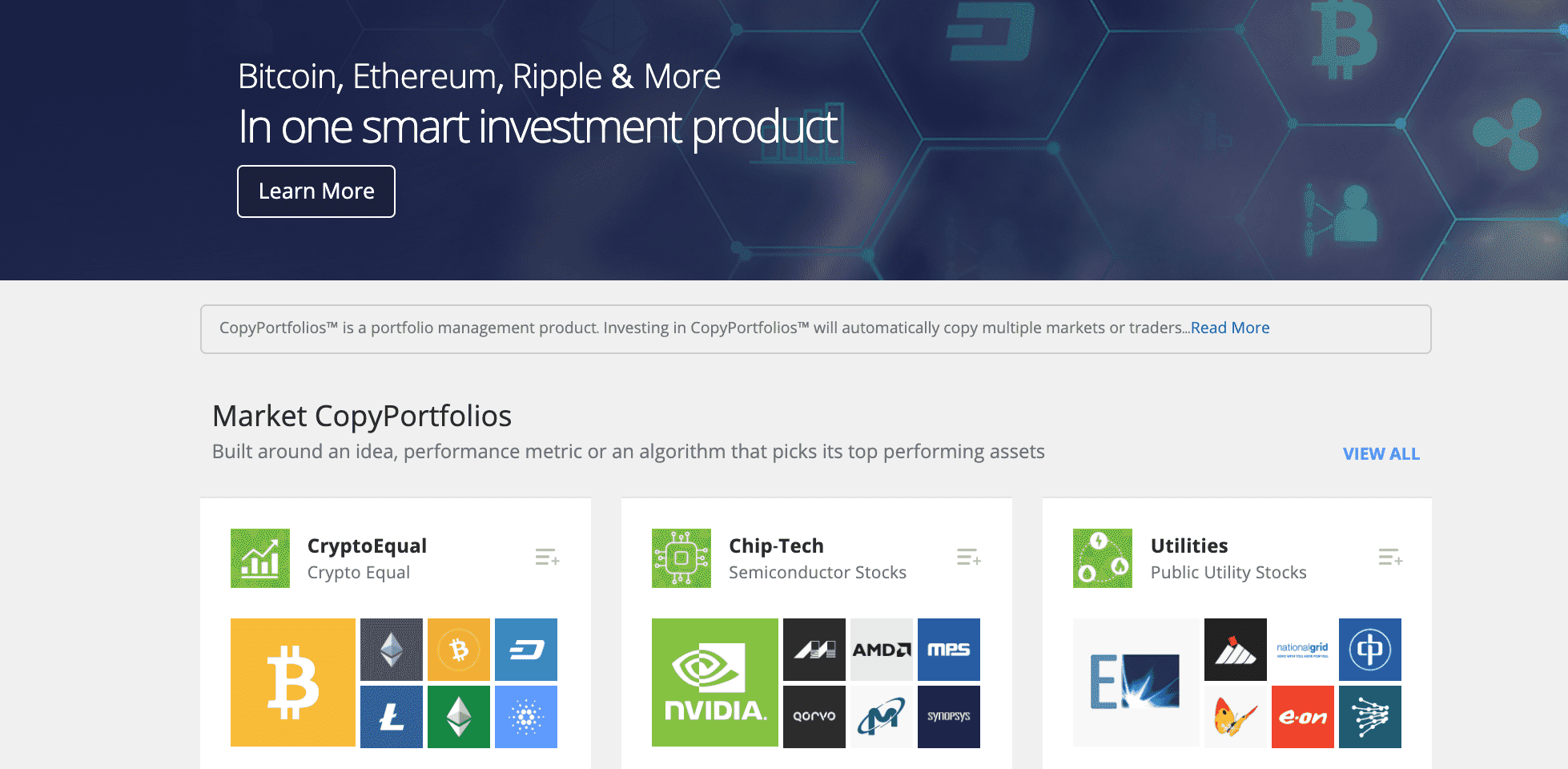 One of the main reasons we rate eToro so highly is because you don't have to pay any commissions when you place a trade. This is in contrast to many other CFD brokers who tend to charge a percentage of your position size as their fee. Aside from commissions, eToro also don't charge any deposit fees or monthly account fees – allowing you to trade in a low-cost manner.
In terms of deposits, eToro accept payments made via credit/debit card, bank transfer, and various e-wallets – including PayPal! The minimum deposit threshold is only $50 (£37), meaning that users of any income level can trade on the platform. If you are a beginner, you can even use eToro's free demo account for a risk-free trading experience!
Finally, eToro offers various useful features, including their famed CopyTrader feature. This allows you to automatically copy the trades made by other eToro users – which is ideal if you don't have enough time to be at the charts all day. All of these factors combine to make eToro our number one recommendation when it comes to platforms for buying Cardano.
Cardano Price Prediction – Conclusion
As this article has highlighted, the potential that Cardano has right now is enormous. The recent bullish momentum can be seen as just the beginning for this crypto, meaning there is much more upside to benefit from in the months and years ahead. The real-world use cases for Cardano's platform makes the coin a tremendous speculative investment, regardless of your experience level.
So, if you'd like to buy Cardano today, we'd recommend using eToro. eToro is one of the safest places to invest in cryptocurrencies, offering regulation from the FCA, ASIC, and CySEC. What's more, eToro does not charge any commissions when you place a trade – making them one of the most cost-effective places to buy Cardano!

67% of retail investor accounts lose money when trading CFDs with this provider.
FAQs
What is the price of Cardano right now?
What drives the price of Cardano?
What will Cardano be worth by 2022?
What will Cardano be worth in 2025?