How to Invest in Shares Australia – Investing in Shares for Beginners 2021
Shares or stocks are excellent financial assets that provide investment opportunities in different companies from different countries and sectors. By tapping into the investment opportunities this financial instrument has to offer, you can get a share of the performance of a small tech company that's on the verge of a breakthrough as well as a large and established multinational corporation, as long as they are publicly listed companies. Australia offers unique stock trading opportunities due to its strategic geo-position in the Asia-Pacific region and 49% of adult Australians claim to have invested in company shares according to recent surveys.
To be able to invest in shares you will need a brokerage solution that can allow you to buy even popular shares from many other countries. If you are keen on investing in company shares, this how to invest in shares guide can get you started. Below we shared the pros and cons of various CFD brokerage platforms alongside a rich resource of knowledge regarding company shares and getting exposure to them in an investment portfolio.
#1 Broker for Investing in Shares in Australia – eToro
How to Invest in Shares Australia – Step by Step Guide 2021
To start investing in shares you might want to have the right software environment which supports you with social interactions, learning resources, market insights, charting tools and a friendly UI. Additionally, you will want your brokerage solution to be regulated by regulatory bodies and also have respectful policies for user privacy. eToro is a regulated brokerage that offers share trading solutions through CFDs and you can get started with eToro in less than 5 minutes by following these steps.
Step 1: Open an eToro account: The first step is to get an account for free by signing up to eToro. We recommend

eToro because they offer high security, innovative features and good quality trading software for desktop and mobile. To get started with eToro

just type "eToro.com" into your browser, press the "Join Now" button, and fill in the required details.
Step 2: Verify your Identity: After having your account, you will need to get it verified to start trading shares in Australia. The process is simple. Just provide

a photo ID (passport, driving licence) and proof of address (utility bill, bank statement) when the app prompts you to.

Step 3: Fund your account: Once you have a verified eToro account, you can start trading shares. But to be able to do this you will need funds in your account. Simply deposit funds

by one of the many methods offered on eToro such as credit cards, Paypal, Skrill or bank transfer. To continue just click on "Deposit Funds", enter the amount you want to invest and press "Deposit".

Step 4: Invest in Shares: After having a verified account with deposits made into it you will be able to buy or sell any shares available on the platform.

Type the name of a stock (share) such as "Microsoft" or "MSFT" into the search bar, press "Trade", enter however much you'd like to invest, and press "Buy" to buy that cryptocurrency.
Where to Invest in Shares – Choose a Broker Australia 
Selecting a well-established and regulated platform that offers adequate support and rich features can mean the first solid step taken into a successful trading journey. We compiled a list of brokerage solutions and vetted their practices and features as well as their pros and cons. Here are 3 regulated brokerage companies you can consider proceeding with if you want to enter the world of share investing in Australia.
1. eToro – Best Overall Way to Invest in Shares Australia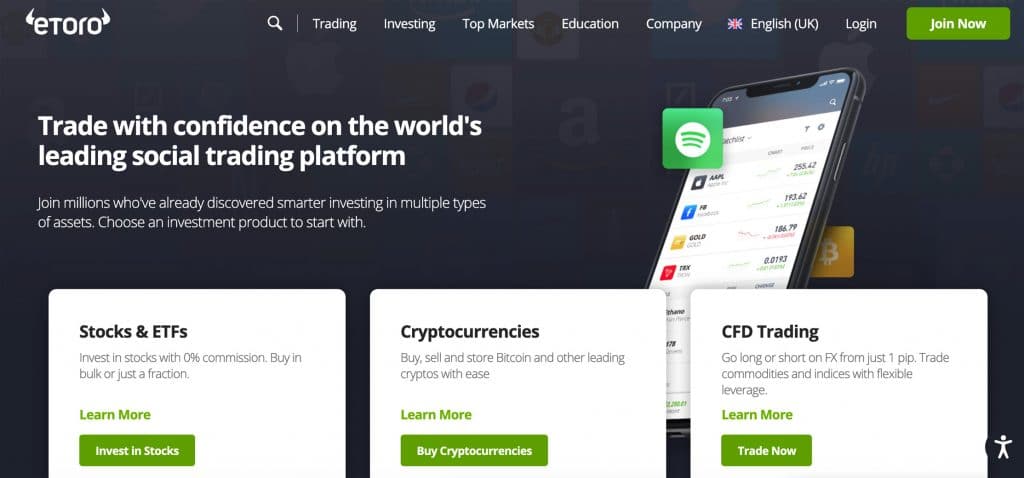 eToro is a well-established brokerage platform where you can trade company shares and get started for as little as $50. eToro pioneered a popular feature called copy trading which allows following other successful traders, copying their successful trades and socializing with them. Combined with the excellent learning resources provided by the platform, it becomes a potentially rewarding and highly satisfactory experience to learn and trade company shares on eToro.
Additionally, eToro offers a well-built mobile app that is very useful coupled with their web-based trading software. Today most people are leading busy lives and since market activity continues non-stop it can be very valuable to have high-quality mobile solutions in your pocket. It's easy to get started with this online brokerage platform as accounts can be created very fast and for free.
Security & Privacy
In Australia, eToro and/or its subsidiaries are regulated by the Australian Securities and Investment Commission (ASIC). Additionally, The Financial Conduct Authority (FCA) regulates eToro in the United Kingdom, while the Cyprus Securities and Exchange Commission regulated it through the Cypriot unit (CySEC). Client funds are also stored in regulated and registered US banks which provide extended fund security as US banks are covered with Federal Deposit Insurance Corporation (FDIC) up to $250,000.
On top of regulatory measures, eToro offers 2FA authentication and encrypted user data transfers on their platforms which provides enhanced account security while ensuring user data remains private. eToro even has a special department called the security operations centre (SOC) where staff monitors and protects its infrastructure around the clock. Due to all of these welcome security and privacy features, we believe eToro is a safe and secure online brokerage platform.
Fees & Features
eToro doesn't charge any registration, deposit or trading fees. Except the company generates its revenues based on the bid/ask spread of each instrument offered on the platform. The ability to buy and sell company shares in addition to many other asset classes such as cryptocurrencies i.e Bitcoin, indices, commodities and forex provides a very rich trading experience for traders from all backgrounds with different strategies and goals. Finally, we appreciate the innovative copy trading feature of this brokerage in addition to the stunning web and mobile applications they provide for free.
eToro Fees
| | |
| --- | --- |
| Fee Type | Fee Amount |
| Commission Fee | 0% |
| Deposit Fee | £0 |
| Withdrawal Fee | £5 |
| Inactivity Fee | £10 (Monthly) |
Pros
No deposit fees

Great mobile and web applications

Very convenient selection of company shares from many countries

Unique copy trading feature allows mimicking other successful traders

Very high-quality learning resources
Cons
Spreads for shares and CFDs can be on the high side


$200 minimum deposit required to start making investments
67% of retail investor accounts lose money when trading CFDs with this provider.
2. FXTM – Best Platform for Low-Fees to Invest in Shares Australia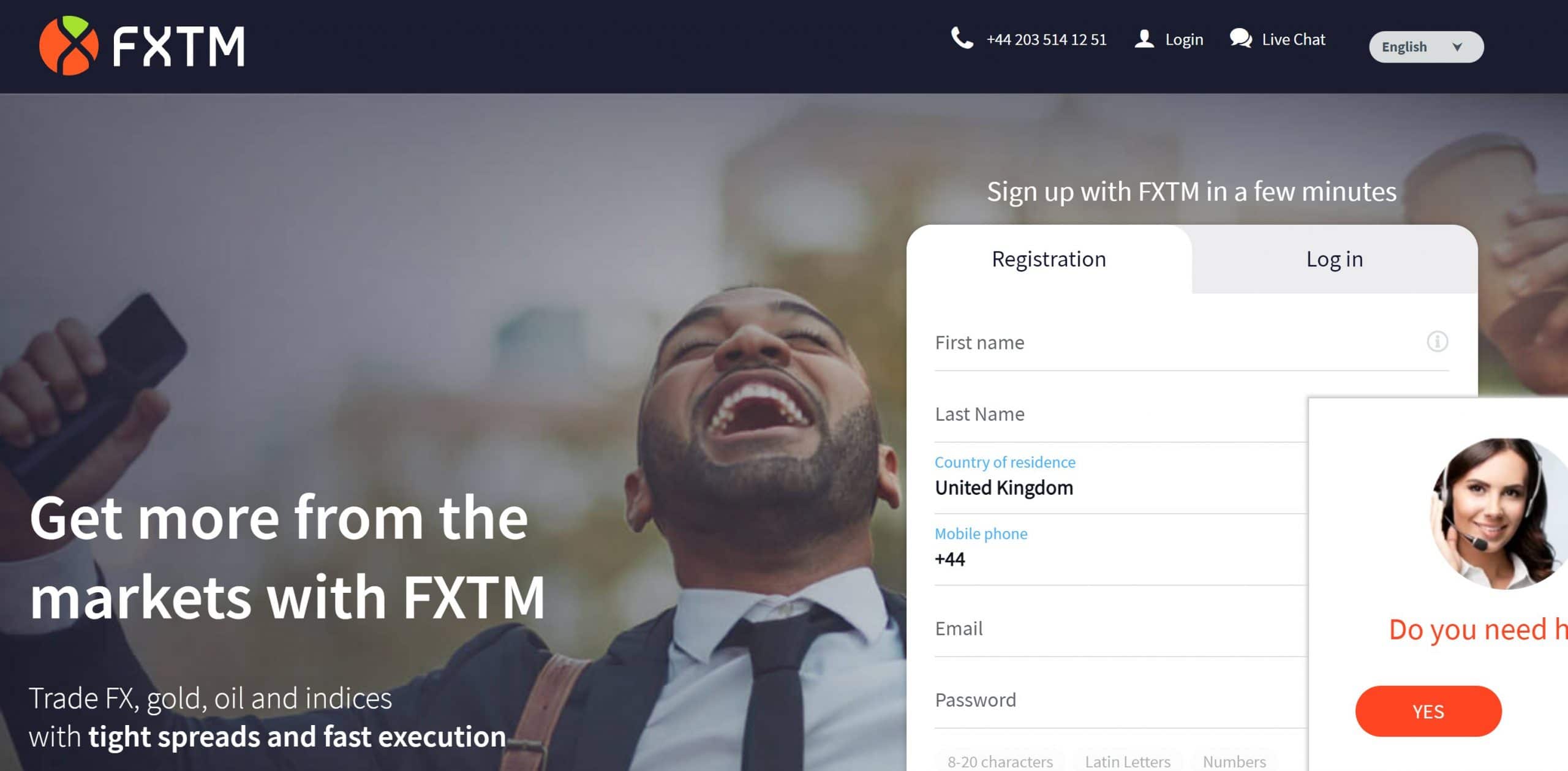 ForexTime, or more commonly known as FXTM, has been a global brand for financial investing and trading services since 2011. The broker platform facilities trading activities for over 2 million people from across the world. The company deals in all kinds of financial instruments, including company shares, foreign exchange, indices and commodities. The company's trading platform is based on MetaTrader 4 and MetaTrader 5 and FXTM provides extensive educational services to its clients as well. According to DailyForex, FXTM is also renowned for its quality pricing approach for commission-based foreign exchange trading.
Security & Privacy
All services provided by the company are regulated by four top regulatory authorities. Mauritius Financial Services Commission, UK Financial Conduct Authority (UK), Cyprus Securities and Exchange Commission, South Africa Financial Sector Conduct Authority. FXCM received a score of 70 out of 99 on overall trust aspects with the average risk being involved. The company takes extensive measures to ensure the protection and privacy of its client's data for increased privacy.
Fees & Features
FXTM has both commission-based and non-commission-based services for Forex, with the latter account being the costlier one. For equity trading, there are no commissions involved. The minimum deposit required is $100. There are no deposit fees involved; however, there is a withdrawal fee as well as inactivity fees that are charged after six months of inactivity.
FXTM Network Fees
| | |
| --- | --- |
| Fee Type | Amount |
| Commission | 0% or $4 for ECN |
| Withdrawal Fee | $3 |
| Deposit Fee | $0 |
| Inactivity Fee | $5 per month (after 6 months inactivity) |
Pros
Easy account opening
No commissions for spread-based accounts
No deposit fees
Quality educational resources
Fully regulated by authorities
Cons
Inactivity fees
Withdrawal fees
Limited financial instruments
67% of retail investor accounts lose money when trading CFDs with this provider.
3. EightCap – Best Platform for Customer Service to Invest in Shares Australia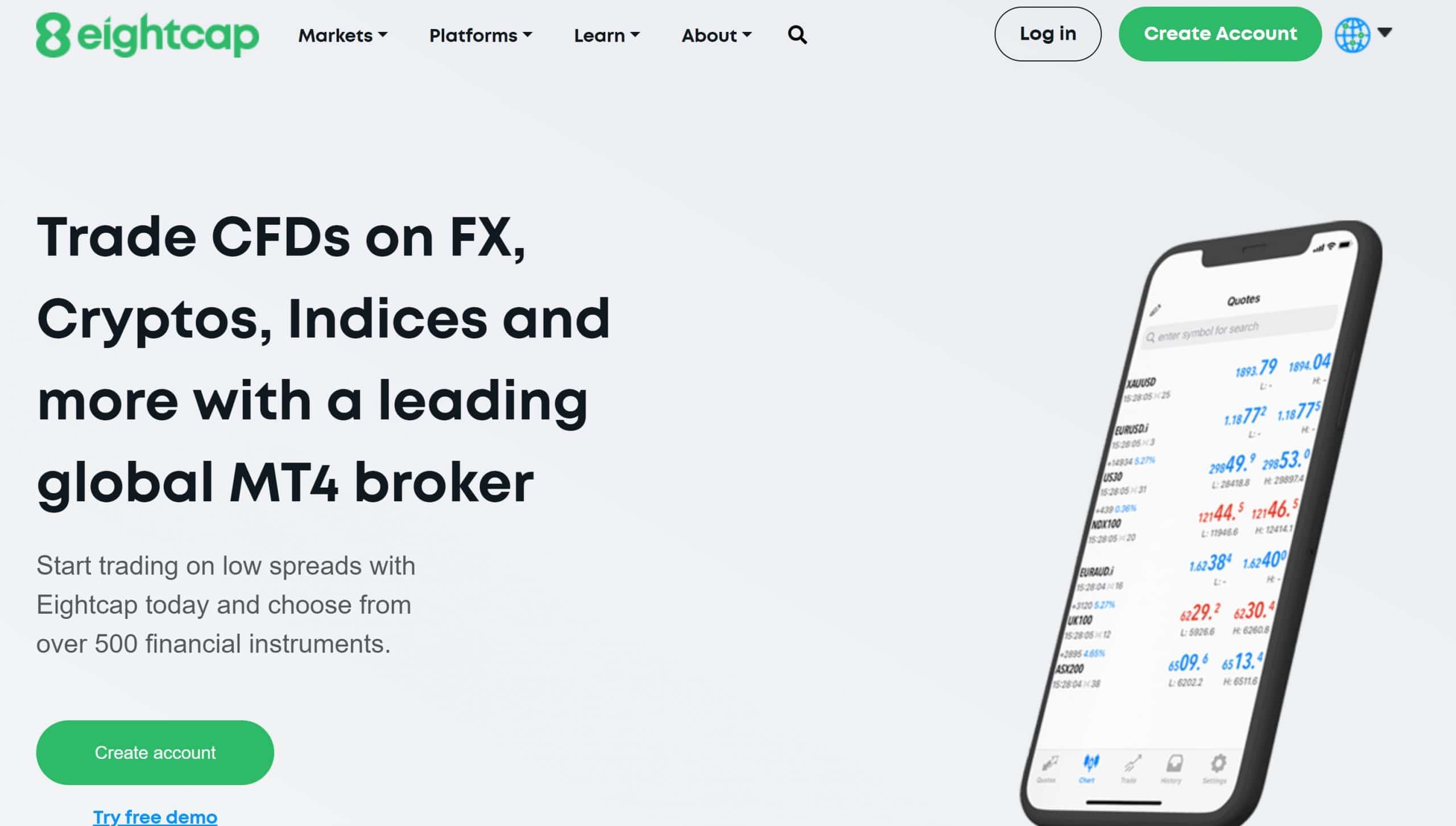 EightCap is another well-known broker, especially for Forex and CFD trading. The company was founded in 2008 in Australia. Ever since its inception, the company's MT4 and MT5 enabled platform is providing services to global clients with over 500 financial instruments to choose from. Its platform facilitates trading activities across various financial instruments such as forex, shared, and commodities through CFDs.
Its famous partnership with Capitalise.ai has allowed EightCap to automate the trades and receive analytical insights. The company also provides excellent multilingual customer service including personal customer support with phone calls. Some languages available are Chinese, Thai, Korean, French, Spanish, Italian, German, Vietnamese, and Português in addition to English.
Security & Privacy
The company is regulated by several top regulatory institutes that are Australian Securities and Investment Commission (ASIC), Securities Commission of the Bahamas (SCB), Cyprus Securities and Exchange Commission (CySEC), and the Financial Conduct Authority (FCA). Considered average in terms of risk, the company receives a trust score of 73 out of 99. EightCap utilizes highly secure servers to store sensitive or private data and to provide maximum protection.
Fees & Features
Setting an account with EightCap is relatively easy and effortless, A deposit of $100 is required to open a trading account. However, no deposit fees are charged by the company. Also, there is no involvement of any withdrawal or inactivity fees for the investors. With EightCap you can trade US, Australian, and European Shares. The company offers 200 Australian listed company shares alone such as BHP Group, Rio Tinto, Commonwealth Bank, Westpac Banking Corp, National Australian Bank, ANZ Banking Group, Woolworths, Macquarie Group, Wesfarmers, Telstra, Transurban, Fortescue, Woodside Petroleum and Goodman.
EightCap Fees
| | |
| --- | --- |
| Fee Type | Fee Amount |
| Commission Fee | 0% or $3.5 for fixed-rate account |
| Deposit Fee | $0 |
| Withdrawal Fee | $0 |
| Inactivity Fee | $0 |
Pros
Easy setup of account
No deposit, withdrawal or inactivity fees
Fully regulated by the Australian Securities and Investment Commission (ASIC)
Nice selection of financial instruments
Partnership with Capitalise.ai and FX Blue Labs
Cons
Limited market insight, research and educational material
67% of retail investor accounts lose money when trading CFDs with this provider.
Invest in Shares in Australia – Broker Price Comparison
It can be a daunting task to decide between brokerage platforms. We compiled different fee requirements of the brokerage solutions we have listed in this article. Here is a fee comparison table between eToro, FXTM and EightCap.
| | | | | |
| --- | --- | --- | --- | --- |
| Broker | Commission | Deposit Fee | Withdrawal Fee | Inactivity Fee |
| eToro | 0% | £0 | £5 | £10 monthly (after 12 months inactivity) |
| FXTM | 0% or $4 | $0 | $3 | $5 monthly (after 6 months inactivity) |
| EightCap | 0% or $3.5 | $0 | $0 | $0 |
What are the Different Ways to Invest in Shares?
When it comes to investing funds for better future outcomes, buying shares and other investments such as bonds, ETFs, cryptocurrencies, mutual funds, commodities, and real estate are among the most common choices for investors. There can be many different strategies and asset classes involved in an investment plan. However, stocks have been offering shares of a company's operational and financial performance for centuries. Australia is a particularly interesting region for investing in company shares as it serves as a hub that provides exposure to Asia-Pacific markets as a member of the Anglosphere in that region. Read on to explore some primary ways through which investors often invest their money in shares.
Stocks (Company Shares)
Stocks are very fundamental financial instruments and their use cases go way back to 12th-century agriculture applications in countries like France, Japan and China. In a structured way stock exchanges are known to have initiated in Flemish and Dutch cities like Bruges, Flanders, Ghent, and Rotterdam in the 15th century. As these cities hosted ports to global trade, it only makes sense that many flourishing international trade companies sought funding in the area.
Fast forward to the 21st century, we have tens of thousands of countries at our fingertips for trading and fast computers to make analyses and interconnect with fellow investors. But with that extra power comes extra responsibility. As competition is fierce and investment options are more abundant than ever traders and investors are forced to be on top of their game to ensure favourable outcomes through successful trades.
You can start investing directly in shares by buying the stock of your desired company. This stock would thereby represent your ownership or stake in a particular company. The two primary kinds of stocks, common and preferred stocks, give their owner different rights. With common stock, the owner receives the right to vote and is entitled to dividends, whereas preferred stock owners do not have the right to vote but receive a share from the company's income. The decision of a company to issue both types of stocks or of an investor when choosing between the two depends on governance choices, financial decisions, and risk preferences.
CFDs (Contract for Difference)
Contract for Difference (CFD) is a trading derivative used mainly by traders through brokerage services. The contract allows the owner to speculate on the rising and falling prices of different securities, bonds, and commodities without the actual ownership. The trader can either take a long position when they expect the price of a particular asset to rise or a short position when they expect it to fall. The contract enables a price settlement between the opening and closing price of the instrument from the start of the contract until the closing of the position. Thus your risk and reward will be based on how accurate your predictions were about the price fluctuations. This practical and innovative financial instrument makes it possible to speculate many different asset classes internationally without the complications of actually owning those shares or commodities.
ETFs (Exchange-Traded Fund)
Investing through Exchange-Traded Fund (ETF) has become a popular option for many investors including beginners as well as advanced market participants. An ETF can be used solely for tracking a particular index, stock group, sector, commodities, or other assets. Like mutual funds, ETF is a combined instrument for various securities and helps reduce the risk by diversifying the portfolio. But ETFs became a lot more popular since they don't have active management fees as mutual funds do.
This readymade basket can be a more convenient way to invest as it is less time-consuming, offers improved diversification and incurs fewer fees for investors compared to individually reviewing stocks of several companies and choosing where to invest. If you'd like to invest in shares ETFs can be a great way to start getting that exposure and you can look for specialized ETFs such as tech stocks or small-cap share bundles.
Best Ways to Invest in Shares Australia
Each investor will differ when it comes to an investment approach, strategy, risk appetite and different techniques. Some may prefer to take on more risks in hopes of increasing the rewards. Others may be risk-averse and may choose routes with minimal possibility of losses. No matter the investing behaviour, you can invest in or trade shares in the following ways.
Investing in Shares – Stocks
The most straightforward way of investing in shares is buying stocks of a particular company on the stock exchange. According to a recent survey by Finder, 67% of people in the UK plan to invest in shares in future while 33% have already invested in them. According to surveys almost half (49%) of people own shares out of the 9.5 million full population and 20% of the Australians claim to have purchased company shares during the Covid pandemic.
To invest in stocks, you would need the services of an individual broker or an online brokerage solution that would facilitate your trades through their programs and access to stock exchanges worldwide. Investing in the right company can substantially increase your wealth and financial security but with the wrong decision, your portfolio can also incur losses. Researching the company and the overall conditions of the markets can be an important task in investing decisions.
Investing in Shares – CFDs
If you prefer to work with an online brokerage they will likely offer you CFD products which can be a practical and affordable solution for making international trades. CFDs is a great way of diversifying risk as they allow access to many different shares from different sectors and countries. Unlike the regular working hours of the stock exchange, CFDs can often be traded all day.
Investors also get to experience increased leverage with minimal capital investment, which can increase the possibility of high profits as well as huge losses. Another advantage of CDSs are simplistic shorting operations. eToro, FXTM and EightCap are a few of the top brokers involved in CFD trading that are available to Australian clients.
Investing in Shares – ETFs
A relatively more effortless way of investing in stocks is through EFTs. This diversified basket of securities reduces the investor's risk and is flexible regarding trading timing. Even though ETFs are similar to mutual funds, the fees and expenses associated with them are lower and more attractive. However, the costs can still be higher compared to investing in a single stock. According to Nerdwallet the most sought ETFs of 2021 are SPDR Portfolio S&P 500 ETF (SPLG), Vanguard Large-Cap ETF (VV), and iShares Core S&P 500 ETF (IVV). By tapping into the potential of ETFs you will gain exposure to the shares of a whole market or sector or subsector in a very simplistic way.
Are Shares Good Investments?
The process of investing in shares may seem cumbersome and daunting for a first-time investor. However, it may be one of the most rewarding ways of maximizing your returns. Historically, stock markets have provided investors with generous returns in the long term. Following are some of the significant benefits that investors gain by allocating some of their funds in shares.
Potential High Gains
Investing in shares is considered one of the most common ways of increasing wealth. Historically US stock markets returned over 10% returns per annum on average. For instance, Business Insider indicates that S&P 500, the index for 500 top US companies, returned 13.9% per annum on average in the past ten years. Historically observed, the returns gained from shares frequently surpass those from other investments like bonds and gold. While fixed-income vehicles such as bonds and notes provide some protection from inflation which is usually measured by CPI, stock markets can help investors go beyond CPI and actually make generous profits. Especially if you have the business savvy or expertise, you might be able to pin down company shares that will perform highly in the future.
Easy Buy/Sell Process
Shares are also considered to be relatively liquid assets that can be easily bought or sold. However, in the case of small-cap shares and during crisis periods this might change and the market can become illiquid. The process of buying and selling itself is usually effortless through suitable brokers. Shares can be purchased and then sold by the same trader on the same day even within seconds, although depending on the circumstances there can be limitations to the number of transactions made per day. Thanks to online brokerage solutions today, traders can buy and sell shares of companies throughout the world without much hassle by tapping into the potential of CFDs.
Exposure to Different Sectors
Instead of investing in a specific share or category, investors can increase their exposure and invest in many companies from different industries. It helps in building a portfolio that is well-diversified and thus increases opportunities for returns while minimizing risks. In case one specific share performs poorly and faces losses, other shares can make up for it. The same logic can be applied to sectors such as tech, transportation, telecommunication, pharma, energy, manufacturing, automotive, textile etc. This nature of shares can not only be intellectually satisfying but also offers investment opportunities for people with sector-specific expertise.
Investing in Shares – What are the Risks?
When the opportunity for gains increases, so do the risks involved. There are times shares can be very risky assets and lose almost all of their values. This can happen through hardship faced by a specific company or during the financial crisis, recession and stagnation periods. Let's see a few categories in which company shares may have increased risks.
Company-Specific Risks
These risks may be specific to a particular company whose shares are being traded. Examples of company-specific risks may include operational inefficiencies, management failure, a weak capital structure, legal troubles, funding difficulties etc. These risks are also known as unsystematic risks and can be mitigated by increasing portfolio diversification to include other similar company shares.
Sector Risks
There are also sector risks. Also known as systematic risks, market risk can affect different sectors in different ways and cause plunging prices in an entire industry. Increased volatility, greater credit risk, market bubbles (such as tech bubbles or real estate bubbles) and unforeseen events may result in one sector being highly affected and thus the portfolio can take a hit accordingly.
Global Macro Risks
Global risks such as interest risk fluctuations, political instability, natural disasters, domino effect and many more factors can affect the economy at a macro level. Such events may result in a period of financial distress for all the businesses in the economy and negatively affect the share prices and investors' confidence regardless of how promising the company of which you are holding share may be.
How to Invest in Shares Australia Using eToro
It can be confusing and intimidating to get started with brokerage accounts but it doesn't have to be so. eToro is available to Australian clients. You can follow the simple steps explained below to get started in your stock investment journey with eToro.
Step 1: Open an account with eToro
You can create an eToro account for free and the process will only take a couple of minutes. After creating an account you can start benefiting from rich learning resources (both for traditional financial assets and cryptocurrencies), charting tools, demo accounts, mobile platforms, copy trading and other advanced features as well as trading cryptocurrencies. Just type "eToro.com" into your browser, press "Join Now" and fill in the necessary details.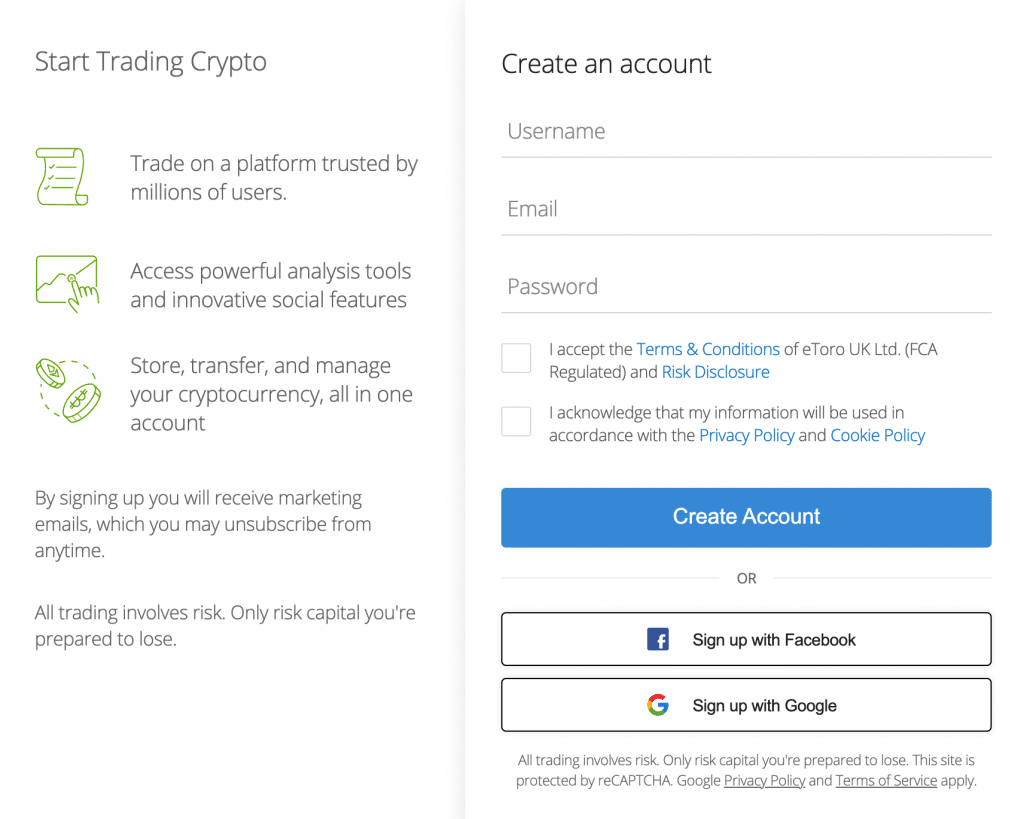 67% of retail investor accounts lose money when trading CFDs with this provider.
Step 2: Verify your account
After signing up for an eToro account, you will be ready to start the verification process. This process assures eToro and its clients are complying with the KYC and AML regulations. Simply, provide a photo ID (passport, driving licence) and proof of address (bank statement, utility bill) and your account should be verified in less than 15 minutes.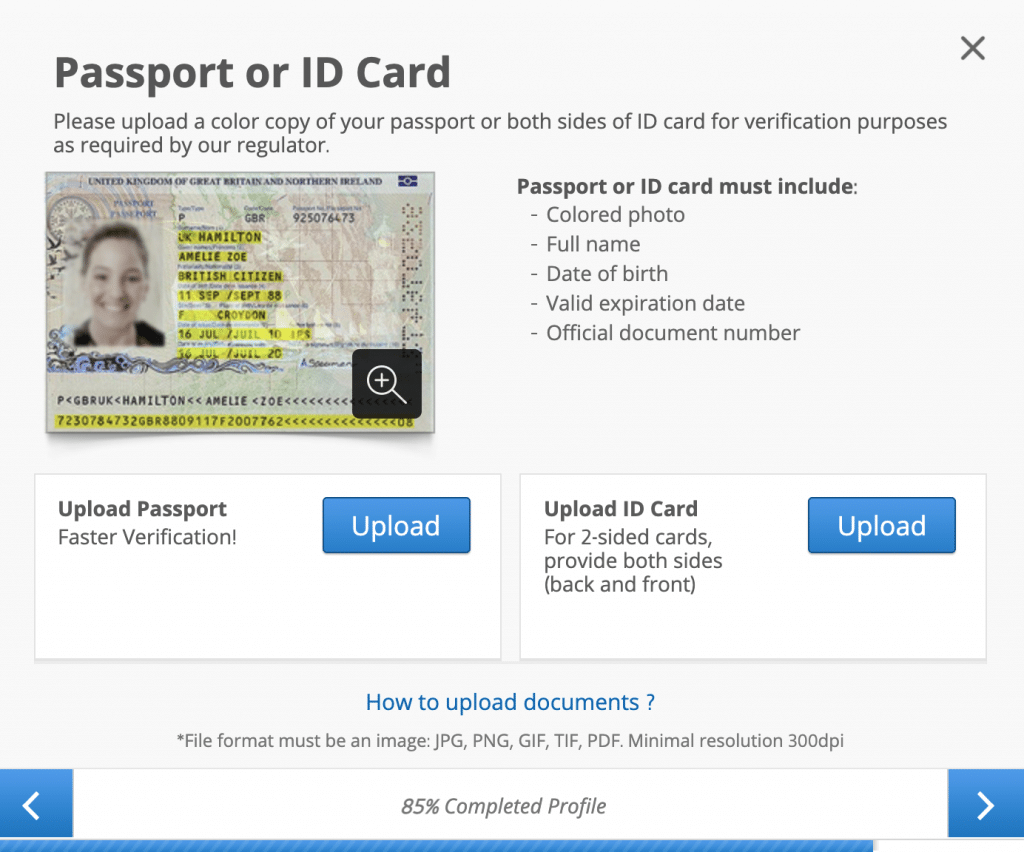 Step 3: Fund your account
After having a verified account, it's crucial to deposit funds in it so you can start trading cryptocurrencies on the platform. Depositing fiat money on eToro is commission-free. Just choose your deposit method and click on "Deposit Funds" and enter the amount you want to deposit. Then press "Deposit" and your funds will be transferred. eToro offers are credit/debit cards, e-wallet (PayPal, Skrill, etc), and bank transfer which is very convenient.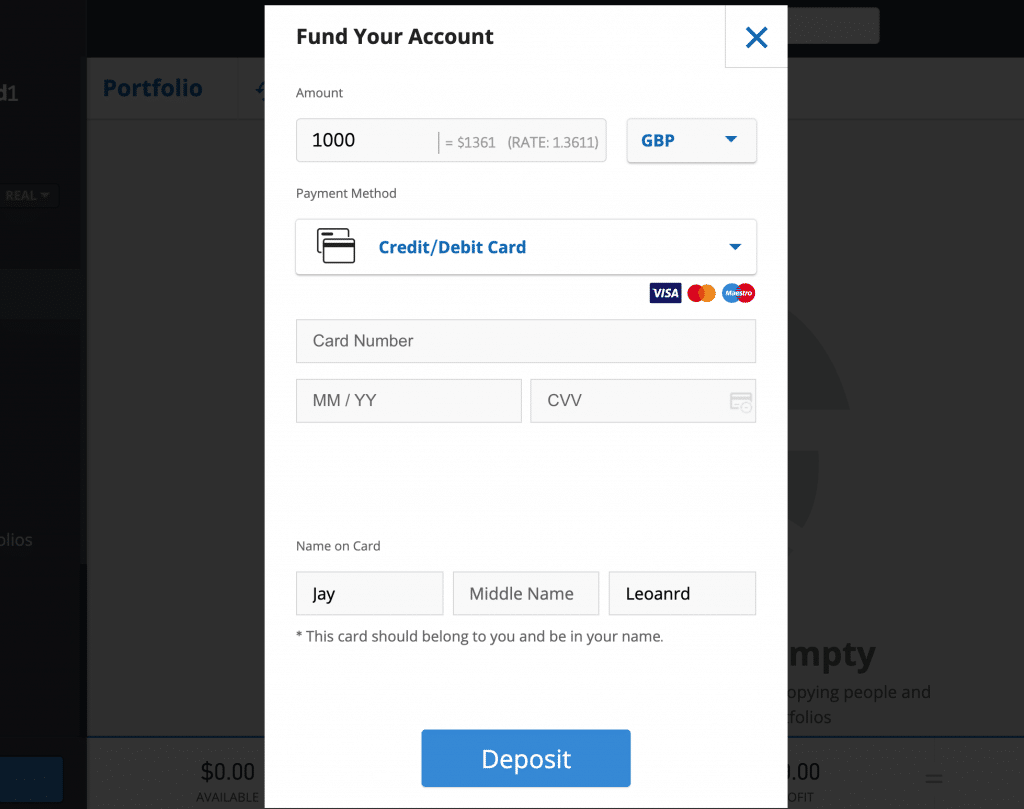 Step 4: Invest in Shares!
Once you have a funded and verified eToro account you can start buying and selling company shares on the platform. To start trading, just type the name of a stock (share) such as "AirBnb" into the eToro search bar, press "Trade" and proceed with the amount you'd like to invest by pressing "Buy". Congratulations you have just invested in shares!
Conclusion
When choosing a suitable broker, the choice may vary from one investor or trader to another. After considering several benefits and shortcomings you can pick the best online broker that suits your trading needs to invest in shares. As a well-established broker with many useful features and great learning resources, we recommend eToro to the traders who are looking to get started with investing in shares.
Company history, ease of account setup, minimum deposit requirements, low commission rates, and non-trading fees are all examples of factors that influence broker decisions and by choosing a high performing brokerage solution you can allocate more of your time to analyze shares to invest in.
#1 Broker for Investing in Shares in Australia – eToro
FAQs
Where can I Invest in shares in Australia?
What options are there for investing in shares?
What are shares or stocks?
What's the future of company shares?
Should I Invest in shares?